! >
Broadway To Vegas
  SHOW REVIEWS     CELEBRITY INTERVIEWS     GOSSIP     NEWS 
| | |
| --- | --- |
| | |
Copyright: October 5, 1998
By: Laura Deni
CLICK HERE FOR COMMENT SECTION

ELTON JOHN TOUR: BEHIND THE SCENES


ELTON JOHN his contract rider was 19 pages long and gave the specs and condition for the show. It had all the catering requirements for Elton's hospitality room including meals & snacks for the performers and crew.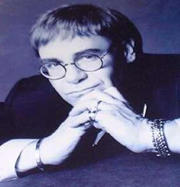 Elton John is on an American tour. Our intrepid roving South Carolina reporter, Trudy Knight-Peek has an Elton John fixation. We've offered to get her therapy, but she likes being a happy groupie. She proudly announces that she has seen John performs 28 times in Florida, Texas, Georgia and North Carolina. "I would in all reality go to Europe to see Mr. John perform," declared Knight-Peek.

We pointed her in the direction of Elton's show last Wednesday at the Bi-Lo Center in Greenville, South Carolina and told her to try to contain herself. We warned her that this Website doesn't make bail.

Trudy caught up with the the crew at the first class Hyatt Hotel on Main Street in Greenville. Elton stayed on the 7th floor while the crew and band were housed on both the 4th and 7th floors.

After checking in, some of Elton's crew tried to catch a nap. Others checked out the equipment. Back-up singer Billy Trudel told Knight-Peek that he had been with Elton about two years and "loved it - although I don't consider it work - none of us do. We consider it fun. We all like playing at different venues and we like pleasing the public." He told our reporter that they had arrived by bus, traveling all night, not arriving at the hotel until between 5 and 6 a.m. "He said he was going to get a much needed massage," Knight-Peek reported.

Several of the bandmates headed across the street to eat. "They said they were having a late breakfast," Knight-Peek continued. "It was about 3:30 p.m. The restaurant is Bistro Europa, owned by Kelly & Andrew Baird. It's totally European, quaint with a lot of atmosphere and fantastic food."

"The food is delicious," she repeated. "John Jorgenson, bass player and vocalist, ordered the Tuna Melt on Focaccia, sliced tomato, dill havarti cheese & pasta salad. Guy Babylon, who does keyboards and vocals, Clive Franks the sound engineer, and another crew member chowed down on open faced smoked turkey breast on marble rye, topped with Applewood Smoked Bacon and Wisconsin Cheddar cheese with Bistro Vegetables.

"While they were eating they were complaining that one of Elton's secretaries is being paid too much money for what the person does, while they had to count their own pennies. They also said they were looking forward to playing Europe because when they go to Europe they don't have to pay taxes. When the check came they discussed how much to tip and decided to each leave $1.00."

"Even though they all but stiffed their waiter, Neelam Vaswani, she was complimentary towards them. "They were most gracious and enjoyable," she told Knight-Peek. She indicated that while they were tight with a tip they were generous with flattering words and offered their compliments to chef Gerry UpdeGraff.

The cry of poverty is rampant throughout the John camp. Five months ago John split with his long-time manager, John Reid. Both side are organizing their troops for an anticipated vicious British courtroom battle.

John, who is poor mouthing it all over the place, has charged Reid with mismanaging the star's bankroll. On the other side of the courtroom, Reid is preparing to snap back that John spends it before it gets it.

Knight-Peek reported that the musicians and crew drank "lots and lots of coffee. They said they were trying to wake up, because they had been traveling all night."

If the coffee didn't kick in an adrenaline rush, the enthusiasm from the fans did.

In concert at the still under construction Bi-Lo Center, which will seat approximately 31,000, Elton performed in the round, getting up close and personal.

"After every song he bowed in a circle, then he went to the edge of the stage, signed autographs, shook hands, touched the fans. The fans didn't have to climb up on the stage. Mr. John came to them," said Knight-Peek.

"The fans went nuts," continued Knight-Peek, who sat six feet away from Elton during the entire show and was as out of control as the rest of his rabid fans.

"At the beginning of each song, everyone would be sitting down. Then half way through each song, everyone would stand up. It was constant screaming and foot stomping," she admitted while complaining of sore feet.

"Then when he'd start another song everybody would sit down and then half way through, stand up again." The yo-yo enthusiasm continued throughout the concert.

Knight-Peek said Elton wore a pink, silk suit, which her keen eye is positive was a Versace.

"The fans went nuts when he did Honky Cat and Yellow Brick Road. After two standing ovations he closed with Bennie & the Jets, " she added.

From Greenville, Elton John and the crew continue to Orlando, Florida and Ft. Lauderdale. They are hoping for two weeks off before beginning a month long European tour.

Trudel told our correspondent that "there are no plans in the works for a new CD or a tour for next year."

Elton is scheduled to perform in New York's Madison Square Garden for four shows Oct. 13 - 18. His Oct. 13-14 performances are sold out. Tickets are still available for Saturday, Oct. 17 and Sunday, Oct. 18 shows. Ticket prices are $29.50 and $39.50.


BRAVO! BELLAGIO


Hotel mogul Steve Wynn has been "practicing" for his dream hotel with the Golden Nugget, Mirage, Treasure Island and half interest in Monte Carlo. It's as though he picked the best features of each, combined those features with his most elegant dreams and created the Bellagio.



Bellagio Hotel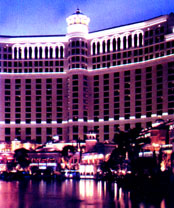 This is the joint that will showcase over a billion dollar's worth of original art.

If your idea of elegance and sophistication is to wipe off the beer can before popping the top, you may not find your comfort level at the Bellagio.

In a city dubbed Sin City by some, noted for coupons, stores that sell gold lame pants and women who wear them out in public, buffets and tourists traveling on the cheap, Steve Wynn has carefully crafted a new dimension.

The hotel's appearance, both inside and out, is the closest you can get to the Italian Riviera without a passport. All 7 million square feet of it. It's understated, elegant, old world, sophisticated and would make "old money" feel comfortable.



A Dancing Water's CD is sold in the hotel's gift shop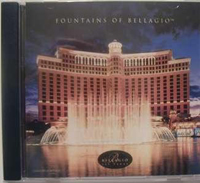 The 90 acre Lake Bellagio surrounds the front of the 36 story building. Customers in some retail stores and those eating in restaurants will be able to enjoy a view of the lake, where the hourly spectacular Dancing Waters show will take place. In rehearsals for the past six months, the Dancing Waters, with 1,200 fountain heads, is choreographed with lights, sound and fog to music from Sinatra to Gene Kelly movies. The production makes all previous "dancing waters" efforts akin to playing in a bathtub.

A bell tower sits atop the 261-foot tall marquee. That will toll on the hour and half hour and also signal the start of the water show.

Inside the resort the colors are earth tone - light woods with floors of pale marble. Accents are found with paisley carpets, and dark wood furniture. Hunter green sofas and light tan plush fabric covered wing back chairs are throughout the ballroom areas. Fabric canopies adorn shop entrances and surround the gaming tables. Slot machines with their tan faux marble sides look like they belong.

There is even a slot machine dusting brigade. They begin their shift by starting in one area and spend their entire shift wiping and dusting slot machines. Next day they go back to point one and do it all over again.

The hotel will take your money in any denomination. While I expected to see that two reel slot machine that takes $1,000 tokens - for a $2,000 pull you have a chance to win $1 million - I was surprised to see the numerous nickel slots.

Steve Wynn's wife, Elaine, has an eye for meticulous detail. She has carried that down to even the bathrooms. Some of the ladies restrooms even have fabric on the ceiling and the air conditioning vents are painted to match the fabric. All bathroom fixtures are polished brass, including the container holding the paper toilet seat covers. The price is probably the same as the customary chrome, while affording a more expensive look.



There are two wedding chapels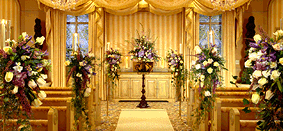 The wedding center has two chapels. The hotel color scheme and decor is continued in both chapels- one seats 35 and the other could hold 100. The chapels, which have bridal dressing rooms and a photography studio, adjoin the fabulous patio, providing a gorgeous backdrop for memorable wedding pictures.

For guests who don't travel with their own masseuse, a sandstone staircase leads to the elegant spa.

Bellagio Shopping Avenue is precedent setting. The last shopping mall trend was the ceiling constructed to look like the sky. The most elaborate and sophisticated version is at the Forum Shops in Caesars Palace where the sky changes intensity every hour.

To simulate the real outdoors, The Forum Shops has cobble stone walkways. The Forum Shops are wonderful, but the cobble stones make the feet smart.

The Bellagio Shopping Avenue has taken a different approach. High vaulted, glass ceilings. The entire ceiling is totally glass and the avenue is marble, so your feet don't get sore while hot footing it from store to store.

The first instinct is to stop, gasp and apply for a Platinum American Express card. The Bellagio Shopping Avenue introduce stores making their Las Vegas debut. For instance; Chanel, Tiffany & Co. and Hermes.

Hotel employees, going through mandatory training sessions, were taught how to correctly pronounce the names. Hotel president Bobby Baldwin, who migrated to Las Vegas from Oklahoma, has made a career of ably guiding Wynn resorts. In a humorous, self-effacing manner Baldwin told the group that he grew up pronouncing every letter, so he understood that French and Italian names need to be learned. To facilitate that, the Bellagio has even printed out employee pamphlets with phonetic pronunciations.

Baldwin explained that Chanel is not pronounced as though you were swimming in it. He cutely told employees that Hermes should not be mispronounced as though it is a sexually transmitted disease. It's hair- a-may.

The Bellagio also has two employee stores where the hired hands can purchase items at discounts they can't refuse.They take care of their own. Name of the employee store? - La Costa Nostra.

Even New York's famed LeCirque restaurant has opened a LeCirque at the Bellagio. There is also a deli, and a plethora of other restaurants including a 550-seat employees' dining room featuring chefs that cook to order.



The ceiling flower bouquet by artistic genius Dale Chihuly grows on you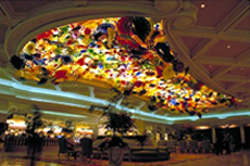 Heading towards the hotel registration area I stopped and gawked at the 70 ft.- by- 30 ft. inverted glass flower basket chandelier. This artistic creation, by renowned glass artist Dale Chihuly is composed of 1500 hand blown, glass pieces representing a floral bouquet.It was put together in Seattle, Washington.

It is a work of art - and it's the only thing in the entire resort that looks out of place. It neither blends nor accents anything.

When it's lit it may be awesome, but on first blush I just stood and stared, wondering what it was doing there.

It's massive and isn't going anywhere.

As the ceiling fixture in a room containing art from the Impressionism school, the flower bouquet would be a stand out. By the registration desk, it not only stands out - but to some, might even look tacky. I need to give that thing another once over.

That doesn't mean the artist doesn't know his medium. Chihuly's chandeliers are such masterpieces That he even has an exhibit. Chihuly Over Venice, featuring 11 chandeliers. can be enjoyed at the Columbus, Ohio Museum of Art through Jan. 3.

The pool area diverts away from the customary Las Vegas free form pool to formal. Comprised of 50,000 square feet of water, with 2 large pools, 2 smaller pools and 4 spas, all surrounded by formal Italian botanical gardens. Pillars, urns and 38 cabanas make this pool area the most gorgeous and elegant in Las Vegas.

Glorious!



Conservatory and Botanical Gardens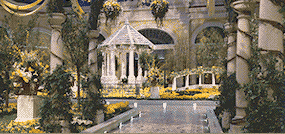 The Conservatory and Botanical Gardens encompass 14,000 sq. ft. of themed gardens. The themes will be changed every three months. Harvest is first to bloom utilizing, among other flowers, 20,000 mums.

Small by Las Vegas standards the hotel has 2600 elegant rooms. They won't come cheap.

Not everyone is going to feel comfortable in this hotel. If glitz and noise for the sake of noise is more to your liking, many other Las Vegas hotels will service you better.

The hotel promises to pride itself on service. Owned by Mirage Resorts Inc. traded on the New York Stock Exchange, as MIR, the top employees of other Mirage properties were offered the opportunity to transfer to the Bellagio. Some jumped. Others preferred to stay put.

When employment was opened up to the public the resort received 75,000 job applications. 26,000 made the first cut and were interviewed. From those, 19,000 progressed to the background check level. The next step involved 13,000 taking a drug test. From that, the 9600 employees were hired.



A scene from O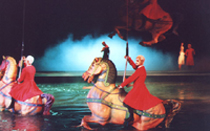 The mainstay of Bellagio entertainment will be a Cirque du Soleil creation of an entirely original form of live entertainment.

Inspired by the concept of infinity, the circle of life and the elegance of its pure form, O phonetically speaking, is the French word for water (spelled "eau"). O is written and directed by Franco Dragone, who has directed six of Cirque du Soleil's previous productions.

The oval showroom with its blue carpet and red plush seats and dark woods is opera style. The opera seat architecture means virtually none of the 1600 seats offer a bad view.

In watching a rehearsal I was surprised that the "stage" which is really a swimming pool is so small. Even though it's 1.5 million gallons of water, it isn't an Olympic pool. Most hotels have bigger pools. It's an inverse ratio. The smaller the body of water, the more talented the performer.

The water is the stage. The 75 performers from around the world perform in, on and above the water. In the section of the rehearsal I viewed, men were on the two trapezes high above the water stage. Secured in the water were three school yard style swings. One on each side and one, with a liberty bell on top, in the middle. Four or five performers were on each swing, rocking it higher and higher. On a director's cue the performers would artistically dive over and around each other.

In isn't enough to be an expert trapeze artist, or an Olympic caliber diving or gymnastic champ - you have to be able to perform from a fast-moving object, artistically land in water and then turn into an expert synchronized swimmer. These people earn their money.

The performers are incredible. I witnessed one diver perform a spectacular leap from the moving swing, and somersault not once, but six times before diving into the water. His performance was so outstanding even his castmates applauded.

With music, lights, costumes and added atmosphere coupled with the actual talent of these performers O is an experience that is unlike any other in Las Vegas. O will be the must see Vegas show.



Andrea Bocelli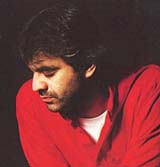 The $70 million production is the most expensive and ambitious to ever be mounted in Las Vegas. Siegfried and Roy, at the Mirage, cost "only" $50 million. O will also set a record for a non New Year's Eve ticket price - $90 for the cheap seats, $100.00 top ticket price. Customers are going to say the show is worth the ducat.

The grand opening of Bellagio will take place over a four day period. The premiere showing of O will be a benefit for the Retinitis Pigmentosa Foundation.

The following two nights the VIP casino guests will be given the red carpet treatment. The "best" casino customers from all the Mirage resorts were invited.

At midnight October 17th, the casino opens to the public.

Blind opera tenor Andrea Bocelli, whose beautiful voice is featured on the Bellagio television commercials, will be the Bellagio's headline attraction on New Year's Eve. You might want to make reservations now.


FAT MEN NEED LOVE, TOO
DANA REEVE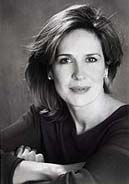 Dana Reeve, the strong-willed wife of courageous Christopher Reeve, made her Broadway debut last Thursday in Rob Bartlett's More To Love: A Big Fat Comedy.

Dana is cast as the wife of an overweight comedian, played by Bartlett, who is on the verge of getting his first big break on TV.

Bartlett, who is making his Broadway debut as both playwright and performer, has a day job - he's the sidekick to radio's Don Imus.

More To Love is staged and directed by Jack O'Brien. The production, currently in previews, officially opens Oct. 15 at the Eugene O'Neill Theater.

Christopher Reeve is expected to be front and center applauding his wife.


SWEET CHARITY

THE ANNUAL RITA HAYWORTH GALA benefiting the Alzheimer's Association takes place Oct. 14th at the Waldorf Astoria. The gala was started by Rita's daughter, Princess Yasmin Aga Khan, who is a tireless worker for the event. Margo Catsimatidis will be chairing the gala.


OCTOBERFEST 1998


Ensemble Studio Theater in New York kicked off it's 18th annual OctoberFest last Friday. The month long celebration of comedy, drama, music, poetry, and storytelling is performed on E.S.T's two stages, running through Nov. 2. Admission is free, but reservations are required.

E.S.T was founded in 1971 by Curt Dempster and a core group of 27 members. Now composed of over 400 members, E.S.T. provides a long-term theatre home for playwrights, directors, actors and designers. E.S.T has become the leading developmental theatre in the country, mounting more than 200 projects each year.In addition to its development programs, E.S.T. operates an Institute for Professional Training in New York, and an annual Summer Conference in the Catskills.

OctoberFest 1998 offers full productions to staged works-in-progress, first-time readings and provides a unique opportunity to discover exciting new plays and playwrights while getting an opportunity to visit with many of E.S.T's distinguished members and guest artists.

Some of the playwrights included in this year's OctoberFest will be: Yvonne Adrian, Leslie Ayvazian, Edward Allan Baker, Keith Alan Benjamin, Horton Foote, Arthur Giron, Laurence Luckinbill, Rusty Magee, Ellen Mareneck, Julie Mc Kee, Cassandra Medley, Teresa Rebeck, Shel Silverstein, Cherie Vogelstein, George F. Walker, Charles Watson, Michael Louis Wells, Tennessee Williams, David Zellnik, and Paul Zindel.



Broadway To Vegas is supported through advertising and donations. Priority consideration is given to interview suggestions, news, press releases, etc from paid supporters. However, no paid supporters control, alter, edit, or in any way manipulate the content of this site. Your donation is appreciated. We accept PAYPAL. Thank you for your interest.


THIS AND THAT


MICHAEL JACKSON stopped by the Imperial Palace, Las Vegas where the Legends in Concert impersonation show performs. Jackson visited with their Michael Jackson impersonator. Jackson, the real one, was surrounded by security. Anywhere the strange one walked, a special aisle was made. No one except Jackson and his guards were permitted to be in the aisle. Germs, you know. Hotel employees, who had been tipped off that Jackson was coming over, had their children and friends thereof come to the hotel. Reports are the father of two was extremely accommodating in permitting his picture to be taken with the children.

LAUGH IT UP open auditions are being held across the country by the U.S. Comedy Arts Festival and HBO. A panel will select at least one finalist from each show for a potential showcase at the comedy festival, slated for March in Aspen, Colo. Open calls slated in Atlanta on Tuesday, Oct. 6th; Boston, Oct. 13; Chicago, Oct. 22; and Austin, Texas, Oct. 29. For information call; (323) 468-3269.

TONI BRAXTON who has seen the movie Beauty and the Beast over 100 times, now stars in the Broadway version.The production contains a new song, A Change in Me penned especially for her Broadway debut by Alan Menken and Tim Rice. Stepping into the Broadway production with Braxton are James Barbour as The Beast and Meshach Taylor, whom everyone adored in Designing Women as Lumiere.

JOHN TURTURRO AND TONY SHALHOUB star in the 50th anniversary production of Samuel Beckett's classic Waiting For Godot at off-Broadway's Classic Stage Company Nov. 10 - Dec. 20.

PAUL SORVINO actor turned opera singer and proud father of Mira, opens Oct. 8th at the Claridge, Atlantic City, for a three-night stand.

SAD that the Chicago performance of Victor/Victoria starring talented Toni Tennille was suddenly canceled due to poor ticket sales. The show had been scheduled for an Oct. 6th opening.

Next Column: October 12, 1998
Copyright: October 5, 1998 All Rights Reserved. Reviews, Interviews, Commentary, Photographs or any Graphics from any Broadway To Vegas (TM) columns may not be published, broadcast, rewritten, utilized as leads, or used in any manner without permission, compensation and/or credit.
Link to Main Page
---
Laura Deni


CLICK HERE FOR COMMENT SECTION