! >
Broadway To Vegas
  
  REVIEWS INTERVIEWS COMMENTARY NEWS

| | |
| --- | --- |
| | |
MUSICAL HAMILTON REVIEW - - MICKY DOLENZ: A LITTLE BIT BROADWAY, A LITTLE BIT ROCK & ROLL CD REVIEW - - PLAY ON - 36 PLAYWRIGHTS TRANSLATE SHAKESPEARE - - UNSEAMLY - - MUSEUM OF TORT LAW - - THE WORLD REMEMBERS - - JOHN LENNON'S 75th BIRTHDAY - - RIPCORD - - DONATE . . . Scroll Down






Copyright: October 4, 2015
By: Laura Deni
CLICK HERE FOR COMMENT SECTION


STATEMENT MAKING MUSICAL: HAMILTON
Lin-Manuel Miranda as Alexander Hamilton. Photo: Joan Marcus.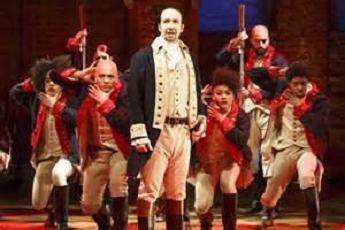 Hamilton the awarding winning musical which managed the difficult challenge of not only succeeding off-Broadway, but becoming a hit on Broadway, is even better on The Great White Way.

The rap driven production has been tightened and the cast is somewhat different. If you enjoyed it off-Broadway, don't miss this version. For those who haven't seen the show - put this on your don't miss list.

It is written by and stars Lin-Manuel Miranda, a newly minted Genius Award grant winner.

This timely musical - set as the American colonies are mounting war against England - brings alive history in a way that is memorable, entertaining and educational. Teachers are no doubt looking for Lin-Manuel Miranda bobble head dolls so they can daily pay homage.

Lin-Manuel Miranda is a once in a life time high voltage creative genius. He's the guy who converted the masses - including me - to enjoying hip-hop music when he penned In The Heights. Miranda again uses his trade mark hip-hop/rap musical style to stage and energize Hamilton.

Spend the Christmas money to take the extended family to this production. The grandparents will discover they love hip-hop/rap and the youngsters will be astounded to realize that they enjoy history. This is a win-win show for everyone.

Inspired by the biography of Hamilton by Ron Chernow, Manuel shines the spotlight on an important segment of American history. The show is a favorite of the First Family.

First Lady Michelle Obama saw the show Off-Broadway in the spring, and a week ago caught the Broadway version at the Richard Rodgers Theatre. The President and his two daughters saw the show on July 18. On November 2 the entire show had been bought out for a Democratic fundraiser. Organized by Obama supporter, Broadway producer Largo Lion, tickets for the special Monday night performance are price at $500 to $5,000 apiece to benefit the Democratic Hope Fund. The Democratic National Committee underwriting the performance costs on a night when the show is usually dark.

Important is that this production actually utilizes color blind casting in the proper use of the process. It works. It works because there isn't a shock value that takes away from the performance. You don't pay attention to the Hispanic and black ethnicity of of the players - even though the real life versions were all white bread and mayonnaise. The casting is spot-on.

As decades pass, history tends to be rewritten with both new hues and innuendos - or whitewashed. Manuel's version (of Chernow's book) could be considered one of the most accurate.

Ron Chernow's book brought them to life. Manual's musical gives them hubris and soul.



Leslie Odom, Jr. as Aaron Burr with Phillipa Soo, Renee Elise Goldsberry and Jasmine Cephas Jones. Photo: Joan Marcus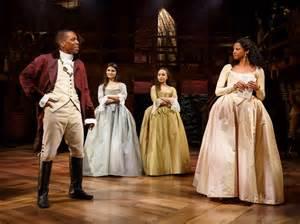 With the passing of time people forget that our forefathers were young punks. One of the phrases repeated in the show is "Hey, yo, I'm just like my country, I'm young, scrappy and hungry, and I am not throwing away my shot."

Excellent direction by Thomas Kail.

The official description: "Lin-Manuel Miranda takes the stage as the unlikely founding father determined to make his mark on the new nation as hungry and ambitious as he is. From bastard orphan to Washington's right hand man, rebel to war hero, a loving husband caught in the country's first sex scandal, to the Treasury head who made an untrusting world believe in the American economy. George Washington, Eliza Hamilton, Thomas Jefferson and Hamilton's lifelong friend/foil Aaron Burr all make their mark in this astonishing new musical exploration of a political mastermind."

Lin-Manuel Miranda plays Alexander Hamilton while Leslie Odom, Jr. stars as Aaron Burr, who was the third vice-president of the United States and one of the most controversial figures in American political history. He'd the dude who killed Hamilton in a duel. Miranda and Odom are outstanding.

The trio of women are excellent: Phillipa Soo, a graduate from The Juilliard School's acting program, is cast as Hamilton's wife, Eliza; Emmy award nominee Renée Elise Goldsberry who has a master's degree in vocal jazz performance, is cast at the elder, more sophisticated sister, Angelica Schuyler Church. In 2001 Goldsberry starred in the movie All About You as Nicole, and co-wrote more than half of the soundtrack, including the title song. She is also a grand prize winner of the John Lennon Songwriting Contest. Jasmine Cephas Jones had double duty - portraying third sister, Margaret "Peggy" Schuyler Van Rensselaer, and Maria Reynolds, the adulterous lover who brings about Hamilton's fall from grace.

Tony award nominee Jonathan Groff is the loony King George III. George Washington is played by Christopher Jackson, who was also in Mirand'a In the Heights. Anthony Ramos as John Laurens/Philip Hamilton, Daveed Diggs has double duty, that of a wimpish but mouthy Jefferson and the Marquis De Lafayette. Okieriete Onaodowan as James Madison and Hercules Mulligan.



Jonathan Groff as the spinelessly foolish King George. Photo: Joan Marcus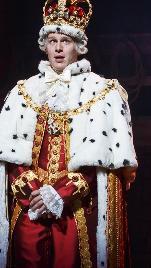 All are superb.

That aforementioned "country's first sex scandal" is complicated, rather than merely sordid. While Hamilton's wife Eliza is away on vacation Maria Reynolds visits Hamilton explaining that her husband is mistreating her. She asks Hamilton if he could lend her money to leave her abusive husband. Hamilton agrees and walks her home. Compassion leads to romance. Things take a turn towards extortion when Maria's husband, James Reynolds, sends Hamilton a letter. He informs Hamilton that he can have an affair with his wife provided he pays. Otherwise, Reynolds threatens to inform Hamilton's wife. Hamilton pays up.

The ballads that offer emotional insight into the convoluted triangular relationship among Hamilton, Eliza and Angelica are poignant; That Would be Enough and Best of Wives and Best of Women by Eliza and Hamilton and Burn and It's Quiet Uptown performed by Eliza.

They wear period clothes by Paul Tazewell and their world is played out on an understated, revolving stage. The set includes a tavern, which was the meeting place of the times, designed by David Korins. Both the set and costumes compliment the nonstop, snap-to-it movement choreographed by Andy Blankenbuehler.

A magnificent show which revitalizes American history.






Broadway To Vegas is supported through advertising and donations. Priority consideration is given to interview suggestions, news, press releases, etc from paid supporters. However, no paid supporters control, alter, edit, or in any way manipulate the content of this site. Your donation is appreciated. We accept PAYPAL. Thank you for your interest.







ART AND ABOUT


MUSEUM OF TORT LAW

On display is the famed shiny red 1963 Corvair, center of Unsafe at Any Speed. Photo: The American Museum of Tort Law/Facebook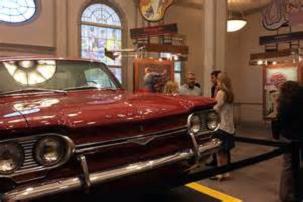 opened last week. Ralph Nader, president of the museum, did the official honors. In attendance were U.S. Sen. Richard Blumenthal, Alexa Shabecoff of Harvard Law School, U.S. Attorney General Ramsey Clark, rock star Patti Smith and Pulitzer Prize winning historian Eric Foner.

Located in Winsted, Connecticut halfway between New York and Boston, the new England village of Winsted, in scenic Litchfield county, is Nader's home town.

The American Museum of Tort Law seeks to increase citizen understanding of Tort Law. – the law of wrongful injury – and the role it plays in protecting personal freedom, health and safety through the American civil justice system.

A vision of Nader's for over 20 years, he said that lawyers, as well as other interested parties including TV host Phil Donahue and foundations including Nader's own Center for the Study of Responsive Law, the Cummings Foundation and Consumers Union, donated a total of $3 million for the museum project. That money was used to buy the vacated 6,500 bank building.

Hot coffee, exploding cars, flaming rats and Jackie O. - Oh my!

The exhibits have been designed by Eisterhold Associates, a firm that has also lent its efforts to a number of museums across the nation, including the National Civil Rights Museum in Memphis, Tennessee, and the Jurassic Park Discovery Center at the Universal Studios Islands of Adventure in Orlando, Florida.

Exhibits include an introductory timeline, a room detailing precedent-setting cases, a theater, and "cases that made a difference," which allows visitors to take in the evolution of tort law through the form of a graphic novel, officials say.

According to Jerry Eisterhold, the president and creative director of Eisterhold, the exhibits are designed to walk visitors through the history of tort law and explain how it has affected the lives of Americans over the decades by showing that, through the actions of everyday citizens, both as jurors and plaintiffs, it has wrest concessions from corporations that have shaped our modern world.

Visitors can learn about:
The case that put an end to tobacco company deception;
The birth control product that killed and crippled thousands;
The law that protects you in your home and in workplace;
The case of the flaming rat!

Nader also hopes to have drama students re-enact famous cases. Those presentations would be streamed to high schools, universities and law colleges.

Nader has spent much of his life focusing on consumer protection. He based his seminal 1965 book, Unsafe at Any Speed, on lawsuits filed against the car manufacturer General Motors. His own lawsuit against GM in 1966, in which he claimed the company hired private investigators to discredit him, expanded tort law to cover "overzealous surveillance," according to a summary of the court case.

Serving as Executive Director for the Museum is Richard L. Newman. He's a graduate of the University of Wisconsin School of Law, and a member of Phi Beta Kappa. Mr. Newman is the co-author of the standard treatise on Connecticut Law of Torts and served in 2004-2005 as President of the Connecticut Trial Lawyers Association.

THE WORLD REMEMBERS more than 9 million combatants from the belligerent nations died in World War I, the largest number of any conflict in world history to that time. The World Remembers is an international education project whose purpose is to remember and honor these combatants who perished by displaying their names in more than 100 locations throughout Europe and North America for a period of weeks ending with the Western Front Armistice Day of Nov. 11.

For the year 1915, more than 500,000 names from 12 nations are represented. Accompanying the names are images of soldiers and civilians caught up in a global conflict. Debuting on Tuesday, October 6, 2015 the World War I Museum in Kansas City is the only location for the display in the United States.

The National World War I Museum and Memorial holds the most diverse collection of World War I objects and documents in the world and is the second-oldest public museum dedicated to preserving the objects, history and personal experiences of the war.






MICKY DOLENZ WILL MAKE YOU A BELIEVER WITH THIS 54 BELOW CD
Totally delightful entertainment.

There isn't anything to criticize and everything to love about Micky Dolenz: A Little Bit Broadway, A Little Bit Rock & Roll, recorded July 7, 10, 11, 2015 during live shows at 54 Below in New York City. Released on Broadway Records.

Those of a certain age will have grown up with the television show The Monkees, but they've never seen Dolenz this way. Those born yesterday, who have no idea of his background, will be captivated and totally entertained by his talent - tempted to search out The Monkees old TV series to see if they are replayed on one of the oldies channels.

The Monkees was the Glee of it's generation. The Monkees wasn't a band. It was a television show about an imaginary band. Then it took on a life on its own, selling over 65 million records and toured. Micky has also starred in musicals on Broadway, the West End, and in national tours including Disney's AIDA on Broadway, Pippin, Hairspray in the West End, Grease, A Funny Thing Happened on the Way to the Forum, Tom Sawyer, and more."

Dolenz recently appeared at the Ivoryton Playhouse in the world premiere of the new play Comedy Is Hard by four time Emmy winner Mike Reiss.

Mind boggling is that although, despite Dolenz's extensive credits, 54 Below was his first foray into a nightclub performance. For many of the songs, the 54 Below gig was the first time he'd sung some of the selections in public. To hear this CD you'd never know it. Likewise, his anecdotes and behind-the-scenes stories are warm, genuine and integrating.

The Dolenz 54 Below performances are what Las Vegas show rooms were all about back in The Rat Pack days. Talent and fun. The singers made the rehearsed seem spontaneous. The shows were more intimate and the performer connected with the audience. The singer always had a joke about the musicians, as does Dolenz. He says he'd like to "introduce you to some really wonderful musicians - but unfortunately they missed the flight." Then he introduced his blue ribbon back up gang.

There is no doubt that Dolenz isn't just phoning in the show. He's emotionally connected with the performance and with the audience. That's what missing with no many of the high tech shows on massive stages. The stars are more programmed robots than performers. This Dolenz presentation is what a showroom performance should project.

There is also plenty of interesting and funny patter. You end up thinking you know him, and he's more than merely likeable. You'll wish he lived next door, or was a relative. You'll be positive that you'd want him as a friend. Not many performers can project that kind of a persona.

Beautifully balanced sound. Every word can be understood. This live recording at 54 Below is a gold standard for what can be created in that stylish New York venue. The audience response is there. There musicians are individually and collectively heard. Micky's conversational segments alone are worth the cost of the CD. Coupled with the music - this is not "Hey, hey, hey, It's the Monkees;" rather "Hey, hey, hey, this is wonderful."

Think he's just a rocker? Give a listen to his poignant rendition of But Not For Me from Girl Crazy backed by the soft and emotional piano played by Michael J. Moritz, Jr. Dolenz says it was a song his mother, who was a big band singer, used to sing around the house.

"We're going to do songs tonight by Neil Diamond, Neil Sedaka and Neil Armstrong," he kids. While composers from Rogers and Hammerstein to Carole King and Diamond are showcased, there are no astronaut numbers. Dolenz has a seemingly endless potential play list. How this show was put together resulted in perfection.

"How many of you knew I had a top 40 hit with that with the Monkees?" he asks after performing D. W. Washburn from Smokey Joe's Cafe. The entire audience, that's how many.

The Last Train To Clarksville, another familiar Monkees' hit follows. Dolenz referred to that song as his "money maker." Mister Cellophane from Chicago is a showstopper, complete with a very sweet father-daughter story Dolenz recounts about taking his daughter to an ice skating rink. The two best renditions of this significant meaning number are by Joel Grey and - Mickey Dolenz.

He's powerful on As We go Along a Monkees' hit song written by Carole King & Toni Stern. It's from the cult classic 1968 psychedelic movieHead, co-written by a young Jack Nicholson - a moniker which Dolenz name drops.

Listening to how the musicians back Dolenz should be a requirement for all musicians who want to do back-up. The musicians are important and statement making because they don't overpower. There is no doubt they are there. Every note they play has a reason and meaning. Well thought out arrangements by Michael J. Moritz, Jr. This CD is a beautiful collaboration between singer and musicians.

Low bows to the musicians: pianist Michael J. Moritz, Jr., Khaled Tabbura on guitar, drummer Billy Laguardia and bassist Adam DeAscentis.

Dolenz wails on The Beatles' Oh Darling in a rendition that's a cross between old fashioned rock and southern gut bucket blues. Randy Scouse Git penned by Dolenz is from the Monkees' album Headquarters. Dolenz has fun with it. It's rock out intense.

He talks about his father (who was also an actor/singer) walking around the house in his underwear singing Some Enchanted Evening and then delivers a beautiful and heartbreaking version of the classic from South Pacific, which he dedicates to his father.

He's cute with the Monkees' hit I'm a Believer, written by Neil Diamond. He jokingly starts out singing an unfamiliar arrangement, and then rocks out with the familiar. Up next is the high voltage Pleasant Valley Sunday written by Carole King, and Gerry Goffin from The Monkees' Pices, Aquarius, Capricorn & Jones Ltd album.

"If you know the lyrics, don't sing along; it puts me off," Dolenz tells the crowd as he begins Daydream Believer the Monkees' hit, written by the late John Stewart. It's so recognizable and infectious that it almost compels singing along. Eventually, Dolenz and the musicians stop, permitting the audience to take over and deliver a verse. Show stopper.

He changes mood with One of the Good Guys from the Broadway musical Closer Than Ever by Richard Maltby, Jr. and David Shire. It's a powerful song about what could have been and what is.

Don't Be the Bunny from Urinetown is almost maniacal. The versatile rocker has the voice for drama and has used the number as his audition song. It got him three parts and he calls the song his 'money maker'.

Goin' Down is the B-side to the Monkees' single Daydream Believer. It's is a rockin', toe tappin' song which allows the musicians to show off. The CD closes out with the lovely Pure Imagination.

Mixed at Kontinuous Jams Studio. Mastered by Greg Reierson Rare Form Mastering.

Despite his success, Dolenz is substantially underrated. He's a powerful performer with a wide ranging ability - both acting and singing. He'd like to do Broadway. He should.

You may have missed the performance at 54 Below. Don't miss owning this CD.









PLAY ON - 36 PLAYWRIGHTS TRANSLATE SHAKESPEARE


The Oregon Shakespeare Festival announced today the launch of a 39-play, three-year commissioning project, Play on! 36 playwrights translate Shakespeare. Supported by a generous grant from the Hitz Foundation and inspired by long-time OSF patron Dave Hitz's passion for Shakespeare, the project is led by Lue Morgan Douthit, OSF's director of literary development and dramaturgy.

Play on! has engaged many of the nation's leading playwrights, dramaturgs, theater professionals, expert advisors and emerging voices in the field. Among the goals of the project is to increase understanding and connection to Shakespeare's plays, as well as engage and inspire theatergoers, theater professionals, students, teachers and scholars. Play on! also will provide translated texts in contemporary modern English as performable companion pieces for Shakespeare's original texts in the hope they will be published, read and adapted for stage and used as teaching tools.

The project has commissioned a playwright and dramaturg for each of the 39 plays attributed to Shakespeare (including Two Noble Kinsman and Edward III). By commissioning diverse playwrights (more than 50 percent women and more than 50 percent writers of color), OSF will bring fresh voices and perspectives to the work of translation.

Each team is being asked to examine the play line-by-line and translate to contemporary modern English those lines that need translating. There is to be no cutting or editing of scenes and playwrights may not add their personal politics. Second, put the same kind of pressure on the language as Shakespeare put on his. This means the playwright must consider the meter, rhyme, rhythm, metaphor, rhetoric, character action and theme of the original. These translations are not adaptations. Setting, time period and references will remain unchanged.

OSF will continue its commitment to producing all of Shakespeare's plays between 2015 and 2025, and all these productions will use the original texts. One or more of the Play on! translations may be produced at OSF along with the complete original canon. It is the hope and expectation that a production will inspire audience members to return to Shakespeare's original texts, ideally with much greater understanding and enjoyment.

Each play will have a reading and workshop with a director and actors to provide further insight into the work before the final drafts are submitted. OSF will produce readings and workshops of these translations all over the country. In addition, an annual convening will be held to facilitate dialogue and shared discovery among the writers.

PLAY ----- PLAYWRIGHT ----- DRAMATURG

All's Well That Ends Well - Virginia Grise - Ricardo Bracho
Antony and Cleopatra - Christopher Chen - Desdemona Chiang
As You Like It - David Ivers - Lezlie C. Cross
The Comedy of Errors - Christina Anderson - Martine Kei Green-Rogers
Coriolanus - Sean San Jose - Rob Melrose
Cymbeline - Andrea Thome - John Dias
Edward III - Octavio Solis - Kimberly Colburn
Hamlet - Lisa Peterson - Luan Schooler
Henry IV, Part One - Yvette Nolan - Waylon Lenk
Henry IV, Part Two - Luis Alfaro - Tanya Palmer
Henry V - Lloyd Suh - Andrea Hiebler
Henry VI, Parts One, Two, Three - Douglas Langworthy - Mead Hunter
Henry VIII - Allison Moore - Julie Felise Dubiner
Julius Caesar - Shishir Kurup - Nancy Keystone
King John - Brigdhe Mullins - Katie Peterson
King Lear - Marcus Gardley - Nakissa Etemad
Love's Labor's Lost - Josh Wilder - Jeanie O'Hare
Macbeth - Migdalia Cruz - Ishia Bennison
Measure for Measure - Aditi Brennan Kapil - Liz Engelman
The Merchant of Venice - Elise Thoron - Julie Felise Dubiner
The Merry Wives of Windsor - Dipika Guha - Christine Sumption
A Midsummer Night's Dream - Jeff Whitty - Heidi Schreck
Much Ado About Nothing - Ranjit Bolt - Lydia G. Garcia
Othello - Mfoniso Udofia - TBA
Pericles - Ellen McLaughlin - Alan Armstrong
Richard II - Naomi Iizuka - Joy Meads
Richard III - Kwame Kwei-Armah - Gavin Witt
Romeo and Juliet - Hansol Jung - Aaron Malkin
The Taming of the Shrew - Amy Freed - Drew Lichtenburg
The Tempest - Kenneth Cavander - Christian Parker
Timon of Athens - Kenneth Cavander - Lue Morgan Douthit
Titus Andronicus - Taylor Mac - Jocelyn Clarke
Troilus and Cressida - Lillian Groag - James Magruder
Twelfth Night - Alison Carey - Lezlie Cross
The Two Gentlemen of Verona - Amelia Roper - Kate McConnell
Two Noble Kinsmen - Tim Slover - Martine Kei Green-Rogers
The Winter's Tale - Tracy Young - Ben Pryor


SPREADING THE WORD


HARLEM STAGE in New York City will host a staged reading of Bil Wright's To the Light (A Fantasy Inspired by two American Geniuses: Baldwin and Delaney) on October 7 and 8.

The cast includes Philippe Bowgen, Bjorn Dupaty, Tyrone Mitchell Henderson, and Zonya Love.

The play celebrates the loving, dramatic, complex relationship between writer James Baldwin (1924-1987) and painter Beauford Delaney (1901-1979). It chronicles their friendship from their first meeting through each of their deaths. Both of these men were highly significant in the history of American arts and culture. They both lived and created during times of enormous political change in the United States, especially in regards to the country's race relations. Both were also enamored with Paris, as were other black artists, feeling it was a mecca in which art prevailed and African Americans considered beautiful both physically and artistically. This was a huge bond between the men, with both men dying in Paris, Delaney the victim of severe mental illness.

KEIRA KNIGHTLEY made her Broadway debut last Thursday in Therese Raquin at Studio 54. The first preview performance of any show doesn't necessarily go off without a hitch; in this case, Knightley has a fan who couldn't contain his enthusiasm. First the man started yelling Keira's name. Then he became increasingly more agitated when she didn't break character and respond. The man then threw flowers on the stage. Security called police who escorted the man out of the venue. The Roundabout, producers of the production, indicated that extra security would be added to the theater.

Therese Raquin officially opens on October 29, 2015.

JOHN LENNON'S 75th birthday will be celebrated at his star on the Hollywood Walk of Fame on Saturday, October 9, 2015.

Billed as a "milestone celebration." John Lennon Peace Day will be declared in a special Proclamation by City Councilman Mitch O'Farrell. Famed radio personality Jim Ladd, will be the featured speaker. The entertainment will include Shayne Dalva, soprano operatic singer, who will sing Lennon's classic peace anthem Imagine. Performing Lennon's In My Life will be Tee-M, a Beatles influenced rocker from Pakistan, and Tariq Mirza will be joined by Al the Bassman.

Following the event, any floral bouquets brought to the event will be given to the Los Angeles Children's Hospital. Lennon was inducted into the Walk of Fame on September 30, 1988. He was murdered in New York City on December 8, 1980.


OTHER PEOPLE'S MONEY


A SIGNIFICANT DEFICIT not previously disclosed to the board has forced the Gotham Chamber Opera to cease operation. According to an official press release, the Board of Directors of Gotham Chamber Opera voted to shut down the organization.

"In early summer, the company's new executive director, Edward Barnes, uncovered a significant deficit that was not previously disclosed to the board. We do not have, nor do we anticipate having, sufficient donations and pledges that would enable continued operations of the company," stated Beatrice Broadwater, president of the Board of Directors.

The company's future productions have been cancelled, and the board is meeting to determine the steps to wrap-up the organization's affairs.


GET WELL SOON TO . . . .


THREE-TIME TONY AWARD NOMINEE MARIN MAZZIE who is resting at home after undergoing cancer treatment at Memorial Sloan-Kettering hospital in NYC.

Mazzie has undergone four rounds of chemotherapy over the past 12 weeks, followed by a hysterectomy and bowel resection. Mazzie and her husband Jason Danieley are slated to perform in San Francisco in December with their new show from Barrington Stage Co.



THE NEWLY MINTED GENIUS GRANT WINNERS more formerly known as the MacArthur Foundation Grant Fellows, will each receive a stipend of $625,000 paid in quarterly installments over five years. The unrestricted fellowships are presented to individuals who have shown extraordinary originality and dedication in their creative pursuits as well as a capacity for self-direction.

Twenty-four of the worthy are now The Genius Grant class of 2015. Those that are recognized for their contributions to the arts includes:

LIN-MANUEL MIRANDA composer/lyricist/librettist/star of the Broadway musical Hamilton. Miranda won Tony Awards for his Broadway debut In the Heights.

MICHELLE DORRANCE tap dancer and choreographer honored for her innovative take on tap and contemporary dance.

BASIL TWIST Puppetry Artist and Director revitalizing puppetry as a serious and sophisticated art form in imaginative experiments with its materials, techniques, and uses in both narrative and abstract works.

MIMI LIEN set designer currently represented Off-Broadway in the play John. She was a design assistant for two Broadway musicals, Spider-Man Turn Off the Dark and The Little Mermaid. She earned Drama Desk nominations for her Off-Broadway designs for The Whale and An Octoroon.

TA-NEHISI COATES best selling writer.

NICHOLE EISENMANN painter, whose art comments on the role of gender and sexuality in society;

LaTOYA RUBY FRAZIER Photographer and Video Artist capturing the consequences of postindustrial decline for marginalized communities and illustrating how photography can promote dialogue about historical change and social responsibility.

BEN LERNER Writer transcending conventional distinctions of genre and style in works that convey the texture of our contemporary moment and explore the relevance of art and the artist in modern culture.

ELLEN BRYANT VOIGHT Poet, meditating on will and fate and the life cycles of the natural world through a distinctive intermingling of lyric and narrative modes and ongoing experimentation with form and technique.



FULL GALLOP

Mercedes Ruehl stars as Diana Vreeland in Full Gallop. Photo by Jim Cox.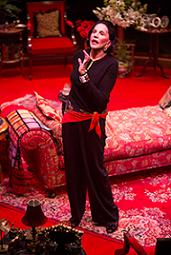 by Mark Hampton and Mary Louise Wilson.

Directed by Andrew Russell.

Starring: Oscar and Tony Award winner Mercedes Ruehl stars as Diana Vreeland.

"Long before the devil wore Prada - 20 years ago in fact - the story of the irrepressible Diana Vreeland first commanded the stage of the Globe in 1995. Vreeland, larger-than-life doyenne of American taste, unceremoniously fired as editor of Vogue, hunkers down in her famous all-red New York apartment and plans her comeback: a magazine of her own. The path to get there is as complicated and outré as Vreeland herself. Full Gallop is a witty one-woman tour de force about the fabulous style icon who forever changed the way Americans experience clothing, art, and life."

Sean Fanning (Scenic Design), Mark Mitchell (Costume Design), Robert J. Aguilar (Lighting Design), Matt Starritt (Sound Design), Brian Meister (Assistant Director), and Annette Yé (Production Stage Manager).

Performances through October 25, 2015 at The Old Globe in San Diego, CA.

RIPCORD a new play by Pulitzer Prize winner David Lindsay-Abaire.

Directed by Tony and Emmy Award winner David Hyde Pierce.

The cast features Drama Desk Award winner Marylouise Burke, Rachael Dratch, Glenn Fitzgerald, Daoud Heidami, Nate Miller, and Emmy Award winner and Tony Award nominee Holland Taylor.

A sunny room on an upper floor is prime real estate in the Bristol Place Assisted Living Facility so when the cantankerous Abby (Holland Taylor) is forced to share her quarters with new-arrival Marilyn (Marylouise Burke), she has no choice but to get rid of the infuriatingly chipper woman by any means necessary. A seemingly harmless bet between the old women quickly escalates into a dangerous game of one-upmanship that reveals not just the tenacity of these worthy opponents, but also deeper truths that each would rather remain hidden.

The creative team includes Alexander Dodge (scenic design), Peter Kaczorowski (lighting design), Jennifer von Mayrhauser (costume design), John Gromada (original music and sound design), and Thomas Schall (fight director).

Presented by Manhattan Theatre Club, Ripcord began previews Thursday, October 1 in preparation for a Tuesday, October 20 opening night at New York City Center – Stage I, New York City.

UNSEAMLY by Oren Safdie.

Directed by Sarah C Carlsen.

Inspired by a variety of sexual harassment allegations brought against well-known clothing companies, Unseamly follows a young woman seeking legal advice to initiate charges of sexual harassment against her former boss, the CEO of an international clothing company known for its risqué billboards. In Unseamly, female sexuality confronts male corporate power.

Creative Team includes: Brian Dudkiewicz (Set and Costume Designer), Christina Watanabe (Lighting Designer), Douglas Mills (Sound Designer), Nicholas Blade Guldner (Projection Designer), Krystle Henninger (Production Stage Manager).

Unseamly was originally presented in Canada at the Infinite Theatre, co – directed by Artistic Director Guy Sprung, and Sarah C Carlsen.

Unseamly will begin performances on October 8; Opening night is set for October 14 through November 1 at Urban Stages in New York City.

OLD TIMES written by Nobel Laureate Harold Pinter.

Directed by Douglas Hodge.

Starring Clive Owen, Eve Best and Kelly Reilly.

The unsettling drama of desire and blurred realities. Owen is Deeley, a man quite looking forward to meeting Anna (Best), his wife Kate's (Reilly) friend from long ago. But as the night goes on, Anna's visit quickly shifts from an ordinary sharing of memories to a quiet battle for power. Billed as a haunting and passionate revival.

Presented by the Roundabout Theatre Company with the official opening slated for Tuesday, October 6, 2015 on Broadway at the American Airlines Theatre This is a limited engagement through November 29, 2015.

SISTERS; FOLIES: BETWEEN TWO WORLDS by 2015 MacArthur fellow Basil Twist who also directs and designed the production.

Commissioned for the 100th Anniversary of the Abrons' Playhouse, this dark musical extravaganza stars Joey Arias and Julie Atlas Muz. Celebrating the Playhouse's founders Alice and Irene Lewisohn, and their legacy of producing avant-garde performances and dance from 1915-28, the spectral sisters return to haunt the theater 100 years later.

In 1915, philanthropists and art lovers Alice and Irene Lewisohn founded the Neighborhood Playhouse, by 1920, it housed a professional company of actors and dancers. The playhouse quickly became famous for producing plays by experimental and innovative artists such as James Joyce and Sholem Asch. Since that time, some of the most iconoclastic and influential artists of the past 100 years - Martha Graham, Orson Welles Aaron Copland, John Cage, Alwin Nikolais, Paul Taylor, Twyla Tharp, Philip Glass, Meredith Monk, Laurie Anderson, Lou Reed, and John Zorn - have trained, taught or performed within its walls.

Performances by Julie Atlas Muz, Joey Arias and Kate Brehm, Lute Breuer, Chris De Ville, Ben Elling, Jonothon Lyons, Katie Melby, David Ojala, Jessica Scott, Rachael Shane, Ashley Winkfield.

Lighting design by Poe Saegusa, costume design by Machine Dazzle, sound design by A-Key, projection design by Daniel Brodie and Thomas Wilfred's CLAVILUX Recreation by Joshua Light Show. Musical direction and arrangement is by Wayne Barker and is performed live by Joshua Samuels, Art Bailey, Fred Rose and George Rush.

In previews with the official opening set for October 7 at the Abrons Arts Center in New York City.


WHO'S WHERE




ONE DIRECTION is across the pond with a a two nighter beginning Wednesday, October 7, at the SSE Hyro in Glasgow. Next Sunday, October 11, another two night stand opens at Barclaycard Arena in Birmingham.

BILL MAHER making relevant and amusing commentary October 10 in the Great Cobb Hall at the Wharton Center for the Performing Arts in East Lansing, Michigan.

GUY DAVIS performs October 7 at the Fairfield Theatre Company in Fairfield, CT. On October 8 he'll be playing at The Spire in Plymouth, MA. Friday's gig is at the River Garden in Brattleboro, VT.

JOSH GROBAN performs Tuesday, October 6 at the Landmark Theatre in Syracuse, NY. Wednesday's performance is in Buffalo, NY at Shea's Performing Arts Center. On Friday he can be enjoyed in Detroit, MI at the Fox Theatre. Saturday he's in Cleveland, OH at the State Theatre.

PAUL STOOKEY of Peter, Paul & Mary: A Special Performance. The evening marks the singer/songwriter's first solo concert in New York City in over 40 years. Stookey, a major figure in the Museum's Folk City exhibition, with his group, he propelled the 1960s folk music revival to the top of the pop charts while giving voice to the conscience and ideals of a generation of social activists. Stookey has recorded over 45 albums with his famed group and as a soloist. Monday, October 5 at the Museum of the City of New York.

FOO FIGHTERS are in the spotlight Monday, October 5, at the Bridgestone Arena in Nashville. On Wednesday their tour stops at the Red Ex Forum in Memphis. On Friday they appear at the Austin City Limits Music Festival at Ziker Park in Austin, TX.

KRISTIN CHENOWETH stars at the Eastman Theatre in Rochester, NY on Friday, October 9. Next Sunday, October 10, she's on stage at the Tilles Center for the Performing Arts in Greenvale, NY.


FINAL OVATION


CATHERINE E. COULSON a stage and screen actor best known for her role as The Log Lady in David Lynch's legendary Twin Peaks, and who made her artistic home with the Oregon Shakespeare Festival for 22 seasons, passed away September 28, 2015 in her home after a battle with cancer. She was 71.

Coulson was trained as a classical actor in theater earning a BA Scripps College; MFA, San Francisco State University and worked on the stage before her career in film and television.

In the early 1970s when teaching an acting workshop at the American Film Institute in Los Angeles, she met David Lynch. Lynch cast her in the role of the nurse in his cult classic Eraserhead, and Coulson also served as the special effects technician, assistant director and still photographer. In 1990 Lynch cast her as The Log Lady in the popular television series Twin Peaks.

Coulson's first season at OSF was in 1994, and she performed in more than 50 productions throughout her 22 seasons with OSF.

She also worked at the Ensemble Theatre of Santa Barbara, Denver Center, San Jose Repertory Theatre and Mark Taper Forum.

OSF Artistic Director Bill Rauch said today, "I am deeply saddened by Catherine's passing. She was an integral part of this company, not only as an actor, but as a passionate advocate for the arts, for theatre, for OSF and for the community of Ashland. Catherine was in the first play that I directed at OSF, and her welcoming spirit was directly responsible for me falling in love with this company. Artist, artisan, administrator or audience member, you knew that you were part of the Festival once you were welcomed by Catherine. Her generosity of spirit was only matched by her vibrancy as an actor; she shone onstage in her every appearance. We will miss her with all our hearts."

PHIL WOODS an American jazz bebop alto saxophonist, clarinetist, bandleader and composer died September 29, 2015 in Stroudsburg, Pennsylvania. The cause was complications of emphysema. He was 83.

Among his many accomplishments, he recorded with the composer-arrangers Oliver Nelson, Michel Legrand and George Russell, among many others, and helped the trumpeter Clark Terry establish his Big Bad Band.

In 2007, Phil received a Jazz Master award from the National Endowment of the Arts.

Phil Woods married Chan Parker, the widow of Charlie Parker, in 1955 and was stepfather to Chan's daughter Kim. On September 4, 2015, Woods performed a tribute to Charlie Parker with Strings at the Manchester Craftsmen's Guild. Performing with an oxygen tank on stage, he announced at the end of the show that he would be retiring.

He is survived by his wife, Jill Goodwin; a son, Garth; three stepdaughters, Kim Parker and Allisen and Tracy Trotter; and a grandson.

Neil Portnow President/CEO of The Recording Academy issued the following statement: "Four-time Grammy Award winner Phil Woods was one of the top alto saxophonists and a leading figure in the jazz world. A master of the bop style, Woods was also a gifted clarinetist, bandleader and composer. His pioneering sound was revered by many and was showcased in hits such as Billy Joel's Just the Way You Are, Steely Dan's Doctor Wu and Paul Simon's Have a Good Time. Our creative community has lost a true musical treasure, and our deepest condolences go out to his family, friends, and all those who had the privilege and honor of working with him.

MICHAEL BURGESS noted Canadian tenor who performed the role of Jean Valjean in more than 1,000 Toronto stage performances of Les Misérables, passed away in a Toronto hospital September 28, 2015 after a lengthy battle with cancer. He was 70.

Burgess was born in Regina, Saskatchewan, in 1945. He appeared in H.M.S Pinafore, E.N.G. and Bordertown, as well as other Canadian television programs and movies.

Burgess was also the first to sing the Canadian anthem O Canada at a World Series Game, in Atlanta in 1992.

In a statement, theatre producer David Mirvish said, "He was a very talented performer with a spellbinding voice and a truly arresting stage presence. Canada has lost one of its major artists. He will be sorely missed."

He was inducted into the Bobby Orr Hall of Fame in Parry Sound, Ont., in 2003 and the Hall's website stated "his performance of Danny Boy has often brought our audiences to tears."

He is survived by his wife Susan Gilmour, his costar in Les Miz. They wed in 1994.

Toronto's Princess of Wales Theatre and Royal Alexandra Theatre dimmed their marquee lights on Tuesday, September 29, for two minutes in his honor.

SHERI M. GOLDHIRSCH artistic director of Young Playwrights Inc., died of liver failure September 22, 2015 in Manhattan. She was 55 and had been in declining health for the last few years.

Young Playwrights Inc. was created in 1981 by composer Stephen Sondheim. Its function was to identify pre-teen and teen dramatists of promise, and nurture their work through workshops, competitions and productions.

Goldhirsch joined Young Playwright in 1982 as an intern, shortly after it began. She later became the managing director and, finally, in 1993, the artistic director. As such, she read the work of hundreds of hopeful playwrights.

On the Young Playwrights website, Sondheim wrote, "The untimely passing of Sheri Goldhirsch is not only a shock to me, but to the entire Young Playwrights Inc. family - a large one, consisting as it does not only of the seven board members, but also the 32,300 writers 18 years and younger who have entered their plays in the annual competition (the 340 winners of which have, as a result, been lucky enough to see their plays professionally staged or produced). Sheri read every one of those plays during her 34 years of running the organization, and wrote personal acknowledgments to the playwrights. Sheri devoted her entire career to encouraging young people to find their creative roots and let them grow. Our loss is their loss, and it is a mighty one."

Goldhirsch was born in Brooklyn on January 23, 1960. She earned a bachelor's degree in English literature from Pace University.

There are no immediate survivors.

ANTONION RAMOS a respected, anti-gang violence artist working on a public mural designed by schoolchildren, who reimagined themselves as superheroes who could solve problems in their community, was shot and killed in Oakland, CA on September 30, 2015. He was 27.

Police indicate that the gunman opened fire about 10:30 a.m. as the artist worked under the Interstate 580 overpass.A witness stated a man started "messing with his equipment. Ramos told the man to leave, moment later the gunfire broke out and the artist was killed."

Members of the Oakland Super Heroes Mural Project released a statement saying "In the midst of beautifying the community with youth messages of hope and love, this horrific tragedy happens…senseless gun violence that continues to plague our communities." That statement said that Ramos had worked on murals for the group since 2012.

BRIAN FRIEL the Olivier and Tony Award winning famed Irish playwright died Friday, October 2, 2015 after a long illness. He was 86.

Considered to be one of the greatest English-language dramatists he made his Broadway debut in 1966 with Philadelphia, Here I Come! In 1979 Faith Healer was staged. That production enjoyed a 2006 revival starring Ralph Fiennes.

Translations, ran on Broadway in 1995 and 2007. Dancing at Lughnasa, a Best Play Tony winner in 1992, became a movie starring Meryl Streep.

In a career which spanned six decades he penned more than thirty plays.

Friel was a member of the American Academy of Arts and Letters, the British Royal Society of Literature and the Irish Academy of Letters.

The National Library of Ireland houses the 160 boxes of The Brian Friel papers (Manuscript Collection List No. 73 [MSS 37,041–37,806], given as a gift to the state in December 2000.
















Next Column: October 11, 2015
Copyright: October 4, 2015 All Rights Reserved. Reviews, Interviews, Commentary, Photographs or Graphics from any Broadway To Vegas (TM) columns may not be published, broadcast, rewritten, utilized as leads, or used in any manner without permission, compensation and/or credit.
Link to Main Page
---
Laura Deni



For the snail mail address, please E-mail your request.
CLICK HERE FOR COMMENT SECTION