! >
Broadway To Vegas
  
 SHOW REVIEWS CELEBRITY INTERVIEWS GOSSIP NEWS

| | |
| --- | --- |
| | |
JUDY COLLINS TAPES SHOW FOR DVD - - FIELD MUSEUM SHOWCASES JACQUELINE KENNEDY - - MORGAN FAIRCHILD IN THE GRADUATE - - DIANA ROSS BEGINS TWO WEEK TOUR - - DEMOCRACY BEGINS PREVIEWS - - STELLA BY STARLIGHT GALA - - TRUMAN LIBRARY AND EVERY FOUR YEARS - - MUSICAL THE IMMIGRANT OPENS AT DODGER STAGES - - DONATE . . . Scroll Down


TRUMAN LIBRARY SPOTLIGHTS THAT FOUR YEAR EVENT


Steeped in tradition, combining ritual, celebration, marketing and bombast, every four years Americans go to the polls to elect their President. Celebrating and explaining this unique event, a new exhibition has opened at the Truman Presidential Museum. Every Four Years: Electing A President examines Presidential elections, with a particular emphasis on elections in the last 80 years when radio and television brought these campaigns into the living rooms of homes across America.

Text, photographs, graphic images, original artifacts and campaign memorabilia, as well as audio and video stations are featured in the exhibition. In addition, a series of activity areas invite visitors to participate in election activities such as mock voting and campaigning.

Inaugural invitations, menus, along with dresses worn by Bess Truman and Hillary Clinton are also on display.

Campaign slogans and symbols have been around almost since the beginning of the nation. They gained prominence in the election of 1840. William Henry Harrison's slogan "Tippecanoe and Tyler, Too" and his log cabin symbol helped to bolster his campaign. Campaign posters, leaflets, buttons and other novelties have traditionally been used to promote Presidential candidates.

In the Twentieth Century radio and television enabled candidates to reach far larger audiences, but these new technologies also led to more controlled "packaging" of the candidates' images.

Television ads began appearing in the 1952 campaign. That year the ads for Dwight Eisenhower and Adlai Stevenson used songs, animation, and personal testimonials to "sell" the candidates.

Since then campaign ads have become more polished, sophisticated, and increasingly acerbic if not downright vicious.

The famous 1964 "Daisy" ad implied that Republican candidate Barry Goldwater was trigger-happy with atomic weapons. In 1988 Democratic candidate Michael Dukakis was accused as being soft on crime in what became known as the "Willie Horton" attack ad. Love them or hate them, political commercials have been a powerful force in molding the image the voters have of the Presidential candidates. The exhibition is organized in a series of theme areas that survey aspects of Presidential campaigns and elections over the years. The exhibition runs through the general election and the Inauguration closing just after President's Day on February 21, 2005.

On November 4th Stephen C. Schlesinger, the winner of the 2004 Truman Book Award for his book, Act of Creation: The Founding of the United Nations, will be on hand to speak about his tome. The story he will tell, according to his book's subtitle, is one of "superpowers, secret agents, wartime allies and enemies, and their quest for a peaceful world." President Truman's first official act following the death of Franklin Delano Roosevelt was to re-affirm the nation's participation in the United Nations.

The program is free with museum admission. Schlesinger will sign copies of his book following the program. The Truman Library and Museum is located in Independence, MO.


FIELD MUSEUM SHOWCASES JACQUELINE KENNEDY AND HER WHITE HOUSE YEARS


While Americans are getting ready to vote this week, The Field Museum is getting ready to remember the White House years with a priceless Jacqueline Kennedy collection.

Revisit an era of style and grace to explore how Jacqueline Kennedy's taste, intelligence and charisma influenced American statesmanship and diplomacy.

Jacqueline Kennedy: The White House Years presents more than 70 garments worn by one of history's great fashion icons. Combined with photographs, documents, and film clips, these fashions reveal how the former first lady carefully shaped her image to reflect the vigor, ideals, and internationalism of her husband's administration.

You'll see the fawn coat and signature pillbox hat worn at the 1961 inauguration, the red dress worn for the televised tour of the White House, the beaded gown in which the former first lady dazzled Soviet leader Nikita Khrushchev and the austere black dress worn for her audience with Pope John XXIII.



President and Mrs. Kennedy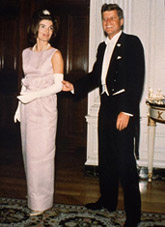 Discover how Mrs. Kennedy used the power of clothing to build international goodwill, as when she paid homage to French culture with the Givenchy gown and opera coat worn to President Charles de Gaulle's state dinner, or when she wore brightly colored ensembles on her 1962 ambassadorial trip to India and Pakistan.

See how the first lady's style extended beyond her wardrobe as she used her passion for the arts and history to heighten American culture.

Through her restoration of the White House and flawless hosting of events, Mrs. Kennedy turned the executive mansion into an exquisite background for state affairs and a showcase for American arts and letters.



Mrs. Kennedy during the January, 1962 CBS White House tour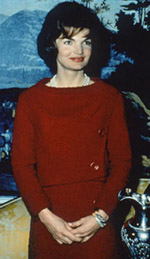 Many may not be aware that Jacqueline Kennedy received an Emmy Award.

Her efforts to restore the executive mansion won enthusiastic national support. For three days in January 1962, CBS correspondent Charles Collingwood was filmed interviewing Mrs. Kennedy on a behind-the-scenes tour of the history, rooms, and contents of the White House. An estimated 56 million viewers watched the hour-long tour broadcast on all three national networks on Valentine's Day that year.

During the tour, Mrs. Kennedy reiterated that the White House is not merely a residence, but should also be a place of pilgrimage for Americans: "I think if [young students] can come here and see…this building and—in a sense—touch the people who have been here, then they'll go home more interested. I think they'll become better Americans. Some of them may want to someday live here themselves—which I think would be very good."

The Academy of Television Arts and Sciences subsequently presented Jacqueline Kennedy with an honorary Emmy award for her achievement in the infant business of television.

You'll be able to watch a segment of the tour in the exhibition, shown with a copy of the script with Mrs. Kennedy's own notations

November 13, 2004—May 8, 2005 at The Field Museum in Chicago.


DEAR GEORGES: LETTERS TO THE PRESIDENT


A project of West 50th Street Productions, Gear George consists of dramatized excerpts of more than 1500 open letters written to President George W. Bush between Memorial and Labor days and is being performed in 40 theatres coast-to-coast before the election. The New York premiere is slated for October 31st and November 1st at Off-Broadway's Culture Project at 45 Bleecker Street, and both nights will be benefit readings for The Actors' Fund of America.

Created by Marcus Woollen and directed by Jonathan Znidarsic, the 85-minute "readers theatre" piece is intentionally non-partisan and reflects the climate of the current national debate. Issues range from Iraq, terrorism, and 9/11, to the economy, and gay marriage.

Special guests include: Rue McClanahan, Rex Reed, Margo Martindale and Rachel York. Letters were submitted from all 50 states, Puerto Rico, the U.S. Virgin Islands, and Americans overseas. Sunday, October 31st and Monday, November 1st at in New York City.

Other cities participating over between October 31 and election day include Little Rock, AR, St. Petersburg, FL, Freehold, NJ, Davidson, NC, Columbus, OH, Salt Lake City, UT, Anchorage, AK, and Columbus, OH.

Dear George: Letters to the President was made available to all theatre companies, large and small, interested in presenting it concurrently with the New York production.


SPOOKY
Hampton Court Palace - spooky stuff takes place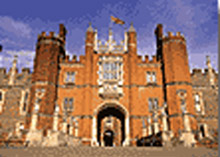 The 16th Century Hampton Court Palace - former home of the kings and queens of England including Charles I, Elizabeth I and, the most famous, Henry VIII - has long been reported to be haunted - with officials even capturing dramatic footage of an eerie visitor in 2003.

The palace's security cameras documented the event after security guards became baffled about a fire door which appeared to have opened mysteriously.

On the first occasion the film showed the door flying open for no particular reason. But the second time it happened, the guards saw a ghostly figure in period dress suddenly appearing on screen before closing the doors.

The event happened a third time the next day, but again no figure was visible and no reason could be found for the doors opening.

Adding to the mystery, a visitor had noted in the palace's visitor book that she thought she had seen a ghost in that area.

The palace, with its 500 years of history, has seen many dramatic royal events from the death of Henry's third wife, Jane Seymour, to the condemnation and house arrest of his fifth, Catherine Howard, for adultery.



Henry's six marriages produced one sickly son and two princesses (Mary and Elizabeth) who at one stage had been declared illegitimate - none of whom were to have children.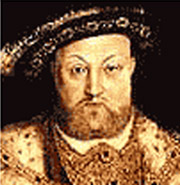 One area of the palace has been named the Haunted Gallery. It is here that people claim to have seen the ghost of Catherine Howard, and heard her uttering terrible cries. Even King Henry, himself, had reported seeing ghosts walking the halls of his home.

Many of the ghosts seen at Hampton Court are thought to be those of Henry, his wives and others connected to him.

The most persistent sightings are those of Anne Bolelyn and Jane Seymour.

In descriptions of sightings related to Anne Bolelyn one finds accounts of her both with and without her head. There have even been accounts of sightings where Anne is carrying her own head. Those who have seen Anne Boleyn in the palace describe her as walking slowly, looking bitter, but at the same time mortified by her unfair fate.

Anne Boleyn, produced daughter, Princess Elizabeth, and failed to produce a male child. Henry got rid of Anne on charges of treason - presided over by Thomas Cromwell - which were almost certainly false, and she was executed in 1536.

The other most popular sighting at the palace is that of Lady Jane Seymour - the third wife of Henry the VIII. They were betrothed within 24 hours of the beheading of Queen Anne. In 1537 her replacement, Henry's third wife Jane Seymour, finally bore him a son, who was later to become Edward VI. Jane died, 12 days later, from complications of childbirth. Jane Seymour is the only Queen to be buried with Henry in his burial vault. Her ghost has been seen roam in the Clock Court and in the Silver Stick Gallery wearing a white robe and carrying a lit candle. Legend had it that she is searching for her son.

Another of Henry's wives is also said to be seen in the palace. This would the King's fifth wife, Catherine Howard. Catherine is not really believed to be a ghost, but rather more of a psychic impression. A psychic impression is a reenactment of a particularly traumatic event, described as an echo in time. In Catherine's case this is pinpointed as her reaction to the news in 1542 that she was to be beheaded for committing acts of high treason against the king - meaning having affairs with younger men and getting caught. Catherine has been reported seen running through the gallery and corridors, speculating that she is pleading and screaming for her life to be spared.

Then there is the story of the Grey Lady; this woman is believed to be Sybil Penn, the nurse of Henry's children, who died of Small Pox in 1632. She has been seen wandering the palace halls, and often felt or seen watching over the children residing there.

She has been described by those who have witnessed her countenance as a smiling personage, and completely inoffensive. Apparently her spirit was quiet until the removal of her remains from St Mary's Church, which had been badly damaged during a storm in 1892. Suddenly her voice was heard in the hallways and once again those residing in the palace could hear the whirring of her spinning wheel. When Mrs. Penn first began haunting the palace, the owners where dumbfounded by the source of the sound of the spinning wheel. Upon further investigation a secret room was found sealed off behind one of the corridor walls, and in this room they found what is believed to be Mrs. Penn's spinning wheel.

Other specters inhabiting the palace are two soldiers who had haunted the main courtyard. At some point of the English Civil War, a small skirmish was fought at the castle and unfortunately a good amount of the troops were injured or killed. The two soldiers in the courtyard are believed to have been part of that skirmish. During some of the repairs and renovations on the castle two skeletons were found in the courtyard. The remains of the unknown men were removed from the courtyard and given a proper burial. There have been no further reports of the soldiers in the courtyard since then.

Another ghost reported in the palace is that of a young boy dressed in 17th century garb. The brother of the owner of the castle saw him at that time, and a friend. The child appeared before the men in broad daylight during a garden party. He pushed past the gentlemen standing on the stairs, who quickly followed him only to find the child nowhere in sight by the time they had reached the top of the stairs. The gentlemen described the child's behavior as that of a person who lived in the palace and was used to being in charge.

Over the years numerous tourists have reported seeing a young woman wearing "an old fashioned dress, walking along with the crowds touring the palace." Suddenly the young woman "actually walks through people - passed through them without their noticing."



Broadway To Vegas is supported through advertising and donations. Priority consideration is given to interview suggestions, news, press releases, etc from paid supporters. However, no paid supporters control, alter, edit, or in any way manipulate the content of this site. Your donation is appreciated. We accept PAYPAL. Thank you for your interest.


SPREADING THE WORD


THE NOT FOR PROFITS OF BROADWAY SEMINAR with Lincoln Center Theater: Andre Bishop & Bernard Gersten; Manhattan Theatre Club: Lynne Meadow & Barry Grove; Roundabout Theatre Company: Todd Haimes & Ellen Richard; Moderated by Ben Cameron, Executive Director, Theatre Communications Group.

Thursday, November 4, beginning at noon at The Graduate Center of the City University of New York.

Working in the Theatre Seminars presented by. The American Theatre Wing continues to provide a unique, enlightening, behind-the-scenes theatrical experience with these star-studded panels comprised of Broadway and Off-Broadway's major theatre personalities. Now in their 30th year, the Seminars are now being held throughout the year in cooperation with Continuing Education and Public Programs at The Graduate Center of the City University of New York. The panels bring together theatre's best known performers, producers, playwrights, directors, choreographers, composers, agents and others.

BEHIND THE CURTAIN One Wicked Night with Stephen Schwartz and Valerie Smaldone at the Kaye Playhouse at Hunter College. If you've always wanted to know what goes into the making of a musical and the back story of one of Broadway's most beloved composers, this night is for you. Come see radio personality Valerie Smaldone speak with Stephen Schwartz about the process of writing for the stage and screen and hear Mr. Schwartz sing selections from his compositions. Special guests to include Liz Callaway, Amy Coleman and Wicked cast members Shoshana Bean, Kristoffer Cusick and Stacie Morgan Lewis, who will sing selections from the award-winning musical. Monday, November 1st Kaye Playhouse in New York City.


SWEET CHARITY


STELLA BY STARLIGHT A Gala Evening to Benefit the Stella Adler Studio of Acting. Awards presented include; The Group Theatre Award for prolific achievement in theatre, film and television arts and for community and social commitment. Julie Harris will present the award to Arthur Miller.

The Jacob Adler Award for courageous contributions to American culture. Mike Nichols will be presenting to Tony Kushner.

The Stella Adler Award for consummate artistic achievement and interpretation. Al Pacino will be accepting the Stella Adler Award on behalf of Marlon Brando.

The legacy of the late legendary actor, director and teacher Stella Adler, will be celebrated with a gala fete and awards ceremony, in The Grand Ballroom, Pierre Hotel, New York. The evening benefits The Stella Adler Studio of Acting's scholarship programs, inner-city outreach and facilities expansion. Among those participating are co-chairs Lauren Bacall, Benico Del Toro, Julie Harris, Sidney Lumet, Elaine Stritch, Whoopi Goldberg and John Travolta.

Vice-Chairman of The Studio Ellen Adler - daughter of Stella Adler - and her son Tom Oppenheim, President and Artistic Director of The Studio have formed a "stellar" committee for this years gala including: Peter Bogdanovich, Al Boland, Eileen Finletter, Rita Fredricks, Donald MacPherson, Pamela Newman, Donna Soloway and Lisa Vioni.

Highlights of the black-tie evening will be the presentation of the 2004 Stella Adler School of Acting Awards and a specially created entertainment A Salute to Musical Theater conceived by Gordon Hunt and Roy Scheider and directed by Hunt. The musical tribute will feature a host of stage and screen stars including Ann Reinking, Audra MacDonald, Patti Lupone and other guest performers.

Monday, November 8, at The Pierre, New York City.

11TH ANNUAL LVING LANDMARKS GALA in which the Conservancy will honor Candice Bergen and Marshall Rose, Linda and Morton Janklow, George Steinbrenner and Whoopi Goldberg as Living Landmarks. New York City Police Commissioner Ray Kelly will receive the Lew Rudin Living Landmarks Award. The Gala to be hosted by Liz Smith with music provided by Peter Duchin and his orchestra. Wednesday, November 3 at The Plaza Hotel, New York City. Tickets: $1,500, $1,000 and $750 each.



DEMOCRACY

James Naughton stars as West German chancellor Willy Brandt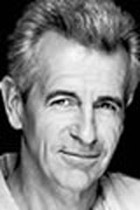 The National Theatre of Great Britain's critically acclaimed production of this new play by Michael Frayn transfers to America. Directed by Michael Blakemore the play will open on Broadway at the Brooks Atkinson Theatre on Thursday, November 18th. Previews will begin Wednesday, November 3rd.

Democracy is an exhilarating mix of Cold War spy thriller, political shell game and drama about human nature and identity. The play follows the astonishing career of Willy Brandt (James Naughton), the first left-of-center chancellor in West Germany in 40 years, and his downfall at the hands of his trusted assistant, Günter Guillaume (Richard Thomas), who is secretly spying on Brandt for the notorious East German Stasi.

The play examines Guillaume's dual identity, as his duty to Brandt's enemies conflicts with his genuine love and admiration for his prey.

Democracy also stars Robert Prosky as Herbert Wehner and Michael Cumpsty as Arno Kretschmann.

The cast also features Terry Beaver (Reinhard Wilke), John Dossett (Helmut Schmidt), Julian Gamble (Ulrich Bauhaus), John Christopher Jones (Hans-Dietrich Genscher), Richard Masur (Horst Ehmke) and Lee Wilkof (Günter Nollau).

Democracy opened to rave reviews at the National in August, 2003, where it won the 2003 Evening Standard Award for Best Play, the 2003 Critics' Circle Award for Best Play, and the 2003 South Bank Award for Best Play. It moved to the West End in April, 2004.

BECKET OR THE HONOR OF GOD by Jean Anouilh, winner of the 1961 Tony Award for Best Play is the second of ten plays to be recorded this season by L.A. Theatre Works, which continues a yearlong celebration of its 30th anniversary. The recordings take place before live audiences for broadcast on L.A.T.W.'s nationally-syndicated radio theater series, The Play's the Thing.

Tony Award-winning actor Denis O'Hare stars with W. Morgan Sheppard in one of the greatest dramas of the last century by one of its greatest playwrights. Becket is the story of two friends locked in a titanic struggle that will end in murder. Friends through a wild youth, King Henry II and Thomas Becket eventually become deadly adversaries when the king appoints Becket Archbishop of Canterbury and Becket's allegiance shifts away from king and country to God and church.

Rosalind Ayres directs five performances November 3-November 7 with no performance on Saturday, November 6 at the Skirball Center in Los Angeles.

The season, a mix of classics and contemporary plays, many straight from New York and featuring members of the original casts, will be incorporated into LATW's Audio Theatre Collection which contains over 360 plays in its multiple award-winning library, the largest of its kind worldwide.

TWELFTH NIGHT considered by man to be the greatest of Shakespeare's his romantic comedies will be the premiere presentation of ShakespeareNYC, beginning November 4th at Theatre Row's Lion Theatre, NYC, The play is directed by Beverly Bullock. Set in 1601, Twelfth Night introduces us to one of the Bard's most beloved female characters, Viola - who as the play begins, finds herself shipwrecked on the shores of Illyria. Believing her twin brother Sebastian to be drowned, she clothes herself as a man and, calling herself Cesario, enters the service of the lovesick Duke Orsino, who is head over heels in love with Lady Olivia, who in turn has sworn off all romantic attachments for a period of seven years as she mourns the death of her bother. Orsino enlists the disguised Viola in an attempt to woo Olivia. Complications arise when Viola falls for the Duke and Olivia falls for Cesario. Things get even more confused when Sebastian arrives on the scene, leading to further misunderstandings and mistaken identities.

Written when Shakespeare was at the peak of his power, Twelfth Night blends some of the Bard's most famous themes: gender disguising, separated twins, mistaken identities and implausible coincidences. Not to mention one of the more complex subplots in his comedic canon, involving yet another love-struck suitor and something about yellow stockings and crossed garters. There are also some very interesting underlying themes present, such as for some to be happy, others must suffer; as well as more than a bit of unrequited love - both man for woman and man for man. The production will utilize the glowing colors and rich stuffs found in the glorious costumes of the age of Veronese and Titian.

The cast for Twelfth Night features David Blatt, Geoffrey Dawe, Gregg Dubner, Marc Greece, Kristen Hammer, Peter Herrick, Gretchen Howe, Jonathan J. Lidz, Kathleen Kelly Lidz, John Montague, Benjamin Rishworth, Simon Peter Shea, Nicholas Stannard and Debra Zane. The production is an Equity Showcase.

THE DAYLIGHT ATHEIST by Tom Scott. Starring Grant Tilly Directed by Danny Mulheron.

"I don't know how to behave in front of my family anymore. At least everyone is familiar with this pattern of communication. As the priests say, "celibacy is better than no sex at all"."

Scott's play is loosely based on the life of his father. Cantankerous and isolated, the old man has retreated to his bedroom fortress, a bombsite of newspapers, aircraft parts and candlewick bedspreads. Amid the debris, he conjures the characters and narrative of his past in a twilight quest for resolution and redemption. From Irish boyhood to World War 2 airman to New Zealand immigrant, he retraces a life of profane exploits and irreverent adventures interrupted by a shotgun marriage and the birth of triplets.

From one of New Zealand's most respected writers and satirists, The Daylight Atheist is a one-man play evoking the colorful past and extraordinary cast of one mans' lifetime. November 3-20 at the Court Theatre in Christchurch, New Zealand.

ENCHANTED APRIL by Matthew Barber. Directed by Michael Wilson.

Adapted from the book by Elizabeth von Arnim, this 2002 Best Play Tony Award Nominee is a charming tale of four women who escape their sorrows in cloudless, sunny Italy for a month's holiday. There they find romance, hope and, ultimately, liberation in an Italian villa overlooking the sea.

Michael Wilson, Artistic Director of Hartford Stage, will remount his production that first premiered in Connecticut before moving to Broadway, featuring the scenic design of Tony-Award-winner Tony Straiges, lighting design by Rui Rita, and the costume designs of Jess Goldstein.

November 2-28 at The Drury Theatre in Cleveland, Ohio.

A SECOND HAND MEMORY a new Off Broadway play by Woody Allen. The show, set in Brooklyn in the 1950's, will star Michael McKean, Elizabeth Marvel, Dominick Chianese, Nicky Katt, Erica Leerhsen, and Kate Blumberg. Directed by Allen, it will begin previews on Nov. 3 at the Atlantic Theater Company and open on November 22.

THE GRADUATE Critically-acclaimed Dallas native Morgan Fairchild comes to her hometown in the most seductive role of her career, starring in the most provocative play in town: Morgan Fairchild is Mrs. Robinson in The Graduate.

The story of Benjamin Braddock, an innocent college grad who is seduced by an older woman, Mrs. Robinson, and then falls in love with her daughter, Elaine.

The work has been told in a variety of ways: cult novel, landmark Hollywood film, on the stage in London and New York.

Now, Broadway's smash-hit comedy, with Fairchild in the starring role, comes to Dallas.

November 2 - 7 at the Majestic Theatre.

4 GUYS NAMED JOSE - AND UNA MUJER NAMED MARIA uses comedy and song, including favorites like La Bamba, Black Magic Woman, La Vida Loca, Besame Mucho, Sway With Me, Maria Elena and Amor, Amor, to chronicle the Latin experience.

Dan Pacheco, Benjamin Perez, Gustavo Rex and Alberto Stévans star as the four Josés and Yvette Gonzalez-Nacer is Maria.

4 Guys, conceived by David Coffman and Dolores Prida with book by Dolores Prida, gets it's California premiere in a four-week run November 5 through November 28 at the Long Beach Performing Arts Center, where the multiple award-winning ICT is the professional resident theater company. Jules Aaron directs, Darryl Archibald is musical director, and choreography is by Raymond Barrio.

Four homesick guys living in snow storm-whipped Nebraska meet in a local fast food restaurant and discover that although from different backgrounds - Cuban, Puerto Rican, Dominican, and Mexican - they know and love the same beautiful songs once sung to them by their parents. To celebrate their musical roots, they put on a show at the local VFW hall, creating an exhilarating evening of Latin song and dance. Even though their ancestral roots span Latin America, they realize they share the same name, the same dream, and - oh!-oh! - the same love for a beautiful María who unexpectedly shows up to add her own "picante" spice to the mix. Forty-one songs, performed in Spanish and English, span the decades from the 1940s to Ricky Martin.

4 Guys originated at the John Houseman Studio Theatre, then moved to Off-Broadway's Blue Angel Theater where it ran for five months. When the Blue Angel was closed to make room for a restaurant, 4 Guys moved to the 700-seat Actors Playhouse in Miami. Low-priced previews begin November 2 at International City Theatre Long Beach Performing Arts Center.

THE IMMIGRANT

L to R: Walter Charles, Cass Morgan, Jacqueline Antaramian & Adam Heller Photo Credit: Carol Rosegg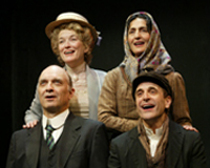 based on the popular play of the same name, a new musical starring Jacqueline Antaramian, Walter Charles, Adam Heller and Cass Morgan, will open Thursday, November 4th at Dodger Stages in New York City.

Directed by 1999 Tony Nominee Randal Myler, the production features a book written by Mark Harelik, lyrics by Sarah Knapp and music by Steven M. Alper.

The Immigrant focuses on the true story of Haskell Harelik, a young Russian Jew who instead of passing through Ellis Island, enters through Galveston and struggles to assimilate into a rural community in Texas. Commonly referred to as the Galveston Movement, Harelik's story begins like so many others at in 1909, peddling a pushcart full of bananas and wares - but his fate is changed forever when he asks Milton, a small-town banker, and his Southern Baptist wife for a drink of water from their well. Harelik's compelling story of opportunity, success and the challenges of educating a new community - is the essence of the American experience.

Celebrate 350 the 350th anniversary of Jewish communal settlement in North America, kicked off September 2004 with events and celebrations planned across the country. The Immigrant is promising to be a theatrical highlight of that celebration.

Scenery designed by Brian Webb, costumes designed by Tony Award-winner Willa Kim; a lighting design by Don Darnutzer; a sound design by veteran sound designer Peter Fitzgerald and Kimberly Grigsby serves as music director.


| | | |
| --- | --- | --- |
| | | |
WHO'S WHERE


JUDY COLLINS plus special guests. Part of Pop Legends LIVE! presented by SCA, EagleVision and SRO Entertainment. Collins is celebrating her 40-year career filled with 30 albums, 10 top hits, Grammy nominations and gold and platinum selling albums by coming to SCA's Palace Theatre. This performance will be filmed for DVD release. November 6 at the Palace Theatre in Stamford, Conn.

DIANA ROSS will embark on her North American Forever Diana Tour beginning Friday, November 5th in Atlantic City, N J. The 11-date run will include performances in Los Angeles, Detroit, Chicago and Minneapolis, among others. The performer has selected venues on this tour with an intimate atmosphere in order to create a very special evening of entertainment for her fans.

She has a two night stand Nov 5-6 at Caesars in Atlantic City. On Monday, November 8, the show is at The Pantages Theater in Los Angeles. November 9 finds her at the San Diego Civic in San Diego, CA.

BETTE MIDLER'S KISS MY BRASS TOUR takes over the RBC Center in Raleigh, NC on Monday, November 1. November 3 finds her at the Wachovia Center in Philadelphia. On Friday, November 5 the fun is at the Palace of Auburn Hills in Auburn Hills, Michigan and she closes out the week, Saturday, at the United Center in Chicago.

BARRY MANILOW AND GLORIA ESTEFAN on stage Thursday, November 4 at the Toyota Center in Houston. Next Sunday they're at the Pepsi Center in Denver.

PAUL ANKA delighting the crowd at the MGM Grand Hotel in Las Vegas November 4-November 10.

INDIGO GIRLS perform Friday, November 5 at the Palace Theatre in Stamford, Conn.

MARVIN HAMLISCH has won three Oscars, four Grammys, four Emmys, three Golden Globes, and a Tony Award. He'll be showing off at the Lyric Opera House in Baltimore, Maryland on Saturday, November 6.

CHICAGO AND EARTH, WIND & FIRE. on stage Nov 1 at the Mohegan Sun Casino in Uncasville, CT.

TONY BENNETT delighting crowd Nov. 4-6 at the Golden Nugget in Las Vegas. Next Sunday he performs at the Eastman Theatre in Rochester, NY.

DOLLY PARTON a treat for fans is on stage tonight, October 31, at the Savvis Center in Saint Louis, MO. She performs Thursday, November 4 at the RBC Center in Raleigh, NC. On Saturday she stars at the Norfolk Scope Arena in Norfolk, VA and next Sunday she is in the spotlight at the Lawrence Joel Veterans Memorial Coliseum in Winston-Salem, NC.

SARAH BRIGHTMAN has a busy week. Tonight, October 31 she performs at the John Labatt Centre in London, Ontario. On Monday she is on stage at the Air Canada Centre in Toronto. Wednesday the performance is at the Wachovia Arena in Wilkes-Barre, PA. Thursday she is in the spotlight at the Continental Airlines Arena in East Rutherford, NJ. Friday she's center stage at the Arena at Harbor Yard in Bridgeport, CT and on Saturday she brings her talent to Trump Taj Mahal in Atlantic City.

MICHAEL FEINSTEIN:NOW AND THEN LIVE MAKES THE WORLD GO 'ROUND Celebrating the Songs of Bob Merrill. Starring: Suzanne Merrill, Karen Mason, and Neva Small with Chris Denny and Fred Barton. Zankel Hall at Carnegie Hall Wednesday, November 3.

VAN HALEN continues with his tonight, October 31, at the Fargodome in Fargo, ND. On Wednesday the show is at the Bradley Center in Milwaukee, Wisconsin. Thursday he's on stage at the Hilton Coliseum in Ames, Iowa. Saturday he's in the spotlight at the Kansas Coliseum in Valley Center, Kansas.

DAVID SEDARIS performs at Kingsbury Hall in Salt Lake City, Utah on Nov. 4.
















Next Column: November 7, 2004
Copyright: October 31, 2004. All Rights Reserved. Reviews, Interviews, Commentary, Photographs or Graphics from any Broadway To Vegas (TM) columns may not be published, broadcast, rewritten, utilized as leads, or used in any manner without permission, compensation /credit.
Link to Main Page
---
Laura Deni


CLICK HERE FOR COMMENT SECTION