! >
Broadway To Vegas
  
  REVIEWS  INTERVIEWS COMMENTARY NEWS

| | |
| --- | --- |
| | |
HAUNTING BROADWAY:TOP 10 HALLOWEEN LISTS - - PRINCE ALBERT AND CHARLENE TO OPEN GRACE KELLY: FROM MOVIE STAR TO PRINCESS EXHIBIT - - MARAT/SADE HAS PATRONS VOTING WITH THEIR FEET - - PRINCE WILLIAM AND KATE CAN NOW HAVE A BABY - - PRISCILLA PRESLEY AND CINDY WILLIAMS IN NUNSENSE - - LADY GAGA SETS RECORD - - BRETT MICHAELS GIVES BACK TO HOSPITAL WHICH SAVED HIS LIFE - - 13th ANNUAL SHANGHAI INTERNATIONAL ARTS FESTIVAL - - DONATE . . . Scroll Down


Copyright: October 30, 2011
By: Laura Deni
CLICK HERE FOR COMMENT SECTION

HAUNTING BROADWAY - TOP TEN LISTS

The news that a stage version of the Academy Award winning movie Ghost will transfer from London to Broadway, beginning previews in March at the Lunt-Fontaine Theatre, adds another interpolation to the list of eerie productions which have haunted The Great White Way.

Fittingly, that venue is currently the home for the spooky Addams Family.

In an inspired publicity grabber, the most recent revival of Noel Coward's Blithe Spirit had a casting call for a psychic consultant, to coach Angela Lansbury who played medium Madame Arcati. ( See Broadway To Vegas column of March 16, 2010 )

Getting the prized psychic vibe was Paula Roberts, also known as the English Psychic, who has been working as a clairvoyant in New York for over three decades. The former Londoner earned Playbill credit as the official "psychic consultant."


Angela Lansbury as eccentric psychic Madame Arcati gives advice to Jane Atkinson and Rupert Everett. Production photo.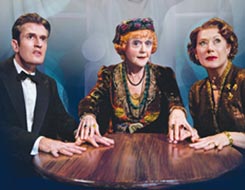 Ghosts seem to like the stage.

Not to be confused with the above mentioned movie or stage version, Ghosts is a play by the Norwegian playwright Henrik Ibsen. It was written in 1881 and first staged in May 1882, when a Danish touring company produced it in the Aurora Turner Hall in Chicago. Like many of Ibsen's better-known plays, Ghosts is a scathing commentary on 19th century morality.

Four of Shakespeare's plays contain a total of five ghosts. Macbeth (ghost of Banquo); Julius Caesar (ghost of Caesar); Hamlet (ghost of Hamlet's father); Richard III (ghosts of Edward Prince of Wales and Henry VI).

The musical Carousel has the deceased Billy Bigelow trying to convince the Starkeeper to permit him to return to earth for his daughter's high school graduation. Other classics include The Ghost and Mrs. Muir, Topper, and the movie Heaven Can Wait a 1978 film starring Warren Beatty, based on the stage play Birthday by Leslie Bush-Fekete, which was a remake of the 1941 film Here Comes Mr. Jordan, which was based on a stage play by Harry Segall who also penned Lost Horizons and appeared on Broadway in the mid-1930s.

Dracula is a popular figure. Every year about this time Prince Charles reminds everyone that he has a keen interest in Transylvania because he's related to Vlad the Impaler, a 15th-Century Romanian warlord said to have inspired Bram Stoker's iconic 1897 vampire novel, Dracula. ( See Broadway To Vegas column of October 28, 2007 ) Robert Pattinson of the Twilight vampire films also claims to be related.

Ancestry.com also named other celebrities with blood ties to Vlad - former U.S. president George W. Bush, ex-presidential candidate John Kerry and Stephenie Meyer, who wrote the Twilight novels that inspired the films.

Trying to bring that blood sucker back to life on stage has been a difficult resuscitation.

Sneaking in and out of that coffin have been several Dracula incarnations.

The first stage adaptation was written and directed by Bram Stoker himself, and performed once only at the Lyceum Theatre in London for the sole purpose of securing a stage copyright on the material in England. Stoker's production, which Lyceum actor/manager Henry Irving reportedly pronounced "Dreadful!," was called Dracula, or The Un-Dead and took place on May 18, 1897, preceding the novel's publication by eight days. The unwieldy manuscript took fifteen actors over four hours to perform.

In 1924, with the permission of the Stoker estate, the story was adapted for the stage a second time by Hamilton Deane. Entitled Dracula: The Vampire Play the English touring production starred Deane himself as Van Helsing. In 1927, the play, as substantially revised by John L. Balderston, opened on Broadway October 5, 1927 running to May 1928 at the Fulton Theatre, in a production starring Bela Lugosi and Edward Van Sloan as the count and Van Helsing, respectively.

Too soon for a Broadway revival, a DOA version opened at the Royale Theatre on April 13, 1931 seeing the coffin slammed shut the same month.

1977 saw a revival of the 1927 Broadway version. Compared to the previous versions, this one was a hit, opening October 20, 1977 at the Martin Beck Theatre, closing on January 6, 1980.

The atmospheric sets and costumes were designed by Edward Gorey. The Count was portrayed by Frank Langella, who, like Lugosi before him, would go on to perform the role on the big screen. The same Gorey sets and costumes were used for a U.S. touring version of the play starring Jeremy Brett. The Deane-Balderston lines were altered somewhat and played for a more comedic effect.

There have been numerous Off-Broadway and Off-Off Broadway attempts at blood sucking.

The last sighting on Broadway Dracula, the Musical was from the adapted version with music by Frank Wildhorn; book and lyrics by Don Black and Christopher Hampton. It opened August 19, 2004, but didn't survive the winter, playing 157 shows before closing January 2, 2005 at the Belasco Theatre.

The number of films that include a reference to Dracula may reach as high as 649, according to the Internet Movie Database.

Little Shop of Horrors a rock musical by composer Alan Menken and writer Howard Ashman, about a hapless florist shop worker who raises a plant that feeds on human blood was a hit both on and off Broadway. The musical is based on the low-budget 1960 black comedy film The Shop of Horrors, directed by Roger Corman. The musical includes several well-known tunes, including the title song, Skid Row (Downtown), Somewhere That's Green, and Suddenly, Seymour.

In addition to the original long-running 1982 off-Broadway production and subsequent Broadway production, the musical has been performed all over the world. When it closed on November 1, 1987, after 2,209 performances, it was the third-longest running musical and the highest-grossing production in off-Broadway history.

Numerous people and publications list their Top 10 Halloween Movies. Because of some ties, the flicks mentioned the most are:

The Shining
The Exorcist
Psycho
The Silence of the Lambs
Halloween
The Rocky Horror Picture Show
Carrie
The Texas Chain Saw Massacre
Poltergeist
Rosemary's Baby
A Nightmare on Elm Street
Alien
Night of the Living Dead
Seven

Likewise, numerous entities tout their Top Ten Halloween Songs. Because of ties, the toe tappers getting on the most lists are:

The Monster Mash (1962) Bobby "Boris" Pickett
Ghostbusters Ray Parker Jr. (1984)
Witchy Woman by Eagles (1972)
Thriller (1982) Michael Jackson
Tubular Bells Part. 1 (Theme from The Exorcist (1973) Mike Oldfield
Rocky Horror Picture Show Soundtrack - The Time Warp (1975
Halloween movie Theme Song (1978)
Psycho Killer (1977) Talking Heads
Boris the Spider (1966) The Who
I'm Your Boogieman (1996) White Zombie
Don't Fear the Reaper Blue Oyster Cult (1976)
Runnin' With the Devil Van Halen (1978)
Werewolves of London Warren Zevon (1978)
The Phantom of The Opera opening track
I Put a Spell on You Screamin' Jay Hawkins (1956)





Broadway To Vegas is supported through advertising and donations. Priority consideration is given to interview suggestions, news, press releases, etc from paid supporters. However, no paid supporters control, alter, edit, or in any way manipulate the content of this site. Your donation is appreciated. We accept PAYPAL. Thank you for your interest.



ART AND ABOUT


GRACE KELLY: FROM MOVIE STAR TO PRINCESS

Grace Kelly in the floral printed silk taffeta dress (McCall;s pattern) that she wore to her first meeting with Prince Rainier in Cannes, 1955. Credit Rex Images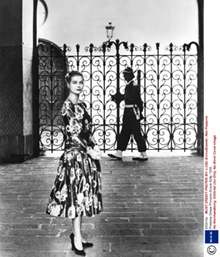 an exhibit featuring rarely-displayed items and artifacts from Kelly's days as a leading lady in Hollywood and as princess of one of Europe's oldest royal families, will be officially opened by her son, Prince Albert of Monaco and his new wife, Princess Charlene.

Prince Albert and Charlene will attend a grand opening event for the Toronto Exhibit Hall on November 2nd. They will also attend a private reception.

The exhibit includes many of Kelly's original dresses, a replica of her wedding gown, her signature "Kelly bag" and tiara.

Piers Handling, CEO and Director, TIFF, and Noah Cowan, Artistic Director, TIFF Bell Lightbox said that the exhibition will provide an exclusive look at the influential films and wardrobe and incredible memorabilia of one of the world's most beloved stars.

Based on the Grimaldi Forum's The Grace Kelly Years exhibition in Monaco, and the Victoria and Albert Museum's Grace Kelly: Style Icon exhibition in London, TIFF Bell Lightbox is the only venue in North America to host elements from these landmark shows and to complement the exhibition with a dedicated film program.

Many of Kelly's original dresses, a special exhibit around an exact replica of her iconic wedding gown, her signature "Kelly bag" and tiara will star in the exhibition, along with images from her childhood scrapbooks and high school yearbooks, letters signed "Affectionately, Hitch," telegrams from Prince Rainier and her Academy Award for The Country Girl. Kelly's personal home movies - shot on Super 8, and featuring her famous friends and family - promises to provide visitors with an extremely rare glimpse into her personal life.



Grace Kelly in the Edith Head-designed gown she wore to accept her Oscar. © Magnum Photo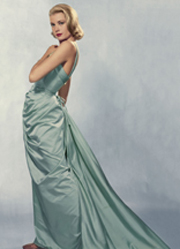 "It is an honour that the Princely Palace and Grimaldi Forum have placed their trust in TIFF to showcase this collection," said Handling. "We welcome the chance to display a variety of Grace Kelly's personal belongings for the first time in Canada and look forward to putting a TIFF stamp on an exhibition that will appeal to those interested in film, fashion, or all things royal."

"Grace Kelly brings together the Golden Age of Hollywood, European royalty and the very best of 20th century fashion. Considered the epitome of elegance and glamour, she was also among the most significant tastemakers for women around the world," said Cowan.

Accompanying the run of the Grace Kelly: From Movie Star to Princess exhibition will be a film series on the subject of the blonde in Golden Age Hollywood cinema. Curated by TIFF Cinematheque Senior Programmer James Quandt, Part One is Icy Fire: The Hitchcock Blonde which highlights several high points in Kelly's film career including To Catch a Thief, Dial M for Murder and Rear Window. Other famous blondes featured include Kim Novak (Vertigo), Eva Marie Saint (North By Northwest) and Tippi Hedren (The Birds).

TIFF is a charitable cultural organization whose mission is to transform the way people see the world through film. An international leader in film culture, TIFF projects include the annual Toronto International Film Festival in September; TIFF Bell Lightbox, which features five cinemas, major exhibitions, and learning and entertainment facilities; and innovative national distribution program Film Circuit.

The exhibit opens to the public on November 4th and runs until January 22, 2012 at TIFF Bell Lightbox in Toronto.


MARAT/SADE HAS PATRONS VOTING WITH THEIR FEET
Arsher Ali as Jean-Paul Marat being tortured, Amanda Wilkin as Kokol, Harry Myers as Polpoch, Theo Ogundipe as Simonne Evrard and Golda Rosheuvel as Cucurucu. Photo by Manuel Harlan.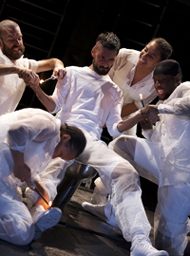 You only have through November 5 to be able to brag that you walked out of the Royal Shakespeare Company's production of Marat/Sade.

The controversial mounting, at what is probably the world's most famous classical theatre company, is making worldwide headlines because, during each performance, disgusted paid audience members are writing their reviews with their feet - by walking out.

What were they expecting? Why did they buy a ticket in the first place?

Marat/Sade is set in a lunatic asylum in post-revolutionary France, where the Marquis de Sade is directing a play about the murder of political thinker Jean Paul Marat using inmates as actors.

There's a clergyman breaking wind on the heads of asylum inmates and simulated masturbation. A transvestite, who later dons an Islamic burqa, is chained up and repeatedly tortured with a stun gun, there's a gang rape, an enactment of waterboarding and skin being burnt, simulated sodomy with sex toys which must have been purchased in bulk and nudity

Typical fare that you might find streamed by teenagers into their phones.

It's not every proper British lady's cup of tea.

There are reports that as many as 80 theatregoers walked out of one performance. The RSC says the average walk out per performance is 30. The production opened on October 15 to favorable but not overly enthusiastic reviews.

The Bloomberg review stated: "For a show which requires eruptions of manic behavior, it's also a curiously detached, even sedate, production. The cast gibber and run and shout and smear themselves with great vigor. For all that, the sense of exquisite cruelty, the fear which chills your marrow to its soul, is missing."

"Intellectual engagement, however, there is aplenty. It's also the kind of large-scale ensemble piece which the RSC does to perfection. There's so much trust between the actors, you can almost feel it."

"A great celebration for the company."

A review in the Financial Times called it "comprehensively perverse", adding that it constantly challenges "both dramatic conventions and audience composure".



Arsher Ali as Jean-Paul Marat gets a licking, Jasper Britton as Marquis De Sade looks on and Lisa Hammond as Herald puts her tongue to use. Photo by Manuel Harlan.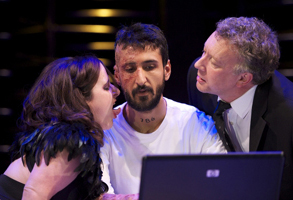 Audience members interviewed on the RSC's own website described the production as "warped", "disturbing" and "shocking".

Written by Swedish playwright Peter Weiss, Marat/Sade is known in it's full title as The Persecution and Assassination of Marat as Performed by the Inmates of the Asylum of Charenton under the Direction of the Marquis de Sade.

Incorporating dramatic elements characteristic of both Artaud and Bertolt Brecht, it has always been "a bloody and unrelenting depiction of class struggle and human suffering which asks whether true revolution comes from changing society or changing oneself."

It was first staged by the newly-formed RSC in 1964, with Peter Brook directing. Controversy ensued but the production forever changed British theatre, ushering a new era of the radical, avant-guarde. The production transferred to Broadway.

The Broadway cast included Ian Richardson as the herald, Clive Revill as Marat, Patrick Magee as de Sade, and Glenda Jackson as Charlotte Corday.

After two previews, the Broadway production opened on December 27, 1965 at the Martin Beck Theatre and ran for 145 performances. Richardson took over the role of Marat, while Magee and Jackson reprised the roles they had originated in London.

The play won the Tony Award for Best Play, and Brook was named Best Director. Additional awards went to Magee for Best Performance by a Featured Actor in a Play and Gunilla Palmstierna-Weiss for her costume design. Jackson lost the Tony Award for Best Performance by a Featured Actress in a Play to Zoe Caldwell. It also won the 1966 New York Drama Critics' Circle Award for Best Play.

The current revival, as translated by Geoffrey Skelton and adapted into verse by Adrian Mitchell, was commissioned as part of the RSC's 50th anniversary celebrations, and is being staged at the company's newly-refurbished Stratford-upon-Avon . theatre. The production has lighting design by Chahine Yavran which has received rave comments. Directed by Anthony Neilson, the production stars Jasper Britton as de Sade, the guy who wrote 120 Days of Sodom, and Nicholas Day plays Lavoisier an asylum inmate who is seen being raped. With Imogen Doel as Charlotte Corday who murdered Marat and Lisa Hammond is the well endowed, wheelchair-bound narrator Herald. Liz Crowther as Patient, Amanda Wilkin as Kokol, Oliver Rix as William, the Patient, Christopher Ettridge as Coulmier, Lanre Malaolu as Duperret, Nathaniel Martello-White as Jaques Roux.

The RSC had stressed that ticket holders were notified in advance of the show about the explicit content.

A letter sent out by the RSC box office said: "Anthony Neilson is taking a fresh look at the play and his production will contain scenes of a sexually explicit nature, some of which involve religious imagery. We recommend that the production would not be suitable for audiences under the age of 16."

The RSC hasn't misled the audience in what to expect: "In post revolutionary France the inmates of an asylum present a play about the murder of Jean-Paul Marat under the direction of the notorious Marquis de Sade. As the director of the asylum and his family sit down expecting to see a patriotic display, they are confronted with a performance that is unruly, shocking and outspoken."

"RSC Literary Associate Anthony Neilson directs this bold new production in our 50th anniversary year." The famed company also offered workshops and events for students to support the production.

Since the production has never been a laughed filled, frilly comedy and the ticket holders were warned, then what did the audience expect?

For those wishing something easier to digest the RSC will celebrate National Pudding Day on November 9 where the rooftop restaurant will offer free pudding to diners.


SWEET CHARITY


BRETT MICHAELS the Poison frontman who got hit in the head while performing on a Tony Awards telecast and then went on to almost die from a burst appendix, survive a brain hemorrhage and a hole in his heart, has donated a music room to St. Joseph's Barrow Neurological Institute in Phoenix. That's the institution where the Celebrity Apprentice winner was treated in April 2010 for a brain hemorrhage which led to the discovery that he was carrying around a hole in his heart.

His donation of new televisions and sound systems for a hospitality and music room will benefit both the patients and their families.

The guy who went against doctor's orders to continue on - and win - Celebrity Apprentice has made a full recovery but still remains under the care of physicians.

THE EAST LYNNE THEATER COMPANY stages its annual gala - titled Vaudeville - on Thursday, November 10, at Aleathea's Restaurant at the Inn of Cape May in Cape May, NJ.

The aggressive waiter, the down-and-out dance duo, the Irish landlady, and the spunky ingénue are just a few of the characters that will be comically brought to life by actors who have performed with ELTC. Along with original Vaudeville skits, there is music and singing, a lovely dinner, a raffle, and an introduction to the company's exciting 2012 Season.

TOAD THE WET SPROKET one of the most successful alternative rock bands of the early 1990s, performs November 3 at The Coach House in San Juan Capistrano. On November 4th the show will take place at The Canyon Club in Calabasas. Also part of those shows will be fellow Santa Barbara native, Gina Villalobos. On November 5, at The Lobero Theater, there will be a benefit performance with special guest Zach Gill, for The Santa Barbara Birth Center, a cause near and dear to Toad The Wet Sproket, since singer/songwriter Glen Phillips, the founder of Toad The Web Sproket is the husband of Laurel Phillips, LM CPM the Founder/President of The Santa Barbara Birth Center.


THE 13th ANNUAL SHANGHAI INTERNATIONAL ARTS FESTIVAL FEATURES ITZHHAK PERLMAN AND PICASSO


A month-long international arts festival, currently underway in Shanghai, is featuring a concert by violinist Itzhak Perlman, the Berline Philharmonic conducted by Sir Simon Rattle, Zurich Tonhalle Orchestra under the baton of David Zinman, Italian Conductor Ricardo Muti with Shanghai Symphony Orchestra, a radically reimagned Nutcracker and an exhibition of 62 original Picasso works.

To commemorate the 100th anniversary of Mahler's birth, on November 3 the Zurich Tonhalle Orchestra will perform Mahler's Symphony No. 5 (1902) and Symphony No. 7 (1905). David Zinman will conduct the Zurich Tonhalle Orchestra in Mahler's Fifth Symphony, considered by many to be his most beautiful work, known for its funereal trumpet solo opening and its adagio. The symphony is a representative work of Mahler's mid-career and is considered a transformative work that began this period. It is a touchstone for the world's best orchestras.

Founded in 1868, the symphony orchestra is the oldest in Switzerland, and considered one of Europe's leading ensembles.

Undeniably the reigning virtuoso of the violin Perlman performs a solo recital including Mozart's Sonata for violin & piano in B-flat major, K. 454, Beethoven's Sonata for violin & piano No.7 in C minor(Eroica), Op. 30/2, and Saint-Saens'Sonata for violin & piano No. 1 in D minor, Op.75.In the recital, Ron Da Silva serves as the piano accompanist.

The festival opened with an original dance drama, The Goddess and the Dreamer by the Zhengzhou Song and Dance Theater.

Original works also include the opera Red River Valley by the China Opera and Dance Drama Theater; the stage play A Charming Face Among Peach Blossoms by the Shanghai Drama Arts Center; a new Peking Opera Peking Opera Actor Becomes Major General and the Peking Opera and musical drama Meng Xiaodong by the Kuokuang Peking Opera Theater from Taiwan.

Two original Chinese works will have their world premieres - The Nutcracker and the Dream on the Sea and the original musical The Broken Bridge. The Broken Bridge is a retelling of the Madame White Snake legend in which a benevolent snake sorceress falls in love with a mortal man. The Nutcracker is a radically different take of the famous Nutcracker story.

Tchaikovsky's music and some ballet elements are retained, but the new work has a different storyline and includes magic, acrobatics and exotic sets.

Director Liu Jun was the choreographer for the acrobatic version of Swan Lake.

In the Chinese version, a nutcracker helps a talented ballet dancer Mary regain her confidence and thus succeed in her career and find love.

The production is also slated to opens December 23 at the Lyric Theatre in Shanghai with tickets ranging from $19 to $170. The show's creative producer is Ric Birch, who produced the opening and closing ceremonies of the 2000 Summer Olympic Games in Sydney.

This isn't the first time there has been a different perspective on the Nutcracker classic.

In December 2010 The National Ballet of China staged their version. Last February the ballet was performed once again, this time at the National Centre for the Performing Arts and in the cast was The Swedish Ambassador to China, Lars Fredén.

In this new version the story is set during the Chinese New Year, rather than Christmas. Among the characters is "a foreigner" who comes to visit a Chinese family. It is he who brings the nutcracker (in the shape of a toy) which has given the ballet its name.

"They needed a foreigner and I was given the chance," posted the ambassador on the official Swedish Embassy website.

"I'm interested in ballet and I know some of the people in the company since my previous posting in Beijing ten years ago. I can assure everybody that I didn't dance, something I am manifestly unable to do. But I had to be on the right square meter at the right beat. Not completely trivial."

"It was fascinating to see first hand how a professional performance evolves. From rehearsals in an empty room to the actual show with sets, costumes, make-up, lights and orchestra."

"It was impressing to see how hard the dancers work," said the ambassador. "A privilege to take part."

The 13th Shanghai International Arts Festival runs through November 18. Around 50 performances will be staged, including 21 original Chinese works.


HALLOWEEN EVE GREAT TIME TO CONJURE UP GEORGE BURNS
Rupert Holmes materializes to conjure up George Burns - in two locations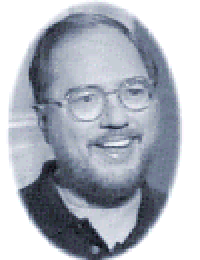 Rupert Holmes is the Tony Award winning playwright/composer/author who is getting his Halloween treats by watching George Burns materialize in his creation Say Goodnight, Gracie - simultaneously conjured up in two locations.

On Sunday afternoon, October 30, Holmes discusses the life of entertainment legend George Burns following a performance of his Tony Award nominated play Say Goodnight Gracie, with Alan Safier in the role of Burns, at the Brooklyn Center for the Performing Arts in Brooklyn, NY.

Moderated by Entertainment Weekly senior editor Thom Geier, the event is free with the purchase of a ticket to the performance.

In Say Goodnight Gracie, George Burns looks back upon his impoverished, plucky youth on the lower east side of New York and his disastrous but tenacious early years in vaudeville, all leading up to the momentous day when he met a talented young Irish girl named Grace Ethel Cecile Rosalie Allen, whose endearing dizziness was a perfect match to his flawless comic timing.

Together, they rose to the pinnacles of vaudeville, of vaudeville, film, radio and television. Gracie's early retirement and untimely death forced George to start from square one, in life as well as in his career. Eventually, he achieved an equal level of success as a solo raconteur and Academy Award-winning actor.



Post card promoting Las Vegas Sahara Hotel engagement of George Burns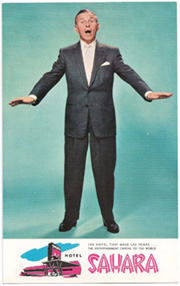 With vintage photographs, video clips from film and television performances, and voiceovers by actress Didi Conn as Gracie Allen, Say Goodnight Gracie brings to life Burns' fascinating story.

Say Goodnight Gracie is Broadway's third-longest running solo performance show, having played 364 performances at the Helen Hayes Theatre. It won the 2003-04 National Broadway Theatre Award for Best Play and was nominated for a 2003 Tony Award in the same category. Frank Gorshin received a 2003 Drama Desk Award nomination for Outstanding Solo Performance for his portrayal of George Burns. The Brooklyn Center performance is directed by Michael White.

At exactly the same time that the Brooklyn event is taking place the official opening of Say Goodnight Gracie will take place in Manhattan. The location is St Luke's Theatre and that mounting stars Joel Rooks.

Spooky.

It's not really the ghost of Burns playing Halloween tricks. Rather, it's what can happen when an event is postponed and then rescheduled.

"The other one was supposed to be in July - got postponed - and now is in competition with us this weekend - but just the weekend. We are ongoing," Peter Cromarty, the press agent for the production at off-Broadway St Luke's Theatre told Broadway To Vegas.

Rooks who understudied Frank Gorshin during the show's Broadway run, starred in the recent national tour.


NOW THEY CAN HAVE AN HEIR - OPERATION BABY WATCH
William and Kate can now start a family.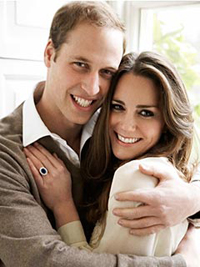 Sonata for a Pregnant Princess - Rocking Lullaby For a Royal - Foxtrot For a Nervous Father. Composers ready your music score paper.

Before Prince William married Kate Middleton he made it clear that while both he and his future wife wanted children, they had no intention of starting a family until the primogeniture rule on inheriting the Crown was changed.

At that time the second in line to the throne estimated that it could be three years before they were sending out birth announcements, because all 16 nations linked to the British empire must agree to the change.

Last Friday Queen Elizabeth, who has been on tour in Australia, called for "bold reforms" and for "women to play a greater role in society."

She got what she wanted.

William and Kate will celebrate their first wedding anniversary in April, meaning they could shave off a year from William's birth guesstimate.

Heralding an end to over 300 years of English Constitutional tradition, the leaders of the 16 Commonwealth countries, known as realms, where the Queen is head of state unanimously approved the changes at a summit in Perth, Australia. Those changes involve both the rules of succession as well as religion.

The 16 voting for the changes were: Britain, Australia, New Zealand, Canada, Jamaica, Antigua and Barbuda, Belize, Papua New Guinea, St Christopher and Nevis, St Vincent and the Grenadines, Tuvalu, Barbados, Grenada, Solomon Islands, St Lucia and the Bahamas.

It means a first-born daughter of the Duke and Duchess of Cambridge would take precedence over younger brothers.

The ban on the monarch being married to a Roman Catholic was also lifted.

Prime Minister David Cameron said the changes would apply to descendents of the Prince of Wales and they will not be applied retrospectively.

Under the old succession laws, dating back more than 300 years, the heir to the throne is the first-born son of the monarch. Only when there are no sons, as in the case of the Queen's father George VI, does the Crown pass to the eldest daughter.

"The idea that a younger son should become monarch instead of an elder daughter simply because he is a man, or that a future monarch can marry someone of any faith except a Catholic, this way of thinking is at odds with the modern countries that we have become," Cameron said.

"We will end the male primogeniture rule so that in future the order of succession should be determined simply by the order of birth,"

The changes to the outdated laws would also allow heirs who marry Roman Catholics to inherit the throne. That issue last arose in 2008 when Princess Anne's son, Peter Phillips, married Canadian born Autumn Kelly, a Catholic. The Act of Settlement of 1701 bans the marriage to Catholics of all Royals. Kelly renounced her faith and converted to the Church of England, so that Phillips didn't lose his place in the line of succession to the Throne - he is 11th although he holds no Royal titles. The couple recently announced that they are expecting their second child. Their first born is a girl.

"We have agreed to scrap the rule which says that no one that marries a Roman Catholic can become monarch," Cameron said at a press conference with Australian Prime Minister Julia Gillard in Perth on Friday.

Cameron said the realms would work to implement the changes but that for historic reasons the UK would have to publish its legislation first.

The necessary changes to laws will be introduced in the next session of Parliament and New Zealand will lead a working group coordinating the measures across the other nations.


SPREADING THE WORD


PRISCILLA PRESLEY AND CINDY WILLIAMS ARE IN THE HABIT the production company has announced that Cindy William star of Laverne & Shirley will be starring as Mother Superior in the National Tour of Nunset Boulevard - The Nunsense Hollywood Bowl Show. The tour will start in the Fall of 2012 and continue into the Spring of 2013.

The producers have also announced that Priscilla Presley, who proved she has a flare for comedy by co-starring with Leslie Nielsen in the three successful Naked Gun films between 1988 and 1994, will take the veil as Mother Superior in what is billed as a Las Vegas Casino Tour of Nunsense, with the tour dates to be announced.

A FREE STAGED READING presented by the Amas Musical Theatre of A Good Man, a new musical with music by Ray Leslee, and book and lyrics by Philip Goodman, directed by Jerry Dixon. The readings will take place on Thursday, November 3, and Friday, November 4 at The Snapple Centre, NYC.

A Good Man, based on the novel by the late Jefferson Young, tells the story of Albert Clayton, an African American sharecropper in post-World War II rural Mississippi, where blacks are leaving for the urban north in droves. Albert, proud of his work and accomplishments, resists the trend and, upon learning that his wife is pregnant, decides to fulfill a dream to fix up and put fresh white paint on his shabby tenant house. He encounters a firestorm of criticism and resistance for this presumption, and not only from the local white community.

Jerry Dixon will direct the cast which includes Tony Award winner Nikki M. James, John Jellison, Bob Stillman will join the Tony nominated Joshua Henry as Albert Clayton, Cheryl Alexander, Jeremy Gumbs, John Jellison, Anastacia McClesky, and Kenneth Robinson. Jason Michael Webb music directs.

The presentations are part of the ongoing Amas Six O'Clock Musical Theatre Lab, a development series for writers, lyricists and composers to mount staged readings of their new musicals free to the public.


OTHER PEOPLE'S MONEY


FEINSTEIN'S has announced that to celebrate Barbara Cook's 2011 Kennedy Center Honor, the famed cabaret Feinstein's at Loews Regency will rollback prices to when the club opened in 1999 during Cook and Feinstein's upcoming engagement.

The talented duo will perform at the club November 29-December 30. That means that for the month of December the special price is a $60 cover and no minimum.

Their show will feature gems from the great American songbook, Broadway hits and holiday classics.






THE NEA OPERA HOUSE HONORS

Speight Jenkins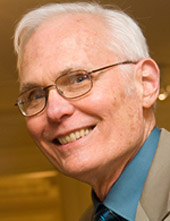 celebrate visionaries and luminaries who, by making extraordinary contributions to opera in the United States, have become cultural treasures.

The NEA Opera Honors ceremony and concert took place on October 27, 2011 at the Sidney Harman Center for the Performing Arts in Washington, DC. Hosted by NPR's Nina Totenberg, the event celebrated the lifetime achievements of designer John Conklin, general director Speight Jenkins, Mezzo-soprano Risë Stevens, and composer Robert Ward.

Speight Jenkins is recognized nationally as a leading authority on opera and one of the most influential and accomplished general directors in the United States.

He was appointed general director of the Seattle Opera in 1983 and, with productions of Wagner's Ring cycle in 1986, 1987, and 1991, and ventures such as Prokofiev's War and Peace and Poulenc's Dialogues des Carmélites in 1990, he injected new life into the company's artistic standing and financial fortunes.

Opera News cited Jenkins as one of the 25 "most powerful" names in opera in America.



John Conklin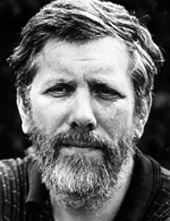 John Conklin is one of the principal figures in American stage design, both for opera and for theater, and his set and costume designs are seen in opera houses, theaters, and ballet companies across the world.

He also has designed sets on and off-Broadway as well as for regional theaters, including the American Repertory Theatre, the Goodman Theatre, the Long Wharf Theatre, Hartford Stage, Arena Stage, the Guthrie Theatre, Center Stage in Baltimore, and Actors Theatre of Louisville.

Conklin has designed extensively on Broadway, receiving a Tony award nomination (1974) for set design of The Au Pair Man. He received the Robert L.B. Tobin Award for Lifetime Achievement in Theatrical Design from the Theatre Development Fund (2008). Conklin is on the faculty of the Tisch School of the Arts at New York University where he teaches courses in design for stage and film.



Risë Stevens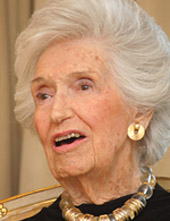 Risë Stevens is known and respected worldwide for her vibrant career in opera. She made her New York Metropolitan Opera debut in the title role of Ambroise Thomas' Mignon. She virtually owned many of the great mezzo roles. Her portrayal of Bizet's Carmen was a role she performed 124 times at the Met - one in which she was described as voluptuous, earthy, and white-hot in her alternating moods of passion and anger.

Millions more fell in love with Stevens through her frequent radio appearances and through the films The Chocolate Soldier (1941) with Nelson Eddy and Going My Way (1944) with Bing Crosby. She appeared often on such early television programs as The Voice of Firestone and The Ed Sullivan Show, where she sang both operatic and popular songs. She also appeared on one of the first Met telecasts singing Carmen (1952) opposite leading American tenor Richard Tucker as Don José.

She often is credited not only for saving the day at more than one performance of the Metropolitan Opera, but also for saving the company's 1961 season. After the company had canceled its entire 1961-62 schedule due to stalled labor negotiations, a persuasive telegram from Stevens convinced President Kennedy to intervene, and he ordered the Secretary of Labor to arbitrate the dispute. Just three weeks later, the entire season was reinstated on schedule. President Kennedy and the nation had been devoted fans of the Met's reigning mezzo for nearly a quarter of a century.

For her numerous activities "in the discovery, training, and championing of young American singers," Stevens was honored by the National Opera Institute (1982) and by the Kennedy Center (1990).



Robert Eugene Ward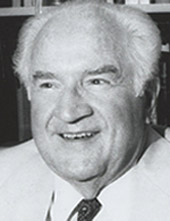 Robert Eugene Ward is respected and admired for his career as an American composer, conductor, administrator, educator, and publishing executive.

Ward earned his Artist Certificate from Juilliard and also gained a teaching position at that institution (1947-56), and at Columbia University (1946-58). During this time, Ward also served as the director of the Third Street Music Settlement (1952-55).

He left Juilliard to become executive vice-president and managing editor of Galaxy Music Corporation and Highgate Press (1956-67), posts he held until his appointment as chancellor of the North Carolina School of the Arts (1967-74). In 1974, Ward stepped down as chancellor to become a professor. From 1979 until his retirement in 1989, he was a music professor at Duke University.

His compositions include eight operas, seven symphonies, three concerti, numerous shorter works for orchestra, music for wind ensemble, compositions for a variety of instrumental chamber groups, two cantata, and various genres for vocal ensembles, and songs for solo voice with accompaniment.

Ward was awarded three Guggenheim Fellowships (1950, 19541, and 1966), and for his opera The Crucible (1961), he won the Pulitzer Prize for Music (1962) and the New York Music Critics' Circle Citation Award (1962).

JEFF BLUMENKRANTZ has been awarded the seventh annual Fred Ebb Award which recognizes excellence in musical theatre songwriting, by a songwriter or songwriting team that has not yet achieved significant commercial success. The award is meant to encourage and support aspiring songwriters to create new works for the musical theatre. The prize includes a $50,000 award. In addition to the monetary prize, the Fred Ebb Foundation will produce a one-night-only showcase of winner's work.

The Fred Ebb Foundation (Mitchell Bernard, trustee) in association with the Roundabout Theatre Company (Todd Haimes, artistic director) gives the awards, established by the late Tony Award-winning lyricist of Chicago, Cabaret, Zorba, Kiss of the Spider Woman and other shows.

The 2011 award will be presented to Jeff Blumenkrantz by Bebe Neuwirth, a veteran of Ebb's Chicago, on Monday, November 28 at an invitation-only ceremony in the Penthouse Lobby of The American Airlines Theater.

Blumenkrantz began his career as an actor, performing on Broadway in Into the Woods (1987), Threepenny Opera (1989), Damn Yankees (1994), How to Succeed in Business… (1995), and A Class Act (2001), and on TV/film in Joseph … Dreamcoat, Will and Grace, all three Law and Order series, and the Great Performances (PBS) telecast of Candide in Concert.

It was Audra McDonald's recording of his song I Won't Mind which features lyrics by Annie Kessler and Libby Saines, that jumpstarted his songwriting career. Since then, Jeff received a Best Original Score Tony nomination for his songs in Urban Cowboy, and his one-act pieces, Woman with Pocketbook and Precious Little Jewel, have been performed at regional theatres. Additionally, he has received song commissions from both Carnegie Hall and the Guggenheim's Works and Process program. Most recently, his songs have been recorded by Sutton Foster, Rebecca Luker, Victoria Clark, Lauren Kennedy, and Megan Mullally.

Jeff is a recipient of the BMI Harrington Award and the Dramatists Guild Jonathan Larson Memorial Musical Theatre Fellowship. He is a graduate of Northwestern University and a longtime member of the BMI Musical Theatre Workshop.

BLAKE ROBINSON who has been appointed Artistic Director of Tony-Award winning Cincinnati Playhouse in the Park.

Robinson currently serves as the producing artistic director at the Round House Theatre in Bethesda, MD.

Ed Stern has served as producing artistic director of the Cincinnati Playhouse in the Park since 1992. He will leave his position at the end of the 2011-12 season. Robinson will consult with the Playhouse over the next several months to plan the 2012-2013 season and will assume his role there full time July 1, 2012.

LADY GAGA has become the first user to reach 15 million followers on Twitter.



BLUES FOR AN ALABAMA SKY by Pearl Cleage. Directed by Pasadena Playhouse Artistic Director Sheldon Epps.

Starring Robin Givens as Angel Allen, Kevin T. Carroll as Guy Jacobs, Kadeem Hardison as Sam Thomas, Robert Ray Manning, Jr. as Leland Cunningham, and Tessa Thompson as Delia Patterson.

Blues for An Alabama Sky "unfolds in the summer of 1930 in Harlem, NY, just as the harsh realities of the Great Depression have devastated an ebullient decade of the Harlem renaissance. Disease and poverty have overshadowed the creative euphoria that permeated and fueled a surge of African American artists, writers and luminaries. Blues for An Alabama Sky introduces a rich cast of characters, scrambling to survive and make some sense of their overlapping personalities, politics and love lives: Angel (Givens) is a struggling blues singer and nightclub performer who cannot find a job. Her friend Guy (Carroll), a costume designer, is also out of work but dreams of being hired to design dresses for the famous African-American singer and dancer Josephine Baker. Their neighbor Delia (Thompson), a social worker, is trying to organize a family planning clinic in Harlem. Their friend Sam (Hardison), a doctor, works long hours delivering babies at the Harlem Hospital. And Leland (Manning), having recently moved to New York from Tuskegee sees in Angel a memory of lost love and a reminder of those "Alabama skies where the stars are so thick it's bright as day."

Blues For An Alabama Sky showcases a period of American history that still resonates with themes in today's headlines and is a testament to the universality of human emotion," stated Robin Givens. "I'm honored to work with Sheldon Epps, an exceptional director and human being as well as this extraordinary cast."

In addition to direction by Sheldon Epps, the creative team includes scenic design by John Iacovelli, lighting design by Jared Sayeg, and costume design by Karen Perry. Performances November 1 – 27, at The Pasadena Playhouse in Pasadena, CA.

THE FABULOUS PALM SPRINGS FOLLIES

John Davidson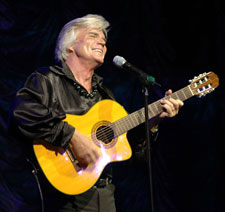 kicks off the Follies' extraordinary third decade, by celebrating a perpetual summer vacation with an all-new show entitled Hot! Hot! Hot! - a music and dance-filled journey through Mid-Century America.

John Davidson does a star turn November 1-December 31.

On Broadway Davidson starred in a revival of Oklahoma; was the lead in Rodgers and Hammerstein's original State Fair; starred in regional and national productions of such hits as The Music Man, Camelot, Carousel, Man of La Mancha, Chicago, Neil Simon's Rumors, and Will Rogers Follies; and toplined his very own theater for three years in Branson, Missouri.

He spent two years on television as host of The John Davidson Show; made 80 appearances on The Tonight Show - the only singer to achieve that milestone; regular host of The Kraft Music Hall and The $100,000 Pyramid; he was a semi-regular panelist on the original Hollywood Squares and then hosted a revival which ran from 1986 to 1989. Davidson even a did a dramatic turn on The Streets of San Francisco.

In Las Vegas was he introduced by Jack Benny in 1966, going on to headlined at the Las Vegas Hilton, the MGM Grand, Caesar's Palace, the Riviera, the Desert Inn, the Golden Nugget and Harrah's.

In recent years he has written and starred in his autobiographical play, Father/Son (& Holy Ghost), derived from his experiences growing up as the offspring of two ordained American Baptist ministers in Pittsburgh, Pennsylvania.

A smash hit with Follies audiences three years ago, Davidson returns to headline the Follies' November 1 - December 31, 2011. The Fabulous Palm Springs Follies is at the Plaza Theatre in Palm Springs, California

CHINGLISH by Tony Award winner David Henry Hwang. Directed by Obie Award winner Leigh Silverman.

The eagerly anticipated Broadway transfer of the critically acclaimed bi-lingual Goodman Theatre production by the wordsmith of Madame Butterfly.

Billed as a comedy, which it is - it also is so much more. Everyone can related to being misunderstood - failing to communicate. Some of the results can be funny. Others can be heartbreaking. Language and culture, as it relates to both business and personal relationships can be controlled, manipulated, distorted, mangled - or even correctly conveyed.

In Chinglish, East Meets West through interpretes who may or may not be correctly conveying what they are translating. Underneath the hilarity is a chilling portrayal of exactly what it is like to do business in a country where the language, customs and mores are not easily understood under the best of circumstances.

Billed as; "In this sexy and romantic play, an American businessman arrives in a bustling Chinese province looking to score a lucrative contact for his family's sign-making firm. He soon finds that the complexities of such a venture far outstrip the expected differences in language, customs and manners - and calls into question even the most basic assumptions of human conduct."

Starring Jennifer Lim (Xi Yan), Gary Wilmes (Daniel Cavanaugh), Angela Lin (Miss Qian/Prosecutor Li), Christine Lin (Miss Zhao), Stephen Pucci (Peter Timms), Johnny Wu (Bing/Judge Xu Geming) and Larry Lei Zhang (Minister Cai Guoliang).

Performed in a roughly equal mix of English and Mandarin, with English supertitles projected on the surfaces of David Korins's impressive dual-turntable sets.

Costumes by Anita Yavich; lighting by Brian MacDevitt; sound by Darron L West; projections by Jeff Sugg and Shawn Duan; technical supervisor, Hudson Theatrical Associates; cultural advisers, Joanna C. Lee and Ken Smith; Mandarin Chinese translations by Candace Chong; production stage manager, Stephen M. Kaus.

Produced in association with the Goodman Theater in Chicago. Performances at the Longacre Theater, NYC.

VIGIL written and directed by Morris Panych.

Starring Marco Barricelli & Olympia Dukakis.

Academy Award-winner Olympia Dukakis is Grace, a woman of few words and the aunt of Kemp, who has traveled cross-country to be with her on her deathbed.

Kemp's problem is: she's not dying fast enough.

Gallows humor fuels the delightfully dark comedy, but it is Grace's economical contributions to the dialogue that give this play its weight and profundity.

"Let's not talk about anything depressing, alright? Do you want to be cremated?" - Kemp in Vigil.

Performances November 2 - December 18, 2011 at the Mark Taper Forum in Los Angeles.

A CHARITY CASE a new play about adoption by Australian playwright Wendy Beckett who also directs.

The play features two-time Tony nominee Alysia Reiner and Jill Shackner.

Is it possible to find yourself when you don't understand where you came from? A young girl struggles to come of age while caught in an endless tug of war between her loyalty to the imperfect woman who took her in and her curiosity about the troubled woman who gave her away. A Charity Case delves deeply into the entanglements between a biological mother, an adoptive mother and their 17-year-old daughter.

A Charity Case opens Off Broadway at the Clurman Theatre in New York City on Wednesday, November 2 and runs through November 20th.

A SPLINTERED SOUL by Alan Lester Brooks. Directed by Daisy Walker.

San Francisco, 1947. A group of Jewish refugees arrive from Poland, aided by the American Jewish community. Haunted by the death of their loved ones, they are haunted more by what they did to survive. Rabbi Kroeller, a resistance fighter who lost his family, makes it his mission to protect the survivors at all costs. But he discovers determining right from wrong is more complicated in the new world, when he takes matters into his own hands, and a mysterious disappearance occurs with unforeseen consequences.

The cast includes Lisa Bostnar, Ella Dershowitz making her New York theater debut, Michael Samuel Kaplan, David Lavine, John Michalski, Anya Migdal, Kenny Morris and Sid Solomon.

A Splintered Soul has scenic design by Kevin Judge, lighting design by Patricia M. Nichols, costume design by Lucille Lortel nominee Valerie Marcus Ramshur, and sound design by Nathan Leigh.

The author has a most unusual background. Alan Lester Brooks is a physician by profession and an author by preference. Born in 1942, he grew up with a great awareness of the events in Europe in that decade and beyond. As his surviving relatives came to America from Europe, he met and grew up among the characters in this play. While attending Pomona College, though a premed student, he developed a special interest in political science and philosophy. He attended UCLA School of Medicine, and, after an internship, was sent to Vietnam as Lieutenant Commander in the US Navy. There he witnessed first hand the miseries of war, while tending to civilian Vietnamese casualties.

As a physician Dr. Brooks has had a special interest in the developing world, teaching abroad extensively. He is also author of a book of fictional political philosophy, UNITY (A Futurists Fable), published in 2002. A Splintered Soul won the Moondance International Film Festival award for the best full-length stage play drama in 2005. Performances at Theater Three in New York City are through Saturday, November 13th.

SOME LOVERS

(from left) Actors Jason Danieley and Michelle Duffy, composer Burt Bacharach, playwright and lyricist Steven Sater and actors Jenni Barber and Andrew Mueller. Photo by Henry DiRocco.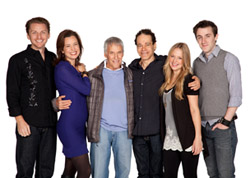 a new musical with book and lyrics by Tony and Grammy Award winner Steven Sater and music by Academy and Grammy Award-winning legend Burt Bacharach.

Directed by Will Frears with music supervision by Lon Hoyt and choreography by Denis Jones.

To create his first original stage musical since Promises, Promises - recently revived on Broadway - Bacharach has joined forces with Spring Awakening's Steven Sater to re-imagine the classic O. Henry Christmas tale The Gift of the Magi for today's audiences.

On Christmas Eve, estranged lovers Molly and Ben are haunted by the memory of happier times, and like the unforgettable melody of a favorite song, their memories conspire to bring them together again. A timeless love story that takes place over 20 years, Some Lovers features a new score by Bacharach.

The cast features Jenni Barber (Young Molly), Jason Danieley (Ben); Michelle Duffy (Molly), and Andrew Mueller (Young Ben).

The creative team includes Takeshi Kata (Scenic Design), Jenny Mannis (Costume Design), Ben Stanton (Lighting Design), Leon Rothenberg (Sound Design), Jonathan Tunick (Orchestrator), AnnMarie Milazzo (Vocal Designer), Jim Carnahan, CSA (Casting) and Matthew Silver (Stage Manager).

Some Lovers will run November 26 – December 31 in the Sheryl and Harvey White Theatre, part of the Old Globe's Conrad Prebys Theatre Center in San Diego, CA.

PUBERTY RITES by Elaine Jackson. Directed by A. Dean Irby who is the former acting coach for The Cosby Show.

Puberty Rites is billed as "a poignant "coming of age" drama. An elemental heritage bonds two girls to an American heritage at the beginning of the 21st Century, Keesha, from her struggling Black world and Vesna, from her White world of physical privilege. Both face emotional poverty as they confront each other and their inherited past and future. Their personal secrets threaten to destroy them and their dreams."

The cast features Yasha Jackson and Arielle Uppaluri.

Set design by Anthony Davidson, costume design by Ali Turns, lighting design by Shirley Prendergast, and sound design by Bill Toles.

Playwright Elaine Jackson received the Rockefeller Award for Playwriting for her play, Cockfight, starring Morgan Freeman, which premiered Off-Broadway at the American Place Theatre. She was also the recipient of the National Endowment for the Arts Playwright Fellowship.

Woodie King Jr's New Federal Theatre in New York City presents the production through November 20. Mr. King will be inducted in the American Theater Hall of Fame for Lifetime Achievement in January, 2012.


WHO'S WHERE


UPRIGHT CABARET'S AMERICAN ICON SERIES begins the first show of their 3rd Season, with Heart And Soul, starring Broadway sensation Shoshana Bean, Sylvia MacCalla and American Idol finalist Syesha Mercado, celebrating the music of Diana Ross, Dionne Warwick & Whitney Houston. X-Factor pianist Davy Nathan will be musical directing. This series performs November 4 at the Thousand Oaks Scheer Forum Theatre, November 6 at La Mirada Theatre for the Performing Arts, November 11 in Palm Springs at the Annenberg Theatre, and November 14 in Hollywood at the Catalina Jazz Club.

MARILYN MAYE returns to Feinstein's At Loews Regency with her new show, The Best Of Times Is Now! - which honors the legendary Broadway composer Jerry Herman on this 80th Birthday year - features songs from his shows including Mame, Mack and Mabel, Hello, Dolly! and Milk and Honey. Maye will be joined by pianist/conductor Tedd Firth (Billy Stritch on November 8-11), bassist Tom Hubbard, and Jim Eklof, her drummer, who is celebrating 50 years with Ms. Maye. The show runs at Tuesday, November 1 to Saturday, November 12 at the Loews Regency Hotel, NYC.

CYNDI LAUPER offers showgoers a treat on Halloween with a performance at The Midland in Kansas City. On Tuesday she's on stage at the Ogden Theatre in Denver. Thursday's show is at the Pala Casino Spa and Resort in Pala, CA. You can find her Friday at the Club Nokia in Los Angeles. On Saturday she performs at the Legacy Resort in Reno, NV.

K. D. LANG is in Australia where she performs at Sandalford Wines in Cavrsham on Saturday, November 5.

WYONNA sings Thursday, November 3, at the Celebrity Theatre in Phoenix, AZ. On Friday she can be enjoyed at the McCallum Theatre in Palm Desert, CA.

REBA is on tour with a stop Thursday, November 3, at the Qwest Center in Omaha. Friday's show is at the Tulsa, OK BOK Center in Tulsa, OK and on Saturday she's be delighting the fans at the Intrust Bank Arena in Wichita.

JOSH GROBAN brings his tour to the Coliseum in North Charleston, SC on Tuesday, November 1. On Wednesday he stars at the Scope Arena in Norfolk, VA. Friday's show is at the Nassau Veterans Memorial Coliseum in Uniondale, NY.

AUDRA McDONALD makes a pre Broadway tour stop on November 4 at the Hill Auditorium in Ann Arbor, MI On November 5 she stars at the Hayes Hall, Philharmonic Center for the Arts in Naples, FL.

JOHN PIZZARELLI AND JESSICA MOLANSKEY bring their all new program to the Cafe Carlyle in New York City for shows November 1-26.






Next Column: November 6, 2011
Copyright: October 30, 2011. All Rights Reserved. Reviews, Interviews, Commentary, Photographs or Graphics from any Broadway To Vegas (TM) columns may not be published, broadcast, rewritten, utilized as leads, or used in any manner without permission, compensation and/or credit.
Link to Main Page
---
Laura Deni



For the snail mail address, please E-mail your request.
CLICK HERE FOR COMMENT SECTION