Broadway To Vegas
  
 SHOW REVIEWS CELEBRITY INTERVIEWS GOSSIP NEWS

| | |
| --- | --- |
| | |
NATHAN LANE AND MATTHEW BRODERICK IN THE ODD COUPLE - - BEING CAST IN OZ BREAKTHROUGH FOR ACTOR - - JOHN GOODMAN IN CAT ON A HOT TIN ROOF - - PLAYWRIGHT DISCUSSES MISS WITHERSPOON - - PORGY AND BESS AT KENNEDY CENTER - - GOODSPEED MUSICAL THE GIRL IN THE FRAME - - JILL CLAYBURGH AND RICHARD THOMAS SPEAK OUT - - BEST OF BROADWAY AT ROYAL ALBERT HALL - - DONATE . . . Scroll Down


Copyright: October 30, 2005
By: Laura Deni

CLICK HERE FOR COMMENT SECTION
SLAM DUNKING A ROLE
Blake Robbins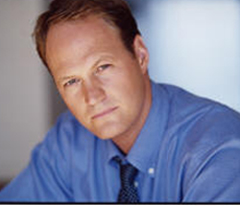 He started out as a jock. His friends were speechless when he announced he wanted to be an actor. The casting director was impressed with his best friend. Being able to slam dunk a basketball helped him get his big break.

It's not your usual story of how an actor got cast on the hit HBO series Oz.

While his wife took their daughters to a neighborhood birthday party Blake Robbins spoke with Broadway To Vegas about his career.

Robbins is best known for his three seasons as David Brass on the critically acclaimed HBO series Oz. He's had recurring roles on Firefly from creator Joss Whedon, played a US Congressman on Cold Case (CBS), a murderer on Wanted (TNT), a vicious state trooper on Medium (ABC), and a stuttering prison guard in the feature film Love Comes to the Executioner, with Jeremy Renner, Jonathan Tucker and Christine Ebersole. He's recently did an episode of Charmed where he shot Alyssa Milano's character, completed two episodes on O.C., and wrapped up two commercials. This week he's in Independence, Kansas participating in an Inge Center Playwright-in-Residence event. He also is about to begin production on a feature film which he wrote and will direct.



Blake Robbins on Oz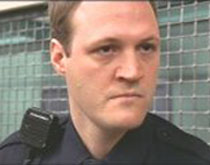 An Independence Community College graduate, Blake was class president before transferring to Wichita State University, where he received his degree in business. The actor returns to ICC to participate in theater workshops and a book signing, Wednesday, November 2. On November 5th he performs in a rehearsed reading of a developmental play P.O. Box. The author is Alice Tuan, current Inge Center Playwright-in-Residence. The evening concludes in the reading of another work-in-progress, Daughters of Genius, by Evan Smith.

Son of a Navy man, Robbins was born in Turkey and grew up in Germany, returning home to American as he entered his teen years.

"By then I was living with my mother and my step father, who was also a Navy guy. We ended up on the North Shore of Boston where my parents still live. After I got out of high school I went to the junior college in Independence, Kansas because I had grandparents who lived there."

Blake's 92-year old grandmother, Jessi Green, still lives there. She keeps fit with a daily walk and her younger friends says she "still plays bridge at a very high level."

"Both of my parents have always been involved in community theater in the North Shore area," continued Blake. "I was a high school jock and had seen them in plays but never participated. I did plays while I was in Independence, but then I transferred to Wichita State University to finish up my degree. In my three years at WSU I never did anything theater related."

It was his first ICC college girlfriend, a theater-journalism major, that sweet talked him into going on stage - as a rabbit in Winnie the Pooh.

With a business degree in hand and Wichita in his rear view mirror, Robbins had time to think as he drove to Boston. He concluded he wanted to act. Rather than fainting, his parents guided him towards acting classes.

"Then I got side tracked into modeling," he admitted. "But, that was never a reality. There weren't talent agents - modeling agents - in Boston that put you in commercials. I ended up being misfocused for a few years."

His first Equity play was the Richard Greenberg penned, Eastern Standard. "It was at the Nora Theater Company, a small professional theater that had an agreement with Harvard University to stage their plays at Harvard. The play after ours starred a little known actor at the time named Matt Damon."

"I auditioned for the American Academy of Dramatic Arts and got accepted," said Blake who received the highest possible scholarship money (at the time) to study acting. Upon graduating he was selected as one of 20 for the Academy company-from over 140 students. He's been acting ever since.

His big break came when he was cast on Oz.

"I was doing Joe Fearless at the Atlantic Theater Company, written by Liz Deschillo who went on to write for Sex and the City and did the book, He's Just Not That Into You.

"Due to the relationship between the playwright and the director of the Atlantic Theater Company, they were able to use the three month summer window of the Atlantic Theater Company to put the play up. The ATC supported them. We ran maybe 100 shows."

"It was a basketball play and we played live basketball on stage as part of the play. The casting director for Oz, Alexa Fogel, came and saw the show and liked one of the other actors in the play - a very good friend of mine - Randy Ryan.

"He got involved in the casting process. She never took any notice of me in the play," he bemoaned. "I kept hearing about this casting through Randy. It was a three or four week time period, which is a long time for TV. This part was out there. People were pre-reading - auditioning. I didn't have an agent at the time. I had no access to getting into that audition."

"I asked the producer of the play if she had any suggestions as to how an unrepresented actor could get seen for this part, because it seemed like they were seeing everyone on the east coast - except me."

"In a life altering moment for me she remembered that when she was a casting agent she had known Fogel. She knew that casting office and was willing to make a call and say - 'Can you see this guy?'"

"She made that call. The assistant to Alexes Mercedes brought me in the next day and two days later put me on tape. I felt very right for the role. She gave me an adjustment during the audition. I feel I am pretty good taking adjustments, but I didn't feel I took that adjustment what so ever. I felt very locked into what I was doing. I heard later than Tom Fontana (creator and writer of 56 episodes) looked at the tape and said - 'That's the guy.'"



Blake Robbins and Ames Ingham in the production of Charles Dickens's Hard Times at The Evidence Room in Los Angeles. Photo: Jason Adams. Photo Courtesy: Blake Robbins.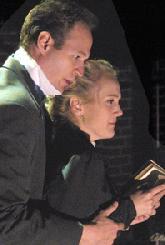 "That all happened on a Thursday," continued Blake. "They asked me to come back in and play some basketball for them with three other actors on a Monday. I played a little basketball for them, met some of the producers and on Wednesday I was shooting my first scene."

"My friend was one of the four finalists for the part and I ended up getting it."

"Yes, we're still friends."

"They were finishing the fourth season. The deal was two, maybe three episodes," he said of the contract which was turned into a three year gig.

The industry began to notice. So did everyone else. Blake started receiving E-mails from people he hadn't spoken to in 12 years.

"I had been acting for a long time," he reflected. "I had been doing a lot of theater. I had made sure I had learned a lot about the business. I had been in New York City for years. A lot of the casting directors had known me here and there, but I had never gotten that job that changed perception. And, this was that job."

"Oz was a very specific show where people didn't find and watch it accidentally. You were either a fan or not," he said explaining the viewer base. "If someone knew me from the show I was a huge celebrity. That would happen a lot in New York City. They were very involved in the show. They didn't miss episodes and there is a very diligent fan base there."

"If someone didn't watch the show, they didn't know me or know I was an actor. So, it was pretty black and white."

"It was the best experience. It was one of those first jobs that really spoils you for the rest of it."

Blake put a toe on Broadway, cast as an understudy in the Arthur Miller play The Man Who Had All The Luck, which starred Chris O'Donnell and Samantha Mathis. It was directed by Scott Ellis.

"Scott Ellis was fantastic," reported Blake. "He's a wonderful guy and a great director. He makes it a very warm inviting safe work space. After I got that part I found out that he was a fan of Oz."

"So, work does beget work. It was fantastic for me. I went to New York to study theater so I am a theater lover, someone who was willing to stay in New York and do small plays forever. I did a lot of good plays that were hardly seen. I just really love New York and the theater experience. Since I've moved to Los Angeles I've made sure that I've gone on stage at least once every year."

Being able to beat the odds and earn a living an as actor spawned a book on how working actors make the impossible happen. Robbins co-wrote Acting Qs: Conversations with Working Actors with casting director and author Bonnie Gillespie.

"The idea for the book came from my experience working with the Naked Angels theater company in New York," he explained. "They were a celebrity driven theater company with a lot of great actors who were just interested in doing theater. They would bring in working actors who would talk to us before a scene study class."

"I got so much value out of those conversations - hearing about their approach to the job, to auditioning. They were sort of talking in confidence because there was no camera, noone was writing down what they had to say. They were talking acting to acting students, so it was a very authentic conversation."

"I didn't think a book existed from a working actor's point of view. A lot of the books aren't really an inside point of view. A lot of them, frankly, are PR driven."

"We found what I like to refer to as an eclectic group of actors, like we had on Oz, to talk about how they got into the business and what they do. About their first manager or agent, about their first work experience. Did they ever feel like quitting? What they do when the work is slow? I asked questions from the mindset of what would I have liked to learn as a young actor listening to them talk."

"I got Tom Fontana to do a wonderful forward. We got a great collection of actors. Danny Pino from Cold Case. Veteran Jim Rebhorn who was in the Broadway play The Man Who Had All The Luck at the Roundabout."



Blake Robbins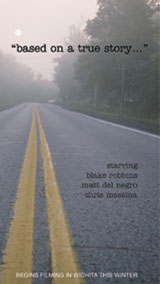 Robbins has sequed from the stage and small screen to the big screen. Recently he shot the feature film Arc with Peter Facinelli, Ken Howard and Mel Harris, which led to an introduction to producers Jennifer Schaefer and Jim Sharon, with whom he is currently in pre-production on a film he wrote and will direct based on a true story…

"It will be filmed this winter in Wichita," related Blake. "Some of my best friends in the acting world are helping us get going. We're having an event in Wichita on December 3."

Blake explained the plot as "a family drama about a school teacher who loses his two daughters to a drunk driving accident a few weeks before Christmas."

"I picked Wichita because I went to school there and I wanted to write a Midwestern heart land story. I knew Wichita intimately and because I also thought it would be a great place to be able to remain in creative control of a film. I thought I would be able to find enough money and support for the film there, so that I wouldn't have to shoot outside of Wichita."



Corbin Education Center at Wichita State University. One of the last buildings designed by Frank Lloyd Wright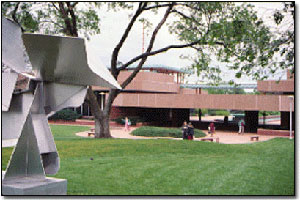 "The characters are teachers. I had Wichita State in mind. They have been tremendous. They have come on board with locations, housing and help in a lot of ways. They have really stepped up," he said of his alma mater.

"I'd say about 15-20 percent will be shot on campus."

"Chris Messina who was on Six Feet Under is involved."

So is graphic designer wife, Karen, who has done the art work.

Before he returns to Wichita he;s on stage as part of the The Inge Center Playwright-in-Residence program in Independence November 3-5.



Broadway To Vegas is supported through advertising and donations. Priority consideration is given to interview suggestions, news, press releases, etc from paid supporters. However, no paid supporters control, alter, edit, or in any way manipulate the content of this site. Your donation is appreciated. We accept PAYPAL. Thank you for your interest.


SPREADING THE WORD


BROADWAY ON THE WEST SIDE: MISS WITHERSPOON Obie Award-winning playwright Christopher Durang discusses his new play Miss Witherspoon - the timely, unusual story of a woman spending eternity in the netherworld who adamantly refuses to reincarnate.

Acclaimed director and artistic director of the McCarter Theatre Emily Mann's productions have earned her Tony Award nominations for writing and direction. Moderated by Anita Gates, culture writer for The New York Times. Monday, November 7, at the Steinhardt Building in NYC.

A NAKED GIRL ON THE APPIAN WAY A discussion with actors Jill Clayburgh and Richard Thomas, playwright Richard Greenberg and director Dough Hughes from the new Broadway play.

Bess is a successful cookbook author and her husband Jeffrey is a distracted genius. Their lives are upended when their two children return from a year of European travel and reveal surprising news that stretches the family beyond their breaking point.

Part of the Broadway on the West Side series from the 92nd St Y. Sunday, November 6, at the Steinhardt Building in NYC.



THE ODD COUPLE

Nathan Lane (top) and Matthew Broderick in The Odd Couple. photo by Carol Rosegg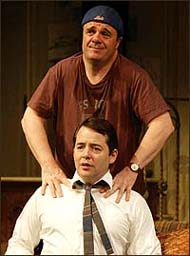 by Neil Simon. Director Joe Mantello. Starring Nathan Lane and Matthew Broderick.

Having enjoyed the movie, the TV series, actually seeing Tony Randall and Jack Klugman in a stage production - having missed the original 1965 Broadway production which starred Art Carney and Walter Matthau - there was keen interest to see this revival.

The only thing the matter with this revival of The Odd Couple is that - even before the show opened - critics conjured up the ghosts of productions past to haunt Lane and Broderick.

$21 million in advanced tickets sales - turning this into a sold out run before it opened - established that the ticket buyer public recognizes charisma when they see it - which they did with Lane and Broderick in The Producers. Tom Hanks and Meg Ryan had charisma in Sleepless in Seattle and You've Got Mail although they were dreadful in Joe Versus the Volcano - meaning if previously established charisma isn't what was anticipated maybe the problem is the script - and unrealistic expectations.

Familiarity can breed contempt - or over saturation. The Odd Couple has been mounted in every conceivable manner, including high school productions. Those teen-age efforts are what put money into Neil Simon's bank account - small payments adding up from a zillion high school productions.

Blame the need for that on a lawyer.

When Simon sold the movie rights to The Odd Couple for $100,000, he unknowingly relinquished the television rights as well.

I've heard Neil Simon say that he'd attend high school productions and just cringe at some 15- year-old in a grey flecked toupee trying to imitate Walter Matthau. Then, said Simon, he'd remember that he'd received a small payment and applaud.

The original production of The Odd Couple opened March 10, 1965 at the Plymouth Theatre, and ran for 966 performances. Directed by Mike Nichols, the show starred Art Carney as Felix and Walter Matthau as Oscar. The show won 4 Tony awards. Edgy when it was first produced, changing mores have buffed it down smooth. Charlie Sheen and Jon Cryer in Two And-A Half Men are today's Felix and Oscar. Sex has been substituted for being a slob.

This revival has marvelous casting, direction, sets by John Lee Beatty; costumes by Ann Roth; lighting by Kenneth Posner; sound by Peter Fitzgerald and music by Marc Shaiman.

Been a fan of Brad Garrett since I interviewed him, after his Caesars Palace debut where he was booked as the opening act, after becoming the first $100,000 grand prize winner on the syndicated series Star Search in 1984. He's making his Broadway debut as Murray the cop. A few years ago he was supposed to join the cast of Chicago as Amos Hart, but those plans fell through. Other poker playing buddies in The Odd Couple include Lee Wilkof, Rob Bartlett and Peter Frechette. All are superb.

The Pigeon sisters are delightfully played by Olivia d'Arbo and Jessica Stone.

This sold out run was an expensive ticket. Hundreds of thousands cared enough to ante up in advance. Many of those probably were either in - or saw a loved one in - a high school production. Happy memories are priceless. Dollar for laugh, they'll feel their money was well spent.

The Brooks Atkinson Theatre in NYC.

CAT ON A HOT TIN ROOF Tennessee Williams at the Geffen Playhouse in a special engagement available only to Geffen subscribers.

Directed by Gil Cates. Starring John Goodman.

The master American playwright, at the top of his form, rechristens the beautifully re-invented Geffen Playhouse with a quintessential American Original Cat on a Hot Tin Roof.

Tennessee Williams's smoldering Pulitzer Prize-winning drama tells the story of Big Daddy Pollitt - played by John Goodman - an affluent Southerner, and his dysfunctional family who have gathered home for his birthday. Unbeknownst to Big Daddy, the family is keeping secrets of the present and the past that threaten to change the hierarchy of this old-fashioned southern dynasty forever. This is a must-see classic - one of the best dramas ever written for the stage.

November 5 - December 18 at the Geffen Theatre in Los Angeles.

QUEEN OF THE REMOTE CONTROL by Sujata Bhatt.

A 17-year-old is caught between the San Fernando and Silicon Valleys while her parents are stuck between their impoverished past and today's American affluence in Sujata G. Bhatt's Queen of the Remote Control. Two India-born physicians leading an affluent California life find themselves at the edge of a brave new NASDAQ world in which wealth and success are redefined, while their adolescent daughter, hooked on television, tunes her family in and out as quickly as she changes channels.

November 2, 2005 – January 8, 2006 on Stage Two at Sacramento Theatre Company in Sacramento, CA.

SCROOGE THE MUSICAL starring Tommy Steele in Bob Tomson's revival of Leslie Bricusse's musical Scrooge which opens at The London Palladium on November 8, following previews from October 29. A very large scale! Scrooge The Musical will play for a limited ten week season to January 14.

BORN YESTERDAY Garson Kanin's battle of wits comedy about a bribery scheme in Washington opened on Broadway in February of 1946 and didn't close until New Year's Eve in 1949. This revival will be directed by Kyle Donnely. November 4, 2005 - January 1, 2006 at Arena Stage in Washington, D.C.

SCHOOL FOR SCANDAL By Richard Brinsley Sheridan. Directed by Barrie Rutter.

Immerse yourself in this wonderful eighteenth century comedy whose devilish wit, razor-sharp dialogue and outrageous situations continue to delight audiences to this day.

Sir Peter Teazle has taken himself a young country wife which has caught the attention of society scandalmongers – the vengeful Lady Sneerwell, the two-faced Mrs. Candour, the amorous Sir Benjamin Backbite and his malicious Uncle Crabtree.

When it is suspected that Lady Teazle may have taken a lover, the joyful malice goes into overdrive. Affairs, indiscretions and intrigue ensue as these dealers in falsehood deliver human pain and accidental happiness in abundance.

Sheridan's brilliant satire shatters the thin veneer of decorum and respectability of the upper classes. Delight in their outrageous behavior and comic intrigues, brought masterfully to life by Northern Broadsides' first adventure into Restoration Drama.

Tuesday November 1-Saturday, November 5 at The Georgian Theatre Royal in London.

THE FULL MONTY a raucous, heartfelt story of six unemployed steelworkers in Buffalo, New York who go to great lengths to make some cash and help out a friend in trouble. When a local male strip show – whose dancers venture down to their G-strings – is a hit with the local women, the cash-strapped factory workers figure they can really cash in if they go "the full Monty." The buddies, desperate for self-respect, must overcome their fears, their nerves, and their clothes for a shot at success.

November 1-20 at the North Shore Music Theatre in Beverly, MA.

On November 8 there will be a post show audience discussion with the artists; On November 13: Spotlight on History, a free pre-show discussion focusing on historical issues related to the performance; November 17 : Out at the North Shore, an evening for the Gay and Lesbian Community with a post show reception; November 19: Meet the Theatre after the 2 pm performance, post show audience discussion with the artists.

BARTLEBY, THE SCRIVENER the American premiere of R.L. Lane's adaptation of the Melville novella about Wall Street will be presented by Blue Heron Theatre.

The production, starring stage and film actor Gerry Bamman as the prosperous attorney Standard and Marco Quaglia as Bartleby will be directed by Alessandro Fabrizi.

In Bartleby, The Scrivener Melville turned from the vast ocean and endless sky that dominated Moby Dick to the hermetically sealed world of a mid-nineteenth century Wall Street lawyer's office. Into this stifling environment of copiers of legal documents comes a pale, thin, ghost-like young man (Bartleby) who overturns the lives of all whom he meets including Standard, his boss.

Bartleby is the epitome of the outsider, who puts social norms, human feelings, and finally life itself into question. Mr. Lane's play was first produced in the late 90s by the Red Shift Theatre at the Edinburgh Fringe, and later in London at the Pleasance Theatre. Last year the Red Shift revived the play for a national UK tour.

In addition to Bamman and Qualgia the eight-member cast includes; Jeff Burchfield, Sterling Coyne, Hunter Gilmore, Robert Grossman, Christian Haines, and Brian Linden. The scenic design and lighting design will be by Harry Feiner, the costume design by David Ballard, and the sound design by David Lawson. Sarah Ford will be Production Stage Manager.

November 3 through 27 at the Blue Heron Theater in NYC.

THE TURN OF THE SCREW by composer Benjamin Britten.

This famous ghost story centers on a governess employed by a mysterious man and put in charge of his young niece and nephew, Flora and Miles.

Her employer had stipulated that she must never communicate with him, never bother him with anything concerning the children.

This eerie tale of an English governess charged with protecting her children stars Christine Brandes as the Governess, Evan Haas as Miles, Bretta Cline as Flora, Jennifer Roderer as Mrs. Grose, Tracy Wise as Quint, Prologue, Elizabeth Bennett as Miss Jessel and Kristine McIntryre as the Director.

November 5, 7, 9, 11 and 13 Lyric Opera of Kansas City.

PORGY AND BESS Washington National Opera presents a new production of Gershwin's great work, staged by renowned American director Francesca Zambello.

The amazing musical score, filled with favorites like Summertime and It Ain't Necessarily So, is conducted by Gershwin specialist Wayne Marshall.

The impressive double cast is led by Gordon Hawkins and Kevin Short as Porgy; Indira Mahajan and Morenike Fadayomi as Bess; and Jermaine Smith as Sportin' Life.

In English with English supertitles.

Performances through November 19. Kennedy Center in Washington, D.C.

ONE TOUCH OF VENUS stars Christianne Tisdale, of Broadway's Beauty and the Beast and Triumph of Love. She returns to England and her roots. She'll reprise her critically-acclaimed performance as spiky secretary Molly Grant in Opera North's production of One Touch of Venus, at London's famed Sadler's Wells, beginning November 3rd.

A self-proclaimed "reformed opera singer," Christianne had 25 opera credits under her belt before she crossed-over…to belt on the Weill side.

With music by Kurt Weill, lyrics by Ogden Nash and book by S.J. Perelman, One Touch of Venus has not enjoyed a major revival since the original production in 1943.

A big hit when it opened on Broadway in 1943, this highly acclaimed Kurt Weill musical comedy, directed by Tim Albery, delivers the full Broadway experience. With some deliciously risque lyrics, and a sub-plot that could have been lifted from a comic caper movie, it's great fun. The score features I'm a Stranger Here Myself, Westwind and the haunting Speak Low, among many gems.

"Many in the States shy away from Venus, finding the book a mess. I arrived in England to a creative team who embraced the quirkiness and intricacies of the language, structure and messages. Add to that a mixed bag of American and U.K. theatrical performers, opera singers and dancers, take away the microphones, and it's more delicious than a jam roly-poly (or spotted dick...but you're probably not allowed to print that)," declared Tisdale.

Opera North recently received an Olivier for their Eight Little Greats, which featured Weill's Seven Deadly Sins.

Directed by Tim Albery, the production features music direction by James Holmes, choreography by William Tuckett, scenic design by Antony McDonald, costume design by Emma Ryott, and lighting design by Adam Silverman. Additional American cast members include opera singers Karen Coker (Venus) and Ron Li-Paz (Savory) and the BBC Radio 2 Voice of Musical Theatre, Loren Geeting, as Rodney Hatch.

The performance schedule will be November 3rd through 5th, 8th through 11th and November 12th,

THE GIRL IN THE FRAME a new musical with Book, Music and Lyrics by Jeremy Desmon. Directed by Jeremy Dobrish. Choreographed by Dan Knechtges.

What is your fantasies came to life?

That's the premise of this fast paced musical comedy.

A tricky situation turns comical when a young couple's fantasies become all to real. A hunky fireman, the perfect girl next door, a tuxedo clad Adonis...

A Goodspeed musical. November 3-27 at the The Norma Terris Theatre in Chester, Connecticut.

THE TAMING OF THE SHREW

(Top) Carey Urban as Kate (Bottom) Samarra as Petruchio. Photo by Bob Pileggi.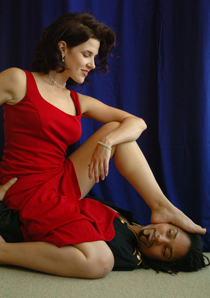 by Shakespeare. A production by The Queen's Company, an all female classical theater company that has built quite a reputation of staging productions that are lots of fun and a bit on the raunchy side while also maintaining a high performance standard. The Director/Artistic Director's clear goal is to make Shakespeare extremely entertaining.

Lucentio loves Bianca, unfortunately so does Gremio and Hortensio. But that's the least of his problems since nobody is marrying Bianca until somebody marries her headstrong sister Kate. Enter Petruchio, a man on the lookout for a wealthy wife. Is Petruchio man enough for Kate? Is Kate woman enough for Petruchio? All bets are off once the couples square off and the games of love and marriage begin.

This is the Shakespeare classic comedy that inspired "10 Things I Hate About You."

Directed by Artistic Director Rebecca Patterson, performances will take place at Walkerspace in NYC from November 5th through November 20th.

The Queens Company was founded by Patterson, who emphasizes that their mission is to offer female artists a broader range of roles with less focus on gender and race. Says Patterson, "Fifty percent of the actors in equity are female and they get only forty percent of the roles and the numbers are even lower for actors of color. I think it's our responsibility as a New York theater company to reflect our city's diversity."


| | | |
| --- | --- | --- |
| | | |
WHO'S WHERE


ELTON JOHN in the spotlight Monday, October 31, at the Fleet Center in Boston. On Tuesday he's performing at Madison Square Garden. On Saturday Elton brings his show to the Patriot Center in Fairfax, VA. Next Sunday finds him at the Wachovia Center in Philadelphia.

PAUL McCARTNEY performs Tuesday, November 1 at the Pepsi Center in Denver. On Thursday he's on stage at he Key Arena at Seattle Center in Seattle, WA on Friday he's be delighting the crowds at the Rose Garden Arena in Portland, OR.

BEST OF BROADWAY A fabulous program of hit songs from hit musicals including: Chicago, A Chorus Line, Les Misérables, Miss Saigon, Chitty Chitty Bang Bang, Mary Poppins, The Lion King, Phantom Of The Opera, Grease, The Rat Pack and many, many more!

With a sensational cast of London West End stars and the West End Chorus joining the Royal Philharmonic Orchestra, conducted by Nick Davies. Thursday, November 3 at Royal Albert Hall in London.

BLACK EYED PEAS WITH GWEN STEFANI entertain Monday, October 31, at the Fleet Center in Boston. Tuesday finds them on stage at Madison Square Garden. On Saturday they are in the spotlight at the Patriot Center in Fairfax, VA and next Sunday they perform at the Wachovia Center in Philadelphia.

MICHAEL BUBLE begins his UK tour with a show Monday, October 31 at the Cardiff International Arena in Cardiff, UK> On Saturday he's in the spotlight at the Manchester Evening News Arena in Manchester, England.

MICHAEL FEINSTEIN on stage Friday, November 4, at the Music Center at Strathmore Hall in North Bethesda, MD.

COLDPLAY entertain Monday, October 31, at Oslo Spektrum in Oslo, Norway.

GEORGE WINSTON Tune into the meditative sounds of this Grammy award-winning solo pianist as he plays old favorites and songs from his newest album, Montana-A Love Story. November 3-5 The Barns at Wold Trap in Vienna, Virginia.

THE ROLLING STONES entertain Tuesday, November 1 at the Rose Garden Arena in Portland, OR. On Friday the action is at Angel Stadium of Anaheim in Anaheim, CA. Next Sunday they star at the Hollywood Bowl in Los Angeles.

DIANNE REEVES on stage Friday, November 4 at The Atrium in Martinique, and on Saturday at Center Des Arts in Guadeloupe.

JOHNNY MATHIS has a two night gig November 4-5 at Caesars in Atlantic City, NJ.

BONNIE RAITT performs Wednesday, November 2, at The Rave in Milwaukee. On Thursday she's on stage at Weidner Center in Green Bay, WI. Friday the show is at the Chicago Theatre in Chicago. Next Sunday she's take to the stage at Northrop Auditorium in Minneapolis.
















Next Column: November 6, 2005
Copyright: October 30, 2005. All Rights Reserved. Reviews, Interviews, Commentary, Photographs or Graphics from any Broadway To Vegas (TM) columns may not be published, broadcast, rewritten, utilized as leads, or used in any manner without permission, compensation/credit.
Link to Main Page
---
Laura Deni


CLICK HERE FOR COMMENT SECTION