! >
Broadway To Vegas
  
 SHOW REVIEWS CELEBRITY INTERVIEWS GOSSIP NEWS

| | |
| --- | --- |
| | |
MORMONS AND FOOTBALL NEW FAVE TOPICS FOR THEATRICAL PRODUCTIONS - -CHURCHILL STARRING EDMUND L. SHAFF - - TONY CURTIS IMPRESSIVE AS ARTIST AND ACTOR - - ME AND JULIET HAS EUROPEAN PREMIERE - - I LOVED LUCY PREMIERE - - RADIO PROGRAMS FOR THE BLIND ARE AXED - - KATHARINE HEPBURN: DRESSED FOR STAGE AND SCREEN - - TINA FEY TO RECEIVE MARK TWAIN AWARD - - DONATE . . . Scroll Down


MORMONS AND FOOTBALL NEW FAVE TOPICS FOR THEATRICAL PRODUCTIONS


Cancer, AIDS, coming out as gay, Vietnam and women crashing through the glass ceiling - may have reached their saturation point, no longer the hot button - you can take it to the bank - words which automatically sell tickets, merely because the plotline centers around that topic.

Taking over the spotlight are Mormons and football.

To save your soul, nobody can rattle off ten feature films - much less any in the Top 100 Films of all time - that had a Mormon theme.

That makes the religion an enticing topic. The Blind Side which brought home the Oscar for Sandra Bullock, depicts the remarkable true story of All-American football star Michael Oher. That means football can sell tickets to events held other than on a football field.

The Mormon tinged Angels in America took Broadway by storm in 1996 and the HBO movie version was the most watched made-for-cable movie in 2003.

Now the production has spread its wings off-Broadway to the Signature Theatre Company whose 20th anniversary 2010-11 season, is devoted to the work of Tony Kushner, including this first New York City revival of the Pulitzer Prize and Tony Award-winning epic.

The production at the Signature Theatre Company directed by Michael Greif and starring Robin Bartlett, Christian Borle, Bill Heck, Zoe Kazan, Billy Porter, Zachary Quinto, Robin Weigert and Frank Wood, has been extended through February 20, 2011.

Set in late 1985 and early 1986, the play's two parts, Millennium Approaches and Perestroika, bring together a young gay man with AIDS and his frightened, unfaithful lover; a closeted Mormon lawyer and his valium-addicted wife; the infamous New York lawyer Roy Cohn; an African-American male nurse; a Mormon housewife from Utah; and a steel-winged, prophecy-bearing angel; as well as the ghost of Ethel Rosenberg, an ancient rabbi, the world's oldest living Bolshevik and a Reagan administration functionary, among many others - all played by a company of eight actors.



Matt Stone and Trey Parker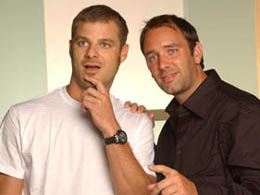 From the opening of the original Broadway production Angels in American generated conversation. Michael Evenden's analysis of Angels in America as published in Sunstone had the author complaining that Kushner represented Mormonism "as an irrelevant joke, a sinkhole of dead values." Other words Evenden used to describe Kushner's work as related to Mormons were "unsympathetic reading" of the faith, an "elaborate, obscene burlesque," "comic blasphemy," and "mockery."

If that's the case then hang onto your prayer book - because South Park creators Trey Parker and Matt Stone along with Robert Lopez, the creator and composer of Avenue Q, have penned a musical The Book of Mormon. ( See Broadway To Vegas column of April 25, 2010 )

Directed by Casey Nicholaw and Trey Parker, the plotline centers around two young Mormon missionaries who are sent off to spread the word in a dangerous part of Uganda. Their tale is told in parallel with the story of Joseph Smith, the founder of the Church of Jesus Christ of Latter-day Saints.

Calling it "a dream come true for us," Parker and Stone said in a joint statement: "Growing up in Colorado, a lot of our friends were Mormons and we always thought their book would make a great musical."

The show is being produced by Scott Rudin and Anne Garefino, an executive producer of the South Park television series. Previews will begin on February 24, 2011 at the Eugene O'Neill Theatre in NYC.

Even the small screen is getting into the act. Sister Wives a new reality television show introduces you to Kody Brown - along with his three wives: Meri, Janelle and Christine and their combined 13 children. The seven-part series premiered last Sunday on the TLC channel.

When Sports Illustrated, ESPN.com, PackersNews.com and Sports Business Daily start to cover Broadway, the stars are in a new alignment. When the National Football League announces they are producing a Broadway show, they have either been hit in the head too many times, or they think they've going to score a touchdown on The Great White Way playing field.

When producers Tony Ponturo and Fran Kirmser announced last April that they had partnered with The National Football League as a producing and marketing partner, it marked the first time the NFL or any major sports organization has ever paired with Broadway for a live theatrical event

When word broke that the NFL was "investing" most assumed it was the green stuff. Actually, they are investing their marketing skills in wooing women - the breed of human that attends most Broadway shows. According to the Broadway League that would be 66 per cent. It's also the sex which may look at the game as their rival, something that keeps husbands from attending to those - honey-do lists.



Dan Lauria as Vince Lombardi. Photo by Joan Marcus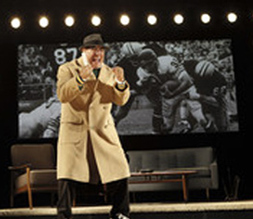 Written by Academy Award winner and Steppenwolf Theatre Company member Eric Simonson, Lombardi is based on the best-selling biography When Pride Still Mattered: A Life of Vince Lombardi, by Pulitzer Prize-winning author David Maraniss.

Dan Lauria stars as Lombardi, even using nail polish to help construct the perfect Lombardi front tooth gap. Two-time Emmy Award-winner Judith Light portrays his long suffering ("Shut up, Marie!") wife. The cast also includes Bill Dawes, Robert Christopher Riley, and Chris Sullivan

Vincent Lombardi (1913-1970) is arguably the greatest football coach of all time, and is on the short list of history's greatest coaches, regardless of sport. His ability to teach, motivate and inspire players helped turn the Green Bay Packers into the most dominating NFL team in the 1960s.

Although he made his career as a football coach, his fame and influence spread far beyond the gridiron. He is renowned for his uncompromising character, his steadfast leadership and his ability to inspire others to excel, no matter what the field of endeavor.



Vince Lombardi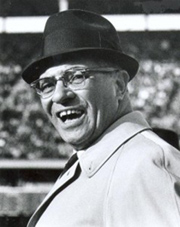 A beloved national icon, Lombardi was inducted into the Pro Football Hall of Fame in 1970, and was honored by the NFL by having his name adorn the trophy awarded to the Super Bowl champion each year.

Lombardi is billed as a play which "introduces the people and relationships that shaped Vince Lombardi's life off the field, from his wife, Marie, to some of the key players whose careers and characters were molded by his inimitable leadership."

"If you like powerful family drama that tells an inspiring story about real-life characters, you will love Lombardi," they promise.

In other words they don't want the word football to turn off women.

Even the Circle in the Square lobby - in collaboration with the National Football League - has been transformed into a museum-quality installation featuring Vince Lombardi and Green Bay Packer memorabilia. In addition to photographs chronicling Coach Lombardi's personal and professional life and some of his unforgettable quotations, theatergoers will see an array of priceless collectors' items from the Pro Football Hall of Fame, including footballs from the 1965 World Championship and Super Bowl I, both signed by the Green Bay Packers; jerseys worn by legendary Packers fullback Jim Taylor, linebacker Ray Nitschke and quarterback Bart Starr and a bench from the famed Ice Bowl, Lombardi's last game at Lambeau Field on December 31, 1967.

It will be interesting to see how many ticket holders - especially women - who walked past the collection entering the theatre, will stop to study the exhibit upon leaving.



Robert DeNiro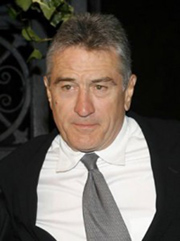 The out-of-town tryout took place July 22-28 at The Mahaiwe Performing Arts Center in Great Barrington. Currently in previews, the production officially opens on October 21, 2010 at the Circle In The Square in New York City.

Not to be confined to the stage there are two upcoming screen ventures including an HBO documentary starring Vince Lombardi as himself.

The other has none other than Robert De Niro signing on to play the Green Bay Packers head coach. Lombardi will be written by Eric Roth, who wrote the De Niro-directed The Good Shepherd.

De Niro and his Tribeca Productions partner Jane Rosenthal will produce alongside ESPN Films, the National Football League and Andell Entertainment.

Expected release date is January, 2012.

Some of Lombardi's famous quotes include:

"If it doesn't matter who wins or loses, then why do they keep score?"
"Once you learn to quit, it becomes a habit."
"Show me a good loser, and I'll show you a loser."
"Winning isn't everything, it's the only thing."



Broadway To Vegas is supported through advertising and donations. Priority consideration is given to interview suggestions, news, press releases, etc from paid supporters. However, no paid supporters control, alter, edit, or in any way manipulate the content of this site. Your donation is appreciated. We accept PAYPAL. Thank you for your interest.


ART AND ABOUT


KATHARINE HEPBURN: DRESSED FOR STAGE AND SCREEN

Dresses from Long Day's Journey . . . , Without Love, and Adam's Rib. Photography by Herbert Ascherman/Jeannette Palsa. Courtesy of the Kent State University Museum.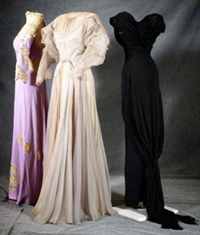 an exhibition at Kent State University opened October 2.

The exhibition of the screen legend's personal collection of performance clothes spans her 60 year career and features costumes from stage, screen and television. The exhibition runs to September 4, 2011.

Katharine Hepburn is universally recognized among the greatest actresses of all time. She was nominated by the Motion Picture Academy a record 12 times in the best leading actress category and won four Oscars -- for Morning Glory (1933), Guess Who's Coming to Dinner (1967). The Lion In Winter (1968), and On Golden Pond (1981). This record has never been equaled.

"Katharine Hepburn has had a profound impact on American popular culture and fashion, and has influenced generations of women," said Jean Druesedow director of the KSU Museum and curator of the exhibit.

"On screen and off, she epitomized the modern American woman – smart, independent, active, honest, feisty, and outspoken. In terms of fashion, Katharine Hepburn blazed trails by popularizing slacks for women, wearing or adapting men's suits as women's apparel, and helping internationalize what is now called 'The American Style.'"

The museum acquired Miss Hepburn's performance clothes in 2008 from the star's estate. Before her death (2003), she had made clear her collection of performance clothes should be given to an educational institution instead of being sold at auction. The Kent State University Museum is accredited by the American Association of Museums, and is known internationally for its costume and fashion collections. The result is a perfect fit.

"Katharine Hepburn's costumes were designed or overseen by some of the greatest 20th century designers for fashion, stage and film," said Ms. Druesedow, "Valentina, Adrian, Irene, Muriel King, Cecil Beaton, Coco Chanel, Walter Plunkett, Edith Head, Patricia Zipprodt, Jane Greenwood, Noel Taylor – it's an 'A' List all the way."

As the title of the exhibition suggests, the costumes will be presented according to genre, with "screen" including film and television. A series of Miss Hepburn's iconic beige trousers, linen vests, and tailored jackets will be placed as guideposts through the exhibit. Highlights include:

Stage costumes from The Philadelphia Story and Without Love, as well as later Broadway shows Coco, West Side Waltz, and A Matter of Gravity.

Film costumes and publicity clothes include those from The Little Minister, Adam's Rib, The Iron Petticoat, Long Day's Journey Into Night, A Delicate Balance, Guess Who's Coming To Dinner, and The Lion In Winter.

Costumes worn in many of her later television movies, including her Emmy-nominated performance as the title character in Mrs. Delafield Wants to Marry as well as her Emmy-winning performance in Love Among the Ruins.

2010-11 marks the Kent State Museum's 25th anniversary year. Opened to the public in October 1985, the Kent State University Museum was founded with an initial contribution from New York dress manufacturers Jerry Silverman and Shannon Rodgers. Their gift included 4,000 costumes and accessories, nearly 1,000 pieces of decorative art and a 5,000-volume reference library. Today the Museum's collections total more than 40,000 pieces and it holds one of the most comprehensive teaching collections of fashionable design from the 18th century to the present. Its eight galleries feature changing exhibitions of work by many of the world's great designers, and an extensive collection of American glass, fine furniture, textiles, paintings and other decorative arts combine to give context to the study of design.

VAN GOGH, GAUGUIN, CEZANNE AND BEYOND: POST-IMPRESSIONIST MASTERPIECES FROM THE MUSEE dORSAY

Left: Vincent van Gogh (1853–1890), Bedroom at Arles, 1889. Right: Paul Gauguin (1848–1903) Self-Portrait with Yellow Christ (1890–1891) © RMN (Musée d'Orsay)/Hervé Lewandowski

exhibition has opened at the de Young Museum in San Francisco.

120 remarkable paintings by the likes of Pierre Bonnard, Paul Cézanne, Paul Gauguin, Claude Monet, Pierre-Auguste Renoir, Henri Rousseau, Georges Seurat, Paul Signac, Henri de Toulouse-Lautrec, Vincent van Gogh, and Edouard Vuillard, among others. are on display.

The second of two exhibitions from the Musée d'Orsay's permanent collection, Van Gogh, Gauguin, Cézanne, and Beyond: Post-Impressionist Masterpieces from the Musée d'Orsay follows on the heels of the first with a selection of the most famous late-Impressionist paintings by Claude Monet and Auguste Renoir, as well as works representing the individualist styles of the early modern masters, including Vincent van Gogh, Henri de Toulouse-Lautrec, Paul Gauguin, and the Nabis Pierre Bonnard and Édouard Vuillard.

It is here where the Orsay's collection shines brightest with masterpieces such as Van Gogh's Starry Night over the Rhone, a haunting Portrait of the Artist, and Bedroom at Arles.

The exhibition includes a superior collection of paintings from the Pont-Aven school, including Gauguin's masterpiece Self-Portrait with The Yellow Christ. The exhibition concludes with the Orsay's spectacular collection of pointillist paintings, represented by the masters Georges Seurat and Paul Signac.

The Musée d'Orsay is lending works from their treasured collections while it undergoes a partial closure for refurbishment and reinstallation in anticipation of the museum's 25th anniversary in 2011. The de Young is the only museum in North America to host this exhibition and the only museum in the world to host both of the Musée d'Orsay's masterpiece exhibitions. This particular combination of paintings will never travel again.

Notable works in this exhibition include:

A Dance in the Country by Pierre-Auguste Renoir (1883)
Self Portrait by Vincent van Gogh (1887)
Starry Night over the Rhone by Vincent van Gogh (1888)
The Artist's Bedroom at Arles by Vincent van Gogh (1889)
Portrait of the Artist with the Yellow Christ by Paul Gauguin (1889)
Tahitian Women, On the Beach by Paul Gauguin (1891)
The Plaid Blouse by Pierre Bonnard (1892)
Still Life with Onions by Paul Cézanne (1895)
The Snake Charmer by Henri Rousseau (1907)



SWEET CHARITY


1 VOICE - AN EVENING OF MONOLOGUES, MUSIC AND MEMORIES is a celebrity-packed evening to raise industry and community awareness and protest the announcement made by The Board of Directors of the Motion Picture & Television Fund (MPTF) that they intend to close the entertainment community's historic nursing home and hospital in Woodland Hills, CA. The impending closure displaces Hollywood's most frail and vulnerable residents from their campus home in the Long Term Care facility.

Neo Ensemble Theatre, a Los Angeles based non-profit theater company, is producing 1 Voice, an Evening of Monologues, Music and Memories, on Tuesday, October 5, 2010 at the Renberg Theater at the Village in Hollywood, CA.

The evening will include scheduled performances and appearances by Richard Dreyfuss, John Schneider, Lorenzo Lamas, Kathryn Joosten, Gloria Loring, Esai Morales, Oscar winner George Chakiris, Dawn Wells, and Renee Taylor & Joseph Bologna.

Also appearing are Shirley Jones & Marty Ingels, Bill Smitrovitch, Connie Stevens, Lou Ferrigno, Jerry Douglas and Kate Linder of Young & the Restless, James Intveld, Ben Henry (Survivor Nicaragua), George Barris, Nic Novicki, cast members of NBC's The Event, Young and the Restless, Bold & The Beautiful, and members of the Neo Ensemble Theatre.

VARIETY CLUB HONORS NEIL SEDAKA

Neil Sedaka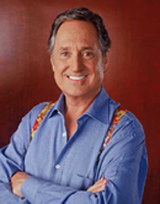 with their highest accolade The Silver Heart Award, which will be bestowed upon the legendary singer/songwriter for his outstanding services to the music industry and his charitable work.

The very first Variety Club Showbiz Awards was held back in 1952 when Jean Carson was awarded Best Musical Comedy Star. Over the years, there has been an impressive and glittering parade of the best that is showbiz from film to comedy, from music to theatre and television and from best newcomer to lifetime achievement.

Over the last few years, Al Pacino, Ricky Gervais, Katherine Jenkins, Keira Knightley, Spandau Ballet and Sir Ian McKellen have accepted the organization's Silver Hearts.

The Black Tie event takes place Friday, October 8, 2010 at the Palace Hotel in Manchester, England.

Variety Club exists to enhance the lives of sick, disabled and disadvantaged children.

6th ANNUAL ROCK SHOW FOR CHARITY to benefit the American Red Cross of Great New York takes place October 9, 2919 at the American Red Cross Headquarters in New York City.

Performing will be various soap opera stars including: From Guiding Light - Kim Zimmer, Robert Newman, Mandy Bruno and Karla Mosley. From One Life To Live - Saundra Santiago, Kristen Alderson, Brittney Underwood and David Gregory. From the recently departed As The World Turns - Michael Park and Trent Dawson.

The event will be hosted by Gina Tognoni of One Life To Live fame and feature the Bradley Cole Band.

BROADWAY TONIGHT! in celebration of its tenth anniversary, weSPARK, the cancer support center founded by actress Wendie Jo Sperber and serving the greater Los Angeles area with free services for cancer patients and their families, presents Broadway Tonight! an Evening of Broadway Song and Dance directed by Barbara Epstein with Musical Direction by Gerald Sternbach. Appearing will be; Nancy Allen, Yancey Arias, Stephanie J. Block, Alonzo Bodden, Wayne Brady, David Burnham, Marc Cherry, Michael Chiklis, Jason Graae, Teri Hatcher, Megan Hilty, Randy Jackson, Christine Lakin, Sylvia MacCalla, Camryn Manheim, Lesli Margherita, Marc McClure, Eric McCormack, Matthew Morrison, Adam Pascal, Valerie Perri, Valarie Pettiford, Kelli Provart, Mindy Sterling, Tracie Thoms, John Lloyd Young and Leslie Zemeckis.

Academy Award winning Director Robert Zemeckis, Academy Award nominated Screenwriter and Producer Bob Gale and Fox Broadcasting Senior Vice President Missy Halperin will be honored.

CABARET GALA the New York-Presbyterian Hospital/Weill Cornell Medical Center's annual fundraiser will featured Tony Award winner Idina Menzel. Katie Couric will host.

The back tie benefit - cocktails, dinner and entertainment - takes place October 13 at the Park Avenue Armory, NYC.

Co-chairs are Helen and Bob Appel, Charlotte Ford, Kim and Jeff Greenberg, and Margaret and Ian Smith.

Tickets start at $2,000 each.






SPREADING THE WORD


MICHAEL FEINSTEIN'S AMERICAN SONGBOOK a three-part series that explores the history of American popular music, will air on PBS, on October 6, 13, and 20. The show will feature on-stage and backstage footage that will include performance excerpts, and Feinstein's personal stories about the songwriters and entertainers he's known and worked with over three decades.

AMERICAN IDIOT is recording the encore performance of every show which is then offered as a free download on the show's website. That's considered a first for a Broadway production.

Green Day's Good Riddance (Time of Your Life) is performed by the entire cast, all of them playing guitars. The offer is billed by producers as a special thank-you for seeing the rock musical that reinvents the Green Day punk album. The download is expected to have reached record numbers last week since Green Day frontman Billy Joe Armstrong is playing the role of St. Jimmy. Armstrong's gig ends today.

Green Day opened April 20, 2010 at the St. James Theatre in New York City.

THE KENNEDY CENTER/STEPHEN SONDHEIM INSPIRATIONAL TEACHER AWARDS created in honor of Stephen Sondheim's 80th birthday, are accepting nominations through December 15.

On March 22, 2011 - Stephen Sondheim's birthday - a select number of these teachers will each receive The Kennedy Center/Stephen Sondheim Inspirational Teacher Award - $10,000 in appreciation for their contributions to the field of teaching. Awardees will also be showcased, along with the people they inspired, on The Kennedy Center/Stephen Sondheim Inspirational Teacher Awards web site.

THE METROPOLITAN OPERA will begin its fifth season of free open dress rehearsals with the Friday, October 8 performance of the company's new production of Mussorgsky's Boris Godunov, starring bass René Pape in the title role and directed by Stephen Wadsworth. Two thousand free tickets available on October 5 through an online drawing only. Boris Godunov opens on October 11 and runs through October 30, before a three performance encore starting March 9, 2011.

JOHN LENNON HONORED by The Rock and Roll Hall of Fame and Museum in Cleveland, OH on what would have been his 70th birthday weekend Friday, October 8 through Sunday, October 10.

Visitors will be invited to witness a time capsule dedication of John Lennon's post-Beatles recordings and fan contributions, participate in Spotlight Exhibit tours in the Beatles exhibit and view highlights from the Beatles' and John Lennon's inductions into the Rock and Roll Hall of Fame.

The weekend will culminate with the free Imagine Peace World Festival featuring some of Cleveland's best cultural performers.

COURAGE CAMPAIGN INSTITUTE benefits from the West Coast premiere of Terrence McNally's touching and hilarious play Some Men in a one night only reading at the Saban Theatre in Beverly Hills on Monday, October 4. The star-studded cast includes Tony Award winners Alan Cumming and John Glover; Actor and Comedian David Alan Grier; ABC's Brothers and Sisters star Luke Macfarlane; Showtime's Weeds star Justin Kirk; Grammy Award winner and Academy Award nominee Michael McKean; actors Matt Gould, Jason Ritter and Josh Stamberg; and a special appearance by renowned Emmy, Grammy, and Tony Award winning actress/comedian Lily Tomlin.

Under the direction of Michael Morris, Producer of ABC's Brothers and Sisters, the presentation of Some Men is being presented by some of the leading women in Hollywood, including: Bonnie Bruckheimer, Edie Falco, Sally Field, Calista Flockhart, Cedering Fox, Daveen Fox, Allison Janney, Cherry Jones, Rashida Jones, Lisa Kudrow, Angela Lansbury, Julia Louis-Dreyfus, Jane Lynch, Mary McCormack, Rosie Perez, Christina Ricci, Doris Roberts, Kyra Sedgwick, Alicia Silverstone, Corky Hale Stoller, Marisa Tomei, Linda Wallem and Vanessa Williams.

All proceeds from Monday's "one-night only" performance will benefit the Courage Campaign Institute's Testimony Project - a national public education campaign for LGBT Equality developed by legendary organizer and human rights activist Cleve Jones.

"The tragic LGBT teen suicides of the past week underscore the fact that state-sanctioned discrimination fosters a stigma with life and death consequences. As more Americans learn the truth about LGBT people and the human impact that institutionalized second class citizenship is having on young people, families, workers and our military, we are seeing a dramatic shift in public opinion is support of full LGBT equality," said Courage Campaign Chairman and Founder Rick Jacobs. "Testimony accelerates this process by empowering everyday Americans with the online and offline tools they need to share their stories, destroy the lies at the foundation of prejudice, and engage their communities in the battle to realize our nation's promise of justice and equality under the law."

SEX TAPE SUICIDE RELEVANT TO HETEROSEXUALS ( FOR COMMENTARY CLICK HERE )





OTHER PEOPLE'S MONEY


RADIO PROGRAMS FOR THE BLIND ARE AXED as budget cuts have forced the South Carolina commission for the blind to shut down its radio program - S.C. Educational Radio for the Blind - which was the primary source of news for about 35,000 blind people across South Carolina.

The radio reading program had broadcast local and national news for more than 35 years by a staff of 3 paid employees and 50 volunteers, some of whom had been participating for over 30 years.

The program was aired 24 hours a day, seven days a week and considered the easiest way for blind people to access news and current events because they could turn on their radio at their pleasure.

The radio programming was the only service for the blind which focused on current events.

Many blind people reported that the programming gave them comfort at night when they had trouble sleeping.

The station's final broadcast was Thursday. The three paid employees also lost their jobs.

The commission for the blind was forced to 42 percent of their state budget this year which included money for the radio program.

THE 2010 BC/EFA FLEA MARKET AND AUCTION raised $476,917, topping the 2009 total of $403,929.

BARRY DILLER has announced he intends to resign as chairman of Live Nation, a company which has admitted it would miss its profit forecasts. In a matter of the past few months, the share price has dropped 40 per cent. Diller is credited with engineering Live Nation's controversial mega-merger with Ticketmaster, the concert-ticket retailer that Diller owned.

Diller's statement, "I have always said, since the merger of Ticketmaster and Live Nation, that I only planned to stay as chairman through the transition and integration of the two companies. It's been almost a year and I informed the board today that while there was no rush, the board should start the process now to appoint a new chairman."



TINA FEY

Tina Fey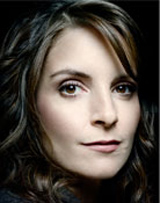 will be presented with the 13th Annual Mark Twain Prize for American Humor on Tuesday, November 9, at the Kennedy Center in Washington, DC.

The award is named to honor one of America's - and the world's – greatest humorists, Mark Twin.

The evening saluting Tina Fey will feature a lineup of the biggest names in comedy including; Fred Armisen, Steve Carell, Jimmy Fallon, Jon Hamm, Jennifer Hudson, Jane Krakowski, Steve Martin, Seth Meyers, Lorne Michaels, and Betty White.

Guests will be invited to the Pre-Show Dinner at the Center and the Post-Show Reception with the artists immediately following the Presentation.

The event will be taped for television by WETA, and will be broadcast nationwide on PBS on November 14, 2010.

MacARTHUR FOUNDATION FELLOWSHIP GRANTS commonly known as the Genius Grants announced the 23 recipients each of whom will receive $500,000 paid quarterly over five years, comes with no strings, allowing winners unfettered freedom to pursue their creativity.

The newly minted "geniuses" related to the arts include: author, screenwriter, and producer David Simon, creator of the HBO television series The Wire, theater director David Cromer, jazz pianist and composer Jason Moran, stone cutter and calligrapher Nicholas Benson, Installation Artist Jorge Pardo, sculptor Elizabeth Turk, type designer Matthew Carter, fiction writer Yiyun Li, violist, violinist, and music educator Sebastian Ruth.

RICHARD KIND who has joined the Bay Street Theatre's Board of Directors. Bay Street Theatre is a 299-seat professional regional theatre situated on Long Wharf, in Sag Harbor, NY, and founded in 1991 by Sybil Christopher, Stephen Hamilton and Emma Walton.

MARIAN SELDES will receive the newly created Award of Appreciation at the opening night gala of the New York Cabaret Convention to be held October 7-9 in the Rose Theater at Frederick P. Rose Hall. Angela Lansbury will present the award.

The Thursday Gala Opening Night, with Klea Blackhurst, Carole Bufford, Barbara Carroll, Jeff Harnar, Nicole Henry, Barb Jungr, Amanda King, Sue Mathys, Marilyn Maye, T. Oliver Reid will also see the presentation of The Mabel Mercer Award to "A Very Special Artist."

On Friday it's If Love Were All/The Timeless Words & Music of Noel Coward. Special appearance by Elaine Stritch; with Nancy Anderson, Christine Ebersole, Gregg Edelman, Nicolas King, Sidney Myer, Sarah Rice, Steve Ross, Craig Rubano, Jennifer Sheehan, KT Sullivan and presentation of the first annual Noel Coward Cabaret Award to Jennifer Sheehan.



I LOVED LUCY By Lee Tannen. Based on the Best-Selling Memoir. Dorected by Todd Weeks.

Starring Diana J. Findley as Lucille Ball and Jeffry Denman as Lee.

Few people knew America's comic sweetheart, Lucille Ball, the way Lee did. Though distantly related, and 40 years apart in age, Lucy and Lee became the nearest and dearest of friends during the last decade of her life.

Get a front and center look at Lucy, the personal side of her very public persona from someone who spent the last of her years beside her while out of the spotlight and around a backgammon table. See what it was like to be her friend, and understand how she was so like and unlike her TV alter ego.

Re-live life with Lucy - the stories and shenanigans Lee shared with her - and discover a Lucy like you've never known her before. Billed as "a funny, irreverent, and bitter-sweet portrait that will only add to the love of a great legend."

October 5 – 31, 2010 at the Laguna Playhouse in Laguna, CA.

BEST OF FRIENDS a World Premiere play by Jeff Daniels. PRTC artistic director Guy Sanville will direct Matthew David, Alex Leydenfrost, Michelle Mountain and Rhiannon Ragland.

"Friendship is like treasure: sometimes the best thing is to bury it."

Set in a small Michigan town, this wicked comedy paints a startling, yet familiar picture of two married couples as they navigate the minefield of their friendship until it blows up in their faces.

Stage Manager: Gregory Butka. Set Designer: Vincent Mountain. Properties Designer: Danna Segrest. Costume Designer: Sally Converse-Doucette. Lighting Designer: Dana White. Sound Designer: Quintessa Gallinat

The comedy will be the Purple Rose Theater Company's 39th world premiere, and opens the 20th anniversary season of the company located 60 miles west of Detroit in Chelsea MI. The ten-week engagement will play October 14-December 18. The official opening is October 22. The first Behind-the-Scenes Best of Friends Gala Benefit takes place October 10.

ELLA THE MUSICAL by Jeffrey Hatcher. Directed by Rob Ruggiero who also conceived the musical.

Featuring more than two-dozen hit songs, Ella The Musical weaves myth, memory, and music into a stylish and sophisticated journey through the life of Ella Fitzgerald, one of the greatest jazz singers of the 20th-century. It's 1966 and the fabled songstress is preparing for one of the most important concerts of her career. As she jams with the musicians (including famed trumpeter Louis Armstrong) and gets ready to meet the audience, Ella reflects on her life, her secrets and the love of music that made her soar.

Starring Tina Fabrique, the cast also includes George Caldwell (pianist), Harold Dixon (Norman), Rodney Harper (drums), Joilet Harris (Ella cover), Ron Haynes (trumpet) and Cliff Kellam (bass).

Danny Holgate Musical Supervision and Arrangements; Michael Schweikardt Set Designer; Alejo Vietti Costume Designer; John Lasiter Lighting Designer; Michael Miceli Sound Designer; Charles LaPoint Wig Designer.

ME AND JULIET Book and Lyrics by Oscar Hammerstein II. Presented by arrangement with Josef Weinberger Limited on behalf of R & H Theatricals of New York.

The European premiere of this Rodgers and Hammerstein musical is being helmed by Thom Southerland.

The cast includes Adam Anderson. John Addison. Gemma Atkins. Terry Doe. Daniella Gibb. Robert Hands. Reeda Harris. Dafydd Gwyn Howells. Jodie Jacobs. Laura Main. Brendan Matthews. Peter Kenworthy. Stephen McGlynn. Tom O' Brien. Olivia O'Shea and Anthony Wise.

Me and Juliet is a love story, a comedy, a show within a show, and a tongue in cheek satire of 'showbusiness', Me and Juliet is Rodgers and Hammerstein's valentine to the Theatre. When singer Jeanie and stage manager Larry are secretly married, they arouse the suspicion and jealousy of lighting technician and ex-boyfriend Bob. It's chaos on stage, and unbridled passion back stage, but the show must go on…

Musical Direction by Joseph Atkins. Choreography by Sally Brooks. Designed by Alex Marker. Lighting by Howard Hudson.

Me and Juliet begins performances at London's Finborough Theatre on October 5, prior to an official opening October 7, for a four-week run through October 30.

MY LIFE: TODAY a new musical presented by Rosie O'Donnell will be staged October 5-6 at The Duke in NYC as part of the NY Theatre Festival.

The musical features a pop score by Steven Jamail and Sara Patterson with book by Patterson and co-directors Lisa Danser and Jeff Statile. Additional material is by Zakiyyah Alexander.

Featured in the production are Daniel Estrella, Mary Dunkley, Doug Rosario, Kirra Silver, Celeste Estrella, Kelly Chan, Joshua Ramos, Joshua Maldonado, Aria Lee, Kayla DelaCruz, Anthony Santos, Taisha Lavarello, Kirra Silver, Christina Lai, Ajee Haynes and Tony Grunin.

The musical has lighting design by Carl Wiemann, music direction by Jamail, orchestrations and music preparation by Britt Bonney and stage management by Theresa Flanagan.

"In 2003, Rosie O'Donnell and Lori Klinger founded Rosie's Theater Kids (formerly known as Rosie's Broadway Kids)," according to a press release described as "an organization devoted to using musical theatre to enrich the lives of New York City public school children who otherwise have limited exposure to the arts. Seven years later, their stories and experiences have been transformed into an original musical performed by the students themselves."

Performances through October 17 at the Long Wharf Theatre in New Haven, CT.

WELCOME TO ARROYO'S by Pulitzer Prize-finalist Kristoffer Diaz.

Jaime Castañada directs a cast including Wade Allain-Marcus, Tala Ashe, Byron Bronson, Andres Munar, GQ and Amirah Vann.

A heartwarming story about a brother and sister finding their respective places in the world after the death of their mother. Alejandro is desperate to make Arroyo's the hottest lounge in New York to honor the memory of his mother, while Molly's desire to make her "mark" as a talented graffiti artist is at odds with her new infatuation with a rookie cop. Their struggle to move forward is made even more uncertain as they discover what might be a secret about their mother that could change the very foundation of their lives and, possibly, the history of hip hop music.

The West Coast Premiere runs through October 31 at The Old Globe Theatre in San Diego, CA.

CHURCHILL

Edmund L. Shaff as Winston Churchill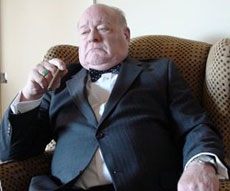 written by Andrew Edlin. Directed by James Horan. Starring Edmund L. Shaff as British Prime Minister Winston Churchill.

The one man play takes place on April 4, 1955. Winston Spencer Churchill, Prime Minister of Great Britain, is in his secret bunker beneath Whitehall in London. At age 80 he is faced with the dilemma of retiring from office and stepping down from a career that has spanned 55 years in Parliament.

He led England through World War II, inspiring and rallying the British Empire to withstand the tyranny of Hitler and Mussolini. He garnered the Nobel Prize in Literature for his history of The Iron Duke, Marlboro, his forebear. In 1963, US President John F. Kennedy, acting under authorization granted by an Act of Congress, proclaimed him an Honorary Citizen of the United States.

Churchill was a pivotal figure in history of the British Empire. He was a statesman, an orator of tremendous skill, a prolific writer with over 56 volumes of history as well as innumerable newspaper articles, and an impetuous strategist.

Throughout it all he maintained a marvelous wit.

The lighting design is by Derrick McDaniel. The sound design is by Tu Lips Studios.

Performances through November 7 at the Whitmore/Lindley Theatre in North Hollywood, CA.





WHO'S WHERE




4TROOPS are United States combat veterans - three young men and one woman who served on the front lines in Iraq and Afghanistan. While overseas, music played a crucial and very personal role in all of their lives. They would sing at everything from large military events to more intimate settings, where they would jam in their bunk after a long day in the field and try to recall a slice of home. They also used their voices at somber occasions like memorial services, where they would sing to remember those that had been lost. 4TROOPS now come together for a singular purpose: to sing on behalf of all troops, to honor their sacrifices and to create awareness for their needs.

The members of 4TROOPS are Former Cpt. Meredith Melcher 29, daughter of a retired three-star general. Former Sgt. Daniel Jens, 36, was one of the finalists on America's Got Talent, Staff Sgt. (Ret.) Ron Henry 41, served in the Army for 20 years and was also the leader of an Army singing group Transportation Express. Former Sgt. David Clemo, 30, toured with Melcher in 2004 with the Army Soldier Show.

4TROOPS is coming to San Diego for one night only, Thursday, October 7 at the historic Balboa Theatre.

RICHARD DOWLING the pianist will perform in a special concert celebrating Music of Old New York and the release of a new CD by the same name, created exclusively for the Museum of NYC. The CD features 24 songs from the turn of the 20th century, 10 of which have never before been available on a modern recording, including Zeigfeld Follies Rag, Subway Glide and the Forty Second Street Strut! The unique musical experience will be followed by refreshments. Monday, October 4, at the Museum of NYC.

JOHN BARROWMAN will play London's Royal Albert Hall October 4 as part of his 2010 U.K. concert tour. The evening will be recorded for a DVD release.

KEVIN DOZIER brings his cabaret act Take Me To The World to The Laurie Beechman Theatre at West Bank Café, NYC on Tuesday, October 5, 12, 19 and 26. The evening, directed by Lennie Watts, includes songs by Maltby and Shire, Jones and Schmidt, Irving Berlin, Jerry Herman, Lerner and Loewe, Stephen Sondheim, Noel Coward, Ervin Drake and others. Kevin will be joined by Musical Director Alex Rybeck at the piano.

ROSLYN KIND will perform in concert October 8 and 9 at the Catalina Jazz Club in Hollywood.

JOHN PIZZARELLI AND JESSICA MOLASKEY return to the Cafe Carlyle in New York City with a new program titled The Heart of a Saturday Night. It's a five week engagement running October 5-November 6.

LIZA MINNELLI opens a two night stand Friday, October 8, at Meyerson Symphony Center in Dallas.

WEDNESDAY NIGHT AT THE IGUANA with hosts Dana Lorge and Richard Skipper. Bill Zeffiro on keyboard & Saadi Zain on bass. Wednesday's guests include: Rick Anthony, Jane Burbank, Juanita Morgan, The Guiding Light's Bradley Cole, and Craig Pomranz. Wednesday, October 6, at the Iguana VIP Lounge in NYC.

THE CANADIAN TENORS on stage Tuesday, October 5, at the Paramount Theatre in Seattle. On Wednesday they perform at another Paramount Theatre, this one in Denver. Friday finds them on stage at Club Nokia in Los Angeles.

JIM BRICKMAN entertains Friday, October 10 at the Performing Arts Center in Vacaville, CA. On Saturday the show is at the PAC in San Ramon, CA.

BRET MICHAELS in the spotlight Tuesday, October 5, at the Grand Opera House in Wilmington, DE.

CELTIC THUNDER brings their tour to the Verizon Wireless Arena in Manchester, NH on Monday, October 4. On Wednesday the show is at Symphony Hall in Springfield, MA. Friday finds them entertaining at the West Point Military Academy in West Point, NY. On Saturday they are on stage at the Wang Theatre in Boston.

RENEE FLEMING in the spotlight Thursday, October 7, at the Ordway Center in Saint Paul, MN. On Saturday she sings at the Folly Theater in Kansas City. MO.


FINAL OVATION


TONY CURTIS

Tony Curtis. Photo by Laura Deni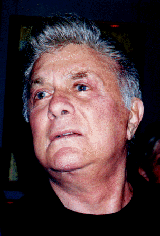 long time Las Vegas resident, movie and television star turned painter, died Wednesday, September 29, 2010, at his Las Vegas area home of cardiac arrest. Curtis was 85 and had a long history of health problems.

The Oscar nominated actor, who made more than 120 movies, was born Bernard Schwartz in Hell's Kitchen, New York, on June 3, 1925

Using his GI Bill benefits, Curtis studied acting with Erwin Piscator at the New School for Social Research. Classmates included Walter Matthau and Harry Belafonte. He acted in summer stock theater and on the Borscht Circuit in the Catskills. While appearing in the title role in a small revival of Golden Boy, he was seen by a Universal talent scout, who signed him to a $75-a-week contract.

In 1958, the Hollywood Foreign Press Association named Curtis "the world's favorite movie actor." It was reported that Elvis Presley dyed his hair black in homage to Curtis, his favorite movie star.

Curtis returned to the stage in 2002 to appear in a musical version of Some Like It Hot, as the millionaire playboy Osgood which was the part played by Joe E. Brown in the movie.

In the last years of his life, he concentrated on surrealistic painting rather than moves. ( See Broadway To Vegas column of September 14, 1998 ) A gifted artist, his work could command more than $25,000 a canvas. In 2007, his painting The Red Table was on display in the Metropolitan Museum of Art in New York City.

The handsome matinee idol had a long list of wives and lovers.

He married actress Janet Leigh in 1951 and they divorced in 1963. That marriage produced two daughters, movie star Jamie Leigh and Kelly. His second wife Christine Kaufman bore him two daughters, Allegra and Alexandra. He then married Leslie Allen by whom he had two sons, Benjamin and Nicholas who died of a heroin overdose on April 2, 1994, at the age of 23. That marriage ended in divorce in 1968. A brief marriage, February 28, 1993 – 1994, followed to Lisa Deutsch. At the time of his death he was married to Jill VandenBerg, whom he married in 1998. In addition to his wife and five living children, he leaves behind six grandchildren.

Funeral services will be Monday, October 4, in Las Vegas.




Next Column: October 10, 2010
Copyright: October 3, 2010. All Rights Reserved. Reviews, Interviews, Commentary, Photographs or Graphics from any Broadway To Vegas (TM) columns may not be published, broadcast, rewritten, utilized as leads, or used in any manner without permission, compensation and/or credit.
Link to Main Page
---
Laura Deni



U.S. Postal Address: Post Office Box 60831, Las Vegas, NV 89160
CLICK HERE FOR COMMENT SECTION