! >
Broadway To Vegas
  
 SHOW REVIEWS CELEBRITY INTERVIEWS GOSSIP NEWS

| | |
| --- | --- |
| | |
DIVA JEANNE AND HER CLOSE-UP - -CARNEGIE HALL OPENING NIGHT GALA - - LA JOLLA PREMIERES JERSEY BOYS - - JAY LENO TO NEW BRUNSWICK - - SIDE BY SIDE BY SONDHEIM - - ANDREA MARCOVICCI SINGS ASTAIRE - - LANCE ARMSTRONG RECEIVES KEY TO LAS VEGAS - - THE RAT PACK LIVE IN VEGAS - - DONATE . . . Scroll Down


WORSE THAN A BAD REVIEW


The only thing that can close a show faster than a powerful critic is a hurricane.

Live performances in Florida took a direct hit when diva Jeanne had her close-up.

If, as weather experts predict, this hurricane season is the start of a 20-40 year cycle, many Florida venues will have to re-think how they operate during the hurricane season.

While theatres may not get their roofs blown off, the box offices are dead in the water.

Many theater phones repeatedly rang unanswered.

Last Monday the Kravis Center for the Performing Arts, located in West Palm Beach, was shuttered. A taped telephone message told callers that "we are closed because of the hurricane." No estimation was given when the facility would reopen and callers were just encouraged to keep calling back. The telephone hotline listed shows that played the Kravis last June.

Hurricane Jeanne closed down the Broward Center for the Performing Arts. All performances last week-end were canceled. The September 25 Brazil Night V: Rita Lee, and all associated events, were postponed, with a yet to be determined re-scheduled date. The September 26 Gala Opening...Broward, part of the month-long Festival Miami, was a washout with no plans to reschedule the performance.

"We're hanging in okay. "It's been non stop crazy, Susan Johnson, general manager of The Broadway Palm Dinner Theater in Fort Myers, told Broadway To Vegas.

"When the first hurricane, Charley, came around we actually were in the final three performances of Grease. We had been running it for ten weeks. We had three completely sold out shows and had to cancel every one of them."

"We either refund the money or ask them if they would like to use their previous ticket for a future show and we try to re-schedule," she said regarding tickets which range from $22-46.

Does insurance covers production losses?

"It depends upon your deductibles. And, I think everybody's insurance is a little bit different," she answered. "But, you have to be closed a certain number of days before it can activate."

The bottom line is that the production or facility takes a financial hit.

"Had we actually been closed one more day, when the first hurricane hit, we could have turned that into insurance," she continued. "But we closed for six days and opened on the seventh, so we were not eligible."

"That was Hurricane Charley. That hit up in August on Friday the 13," she said with a resigned sign.

"We didn't have any damage with Jeanne. We've been hit every week with a storm. Luckily, we've done okay. Other parts of Florida have been hit pretty hard. We're inland enough, although we're actually pretty close to the river, but we did okay."

Always Patsy Cline closed out its run in the 448 seat theatre on Oct. 2.



Lee Ann Payne and Paul Gregory Nelson (center) who starred in The Pajama Game will also star in Seven Brides for Seven Brothers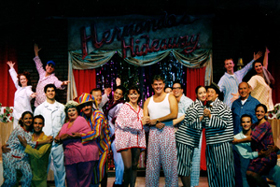 "Our productions are on schedule," she emphasized. "We're opening Seven Brides For Seven Brothers on Oct 7. That requires a lot of dancers. There is a cast of 23. We've done this show before. There is a lot of activity. We have a director, choreographer and musical director and set designer that we free lance in."

"Paul Gregory Nelson is the male lead. He is one of the favorites in town. He and a young lady named, Lee Ann Payne, starred in The Pajama Game for us last January, and it turned into this great big hit. So, they are the two leads in this show."

"The theater brings in about 155,000 people a year. We are busy year around. Other than changing over into a new show - a Sunday through Wednesday night - is our changeover period, we're fully operational all year around," she said of the facility which is owned by the Prather Family, which also operates dinner theatres in Lancaster, Penn. and one in Mesa, Ariz.

Weather experts are explaining and forecasting that the non stop hurricanes are the beginning of a normal 20-40 year cycle. When the cycle of good weather began in the 60's, those involved in the Florida boom didn't wonder what they would do when the cycle started blowing against them. Now what?

"It's too hard to say, yet," she replied. "I've lived here 12 years and I've never ever had a summer like this before. So, it's hard to say and it's interesting, because we've just become a boom area - Fort Myers, in particular. We'd like to keep it that way. It will be interesting to see if that affects business and the people moving in. Some times, with these natural disasters, while they are here it weighs on everybody's mind and 30 days from now they completely forget that there were even hurricanes in this area. So, it will be interesting to see how that plays out."



Tampa Bay Performing Arts Center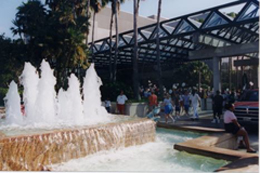 The Tampa Bay Performing Arts Center is located on a nine acre site along the east bank of the Hillsborough River in Downtown Tampa, and provides an environment for a wide variety of performances, concerts, and events. The 300,000 square foot, state-of-the-art complex is the largest performing arts center in the Southeastern United States. They canceled performances last Sunday due to Hurricane Jeanne. By Monday, Sept. 27, the facility was open and on schedule.

"We're fine. Everything is good," public relations manager Shannon Connor told Broadway To Vegas. "We had a few tree limbs, branches, and some leaves fall. The conservatory that we are building has been delayed some, due to the hurricanes, but we are still scheduled to have our grand opening on November 20. There hasn't been any damage at all to the construction, just some delays because they have to stop working when there are weather problems. "

"Only three of the hurricanes came close. Ivan actually went through the Panhandle, instead of hitting up here in Tampa," she explained. "We missed that one. Then Charley was suppose to hit us dead on, but actually hit Fort Myers. We got some of the outer bands, but we didn't feel any big brunt - just tree limbs."

"We have had shows canceled," she admitted, "Because when there are high winds, it is not safe to be on the road. And, we want our patrons to be safe. We refund tickets in the same manner in which they were purchased."

As with other Florida venues assuming the ticket losses is looked upon as "the cost of doing business during the hurricane season."

"We have four theaters here, so we are always busy and have shows. We keep on truckin' and if a hurricane comes we just do whatever needs to be done."

While those who love theatre consider it a necessity of life, most people view ticket buying as a purchase made with discretionary funds. With damage to businesses or homes of potential ticket buyers, worries about increased insurance rates and other costs, might Florida theatres feel a drop in ticket sales until the residents get a handle on weather.

"Hurricane season is every year, but we have been real lucky the last four or five years. Honestly, we haven't gotten hit hard by a hurricane in a very, very long time. The few times that we have had to cancel some shows, in the past, it was maybe once every three or four years. Really, this is the first season where we have had a repeated issue with hurricanes. So, I think it is a little early to decide if we have seen an effect on business," she answered.

"I really think you have to change with the times," she reasoned. "We have perfected our emergency process, now that we have had four hurricanes that we have had to prepare for. I think you live and learn and decided what works and doesn't work and go from there. We are constantly evaluating our processes. If we see that things aren't working, such as awnings - although we haven't had any problem with anything like that - then we would reevaluate the situation and do what is best for the center, the employees and, of course, our patrons."

Some theatre spaces look like it would take a miracle to withstand a sneeze while many venues are constructed like a fortress. Could some theatres be considered potential emergency shelters?

"I don't think it has ever been evaluated," she answered. "As of now, there has been no talk of that. We've never had the need to even think about that."

"We are just constantly growing. Our conservatory is opening in November which will expand our educational programs, which will be a huge outreach to the community. That is part of our mission - to promote culture in the Tampa Bay area. So, we are just constantly trying to grow, and incorporate culture into the Tampa Bay community. I think we are doing a pretty good job of it."



Crest Theatre in Delray Beach, Florida
The Crest Theatre in Delray Beach was "happy to report that Old School Square was once against spared during Hurricane Jeanne and there was no damage. We are operating regular business hours."

Their 2004-05 season begins Nov 5th with Luminare.

Dedicated in 1993, the Crest Theatre is housed in the restored 1925 Delray High School building, which also houses six restored classrooms, two art studios, a large reception room and Old School Square's administrative offices. Formerly the high school auditorium, the Crest was restored and re-designed as a 323-seat, state-of-the-art performing arts theatre. It presents a variety of professional theatre, music, dance and national tours as well as Broadway Cabaret.

The Old School Square Cultural Arts Center is a nationally recognized historic preservation project, thanks to the determination of a local group of citizens who saved the 1913 Delray Beach Elementary and 1925 Delray Beach High School buildings from demolition. Over $7 million was raised to restore and renovate the facilities, located in the heart of downtown Delray Beach. Now a National Historic Site and Florida Cultural Institution, the four acre center is a testament to the role of the arts in downtown revitalization.

The attitude and perseverance of those involved with Florida theatre is a testament to theatre spirit.


WHO IS?


He's eaten turkey dinner with country singer Aaron Tippin. He sang back up for a variety of performers during a USO tour on board the USS Abraham. Oklahoma born and raised in Texas, his first date with the woman who would become his wife was a blind date. He took her to see a movie, Doctor Zhivago. He enjoys singing country songs to her before they sit down to eat breakfast. He gets up at 4 a.m. and blasts on the stereo. He jumps on the treadmill for 30 minutes singing along to a "treadmill tape," a compilation of country music his wife put together for him, which features mostly male singers, including Garth Brooks and Travis Tritt.

Not far from the treadmill is a working Wurlitzer Stereophone jukebox stocked with songs by Roy Orbison, Willie Nelson, Freddy Fender and the Beatles.

He drives a white pick-up and has a black cat named Fenwick.

Answer at bottom.



Broadway To Vegas is supported through advertising and donations. Priority consideration is given to interview suggestions, news, press releases, etc from paid supporters. However, no paid supporters control, alter, edit, or in any way manipulate the content of this site. Your donation is appreciated. We accept PAYPAL. Thank you for your interest.


SWEET CHARITY


JAY LENO makes a special trip to New Brunswick to officially open the newly-restored State Theatre, which will boast completely upgraded lighting and sound systems, a restored terra cotta faÁade, historically-accurate lighting fixtures, and a spectacular chandelier in the audience chamber. Long hidden architectural details will be restored. The lobbies and the theater interior are redecorated with a color palate similar to its first layer of paint, along with aluminum leaf and ornate flourishes present in the original design by famed theater architect Thomas Lamb.

October 3 in New Brunswick, New Jersey.

OPENING NIGHT GALA OF CARNEGIE HALLíS 114th SEASON On Wednesday, October 6, Carnegie Hall will open its doors for its 114th Season.

The Philadelphia Orchestra, under the baton of Music Director and Conductor Christoph Eschenbach, will perform an all-Richard Strauss program with cellist Yo-Yo Ma and soprano Renťe Fleming.

The evening begins with a pre-concert reception.

The concert will be immediately followed by a black-tie seated supper in the Grand Ballroom of The Waldorf-Astoria.

Tables: $50,000, $25,000, $15,000, $10,000. Other ticket prices range from $500 to $2,500.

LANCE ARMSTRONG was honored Saturday with a key to Las Vegas, presented to the Tour De France champion and Tour Of Hope Leader by Las Vegas Mayor Oscar B. Goodman and Councilman Lawrence Weekly at Treasure Island Hotel. During that rally Armstrong presented a check for $500,000 from the Lance Armstrong Foundation to the Nevada Cancer Institute in Las Vegas.

Armstrong, a cancer survivor and six-time Tour de France champion is leading the Bristol-Myers Squibb Tour of Hope, a week long, 3,500-mile journey across America to speed the search for a cure for cancer.

The Tour of Hope team is comprised of 20 individuals whose lives have been touched by cancer. They will ride in teams of five for four - to five - hours a day in a relay fashion. They departed Los Angeles on October 1, intending to complete their journey in Washington D.C., on October 9. Las Vegas is one of several cities where riders will visit to host community events to garner support.


SPREADING THE WORD


PLAYWRIGHTS SEMINAR with Edward Albee, Harvey Fierstein, Paula Vogel & John Weidman; Moderated by Jeffrey Eric Jenkins, Editor, Best Plays.

Thursday, October 7, beginning at noon at The Graduate Center of the City University of New York.

Working in the Theatre Seminars presented by. The American Theatre Wing continues to provide a unique, enlightening, behind-the-scenes theatrical experience with these star-studded panels comprised of Broadway and Off-Broadway's major theatre personalities. Now in their 30th year, the Seminars are now being held throughout the year in cooperation with Continuing Education and Public Programs at The Graduate Center of the City University of New York. The panels bring together theatre's best known performers, producers, playwrights, directors, choreographers, composers, agents and others.



JERSEY BOYS is the world premiere musical about Rock and Roll Hall of Famers The Four Seasons: Frankie Valli, Bob Gaudio, Tommy DeVito and Nick Massi. Featuring their hit songs Sherry, Big Girls Donít Cry, Rag Doll, Oh What a Night and Canít Take My Eyes Off of You, among others.

Having it's world premiere staged at the famed La Jolla Playhouse, the show is the story of how a group of blue-collar boys from the wrong side of the tracks became the biggest doo-wop sensation of all time. They wrote their own songs, invented their own sounds and sold 175 million records worldwide - all before they were thirty. This Tony, Emmy and Academy Award-winning creative team will bring to life the early days of rock-and-roll and the price of fame for four guys who had everything - and nothing - to lose. The creative team is comprised of director Des McAnuff, book writers Marshall Brickman and Rick Elice, composer Bob Gaudio and lyricist Bob Crewe. Jersey Boys will run in the Mandell Weiss Theatre from October 5 through November 21, with an opening on Sunday, October 17.

SIDE BY SIDE BY SONDHEIM music and lyrics by Stephen Sondheim. Music by Leonard Bernstein, Mary Rodgers, Richard Rodgers, Jule Styne. Continuity by Ned Sherrin. Musical fans will delight in this musical revue of Stephen Sondheim's early works, as performed by Davis Gaines who has performed in the title role in Andrew Lloyd Webber's The Phantom of the Opera more than 2,000 times during his run on Broadway and Los Angeles, Teri Ralston and Julie Dixon Jackson.

Hear some of Sondheim's most memorable hits, from shows including A Funny Thing Happened on the Way to the Forum, Gypsy, West Side Story, Pacific Overtures, Company, Follies, A Little Night Music and Evening Primrose. Nick DeGruccio directs this elegant evening of sophisticated music by America's most prolific musical theatre writer.

October 8 - November 14 at the Pasadena Playhouse in Pasadena, CA.

DAMN YANKEES October 6 through October 24 on the Main Stage of the Bucks County Playhouse, the State Theatre on Pennsylvania in New Hope, PA.

THE RAT PACK LIVE FROM LAS VEGAS celebrates the talents of Frank Sinatra, Sammy Davis Jr. and Dean Martin, in a unique night of entertainment. Its tremendous success in London culminated in a Laurence Olivier Award nomination for Best Entertainment. The show was a London hit and intends to be the coolest party in town when it arrives in Toronto at the Canon Theatre October 5-November 7.

MAMBO ITALIANO an Evening of Mob Hits, Pasta, Wine and Good Times. So Paulie owes an outstanding debt. Take it easy. His marker is good. To settle the score and make everything right, he and his boys will entertain with songs from the street corners of Brooklyn to the lounges of Vegas.

Join them as they invoke the spirits of Dion, Deano, Bobby, Frankie, Louie and Tony, singing all the hits, such as: Pennies From Heaven, I've Got The World On A String, In The Still of The Night, Lazy River, Angelina, Zooma Zooma, Just A Gigolo, One For My Baby, Come Fly With Me and maybe even I Did It My Way. Yeah, thatís right! Paulieís gonna pay off big time!

October 9-30 at The Cleveland Playhouse Club in Cleveland, Ohio.

FABULATION, OR THE RE-EDUCATION OF UNDINE the latest play by Lynn Nottage is the first of ten plays to be recorded this season by L.A. Theatre Works, which continues a yearlong celebration of its 30th anniversary. The recordings take place before live audiences for broadcast on L.A.T.W.ís nationally-syndicated radio theater series, The Playís the Thing.

In Fabulation a knocked-up and seriously broke, successful publicist (Charlayne Woodard) is plunged into a topsy-turvy world of welfare mothers and drug addicts, and forced to confront the family she left behind. Itís a darkly comic rags-to-riches-to-rags tale of falling down and reaching up to find the goodness within. Straight from its world premiere production at Playwrights Horizons, five performances featuring the original New York cast and directed by Stuart K. Robinson take place on Wednesday, October 6, Thursday, October 7, Friday, October 8 and two shows on Sunday, October 10. There is no performance on Saturday, October 9 in Los Angeles.

The season, a mix of classics and contemporary plays, many straight from New York and featuring members of the original casts, will be incorporated into LATWís Audio Theatre Collection which contains over 360 plays in its multiple award-winning library, the largest of its kind worldwide.


| | | |
| --- | --- | --- |
| | | |
WHO'S WHERE


BARRY MANILOW AND GLORIA ESTEFAN have a busy week. On Monday, October 4, they perform at the Wachovia Arena in Wilkes-Barre, PA. Tuesday finds them at the Nassau Coliseum in Uniondale, N.Y. On Thursday they are in the spotlight at Madison Square Garden in NYC. Friday the show is at the MCI Center in Washington, D.C. They closes out the week, Saturday, at the Wachovia Center in Philadelphia.

SARAH BRIGHTMAN in the spotlight Tuesday at The Point in Dublin, Ireland. On Thursday she center stage at the Wembley Arena in London.

JUAN GABRIEL an inductee to the Billboard Latin Music Hall of Fame, performs tonight, Sunday October 3 at the HP Pavilion in San Jose, CA. On Friday he is on stage at Madison Square Garden in New York City and Saturday he can be enjoyed at the Allstate Arena in Rosemont, IL.

JULIO IGLESIAS the most popular Latin singer of the '70s and '80s, Julio Iglesias, is bringing his smooth, romantic crooner-style voice to Radio City Music Hall in Manhattan on Friday, October 8.

DAVID CASSIDY performing Thursday, Oct. 7, at Stamford Center in Stamford, CT. On Friday he opens a two nighter at the Mohegan Sun Casino in Uncasville, CT.

PAULA POUNDSTONE brings the humor to The Improv in Tampa, Florida Friday, October 8 through Sunday, Oct. 10.

BIG BAD VOODOO DADDY on stage Friday, October 8 at Wheeling Island in Wheeling, WV. On Saturday they can be enjoyed at the Fall Festival in Palmdale, CA.

STEVE TYRELL on stage Wednesday, October 6 at Fletcher Hall in Durham, NC.

TONY BENNETT on stage Wednesday, November 10, at the Palace Theatre in Stamford, Conn.

DIANNE REEVES the multi Grammy award-winning jazz vocalist kicks off the Sioux Falls Jazz & Blues Society's 2004-2005 concert series with her amazing, agile voice and trio of musicians - Peter Martin on piano, Reuben Rogers on bass and Greg Hutchinson on drums. October 8 at the Great Hall of the Washington Pavilion. Sioux Falls, South Dakota.

NORAH JONES on stage Oct 4-5 at the Hard Rock in Las Vegas.

DIANE SCHUUR entertaining Oct. 9 at Boulder Station in Las Vegas.

ROGER WILLIAMS performs October 8 at the Whitaker Center in Harrisburg, PA.

RUFUS WAINWRIGHT will bring his soulful music to the IMU Main Lounge on Oct. 8. Iowa City, Iowa.

ANDREA MARCOVICCI Sings Astaire October 6-17 at the Prince Music Theatre in Philadelphia.


PIFFLE AND PROFUNDITIES


WHO IS General Tommy Franks.
















Next Column: October 10, 2004
Copyright: October 3, 2004. All Rights Reserved. Reviews, Interviews, Commentary, Photographs or Graphics from any Broadway To Vegas (TM) columns may not be published, broadcast, rewritten, utilized as leads, or used in any manner without permission, compensation and/or credit.
Link to Main Page
---
Laura Deni


CLICK HERE FOR COMMENT SECTION