! >
Broadway To Vegas
  
 SHOW REVIEWS CELEBRITY INTERVIEWS GOSSIP NEWS

| | |
| --- | --- |
| | |
THE STARDUST HOTEL IN LAS VEGAS CLOSES - - ALL TOO HUMAN: AN EVENING WITH CLARENCE DARROW STARS LAWYER/ACTOR HENRY MILLER - - BEIJING MUSIC FESTIVAL - - NOTED DESIGNER JOANNE BERETTA RETURNS TO SINGING - - THE LEONARDO DA VINCI EXHIBIT - - ROBERT ALTMAN AND GARRISON KEILLOR SPEAK OUT - - MADAME TUSSAUDS HAS HORROR SHOW - - LORENZO LAMAS AT FEINSTEIN'S - - DONATE . . . Scroll Down


Copyright: October 29, 2006
By: Laura Deni

CLICK HERE FOR COMMENT SECTION
ANOTHER ONE BITES THE DUST - THIS TIME IT'S THE STARDUST HOTEL


Last night Steve & Eydie closed the showroom. On Wednesday the doors to the hotel will shut. The Stardust Hotel is the Las Vegas gambling establishment that was featured in the movie Casino as well as at trials of numerous mob bosses.

The Stardust also established several Vegas entertainment standards. For instance, the topless showgirl. This is the hotel that brought topless showgirls to stages other than those located in burlesque joints. Donn Arden caused jaws to drop when he imported an English edition of Lido de Paris - conceived by Pierre-Louis Guerin & Rene Fraday - to the Stardust Hotel in 1958. Valerie Perrine, whom Arden described as "a secretary from Scottsdale with a lisp," did a turn as a parading nude in the Lido de Paris. ( See Broadway To Vegas column of November 16,1998. )

In 2005 the Stardust Hotel sent a holiday card which featured Goldie Hawn. ( See Broadway To Vegas column of December 25, 2005. ) The caption said that Hawn "was a 21-year-old dancer when she appeared as a New Year's Eve reveler on the cover of Stardust News in l966."

One of the oldest hotels on the strip the Stardust opened on July 2, 1958 and at that time boasted both the largest casino and the largest swimming pool in Nevada.

Rooms were $6.00 per day.



Valerine Perrine featured in the Lido program
The opening night lounge lineup offered, from dusk to dawn entertainment featuring, Billy Daniels, The Happy Jesters, The Vera Cruz Boys and the Jack Martin Quartet. Daniels became the first entertainer to sign a long-term residency contract in Las Vegas when he agreed to appear for 40 weeks per year for three years.

By 1961, Stardust's management included Credit Manager Hyman Goldbaum, listing seven aliases, had 14 convictions, including one for assault, and had received a three-year sentence for income tax invasion. Casino Manager and 5% owner Johnny Drew, was a veteran associate of Al Capone and was once fined for running a crooked dice game at an Elks convention, and Morris Kleinman who was part of the general management team, had served three years for tax evasion.

In 1984, Nevada Gaming Commission gave the highest fine ever issued in Nevada with the $3 million fine. against the resort for skimming.

Siegfried & Roy got their Las Vegas start at the Stardust with the help of mob associate Frank Rosenthal after he gave them Allen Glick's Rolls Royce.

Wayne Newton signed a ten-year deal with the Stardust in 1999, for a reported $25,000,000 per year, the largest entertainment contract in Las Vegas at the time. After five and half years, Wayne Newton ended his run in late April 2005.

Talks are underway to preserve the world famous Stardust Sign - considered one of the most beautiful in the world and when first installed was the world's largest electric sign.

The rest of the stuff is up for grabs. All you need is money.

Items from the Stardust Hotel and Casino will be up for public auction beginning on Friday, November 17 and lasting through Nov. 21. Those items include; Memorabilia & Collectibles, Gaming Tables, Restaurant Equipment, Coffee Shop, Complete Buffet, Bar Equipment, Landscaping, 1,500+ Rooms of Furniture, Electronics, Sound Systems, Surveillance Equipment, Complete Convention Facility, Office Furnishings, Cash Rooms, Sportsbook, Building Maintenance, Vehicles and so much more!!

The Stardust will be replaced by what is billed as a "world class resort complex" called Echelon Place. When it opens in 2010, the four billion dollar development will include four hotels featuring 5,300 guest rooms and suites, an expo center and a retail promenade.


THE MUSIC GOES ROUND AND ROUND


JOANNE BERETTA LOVE LIFE For 40 years Joan Beretta has been known as an award winning designer - conjuring up creations such as special orders from President and Mrs. Lyndon. B. Johnson, including a topiary reindeer and a giant white bunny which proudly sat on the Texas White house lawn. Beretta was also the owner Helen Cole, Inc. a prestigious Upper East Side shop. She's also worked with department stores including Tiffany's, Lord & Taylor and Bloomingdales. Her pattern designs for McCall's - covering everything from PJ's for dolls, to pillows and women's ponchos are sought after on E-Bay.

Beretta's posy/design business was actually her second career - her first was as a smoky lounge singer and now - she has come full circle.

Joan Beretta Love Life, released October 27, is her first recording since 1967. To listen to her, you'd never guess she'd ever left the stage.

Pillow design by Joan Beretta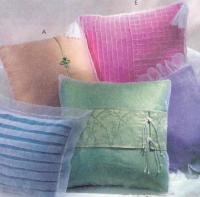 Indeed, she is currently appearing at Danny's in NYC - making it the comeback of the decade.

A sensitive singer, her voice hasn't lost a note. Her phrasing is suburb. Her dynamic delivery of Dylan's Just Like A Woman is a not to be missed, awesome rendition - as is her heartfelt rendition of Frank Loesser's Joey, Joey, Joey from Most Happy Fella.

Her performances will include selections from her CD including; Noel Coward's If Love Were All, Mercer's Skylark, Joni Mitchell's A Case of You and Jobim's How Insensitive. As on the CD Joanne's nightclub gig has her accompanied by pianist/arranger Franklin Underwood, with guest appearances by bassist John Beal on November 3rd and 10th. Their brilliant musical executions prove that if the arrangements are perfect and the musicians capable of infusing meaning into the notes - then two can deliver the emotion of an orchestra.

The CD is produced by James Keough. The recording engineer was John Post. Mastering by Bill Moss.

CORTEO Mysterious, eerie, dynamic that's Corteo, another of the difficult to define Cirque du Soleil productions that have become a cottage industry in and of themselves.

The promo states: "The music of Corteo achieves an unusual level of intimacy through a combination of inspired vocal performances and warm acoustic instruments."

It certainly does.

Composed along the lines of a modern requiem,Corteo meaning "cortege" in Italian, is a production about a dying clown who has a vivid dream of his own funeral procession. The CD capture the emotion of the life production You understand that there are no weeping dark-clothed mourners. It's more of a comedic Italian opera merged with a New Orleans jazz funeral. A grand send off.

As has come to be expected, the Cirque Du Soleil troupe offers up a typically elegant soundtrack, incorporating a wide array of European music, including klezmer - Klezmer Moment - and tango - Triangle Tango. The songs range from plaintiff to hopeful. The rich arrangements are bolstered by the contributions of 61 musicians and singers, including a 16 piece choir and a 13 piece string section.

Perceptive melodies which are exquisitely complemented by poetic lyrics sung in Italian, French, Spanish and the clown's native (makeshift) language.

Lead vocals on the CD are Paul Bisson and Monique Fauteux. Hearing this CD is a listening pleasure.

The orchestra was conducted by Beniut Groulx who also produced the CD.

The stage show is on tour with performances currently in Washington, D.C.


ART AND ABOUT


THE LEONARDO DA VINCI EXHIBIT

AIR SCREW - This is produced from one of Leonardo's most famous drawings which many consider the ancestor of the modern helicopter. It is a screw with a radius of 4.8 meters (about 15 ½ feet), a metal border and a linen cover. It is set in rotation by men pushing levers as they circle around the center axle or by rapidly unwinding a rope attached to the axle.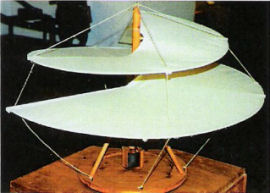 Experience the dream of flight via 60+ working replicas of Leonardo da Vinci's vintage flying, mechanical and military machines. Visitors will step into a 15th Century Florentine street scene before entering three galleries composed of transportation, military and mechanical machines. A group of Florentine artisans spent 50 years constructing machines based upon Da Vinci's drawings and descriptions.

It has only been in the last 50 years or so that Leonardo Da Vinci's exceptional talents and broad interests have been widely recognized. The discovery of additional collections of his notes and sketches have added to our understanding of this man as the supreme example of a Renaissance Man - at once a brilliant artist, architect, designer, engineer, philosopher and scientist. Da Vinci learned to use art, anatomy, botany, geology, mathematics and physics to improve his own ideas and skills. The man's mystique has now been further embellished by Dan Brown's phenomenally successful book, The Da Vinci Code.



THE BICYCLE - (Codice Atlantico) This is one of the many mysteries surrounding Leonardo's life and work. During the restoration of the Codice Atlantico, two glued-in pages were found where a bicycle is depicted. The hand that sketched the drawing, the lack of particulars, and the signature of Leonardo's pupil, Salai, lead many to think that the drawing might have been made from a model seen in the master's workshop.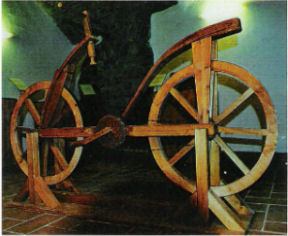 For all the triumphant achievements we now associate with his work, we also know that he experienced his share of mistakes, failures, and disappointments. Part of Leonardo's enduring appeal, perhaps, is that he was an ordinary man who accomplished extraordinary things at a time in human history that welcomed changes. Da Vinci was driven to overcome a disadvantageous background by addressing a broad spectrum of issues that he hoped would bring him understanding, recognition, status and wealth.

This recent wave of interest in Leonardo has occurred long after a group of scholars, craftsmen and artisans in Florence had begun work on replicating the various machines that Leonardo had described and designed in his notebooks. The Florentine group eventually put the replicas on display in private museums in Italy and about a year ago decided to make the replicas available in a traveling exhibition.

The Da Vinci Exhibit coming to the Palm Springs Air Museum consists of 61 machines from the Artisans of Florence. Ten of the replicas are full-sized, some 17 are interactive, and another 5 can be individually demonstrated. The machines in Palm Springs will be grouped into three major categories of interest: Transportation, Military and Mechanical.

At the Palm Springs Air Museum running November 1 through February 25, 2007.



Broadway To Vegas is supported through advertising and donations. Priority consideration is given to interview suggestions, news, press releases, etc from paid supporters. However, no paid supporters control, alter, edit, or in any way manipulate the content of this site. Your donation is appreciated. We accept PAYPAL. Thank you for your interest.


SPREADING THE WORD


A PRAIRIE HOME COMPANION Screening of this classic created by legendary director Robert Altman and writer Garrison Keillor who joined forces with an all-star cast to create a comic backstage fable about a fictitious episode of Keillor's radio variety show. Starring Woody Harrelson, Tommy Lee Jones, Garrison Keillor, Kevin Kline, Lindsay Lohan, Virginia Madsen, John C. Reilly, Maya Rudolph, Meryl Streep and Lily Tomlin. Post-Screening Discussion with Robert Altman and Garrison Keillor takes place Monday, October 30 at the Steinhardt Building in New York City.


OTHER PEOPLE'S MONEY


THE WITCHES OF EASTWICK a musical comedy which will have its American premiere at the Signature Theatre in Arlington, VA will start selling tickets at 10 a.m. on Halloween, October 31.

Previously staged in London's West End, The Witches of Eastwick will be directed by Eric Schaeffer who also helmed the London production. The musical comedy will play June 5-July 15, 2007, in The MAX, the 299-seat double-height black-box space located in Signature's new two-theatre complex scheduled to open in January 2007.

The Witches of Eastwick, based on the novel by John Updike and the Warner Bros. motion picture, with book writer and lyricist John Dempsey, composer Dana P. Rowe, and producer Cameron Mackintosh.

According to Signature Theatre; "In the tiny New England town of Eastwick, Rhode Island, three unhappy women innocently plot and conjure for their perfect man over a heady brew of brownies and weak martinis. When their longings are made flesh in the arrival of one Darryl Van Horne, all hell breaks loose. Quite literally."


GETTING
SCARED AT MADAME TUSSAUDS

Through Halloween Madame Tussauds, located at the Venetian Hotel in Las Vegas, presents three legendary horror figures, Freddy Kruger from A Nightmare On Elm St., Jason Voorhees from Friday the 13th and Leather Face from Texas Chain Saw Massacre, in the museum's Chamber of Horrors.

The characters of Freddy, Jason and Leather Face are played by live actors, ready to scare any victim who comes their way. Guests must walk through a terrifying maze full of startling special effects and surprises. The setting inside the Chamber of Horrors include scenes from each of the movies.

Visitors to the New York version of Madame Tussauds enter Chamber Live! House of Wax certain to be scared by the blood curdling screams, the wall of embedded heads and the graveyard covered in wax.

Chamber Live! Featuring House of Wax is Madame Tussauds scariest - interactive attraction featuring a figure of Paris Hilton from her film role. Guests are transported to the eerie town of Ambrose, where what begins as a weekend getaway for six friends becomes a terrifying fight for their lives. Once there, guests are drawn into Ambrose's main attraction-Trudy's House of Wax, which is filled with remarkably life-like wax sculptures. But as they will soon discover, there is a shocking reason the exhibits look so real. Live actors, characters from the movie - House of Wax, are scattered throughout to add to the authenticity. Guests must find a way out of Ambrose-or become permanent additions to the House of Wax.



ALL TOO HUMAN: AN EVENING WITH CLARENCE DARROW written by and starring lawyer-actor Henry Miller is a solo play about world-famous lawyer Clarence Darrow.

Directed by Kevin Conway.

All Too Human tells the story of Clarence Darrow's fight against religious intolerance, capital punishment, prohibition, the oppression of the workers, and anything else which he felt impeded the bringing of enlightenment and culture to the human mind. He was the plain-speaking son of Midwestern abolitionists who considered himself 'a cunning actor like that other trial lawyer from Illinois, Abe Lincoln'. He argued and won many of the most famous cases ever brought to trial; defending the down-trodden and the amoral; the maligned and the misguided; the obsessed and the oppressed; all human beings; all too human." His career and convictions re-defined the essence of the American legal system. Among his famous cases were the Leopold and Loeb murder and the so-called Scopes Monkey Trial, which concerned the teaching of evolution in Tennessee schools.

In 1912, however, he was indicted for bribing a jurist. He hired the infamous Earl Rogers to defend him; but decided to deliver his own summation to his own jury. He won.

Brooklyn born lawyer/author/actor Miller is a Senior Member of the New York City personal injury law firm Clark, Gagliardi & Miller ranked by New York magazine as one of the best in America. Born into a lower middle class family, Miller returned from serving in Korea to put himself through law school at night. He went on to become President of the New York State and Westchester County Bar Associations. Miller holds the record for the highest verdict in New York State for a loss-of-nurture case, plus bring in for his clients several other million and multi-million dollar verdicts.

He's authored numerous tombs including one on trial technique. Miller studied acting with Stella Adler and his acting credits include The Caretaker. Georgie, We're No Angels, Death Row, The Businessman, and Rocket to the Moon.

Going from convincing a jury to capturing the attention of audience shouldn't be much of a stretch.

All Too Human has sets by Chris Jones. Lighting by Graham Kindred. Sound by Elliott Forrest.

Previews began Oct. 28 at the 45th Street Theatre in Manhattan with the official opening slated for Sunday, November 5.

HAMLET by Ambroise Thomas, based on Shakespeare's classic.

Thaddeus Strassberger directs.

Shortly before the opera begins, King Hamlet has died under questionable circumstances. The opera opens as the Court at Elsinore is celebrating the marriage of King Claudius to Queen Gertrude, widow of the late King Hamlet. Prince Hamlet, son of Gertrude and King Hamlet, remains stunned by his mother's hasty re-marriage, merely two months after his father's death. Ophélie (Ophelia), daughter of the lord chamberlain, Polonius, is in love with Hamlet, but is concerned that he may leave the Court due to his uneasiness with his mother's actions. Feeling ignored by Hamlet, Ophélie begs him for an affirmation of his love for her.

Baritone Franco Pomponi making his Lyric Opera debut as Hamlet. Soprano Lauren Skuce as Ophélie. Bass-baritone Kevin Short portrays The King Claudius. Jane Dutton, a Mezzo-Soprano is cast as The Queen Gertrude.

The cast also includes; Jonathan Thomas, Daniel Erbe, Tyler Simpson, Jeff McEvoy, Michael Gallup, Adam Wade Duncan and Albert Christian Elser.

Presented by the Lyric Opera of Kansas City. Opens November 4.

DRAG conceived by Dean Evans. Co-directed by Dean Evans and Sharon Greene. Presented by The Neo-Futurists. Written and performed by Dean Evans, Jessica Hudson, Dylan Reiff, Gabrielle Schaffer and César Torres.

Using the glamour and conventions of a rip-roaring drag show, five artists explore their desire to perform as the opposite sex, or further beyond the gender binary. Expanding the already unconventional medium of drag, the cast examines issues of sexual identity, sexual expression, and gender-bending. Evans says, "I have always thought that drag is one of the most entertaining forms of theater out there, but at the same time, it has the potential to be much more intimate." He adds, "Drag has a lot of rules, and those rules are often broken… and that's when it gets really exciting."

The cast of five includes artists who speak from the male, female, gay, straight, transvestite and transsexual communities, as well as the community of those that reject these labels. Dean Evans is joined by Jessica Hudson, Gabrielle Schaffer, César Torres and Dylan Reiff, a member of the underground Jewish rap group The Ju Tang Clan.

Sound design and original music is provided by Willy Joy. Additional original music provided by Jonathan Mastro.

The Neo-Futurists are partially supported by a grant from the Illinois Arts Council, a state agency, The Chicago Community Trust, Alphawood Foundation, The MacArthur Fund for Arts and Culture at The Richard H. Driehaus Foundation, Gaylord and Dorothy Donnelley Foundation, and The Mayer and Morris Kaplan Family Foundation.

Previews begin Thursday November 2 with opening night slated for Saturday, November 4. Performances continue through December 9 at The Neo-Futurarium in Chicago.

ASPHALT BEACH

Andrew Lippa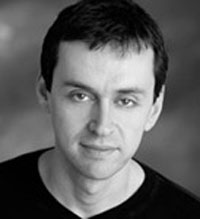 a new musical by Andrew Lippa with a book by with book by T.C. Smith and Peter Spears. Directed by Amanda Dehnert.

Set in Asphalt Beach, N.J., the rock musical () homes in on a band of misfit girls in a Catholic school - Our Lady of Repressed Desire Academy for Rambunctious Young Girls - who are struggling to break free from their tyrannical headmistress, Sister Severia.

This world premiere is being presented as the third entry in Northwestern University's American Music Theatre Project (AMTP), running through Nov. 12 at the Josephine Louis Theatre, Evanston, IL.

Asphalt Beach received its first reading in April 2006 as part of TheatreWorks' new works festival. The American Music Theatre Project is a new initiative at Northwestern, under the leadership of Oken and Executive Director Dominic Missimi. AMTP is dedicated to nourishing the vitality of American music theatre through the development and production of new musicals by music theatre's leading artists; increasing opportunities for education and training with Northwestern's theatre, dance and opera programs; and initiating a broad range of interdisciplinary research projects. AMTP's ultimate goal is the establishment of a permanent Center for the American Music Theatre on Northwestern's Evanston campus.

ELLIOT A SOLDIER'S FUGUE By Quiara Alegria Hudes. Directed by Lisa Portes. Featuring Meighan Gerachis, Gustavo Mellado, Edward F. Torres and Juan F. Villa.

Tracing the legacy of war through three generations of a Puerto Rican family, the play focuses on 19-year-old Elliot, a recently anointed hometown hero who returns from Iraq with a leg injury and a difficult question: will he go back to war a second time? While on leave, Elliot learns the stories of his father and grandfather who served in Korea and Vietnam before him.

A Steppenwolf Visiting Company Initiative In the Garage Theatre in Chicago. November 2 - December 10.

SPAMALOT running at the Shubert Theatre on Broadway since beginning previews on Valentine's Day and officially opening on St. Patrick's Day, March 17, 2005, will - on Halloween - welcome Jonathan Hadary and Marin Mazzie to the cast. They take over the roles of King Arthur and the Lady of the Lake.

BEIJING MUSIC FESTIVAL running through November 5th is hosting China`s first Ring Cycle. The production, which concludes performances November 1, is from Germany`s Nuremberg Opera, and is the first time that Wagner` epic has been staged in Asia outside of Japan. The enormous effort has a cast and crew of 240 and is staged in the Poly Theatre, a multi-purpose 1230-seat theatre.

The cast features Jurgen Linn and Cheryl Studer all under the baton of Mr. Philippe Auguin.

In addition there are six symphonic concerts, three chamber concerts and two piano recitals, one Chinese composer's concert and a orchestrated Peking Opera. More than 1,000 musicians from around 20 countries are participating.

Renowned conductors Sir Simon Rattle, Sir Roger Norrington, Edo de Waart, Steven Sloane, Violinist Sara Chang, Vera Tsu, Anja Bukovec, Patrycja Piekutowska, Joshua Bell, pianist Sa Chen, Ivo Pogorelech, Zuzana Paulechov, Maria Szwajger-Kulakowska, Gergely Boganyi, Labeque Sisters, Viola player Tabea Zimmermann, Cellist Alban Gerhardt are among the guest stars appearing during the festival. The Stuttgart Radio Symphony Orchestra(SWR) and the Berlin Philharmonic Orchestra are party of the festival. For the later, this is the second trip to China after 26 years.


| | | |
| --- | --- | --- |
| | | |
WHO'S WHERE


LORENZO LAMAS the Falcon Crest star will be seen at Feinstein's at the Regency in Manhattan from October 31st through November 11th. Cabaret owner Michael Feinstein is the creator of his act which is called Lorenzo Sings About Love.

BRENDA LEE always known as Little Brenda Lee opens a three night gig at the Tropicana Hotel in Atlantic City on Wednesday, November 1.

AL STEWART on stage Tuesday, October 31 at the Philharmonic Hall in Liverpool, England. On Thursday he's at the Arts Centre in Warcik, United Kingdom and on Saturday the show is at Vicar Street in Dublin, Ireland.

PETER, PAUL AND MARY star at Proctor's Theatre in Schenectady, New York on Friday, November 3.

MICHAEL FEINSTEIN in the spotlight Friday, November 3 at the Community Theatre in Morristown, N.J.

JOHN TESH entertains Wednesday, November 1 at the Cerritos Center in Cerritos, CA.

DIXIE CHICKS center stage Saturday, November 4 at Rexall Place in Edmonton, Alberta, Canada. ON Sunday, November 5 they can be enjoyed at Pengrowth Saddledome in Calgary, Alberta.

ANDRE RIEU on stage at the Excel Energy Center in Saint Paul, MN on Monday, October 30. On Tuesday he performs at Pershing Auditorium in Lincoln, NE. Thursday finds him at the Pepsi Center in Denver, CO. On Saturday the show is at the E Center in West Valley City, UT.

OAKRIDGE BOYS sing their hits Thursday, November 2 at Louisburg College in Louisburg, NC. On Friday they are at the Schuster Performing Arts Center in Dayton, OH. Saturday the show is at Little Nashville Opry in Nashville, Indiana.

ARLO GUTHRIE in the spotlight Wednesday, November 1 at Ridgefield Playhouse in Ridgefield, CT. On Thursday the show is at the Paramount Center in Peekskill, NY. On Friday he opens a two night stand at the Jorgensen Center for the Performing Arts in Storrs, CT.

JAMES BLUNT performs Monday, October 30 at the Northrop Auditorium in Minneapolis. Then the performances move to Canada. On Tuesday the show is at the MTS Centre in Winnipeg. Thursday finds him at Rexall Place in Edmonton and on Friday he's on stage at Pengrowth Saddledome in Calgary.

PETER FRAMPTON, DICKIE BETTS AND HOOTIE AND THE BLOWFISH in the spotlight Thursday, November 2 at Turning Stone Casino in Verona, NY. On November 5 they perform at the House of Blues in Atlantic City.

PAULA POUNDSTONE getting laughs Friday, November 3 at the Performing Arts Center in South Orange, NJ.

CHRIS ISSAK in Australia performing this week at the Crown Entertainment Complex in Melbourne.





Boo!!!! What The Big Apple Broadway producers might be wishing for the critics. Untitled pastel artwork by Las Vegas artist John Gronning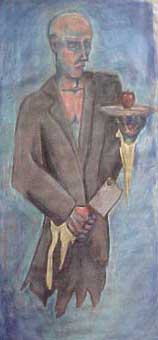 Next Column: November 5, 2006
Copyright: October 29, 2006. All Rights Reserved. Reviews, Interviews, Commentary, Photographs or Graphics from any Broadway To Vegas (TM) columns may not be published, broadcast, rewritten, utilized as leads, or used in any manner without permission, compensation and/or credit.
Link to Main Page
---
Laura Deni


CLICK HERE FOR COMMENT SECTION