! >
Broadway To Vegas
  SHOW REVIEWS     CELEBRITY INTERVIEWS     GOSSIP     NEWS 
SPOOKTACULAR OPENINGS

Previews have begun for The Rocky Horror Show which officially open on Broadway at The Circle in the Square Theatre on Nov. 15


JOAN JETT and TOM HEWITT in The Rocky Horror Show Photo By: Joseph Cultice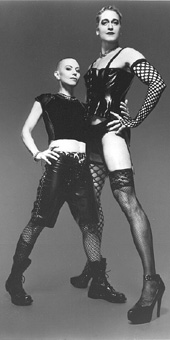 The undisputed champion of audience devotion The Rocky Horror Show is a story of love, lust, manipulation, seduction, submission, domination, creation, satisfaction, biological advancement and simultaneous orgasm.

Jordan Roth who produced The Donkey Show does the same for this production which has an eclectic cast that includes Tom Hewitt, Joan Jett, Dick Cavett, Daphne Robin-Vegas, Lea De Laria, Alice Ripley, Jarrod Emick, and Raul Esparza.

This cult phenomenon traces the bizarre adventure of the super-square Brad Majors played by Emick and his amazingly virginal fiancee, Janet Weiss brought to life on stage by Alice Ripley. Following Brad and Janet as they try desperately to survive the diabolical Riff-Raff - portrayed by Raul Espinoza - his incestuously fashionable sister, Magenta, portrayed by Rubin-Vegas, her rock-'n'-rollin' best-friend, Columbia - neatly cast in Joan Jett - her dangerous biker-boyfriend, Eddie, known in real life as Lea DeLaria, several Transylvanians and the world's most powerful but sweet transvestite - a man simply referred to as Frank N' Furter - that would be Tom Hewitt, who will change their lives and libidos forever.

The Rocky Horror Show was first staged in New York in 1975 at the Belasco Theatre, where it ran just 45 performances. Clive Barnes, then writing for the New York Times, called it "tacky, tacky, tacky." But added: "It is ingenious, sophomoric fun."

The musical was, of course, made into a movie, The Rocky Horror Picture Show, that has achieved cult status.

Also making a bizarre transition to Broadway is The Full Monty which has caught the sophisticated Broadway community with their pants down. Those in the know anticipated that this might be a funny show, but nobody was prepared for the graceful and hilarious transition from hit movie to boffo Broadway.



THE MOVIE HAS BEEN TURNED INTO A BROADWAY HIT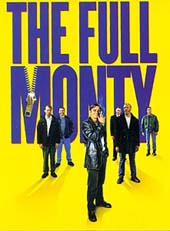 The international success of the English film The Full Monty brought an obscure British English slang expression to wider, and puzzled, notice - which means the whole nine yards.

It's about laid-off mill workers in Sheffield, England, who decide to raise money and their manhood by moonlighting as male strippers.

In his Broadway production the ringleader is Patrick Wilson, his weight-challenged buddy portrayed by John Ellison Conley. Romain Fruge plays a guy who wishes he had been born Donald O'Connor; Jason Danieley cast as the Momma's Boy, and Marcus Neville as the nerdy foreman are all perfect.

Terrence McNally did the book with David Yazbek making his identity mark with the music and lyrics. Jerry Mitchell's choreography with Jack O'Brien's staging are perfect.

The Full Monty is a full-blown hit.


GHOSTLY SIGHTINGS

The American Ghost Society annually meets to mull over things that go bump in the night and boo in the dark. Nationally known authorities and speakers on ghosts, hauntings and the supernatural discuss and conduct workshops on such spooky subjects as ghost hunting, specter detection equipment, conducting paranormal investigations, haunted locations and tours of haunted places.

You don't have to be a member to see the aberrations. Just head over to your favorite haunt

In Albuquerque, New Mexico the 90-year-old Lodge at Cloudcroft has an impressive list of guests, including Mexican revolutionary Pancho Villa and entertainers such as Judy Garland, Clark Gable and Gilbert Roland. But Rebecca the ghost remains the hotel's most famous resident. The Lodge's restaurant is named for her and fanciful representations of the red-haired beauty are displayed here and there on the premises.

A three-dimensional image of Rebecca, resident ghost at the Lodge at Cloudcroft, gazes from the confines of a glass case at guests and staff members as they pass through the foyer of the resort in the Sacramento Mountains east of Alamogordo. Spectral appearances and strange goings-on at the Lodge have been attributed to Rebecca, who, according to a legend at the Lodge, was a flirtatious chambermaid who disappeared in the 1930s.

Hotel staff members and guests report seeing Rebecca's ghostly manifestation, or tell about toilets that flush themselves, ashtrays that move and champagne glasses that are filled, emptied and then break. Doors open that were closed and TVs in guest rooms come on by themselves. Rebecca is frequently seem by guests in the bar's mirror, swaying to the music.

Goldfield, Nevada not only has a resident ghost, the ghostly incidents are so severe that the place is considered a portal to the afterlife.

Prostitutes - the only occupation where you sell something without depleting the inventory - frequently turn up a ghosts.

According to the folks who document this stuff, following the impregnation of a prostitute by the manager of the hotel many years ago, the manager became angry at the women for the incident and took her to his hotel. As her pregnancy became more obvious, he chained her to the radiator in one of the rooms, and when the baby was born, he killed them both. The hotel has been closed for many years with no power to any part of it, but on some nights there are several lighted rooms. Workers have been hired on several different occasions to do restoration on the hotel, and due to the many unexplained incidents, the hotel restoration has never been completed and has changed hands several times. There have been several ghosts seen in several parts of the hotel, including the prostitute, the original owner, and two other men. Paranormal experts have visited the hotel many times and have determined that it is one of the nine portals that connect our world with the spirit world.

Chicago's most famous apparition is Resurrection Mary, a young girl dressed all in white. It's said that she hitches rides along Archer Avenue, asking motorists to drop her off at Resurrection Cemetery. Full moons and stormy weather encourage her visits. Mary's ghost has also been seen dancing at the nearby Willowbrook Ballroom.



MIA FARROW in Rosemary's Baby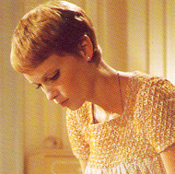 Chicago's Hull House established by Jane Addams in 1889 is also reportedly haunted, by the likes of what was transformed into Rosemary's Baby. A shadowy, monk-like figure is seen in a top floor room where strange fires break out. All because of this "Devil Baby" a demon child born with a tail and a cigar in his mouth in the early 1900s. Actually, the Devil Baby was a deformed infant left in Addams' care. The tail was a spinal deformity. The story became the inspiration for the novel and film Rosemary's Baby, in which a woman played by Mia Farrow, gives birth to the spawn of Satan.

One can't discuss Halloween without mentioning Salem, Mass. The Salem Wax Museum has a Multimedia presentation on witch trials of 1692. The Salem Witch Museum has an exhibit, "Witches: Evolving Perceptions." A look at the meaning of "witch" and the phenomenon of witch hunting with dialogue from contemporary witches.

The Salem Witch Village presents Origins of Witchcraft, the truth behind legends and tradition. Created and developed with help of Salem's witch community, it is staffed by practicing witches.

Gordon College professional theater company produces interactive re-enactment of witchcraft hearings of Bridget Bishop, first person hanged during Salem Witch Trials of 1692. "Cry Innocent, the People Versus Bridget Bishop," ends Halloween.

A Vampire and Ghost Hunt Walking Tour led by a licensed ghost hunter explores Salem's past while viewing haunted houses and cemeteries.

The Guthrie Theater in Minneapolis also another place to see a ghost. In 1967, a young usher shot himself to death in his car. Since then, his likeness has been spotted near and in the building, including in aisle No. 18 where he worked.

The Spy House in Middleton, N.J. is a colonial plantation house turned museum which is full of entities. Among the apparitions are a woman in white who tucks the covers into a crib or bed, then turns and vanishes and a tall, bearded man.

The Whaley House in San Diego is Southern California's oldest two-story brick structure and considered the most haunted house in America. Now a museum, it was completed in 1857 by pioneer Thomas Whaley, who "never left." Other apparitions include a crying baby and even a ghost dog.



USS HORNET said to be haunted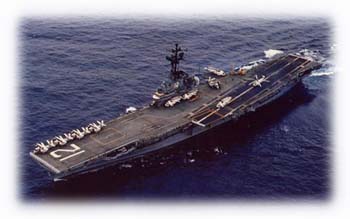 Lloyd Auerback, an adjunct professor at JFK University if a real life ghostbuster. His Office of Paranormal Investigations in based in Pleasant Hill, Ca. He's penned Psychic Dreaming, Mind Over Matter and ESP, Hauntings and Poltergeists. His current project is investigating the haunting of the USS Hornet, a World War II aircraft carrier that fought off enemy attacks 59 times and holds the Navy record for number of enemy planes shot down in one week. The Hornet is the carrier that recovered the Apollo II space capsule containing the first astronauts to walk on the moon.

But the vessel's biggest claim the fame may be that it has "more spirits than a vodka distillery"

Ghosts of dead sailors are routinely spotted walking through the ship disappearing down dead-end corridors, climbing down ladders and watching over the ship. The rank of the Navy ghosts can even be determined by their uniform.



Broadway To Vegas is supported through advertising and donations. Priority consideration is given to interview suggestions, news, press releases, etc from paid supporters. However, no paid supporters control, alter, edit, or in any way manipulate the content of this site. Your donation is appreciated. We accept PAYPAL. Thank you for your interest.


THE MAGICAL MYSTICAL MURDER MYSTERY DINNER THEATER

Murder Mystery Trains, Murder Mystery Mansions, Murder Mystery Cruises, Murder At The Mardi Gras, Murder At The Ball Park, Murder In The Haunted Mansion, Holiday Murder Mystery Parties. Murder On New Year's Eve or any other night you can conjure up.

If you haven't attended a murder mystery dinner, you're not in the loop.

All across the country there are a plethora of people who are dying to die while dining. The Murder Mystery Dinner Theatre has become a big money operation.

Producers, Joni and Ron Pacie, members of the prestigious Mystery Writers of America have been slaying audiences, to rave reviews, all over the U.S., Caribbean, Europe, Africa, and the Orient. Their successful Off-Broadway show Murder At Midnight which ran in New York City expanded to Philadelphia, Baltimore, California and even opened in Rome, Italy to great reviews.

Murder Mystery Inc. opened it's hit Murdered By The Mob in - where else - New Jersey, March of 1997 and then took it to New York City and then on to Florida.

While the dinner mystery theater concept is surviving and thriving the big money comes from private and corporate affairs.

Murder Mystery INC. has been producing, directing, and writing audience participatory murder mysteries for and entertaining V.I.P.'s such as the Ambassador of Thailand, Donald Trump, Tony Bennett, former Mayor David Dinkins of N.Y., Alan Alda, Broadway Producer Roger Berlind, and Arthur Levitt Jr., head of the SEC. They have presented shows for over 400 Fortune 1000 companies including corporate giants like IBM, AT&T, Estee Lauder, Bank of America, Morgan Stanley, Smith Barney, American Cyanamid, Ralph Lauren, Escada, Union Carbide, Sandoz Pharmaceutical, NBC, MTV, McCalls, and General Electric to name a few.

Joni and Ron Pacie have also worked on charitable events with the late Princess Diana, Colin Powell, Barbara Walters, and Henry Kissinger and Nick Emanuele, Labor Chairman, and United Cerebral Palsy.

Since opening her Burbank, CA based Dial M Murder Mysteries in 1985, producer-director Peggy Phillips, offers several events including a murder mystery show A Dinner You'll Die For, and The Witch's Brew, a Halloween scavenger hunt and mystical seance theme party.



JAYNE & ERIC POST star in the Las Vegas show at The Egg & I restaurant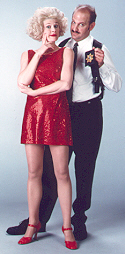 Phillips stressed to her potential customers that "Unlike other companies, Dial M does not hire waiters to deliver a loosely written scrip. We hire only the most talented, professional, Union actors in Los Angeles. By combining the best talent, a live musical score and professional writers and directors, we can create shows that are not only suitable for the general public, but especially designed for the elite Fortune 500 companies. We are very well known for our large events taking place in all of the major Nevada Casinos."

Las Vegas has a murder mystery dinner which recently moved from the Showboat Hotel to The Egg and I restaurant.

Produced by Jayne Eric Post of Post Productions the murder mystery performers have included one of Wayne Newton's backup singers and the creative team is composed of Hollywood Emmy award winners.

Terrorfest 2000, is overnight mystery-dinner event; staged Chameleons, the Whodunit Company at Snowbird Resort, outside of Salt Lake City

Naturally Salem, Mass has their own dinner mystery The Haunted Dinner Theater presented Good Will Haunting, as part of Salem's Haunted Happenings.


CEMETERY THEATRE

Wyuka Cemetery in Lincoln, Nebraska stages plays among the tombstones. Their first production was - appropriately enough - Rosencrantz and Guildenstern are Dead.

The cemetery has an open-air carriage house and serious consideration is being given to making the site home to an Elizbethan-style theater. Renovating the carriage house is part of Wyuka's ongoing plan to draw people to the 131-year-old cemetery, which was known for its park-like setting in its early days.

Recent improvements include a new funeral home and cemetery entrance and restoration of a maintenance building and pond. The big question facing Wyuka's trustees was what to do with the carriage house. A feasibility study recommended a theater. But before any work or fund raising begins, the trustees want to see if the concept flies with ticket buyers or - dies.


EATING UP CULINARY MYSTERY NOVELS

Tasty tales of death and danger against a backdrop of restaurants, cooking and delicious food. The amateur sleuths are chefs, restaurant critics, caterers and even diet counselors.

This Little Piggy Went to Murder, Fat-Free and Fatal and Too Many Cooks Spoil the Broth, and some even include recipes that might just be to die for.



GEORGE SEGAL, JACQUELINE BISSET and ROBERT MORLEY in Who Is Killing The Great Chefs of Europe?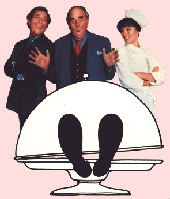 In the 1930s, Rex Stout wrote Too Many Cooks, starring sleuth Nero Wolfe and several recipes. In 1976, Nan and Ivan Lyons published Someone Is Killing the Great Chefs of Europe, where the chefs' murders coincide with their signature dishes a French chef known for pressed duck is found with his head in a duck press, for instance. That book was made into a movie which starred George Segal, Jacqueline Bisset, Robert Morley, Jean-Pierre Cassel, Philipe Noiret, and Jean Rochefort

Bisset played "Natasha," a world-class pastry chef. When various other chefs are bumped-off, one-by-one, both she and her ex-husband, "Robby" - a fast-food entrepreneur, played by George Segal - fall under suspicion.

Filmed in London, Paris, and Venice the movie garnered Golden Globe nominations for Bisset as Best Actress in a Comedy or Musical and Robert Morley who played "Max", the great connoisseur and food writer received his nomination as Best Supporting Actor.

The screenplay by Peter Stone based on a novel Someone is Killing the Great Chefs of Europe by Nan and Ivan Lyons; was going to be the name of the movie, too. Promotional material was printed up with that title. Then Farrah Fawcett's movie - her first starring role, post-Angels was released with the title Somebody Killed Her Husband. So the title of this movie was changed to avoid confusion.

Who is Killing The Great Chefs of Europe was directed by Ted Kotcheff with music by Henry Mancini.

In the early 1980s, Virginia Rich, former food editor of Sunset magazine, created a mystery series with recipes that included The Cooking School Murders.

In the late 1980s, a Colorado writer, Diane Mott Davidson, was inspired while watching the comings and goings in a neighborhood cafe/catering business. She penned "Catering to Nobody," in which caterer Goldy Bear tracks down the person who poisoned the coffee she was serving. Her second book, Dying for Chocolate, hit the bestseller list.

Lou Jane Temple, is author of Bread on Arrival, Death by Rhubarb, A Stiff Risotto and Revenge of the Barbecue Queens. In Bread on Arrival, sassy chef Heaven Lee attends a bread-making convention where a fellow chef ends up murdered in a pan of dough. Television gave many real-life chefs celebrity status, creating interest in the culinary world.

"Being a chef is a very sexy thing in America right now; it's like being a rock star in the '70s," Temple said. Temple and Phyllis Richman, author of The Butter Did It and Murder on the Gravy Train, recently spoke on a panel on culinary mysteries in Kansas City, Mo. Both write from personal experience.

Temple was a chef and caterer. Richman recently retired as restaurant critic for the Washington Post where she was known as "One of the Most Feared Women in Washington." Temple said her writing career arose from a loss. In 1992, her Kansas City restaurant, Cafe Lulu, folded. "It was always packed with people and a fun place to go, but it could never be profitable," she said. She worked as a caterer to pay the bills, and freelanced a wine column for the Kansas City Star.

She sold her first book, "Death by Rhubarb" in 1994 and is now working on a story based in New Orleans, "Red Beans and Vice."

"Phyllis and I can stay in business if we can keep coming up with bad food puns," Temple joked.


OTHER PEOPLE'S MONEY

SCIENCE SLEUTH THEATER has been established thanks to Novelist Patricia Cornwell, whose latest novel is The Last Precinct. The author donated $250,000 to the Science Museum of Virginia to create an interactive forensics game and exhibit called "Science Sleuth Theater." Cornwell attended the opening accompanied by medical examiner Dr. Marcella Fierro, who served as the inspiration for her fictitious heroine Kay Scarpetta. In the Science Sleuth Theater game, crime buffs are given a scenario and collect clues, including DNA evidence and information on what fictional victims may have eaten before dying.


THEATRE WING SEMINARS

The American Theatre Wing, Roy A. Somlyo, President, continues to provide an enlightening, behind-the-scenes theatrical experience. On October 31st, November 1st & 2nd, are the ATW "Working in the Theatre" Seminars where star-studded panels comprised of Broadway and Off-Broadway's major theatre personalities provide some of the most entertaining and informative discussions on theatre today.

Now in their 28th year, the Seminars are held every Fall and Spring. The panels bring together theatre's best known performers, producers, playwrights, directors, choreographers, composers, agents and others.

WHEN: Tuesday, OCTOBER 31: Playwright/Director/Choreographer seminar 11am-1pm

David Aubrun (Proof playwright"), Charles Bush (playwright/actor), George Faison (director & choreographer), David Marques (Choreographer), Jerry Mitchell (choreographer), John Rando (director). Moderator: Theadore Chapin (President Rodgers & Hammerstein Organization)

WHEN: Wednesday, NOVEMBER 1: Production Seminar The Full Monty 11am-1pm

Thomas Hall & Lindsay Law (producers), Michael Hartman (press), Jack O'Brien (director), Charlotte Wilcox (general manager), David Yazbek (composer). Moderator: Roy A. Somlyo.

WHEN: Wednesday, NOVEMBER 1: Composer & Lyricists Seminar 11am-1 pm

Susan Birkenhead, Fred Ebb, Marvin Hamlisch, John Kander, Charles Strouse, Don Schlitz. Moderator: Peter Stone (playwright)

WHEN: Thursday, NOVEMBER 2:L Performance Seminar 11am-1 pm

Len Cariou (The Dinner Party), Patrick Cassidy (Annie Get Your Gun), Andre De Shields (The Fully Monty), Mary-Louise Parker (Proof,) Michael Learned (The Best Man), Marian Seldes (The Butterfly Collection). Moderator: Pia Lindstrom

WHERE: The Graduate Center of the City University of New York NYC.


WHO'S LURKING WHERE

DAVID CAMPBELL the Australian cabaret sensation praised for his performance in Stephen Sondheim's just-produced first musical, Saturday Night performs November 2- 5. Orange County Performing Arts Center, CA

DAVID BENOIT in concert performing the music of Peanuts: Here's To You Charlie Brown November 5 at the Cerritos Center for the Performing Arts, Cerritos, CA.

MICHAEL FEINSTEIN takes center stage on October 29 in Englewood, NJ at the John Harris Center for the Performing Arts with Maynard Ferguson Big Band. Then on November 4 it's Schnectady, NY at Proctor's Theatre with Rosemary Clooney.

SHIRLEY CAESAR November 1-2 in Chicago, IL at the New Regal Theater.

CAROL KANE, PHYLICIA RASHAD and KIMBERLY WILLIAMS do their turn in The Vagina Monologues at the Canon Theatre, Los Angeles October 31-November 19.

LEGENDARY LADIES OF ROCK n' ROLL that would be Martha Reeves & the Vandellas, Shirley Alston Reeves, The Crystals and The Shangri-Las at the Stardust Hotel, Las Vegas November 2-4.



DRACULA Iowa State Center, Stephens Auditorium, Ames. The production features the Royal Winnipeg Ballet.Choreographer Mark Godden's take on Bram Stoker's gothic drama invokes some serious blood lust - particularly when a nearly nude wolfman engages an impassioned beauty. Set to music by Gustav Mahler, this Dracula scores as a big dramatic event -- sex, gargoyles, a decapitation, what more do you want in a piece of entertainment? A sellout when it premiered in Winnipeg in October 1998, Dracula has toured to critical acclaim Oct. 31. Tickets $10 to $32.

THE HEAD A DISEMBODIED COMEDY by William S. Leavengood opens November 3rd. David Young and Norma Langworthy, in association with The Riverside Stage Company, presents the world premiere of William S. Leavengoods' The Head directed by Brian Feehan. The Head,1999 winner of the Riverside Stage Companies national Founder's Day New Playwrights Award began last Wednesday and opens November 3rd at The Chelsea Playhouse, NYC.

Set in the 1930's in a secret underground laboratory just outside of London, four bumbling crooks, which includes a gangster, a giant, a dwarf and a Pakistani mystic, attempt to kidnap a martini drinking, song composing disembodied head, a mad scientist and his wife.

The cast of The Head includes Andrew Coleman, Jay Rodgers, Jay Rosenbloom, Aaron J. Fili, Kaleo Griffith, Heather Anne McAllister, and Branislav Tomich. Set design is by Dan Kuchar, lighting design is by Chad McArver, costume design is by Mira Goldberg.

The Riverside Stage Company is a not-for-profit theatre company dedicated to developing and presenting new American plays, and fostering a new generation of playwrights, actors and directors.

3HREE is a new production by the 20 Tony Award winning Hal Prince. 3hree, an evening of three one-act musicals which dovetail, was specifically written for the Prince Music Theater in Philadelphia. The production features composers Laurence O'Keefe, cabaret songwriter John Bucchino, and Robert Lindsey-Nassif; directors Scott Schwartz, and Brad Rouse, and choreographer Rob Ashford. 3hree has performances at the Prince Music Theater, Philadelphia, to November 19


THIS AND THAT

HUGH HEFNER'S HALLOWEEN PARTY at the Playboy Mansion had so many people trying to wrangle an invite that weeks ago organizers closed the list to men, and women who wanted an invitation were asked to submit photos first.

JOHN TRAVOLTA dresses up like a skeleton on Halloween. He thinks the costume makes him look thinner.

STING says his favorite card in the Tarot deck is ... Death "My favorite tarot card is Death....how strong are the feelings this card inspires in me. Death symbolizes ultimate challenge and the end of illusion"




Mention BROADWAY TO VEGAS for Special Consideration
Call (800) 942-9027









Next Column: November 5, 2000
Copyright: October 29, 2000. All Rights Reserved. Reviews, Interviews, Commentary, Photographs or Graphics from any Broadway To Vegas (TM) columns may not be published, broadcast, rewritten, utilized as leads, or used in any manner without permission, compensation and/or credit.
Link to Main Page
---
Laura Deni


CLICK HERE FOR COMMENT SECTION