! >
Broadway To Vegas
  
  REVIEWS INTERVIEWS COMMENTARY NEWS



| | |
| --- | --- |
| | |
NON-OBLIGATORY HALLOWEEN ALLOWS GUILT FREE ESCAPISM - - BENEFIT CELEBRITY OPENING OF SKYFALL - - 17th ANNUAL KIDS' NIGHT ON BROADWAY - - SEVEN DEADLY SINS - - EDVARD MUNCH'S THE SCREAM ON DISPLAY - - PRESTIGE TRAVEL BANKRUPTCY CAUSES LAS VEGAS TOURIST PROBLEMS - - BRITISH FILM INSTITUTE AND THE BBC TO DIGITALIZE IMPORTANT FILM COLLECTIONS - - CAREER TRANSITION FOR DANCERS 27th ANNIVERSARY JUBILEE - - DONATE . . . Scroll Down


Copyright: October 28, 2012
By: Laura Deni
CLICK HERE FOR COMMENT SECTION

LAS VEGAS BANKRUPTCY FILINGS MAY HAVE SERIOUS CONSEQUENCES FOR VISITORS


The Luxor Hotel in Las Vegas is one of many properties impacted by the Prestige Travel bankruptcy.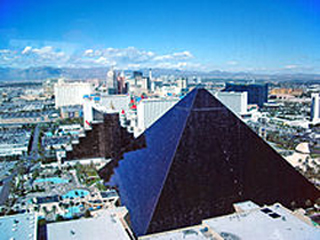 If you have Nevada hotel reservations made through Prestige Travel check with the hotel to verify that you won't be asked to again pay for your room before checking in. Don't just ask if the reservation is being held - ask if the payment you already made through Prestige Travel is being honored by the hotel.

Prestige Travel with 10 offices in Las Vegas, has filed for bankruptcy protection in Las Vegas. Case number: 2:12-bk-21951; Assets $0 to $50,000 - Liabilities $10,000,001 to $50 million.

Prestige Travel has preferred booking agreements with 49 travel providers. Some smaller Strip shows could be forced to shutter and tourists, including international visitors, have been seriously inconvenienced.

After it was made public that - when a family of seven from Australia attempted to check into the Luxor Hotel, the resort refused to honor payment already made by the family, who had paid through Prestige Travel - an emergency hearing took place Friday afternoon in the courtroom of U.S. Bankruptcy Court Judge Bruce Markell. He approved a temporary cash flow to fund operations.

Another hearing is scheduled for Thursday, November 1, to consider a request to compel the hotels to accept the Prestige reservations and tap the letters of credit only for certain expenses incurred after the bankruptcy filing.

According to court papers, Prestige Travel owes nearly $3 million to MGM Resorts International properties, $1.3 million to other resorts, $795,000 to Cirque du Soliel shows, plus $1.3 million to American Express and other amounts to hotels outside Las Vegas.

Totally understand that the hotels don't want to be left holding the bag, but tourists shouldn't be double charged, either.

Visitors need to get past the public relations babble.

Las Vegas hotels indicate that they are not canceling reservations. The rooms are being held. However, visitors are requested to again pay for the rooms. The hotels indicate they are being thoughtful by only charging the person the same rate they had previously paid to Prestige Travel. Hotels want the payment made through a credit card.

If a person doesn't want to (or can't) pay again for rooms they previously paid for, then they are left to fend for themselves.

According to published reports, nobody seems to know what happened to that Australian family. The Luxor Hotel, which is part of the MGM Resorts group of hotels, hasn't issued a statement regarding this particular family. Prestige Travel has told a judge they don't know if or where the family found accommodations.

The hotel should have had some sort of contact information.

How important is the foreign tourist market?

This looks like a pr disaster.

Assuming the family refused to pay twice and left the hotel lobby, did the Vegas transit homeless population suddenly increase by seven? Did the family return to the airport and fly back home? Are they sleeping on a living room floor somewhere in Sin City?

If the Luxor later looked for the family and couldn't locate them, then why weren't television and radio stations contacted and asked to request that the so-and-so family from such-and-such place in Australia contact the Luxor. After making sure the family was safe, couldn't some entity have at least comped that family to a dinner, a show or some gesture to show that Las Vegas hotels care about their customers, and don't want a travel agent problem to reflect an image that the only thing Vegas resorts care about is how much money they can ring out of you.

An airline trip from Australia is a long, tiring excursion. The last thing a tourist from anywhere, much less Australia, needs to hear is that they have to pay twice for their rooms.

Was this family notified by any entity informing them that, because of non-payment to the resort by Prestige Travel, they were being notified that what they might feel is a paid reservation is not considered "paid", and they would be responsible for paying the full amount upon registration?

Obviously money was an issue. If money wasn't the issue, they would have paid and sorted it out later. If they then had to find a cheaper place to stay and pay that bill from money allocated for food, entertainment, gambling or shopping, then not only the visitors but Las Vegas got hurt in trickle down consequences.

Prestige Travel has laid off 90 employees and shut down on line bookings.

In addition to suing City National Bank, in an effort to force the hotels to accept the Prestige reservations, Prestige Travel has sued: MGM Resorts International, Caesars Entertainment Corp., Treasure Island, the Stratosphere and its sister properties the two Arizona Charlie's and the Aquarius in Laughlin; the Silver Legacy in Reno, the Venetian, Wynn Las Vegas, Trump Tower, the South Point, the M Resort, the Tropicana, the Golden Nugget, the Four Queens, the Gold Coast and its sister properties the Orleans, the California and the Fremont; the Hard Rock, the LVH, the Palms, Palms Place, Hooters, Circus Circus Reno, the Grand Sierra in Reno, the Riviera, the D, Don Laughlin's Riverside Resort, the Tropicana Express in Laughlin, the Tuscany and the Sands Regent in Reno.

Again, if you have any Nevada hotel or show reservations made through Prestige Travel check with the hotel to verify that you won't be asked to directly pay the hotel before checking in. Don't just ask if the reservation is being held - ask if the payment you already made through Prestige Travel is being honored by the hotel.



Liberace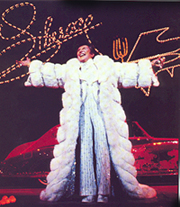 Obtain detailed information about who you talked to: name - badge or employee number - their supervisor's name, etc.

It appears that The Liberace Foundation for Creative and Performing Arts is hoping to grab the coat-tails of the upcoming Liberace movie starring Michael Douglas, to help them come out of bankruptcy.

The Las Vegas based Liberace Foundation for Creative and Performing Arts has filed for Chapter 11 bankruptcy protection in Las Vegas, Nevada.

The Liberace Museum closed two years ago.

Court papers assert that the cash flow problems stem from a high interest rate, 12-year-old $1.3m property loan owed to US Bank. The company's statement indicates they are promising to come out of bankruptcy "stronger," and are looking for a new museum site. Their optimism is based upon being able to cash in on renewed interest in Liberace thanks to the upcoming film about the flamboyant entertainer starring Michael Douglas, and the floated rumors of a 2014 Broadway musical.





Broadway To Vegas is supported through advertising and donations. Priority consideration is given to interview suggestions, news, press releases, etc from paid supporters. However, no paid supporters control, alter, edit, or in any way manipulate the content of this site. Your donation is appreciated. We accept PAYPAL. Thank you for your interest.



ART AND ABOUT


STEVE McQUEEN

Steve McQueen. Charlotte 2004. Marian Goodman Gallery, New York/Paris, and Thomas Dane Gallery, London.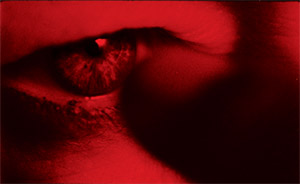 is an internationally acclaimed artist whose work is primarily engaged with moving images. Born in London in 1969, he has, over the last twenty years, made a series of film and video installations designed for gallery-based presentation, along with two feature films made for cinematic release.

His efforts in these two distinct, but interrelated, arenas have earned him a reputation as one of the most important and influential artists of his generation working with these media, and beyond. McQueen's earliest works are silent, and mostly black-and-white, often with a focus on the body, very often the artist's own. Subsequent pieces incorporate, as a general rule, sound and color, and often emerge from more elaborate investigations.

McQueen has been equally concerned with the act of recording moving images as he is with the specific conditions in which these images are presented.

The size of the screen, the dimensions of the room, and the relationship between the viewer and the projection itself are all fundamental considerations. McQueen's thinking about formal and spatial relationships in this regard lends a sculptural element to his art.

One work in particular, Queen and Country (2007–09), is an entirely sculptural installation with no moving image or sound component. Presented here for the first time outside of the United Kingdom, the work is a memorial to British men and women killed in military service during the most recent war in Iraq.

Most of McQueen's oeuvre—including his gallery-based installations as well as feature films—evidences a potent, at times oblique, political consciousness. Many works address specific social and historical moments in ways that seemingly emerge from documentary or journalistic impulses. Other films are more abstract, their meanings shaped by allegory or metaphor. McQueen always communicates directly to viewers through what one writer termed "the medium of aesthetic affect."

This exhibition is organized by the Art Institute of Chicago and Schaulager, Basel, Switzerland. Officially opened October 21, 2012 and is on display through Sunday, January 6, 2013 at the Art Institute of Chicago.

EDVARD MUNCH'S THE SCREAM

Edvard Munch's The Scream. Pastel on board. 1895. © 2012 The Munch Museum/The Munch-Ellingsen Group/Artists Rights Society (ARS), New York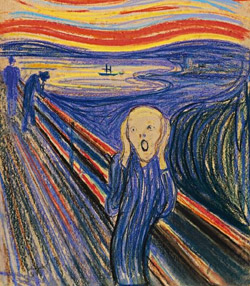 the most expensive artwork ever sold at auction - $120 million - is on display at The Museum of Modern Art in New York City in a special six-month exhibition running through April 29, 2013.

The iconic painting considered one of the most recognizable images in art history, is the most expensive artwork ever sold at auction. It was purchased by an anonymous private collector, believed to be Leon Black, at the Impressionist and Modern Art Evening Sale at Sotheby's in New York on May 2. The seller was Norwegian businessman Petter Olsen whose father was a friend and patron of the artist.

Of the four versions of The Scream made by Munch between 1893 and 1910, this pastel-on-board from 1895 is the only one remaining in private hands.

The Munch Museum in Oslo holds two versions of The Scream and the third is displayed at The National Gallery of Norway.

At the time of the auction Sotheby's Philip Hook said that The Scream showed the "beginning of man's looking in on himself as opposed to painting the outside of himself. "It's the ultimate first image of angst and anxiety."

"The startling power of Munch's original work endures almost despite the image's present-day ubiquity," notes Ann Temkin, The Marie-Josée and Henry Kravis Chief Curator of Painting and Sculpture, who is organizing the installation. "The visual subtlety and complexity of this composition can't be summed up in a cliché."

A haunting rendition of a hairless figure on a bridge under a yellow-orange sky, The Scream has captured the popular imagination since the time of its making. The image was originally conceived by Munch as part of his epic Frieze of Life series, which explored the progression of modern life by focusing on the themes of love, angst, and death. Especially concerned with the expressive representation of emotions and personal relationships, Munch was associated with the international development of Symbolism during the 1890s and recognized as a precursor of 20th-century Expressionism.

The Scream is installed in the Museum's Painting and Sculpture Galleries, along with a selection of prints by Munch drawn from the Museum's extensive collection of his work. On view at MoMA through April 29, 2013.


SWEET CHARITY


CAREER TRANSITION FOR DANCERS 27th ANNIVERSARY JUBILEE GALA titled Jump for Joy will be hosted by Angela Lansbury, five-time Tony Award-winning actress and legendary star of film and television, and feature Broadway superstar Chita Rivera.

Liza Minnelli will be honored with the 2012 Rolex Dance Award.

Recipients of the 2012 CTFD Awards for Outstanding Contributions to the World of Dance include Joni Berry, Michele Herbert, Gerald M. Appelstein and Arthur Murray International in celebration of their 100th Anniversary.

Produced and directed by Ann Marie DeAngelo. Executive producer is Alexander J. Dube´. The 27th Anniversary Chairs are Anka K. Palitz and Susan and Stewart Wicht.

Honoring more than a quarter century of support, Career Transition For Dancers connects dancers to their future and embraces the unique legacy of dance and dancers that enriches the human condition.

Monday, November 5, at City Center in New York City.

BENEFIT CELEBRITY OPENING OF SKYFALL

Daniel Craig and Dame Judi Dench meet Prince Charles and Camilla, the Duchess of Cornwall. Photo: Getty.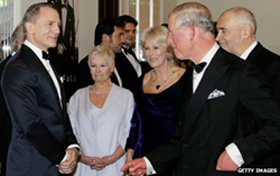 the 23rd official Bond film and Daniel Craig's third engagement as the suave superspy 007, took place Tuesday, October 23, at Royal Albert Hall in London.

Attending the glittery screening were:

Prince Charles and his wife Camilla, along with stars Daniel Craig, Dame Judi Dench who plays spy chief M, Javier Bardem who is cast as a villain bent on revenge, Ralph Fiennes who plays a senior government official, Bond girls Naomie Harris and Berenice Marlohe, Ben Whishaw who is the new Q and Oscar-winning director Sam Mendes.

Proceeds from Tuesday's royal gala are going to charities after Charles asked for the screening to support charities that help members of the three intelligence agencies - the Secret Intelligence Service (MI6), the Security Service (MI5) and GCHQ.

Many critics have called the Sam Mendes directed Skyfall the best Bond movie in years.

Skyfall opens in the United States on November 9.

The gala Skyfall world premiere at Royal Albert Hall coincided with the 50th anniversary of the 007 films, which started with Dr. No back in 1962.


PEOPLE ARE IN A HAUNTING MOOD TO HAVE A FRIGHTFULLY GOOD TIME


Halloween is a time for fun without forcing people to associate with family members they don't like.

It's a holiday that doesn't impose guilt.

People (and their pets) can just have fun.

And, if you want to turn off the lights and not hand out candy, that's fine, too. It's an obligation free holiday.

Family fighting, depression and suicide rates do not escalate over Halloween.

You don't have to worry that you offended a Jewish person by wishing them a Merry Christmas instead of a Happy Hanukkah. You don't have to wonder if you should wish everyone who doesn't look as white as a dead mackerel a Happy Quanza.

You don't have to question somebody who lives alone if they "are going to be all right" and invite people to dinner whom you wouldn't have in your house any other time of the year.

No arguing over who is going to bring what to a Thanksgiving dinner, where nobody is thankful at having to be there. Nor, being force fed food you don't want because you don't want to offend Great Aunt Tallulah - although you're not sure whose side of the family she's on.

You don't need a romantic attachment - ala Valentine's Day. Or, worry if you aren't being religious enough - Easter. You don't have to fret that your pet will run way or have hearing damage - 4th of July.

As far as a dress code and decorating, it's the most creative of the holidays.

While coping with Thanksgiving and Christmas is being hit in the face with the reality of family, social and business obligations, not to mention worries and regrets, Halloween is one night of pure escapism - and that can be an emotional battery charger.

Halloween is a holiday for the masses. People of any age, sex, race, nationality or creed can simply relax and enjoy - without the guilt.

While consumers may worry about other spending, nobody is too frightened to spend on Halloween.

That's why Halloween is second only to Christmas in terms of economic activity.

Nationally, this spooky season is predicted to be 10.4 percent more lucrative than last year. Seven out of 10 Americans are expected to shell out a total of $8 billion dollars.

Families with children will spend a total of $1.1 billion on costumes, a slight uptick from the $1 billion spent in 2011. And pets won't miss out on the action with their pet parents spending $370 million to dress-up them up for the holiday, up from $310 million last year. The most popular pet costume this year is a pumpkin and devil.

The average consumer will spend $79.83 on decorations, costumes and candy, up from $72.31 last year, according to a survey conducted for the National Retail Federation (NRF) by the research firm BIGinsight "By the time Halloween rolls around each year, it's safe to say Americans have already spent two months preparing for one of the fastest-growing and most widely loved holidays of the year," said NRF President and CEO Matthew Shay.

"Retailers know that when it comes to Halloween, new costume ideas for children, adults and pets, and the latest in home and yard decor top people's shopping lists."

Haunted houses are big business.

One in four adults said they planned to go to a haunted attraction this year, according to the retail federation. At $20 to $30 a head, successful scare haunts can rake in enough during a one-month period to sustain the owners until next season.

Halloween also has great entertainment.



Kristin Chenoweth is co-host for Anderson Cooper's Halloween show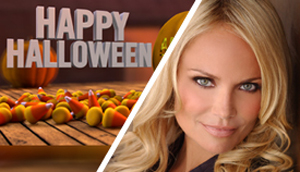 Daytime television celebrities love Halloween as do their viewers. Anderson Copper is practically giddy over his haunting talk-show preparations.

Spooktacular co-host will be Tony Award winner Kristin Chenoweth. Fans were asked to carve pumpkins, dress up, tweet Halloween photos and send videos.

The show will feature Creepy Crawly Halloween Treats with Chef Andrew Zimmern from Travel Channel's Bizarre Foods. He'll bring brains, bugs, and the creepiest of treats for Anderson and Kristin to try. Will they do it?

Another segment features Mommy Ghost Hunters where two suburban moms go searching for ghosts. During the day they act like 'normal' moms, packing lunches for their kids. But when the moon comes out they go searching for supernatural phenomena. They'll tell Anderson all about their obsession with discovering ghostly haunts.

Anderson and Kristin also reveal their outrageous Halloween costumes and judge an audience costume contest. Plus, a special mystery guest famous for her "mudslinging" stops by.



Kelly Ripa and Michael Strahan will celebrate their first Halloween. Photo: Getty.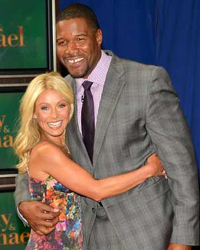 This will be the first Halloween for Kelly Ripa and Michael Strahan to show off by hosting an October 31st Halloween special on LIVE with Kelly and Michael.

Reportedly 40 different costumes will be used by the couple. A costumed Russell Brand even materializes and DJ Pauly D will provide the music.

The show's annual Halloween Costume Contest will also take place. Each member of the audience that morning will be decked out from head-to-toe in their Halloween best, hoping to be the one lucky winner who is awarded a $10,000 gift card for HomeGoods.

AMC's popular series about zombies, The Walking Dead began a new season on October 14, and the final installment of the vampire-themed The Twilight Saga is coming to theaters.



Catherine Bell in The Good Witch. Hallmark publicity photo.

The charming and family friendly The Good Witch starring Catherine Bell as Cassandra Nightingale and Chris Potter as Police Chief Jake Russell have new episodes. In the fifth installment of Hallmark Channel's highest-rated and longest-running original movie series, The Good Witch's Charm, aired yesterday with repeats scheduled.

There is Debbie Reynolds starring in Halloween Town on the Disney channel, Angela Lansbury in Witch Mountain, and the wonderful Bell, Book and Candle which started out as a 1950 Broadway play. That stage version starred Rex Harrison, his then wife Lilli Palmer, Jean Adair, and Larry Gates and transferred into a classic movie starring Kim Novak, Jimmy Stewart, Jack Lemmon, Ernie Kovacs, Janice Rule, Elsa Lanchester, and Hermione Gingold.

The annual It's The Great Pumpkin, Charlie Brown, or Hocus Pocus directed by Kenny Ortega and starring Bette Midler, Sarah Jessica Parker and Kathy Najimy. Another possibility is The Witches of Eastwick which stars Jack Nicholson as the devil named Daryl Van Horne, alongside Cher, Michelle Pfeiffer and Susan Sarandon. The Nightmare Before Christmas is a tale by Tim Burton.

If you'd rather be creeped out by a diabolically bone-chilling play the options are as deep as a grave and too numerous to mention. A few are: Dracula, Frankenstein, Sweeny Todd, Macbeth, The Woman In Black, Halloween, Nightmare on Elm Street, The Birds, The Exorcist, Poltergeist, Omen, Amityville Horror, Blair Witch Project, Rosemary's Baby and Alien.

For those reading this after Halloween, we can only hope that your trick or treating garnered loads of that marvelous and important food group - chocolate!


BRITISH FILM INSTITUTE AND THE BBC TO DIGITALIZE IMPORTANT FILM COLLECTIONS
Sign in, please. Greg Dyke, Chair of the BFI, Amanda Nevill, Chief Executive watch Her Majesty The Queen sign the guest book at the BFI Southbank. Photo: BFI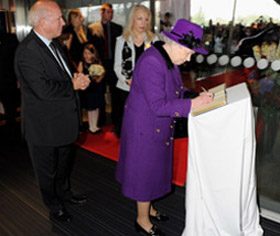 In a major undertaking the BFI will be working with the BBC to digitize the footage it has looked after for the Royal Collection since the late 1960s. It includes newsreels and private family films which date back more than 90 years to the 1920s.

The collection is a mixture of films including unique, private family home movies.

On Thursday, October 25, 2012 Her Majesty, Queen Elizabeth II gave her royal seal of approval by visiting BFI Southbank marking 60 years of the BFI's first permanent cinema on London's South Bank – the National Film Theatre (NFT) in a celebration of British film in this Jubilee year.

Hosted by BFI Chair, Greg Dyke and BFI CEO, Amanda Nevill, The Queen met a range of BFI staff, and special guests from the world of film, including The King's Speech director Tom Hooper and Richard Ayoade, director of Submarine.

At BFI Southbank The Queen also visited the new BFI Reuben Library, the Mediatheque, the BFI cinemas and also met 16 pupils from Telferscot primary school, Lambeth. The pupils, aged between 10 and 11 years old, have spent the last three months creating their own animated films based on the Jubilee year and shared their work with The Queen.

Before an invited audience, longstanding BFI supporter Jonathan Ross presented to The Queen a handpicked screening of rare items from the BFI National Archive, including;

Royal home movies with King George VI, Queen Elizabeth, Princess Elizabeth and Prince Charles as small baby; the first film to feature a monarch – Queen Victoria; Scenes at Balmoral (1896); and one of the first ever British films The Derby from 1895.

Greg Dyke, BFI Chair said:

Given that the moving image wasn't invented until the end of the 19th century I find it extraordinary to think that Her Majesty Queen Elizabeth II has been on the throne for more than half the time that film has been in existence.



Barbara Windsor (photographed here in 2010 planting the last of 53 new pear trees to go into Weymouth Street in Marylebone, England) played blonde and bouncy Babs, the ringleader of the girls in the popular Carry On movie series. She also appeared as Peggy Mitchell in the BBC soap opera EastEnders. Photo: Portlandvillage.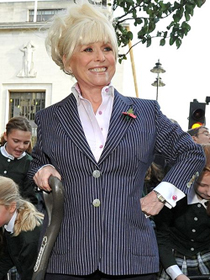 Robin Baker, head curator of the BFI National Archive, outlined how the BFI has restored, preserved and spectacularly screened with live scores the nine surviving silent films of Britain's greatest filmmaker, Alfred Hitchcock which premiered as a key element of London 2012 Festival, the Cultural Olympiad.

The presentation included a reel that demonstrates the restoration work that the BFI has undertaken over the last three years and the remarkable transformation of the films.

The centerpiece of the big screen presentation was a short program of rarely seen, silent films from the BFI National Archive showing major milestones and innovations in early British cinema.

The program demonstrated the importance of preserving these films for future generations to enjoy and featured a live piano accompaniment by Neil Brand, one of the world's leading silent film pianists.

A montage of scenes from well-known British films was also played for the Queen, from Peter O'Toole in David Lean's Lawrence Of Arabia to Barbara Windsor's bra flying off in Carry On Camping.

One of the presentations was a trip down memory lane for Queen Elizabeth who was shown home movies showing her as a young mother and Prince Charles as a baby being played with by his grandparents, George VI and Queen Elizabeth, and footage of him as a 3-year-old learning to ride.

The color film was shot in 1949 by Charles' father, Prince Philip. The royal baby is held by Queen Elizabeth. In another scene King George gently plays with the baby's right ear to get his attention.

The Queen, then Princess Elizabeth, is also seen in the footage. Then a a clip from 1952 was played showing 3-year-old Charles learning to ride on a white pony with toddler Princess Anne walking into shot.



Powell and Pressburger's film A Matter of Life and Death became the first ever Royal Command performance at the Empire, Leicester Square on November 1,1946. The flick starred Roger Livesey. Photo: BFI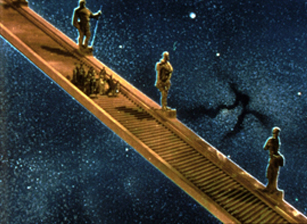 This design would be brought into vivid Technicolor life as the 'stairway to heaven' that transports the film's characters from earthly reality to the monochrome afterlife in the 1946 film Matter of Life and Death. Photo: BFI.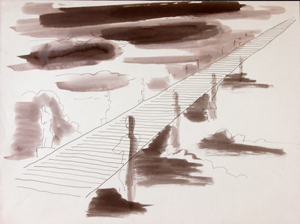 BFI chairman Greg Dyke hosted the Queen's visit and, speaking about the royal home movies, said: 'It was moving, it was no different from looking at pictures of your own kids.

"We've got the whole collection - we look after it for the Royal Family - some of which has never been seen, they are very personal films.

"A lot of it was shot by the Duke of Edinburgh with a movie camera in the early '50s and in the next year or so we will be digitizing it.

"I think she was very interested to see this film of her children, of her life as a young mother. I think she seemed to enjoy it."

The advent of amateur film gauges produced on safety film transformed the way in which families across Britain were able to record their lives.

Among the most beautiful amateur films held in the BFI National Archive are these royal private family 1949 and 1952 home movies on 16mm Kodachrome films.

Also set to be digitalized are:

The Derby (1895) - This film features the climax of the 1895 Epsom Derby. It was one of the first British films and made by film pioneer Birt Acres. The film was included in the first film presentation to members of the royal family, including the Prince and Princess of Wales, held at Marlborough House on July 21, 1896.

Scene at Balmoral (1896) - This is the first film to feature a British monarch. The film includes footage of Queen Victoria, Tsar Nicholas II and Turi, the Queen's Pomeranian.

Upside Down or the Human Flies (1899). Made by British film pioneer WR Booth, this comedy includes some early trick photography. Indeed, the trick used was later used by Stanley Kubrick in 2001 A Space Odyssey.

Dog Outwits the Kidnappers (1908) A series of British films featuring a dog called Rover were key in the evolution of what we now understand as film drama. Rover was Britain's first film star and we see him saving a toddler and driving a car!



The film Nicholas Nickleby has a special significance for Queen Elizabeth. This is a photograph of Elizabeth and her sister Princess Margaret visiting the set of the film, in the company of Reginald Baker and producer Sir Michael Balcon, in June 1946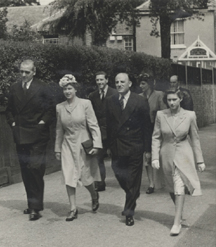 Another Ealing production is the 1947 film adaptation of Charles Dickens's Nickolas Nickleby, directed by Alberto Cavalcantii. The pressbook contains beautiful illustrations by Edward Ardizzone, well-known for his delicate, watercolor illustrations for children's books. Photo: BFI.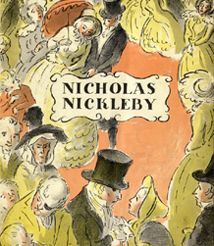 The Birth of a Flower (1910) and Wild Birds at Home (1912) - British natural history filmmakers have led the world since the birth of cinema.

These two extracts from pioneers Percy Smith and Oliver Pike show flowers unfurling and water birds on their nests.

Both films also demonstrate the remarkable range of colored tints and stenciling that were used in early film.

The Open Road (1926) - This is the first film to show locations across Britain in color.

The film was made using an innovative process devised by Claude Friese-Greene. The selected extracts will show scenes in London.

The Queen unveiled a 60th Anniversary plaque to commemorate her visit.

A special gift from the BFI was presented to her as a souvenir of her visit.

That was a photograph of Her Majesty with Her Royal Highness Princess Margaret on a visit to the set at Ealing Studios in 1946 of Alberto Calvancanti's film Nicholas Nickleby and an original poster for the film, released in 1947, designed by Edward Ardizzone.



The Queen who is noted for her interest in fashion is photographed intently watching Making Fashion (1938) in the Mediatheque of the BFI, where over 2000 archive films are viewable for free. Photo: BFI
While there Queen Elizabeth was shown several documents from the institution's extensive library - including scripts and set designs from A Matter Of Life And Death, the classic movie by Powell and Pressburger.

She then stayed to view the 1938 film Making Fashion.

It was made by the documentary filmmaker Humphrey Jennings, best known for his wartime propaganda films.

An unusual item in Jennings's filmography, Making Fashion is a glorious showcase for the Spring Collection of fashion designer Norman Hartnell, who was later royal dressmaker for Her Majesty Elizabeth II and the Queen Mother.

Norman Hartnell's Spring Collection is modeled by a group of society ladies, who pose in a series of extraordinary gowns while Strauss's Wine, Women and Song plays on a permanent loop on the soundtrack.

Shot in glorious Dufaycolor (an early and beautifully distinctive color film process), this is not only an important record of 1930s couture, but also a handy reminder that not so long ago you could be a clothes horse without being a size-zero.

This was an atypical subject for director Humphrey Jennings – soon to become one of the most enduring chroniclers of World War Two's home front.

Here, he (and Hartnell) appear to have been influenced by Madame Yevonde, doyenne of British society photographers, whose portraits of aristocrats posing as ancient Greek goddesses had recently been exhibited.


SPREADING THE WORD


SEVEN DEADLY SINS is a series in which celebrated figures from across the arts world present their favorite sin on the silver screen, followed by a Q&A. The line-up includes Vivienne Westwood, Andrea Arnold, Nick Broomfield, Kazuo Ishiguro, Mike Leigh, Michael Nyman, Zbignew Preisner, Sam Taylor-Johnson, Richard Ayoade, Jake and Dinos Chapman.

On November 2nd it's - envy.

Turner Prize-winning artist and filmmaker Sam Taylor-Johnson appears on stage to discuss Anthony Minghella's BAFTA award winning thriller The Talented Mr Ripley.

This terrifically tense adaptation of Patricia Highsmith's novel explores the dark motives of fraudster Tom Ripley. The superb performances from Jude Law, Gwyneth Paltrow and Philip Seymour Hoffman are gloriously crowned by Matt Damon's devilishly disturbed central character.

November 2 at The Barbican in London.

THEATER ON THE COUCH Following the November 2nd performance of Electra starring Academy Award winner Olympia Dukakis, a discussion will take place regarding the minds, motives, and behaviors of the characters with Dr. Mason Turner, chief of psychiatry at San Francisco's Kaiser Permanente Medical Center. American Conservatory Theater in San Francisco.

17th ANNUAL KIDS' NIGHT ON BROADWAY will take place from Monday, February 25, 2013 to Sunday, March 3, 2013 The Broadway League has announced. This is the eagerly anticipated event when kids ages 6 to 18 can see Broadway shows for free when accompanied by a full-paying adult. A KNOB ticket includes pre-theatre parties, restaurant discounts, parking discounts, educational programs, and more.

Kids' Night on Broadway will also take place in multiple cities around the country, with different shows and venues putting their own spin on the event, on numerous dates throughout the year. KNOB 2012 with Nick Jonas as the National Ambassador is still taking place with Cathy Rigby is Peter Pan December 12,2012 at Theatre Under the Stars, Hobby Center in Houston, TX as well as the February 19, 2013 performance at the Van Wezel Performing Arts Hall in Sarasota, FL. The Van Wezel PAH follows with another Kids' Night on March 5, 2013 for Les Miserables.

CLASSICS FEST: Act III The Antaeus Company, L.A.'s classical theater ensemble, presents Sunday and Monday night staged readings of five classics and a franco-inspired "Cabaret Noel" for the holidays.

Sunday, October 28 and Monday, October 29 Ma Rainey's Black Bottom by August Wilson, initiated and directed by Saundra McClain The time is 1927, the place a Chicago recording studio—but the story is much more than music. Wilson made a name for himself with this exultant blues-inspired exploration of the state of the American soul and what Arthur Miller refers to as "the salesman's dream."

Sunday, November 4 and Monday, November 5 Under Milk Wood by Dylan Thomas, initiated by Amelia White, directed by Frank Dwyer. Originally written for the BBC in 1954, this dream-like radio play chronicles one day in the life of the imaginary Welsh village of LLareggub. Thomas' evocative words introduce his listeners to the colorful townspeople and their delightful stories.

Sunday, November 11 and Monday, November 12 it's Don Juan in Hell by George Bernard Shaw, initiated by Peter Van Norden, directed by Robert Machray. Another brilliant debate from Shaw… this time from Hell itself. Originally Act III, scene 2 of his play, Man and Superman, this stand-alone piece is most often performed in this four-actor concert version.

Sunday, November 18 and Monday, November 19. A Streetcar Named Desire by Tennessee Williams, initiated and directed by Apollo Dukakis. Generation after generation of actors revisits this Pulitzer Prize-winning drama, drawn to its power and moving character study. This timeless American masterpiece by Tennessee Williams is arguably unrivaled in its depths of humanity, compassion and lyric beauty.

Sunday, November 25 and Monday, November 26. The Fox, a play by Allan Miller based on the novella by D.H. Lawrence, initiated by Rebekah Tripp, directed by Allan Miller. Is it ever possible for men and women to be equals as well as lovers? In his novella The Fox, D.H. Lawrence wrestled with this very question. With this most primordial of his works, Lawrence digs deep into a searing triangle of two women and a man.

Sundays, December 2, 9, 16 and Mondays, December 3, 10, 17 Cabaret Noel created by Gigi Bermingham and Matthew Goldsby, directed by Barry Creyton A musical evening of holiday warmth and hilarity - with an essence of je ne sais quoi. Come celebrate the holidays in song - in French and English - with both scintillating original tunes by Matthew Goldsby and arrangements of holiday classics.

All events take place at The Antaeus Company in North Hollywood, CA.

PRISCILLA QUEEN OF THE DESERT has announced its complete national tour which includes an 11-week June-August 2013 run in Las Vegas bookended by stops at the Pantages Theatre in Los Angeles and the Buell in Denver.

A casting call in Las Vegas took place October 11 at the Fern Adair Conservatory for the Arts. Billed as a "Short Engagement Touring Agreement SETA-1 Weekly Minimum $855. Seeking LAS VEGAS-Based Actors of all ages and ethnicities! *Must be able to do an Australian accent!*"

The casting notice continued:

"CALLBACKS: Oct 12-14th Rehearsals: on or about Nov 29th- Las Vegas, NV Opening: Jan 8th in Minneapolis, MN. Priscilla is scheduled for 3 weeks in Los Angeles, CA (May - June 2013) & 11 weeks in Las Vegas, NV (June - Aug 2013) & other major cities."

Priscilla, Queen of the Desert played its final performance on Broadway on June 24, 2012, after 23 previews and 526 performances. The national tour will launch from Minneapolis on January 8.

Additional stops will include: Cleveland, OH- The Palace Theatre (January 15 - 27, 2013), St. Louis, MO- Fox Theatre (January 29 - February 10, 2013), Schenectady, NY- Proctor's Theatre (February 12 - 17, 2013), Buffalo, NY- Shea's Performing Arts Center (February 19 - 24, 2013), Philadelphia, PA- Academy of Music (February 26 - March 3, 2013), Pittsburgh, PA- Benedum Centre for the Performing Arts (March 5 - 10, 2013), Chicago, IL- Auditorium Theatre (March 19 - 31, 2013), Miami, FL- Arsht Center (April 2 - 7, 2013), Tampa Bay, FL- Straz Center (April 9 - 14, 2013), Orlando, FL- Bob Carr Performing Arts Center (April 16 - 21, 2013), West Palm Beach, FL- Kravis Center (April 23 - 28, 2013), Durham, NC- Durham Performing Arts Center (April 30 - May 5, 2013), Austin, TX- Bass Concert Hall (May 8 - 12, 2013), Dallas, TX- Music Hall (May 14 - 26, 2013), Los Angeles, CA- The Pantages Theatre (May 28 - June 16, 2013), Denver, CO- Buell Theatre (September 3 - 15, 2013).

Adapted from the Academy Award-winning film The Adventures of Priscilla Queen of the Desert, the musical is written by Stephen Elliott and Allan Scott. Original direction by Simon Phillips.

FROM HERE TO ETERNITY Sir Tim Rice's first show in 10 years and an adaptation of the 1951 novel - and an Oscar-winning film starring Burt Lancaster and Deborah Kerr - will open at the Shaftesbury Theatre in London's West End in September 2013.

Written with composer Stuart Brayson, it follows the love affairs of US soldiers stationed in Hawaii in the run up to Pearl Harbor.

The musical will be directed by Tamara Harvey.

In November of last year, Sir Tim was quoted as stating the musical adaptation would include references to homosexuality from the original novel. The references were removed from the award-winning film and subsequent mini-series.

"It is not going to be a 'gay' musical because it is not centred around the homosexual elements," the Telegraph printed in a November 11, 2011 article. "However, we have the rights to the book not the film and it is an aspect of the book. "

"So we shall tell the story as it is in the novel rather than the film, but we are doing it with music."

The soundtrack was recorded almost a year ago. The new development is the booking of the West End theatre and the opening date.



JENNY AGUTTER the star of Logan's Run who is currently starring in the television mini-series Call The Midwife was honored with an Order of the British Empire (OBE) medal from Queen Elizabeth II on Friday, October 19, in honor of her charity work.

Agutter, 59, was the guest of honor at Buckingham Palace in London in recognition of her long-term support for organizations including the Cystic Fibrosis Trust and Action For Children.



WHAT A GLORIOUS FEELING with a book by Jay Berkow. Directed by Susan D. Atkinson.

Did you hear about he love triangle between Gene Kelly, Dance Captain Jeanne Coyne and co-director Stanley Donen during the filming of Singin' in the Rain?

Inspired by true events, What A Glorious Feeling focuses on the tempestuous love triangle between Gene Kelly, his co-director Stanley Donen, and Jeanne Coyne, the dance captain for the film and Donen's ex-wife.

Set behind-the-scenes of the filming of Singin' in the Rain, the play is fittingly filled with music and dance numbers from the movie, celebrates the genius of this artistic collaboration as it explores the emotional complexity of the trio's lives behind the scenes.

The production promises that 'You'll leave the theatre hoping for a storm so that you too can go home "singin' and dancin' in the rain.'"

Starring Summer Broyhill, Vincent D'Elia, Zak Edwards, Liz Filios, Mark Hartman and Charles Osborne.

Official opening night is November 1. Patrons can meet the cast at a post show catered reception.

October 30 - November 18, 2012 at the Bristol Riverside Theatre in Bristol, CT.

NOSFERATU by TR Warszawa Polidh theatrical company.

Directed by Grzegorz Jarzyna.

Nosferatu is based on one of the most evocative texts in popular culture, Bram Stoker's Dracula. Seducing the audience into a dream-like state, director Grzegorz Jarzyna uses the vampiric myth to explore what lies between an idea and the reality, and between light and shade.

This production contains nudity, smoke effects, strobe lighting and scenes that some may find disturbing.

In Polish with English surtitles.

October 31, 2012 - November 3, 2012 at the Barbican Theatre in London.

On November 1 a Pre-show talk with Grzegorz Jarzyna Leverhulme will be presented by Queen Mary University of London in partnership with the Barbican and University of Kent. This event is free, but a ticket is required.

SHERLOCK HOLMES' ADVENTURE OF THE NORWOOD BUILDER adapted by East Lynne Theater Company Artistic Director Gayle Stahlhuth, who also directs.

"We're not getting all the evidence. I feel it in my bones. Unless some lucky chance comes our way, I fear that the Norwood Disappearance Case will not figure in that chronicle of our successes." Sherlock Holmes is speaking to his loyal friend Dr. Watson. They are trying desperately to prove that a young lawyer did not commit murder, while Inspector Lestrade of Scotland Yard is convinced of it.

Step back in time, on Friday November 2 and 3 when Sir Arthur Conan Doyle's "Sherlock Holmes' Adventure of the Norwood Builder is presented in the style of a radio broadcast, complete with live sound effects and commercials, just like the Sherlock Holmes' radio series on NBC that premiered in 1930.

Lee O'Connor portrays Holmes, and Fred Velde is Dr. Watson.

The cast also includes Thomas Raniszewski, James Rana, Rob LeMaire, and Gayle Stahlhuth.

The East Lynne Theater Company is located in West Cape May, NJ.

THE PITCH AND THE CHINA INCIDENT written by Peter Houghton.

Both The Pitch and The China Incident originated at La Mama in New York City.

The double bill is slated to open the 2013 Season at the Queensland Theatre Company in Brisbane, Australia on February 2, 2013. That production will star Hugh Parker in The Pitch and Barbara Lowing in The China Incident.

The one man comedy The Pitch deals with down-and-out film writer Walter Weinermann who is psyching himself up for the biggest pitch meeting of his life with a panel of powerful producers. He has an epic idea; he has a dream cast, including flint-eyed assassin Clint Eastwood, loudmouthed sidekick Chris Tucker and relentless nemesis Jet Li. He has cameos from Sean Connery and Robert De Niro. The one thing he doesn't have is a decent ending.

After moving to Hollywood in the 1920s, screenwriter Herman J. Mankiewicz sent a telegram to friends back in New York: "Millions are to be grabbed out here, and your only competition is idiots." It's still true today; and by the time the credits roll on Peter Houghton's witty, manic, one-man show we'll find out if Walter is destined to be a millionaire – or just an idiot.

Winner of the Green Room Award for Best New Australian Play in 2006.

The China Incident is the story of one woman, a perfect storm of crises, and altogether too many phones. Bea Pontivec is a high-flying, highly-strung diplomatic consultant who's quite literally well connected. She has hotlines to the White House, to the United Nations, to a bloodthirsty dictator. She's a power-broker, a playmaker, a cast-iron negotiator, a control freak.

But as this pin-sharp satire becomes ever more frenetic, and her personal and professional lives collide, Bea will learn the meaning of the term 'communications breakdown'.

WAR HORSE Winner of five Tony Awards, including Best Play.

War Horse is a remarkable tale of courage, loyalty and friendship. England, 1914. As World War One begins, Joey, young Albert's beloved horse, is sold to the cavalry and shipped from England to France. He's soon caught up in enemy fire, and fate takes him on an extraordinary journey, serving on both sides before finding himself alone in no man's land. But Albert cannot forget Joey and, still not old enough to enlist, he embarks on a treacherous mission to find him and bring him home.

This powerfully moving and imaginative drama, filled with stirring music and songs, is a show of phenomenal inventiveness that is currently playing to packed houses in London, New York, and Toronto. At its heart are astonishing life-sized puppets created by South Africa's Handspring Puppet Company, that bring to life breathing, galloping, charging horses strong enough for men to ride.

Performances through November 11, 2012 at the Opera House at the Kennedy Center for the Performing Arts in Washington, DC.

A FUNNY THING HAPPENED ON THE WAY TO THE FORUM music and lyrics by Stephen Sondheim. Book by Burt Shevelove and Larry Gelbart.

Directed by Simon Phillips.

Academy and Tony Award winner Geoffrey Rush stars as Pseudolus, Michael Butel as Hysterium, Shane Bourne as Senex, Hugh Sheridan as Hero, Christie Whelan as Philia, Adam Murphy as Miles Gloriosus, Bob Hornery as Erronius, Magda Szubanski as Domina and Gerry Connolly as Marcus Lycus.

Costume and set design by Gabriela Tylesova, choreography by Andrew Hallsworth, musical direction by Matthew Frank and musical supervision by Guy Simpson.

With Steven Sondheim in attendance the musical farce officially opened last night, October 27, for a 12-week run at Her Majesty's Theatre in Melbourne, Australia.

THE PALM SPRINGS FOLLIES

Lorna Luft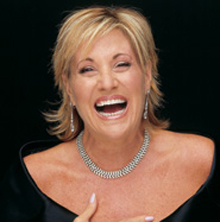 presents their Dance to the Music! edition. Join the Follies' Legendary Line of Long-Legged Lovelies and Follies Gentlemen as they dance to your favorite tunes of the '40s, '50s, '60s and '70s-from the Stroll to the Twist to Disco.

Lavish production numbers, a star-spangled finale and, through December 31, a special Yuletide celebration are all performed by a cast definitely old enough to remember the way it really was!

Joining the Follies Man are world-renown guest stars and a remarkable variety act.

Lorna Luft makes her long-awaited Follies debut, November 1 - December 31.

This celebrated vocalist sings the songs her legendary mother, Judy Garland, taught her, including Come Rain or Come Shine, The Man That Got Away and Rock-A-Bye Your Baby.

November 1, 2012 through May 19, 2013 at the historic Plaza Theatre in Palm Springs, CA.


WHO'S WHERE




DAVID YAZBEK takes the stage with his band at 92YTribeca in a new series, presented the first Monday of each month. Yazbek – whose influences range from Captain Beefheart to Frank Loesser – plans to deliver musical pyrotechnics, new songs debuted at every show, and unexpected, thrilling guests from the worlds of theater, music, comedy and beyond. For his first show on November 5, Yazbek welcomes Tony award-winning lyricist and composer, longtime friend and former bandmate Adam Guettel as well as his buddy comedian, film-director and web phenomenon David Wain. Performance at 92YTribeca in NYC.

LANG LANG performs Sunday, October 28 at the Centennial Hall in Tucson, AZ. On Tuesday the performance is at Carnegie Hall in New York City. Thursday he'll be playing the piano at the Louise M. Davies Symphony Hall in San Francisco, CA.

TAMARA TUNIE brings her Yes I Sing show to Feinstein's at Lowes Hotels in New York City. The show will feature Musical Direction by Mike Renzi. Her engagement coincides with the release of her new film, Flight, opposite Denzel Washington - will be run for one week only, from October 30 through November 3.

BARBRA STREISAND, CHRIS BOTTI perform Monday, October 29, at the Rogers Arena in Vancouver. Then they entertain Friday, November 2, at the MGM Grand in Las Vegas.

DAVID SEDARIS on stage Monday, October 29 at the Thalis Mara Hall in Jackson MS. On Halloween he'll be offering up a treat of a performance at the Lied Center in Lincoln, NE. Thursday finds him at the Ryman Auditorium in Nashville. Friday's show is at the Lillie & Roy Cullen Theater in Houston, Texas.

BILL COSBY telling funny stories on Friday, November 2, at the Colonial Theatre in Keene, NH.

MADONNA is in the spotlight Tuesday, October 30 at the Sprint Center in Kansas City. Thursday's show is at the Scottrade Center in St. Louis, MO. On Saturday she opens a two nighter at the Xcel Energy Center in Saint Paul, MN.

BRUCE SPRINGSTEEN performing his hits on Tuesday, October 30, at the Blue Cross Arena in Rochester, NY. Thursday's show is at the Bryce Jordan Center in University Park, PA. On Saturday he's on stage at the KFC Yum! Center in Louisville, KY.

JUSTIN BIEBER performs Monday, October 29 at the American Airlines Center in Dallas, TX. Tuesday's show is at the Toyota Center in Houston. Thursday finds him entertaining his fans at the FedExForum in Memphis. Friday's show is at the KFC Yum! Center in Louisville KY. On Sunday, November 4, he can be enjoyed at the Wells Fargo Center in Philadelphia.

RED HOT CHILI PEPPERS will be heating up the stage Tuesday, October 30, at the Target Center in Minneapolis. Thursday's performance takes place at the BMO Harris Bradley center in Milwaukee, WI.

THE WHO will be performing Quadrophenia in it's entirety, along with a selection of Who classics on Thursday, November 1, at the BankAtlantic Center in Sunrise, FL. Saturday's show is at the Amway Center in Orlando, FL.








Next Column: November 4, 2012
Copyright: October 28, 2012. All Rights Reserved. Reviews, Interviews, Commentary, Photographs or Graphics from any Broadway To Vegas (TM) columns may not be published, broadcast, rewritten, utilized as leads, or used in any manner without permission, compensation and/or credit.
Link to Main Page
---
Laura Deni



For the snail mail address, please E-mail your request.
CLICK HERE FOR COMMENT SECTION