! >
Broadway To Vegas
  
 SHOW REVIEWS CELEBRITY INTERVIEWS GOSSIP NEWS

| | |
| --- | --- |
| | |
ROBERT GOULET DIES WHILE WIFE DEALS WITH HATE MAIL - -BETTY BUCKLEY 1967 CD - - PRINCE CHARLES BATTLES COUNT DRACULA - - AN EVENING WITH GLENN CLOSE - - HOORAY FOR HOLLYWOOD HONORS PATRICIA NEAL - - NANA MOUSKOURI ON TOUR - - SAN DIEGO THEATRES HELP FIRE VICTIMS - - THE EAGLES ONE NIGHT STAND OCTOBER 31 - - DONATE . . . Scroll Down


BREAKING NEWS ADDED ON OCTOBER 30. Robert Goulet, the Tony, Grammy and Emmy award winning performer passed away Tuesday morning, October 30, while awaiting a lung transplant.

Copyright: October 28, 2007
By: Laura Deni
CLICK HERE FOR COMMENT SECTION

ROBERT GOULET IN CRITICAL CONDITION AWAITING LUNG TRANSPLANT - WIFE RECEIVES HATE MAIL


Robert Goulet is fighting for his life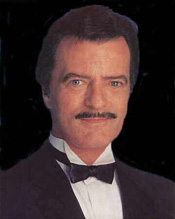 Robert Goulet, the Tony Award winning actor-singer, who has been a long time Las Vegas resident, is heavily sedated and breathing through a respirator at Los Angeles Cedars' Sinai Medical Center awaiting a lung transplant. His condition is listed as critical and a suitable donor has yet to be found.

Vera, his wife of a quarter-century, is keeping a bedside vigil while dealing with unwarranted hate mail falsely accusing her of attempting to - in effect - buy a lung for her 73-year-old husband, while others who are younger and poorer were rejected by medical facilities and left to die.

A prostate cancer survivor, the handsome and personable baritone fell ill when flying home to Las Vegas after performing at a September 20 concert at the Palace Theater in Eastwood, New York. The benefit concert was part of the Loretto Legends concert series.

First thinking it was some sort of a "bug" when his condition worsened he was admitted to a Las Vegas hospital.

Goulet was diagnosed with a form of pulmonary fibrosis that his official Web site described as a "rapidly progressive and fatal condition." Unconscious, on October 13 he was transported to Cedars-Sinai Medical Center in Los Angeles as a transplant patient.

Goulet married Vera, his third wife who also serves as his manager, in Las Vegas with Wayne Newton serving as best man. The couple celebrated their wedding anniversary on October 17.

Goulet, born to French-Canadian parents in Lawrence, Mass., made his Broadway debut as Sir Lancelot in Camelot in 1960 opposite Richard Burton and Julie Andrews. He won a Grammy Award in 1962 for Best New Artist and a Tony Award in 1968 for his role in The Happy Time. One of Sin City's most beloved entertainers, he had been a Strip star attraction since the 1970's.

He completed a widely acclaimed run with the Broadway musical La Cage aux Folles in 2005, ( See Broadway To Vegas column of May 1, 2005 ) then segued with a tour of his solo act, Robert Goulet: The Man and His Music. Noted for a delightfully wicked sense of humor, Goulet was last seen on television in a commercial for Emerald Nuts where he "messes with people's stuff."

Unfortunately, Vera Goulet had become the recipient of some negative E-mails from sad, distraught individuals who, having lost loved ones to illness, think Robert Goulet is receiving special treatment because he has "money" and isn't on some sort of medical welfare assistance.

An E-mail to Vera Goulet from an angry woman, whose now deceased father was apparently turned down for a lung transplant, in part reads;

"... it has become infinitely obvious that the reason my father never even had the opportunity to get on a list, but Mr. Goulet can, is MONEY!!!!!!!!!!."

".....I am writing to you because I just can't wrap my brain around the fact that Cedar's Sinai is viewing Robert Goulet's life more valuable than my father's and many other people that deserved a lung, but have been turned down (without actually being told this) because of having Medicare as the responsible party for payment."

"My father was told he was too old. Robert Goulet is 74. My father was 67 at the time he was turned down. This is fair? He was just as worthy and valuable as Mr. Goulet and I think this should be brought to the forefront of discussion."

".....I truly wish Robert Goulet a long and healthy life, but my father deserved one too. It is painfully obvious to me that because of Mr. Goulet's celebrity status and financial means, he went to the top of the list. THAT does disgust me."



Devoted wife Vera Goulet is keeping a bedside vigil while coping with hate mail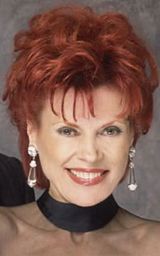 Vera Goulet's response to the E-mail included these first two opening paragraphs:

"I lost my mother two years ago and know first hand the pain, the grief and the void that a person losing a loved one faces for the rest their life, " began Vera Goulet.

"But, without knowing the facts, your comments are not only grossly unfair and unwarranted, but quite frankly insulting."

While a grieving individual lashing out is understandable, Vera and Robert Goulet are the wrong targets. If money could buy health Robert Goulet - and a lot of others - wouldn't be ill.

There are five million people worldwide that are affected by this disease. In the United States there are over 200,000 patients with Pulmonary Fibrosis, a disease which involves scarring of the lung. Gradually, the air sacs of the lungs become replaced by fibrotic tissue. When the scar forms, the tissue becomes thicker causing an irreversible loss of the tissue's ability to transfer oxygen into the bloodstream.

Of these more than 40,000 die each year. Typically, patients are in their forties and fifties when diagnosed. However, diagnoses have ranged from age seven to the eighties.

There are currently no effective treatments or a cure for Pulmonary Fibrosis. The pharmacological agents designed to treat lung scarring are still in the experimental phase while the treatments intended to suppress inflammation have only limited success in reducing the fibrotic progress.

Because the origin and development of the disease is not completely understood, misdiagnosis is common. Varying terminology and lack of standard diagnostic criteria have complicated both treatment and statistics about people with Pulmonary Fibrosis. Supplemental oxygen improves the quality of life and exercise capacity. Single lung transplant may be considered for some patients. Pulmonary Fibrosis is a very complex disease and the prediction of longevity of patients after diagnosis vary greatly.



A lung with Idiopathic Pulmonary Fibrosis is on the left. A healthy lung is on the right. Photos: Merek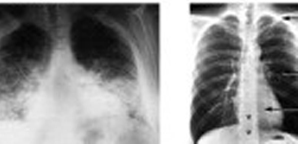 Why one person is a good candidate and another is not involves a multitude of situations.

For an individual in the public eye, the spotlight can be a positive motivation to follow doctor's orders - and thus a plus to any transplant patient. Chances are that person already exercises and follows a diet. If they have to look good for their fans - that's a positive. Goulet has already bounced back from prostate cancer surgery. He even turned temporarily wearing an adult diaper while performing into a comedy routine. Reports indicate that medical personnel are optimistic that Goulet would do well with a lung transplant and be able to return to the stage.

There are international transplant guidelines and age is one of but many factors - which can be relevant in one person but not in another.

One of the best explanations comes from the Mayo Clinic which offers the following guidelines:

"Many members of the lung transplant team are involved in evaluating a person's eligibility for transplantation. This group includes pulmonary transplant physicians and surgeons and physicians specializing in cardiology, infectious diseases, psychiatry and other areas. Certified transplant coordinators and licensed social workers assist the transplant candidate and family during and after the evaluation.

"Potential lung transplant candidates must undergo detailed physical, laboratory and psychological testing to ensure proper selection and therapy. The typical evaluation takes a few days and includes assessing the respiratory, cardiac, kidney, liver and immune systems. Tests typically include:

Computerized tomograpy (CT) scanning
Pulmonary function tests
Nuclear medicine lung scanning
Renal (kidney) function studies
Blood and tissue typing
Evaluation of the immune status
Routine and specialty medical tests as clinically indicated
Right and left heart catheterizations
Exercise studies

"The transplant team evaluates test results and screening assessments for each patient to determine the likelihood of a successful transplant. Patients who can be expected to undergo a transplant with a reasonable margin of safety will be added to a waiting list. Patients return for a visit with the transplant physicians to discuss the outcome of their evaluation and their suitability for a transplant. Patients who are not considered candidates for transplantation will be offered alternative medical or surgical care if there are any available."



Goulet came to fame on Broadway as Sir Lancelot opposite Julie Andrews and Richard Burton as King Arthur in Camelot.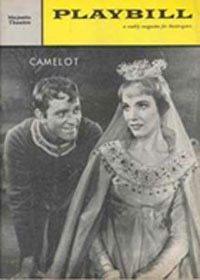 Decades after creating the role of Sir Lancelot, Goulet went on a successful national tour - this time as King Arthur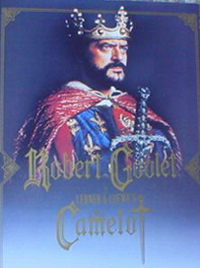 Crucial is a compatible donor organ.

"Therefore, a lung transplant candidate could be admitted to the hospital and could even be in the operating room when the procedure is canceled because the donor lungs did not remain viable. This process is called a "dry run," and it is important that the lung transplant candidate be emotionally prepared to deal with this situation," continued the Mayo Clinic guidelines.

According to the Cystic Fibrosis Association:

In the past, to receive donated lungs, the person must be near the top of a lung transplant waiting list and must be a "match" for the donated organs. Waiting time varied from a few weeks to a few years, but the average wait was nearly two years.

In spring 2005, UNOS put into effect a new lung distribution policy that was designed to eliminate the waiting list for people over the age 12. According to the policy, people awaiting transplantation will be assessed periodically to determine how sick they are and how likely they are to stay healthy after a transplant. This allows donor lungs to be given to the person who needs them most at that time.

The system uses a mathematical formula, called a "lung allocation score," to determine when someone should receive new lungs. The score uses medical information about the person's health before the transplant, and projected health after the transplant. The medical information gathered to determine this score includes disease diagnosis (CF or other lung disease), lung function tests, health factors such as diabetes, the use of oxygen or a ventilator to help the person breathe, and other factors. Individuals will be re-evaluated every six months and given a score between 0 and 100; those with a higher score have a better chance of obtaining lungs sooner.

The new system was put into place by the United Network for Organ Sharing (UNOS), on behalf of the federal government. The CF Foundation and its experts reviewed and commented on the proposals to ensure the needs of people with CF were considered. Although the system does not favor people with certain lung diseases, CF experts believe the system will make more lungs available to people with CF. People with CF generally do well after lung transplantation--often better than people with other lung diseases. Therefore, they should score well under the new system and receive new lungs more quickly than people with other lung diseases. People who are currently on the waiting list for lung transplants should speak with their transplant and care center teams to determine how this new system will impact them."

As far as costs - Medicare does cover transplants.

The cost will vary depending on the hospital and the patients overall condition, and some other factors. Without insurance the cost can be somewhere near $250,000. Medicare will cover lung transplantation in hospitals with documented experience and success in performing that procedure. In general, Medicare pays 80 percent, which leaves 20 percent for the patient to pay. A secondary insurance would cover the rest, if a secondary insurance is already in the patient's plan.

According to the CF Foundation it is important to learn about the insurance coverage for medications needed after transplantation, such as immunosuppressive drugs. For example, under the Medicare Prescription Drug Act of 2003, Medicare will cover these medications, but only if the transplant surgery was paid for by Medicare.



Robert Goulet, as Billy Bigelow, is enticed into a shady deal by Pernell Roberts, as the villain Jigger, in the Armstrong Circle Theatre special, Carousel, on ABC-TV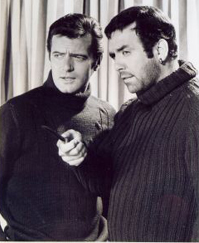 Having a dollar in the bank can buy a private nurse. But rolling in dough can't buy a steak dinner if the patient is fed lunch through an IV. It can't purchase a new organ. Being famous sometimes can help in an evaluation process because lifestyle, family history and a so-called support system may be general knowledge and thus cut through the lifestyle discovery process. That can cut maybe three hours off the interview process.

The rich and the poor usually receive the same type of care. If you're rich you are covered both with insurance and your bank account. If you are poor enough you are covered by assorted government programs and charities. It's the middle class which receives inadequate medical care.

Nobody wants to lose a loved one under any circumstances. But to lash out at Robert and Vera Goulet is both unfair and inaccurate - not only to them but to other individuals who are either now - or one day will be - facing the same confusion, heartbreaking decisions and scientific brick walls.



Goulet's good looks and charm has made him a natural for print ads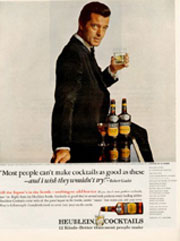 The medical community in general and Caesar's Sinai in particular doesn't play favorites with who receives any type of a transplant. They couldn't play favorites if they wanted to - they can't magically produce a compatible organ.

Even then there are no guarantees.

According to drug manufacturer Merek, "Lung transplantation (often with a single lung) has been successful in some people with severe idiopathic pulmonary fibrosis. The prognosis varies greatly. Most people continue to get worse. On average, people live 4 to 6 years after diagnosis. Some survive for many years; a few die within several months."

The lung transplant program at St. Lukes Episcopal Hospital, in association with Texas-based Baylor College of Medicine, has been performing successful lung and heart-lung transplants since the 1980s.

"For every two patients that receive a lung transplant, one dies while waiting," stressed Baylor College of Medicine. "In 2000, 956 patients received a lung transplant nationwide, and 481 died while waiting, down from 587 the previous year. Organ shortage is the main cause, although late referrals may also play a role."

There are lung support groups. We can only suggest that instead of attacking the Goulet family, people struggling with their own anger and grief seek help, support and information from one of these groups.

We wish Robert Goulet and his family the very best.


THE MUSIC GOES ROUND AND ROUND


BETTY BUCKLEY 1967 is a surprise release in 2007. The Tony and Grammy award winning performer was revved up and rarin' to go when - at age 19 - she recorded this in Texas. The liner notes explain how it came to be.

"We made this recording as an archive and because my Mom felt we needed it," writes Buckley. "We went to T Bone Burnett. His was the only recording studio in town. His Mom Hazel Vernon and my Mom were friends. . . . It is remarkable how deftly he engineered this recording. The dynamic spread of my voice wasn't even an issue. Also I marvel at the fact that we, the trio of musicians and I just walked in and recorded this straight down without a problem, without second takes and overdubs. "

"When you're young you just don't know any better and it all came out pretty all right. I didn't think anything about it at all. I sent one copy to Rodger Hess who was an agent at International Famous Agency who had signed me after my appearance as a guest entertainer in the Miss America Pageant that fall. It was a Christmas gift, a thank you for his belief in my talent. The other copy I gave to my boyfriend and its conflicted message about love and us was clear at least to me. I wonder if he kept it."

We don't know if he kept the copy, but a legend of Buckley fans will be buying this never-before-released debut solo CD.

She opens with the perky One Boy from Bye Bye Birdie, a mambo-samba beat stands out in C'est Magnifique. Nimble piano work is showcased in Quando Calienta El Sol (Love Me With All of Your Heart), a selection which permits Buckley's Texas upbringing to show as she switches from Spanish to English. It's not until I Want To Be Free that she gets soulful, followed by the quizzical Where Is Love. What stands out on all the tracks is her voice - beautiful and pure.

At age 19 Buckley gave notice that she was an ascending star to be reckoned with. Forty years later she is still a cosmic wonder.

Released on the Playbill Records/Sony BMG Masterworks Broadway label, Betty Buckley 1967 is the first of two discs from her that will be released by Playbill Records: the second, the brand-new Quintessence, will arrive on Valentine's Day 2008.

Accompanied by musicians Charlie Baxter, John Monaghan and Wayland Smajstrala, the track list includes;

One Boy
C'est Magnifique
Quando Calienta El Sol (Love Me With All of Your Heart)
They Can't Take That Away From Me
They Were You
Call Me
I Wanna Be Free
Where Is Love?
Who Can I Turn To?
My Funny Valentine
When I Fall in Love




PRINCE CHARLES BATTLES COUNT DRACULA AND WINS


A land of myth and legend, of vampires, the blood-sucking Count Dracula and Prince Charles - who was an advocate of organic farming and environmental issues before they became popular.

Reportedly the place provides him a sense of tranquility. Sometimes he needs it.

In his role as royal patron of the Mihai Eminescu Trust (a UK charity set up to restore the cultural heritage and skills of the area's Saxon villages), which is based in the remote village of Viscri, the future King of England is earnest in his attempt to both promote and save the city - even if that means taking on Dracula.

Clarence House spokesman confirmed that the Prince wants to promote sustainable tourism in the Transylvania region, 150 miles north of Bucharest.

The trust's success — supported by Charles's belief that the village can serve as a model for other threatened rural communities — has ensured that Viscri will remain one of Europe's last surviving medieval landscapes. Their mission goal is heritage preservation.

It's that Dracula Theme Park that caused consternation.

Built by Saxon settlers from the Rhine in the 13th century, the fairytale vista features a 14th-century fortified church overlooking a tiny, traditional village surrounded by orchards, hay meadows that are scythed by hand, hornbeam and oak woods filled with roe deer, wolves and bears, and lush pastures bursting with orchids, poppies, pinks, cuckoos, butterflies and crickets.

Just like in 18th-century England, there are no fences or walls dividing the farmland, the surrounding hills are common land and the villagers share the tasks of herding the cattle and harvesting crops.



Countess Elizabeth Báthory and her four collaborators were accused of torturing and killing dozens of girls and young women. In 1610, she was imprisoned in her Castle, where she remained until her death four years later. Her nobility allowed her to avoid execution. The Báthory case has inspired many stories, featuring the countess bathing in the blood of her victims in order to retain her youth. This inspired nicknames like the Blood Countess and Countess Dracula.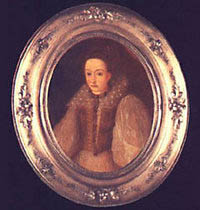 Charles was the leader of the pack five years ago when he helped the villagers fight a plan to build a Dracula Theme Park that was cooked up by regional councilors based in the nearest city. Bram Stoker, the author of the 1897 horror novel, based his bloodthirsty vampire character on two local figures, the 15th-century prince Vlad the Impaler and Countess Elizabeth Báthory who, according to fact, tortured and murdered over 600 young women during the 16th century and, according to legend bathed, in their blood.

On December 30, 1610. A band of soldiers led by Elizabeth's own cousin, raided Castle Csejthe at night. They were horrified by the terrible sights in the castle. A dead girl was lying in the main hall, drained of blood, another girl, who had her body pierced, was still alive. In the dungeon they later discovered, were several girls waiting in prison cells, some of whose bodies had been tortured. Below the castle, they found the bodies of some 50 dead girls. During the trial in 1611, a register with the names of around 650 victims, was found in the Countess's living quarters.

Interest in all things Dracula has always been keen to that area. However, the Dracula Theme Park would have wiped out the village's entire oak forest.

Prince Charles' great-grandmother Queen Mary, consort of George V, was a descendant of Vlad the Impaler, which may help to explain his interest in the area.

Since 1997 he has visited Romania regularly and has shown a great personal interest in the fate of the Saxon villages of Transylvania.



A 'stana' in Maramures. Photo: MET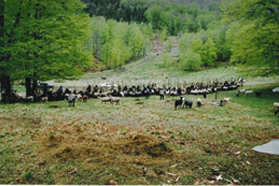 The visit in which Prince Charles convinced the Romania government to move the Dracula Theme Park came in 2002.

That adventure began in Sighisoara where he stayed on May 3-4. After breakfast on Saturday May 4th he set off to see Cloasterf, the first of their ten villages.

He visited the church and its outer tower restored by the Trust, and looked at some other buildings in the village, before moving on to Roades.

After visiting Roades church and examining the slit in the outer fortifications through which the 16th century altar piece (stolen in 2000) had been slipped, he went up the hill, to see the sheep, pigs, chickens, goats and dogs in the stana owned by William Blacker and Jessica Douglas-Home.

Charles then walked over the hills and through the woods for three hours - not to Grandma's house as the song goes - but to Mesendorf. Along the way he identified several rare species of wild flowers and amphibians.



Prince Charles, second from left back row, enjoying a picnic lunch under an ancient walnut tree in the church yard. Photo: MET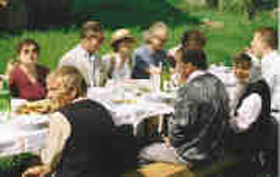 Next day, the physically fit heir to the throne went straight to Biertan climbing the 217 steps into the precincts of the Lutheran stronghold, to meet Bishop Klein, Dr Fabini and the Biertan mayor.

Back at Sighisoara he looked over the proposed site for the Dracula Theme Park. The priest, Father Halman, presented Prince Charles with an oak seedling, a symbol of the threatened medieval oak plantation within Breite. That night Prince Charles telephoned President Iliescu to ask him to reconsider the location of the Dracula Park.

"To the great credit of the President and the Prince, the Romanian government took a fresh look at the project, commissioned a new report from Price Waterhouse and eventually decided to move the project to a more suitable location," is the official recount of the outcome.

According to the Mihai Eminescu Trust "when the Prince departed he had left an indelible impression on the local inhabitants."



Broadway To Vegas is supported through advertising and donations. Priority consideration is given to interview suggestions, news, press releases, etc from paid supporters. However, no paid supporters control, alter, edit, or in any way manipulate the content of this site. Your donation is appreciated. We accept PAYPAL. Thank you for your interest.


SWEET CHARITY


HOORAY FOR HOLLYWOOD

Patricia Neal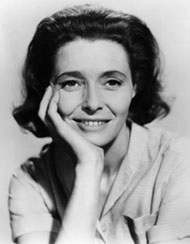 is an evening celebrating classic Hollywood films and the artists who created them.

The November 1 event, which benefits the Auditory Oral School of New York, will honor Academy Award winner Patricia Neal, Smith Barney's Shirl Penney and The Count and Countess de Lesseps.

From her work as an Academy Award winning actress, to her humanitarian efforts on behalf of medical rehabilitation, Patricia Neal offers a story as life-affirming as it is engaging. Her distinguished honors include the Academy Award, Tony Award, Golden Globe and the British Academy Award. In a career which spans seven decades, she has appeared in 27 feature films, six Broadway shows, numerous television roles, and published a 1988 autobiography. Miss Neal has become a symbol of hope and victory, championing the cause of stroke victims and others with disabilities.

Mr. Penney directs Business Development for Citi's Global Wealth Advisory Services Group covering the high net worth business of Citi's Private Bank and Citi Smith Barney. The Count Alexandre de Lesseps was born into French aristocracy. His great-great-great grandfather, Ferdinand de Lesseps, built the Suez Canal and started the Panama Canal, later presenting, for France, the Statue of Liberty to America. Luann, Countess de Lesseps, is an American Indian and a trained nurse. As a television hostess, she began her career for Italian TV, moving to New York and starting her own television show, The Countess Report on WVVH Hamptons TV.

The evening will begin with cocktails, followed by dinner, an auction of luxury items, celebrity tributes, performances and dancing to Alex Donner and his Orchestra. Those currently scheduled to entertain include K.T. Sullivan, Anna Bergman, Howard McGillin, Ron Raines and Julie Wilson.

Expected to walk down the red carpet are; Mrs. Robert Altman, Lucie Arnaz & Larry Luckinbill, Bob Balaban, Alec Baldwin, Marisa Berenson, Cornelia Sharpe Bregman & Marty Bregman, Hon. Adolfo Carrion, Senator Hillary Rodham Clinton, Glenn Close, Arlene Dahl, Tovah Feldshuh, Andy Griffith, Tammy Grimes, Linda Hamilton, Rosemary Harris, Celeste Holm, Elaine Kaufman, Rue McClanahan, Dina Merrill & Ted Hartley, Hon. Marty Markowitz, Pat Mitchell, Speaker Christine C. Quinn, Rex Reed, Marty Richards, Cliff Robertson, Leba & Neil Sedaka, Mr. & Mrs. Budd Schulberg, Marian Seldes, Mr. & Mrs. Joe Stein, Jerry Stiller & Anne Meara, Hon. Scott Stringer, Betsy Von Furstenberg, Eli Wallach & Anne Jackson, Tony & Gen Walton, Mr. Mrs. Douglas Watt, Joanne Woodward & Paul Newman. Jennifer Dumas is executive producer and Patricia Watt is entertainment producer for the gala which takes place at Stage 6 at the Steiner Film Studios in the Brooklyn Navy Yard.

The Auditory Oral School of New York is a non-profit school for deaf and hard of hearing children and children with characteristics of auditory processing and speech delayed disorders from ages one to five. The school has an extraordinary success rate of mainstreaming 97% of the children into traditional neighborhood schools by kindergarten. No child who qualifies is ever turned away and all of this is at no-cost to parents.


SPREADING THE WORD


AN EVENING WITH GLENN CLOSE one of the few leading actors to divide her time equally between television, film, and theater, with award-winning star status in each. Currently she is earning raves for her performance as high-powered attorney Patty Hewes on FX's hit series Damages. Ms. Close will talk about her large body of TV work over two decades.

Tuesday, November 6 at The Paley Center for Media in New York City.

BROADWAY CLOSE UP presented by The Kaufman Center presents Sheldon Harnick - one of the greatest living lyricists, who was represented on Broadway last season by the revival of The Apple Tree. Harnick, who penned the lyrics to Jerry Bock's music for She Loves Me, Fiorello! and Fiddler on the Roof, will chat about behind the scenes stories about his creations.

The concert will feature Rebecca Luker, Megan Lawrence, Jan Maxwell, Richard Kind, David Margulies, Christine Pedi, Nancy Anderson, Ben Schrader, Erica Schroeder, Todd Thurston and Sy Adamowsky.

The evening will also feature three young students from the Kaufman Center's Lucy Moses and Special Music Schools: Luke Rosen, Jesse Murray and Oliver Betz. John Znidarsic will direct the concert with musical direction by Richard Danley. Sean Hartley hosts.

Monday, November 5 at the Merkin Concert Hall in NYC.

INTRODUCTION TO MARLOWE'S EDWARD II AND TAMBURLAINE take place on Saturday, November 3, at Sidney Harman Hall in Washington, D.C. This is part of the Shakespeare Theatre Company's Windows Discussion Series. Edward II directed by Gale Edwards, began previews yesterday, October 27. Tamburlaine adapted and directed by Michael Kahn, begins previews this Tuesday, October 30.

STREET CAR NAMED DESIRE stages a meet the cast talk back after the show. The event takes place Thursday, November 1. Performances through November 11 at the Seaside Music Theater in Daytona Beach, FL.

OUTER CRITICS CIRCLE will host a special evening celebrating the new theatre season with an emphasis on playwrights when they host The Playwright's the Thing on Wednesday, November 7th at Sardis' Restaurant in New York City.

Chaired by OCC Executive Committee member Rosalind Friedman and sponsored in part by The Samuel French Company, Inc., the evening will include dinner and a panel discussion featuring the following playwrights: Tom Bradshaw (Strom Thurmond Is Not a Racist, Cleansed); Tracy Letts (August: Osage County, Bug, Killer Joe); Theresa Rebeck (Mauritius, The Scene, Bad Dates); and Sarah Ruhl (Eurydice, The Clean House, Passion Play.) Mario Fratti (Nine, The Cage, Suicide) and Ms. Friedman will moderate.

Outer Critics Circle is the organization of writers and commentators covering New York theater for out-of-town newspapers, national publications and other media beyond Broadway. Celebrating its 58th season of bestowing awards of excellence in the field of theater, the Outer Critics Circle, is an association with members affiliated with more than ninety newspapers, magazines, radio and television stations, and theatre publications in America and abroad.


OTHER PEOPLE'S MONEY


MARY BENSEL who spent a decade as general manager of the Barbara B. Mann Performing Arts Hall in Fort Myers, FL has been hired to helm the troubled Van Wezel Performing Arts Hall in Sarasota.

Bensel, 55, will take over the position on Dec. 10. On her to-do list; eliminating the hall's $1.7 million deficit and booking next season's lineup; filling hall vacancies of finance manager, deputy director and marketing director; placating discontent among the hall's biggest supporters.

For the past year, she has been the director of touring and sales for the booking group Troika Entertainment in Gaithersburg, Md. Before that, she was the general manager at Barbara B. Mann Performing Arts Hall.

Earning $130,000 a year, she will be the second woman in the Van Wezel's 38-year history to serve as executive director. Bensel will oversee a $10 million budget and about two dozen employees.

According to published reports, Bensel succeeds John Wilkes, who was fired last November after being accused of filing improper travel expenses and using city equipment and staff for a private business. Wilkes' $143,200-a-year salary made him the city's highest-paid employee at the time.

A MINIMUM VALUE OF $6 MILLION is the price tag placed on the bequest from George Abbott's widow, Joy, to her alma mater,Temple University in Philadelphia. The George and Joy Abbott Center for Musical Theater will be named in honor of George Abbott, who was instrumental in creating the Broadway musicals The Pajama Game, Pal Joey, Wonderful Town, Damn Yankees and On the Town.

Joy Abbott, has bequeathed her share of rights and future royalties earned by theatre productions authored by her late husband to the Boyer College of Music and Dance at Temple University.

"I always wanted to ensure George's legacy was preserved in a way that would benefit future generations and this is a way to tribute his legacy and dedication to mentoring young artists," Joy Abbott said on a statement.

The announcement was made during an Oct. 25 reception at Sardi's in the presence of Hal Prince, Tommy Tune, Tovah Feldshuh, Arlene Dahl, Donald Saddler and Heather Randall.

Memorabilia from Abbott's illustrious career - including original scripts of Pal Joey and The Boys from Syracuse; an original Hirschfeld drawing of George Abbott, Leonard Bernstein, Jerome Robbins and Comden & Green; Tony Awards; Abbott's Pulitzer Prize; as well as numerous personal letters to famous friends such as Gene Kelly and Stanley Donen - will be donated to the college's library.

The donation, to be given after Mrs. Abbott's death, will fund Boyer College's creation of a BFA program in musical theatre, while also funding the Abbott Center. George Abbott, who was nicknamed Mr. Broadway for presenting over 100 works for the Broadway stage, earned seven Tony Awards, including a 1976 Tony for lifetime achievement. Abbott is a Pulitzer Prize winner for the musical Fiorello. He died in 1995 at the age of 107.


SAN DIEGO THEATRES OFFER FIRE ASSISTANCE


SAN DIEGO REPERTORY THEATRE first and foremost, wants to extend its condolences to all of those who were affected by the devastating fires, which hit San Diego County this week. To help provide a little laughter in the lives of those who have lost so much, the REP would like to invite brushfire evacuees to attend The Reduced Shakespeare's performance of The Bible: The Complete Word of God (abridged).

Ever wondered if God has a sense of humor? Let the boys of the Reduced Shakespeare Company put your mind to rest during their hilarious re-telling of The Bible – otherwise known as "The Greatest Story Ever Accepted As Fact!" Adam, Eve, Moses, Noah, Mary, Joseph, Jesus and the Easter Bunny star in this affectionate and hilarious comedy filled with music, wordplay, physical humor, sight gags, audience participation and lots of vaudevillian comedy. From In the Beginning Blues to Revelations: The Musical, this show will have you laughing until the good Lord calls you home – or until the performance ends, whichever comes first. Whether you are Catholic or Atheist, Muslim or Jew, Protestant or Purple People Eater, you will be tickled by the RSC's romp through old time religion.

Complimentary tickets for those who were displaced by the fires are available for Sunday, October 28th at 7pm, Tuesday, October 30th at 7pm and Wednesday, October 31st at 7pm. Those who are interested in attending these performances should contact the REP's box office, at (619) 544-1000.

JERSEY BOYS annual fund raising campaign for BroadwayCares/Equity Fights AIDS will donate 50% of all funds to the San Diego Red Cross to assist the fire victims. Regular theatre-goers are very familiar with the curtain speeches and special backstage tour offers given by the actors in many touring Broadway productions to raise money for Broadway Cares/Equity Fights AIDS. Jersey Boys, which has two San Diego natives in the cast, Devon May and Steve Gouveia, was in the midst of such a fund-raising campaign when the fires began; and as a result of a request from the Company, is happy to announce that BC/EFA will send 50% of all money raised by this Jersey Boys campaign at the Civic Theatre to the local San Diego chapter of the Red Cross.

Jersey Boys has performances through November 11, at the San Diego Civic Theatre.



CURRENT NOBODY a world premiere by Melissa James Gibson. Directed by Daniel Aukin.

Riffing on Homer's Odyssey, playwright Melissa James Gibson flip-flops genders to create a tale about the ultimate working mom. When photo-journalist Pen heads off to cover the war in Troy, stay-at-home dad Od struggles to maintain his fidelity and raise a child in his wife's absence. As Pen's journey extends from weeks to years, Od is forced into the public eye by a relentless trio of documentary filmmakers – while daughter Tel must grapple with the personal cost of her mother's epic ambition. Following her off-Broadway successes with [sic] and Suitcase, Gibson brings to Woolly the world premiere of her most ambitious work to date.

Current Nobody was a finalist for the 2005 Susan Smith Blackburn Prize. Melissa is working on commissions for Playwrights Horizons, Mark Taper Forum and the Atlantic Theatre Company.

October 29-November 25 at Woolly Mammoth in Washington, D.C.

BENISE: NIGHTS OF FIRE! the Emmy Award-winning world music and dance stage production. Backed by 25 musicians and dancers, a lavishly decorated stage, and fantastic choreography. Launching nationally on PBS, Nights of Fire! is an unprecedented adventure though Spanish Flamenco, Cuban Salsa, African Tribal Rhythms, Argentinean Tango, and Brazilian Samba.

As composer, guitarist, and creative force behind the event, Benise (pronounced Buh-nes-say) says the show's ambition is "to take people on a musical journey. I wanted to push the boundaries of traditional Flamenco/Spanish guitar while combining the elements of dance and theater."

November 1 at the State Theatre of New Jersey, New Brunswick, NJ.

AUGUST: OSAGE COUNTY by Steppenwolf ensemble member and Pulitzer Prize finalist Tracy Letts. Directed by Steppenwolf ensemble member Anna. D. Shapiro.

When their patriarch vanishes, the Weston clan must return to their three-story home in rural Oklahoma to get to the heart of the matter. With rich insight and brilliant humor, Letts paints a vivid portrait of a Midwestern family at a turning point. The cast includes; Ian Barford, Deanna Dunagan, Kimberly Guerrero, Francis Guinan, Brian Kerwin, Dennis Letts, Mariann Mayberry, Amy Morton, Sally Murphy, Jeff Perry, Rondi Reed and Troy West.

Todd Rosenthal is charge of set design. Costumes by Ana Kuzmanic. Ann Wrightson handles lighting design and sound design is by Richard Woodbury.

The highly-acclaimed new American play, produced by Jeffrey Richards, Jean Doumanian, Steve Traxler and Jerry Frankel, will make its Broadway premiere direct from Steppenwolf's sold-out run. The production will begin previews at the Imperial Theatre October 30, with a November 20 opening.

CYMBELINE by William Shakespeare. Directed by Mark Lamos.

The cast of 26 will include Jonathan Cake, Michael Cerveris, John Cullum, Martha Plimpton and Phylicia Rashad.

One of William Shakespeare's most unusual and spectacular plays, this late Romance combines comedy, tragedy and history into an epic tale of power and magic - its action sweeping across Britain and Italy, as two warring powers clash until its eventual joyful conclusion. The characters in Cymbeline include a Lear-like monarch (John Cullum), a wicked queen (Phylicia Rashad), an Iago-like villain (Jonathan Cake), a deceived husband (Michael Cerveris), and a heroine, the king's daughter Imogen, Shakespeare's last great female role (Martha Plimpton).

Cymbeline will be designed by Tony Award winners Michael Yeargan (sets), Jess Goldstein (costumes), and Brian MacDevitt (lighting). Original music will be by Mel Marvin and sound design will be by Tony Smolenski IV and Walter Trarbach.

Cymbeline is Lincoln Center Theater's 119th production and begins performances Thursday, November 1st and opens on Sunday, December 2nd in the Vivian Beaumont Theater in New York City.

THAT SUMMER by David French.

Poignant, touching - It's Memorial Day, 1990, and Margaret Ryan has returned from Vermont to the Ontario Cottage Country where, thirty-two years before, she vacationed with her family at a lakeside resort. For her and her sister Daisy, it was a time of awakening, a time of discovery, of innocence, of heartbreak... a meditation of what endures of fleeting moments over time.

November 1-17 at the Stone Circle Theatre in Pickering Village, Ajax, Ontario, Canada.

SYLVIA written by A.R, Gurney. Starring Cathy Rigby.

Directed by Joel Bishoff.

Sylvia is young, cute, street-smart, outspoken and although Greg is married, she quickly sweeps him off his feet. So what's new or different?

The other woman in this affair just happens to be a dog! A dog who is a shameless flirt!

Originally played by Sarah Jessica Parker, and now starring Cathy Rigby, the sassy little mongrel immediately becomes a major bone of contention between husband and wife. Don't believe it? Come and see her for yourself, even if you're a cat lover.

The cast also features Suzanne Ford, James Stellos and Robert Yacko. The design team includes; Sset and lighting design by Neil Peter Jampolis. The sound design is by David Edwards. The costume design is by Judy Jou. The Casting is by Julia Flores. The Production Stage Manager is Lea Chazin.

Nov 2 - 18, at the La Mirade Theatre in La Mirada, CA.

HOLLYWOOD HELL HOUSE 2007 written by the Abundant Life Christian Center, compiled by Maggie Rowe and directed by Jacyln Lafer takes place October 31 at the Haunted Acapulco Restaurant in West Hollywood, CA.

Kato Kaelin (yes, that Kato) appears as Jesus! The Hell House performance will be followed by the most outrageous Halloween dance party/revival you are ever likely to attend! New this year - Instead of using the script written by Pastor Keenan Roberts, this year's Hollywood Hell House will use a script compiled from the many different spiritual fright houses - Hell Houses, Judgment Houses, Revelation Walks, Virtual Hell, Hell Mansion.

Youth group after party in an outside tent. Eat donut holes and pin the sins on Jesus. Dance the night away with DJ Savey Save. This year, take the journey in an abandoned Mexican chain food restaurant next to a popular strip club and tattoo parlor! Dance the night away with Jesus and Satan, angels, and demons. Enjoy the Hell House Costume Contest! Watch the snake handlers. And let's not forget the bible dipping! It's going to be a party so great it might even save your soul!

FABULOUS PALM SPRINGS FOLLIES featuring Kaye Ballard as the first guest star of the 17th season. The comedienne performs live onstage at the historic Plaza Theatre from October 30 through December 31. Appearing beside her are Father of Impressions, Babe Pier, the canine cut-ups of Joanne Wilson's Wonder Dogs and the cutting-edge satire of Follies impresario Riff Markowitz himself as The Follies Man. As always, the Follies also features its legendary line of Long-Legged Lovelies and Follies Gentlemen, who this season range in age from 56 to 84 years young! The Follies' "all new, all old" 17th season, entitled Tin Pan Alley!, continues through May 17, 2008.

THE WILD PARTY prohibition proved that banning something often just makes it more fun! So join OMAC & the Rosie Kay Dance Company for The Wild Party, a robust, darkly comic piece of physical theatre where the Great Gatsby meets A Clockwork Orange.

Based on the jazz poem of the same name by Joseph Moncure March, the events of a wild Prohibition-era Manhattan party unfold with all the decadence that you'd expect; sex, jealously, contempt, comedy, drunken sprawls, brawls and clinches – with musical accompaniment from the brilliant live jazz band onstage.

Old Museum Arts Centre in Belfast, Ireland from October 30-Nov. 3.

POLITICAL IDOL a new musical revue based on the parodies of Marc Emory, founder of The Freedom Toast, who originated the idea at a Renaissance Weekend gathering (the annual retreat for innovative leaders from diverse fields) where he was encouraged to record some of his twisted takes on popular songs. "It just became this thing that we kept doing, that kept getting bigger," says Emory, son of longtime Washington newspaper correspondent and former Gridiron Club president, Alan S. Emory. Robert Yarnall is co-author of the book and lyrics.

Armed with irreverence, wit, and spot-on impressions of Hillary, Obama, Giuliani, and George W., a quartet of seasoned entertainers turn familiar songs into show-stopping political parodies. Directed by Julie Blanciak the company features: Lara Buck, Enga Davis, Joseph DiSalle and Robert Yarnall.

Political Idol, a spoof of the upcoming Primary Elections. It lambastes its way to Off-Broadway's Triad Theatre opening Tuesday, November 6th for an eight week run. Preview performances begin Tuesday, October 30th. NYC.

THE TSAR's BRIDE by Rimsky-Korsakov. Presented by the Rostov State Opera.

Russia's multi-award winning Rostov State Opera returns to the UK with an exclusive London performance. Sumptuously staged with magnificent Russian costumes and performed by a company of 90 singers and musicians presenting a stunning visual and musical feast - an authentic presentation of this fine Russian opera in all its traditional glory. Sung in Russian with English surtitles. Friday November 2 Cadogan Hall, London.

BALLET FOLKLORICO DE MEXICO sets itself apart by combining their artist's talents with the traditional music, elaborate dance and ornate costumes of Mexican culture. The result is a stunning performance that disseminates the rich tradition and folklore of Mexico throughout the world. Tuesday, October 30, Farthing Auditorium - Appalachian State University Boone, North Carolina.

WHATEVER SHE WANTS a romantic comedy by Je'Caryous Johnson. This touring play stars Vivica A. Fox as Vivian Wolf, who opens a private, women-only club called Whatever She Wants. The play co-stars Boris Kodjoe, Tamala Jones, "Lil G" and special guest, Shaft's Richard Roundtree.

Vivian Wolf (Vivica A. Fox) has suffered one heartbreak too many and has no room left for unfulfilling relationships. Now she has come up with the solution to every woman's problem, a private club called Whatever She Wants where men have to qualify to get in. Baby daddies, bad credit, potbellies, living with your mama and no car will get you no entry. To be in the presence of these women you have to be able to give them whatever they need.

It is the grand opening and Vivian is as grand as she can be. She has it all except her own man. And for her traditional and powerfully wealthy father, Theodore Wolf (Richard Roundtree), this is unacceptable. In town to celebrate Vivian's fortieth birthday, Theodore discovers his financial contribution to Vivian's business ventures has turned into a social club for dating. He doesn't agree with her elitist approach to relationships. This isn't what he expected from his oldest daughter. Her time is running out and so is his patience. She has embarrassed him and the family's name and now he demands change.

Fox is making her stage debut is this production which she also produced. On stage October 31 at the Sunrise Theatre in Fort Pierce, FL. November 1 at St. Pete Times Forum, Tampa. Monday, November 5 at the Kravis Center for the Performing Arts in West Palm Beach.

BOTTOMLESS by Kellie Arens. Somewhere between blue jeans and obsession, gossip and friendship, lies the sad truth and bitter hilarity of reality. Bottomless examines two very different sides of the same conversation in this world premiere of a quirky and poignant comedy.

Denyse Owens directs the cast which features Elba Sette-Camara and Kellie Arens.

Portia and Dolly both have big dreams, but neither has much hope of reaching their goals. Portia is a struggling actress with a worry streak a mile wide and an attitude to match. When not fixated on her appearance, she keeps up on the latest entertainment gossip and tries to stick to her most recent diet. Meanwhile, her friend Dolly, stuck in a dead-end job as a law secretary, has a severe lack of ambition, with her greatest accomplishment being that she sometimes finishes the newspaper crossword puzzle. And she's also sleeping with Portia's boyfriend.

The emptiness of these two women's lives is played out in a clothing store changing room where Portia frantically tries on one pair of jeans after another while Dolly passes them to her through the door. As they're talking to each other, they're also having conversations with themselves, with more than an occasional snide comment. Comments which reveal not only who they really are, but also what they really think about their so-called "friend." What starts out as a look at the lives of two somewhat vapid women turns into a funny and poignant tale of a pair of flesh and blood girls going nowhere fast, just trying to get by as best they can.

Running November 3-24, Bottomless will be performed at the Bowery Poetry Club, NYC. Donate a pair of jeans for an admission discount! - and ability to say you provided props for the show. Press rep Judd Hollander told Broadway To Vegas - "The Jeans will be used as part of props in the show."


| | | |
| --- | --- | --- |
| | | |
WHO'S WHERE


NANA MOUSKOURI who turned 73 a couple of weeks ago, is currently on her world farewell tour. She's been performing for 40 years. She cranked out 450 albums which generated 230 gold and platinum discs and 300 million records sold. She will perform before sell-out crowds in Glasgow, Scotland on November 1 and Birmingham, England on November 3 before returning to where it all began - Saarbrucken in Germany where the young Greek singer with the nightingale voice delivered her German language version of White Rose from Athens which sold more than a million copies. After touring mainland Europe, she will then head to Australia, Asia and South America next year.

RAY BRUBACHER is the Washington, D.C. area's foremost silent film accompanist. He began accompanying silent films while in high school and since then has played for the American Film Institute, National Gallery of Art, Library of Congress and many others. Celebrate Halloween in style with organist Ray Brubacher as he improvises his accompaniment to the original 1925 silent film The Phantom of the Opera. A film and live music event in the concert hall, October 31, Kennedy Center for the Arts, Washington, D.C.

MARK NADLER performs his Tschaikowsky and Other Russians show in Morgans Cabaret at the Prince Music Theater in Philadelphia. October 31 - November 11.

THE EAGLES who split up in 1980, will play a one-night concert in London on October 31 at the Indigo venue inside London's O2 arena. The venue has a capacity of 2,300. Tickets will cost up to about $1,939 plus tax and will be available only to invited members of the music industry. The concert takes place the day after the release of the band's new album, Long Road To Eden, which marks the band's first since their 1979 hit The Long Run.

BIG BAD VOODOO DADDY performs Saturday, November 3 at the Edward W. Powers Auditorium in Youngstown, OH.

BILL COSBY telling funny stories and pointing out some truths Thursday, November 1 at the Oakville Centre for the Performing Arts in Oakville, ON. On Saturday he can be enjoyed at the Ryan Center at the University of Rhode Island in Kingston, RI.

CEDRIC THE ENTERTAINER on stage Sunday, November 4 at the Cerritos Center for the Arts in Cerritos, CA.

STING AND THE POLICE perform October 31 at Madison Square Garden on NYC.

ANDREA BOCELLI brings his beautiful voice to the Egils Hollin in Reykjavik in Iceland on Wednesday, October 31. On Saturday he stars at the MGM Grand Gardens Arena in Las Vegas.

VAN HALEN on stage Tuesday, October 30, at the TB Banknorth Garden in Boston. On Thursday the show is at the Verizon Center in Washington, D.C. Saturday the show is at the Continental Airlines Arena in East Rutherford, NJ.

BRUCE SPRINGSTEEN AND THE E STREET BAND open a two nighter Monday, October 29, at the Los Angeles Memorial Sports Arena in Los Angeles. On Friday they'll be playing their hits at the Xcel Energy Center in Saint Paul, MN. Next Sunday finds them at the Quicken Loans Arena in Cleveland, OH.

MICHAEL BUBLE on his European tour stops for a show Monday, October 29, at Hallenstadion Zurick in Zurich, Switzerland. On Wednesday the show is at Festhalle in Frankfurt, Germany. Thursday finds the singer at Zenith Paris in Paris. On Friday he's on stage at Halle Tony Garnier in Lyon, France and next Sunday he can be enjoyed at the Arena in Trier, Germany.

BILLY JOEL on stage Tuesday, October 30, at General Motors Place in Vancouver, BC. Saturday he's at Rexall Place in Edmonton, AB.

JUDY COLLINS brings her distinctive sound to the Performing Arts Center in Omaha, NE on Friday, November 2.

MAROON 5 performs Monday, October 29, at the Pepsi Center in Denver, On Tuesday they are on stage at Energy Solutions Arena in Salt Lake City. Friday finds them at Memorial Coliseum in Portland, OR. ON Saturday the show is at O.N.E. Pacific Coliseum in Vancouver, BC.

LONDON SYMPHONY ORCHESTRA: AMERIQUES Marin Alsop conductor. Evelyn Glennie percussion. Performing Bernstein Symphonic Dances from West Side Story, Christopher Rouse Der Gerettete Alberich - Fantasy for Solo Percussion and Orchestra and Copland Symphony No 3.Bernstein's West Side Story is a brilliant Broadway-style repositioning of Romeo and Juliet amid the urban perils of New York; and Copland's open-hearted Third Symphony is his most substantial orchestral work, written at the height of his powers and culminating in the grand gesture of a quote from his own Fanfare for the Common Man. November 4 at the Barbican Hall in London.




PIFFLE AND PROFUNDITIES


WILLIAM SHAKESPEARE coined the phrase, "the beast with two backs" meaning intercourse in his play Othello. He also invented the word "assassination".

Next Column: November 4, 2007
Copyright: October 28, 2007. All Rights Reserved. Reviews, Interviews, Commentary, Photographs or Graphics from any Broadway To Vegas (TM) columns may not be published, broadcast, rewritten, utilized as leads, or used in any manner without permission, compensation and/or credit.
Link to Main Page
---
Laura Deni


CLICK HERE FOR COMMENT SECTION