! >
Broadway To Vegas
  
  REVIEWS INTERVIEWS COMMENTARY NEWS

| | |
| --- | --- |
| | |
PRIDE AND PREJUDICE - -MUSEUM OF PUMPKIN ART - - WICKED CELEBRATES ANNIVERSARY - - AFTER MIDNIGHT TO ROTATE STARS - - 50th ANNIVERSARY OF THE NATIONAL THEATRE - - FABULOUS PALM SPRINGS FOLLIES BEGINS FINAL SEASON - - 700 SUNDAYS RETURNS - - A MUSICAL CHRISTENING FOR PRINCE GEORGE - - DONATE . . . Scroll Down




Copyright: October 27, 2013
By: Laura Deni
CLICK HERE FOR COMMENT SECTION


50th ANNIVERSARY OF THE NATIONAL THEATRE IS ROYALLY CELEBRATED
It's not very often you catch Queen Elizabeth and her husband Prince Philip giving bemused looks to a prop horse. Of course, this wasn't just any old fake nag; rather, the award winning creature creation for Warhorse. Photo PA.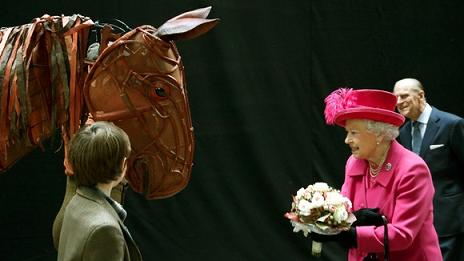 It's only proper that Queen Elizabeth attended the 50th anniversary of the Royal National Theatre in London last week. As Princess Elizabeth she was there from the very beginning.

In 1951 it was her mother, then Queen Elizabeth, who laid the foundation cornerstone for the National Theatre. Queen Elizabeth brought along her daughter, Princess Elizabeth who ascended the throne on February 6, 1952 upon the death of her father, King George VI.

By the time the National Theatre raised the curtain with Peter O'Toole playing Hamlet on October 22, 1963 at the Old Vic theatre, under the eye of National Theatre founder Sir Laurence Olivier, Queen Elizabeth II had been wearing the crown for 11 years, had three children and was four months pregnant with her fourth child.

Since then, more than 800 productions have taken place, including premieres of plays by Tom Stoppard, Peter Shaffer, Harold Pinter, Alan Bennett and David Hame.

In 1988 Queen Elizabeth II gave permission for the company to add "Royal" to its name.

At last Tuesday's event Queen Elizabeth and Prince Philip had a warm and bemused greeting for an old nag.

Joey is the celebrated equine from Warhorse. As anyone who is familiar with the award winning play knows, Joey isn't just any old fake horse. Rather, he is the star of the production which the royal couple had previously seen. The Olivier and Tony Award winning production is based on the Michael Morpurgo novel, which tells the story of Joey, a horse who serves in World War I.

If the horse got up close and personal, it was probably because the theatrical piece of horse flesh had previously met Queen Elizabeth. During the Diamond Jubilee River Thames pageant last summer, the Queen delighted in watching the constructed equine running across the roof of the National Theatre, which first staged the play, as the royal barge sailed past.

Joey was equally taken by the Queen, who told the puppet horse, "It's lovely to see you again." As her tour of the theatre company ended, Joey walked up to the Queen and followed her as she walked to her waiting state limousine. Then he rearing up on his hind legs as the car departed.

During the official visit, the royal couple were given a tour by outgoing director Sir Nicholas Hytner. They heard a musical number Sit Down You're Rocking The Boat from Guys and Dolls, the first musical to be staged at the National in 1982, and watched a rehearsal for the forthcoming production Emil And The Detectives, based on the story of a boy living in 1920s Berlin.

Dame Joan Plowright, who was married to Sir Laurence Olivier when he led the National Theatre, also met the Queen. The actress said: "It's a very special day, it's quite hard not to feel quite emotional about it."

The Queen also unveiled a plaque to mark her visit and the 50th anniversary.

An invitation only, once-in-a-lifetime performance, broadcast on BBC Two, will take place on November 2, 2013. The event will be shown on cinema screens internationally on various dates. Screenings in American will take place in locations ranging from California to New York.

From Rosencrantz and Guildenstern Are Dead to The History Boys, from Antony and Cleopatra to Angels in America, from Guys and Dolls to London Road – it will be a thrilling evening of live performance and rare glimpses from the archive, featuring many of the most celebrated actors who have performed on their stages over the past five decades and directed by Nicholas Hytner.

A cast of 100 will perform live on stage, including Roger Allam, Simon Russell Beale, Benedict Cumberbatch, Frances de la Tour, Judi Dench, Christopher Eccleston, Ralph Fiennes, Michael Gambon, Derek Jacobi, Alex Jennings, Rory Kinnear, Adrian Lester, Anna Maxwell Martin, Helen Mirren, Andrew Scott, Maggie Smith and Penelope Wilton.

Famous alumni including Dame Judi Dench, Simon Russell Beale, Sir Michael Gambon, Sir Derek Jacobi and Dame Maggie Smith, will perform speeches from roles they have played there.

Dame Maggie will reprise her role as Mrs. Sullen in George Farquhar's 1970 comedy The Beaux' Stratagem, Russell Beale will return to Hamlet, while Dame Judi, who appeared in Antony and Cleopatra in 1987, will re-enact the elegy to Antony.







Broadway To Vegas is supported through advertising and donations. Priority consideration is given to interview suggestions, news, press releases, etc from paid supporters. However, no paid supporters control, alter, edit, or in any way manipulate the content of this site. Your donation is appreciated. We accept PAYPAL. Thank you for your interest.





ART AND ABOUT


MUSEUM OF PUMPKIN ART the first-ever exhibition space devoted to artwork inspired by - what else? - pumpkins - can be enjoyed at Van Cortlandt Manor in Croton-on-Hudson, NY.

As part of the annual Great Jack O' Lantern Blaze, this inaugural The Art of the Pumpkin exhibit features original works by 25 area artists. The exhibit draws inspiration from the highly skilled and individual artistry of pumpkin carving, Featuring multimedia sculpture inspired by - but not made from - pumpkins, the exhibit elevates this familiar orange icon of Hudson Valley heritage as a source of artistic inspiration and expression.

Local artists from New York and the surrounding states, submitted proposals for their work to a review panel consisting of Janet Langsam, CEO of ArtsWestchester; Dr. Livia Straus, Founder and President of Hudson Valley Center for Contemporary Art; Michael Anthony Natiello, Creative Director of The Great Jack O'Lantern Blaze; and representatives from Collaborative Concepts. The panel selected 25 designs for the exhibit.

"We were overwhelmed by the quality of submissions," said Mr. Natiello. "Clearly, pumpkins are a huge source of artistic inspiration even for those who don't specialize in carving them."

All artists selected are from New York with the exception of three exhibits from artists who hail from Conn. and PA.

The Art of the Pumpkin includes the work of the following artists:
• Emil Alzamora of Beacon, N.Y.
• Shawn Feeney of Hauppauge, N.Y
. • Sarah Haviland of Crompond, N.Y.
• Peter Schlemowitz of Beacon, N.Y.
• Cathrin Hoskinson of Accord, N.Y.
• Alex Uribe of Cold Spring, N.Y.
• Jodi Carlson of Mahopac, N.Y.
• Susan Buroker of Smithtown, N.Y.
• Sara Lynch of Potsdam, N.Y.
• Lisa Breznack of Peekskill, N.Y.
• Peter Cheney of Nyack, N.Y.
• Erica Mazzeo of Somers, N.Y.
• Jonathan Lopes of Brooklyn, N.Y.
• Lea Bolotin of Yorktown Heights, N.Y.
• Elena Kalman and Susan Hoffman Fishman of Stamford, Conn.
• Denis J. Folz of Danbury, Conn.
• Elizabeth Barksdale of Mahopac, N.Y.
• Herman Roggeman of Garrison, N.Y.
• Jim Lloyd of Katonah, N.Y.
• Chuck Von Schmidt of Dix Hills, N.Y.
• Leslie Pelino of New Paltz, N.Y.
• JoAnn Brody of Peekskill, N.Y.
• Naomi Teppich of Damascus, Pa.
• A. Eric Arctander of Putnam Valley, N.Y.
• Cassandra Saulter of Beacon, N.Y.

Presented by Historic Hudson Valley in conjunction with Collaborative Concepts, The Art of the Pumpkin is made possible by the New York State Council on the Arts with the support of Governor Andrew Cuomo and the New York State Legislature.

The Great Jack O' Lantern Blaze is the Hudson Valley's biggest all-ages Halloween extravaganza. A small team of artists comes together to carve more than 5,000 jacks, many fused together in elaborate constructions such as life-size dinosaurs and eight-foot-tall working jack-o'lanterns-in-the-box, all lit up throughout the wooded walkways, orchards, and gardens of historic Van Cortlandt Manor.

The Van Cortlandts were one of New York's most prominent families, who faced and influenced pressing political issues of the time, including Federalist and Anti-Federalist debates over the drafting of the constitution. The manor house boasts an extraordinary collection of furnishings from the colonial and federal periods in their original setting. Downstairs is one of the largest and best-equipped colonial kitchens in America.

The Mueum of Pumpkin Art is on display through November 3rd and then again November 8-11. Croton-on-Hudson, NY.

CLEVELAND MUSEUM OF ART DIRECTOR David Franklin has resigned citing a desire to "spend more time on research and writing." His resignation was effective immediately.

Museum Board Chairman R. Steven Kestner said he was surprised by Franklin's resignation.

Museum Trustee and donor Fred Bidwell, co-founder of Cleveland's Transformer Station gallery, will act as interim director.

The museum hired Franklin away from the National Gallery of Canada in Ottawa, where he had spent 12 years, riding from curator of prints and drawings to deputy director and chief curator.

During his three years at the museum, Franklin was lauded for overseeing the completion of several expansion and renovation phases as well as and reinvigorating special exhibitions and publications. The museum earned national recognition for its high-tech Gallery One, an educational center featuring a 40-foot-long interactive display of works from the museum's collection that dovetailed with a new mobile app for the Apple iPad.

Franklin was the museum's ninth director. The institution has had four directors since 2000, including Katharine Lee Reid (2000-2005); Timothy Rub (2006-2009); and Deborah Gribbon (2009-2010).


SWEET CHARITY


PAUL REISER stars in a benefit for Mikey's Way Foundation. All proceeds will go to directly to execute their mission: Helping Kids Cope with Cancer.

A seasoned actor, writer, and stand-up comedian, Paul Reiser continues to add to his list of accomplishments. He co-created & starred in the NBC series, Mad About You, which garnered him Emmy, Golden Globe, American Comedy Award & Screen Actors Guild nominations for Best Actor in a Comedy Series. His books, Couplehood and Babyhood made The New York Times best-seller list.

Reiser will be joined on stage by opening act Chris Monty.

Saturday, November 2, 2013 at the Palace Theatre in Stamford, CT.

DECEMBER PEOPLE created by Robert Berry with the concept to make Holiday music hip and relevant for today's listeners and to have a way to give back to each community through Food Bank donations.

Presently the bass player for the Greg Kihn Band, Robert has performed with Keith Emerson, Carl Palmer, Sammy Hagar and Ambrosia.

Joining him in December People are Gary Pihl, guitars/vocals who has been a member of the band Boston since 1985. Jack Foster of the Jack Foster Band is on guitar and vocals. Dave Medd is currently the keyboard player for the Tubes He adds the high lead vocals to December People. Mike Vanderhule is December People's drummer and percussionist. He's currently the drummer for the hard rockin' Y & T.

They perform Saturday, November 9 at the World Theater at California State University, Monterey Bay, CA. The audience is requested to give non-perishable foods and money to benefit a local food pantry


W
ICKED CELEBRATES 10th

If not defying gravity, at least defying the odds that most Broadway musicals are flops, the tony Award winning musical Wicked celebrates its 10th anniversary on Broadway October 30, 2013.

In the history of the Great White Way the ten year milestone has been achieve by only the number of Broadway production that you can count on your fingers - literally - that means 10.

On Wednesday, October 30th the creative team and many of the musical's previous cast members will celebrate Wicked's first decade with a special performance, followed by a company party.

Some of the other celebrations and promotions include:

On November 19th, Verve\UMe will release a special Wicked Deluxe Edition CD, featuring the 19-track Original Broadway Cast Recording plus bonus tracks, including the brand-new hit, Popular Song by MIKA (featuring Ariana Grande). The album will be available digitally on October 29th.

Through November 1 - think Halloween costume - The NBC Experience Store in Rockefeller Plaza is a destination top for all Wicked with a special display of Wicked costumes, memorabilia and merchandise.

For those heading to The American Airlines Terminal at JFK Airport, you have not been transported into another universe. Then, again, perhaps you have. Through November 30th the World of Wicked will be installed in the terminal, featuring a replica of Glinda's bubble and a special Behind the Emerald Curtain museum display.

Other events include special cupcakes, nail polish and cookies.

Wicked currently has nine productions around the world, in New York, London, Japan (Tokyo), Australia/New Zealand (Auckland), South Korea (Seoul), Latin America (Mexico City), a U.K. Tour (Manchester), and two concurrent North American National Tours.

Since its New York premiere a decade ago, Wicked has grossed over $3.1 billion worldwide and has been seen by over 38 million across the globe.

By the end of 2013, the global phenomenon will have been performed in over 100 cities in 13 countries around the world - U.S., Canada, England, Ireland, Japan, Germany, Holland, Australia, New Zealand, Singapore, South Korea, The Philippines, and Mexico - and has thus far been translated into five languages: Japanese, German, Dutch, Spanish, and Korean.

For those who want to celebrate Wicked in Galindafied style, you've got to be in Auckland, New Zealand. On October 30, at either the matinee or evening performance, patrons are invited to stick around after both performances as the stars of will be available for autograph signings for 30mins in the foyer. Fans are also encouraged to dress-up in the evening to win great prizes. The costume judging will commence before the performance. "And, everyone can help us to raise money "for good" on the day with a bucket collection for SPCA."


A MUSICAL CHRISTENING FOR PRINCE GEORGE
Pictured (left to right): The Duke of Cambridge holding Prince George, The Queen seated, and The Prince of Wales. Photo: Jason Bell/Clarence House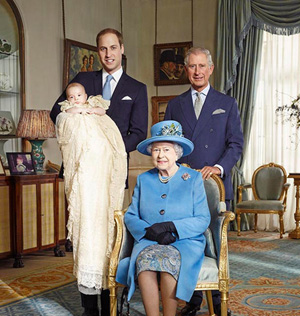 Music played a significant role in last Wednesday's christening of Prince George.

The two hymns at the service were Breathe on Me, Breath of God and Be Thou My Vision.

Two anthems were also performed at the service, including Blessed Jesu! Here we Stand, by Richard Popplewell, which was written for Prince William's own baptism on August 4 1982.

The second was John Rutter's well-known anthem The Lord Bless You and Keep You.

Both were performed by The Choir of Her Majesty's Chapel Royal, which performed at William and Kate's wedding as well as at the Golden and Diamond Jubilee Services at St Paul's Cathedral. They also sing each Sunday at the Chapel Royal at St. James's Palace.

The choir was made up of six Gentlemen-in-Ordinary, who are professional singers, and 10 Children of the Chapel Royal, boy choristers who hold the Sovereign's choral scholarships at the City of London School.

They wore Gold and Scarlet State Coats, still tailored to the Royal Warrant of 1661.

The Processional Organ Music was be J. S. Bach's Fantasia in G (BWV 572) while C. M. Widor's Toccata from Symphony No 5 served as the Recessional Organ Music.



Seated (left to right): The Queen, The Duchess of Cambridge holding Prince George, The Duke of Cambridge. Standing (left to right): The Duke of Edinburgh, The Prince of Wales, The Duchess of Cornwall, Prince Harry, Miss Pippa Middleton, Mr James Middleton, Mrs Carole Middleton, Mr Michael Middleton. Photo: Jason Bell/Clarence House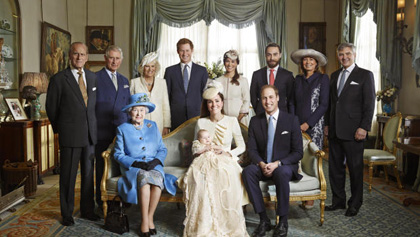 The proud parents released four official photographs from the event. The photographs were taken by Jason Bell in the Morning Room at Clarence House immediately following Prince George's baptism in the Chapel Royal, St. James's Palace.

Bell, 44, is a New York and London based portrait and fashion photographer. He studied politics, philosophy and economics at Oxford University before returning to London to work for the Sunday times.

Bell's photographs are regularly seen in in Vanity Fair, British and American Vogue, Time and Newsweek, amongst others. He has photographed numerous celebrities including David Beckham, Scarlett Johansson, Johnny Depp, Nicole Kidman, Mickey Rourke, John Malkovich, Daniel Craig, Halle Berry, Susan Saradon, Ian McKellen and Kate Winslet.

His work can also be seen on film posters for About a Boy, Bridget Jones's Diary, Billy Elliott, Love Actually, The Goden Compass and Inkheart. Many of his photographs are in the National Portrait Gallery's permanent collection.

In the case of the christening photographs, Bell managed almost the impossible; having 12 people in one photo - including an unpredictable baby - and they all look good.



Seated (left to right): The Queen, The Duchess of Cambridge holding Prince George, The Duke of Cambridge. Standing (left to right): The Duke of Edinburgh, The Prince of Wales, The Duchess of Cornwall and Prince Harry. Photo: Jason Bell/Clarence House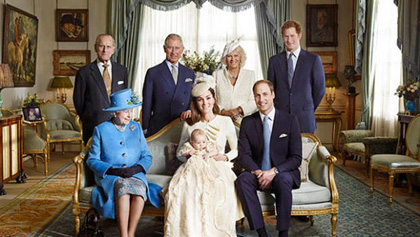 The baby Prince looked pink-cheeked, chubby and peaceful as he emerged from the historic Chapel Royal at St James's Palace in the arms of his mother The Duchess of Cambridge, who beamed with delight. Prince George arrived for his christening in the arms of his father. When the Queen's car arrived, nearby doors in the palace opened and young Prince George could be heard gurgling.

His grandfather The Prince of Wales and The Duchess of Cornwall walked forward to meet The Queen, who was being greeted by the Archbishop and the Bishop of London Richard Chartres.

The doting grandfather was followed by Will and Kate with Will holding his son in front of him and jiggling him up and down as he walked. He was joined by his brother Prince Harry, who greeted his grandfather Prince Philip as The Duke of Edinburgh told everyone: "He's all ready", adding: "So far so good."

Prince George, who stared curiously at his relatives as they chatted, was wearing a replica of a christening gown made for Queen Victoria's eldest daughter in 1841, which almost touched the ground.

The Royal party spoke for a few more minutes and The Duchess walked over to greet The Duke of Edinburgh, kissing him on both cheeks before curtseying.

After the 35 minute service was over, The Duke and Duchess of Cambridge left the chapel together with Kate holding her son who was wide eyed and clasped his hands together.

Dr. Chartres looked at Prince George's tiny hands and joked with his parents, saying he was holding them in a "very commanding" manner.



The Duke and Duchess of Cambridge with Prince George. Photo: Jason Bell/Clarence House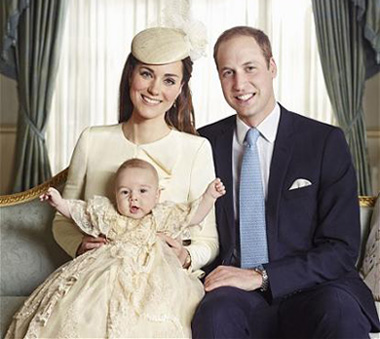 They proceeded to Clarence House where proud grandfather The Prince of Wales and his wife were hosting a private tea, where guests were served slices of christening cake - taken from a tier of the Royal wedding cake. It is in the Morning Room at Clarence House where the official photographs were taken. The room and its furnishings have an interesting history.

The Morning Room at Clarence House was originally the Breakfast Room in John Nash's original design for the Duke of Clarence in 1825-7.

The sofa on which the group is seated is part of a suite of gilt-wood seat furniture by Thomas Chippendale which dates from about 1773. It is thought to have been commissioned by George III's brother (the Duke of Gloucester) and was in the Royal Collection by the Reign of George IV.

On the cabinet visible to the left of the sofa is a bronze bust of Princess Elizabeth made by William Lamb in 1933. A matching bust of Princess Margaret is on the opposite side of the room. On the wall above this cabinet to the left of the sofa is a portrait painted in oil "Their Royal Highnesses The Princess Elizabeth and The Princess Margaret in Windsor Great Park", 1945, by Frederic Whiting.

There are two photographs, alternatively visible in the images. One is of The Prince of Wales and Prince Harry in a Zulu Village - South Africa 1997. A further photograph of Prince Harry is also visible on a side table.

On the rear wall to the left of the window there is an oil on canvas painting entitled: "A Conversation Piece at Aintree: King George V and his Racing Manager", c.1927-30, by Walter Richard Sickert. Beneath this is a painting by Laurence Stephen Lowry entitled "A Flyde Farm", 1943.

On the rear wall to the right of the window is an oil on canvas painting entitled: "When Homer Nods: Portrait of George Bernard Shaw" by Augustus Edwin John, 1915. Beneath this is an oil on canvas painting entitled "The Lighthouse, Newhaven" by Duncan James Grant, c1939.







SPREADING THE WORD


AFTER MIDNIGHT the new musical which officially opens next week at the Brooks Atkinson Theatre has a great marketing concept - rotating star acts.

The Jack Viertel conceived production which celebrates the Duke Ellington years at the Cotton Club is directed and choreographed by Warren Carlyle with musical direction by Wynton Marsalis and musical supervision by Daryl Waters. The show will feature a cavalcade of guest stars each week.

Grammy Award-winning recording artist Fantasia will begin the tradition, followed by Grammy Award winners k.d.lan February 11-March 9 and "Babyface" Edmonds March 18-30, 2014.

CULT CLASSIC FRIDAY THE 13th will be presented by Theatre East as a special Halloween installment in its Neighborhood Reading Series upstairs at O'Lunney's in New York City on Monday, October 28th. Written by Victor Miller and adapted by Judson Jones & Kire Tosevski The original horror classic that started it all - performed live with audience participation. The roles will be raffled off.

In addition there will be prizes, photo booth and other surprises. Seating is limited and reservations are required. The reading is Pay-What-You-Can.

Theatre East is committed to discovering new vivid theatrical works and celebrating all forms of theatre. The Neighborhood Reading Series "helps us do just that while fostering relationships with playwrights and their work. In addition, it provides a platform for discussion and community by celebrating plays you may have heard of along with some that might be a bit more obscure or even brand new. Since the readings are free and open to the public, it also aids us in our dedication to the ideal that theatre is not a luxury but should be accessible to everyone, no matter one's economic or social status.

ANNAPURNA by Sharr White, which enjoyed a critically acclaimed, sold-out run this spring at West L.A.'s Odyssey Theatre Ensemble, will open Off Broadway as part of the New Group's 2013-14 season with its L.A. cast and director intact.

Real-life married couple Megan Mullally (Will and Grace) and Nick Offerman (Parks and Recreation) will reprise the roles they created at the Odyssey in White's two-hander about love and loss. Bart DeLorenzo will again direct.

Annapurna will run April 13-June 1, 2014 at the Acorn Theater on New York's Theater Row.

HOLMES AND CARTER MYSTERIES when patrons can step back in time, on Friday, November 1 and Saturday, November 2, when the award winning Equity professional East Lynne Theater Company in Cape May, NJ serves up two mysteries with two different detectives, performed by the same cast-of-six, back-to-back in Holmes and Carter Mysteries.

Presented in the style of a radio broadcast, complete with live sound effects and commercials, the mysteries are Sherlock Holmes Adventure of the Copper Beeches and Nick Carter and the Strange Dr. Devolo.

"Please be at the Black Swan Hotel at Winchester at midday tomorrow. Do come! I am at my wit's end. Don't fail me," was how the telegram read. It was sent to the famous British detective, Sherlock Holmes from Violet Hunter, a governess employed at The Copper Beeches.

"Within the last couple of months, two of my clients have disappeared. Both inherited several million dollars a short time ago, and right after the inheritances, both disappeared," said Harruthers, to Nick Carter, seeking the help of the great New York detective.

While Sherlock Holmes was solving crimes in England, Nick Carter was busy in Manhattan. Carter first appeared as the hero in a serialized novel, The Old Detective's Pupil, in The New York Weekly in 1886 – a year before Sir Arthur Conan Doyle's Holmes' first caper, A Study in Scarlet. In 1930, the Sherlock Holmes radio series began with The Adventure of the Copper Beeches and in 1943, the Nick Carter series was launched with The Strange Dr. Devolo.

While Copper Beeches is not the original script by Edith Meiser (this one is adapted by Gayle Stahlhuth), The Strange Dr. Devolo is the original script, used with permission by Conde Nast.

The cast members taking on roles of those in Victorian England and in New York during World War II in the same night are Lee O'Connor, Fred Velde, Mark Edward Lang, Alison J. Murphy, Gayle Stahlhuth, and Robert LeMaire.


OTHER PEOPLE'S MONEY


MERLIN ENTERTAINMENT which owns Madame Tussauds, Alton Towers, Legoland and the London Eye has announced that they will offer at least 20% of company to investors.

In related news, the company also announced they have partnered with Beijing's leading developer, SOHO China, which will result in the company opening a number of their brands in Beijing. The first will be Madame Tussauds Beijing, scheduled to open in 2014.

As the 16th Madame Tussauds worldwide and the fourth one to open in China, the huge Beijing location will be located close to Tiananmen Square.

The Tussauds exhibition was announced using the lifelike Madame Tussauds creations of creations of Prince William and his wife the Duchess of Cambridge Kate Middleton.

In 2014 the company will also open a Madame Tussauds and a "dungeon" in San Francisco, a Sealife Center in Charlotte, North Carolina and a small indoor Legoland "discovery center" in Boston.

In 2011 Merlin unveiled Legoland in Florida, giving notice to their number one rival Disney that Merlin is moving onto their turf.

Merlin runs 99 attractions in 22 countries across four continents.

NEW THEATRE CENTER TO OPEN Tony Award winning Broadway Producer Hugh Hysell and Snapple Theater Center Owner/Manager, actress Catherine Russell have partnered to create a new theatre complex that will house 3 new first-class Off Broadway Theatres. This facility, presently titled The Theatre Center, will open in early 2014 at 601 Eighth Avenue (at 39th Street), in New York City.

This new theatre complex will house a 249 seat theatre, a 199 seat theatre and a 99 seat theatre. The 249 and 199 seat theatres will be licensed to commercial plays and musicals and the 99 seat theatre will be licensed to Off and Off-Off Broadway productions. The space will also feature a lobby, bar as well as a restaurant which will be operated by a third party.



ACTOR ROB BROWN'S MOTHER MYRA who received a degree recently from Metropolitan Community College. She's proud of her son who is known for his roles in the films Finding Forrester, Coach Carter, Take the Lead, The Express, and currently stars in the HBO series Treme. He is even prouder of her.

Metropolitan Community College was founded in 1964 by educational pioneer Audrey Cohen.

"Driven by a holistic vision of a better world, she created a succession of organizations to address the dual issues of economic development and social improvement. Ms. Cohen's enduring commitment to create employment and educational opportunities for all stemmed from her activism during the civil rights and women's movements in the 1950s and 60s. It was also rooted in her conviction that education must empower individuals to take charge of their own lives and to make positive change in organizations and communities.

"Since its inception, the College has demonstrated its commitment to helping nontraditional students achieve educational and professional goals through unique, progressive methods. In 1984, the College was granted full regional accreditation by the Middle States Association of Schools and Colleges.

"In 2002 in order to more accurately reflect the growth, vitality, diversity, and motivation to achieve that it shares with the New York Metropolitan Region, the College was renamed Metropolitan College of New York (MCNY). In 2002, the College re-registered its Master of Science in Administration as a Master of Public Administration to better reflect program objectives. In early 2004, the New York State Board of Education registered two new MCNY graduate degrees: a Master of Public Administration in Emergency and Disaster Management, the first of its kind in the state, and a Master of Science in Education (Childhood Education). Later that year, the College's first liberal arts degree program – the Bachelor of Arts in American Urban Studies – was approved. The Master of Science in Education: Mathematics Grades 7-12 was registered and in 2011 the Master of Science in Education: Dual Certification Childhood 1-6/Special Education degree by the New York State Education Department. In 2009, under the leadership of Dr. Vinton Thompson, fourth President of MCNY (appointed 2008) the College's Middle States Accreditation was reaffirmed. In 2010, the Master of Science in Education Program was accredited by NCATE (National Council for Accreditation of Teacher Education)".



THE FABULOUS PALM SPRINGS FOLLIES

Susan Anton opens the final season.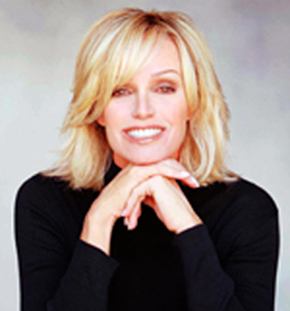 opens its final season on November 1st.

That tap tap tapping sound reveravberatng around Palm Springs is the sound of 17 insanely talented dancers polishing their routines. After twenty-three kicking years, this year the anticipation of what will be the final season, is bittersweet.

"The heart-and-soul of the Follies has always been our incredible cast, and I've never been more proud of them than right now, as they wrap up their last weeks of rehearsal. They are truly an inspiration," declared Follies founder Riff Markowitz, known as The Follies Man.

Appropriate titled The Last Hurrah! this season is "our greatest hits show with our best dance production numbers from past seasons, three iconic headliners and--for the first time - three remarkable variety acts packed into one spectacular Follies season. It will be a fitting and exciting last hurrah!"

"We are determined to go out with the same enthusiasm with which we began this adventure, so we're putting everything we have into this good-bye season," he added.

Lavish production numbers, a star-spangled finale and, through December 31, a special Yuletide celebration are all performed by a cast definitely old enough to remember the way it really was! Joining the Follies Man are three world-renowned guest stars and three remarkable variety acts:

November 1 through December 31, 2013 - Performing her very special Christmas show, Follies audience favorite and celebrated vocalist Susan Anton, along with hysterical ventriloquist Brad Cummings and his prehistoric sidekick, "Rex."

January 7 through March 8, 2014 - Grammy-nominated recording star Maureen McGovern, along with dazzling high-tech juggler extraordinaire Rejean St. Jules . truly a showstopper.

March 11 through May 18, 2014 - Star of the new hit documentary film, Twenty Feet From Stardom, and making her Follies debut, Rock and Roll Hall of Fame inductee Darlene Love of He's A Rebel fame, along with America's Got Talent comedian juggler Frank Olivier.

For the over three million Follies fans who have already attended a Follies performance who would like to see it one last time, or for those who have never attended but have been meaning to, it really is now or never! The Fabulous Palm Springs Follies closes forever on May 18, 2014.

700 SUNDAYS Billy Crystal's hit show returns to Broadway on November 5 for a nine week run.

700 Sundays is his personal stage memoir his childhood on Long Island and in the city in the 1950s and '60s. The 700 Sundays title is a reference to the amount of time he spent with his father, Jack Crystal, who died of a heart attack on Oct. 15, 1963.

SKINLESS by Johnna Adams, a finalist for the Susan Smith Blackburn Award in 2012 for Gideon's Knot, she is a recent Princess Grace Award recipient and her Sans Merci was the 2008-2009 Reva Shiner Award winner.

MOXIE Artistic Director Delicia Turner Sonnenberg will direct Jo Anne Glover, Rhona Gold, Lisel Gorell-Getz, Amanda Morrow, Erin Petersen and Anne Rebek.

Billed as "the perfect combination of cut-throat academic pursuit and gothic thriller. The legend of the "skinless" may be fact or fiction. When Emmi chooses to base her dissertation on the long forgotten female horror and sci fi writer, Zinnia Wells, she discovers more than she bargained for. Skinless is a hauntingly beautiful new play about family secrets and fighting to be heard. Turner Sonnenberg was captivated by playwright Johnna Adams and her intriguing new play while directing at the Kennedy Center for the National New Play Network."

The designers for Skinless include Jerry Sonnenberg (Sets), Sherrice Kelly (Lights), Jacinda Johnston-Fischer (Costumes-), Matt Lescault-Wood (Sound) and Angelica Ynfante (Props); with Alice Cash (Assistant Director) and Maria Orozco (Stage Manager). There will be a special 10PM Halloween sneak peek performance Thursday, October 31. Guests are invited to wear their spookiest costumes in the 'spirit' of the play. Skinless will play November 1 through December 8, 2013; with Opening Night on Saturday, November 9 at the Moxie Theatre in San Diego, CA.

THE PIANIST OF WILLESDEN LANE Based on the book The Children of Willesden Lane by Mona Golabek and Lee Cohen.

Adapted and directed by Hershey Felder.

The production "tells the true story of Lisa Jura, a young Jewish musician whose dreams are interrupted by the Nazi regime. In this poignant show, virtuoso Mona Golabek performs some of the world's most beautiful piano music live - as she relates the real-life legacy of her mother's quest to survive."

Currently in previews with the official opening set for October 30. Performances through December 8, 2013 at Berkeley Rep in Berkeley, CA.

MURDER FOR TWO a new musical with a book and music by Joe Kinosian, and a book and lyrics by Kellen Blain.

Directed by Scott Schwartz.

Starring Jeff Blumenkrantz and Brett Ryback.

Everyone is a suspect in Murder For Two, billed as a hilarious musical murder mystery with a twist: one actor (Brett Ryback) investigates the crime, the other plays all of the suspects (Jeff Blumenkrantz) and they both play the piano! A zany blend of classic musical comedy and madcap mystery, this 90-minute whodunit is a highly theatrical duet loaded with killer laughs."

Scenic design by Beowulf Boritt, costume design by Andrea Lauer, lighting design by Jason Lyons, sound design by Jill BC DuBoff and choreography by Wendy Seyb.

Opens at New World Stages – Stage 5 in New York City on Wednesday, November 6, 2013.

SHE LOVES YOU! a refreshed edition celebrating the Beatles 50th Anniversary features Alan LeBoeuf, whose played the role of Paul McCartney for two years in Broadway's Beatlemania, John Brosnan as George Harrison, Carmine Grippo as Ringo Starr and Steve Craig as John Lennon.

Opens November 1 at Bridgeport's Downtown Cabaret Theatre in Bridgeport, CT with performances Fridays, Saturdays and Sundays) through Sunday, November 17 2013.

BECOMING DR. RUTH by Mark St. Germain.

Directed by Julianne Boyd.

Starring Debra Jo Rupp, and is based on the life of America's most famous sex therapist, Dr. Ruth K. Westheimer.

Everyone knows Dr. Ruth Westheimer from her career as a pioneering radio and television sex therapist. Few, however, know the incredible journey that preceded it. From fleeing the Nazis in the Kindertransport and joining the Haganah in Jerusalem as a scout and sniper, to her struggles to succeed as a single mother coming to America, Becoming Dr. Ruth is filled with the humor, honesty and life-affirming spirit of Karola Ruth Siegel, the girl who became "Dr. Ruth", America's most famous sex therapist.

Becoming Dr. Ruth comes to New York following its world premiere at Barrington Stage Company and a sold out run at TheaterWorks, Hartford.

Opens officially on Tuesday, October 29 at the Westside Theatre, Upstairs, NYC.

PRIDE AND PREJUDICE by Jane Austen. Adapted by Jon Jory, the Producing Director at Actors Theatre of Louisville.

Directed by BRT's Artistic Director Keith Baker.

On its 200th anniversary, join the worldwide celebration of Jane Austen's Pride & Prejudice. This fast-paced and engaging adaptation tells one of the greatest love stories of our time. With four sisters, a neurotic match-making mother, and a string of unsuitable suitors, it's difficult for the independent Elizabeth Bennet to escape the subject of marriage. So, when Elizabeth meets the handsome but proud Mr. Darcy, she is determined not to let her feelings triumph over her own good sense—but the truth turns out to be slipperier than it seems. Filled with romance, laughter and a slew of memorable characters, it's easy to see why Pride & Prejudice has captivated generation after generation.

Starring Michael Halling and Hannah Kahn as Mr. Darcy and Elizabeth Bennet. The ensemble cast also includes Rose Fairley, Grant Chapman, Jessica Bedford, Michael Gamache, Jessica Gruver, Samantha Kuhl, Mark LeVasseur, Robert Ian Mackenzie, Topher Mikels, Erin Mulgrew, Mary Elizabeth Scallen, and Jo Twiss.

Pride and Prejudice was first published in 1813 as Jane Austen's second novel. The story deals with issues of manners, education and marriage in the landed gentry of early 19th century England. Pride and Prejudice has been hailed as one of the most loved books, continuing to retain a fascination for modern readers and inspiring many adaptations and stories imitating Austen's memorable characters and themes. To date, the book has sold more than 20 million copies worldwide.

October 29-November 24 at the Bristol Riverside Theatre in Bristol, PA.

The October 31 opening night performance is followed by a catered reception at which patrons will l meet the cast and artistic staff.

On Sunday, November 17, it's Theatre Theology where fans are invited to Join Rabbi Joshua Gruenberg (Beth El, Yardley) for a little nosh and a spirited post-show discussion of the Jewish themes and issues of Pride & Prejudice.

Then on Saturday, November 23, it's Tea with Mr. Darcy. Guests can enjoy afternoon tea, finger sandwiches and desserts with Mr. Darcy prior to the 2pm performance.


WHO'S WHERE


CAMERON CARPENTER promises the audience a "wild ride" when he brings his staggering talent – and sequined attire – to the NAC performing a signature Bach organ work with a twist: Cameron's 'Evolutionary' version of the famous Toccata & Fugue in D Minor. Conductor Alexander Shelley leads the NAC Orchestra through Carpenter's own composition, The Scandal, plus Symphonie fantastique, Berlioz's love-obsessed, dazzling orchestral showpiece. Visit the NAC Main Lobby on October 31st to see a spook-tacular display by the NAC Props Department, "sure to give you a fright!" At the Mezzanine and Main Foyer bars, a new drink Orange Vampire was inspired by the wild Cameron Carpenter himself. Happy Halloween!" October 31 at the NAC in Ottawa, Canada.

MICHAEL BUBLE entertains in Florida this week. On Tuesday, October 29 he's at the Veterans Memorial Arena in Jacksonville. Wednesday's show is at the Amway Center in Orlando. On Friday he's in the spotlight at the Tampa Bay Times Forum in Tampa. On Saturday he'll be delighting his fans at the BB&T Center in Sunrise.

SARAH BRIGHTMAN on stage Monday, October 28, at the SAP Center in San Jose, CA. On Wednesday she can be found at theComerica Theatre in Phoenix. On Friday her tour stops at the Dolby Theatre in Hollywood, CA and on Saturday she can be enjoyed at the Honda Center in Anaheim, CA.

SELENA GOMEZ performs Tuesday, October 29, at the BB&T Center in Sunrise, FL. Her Wednesday show is at the Tamps Bay Times Forum in Tampa, FL. Friday finds her at the AT&T Center in San Antonio, Texas. On Saturday she's on stage at the Toyota Center in Houston. Next Sunday, November 3, she stars at the American Airlines Center in Dallas.

JOSE CARRERAS performs October 31 at the Lotterien Gala Nacht des Sport at the Austria Center in Vienna.




FINAL OVATION


MEMORIAL FOR PAUL SZILARD Dancer, Producer, Impresario and a great friend to the arts will take place Thursday, October 31, 2013, at The Joyce Theater in New York City.

Participants will be LaRue Allen, Executive Director, Martha Graham Dance Company; Adrienne Dellas, Director of the Universal Ballet's Kirov Academy of Ballet in Washington, D.C.; Calvin Hunt, Senior Director, Performance and Production, the Alvin Ailey American Dance Theater; Judith Jamison, and Artistic Director Emerita, The Alvin Ailey American Dance Theater. There will be performances by members of the Alvin Ailey American Dance Theater performing Song for You and an excerpt from Cry; students from the senior division of the Kirov Academy of Ballet performing the Adagio and Coda from Sleeping Beauty; and members of the Martha Graham Dance Company performing Ritual to the Sun from Acts of Light. The public is invited.

THE LIFE OF SHIRLEY HERZ will be celebrated on Monday, November 4th at the Samuel J Friedman Theatre, New York City. Remembering the Tony Award winning publicist will be Jeffrey Alper, Sam Altman, Barry Brown, Jan Buttram, Robert Callely, Tyne Daly, Jane Friedman, Diane Judge, Angela Lansbury, Charlotte Moore, Tom Rhoads, Liz Smith, Iris Williams and La Cage aux Folles original cast members: Betsy Craig, Dan Grady, Cady Huffman, David Jackson, Eric Lamp, Tom Sesma and Jennifer Smith. Musical accompaniment by Mark Hummel and Don Pippin.













Next Column: November 3, 2013
Copyright: October 27, 2013. All Rights Reserved. Reviews, Interviews, Commentary, Photographs or Graphics from any Broadway To Vegas (TM) columns may not be published, broadcast, rewritten, utilized as leads, or used in any manner without permission, compensation and/or credit.
Link to Main Page
---
Laura Deni



For the snail mail address, please E-mail your request.
CLICK HERE FOR COMMENT SECTION