! >
Broadway To Vegas
  
  REVIEWS INTERVIEWS COMMENTARY NEWS

| | |
| --- | --- |
| | |
STARS RELATED TO WITCHES - - A REIMAGINED SIDE SHOW - - ARTWALK NY - - SHELDON HARNICK RECEIVES ARENA STAGE AWARD - - CELEBRATING DYLAN THOMAS'S BIRTHDAY WEEK - - A ROOM OF HER OWN - - RUDDIGORE OR THE WITCH'S CURSE - - DONATE . . . Scroll Down



Copyright: October 26, 2014
By: Laura Deni
CLICK HERE FOR COMMENT SECTION


MAGIC IN THEIR BLOOD: STARS RELATED TO WITCHES
Sarah Jessica Parker's 10th great-grandmother was accused of being a witch.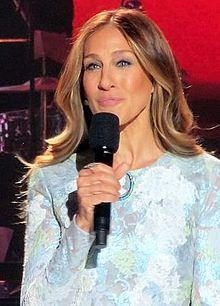 Sarah Jessica Parker who played a witch in the 1993 movie Hocus Pocus, discovered four years ago on the NBC program Who Do You Think You Are? that her 10th great-grandmother, Esther Ellwell (1639-1721), was accused of witchcraft during the 1692 Salem trials. Ellwell avoided being burned at the stake or pressed to death, when the witchcraft trial court disbanded shortly before her hearing.

Emma Watson, who was Harry Potter's witch pal Hermione Granger, is a distant relative of Joan Playle of Essex County, England, who was convicted of witchcraft in 1592 and excommunicated from the Church of England.

It is estimated that around 1,000 people were hanged as witches in England over a 200-year period.

In America the Salem witch trials occurred in colonial Massachusetts between 1692 and 1693. More than 200 people were accused of practicing witchcraft - the Devil's magic - and 20 were executed. Eventually, the colony admitted the trials were a mistake. Since then, the story of the trials has become synonymous with paranoia and injustice.

Both Parker and Watson have done okay for themselves. That's not always the case for those related to alleged spell casters. Purported witches and their ancestors complain that they are bullied.



Emma Watson's relative was convicted of being a witch.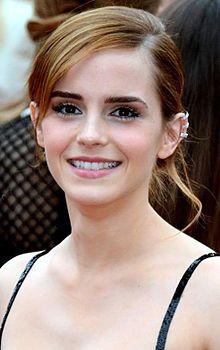 On October 30 the Salem Award Foundation for Human Rights and Social Justice will present former state Rep John Keenan, the current Vice President for Administration, Salem State University, who is a descent of Rebecca Nurse, a witch trials victim. He'll speak on What It Means to Be a Descendant of those accused of witchcraft.

Last week Salem's Mayor Kimberly Driscoll discussed a modern-day Salem as a city of inclusion - meaning being a witch friendly city.

After all, for Salem witch season is big business. Known as the Halloween Capital of the World, with nearly 200 haunted happenings, in October alone, more than 300,000 visitors flock to Salem.

Salem wants visitors to remember that - It's not nice to bully a witch. Besides, you could tick them off and get a spell cast over you.

The Salem Witch Museum brings you back to 1692 Salem. Experience the drama of history in life-size stage sets, figures, lighting and a stirring narration. Live guides take you through changing interpretations of witches, the truth behind the stereotypes, witchcraft practice today and the frightening phenomenon of witch hunting.

The Museum of Witchcraft in Boscastle, Cornwall, England houses the largest collection in the world of witchcraft related artifacts and regalia. The museum has been located in Boscastle for fifty years and is amongst Cornwall's most popular museums. The museum was founded by Cecil Williamson (1909-1999) who worked undercover for MI6, collecting data on occult interests of military personnel in Nazi Germany through WW2 and used occult knowledge to lure Rudolph Hess to Scotland. Williamson was a colleague of Wallis Budge (1857-1934), Egyptologist at the British Museum.

The museum has a Witch's Warning. "People with Children of a sensitive disposition are warned that some of the exhibits are controversial."

Graham King is the museum's curator.

The educational section includes:

The History of Witchcraft and Magic
Bullying and scapegoating in society
Our perceptions of luck
How human psychology is sometimes more powerful than rational thought
Empathy with people in the past
Criminality and justice How popular culture affects our view of the past and present.

Things you might learn from the exhibits include that Mother Goose was a witch and why.

There is a small doll called a poppet - an older spelling of puppet, from the Middle English popet, meaning a small child or doll - was made to resolve an unwanted pregnancy. The cloth, metal and plastic poppet on display has real pubic hair sewn into it. Usually a poppet doll bore an uncanny resemblance to the person it represented.

Also on display are three odd looking bone prickers. "Once in common use among fishermen and sailors for piercing sail cloth and canvas. Witches of the south west use them for making sea magic and in wind rituals and for other uses. A highly prized hand tool."

There is a prized witches mirror. A similar mirror was recorded by Sotherbys Auctions as having been made by T Pooley in Belfast in mid 19C."

A wood wax curse coffin - a puzzle coffin of sarcophagus form and made of various woods. When closed, the trick is to find how to re-open it. With it are three beeswax poppet dolls which have a slot in their back into which can be inserted written spells, nail parings, hair etc. And then sealed before enclosing within the coffin, this is "straight up and down ill wishing black magic."

Phallic tusk "venerated by witches as a symbol of reproductive power. This ancient phallus is an interesting example of its type. The zigzag carvings and sun symbols may be a calendar system, possibly menstrual or lunar cycles. Phalluses of this type are used by some witches' covens during 'the great rite'."

A copper and lead divination pan. "Another form of divination dating from ancient times involved dropping molten lead into a container of cold water from a height. The hot lead hit the water and instantly solidified into all manner of shapes and forms from which the wise woman would make her readings. Sometimes egg white was used instead of lead - safer and cheaper but less impressive, (Adapted from text by Cecil Williamson). In Austria it is still a widespread custom to use molten lead divination around midnight on New Year's Eve to predict your future for the coming year. A shape resembling a pig is considered particularly lucky."

The Richel Collection, containing over 2,000 pieces, is one of the world's best collections of ritual/sex magic artifacts that the Museum inherited in March 2000.

The legacy was from a Dutch collector named Bob Richel who had himself inherited much of the collection from his father-in-law, Mr Eldermans. Eldermans had been a Magister of the Ars Amatoria, a group using sex magic. Aleister Crowley also had an occult group called the Argenteum Astrum (Silver Star), there are artefacts in the collection relating to both organizations.

According to the Museum, "We believe that Richel and Eldermans were both members of another occult group based in The Hague and Leiden."

The age of the pieces ranges from antiquity to the mid 20th century. The collection does contain explicit images and content and customers are advised to "view at their own risk."






Broadway To Vegas is supported through advertising and donations. Priority consideration is given to interview suggestions, news, press releases, etc from paid supporters. However, no paid supporters control, alter, edit, or in any way manipulate the content of this site. Your donation is appreciated. We accept PAYPAL. Thank you for your interest.




ART AND ABOUT


A ROOM OF HER OWN: MY MOTHER'S ALTAR

A Room of Her Own by Sandra Cisneros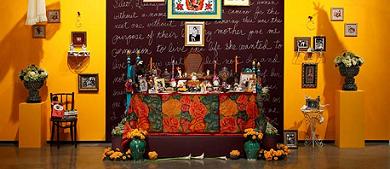 an installation by Sandra Cisneros. Acclaimed author Sandra Cisneros has created an installation in the tradition of Dia de Muertos to honor her mother, Elvira Cordero Cisneros.

Commenting on this work, Cisneros writes, "My mother never had a room of her own until the last 10 years of her life. She relished her room and often locked the door when the grandkids came so they wouldn't touch and destroy her things. She was a gardener, and loved her flowers. So I have tried to incorporate a garden bedroom in my installation with items from my mother's room and books from her bedside. She had a knack for finding antiques, and putting odd things together."

A discussion with Sandra Cisneros takes place on Saturday, November 1, 2014. Cisneros will discuss the tradition of Day of the Dead in her life and community as well as her installation A Room of Her Own, on view in the American Stories exhibition at the Smithsonian's National Museum of American History. Cisneros will also sign books following the presentation.

The exhibit A Room of Her Own opens October 31, 2014 and runs through January 12, 2015.

GRAMMY AWARD-WINNING MUSICIAN BRIAN SETZER donated his signature orange Gretsch guitar to the Smithsonian's National Museum of American History during a ceremony October 17. The replica guitar is evocative of Setzer's original 1959 Gretsch 6120 Stray Cat guitar, for which he raided his Monopoly game for two dice drilled holes in them and attached them to take the place of the missing tone knobs. To help resemble a 1950s-era "hot rod," Setzer added three decals that, in the replica, were duplicated with the aid of a master guitar builder.

Setzer, an American guitarist, songwriter and vocalist, is known for continually taking chances with innovative and daring musical styles, while single-handedly resurrecting two forgotten genres of music, first with 1980s rockabilly band the Stray Cats and then again in the late 1990s with his 18-piece Rockin' Big Band, The Brian Setzer Orchestra. In 1987, he appeared on the big screen in the Ritchie Valens biographical film, La Bamba, portraying rockabilly pioneer Eddie Cochran.

"Brian Setzer is a prolific and distinctive contributor to American music," said John Edward Hasse, the museum's curator of American music. "Proof of his legacy exists not only in the longevity of his career and in his lengthy discography, but also in his ability to cross musical boundaries."

Setzer's guitar will join a large and diverse collection of musical instruments at the museum that includes John Coltrane's saxophone, Dizzy Gillespie's trumpet, Prince's Yellow Cloud electric guitar and Eddie Van Halen's "Frank 2" guitar. The museum is locatedin Washington, DC. Admission is free.

FAREWELL KISS

Shoes and glue, executed on canvas in twenty four parts. diameter: 114cm.; 44 7/8 in. Executed in 2012, this work is number 1 from an edition of 1 plus 1 artist's proof. Image: Sotheby's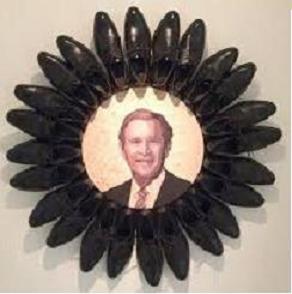 is a controversial painting by Iranian artist Mahmoud Obaidi, 48.

The work commemorates a December 14, 2008 event in which Iraqi journalist Muntadhar Al Zaidi threw his shoe at the then US president George W Bush during a Baghdad press conference.

Farewell Kiss has been graveled down for $62,500 at a Sotheby's auction in Katara, Doha.

The work had been estimated to sell for $10,000-$15,000.

The price was the highest paid so far for the Iranian artist's works, according to Sotheby's.

The total figure netted at the auction reached $8 million, with as many as 13 sales records, Sotheby's expert Aileen Agopian said.

The auction included 52 pieces of contemporary art by artists from across the Middle East, the US and Britain. Artists from 22 countries were present at the event.



SWEET CHARITY


ARTWALK NY

When last viewed, Lindsay Lohen from the Starlets Series by Patrick McMullan was up to $2,500. Photo: Paddle 8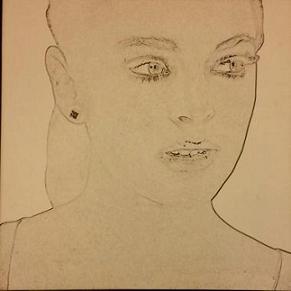 the Coalition's annual art auction, raises critical awareness and funds to ease the suffering of homeless New Yorkers.

This 20th Anniversary event features works from past artist honorees and other notable artists, including Ed Ruscha, Dan Colen, Jenny Holzer, Chuck Close, Louise Bourgeois, Alex Katz and many others.

Auctioned by Paddle 8, this auction has staggered end times, but finishes October 30 with an evening honoring Paul Battany and Jennifer Connelly.

The event at the Metropolitan Pavilion in New York City, chaired by Vincent & Shelly Fremo, will feature a live auction conducted by Aileen Agopian of Sotheby's. Music by Chelsea Leyland.

ARTWALK NY brings together hundreds of artists, art-lovers and other compassionate New Yorkers at this landmark event to celebrate the role of "artist-as-activist" and raise awareness about the issues of homelessness, poverty and social justice.

The Coalition for the Homeless provides emergency food and clothing, eviction prevention, crisis services, permanent housing, job training and special programs for kids to over 3,500 New Yorkers each day. For more than three decades, "we've been helping homeless men, women and children find their way to a safe, stable home."


CELEBRATING DYLAN THOMAS'S BIRTHDAY WEEK
Dylan Thomas and Michael Sheen. Photo: 92Y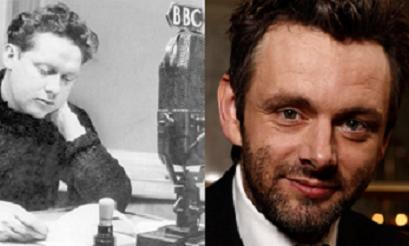 Dylan Thomas in America is part of the 92Y's DT/100, celebrating Dylan Thomas's centenary. The Welsh poet was born on October 27, 1914.

Dylan Thomas in America opens today, October 26, at 92Y's Weill Art Gallery just after a reading of .Under the Milk Wood in the Kaufmann Concert Hall.

In 1953, the Welsh poet premiered his masterpiece, Under Milk Wood, in front of a live audience at New York's 92nd Street Y. In celebration of Thomas's centenary, this beloved "play for voices" will come full circle when actor Michael Sheen directs and stars in a live broadcast reading.

The reading will be broadcast live by BBC Radio Wales and 92Y will livestream the audio. WYNC, New York's flagship public radio station, will offer an encore broadcast and webcast on Sunday, November 2.

Michael Sheen, who will direct the reading and lead a cast of all Welsh actors - including Kate Burton, Karl Johnson, Mark Lewis Jones, Francine Morgan and Matthew Aubrey - has said "it's a real honor and an absolute thrill to be able to perform Under Milk Wood in this very special year and on the stage that it first found its voice. The live radio broadcast is an opportunity to celebrate him and his work in both New York - a city that became so important to Dylan - and, at the same time, in Wales, his inspiration and home."

In addition to directing, Sheen reads First Voice, the play's narrator and a part Thomas himself read in the '53 premiere. The cast also features actress Kate Burton, whose parents, Sybil Williams and Richard Burton, participated in the first BBC radio recording of Under Milk Wood in 1954 - just two months after Thomas's tragic death in New York. Burton also starred in the 1972 film adaptation of Under Milk Wood.

"It is very meaningful for me to be participating in this event as my parents were in the original recording," said Burton. "I am very proud to be Welsh and to carry on the family tradition."

It was 92nd Street Y's Poetry Center that introduced Thomas to an American audience. Former Poetry Center director John Malcolm Brinnin brought Thomas to 92Y for his first U.S. reading in 1950, and the poet made 11 more appearances at 92Y between 1950 and 1953, including four performances of Under Milk Wood.

Brinnin also acted as Thomas's agent in the U.S., arranging the reading tours that took him to colleges and universities across the country.

The exhibit Dylan Thomas in America honors Dylan with a collection of photos, letters, drawings and manuscripts from archives around the world chronicling the poet's legendary trips to the U.S. in the 1950s.

Other DT/100 events occurring in the birthday week include:

A Night of Poetry in Celebration of Dylan Thomas at Bowery Poetry Club on October 26, with Gwyneth Lewis, renowned writer and inaugural National Poet of Wales; Kevin Powell, poet and International Ambassador for the Dylan Thomas Centennial in America; and Bob Holman, American poet and poetry activist.

There will also be a screening of the new Dylan Thomas biopic, Set Fire to the Stars at the Chelsea Hotel on October 27; an evening of classical music inspired by Thomas's work and the renowned waterways of Wales performed at the Salmagundi Club on October 28 plus walking tours of Greenwich Village on October 29, and The Life and Legacy of Dylan Thomas: A Public Conversation with Dylan Thomas's grand-daughter, Hannah Ellis; Pulitzer Prize-winning poet, Phillip Levine (who attended Dylan Thomas's readings at 92Y in the '50s) at the 92Y on Friday, October 31.

These citywide programs are sponsored by the British Council and the Welsh government.


SPREADING THE WORD


SIR IAN MCKELLEN AND SIR DEREK JACOBI interviewed by Pulitzer Prize–winning New York Times London correspondent John F. Burns. The two co–stars of the hit U.K. and U.S. sitcom Vicious - co–created, written and produced by Gary Janetti - are recognized worldwide as acting royalty for their careers on stage and screen. as part of the Real Talks series, presented by the NY Times Friday, October 31 at the Princess Anne Theatre in London.

MICHAEL YORK in conversation with director Gary Tinterow. During this event, legendary British actor Michael York is Tinterow's guest for a far-ranging conversation about the actor's distinguished career on stage, screen, and television.

Following the discussion, a screening of the new digital restoration of the 1972 film Cabaret, directed by Bob Fosse, and in which York stars with Liza Minnelli and Joel Grey.

Monday, November 3 at the Museum of Fine Arts in Houston, Texas.

LYRICIST SHELDON HARNICK will be honored with the American Artist Awards by Arena Stage in Washington, DC. as part of the opening night celebration for Fiddler on the Roof, on October 31, 2014.

This award recognizes artists of the highest caliber, honoring their work and significant contributions to American theater.

Past awardees include Kathleen Turner, Edward Albee, James Earl Jones, August Wilson and Arena Stage co-founder Zelda Fichandler.

Senator Tim Kaine (D-VA) will also be recognized with the American Voice Award, which honors elected officials for their extraordinary support of and advocacy for American arts and arts education.

In this production of Fiddler - the title inspired by a painting called The Fiddler of Marc Chagall, Tony nominee Jonathan Hadary makes his Arena debut as Tevye.

IRISH REP NEW READING SERIES begins the season with Louise Brooks: For the Hell of It by Janet Noble on Thursday, October 30, 2014 at the DR2 Theatre in NYC.

Louise Brooks: For The Hell Of It is a ghost play, a cosmic encounter of this legendary silent film star with two men who figured prominently in her life: Jim Tully, the Irish American writer whom she met at the top of her Hollywood career while on location starring in Beggars of Life, the film adaptation of his novel; and James Card who met her much later and influenced her out of a bottle in NYC and up to the Eastman House film archive in Rochester where she was rediscovered and feted internationally by the likes of Henri Langlois at the Cinematheque Francaise and ultimately found a second career writing about cinema.

Admission is free, but seating is limited.

GARRISON KEILLOR host of public radio's popular A Prairie Home Companion, which celebrated its 40th anniversary this summer, is back into "thinking about truth and beauty." The 72-year-old humorist cancelled a show last September to undergo an unnamed medical procedure, in an announcement which came with the comment: "I now know more about the prostate than I ever wanted to."

At that time, Keillor released a statement disclosing that he'd located an excellent surgeon, and was looking forward to "thinking more about truth and beauty and less about plumbing."

On Monday, October 27, 2014 Keillor stages a live performance of A Prairie Home Compansion at Kansas State University in Manhattan, Kansas. Tuesday's performance is at the Arvest Bank Theatre in Kansas City, MO. On Wednesday the gang does a live performance at the Tobin Center for the Performing Arts in San Antonio, Texas. Thursday the show is at the Bass Performance Hall in Fort Worth, TX. On Saturday, November 1, the live broadcast comes from the Pantages Theatre in Minneapolis.

FOUR-TIME EMMY AWARD WINNER JIM PARSONS who appeared on Broadway in The Normal Heart and Harvey, is set to voice Buddy in Elf: Buddy's Musical Christmas, an hour-long stop-motion animated special, based on the popular Elf film and Broadway's Elf: The Musical.

The holiday show will air on NBC on December 16, 2014.

The teleplay is by Thomas Meehan, Bob Martin, Aaron Horvath and Michael Jelenic.

The voice cast includes Ed Asner, who played Santa in the original film, serves as the narrator for this version. Also on board are Mark Hamill, Fred Armisen, Jay Leno, Matt Lauer, Gilbert Gottfried, Kate Micucci, Rachael MacFarlane, Max Charles, and Steve Higgins.

The special is explained as "an all-new retelling of Buddy's delightfully absurd yet heartwarming story and blends the look and feel of the stop-motion animated Christmas specials of the past with the sharp sensibility of the modern-day classic holiday film.Santa narrates the story of Buddy's travels to New York City to meet the father he never knew he had. Along the way his unrelenting cheer transforms the lives of everyone he meets and opens his father's eyes to the magic of Christmas."

Score by Matthew Sklar and Christopher Guardino with songs from Elf: The Musical by Sklar and Chad Bequelin. The nine songs include Happy All the Time, A Christmas Song and Nobody Cares About Santa Claus.

SINGAPORE THEATRE DIRECTOR AND ACTOR IVAN HENG and his husband Tony Trickett attended a state banquet at Buckingham Palace hosted by Queen Elizabeth II and Prince Philip in honor of Singapore president Tony Tan and his wife, who were on a state visit to London and Bristol.

The four-course, white tie banquet was held on Tuesday, October 21.

Heng, a 2013 Cultural Medallion winner, Singapore's highest arts honour, is a key figure in Singapore's arts and theatre scene, and is the founder and artistic director of leading theatre company WILD RICE.

"My husband and I are very moved and deeply honoured to attend," Heng posted on Facebook after he received the invitation. "We do so as proud representatives of Singapore and members of the Singapore arts community."

Heng is the first male Singaporean actor to break into English-speaking roles in Hollywood films with his role in Luc Besson's The Fifth Element.

SIDE SHOW

The cast of Side Show. Getty image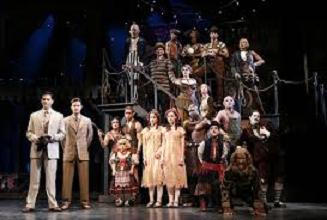 reimagined Broadway musical directed by Academy Award winning director Bill Condon with music by Grammy Award winner, Academy Award and Tony Award nominee Henry Krieger, book and lyrics by Tony Award nominee Bill Russell, and additional book material by Mr. Condon.

Side Show is inspired by the remarkable true story of the Hilton twins, Daisy and Violet, who were legends in their time and the highest paid performers on the vaudeville circuit. Side Show is their heartwarming search for first love and acceptance amidst the spectacle of fame and scrutiny under the spotlight.

The cast includes Erin Davie and Emily Padgett, as Violet and Daisy Hilton, Matthew Hydzik as Buddy Foster, Robert Joy as Sir, Ryan Silverman as Terry Connor, and David St. Louis as Jake.

The ensemble of side show characters includes Brandon Bieber as the 3 Legged Man, Matthew Patrick Davis as the Geek, Charity Dawson as the Fortune Teller, Lauren Elder as the Venus di Milo, Javier Ignacio as the Dog Boy, Jordanna James as the Female Cossack, Kelvin Moon Loh as the Half-Man Half-Woman, Barrett Martin as the Human Pin Cushion, Don Richard as the Reptile Man, Blair Ross as the Bearded Lady, Hannah Shankman as the Tattoo Girl, Josh Walker as the Male Cossack, with Con O'Shea-Creal, Derek Hanson, Isaiah Johnson, Michaeljon Slinger and DeLaney Westfall.

The creative team includes set design by three-time Tony Award nominee David Rockwell; lighting design by nine-time Tony Award winners Jules Fisher & Peggy Eisenhauer; costume design by five-time Tony Award nominee Paul Tazewell; sound design by Tony Award nominee Peter Hylenski; hair and wig design by Charles LaPointe; make-up design by Cookie Jordan, illusions by Paul Kieve; special make-up effects by the Academy Award winning team Dave Elsy & Lou Elsy; musical direction and arrangements by Sam Davis; orchestrations by six time Tony Award nominee Harold Wheeler; and choreography by Tony and Olivier Award nominee Anthony Van Laast. Since its inception, Jack Tantleff has served as Creative Supervisor.

Side Show begins performances at Broadway's St. James Theatre on Tuesday, October 28 with the official Opening Night on Monday, November 17.

RUDDIGORE OR THE WITCH'S CURSE a spooky classic by Gilbert & Sullivan.

Staged and conducted by Albert Bergeret with choreographer & co-direction by David Auxier.

Thanks to an ancestor who loved torturing witches, the Baronet of Ruddigore is cursed - if he doesn't commit a crime every day, his life will end in agony, and the curse will be handed down to the next in line. No wonder he doesn't stick around to follow through with his destiny. In fact, the Baronet poses as timid farmer Robin Oakapple instead, leaving the title and the curse with his younger brother. But when the ghosts of Baronets past reveal themselves in the Ruddigore Castle picture gallery, he's forced out of hiding and back into the role of daily criminal. To stall his ancestors as long as he can, the Baronet comes up with silly excuses and non-criminal acts like "forging" his own will. But destiny and curses aren't the most flexible of things, so the clever Baronet must figure out a way to make everyone happy in the end, especially himself.

Starring Sarah Caldwell Smith as the village's most sought after beauty, Rose Maybud. The trio of witty and agile comic singing actors Daniel Greenwood, David Macaluso, and Richard Holmes) will portray the men she attracts at various moments while Caitlin Burke is cast as Mad Margaret. Bass David Wannen brings to life, literally, the ghost of Sir Roderic Murgatroyd and this season's recipient of the coveted Isaac Asimov Award, Erika Person, is on stage as the sweet old lady Dame Hannah.

The production will feature a set design by Albère (based on the art of Edward Gorey), costume designs by Gail J. Wofford and a lighting design by Benjamin Weill. The New York Gilbert & Sullivan Players will stage Ruddigore, featuring dark souls & curses, for a limited Halloween weekend run November 1-2 at NYU Skirball Center for the Performing Arts in New York City.

TAMBURLAINE, PARTS I AND II by Christopher Marlowe.

Edited and directed by four-time Olivier Award-winner and former Artistic Director of the Royal Shakespeare Company Michael Boyd.

Starring OBIE and Drama Desk-winner John Douglas Thompson.

A Scythian shepherd of ferocious will rises to power to become king of half the world. An epic spectacle first performed in 1587 to wildly popular acclaim, the last major New York production of Tamburlaine was in 1956 on Broadway. Now audiences have a rare chance to see this disturbingly modern masterpiece. Tamburlaine, Parts 1 and III is a 3.5-hour event plus one 30-minute intermission.

The production will be performed November 1-December 21, 2014 at Theatre for a New Audience, Polonsky Shakespeare Center, Brooklyn, NY.

'NIGHT MOTHER written by Marsha Norman.

Directed by Aliah Whitmore.

Starring Sylva Kelegian and Lisa Richards.

Considered to be an American classic and one of the most powerful contemporary dramas ever written, Norman's gripping two-hander is an intense, edge-of-your-seat drama that will keep audiences guessing the outcome until the very end. A supposedly normal evening in the mother-daughter Cates household is shattered when 40-something Jessie announces to Mama that she plans to kill herself before the night is over. Over the course of 90 minutes, in real time, Thelma desperately works to convince her daughter that life is worth living. Humor, pathos and the difficulty of looking life in the face become seamless everyday moments, inviting us to struggle with what is, and is not, in our control.

This production started out as a workshop at the Actors' Studio, where Kelegian and Richards are both lifetime members. When Whitmore saw a performance, she knew instantly that it would be right for her company, Whitmore Eclectic.

Scenic design for the Whitmore Eclectic production of 'night, Mother is by Jacob Whitmore, with lighting design by Lauren Sego.

Preview performances begin Thursday, October 30 with the official opening on November 1. Running through December 14 at The Lost Studio in Los Angeles.

LENNON: THROUGH A GLASS ONION celebrating the genius, music and phenomenon of John Lennon. Created and performed by Australian actor/musician John R. Waters and singer/pianist Stewart D'Arrietta.

Lennon: Through a Glass Onion fuses monologues with Lennon's music from both his Beatles and solo recordings to create a portrait of a man that many only thought they knew. Featuring 31 songs including Imagine, Strawberry Fields Forever, Revolution, Lucy In the Sky with Diamonds, All You Need is Love, Come Together, Help, Working Class Hero, Mother, Jealous Guy, and more.

At the Union Square Theatre in New York City.


WHO'S WHERE


STRAIGHT NO CHASER performs Tuesday, October 28, at the Mahalia Jackson Theater in New Orleans, LA. On Wednesday the show is at the University of Central Arkansas in Conway, AR. On Thursday they bring their tour yo the Century II Performance Arts Center in Wichita. On Saturday they're on stage at the Niswonger PAC in Greeneville, TN. Next Sunday, November 2, they are in the spotlight at the DeVos Performance Hall in Grand Rapids, MI.

JENNIFER HOLLIDAY performs October 28 at the Rainbow Room in New York City.

USHER on stage Saturday, November 1 at the Bell Centre in Montreal, OC. Next Sunday, November 2, he stars at the Air Canada Centre in Toronto.

PINK MARTINI on a European tour with a show Monday, October 27 at the Warwick Arts Centre in Coventry, UK. On Tuesday the show is at the Wales Millennium Centre in Cardiff. Wednesday's gig is at the Corn Exchange in Cambridge and on Friday they can be enjoyed at the Eventim Apollo in London. On Saturday they are on stage at the Dome in Brighton, UK..

LYLE LOVETT performs on Halloween, Friday, October 31, at the McCoy Center for the Arts in New Albany, OH. On Saturday the show is at Goshen College is Goshen, IN.

PAUL McCARTNEY stars Tuesday, October 28 at the KFC Yum! Center in Louisville, KY. On Thursday, he's in the spotlight at the Coliseum in Greensboro, NC.

JAMES TAYLOR brings his tour to the Wells Fargo Arena in Des Moines, iowa on Saturday, November 1. Next Sunday, November 2, he appears at the Xcel Energy Center in Saint Paul, MN.

FLEETWOOD MAC performs Friday, October 31, at the Verizon Center in Washington, DC. On Saturday their tour stops at the XL Center in Hartford, CT.


FINAL OVATION


OSCAR DE LA RENTA famed fashion designer icon who dressed former first ladies, film stars and most recently created Amal Alamuddin's gown for her wedding to George Clooney, died October 20, 2014 at his home in Connecticut. He was 82 and has been diagnosed with cancer in 2006.

Born in the Dominican Republic in 1932, he left home at 18 to study painting in Madrid, Spain. He soon developed a love of fashion design and began an apprenticeship with Spain's designer Cristobal Balenciaga. De la Renta made his name in the early 1960s when the then first lady, Jackie Kennedy, frequently wore his designs. He launched his own label several years later. Over the following decades he dressed nearly every first lady - Betty Ford, Nancy Reagan, Hillary Clinton, Laura Bush and Michelle Obama.

Laura Bush described the designer as a "the man who made women look and feel beautiful".

In 1967 and 1968, de la Renta won the Coty Award considered the fashion industry's Academy Award, and in 1973 was inducted into the Coty y Hall of Fame. From 1973 to 1976, and from 1986 to 1988, he served as President of the CFDA. He is also a two-time winner of the American Fashion Critic's Award and was inducted into the Fame in 1973.

In 1967, de la Renta became the third husband of Francoise de Langlade (1921–1983), an editor-in-chief of French Vogue who once worked for the fashion house of Elsa Schiaparelli. They were married until she died of cancer in 1983. After her death, de la Renta adopted a boy from the Dominican Republic and named him Moises.

In 1989, the designer married Annette Engelhard (born 1939), daughter of Franz Mannheimer and his wife Jane née Reiss, and adoptive daughter of her mother's second husband, Charles W. Engelhard, Jr. De la Renta had stepchildren from both marriages. His son-in-law Alex Bolen currently operates as Chief Executive Officer, and step-daughter Eliza Reed Bolen serves as Vice President of Licensing, at Oscar de la Renta, LLC.

BEN BRADLEE former Washington Post editor died October 21, 2014. . He was 93.

He had suffered from Alzheimer's disease for the past several years. He went into hospice care at the end of September 2014.

Bradlee served as executive editor of the Post from 1968 - 1991, a time that included the resignation of President Richard Nixon and the Watergate scandal.

Under Bradlee's leadership, The Washington Post took on major challenges during the Nixon Administration. In 1971 The New York Times and the Post successfully challenged the government over the right to publish the Pentagon Papers. One year later, Bradlee backed reporters Bob Woodward and Carl Bernstein as they probed the break-in at the Democratic National Committee Headquarters in the Watergate Hotel.

In the movie All The President's Men he was played by Jason Robards who won a Best Supporting Actor Oscar for his performance. G. D. Spradlin played the role of Bradlee in Dick, a spoof of Watergate. Henderson Forsythe played Bradlee in the romantic comedy Chances Are.

Bradlee was named as a recipient of the Presidential Medal of Freedom by President Barack Obama on August 8, 2013, and was awarded the medal at a White House ceremony on November 20, 2013.

He is survived by his third wife Sally Quinn and children Ben Bradlee, Jr. from his first marriage to Jean Saltonstall. Bradlee Jr. was raised in Cambridge by his mother and her second husband, Bill Haussermann and is a former deputy managing editor of The Boston Globe. His second marriage to Antoinette Pinchot produced two children Dominic (Dino) and Marina. His third marriage to fellow journalist Sally Quinn produced one child, Quinn Bradlee, who was born in 1982 when she was 41 and Bradlee was 61. In 2009, they appeared with Quinn Bradlee on the Charlie Rose show on PBS and spoke of their son's having been born with Velo-cardio-facial syndrome, also known as DiGeorge syndome and Shprintzen syndrome (named after Dr. Robert Shprintzen who first identified the disorder in 1978 and also diagnosed Quinn Bradlee).

STEPHEN PAULUS an American composer, best known for his operas and choral music including his 1982 opera The Postman Always Rings Twice, died Sunday, October 19, 2014. He was 65. He had suffered a severe stroke in July 2013.

Paulus lived in Minnesota and composed hundreds of works, including 60 orchestral scores and 10 operas.

Pilgrim's Hymn, his best-known choral work, was sung at the funerals of former presidents Ronald Reagan and Gerald Ford.

Paulus' work was known around the world and he served as composer-in-residence at Minnesota Orchestra as well as symphonies in Atlanta, Tucson and Annapolis, Md. He ran a music-publishing business from his home on St. Paul's Summit Avenue.

Paulus is survived by his wife, Patty, and sons Greg and Andrew. A memorial service will be held at 3 p.m. November 8, at House of Hope Presbyterian Church in St. Paul.

JACK BRUCE Scottish musician, composer and founding member and bassist for Rock 'N Roll Hall of Fame  band Cream, died from liver disease at his home in Suffock, England on October 25, 2014. He was 71.

In the late 1970s he struggled with drug addiction. In 2003 he was diagnosed with liver cancer, and that September he underwent a transplant. His body initially rejected the new liver, and Bruce almost died, but he recovered well enough to return to performance in 2004.

Train as a classical cellist,  he considered himself a jazz musician, although much of his  compositions and recordings tended toward blues and rock and roll. The Sunday Times stated "... many consider him to be one of the greatest bass players of all time.

Neil Portnow President/CEO of The Recording Academy issued the following statement:

"A 2006 recipient of The Recording Academy Lifetime Achievement Award with rock supergroup Cream, Jack Bruce was a singer, bassist, songwriter, and composer whose contributions to rock music are legendary. Known for mixing rock, blues, jazz, and classical genres, his extraordinary career spanned six decades, and forever changed rock music. His platinum-selling work with Cream, as well as his pioneering solo material, showcased his undeniably unique and richly toned style, as well as his inherent talent, and earned him the status as one of the greatest bass players of all time. Our music community has lost an influential, trailblazing and dynamic creator, and his legacy will continue to inspire and entertain. Our deepest condolences go out to his family, friends, and all who have been enriched and elevated by his remarkable work."

 In 1964, Jack Bruce married Janey Godfrey with whom he  had two sons, Malcolm, also a songwriter and composer and Jonas (Jo), who grew up to play keyboards in his father's band and formed a band AfroCelts.  Jonas died in 1997 from respiratory problems. The Bruce-Godfrey marriage ended in 1973. Bruce was married to Rosie Miller from 1977-78 and in 1979 he married Margrit Seyffer who survives him.  In addition to his wife and  son, he is survived by several grandchildren.















Next Column: November 2, 2014
Copyright: October 26, 2014 All Rights Reserved. Reviews, Interviews, Commentary, Photographs or Graphics from any Broadway To Vegas (TM) columns may not be published, broadcast, rewritten, utilized as leads, or used in any manner without permission, compensation and/or credit.
Link to Main Page
---
Laura Deni



For the snail mail address, please E-mail your request.
CLICK HERE FOR COMMENT SECTION