! >
Broadway To Vegas
 
  SHOW REVIEWS CELEBRITY  INTERVIEWS GOSSIP NEWS

| | |
| --- | --- |
| | |
THE MYSTICAL QUIJA BOARD - - CYD CHARISSE & DONALD O'CONNOR HONORED - - BIKE POWER - - SID CAESAR ANSWERS QUESTIONS - - JASMINE GUY ILL - - I GOT MERMAN - - TABOO - - OSTROSKY - - DONATE . . . Scroll Down


QUIJA BOARD, QUIJA BOARD ANSWER MY QUESTION


Nobody celebrates Halloween quite like Salem, Massachusetts. The 22nd Annual Salem Haunted Happenings are currently celebrating the spirits of Halloween and that includes the mysterious Quija board.

"Ouija knows all the answers. Weird and mysterious. Surpasses, in its unique results, mind reading, clairvoyance and second sight. It furnishes never failing amusement and recreation for the entire family. As unexplainable as Hindu magic — more intense and absorbingly interesting than a mystery story. Ouija gives you entertainment you have never experienced. It draws the two people using it into close companionship and weaves about them a feeling of mysterious isolation. Unquestionably the most fascinating entertainment for modern people and modern life."



Kennard Novelty Company The 1891 Kennard Novelty Company Ouija board that started it all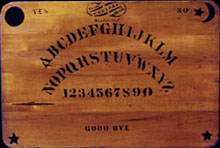 With these words, William Fuld invited everyone to enter the strange, twilight world of Ouija, the Wonderful Talking Board.

As part of the month long Salem Haunted Happenings, the Haunted History of Spirit Boards was conjured up when Robert Murch presented a museum of vintage spirit boards with haunting tales of their use.

The event featured an appearance by Kathy Fuld, granddaughter of William Fuld, father of the original Ouija Board that started it all. Heir to the legacy of the first family of Ouija, Ms. Fuld offered a glimpse into the old family scrapbook, featuring letters and clippings about Ouija boards dating back to the 1800's.



May 1, 1920 Norman Rockwell cover of the Saturday Evening Post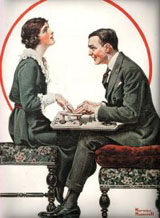 No other single, mass-produced item captured the imagination of the American public like the Ouija board. Extremely popular from 1900 through the 1950's, at one time virtually every American home possessed one.

Even Norman Rockwell was inspired to paint a Ouija cover for the May 1st 1920 edition of the Saturday Evening Post.

Is it just a toy as many claim, or is it a portal to a spirit realm where one may find the answers to life's many mysteries? Does the Ouija sometimes take on a life of its own? Is it an implement of enlightenment, or a doorway to disaster? Questions like these continue to intrigue after a hundred years and are what makes the Ouija board extraordinary and truly magical.

From 1890 to 1950 dozens of different manufacturers with names like Kennard, Fuld, Haskelite, and Lee, cranked out their unique versions of the Wonderful Talking Board. Some of these boards displayed fanciful images of pyramids, swamis, and strange, mystical places. Others were more akin to Halloween with pictures of black cats, witches, and devils. Some boards, cheaply made, were simply poor imitations of the more successful ones.

According to the Museum of Talking Board, the first patent was filed on May 28, 1890 and granted on February 10, 1891, listing Elijah J. Bond as the inventor and the assignees as Charles W. Kennard and William H. A. Maupin, all from Baltimore, Maryland. Whether Bond or his Baltimore cronies actually invented anything or merely took advantage of an existing fad using their own design is open to conjecture, but there is no doubt that they were the first to market the board as a novelty.

Charles Kennard called the new board Ouija (pronounced wE-ja) after the Egyptian word for good luck. Ouija is not Egyptian for good luck, but since the board reportedly told him it was during a session, the name stuck. Or so the story goes. It is more likely that the name came from the fabled Moroccan city Oujda - also spelled Oujida and Oudjda. Historians say this makes sense given the period's fondness for Middle Eastern cites and the psychic miracles of the Fakirs.

Kennard and his business partners incorporated as the Kennard Novelty Company and began producing the first ever commercial line of Ouija or Egyptian luck-boards. Kennard was not long for the Ouija business. Kennard's business partners, unhappy with the way things were going, withdrew his authorization to produce the Ouija board after only fourteen months. The firm continued under corporate control as the Ouija Novelty Company for a full ten years and then appointed an employee, William Fuld, to the helm.

With that single stroke of fate - William Fuld came to be the one that history would forever designate as the father of the Ouija board. Fuld would chalk that up, not to anything supernatual, but to his being a Presbyterian whose basic tenet is a belief in predestination.

As for Kennard, although he continued in the toy business and even produced and patented other talking boards, he is scarcely remembered today.

Fuld embarked successfully on his new venture in 1901, and with his brother and business partner Isaac, manufactured Ouija boards in record numbers. Nevertheless, this business partnership was not to last. After a bitter dispute, Isaac was ousted from the company. This not only ended the union but it created a family rift that was to last for generations.

One of Fuld's first public relations gimmicks, as master of his new company, was to reinvent the history of the talking board. He said that he himself had invented the board and that the name Ouija was a fusion of the French word "oui" for yes, and the German "ja" for yes. He also made other unlikely claims. Whether he took himself seriously is a matter lost to history. He may have thought apocryphal tales a fun way to sell Ouija boards and to poke fun at a gullible press.

Ouija boards quickly captured the imagination of Americans everywhere. The first boards sold for $1.50 and were advertised far and wide as having wondrous powers. This caused quite a commotion in the scientific community who universally rejected the entire concept.

For twenty-five years Fuld ran the company. In February 1927, he climbed to the roof of his Harford Street factory in Baltimore to supervise the replacement of a flagpole. A support post that he was holding gave way and he fell backwards to his death. Following his death, William's children took over and marketed many interesting Ouija versions of their own, including the rare and marvelous Art Deco Electric Mystifying Oracle.

The odd letter layout, coupled with Fuld's innovative light up planchette, makes the Electric Mystifying Oracle a most unusual board.

Powered by a dry cell battery, an electric bulb illuminates letters through the viewing window when the electric switch, located on the underside of the planchette, strikes strategically placed bumps on the board. The effect was considered nothing short of mesmerizing. Most of these boards never survived the depression. If you think you have one in the attic - it's valuable.

In 1966, they retired and sold the business to Parker Brothers. Parker Brothers produced an accurate Fuld reproduction and briefly even made a Deluxe Wooden Edition Ouija. They own all trademarks and patents to this day.

Quija boards have not only been featured in movies but held responsible for putting the fear of the devil into people.

The first time Quija was on the big screen was in the 1920 cartoon Quija Board, Koko the Clown. The first film to incorporate the Quija was the 1940s horror classic The Uninvited, a ghost thriller about a brother and sister, played by Ray Milland and Ruth Hussey, who buy a haunted house on the Cornish coast. A séance scene uses an impromptu Ouija board made from a scrabble set and an inverted wine glass. 1983's Amityville 3-D has Meg Ryan, in one of her first films, using the board asking; "Is there anyone in this room who is really in danger?"

The Exorcist has a Ouija board sequence which is small but significant. In it, Chris (Ellen Burstyn) asks her daughter Regan (Linda Blair) if she knows how to use the family Ouija board: "Sure Mom, I do it all the time with Captain Howdy," answers Regan. "Who is Captain Howdy?" asks Chris. "You know. Captain Howdy. I ask the questions and he gives the answers!"

In The Exorcist, the Ouija board acts as the threshold through which Captain Howdy takes possession of Regan.

It is The Exorcist that caused the popularity of the Quija to plummet. Believing the fictional Hollywood story, people began fearing that spirits could actually invade their body through the board. Quicker than you can say garbage man, boards were given the heave-ho.

It wasn't until the release of Awakenings, the 1990 drama starring Robin Williams, that Quija regained respect. In the movie, which was based on a true story, Williams stars as a shy but determined research physician at a mental hospital caring for brain damaged patients believed to be beyond medical help.

Among his patients, he discovers a group of forgotten survivors of the 1916 Sleeping Sickness epidemic - a virus that turned its victims into living statues.

He is particularly drawn to one of these victims, Leonard Lowe (Robert De Niro). Bucking the system from the start, he's determined to find the answers to this baffling malady. While experimenting with a catatonic patient (Robert De Niro) using a Ouija board, he discovers that the apparently non-responsive patient is functioning after all, if only on some deep inner level.

What Lies Beneath a 2000 horror flick has Claire (Michelle Pfeiffer) uses a K-Mart Ouija board in the first movie ever to feature the séance in the bathroom.

Original advertisements for the Quija were much as they are today;

The Ralph E. Sylvestre & Company catalog for spiritualists and mediums stated: What is it? "Ouija" prophesies, forewarns and advises, as well as prefigures one's destiny. "Ouija's" revelation of what was, what is, and what is to come, rival the Delphic Oracles. The curtain is lifted, revealing the secrets of that debatable land between matter and spirit, and nature's laws have no control over this marvelous instrument. The Unknown Land seems almost within our grasp, and the scientific mind strives to comprehend just where this borderland lies.

Happy Halloween.


YOU THINK IT'S EASY TO PUT ON A SHOW?


TABOO has Rosie O'Donnell, as the sole producer, sinking $10 million of her own money into the production. She may have thought the purse string holder had an easier job.

Taboo, is the Boy George musical O'Donnell bankrolled after it was a hit in London. It's the story of George Dowd's - aka Boy George - rise to the 1980 popularity zenith with his group, Culture Club, to the roller coaster plunge of today.

The previews were delayed from what should have been an October 24 curtain up to a promised show of October 28.

If the show is delayed much longer major player Liz McCartney, who is seven months pregnant, will have given birth. Boy George, 42, plays a large supporting role - that of Leigh Bowery, the fashion and nightlife figure who died of AIDS in 1994.

Rumors swirl.

On Saturday morning, October 25, Fox reported that one of the stars walked out after objecting to a memo sent to him by O'Donnell. That was followed up by a report stating that the former talk show host issued a statement saying she loved him.

In an earlier missive, O'Donnell said, "We are behind in running the technical elements of the show through. Out of necessity for the safety of the actors and crew and out of respect for the audience seeing the best possible show, we are delaying the start of previews until Tuesday evening, Oct. 28."

A week previous to that, Jeff Calhoun was brought in as a "choreographic consultant." The choreographer of Annie Get Your Gun, will polish the song and dance numbers.

The Broadway show is not the London version - rather it has been dramatically reworked by Charles Busch. New songs were also written by George. The show now closes with a new number, Come On In From The Outside, written only two weeks ago.

The official opening is still slated for November 13 at the Plymouth Theatre.

THE VIOLET HOUR the Richard Greenberg drama, now in previews at the Manhattan Theatre Club, has gone through the ordeal of replacing two of the stars. The latest is Jasmine Guy, 39, who became ill during last Thursday's performance and was replaced in the second act by her understudy Robin Miles.

It was almost immediately announced by artistic director Lynn Meadow that the replacement was permanent.

"Unfortunately and to my deepest regret, I need to leave the production at this time," Guy said in a statement. "I leave a piece of my heart on the stage of the Biltmore."

"We understand Jasmine's need to leave the production and wish her all the best," said Meadow.

Last month Laura Benanti left citing "artistic differences." She was replaced by Dagmara Dominczyk. The play also stars Robert Sean Leonard, Scott Foley and Mario Cantone.

The show is slated to open on Nov. 6.



Broadway To Vegas is supported through advertising and donations. Priority consideration is given to interview suggestions, news, press releases, etc from paid supporters. However, no paid supporters control, alter, edit, or in any way manipulate the content of this site. Your donation is appreciated. We accept PAYPAL. Thank you for your interest.


PEDDLING ON DOWN THE ROAD


The bicycle was what made the Gay Nineties gay. The bicycle craze killed the bustle and the corset, instituted "common-sense dressing" for women and increased their mobility considerably. In 1896 Susan B. Anthony said that "the bicycle has done more for the emancipation of women than anything else in the world."

Serious bike riders don't wear underwear.

Keeping that bare bum properly covered is a multi million dollar industry.

Recently 23,000 purveyors to the two-wheel business came to Las Vegas for the Interbike Expo.

There are over one hundred companies that manufacture bicycle apparel.

Most are run by men.

We discovered one that is owned and controlled by a woman - an unusual woman.

The name Castelli is one of the oldest and most respected names in the business.



Fatin Castelli. Photo by: Laura Deni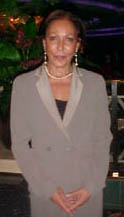 Iranian born and raised Fatin Castelli became Italian through marriage when she wed into the bike clothing dynasty. After her husband was killed - ironically in a bike accident - she didn't disappear behind the widow's weeds. Rather, she re-invented the clothing line.

Headquartered in Milan, Italy the multi-cultural businesswoman was in Las Vegas to attend the convention. Through an interpreter she spoke in Italian with Broadway To Vegas about her unusual life and occupation.

For 15 years she operated and ran Castelli, whose logo is the scorpion. They sponsored the Tour de France for eight years and ten times sponsored the world champion. "In 1989 and 1990 Greg Lemond was sponsored by Castelli and won the Tour de France," she said about the American guy who peddle powered to victory in 87 hours, 38 minutes and 35 seconds.

"The celebrities are all great guys, great to work with, very professional," she emphasized. "Castelli was a dynasty - passed on from grandfather, to father to my husband," she explained.

"When my husband was a alive he was a constant perfectionist, trying to get ahead. He passed away in 1995. It was hardest on our son, Victorio. He was seven years old. There were some dishonest people who took me for a ride."

Widowed, a woman alone with three children, she made the difficult decision to sell the name.

"In a way I regret selling the name," she admitted.

She decided to reinvent the company and launched Vittorio Castelli, named after her late husband.

Some of the good looking models are her children.

"My two daughters are in Milan and work with me. They put their own pursuits on hold to help with new this Vittorio Castelli line. In this industry I am a woman by myself. I am alone. Vittorio Castelli, the company, has been in the making for the last three years."

Bike clothing is a competitive business. Unlike the regular rag trade, hot color and fad styles aren't important.

"It's not what color is popular, it's the technique - the preparation - that has been used to make the clothing," she stressed. "For example, in one of my lines there is cotton lining inside so it feels comfortable to the touch and also allows it to breathe, because there is another type of synthetic material on the outside."

Fabrics include; prodry, active fly, optical, microfibra tactel, windtex, microclimate and Du Pont's Lycra, Supplex, Coolmax and Tactel.

The pads in the bicycle shorts are crucial.

Bike riding without the proper bike seat and shorts can ruin a guy's ability to enjoy sex, and hinder prospects of becoming a father.

Medical experts indicate that "bike riding can affect the penis and testicles. The narrow bike seat or clothes that are too tight can put pressure on the nerves and arteries restricting blood flow which can lead to impotence (erectile dysfunction) and low sperm count. Just because you ride a bike doesn't automatically mean you will have problems. The amount of time spent on a bike can be a factor. If you ride 75 miles or more per week pay extra attention to the bike seat and the type of clothing you wear."

The purpose of a bike pad is to wick moisture and to prevent chafing. When trying on any bike short, always remember to bend over in the cycling position and make sure that the short will fit you well both on and off the bike.

The Vittorio Castelli pads are especially constructed for the severe demands of seat impacts with variable thicknesses of foam. The most important benefits are; anatomical shaping, high seat comfort, good heat dissipation, optimum absorption of seat impacts, excellent moisture vapor transportation and long term hygienic properties. Monolith - the first seamless pants upholstery. The permanent hygienic protection hinders the propagation of undesirable bacteria. Fabric damage and unpleasant odors are prevented. The result is a cleaner, more comfortable garment.

"We have a triathlon line. The participants can wear the same outfit through the entire triathlon. They don't need to stop to change clothes. That is important," she emphasized.

"You can also wear it with jeans, wear it cycling or to the gym."

"The clothing is very light and open, but you can wear it even in 33 degree weather. We are highlighting that line at this show."

She's been coming to Las Vegas trade shows for years and recalled her delight in seeing Dean Martin and Sammy Davis, Jr. perform.

She thinks the Bellagio Hotel is beautiful - doing justice to its Italian theme. She likes Las Vegas.

Perhaps that is why one of her lines is called Nevada.

Madame Castelli is elegant. To look at her you'd never guess that she escaped a restrictive upbringing, coped with being a young widow and raised children by herself. She's also one savvy businesswoman.

"One of our new lines is called Not Only Biking - NOB. That is a line I am propelling towards people who swim, ski, to go to the gym. And, it's for men and women."

"Although not at the moment are we sponsoring a rider, I am currently working with the Russian Federation, with the government with Russia. Right now I am considering putting a team together, to sponsor a new team."

"I love to do this, but it is not an easy job," she admitted.

Gentlemen assigned to assist the Italian delegation appear. They know who she is, bow and kiss her hand.

"She is very well liked and admired," said the interpreter, although the obvious respect needed no translation.


SPREADING THE WORD


TONY KESHNER & MAURICE SENDAK ON BRUNDIBAR Pulitzer Prize-winning playwright Tony Kushner and award-winning children's writer and illustrator Maurice Sendak discuss their collaboration on the book Brundibar, based on a Czech opera for children performed 55 times by the children of Terezin during the Holocaust.

Brundibar is a tribute to the living memory of the children who died in the Holocaust. This evening's lecture includes a performance of Kushner's new translation of the opera's libretto by the Young People's Chorus, directed by Francisco Nuñez.

Sunday, November 2 at the 92nd Street Y in NYC.

SID CAESAR

Sid Caesar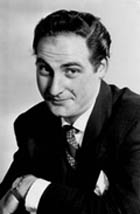 legendary television star and comedian, reminisces about his extraordinary career. He was the star and guiding force behind Your Show of Shows and Caesar's Hour, two of the most innovative programs in the Golden Age of Television. As the writer and star of those shows, he went on to create the plays, movies and sitcoms that are now considered classic American comedy. He is the author of a memoir, My Life in Comedy, with Love and Laughter.

Sunday, November 2nd sponsored by the 92nd Street Y in NYC and taking place at Congregation Rodeph Sholom.

UNDER SUSPICION: LESSONS LEARNED FROM THE WEN HO LEE CASE a Symposium Suggested by Pan Asian Repertory Theatre's New York premiere of Cherylene Lee's play, The Legacy Codes, which runs Oct. 29 through Nov. 23 at the West End Theatre in Manhattan. On Saturday, November 1st, following the matinee performance.

Even though the U.S. government's investigation of Dr. Wen Ho Lee has ended and he has now regained his freedom, many issues surrounding the case of suspected espionage are still as fresh as ever.

The panel will examine the wider implications of a U.S. government investigation three years ago that held a Chinese nuclear scientist in solitary confinement for nine months for allegedly downloading U.S. nuclear defense secrets.

It is designed to educate the public on the roles of art, science, race, media, civil rights and issues of national security, which explores the many ways codes are used to pass on information - not just in espionage, but also in families, culture, genetics, computers and romance.

Participants include: Cherylene Lee, an Asian-American playwright; Prof. Eugene Chudnovsky, of Lehman College, a Russian physicist and human rights activist; Prof. Peter Kwong, of Asian-American Studies at Hunter College; Jim Naureckas, an investigative reporter, media critic and editor of Fairness & Accuracy in Reporting (FAIR); - Michael Ratner, an attorney and president of the public interest litigation organization, The Center for Constitutional Rights.

The panel is moderated by Randy Gener, a playwright/director and associate editor of American Theatre magazine.


SWEET CHARITY


GOTTA DANCE! Career Transition For Dancers presents the A Dance Tribute To Hollywood. 9th Annual Gala Monday, October 27, at City Center in New York City.



Donald O'Connor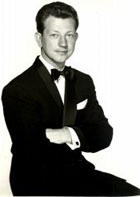 Directed by Randy Skinner, the evening will honor the films and stars that provided those glorious moments of dance on the silver screen.

Dancers from American Ballet Theatre (Angel Corella & Ashley Tuttle), Les Ballets Grandiva, Lar Lubovitch Dance Company, New York City Ballet, National Dance Institute, The Royal Ballet's Alina Cojocaru & Johan Kobborg and others will perform.

Some of the hosts and performers are; Leslie Browne, George Chakiris, Marge Champion, Cyd Charisse, Arlene Dahl, Jacques d'Amboise, David Elder, Karen Lynn Gorney Cynthia Gregory, Maurice Hines, Mary Tyler Moore, Bebe Neuwirth, Fayard Nicholas, Marni Nixon, Robert Osborne, Elizabeth Parkinson, Rosie Perez, Jane Powell, Lynn Redgrave, Ann Reinking, Donald Saddler, Russ Tamblyn, Esther Williams and the Williams Brothers.

Caitlin Carter is the Artistic Chair of the Gala. Robert Mikulski is the Musical Director.



Cyd Charisse

The Gala will feature some World Premieres that are especially created for the show. Saturday Night Fever starring John Selya & others is choreographed by Andy Blankenbeuhler, with additional musical material by Seth Rudensky. There will be a tribute to dancing couples choreographed by Artie Phillips starring David Elder. Randy Skinner has choreographed the finale to Hooray For Hollywood: starring Kate Levering and a couple dozen 'Broadway gypsies' with vocalist Marni Nixon. Some of the other musical numbers will be Keith Roberts featured with Sandra Brown in the selection from The Red Shoes.

Les Ballets Grandiva will premiere their version of The Lady in the Tutti-Fruitti Hat featuring Nina Minimaximova with choreography by Marcus Galante. Maurice Hines will introduce The Cotton Club: a tribute to the Nicholas Brothers performed by Floyd & Faruma Williams which will be dedicated in memory of Gregory Hines, who choreographed the piece.

Awards, courtesy of Baccarat, will be presented by Career Transition For Dancers to Fayard Nicholas, Turner Entertainment Co. & the late Donald O'Connor. Cyd Charisse will receive the Movado Dance Award for recognition of her outstanding contributions to the world of dance.

The evening is being dedicated to the late Caroline H. Newhouse, CTFD board member and a major benefactor of the annual Galas, and arts patron. The event is a benefit for Career Transition For Dancers. With offices in New York and Los Angeles, CTFD has helped over 2,500 professional dancers identify their unique talents in preparation for establishing new careers when dance is no longer an option. Since its founding in 1985, the organization has provided more than 32,000 hours of one-on-one career counseling - at no cost - and has awarded over $1.7 million in educational scholarships.

AN EVENING OF MUSIC to benefit the Society of Singers Emergency Relief Fund starring Michael Feinstein Monday, October 27 Feinstein's at The Regency Hotel New York City. Dinner and Cocktails followed by a Special Performance by Michael Feinstein.



SIX DANCE LESSONS IN SIX WEEKS written by Richard Alfieri starring Polly Bergen and Mark Hamill officially opens October 29 at the Belasco Theatre in New York City.

Arthur Allen Seidelman directs this smart comedy about a mismatched duo who experience hate at first sight.

Polly Bergen portrays Lily Harrison, a formidable older woman who has retired to Florida, and has hired a dance instructor for six weeks. Much to her dismay she is greeted by an acerbic, transplanted New Yorker, Michael Minetti played by Mark Hammill. At first sparring partners, they discover the meaning of honesty and friendship during dance lessons.

Scenic Design by Roy Christopher; Helen Butler in charge of costume design; Tom Ruzika lighting design; Philip G. Allen sound design; Kay Cole dance choreographer.

The play premiered in the Los Angeles starring Uta Hagen and David Hyde Pierce. Rue McClanahan and Mark Hamill later played the roles at Coconut Grove Playhouse in South Florida.

OSTROSKY a new Cy Coleman musical comedy is in the works. Book by Avery Corman. Music by Cy Coleman. Choreographer and staging by Patricia Birch. Coleman's newest show, a smart and soulful musical about an outsize, over-the-top star of the Yiddish theater in the 1920's. Meet David Ostrovsky, an artist of monumental talent, with self-confidence to match, who suddenly finds himself fighting for his own survival in a bustling world of aspiring artists and hustling promoters, left-wing idealists and girls who just want to be stars.

March 6-April 4, 2004 at the Prince Theatre in Philadelphia.

THE BIG APPLE CIRCUS Carnevale, has opened in New York City running to Jan. 11 as part of a 10-city tour.

AIDA will welcome Michelle Williams to the cast when she replaces Toni Braxton, who leaves the production on November 16. Williams joins the Broadway show as the title character November 18.

Aida, a musical with a score by Elton John and Tim Rice, tells the story of star-crossed lovers - a Nubian princess in love with an Egyptian soldier. The production opened at the Palace Theatre in March 2000. Williams, 23, will appear in Aida for 10 weeks, ending her engagement January 25.

BUTLEY by Simon Gray. Two-time Tony Award-winner Nathan Lane will perform the title role in Butley, a dark comedy about a brilliant, self-destructive literary professor whose wife and lover both desert him, all in the same day. When Ben Butley's estranged wife Anne announces her intention to marry a mutual friend, and his live-in lover and office mate Joey moves out to join another man, Butley is even more out of sorts than usual. Irascible, manic, infuriating, and above all witty, Butley is one of contemporary theatre's greatest tragicomic roles.

British actor Alan Bates originated the title role in the Harold Pinter-directed London production. The show, set in a London university, opened on Broadway at the Morosco Theatre on October. 31, 1972.

In this staging Alan's son, Benedick Bates, stars as the live-in lover.

Directed the Huntington's artistic director Nicholas Martin, the production also features Pamela J. Gray, Austin Lysy, Marguerite Stimpson, Angela Thornton and Jake Weber.

Sets by Alexander Dodge.Michael Krass costumes. David Weiner lights. Kurt Kellenberger sound.

Currently in previews at the Huntington Theatre, officially opening October 29 for a run through November 30. Boston, MA.

SEALED FOR FRESHNESS; A TUPPERWARE PARTY GONE AWRY the West Coast Premiere of Doug Stone's comedy. It's the 1960's. A time of war. A time of political and social change. A time for nifty kitchen storage containers. Sealed For Freshness is the story of five mid-western women who believe in being good wives, good mothers and good neighbors. They are women raised to trade their dreams, hopes and desires for society's norms - and now they want them back. Only a Tupperware party gone awry will help them find themselves.

The production, directed by author Stone, opened in a limited run at the Pantheon Theater in New York City last April 15th. Stone states the show will return to The Big Apple and open in a major Off-Broadway theater in the Spring of 2004.

Actors Cabaret of Eugene presents Sealed For Freshness, directed by Joe Zingo running in the Annex Theater in Eugene, Oregon through November 15.

I GOT MERMAN is first up for the 2003-2004 Broadway Contemporary Series presented by Dallas Summer Musicals. In I Got Merman, the spirit of Ethel Merman possesses cast members of a Broadway-bound musical, taking them on a hilarious, high-energy romp through the life of the Queen of Broadway. Dallas Summer Musicals, Inc., Michael A. Jenkins, Benjamin Mordecai, Kumiko Yoshii and Michael Wolk are the producers of this new book musical, based on the incomparable music and extraordinary life of legendary Broadway star Ethel Merman. The show contains such unforgettable songs as Irving Berlin's theatre anthem, There's No Business Like Show Business, the Gershwin Brothers' I Got Rhythm, and Cole Porter's I Get a Kick Out of You.

Director of the musical is Jamie Rocco, who created last season's off-Broadway hit Streakin'!, and also staged the Madison Square Garden production of The Wizard of Oz starring Roseanne, Eartha Kitt and Mickey Rooney. Featured in the new musical are Becca Ayers as Yolanda, Cindy Marchionda as Maryanne, Carol Swarbrick as Eleanor, and Jeffrey Biering as Mr. Fisk.

music supervisor is Peter E. Jones and John Cioffet serves as music director. Randel Wright will handle set design, lighting design will be by Graham Kindred, and costume designer is David Gilliam.

The Majestic Theatre, in Dallas, Texas. October 28-November 2.


| | | |
| --- | --- | --- |
| | | |
WHO'S WHERE


SIMON AND GARFUNKEL WITH THE EVERLY BROTHERS on tour, open a two-nighter this evening, October 26 at the Xcel Center in St. Paul, Minn. On Thursday they are center stage at the Pepsi Center in Denver. Saturday the show moves to the Key Arena at Seattle Center in Seattle and next Sunday they have a sold out show at the Rose Garden Arena in Portland, Oregon.

SUSAN EGAN who earned fame, as well as a Tony nomination, for creating the role of Belle in Disney's Beauty and the Beast on Broadway. has a busy new day job as the artistic director of the Orange County High School of the Arts. However, she continues her schedule of theater, television, film, concert and recording projects. She performs at the Orange County Performing Arts Center in California October 28-November 1.

MICHAEL FEINSTEIN Now and Then program performance October 29 at Zankel Hall at Carnegie Hall, NYC.

LYLE LOVETT on stage tonight, October 26 at the Orpheum Theatre in Omaha, Nebraska. On Tuesday the show is at the Taft Theatre in Cincinnati, Ohio. Wednesday finds Lovett on stage at the Chicago Theatre in Chicago. On Thursday he's in the spotlight in Detroit, Michigan at the Fox Theatre. On Friday he can be located at the State Theatre in Cleveland, Ohio and he closes out the week, Saturday, at the Murat Theatre in Indianapolis.

BARENAKED LADIES perform tonight, October 26, in Detroit, Michigan at the State Theatre. On Tuesday they are on stage at the Orpheum Theatre in Minneapolis. Wednesday the show is in Milwaukee at the Riverside Theatre. Thursday the action shifts to the American Theatre in St. Louis and on Saturday the performance is at the State Theatre in Sandusky, Ohio.

BILL COSBY telling funny stories next Sunday, November 2 in Grand Rapids, Michigan at the DeVos Hall at Grande Center.

WYONNA center stage tonight in Melbourne, Florida at the Maxwell C. King Center. On Thursday she's in the spotlight in Rama, Ohio at the Casino Rama. Friday finds her at the Corel Centre in Ottawa, Ontario and she closes out the week on Saturday, November 1 at the State Theatre in Easton, PA.

TONY DANZA will be a treat not a trick when he opens a three night engagement on Halloween at the Sun Coast Hotel in Las Vegas.

LOUDON WAINWRIGHT III in the spotlight Wednesday at The Largo in Hollywood. He materializes on Halloween at The Met in Spokane and on Saturday the show is at Humbolt St. University in Arcata, CA.

RICHARD SKIPPER AS CAROL CHANNING in Resounding Broadway with Diana Templeton, Sidney Meyer and Richard as Carol with David Maiocco on piano, entertaining at The John F. Mulvilhill, Jr. Awards Dinner for EIES (Electronic Information and Education Service of NJ). October 28 at the Crystal Plaza in Livingston, N.J. On November l Skipper is at The Duplex in NYC in An Evening with Carol Channing and Liza Minnelli. Richard Skipper and Christine Pedi with musical director John Bowen. Opening act is Mark Allen.

GEORGE JONES promising to show up for shows November 1-2 at Sam's Town in Las Vegas.

NATALIE COLE on stage October 30-November 1 at Paris Hotel in Las Vegas.


PIFFLE AND PROFUNDITIES


A NEW THRILL RIDE at the Stratosphere Tower in Las Vegas will dangle passengers 900-feet above the Las Vegas Strip. The X-Scream is designed to give thrill a real high - or cause them to up-chuck. The tentative opening for X-Scream the ride is Oct 31 - Halloween.
















Next Column: November 2, 2003
Copyright: October 26, 2003. All Rights Reserved. Reviews, Interviews, Commentary, Photographs or Graphics from any Broadway To Vegas (TM) columns may not be published, broadcast, rewritten, utilized as leads, or used in any manner without permission, compensation and/or credit.
Link to Main Page
---
Laura Deni


CLICK HERE FOR COMMENT SECTION