! >
Broadway To Vegas
  SHOW REVIEWS     CELEBRITY INTERVIEWS     GOSSIP     NEWS 
| | |
| --- | --- |
| | |
Copyright: October 24, 1999
By: Laura Deni
CLICK HERE FOR COMMENT SECTION

ELTON JOHN DEDICATES SONG TO LOVER

Elton John, who has been crying poor mouth, is still rich with audience appeal. The singer has dropped his band and gone on the road for a series of concerts that involve Elton and his piano. It's the first time he's ever toured without his band and he's been a sold-out standing ovation success.


ELTON JOHN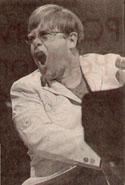 Our Trudy Knight caught up with the show at the Civic Center in Ashverville N.C.

"It seats 7,000 and it was sold out. Elton was the biggest thing since Elvis played the Civic Center. All ages were there from young children to grandparents."

"He was as cute as ever," reported Knight who is a John fanatic, "wearing a blue Versace suit trimmed in gold. He started out with Candle In The Wind. He dedicated Levone to David Furnish saying "he knows why," said Knight referring to John's long time lover.

It was Furnish who convinced John to drop his manager John Reid resulting in a protracted, ugly legal battle.

The big-hearted singer, who is a fixture at Andre Agassi's annual charity benefit in Las Vegas, has a passion for raising money for the AIDS foundation. Rumors are that's he's going to get all gussied up as Barbie and be accompanied by George Michael as Ken at the Dec. 1 Barbie Ball, which marks Worlds AIDS day in London.

Elton is a busy boy. He celebrated his 40th sold out appearance at Madison Square Garden at Cipriani's and performs Thursday at Interview magazine's 30th-anniversary party at the Kit Kat Club, NY.



Broadway To Vegas is supported through advertising and donations. Priority consideration is given to interview suggestions, news, press releases, etc from paid supporters. However, no paid supporters control, alter, edit, or in any way manipulate the content of this site. Your donation is appreciated. We accept PAYPAL. Thank you for your interest.


BRIAN WHITE-ERIKA PAGE LOVE INSPIRED SONG


Country singing sensation Bryan White has gotten happily engaged to One Life to Live actress Erika Page. Introduced by a mutual friend, they plan to wed next September.

In the meantime White has written a song for his soulmate which is included on his new album How Lucky I Am.



BRYAN WHITE

The song is You'll Always Be Loved By Me. The song creation was one of those inspired moments when the words flowed forth, thanks to a phone conversation.

Bryan and Erika were talking by phone while a tired and somewhat insecure Bryan was in his tour bus. The last words he said to her as he hung up the phone were "You'll always be loved by me." He put down the phone and felt inspired. Suddenly revitalized he got out of his bunk and immediately put pen to paper. A love now dedicated through song was created.

The two lovebirds are determined to make their marriage last a lifetime. They spend a lot of time talking about their future and problems that can happen within a show business union. They feel they can "make it through anything."

Erika has been on the TV series Second Noah has been in the cast of One Life To Live since 1998, playing Rosanne. There are even rumors that Bryan may make some guest appearances on One Life To Live. He admits that might be fun but concedes maybe he should take some acting lessons first.

Meanwhile, White and his nine-piece band average 200 concert dates a year. They perform Oct. 30 in Pensacola, FL, followed by gigs across the Midwest before opening December 3 in Las Vegas at Boulder Station.


TRICK OR TREAT
Celebrities get into the spirit. Candace Bergan dresses up her dogs. Marky Post, who could teach Martha Stewart a thing or two about sewing is an expert seamstress who delights in making Halloween outfits for her two children.


MARKY POST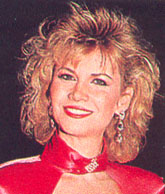 Patrician Arquette and her hubby Nicholas Cage spend hours decorating their home, turning it into a haunted house to the scary delight of trick or treaters.

Woody Harrelson on Broadway starring in The Rainmaker at the Brooks Atkinson Theatre, took his daughter shopping for her Halloween costume at Abracadabra. She's getting dolled up as Belle from Beauty and the Beast.

While growing up in Montana one year Matthew Fox had a girlfriend who dressed up as Snow White. Matthew and his friends dressed up as the Seven Dwarfs. "The whole experience was great."

One of the best costumes Noah Wyle ever had was constructed by his mother, who was a nurse. She took surgical gauze and wrapped up Noah. He went trick or treating dressed as a mummy. One year Melissa Joan Hart couldn't decide what to wear so she put on her mother's old bathrobe, face cream and hair curlers. We're not too sure what mom thought about that, but Melissa did receive a lot of candy from the amused neighbors.



FRANK MARINO holding "The Princess" The Joan Rivers impersonator and the pooch have matching Halloween attire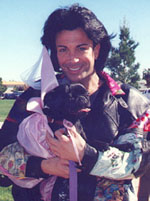 Then there is crooner Jack Jones. He put his own spin on trick or treat. He got married on Halloween.

In Las Vegas a Halloween dog costume contest was held to benefit the Dewey Animal Shelter. Frank Marino, usually done up as Joan Rivers, for his star slot in An Evening At La Cage at the Riviera Hotel, was out of drag but into Halloween. Marino did point out that the dog he is holding "was believe it or not in drag." That bowwow placed second.

Taking home the first placed dog bone was a black Chinese pug dressed as a pirate.

One of the best events is Bette Midler's annual "Hulaween" party, which benefits the New York Restoration Project. The fun takes place at Madison Square Garden on the night of Midler's performance. Tickets go at $1,000 a pop. They'll be surprise guests and a party following Bette's show. Midler hopes to raise enough to rebuild the Harlem Riverfront.




WATCH OUT FOR THE JEEP

Deaf comedian Kathy Buckley is getting the last laugh. Her one woman show Now Here This! is a hit.



KATHY BUCKLEY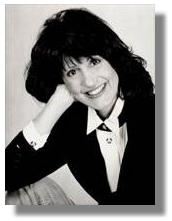 Over a decade ago I first interviewed this comedian who has made a difference. Buckley appeared at Catch A Rising Star comedy club, then at Bally's hotel, and then performed at a special assembly for special ed students.

She was both funny and inspiring. She still is.

"I'm a comedian who couldn't hear the audience laugh," she admitted. "During my first year as a stand up I never heard the laughter. I've been deaf, or hearing impaired since birth. So, I read the faces in the audience to see how I was doing. I'd pick out 10 faces and if there was one I didn't like, I'd move on to another one.

In 1989 Buckley received her first hearing aid. "I paid $4,000 for that. For $4,000 I could have had a boob job! "

"When I first heard the laugher I was trying everything in my power not to cry, cause I was so overwhelmed by the sound of that laughter. It's the most beautiful and powerful sound in the world. "

Buckley was the first deaf stand up comedian. Considering her background it's amazing she's even alive.

"I was raised as retarded. Nobody ever told me I was deaf. It was my sense of humor that helped me survive. I was put in a school for the mentally retarded. It took them two years to realize I had a hearing loss, and they called me slow!"

"I taught myself to read lips - nobody taught me. That was my main way of surviving. When they let me leave the school for the retarded I was put in a public school where I spent half a day with a speech pathologist and half a day with the so called normal kids. Then I went to a regular public school and I had special tutoring, special pathologists for 13 years. I worked for my speech."

"Then I was minding my own business sunbathing on a beach. I was 20. I was in Ohio, just trying to get a tan when a jeep ran over me. The paramedic pronounced me dead and later kept saying "I'm so sorry."

I was in intensive care for a week. I had a form of paralysis. I would block out the pain in my legs and back by not acknowledging the lower part of my body. I was in and out of a wheel chair for about two years. When people say - Life is a beach - I tell them to watch out for the jeep."

Then she got cervical cancer. From the worst humiliations - have come laughter.

Kathy Buckey's show is directed by Susan Wolf, sets by Scott Chambliss; lighting by Michael Lincoln; sound by Josh Bender-Dubiel. Costumes by Brian DeLapp. Lamb's Theater, NYC.


THE MUSIC GOES ROUND AND ROUND


My Favorite Broadway: The Leading Ladies Live at Carnegie Hall was an event that was special even by New York standards. Fortunately, somebody had the good sense to record the evening and that glorious occasion can be relived on a new CD by the same name.

The Carnegie Hall tribute comes to life on this album as Broadway stars rally behind Julie Andrews to perform their signature hits and personal favorites from classic Broadway musicals.

From the overture from Girl Crazy kicking off with Who Could Ask for Anything More, segueing into Embraceable You sets the tone for an album that embraces all and leaves nothing more for the asking.



JULIE ANDREWS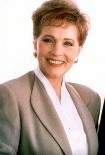 Julie Andrew's welcome is followed by Nowadays from Chicago, sung by Karen Ziemba and Bebe Neuwirth. Faith Prince delivers Adelaide's Lament from her Tony winning performance in Guys & Dolls.

Priscilla Lopez offers Nothing from A Chorus Line. The non stop blue ribbon event has Lea Delaria delivering her break out number I Can Cook Too from the revival of On The Town. Andrea McArdle performs selections from Annie and if Liza Minnelli's rendition of Some People from Gypsy is any indication, then this performer will be a smash when she returns to Broadway in December.



LIZA MINNELLI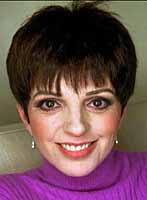 The talented Linda Eder does a knock out job delivering the title song to The Man of LaMancha, a selection not usually sung by a woman.

Audra McDonald, who stars in Marie Christine, opening Oct. 28 at the Vivan Beaumont Theater, offers an enchanting rendition of Love Changes Everything from Aspects in Love. Marin Mazzie, who stars in Kiss Me Kate at the Martin Beck Theater, delivers Unexpected Song from Song and Dance.

Judy Kuhn's I Don't Know How To Love Him from Jesus Christ Superstar is perfect. Debra Monk is a delight with Everybody's Girl from Steel Pier and when Nell Carter, featuring Luthern Henderson, belts out Mean To Me from Ain't Misbehavin, the crowd roars.



ELAINE STRITCH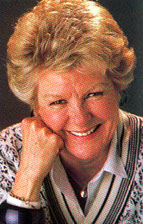 Dorothy Louden's emotional offering of Fifty Percent from Ballroom; Jennifer Holliday knocking the notes into the rafters with And I'm Telling You, from Dreamgirls. Noel Coward wrote Sail Away specifically for Elaine Stritch.The brassy lady with the husky voice puts pathos into The Ladies Who Lunch, from Company, followed by Julie Andrews' closing and the ensemble doing One from A Chorus Line, captures a not to be forgotten, remarkable evening.

The audience applauding and reacting is the real thing. No sound track or sweetening was needed. Each selection is a singular knock-out. Combined - musical Broadway at its best. This evening presented perfection and that magic was captured on this CD. Buy - savor -enjoy.

My Favorite Broadway: The Leading Ladies from Hybrid Recordings and TVT Soundtrax hits the stores on Nov. 16. TVT Soundtrax is part of the TVT Label Group. A Broadway division was established in 1998 with the release of 1776, the cast recording of the hit Broadway revival. Other prominent Broadway releases from the label include the definitive cast recording of Stephen Sondheim's Follies as well as the Grammy nominated The Wizard of Oz.


OTHER PEOPLE'S MONEY


EAT'M SOLD to Solutions Medica, Inc. A San Diego, CA based Internet technology and convergence company. The Emerging Artists and Talent in Music was started two years ago in Las Vegas by David Cassidy's wife, Sue Shifrin-Cassidy and Lisa Turner. The acquisition is a multimillion cash and stock transaction valued at $13.60 a share of Solutions Media stock. Staff and management for EAT'M remains the same with offices in Las Vegas. Tenner remains at the helm of the music industry conference and the non profit Emerging Artists Fund, which benefits music programs in schools. Shifrin-Cassidy remains on board as co-director. Solutions Media owns Spin Records.com, SpinRadio and Spin Records Publishing Co.


SWEET CHARITY


ST JUDE LAS VEGAS GALA is a celebrity invitational golf tournament and evening of dining and entertainment that is bringing some heavyweights to town. Ray Romano, Clint Holmes, Rita Rudner and Tony Orlando will entertain. Bob Goen from Entertainment Tonight; Football legends Preston Pearson, Mel Renfo, Too Tall Jones, Seth Joyner; LA Lakers James Worthy, Romano, Kevin Sorbo, David Leisure, Hal Linden, Arte Johnson, Susan Anton, Phil Donahue, Marlo Thomas; Hall of Famers Lem Barney, Ted Hendricks, Jim Taylor, Frank Robinson; Sports Media Celebrities Bob Neal, Rudy Martzke, Hank Stram will be playing golf. Oct. 30. Gala Tickets are $200. Gold for the Gala Guests is $250.

BARBARA SINATRA looking forward to Tuesday's Princess Grace Gala at the Waldorf, NYC. Her son, Bobby Marx and his wife, Hilliary, chair the event. Prince Albert will be there, of course, as will Barbara Grant Cohen, who will present the Cary Grant award.

KITTY CARLISLE HART chairs the Page Morton Black's Parkinson's Disease Foundation Dinner October 26 at the Plaza, NYC.


CURTAIN DOWN


SIDE MAN the 1999 Tony winner for Best Play, shutters October 21 at the Golden Theatre NYC.



ECLIPSED

Patricia Burke Brogan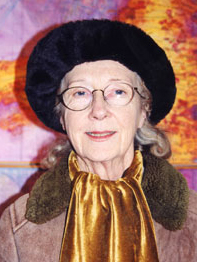 explores the shocking scandal of the Magdalene Laundries. Set in a convent laundry in the west of Ireland Eclipsed is a heartbreaking story - recently exposed on CBS's 50 Minutes.

The play follows the lives of four unwed Irish mothers working as "penitents" in an institution run by the church. Here they are forced to wash the sins of lush from their souls while conveniently washing the country's laundry. Their babies were taken from them and put up for adoption in the United States and other countries.

The last of the Magdalene Laundries closed in 1996.

The playwright, Patricia Burke Brogan, was a novitiate working in one such Magdalene Laundry in the early 1960s. The play is drawn directly from her own experience and weaves a suspenseful tale.

The production begins preview performances on October 26 at the Irish Repertory Theatre, NY. The cast, directed by Charlotte More, includes; Terry Donnelly, Rosemary Fine, Jacqueline Kealy, Aedin Moloney, Heather O'Neill, Amy Redmond, Erika Rolfsrud and Fiona Walsh.

Eclipsed features set design by Klara Zieglerova, costume design by Linda Fisher and lighting design by Kirk Bookman. Eclipsed was first produced in 1992 by Punchbag Theatre in Galway after winning a Fringe First at the Edinburgh Theatre Festival. The playwright was awarded an Arts Council Bursary in Creative Literature in 1993 and was supported from the Writer's European Script Fund in 1994.

The American Premier of Eclipsed at the Forum Theatre, Worcester, Massachusetts in March 1994 won the prestigious Moss Hart Award for Theatre 1994.

PROTEST in which the American cultural revolution of the 1960s and 70s are recalled in a presentation of music inspired by the spirit of that era, featuring the New York premiere of Alvin Singleton's 56 Blows and works by Louis Ballard, Robert Beaser and Curtis-Curtis Smith. October 31 at Carnegie Hall.

JOLSON starring Mike Burstyn, Oct. 26-31 The Pasadena Civic Auditorium, CA.

ART the 1998 Tony award winning best play opens Nov. 9th ASU's Gammage Auditorium, Phoenix with a run through Nov. 14.

RENT opens Oct. 27 at the Las Vegas Hilton through November 7. Seats in the first two rows priced at $20, go on sale three hours before each show. Patrons limited to one pair. Other seat prices range from $40-$65.


WHO'S WHERE


WOLE SOYINKA Nobel Prize winning playwright speaks at the University of Nevada, Las Vegas as part of the Barrick Lecture Series October 26. Soyinka, 65, won the Nobel Prize for Literature in 1986. He is currently a professor of the arts at Emory University in Atlanta.

WAYNE NEWTON signed to welcome the millennium with performances at the Stardust Hotel, Las Vegas. New Year's Eve Tickets at $275 plus tax for the New Year's Eve show and $75. plus tax for the shows on January 1. Newton will be making a major announcement this week about returning to Las Vegas on a long term deal.

CHICAGO CHANGES Robert Urich takes over as Billy Flynn November 16 in Detroit. Also joining that production are Nana Visitor as Roxie Hart and Vicky Lewis as Velma Kelly. Nana and Vicky will also be doing a stint in the Las Vegas production, while Urich does the same in the Broadway production,.

CROSBY, STILLS, NASH & YOUNG bring their reunited CSNY2K tour to the MGM Grand, Las Vegas on Feb. 19. Tickets - $50 to $200 - go on sale October 30. The group hasn't toured together in 25 years. Their reunion album Looking Forward hits the stores October. 25. The 34-city tour kicks off January 25 in Detroit.


THIS AND THAT


FAVORITE MAKE OUT SONG That's one of the categories in the WB Music Awards to be broadcast live Thursday from the Events Center at Mandalay Bay in Las Vegas on the WB TV network. Contenders in that category are Backstreeet Boys, Brandy, Mark Chesnutt, and N Sync. David Bowie will perform and receive the first Legends Award.

HARRAH'S ENTERTAINMENT has appointed former Las Vegas mayor Jane Jones as senior vice president of communications. Her salary was not disclosed.

SYLVESTER STALLONE'S MOTHER Jackie, her new Beverly Hills physician husband, and Jackie's palm reader friend took in the La Cage show at the Riviera Hotel, Las Vegas. Jackie says she's going to be doing QUV with two palm readers.

SCOTT WOLF who starred in the Broadway production of Sideman spending the week-end in Las Vegas at the Hard Rock.

ANTHONY QUINN accompanied by two of his children, Ryan 3, and Antonio, 6, opened the new Las Vegas Markman Gallery which features Quinn's art work. Proud papa watch Ryan cut the ribbon.

WEDDING BELLS for one of Roseanne's television children. Michael Fishman, who played the youngest Conner child, D.J., married Jenny Briner. Both are 18. A baby is expected in the near future.

ROSANNE was also in Las Vegas. The lady, whose personality has many dimensions, either pleased or outraged the audience members when she yelled obscenities during commercials breaks during the VH1 taping at the Hard Rock.

PIERCE BROSNAN one of the celebrities flown to Las Vegas and provided with free tickets for the Tyson-Norris what ever that was, joined the ranks of unhappy spectators. The 007 star telling everyone he would have been really mad if he had had to shell out his good money for his ticket.

MORE THAN WE NEEDED TO KNOW Kathie Lee Gifford, who is not noted for thinking before she speaks announcing that husband, Frank, who apparently is growing a profusion of hair in his ears, has gotten his ears waxed for the first time. Maybe he was just making sure he didn't miss a sound of his wife performing in Putting It Together, which begins previews October 30 at the Barrymore Theatre. The effervescent Ms. Gifford has received more publicity as a once a week substitute than most stars receive in an entire run of a play. In case anybody cares, the production stars Carol Burnett.



Mention BROADWAY TO VEGAS for Special Consideration
Call (800) 942-9027









Next Column: October 31, 1999
Copyright: October 24, 1999 All Rights Reserved. Reviews, Interviews, Commentary, Photographs or Graphics from any Broadway To Vegas (TM) columns may not be published, broadcast, rewritten, utilized as leads, or used in any manner without permission, compensation and/or credit.
Link to Main Page
---
Laura Deni


CLICK HERE FOR COMMENT SECTION