! >
Broadway To Vegas
  SHOW REVIEWS     CELEBRITY INTERVIEWS     GOSSIP     NEWS 
LAUREN HUTTON INJURED - IN SERIOUS CONDITION

Lauren Hutton, that 55-year-old glamorous motorcycle momma, is listed in serious condition at the University Medical Center in Las Vegas after the motorcycle she was riding crashed.



LAUREN HUTTON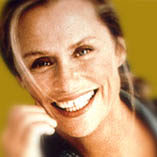 Hutton along with Dennis Hopper and Jeremy Irons and other members of the Guggenheim Motorcycle Club were riding in a 100-mile trip across Southern Nevada, as part of an announcement that the Solomon R. Guggenheim Foundation will team with the State Hermitage Museum of Russia in a seven-story museum near The Venetian Hotel in Las Vegas

The museum, scheduled to open in the spring, will feature "The Art of the Motorcycle," an exhibit put together by the Guggenheim that features more than 120 early-to-late model motorcycles.

Hutton's accident occurred about 25 miles east of Las Vegas. She was flown by helicopter to the UMC where she was listed in serious condition with multiple fractures to a leg, arm injuries and several contusions.

The model has been a motorcycle fan since she was a teenager saying she starting riding motorcycles before she even bought her first car. She is frequently seen tooling around the streets of New York City riding on a scooter

This weekend was her first time back in Las Vegas since she filmed The Gambler, with James Caan in 1974.

Yesterday's planned event was to have the riders go to Hoover Dam and have the cycles trucked to a strenuous mountain stretch. While the cycles were being moved the celebrities were to be flown by helicopter to the top of the mountain, where chef Wolfgang Puck was to serve a catered lunch. After the repast the group would attempt to ride down the mountain and continue their trek.

Hutton has been on the cover of Vogue a record 25 times and appeared in more than 50 films


GEORGE CARLIN: OLD MATERIAL AND A NEW CD

"I've made a career out of scathing social and political commentary. My comedy has always taken aim from the vantage point of the hipster, the outsider," said comedian and Las Vegas resident George Carlin, who took his stand up act to the Orpheum Theatre in Omaha, Nebraska last night, October 21.



GEORGE CARLIN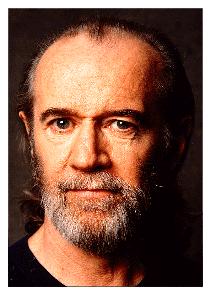 Carlin, who has been performing behind a microphone for over 40 years, started in radio while still in the Air Force in 1956. He quit radio to perform comedy full time in 1960. His comedic style The Hippy Dippy Weatherman, the seven words you can't say on TV or a Thomas the Tank Engine story can both fill and clear a room.

The elderly on tours, seeing his Las Vegas show as part of a package deal, have been known to bolt for an exit as Carlin fills the room with expletive-laden rants about pampered children, slowly eroding civil liberties and a soft bellied American that's more concerned with possessions than spiritual growth. As fast as one person leaves the room two clamor for the empty seat.

Following in the footsteps of his idols Cheech & Chong and Lenny Bruce, Carlin has always stretched the boundaries of modern comedy - his Seven Words You Can Never Say on Television are now regularly heard on prime time TV.

We sent Michael Ashleman to catch the George Carlin/Dennis Blair act at the Orpheum Theatre to see how Carlin communicates outside of a Vegas showroom.

"He brought in a canned act with a few new lines. He showed up with a rerun," said Ashleman. "His material is funny the first four or five times you hear it, and then it just seems canned, which it was. The local radio stations were heavily promoting him all week, playing his one liners and all of the lines you heard on the radio were the ones in his act.

"He told the crowd - 'Half of what your going to here her tonight is the material from the last Home Box Special and the other half is the material I'm trying out, because you've got to constantly practice, improve and refine.'

"The first half was old material. At one point he got ahead of himself, told the punch line, and stopped," Ashleman reported. "'I got ahead of myself' he told the audience before retelling the joke."

"He said he was trying out some new material, which just didn't work.

"At one point he started a routine about picking scabs. The crowd got really quiet. Carlin stopped and said - 'I've obviously gone too far with this one. We'll move along. I do 100 gigs a year anywhere that has a zip code, like this place, and then I do 13 weeks a year in the casinos,' said Carlin who closed at Bally's Hotel in Vegas on October 18 and then immediately flew to Omaha.

"He plugged his new CD set which are the re-mastered old albums," continued Ashleman. "He said there is an extra 70 minutes of material that noone has heard before except myself and sound engineer because the original tapes were edited down to 45 minutes for vinyl's, so at least five or six minutes was cut out of each album. We put together that extra material for this bonus CD They aren't packaged in jewelry boxes but in miniature versions of the original album covers, and costs about $80.00"

"Carlin didn't offer a lot of pithy, sharp commentary on the political scene," related Ashleman. "In fact, his political comments involved Monica Lewinsky comparing Clinton to JFK, who at least had Marilyn Monroe"

"It was opening act Dennis Blair that had the political edge," said Ashleman referring to the comic who was discovered by Rodney Dangerfield and performs in Vegas on a regular basis. Blair headlined the Riviera Hotel's Comedy Club in August and opened the show for Carlin at Bally's Hotel.



DENNIS BLAIR

"Blair said he was going to run for president on the Free Beer Platform: - 'Elect me and you get free beer for four years. I know what Americans want, a buzz that doesn't go away for four years.'

"That really got a wild response from the crowd," continued Ashleman. "They loved that. Blair did the Gore and Bush jokes. He did about 45 minutes, which was a little bit of stand up and then he takes rock and roll songs and does dirty lyric parodies. The audience knew him and called out for him to do his parodies of Lynard Skynard's Freebird and Bruce Springsteen Born In the USA."

"Dennis Blair was funnier than Carlin because he had newer material," declared Ashleman.

"Carlin was in his trademark black skirt and jeans, white sneakers with his hair in a pony tail. He plugged his next Home Box Office special I Think It's Funny When A Lot of People Die, which airs in a year. And, he never called it HBO. He always referred to it as Home Box Office. When you compare his HBO special to this live show, the HBO special lasts longer and gives you better color. It's more worthwhile to watch him on HBO," he opined.

"It was a near capacity crowd and the show lasted two hours and twenty minutes, including a twenty minute intermission. It was an enthusiastic crowd that seems to enjoy both Carlin and Blair. They were buying his merchandise afterwards, which consisted of the re-mastered albums in the CD set, which includes the 7th bonus CD. Also for sale is a poster with 2,443 dirty and offensive phrases and T-shirts. Ticket prices ranged from $26.95 to $49.50."

Carlin had been an innovator turned institution. He hasn't had a bump free career road.

"For the last few years I've been gaining control of my professional life," Carlin explained the last time we talked to him. "It's true about getting older. You have a greater perspective and things take on a more accurate shape. The edge becomes ever keener because all the superfluous stuff of youth falls away. You don't confuse yourself with a lot of decoration and camouflage.

"I cleaned up my chemical excess years go," said Carlin whom in 1973 was smoking joints before breakfast, drinking 20 beers a day and sharing a heavy cocaine habit with his late wife, Brenda. His Lifestyle of dangerous excess resulted in a pair of open heart surgeries in the early 80s, and Carlin "worked out a $24 million debt to the IRS."

"My mother didn't want me in show business. She wanted my brother, Pat, and I to become advertising executives. She married late in life. Thirty-four when she met Patrick Carlin, who was an ad man for the Philadelphia Bulletin. She managed the New York office. I take it he was handsome and had a gift of gab. He also drank and was a bully.

"I never met my father. My parents separated when I was two months old. I was supposedly their reconciliation baby. Didn't work, though. So, Mom returned to the business world and when I was eight my father died.



BURNS AND CARLIN George's first act was a duo Burns and Carlin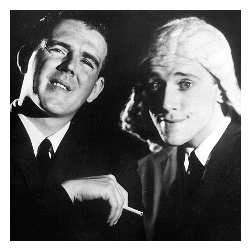 "I dropped out of high school at 17 and enlisted in the military. Then I became a radio host, and suddenly my mother liked the fact that I was attracting "quality people."

Carlin began his stand up career in New York City coffeehouses and nightclubs as a typical, Clean cut, conservative comedian before deciding to let it all hang out.

He grew a pony-tail, traded in the business suit for a T-shirt, and found his comic identity in sex, dirty words and an underground comics type mentality.

"My personal life isn't the type that regrets things and lives in the past in any way. I sort of just move ahead and say - Well, gee, that was what it was,' - and take a look at it, try to learn from it and then move ahead.

"I've always done what I wanted to do. I'm paid well for it and don't have to answer to anybody. And I'm not at war with the world or with any person for that matter. I consider myself as writer before a comedian and so stage work is purely a process to write and express my feelings."


PRICELESS AND TIMELESS

Re-mastered. Re-released. The Frank Sinatra Musical Repertory theater, a four-album set collection of music from great Broadway musicals, conceived and produced by Sinatra.

Ole Blue Eyes called up his friends, had new arrangements written and personally assembled the stars he wanted to do the songs he hand picked from the musicals he loved.

The results are awesome

Finian's Rainbow, by Harburg and Lane, with songs If This Isn't Love, Old Devil Moon, and How Are Things in Gloccomorra performed by Rosemary Clooney, Debbie Reynolds, Bing Crosby, the Hi-Lo's, Dean Martin, Sammy Davis, Jr., Lou Monte, the Mary Kaye Trio, the McGuire Sisters, Clark Dennis and of course, Sinatra.

Guys and Dolls,by Frank Loesser, features Sinatra, Bing Crosby, Dean Martin, Sammy Davis, Jr., Jo Stafford, the McGuire Sisters, Debbie Reynolds, Dinah Shore, Clark Dennis, and Alan Sherman.

Kiss Me Kate by Cole Porter, with songs such as Why Can't You Behave?, So In Love, Too Darn Hot, and Always True To You (in My Fashion) sung by Sinatra, Martin, Davis, Shore, Stafford and the Hi-Lo's. Lou Monte, Johnny Prophet, Phyllis McGuire and Kelly Smith.

South Pacific by Rodgers and Hammerstein, with Sinatra, the McGuire Sisters, Stafford, Kelly Smith, Crosby, Davis, Shore, Reynolds, Clooney and the Hi'Lo-s belting out all of the classics.

In a year when the Broadway musical has seen a terrific resurgence in popularity, what makes the set even more unique is the hands on Sinatra involvement in the production. Sinatra curated the scores with musical director Morris Stoloff beginning in 1961 with the actual recording being finished in 1963.



DEBBIE REYNOLDS and FRANK SINATRA in the recording studio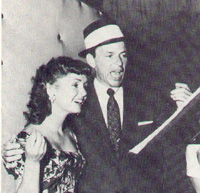 What Sinatra wanted -- and perhaps even proclaimed in so many words -- was not to replicate original cast albums, the object of which is to achieve the recorded equivalent of a live performance.

Sinatra was looking for something else with these recordings. He wanted some of the best singers to be coupled with some of the best arrangers -- Warren Barker, Jerry Fielding, Bill Loose, Skip Martin, Billy May, Marty Paich, Gene Puerling, George Rhodes, Nelson Riddle, Herb Spencer and Nathan Van Cleave -- and together with the personal friends and singers that Sinatra hand picked to lend their own sense of style and voice performing their own, inimitable versions of the classic Broadway songs such as: Old Devil Moon, When I'm Not Near The Girl I Love, This Time Of The Year, The Begat, Another Op'nin', Another Show, So In Love, Were Thine That Special Face, Too Darn Hot, Some Enchanted Evening, Younger Than Springtime, Take Back Your Mink and Adelaide's Lament.

Aside from Sammy Davis Jr., not one of the performers had ever appeared in a Broadway show at the time when these recordings were created.

``Frank predicted that the scores of these great musicals and the performances in the repertory efforts would be everlasting,'' said Vegas resident Phyllis McGuire. ``The artistic camaraderie of the orchestrators, the musicians, the performers and Frank's unexcelled enthusiasm for the project was pure joy to be a part of.''

Since Sinatra is always recognized as a singer of all things romantic, and had a long list of his own romantic entanglements Reprise Records notes that each one of the musicals features two distinct love stories interwoven throughout the plot.

For example, in Finian's Rainbow, Sharon, who has come from Ireland to Missitucky, U.S.A., to find new opportunities, is in love with Woody, while the leprechaun Og is ogling Susan. In Kiss Me Kate, larger-than-life thespians Fred Graham and Lilli Vanessi are trying to rekindle their romance, as Lois and Bill, supporting actors in the company, moon over one another. In South Pacific, the Frenchman Emile de Becque falls for naive Navy nurse Nellie Forbush, and Lieutenant Cable gives his heart to island girl, Liat. In Guys And Dolls, suave gambler Sky Masterson tries to resist the charms of Salvation Army soldier Sarah Brown, with Nathan Detroit in the background hoping to remain unhitched to longtime gal friend Miss Adelaide.



Broadway To Vegas is supported through advertising and donations. Priority consideration is given to interview suggestions, news, press releases, etc from paid supporters. However, no paid supporters control, alter, edit, or in any way manipulate the content of this site. Your donation is appreciated. We accept PAYPAL. Thank you for your interest.


SWEET CHARITY

CELEBRATING CY A 90th birthday tribute to Cy Feuer is a Gala Benefit for The Stage Directors and Choreographers Foundation. Monday, October 30th at Pier Sixty, NYC. This will be a 90th Birthday Tribute for Cy Feuer, Chairman of the Board of the League of American Theatre and Producers.

The black tie event is presented by The League of American Theatres and Producers; The Society of Stage Directors and Choreographers and Stage Directors and Choreographers Foundation. The evening will benefit the educational programs of The Stage Directors and Choreographers Foundation Cy Feuer has produced some of the theatre's most successful productions. With his longtime partner Ernest H. Martin, he presented Where's Charley, Guys and Dolls, Can-Can, How To Succeed In Business Without Really Trying, Litle Me, The Boy Friend plus a numerous other Broadway productions. For films he has been a producer, a composer and musical supervisor. Films he has produced include Cabaret, A Chorus Line, Where's Charley and Piaf.

This special Celebration and the Star-Studded Performance saluting the legendary Feuer is being directed and choreographed by Karen Azenberg and scripted by Douglas Bernstein and Denis Markell. Numerous stars of past and current Broadway shows will be performing live as well as special taped tributes from many who have worked with Cy.

Stage Directors and Choreographer Foundation (SDCF) is the only national organization dedicated exclusively to supporting and developing the professional director and choreographer. Although based in New York City, and serving as a center for NYC directors and choreographers, SDCF offers services to artists throughout the country. For thirty-five years, SDCF has provided information, training, employment opportunities, and exposure - all with a healthy mixture of art and business.



CONFIDENTIALLY COLE The Los Angeles premiere of Sean Hayden's musical, opened at the Tiffany Theatre last night, October 21.(See Broadway To Vegas. February 13, 2000) Directed by Matt Lenz, Cole was inspired by Porter's "closeted double life" as a homosexual.The show explores the contradictions and challenges of the gay lifestyle by dramatically reinterpreting the life and work of legendary songwriter Cole Porter in that context Hayden uses Porter's Love for Sale, Let's Misbehave, and Night and Day, as well as Rub Your Lamp from Let's Face It and To Love or Not to Love from Rosalie to explore poignant issues that continue to resonate today. Hayden plays two characters in Cole, one a contemporary New Yorker and the other a Cafe Society gigolo working between the late '40s and early '50s. "The gigolo character is the kind of person Porter might have had contact with when he was in Los Angeles during those years," Hayden stated. "Cole was not 'out' publicly, but he was out as part of an insider group. The show gives the audience the chance to be part of that insider group." Confidentially, Cole runs through November 5 at the Tiffany Theatre in Los Angeles.

CYRANO DE BERGERAC October 28, the Grand Theatre, Fitzgerald, GA. The production features the Aquilla Theatre of London and New Work in the delightful comedy.

SHOWBOAT October 24-25, The Grand Opera House, Macon, GA. as part of their Broadway Series at The Grand. This Jerome Kern and Oscar Hammerstein classic features tunes such as Ol' Man River and Only Make Believe.

BALLET NACIONAL DE CARACAS under the artistic direction of Vincente Nebrada, will perform the New York City premiere of Nebrada's Firebird at BCBC/Brooklyn Center for the Performing Arts at Brooklyn College on Sunday, October 29.

FOLLIES that 1971 Tony Award-winning musical by James Goldman and Stephen Sondheim which opens at the Roundabout Theatre, NYC next April 5 will have a star studded cast: Blythe Danner, Gregory Harrison, Judith Ivey, Treat Williams, Polly Bergen, Marge Champion, Betty Garrett, Larry Keith, Joan Roberts, Donald Saddler and Carol Woods.No announcement yet as to who will play the role of Solange LaFitte. Matthew Warchus will direct, with choreography by Kathleen Marshall.


WHO'S WHERE

ELTON JOHN

ELTON JOHN says he's retiring. To manage LeAnnRimes??

telling his Madison Square Garden audience that he's going to hang up the sequins. "One more album and I'm done," John told the stunned crowd at Madison Square Garden last week.

In mid concert he suddenly stood up from his piano and casually explained, "We are going to have a lot of fun between now and then." John didn't elaborate on what he meant by "retirement."

There are many that believe that means he is going to step in, take over, manage and guide LeAnn Rimes.

BETTY BUCKLEY October 28 Univ. of Texas Cowan Fine & Performing Arts Center in Tyler, Texas.

SARAH BRIGHTMAN October 22 in San Diego, CA at the SDSU Open Air Theatre October 24 in Los Angeles, CA at the Universal Amphitheatre October 26 in Sacramento, CA at the Arco Arena October 27 in San Jose, CA at the San Jose Arena.

CLEO LAINE October 27 - Cardiff - JD Quintet: - St. Donat's October 29 - Bath - Theatre Royal.

ALICE COOPER Greensboro, NC War Memorial Auditorium. On October 24. Then it's Mt. Pleasant, MI Soaring Eagle Casino on October 28.

DIXIE CHICKS Champaign, IL Assembly Hall on October 25 followed by St. Louis, MO Savvis Center on October 27.

OAKRIDGE BOYS perform in Independence, Kansas at Neewollah Celebration on October 26. The next night they perform in Tama, Iowa Meskwaki Casino.

JOAN BAEZ Canton, Ohio Palace Theatre on Monday. On Tuesday it's center stage at the Oshkosh, WI Grand Opera House. On Wednesday she performs at Des Moines, Iowa Hoyt Sherman Theatre. On Friday it's a show at the St. Paul, MN O'Shaughnessy Audotorium.

BOBBY SHORT Cafe Carlyle NYC through December 31.

WESLA WHITFIELD has opened at Arci's Place NYC.

TAB BENOIT at the B.B. King Blues Club, NYC on October 25.

LARRY GATLINBirmingham, AL Civic Center Fri October 27 in Cypress, Texas at the Tin Hall October 23.

MAYNARD FERGUSON AND THE BIG BOP NOVA BAND entertain at the North Branch Middle School, Washburn, WI; then they travel to New Ulm, MN for a show at the New Ulm Junior High School on October 26. That is followed by a performance in Fairmont, MN, at the Fairmont Opera House on Friday.

ELAINE ST GEORGE third cabaret show, Do Re Mi, Democracy at Judy's Chelsea, NYC for six performances October 22 & 29; November 3, 10, 13, and 17.

WILLIE NELSON who admits he travels with pop will be bringing his stash to October 25 Bossier City, LA Horseshoe Casino on October 25. On Thursday he'll mellow out for the folks in Eureka Springs, AR at the Eureka Springs Performing Arts Ctr. Then he'll be pointed in the direction of the St. Louis, MO Savvis Center for a show on Friday. The following night he does it again in Memphis, TN at The Pyramid.

LEE LESSACK returns to the Davenport Cabaret in Chicago, Ill performing Too Marvelous for Words - The Songs of Johnny Mercer. October 25-28.


THIS AND THAT

KEVIN SPACEY returned to Las Vegas to enjoy the Tim Conway/Harvey Korman show at the Hilton Hotel.

TIGER WOODS has some words for musing: "The best year of my life was when I was 11. I got straight A's, had two recesses a day and the cutest girlfriend and won 32 tournaments that year. Everything's been downhill since."



Mention BROADWAY TO VEGAS for Special Consideration
Call (800) 942-9027









Next Column: October 29, 2000
Copyright: October 22, 2000. All Rights Reserved. Reviews, Interviews, Commentary, Photographs or Graphics from any Broadway To Vegas (TM) columns may not be published, broadcast, rewritten, utilized as leads, or used in any manner without permission, compensation and/or credit.
Link to Main Page
---
Laura Deni


CLICK HERE FOR COMMENT SECTION