Broadway To Vegas
  
 SHOW REVIEWS CELEBRITY INTERVIEWS GOSSIP NEWS

| | |
| --- | --- |
| | |
PATTI PAGE SPEAKS OUT - -ROMANCE EXCITES ED BEGLEY - - DOCTOR ATOMIC - - BROADWAY STARS TAKE DOROTHY PARKER TO HOLLYWOOD - - ELVIS-A-RAMA MUSEUM SOLD - - JUDGES ANNOUNCED FOR OBIE AWARDS - - SWEENEY TODD STARS PATTI LUPONE - - SUSAN STROMAN HONORED AT ELAN AWARDS - - DONATE . . . Scroll Down


Copyright: October 2, 2005
By: Laura Deni

CLICK HERE FOR COMMENT SECTION
PATTI PAGE SPEAKS UP
Patti Page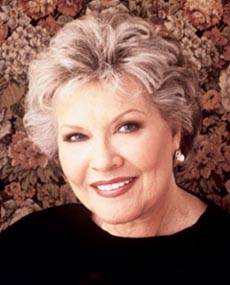 She once had a false eyelash fall off while performing. "Oh, that wasn't the most embarrassing experience I've had on stage," divulged Patti Page who, between a matinee and evening performance in Branson, spoke with Broadway To Vegas about a myriad of subjects. "I've had a couple of really embarrassing experiences."

"The most embarrassing moment was when I got my skirt caught in the curtain," Patti recalled about her wardrobe malfunction that almost ripped her skirt off. Taking place during a period when ladies wore underwear, Patti wasn't left bare beamed. However, "the person traveling with me, who was always back stage, had to pin the back together while I'm standing there singing."

"I also fell off the stage in Vegas once and landed right on the front table. It was at the Fremont Hotel," she said referring to a downtown casino that was a stage for superstar performances during the early days of Las Vegas.

"Nope, I wasn't drunk," she continued. "Not a drop in me. The stage lights were low. Then there would be a black out and I would move to a certain spot on stage. The lights would come up when I would get to that spot. I went to where I thought the spot was and fell off the stage. The lights came up and I was on the front table. There were people at that table and they caught me. I said - Hello, may I use this as a stairway? - and got back up on stage."

The singing rage, Miss Patti Page, will celebrate her 78th birthday on November 8th. You'd never guess it.

She is currently performing as the first star of the Branson Follies, the Show Me state's branch of the world famous Palm Springs Follies.

"It's a perfect location and it's a great show," commented Patti who is the first to fill the star slot appearing through October 23. Also slated to take their turn are Carol Channing on stage October 23-November 6 and the Four Aces November 7-December 11.

"I love it. It's fabulous," she said of the gig. "Great crew and organization and great people in the show," continued Patti about the production which is billed as "a show for the ageless, recalling the golden years of variety shows with golden years performers. All the performers, including the men and women of the chorus, are 65 to 85 years young! They sing, they dance, they do splits, and they look fresh out of Vegas! Each one is a show biz veteran boasting long resumes on the stages of Vegas, New York and clubs and concert halls all over the world."

Four days a week Patti performs a matinee and evening show. "We do five days a week but one Sunday is just a matinee," clarified Patti who conceded, "Yes, it is a busy schedule."

"October lst is the first day of the Branson season, which runs through the middle of December. Then they close down before Christmas," Patti explained.

If it hadn't been for the Christmas season Patti Page might not have become a superstar. It all has to do with her recording of Boogie Woogie Santa Claus. Never heard of it? You're not alone.



Patti Page singing Tennessee Waltz in 1962 with Frank C. Clement Governor of Tennessee. Photo property of Patti Page.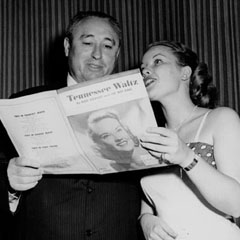 "Boogie Woogie Santa Claus was going to be the big record," she recalled. "It was released November 15. Nothing sold at that time of the year except Christmas songs. So, they wanted to put something obscure on the other side of Boogie Woody Santa Claus and decided on Tennessee Waltz. It had no arrangement. We just did the arrangement on the record date."

When the DJs got the record they listened to both sides. "Well, no one ever played Boogie Woogie Santa Claus. Tennessee Waltz took off."

Take off it did.

Tennessee Waltz sold over 10 million copies alone. The song was #1 on the pop, country and R&B charts, a feat no other recording artist can claim. Tennessee Waltz. remained in the top ten for 26 weeks, and at number one for 13 of those weeks, going on to become the largest selling record by a female artist in recording history. Later, it became one of the state of Tennessee's official state songs.



Patti won a Grammy Award for this effort.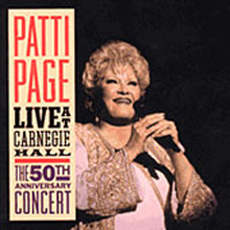 Known as The Singing Rage, she went on to chart an unbelievable 111 hits on the R& B, pop and country charts. Between 1949 and 1965, she had 13 gold singles, including Doggie in the Window and Old Cape Cod - her personal favorite.

In 1999 she took home a Grammy Award for Best Traditional Pop Vocal Performance for her album Patti Page Live At Carnegie Hall.

She was the first artist to successfully move from country charts to pop and she pioneered the "overdubbing" or "multiple recording" voice technique that is credited to Les Paul.

That is an important point that needs to be properly understood. If the reserved, low key, even-tempered singer gets peeved about anything, this is it.

Overdubbing is a technique used by recording studios to add a supplementary recorded sound to a previously taped musical recording. For example, if a bassist is temporarily unavailable, the recording can be made and the bass track added later. Similarly, if only one or two guitarists are available but a song calls for multiple guitar parts, a guitarist can play both lead and rhythm guitar - such as in Cream's hit, Sunshine of Your Love, when it would have been physically impossible for Eric Clapton to solo and play rhythm at the same time. Singers who also play an instrument find overdubbing a convenience, since it allows them to focus on one role at a time.

Musicians refer to it as laying down a track.

Numerous recording artists have made albums with only (or mostly) themselves performing, using overdubs to serve as their own 'one-man band', including Paul McCartney Todd Rungren and Prince, on many of his 1980s classics.

Several articles referring to overdubbing state: "The overdub was first used by inventor and guitarist Les Paul on Lover (When You're Near Me), featuring eight different electric guitar pieces."

That isn't quite true.

Les Paul was the first to use it on an instrumental. Omission of that detail misleads.

Patti Page not only had the first record released using overdubbing, she was the first do use overdubbing on a vocal.

The record was Confess, her first Top Twenty hit. Patti recalled the recording session.

The session needed backup singers to serve as an echo to Patti's vocal. The problem however, was that Patti and her manager couldn't afford to hire a backup singer, let alone singers.

Whose idea was it to try overdubbing?



Patti Page at first recording session for Mercury Records 1947. Photo property of Patti Page.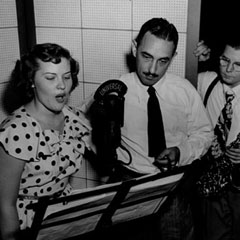 "It was my manager and I," she said referring Jack Rael who would remain her manager for almost 50 years. "Patti's voice sounds so well when she is singing harmony with herself on a record," she said referring to herself in the third person. "That is what I always did. While listening to songs I would naturally sing along, but I would sing harmony. We said why don't we try Patti doing this? It was only an echo, which worked out great. In those days you lost a lot of presence when you added another channel or track," she said of a recording era when the ability to add tracks didn't exist. They got creative and did it anyway.

"It worked out because it was an echo and it seemed far away."

About the same time Les Paul was in a studio recording - overdubbing himself on the guitar.

It's a sore point with Patti Page.

"Mine was released first. Mine was released in June of '48 and his record came out in August. It was not with Mary," she said about his singer wife and co-star Mary Ford. "It was just an instrumental. Mary came out with Tiger Rag the next year."

Both recorded about the same time and released within two months of each other - those two recordings forever changed the recording industry. Patti proved the technique was successful with a vocalist. Paul established that it worked with instruments. Les Paul then combined overdubbing on both vocals and instruments on the same recording specializing in 8-tract overdubbing.

Historians then forgot that Patti Page did it first and was the one that established overdubbing could successfully work with a vocalist.

"I know Les was having a book written about him," continued Patti. "The two gentleman who were writing it called me. I was going to be in Washington, D.C. appearing at Georgetown University and they wanted to meet. We did and they were very nice people. They said they were confused and wanted to get overdubbing clarified. In their research they came across information that said Les was not the first and they wanted to talk to me, because it turns out that I was the one who released an overdubbed record first. And, ever since then, everybody has done it."

Patti's latest release is a two volume CD, For Sentimental Reasons, which features 20 songs recorded during live television performances in the 1950s. The only performer to have shows bearing her name on all three major television networks, one was the twice-weekly syndicated Oldsmobile Presents…Patti Page.

How was she able to obtain the rights to use the music from those shows?

"I had the rights to the TV shows," she explained. "My manager and I owned the TV show that we took these off of. It was a 15-minute show, before really prime time TV, because the 15-minute shows were in the slot where the newscasts are today."

"The news at that time was only 15-minutes and then you'd have a variety show following it. Perry Como was on one. He and I alternated weekdays. He was on Monday, Wednesday and Friday and I was on Tuesday and Thursday. We were on CBS. Dinah Shore was on NBC. You had a few other artists, but I would say these were the three important ones that were on. So, that's how we got the rights to them, because we produced the show."

DRG Records restored and remastered the original tapes for this collection.



Patti Page singing with her daughter in 1962. Photo property of Patti Page.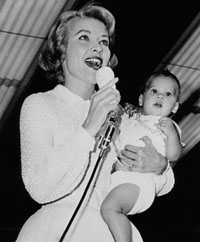 In 1956, Patti married Hollywood choreographer, Charlie O'Curran. The couple established residence in Beverly Hills where they adopted two children, Kathleen and Danny. That union ended in divorce in 1972. Then, Patti, never comfortable living within a show business environment, moved her family to Rancho Sante Fe, a rural community near San Diego. There she would meet Jerry Filiciotto, an aerospace executive whom she married in 1990. He calls himself "her groupie."

"I owned my own company," said Jerry. "My parts - what wraps around the engine and the reverser - were on almost every jet airliner flown up until the 777. In the 1980s the company I bought was doing $6 million a year and inside of five years we grew to $40 million. We worked on all the Stealth fighters - defused the heat so that the plane wouldn't be detected. At that time we couldn't talk about it. "

"I was very blessed that the company really grew. That was about the time my wife, Katie, was dying so I sold the company. Everything seemed to happen at once. At the time it seems traumatic. Then I became a groupie," he said referring to falling in love with Patti. He recalled their meeting and eventual romance.



Patti and Jerry at their wedding reception. The first song played was May I Have This Dance? Photo property of Patti Page.
"Patti moved down to the San Diego area circa 1973," said Jerry who was a happily married man. "Patti had rented the home of a very close friend of my wife and I. They asked if we would like to meet her. My wife said, - 'Oh yeah, 'cause Jerry is in love with her.'"

"Patti ended up buying that home and became very good friends with my wife. Patti loved to play bridge and my wife was a master bridge player. They were very close friends. As a matter of fact, a year before she died Patti and Katie went on a bridge cruise to Alaska. Then my wife got leukemia and died."

"Patti would be on the road and I was working in the aerospace business," he related.

"We were close friends, but that was it. Then we started going out. Now, here's where I have my opinion of the romance, "insisted Jerry as Patti alternated between shaking her head and laughing. "She chased after me because I had tickets to the Chargers and the Padres and she wanted to go."

"We started seeing each other. A couple of years later we got married. That was circa 1990 and the rest is history."

After their marriage Jerry started going over Patti's books. He discovered that for years Patti had been financially ripped off.

"Yeah," he replied. "Also, she is very laid back, not an aggressive type-A person. And, I'm the opposite."

Nobody has ever again taken advantage of Patti Page.

An offshoot of their marriage is a maple syrup business. It all started with the farm. "The house was build in 1838. We had it completely restored - not remodeled - I moved the barn which was built in 1895, three miles away, post and beam, piece by piece, built the cabana on the lake. Being hyper in nature I had a dream and put it together."

Then it dawned on him that this was expensive and he wanted "to try to do something, other than being gentleman farmers. We thought of several things. Haying - we have 60 acres. Haying is nice and interesting. But, you'll starve to death at the end of three months."

"We looked at sheep. We looked at raising alpacas. Then we saw the old dilapidated sugar house, built some 75-years ago. Somebody said how about maple syrup? I can tell you about airplanes but I didn't know how to spell syrup," he kidded. "Little by little we started learning the business."

"Patti and I started Hilltop Farm, Inc. We build the business up to where now we have a place in Maine that produces 4,000-5,000 gallons of organic maple syrup."

He's proud their products are organic.

"What is the difference between pure maple syrup and organic maple syrup," he questioned and then supplied the answer. "The answer is nothing - except the processing. To certify organic with the FDA you have to have everything stainless steel. From when it comes out of the tree until you put it into a bottle."

"It can't see anything foreign other than stainless steel. Boiled, filtered and then bottled. You can't use a tree that is smaller than 10 inches in diameter. Whereas, with pure maple syrup you can go down to eight inches. They are both pure, but one is organic qualifying and the other isn't."

"And, you don't want to do additives," he stressed. "Another unknown fact to most people is that our syrup is United States maple syrup and I'm proud of being an American. Vermont has done the big hype job. Yet most of the stuff that they sell is made in Canada. 95 percent of the free world's maple syrup comes from Quebec, Canada," he remarked about the country that has the maple leaf on its flag.

"We were also one of the first to have an organic certified buttermilk pancake mix. That is very popular. People want more and more organic."

The product line also includes Patti's Syrup That Sings. It's Patti's 100% Pure Maple Syrup featuring Patti Page singing her Maple From New England song every time you open the jug. Guaranteed to play at least 500 times, this patented cap can also be used to re-seal future purchases of maple syrup.

So why does Century 21 have the farm listed for sale? Price: $1,600,000.00 Bedrooms: 7. Baths: 5. Floors: 2.00. Year Built: 1838. Lot Size: 181 Acres.



The farm not the business is for sale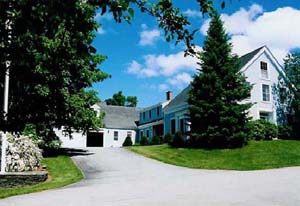 "The maple business is not for sale," he exclaimed. "We have a farm. That is something that I owned and had. What we decided is - because of our age and our children - the farm - the house - that is up for sale and not the business."

"That is a very important distinction," he stressed. "The other thing, as far as distinction, we have discussed the feasibility of selling our production facility in Maine and elevating cash flow by buying the syrup when we need it, rather than having to spend money year round and maintain the facility, because we are one of the top organic producers in the Northeast. We feel that we could use somebody who is in production - just producing the syrup. We are what they used to call a linear industry where we do everything - produce, bottle and market it. We are kind of retreating to bottling and marketing along with all of the music we do out of there. Patti has made four new albums since 1997. We started a record company and made it part of the business."

Raising grandchildren is also a part of their life. Years ago Patti and Jerry went to court to obtain legal custody of two of Patti's 13 grandchildren.

It's not easy being a parent at any age. Patti was in her early 70s and the children barely in school. That's a handful.

"It is overwhelming at times," admitted Patti. "Then when you think you can't handle it, God gives you the strength. We're very grateful for that. They go to a private Christian school. It's a great school," she said about the Santa Fe Christian School in Solana Beach, CA. "One of our granddaughters, an older one who is 23, is acting as our nanny while we are in Branson. She is just fabulous."

Patti doesn't pretend to know all the answers for grandparents who are raising grandchildren. "I can only say you can't be stereotyped into spoiling them. Because you are responsible for helping them grow up to be worthy citizens, worthy Christians, worthy people. Definitely, they keep you young!"


ROMANCE EXCITES ED BEGLEY


When Ed Begley feels chatty it's usually about the environment or a social issues cause. Suddenly the actor/activist is exuberant about a comedy.

"How often do I contact you about a play or a movie that I'm in? Never! Until now."

"I'm in a David Mamet play at the Mark Taper Forum that's just too good to miss. It's called Romance and previews started Thursday, September 29th."

So why this play?

"David Mamet has been a friend of mine since he directed me in The Cryptogram in 1995," Begley told Broadway To Vegas.

"We did it in Boston and then New York, and then I did it with another director at the Geffen Playhouse in Los Angeles in 1999," continued Begley.

"I have also worked on a BBC radio production of his play, Faustus, with Ed O'Neill and Rebecca Pigeon and Ricky Jay."

"So, when he asked me to do Romance at the Mark Taper, I was elated."

"Rehearsals have been great as have the previews, thus far. I expect a very successful run," he declared.

Mamet's new play is directed by Neil Pepe. In addition to Begley the production features; Noah Bean, Larry Bryggman, Jim Frangione, Steven Goldstein, Steven Hawley and Todd Weeks.

The play is centered in a New York courtroom, where a trial unfolds in the shadow of an international peace conference. Although the case at hand is unrelated, the defendant and counsel devise a plan to solve conflict in the Middle East and produce peace in our time! While mayhem fills the courtroom, the giddy proceedings skewer everyone from Jews to gays, Catholics, podiatrists, chiropractors, Shakespeare and, of course, lawyers.

Romance is an outrageous farce about cherished issues, from our judicial system to the peace process, fidelity, religious tolerance and world peace, presented in verbally dexterous Mamet style.

Performances through November 13 at the Mark Taper Forum in Los Angeles.


ART AND ABOUT
Wikingmuseum Oslo I 2000 © 2004 Candida Höfer / Artists Rights Society (ARS)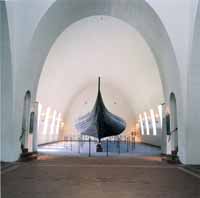 CANDIDA HOFER: ARCHITECTURE OF ABSENCE Co-organized by the Norton Museum of Art and University Art Museum, California State University, Long Beach, is the first North American survey exhibition devoted to this celebrated German artist

Over the last thirty years, Candida Höfer has created meticulously composed images of the interiors of public and institutional spaces - spaces marked with the richness of human activity, yet devoid of human presence.



U-Bahnstation Theaterplatz Oslo II 2000 Norton Museum of Art, West Palm Beach, Florida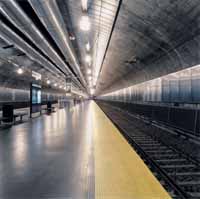 The fifty large-scale chromogenic prints in the exhibition embrace the full spectrum of Höfer's illustrious career with an emphasis on recent work.

All works have been borrowed directly from the artist's studio and her gallery in Cologne, offering a unique opportunity to present new projects that are currently in progress, as well as iconic works retained by the artist that have never been shown in the United States.

The exhibition catalogue, with an essay by Virginia Heckert, the Norton's William and Sarah Ross Soter Curator of Photography, is the first major English-language publication on Höfer's work, published by Aperture.

Candida Höfer: Architecture of Absence opened October 1, and is on display through January 1, 2006 at the Norton Museum of Art in West Palm Beach, FL.

THE NASHER MUSEUM OF ART AT DUKE UNIVERSITY

Nasher Museum of Art

opens its new building October 2. The $23 million museum, designed by architect Rafael Viñoly, will foster multidisciplinary learning and serve the Research Triangle region. The museum will open its two new special exhibition galleries with The Evolution of the Nasher Collection and The Forest: Politics, Poetics and Practice, reflecting the museum's increased focus on modern and contemporary art.

The Nasher at Duke is named in honor of the family of Raymond D. Nasher, an internationally prominent art collector and philanthropist who graduated from Duke in 1943. The 65,000 square-foot facility will become a cornerstone for cultural activities on campus, serving as a venue for performing arts events, lectures, film series and social gatherings.

The new museum comprises five pavilions that will house three large gallery spaces, a 173-seat auditorium, museum shop, classrooms, administrative offices and a café. The building will provide 14,000 square feet of gallery space and another 13,000 square feet of display space in the atrium, which can accommodate large works and temporary installations. One of the three gallery spaces will display work from the museum's permanent collection, organized in thematic exhibitions to complement coursework and reflect the scholarly interests of Duke faculty. The two other gallery pavilions will host a rotating schedule of traveling exhibitions.

Highlights of the museum's permanent collection of approximately 13,000 works of art include the Brummer Collection of Medieval and Renaissance Art, the George Harley Memorial Collection of African Art, a classical collection and more than 3,000 works of art of the ancient Americas.

The Evolution of the Nasher Collection (Oct. 2, 2005 to May 13, 2006) Drawn from the internationally renowned collection of the museum's namesake, Raymond D. Nasher and his late wife, Patsy, "The Evolution of the Nasher Collection" will examine the development of one of the world's major collections of 20th-century sculpture. The distinguished collection contains works by Pablo Picasso, Henri Matisse, Alberto Giacometti, Jean Dubuffet, Henry Moore and Mark di Suvero. Along with sculpture, the show will represent the Nashers' interests in emerging artists, tribal and ancient American art, textiles, early American modernism and contemporary architecture. Most works in the exhibition will be on public display for the first time.

The Forest: Politics, Poetics and Practice (Oct. 2, 2005, to Jan. 29, 2006) will focus on the forest as a theme in contemporary art, examining how artists around the world are tackling such issues as colonialism, war, nuclear threat and deforestation. The wooded landscape of the museum and the university's 8,000 acres of forest provide a fitting backdrop for the works and themes in the exhibition.

The Forest will mark the premiere of a new sculpture by New York-based artist Petah Coyne and will include work by more than 30 international artists, most of whom are also making their North Carolina debuts. Contemporary works by An-My Lê; (Vietnam), Rosemary Laing (Australia), Wim Wenders (Germany) and Iñigo Manglano-Ovalle (Spain) examine political issues. Works by Kiki Smith (United States), Paloma Varga Weisz (Germany) and Yang Fudong (China) investigate the psychological, fantastic, mythical, spiritual and literary aspects of the forest. Alan Sonfist (United States), Simon Starling (United Kingdom) and others reflect work with communities or propose real-life answers to problems that threaten forests.



THE 6th ANNUAL ELAN AWARDS

Susan Stroman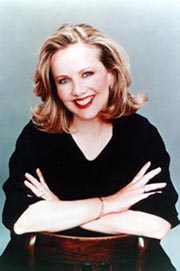 Honoring award winning choreographer Susan Stroman.

Hal Prince will present this year's Elan Award With a special performance from Boys Gaines and the cast of Contact.

Monday October 10 the Haft Auditorium, New York City.

Now in its 6th year, The Elan Awards is a unique event celebrating choreography by producing new works by selected choreographers. This star studded, multi-media show also features several guest performances followed by a Gala celebration.

Past recipients of The Elan Awards include: Lar Lubovitch (2004), Rob Marshall (2003), Ann Reinking (2002), Jerry Mitchell (2001) and Graciella Danielle (2000).

Participants in this year's Elan Awards include: Hal Prince, Boyd Gaines and the cast of Contact, Nina Buisson, Lauren Putty, Bradley Shelver, Danielle Genest, Caron Eule, Dee Caspary, Tracie Stanfield, Geoffrey Doig-Marx, Rebecca Kelly, Jeff Amsden, Graham Lustig and Rhonda Miller.

Honoree Board: Chet Walker, Susan Jaffe, Katie Langan, Carol Paumgarten, Igal Perry, Peff Modelski, Milton Myers, Dean Crane, Frank Hatchett, Julie Davis and Sara Jarrett

JUDGES ANNOUNCED FOR THE 51ST ANNUAL OBIE AWARDS For 50 years The Village Voice Obie Awards have honored the best of Off Broadway and Off-Off Broadway. Structured with informal categories that change annually, The Village Voice Obie Awards recognize persons and productions of excellence. Unlike most theater awards, The Village Voice Obie Awards do not have nominations. In the conviction that creativity is not competitive, the judges may give several Obies in each category, and may even invent new categories to reward artistic merit.

This year, the Obie committee includes: Obie-winning playwright Lynn Nottage, Obie-winning actor for sustained excellence; Didi O'Connell, Obie-winning director; David Herskovits, playwright and head of Columbia University graduate playwriting program; Eduardo Machado, critic and Yale School of Drama professor Marc Robinson, Village Voice Chief Theater Critic Michael Feingold, Village Voice theater critic Alexis Soloski, and Village Voice theater editor and Chairman of the 2005-06 Obie Awards Committee Jorge Morales.

The award ceremony will be held in May 2006 in New York City.



Broadway To Vegas is supported through advertising and donations. Priority consideration is given to interview suggestions, news, press releases, etc from paid supporters. However, no paid supporters control, alter, edit, or in any way manipulate the content of this site. Your donation is appreciated. We accept PAYPAL. Thank you for your interest.


SWEET CHARITY


BROADWAY STARS TAKE DOROTHY PARKER TO HOLLYWOOD Four-time Tony Award winner Angela Lansbury, Victor Garber, Frances Conroy, Lisa Banes and Harriet Harris head the cast of a staged reading of This is on Me, An Evening of Dorothy Parker adapted by Tom Fontana and directed by Warner Shook to benefit The Acting Company. October 10, at the Brentwood Theatre in Los Angeles. A patron reception with the cast follows.

Recipient of a Tony Honor for Excellence in Theater, Obie, Audelco and Los Angeles Drama Critics Circle Awards, The Acting Company has toured 122 productions across America and to nine foreign countries. It's renowned education programs – master classes, student matinees and weeklong Literacy Through Theater artistic residencies – reach 25,000 students a year, most in schools where little or no other arts education is available.


SPREADING THE WORD


THE RED SKELTON ESTATE has granted exclusive performance rights of Red's material to Tom Mullica, star of Red Skelton: A Performance Tribute, playing at the Music City Centre in Branson, MO.


OTHER PEOPLE'S MONEY


ELVIS-A-RAMA MUSEUM in Las Vegas has been purchased by CKX Inc., which controls the name, image and likeness of Elvis Presley. CKX also produces the American Idol television program.

In a release the New York based CKX stated they have agreed to acquire the Elvis-A-Rama museum, from Elvis memorabilia collector Chris Davidson, a related Web site and most of the memorabilia on display for an undisclosed price. The museum will be closed to make way for "a world-class Elvis-themed attraction." The sale agreement permits Davidson the right to open an Elvis museum in Hawaii. In that venture CKX will get a licensing fee and hold a "significant" equity interest in the Hawaii museum.



DOCTOR ATOMIC by John Adams. San Francisco Opera's world premiere of John Adams's Doctor Atomic on October 1, 2005 has become the focus of increased interest not only in John Adams's music, but also in a wide range of issues having to do with the opera's subject matter: J. Robert Oppenheimer and the development of the first atomic bomb.

Doctor Atomic Opera Talks are informative 25-minute talks given by creators John Adams and Peter Sellars, beginning 55 minutes before each performance of the opera in the Opera House.

Cast: J. Robert Oppenheimer portrayed by Gerald Finley; Kitty Oppenheimer played by Kristine Jepson; Edward Teller performed by Richard Paul Fink; Robert Wilson played by Thomas Glenn; Jack Hubbard played by James Maddalena; General Leslie Groves portrayed by Eric Owens; Captain James Nolan portrayed by Jay Hunter Morris; Pasqualita is Beth Clayton.

The production team includes: Conductor Donald Runnicles. Production by Peter Sellars. Set Designer is Adrianne Lobel. Costume Designer is Dunya Ramicova. Lighting Design by James Ingalls. Choreographer is Lucinda Childs. Sound Designer is Mark Grey. Chorus Director is Ian Robertson.

Sung in English with English Supertitles. Co-production with Lyric Opera of Chicago and De Nederlandse Opera. Performances are scheduled through October 22.

SWEENEY TODD Lyrics and music by Stephen Sondheim. Book by: Hugh Wheeler from an adaptation by Christopher Bond.

Starring Tony Award winner Patti LuPone as Mrs. Lovett. This will be her first Broadway musical role in 17 years. Also starring Tony Award winner Michael Cerveris in the title role, Mark Jacoby, Benjamin Magnuson and Lauren Molina.

Sweeney Todd is based on a 19th century legend of a half-mad London barber, who is driven to crime when a malevolent judge takes his wife and child from him. The story tells the tale of the "demon barber of Fleet Street," fresh out of jail for a crime he did not commit, who cooks up a macabre revenge scheme with his dazzlingly demented accomplice, Mrs. Lovett.

Directed and designed by John Doyle. Musical direction and arrangements by Sarah Travis. Lighting design by Richard G. Jones. Sound design by Chris Fuller. this production of Sweeney Todd previews October 3 at the Eugene O'Neill Theatre, officially opening on November 3.

A FLEA IN HER EAR by Georges Feydeau.

Written by the master of French bedroom farces, A Flea in Her Ear mixes marital ennui, a seedy hotel, and mistaken identities to create a hilarious and titillating confection. A European classic set in Paris at the turn of the 20th century. Kent Thompson makes his directorial debut showcasing DCTC company members.

October 6 - November 5 at The Stage Theatre, Denver Center for the Performing Arts.

GIVE 'EM HELL, HARRY directed by Larry Carpenter. Written by Samuel Gallu.

The Kansas City Rep brings to life one of the most important figures in Kansas City history - Harry S. Truman, the haberdasher who became president.

Come with us to the Oval Office as this unpretentious Missourian copes with the day-to-day challenges of leading America.

Meet the man who doted on his daughter, answered to his better half, and never became too grand to chat with neighbors at his Independence home.

Artistic Associate Gary Neal Johnson will portray Truman in this one-man show.

Produced in the intimate H&R Block City Stage Theatre in Union Station, Kansas City. October 7-November 6.

IN MY LIFE a new musical written and directed Joseph Brooks, the . Oscar and Grammy-winning composer of You Light Up My Life. The show is about an unlikely romance between a musician with Tourette's Syndrome and a journalist with an obsessive-compulsive disorder.

Starring Jessica Boevers, Christopher J. Hanke, Roberta Gumbel and Chiara Navarra.

Sets by Allen Moyer. Lighting by Christopher Akerlind. Costumes by Catherine Zuber.

Richard Stafford is the choreographer.

Previews began September 30 towards the official opening of October 20. Music Box Theatre in New York City.

SUICIDE-ANYONE? by John Patrick, the author of The Hasty Heart and Teahouse of the August Moon.

Killing yourself isn't usually a laughing matter, but in three of Patrick's lesser-known one-acts, attempting to end one's life does have some bright sides - especially when the attempter learns some lessons about living in the process. The three works are directed by Jeffrey Davolt.

The three Patrick one-acts are Loyalty, about a bickering married couple and their neighbor who just wants to get some sleep; Empathy, about a young, unemployed actress who can't find time alone to end it all; and Confession, about two feuding male lovers and their "worldly" female neighbor with a novel idea and a bottle of pills.

The cast of Suicide-Anyone? consists of George Antonopoulos, Victor Barbella, Gregory Patrick Jackson, and Lara Anne Slife. Costumes are designed by Lisa Renee' Jordan.

Among John Patrick's (1905-1995) better known stage works are The Hasty Heart (1945) and Teahouse of the August Moon (1953), which won a Tony Award for Best Play and the Pulitzer Prize for Drama. Other plays include Hell Freezes Over (1935), The Willow and I (1942) and The Curious Savage (1950). Screenwriting credits include Three Coins in the Fountain (1954), Love is a Many Splendid Thing (1955), High Society (1956), Les Girls (1957), Some Came Running (1958) and The World of Suzie Wong (1960).

Performances begin October 5 at Primary Stages Theatre in New York City.

ABSURD PERSON SINGULAR a clever and witty comedy written by Alan Ayckbourn. Starring Mireille Enos, Clea Lewis, Sam Robards, Alan Ruck, Deborah Rush and Paxton Whitehead

Ayckbourn's comedy about social class and splendid cocktails. The changing status of three British couples is revealed as each hosts a Christmas party on three consecutive years.

This marks the sixth Alan Ayckbourn play Manhattan Theatre Club has produced. The almost 20 year relationship began with the 1988 production of Woman in Mind. John Tillinger, who has helmed MTC's hit productions of Ayckbourn's House and Garden and Comic Potential directs.

John Lee Beatty (Set Design). Jane Greenwood (Costume Design). Brian MacDevitt (Lighting Design). Bruce Ellman (Sound Design).

In previews at the Biltmore Theatre in New York City. The run continues through December 18.


| | | |
| --- | --- | --- |
| | | |
WHO'S WHERE


THE GRAND DAMES OF BROADWAY Karen Morrow and Susan Egan perform the songs written for leading ladies of the stage from such shows as Gypsy, Annie Get Your Gun, South Pacific, Annie, Beauty and the Beast, Thoroughly Modern Millie, and more. Their finale will be a musical salute to Miami's own Broadway legend Jerry Herman. Musical director and pianist Christopher McGovern will assist. Presented in collaboration with the American Society of Composers Authors, and Publishers (ASCAP). Sunday, October 9, at the Fros School of Music at the University of Miami.

PAUL McCARTNEY wraps up a four night Madison Square Garden date on Monday. On Saturday he can be enjoyed at the MCI Center in Washington, D.C.

MARIZA Portuguese singing sensation Mariza, a fadista in the tradition of the legendary Amália Rodrigues, makes her Carnegie Hall debut. Presented by Carnegie Hall in partnership with the World Music Institute. Stern Auditorium Friday, October 7.

MICHAEL BUBLE gives two performances at the Sydney Opera House in Sydney, Australia. The first show is on Monday, October 3 and the second performances takes place Friday, October 7.

THE ROLLING STONES star at the MCI Center in Washington, DC on Monday, October 3. On Thursday the action is at the Scott Stadium at the University of Virginia in Charlottesville, VA.

FOREIGNER perform Friday, October 7 at the Community Theatre in Morristown, NJ. On Saturday they are on stage at Casino Rama in Rama, Ontario.

MARK RUSSELL one thing the last six presidential administrations agree is that Mark Russell doesn't play favorites. At one time or another all politicians will feel his sting. His humor and piano have let the air out of countless inflated egos. His wit is always as fresh as today's headlines and as sharp as your best knife. October 9 at the Cerritos Center for the Performing Arts in Cerritos, CA.

BONNIE RAITT performs Wednesday, October 5, at the Brady Theatre in Tulsa, OK. On Thursday she brings her talent to the Midland Theatre in Kansas City, MO On Saturday she can be enjoyed at The Pagenat in Saint Louis, MO. Next Sunday she's on stage at the Juanita K. Hammons Hall in Springfield, MO.

LUCINDA WILLIAMS brings her performance to Massey Hall in Toronto on Monday, October 3. On Wednesday she stars at Rams Head Live in Baltimore.

BLIND BOYS OF ALABAMA have a busy week. On Monday they perform at the Pantages Playhouse in Winnipeg, MB. Tuesday finds them at Jack Singer Concert Hall in Calgary, AB. On Wednesday they'll be on stage at the Francis Winspear Centre for Music in Edmonton, AB. On Friday the show is at the Veterans Memorial Auditorium in Providence, RI. On Saturday they can be enjoyed at the Bergen Performing Arts Center in Englewood, NJ.

SPEARE Group of 6 musicians interpreting the English texts of large Shakespeare/lrkins/Heaney - To Groove Or Not To Groove - in musical adaptations of funk and acidjazz. Guillaume De Home; singer/composer, Nico Morelli; piano/keyboards, Laurent David; bass guitar, Sebastien Jarrousse; saxophone, Karim Majhoub; drums, Philippe Figueras; electric guitar. In concert Thursday, October 6, at Java in Paris, France.

WAYNE SHORTER on Saturday, October 8, is at the Keswick Theatre in Glenside, PA. Next Sunday he's in the spotlight at the Williams Center Auditorium in Easton, PA.


FINAL OVATION


MICHAEL WITTENBERG husband of Tony Award winning Broadway musical-theater star Bernadette Peters, died Monday, September 26, in a helicopter crash in Montenegro. Three other people were killed in the crash, which occurred when the aircraft struck a high-voltage cable.

He would have celebrated his 44th birthday this month.

At the time of his death Wittenberg was a financial adviser with Wachovia Securities in Palm Beach, Florida. The company indicated that Wittenberg was traveling on "personal business." . He previously worked at Wachovia in New York City with his brother, Eric Wittenberg. When Wittenberg married the performer in July 1996, he worked for Smith Barney. Their wedding, the first for each, took place at the home of actress and long-time friend, Mary Tyler Moore and her husband, Dr. Robert Levine.

Peters once said in an interview that her husband was an investment adviser, "so he can take his computer and come with me on the concert weekends."
















Next Column: October 9, 2005
Copyright: October 2, 2005. All Rights Reserved. Reviews, Interviews, Commentary, Photographs or Graphics from any Broadway To Vegas (TM) columns may not be published, broadcast, rewritten, utilized as leads, or used in any manner without permission, compensation and/credit.
Link to Main Page
---
Laura Deni


CLICK HERE FOR COMMENT SECTION