! >
Broadway To Vegas
  
  REVIEWS INTERVIEWS COMMENTARY NEWS

| | |
| --- | --- |
| | |
WORLD PREMIERE OF LITTLE DANCER - -FORBIDDEN CITY: IMPERIAL TREASURES FROM THE PALACE MUSEUM - - BROADWAY SHOWS STAR IN AUSTRALIA - - A CHOCOLATE DRESS - - ELTON JOHN'S AN ENDURING VISION - - THE WORLD'S MOST HAUNTED HOUSE - - HARRY POTTER ACTRESS IN I'LL EAT YOU LAST - - THE MAN BOOKER PRIZE - - DONATE . . . Scroll Down




Copyright: October 19, 2014
By: Laura Deni
CLICK HERE FOR COMMENT SECTION


BROADWAY SHOWS STAR IN AUSTRALIA
The King and I stars Lisa McCune as Anna and Teddy Tahu Rhodes as The King: Photo: The King and I

"If you can make it here, you can make it anywhere," or so sang Frank Sinatra in New York, New York.

When it comes to hit shows on Broadway, the rest of the world agrees - Australia being a prime example.

Opera Australia is in an American musical theatre beat with The King and I, starring Lisa McCune as Anna, Teddy Tahu Rhodes as The King, John Adam as Sir Edward Ramsey and Captain Orton, Shu-Cheen Yu as Lady Thang, Marty Rhone as The Kralahome, Adrian Li Donni as Lun Tha and Jenny Liu as Tuptim.

The Rodgers and Hammerstein musical is playing in the Joan Sutherland Theatre of the Sydney Opera House.

Opera Australia presents its first Cole Porter musical, Anything Goes in collaboration with John Frost, which will tour nationally throughout the 2015 season. Anything Goes sails into Melbourne from June 2015 and touring to Brisbane before docking in Sydney from September 8, 2015.

Australian music theatre performer Jemma Rix has defied gravity, and the odds, by performing the role of Elphaba in Wicked for the 1000th time.

Jemma was cast as Elphaba in a world first staged adaptation of Wicked, in a role especially unique since Jemma was required to perform parts of the show in Japanese.

Back in Australia, she was cast as Elphaba standby in Australia's debut season at Melbourne's Regent Theatre in 2008. She took over the role from Amanda Harrison and has performed as the Wicked Witch of the West ever since. The show is currently playing a return season at Sydney's Capitol Theatre as part of the blockbuster musical's 10th anniversary celebrations. Jemma currently stars alongside Lucy Durack as Glinda the Good, Steve Danielsen as playboy prince Fiyero, and Reg Livermore as the Wizard of Oz.

The Wicked costume exhibitions have also flown into Sydney.

Costumes from Wicked are also on display in Sydney. Photo: Wicked
Wicked is a visual masterpiece with more than 350 costumes, 80 hats and 75 wigs created to transform the cast into the citizens of Oz. From angry mobsters to school students, goats to monkeys and princess gowns to witches wardrobes, Susan Hilferty's costumes are all truly exquisite. Now, Sydney has the chance to see them up close and personal.

Until the end of November Glinda's famous bubble dress and an elaborate emerald city outfit are on display at Sofitel Wentworth Sydney, and until the end of October you can see a gorgeous female costume from the emerald city on display at Luna Park with some of the original sketches by costume designer Susan Hilferty.

Wicked will transfer to Brisbane' Lyric Theatre OPAC from February 15, 2015.

Western Australia's The Black Swan State Theatre Company announced it would end its 2015 season with the Tony Award winning Broadway musical Next to Normal. Starring Rachel Beck, the musical has been voted one of the top ten musicals of the 21st century. Four plays and a musical will make up the program presented in the Heath Ledger Theatre including the 1992 Pulitzer Prize winning American drama Glengarry Glen Ross.

Also on the program is the Pulitzer and Tony Award-winning rock musical Next to Normal with music by Tom Kitt, book and lyrics by Brian Yorkey. The mounting with be a first for Perth.

Venus in Fur by David Ives will also be staged in the theatre's Studio Underground Season. Featuring songs like My Psychopharmacologist and I, Didn't I See This Movie? and Superboy and The Invisible Girl – this world-class production is "the prescription you need for the ultimate in contemporary music entertainment."

The number one party musical Grease is returning to Australia in a new multi-million dollar production being staged December 11, 2014 through January 11, 2015 at the Regent Theatre in Melbourne.

Starring Rob Mills, Gretel Scarlett, Todd McKenney, Anthony Callea, Val Lehman and Bert Newton.

Since the show's Broadway premiere in 1972 and the 1978 hit movie starring John Travolta and Olivia Newton-John, which went on to become the highest grossing movie-musical of all time; Grease has triumphed across the globe, with its irresistible mix of adolescent angst, vibrant physicality and 1950s pop culture.

Patrons are advised to "dust off your leather jackets, pull on your bobby-socks and take a trip to a simpler time as "bad boy" Danny and "the girl next door" Sandy fall in love all over again." The Australian premiere of Cameron Mackintosh's acclaimed new production, Les Misérables continues through December 20, 2014 at Her Majesty's Theatre, in Melbourne.



Madeleine Jones and Tom Parsons will star in Once. Photo: Melbourne Theatre Company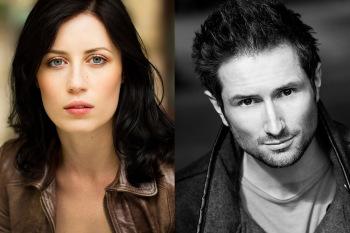 The Melbourne Theatre Company has a season filled by productions coming from Broadway.

Once, winner of eight Tony Awards, an Academy Award and a Grammy, "finally reaches Australia," with the company announcing, "we are thrilled to work with the producers of Wicked to give you access to the first five weeks of the season."

The performance last through November 1.

Heading up the ensemble cast in the coveted roles of Guy and Girl are British actor Tom Parsons and Australian performer Madeleine Jones.

Anton Berezin as the Bank Manager, Andrew Broadbent, Ben Brown, Gerard Carroll, Colin Dean, Brent Hill, Stefanie Jones, Keegan Joyce, Amy Lehpamer, Lachlan Neate, Jane Patterson, Greg Stone, Susan-ann Walker and Paul Watson l make up the ensemble of singer/actor/dancer/musicians who tell the tender love story of a struggling Irish busker (Guy) and a piano-playing Czech immigrant (Girl).

Set in modern day Dublin, Once is the story of a Guy who gave up on his music – and his love – and the Girl who inspired him to dream again. This exhilarating musical is performed by an extraordinary cast of actor-musicians who sing, dance and play their hearts out on stage. Directed and choreographed by the brilliant team of Tony Award-winner John Tiffany and Steven Hoggett, with Martin Lowe as musical supervisor, this theatrically breathtaking production will "dazzle you with its originality, wit and unforgettable music. Featuring all of the magical songs from the critically-acclaimed film, including the Oscar-winning Falling Slowly, this achingly beautiful, joyously uplifting show strikes an unforgettable chord in audiences and speaks to the power of music to connect us all."



BAFTA winner Miriam Margolyes who portrays Professor Pomona Sprout in the Harry Potter series, stars as Sue Mengers in I'll Eat You Last.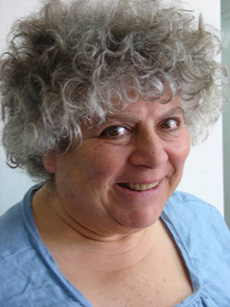 I'll Eat You Last by John Logan opens October 31 with performance through December 20 at the Fairfax Studio in Melbourne.

BAFTA Award winner Miriam Margolyes becomes larger-than-life Hollywood agent Sue Mengers in this scintillating one-woman show - offering a titillating night of tinseltown tattle. Directed by Dean Bryant the production has set and costume design by Owen Phillips, and lighting design by Ross Graham. Russell Goldsmith is the Sound Designer while Leith McPherson serves as voice and dialect coach.

Join the cast and creative team of I'll Eat You Last on Monday October 27 at Arts Centre Melbourne, Fairfax Studio for a free discussion and Q&A session to learn more about this sizzling new play. Production briefings are a perfect opportunity to learn more about the play from members of the cast and creative teams, before you attend your performance. All briefings are free and there is no need to book - simply turn up prepared for a great discussion.

Monday, November 10 is a Forum Night. Following this performance, ticket holders can hear the cast, creative team and director discuss the show.

Pennsylvania Avenue has a world premiere November 8 - December 20, 2014 at the Southbank Theatre.

Okay, so this didn't come from Broadway, but it's about America's White House.

Joanna Murray-Smith, writing with Bernadette Robinson, creates a sparkling narrative that brings show business history to life. Pennsylvania Avenue. The production also returns former Artistic Director Simon Phillips to the MTC stage. The production is "a new music theatre work featuring a fresh collection of iconic singers, all of whom had a deep connection to the White House – as a performer, a friend or something more intimate."





Broadway To Vegas is supported through advertising and donations. Priority consideration is given to interview suggestions, news, press releases, etc from paid supporters. However, no paid supporters control, alter, edit, or in any way manipulate the content of this site. Your donation is appreciated. We accept PAYPAL. Thank you for your interest.





ART AND ABOUT


FORBIDDEN CITY: IMPERIAL TREASURES FROM THE PALACE MUSEUM

Forbidden City is on display through January 11, 2015. Photo: Virginia Museum of Fine Arts

is a cultural exchange with the Palace Museum in Beijing and the Virginia Museum of Fine Arts in Richmond in which a trove of national Chinese treasures are displayed in this new exhibit.

The Virginia Museum of Fine Arts (VMFA) will showcase nearly 200 pieces of artwork - including nearly 50 paintings by court officials and court artists. The exhibit opened yesterday October 18, 2014 and runs to January 11, 2015.

Featured pieces will represent imperial artwork from the Ming (1368-1644) and Qing (1616-1911) dynasties, with a focus on the mid-Qing.

The museum is also creating an 8'X10' scale model of the Forbidden City using 3-D printers.

Drawn from the collection of the Palace Museum in Beijing, Forbidden City will offer visitors a unique journey through a palace once forbidden to the general public, and provide a glimpse into this hidden world through rich and diverse objects from the Ming (1368–1644) and Qing (1644–1911) dynasties. Featured works include large portraits, costumes, furniture, court paintings, religious sculptures, and fine decorative arts such as bronzes, lacquer ware, and jade. This exhibition explores the significant roles of imperial rituals, court painting, imperial family life, and religion in the Forbidden City.

This exhibition is part of a groundbreaking exchange between the Virginia Museum of Fine Arts and the Palace Museum - a series of collaborative projects between 2011 and 2016 that include exhibition and staff exchange in the areas of administration, curatorship, conservation, education, and security. VMFA is the first art museum in the United States to establish such an extensive collaborative project with the Palace Museum in Beijing, and this is the first time VMFA will host an exhibition of Chinese art directly from China.

Pieces in the exhibit include costumes, objects of worked gold, silver and jade, paintings, sculptures and other decorative artworks. The show will be organized into four sections: rituals of the Qing court, court arts of the Inner Court, court paintings and religion in the palace.

Forbidden City addresses how Qing rulers incorporated their Manchu nomadic traditions, adopted cultural elements from ethnic groups, and endeavored to create a diverse government and maintain societal harmony.

The museum also plans to run a series of educational programs to complement the Forbidden City show, including an interactive replica of a typical merchant-class family home outside the walls of the Forbidden City in the 17th and 18th centuries.

Virginia Commonwealth University will also offer an eight-session Chinese art history class for adults.

A scholarly catalogue accompanies the exhibition, with essays contributed by Li Jian, E. Rhodes and Leona B. Carpenter Curator of East Asian Art at VMFA; He Li, Associate Curator of Chinese Art from the Asian Art Museum in San Francisco; Hou-mei Sung, Curator of Asian Art from the Cincinnati Art Museum; and Ma Shengnan, Associate Researcher from the Palace Museum. The exhibition catalogue is published by the Virginia Museum of Fine Arts.

Forbidden City: Imperial Treasures from the Palace Museum, Beijing is organized by the Palace Museum and the Virginia Museum of Fine Arts. The exhibition is curated by Li Jian, E. Rhodes and Leona B. Carpenter Curator of East Asian Art at VMFA.

VMFA signed a partnering agreement with the Palace Museum in 2011 to showcase each other's collections and culture. Thus, VMFA will be the first US art museum to feature its permanent collection in the Beijing museum, sending its Fabergé collection to China, where it will be exhibited in the Meridian Gate of the Forbidden City, the location of the Palace Museum, in 2016. The exhibit includes about 400 objects from Russia, including 170 works from the House of Fabergé and five Imperial Easter Eggs.


SWEET CHARITY


ELTON JOHN AIDS FOUNDATION (EJAF) will present its 13th annual An Enduring Vision benefit at Cipriani Wall Street in New York City on Tuesday, October 28, 2014.

Award-winning CNN anchor Anderson Cooper will host for a seventh year.

Elton John will be performing a solo set.

Enduring Vision Awards will be presented to Governor Andrew Cuomo, Charlie Hendon, Jay Jopling, and Nathalie and Pablo Salame.

BAY STREET THEATRE'S free ticket initiative allows any student from any school to see Bay Street Theater's live professional production of To Kill a Mockingbird November 5-29.

Because of the Free Ticket Initiative, over 3,000 students have reserved tickets so far, more than double the amount who attended last year.

To Kill a Mockingbird is based on the novel by Harper Lee. Published in 1960, the novel won the Pulitzer Prize and became a classic of modern American Literature. Its central themes of racial injustice, the destruction of innocence, and the cost of courage struck right to the heart of a nation at the height of its civil rights movement, and are still deeply relevant to young people today.

The Bay Street Theatre is located in Sag Harbor, NY.


CHARLIE AND THE CHOCOLATE FACTORY AND CHOCOLATE DOWNTON ABBEY DRESSES
Lindt Deco Diamond chocolate dress contains 132 pounds of chocolate. Photo: Lindt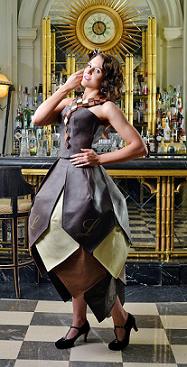 Chocolate Week in London licks the last drop today, October 19, as the UK's favorite themed week, returned for a tenth consecutive year, celebrating the world of fine chocolate, bringing the best of the industry together all under one roof.

The only thing surprising about Chocolate Week is that somebody thinks chocolate - a necessary food group - needs to be promoted.

Hundreds of events took place, with the s top chocolatiers and chocolate companies, as well as hotels, bars and restaurants celebrating by hosting talks, tastings, demonstrations and sampling, as well as creating exclusive products, new launches, offers, chocolate meals, cocktails and recipes using some of the best chocolate brands from around the world.

Highlights included a behind the scenes exhibition from the Charlie and The Chocolate Factory musical, visits from the cast and a performance by Willy Wonka himself.

2014 marks the 50th anniversary of Roald Dahl's children's novel, Charlie and the Chocolate Factory. The Sam Mendes directed musical opened in May 2013 at the Theatre Royal Drury Lane in London. Above the stage hides 60 tons of sets for the crew of 139. Backstage are 113 costumes and wigs.

Then there were the couture outfits designed by chocolatiers and fashion designers, including Downton Abbey's costume designer, made entirely out of chocolate. They strolled the world famous Chocolate Fashion Show runway, which was live every day, with the last catwalk taking place today.

The chocolate dresses could launch more erotic jokes than a mouth can handle.

Receiving a lot of attention is a creation called Deco Diamond by Downton Abbey costumer Caroline McCall, a BAFTA and Emmy-winning designer who was awarded an OBE by Queen Elizabeth. She teamed up with Lindt master chocolatier Stefan Bruderer and food artist Paul Wayne Gregory to create a 1920s and Lindt logo inspired, delectable Deco Dress crafted from Lindt Excellence dark, milk and white chocolate, transformed into a strapless, fitted bodice with an elegant tulip-shaped skirt made from chocolate leaves in varying shades of brown, pale green and chestnut.

The gown took a total of 3 months and 132 pounds of chocolate to create.

In case you're on a diet, dark chocolate has 155 calories per ounce. The varieties of chocolate used in the gown would contain 2500 to 3000 calories per pound - making the dress total between 330,000 to 396,000 calories. Feast on the gown and gain 158.4 pounds.

Chocolatier Bruderer described the dress as "boasting a dark chocolate bodice and a full skirt layered in milk, white and dark chocolate, the delectable masterpiece also features mixed chocolate squares that make up the halter neckline."

Caroline created a template of the dress using material and then Paul recreated parts of the gown in chocolate and sprayed other parts with colored chocolate, coating the entire ensemble in the sweet stuff.

The Deco Diamond dress was unveiled at the Chocolate Show on Thursday, October 16 and made daily catwalk appearances through today.

Quipped Lindt "Let's hope it doesn't melt in the spotlights!"

Created in Paris, France back in 1994, the Salon du Chocolat progressively conquered the major French and international cities, including New York, Tokyo, Moscow, Beijing, Shanghai, Cairo, Salvador da Bahia, Lima, Seoul, Bologna, Zurich, Brussels and London. Over 20 years, the Salon du Chocolat has organized 159 shows in 29 cities around the world, attracted 6.4 million visitors and this year returned to London.

Chocolate Week is organized by Sylvie Douce and François Jeantet, founders and organizers of the Salon du Chocolat around the world including the Chocolate Show London.








SPREADING THE WORD


THE WORLD'S MOST HAUNTED HOUSE The True Story of the Bridgeport Poltergeist on Lindley Street will be a topic of discussion by William J. Hall on Monday, October 27, 2014 at The The Edgerton Center for the Performing Arts in Fairfield, Connecticut.

The truth behind the 1974 haunting on Lindley Street in Bridgeport, CT is finally revealed. A crowd of more than 2,000 onlookers gathered outside. Media worldwide reported jumping furniture, floating refrigerators, and attacking entities. Decades after the publicity quieted, more than 40 hours of never-before-released interviews with police officers, firefighters, and others tell the story as it actually unfolded. Attendees will hear the story as William discusses what many call the most witnessed true haunting in history.

DRACULA the radio play that brought Orson Welles' acclaimed Mercury Theatre to life! This iconic tale of Count Dracula "is the perfect horror story for Halloween."

Arts Garage Radio Theatre adapts scripts from classic movies during the heyday of radio and then they are performed live, with performers utilizing specially designed sound effect devices, providing a nostalgic trip to the past with a modern twist.

Wednesday, October 22 and Thursday, October 23 at Arts Garage in Delray Beach, Florida.

THE AWARDS PROCESS for the 57th Annual Grammy Awards is taking place as first-round ballots have been mailed to nearly 12,000 voting members of The Recording Academy. Completed ballots must be returned to the accounting firm Deloitte Consulting LLP by Wednesday, November 5. Ballots received after the deadline will not be counted.

More than 20,000 entries were received this year, of which 17,144 remained valid. The creation of this Entry List for the 57th Grammy Awards included 1,770 Academy members and 417 record labels and/or media companies who made entries.


OTHER PEOPLE'S MONEY


YOGURT is now New York's official state snack. On Wednesday, October 15, Gov. Andrew Cuomo signed a bill into law making that a fact. Almost immediately Alpina Foods announced that their Batavia, New York yogurt plant would lay off 32 workers effective today, Sunday, October 19.

24th STREET THEATRE in Los Angeles has received a $300,000 grant over three years from the Rosenthal Family Foundation to expand its Enter Stage Right school field trip program and develop a touring version.

Enter Stage Right is a fun-filled, sophisticated, action-packed arts education program that features movie star and longtime 24th STreet Theatre supporter Jack Black in an interactive video and uses theater to teach math, history and language arts.

Created in 2003 to serve only five schools in the Los Angeles Unified School District, word about Enter Stage Right spread quickly; LAUSD immediately moved to expand 24th STreet's contract, adding another 20 schools in that first year and 15 more in year two. By 2009, ESR had grown to become the most requested program in the second-largest school district in the country, serving 11,000 LAUSD students per year at 110 schools.

Field trips for over 90 schools in four school districts, including Burbank, Compton, Culver City and Los Angeles, are being scheduled October through May. An additional $22,800 grant from the Max H. Gluck Foundation will be used to pay for school buses.

24th STreet Theatre used funding previously provided by Farmers Insurance to create a DVD version that has been distributed to more than 60,000 classrooms in 29 states. A portion of the Rosenthal funds will be used to develop a touring version.



THE MAN BOOKER PRIZE was presented to author Richard Flanagan, 53, Tuesday, October 14, for his novel The Narrow Road to the Deep North by Camilla, the Duchess of Cornwall. The presentation dinner was held in London's Guild Hall. Flanagan responded to receiving the award by hugging the wife of Prince Charles.

Flanagan's 100,000-word novel was inspired by the experiences of his father, Archie, a prisoner of war on the Burma Railway in World War II. The father of six died in April 2013 on the day his son told him he'd finished The Narrow Road. He was 98.

"My grandparents were illiterate and I never expected to stand here before you in this grand hall in London as a writer being so honored," Flanagan told the dignitaries.

The Man Booker Prize is one of the most important literary prizes awarded for fiction. It is awarded each year for the best original novel, written in the English language, and published in the UK. The winner of the Man Booker Prize is generally assured of international renown and success; therefore, the prize is of great significance for the book trade.

The other 2014 shortlisted writers for the prestigious award included: Joshua Ferris (To Rise Again at a Decent Hour), Karen Joy Fowler (We Are All Completely Beside Ourselves), Howard Jacobson (J), Neel Mukherjee (The Lives of Others) and Ali Smith (How to be Both).



LITTLE DANCER book and lyrics by Tony Award winner Lynn Ahrens and music by Tony Award winner Stephen Flaherty.

Directed and choreographed by five-time Tony winner Susan Stroman.

Shawn Gough will conduct the Kennedy Center Opera House Orchestra.

"Part fact, part fiction, and set in the harsh backstage world of the Paris Opera Ballet, Little Dancer is inspired by the young ballerina who posed for Edgar Degas and became, inadvertently, the most famous dancer in the world. Torn by her family's poverty, her debt to the artist and the lure of wealthy men, Marie struggles to keep her place in the ballet corps - a girl on the verge of womanhood, caught between the conflicting demands of life and art."

Starring four-time Tony Award winner Boyd Gaines as Edgar Degas, three-time Tony Award nominee Rebecca Luker as Adult Marie van Goethem and New York City Ballet principal dancer Tiler Peck as Young Marie van Goethem.

They are complimented by Polly Baird, Wendi Bergamini, Lauren Blackman, Sophia Anne Caruso, Janet Dickinson, Juliet Doherty, Nina Goldman, Kyle Harris, Sean Martin Hingston, Jolina Javier, Michael X. Martin, Michael McCormick, James Pierce III, Jenny Powers, Katelyn Prominksi, Michele Ragusa, John Riddle, Amy Ruggiero, Joseph Simeone, Justin Urso, Lyrica Woodruff and Tony Award winner Karen Ziemba.

Set design by Beowulf Boritt, costume design by William Ivey Long, lighting design by Ken Billington, sound design by Kai Harada and music supervision by David Loud.

Little Dancer, will play the Eisenhower Theater at the John F. Kennedy Center for the Performing Arts in a world-premiere October 25-November 30, 2014.

SHATTER by Canadian dramatist Trina Davies.

Directed by Susan Fenichell.

The Halifax Explosion of 1917. The largest man-made explosion prior to Hiroshima. Two thousand dead, hundreds injured and blinded, and many more homeless.

Shatter explores the little-known details of the aftermath of the Halifax Explosion of 1917. Anna MacLean is a teenager, thrilled with her new diary, ripe with the promise of youth, and flush with excitement at all of the handsome soldiers in the streets of Halifax.

Though Anna's mother and her best friend, Elsie Schultz, talk of the war, Anna can only think about whether the young man at the door enforcing the blackout order thought she was pretty. The next morning the world collapses. As a community tries to find someone to blame, four characters search through the rubble for something true. Lyrical and shockingly relevant to our post 9/11 world, Shatter is an examination of the cycles of fear.

The four character play stars Hollis McCarthy, Rebecca Nelson, Jackie Hansen, and Michael Chris McGuire.

Scenic Designer: Rebecca Phillips, Lighting Designer: Mary Louise Geiger, Costume Designer: Kim Krumm Sorenson, Sound Designer/Composer/Violinist: Sean Hagerty, Projection Designer: Lucy Mackinnon, Dialect/Vocal Coach: Shane-Ann Younts, German Language Coach: Julie Kilzer, Fight Director: J. Steven White, Production Stage Manager: Brian D. Gold, Assistant Stage Manager: Allie Wagner, Technical Director/Production Manager: Matt Foster, Set Construction: Ken Larson Co., Fight Captain: Brian D. Gold, Associate Lighting Designer: Cecilia Durbin, Projection/Sound Board Operator: Erin Yoshida, Wardrobe/Deck Crew: Chelsea Owens.

The American Premiere presented by Urban Stages in New York City began October 18 with opening night slated for October 23.

THE BELLE OF AMHERST William Luce's one-woman play of the private yet prolific poet Emily Dickinson, directed by Steve Cosson, officially opens tonight, Sunday, October 19, at the Westside Theatre in New York City.

The Belle of Amherst features Golden Globe Award nominee Joely Richardson. In The Belle of Amherst, Emily Dickinson (Richardson) welcomes audiences into her lifelong Amherst homestead in mid-19th century Massachusetts. "While Dickinson found solace in solitude through much of her life, acclaimed playwright William Luce weaves her poems, diaries, and letters into a one-woman portrait of one of America's greatest and most prolific poets, mixing Dickinson's encounters with close friends and family with the poet's own, often amusing observations. The Belle of Amherst illuminates a brilliant wordsmith through the words she left behind."

The creative team includes Antje Ellermann (scenic design), William Ivey Long (costume design), David Weiner (lighting design), and Daniel Kluger (sound design).

DISGRACED by Ayad Akhter, which won a 2013 Pulitzer Prize for drama.

Directed by Kimberly Senior, who helmed the two previous US productions.

The play is centered on sociopolitical themes such as Islamophobia and the self-identity of Muslim-American citizens. A successful Muslim-American lawyer and his wife - an artist influenced by Islamic tradition - are enjoying their comfortable and successful life on New York's Upper East Side. A co-worker and her husband come to dinner. What begins as polite table conversation turns to politics and religion, the mood quickly changes, leaving everyone's relationships and beliefs about race and identity in shards.

The Broadway cast includes Hari Dhillon, Gretchen Mol, Danny Ashok, Karen Pittman and Josh Radnor.

Disgraced will open on Broadway on Thursday, October 23 at the Lyceum Theatre, New York City.


WHO'S WHERE


MILEY CYRUS continues her Australia schedule with a show Monday, October 20, at the Adelaide Entertainment Centre in Hindmarsh. On Thursday her show is at the Arena in Perth.

STRAIGHT NO CHASER bring their tour to the Lied Center in Lincoln, NE on Tuesday, October 21. Wednesday's gig is at the Arvest Bank Theatre in Kansas City. Thursday finds them performing at McCain Auditorium in Manhattan, KA. Friday's show is at the Brady Theater in Tulsa, OK. On Saturday they are on stage at Dell Hall in Austin, TX. Net Sunday, October 26, they are in the spotlight at McFarlin Memorial Auditorium in Dallas.

LADY GAGA performs at the Phones 4u Arena in Manchester, UK on Tuesday, October 21. On Thursday she begins a split two nighter at The 02 in London with shows on Thursday, October 23 and Saturday, October 25.

OLIVIA NEWTON JOHN taking a break from her Las Vegas shows to perform Sunday, October 26, at the Sunset Center in Carmel, CA.

SLIM MAN with Greg Vail on sax, Craig Chesnut on drums, Hans Zermuehlen on keys perform Thursday, October 23rd at 19 Sports in San Juan Capistrano, CA.

LYLE LOVETT performs Tuesday, October 21, at the Saenger Theatre in Mobile, AL. Next Sunday, October 26, the show is at the Civic Center Theater in Peoria, IL.

PINK MARTINI with China Forbes perform Tuesday, October 21 at the Melkweg Rabozaal in Amsterdam. On Wednesday the show is at the Centre for Fine Arts in Brussels. Thursday finds them at Le Colisee in Roubaix, France and on Saturday they entertain at all That Jazz in Blois, France.

DANNY ELFMAN'S MUSIC FROM THE FILMS OF TIM BURTON Elfman has composed unforgettable scores for director Tim Burton's weirdly wonderful worlds of Edward Scissorhands, Batman, Alice in Wonderland, and more. John Mauceri conducts his music with visuals from Burton's films. October 23 - 25, 2014 at the Concert Hall, Kennedy Center in Washington, DC.


FINAL OVATION


A MEMORIAL SERVICE FOR PHYLLIS FRELICH hosted by Deaf West Theatre will take place Monday, October 20 at the Mark Taper Forum in Los Angeles.

Ms. Frelich, a Tony Award winning actress, who was deaf, passed away from progressive supranuclear palsy (PSP) in April. She was 70.

Ms. Frelich is perhaps best remembered for her groundbreaking role as a deaf woman in a relationship with a hearing man in Children of a Lesser God by Mark Medoff. Inspired by Ms. Frelich's real-life marriage to scenic designer Robert Steinberg, the play received the 1980 Tony Award for Best Play, and Ms. Frelich and co-star John Rubinstein captured Tonys for Best Actress and Best Actor respectively.

Medoff and Rubinstein are both scheduled to speak at the memorial, along with actress Linda Bove; Deaf West Theatre founding artistic director Ed Waterstreet; and Bernard Bragg, who played an instrumental role in the founding of the National Theatre of the Deaf.

ISAIAH "IKEY" OWENS the American keyboardist known for his work with The Mars Volta and Jack White was found dead in his hotel room in Puebla, Mexico on Tuesday, October 14, 2014. He was 38.

The cause of death was initially undetermined, though reports say police found drugs and alcohol in the room. It was later revealed that Owens died of a heart attack. Two remaining concerts in Mexico in support of Jack White's album, Lazaretto, were cancelled. The band had played in Mexico City three days earlier, and was scheduled to perform in Guadalajara the day of his death.

The multi-talented musicians originally started out in finance, but in 1999 Owens lost his job at a financial management firm in Huntington Beach, California that "helped handle billion-dollar accounts for Disney and the Catholic Church".

The year before he encountered Cedric Bixler-Zavala and Omar Rodriquez-Lopez o f At the Drive-In at a concert in Irvine, CA. He received an invitation to join the dub reggae band De Facto and found himself touring Europe with Omar, Cedric, and Jeremy Ward. Not long after that he was once again invited to join their new project, The Mars Volta.

Neil Portnow President/CEO of The Recording Academy issued the following statement: "Grammy Award winner, as a member of the Mars Volta, Isaiah "Ikey" Owens was a multitalented organist, keyboardist and producer. Known for creating and experimenting with new and distinctive tones, he began his career in Long Beach, California, playing with bands including the Long Beach Dub Allstars and Crystal Antlers, along with his own band, Free Moral Agents. More recently, Ikey joined Jack White's backing band, the Buzzards, in 2012, appearing on both of White's solo albums, as well as performing with him on tour. Our music community has lost a gifted and creative artist all too soon, and our thoughts go out to his family, his friends and the many musicians with whom he collaborated.

TIM HAUSER singer and co-founder of the Manhattan Transfer in 1969 and was its sole remaining original member, died October 16, 2014. He was 72.

Hauser underwent spinal surgery in 2013 which forced him to be absent from the group's performances for some time.

Born in Troy, N.Y., Dec. 12, 1941, Hauser grew up in towns on the New Jersey shore, and began his singing career in Asbury Park at age 15 with a doo-wop group called the Criterions that once performed for the legendary disc jockey Alan Freed. In college Hauser sang with other vocal outfits, including one folk aggregation that included future hitmaker Jim Croce. In 1964, Hauser served in the USAF and the New Jersey Air National Guard. In 1965, he began his career in marketing. From 1965–66, Hauser worked as a market research analyst with the advertising agency Sullivan, Stauffer, Colwell, and Bayles. His accounts included Pepsodent Toothpaste (Lever Bros.), Micrin Mouthwash (Johnson & Johnson), and Rise Shaving Cream (Carter Products). From 1966–1968, he worked as manager of the Market Research Department for the Special Products Division of Nabisco. His accounts included all ready to eat cereals, hot cereals, and pet food products, before starting the Manhattan Transfer in 1969.

Neil Portnow President/CEO of The Recording Academy issued the following statement: "Eight-time Grammy winner Tim Hauser was a remarkable talent and pioneering figure in jazz vocal music. A founding member of the legendary jazz-pop quartet the Manhattan Transfer, Hauser and his bandmates have been setting the bar for vocal power and precise harmonies for more than five decades. Known for putting their unique spin on the sounds of jazz, R&B, rock, swing, and more, the Manhattan Transfer became the first group to ever win Grammy Awards in both Pop and Jazz categories in the same year. In addition to his impressive vocal ability, Hauser was also a gifted producer and vocal arranger. Throughout his career, his love for music and performing always prevailed, as evidenced by the group's live shows and international popularity. Our thoughts go out to his family, friends, and fellow group members, as well as to all who have been entertained by his exceptional talent.















Next Column: October 26, 2014
Copyright: October 19, 2014 All Rights Reserved. Reviews, Interviews, Commentary, Photographs or Graphics from any Broadway To Vegas (TM) columns may not be published, broadcast, rewritten, utilized as leads, or used in any manner without permission, compensation and/or credit.
Link to Main Page
---
Laura Deni



For the snail mail address, please E-mail your request.
CLICK HERE FOR COMMENT SECTION