! >
Broadway To Vegas
 
  SHOW REVIEWS CELEBRITY  INTERVIEWS GOSSIP NEWS

| | |
| --- | --- |
| | |
BROADWAY TALENTS BEHIND SIEGFRIED AND ROY - - WAYNE NEWTON KISSES AND HONORS - - NOBODY DON'T LIKE YOGI - - THE BIG RED COMEDY FESTIVAL - - AFTER SIX BEFORE EIGHT - - EDGAR ALLEN POE WEEKEND - - ACTORS FUND CELEBRATES KANDER & EBB - - NED ROREM BIRTHDAY GALA - - DONATE . . . Scroll Down


KISSING THE WOMEN; HONORING THE MEN
Wayne Newton loves his audience Photo By; Laura Deni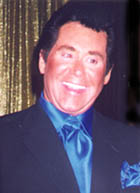 An hour before show time the line snakes around the Stardust Hotel casino in Las Vegas. Fans of all ages and descriptions have come to see their idol - Wayne Newton. This man who has had 157 albums and a dozen records making the Top Ten charts barely sings during the show. It's inconsequential. What he delivers is far more than a song. He cares about his audience.

In an era of large venues, artists projected on huge screens, Newton is a throwback to the Vegas days when a performer had fun on stage and included the audience in the party.

Newton looks good - he refers to his thin, tuxedo clad self as an Indian on a wedding cake.

As he has always done, he surrounds himself with the best. That includes an orchestra - meaning violins - conducted by Greg Macaluso. His backup singers can knock the notes to the rafters and outstanding impressionist Jeff Brandt not only does bulls eye impersonations of Tom Jones, Willie Nelson and Elvis Presley but also delivers his take of Newton singing Red Roses For a Blue Lady.



Newton's show has always had a patriotic segment. Photo By; Laura Deni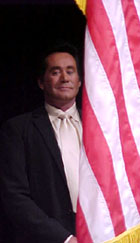 What Newton does is to kiss and honor. The first segment - a long one - is Mr. Las Vegas traipsing through the crowd smooching every female within reach. He locks lips with the masses, to the point that you can't help but wonder if somewhere over time those germs are what got into Newton's vocal chords. The females are willing to be exposed to anything as long as they can get a buss from Wayne.

You don't need to have personal face time with him to experience the glow. It's an act that he's been doing for years. It comes across as sincere, probably because Newton truly does love and appreciate his fans.

His respect for American troops has also been a part of the show since the Vietnam era. Newton honors America and the military in every performance. What could be cheesy is a goosebump highpoint.

The Newton show is a gathering ground for celebrities and significant events. People celebrating birthdays and anniversaries are in abundance. Even CNN's anchor Kyra Phillips and her investment banker husband, A. John Assad, are in the audience. Newton acknowledges them all and then, in the tradition of heyday Las Vegas, has waiters deliver a bottle of champagne to each VIP.

The throng files out of the showroom. Do they complain that Newton no longer delivers a song? No. They rave about the show. "I loved the show," said Phillips, a frequent Las Vegas visitor. With fortissimo Newton has delivered the song in his heart - that he cares about them - and that is hitting all the important notes right on key.


SUTURE UP YOUR OWN MOUTH
Dr. Lonnie Hammargren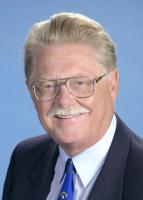 Patient privacy rights versus the need for physicians to be in the spotlight, is the center of a firestorm created when former Nevada Lt. Gov. Dr. Lonnie Hammargren, a neurosurgeon, let his jaw flap about Roy Horn's treatment. The illusionist remains in critical condition at University Medical Center after being attacked by a tiger, Montecore, during the Oct. 3rd Siegfried and Roy Show.

Hammargren told the Las Vegas Review-Journal, the state's largest newspaper, that Horn had suffered a massive stroke and underwent a craniectomy and then opined about Horn's prognosis.

Hammargren didn't perform Horn's surgery, but emphasized he talked extensively with Horn's surgeon, Dr. Derek Duke, about his treatment. That raised the question - why was Duke discussing his patient's case with Hammargren?

On Thursday the Mirage Hotel issued a blistering letter criticizing Hammargren for violating a patient's right to privacy and relating information which may or may not be accurate.

The statement informed Hammargren that he had broken federal law. It has been reported that investigations will take place to determine if Hammargren and/or Duke should be reprimanded.

Hammargren denied he violated any laws. He defended his need to speak by claiming he meant well and was trying to help by correcting information that had been printed.

Many a life has been messed up by people calling themselves friends who "meant well" and are "trying to help."

The New York Daily News, citing an unnamed source, reported Wednesday that Horn underwent a "radical procedure called a hemicraniectomy on Oct. 4." Hammargren immediately jumped into the spotlight saying the procedure performed on Horn was not radical, nor was it a hemicraniectomy, which involves removing half of the skull. He explained that doctors performed a large decompressive craniectomy, which involves removing only one-quarter of the skull.

"He didn't have that big of an operation," Hammargren alleged, referring to the hemicraniectomy. "That means the whole side of his head would have been taken off. It has a very poor prognosis. Roy had half the size of a hemicraniectomy and it is not a radical operation."

"I've been told Roy's skull has been put in a pouch in his abdomen," he said referring to the skull piece, taken from the right side of Horn's head. Some outlets reported the word "stomach," rather than abdomen.

Then Hammargren started discussing Roy's stroke, informing the press that Roy had suffered paralysis on his left side following the attack.

Hammargren, who - again - is not Roy's physician, said; "Paralysis can get better after, but he had a pretty big stroke. We just don't know yet. Fortunately, the stroke didn't hit on the side where he talks, thinks and remembers. He can still comprehend things and do things."

"Dr. Duke did exactly the operation he should have. Otherwise, Roy would be dead," he said.



Dr. Sanjay Gupta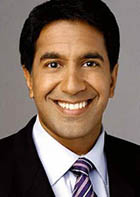 After the story broke, CNN's Dr. Sanjay Gupta, a practicing neurosurgeon, used a real human skull to explain the procedures in a way that could be clearly understood by everyone.

At no time did he make any claims to having inside information on Roy's condition. He simply explained the difference between hemicraniectomy and a decompressive craniectomy.

Gupta also corrected misinformation that the brain was being stored in Roy's stomach - rather, that in such procedures the brain is stored for safekeeping in a nearby abdominal cavity - because there is ample blood flow, it is sterile and easy to remove when the time comes to return the skull portion to the patient's head. Gupta also did an excellent job of showing the importance of the operation - permitting the brain to expand - and what happens to a patient if such a procedure is not done.

Before joining CNN, Gupta was a neurosurgeon at the University of Tennessee's Semmes-Murphy clinic, and before that, the University of Michigan Medical Center. In 1997, he was chosen as a White House Fellow in the office of the first lady - one of only 15 fellows appointed.

As for the loose lips in Las Vegas - it's a question of both judgement, appropriateness and the legal rights of patients.

The off the chart's media saturation also raises the question regarding purpose or benefit.

Blood drives have been encouraged by both the Mirage Hotel and Siegfried & Roy's manager Bernie Yuman, a positive aspect of this tragic event.

Roy Horn knowingly entered a dangerous profession. He knew the risks he was taking every time he came near one of the animals and consciously made the decision to perform.



Christopher Reeve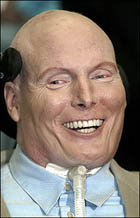 Not to seem callus - the doctors call it a miracle - Roy is alive. No bystander was injured. The tiger did not kill or maim anyone in the audience.

Many stars have been killed or permanently injured while either on the job or in a sport they pursued. Circus performers, skiers, divers, ice skaters, polo players and soccer stars have been paralyzed.

When Christopher Reeve was thrown from a horse - paralyzed from the neck down - Reeve's family almost immediately transferred the attention away from him toward others. They received strength through the use of his life altering tragedy to attempt to benefit those with spinal cord injuries.

Perhaps in the future, this harrowing Roy Horn event can inspire more research and development into recovery for stroke victims.


THEATRICAL WIZARDS MADE THE MAGIC HAPPEN
Roy surrounded by showgirls in the Siegfried & Roy Beyond Belief show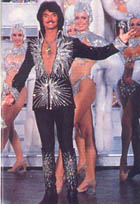 Without the creative talents of theatrical heavyweights there never would have been a mega watt Siegfried & Roy show in Las Vegas. The inventive minds behind the Siegfried & Roy productions constructed an elaborate show that - as odd as it may sound - had Siegfried & Roy not been a part of the production - some people would have bought tickets just to see the incredible effects - sets, costumes, lighting and the huge cast flawlessly execute the choreography.

Broadway and West-End London brain power have always been the unheralded backbone of the world famous production show. Without their smoke and mirrors expertise, the master illusionists wouldn't have materialized into world class status. Like constructing a house, the men of Broadway were the foundation and Siegfried & Roy the facade. Constructed properly the blueprint turned into a creation enjoyed by generations.

Siegfried & Roy did not make Las Vegas. Rather, it was Las Vegas that made it possible for the master illusionists to become household names.

Crandall Diehl was dance captain of the original Broadway production of My Fair Lady. Diehl made his Las Vegas debut as the director choreographer of Siegfried & Roy's Beyond Belief show which opened in 1981 at the Frontier Hotel. In that venue the show ran for 3,500 performances for more than 3 million showgoers.



Ken Billington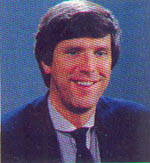 That version of the duo's act also featured the lighting of Ken Billington who, at that time, already had thirty-five Broadway productions to his credit including Sweeney Todd, and was principle Lighting Designer for New York's Radio City Music Hall.

Billington has now racked up over 80 Broadway shows to his credit from the 1972 hit Donít Bother Me I Canít Cope to last seasonís disaster Dance of the Vampires. Ken also supervises the North American productions of the Irish dance sensation Riverdance and for the past 23 seasons the Radio City Music Hallís Christmas Spectacular. He's been honored with six Tony award nominations and received the 1997 Tony Award for his work on Chicago.

Currently, he is the lighting designer for Nobody Don't Like Yogi, which begins previews October 21 at the Lambs Theatre in Manhattan. The production stars Ben Gazzara.



John Napier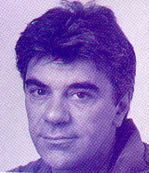 The final Siegfried & Roy re-modeling - the show at the Mirage Hotel where Montecore the tiger critically mauled Roy - was the baby of John Napier, the four time Tony award winner. Napier is listed as the co-creator, co-director and designer, having designed some of Broadway's biggest including Cats, Starlight Express, Les Miserables, Miss Saigon, Sunset Boulevard and Jane Eyre.

John Caird, the writer and co-director for Siegfried & Roy received Tony Awards for his co-direction of The Life and Adventures of Nicholas Nickleby and Les Miserables. He wrote the book, directed and penned additional lyrics for Jane Eyre.



Andrew Bridge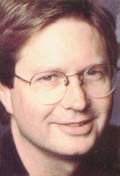 Lighting Designer Andrew Bridge was represented on Broadway by Aspects of Love. The three-time Tony Award winner saw his lighting design for Phantom of The Opera win the 1988 Tony, an accolade which was repeated in 1995 for his lighting of Sunset Boulevard and in 1999 for his lighting design of Fosse.

Choreographer Anthony Van Laast has put the moves in West End productions of Song and Dance, Peter Pan, Barnum and A Little Night Music.

Jonanthan Deans has designed sound for nine productions of Les Miserables around the world. His work on the West End includes Time, The Reel Thing, Kiss Me Kate, Jumpers, On Your Toes and Pump Boys and Dinettes. Recent theatrical credits on Broadway and in the West End include Fosse, Parade, Ragtime,The Music Man, Candide, Disney's King David, Saturday Night Fever as design consultant and Disney's Beauty and the Beast in Toronto and the national tour.

Costuming icon William Ivey Long's last two Tony wins were for The Producers and Hairspray. The newly opened Little Shop of Horrors and The Boy from Oz, which opened at the Imperial Theatre on Broadway last Thursday, will have him in the Tony race this season.

Siegfried & Roy are the subject of an A&E Biography, which airs Monday, October 20. Invited to be part of this award winning series, we taped our comments last Sunday morning at the Monte Carlo Hotel. The A&E crew had a monumental task of putting together this A&E Biography in 12 days - usually each biography takes 12 weeks to complete.

As for the Vegas scene, Montecore has been released from quarantine. He was reunited with his animal family which includes his mother and sister. Eventually, he will be returned to public display. Those who salivate in the goulish can look elsewhere. Montecore is not going to have a sign hanging from his neck saying - I'm the one. He'll just blend back into the pride. Roy, who remains in critical condition, continues to improve at University Medical Center.




MEMORIAL TREE GROVE


Prince Albert of Monaco will announce at an Oct. 27 ceremony across from New York City Hall that he's donating a tree to be planted around the city for each person who died at the World Trade Center, as well as 16 trees at eight city fire stations.

The ceremony's location will officially be named the Manhattan Memorial Tree Grove, where five trees moved from Ground Zero will be planted.

In September, 2002 the son of Grace Kelly held a celebrity golf tournament and auction that raised $700,000 for the Twin Towers Fund and for memorial tree plantings which are to become a living, patriotic memorial.

The types of trees planted will vary, as different tree species thrive better in different areas.

An important element with the Freedom Trees is that they be easily visible throughout the New York boroughs and distinctly recognizable.


AFTER SIX, BEFORE EIGHT
Vinka Luckas, early 1970s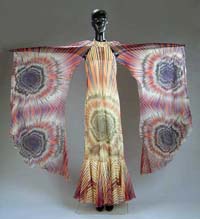 Ever since the cocktail hour rose to popularity in the 1920s, the cocktail dress has been providing the glamour and elegance needed to accompany the perfect martini.

In a new exhibition timed to coincide with L'Oreal Fashion Week 2003, Auckland Museum in New Zealand is exploring the history cocktail wear, from the classical sophistication of the 1950s, to the freedom and flair of the 1970s.



Christian Dior, El-Jay, mid -1960s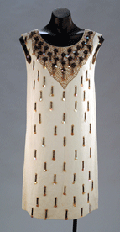 Many of the designers included in the show made their name through cocktail wear, in particular Bruce Papas and Gus Fisher, whose El-Jay label was established under license from Christian Dior in Paris.

Sourced from the Museum's own collections and those of private individuals, After Six Before Eight traces the evolution of couture as designers took their cue from international trends and progressed to create garments reflective of our own unique style and identity.

The Museum has also scheduled a program of guided tours of the exhibition, in conjunction with top designers, including Gus Fisher himself, as well as special events celebrating the music and culture of the cocktail party. Through November 9th.



Broadway To Vegas is supported through advertising and donations. Priority consideration is given to interview suggestions, news, press releases, etc from paid supporters. However, no paid supporters control, alter, edit, or in any way manipulate the content of this site. Your donation is appreciated. We accept PAYPAL. Thank you for your interest.


CAPITALIZING ON THE SCHOOL COLORS
Cornell University, founded by Ezra Cornell in 1865, stated "I would found an institution where any person can find instruction in any study." Today Cornell stresses that they "honor this legacy of diversity and inclusion and welcome all individuals, including those from groups that have been historically marginalized and previously excluded from equal access to opportunity." Nothing screams "marginalized and excluded from equal access to opportunity" like the sketch comedian.

In keeping with the old school spirit and hoping for some laughs along the way, The Big Red Comedy Festival - probably called that because the Cornell colors are red and white - celebrates comedians past and present from Cornell University.

The lesson plan is to brings together the best of the best from the Cornell sketch and improv world for one weekend of bringing to the stage the part of that official Cornell mission statement which proclaims: "Cornell stands for civil discourse, reasoned thought, sustained discussion and constructive engagement without degrading, abusing, harassing, or silencing others."

In other words, insightful comedy.

The Big Red Comedy Festival, founded by Cornell alums Alexander Zalben and Monica Hill, and sponsored in part by the Cornell Regional Office, will feature nine groups, forty performers, and promised surprises.

The groups scheduled to perform include: Elephant Larry, finalists for the HBO Aspen Comedy Festival; Madame Funnypants, critically acclaimed, Time Out New York Critic's Pick; Plants Need Water, featuring writers from the Daily Show; Jamie & Andres, featuring Andres de Bouchet (A Giant Tuesday Night of Inventions) and James Greenberg (creator, MTV's Lip Service, Where in Time is Carmen Sandiego); San Francisco's Uphill Both Ways; Hot Shot City, featuring performers from the UCB Theater and Gotham Comedy Club; Cornell University's improv troupe, the Whistling Shrimp; and Cornell University's sketch troupe, the Skits-O-Phrenics. The festival also includes the premiere of the sketch-play, The Book of Questions.

Opens at The Kraine Theatre in NYC on October 23rd and runs through October 25th.



Metropolitan Opera star Delores Ziegler, Tony nominee Marc Kudisch and Phantom of the Opera star Lisa Vroman will be joined by the Stan Tucker Vocal Ensemble, Edward Albee and Schuyler Chapin, to salute legendary American composer Ned Rorem at his 80th birthday black-tie gala.



Ned Rorem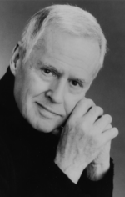 This concert is the first event of The Magic Circle Opera Repertory Ensemble's American Masters Arts Festival Biennial.

Rorem was born in Richmond, Indiana on October 23, 1923, the son of Rufus Rorem, the medical economist whose work led to the creation of Blue Cross. As a child he moved to Chicago with his family; by the age of ten his piano teacher had introduced him to Debussy and Ravel, an experience which "changed my life forever," according to the composer. At seventeen he entered the Music School of Northwestern University, two years later receiving a scholarship to the Curtis Institute in Philadelphia. He studied composition under Bernard Wagenaar at Juilliard, taking his B.A. in 1946 and his M.A. degree (along with the $1,000 George Gershwin Memorial Prize in composition) in 1948. In New York he worked as Virgil Thomson's copyist in return for $20 a week and orchestration lessons.

Magic Circle Artistic Director and Native American Ray Evans Harrell said: "With over 600 compositions, including 320 songs, 21 song cycles, 74 choruses, 41 organ works, 17 major solo orchestra works, 6 string quartets, 9 major choral works, 28 piano pieces, 4 piano concertos, 8 chamber operas, one grand opera and 16 books, Ned Rorem is the musical voice of America in the late 20th Century.

The concert will include selections from Rorem's more recent masterpiece, Evidence of Things Not Seen featuring Magic Circle Opera Award winners Beverley Vanessa Hill, Peter Castaldi, Darcy Dunn and guest tenor Vale Rideout, as well as appearances by Edward Albee and Schuyler Chapin who will present birthday tributes to the man Time Magazine called "the world's best composer of art songs."

American Honors Ned Rorem - An 80th Birthday Gala - takes place in New York City at Merkin Concert Hall on Monday, October 27.


SPREADING THE WORD


NOTORIOUS: CRIME AND CELEBRITY seminar takes place at the Museum of Television and Radio in Manhattan on Tuesday, October 28. Slated to take part are The Honorable Catherine Crier, Host, Court TV and author of The Case Against Lawyers, Troy Roberts correspondent for 48 Hours, Peg Tyre general editor of Newsweek, and Barbara Walters, cohost of 20/20.

SHIRLEY JONES at the AEI Speakers Bureau in Omaha, Nebraska on October 20th.


SWEET CHARITY


SING HAPPY: THE WORDS & MUSIC OF JOHN KANDER & FRED EBB with all proceeds to benefit the Actors' Fund of America.

Kander and Ebb, the composers of Chicago, The Act, Cabaret, 70 Girls 70, Zorba, The Rink, and so much more have given us a musical legacy that assures one of the most exciting evenings of the year!

Directed by David Galligan. Musical Direction by Ben Lanzarone. Honorary Chairman Rob Marshall. The Nedda Harrigan Logan Award will be presented to Craig Zadan and Neil Meron. Scheduled to appear (with some wonderful surprises tba) are: Ian Abercrombie, Carol Channing, Carole Cook, Wilson Cruz, Tyne Daly, Nancy Dussault, Jill Eikenberry, David Engel, Bonnie Franklin, Victor Garber, Robert Goulet, Jason Graae, Ilene Graff, Neil Patrick Harris, David Hasselhoff, Florence Henderson, Marilu Henner, Jane A. Johnston, Dale Kristien, Jane Lanier, Sharon Lawrence, Marin Mazzie, Gerry McIntyre, Donna McKechnie, Liza Minnelli, Rod McKuen, Rita Moreno, Karen Morrow, Pamela Myers, Jack Noseworthy, Valarie Pettiford, Stefanie Powers, Charlotte Rae, John C. Reilly, Alice Ripley, Michael Rupert, Joan Ryan, Honey Sanders, Jennifer Tilly, Michael Tucker, Ben Vereen, Tonja Walker-Davidson and Jon Maher (sign language interpreter). Saturday, October 25th at The Luckman Fine Arts Complex in Los Angeles.

TANGO AT TWILIGHT an evening of tango, hosted by Academy Award-winning actor Robert Duvall and Luciana Pedraza.

A first-time joint benefit between Wolf Trap and the Robert Duvall Children's Foundation, hosted at the Duvall estate in The Plains, Virginia. This event will feature an evening of Argentine food, music, and tango dancing. There will also be a pre-event private screening of the film Assassination Tango for top level sponsors prior to the event.

Proceeds will benefit both the Robert Duvall Children's Foundation and Wolf Trap's education programs. Individual tickets are $450 each, with donor packages up to $25,000. Saturday, October 25th.

TILLES CENTER GALA on October 25, starring Michael Feinstein, paired with Long Island native and new jazz sensation Jane Monheit in their only New York appearance together, blending their unique talents and styles in a program of the Great American Songbook.

The annual Tilles Center Gala provides critical funding for the Center's artistic and educational programs year-round.

Tilles Center for the Performing Arts, on the C.W. Post campus of Long Island University in Brookville, is headed by Executive Director Elliott Sroka. Beginning it's 23rd season, the Tilles Center presents over 70 events each season in music, dance, and theater, featuring world-renowned artists. The Center is also the theatrical home for many of Long Island's leading arts organizations, including the Long Island Philharmonic.

Among the artists and organizations that have been presented by the Center are the New York Philharmonic conducted by Lorin Maazel, violinist Itzhak Perlman, the Big Apple Circus, Alvin Ailey American Dance Theater, New York City Opera National Company, Andrea Marcovicci, the Paper Bag Players, Wynton Marsalis, the MET Orchestra with James Levine, and Patti LuPone.

Tilles Center, a part of Long Island University, has a 2242-seat main hall and a 490-seat, more intimate Hillwood Recital Hall. The smaller theater features chamber music, cabaret, solo recitals, and theater productions for children and adults.



NOBODY DON'T LIKE YOGI by Thomas Lysaght stars Ben Gazzara as legendary baseball player Yogi Berra.The play is set on opening day of the 1999 baseball season as Berra ends his self-imposed exile following being fired as manager by team owner George Steinbrenner. Berra vowed then never to return as long as Steinbrenner owned the team. Now Berra returns - to throw out the first ball, stepping in for Joe DiMaggio, who had died a month earlier.

This one man show celebrates Yogi Berra's humor, loyalty, and wisdom, as he reflects on his baseball career and the great players who have worn pinstripes over the years. His family life is also explored, including his relationship with his son, Dale, who also played for the Yankees. Renowned as a great ballplayer, Yogi Berra also became noted for his memorable quotations, yet he claims, 'I never said most of the things I said'."

Paul Linke directs. Sets by Tony Walton; Lighting by Ken Billington; Costumes by Tony Walton' Sound by Tony Melfa. Previews begin October 21 officially opening October 26 at the Lambs Theatre in NYC.

THE BOY FROM OZ stars future Tony award winner Hugh Jackman as Peter Allen, who died of AIDS in 1992 at 48. The show is a hit and Jackman, who is making his Broadway debut in this production, has a future as one of the most sought after and bankable stars on Broadway.

Reported to have cost $11 million to mount, the production opened with a $10 million advance in ticket sales.

Book by Martin Sherman. Music and lyrics by Peter Allen. Philip Wm. McKinley directs the cast which includes Stephanie J. Block, Beth Fowler, Isabel Keating, Jarrod Emick, Mitchel David Federan, Michael Mulheren and others.

Sets by Robin Wagner. Costumes by William Ivey Long. Original book by Nick Enright. Choreography by Joey McKneely.Music director/incidental music and vocal arranger, Patrick Vaccariello. Lighting by Donald Holder. Sound by Acme Sound Partners. Wig and hair design by Paul Huntley. Orchestrations by Michael Gibson. Music coordinator Michael Keller. Dance music arrangements by Mark Hummel. Technical supervision Neil A. Mazzella and David Benken. Consultant, Stephen MacLean. General manager Albert Poland. Production stage manager Eileen F. Haggerty.

The Imperial Theater in NYC.

THE ROCKY HORROR SHOW doing the time warp again - starring Mancow Muller of Q101, taking a step to the left and a step to the right at the Chicago Center for the Performing Arts, opening Thursday, October 23 followed by a VIP reception.

CONTEMPORARY MUSIC FESTIVAL held in Auckland, New Zeland October 25-27. Bringing together composers and musicians from around New Zeland and overseas to present a series of concerts, improvisation events and seminars. A rare opportunity to hear recent New Zealand and international works as well as musical "classics" of the post-war years which have rarely, if ever, been performed in New Zealand.

New Zealand's two professional contemporary ensembles of instrumental music 175 East and Stroma will combine for the first time. Virtuosic violinist and violist Mark Menzies will return from the US to perform in his home country, and soloists from the Australian ensemble Elision will make their New Zealand debut. Richard Barrett, recently described as Britain's most radical and innovative composer, will visit New Zealand for the first time, as will the internationally-renowned Australian composer Liza Lim.

Michael Hurst and Norm Skipp will present a new experience of poetry and music intermingling in a live audio event, film composers Joost Langeveld and Peter Scholes will discuss excerpts of their work, Mahinarangi Tocker will perform solo, and Goldenhorse will be featured on October 27.

The festival will open with Ashley Brown's cello journey. Improviser/composer Jeff Henderson will perform a new work with secondary school students from the Auckland area, and late night events will include improvisation at the Hopetoun Alpha, featuring Daryl Buckley and soloists from ELISION, Richard Barrett, Mark Menzies, Tim Sutton, Jeff Henderson and the Ortiz Funeral Directors. Auckland, New Zeland October 25-27.

JACKIE MASON: LAUGHING ROOM ONLY starring the legendary funnyman in his first ever Broadway show with a book, live music and a supporting cast of five singers and dancers. Previews begin October 23, officially openening on Wednesday night, November 19th at the Brooks Atkinson Theater, NYC.

NINE welcomes Sara Gettelfinger to the role of movie star, Carla, originally played by Tony-winner Jane Krakowski. Television's Jenna Elfman was to have replaced Krakowski with Gettelfinger as Elfman's understudy. After Elfman couldn't cut it in the part, in that great Broadway tradition of an understudy suddenly achieving the lead, Gettelfinger now has the role.

THE RETREAT FROM MOSCOW a new play by Shadowlands author William Nicholson which tells the story of a man, a woman, and a marriage that should have lasted. One weekend, he abruptly walks out, destroying her world, and leaving their only son to put the pieces together and to decipher right from wrong. Directed by Tony Award-winner Daniel Sullivan, the production stars Eileen Atkins, Atkins, whose performance in the London production won her an Olivier Award, John Lithgow and Ben Chaplin. Opening October 23 at the Booth Theatre in NYC with a VIP party following at Laura Bell Supper Club.

EDIE MC CLURG starring in her first one woman show - It's Edie in Here, written by McClurg and directed by Janet Fitzgerald opens Monday, October 20th at the Groundlings Theatre in Hollywood followed by a VIP reception.

Although she is best known for satirical improvisation, McClurg began her performing career at age five with the oxymoronic Kansas City Rhythm Kids. She retired at the age of six when the dance teacher was arrested on a morals charge. Edie then concentrated on her education and received a Master of Science from Syracuse University and taught radio at the University of Missouri/Kansas City for 8 years. There, she re-entered the entertainment field as a DJ, newswoman, and producer for the NPR affiliate KCUR-FM. Her proudest moment was portraying John Ehrlichmann in Conversation 26 of the NPR national broadcast of the Nixon Tape Transcripts.

GOLDA'S BALCONY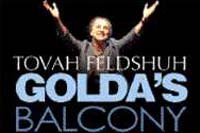 a one-actor show with Tovah Feldshuh as Golda Meir, who became the prime minister of Israel.

Written by William Gibson. Directed by Scott Schwartz. Sets by Anna Louizos.Costumes by Jess Goldstein. Lighting by Howell Binkley. Sound design and additional music by Mark Bennett. Projection design Batwin & Robin Productions. Wig design by Paul Huntley. Golda Meir makeup by John Caglione Jr. Dramaturg is Aaron Leichter. Assistant director Nell Balaban.

Presented by Manhattan Ensemble Theater at the Helen Hayes Theater, NYC.

EDGAR ALLEN POE WEEK-END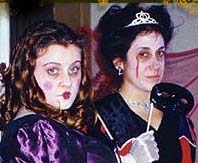 What better way to get into the spirit of Halloween than an Edgar Allen Poe Week-end. That guy knew how to write scary stories.

Saturday, October 25, and Sunday, October 26, participants will celebrate the spirit of All Hallows Eve with the staff of The Beechwood Theatre Company re-telling the eerie tales of Mr. Poe. Tours are every thirty minutes. This event is not always recommended for children under the age of eight due to the somewhat graphic nature of the stories.

The Astors' Beechwood Mansion in Historic Newport, RI.


| | | |
| --- | --- | --- |
| | | |
WHO'S WHERE


WYNTON MARSALIS on stage October 23 in Springfield, Missouri at Juanita K. Hammons Hall. On Friday the show is at the Folly THeatre in Jansas City and next Sunday he can be enjoyed at the Wheeler Opera House in Aspen, Colorado.

PETER, PAUL AND MARY singing their hits on Friday at the Fox Theatre in St. Louis, Missouri. On Saturday they are center stage at the Mendel Center in Benton Harbor, Michigan and next Sunday the performances takes place at the Potter Center in Jackson, MI.

LARRY GATLIN AND THE GATLIN BROTHERS performing next Sunday, October 26, at the Macomb Center in Clinton Township, MI.

JOSH GROBAN performs with the Los Angeles Philharmonic for the opening of the Walt Disney Concert Hall Saturday, October 25, Soundstage LA: An Inaugural Gala for Walt Disney Concert Hall, the Music Center's fourth venue and home of the Los Angeles Philharmonic and the Los Angeles Master Chorale is a black tie event celebrating the rich history of symphonic music in cinema includes greats from the past and present.

EMMYLOU HARRIS performing Oct. 21, 22, 25 Zankel Hall at Carnegie Hall, NYC.

WYONNA on stage Friday, October 24, at the Rivercenter Performing Arts Center in Columbus, Georgia.

EDDIE IZZARD in a two nighter Tuesday and Wednesday at the Shubert Theatre in Boston.

DONNA McKECHNIE in her new show called Lucky To Be Me performs October 24-25 at the King Kong Room in NYC.
















Next Column: October 26, 2003
Copyright: October 19, 2003. All Rights Reserved. Reviews, Interviews, Commentary, Photographs or graphics from any Broadway To Vegas (TM) columns may not be published, broadcast, rewritten, utilized as leads, or used in any manner without permission, compensation and/or credit.
Link to Main Page
---
Laura Deni


CLICK HERE FOR COMMENT SECTION