! >
Broadway To Vegas
  
 SHOW REVIEWS CELEBRITY INTERVIEWS GOSSIP NEWS

| | |
| --- | --- |
| | |
LITTLE WOMEN THE MUSICAL - - JEWTOPIA TRANSFERS TO BROADWAY - - BROADWAY THE AMERICAN MUSICAL - - FASCINATING FREAKATORIUM - - RICKY GERVAIS TALKS ABOUT THE OFFICE - - HUGHIE STARS BRIAN DENNEHY AND JOE GRIFASI - - APPRENTICE RUNNER-UP KWAME JACKSON SPEAKS OUT - - GEORGE WINSTON'S LOVE SONG TO MONTANA - - DONATE . . . Scroll Down


Copyright: October 17, 2004

By: Laura Deni
CLICK HERE FOR COMMENT SECTION


FASCINATING FREAKATORIUM
Johnny Fox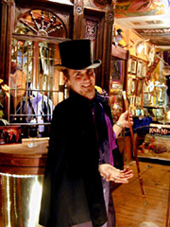 You can see a two headed turtle and Sammy Davis' glass eye.

Located on New York City's historic Lower East Side, the Freakatorium, with one of the largest collections of freak-related artifacts in the world, was established in 1999 by renowned sword-swallower and magician, Johnny Fox. He's collected objects related to America's entertainment freaks for nearly thirty years.

In the sword swallowing business for 27 years - the guy known as the King of Swords put down his sharp edged menu to discuss the museum and his occupation with Broadway To Vegas.

"It is an amazing collection. It's been recognized on Jeopardy. I've been on Letterman and I was on The View. I've been passionately collecting the history of unusual people for years. The focus of the museum came when I moved back to New York," said Fox who resided in Aspen, Colorado for 20 years.

"I thought there is nothing being said about PT Barnum and Barmun's Museum and the oddities that were working there in the 1800s. The Bowery was always a fascination for me with the old history of New York City and the entertainment's roots - which really are forgotten. Vaudeville grew out of the dime museum," continued Fox about the term coined from the admission price. "A dime to get in, a dime for photos, and a dime for this and a dime for that," elaborated Fox.



P.T. Barnum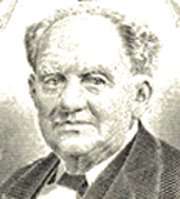 Some thirty years before his involvement with the circus, Barnum purchased Scudder's Museum in downtown Manhattan and transformed it into New York's most widely visited institution. Featuring lectures, plays, and exhibits of strange objects and "exotic" people, Barnum's American Museum offered city residents refuge from the dangerous, dirty, and socially divided streets of 19th-century New York. By 1865, the American Museum was one of the few locations in New York where all visitors who could pay the modest admission fee could gather under the same roof, regardless of class, gender or ethnic background.

Barnum's Museum was twice lost to fire, and by the end of the 19th century, dozens of smaller museums offering a similar integration of entertainment and education had taken its place. While "dime museums" would eventually recede from America's urban landscape, the exhibits and performances which took place at American dime museums would influence stage entertainment and traveling shows for years to follow.

With collecting policies not unlike Barnum's - and recalling also the "cabinets of curiosities" that had been popular among the wealthy and learned elite in Europe during the Renaissance - dime museums displayed everything from historical relics and wax figures to clever automatons and human anomalies.

Today, the Freakatorium is New York's only existing dime museum, operating in the very neighborhood where many of its predecessors once stood.

The Freakatorium includes a two-headed cow, the bones of St. Matthew, the vest and gloves that belonged to P.T. Barnum's most famous act, Tom Thumb and a grain of rice with the entire Declaration of Independence penned on one side.



Sammy Davis, Jr. lost his left eye in a traffic accident
Then there is the eye Sammy Davis, Jr. wore after he lost his left eye in a 1954 auto crash while driving from Las Vegas to Los Angeles.

"I own everything except for Sammy Davis' glass eye. That is a loaner piece," he said referring to the ocular prostheses made by Mager & Gougelman, a company in the public eye since 1851. Other celebrity clients included Hume Cronyn, Helen Keller and Peter Falk.

"The place is small, really cute, packed with all these things and presented as a Victorian cabinet of curiosity," continued Fox. "You walk in and it's like walking into a time capsule. There are wax figures from the 1800's," related Fox about such oddities as the wax figure of Mao Tse-Tung.

Hoaxes are also exposed, including P.T. Barnum's infamous Fiji Mermaid, a dehydrated looking creature that was concocted by fusing the body of a monkey and a fish together. It's perched in an aquarium, the face twisted in a horrific scream.

There is also beautiful vintage photography. "Even the frames are hung by Victorian picture nails," Fox proudly related.

"The museum will be there through the end of the year," Fox disclosed regarding his plan to return to his original concept, which was for Fox to have his own theater with the museum being in the foyer. Fox would then perform in the theater along with his wife, Argentine tango dancer Valeria Fox.

"A private foundation in Europe has expressed interest in having us bring over the museum and set it up for a short run there."

What is of great importance to Fox is giving dignity to performers who historically have been ridiculed.

"Ever since my childhood I have been interested in the unusual performer," explained Fox who grew up in Hartford, Conn. "I regarded them as my super heroes - people who were born different and had the courage to exhibit themselves, lecture and educate people as to what it was and who they were without any fear."

For 22 years I've worked at the Sarasota Medieval Faire and always look forward to meeting up with friends who were old side show performers. I am fortunate enough to have been befriended by several of these people."



A sword eating Johnny Fox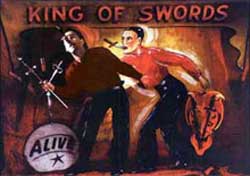 Fox's own act is a blend of fear and humor.

In 1978, while in Aspen, Fox developed a magic and story telling comedy act which has stood the test of time.

"Important to me is defusing fear in a performance by using comedy. It's an underlying message that there is too much tension in society. People are stressed. By using comedy to lighten things up, with the element of danger intertwined with comic relief."

He hasn't retired his act while maintaining the Freakatorium. He still keeps a vigorous touring schedule.

"I've been on the road since the beginning of July. I've been doing four shows a day every Saturday and Sunday until Oct 24. I entertain at two renaissance festivals, performing to about 1200 people a show four times a day."

He's also worked Vegas, opening shows for Gary Shandling, Gabe Kaplan, Tom Jones and Dolly Parton."

His act can also involve fire eating.

"I will do fire eating on occasion. I've done it in commercials for Snickers, Mr. Goodbar, and I did it at Radio City Hall Music Hall for Christina Aguilera. I used to be a regular performer at the Russian Tea Room."

A lot of folks, including the medical community have taken notice of both the museum and Fox himself - especially when he is cramming swords down his throat.

Fox has the ability to swallow sixteen swords at once which is a world record though not a Guinness Book since they closed the category. At the time the previous record holder had only managed to slide down a mere thirteen.

"I've scratched myself a couple of times years ago and I learned what not to do," he explained.

"There are now a lot more fire eaters and sword swallowers and a lot of them don't know what they are doing," he complained.

"People can pierce or scratch the esophagus, get a staph infection, or run the sword up against the spine," he warned.

"Recently, some people from John Hopkins University Medical Center came up to me and said -'There was a girl that swallowed a sword last year and she pierced her esophagus. We needed to operate on her so we pulled up your X- ray movie.'"

About 15 years ago Fox was asked to consent to having an X ray movie made of him swallowing a sword.

"I said why, would I want to do that? X rays are suppose to go through you and if I put metal inside me an X ray would bounce around."

Fox was informed that "it would be very helpful in treating people with swallowing dysfunction, people that have their larynx removed and we have to teach them how to belch to swallow air so they can speak. I said if it is going to help people, then I would consent. I asked for a copy of the movie, for myself, and they did. It is a 16 mill X-ray movie."

Reference to that X-ray movie would also become a question on Jeopardy.

"I was the answer to the daily double in the Odd Jobs category," Fox recalled.



Two headed turtle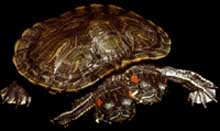 "Actually, I was on Jeopardy twice. The second time was recently. One of the players was a woman and Alex Trebek was talking to her as they segued into Double Jeopardy."

"He said - you have some unusual things happen in your world. Why don't you tell us about your New Year's Eve.'"

"This woman said - I was walking down the street with some friends on the lower east side of Manhattan. It was about one o'clock in the morning and we walked past this place called the Freakatorium. The light was on and I knocked on the door and a man let us in. He gave us a tour and showed us his two headed turtles and told us all about the history of early Manhattan."


BROADWAY: THE AMERICAN MUSICAL
Julie Andrews hosts a don't miss series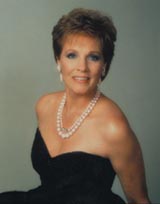 Stage and screen legend Julie Andrews hosts a magnificant six part PBS series on the history of the American musical in its entirety.

"It's about bloody time," series host Julie Andrews said of the project while promoting the PBS series to television critics. "It is simply thrilling, and I am so happy. . . . I've wanted to be part of something like this for many, many years."

Beginning with the renaming of Longacre Square to Times Square in 1904, the centennial saga is chronicled through first-person accounts from Broadway's leading luminaries and illustrated by a remarkable collection of rare archival footage, personal correspondence, diary excerpts, newsreels, private home movies, and much more. The series captures not only a century of theater history, but also the context of American history within which it unfolded.

The series was directed and produced by Michael Kantor, who recently created Quincy Jones: In the Pocket for American Masters, and has worked on Ken Burns' The West and Ric Burns' New York series.

Broadway: The American Musical, a six-hour lineup divided into six episodes which will air in two-hour blocks Oct. 19-21.

Episode one begins at the turn of the century when the American musical theater embodied the hope that America offered to millions of new immigrants.

The story of legendary producer Florenz Ziegfeld introduces many of the era's key figures: Irving Berlin, a Russian immigrant who became the voice of assimilated America; entertainers like Jewish comedienne Fanny Brice and African American Bert Williams, who became America's first "crossover" artists; and the brash Irish American George M. Cohan, whose song-and-dance routines embodied the energy of Broadway. The episode culminates in Ziegfeld's production of Jerome Kern and Oscar Hammerstein II's farsighted masterpiece, Show Boat.

Episode 2 begins with the advent of Prohibition and the Jazz Age, along with newly won freedoms for women. America was convulsed with energy and change, and nowhere was the riotous mix of classes and cultures more dramatically displayed than on Broadway. Emblematic talents like Marilyn Miller, the Marx Brothers, and Al Jolson rocketed to stardom as innovative songwriting teams like George and Ira Gershwin, Eubie Blake and Noble Sissle, and Richard Rodgers and Lorenz Hart wrote the music that seduced the entire nation with New York City's syncopated rhythm. But as the Roaring Twenties came to a close, Broadway's Jazz Age suffered a one-two punch, the "talking picture" and the stock market crash, triggering a massive talent exodus to Hollywood.

Episode 3 focus on The Great Depression which proved to be a dynamic period of creative growth on Broadway, and a dichotomy in the musical theater emerged. Productions like Cole Porter's Anything Goes offered glamour and high times as an escape, while others - such as Of Thee I Sing and the remarkable WPA production of The Cradle Will Rock - dealt directly with the era's social and political concerns. Rodgers and Hart created a string of new shows, including the sexually frank Pal Joey, starring newcomer Gene Kelly. Ethel Merman and Ethel Waters emerged as top box office draws, and George Gershwin created his epic masterpiece, Porgy and Bess, bringing a hybrid style of folk opera to Broadway.

Episode 4 spotlights the new partnership of Richard Rodgers and Oscar Hammerstein II which changed the face of Broadway forever. Beginning with Oklahoma! in 1943, their shows - Carousel, South Pacific, and The King and I - set the standard for decades to come by pioneering a musical form in which story is all-important.

In On the Town, an exuberant team of novices - Leonard Bernstein, Betty Comden, Adolph Green, and Jerome Robbins - captured the energy, humor, and pathos of New York City during World War II.

Irving Berlin and Ethel Merman triumphed with Annie Get Your Gun.

In shows like Kiss Me, Kate, Guys and Dolls, and My Fair Lady, sophisticated adaptations of literary material prevailed. Yet with the death of Oscar Hammerstein II soon after the premiere of The Sound of Music in 1959, the curtain began to lower on a golden age.

Episode 5 centers on the late '50s into the early '60s when Broadway produced another wave of enduring shows, including the groundbreaking West Side Story. But by the mid-'60s, overwhelmed by rock 'n' roll and tumultuous social change, Broadway seemed out of touch, and the increasing seediness and crime of the 42nd Street theater district repelled audiences. Hair successfully transferred a counterculture milieu to Broadway, and the musical genre evolved to encompass the adult narrative of Stephen Sondheim's Company and the conceptual theater of John Kander and Fred Ebb's Cabaret. Bob Fosse captured a sexuality and cynicism ahead of its time with Chicago, but it was director/choreographer Michael Bennett who spearheaded the biggest blockbuster of all - A Chorus Line.

Episode 6 hones in on notorious producer David Merrick who reconquered Broadway in the early '80s with a smash adaptation of the movie musical 42nd Street, but soon the biggest hits were arriving from an unexpected source - London. The "pop operas" of producer Cameron Mackintosh and composer Andrew Lloyd Webber redefined the musical's theatrical vocabulary and became international blockbusters. With Julie Taymor's triumphant reimagining of The Lion King, Disney led the astonishing resurrection of 42nd Street. Composer Jonathan Larson scored a bittersweet victory with the rock-flavored Rent, and the old-style musical was reborn in Mel Brooks' The Producers. Broadway's corporate dominance continues to grow, as evidenced by new shows such as Wicked, the biggest hit of the 2003-04 season.

This documentary series will also be released on home video and DVD by PBS Home Video. A companion five-CD box set and an illustrated companion book are also slated to be released in conjunction with the PBS premiere.


WHO IS


WHO IS? the person who served in the U.S. Senate just 22 hours. The college graduate preferred playing the guitar, writing and lecturing. Answer at bottom.



Broadway To Vegas is supported through advertising and donations. Priority consideration is given to interview suggestions, news, press releases, etc from paid supporters. However, no paid supporters control, alter, edit, or in any way manipulate the content of this site. Your donation is appreciated. We accept PAYPAL. Thank you for your interest.


THE MUSIC GOES ROUND AND ROUND


MONTANA - A LOVE STORY George Winston's new solo piano recording is an homage to his home state - Montana. All states should be so lucky. This Windham Hill CD features originals, as well as pieces by composers Philip Aaberg, Mark Isham, Frank Zappa, Sam Cooke, Huddie Ledbetter, Paul Anastasio, and Alby Potts.

This CD will not inspire you to go out and rope a steer, but you will have a urge to listen and enjoy - perhaps pleasantly visualizing the sky and meadows that inspired this effort.

Born in 1949, Winston was raised primarily in Montana. The pronounced seasonal changes he experienced there became the primary inspiration for the music he would later play.

George also keeps a near-constant touring schedule, doing about 110 concert dates per year in the US, Asia and Europe. Please note that a food drive is held at all George Winston concerts by a local community service organization. Patrons are asked to bring a donation of non-perishable canned food to the concert.

He performs today, October 17, at the Greenwich Odeum Theater in East Greenwich, RI. On Tuesday he'll be tickling the ivories at the Calvin Theatre in Northhampton, MA. Thursday the Steinway man is at the Barre Opera House in Barre, Vermont and on Saturday he's on stage at the Capitol Center for the Fine Arts in Concord, NH.

TRACKS:

Thumbelina [Mark Isham] 3:52
Billy In The Low Land [traditional American]
Valse Frontenac [traditional Quebec]
The Little House I Used to Love In [Frank Zappa]
Montana Glide [Paul Anastasio]


George Winston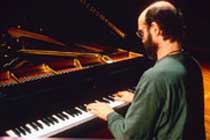 Nevertheless, Hello [Philip Aaberg]
The Twisting of the Hay Rope [traditional Irish]
Joy, Hope and Peace [Alby Potts]
You Send Me [Sam Cooke]
High Plains Lullaby
The Mountain Winds Call Your Name
Music Box (Kojo No Tsuki) [Rentaro Taki]
Raining In Her (The Muse)
(Variations on) Bamboo [traditional Chinese]
Goodnight Irene [Huddie Ledbetter]
Sweet Soul (Gobajie)
Sky (Goobajie)

Thirty-two years after the release of his first album, and 24 years after he began to record what is now recognized as his signature style of melodic folk piano, Grammy winner George Winston's tenth solo piano album, Montana - A Love Story was released October 12 on Windham Hill. Engineered by Howard Johnson. Additional engineering by Justin Lieberman, Colin Gradek, and Matt Silveira.


SWEET CHARITY


AMERICAN BALLET THEATER opening night gala, ushering in a three-week season at City Center takes place on Oct. 20, and will include a tribute to the choreographer Michel Fokine (1880-1942) and a celebration of the principal dancer Alessandra Ferri as she begins her 20th anniversary season with the company.

After the curttain falls the magic continues as dancers join guests for an elegant gala dinner celebration at the Plaza Hotel.

Since 1940, the American Ballet Theatre has performed in the greatest theatres around the world, creating a tradition of passion, innovation, and athleticism that transcends cultural boundaries and touches the soul of ballet lovers old and new.

The Jacqueline Kennedy Onassis School at American Ballet Theatre is a pre-professional training program for up to 20 high school students, ages 14-18. The school aims to provide the highest quality training, consistent with the stylistic requirements of ABT. The program is designed to accommodate the academic schedules of students, ages 14-18, with classes held weekdays, 2:30-5:30pm and on Saturdays. Classes include classical technique, pointe, pas de deux, character, modern technique and Pilates. The faculty includes members of ABT's Artistic Staff, ABT alumni and other prominent teachers. Students will be accepted based on merit, and scholarships are available based on need.

BAILEY HOUSE KEY AWARDS GALA Honorary Co Chairs: Whoopi Goldberg & Harvey Fierstein.

Commerating their 20th Anniversary The 20 for 20 Key Awards will recognize both individuals and companies that have contributed their time and resources to the AIDS movement over the last two decades. THURSDAY OCTOBER 21 at the Tribeca Rooftop NYC.

THE NEUROPATHY ASSOCIATION GALA DINNER which include dinner and performances by Byron Janis, Lainie Kazan, Patricia Neal, and Bobby Short. Masters of Ceremonies are Chuck Scarborough and Pia Lindstrom. Honorary Chairperson is Dolores Hope. Honorees are former actress and longtime devouted nun, Mother Dolores Hart, O.S.B.; Dr. Brad Galer, Endo Pharmaceuticals; Terry Tenbrunsel, Bayer Biologicals Corporation. The black tie event on October 18 is at Le Cirque in New York City. Tickets are $1,000 per person.

WRCH'S NITE OF LITE LAUGHTER featuring Caroline Rhea, Wendy Liebman and Kathleen Madigan, Tuesday, October 19 at Mortensen Hall in Hartford, CN.

Since its inception in 1998, Nite of Lite Laughter has raised over $250,000 for the Helen and Harry Gray Cancer Center to help find a cure for breast cancer.

CAREER TRANSITION FOR DANCERS – 10TH ANNUAL GALA Dancing On Air: A Tribute to Dance on TV – an elegant evening featuring appearances by Arthur Mitchell, Mary Tyler Moore, Chita Rivera, Edward Villella, and dancers from America Ballet Theatre, Dance Theatre of Harlem and Miami City Ballet, directed by Tony Stevens. Monday, October 25 at City Center in New York City.

AMAS MUSICAL THEATRE HONORS GEOFFREY HOLDER, CARMEN DE LAVALLADE AND MICHAEL WILK at Blast From The Past, a special benefit concert at which time they will be presented with The Rosie Award. That is given to individuals who demonstrate extraordinary accomplishment and dedication in the theatrical arts and to corporations that work to promote opportunity and diversity. Ossie Davis and Ruby Dee, co-chairs of the October 25th gala evening and recipients of the 2003 Rosie Award, will join Maurice Hines and Elizabeth Wilson in presenting awards to this year's honorees.

The event will feature a 90 minute presentation of the Tony Award winning Broadway musical Raisin starring Norm Lewis, Tina Fabrique, Tony winner Chuck Cooper and Jamara Tunie. Directed by Kevin Ramsey and choreographed by Maria Torres, the cast will also include Kenita Miller, Venida Evans, Patrick Jude, Kevin R. Free, Curtiss I. Cook, Cornelius Bates, Jenelle Randall, Stacey Scotte and Juson Williams.

The Blast from the Past gala benefit evening begins at the John Houseman Theatre, with a champagne reception. The Raisin concert and award ceremony is followed by a dinner and raffle at the West Bank Café for Gold and Platinum ticket holders. Benefit ticket prices range from $100 for pre-show reception and performance to $450 for cocktails, performance and dinner at West Bank Café.

Amas' Honorary Benefit Committee includes Borough President C. Virginia Fields, Whoopi Goldberg, Rosemary Harris, Maurice Hines, Julie Harris, Celeste Holm, Barnard Hughes, James MacBride, Joe Morton, Christine Quinn, Phylicia Rashad, Anne Kaufman Schneider, Jean Stapleton, Susan Taylor, Leslie Uggams, Elizabeth Wilson and George C. Wolfe.

The Amas Blast from the Past Benefit is a bi-annual event held to raise funds in support of Amas Musical Theatre's ongoing theatre and arts education programs. Founded by Rosetta LeNoire, Amas Musical Theatre is a 36 year-old multi-ethnic non-profit performing arts organization, winner of the 1999 National Medal of Arts.


SPREADING THE WORD


PUPPETRY AND THEATRE SEMINAR with Pam Arciero, Artistic Director, O'Neill Puppetry Conference; Jennifer Barnhart & Rick Lyon, Avenue Q; Roman Paska, Past Director, International Institute of Puppetry and Basil Twist, Symphonie Fantastique; Moderated by Howard Sherman, Executive Director, American Theatre Wing.

Thursday, October 21, beginning at noon at The Graduate Center of the City University of New York.

Working in the Theatre Seminars presented by. The American Theatre Wing continues to provide a unique, enlightening, behind-the-scenes theatrical experience with these star-studded panels comprised of Broadway and Off-Broadway's major theatre personalities. Now in their 30th year, the Seminars are now being held throughout the year in cooperation with Continuing Education and Public Programs at The Graduate Center of the City University of New York. The panels bring together theatre's best known performers, producers, playwrights, directors, choreographers, composers, agents and others.

ART the Tony Award winning Best Play by Yasmina Reza is presented at The Booth Playhouse, Charlotte Rep October 22 - November 7. Directed by David Mowers. The Rep has partnered with the McColl Center for Visual Art for a post-performance discussion - What is contemporary art? - lead by Dr. Lili Bezner on Saturday, October 23rd. Dr. Bezner is an associate professor of art history in the Department of Art at UNCC. Open to the public, the discussion will take place in the Booth Playhouse following the performance. Charlotte, NC.

LARRY KRAMER: A TRIBUTE EVENING WITH TONY KUSHNER AND FRIENDS begins with introductory remarks by Calvin Trillin, followed by performances of excerpts of Larry Kramer's work and then a discussion with Tony Kushner and Larry Kramer, moderated by Adam Feldman, theatre critic, Time Out magazine.

Larry Kramer is a writer and activist. His play about the early years of AIDS, The Normal Heart, recently had an enormously successful revival at the Public Theater. He is the author of, among others, the best-selling novel Faggots, the play The Destiny of Me, and the screenplay of Women In Love.

He is a co-founder of the Gay Men's Health Crisis and the founder of Act Up, the AIDS advocacy and protest organization. His brother Arthur recently funded the Larry Kramer initiative for Lesbian and Gay Studies at Yale in his honor.

Sunday, Oct 24, at the 92nd Street Y in NYC.

THE OFFICE SPECIAL PLUS A CONVERSATION WITH CO-CREATOR AND STAR RICKY GERVAIS

Ricky Gervais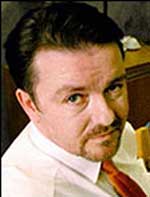 takes place Monday, October 18 at the Museum of Television & Radio in New York.

In Person: Ricky Gervais. Moderatoed by Matt Roush, Senior Television Critic for TV Guide.

Winner of numerous awards including two Golden Globes, a Peabody, and six BAFTAs - the UK equivalent of the Emmys - The Office is a Spinal Tap influenced mockumentary that mines uneasy laughs from the everyday absurdities of office life. In just two seasons, the hit show has become one of the most critically acclaimed British comedies of all time on both sides of the Atlantic.

It's now three years since BBC cameras last followed David Brent and the employees of Wernham Hogg paper supply merchants. Find out what has become of David, meet new members of the workforce, and catch up on the latest romantic developments in the saga of Dawn and Tim.

The Office Special will premiere Thursday, October 21 and encore Saturday, October 23 and Sunday, October 24 only on BBC America.

KWAME JACKSON

Kwame Jackson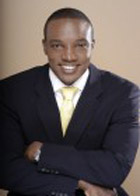 the runner up The Apprentice guy, who who should have taken a class in how to pick a team mate that won't sabotage you, will be dishing up some advice of his own on October 20 at The Learning Annex in New York City. The class is called How To Think on Your Feet.

Before he became a household name and the crowd favorite on The Apprentice, Kwame Jackson 'made it' not only with his education but by exemplifying street smart know-how.

True to his entrepreneurial training at Harvard, Kwame was heavily involved in several "dot-com" start-ups during his time in business school. However, his Fortune 500 professional foundation includes sales and marketing roles at Procter & Gamble and, most recently, on Wall Street as an Investment Manager for Goldman Sachs.

But it was his no nonsense attitude and ability to be a team leader that made his stand out in the hit series The Apprentice. In this Learning Annex appearance Kwame will discuss;
Tips for playing the 'game of life,' both professionally and personally
Behind the scenes stories from The Apprentice
How he beat out thousands to become a contestant
What he's doing now
Tips for rising to the top

MAKE 'EM DANCE was shown yesterday, October 16, in Las Vegas at the AARP's Life@50+ Event and Expo, at the Sands Expo & Convention Center. The Savannah, Georgia Film Festival will present two screenings of Make 'Em Dance on Tuesday, October 26 at the Trustees Theater, followed by Q&A with director John Whitehead and co-producer Ben Sandmel.

Make 'Em Dance, directed by John Whitehead, debuted in January, 2004, on the PBS series Independent Lens. The film traces the Hackberry Ramblers' rollicking seven-decade career from the group's formation in the tiny town of Hackberry, Louisiana, during the depths of the Depression, up through their Grammy nomination for the 1997 album Deep Water, with footage from recent performances on MTV and in Europe. Founded in 1933 by Luderin Darbone and Edwin Duhon - the two spry gentlemen, now in their nineties, still lead the band today.



LITTLE WOMEN - THE MUSICAL based on the novel by Louisa May Alcott. Book by Allan Knee, music by Jason Howland, and lyrics by Mindi Dickstein. Directed by Susan H. Shulman

This fully-staged version of the 2001 workshop at Duke University will be directed by Susan H. Schulman.

This production is not to be confused with the opera in two acts commission by the Houston Grand Opera, featuring a score and libretto by acclaimed young American composer Mark Adamo. The result was a highly acclaimed production featured as part of the Grand Performances Series on PBS.

Little Women - The Musical was originally planned for February 2004, producers of the show made the decision to delay the show in order that lead actress and 2002 Tony Award winner Sutton Foster could complete her show obligations as Millie in the Broadway production of Thoroughly Modern Millie. Foster will star as Jo in this world premiere production.

Based on the classic Civil War-era novel by Louisa May Alcott, Little Women,The Musical brings the beloved story of the four March sisters – Jo, Beth, Amy and Meg – to the stage.

Theater Previews at Duke is the professional producing arm of the Department of Theater Studies

The musical will be staged October 19-20 in Reynolds Theater in the Bryan Center.

HUGHIE By Eugene O'Neill. Directed by Robert Falls. Starring Brian Dennehy and Joe Grifasi.

Two-time Tony Award winner Brian Dennehy returns to the Goodman in Eugene O'Neill's powerful one-act play. Dennehy plays Erie Smith, a small time gambler who comes off a four-day drinking binge and glides into his sleazy New York hotel. He strikes up a one-sided conversation with the new night clerk, a replacement for Hughie, whose funeral Erie attended the pervious week. Hoping to pique the interest of the new clerk, Erie freely reminisces about Hughie, who provided a willing ear for Erie's elaborate pipedreams about playing the horses and living the high life.

The design team for Hughie features Eugene Lee (Set Design); Rachel Healy (Costume Design); John Culbert (Lighting Design); and Richard Woodbury (Sound Design). In the Owen Theatre of the Goodman October 21 - November 21 in Chicago.

THE BIG RED COMEDY FESTIVAL is coming back for its second year to celebrating comedians past and present from Cornell University. The Festival brings together the best of the best from the Cornell comedy world for one weekend of fun. Twelve different groups converge on the Theater at St. Clement's on October 22nd and October 23rd and represent the full range of comedic theatre: sketch comedy, improv, one-woman shows and plays.

The performances scheduled include: Elephant Larry, Madame Funnypants, Plants Need Water, featuring writers from The Daily Show, Only Children, featuring Andres du Bouchet and James Greenberg creator, MTV's Lip Service and Where in Time is Carmen Sandiego, and audience favorite Uphill Both Ways, from San Francisco.

On Saturday October 23rd, the festival will be hosting a Careers in Comedy Writing panel at the theater. This panel with include a Q&A with: Mark Katz, President Clinton's former joke writer and author of Clinton and Me; Eric Garcia, author of Matchstick Men and the Anonymous Rex series; and Jason Reich, an Emmy-Award winning writer from The Daily Show. Tickets for the panel are free and available the day of, only.

The BRCF is sponsored in part by The Onion and the Cornell University Regional Office.

43 PLAYS FOR 43 PRESIDENTS conceived by Andy Bayiates. Written and directed by: Andy Bayiates, Sean Benjamin, Genevra Gallo, Chloë Johnston and Karen Weinberg Performed by: Andy Bayiates, Sean Benjamin, Genevra Gallo, Chloë Johnston and Noelle Krimm.

43 Plays for 43 Presidents returns to celebrate the upcoming election - with a new ending and a few new plays in-between! The piece is a chronological, biographical survey of the lives and presidencies of each of the 42 men who have held the office to date, with a company of performers portraying both their mistakes and successes. The scenes shift frequently between the comic and the tragic, beginning with George Washington, continuing through the grim onset of the Civil War, moving through a Nixon dance number, and arriving at a WWF-style wrestling match of the 2000 election.

43 Plays for 43 Presidents first performed to nine weeks of sold-out houses at The Neo-Futurarium in 2002, followed by an Atlanta production at Dad's Garage Theatre, attended by former President Jimmy Carter. In Chicago at The Neo-Futurarium Oct. 22-23, after which they will perform the play at the Carter Center in Atlanta, as part of a benefit for Dad's Garage Theatre on Election Eve, November 1.

BROOKLYN THE MUSICAL a new musical by Mark Schoenfeld and Barri McPherson will star Cleavant Derricks in his return to Broadway for the first time in 18 years. Derricks, who won a Tony in the original production of Dreamgirls last appeared on Broadway in the 1986 production of Big Deal. Derricks will play the Street Singer replacing previously announced David Jennings, who has withdrawn for medical reasons. The show will open at the Plymouth Theater on Oct. 21.

JEWTOPIA a new comedy by Bryan Fogeland Sam Wolfson opens in The Big Apple at The Westside Theatre. Previews began September 28 with opening night set for Thursday October 21.

Jewtopia premiered on May 8th 2003 at Los Angeles' Coast Playhouse where it played through through Sunday August 1st making it one of Los Angeles' longest running comedies, having played for over 300 performances. The original cast now transfers to New York.

The plotline is a story of two 30 year-old single men, Chris O¹Connell and Adam Lipschitz. Chris, a gentile, wants to marry a nice Jewish girl so he'll never have to make another decision. After forming a secret pact, Adam promises to help Chris shed his gentile-ness and bring him undercover into the Jewish world. Cultures clash. Stereotypes collide. Chaos ensues.

The production features Alan Charof, Cheryl David, Bryan Fogel, Lorry Goldman, Irina Pantaeva, Jenni Pulos, Jackie Tohn, and Sam Wolfson.

NIGHT MOTHER a revival of playwright Marsha Norman's acclaimed 1983 work about a woman who tells her mother she's planning to commit suicide. Starring Brenda Blethyn and Edie Falco, the drama comes to NYC's Royale Theatre beginning October 22.

GEM OF THE OCEAN touching on the legacy of slavery and recording the black experience in America, the latest from powerhouse playwright August Wilson features 2004 Tony-winner Phylicia Rashad as a nearly-300 year-old woman who has special powers as a cleanser of souls. Begins performances on October 22 at the Walter Kerr Theatre, NYC.

THE ABBEY THEATRE'S THE PLAYBOY OF THE WESTERN WORLD To celebrate the 100th Anniversary of The Abbey Theatre - The National Theatre of Ireland - their signature production of The Playboy Of The Western World is being staged at the Stamford Center for the Arts.

When a mysterious stranger arrives in a small Irish town and boasts of killing his father, the local men can't decide if he is friend or foe, while the local women find him fascinating. When the stranger's father suddenly arrives with a gaping head wound in search of his ungrateful son, a chain reaction of deceptions and realizations build to a violent climax.

October 19-24 at the Rich Forum, Stamford Center for the Arts in Stamford, Conn.

MIKLAT By Joshua Ford. Meaning "refuge" in Hebrew, Miklat is a funny and ultimately poignant story about family, faith, and homeland.

Set during the Gulf War of 1991, Miklat centers on a liberal American couple, the Kleinmans, off to visit their son in Jerusalem during his college semester study abroad. But they're in for a shock. Their son - no longer Marc, but Moishe - has become an ultra-Orthodox Jew, studying at a yeshiva instead of a university and on the verge of an arranged marriage to a girl he has just met.

His father's ready to kidnap him; his mother begins to question her own beliefs and lifestyle. Miklat is a universal tale of parents' expectations and their children's inevitable search for independence, personal expression, and the meaning of life.

Oct 22 - Nov 28 at Florida Stages in Manalapan, Florida.


| | | |
| --- | --- | --- |
| | | |
WHO'S WHERE


STING AND ANNIE LENNOX Sacred Love tour to Madison Square Garden on Tuesday, October 19.

PAULA POUNDSTONE performs at Funny Bone in Cincinnati, Ohio Friday, October 22 through Sunday October 24.

GLORIA ESTEFAN AND BARRY MANILOW on stage Thursday, October 21, at the Allstate Arena in Rosemont, IL. On Saturday the performance takes place at Palace of Auburn Hills in Auburn Hills, MI.

DOLLY PARTON performs Tuesday, October 19 at the Gund Arena in Cleveland, Ohio. On Wednesday she'll star at the Schottenstein Center in Columbus, Ohio. On Friday she begins a three night engagement a Casino Rama in Ra, Ontario.

SAM PHILLIPS together with her producer T-Bone Burnett, Grammy nominee Sam Phillips has collaborated with some of today's greatest music legends from Elvis Costello to members of R.E.M. Her music is featured on film and TV, including the popular Gilmore Girls. Tuesday, October 19 Zankel Hall in Carnegie Hall, NYC.

ALICE COOPER bring his act and pet snake to Sunset Station in Las Vegas on Oct. 23.

SARAH McLACHLAN who has sold over 22 million records worldwide, performs Thursday, October 21 at Royal Albert Hall in London.

VAN HALEN performs Tuesday, October 19, at the Rose Garden Arena in Portland, ORegon. ON Wednesday the performance is at the Spokane Arena in Spokane, Washingon. Friday finds him at the Key Arena in Seattle and on Saturday the show is at the PNE Pacific Coliseum in Vancouver, BC.

GAVIN CREEL performs October 18 as part of the Monday Night at Feinstein's: Broadway's Brightest Stars. Feinstein's at the Regency in NYC.

SARAH BRIGHTMAN performs Friday at the Halifax Metro Centre in Halifax, NS. Next Sunday she is on stage at the Colisee Pepsi in Quebec City.

WHO IS ANSWER Rebecca Latimer Felton

Rebecca Latimer Felton. Photo from Senate Archives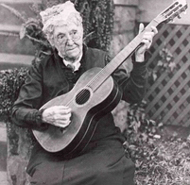 wife of William Harrell Felton, a Senator from Georgia., Ga., served as secretary to her husband while he was a Member of Congress 1875-1881.

She was appointed by the Governor to the United States Senate on October 3, 1922, to fill the vacancy caused by the death of Thomas E. Watson. She served just twenty-four hours, from November 21 to 22, 1922, a successor having been elected.

Felton has gone down in history as the first woman to occupy a seat in the United States Senate; the Senator who, having served one day, served the shortest term; and the oldest Senator, at age eighty-seven, at the time of her swearing-in.

She was a writer and lecturer and resided in Cartersville, Ga., until her death in Atlanta, Ga., January 24, 1930.
















Next Column: October 24, 2004
Copyright: October 17, 2004. All Rights Reserved. Reviews, Interviews, Commentary, Photographs or Graphics from any Broadway To Vegas (TM) columns may not be published, broadcast, rewritten, utilized as leads, or used in any manner without permission, compensation and/or credit.
Link to Main Page
---
Laura Deni


CLICK HERE FOR COMMENT SECTION