! >
Broadway To Vegas
  
SHOW REVIEWS     CELEBRITY INTERVIEWS     GOSSIP     NEWS 
| | |
| --- | --- |
| | |
Copyright: October 17, 1999
By: Laura Deni
CLICK HERE FOR COMMENT SECTION

SAMMY DAVIS' WIDOW SUES RAT PACK SHOW


SAMMY DAVIS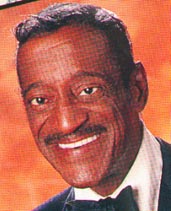 Altovise Davis, widow of Sammy Davis, Jr., has jumped on the legal bandwagon and filed a lawsuit over The Rat Pack Is Back, the David Cassidy co-produced impersonation show at the Las Vegas Desert Inn Hotel.

Altovise who lives in Pennsylvania, filed the complaint in U.S. District Court in Las Vegas. Sheffield Enterprises, a licensing company controlled by Frank Sinatra's children, earlier filed a copyright infringement lawsuit.

Las Vegas attorney Mort Galane represents both Davis and Sheffield Enterprises. Neither lawsuit attempts to shutter the show. Rather, both suits seek compensation.

The Davis lawsuit asserts "The Desert Inn has wrongfully used her husband's name, identity and persona in its advertising for The Rat Pack Is Back show. " She charges that "it was the Desert Inn's deliberate and willful intention to trade on the reputation" of her late husband. She asks for compensation from the hotel for profits gained as a result of this wrongful use."

Attendance for the production has been bolstered by the lawsuits and surrounding media attention. See related Broadway To Vegas columns of August 22, 1999 and Sept 12, 1999.

Davis first appeared on Broadway in Mr. Wonderful in which his nightclub act consumed most of the second act. The show - not Davis - received a critical drubbing. Never-the-less the 1955-56 production ran for nearly a year - 383 performances. He returned to Broadway for the artistically demanding Golden Boy, from the Clifford Oates play. That ran for 569 performances.



SAMMY BEGAN AS A HOOFER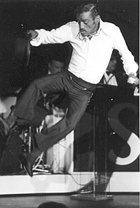 In 1945 Sammy was part of the Will Mastin Trio. They played the El Rancho Hotel in Las Vegas, earning $450 a week. At first the act featured Sammy Davis, Jr. Soon Sammy was upped to starring status. They played Bill Miller's Riviera in Fort Lee, N.J. Eventually the Copa in New York became the place the trio played. When the Copa's manager Jack Entratter moved to the Sands hotel in Las Vegas, Davis became part of the roster. The bright lights of the Las Vegas Strip ignited Sammy Davis, Jr.'s career. "This town made me what I am," Sammy had said.

It's also the town that made the antics of the Rat Pack possible. Sinatra brought them together to film Ocean's 11 at the Sands. Davis was also part of the Sinatra follow-up pictures Sergeants Three and Robin & the Seven Hoods.

Their wild nights on the Copa stage are the stuff of legends, imitators, tributes and now - lawsuits. During one party on stage Dean Martin rushed over to the diminutive Davis, picked him up high off the floor and yelled a line that Joey Bishop had just whispered in his ear - "I would like to thank the NAACP for this trophy."

Yet to sign-in on the lawsuit ledger are the estates of Dean Martin, or Peter Lawford.


PIXELON LAUNCHES WEB SHOWS IN VEGAS

Ten dollar tickets go on sale tomorrow Monday, Oct. 19 to see The Who, Dixie Chicks, Faith Hill, LeAnn Rimes and Chely Wright perform at the MGM Grand Garden on Oct. 29.

The cheap price is part of iBash99, a promotion helping to launch Pixelon, an Internet Company.



LEANN RIMES $10 tickets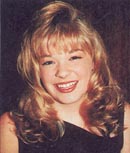 The San Juan Capistrano, CA based firm bills itself as an "online entertainment network," touting full-screen, TV-quality video and audio over the Internet.

The company states they will offer a variety of entertainment from music video and film clips to home made videos. Pixelon's technology will enable video to be encoded, then down-loaded by computers with a hardware requirement of 200 MHz Pentium or faster.

Ballyhooed as a $10 million event, The Who will perform at the evening show slated to begin at 10 p.m. The country segment is an afternoon delight, beginning at 2 p.m.

All performances can be viewed on the company's new Website, www.pixelon.com on Oct. 30. David Spade and Cindy Margolis serve as hosts.

Also on hand will be Kiss, The Offspring and the Brian Setzer Orchestra backing Tony Bennett. They will be performing at the MGM Garden Adventures Amusement Park. Ticket prices for those shows haven't been announced.



Broadway To Vegas is supported through advertising and donations. Priority consideration is given to interview suggestions, news, press releases, etc from paid supporters. However, no paid supporters control, alter, edit, or in any way manipulate the content of this site. Your donation is appreciated. We accept PAYPAL. Thank you for your interest.


GRECO'S FRIDAY NIGHT BALLROOM

Radio's old time Make Believe Ballroom has turned into the Friday night real thing for singer Buddy Greco.



Buddy Greco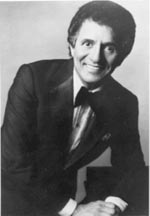 The performer who has recorded over 100 singles and 63 albums opened last Friday night at the Flamingo Hilton Hotel, Las Vegas in a Friday night 8-11 pm gig called Las Vegas Live! The dance party is broadcast live over KJUL radio with Duke Morgan and Frank LaSpina as hosts.

Back by a 14-piece band, the "girl singer" is Lezlie Anders, a.k.a. Mrs. Greco.

Billed as an exclusive evening of cocktails, dancing and entertainment with "casual elegant" or "cocktail attire" suggested. For $24.95 patrons can come and go as they please, listen to the music, dance, and meet friends. Greco promises that his celebrity friends will drop by.

Friday's debut included Greco interviewing George Carlin and LaSpina talking to various audience members.

Greco, who told stories of his days working Vegas circa 50's, was joined on stage by impressionist Bob Anderson. Also on board were Steve Rossi, Freddy Bell and golfer Doug Sanders who is doing an instructional golf video.

The show opened with a swinging In The Mood followed by In A Mellow Tone. The personable and tuneful Anders did the first set interspersed with a low keyed merchandise pitch and a commercial for a pet store which involved a live Pomeranian puppy.

Greco's first song was This Is a Lovely Way To Spend An Evening, punctuating his attitude. Indicating that his hero was Nat King Cole he did sections from Route 66, his tribute album to Cole.

Musicians in the Anders/Greco swinging band are: Howie Agster, Dick Alber, Mark Barnett, Tom Ferguson, Fred Haller, Bob Hamilton, Merv Harding, Dave Hawley, Al Imbach, Dick Jones, Dick Kastel, Clay Overlien, John Pisci, and Sam Pisciotta.


ANTHONY QUINN'S ARTWORK IN SCANDAL
ANTHONY QUINN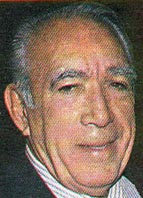 Seventy years of actor Anthony Quinn's artwork were scheduled to be presented at a $100 champagne charity reception Oct. 21 followed by a 10-day exhibit at Mandalay Bay. At the last minute the hotel and charity benefactors pulled out after reports surfaced that two of Quinn's employees were convicted in 1990 on federal fraud charges.

William Mett and Marvin Wiseman were convicted of selling more than $3.5 million of fake lithographs, hyped to be the works of Salvador Dali.

The Las Vegas Performing Arts Center, a nonprofit group attempting to build a performing arts center in Las Vegas, was to have received ten percent of the proceeds of any sales of Quinn's art work. The event was expected to raise about $50,000.



PORTRAIT BY QUINN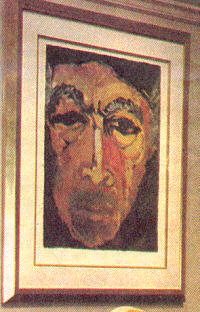 When the press got wind of the convictions Performing Arts Center president Donald Kemp canceled the event. He stated "The board didn't want any possibility of the show being tainted with problems. The bad publicity overwhelmed everybody."

Also opting to exit was the parish council of St. John the Baptist Greek Orthodox Church who pulled out of an Oct. 29 reception.

Quinn's paintings range from the traditional to the abstract. He is also a noted sculptor. His works have sold for $120,000. Owners include President Reagan and Arnold Schwarzeneger.

The actor showed an early interest in art. At age 12 he won an award for sculpting a clay figure of Abraham Lincoln. In high school Quinn copped an architectural design contest, earning him an apprenticeship under architect Frank Lloyd Wright. Even now Quinn says he considers himself an architect not an actor and views each acting role as "constructing - I literally build the character as I would construct a house."

The Academy Award winner began seriously painting when he starred as Stanley Kowalski in the national touring company of Streetcar Named Desire. While appearing in Chicago Quinn signed up for art classes at the Chicago Art Institute.

His paintings sold. To determine if people bought his work because it was good or because the actor had done the paint splashing, Quinn changed his canvas name to Antonio Oaxaca, his mother's name. Those paintings sold. Satisfied, the actor/artist resumed being Anthony Quinn.


ENCEINTE VANESSA WILLIAMS BOWS OUT
VANESSA WILLIAMS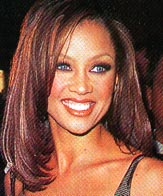 The sexy and talented Vanessa L. Williams, who denied she was as much as six months pregnant when she married last month, dropped out of the Broadway show The Wild Party because she is expecting a baby.

Williams first appeared on Broadway in 1994 when she took over the title role in Kiss of the Spider Woman.

The singer/actress who has three children, Melanie, Jillian and Devin, was cast to play Queenie, a gin-soaked vaudeville performer. She is being replaced by Australian actress Toni Collette, 26, who first gained fame in Muriel's Wedding, and currently stars in the film The Boys.

The powerhouse cast also includes Eartha Kitt and Mandy Patinkin. The musical, which is based on Joseph Moncure March's jazz-age poem has a score by Michael John LaChuisa. George C. Wolfe directs. The production opens in April at the Virginia Theatre.


GENIUS IN LOVE: ELI WALLACH


Eli Wallach will host Genius in Love, an intimate look at the real-live loves and desires that inspired some of classical music's masters.



ELI WALLACH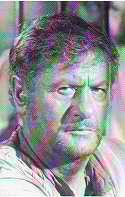 Staged under the artistic direction of Caroline Stoessinger, at the Brooklyn Center for the Performing Arts at Brooklyn College, the production is part of the Musical Master series at the school.

From Mendelssohn's fairy tale marriage to Mozart's lustful impulses, Beethoven's yearnings to Brahm's loneliness - true love, burning obsession and unrequited desire have long kindled the imagination of many of the world' greatest composers.

Genius in Love features stars of the Metropolitan Opera including baritone Terry Cook, and soprano Camella Johnson. Eli Wallach will narrate the afternoon of music.

The Brooklyn born Wallach is regarded as one of our more distinguished "method" actors. Noted for his range and versatility, his career spans stage, film, and television. He graduated from the University of Texas and received his master's degree from City College of New York.

He trained at New York's Neighborhood Playhouse and made his Broadway debut in 1945.


STARRING OPPOSITE DREW BARRYMORE
DREW BARRYMORE

D. J. Qualls, 20, son of a casket factory worker, was a paralegal for the Nashville law firm of Bart Durham until he became unemployed.

Not to worry. He's found a new line of work.

He's been signed to co-star opposite Drew Barrymore in Road Trip.

Qualls isn't the only young hot property. Fargo, N.D. native, 14- year-old blues singer Shannon Curfman, has been on the road opening for John Mellencamp. He performs Oct 21 at Madison Square Garden, with special guest Susan Tedeschi.


TITANIC ARTIFACTS DOCK IN VEGAS

Titanic: The Exhibition opens at the Rio Hotel November 5. Seven hundred artifacts recovered from the Titanic since 1987 will be on display, some for the first time.

The exhibit will re-create rooms, including the grand staircase, which will showcase the objects, as stories of the passengers traveling aboard the ill-fated ship are told.

Suitcases belonging to travelers, clothing and personal items, jewelry, elegant china, a pedestal for the ship's wheel, a ship's whistle, the base of a chandelier, sheet music still on a music stand and about $80,000 in coins and currency are just some of the items brought up from the sunken ship that will be on display.

Multimedia displays will take customers through the Titanic's story, beginning with the ship's construction, its pre-voyage and launching to the ship hitting an iceberg and sinking on April 15, 1912. The ship remains one-and-a-half miles beneath the surface of the Atlantic Ocean.

SFX will operate the exhibit while RMS Titanic, Inc. has exclusive rights to recover the artifacts. In a joint venture the exhibit is being brought to the Rio for an indefinite period. The exhibit will be housed in the space used for the Treasures of Russia exhibit. Admission will be $15.95 for adults, and $9.95 for children.


MEN OF THE YEAR

A hot ticket is the October 21st GQ Magazine's Man of the Year event. The bible of all men's magazines has tapped the acerbic Dennis Miller as host. Providing entertainment are: Garth Brooks, Lenny Kravitz and the Goo Goo Dolls.


SWEET CHARITY

BEVERLY SILLS hosts Lincoln Center's third Celebrity Chef Dinner Oct 20. Ante up $1,500 for a ticket and you participate in a glam and tasty event featuring a four-course dinner prepared by some of New York City's finest chefs.

FRANK GIFFORD emcees the Parkinson's Disease Foundation's annual charity gala, Oct. 26, Plaza Hotel, NYC. Wife Kathie Lee sings.



CONTACT is a hit. The Susan Stroman and John Weidman musical collaboration musing dance and love has been extended through Jan. 2 at Lincoln Center's Mitzi E. Newhouse Theater. The show's current engagement is sold out. After closing at the Newhouse Contact will move to the Vivian Beaumont Theatre, opening March 9, making it eligible for Tony nominations.

DINNER WITH FRIENDS a new play by Donald Margulies - Collected Stories, Sight Unseen and The Loman Family Picnic - is a comedy about marriage and friendship in the age of divorce. The production closes tonight at the Stamford Center for the Arts, CT with previews beginning Oct. 21 at the Variety Arts Theatre, NYC. Official opening night is November 4. Production is directed by Daniel Sullivan - Far East, The Sisters Rosemsweig and The Heidi Chronicles.

THE JAZZ SINGER a new musicalization of Samson Raphaelson's play by the same name, opens the Jewish Repertory Theater season at Playhouse 91 on October 31. Previews begins October 23. Adapted and directed by Richard Sabellico, The Jazz Singer features Evalyn Baron, Beth Leavel, James Murtaugh, Jimmy Peters, Ric Ryder, Reuben Scharfer, Seth Swoboda and Raymond Thomas. Featuring popular songs of the Jazz era, the musical deals with the struggle of a man wedged between his deeply orthodox family and his desire to pursue the elusive call of Broadway. Set design by Tom Beall; costume design by Russell Mowery; lighting design by Rich Lotta. Kirby Wars is the choreographer.

RIVERSIDE STAGE COMPANY a professional not-for-profit theatre dedicated to developing and presenting new American plays, will stage three new plays this season at Chelsea Playhouse NYC. Ampersand is first up, by David L. Williams. That continues through Nov. 8. If you have "and" in your first or last name - through October 22 - you'll receive a free pair of tickets for any performance of Ampersand. That's because "ampersand" is the sign for "and."

STEVE ROSS performs his cabaret show, a tribute to Noel Coward, at the Firebird NYC through December 4.

LAGUNA BEACH THE MISPLACED EPISODES 9-16 last year's sold out theatrical serial cum comedy soap opera featuring scores of NYC actors and directors, returns with eight new episodes. One each Saturday, running through November 20. Written by David Latham - from Premium Bob. Performers include; James Urbaniak, Paul Urcioli, Erin Quinn Purcell, David Letwin, and David Latham. Staged at HERE, SoHo, NY.

THE JEW OF MALTA one of the most controversial - and popular - plays of its day when first staged at the turn of the 17th century. The Marlow Project presents the work at the Musical Theater Works Black Box Theatre NYC, opening November 4. The plot centers around Barabas, a wealthy Jewish merchant on the island of Malta. Persecuted because of his religion and betrayed by those closest to him, Barabas embarks on a calculated scheme of revenge. Now in its fourth year The Marlow Project was formed with the intention of performing all of Christopher Marlow's plays. Directed by The Marlow Project's Artistic Director Jeff Dailey, The Jew of Malta features Bart Shattuck, Dana Gottlieb and Travis Taylor. While we don't fault the project, we do question the Press Release about this production. The last line of which reads - and we quote: "And remember, a dead shark in a tank simply cannot compare to a roomful of dead nuns!!!"


WHO'S WHERE

KATHLEEN BATTLE Wednesday, October 20 Cerritos Center for the Performing Arts, CA.

LEONARD SLATKIN the music director of the National Symphony Orchestra, Washington, D.C. since 1996, has been appointed chief conductor designate of the BBC Symphony Orchestra. He will begin his duties with the BBC in October 2000. He is the first American to hold the important post.

JULIE WILSON'S fabulous show at the Algonquin, NYC - a tribute to composer Cy Coleman, was recorded by DRG Records. Rita Morena opens at the Algonquin on Tuesday.

CELINE DION in Las Vegas this past week participating in the Las Vegas Invitational Golf Tournament. She not only played, she served as caddy for her husband, Rene Angelli. Unlike so many stars, Celine didn't refuse one autograph request.

BYRON WHITE Oct. 19 Chester Fritz Auditorium, Grand Forks, ND.

PET SHOP BOYS Jackie GleasonTheater, Miami on Oct. 20 The next night, Oct. 21, it's the Tampa Bay Performance Arts Center, FL. They perform at the Hard Rock in Vegas on Oct. 31

GEORGE JONES will appear at the Grand Palace, Branson, Mo for a special performance Oct. 23.

MARVIN HAMLISCH, KAREN MASON AND THE BALTIMORE SYMPHONY in A Cole Porter Celebration at Meyeroff Symphony Mall, Baltimore, MD. Oct. 28-31.

LORRIE MORGAN The Palace Theatre, Myrtle Beach, SC. Oct. 23. She returns to the Orleans Hotel, Las Vegas on Dec. 3

ANDRE AGASSI AND STEFFI GRAF have returned to Las Vegas from his European tennis play.

ROSIE O'DONNELL AND NATHAN LANE co-host a Broadway for Hillary Clinton birthday party at the Ford Center for the Performing Arts on Oct. 25.

GEORGE WENDT signed to return to Broadway starring in An Empty Place at the Cafe du Grand Boeuf. Production opens in March at Primary Stages.


THIS AND THAT

THE EARTH MOVED When Joshua Tree, CA got hit by the 7.0 earthquake early Saturday morning, Las Vegas rock and rolled. A water pipe burst on the 16h floor of the Golden Nugget Hotel, providing some hotel guests with an unexpected early morning shower.

EAT'M DEADLINE The Emerging Artists & Talent In Music conference set for May 17-20, 2000 in Las Vegas is accepting applications which must be postmarked on or before Oct. 30 and include a $75 registration fee. Interested bands must send a completed submission form, a photo, bio, press kits and video - if available - of the musician or band; and a compact disc or cassette of at least three original songs performed by the musician or band. Call (702) 837-3636

MISS USA PAGEANT moves to Branson, MO, where the pageant will be broadcast live on Feb. 4, 2000 from the Grand Palace. The delegates will convene in Branson beginning Jan. 19 participating in various special events. During the week of Feb. 4 there will be ticketed events such as the Presentation Show, Dress Rehearsal, Live Telecast and Coronation Ball.

MERV GRIFFIN COOKS the portly TV mogul with the Midas touch is cooking up another TV show. This one is called the Ainsley Harriott Show and stars the flamboyant English chef by the same name. The one hour show will by hosted by Harriott in which celebrity guests join him for conversation and cooking in a kitchen studio. The show will be produced in New York by Merv Griffin Entertainment, and syndicated by Disney-owned Buena Vista Television. The show will debut in January.

STAR WARS THE MAGIC OF MYTH is a touring show first seen at the National Air and Space Museum in Washington, D.C. There are impressive costumes, artwork, and props from the latest George Lucas film, Star Wars: Episode I-The Phantom Menace. There are also drawings and paintings for Queen Amidala's palace and some imperiled heroine's Kabuki Art Nouveau headdresses. Through Jan. 2 at the San Diego Museum of Art.

CIRCLEVILLE PUMPKIN SHOW Oct 20-23 showcases the world's largest pumpkin pie - 5 feet across and 350 pounds, pig calling contests, 7 parades and a Little Miss Pumpkin. Circleville, Ohio.

PUT OUT TO PEANUT PASTURE The world's Most Talented Performing Elephant, Bertha, has retired. For 37 years she opened the show at John Ascuaga's Nugget in Sparks, NV. She shared the spotlight with some of the world's greatest stars. She also appeared on the Ed Sullivan and Steve Allen television shows and performed for President Ronald Reagan. When the portly pachyderm developed a middle aged spread and went on a diet, she gained national attention by losing 2,000 pounds in 18 months. The Nugget has long been active in the preservation of the world's elephant population and the endangered Asian elephants, which are slaughtered by Ivory poachers and farmers. Many experts fear that without improved protection, elephants will be extinct in the wild in less than 15 years.




Mention BROADWAY TO VEGAS for Special Consideration
Call (800) 942-9027









Next Column: October 24, 1999
Copyright: October 17, 2004. All Rights Reserved. Reviews, Interviews, Commentary, Photographs or Graphics from any Broadway To Vegas (TM) columns may not be published, broadcast, rewritten, utilized as leads, or used in any manner without permission, compensation and/or credit.
Link to Main Page
---
Laura Deni


CLICK HERE FOR COMMENT SECTION