! >
Broadway To Vegas
  SHOW REVIEWS     CELEBRITY INTERVIEWS     GOSSIP     NEWS 
RHETT IN TIGHTS AND MAMMY EN POINTE

The Atlanta Ballet announced that it is moving forward with plans to create a full-length dance work based on Margaret Mitchell's Gone With the Wind. The dance company secured the exclusive rights from the Mitchell estate last year. The ballet expects to raise approximately $1.2 million to put Tara on its toes in a world-premiere production, possibly in time for the 2002-03 season. John McFall is "talking to people all over the world" about the challenge of distilling the 1,037-page novel, selecting certain themes and threads and translating them to the ballet stage. How does the ballet avoid competing with -- or being compared to -- the immensely successful book and the 1939 movie starring Clark Gable and Vivien Leigh? How do you sell skeptics who automatically wonder about seeing Rhett Butler in tights or Mammy en pointe?

"We tell the story in a different way," McFall has told the press. "What intrigued me is that in ballet we usually don't talk. I think that's why Gone With the Wind can be successful. In our culture you have the movie's images burned into the psyche forever. But because you don't have to speak, we're not competing with the movie." The ballet will avoid any intentional reminders of the movie. For example, it won't use any of the famous music from Max Steiner's soundtrack. Mary Rose Taylor, executive director of the Margaret Mitchell House & Museum, endorses the adaptation, which she discussed with McFall months ago. "Gone With the Wind" could be a touring blockbuster for the company. Its premiere in Atlanta is expected to draw international attention.


POLITICS, TEACHING AND INSEAMS
MORGAN FAIRCHILD

MORGAN FAIRCHILD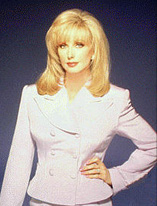 on CNN analyzing the presidential debates proved she's more than a vamp and a manipulator. Fairchild, who played a senator's wife in the off-Broadway political comedy High Infidelity, is a Democrat who is noted for mouthing off about liberal causes. But her roots are Republican. "I was raised around ideas about what the country and Constitution stood for. I started getting active when the right wing tried to censor everything; that's not what it's supposed to be about," said Fairchild, who has never been shy about exercising her right of free speech, addressing such issues as global warming, AIDS and campaign financing, sometimes before U.S. Senate subcommittees. "I've testified about things before many people knew what they were about -- or wanted to get out there and talk about. I think senators expect heart strings stuff from someone like me. I like to hit 'em with science; it gets their attention."

BOB BARKER is going to Harvard Law School as guest lecturer Oct. 23 before an estimated 600 students at the annual Harvard Law Forum in Cambridge, Mass.

CARROLL O'CONNOR

CARROLL O'CONNOR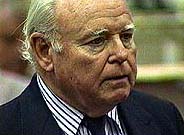 has returned to California after teaching a term at his old alma mater - The University of Montana at Missoula, which he where he met his wife and best friend, Nancy. He was all bent out of shape because he hadn't been cast in the lead of the school play Life With Father. Instead he had been given the role of the Episcopal minister. Nancy was in charge of costumes. "He was all disgruntled. He wanted to be Father. I was working on costumes and he wouldn't come in for a fitting. I stopped him in a blizzard under a pine tree, and I said, - I've got to get your inseam and your chest measurement."

He showed up, walked her home and they've been together ever since.



Broadway To Vegas is supported through advertising and donations. Priority consideration is given to interview suggestions, news, press releases, etc from paid supporters. However, no paid supporters control, alter, edit, or in any way manipulate the content of this site. Your donation is appreciated. We accept PAYPAL. Thank you for your interest.


SWEET CHARITY

THE 11th ANNUAL LAURI STRAUSS LEUKEMIA FOUNDATION GALA AND RECEPTION, A CELEBRATION OF LIFE will feature Skitch Henderson, Judy Collins, Marvin Hamlisch, and Regis Philbin. Skitch Henderson will conduct the world-renowned New York Pops. Guest Artists include Ann Reinking, Maureen McGovern, Tony Award winner Brian Stokes Mitchell, Lillias White, Aprile Millo, Joy Behar, Bucky Pizzarelli, Peter Appleyard, Margaret Whiting and Lee Roy Reams. Jose Carreras will visit via videotape.

The Gala Concert and Reception will be held at New York City's famed Carnegie Hall on Monday, October 23rd followed by a reception, also at Carnegie Hall.

Concert Special-Chairs are Katherine and Harry Pearce (Vice Chairman of General Motors and Leukemia survivor). The Honorary -Chairs include Judy Collins and Louis Nelson, Eugenie and Walter Kissnger, Dr. Harold Varmus, Jean and Ralph Baruch, and Margaret Whiting and Jack Wrangler. Concert Chairs include Frank J. Biondi Jr., Ron Bernard, Lloyd J. Braun, Tom Freston, Barbara and Martin Sass, and Kathy and Alan D. Schwartz.

MUSICAL THEATRE WORKS LIVE IN CONCERT dinner-dance at the Club Exit on West 56th Street. This gala event, on Oct.16, will highlight MTW's new resident writer program. Broadway stars Betty Buckley, Peter Gallagher, Neil Patrick Harris, Andrea McArdle and Sherie Rene Scott, will join Audra Mc Donald in performing the songs of new composers. The concert is directed by Hal Prince's talented daughter, Daisy. Musical direction by Grant Gershon.


ON THE MEND AND IN ASYLUM

CHRIS LeDOUX rodeo cowboy turned singer received a liver transplant at the University of Nebraska Medical Center in Omaha. LeDoux, 51, was suffering from primary sclerosing cholangitis, a disease that led to the death of football great Walter Payton. LeDoux had his surgery at the same hospital that also performed a liver transplant a few years ago on Robert Redford's son

SYL CHENEY-COKER author of The Last Harmattan of Alusine Dunbar and recipient of the African Best Book award in the Commonwealth Writers Prize in 1991 and the Commonwealth Short Story Prize in 1992, has moved to Las Vegas as the first writer to take refuge in the nation's first City of Asylum. The program was created by the International Parliament of Writers. Cheney-Coker had been at Cambridge University and then received a two-year Writer-in Residence appointment at City University of New York's Medgar Evars College. In Las Vegas he's being wined and dined by local bigshots and trying to adjust to the "phastasmagoric" casinos.


OTHER PEOPLE'S MONEY

JUJAMCYN THEATERS LOSES ARBITRATION An arbiter has ruled that Broadway's third-largest theater owner, will have to shell out hundreds of thousands of dollars in back royalty payments to many of the theater world's leading directors and choreographers.

Since 1997 Jujamcyn has added a $1 surcharge to theater tickets for shows in its five theaters, calling it a "restoration fee" to be used to refurbish the theaters.

However, the company failed to factor the extra bucks into weekly gross receipts from which directors and choreographers draw their royalties.

The Society of Stage Directors & Choreographers termed it a sneaky way of increasing box-office grosses without having to pay higher royalties, and filed arbitration proceeding against Jujamcyn in 1998.

Last Tuesday, in a retroactive decision which cannot be appealed, arbiter Maurice Benowitz ruled for the SSD&C. What that means is that for the purposes of calculating royalties, the theater restoration charge will now be included in the gross box-office receipts, which means Jujamcyn will have to pay back royalties stemming from the $1 surcharge on shows that have played in its theaters for the past three years.

Theater sources said that could amount to several hundred thousand dollars. Among the artists who will be receiving the windfall are Michael Blakemore, director of Kiss Me, Kate; Jerry Zaks, director of The Civil War, and Robert Falls, director of Death of a Salesman.

A dollar may seem like a joke to some but on a theater that seats 1,000, Jujamcyn can pick up an extra $8,000 a week if the show is selling out. That's more than $400,000 a year - not a penny of which, up until now, went to the artists who created the show.

TIGER WOODS charity bash at Mandalay Bay Resorts, Las Vegas raised a lot of money for charity, but the hottest gossip was that Charles Barkley lost about $500,000 at the roulette table at while attending the Woods' fundraiser.

CATCH YOUR OWN BRASS RING If you've always wanted to catch the brass ring on the merry-go-round - you can own your own. The MGM Mirage is trying to sell the amusement park rides at the MGM Grand Adventures theme park in Las Vegas.

The place was closed down in September because company executives feel the 19 acres can be put to a more profitable use - think retail shops or a nightclub.

Up for sale; a carousel, bumper cars, a roller coaster and a log ride.



CINDERELLA

DEBORAH GIBSON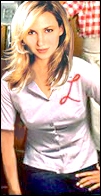 will take the glass slipper on the road in a new production that will star Deborah Gibson as Cinderalla. Eartha Kitt stars as the Fairy Godmother in the new NETworks national tour of Rodgers and Hammerstein's Cinderella, beginning Nov. 28 at the Tampa Bay Performing Arts Center in Tampa, FL.

Adapted for the stage by Tom Briggs, the director is Gabriel Barre. The former teen pop princess is expected to star as the fairy tale one for the first three months of the national tour, which will play at least through summer 2001.

Other cities on the Gibson tour include; 12/5/00-12/10/00 - Miami, FL - Jackie Gleason Theater, 12/12/00-12/17/00 - Wallingford, CT - (open Wed.) Oakdale Theater, 12/19/00-12/24/00 - Baltimore, MD - Morris Mechanic Theater, 12/26/00-12/31/00 - Grand Rapids, MI - Devos Hall, 1/9/01-1/14/01 - Indianapolis, IN - Clowes Hall, 1/16/01-1/21/01 - Chicago, IL - Oriental Theater, 1/23/01-1/28/01 - Chicago, IL - Oriental Theater, 1/30/01-2/4/01 - Toronto, ONT - Pantages Theatre, 2/6/01-2/11/01 - Toronto, ONT - Pantages Theatre, 2/13/01-2/18/01 -Minneapolis, MN - Orpheum or State, and 2/20/01-2/25/01 - Cincinnati, OH - Aronoff Center.

Ken Roberson will choreograph.Designers are James Youmans (set), Pamela Scofield (costumes) and Tim Hunter (lighting), Duncan Edwards (sound), Bernie Ardia (hair) and Greg Meeh (special EFX). Musical arrangements and supervision are by Barre collaborator Andrew Lippa. The cast includes Leslie Becker, Joanne Borts, Victor Trent Cook, Natalie Cortez, Kip Driver, Kevin Duda, Alexandra Kolb, Jason Ma, Monica Patton, Lyn Philistine, Ken Prymus, Everett Quinton, Christeena Riggs, Jason Robinson, Jessica Rush, Todd Underwood, Andre Ward, Patrick Wetzel and Natasha Williams.

SFX was originally producing with NETworks Presentations, LLC. The latter now has sole producer credit.

SEUSSICAL, THE MUSICAL has delayed its New York opening Originally scheduled to bow November 9 at the Richard Rodgers Theatre, the $10 million musical will now open Nov. 30. The postponement gives new director Rob Marshall more time to work miracles, especially in act two.The production has been plagued by problems since the beginning. There were canceled performances in Boston, now delays in New York, new costumes, a new costume designer and a new director, resulting in the Seussical budget jumping from $8.5 million to $10 million.

THOROUGHLY MODERN MILLIE which has been thoroughly redone opens Oct 22 at La Jola Playhouse, CA. The production now stars Sutton Foster in the title role after Erin Duffy dropped out. Michael Mayer directs.Academy Award winner Ralph Burns handled orchestrations which are performed by 10 musicians. Performances through November 19.

THE FULL MONTY Based on the popular British movie about a group of unemployed steelworkers who turn to stripping to make ends meet, The Full Monty has a book by Terrence McNally and a score by Broadway newcomer Andrew Yazbick.The show opens October 26 at the Eugene O'Neill

MY OWN BROTHER, VINCENT

VINCENT VAN GOGH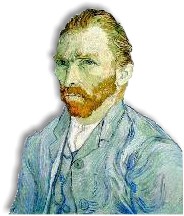 a one-man show written and performed by Brian Niece under the auspices of his new company, People's Branch Theatre, opened at the Zeitgeist Gallery in Hillsboro Village. Nashville

Directed by NSF artistic director Denice Hicks, My Own Brother, Vincent explores van Gogh's complicated relationship with his art-dealer brother, Theo, in the final decade (1880-1890) of their lives.

In the production, the Zeitgeist Gallery doubles as Theo's gallery, where he has invited a group of friends a week after his brother's death. As the evening progresses, Theo covers many of the major events of Dutch painter's late career - who sold only one painting in his lifetime - his historic artistic discoveries, his commercial failures, his mysterious illnesses, his stormy relationship with the painter Paul Gauguin, the ear-cutting incident and finally his suicide -- often through excerpts from Vincent's letters.

Another one-man show called Vincent by actor Leonard Nimoy which Niece performed in college.

Niece bought the rights to use Nimoy's concept for My Own Brother, Vincent, a professional production by People's Branch Theatre using an Actors' Equity cast, at the Zeitgeist Gallery, through October 21.

THE BALLAD OF LITTLE JO

TINA LANDAU

has opened Steppenwolf's 25th anniversary season in a production directed by ensemble member Tina Landau.composer Mike Reid and his collaborator, lyricist and book writer Sarah Schlesinger, have written a musical that has Steppenwolf singing a new tune.

In the 25 years of its existence, Steppenwolf Theatre Company has never done a musical.

The top Chicago company, with its star-studded ensemble of actors is noted for visceral, physically confined high-powered acting. This departure from company tradition, especially in the season's prestigious lead-off slot, has garnered national attention.

Landau, a New York-based director who will be directing a Broadway revival of Bells Are Ringing this fall, joined the Steppenwolf ensemble four years ago and was the show's principal advocate inside the company, concedes that The Ballad of Little Jo, which stars Judy Kuhn, is loosely based on a film of the same title.

It's about a young Boston woman who, after having an illegitimate child in 1867, is banished to the violent, Gold Rush-era American West, where she protects herself by dressing as a man. She keeps up the disguise for several years, until a sequence of events -- including her involvement with a young Asian man - forces her to reveal her true identity - may be a turning point in Steppenwolf's evolution. Continues through November 5 at Steppenwolf Theatre Company

DEATH OF SALESMAN attention must be served to this stellar production which boasts the Tony Award winning cast, including Brian Dennehy, Elizabeth Franz, and Ron Eldard. Ahmanson Theatre, Los Angeles. Go see it.

HEART AND SOUL The Songs of Frank Loesser with Christine Andreas, David Garrison, Shuler Hensley, Liz Larsen, Christiane Noll, Ken Page, Billy Stritch, Jim Walton, Lilias White, Margaret Whiting and Tom Wopat. Music Direction by Eric Stern featuring songs from the Broadway musicals Guys and dolls, Where's Charley?, The Most Happy Fella and more. October 20-21 as part of Lincoln Center's American Songbook, Alice Tully Hall, NYC

OLD GLOBE THEATRE is really three theaters in one. The Old Globe produces a minimum of 12 plays a year and is never dark. The complex's centerpiece, the 581-seat Old Globe Theatre, was designed in the spirit of Shakespeare's original playhouse and operates for winter and summer seasons, as does the intimate 225-seat Cassius Carter Centre Stage next door.

The outdoor, 612-seat Lowell Davies Festival Theater is used in the summer, mainly for Shakespeare productions. The Globe has had a long and sometimes tragic history in Balboa Park: Both the original Old Globe (built in 1935) and the festival theater were destroyed by arson fires.

Rebuilding only made the company stronger: It received a Tony award in 1984 for excellence in regional theater.

It's program for 2001 includes: Lynn Nottage's Crumbs From the Table of Joy (Feb. 10-March 10, Gregory Murphy's The Countess (March 31-May 6), Donald Margulies' Dinner With Friends(April 5-May 6), Eileen Atkins' Vita and Virginia (May 26-July 1) and Yasmina Reza's Art (May 31-July 1).

Next summer a new Stuart Forever Plaid Ross musical, The Boswell Sisters (July 7-Aug 11), Hugh Leonard's Da (July 21-Aug 25), a Robin Phillips-staged Twelfth Night (July 28-Sept 1), Regina Taylor's jazz musical A Night in Tunisia (Sept 8-Oct 13), Douglas Carter Bean's The Country Club(Sept 15-Oct. 20) and a Daniel Sullivan-directed A Midsummer Night's Dream (Sept 22-Oct. 27).


WHO'S WHERE


SARAH BRIGHTMAN October 15 in Cleveland, OH at the CSU Convocation Centre, October 17 in St. Paul, MN at the Minn. Wild Arena, October 20 in Las Vegas, NV at the MGM Grand, October 21 in Santa Barbara, CA at the Santa Barbara Bowl, and October 22 in San Diego, CA at the SDSU Open Air Theatre

KAREN MASON October 17 Appearance at ASCAP evening at the Cabaret Convention at Town Hall, NYC

DARYL HANNAH who has legs that are 44 inches long, shows off every inch of them while making her stage debut in London, where she opened at the Queens Theatre last Monday in The Seven Year Itch. The hypnotist Daryl hired to help her get over stage fright must have cast the right spell because Daryl hasn't missed a cue.

POLLY BERGAN making her first New York nightclub appearance in 35 years, stars at Feinstein's in the Regency, NYC through October 21. Better than ever Polly has given notice that people should once again pay attention to her singing

VALERIE HARPER starring as Pearl S. Buck in All Under Heaven at The Ivar Theatre, Hollywood.

LARRY GATLIN at the Mohegan Sun Casino in Uncasville, CT Friday and Saturday

DEE DEE BRIDGEWATER in Clearwater, FL at Coachman Park on Thursday

SCOTT COULTER returns to Don't Tell Mama, NYC on Thursday in his new cabaret show Changing Stories about the passage of time and the changes that take pace in one's life. The show by the MAC and Bistro Award-winning vocalist, will include work by songwriters Stephen Schwartz, Don Henley, Stephen Sondheim, George Gershwin, Johnny Mercer, Craig Carnelia, Barry Manilow, Brian Lasser, Marey Heisler & Zina Goldrich and Irving Berlin. The musical director for the engagement will be Bobby Peaco.

AUDRA MC DONALD 10/21/00 Los Angeles, CA Royce Hall Sunday, October 22 in Escondido, CA at the Escondido Concert Hall


THIS AND THAT

HAL HOLBROOK

HAL HOLBROOK as Mark Twain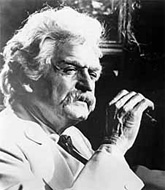 starring in one-man show Mark Twain Tonight! at the Tennessee Performing Arts Center, was taking a stroll when he apparently got lost.

Looking for directions he unknowingly meandered right into the room where officials in the Bridgestone/Firestone court case were being deposed.

All the lawyers and staff involved were on a break - as one wag said; probably getting new tires - so no harm was done.

When Hal left, the folks in the deposition room all looked at one another and asked: Was that Hal Holbrook? They sent one of the legal eagles to chase down the actor and demand proper identification. When convinced that it was indeed the guy who is married to Dixie Carter, they got his autograph.

ROBERT MONZI A Playgirl Man of the Month ( See Broadway To Vegas column of February 15, 1999 ) has left Las Vegas for Los Angeles where he is intently studying serious acting.

GETTING SNOCKERED WITH THE PRESS Tomorrow the ATPAM (The Association of Theatrical Press Agents and Managers) will hold their annual "Season Opener Cocktail Party" in the Penthouse Lounge of the American Airlines Theatre, NYC. It's the third season the this group has held the event. What makes this one different is that they've actually -gasp! - invited members of the press to join them. Press agents and the press have an interesting love/hate relationship. Getting pixilated together could prove entertaining.



Mention BROADWAY TO VEGAS for Special Consideration
Call (800) 942-9027









Next Column: October 22, 2000
Copyright: October 15, 2000. All Rights Reserved. Reviews, Interviews, Commentary, Photographs or Graphics from any Broadway To Vegas (TM) columns may not be published, broadcast, rewritten, utilized as leads, or used in any manner without permission, compensation and/or credit.
Link to Main Page
---
Laura Deni


CLICK HERE FOR COMMENT SECTION