! >
Broadway To Vegas
  
  REVIEWS INTERVIEWS COMMENTARY NEWS

| | |
| --- | --- |
| | |
CELEBRITIES REACH FOR THE STARS - - THE LOST PRINCE: THE LIFE AND DEATH OF HENRY STUART - - BUOYANT BILLIONS - - STARS OF DAVID - - CEE LO GREEN AND ROD STEWART CROSS-PROMOTE - - PICASSO'S RAPE OF THE SABINE WOMEN INSPIRED BY CUBAN MISSILE CRISIS - - WHO'S AFRAID OF VIRGINIA WOOLF? OPENS ON 50TH ANNIVERSARY OF ORIGINAL - - MIKE TYSON PROMISES TO OBEY AUSTRALIAN LAWS - - DONATE . . . Scroll Down


CELEBRITIES REACH FOR THE STARS
Tom Hanks played Astronaut Jim Lovell in the film Apollo 13. Production photo.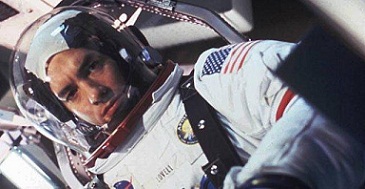 Frank Sinatra sang Fly Me to The Moon. Jackie Gleason as Ralph Kramden in The Honeymooners would make a fist and threaten his wife Alice with "To the Moon Alice, to the Moon".

Sir Richard Branson has said that Oscar winner Kate Winslett is desperate to go into space. Branson runs the Virgin Galactic program, which is planning to launch space tours of Earth in 2014.

Last March Time Magazine reported that Ashton Kutcher signed up to be shot into space aboard the Virgin Galactic.

Kutcher is the 500th astronaut-tourist aboard the luxury space liner. Tickets aboard the shuttle cost $200,000 and require a $20,000 deposit, according to the official company website.

Kutcher is not alone in his space quest. Celebrities including Katy Perry, Tom Hanks, Brad Pitt and Angelina Jolie and physicist Stephen Hawking have all reportedly signed up for a space flight.

Where no man has gone before is getting crowded.

Last week British soprano Sarah Brightman announced that she would travel - not just into space - but actually visit the International Space Station.

The classical recording artist, once married to famed composer Sir Andrew Lloyd Webber, will be part of a three-person crew flying to the ISS, which is an orbiting laboratory .

Once there, she says she intends to become the first professional musician to sing from space.

Through Pulse Films, Brightman even released footage of her undergoing tests ahead of her flight into the stars.



Sarah Brightman yearns for space.
Since none of this will happen for three years a few cautionary vibes were felt.

One possibility - this is publicity stunt to promote her upcoming tour and CD release.

Or. . .

She is passionate and sincere about entering a six month intensive program which would permit her to visit hotel ISS.

"After completing a tour in 2013, Ms Brightman will embark on six months of preparation at the Star City cosmonaut training centre in Moscow," according to the press release.

Officials estimated a late 2014 or 2015 launch date. Space Adventures promises that "her flight date will be confirmed in the next few months."

"I am planning to become a space flight participant," Brightman, 52, who began her career with the dance troupe Hot Gossip, which had a chart hit in 1978 with I Lost My Heart to a Starship Trooper, told a news conference in Moscow.

The commercial flights to the ISS for ordinary people are organized through Virginia based Space Adventures, whose chairman Eric Anderson accompanied Brightman in Moscow.

Space Adventures is the only company to have sent self funded private citizens to space. They offer orbital, suborbital and zero gravity flights.

Alexei Krasnov, head of human spaceflight at Roscosmos, said that the task of shooting Brightman into space is "fully achievable in the nearest future". He refused to disclose the cost of Brightman's ticket as a paying passenger, saying it is a "big, huge sum counted in the tens of millions of dollars."

Gossip wags speculate it's her ex-husband Lord Andrew who is paying the bill. While there are countless jokes about ex-husbands viewing shipping an ex-wife into space as cheap at any price, the relationship between Brightman and Webber has always been friendly.

Krasnov said Brightman had passed the required preliminary mental and physical examinations to fly into space.

Those took place last July in Russia's Star City, where astronauts and cosmonauts train.

The preliminary evaluation included undergoing G-force testing up to a point called ballistic entry on a centrifuge apparatus.



The real deal - Guy Laliberté. He referred to himself as "the first clown in space." Photo: Space Adventures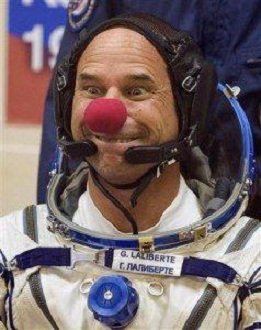 Been there, done that is the tune Guy Laliberté can sing. The billionaire founder of the Cirque du Soleil theatre empire wore a red clown's nose for much of his time in space. Also launched into the blue by Space Adventures, Laliberté returned to terra firma after a 10-day tourist visit to the International Space Station (ISS) in 2009.

Calling himself "the first clown in space", Laliberté used his trip to promote awareness of water shortages.

Laliberté blasted into space from the Baikonur Cosmodrome in Kazakhstan accompanied by Russian cosmonaut Maksim Surayev and US astronaut Jeffrey Williams. The three docked with the ISS on October 2, 2009.

Then Laliberté hosted a show called Moving Stars and Earth for Water, which was broadcast live on the website of his charity, One Drop.

The performance featured artists and activists from 14 countries in turns reciting passages from a poem by author Yann Martel. During the show,Laliberté commented that the Earth looked "so great, and also so fragile. We should not forget that we have a great privilege to live on planet Earth."

Laliberté traveled back to Earth with Russian cosmonaut Gennady Padalka and NASA astronaut Michael Barratt.

The former fire eater was the seventh private individual to make the trip to the ISS.

Space Adventures said it had signed a deal with the Russian space agency for three commercial passengers to book seats to the ISS per year as Russia plans to increase the number of Soyuz flights. The last space tourist was Laliberte.

Laliberté did not reveal the cost of his ticket, but his predecessor, US software pioneer Charles Simonyi, paid $35 million for his trip.

That ticket gives the passenger about as much room as you'd get with the middle seat in the business class section of an airplane.

Cramped conditions in the three-person Soyuz space capsule which ferry astronauts to and from the ISS is cited as a major cause for hesitation by those well heeled enough to pay the price.

Or, as reluctant astronaut Howard Wolowitz (played by Simon Helberg) on the hit comedy The Big Bang Theory confessed - he desperately missed gravity.



Veteran NASA astronaut Mike Massimino (right) poses for a photo with The Big Bang Theory actor Simon Helberg and another actor during a break from filming the season finale. Photo credit: .Astronaut Massimino:via Twitter as @Astro_Mike
Although Howard Wolowitz wanted his feet back on the ground, the popular CBS sitcom gave away a high-flying prize - a free trip to space - during recent Comic-Con festivities in San Diego.

While fans lined up last July 13 for a panel discussion with the stars, silver envelopes were given out, with one holding a ticket for a free suborbital ride aboard a space plane being developed by Mojave, Calif.-based rocket builder XCOR Aerospace.

The prize - worth $95,000 - was won by Mercedes Becerra of Paso Robles, California.

XCOR's suborbital space plane, called Lynx, is designed to eventually carry a pilot and passenger to the upper reaches of the atmosphere, to altitudes up to and exceeding 62 miles. XCOR is one of several companies developing suborbital vehicles for commercial space tourist flights.

The two-seater Lynx will be able to take off and land on a conventional airport runway, and the reusable space plane will be capable of making four flights per day, company officials have said.

XCOR is aiming to begin space tourist flights aboard Lynx in 2013.

While not permitting bragging rights to have actually been on the "space station," Sir Richard Branson is offering a comfortable, "luxury" out of this world tour which has sparked significant interest. The Branson get away is also more affordable. Even for those who can ante up anything, there is a difference between $200,000 and $35m.

Before any of the star struck celebrities fly off, they have a few things to do while their feet are on the ground.

Tom Hanks, a two-time Oscar winner, will make his Broadway debut in March playing the New York tabloid columnist Mike McAlary in the world premiere production of Lucky Guy, a bio-drama by Nora Ephron.

Sarah Brightman's 2013 tour begins January 29 at the Copps Coliseum in Ontario, Canada.

Space veteran Laliberté's latest Cirque du Soleil Las Vegas offering Zarkena didn't use a space ship, but the more conventional truck - 87 of them moving 100 tons from New York to Sin City. They're setting up shop at the Aria, opening November 1, 2012. Other about to open Laliberté Cirque du Soleil shows include Alegría, a baroque ode to the energy, grace and power of youth which goes curtain-up November 1, 2012 in Pesaro, Italy. Varekai billed as "a captivating forest inhabited by whimsical and enchanted creatures, begins performances on November 14 in Santiago, CL. Totem called "a fascinating journey into the evolution of mankind" opens October 26, 2012 in Atlanta.







Broadway To Vegas is supported through advertising and donations. Priority consideration is given to interview suggestions, news, press releases, etc from paid supporters. However, no paid supporters control, alter, edit, or in any way manipulate the content of this site. Your donation is appreciated. We accept PAYPAL. Thank you for your interest.



ART AND ABOUT


RAPE OF THE SABINE WOMEN

Picasso's Rape of the Sabine Women was inspired by the Cuban Missile Crisis.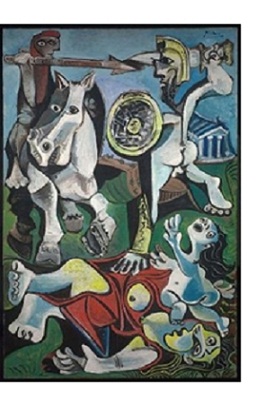 Picasso's masterpiece inspired by the Cuban Missile Crisis.

The Museum of Fine Arts, Boston (MFA), and the John F. Kennedy Presidential Library and Museum, two of Boston's preeminent cultural institutions, have partnered to mark the 50th Anniversary of the Cuban Missile Crisis, the 13 days in October 1962 that brought the United States and the Soviet Union to the brink of nuclear war.

In a ceremony celebrating the first-ever loan from the Museum of Fine Arts to the JFK Library, Caroline Kennedy, President of the John F. Kennedy Library Foundation, and Malcolm Rogers, Ann and Graham Gund Director of the MFA, unveiled Pablo Picasso's larger-than-life masterpiece, Rape of the Sabine Women (1963), inspired by the Cuban Missile Crisis.

"We are thrilled to partner with the Museum of Fine Arts as we commemorate one of the most historic moments of my father's presidency," said Caroline Kennedy.

"President Kennedy asked us to never forget that art is not a form of propaganda; it is a form of truth. How very honored we are to be able to present this masterpiece by Picasso about the horrors of war."

Painted when he was 82, Rape of the Sabine Women is Picasso's last major history painting, a denunciation of the atrocities of war. Picasso transforms a familiar subject from art of the past: the story of early Romans who, suffering a shortage of marriageable women, invited the neighboring Sabine tribe to Rome and proceeded to carry off all of their young women. Against a sunny background of blue sky and green fields, the overlapping forms of grotesquely distorted figures are compressed into the foreground space, with horses and soldiers trampling a woman and her child.

October 16, 2012, marks the 50th anniversary of the Cuban Missile Crisis, one of the most perilous moments in American history, and certainly the greatest test of John F. Kennedy's presidency. For 13 days in October 1962, a confrontation between the United States and the Soviet Union brought the world to the brink of nuclear destruction and threatened to end mankind. As the world waited and hoped for a peaceful resolution to the Cuban Missile Crisis, President Kennedy and his advisors swiftly negotiated with Soviet Premier Nikita Khrushchev to craft a diplomatic resolution for the removal of Soviet intercontinental missiles from Cuba.

The loan of Pablo Picasso's tour de force also underscores the legacy created by President Kennedy and Jacqueline Kennedy of preserving and embracing the arts in the White House. In one of his most memorable addresses on October 26, 1963, President Kennedy stressed the importance of the artist in American society in front of students at Amherst College, stating:

"If sometimes our great artists have been the most critical of our society, it is because their sensitivity and their concern for justice, which must motivate any true artist, makes him aware that our nation falls short of its highest potential. I see little of more importance to the future of our country and our civilization than full recognition of the place of the artist."

President Kennedy felt it essential for the president to demonstrate a regard for and recognition of cultural and intellectual excellence, and he and Mrs. Kennedy hosted a number of the nation's leading artists, writers and musicians during their White House years. In doing so, they hoped to focus national attention on the role of the arts in America and encourage the development of Washington, D.C. as a cultural center.

The painting is on display at the JFK Library Museum in Boston through January 6, 2013.

THE LOST PRINCE: THE LIFE AND DEATH OF HENRY STUART

Henry Stuart by Isaac Oliver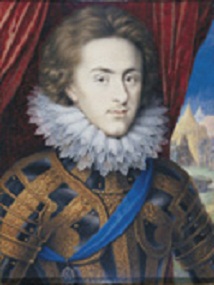 Handsome, athletic, noble and cultured, Henry Stuart (1594-1612) embodied all the princely virtues.

As the future King Henry IX he was the focus of great expectation and his court was the center of a renaissance in the arts.

Henry's early death caused widespread national grief, and led eventually to the accession to the throne of his younger brother, the doomed King Charles I.

The Lost Prince will include some of the most important works of art and culture produced and collected in the Jacobean period, including portraits by Holbein, Nicholas Hilliard and Isaac Oliver, designs by Inigo Jones and poetry by Ben Jonson in his own hand.

These will be shown together with a large selection of paintings, drawings, books, armour and other artifacts, gathered from museums and private collections in Britain and abroad, some of which have never previously been on public display.

Marking the 400th anniversary of Henry's death, this is the first exhibition to explore his life and image.

October 18, 2012 - January 13, 2013.

A season of special events complements the exhibition with tours, live music, workshops and activities for families and young people. The program also features a major academic conference and a series of lectures with speakers including Sir Roy Strong and Antonia Fraser.

On Thursday November 1, join Lady Antonia Fraser in conversation and unravel the tangled web of religion and politics behind the Gunpowder Plot - the attempt in 1605 to assassinate Henry Stuart's father James I. What were the conditions and motives which led to this act of rebellion, and what is the legacy today?

The National Portrait Gallery in London.


SWEET CHARITY


A RED BULL THEATER BENEFIT READING OF THE MISER by Molière. Starring Richard Kind, TR Knight, Jax Maxwell, Reg Rogers. Adapted and directed by Doug Hughes.

With amorous plotting, jealousy and money-grubbing, this rollicking satire of greed has undiminished power to amuse and to sting. A timely and timeless comedy followed by an after-party.

Join the cast and special guests Emily Bergl, Veanne Cox, Adam Green, Marsha Mason, Roberta Maxwell, Amanda Quaid, Tovah Feldshuh, Laila Robins, André De Shields, Miriam Silverman, Rocco Sisto, Gregory Wooddell, and more for festivities after the reading.

Takes place at the Lucille Lortel Theatre in New York City on Monday, October 22, 2012.

THE COLLEGIATE CHORALE WITH THE ISRAEL PHILHARMONIC ORCHESTRA in an encore performance of Arnold Schoenberg's Kol Nidre and Israeli composer Noam Sheriff's Mechaye Hametim (Revival of the Dead), which they performed this summer at the Salzburg Festival. The October 25 performance will be the New York premiere of Mechaye Hametim.

Along with Grammy Award-winning baritone Thomas Hampson, Avery Fisher Career Grant recipient pianist Yuja Wang and The Collegiate Chorale, tenor Carl Hieger joins the roster of participating artists in a unique program with Zubin Mehta and the Israel Philharmonic Orchestra.

Internationally celebrated pianist Yuja Wang will perform Mendelssohn's Piano Concerto No. 1.

The October 25, 2012 concert at Carnegie Hall in New York City, is a benefit for the American Friends of the Israel Philharmonic Orchestra.

Zubin Mehta and the Israel Philharmonic Orchestra will travel across the country with Yuja Wang, performing in New York, Palm Desert, Las Vegas and Los Angeles.


SPREADING THE WORD


L.A. THEATRE WORKS records Charlayne Woodard's The Night Watcher for radio broadcast and digital download.

Written and performed by Charlayne Woodard. Directed by Stuart K. Robinson.

The subject is motherhood, and no matter how many times she says "no," actress Charlayne Woodard's maternal instincts keep getting called into action. A surprise call from a friend with a last-minute adoption opportunity sends this self-described "blue collar actor" into a hilarious litany on the joys of children in our lives. A two-time Obie award-winner and Tony Award nominee, Woodard records her newest award-winning solo show in front of a live audience for L.A. Theatre Works' nationally syndicated radio theater series which broadcasts weekly on public radio stations throughout the U.S.

Five performances only October 18-21 at the James Bridges Theater UCLA School of Theater, Film and Television in Los Angeles.

MIKE TYSON who was refused entry to New Zealand a couple of weeks ago, when Life Education Trust, the charity sponsoring his visa pulled out, citing concerns over his character, has been granted permission to step onto Australia soil to continue his worldwide speaking tour, although he's been warned to be mind his manners and obey the law.

The Department of Immigration and Citizenship stressed that the controversial former heavy-weight boxing champ must adhere to Australian law during his visit.

Iron Mike Tyson, who served six years in prison in the '90s for rape, is currently on his Day of the Champions lecture tour.

Tyson is due to arrive in Brisbane on November 16, before traveling to Sydney, Melbourne, Adelaide and Perth. Tickets are $69 a head, or $300 if you'd like to meet him in person.

EBONY REPERTORY THEATRE'S OPENING NIGHT PERFORMANCE OF FRATERNITY at the Nate Holden Performing Arts Center on October 5, saw a blue ribbon turn-out. Eriq La Salle, James Pickens, Russell Hornsby, Robert Guillume, Anna Maria Horsford, Hattie Winston, Harold Wheeler enjoyed the show and post performance reception.

The Los Angeles premiere of Jeff Stetson's Fraternity, directed by Henry Mille, stars Harvy Blanks, Rocky Carroll, Robert Gossett, Nasir Najieb, Tony award winner Roger Robinson, Mel Winkler and William Allen Young.

BUOYANT BILLIONS a one night Project Shaw event by the Gingold Theatrical Group.

Adapted and directed by David Staller. A zany comedy of romance and money featuring Stephen James Anthony, Jennifer Cody William DeMeritt, George Dvorsky, Hunter Foster, Andrea Lynn Green, Drew McVety, Hal Robinson, Margaret Loesser Robinson, Victor Slezak, Karen Stanion, Mark Waldrop, Lenny Wolpe, Henry Yuk. The guest host is Gordon Cox of Variety.

Buoyant Billions, is one of Shaw's wittiest and least known plays, written towards the end of his very long life. The plot: after WWII, a young man decides to venture forth into the world and become a professional 'world betterer.' Along the way he meets a bold young saxophone-playing heiress with a pet alligator who treats him so dreadfully that he becomes fascinated by her...and her entire peculiar Buoyant family.

Monday, October 22, at The Players in New York City.

CEE LO GREEN taped a Christmas Special last week at Planet Hollywood in Las Vegas. The special will air November 26 on The Warner Sound YouTube Channel.

The taping featured a lot of co-mingling/cross-promoting.

Guests included Rod Stewart and the Muppets, who are also on Green's Christmas album Magic Moment, which will be released October 30.

Stewart will release his first-ever holiday album, Merry Christmas, Baby also on October 30. The duet-heavy CD features Merry Christmas, Baby with Cee-Lo Green.

Stewart makes a guest appearance as do The Muppets on Green's Christmas CD and they both are on the Green Christmas Special which carries the same title as his CD - Magic Moment.

In addition to Stewart, Miss Piggy and Kermit, the television special boasts Eric Benet who joined Green on Silent Night, and 20 former participants on NBC's The Voice, including Broadway veteran Tony Vincent who performed a Mr. Grinch duet with Green.

Cee Lo began the taping wearing a shiny, red vinyl Santa suit that he jokingly claimed he'd purchased at a Vegas S&M store.

Stewart, 67, has penned a sizzling book Rod: The Autobiography published by Century and released last Thursday, October 11.

OPERAMISSION will present a complete performance of Arnold Schoenberg's melodrama Pierrot Lunaire on the occasion of the 100th anniversary of its world premiere - October 16, 1912.

Featuring mezzo-soprano Jennifer Berkebile, the performers will join Kenneth Slowik of the Smithsonian Institution and Cellist Fred Sherry in conversation and musical interaction to explore and illuminate the elusive masterwork. Monday, October 15, at the New York Public Library for the Performing Arts, Dorothy and Lewis B. Cullman Center, Bruno Walter Auditorium. Admission is free.

Conducted by Jennifer Peterson, the ensemble will consist of Maria Johnson (flute, piccolo), Carlos Cordeiro (clarinet, bass clarinet), Denise Stillwell (violin, viola), Paul Wolfram (violoncello) and Eric Malson (piano).

PORTER'S WILL by Monica Bauer. A free stage reading with lead artist Josh Perl.

Porter Keller is dying, but before he goes he must decide where his millions will go when he's gone. With the help of two young actors, he tries to decide if his legacy will be one of creativity and joy, or revenge.

Part of The Naked Stage series which are sponsored in part by Dina Merrill and Ted Hartley. Tuesday, October 16 at Guild Hall in East Hampton, NY.

THE LAST YEAR IN THE LIFE OF MARTIN LUTHER KING, JR based on Waterwell's TheKingOperetta (2007), Devised by Waterwell. Directed by Tom Ridgely. Music by Lauren Cregor Devine. Featuring Rodney Gardiner as MLK.

Explained as: "Drawn from the legendary speeches, interviews and private notes of Dr. King, the obscured history of his last days shines through in a dazzling mix of rock, blues, folk and funk. Although he was known for non-violence, this blistering performance reveals the fire and intensity behind his stormy quest for peace."

Presented Monday, October 22, as a special, one-night only concert event at Joe's Pub at the Public Theater in New York City.

GIVE ME A DAMN STAGE! staged readings from Spanish Authors, a series of monthly staged readings, will introduce New Yorkers to some of the emerging playwrights from Spain and their most successful plays. Each reading will be presented by professional actors and directors from AENY - Spanish Artists in New York and Repertorio Español.

Mi problema con Los Hombres (My Problem with Men) by Emilio Williams, the first reading of the series, will take place at Repertorio Español, NYC, on October 22, 2012. Admission is free.

Presented with the support of Spain Culture New York-Consulate General of Spain.


OTHER PEOPLE'S MONEY


DOUGLAS ARNTSEN who took the smart-aleck definition of lawyer - "someone who knows how to legally steal" - too far when he made off with $10.7 million from clients' escrow funds from 2007 to 2011, is about to get a new office, only it won't have a great view.

The former associate at the major New York firm of Crowell & Moring enjoyed his ill-gotten gains with a diversified portfolio - fancy restaurants, sporting events, strip clubs, and purchasing various businesses, including cookie and potato chip distributorships.

Arntsen, 34, a graduate of Seton Hall University School of Law, was extradited back to the US from Hong Kong at the end of 2011. Having made a bargain with prosecutors in return for his guilty plea, Arntsen will face up to 15 years in prison when he is sentenced this week.

"We regret the harm caused by Douglas Arntsen to our clients and our firm and are pleased Mr. Arntsen has acknowledged his crimes with a guilty plea." --Crowell & Moring's managing partner, Ellen Dwyer, commenting on ex-associate Arntsen's guilty plea.



JEMMA RIX who celebrated her 800th Wicked performance, as the curtain went down on the Wicked set for the final time in Seoul.

Jemma first started as the Elphaba standby in Melbourne before stepping up to share the lead role in Sydney before taking over the role for the Brisbane, Adelaide, Perth, Singapore and Seoul seasons. The production congratulated her and remarked "What a tremendous achievement...and what a lot of green make-up!!!"

MO YAN a 57-year-old Chinese writer, has won the 2012 Nobel Prize for Literature. The award, worth $1.2 million, was announced in Stockholm. The Swedish Academy praised Yan "who with hallucinatory realism merges folk tales, history and the contemporary."


GET WELL SOON TO . . .


DEBBIE REYNOLDS 80, who was rushed to Los Angeles Cedars-Sinai hospital last week-end due to an adverse reaction to some medicine.

The entertainer, whose career spans six decades, has canceled upcoming performances in California and Nevada, but holds out hope that she will be able to appear on the Follow the Stars, Adopt a Pet float in the upcoming Tournament of Roses Parade on New Year's Day.

Her representatives have indicated the spunky entertainer will return to the stage when her physician gives the thumbs-up.

Reynolds was released from the hospital on Wednesday and is resting at home.



STARS OF DAVID a musical stage adaptation of Abigail Pogrebin's book Stars of David: Prominent Jews Talk about Being Jewish. Conceived by Aaron Harnick, with a libretto by Charles Busch. The Philadelphia world premiere of the new musical song cycle featuring song contributions by major writers of the musical theatre is directed by Gordon Greenberg.

Starring Nancy Balbirer, Alex Brightman, Joanna Glushak, Tony Award nominee Brad Oscar and Donna Vivino.

The production promises "a snapshot of Jewish identity through the interviews with some of America's most recognizable public figures, including Gloria Steinem, Aaron Sorkin, Justice Ruth Bader Ginsburg, Edgar Bronfman, Sr., Joan Rivers, Norman Lear, Tony Kushner and Wendy Wasserstein."

The production stresses that: "You don't have to be Jewish to connect with this funny and engrossing song-cycle."

Interviews from the above mentioned are transformed into songs by composers and lyricists including William Finn, Duncan Sheik, Tom Kitt, Sheldon Harnick, Jeanine Tesori, Michael Friedman, Marilyn & Alan Bergman, Amanda Green, Nathan Tysen & Chris Miller, Susan Birkenhead, and one of the last songs written by the late Marvin Hamlisch.

The creative team includes set designer Beowulf Boritt, costume designer Alejo Vietti, lighting designer Howell Binkley, sound designer Robert Kaplowitz.

Recipient of an Edgerton Foundation New American Plays Award. Performances October 17-November 18 in the Suzanne Roberts Theatre at Philadelphia Theatre Company in Philadelphia.

MARIE internationally acclaimed Houston Ballet backed by the NAC Orchestra performs a three-act narrative ballet inspired by the life of the legendary French queen, Marie Antoinette.

Political Pawn. Teenage Queen. Lover. Victim - Marie Antoinette.

Bursting with spectacle, Marie is billed as "an absorbing tale of pomp and circumstance and a moving portrait of a woman whose intrigue, infamy, and loss continue to fascinate us more than two centuries after her execution. This majestic ballet, choreographed by one of the most sought-after choreographers of his generation, Stanton Welch, is a probing psychological portrait which charts the legendary queen's progression from child bride and frustrated young wife to spoiled socialite to victim of the French Revolution."

The ballet features set and costume design by Canadian designer Kandis Cook who stylized minimalist sets and more than 170 historically accurate costumes. Ms. Cook has designed costumes for the London Royal Ballet, the San Francisco Ballet and Les Grands Ballets Canadiens to name a few.

October 18-20 at the Natonal Arts Centre in Ontario, Canada.

HIM by Daisy Foote.

Helmed by Obie Award-winning director Evan Yionoulis.

This production features Tony Award nominee Hallie Foote, Tim Hopper, Adam LeFevre, and Adina Verson.

Daisy Foote explores the institution of the American family in Him. Two siblings struggling to keep the family store afloat must decide which is a priority: their father's final wishes or their financial stability. It's a choice that could tear them apart.

The production has scenic design by Marion Williams, costume design by Teresa Snider-Stein, lighting design by Tyler Micoleau and music and sound by Broken Chord.

The world premiere of Him runs through October 28 at Primary Stages at 59E59 Theaters in New York City.

IN THE BAR OF A TOKYO HOTEL the unique revival of the play by Tennessee Williams is co-directed by Shashi Balooja and Maria Torres and is the first to incorporate live streaming video and dance. Maria Torres will also choreograph.

In the Bar of a Tokyo Hotel is called "a tale of love, loss, and tremendous pain masked and healed by the artistic beauty of a painting on a "living canvas". Mark, an alcoholic painter and his promiscuous wife Miriam are two Americans trapped in a very troubled marriage and in a Tokyo hotel. A once successful artist, Mark tries desperately to reinvigorate his career but due to the stress of his failing marriage, indulgent lifestyle and the toxicity of being trapped in a room full of paint and turpentine, he finds the goal to be exceedingly difficult. On the verge of a nervous breakdown, he's convinced himself that he is the first artist to discover color - and sinks deeper into his psychosis, spreading his canvases on the floor and spraying paint on them while rolling around in the nude. Mark believes he is creating his ultimate masterpiece. With his obvious diminishing physical and mental capabilities, in addition to Miriam's attempts to have him committed, he races against his own inevitable fate."

Balooja and Torres approach the play with segments set to movement and music. Dancers provide interpretive elements of the canvasses, in conjunction with other media including live streaming video, bringing the images of Mark's canvasses to life - as so vividly described in the play.

The cast features Reiko Aylesworth, Shashi Balooja, Ed Trucco and Alycia M. Perrin.

Xiao Wang is the Scenic/Projection Designer, Vanessa Leuck is the Costume Designer, Kevin Feustel is the Sound Designer, Zephan Ellenbogen is the Lighting Designer and Spike McCue is the Assoc. Projection Designer. Dreamcatcher Entertainment is the Project Management team.

The play runs off-Broadway at New World Stages in New York City. Previews began last night, Saturday, October 13, and continue until Sunday, October 28. The production will have it's official opening on Wednesday, October 17, 2012.

RED VELVET written by Lolita Chakrabarti and based on a true story.

Theatre Royal, Covent Garden, 1833. Edmund Kean, the greatest actor of his generation, has collapsed on stage while playing Othello.

A young black American actor has been asked to take over the role. But, as the public riot in the streets, how will the cast, critics and audience react to the revolution taking place in the theatre?

Olivier Award winner Adrian Lester stars.

The world premiere opened October 11 at the Tricycle Theatre in London with performances through November 24.

THEATRE IN THE DARK Darkness! Audience in the dark! Actors in the dark! No light! The Odyssey Theatre Ensemble presents the world premiere of Theatre in the Dark, a unique theatrical experience made up of two separate evenings: Dark opening October 20 and More Dark opening November 3, with both evenings running in repertory through December 16 at the Odyssey Theatre in West Los Angeles.

The evening is explained as: "What happens in a totally dark theater, the audience intimately involved with actors playing in front of and around them and by constantly changing spatial and aural perspectives utilizing voice, music and sound - and always anticipating the ever present potential of the unexpected? "

"This is a fascinating experiment for everyone involved," notes Odyssey Theatre artistic director Ron Sossi who oversees the production. "How do we create theater without our eyes, using only imagination? When I was a kid, I was enamored with radio; this production takes that idea and expands on it. With radio, we sit in the light while we listen. What will it be like to sit in the dark, together with the actors and other audience members?"

The acting ensemble - Alan Abelew, Jack Axelrod, Marcia Battise, Denise Blasor, Ron Bottitta, Sheelagh Cullen, Jean Gilpin, Beth Hogan, Kristina Lloyd, Anna Nicholas, Cary Thompson and Terry Woodberry - have rehearsed with a team of directors that includes Jeremy Aluma, Michael Arabian, David Bridel, Vesna Hocevar, Matthew McCray, Jamie Robledo and Ron Sossi.

"Part of this enormous undertaking has been the analysis of what kind of plays work well in the dark, and in what sequences they should be presented." Sossi explains. "Other issues have been logistical: devising ways for the actors to find their way around the stage with no light, and making sure that the audience will remain comfortable and safe with the theater in complete darkness."

The Odyssey Theatre in Los Angeles

WHO'S AFRAID OF VIRGINIA WOOLF? by Edward Albee.

The Steppenwolf Theatre Company production is directed by Tony Award nominee Pam MacKinnon.

The production features the original Steppenwolf cast led by Tracy Letts and Amy Morton as George and Martha respectively, joined by Carrie Coon as Honey and Madison Dirks as Nick.

The new production officially opened October 13 at the Booth Theatre - 50 years to the day when the original production debuted on Broadway.

The famous cocktails and venom drama by Pulitzer Prize winner Albee is described as: "On the campus of a small New England college, George and Martha invite a new professor and his wife home for a nightcap.

As the cocktails flow, the young couple finds themselves caught in the crossfire of a savage marital war where the combatants attack the self-deceptions they forged for their own survival.

Steppenwolf ensemble members Tracy Letts and Amy Morton face off as one of theatre's most notoriously dysfunctional couples in Albee's hilarious and harrowing masterpiece."

The creative team consists of Todd Rosenthal (set design), Nan Cibula-Jenkins (costume design), Allen Lee Hughes (light design) and Rob Milburn and Michael Bodeen (sound design).

The Steppenwolf Theatre Company production of Edward Albee's Who's Afraid of Virginia Woolf? comes to Broadway after out-of-town engagements in Chicago at the Steppenwolf Theatre and Washington, DC at the Arena Stage.

Steppenwolf's production is presented at The Booth Theatre, NYC.


WHO'S WHERE




50 CENT will headline Atelier/Festival, a one-day hip-hop/R&B music festival taking place on Friday, October 19, at Meydan in Dubai, UAE. At least another four Grammy Award-winning artists and two DJs, are expected join him at the event.

ERIC COMSTOCK & BARBARA FASANO the popular husband-and-wife team equally respected in both the pop and jazz worlds, return to The Metropolitan Room, NYC, for a one-week engagement beginning October 15 and continuing through October 20. They will be accompanied by Sean Smith on bass.

JOSS STONE performs Monday, October 15, at the House of Blues in Boston. On Tuesday the show is at the Best Buy Theater in New York City.

ESPERANZA SPAULDING entertains Friday, October 19, at the Cobb Energy PAC in Atlanta, GA.

DAVID SEDARIS is on stage Friday, October 19, at the PAC in Westhampton Beach, NY. On Saturday he'll be on stage at the Calvin Theater in Northampton, MA.

BILL COSBY will be telling funny stories at the Town Toyota Center in Wenatchee, WA on Saturday, October 20. Next Sunday, October 21, he'll be in the spotlight at the Nordstrom Recital Hall in Seattle.

BETTY BUCKLEY performing The Other Woman: The Vixens of Broadway through October 27 at Feinstein's at Lowes Hotels in New York City.

THE VIOLA QUESTION YALE'S RENOWNED IMPROV GROUP Formed in 1986, The Viola Question is Yale's youngest and most fit comedy group. Enjoy a night of hilarious improv including audience participation. Saturday, October 20, at Bay Street Theatre in Sag Harbor, NY.

BARBRA STREISAND AND CHRIS BOTTI on stage Wednesday, October 17, at the Bell Centre in Montreal. On Saturday they perform at the Scotiabank Place in Ottawa, ON.

LANG LANG will be tickling the ivories today, Sunday October 14, at the Kaufmann Concert Hall in New York City.

GLEN CAMPBELL has a busy week. He brings his Goodbye Tour to the Merrill Auditorium in Portland, ME on October 16. The next night the show is at the Wilbur Theater in Boston. On Thursday, October 18, he's at the State Theatre in New Brunswick, NJ. Friday finds him at the Mayo Performing Arts Center in Morristown NJ, and on Saturday he'll be singing his hits at the Warner Theatre in Torrington, CT.








Next Column: October 21, 2012
Copyright: October 14, 2012. All Rights Reserved. Reviews, Interviews, Commentary, Photographs or Graphics from any Broadway To Vegas (TM) columns may not be published, broadcast, rewritten, utilized as leads, or used in any manner without permission, compensation and/or credit.
Link to Main Page
---
Laura Deni



For the snail mail address, please E-mail your request.
CLICK HERE FOR COMMENT SECTION