! >
Broadway To Vegas
  
  REVIEWS INTERVIEWS COMMENTARY NEWS

| | |
| --- | --- |
| | |
LIZZIE CD REVIEW - - THE ART OF BULGARI: LA DOLCE VITA & BEYOND 1950-1990 - - CHOCOLATE UNWRAPPED: THE SCIENCE OF FLAVOR - - A NIGHT WITH JANIS JOPLIN - - THE WINSLOW BOY - - DISTORTING THE PAY IT FORWARD CONCEPT - - MIKE KELLEY EXHIBIT - - FERNAND LEGER AND THE MODERN CITY - - DONATE . . . Scroll Down




Copyright: October 13, 2013
By: Laura Deni
CLICK HERE FOR COMMENT SECTION


LIZZIE A ROCK OPERA STRIKES AN IMPOSING CHORD
Frequently, productions which are re-imagined leave much to be desired. Likewise, many of the fringe and musical festival productions aren't worth the paper they're written on. Lizzie created by Steven Cheslik-DeMeyer, Tim Maner and Alan Stevens Hewitt is a keeper.

In development for several years, formerly known as Lizzie Borden, now known as LIZZIE, this effort was conceived as a stand-alone rock album that has been expanded into a theatrical event.

This House of Borden has nothing to do with the blandness of milk.

The awesome theatrical concept studio double album, (of which a rock opera is a subset) has been released by Broadway Records.

The CD is explained as: "A double-disc set packed with murder, incest, love, betrayal, sexual manipulation, evidence tampering, bribery, and balls-to-the-wall rock and roll, LIZZIE is a female-fronted rock concept album which tells the bloody legend of America's first and favorite axe-wielding double-murderess and Victorian hometown girl, Lizzie Borden. The creators of LIZZIE re-imagine her story as a transformation from downtrodden spinster to rock and roll legend, in the process creating a genuine American myth.

"This rock musical takes you back to 1892 in Fall River, Massachusetts, when a young Lizzie Borden was accused of brutally killing her father and stepmother. While staying true to the well-known jump rope rhyme, "Lizzie Borden took an axe..." this musical dives deeper with a full rock band, explaining her older sister's similar motives, exposing Lizzie's unexpected relationship with her neighbor, and providing a cheeky punked-out maid who takes care of the two young girls in place of their seemingly careless parents. Gathering inspiration from the likes of Kiss, Alice Cooper, The Runaways and Led Zeppelin, Lizzie the Musical uses hard rock instrumentals and strong ballad lyrics to tell the story of Lizzie's double murders using actual dialogue from the infamous trials."

While most PR releases are permeated with hype, it's seemingly impossible to heap enough praise upon this CD.

The famed Lizzie Borden murder trial was famously memorialized in a popular toe-tapping skipping-rope rhyme:

Lizzie Borden took an axe
And gave her mother forty whacks.
When she saw what she had done
She gave her father forty-one.

The song was laid down on wax and made famous by The Chad Mitchell Trio. Every kid knew the song and drove adults crazy by skipping rope, or simply skipping down the sidewalk singing it.

This version of the Lizzie take is dark, rock and sensational. Compositions, arrangements, and passionate performances by musicians and singers are mind blowing. Transcends generations, the beat grabs you, the arrangements are hypnotic, the choice of musical instruments is inspired and those singers are - well - rock stars.

With orchestrations by Alan Stevens Hewitt, it's a hard rock score that covers all shades of the dark pallet - from chilling, soaring and ferocious to quiet, melodic and humorous. Carrie Manolakos, Storm Large, Carrie Cimma and Ryah Nixon have the chops to deliver. Young with well trained voices, boy, do those gals know how to sing!

Too many cast albums, unfortunately, leave a listener bewildered. Having seen a performance becomes mandatory for comprehending and enjoying a cast recording. Not in this case. The spoken intro and spoken word sections in this remarkable rock opera are coherent, permitting the listener to understand and, thus, totally enjoy this two-disc CD without having seen the show.

Listening to the CDs does creates a desire to see the production. Fortunately, there are places where that is possible. Through October 20, LIZZIE - with Manolakos and Cimma reprising their roles - can be experienced at The Hobby Center in Houston, as A Theatre Under The Stars (TUTS) presentation. In explaining itself, (TUTS) coincidently explains this CD.

"Edgy, captivating, rockin' and occasionally a bit risqué, Theatre Under The Stars (TUTS) is taking what you think you know about musical theatre and turning it upside down and underground. Delivering new musicals to a new generation . . . a series of contemporary shows that meet the desires of a modern audience. Simply put, these are not your grandmother's musicals."

LIZZIE is not you're grandmother's musical, but grandma will love it. So will her children and grandchildren.



The cast of LIZZIE. L to R: Storm Large, Ryah Nixon, Carrie Manolakos and Carrie Cimma.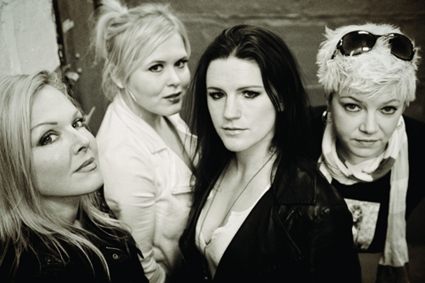 Starring as the infamous Borden sisters are Carrie Manolakos as Lissie and Storm Large as Emma.

Manolakos, from upstate New York, portrayed Sophia Sheridan in Mamma Mia! (2008) and Elphaba, the Green Witch, in the second national tour of Wicked.

Storm Large (born Susan Storm Large) a finalist on the CBS reality show Rock Star: Supernova, tours with Pink Martini and with her own band, the Storm Large Band. Last year she published a memoir titled Crazy Enough, is an expansion on her cabaret show produced by Portland Center Stage. The book, published by Free Press, is an account of her growing up with a mother with psychological issues, her stint as a competitive rower, and her eventual successes. She makes no secret of being bisexual, though she dislikes the term and instead calls herself "sexually omnivorous."

Playing Alice the neighbor and love interest is Ryah Nixon, a graduate of Carnegie Mellon University. She joined the first national tour of 9 to 5: the musical replacing Diana Degarmo as the lead in the final leg of the tour, closing the national tour as Doralee Rhodes on July 31, 2011.

Carrie Cimma, an NYU graduate, has been part of several national tours. She's starred as Mrs. Lovett, the murderous meat-pie maker (and also played tuba and percussion) in Sweeney Todd. Cimma has commented that she "like(s) to find the heart in my villains."

In LIZZIE she has the role of Bridget the house maid, a part described as "mean and spiteful, with the character of a junkyard dog,"

LIZZIE does have heart. The abused child who finally had as much as she could take and retaliated. As the story and music progress, you tend to root for her.

Mysterious and sinister, the prologue is reminiscence of London Bridge is Falling Down, followed by the easily understood, extremely articulate spoken word explanation of the story.

With an off-to-war beat, the CD begins with the authoritative The House of Borden. What immediately stands out is, again, the ability to understand each and every single word. The same quality as listening to one of the famed 'spoken word' recordings.

This is Not Love is Lizzie at her softness, dazed, bewildered - and pleading. Describing the horrors of being abused, abuse that is covered up or ignored by others:

"You touch with selfish hands
This is not love
You speak in cold demands
This is not love
Whatever you take, it isn't giving
When I have no choice
What kind of life am I living
If I, I have no voice

I don't know what it is, but . . .
Sometimes you say the words
But this is not love
Afterthought apologies
Are not enough"

Powerful musical numbers describing why Lizzie is driven to the limit. I Gotta Get Out of Here is Lizzie desperate to escape from her abusive family. At first her pleas are soft, plaintive, yet desperate.

"I gotta get out of here
I gotta I gotta I gotta.



L to R: Ryan Mackstaller guitar, Jeremy Chatzky bass, Matt Zebroski drums & percussion, Matt Webb piano & keys, Alec Berlin guitar, Alan Stevens Hewitt composer, Jason Binnick sound, Anthony "Rocky" Gallo (not pictured Ward Williams cello)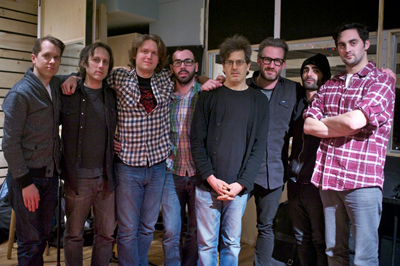 The entire score brilliantly brings to musical life a horrific situation; the murderous results are because of child abuse. There is tenderness and longing, shifting to anger over the change of a will in The Soul of the White Bird.

LIZZIE is building, dramatic, intense - both in storytelling and rock music.

There are no hummable tunes, nor a stand out number such as Pinball Wizard from Tommy, which also had a dark. family centered storyline. However, I'd elevate LIZZIE to that potential.

The dynamic band members who create the musical's dark underbelly include; Matt Webb/Piano & Keys (Resident Music Director for Great Lakes Theater/Idaho Shakespeare Festival), Alec Berlin/Guitar 1 (Green Day's American Idiot on Broadway), Ryan Mackstaller/Guitar 2 (Little Worlds, Easy Tells), Ward Williams/Cello (Jump, Little Children, Tam Lin, Brandi Carlile), Jeremy Chatzky/Bass (Ronnie Spector, Bruce Springsteen) and Matt Zebroski/Drums & Percussion (Alex Skolnick Trio).

Not only is every word easily understood, the sound balancing is perfection thanks to Tim Maner and Jason Binnick.

The spoken word segments, frequently backed by the beat of a drum, are co-produced by Steven Cheslik-de-Meyer and Tim Maner. That's important because - to hammer it home - the spoken words on this CD are just as important as the singing.

Children's voices on the CD are Reed Dillon, JoJo McCabe, Violet McCabe,

The Jury is composed of: Alec Berlin, Jeremy Chatzky, Steven Cheslik-deMeyer, Van Dean, Alan Stevens Hewitt, Ryan Mackstaller, Tim Maner, Matt Webb. Ward Williams, Matt Zebroski.

The album was engineered by Anthony "Rocky" Gallo (John Legend, Norah Jones, Cat Power, Mos Def, Carly Simon, Jon Bon Jovi, among many others) and mastered by Dave McNair who recently mastered David Bowie's The Next Day. Mixed by Gallo and Alan Stevens Hewitt who also provided the orchestrations. Mixed at Virtus and Vice Studio in Broolyn, Recorded "the winter and spring of 2013" at Virtur & Vice Studio and Spin Recording LIC in Queens.

While that famed children's poem is the last song on the CD, this version is not the rollicking Chat Mitchell delivery; rather one step faster than a funeral dirge. Lines of the famous ditty "Lizzie Borden took an axe, gave her mother forty whacks. When she saw what she had done, gave her father forty-one" - are prominently displayed on the fold out folder of the dramatic eye catching, almost gothic inspired booklet, which also contains the lyrics to each song.

LIZZIE has a certain magnetic charisma, which sucks in the listener and then holds them in a spellbinding trance. While this would make the perfect recording to play at a Halloween party, enjoy it any time of the year - with perhaps the exception of Mother's or Father's Day.

The album is a killer - no pun intended.

Following the Houston gig, Lizzie transfers to Philadelphia where it will be produced by the 11TH Hour Theatre Company as part of their Next Step Concert Series from November 23-25. The CD should be on everyone's play list.







Broadway To Vegas is supported through advertising and donations. Priority consideration is given to interview suggestions, news, press releases, etc from paid supporters. However, no paid supporters control, alter, edit, or in any way manipulate the content of this site. Your donation is appreciated. We accept PAYPAL. Thank you for your interest.





ART AND ABOUT


THE ART OF BULGARI: LA DOLCE VITA & BEYOND 1950-1990

Sautoir, 1969. Platinum with sapphires and diamonds. Chain: 74 x 1 cm. Pendant/brooch: 4.9 x 4.9 cm. Formerly in the collection of Elizabeth Taylor. Bulgari Heritage Collection, inv. 6675 N2170 © Antonio Barrella Studio Orizzonte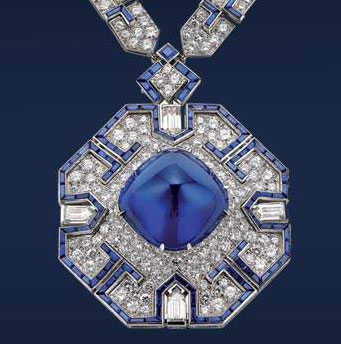 Ya wanna see some bling? This exhibition spotlights approximately 150 show stopping pieces of jewelry, including seven from the Elizabeth Taylor collection, along with sketches and other materials from the Bulgari archives.

Richard Taylor once said that 'the only word Elizabeth knows in Italian is Bulgari."

Other A-listers who gems are on display include those of Ellen Barkin and Lyn Revson, wife of Revlon mogul Charles Revson.

Since its founding in Rome in 1884, Bulgari has become synonymous with innovation and luxury in jewelry design. The jeweler is famous for mixing semiprecious stones with diamonds, mounting ancient coins in gold jewelry, and creating easy-to-wear pieces made with unusual color combinations such as turquoise, amethyst and emerald; coin-set jewelry on heavy gold chains; and the modular Parentesi line, inspired by the joints of Roman pavements.

The house favored bold, architectural designs combining large and weighty gold links with interlocking steel. Bulgari is also famous for colored stones, especially sapphires mixed in unique formats. Bulgari also became famous for its use of cabochon- which are rounded, not faceted, gemstones.

Bulgari's style was inspired by Greco-Roman classicism, the Italian Renaissance, and the 19th-century Roman school of goldsmiths. Bulgari's style embraced boldly-colored combinations of gemstones, use of heavy gold, and forms derived from Greco-Roman classicism, the Italian Renaissance, and the 19th-century Roman school of goldsmiths. The company helped to develop a look that would come to be known as the "Italian school" of jewelry design. Pieces in the exhibition display the jeweler's eclectic creativity and invention during this period.

The Bulgari style is considered art. Andy Warhol liked to visit the store because he called it "the most important museum of contemporary art."

By the 1970s, Bulgari's bold and innovative style had gained success with celebrities and the jet set.

Works in the exhibition also include those from the 1970s and 80s, a particularly innovative period for the jeweler and one influenced by Pop Art and other contemporary trends. "The hard-edged designs of the 1970s included a whole range based on the Stars-and-Stripes motif, while in the 1980s the Parentesi collection had a modular architectural presence; both show how the jeweler could lead in new directions with a strong sense of design," said Martin Chapman, curator in charge of European Decorative Arts and Sculpture at the Fine Arts Museums of San Francisco.

Bulgari's successful cultivation of prominent patrons and movie stars like Sophia Loren, Ingrid Bergman, and perhaps most notably, Elizabeth Taylor, has long been a key aspect of the jeweler's reputation. To help explore the cultural context in which these objects were made, the exhibition will include innovative uses of sketches, photographs, and other archival materials that help to reveal a fascinating intersection of celebrity, design, and fine craftsmanship.

Amanda Triossi, curator of the Bulgari Heritage Collection is the exhibition co-curator. On exhibit through February 17, 2014 at the de Young Museum in San Francisco.

MIKE KELLEY

Deodorized Central Mass with Satellites 1991/1999. Plush toys sewn over wood and wire frames with styrofoam packing material, nylon rope, pulleys, steel hardware and hanging plates, fiberglass, car paint, and disinfectant. Overall dimensions variable. (c) Estate of Mike Kelley. Images courtesy of Perry Rubenstein Gallery, Los Angeles. Photography: Joshua White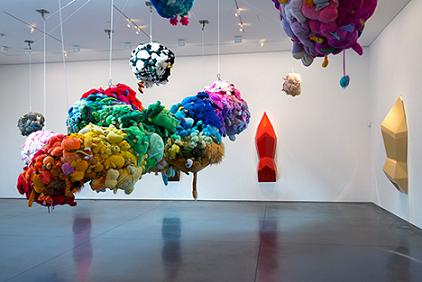 the largest exhibition of the artist's work to-date and the first comprehensive survey since 1993 opens October 13 at MoMA PS1 in New York for an exhibition through February 2, 2014.

Regarded as one of the most influential artists of our time, Mike Kelley (1954–2012) produced a body of deeply innovative work mining American popular culture and both modernist and alternative traditions - which he set in relation to relentless self- and social examinations, both dark and delirious.
Bringing together over 200 works, from early pieces made during the 1970s through 2012, the exhibition occupies the entire museum. This exhibition marks the biggest exhibition MoMA PS1 has ever organized since its inceptual Rooms exhibition in 1976.

Born in Detroit, Kelley lived and worked in Los Angeles from the mid-1970s until his tragic death last year at the age of 57.

Over his thirty-five year career, he worked in every conceivable medium - drawings on paper, sculpture, performances, music, video, photography, and painting. Through his art, Kelley explored themes as diverse as American class relations, sexuality, repressed memory, systems of religion and transcendence, and post-punk politics. He brought to these subjects both incisive critique and abundant, self-deprecating humor.

Mike Kelley is organized by the Stedelijk Museum, Amsterdam. The exhibition is curated by Ann Goldstein, Director, Stedelijk Museum, Amsterdam; in cooperation with the Mike Kelley Foundation for the Arts; and organized at MoMA PS1 by Connie Butler, formerly The Robert Lehman Foundation Chief Curator of Drawings at The Museum of Modern Art, now Chief Curator, Hammer Museum, Los Angeles; and Peter Eleey, Curator and Associate Director of Exhibitions and Programs, MoMA PS1. Curator of the first exhibition concept is Dr. Eva Meyer-Hermann.

The music and performance portion of the program is organized by guest curator Mark Beasley, with Jenny Schlenzka, Associate Curator, and Eliza Ryan, Assistant Curator, MoMA PS1.

October 13, 2013-February 2, 2014 at MoMA PS1 Long Island, Queens, NY.

FERNAND LEGER AND THE MODERN CITY

The City, 1919 Fernand Léger, French Oil on canvas 7 feet 7 inches x 9 feet 9 1/2 inches (231.1 x 298.4 cm) A. E. Gallatin Collection, 1952 1952-61-58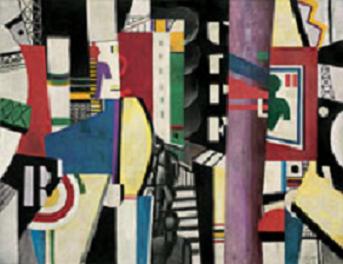 This interdisciplinary exhibition takes as its inspiration and point of departure Fernand Léger's 1919 painting The City, a cornerstone of the Philadelphia Museum of Art's collection and one of the most important works in the history of modern art.

The exhibition demonstrates that the painting inaugurated for the French artist an intense experimental period that lasted through the mid-1920s, during which he redefined the practice of painting by confronting it with forms of cultural production central to the public life of the modern city, such as graphic and advertising design, theater, film, and architecture.

With over one hundred works, including loans from American and European public and private collections, the exhibition sets a group of Léger's paintings centered around The City within the context of the artist's production in film and theater design, graphic design, and mural design, as well as a number of works in various media by avant-garde artists in his network of friends and collaborators.

While many of his colleagues abandoned painting in favor of merging art with modern life, Léger instead developed a profoundly reciprocal relationship between his ongoing pursuit of painting and his exploration of artistic practices beyond the easel.

By demonstrating these intimate links, this exhibition makes clear that Léger's masterworks in painting were tied to his desire to engage more directly with new urban spaces, experiences, and audiences.

Curated by Anna Vallye, Andrew W. Mellon Postdoctoral Curatorial Fellow in Modern and Contemporary Art.

On display October 14, 2013-January 5, 2014 at the Philadelphia Museum of Art.


SWEET CHARITY


CHOCOLATE UNWRAPPED: THE SCIENCE OF FLAVOR Local chocolatier Will Gustwiller of Eclipse Chocolate will pair something yummy (beer truffles, perhaps?) with a Green Flash Brewing Company surprise revealed by Director of Beer Education, Dave Adams.

Sips will feature the Flash along with Cacao Chocolate Porter made with organic cacao nibs and Chipotle IPA made with smoked Jalapeno Peppers from Aztec Brewing, Hop the RIPA & Beeruccino from Helm's Brewing Company, Manzanita Brewing Company's Riverwalk Blonde and Witch's Hair Pumpkin Ale (with Chaotic IPA as backup) and St. Archer's eponymous Blonde and IPA; Manzanita Distillery will tempt you with their Moonshine.

Sip wines of the world from PRP Wines International. Or pick your own pleasure and hit the no-host full bar from BarWorks, offering beer, wine and cocktails. Taste culinary treats from Ritual Tavern and Mini Chocolate Parfaits & Blackened Chicken Orzo Pasta from East Village Tavern and Bowl.

As always, there will be fun, scientific chocolate-and beer-related hands-on activities! Satisfy your hunger for knowledge with a presentation by Dr. Linemeyer, VP of Biology for Senomyx, on the science behind your taste buds - Senomyx discovers and develops innovative flavor ingredients using cutting-edge technologies. Dr. Francisco Villarreal provides scientific justification for chocoholics with his insights on the health benefits of chocolate. Broadway To Vegas asserts that claiming to eat chocolate because it's healthy is like saying you only have sex to burn of calories. The fleet Center isn't permitting sex, but you can burn off the calories by shakin' it to the sounds of DJ Will Hernandez and Drumbeats by Dre.

The Fleet Center's chief mad scientist Heather Wilkens is bringing back her Team Greenwood to make ice cream in a flash using liquid nitrogen. Party guests will test how sight and smell affect taste in a Skittles Taste Test, blindfolded and holding their nose as they taste a mystery Skittle - how well can you discern the differences between Grape, LemonGreen, Apple, Orange and Strawberry? Or try a Strawberry DNA Extraction - deoxyribonucleic acid, or DNA for short, is the molecule that controls everything that happens in our cells. DNA is a like a blueprint - it contains instructions for the cells in our bodies. Plants and animals have DNA, and we're participants are going to find it.

Chocolate Unwrapped: The Science of Flavor will bring on the fun on Thursday, October 17, 2013. All proceeds benefit the Fleet's nonprofit mission of furthering the public understanding and enjoyment of science and technology.

KATY PERRY will headline a charity concert at the Hollywood Bowl on Wednesday, October 23.

Her handpicked guest roster of female stars include Sara Bareilles, Ellie Goulding, Tegan & Sara and Kacey Musgraves.

Proceeds benefit the breast-cancer focused Young Survival Coalition.







SPREADING THE WORD


FOLKS AT THE ORGEON SHAKESPEARE COMPANY are celebrating. They were information that OSF's American Revolutions commission All The Way will transfer from the American Repertory Theatre to Broadway. The Broadway date of Robert Schenkkan's All the Way, directed by Oregon Shakespeare Festival Artistic Director Bill Rauch, will be announced soon.

Much of the A.R.T. cast will be going to Broadway.

"At the Oregon Shakespeare Festival," said Rauch, "we had a dream of creating work that spoke to the urgent issues of today by dramatizing moments of change in American history. The fact that Robert's brilliant play, developed and premiered in Ashland and further developed at A.R.T., will be reaching even more audiences in New York is deeply meaningful and moving to all of us." All The Way was commissioned by OSF through its American Revolutions: the United States History Cycle. It premiered at OSF in July 2012 and featured Jack Willis as President Lyndon Baines Johnson, Peter Frechette as Hubert H. Humphrey and Kenajuan Bentley as Rev. Martin Luther King, Jr. The production was a huge success with critics and audiences and ran at 98% of capacity. OSF is currently developing Schenkkan's The Great Society, which continues the Johnson story. The Great Society was commissioned by Seattle Repertory Theatre and will premiere at OSF July 23, 2014, also under the direction of Rauch.

All the Way began its run at A.R.T. on September 13 with a new cast and Emmy Award-winning Bryan Cranston as LBJ. The sold-out run closed October 12.

The OSF's plays of American Revolutions look at moments of change in America's past, helping to establish a shared understanding of our national identity and illuminate the best paths for our nation's future.

In other news related to the OSF, the Oregon Shakespeare Festival is the recipient of a generous $3,000,000 grant from The Paul G. Allen Family Foundation. The grant supports the renaming of the Elizabethan Stage/Allen Pavilion to the Allen Elizabethan Theatre.

This contribution brings the Foundation's total giving to over $11 million.

This new gift is designed to support a broad array of priority areas for OSF, such as funding the work on the stage, maintaining and restoring the organization's buildings, attracting visitors to experience live theater, in addition to other needs of the organization. The funds from the grant will be disbursed to OSF's general operating budget.

In another act of generosity, Mr. Allen loaned his copy of the 1623 Dryden-Puleston-Bemis copy of Shakespeare's First Folio, Comedies, Histories, & Tragedies, Published according to the True Original Copies , to the Festival for viewing tours and special educational events. This complete Folio is one of the two finest copies remaining in private hands. The Folio was on loan to OSF from 2003 through 2006 and again in 2010 to celebrate OSF's 75th anniversary season.

UNCLE VANYA adapted by David Mamet from a translation by Vlada Chernornirdik stars Golden Globe winner Stacy Keach, Grace Gummer, and Josh Radnor when Rosalind Ayres directs them in a production to be recorded by L.A. Theatre Works. Also in the cast are Caroline Aaron, John Getz and Marvin Jarvis. All performances will be recorded live in front of an audience (without sets or costumes) to air on L.A. Theatre Works' syndicated radio theater series, which broadcasts weekly on public radio stations nationwide and can be streamed on demand.

Thursday October 17-20 at the James Bridges Theater UCLA School of Theater, Film and Television in Los Angeles.

CONVERSATIONS WITH ANNE BY ANNE BOGART the Award-winning American theatre and opera director, Anne Bogart, will discuss her newest book, Conversations with Anne, published by Theatre Communications Group. As part of SITI Company's 20th Anniversary Season, Anne brings one last interviewee to the stage: herself. Ben Cameron of the Doris Duke Charitable Foundation will ask Anne a series of questions posted by the book's interviewees. Anne will speak on the current climate of theatre, the next generation of artists, and the legacy of a 20-year old ensemble theatre company.

Monday, October 21, 2013 at the New York Public Library for the Performing Arts, Dorothy and Lewis B. Cullman Center, Bruno Walter Auditorium.

THE LOUIS ARMSTRONG HOUSE MUSEUM celebrates its 10th year Anniversary on Tuesday, October 15th.

Located in Queens, NY. the historic house has welcomed 100,000 visitors since opening its doors in 2003.

The Anniversary Bash includes performances by The Hot Sardines. Munchies include Creole creations based on Louis' own recipes prepared by The Cooking Channel's Tamara Reynolds and her company Van lst Kitchen.

Unveiled will be Louis Armstrong's Life Mask, which has recently been restored and will be displayed for the first time in the Museum's history.

A READING OF HEINER MULLER'S ANATOMY TITUS FALL OF ROME directed by leading American avant-garde director Robert Woodruff and features a translation by Carl Weber and Paul David Young, recently published in Heiner Müller After Shakespeare by PAJ Publications.

Heiner Müller, a German (formerly East German) dramatist, poet, writer, essayist and theatre director, was once described as "the theatre's greatest living poet" since Samuel Beckett and is known as one of the most important dramatists of the 20th century after Bertolt Brecht.

In 1984, Müller adapted Shakespeare's first tragedy Titus Andronicus into Anatomy Titus Fall of Rome. Interspersing the dialogue with a chorus-like commentary, the adaptation was heavily political and made reference to numerous twentieth century events, such as the rise of the Third Reich, Stalinism, the erection of the Berlin Wall and the attendant emigration and defection issues, and the 1973 Chilean coup d'état. Müller removed the entire first act, replacing it with a narrated introduction, and completely rewrote the final act. October 24 at The Segal Theatre at The Graduate Center, CUNY, the doctorate-granting institution of The City University of New York (CUNY).


OTHER PEOPLE'S MONEY


WHEN IS IT ABUSING THE PAY IT FORWARD CONCEPT? Pay it Forward started as a pivotal movie plotline (partially filmed in Las Vegas) where "Trevor McKinney (Haley Joel Osment) begins seventh grade in Las Vegas, his social studies teacher Eugene Simonet (Kevin Spacey) gives the class an assignment to devise and put into action a plan that will change the world for the better. Trevor's plan is a charitable program based on the networking of good deeds. He calls his plan "Pay It Forward", which means the recipient of a favor does a favor for three others rather than paying the favor back. However, it needs to be a major favor that the receiver can't complete themselves."

That makes sense.

Numerous stores (especially fast food outlets) have twisted the concept into a profit making promotion.

Last Wednesday I received an E-mail from Starbucks, a fabulously well run and profitable corporation which serves up a magnificent chi latte, salted caramel hot chocolate and in some countries interesting sandwiches and porridge. The missive, which USAToday treated as a news story, indicated that between Wednesday October 9 and Friday the 11th they were playing pay it forward.

"A customer buys the next person in line their favorite beverage - not as an act of charity or thanks - but an acknowledgement of commonality and humanity. The gesture is small, but the act is endlessly inspiring.

"In times like these, small acts of civility like these make a big difference," continued the release. "With that, we are extending a gesture. If you come into Starbucks and buy someone else their favorite beverage, we'll give you a free tall brewed coffee.

"We're hoping this small motivation will encourage you to be the spark of connection that helps bring us all a little closer at a time when showing our unity is so important. #payitforward—and lets see what can happen."

I'll tell you what happens. I get irked. I don't know how my paying for somebody else's designer beverage brings me closer to humanity. Closer to being in debt, but not closer to humanity.

Shopping in Starbucks is like going to a gourmet restaurant - your paying for the experience as well as the food. Why should I pay something around $8.00 so some guy, who probably makes more money than I do, can have a designer drink; so that I can be given a much less expensive cup of coffee, when what I was going to order was tea?

In this type of "pay it forward" promotion, the entity that receives the "pay" that is "forwarded" is Starbucks.

All these wrapped in compassion self promotions do is to transfer around money. Customers can be intimidated into spending more than they had intended. If a person is manipulated into doing a "good deed," then it isn't a good deed.

Call all of these pay-it-forward events social games. Call it inexpensive speed dating for a customer attracted to the looks of the person standing behind them - but don't imply they are patriotic or socially unifying.

For all of the unfortunate who have been furloughed, and have idle time on their hands, look around for a senior citizen, an overworked single mother or maybe somebody who has health issues. How about raking somebody's lawn, wash their car, carry out their garbage or help a child with their homework? Won't cost you a dime and that would encourage a 'spark of connection' and a 'show of unity'. The person who receives the nice gesture just might pay it forward.

DANIEL CRAIG AND RACHEL WEISZ a real life couple, are starring in Harold Pinter's Betrayal, which has broken Broadway records before it even officially opened.

Directed by Mike Nicholas and produced by Scott Rudin, the seven previews of the drama have brought in about $1,700,000, breaking the Barrymore Theater's weekly box office record. The previous record was held by Death of a Salesman in June, 2012.

Nichols and Rudin must have the Midas touch. They are the masterminds behind both productions.

THE OLD GLOBE IN SAN DIEGO reports that their recent black tie A Magical Evening Gala raised over $1 million for the Globe's Artistic and Educational programs.


CROTCHLESS PANTY HOSE AND BEDS THAT SWING


Surfing the web can result in the darndest discoveries. Recently, I ran across several posts from a former radio/television personality which are - personally - extremely interesting.

The woman appears to be active on several social media sites. Her identifying photo on one of her sites, apparently was taken when she was in her 20s or early 30s and shows her as a redhead.

Years ago I was the fish in the barrel in a deposition in which I was specifically asked if I owed crotch less pantyhose. I was asked if I wore underwear. I was accused of having a handing bed or swing in my bedroom. When I answered no, I was called a liar.

If one wonders why in the world a person would even answer such questions - I had no choice. After the very first question was ansked, my reply was wanting to know the question's relevance. I was informed by the devout Mormon lawyer asking the questions that he was entitled to ask me anything he wanted and I had to answer. An argument could be made that the Mormon lawyer wasn't representing his client as much as he was on a fishing expedition for several hidden clients. I even exploded at one point, demanding to know the name of his real client.

The Mormon lawyer would ask a totally inappropriate, non-relevant sexual question, lower his head and softly mutter 'whore'. Then he'd ask another question, lower his head and softly mutter 'whore' - to the point that I leaned across the table and said "What did you dare call me!!!!???"

Yes, I have purchased crotch less panty hose. I wear underwear, preferring the fancy type that's color coordinated. (However, a lot of perfectly respectable women don't wear underwear, although celebrities getting out of limos should). No, I have never had a swing, or a bed that swings in my bedroom, although I have written about people who do.

The devout Mormon lawyer insulted, ridiculed, berated, and twisted my answers to cast me as the tramp of the block.

So, the following postings, and the people mentioned in those posts, are of extreme interest to me.

Married for 40 years to her third husband, the social networking lady has several bios posted. On one of them she lists her current age as 74.

Years ago, when the woman indicates she was 66, she posted an e-mail which also contained a photo - and for me - some extremely interesting names, to which I've added color. The e-mail appears to have been sent to the talented Meredith Vieira, who was on The View from 1997–2006 and co-hosting the Today show from 2006–11.

"Hello Meredith,
Best wishes for your new beginning at the "Today" show. I can't think of a better person to take this on. Those of us women who started in TV before you did are just thrilled!
Here's my first job at WTVJ, Miami (1957):

(MORE BELOW)
"By the way, I wear no underwear at all, but do sometimes wear crotchless pantihose -- or I cut out the crotch to allow "air up there." This was at the suggestion of a female French obstetrician who delivered my daughter in 1968 at the New York Infirmary, E. 19th Street, NYC. I haven't had a yeast infection in years... and my husband thinks it's sexy to go without undies!
In peace,
(Actual name here) (twitter name) "(35 years in radio and TV -- I worked around the corner from Barbara Walters in the 1960s, as production assistant to Dick Carson on the "Tonight" show unit when it was in New York City.) Still volunteering at (name and location deliberately deleted by Broadway To Vegas) at age 66!
Send her your message at: http://abc.go.com/theview/hosts/vieira.html "

Then on December 29, 2012 the woman posted a photograph of a bedroom containing a bed hung from the ceiling. She wrote: "This 'swing bed' hung on gold chains from the ceiling. It was designed with love by my husband -- very 1970s!"

A photo taken decades ago shows a large bedroom with a heavy wooden bed suspended from the ceiling by sturdy metal chains. There is a caption which identifies those in the picture: One is a lovely child seated on the bed with another darling child standing by the bed. An adult is also pictured. Looks like an ingenious concept to get a child to go to bed on time.

I hope the woman's husband put a patent on the device. It's a fabulous concept for either adults or children. It would require a ceiling with a major support beam and professional installation. Marvelous idea. The low to the floor bed would swing just enough to entice a child to go to bed on time and have enough of a rocking sensation to encourage a relaxing sleep for a person of any age. The bed wouldn't swing wide enough to be dangerous.

The lady also had a long, personal and professional relationship with Larry King which she frequently mentions. She posts links so people can read newspaper clippings about them. On her blogspot she writes: "Many of you know that I dated Larry King in the 1950s when we were both young broadcasters in Florida."

They went to the Pickin' Chicken Drive-in Restaurant. Decades later she worked with King on the radio. It was King who was responsible for the woman becoming extremely successful. On one of her sites, in writing about King, she posts a picture of his current wife and their children.

Amazing what is up on the web.

It's odd about writing. You write about the best and the worst. That's who people want to read about. If you've written about criminals, prostitutes and assorted evil doers, that doesn't make you one. Writing about kings, queens, government leaders and those who invent cures for illnesses doesn't mean you are one of them, either.

As for me, the devout Mormon lawyer said he was going to have me red flagged because of a perfectly legal name change. At that time, I didn't know what having somebody red flagged meant. It means nobody can hire you. Apparently it was legal for him to do it, because he did. However, he should have removed the red flag after the case was settled. He didn't. While seriously hurtful before 9/11, if you were good enough and worked hard enough, a red flag wasn't a total death sentence in the literary world. After 9/11 it was.



THE WINSLOW BOY by Terence Rattigan. Directed by Lindsay Posner.

The cast includes Michael Cumpsty, Mary Elizabeth Mastrantonio, Alessandro Nivola, Roger Rees, Zachary Booth, Spencer Davis Milford, Charlotte Parry, Chandler Williams, Meredith Forlenza, Stephen Pilkington, and Henny Russell.

An exploration of family devotion, The Winslow Boy illustrates the costs of unconditional love and the rewards that make the effort priceless. When Ronnie Winslow is expelled from school for stealing, it has a resounding effect on the entire family. His father Arthur must pool his resources to hire a lawyer for the boy's defense. His brother Dickie begrudgingly drops out of college and gets a banking job to help with the legal costs. And the fallout from this unexpected predicament puts his sister Catherine's engagement in jeopardy. Though they are determined to defend Ronnie, will the family's sacrifices be enough to clear his reputation and the Winslow name?

Peter McKintosh: Set and Costume Designer - David Lander: Lighting Designer - Drew Levy: Sound Designer - Michael Bruce: Original Music - Paul Huntley: Hair and Wig Designer - Stephen Gabis: Dialect Coach.

This new production of Terence Rattigan's 1946 classic play comes directly from The Old Vic Theatre in London. Officially opens on Thursday, October 17, 2013 at the American Airlines Theatre in New York City.

A NIGHT WITH JANIS JOPLIN written and directed by Randy Johnson.

Starring Mary Bridget Davies.

The cast also includes Taprena Michelle Augustine, De'Adre Aziza, Nikki Kimbrough, and NaTasha Yvette Williams.

Like a comet that burns far too brightly to last, Janis Joplin (Mary Bridget Davies) exploded onto the music scene in 1967 and, almost overnight, became the Queen of Rock 'n' Roll. The unmistakable voice filled with raw emotion and tinged with Southern Comfort made her a must-see headliner from Monterey to Woodstock. A Night With Janis Joplin is a musical journey celebrating Janis and her biggest musical influences - trailblazers like Aretha Franklin, Etta James, Odetta, Nina Simone and Bessie Smith, who inspired one of Rock 'n' Roll's greatest legends.

The production features choreography by Patricia Wilcox, set and lighting design by Justin Townsend, costume design by Amy Clark, sound design by Carl Casella, projection design by Darrel Maloney, music direction by Ross Seligman, and original music direction and arrangements by Len Rhodes.

The production is at the Lyceum Theatre in New York City.

THE MODEL APARTMENT by Pulitzer Prize winner Donald Margulies.

Directed by Evan Cabnet.

Featuring Mark Blum, Diane Davis, two-time Obie Award-winner Kathryn Grody, and Hubert Point-Du Jour.

Explained as: "When Max and Lola, two Holocaust survivors from Brooklyn, retire to Florida, they find their new condo unfinished and are forced to spend the night in a "model apartment" where things are not always as they seem. In this brilliant and bizarre Drama Desk-nominated black comedy, Max and Lola soon realize that if they ever want to truly "retire," they must first confront the demons of their past."

Scenic design by Lauren Halpern, costume design by Jenny Mannis, lighting design by Keith Parham, and original music and sound design by Josh Schmidt.

Officially opens at Primary Stages in New York City on Tuesday, October 15.

BROKEN GLASS written by Arthur Miller.

Directed by Rosina Reynolds.

Arthur Miller's Olivier award-wining drama play takes place in Brooklyn in 1938. The master dramatist weaves a gripping mystery of guilt, personal tragedy and love. The complex personal relationships along with a plot filled with arresting incidents leads us through an examination of the playwright's moral vision which ultimately delivers us to the poignant and dramatic conclusion. Bill as "a must-see for the serious theatre lover."

North Coast Rep's Artistic Director David Ellenstein will be featured in the cast along with Ralph Elias, John Herzog, Kerry McCue; Elaine Rivkin and Shana Wride.

Performing on the cello is Melissa Chu.

The designers include: Marty Burnett (Set Designer), Matt Novotny (Lighting Designer), Alina Bokovikova (Costume Designer), David Medina (Props & Set Dressing); and Aaron Rumley (Stage Manager).

Previews begin Wednesday, October 16th; Opening Night on Saturday, October 19th includes a post-show reception. A special talkback on October 25th with the cast and director. Performances through November 10, 2013 at North Coast Repertory Theatre in Solana Beach, CA.

JUNO AND THE PAYCOCK by Sean O'Casey. Directed by Charlotte Moore.

Starring: Ciarán Byrne, J. Smith-Cameron, Terry Donnelly, John Keating, Laurence Lowry, Mary Mallen, Ed Malone, Kern McFadden, David O'Hara, Ciarán O'Reilly, James Russell, and Fiana Toibin.

Described as an "extravagant portrait of the poetically comic and tragic world of a Dublin torn apart by the chaos of the Irish Civil War. In one of the most memorable speeches in modern drama, Juno Boyle leaves us with O'Casey's legacy: 'Take away our hearts of stone and leave us with hearts o'flesh!'"

Performances through December 8 at The Iriish Rep in New York City.


WHO'S WHERE




JOSH GROBAN brings his wonderful voice and personality to the MGM Grand Garden in Las Vegas for a performance tonight, Sunday, October 13.

NORM LEWIS who received a Tony nomination for his performance in Porgy and Bess makes his Bay Area Concert Debut with a show Sunday, October 20 at the Venetian. in San Francisco.

ROD STEWART singing his hits Thursday, October 17, atthe Coliseum in Greensboro, NC. On Saturday he headlines the Philips Arena in Atlanta, GA.

LINDA EDER brings her singing talents to Deinsteins at the Nikko for shows October 17-19. Hotel Nikko in San Francisco.

STRAIGHT NO CHASER on stage Wednesday, October 16, at the Missouri Theatre in Columbia, Mo. Thursday's performance is at the Stephens Auditorium in Ames, IA. Friday's show is at the River Center in Davenport, IA. Saturday finds them at the Civic Music Hall in Omahan,NE. Next Sunday, October 20, the show is at the Orpheum Theatre in Sioux City, IA.

MICHAEL BUBLE is in Texas this week with his tremendous show Friday, October 18, at the American Airlines Center in Dallas. On Saturday he can be enjoyed at the AT&T Center in San Antonio. Next Sunday, October 20, he's on stage at the Toyota Center in Houston.

MERCYME in the spotlight Friday, October 18, at the Autumn Ridge Church in Rochester, MN. On Saturday they performs at the Xcel Energy Center in Saint Paul, MN. Next Sunday, October 20, they're in Fargo, ND with a performance at the Bethel Church.

SARAH BRIGHTMAN brings her stunning voice and dramatic and elaborate presentation to the Xcel Energy Center in Saint Paul, MN on Thursday, Octobe 17. On Saturday she stars at the MYS Centre in Winnipeg, Canada.


FINAL OVATION


HENRY GUETTEL who from 1982 to 1993 served as the executive director of Theatre Development Fund died of pneumonia on October 7, 2013 in Southampton, NY. He was 85.

Prior to taking on his post at TDF, he was senior vice president, east coast productions, of Twentieth Century Fox and vice president, creative affairs, at Columbia Pictures.

Born in Kansas City, MO, on January 8, 1928, Guettel produced touring versions of The Sound of Music, The Best Man, Camelot and Oliver! He was a stage manager for Now I Lay Me Down to Sleep in 1950 and went on to help produce the Broadway shows Romulus and Sugar Babies. He was the general manager of the Music Theatre of Lincoln Center from 1964 through 1967. In that capacity he was the producer of several workshop productions of new musicals at the Forum Theater, now the Mitzi E. Newhouse.

Married to Mary Rodgers Guettel, the daughter of Richard Rodgers, and the composer of Once Upon a Mattress. The couple had two children together, including Tony Award winner Adam Guettel, author of Floyd Collins and The Light in the Piazza.

He is survived by his wife and sons Adam and Alec Guettel; stepchildren Tod Beaty, Kim Beaty, and Nina Beaty; and six grandchildren.

STANLEY KAUFFMAN a film and drama critic died of pneumonia at St. Luke's Hospital in Manhattan on October 9. He was 97.

He spent 50 years as the film critic of The New Republic, which announced his death.

From 1969 to 1979 he did double duty as the theater critic for The New Republic.

Even before graduating from New York University in 1935, he acted and was stage manager with the Washington Square Players, an off-Broadway theater.

In 1966 he spent eight months as the NY Times theater critic. He was a professor of English, Drama, and Film at City University of New York from 1973-76. He also taught for years at the Yale School of Drama.

He married Laura Cohen in 1943, and they had no children. She passed away last year.













Next Column: October 20, 2013
Copyright: October 13, 2013. All Rights Reserved. Reviews, Interviews, Commentary, Photographs or Graphics from any Broadway To Vegas (TM) columns may not be published, broadcast, rewritten, utilized as leads, or used in any manner without permission, compensation and/or credit.
Link to Main Page
---
Laura Deni



For the snail mail address, please E-mail your request.
CLICK HERE FOR COMMENT SECTION