! >
Broadway To Vegas
  SHOW REVIEWS     CELEBRITY INTERVIEWS     GOSSIP     NEWS 
| | |
| --- | --- |
| | |
FLOWER DRUM SONG OPENS - -FRANK GORSHIN AS GEORGE BURNS - - CAROUSEL BALL - - PAUL ROBESON HONORED - - DANCING VAMPIRES - - INTERNATIONAL FESTIVAL OF MUSICAL THEATRE - - SIEGFRIED & ROY AUDITION - - TATTOO FESTIVAL - - DONATE . . . Scroll Down


Copyright: October 13, 2002

By: Laura Deni
CLICK HERE FOR COMMENT SECTION


MASSACHUSETTS TATTOO FESTIVAL WILL NEEDLE YOU


Looking for something different to wear? How about a tattoo?

Ozzy Osbourne, Cher, Angelia Jolie, Courtney Love, Guns N' Roses, LL Cool J, Kiefer Sutherland, Motley Crue, Erykah Badu, Pamela Anderson, Lenny Kravitz, Billy Idol, Heather Locklear, Brett Michaels, Insane Clown Posse, Johnny Depp, Jon Bon Jovi, Jars of Clay, Courtney Cox, Nicholas Cage, Greg Allman, Tori Spelling, Dolores O'rierden of the Cranberries, Dennis Rodman, Joan Jett, Village People, Donna D' Erico, Cyndi Lauper, Aaron Neville, Sugar Ray Leonard, Johnny Colt of the Black Crowes, Tai Babalonia, Ratt, Sinbad, Johnny Morton, Lita Ford, Lisa Bonet, Drew Barrymoore, Rosanne, Christina Ricci, Ben Affleck, Alyssa Milano, Cristina Applegate, Nicholas Cage, Gillian Anderson, Sarah Michelle Gellar are just some of a thousand celebrities who have had their personal skin used as a canvas.



A tattoo collaborative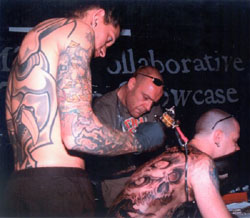 This week-end the second annual Massachusetts Tattoo Festival is taking place. Events range from the silly to the serious.

If you can't decide on one tattoo artist, head for the collaborative tattoo stage which showcases various combinations with different artists bringing their own unique combination together on one body - it could be yours.

There are also tattoo contests. Awards given include; best chest, arm, best overall male, best overall female - but those tattoos must cover at least fifty percent of the body.

Serious seminars also take place, such as the one on prevention of disease transmission through tattooing, which conforms to educational requirements of many states and OSHA's Bloodborne Pathogen Rule.

Guy Aitchison's seminar is on reinventing the tattoo. This seminar is designed for people who are already professional tattoo artists. The emphasis is on design concepts and the nuts and bolts of technical execution.

Don Ed Hardy's seminar is a little more for the layman. It's a talk and slide show about memorable events and people that have crossed his path in the 35 years he's been sticking the needle to people.

The convention opened yesterday and runs through Monday in Worchester "the heart of the Commonwealth" about 50 miles from Boston.




A DIZI PLAYER, A TONY WINNER AND A MISS USA


It's not easy to find musicians who are experts playing the Dizi, Euphonium, Pipa and Mandolin but this show has them. They also have a Tony Award winner and a Miss USA in the cast.

It's the eagerly awaited Thursday Broadway opening of an updated version of the Rodgers and Hammerstein classic Flower Drum Song, with a book by David Henry Hwang.

Starring Tony Award winner Lea Salonga as Mei-li, the lass who flees to America in the late 1950's when her father, a Chinese opera master, falls under persecution from the Communist government.

Arriving in San Francisco, she finds work in a run-down Chinese opera house where the patriarch, Master Wang, struggles to keep old traditions alive, while his American-born son, Ta, dreams of converting the space into a Western-style nightclub.



Alvin Ing (Chin) A member of the original touring company of FDS in 1960, Alvin played Wang Ta in more productions than any other actor. The Mark Taper Forum Production Photo by Craig Schwartz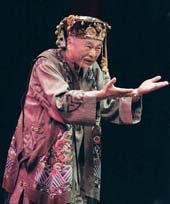 With the help of a leggy showgirl, Linda Low, and her fast-talking agent, Madame Liang, Ta's wish comes true; they discover success, American-style, by turning the old theatre into a popular new nightspot, Club Chop Suey.

In the whirlwind that follows, Mei-li finds herself falling in love, as characters grapple with the joys and the challenges of life in the new world, through a funny and moving story which explores what it means to be an American, and touches the history of every person whose forebears once arrived as a stranger to these shores.

Flower Drum Song's glorious music includes the delightful A Hundred Million Miracles, I Enjoy Being a Girl, Grant Avenue, You Are Beautiful, and Love, Look Away.



Sandra Allen and Jose Llana in the Mark Taper Forum Production Born in Taiwan, Sandra won Miss USA for the Miss International pageant. Photo: Craig Schwartz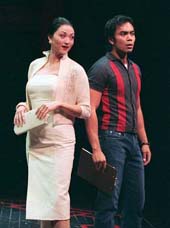 With Robert Longbottom as director and choreographer, Flower Drum Song stars Salonga, Randall Duk Kim, Jose Llana, Jodi Long, Alvin Lui, Hoon Lee and Sandra Allen who won Miss USA for the Miss International pageant.

The cast includes; Susan Ancheta, Raul Aranas, Rich Ceraulo, Eric Chan, Marcus Choi, Ma-Anne Dionisio, Emily Hsu, Telly Leung, J. Elaine Marcos, Daniel May, Marc Oka, Lainie Sakakura, Yuka Takara, Robert Tatad, Kim Varhola, and Ericka Yang.

Then there are those hard to find musicians who are experts playing the Dizi, Euphonium, Pipa and Mandolin. The Flower Drum Song Orchestra has them.

With David Chase serving as Conductor/Vocal and Dance Arrangements the orchestra includes; Janet A. Axelrod, Lou Bruno, Claire Chan, David Evans, Raymond Grappone, Richard A. Heckman, Ronald Jannelli, Christian Jaudes, Howard Joines, Stu Satalof, Russel L. Rizner, Clay C. Ruede, Jack Schatz, Andrew Schwartz, Chuck Wilson, Julius Rene Wirth, and Mineko Yajima.

The creative team is composed of;

Costume Design by Gregg Barnes Photo: Marc Bryan-Brown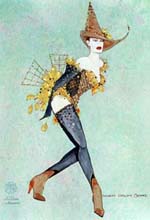 Robin Wagner (Set Design), Gregg Barnes (Costume Design), Natasha Katz (Lighting Design), Acme Sound Partners (Sound Design), Don Sebesky (Orchestrations), Seymour Red Press (Music Coordinator), David Brian Brown (Hair Designer).

Nina Lannan (General Management), Perry Cline (Production Stage Manager), Tom Kosis (Associate Director/Stage Manager), Darlene Wilson (Assistant Choreographer), Jamie H.J. Guan (Chinese Opera Consultant), Rebecca C. Monroe (First Assistant Stage Manager).

Casting by Tara Rubin Casting, Amy Lieberman, C.S.A. and Johnson-Liff Casting.

Arthur P. Siccardi Theatrical Services, Inc. (Technical Supervisor) Produced by; Benjamin Mordecai, Michael A. Jenkins, Waxman Williams Entertainment, Center Theatre Group/Mark Taper Forum. Gordon Davidson, Artistic Director, Charles Dillingham, Managing Director.

Virginia Theatre, New York City.


CHECK OUT THE ACTION AT THE INTERNATIONAL FESTIVAL OF MUSIC


The inaugural International Festival of Musical Theatre in Cardiff, Wales - known as "Europe's Youngest Capital" - is mapping out to be where the action is Oct. 14-Nov. 3.

The Festival will be the world's first-ever major international event to celebrate one of our most popular live art forms, presenting the best of musical theatre, old and new, large and small.

The event will boast the European concert performance of Stephen Flaherty and Lynn Ahrens' Ragtime The Musical accompanied by the BBC National Orchestra of Wales, a concert version of Rodgers and Hammerstein's Carousel with the BBC Concert Orchestra and a gala performance of Andrew Lloyd Webber's Requiem with the London Philharmonic Orchestra.

Also featured will be the United Kingdom premiere of the children's performance of Les Miserables and nine new musical theatre works that are being selected from 186 submissions from 16 different countries.

Each Festival will feature a particular composer or lyricist. For this first Festival Richard Rodgers, whose centenary it is this year, is spotlighted. Some of the productions and events which feature his music including a concert version of Carousel at St David's Hall and National Youth Music Theatre's Oklahoma! The festival's new musical revue, Ten Cents A Dance by John Doyle's award winning company, features the music of Rodgers and Hart, who also wrote the festival's main musical - a new production of Babes in Arms.



Ruthie Henshall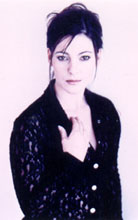 Artists confirmed include: Tracie Bennett , Graham Bickley, Zoe Curlett, Anita Dobson, Ruthie Henshall, Peter Karrie, Laura Michelle Kelly, Ria Jones, Barbara King, Jessica Martin, Jerome Pradon, Clive Rowe, Claire Sweeney and Gary Wilmot.

The cast for Carousel includes: Andrew Halliday as Billy Bigelow, Zoe Curlett as Julie Jordan, John Owen Jones as Mr Snow, Sophie Louise Dunn as Carrie Pipperidge, Claire Moore as Nettie Fowler. Director: Stuart Nicholls, Musical Director: David Charles Abell.

The cast for Babes In Arms includes: Kevin Colson, Simon Coulthard, Joshua Dallas, Tiffany Graves, Alexandra Jay and Julia Sutton.

Other composers' works are also spotlighted. Stephen Sondheim's Anyone Can Whistle, considered the bravest show Stephen Sondheim wrote, at least until Assassins. It was also a spectacular flop when it first hit Broadway in 1964, running only nine performances before closing. It opened April 4, 1964 at the Majestic Theatre and closed April 11, 1964. The stars included Angela Lansbury, Lee Remick, and Harry Guardino.

Also featured in the festival is the Tony Award-winning show Ragtime the Musical, and Cole Porter's Jubilee, as well as international productions, such as Joan of Arc, the current hit musical from Prague.

The cast for Anyone Can Whistle features Angela Rippon as The Narrator with Linzi Hately, Jenny Logan, David Alder, John Conroy, Simon Green. Director: Michele Hardy, Musical Director: Stewart Mackintosh

The cast for Ragtime The Musical includes: Maria Friedman as Mother, Dave Willetts as Father, Graham Bickley as Tateh. Director: Stafford Arima, Musical Director: David Loud.

The cast for Jubilee is composed of; Kevin Colson as The King, Elizabeth Power as The Queen, Nickolas Grace as Eric Dare, Sarah Payne as Princess Mary, Jan Waters as Eva Standing. Director: Jane McCulloch, Musical Director: Stuart Pedlar.

New works are also being showcased at the Festival, including the new musical Sadly Solo Joe, starring Olivier Award-winning Clive Rowe, and also the final SONY Showcases of our year long Global Search for New Musicals. In person Cy Coleman with Tracie Bennett, Bonnie Langford and Paul Nicholas backed by The International Festival Orchestra and The Cy Coleman Trio.



Cy Coleman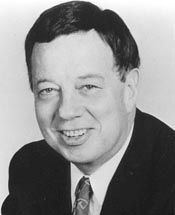 Coleman, the legendary writer of great Broadway shows including Sweet Charity, Seesaw, City of Angels and Little Me, will host an evening of songs from his own award-winning shows.

Artists participating include; Tracie Bennett, Kim Criswell, Janie Dee, Barbara Dickson, Anita Dobson, Kathryn Evans, Maria Friedman, Patricia Hodge, Ria Jones, Dillie Keane, Laura Michelle Kelly, Jane McDonald, Jessica Martin, Grania Renihan, Frances Rufelle, Claire Sweeney, Leigh Zimmerman, Graham Bickley, David Burt, Brian Conley, Jim Dale, Daniel Evans, Tim Flavin Jerome Flynn, Henry Goodman, Peter Joback, Aled Jones, Keith Michell, Petr Muk, Jerome Pradon, Clarke Peters, Nigel Planer, Philip Quast, Denis Quilley, Ian Richardson and Clive Rowe.

The festival is being presented with support firstly from BBC in Wales and the City of Cardiff as well as from the Rodgers and Hammerstein Organization, the Cole Porter Trusts, the Gershwin family, Music Theatre International and the National Alliance for Musical Theatre. Among the festivals patrons are Sir Cameron Mackintosh, Lord Andrew Lloyd Webber and Michael Grandage.


THE EUGENE O'NEILL CELEBRATION
Eugene O'Neill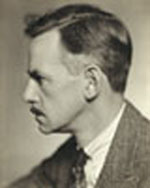 The O'Neill Theater Center in Waterford, Conn will hold the 3rd annual Eugene O'Neill Celebration, honoring the life and works of its namesake October 18 through 20.

Free and open to the public, the series of performances, workshops and discussions will take place at the O'Neill in Waterford as well as the Monte Cristo Cottage, Connecticut College and Garde Arts Center in neighboring New London.

Pulitzer Prize-winning playwrights Marsha Norman and August Wilson will join in Saturday's activities.

Norman will deliver this year's keynote address.

Marsha Norman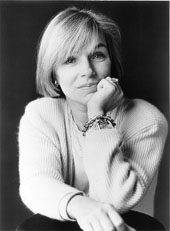 The daughter of a fundamentalist Methodist, Norman had a solitary childhood in Louisville, Kentucky. Her mother's religious views prohibited Norman from playing with other children and watching television and movies, and she credits her loneliness as a child as the reason she became a writer. In 1983, she won the Pulitzer Prize for her play Night, Mother. She also wrote the screenplay for the motion picture. Other plays include Getting Out, Sarah and Abraham and the novel The Fortune Teller. In 1991, she was awarded a Tony for her book and lyrics for the Broadway musical, The Secret Garden.

Wilson is the recipient of this year's Monte Cristo Award, which recognizes "distinguished artistic achievement in the spirit of Eugene O'Neill's pursuit of excellence."

Among the events are a roundtable of contemporary American playwrights discuss the influence of Eugene O'Neill on their own work and the American dramatic canon. Panelists include Lee Blessing (A Walk In The Woods), Constance Congdon (Tales of The Lost Formicans) and Israel Horovitz (The Indian Wants.)

O'Neill's early playwriting years in Provincetown and the artistic community that fostered his growth will be explored by a panel of scholars and artists, including, Jonathan Bank, artistic director of New York's Mint Theater; Authored Leona Rust Egan, J. Ellen Gainor, and theater historian Max Wilk.

Current productions of Eugene O'Neill plays include A Moon for the Misbegotten Oldcastle Theatre Company in Bennington, Vermont through October 20. Ah, Wilderness! at The Repertory Theatre of St. Louis in St. Louis, Missouri opening October 16 with performances through November 15 and A Moon for the Misbegotten at the Wells-Metz Theatre in Bloomington, Indiana opening October 25 running through November 2.



Broadway To Vegas is supported through advertising and donations. Priority consideration is given to interview suggestions, news, press releases, etc from paid supporters. However, no paid supporters control, alter, edit, or in any way manipulate the content of this site. Your donation is appreciated. We accept PAYPAL. Thank you for your interest.


THE MUSIC GOES ROUND AND ROUND


FRANKIE LAINE The Story Of Old Man Jazz And His Loves was brought to our attention by Laine fan New York upstate resident Michael Scarpa. This well kept secret of a CD has some new material by Jack Segal - the man who has written songs recorded by Barbara Streisand, Sinead O'Conner, Frank Sinatra, Cher, Al Jarreau, Nat King Cole, Steve Miller, Johnny Mathis, and Tony Bennett. Segal's songs have included Here's To The Losers, Scarlet Ribbons, When Joanna Loves Me and When Sunny Gets Blue, which Laine includes on this album.

The 65 million record selling composer penned Old Man Jazz with Laine in mind.

Complications with the production agreement caused the album to be held in limp. It has taken six years for this 15-track CD to finally be released.

Laine, 89, has been in ill health for several years, recorded the majority of the songs during an eleven-month period, from late 1993 to late 1994, with the title track recorded in 1996 - which still had him in the recording studio at the age of 83.

Freddie Ravel, acoustic piano; Bobby Hurst, acoustic bass; Jimmy Earl, electric bass; Steve Smith, drums; Rick Baptist, trumpet; Alan Kaplan, trombone; Steve Tavaglione, saxophone and EWI; and Frank Gambale, guitar. The album's concept was done by Benny Hollman, Laine's musical director.

Issued on Laine's Score Records.

ANY OLD TIME by singer- songwriter Steve Forbert has been released by KOCH records. It is co-produced by Gary Tallent of Bruce Springsteen's E Street Band.

Rodgers was the first artist to be inducted into the Country Music Hall of Fame in 1961. Twenty-five years later, he was inducted as a founding father at the Rock and Roll Hall of Fame. Rodgers, who suffered from tuberculosis, was 35-years-old when he died in 1933

Any Old Time is the tenth studio album by the 47-year-old Forbert.



MUSICAL THEATRE WEST celebrated its golden anniversary with a star-studded Long Beach gala fund-raiser at the Carpenter Performing Arts Center. The company has produced 120 shows since it began in 1952. Productions include a World Premiere of Hurry! Hurry! Hollywood! written by Star Search winner Sam Harris, a Los Angeles/Orange County premiere if a new version of Phantom by Kopit and Yeston, and the West Coast premieres of Cole Porter's The New Yorkers; Eleanor: An American Love Story and a new version of Dr. Jekyll and Mr. Hyde.

The original Belle in Beauty and the Beast, Susan Egan, started her career with this company. The gala party featured talent from former and future shows, including Dale Kristien, Pam Dawber, Loretta Devine, Rod McKuen, Sally Struthers and JoAnne Worley.

BONO U2's lead singer, has been selected as the 2003 MusiCares Person of the Year. The Irish band's frontman will be honored at a Recording Academy fund-raiser at the New York Marriott Marquis Hotel in Manhattan on Feb. 21, as part of a month long celebration of the Grammys, which return to New York for the first time in five years.

PAUL ROBESON

Paul Robeson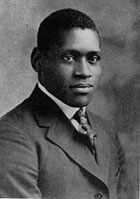 whose rendition of Ol' Man River in Showboat set the standard for other singers, has been honored in London with the presentation of an English Heritage blue plaque.

The singer, who was also a pioneering civil rights activist, lived in north London between 1929 and 1930.

The plaque was unveiled by Dame Cleo Laine at the singer's former home in Hampstead on October 10.

Before the civil rights movement of the 1960s began, Robeson picketed the White House, started a crusade against lynching and protested against segregated concert audiences.

Dame Cleo said his name should be remembered for his work as a campaigner. "Paul Robeson's name should be lauded in America and the world, as is Dr Martin Luther King's," she said.

Robeson's son, Paul Junior, also attended the unveiling and told the audience, "It is an appropriate symbolic recognition of a significant period of my father's artistic and political growth in London. "It will remind us all of the deep mutual affection between my father and the peoples of the United Kingdom."

MAN OF THE YEAR AWARDS Carlos Santana, Michelle Branch and Toni Braxton are on the bill to perform at GQ's Man of the Year Awards Oct. 16 at the Manhattan Center.


SWEET CHARITY


THE CAROUSEL BALL

Sidney Poitier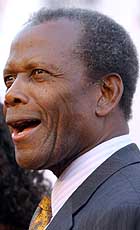 founded by Barbara and Marvin Davis takes place October 15 at the Beverly Hilton. Elton John will be there and Sting is flying in from Italy. Jay Leno serves as master of ceremonies. Sidney Poitier will receive the Carousel's Brass Ring Award, honored for the work he's done for this charity over the years. Doing the presentation honors will be Halle Berry who is coming in from Canada for the gala. Oprah Winfrey will intro Barbara Davis.

Several months ago when Barbara held her kick-off luncheon guests were greeted by flanks of miniature ponies and enjoyed a pink-themed luncheon affair with Anjelica Huston, Jackie Collins, Jolene Schlatter and Candy Spelling on hand.

In keeping with the pink theme the gala decorations will include 10,000 pink Ecuadorian roses. Home Depot is making up pink, white and blue wheelbarrows for guests to take their gift bags home on. Included in goodie bags will be MAC makeup, a custom-designed Toys "R" Us teddy bear, a basketball from Jerry Buss and the L.A. Lakers and a Swarovski Crystal Tattoo kit.

Dominick Dunne, Larry King and Don Rickles are just three who are offering themselves as auction items. Up on the auction block is also a $12,500 child-sized Mercedes-Benz from FAO Schwarz. This is the type of event where people donate everything from Cadillac sports roadsters to exotic world trips for the silent auction.

$10,000 a couple for tickets. All proceeds benefit the Children's Diabetes Foundation. The event, now 20 years old, has raised over $60 million for The Davis Center for Children's Diabetes which treats 4,000 kids a year.

THE YORK THEATRE COMPANY Artistic Director James Morgan and Consulting Managing Director Louis Chiodo, will kick off its 34th season with a benefit concert performance of the Off-Broadway musical I Sing! on Monday, October 14th at The York Theatre at St. Peter's, Citigroup Center.

I Sing! has lyrics by Sam Forman, music by Eli Bolin, and a book by Forman, Bolin and director Benjamin Salka.

A CD of I Sing is in the works from John Yap of England's Jay Records. The concert cast features Matt Bogart, Jessica Boevers, Lauren Kennedy, Chad Kimball, and Danny Gurwin. The cast will record the show the following day. Music direction is by Vadim Feichtner, with new orchestrations by Randy Cohen.

I Sing! is the story of five fresh out of college grads facing their first big steps in life. As they prepare for the transition, they discover all the dangerous and exciting possibilities that come with first love, first loss and true friendship.

The York Theatre Company, founded by Janet Hayes Walker in 1969, presents complete seasons of new musicals in full production as well as concert revivals of Broadway's under appreciated gems. It also presents dozens of readings of new musicals throughout the year. Proceeds from the I Sing! concert and album will benefit the company's Janet Hayes Walker Memorial Fund, in support of new works. $200 tickets include priority seating, a champagne reception with the cast following the concert, and a copy of the CD when it becomes available.

STEVEN CURTIS CHAPMAN the Grammy and Dove award winner, will perform October 19 at the Cox Convention Center, in Oklahoma City in a benefit concert for the Waodani tribe in Ecuador to aid in technology, transportation and medical costs. In a statement Mark Green, president of Mardel stores, the event sponsor, explained the benefit. "Chapman has been gripped by the story of the five missionaries brutally speared by members of the Waodani tribe in the Amazon jungle of Ecuador in 1956, and the reconciliation that followed.

RAY CHARLES stars in a benefit concert in Abravanel Hall, Salt Lake City, on Tuesday, Oct. 15, for BlueCross/BlueShield of Utah's Caring Foundation for Children. Proceeds will help provide complete dental treatment plans for uninsured children throughout Utah.


JABBER, JABBER, JABBER


THE SOUTHERN BOOK FESTIVAL which began Friday in Nashville continuing through today has featured some heavyweight writers. Yesterday there were panel discussions with playwrights at the Nashville Public Library's downtown branch. They included: Horton Foote (The Trip to Bountiful) and Reynolds Price (New Music) discussed writing for the stage and Stuart Spencer spoke about his new book, The Playwright's Guidebook.

Guillermo Reyes (Man on the Verge of a His-panic Breakdown) discussed Latino and gay theater.

Romulus Linney (Holy Ghosts) spoke on his work in the theater including the script for A Lesson Before Dying, which continues through Oct. 26 in a new production by Nashville's American Negro Playwright Theatre at Tennessee State University.

Today James Waedekin, who wrote the book for Harold Prince's 3hree, and Nashville composer Mike Reid, who penned the music and lyrics for The Ballad of Little Jo, will discuss musical theater.

All events were free. This event is a partnership between Humanities Tennessee, which organizes the festival, and Nashville Theatre Works, a group that develops new plays.

CAROL CHANNING might get writer's cramp with the book signing tour she is on. October 14 she can be found signing her new book, Just Lucky I Guess, at the Roundtable West event at La Quinta Resort & Club in La Quinta, Calif. On October 17 you can get her signature on your copy of her book at the Commonwealth Club at the Fairmont Hotel in San Francisco, Calif. October 18 she can be tracked down at Books Inc. in the Disney Store, Market Street in San Francisco, California.

ROB ASHFORD the Tony Award-winning choreographer will appear at The Huntington Theatre Company Club Nights Oct. 23-24 to discuss his work on the world premiere musical Marty, which opens at the Huntington Theatre Company in Boston Oct. 18 running through Nov. 24.

JITNEY PANEL DISCUSSION Looking Back: The Impact of Urban Renewal on Louisville's African American Community takes place Friday, October 18, at the Victor Jory Theatre. Jitney explores the impact of urban renewal on the Hill District, a primarily African American community in Pittsburgh. In conjunction with the Actors Theatre production, a panel discussion about the Louisville community's parallel history. Moderator Ken Clay, Vice President of Performing Arts, Kentucky Center for the Arts. Panelists include Mervin Aubespin, recently retired associate editor of The Courier-Journal,Jerome Hutchinson, former Small Business Association employee and former Chairman of Continental National Bank, Joe Ray, Jr, former Walnut Street resident and businessman, and Ella Roberts, former manager of Louisville Housing Commission.

The free panel discussion begins at 6:30 p.m. Those who stay for the 8 p.m. performance of Jitney receive 10% off tickets.

THE ALLEY THEATRE in Houston Texas hosts a staged reading October 14th of A Lesson Before Dying as part of the Books on the Bayou reading initiative.


LAUGH A LOT


KLEPTOMANIA IMPROV COMEDY FESTIVAL October 18th & 19th at the Times Square Entertainment Center, Theatre #2, NYC. The Festival will feature scenic - a/k/a long form - improvisational comedy performers. They include; Cardboard Follies and The Office a three-part comedy program, Your Mon & Madame Funnypants a two-part sketch comedy program, Dream Team and KROHMP a three-part comedy program, Corpa and Jason Biggs Is A Dyke, a three-part comedy program, Call Me Ethan and Gethard & O'Neill, a one & two person comedy program. Firestorm & Stomping Ground, a three-part comedy program, The Upright Citizens Brigade Theater's team, Monkeydick, will present their two act show, Mono y Mono. Sean Taylor's Improv Jam is the two-Hour Closing Ceremony.

GALLAGHER brings his sledge hammer and fruit to the Chanute Memorial Auditorium in Chanute, Kansas on Friday and then travels down the road for a show Saturday in Hutchinson, Kansas at the Fox Theater.

THE SMOTHERS BROTHERS bickering about who mom likes best Thursday in Davenport, Iowa at the Alder Theatre. On Saturday they'll take continue the fight at the Crystal Grand Theatre in Wisconsin Dells, Wisconsin.

THE CAPITOL STEPS the five member group that gleefully puts the mock in democracy perform tonight at the McGale Auditorium in Logansport, Indiana. Next Saturday the troupe takes to the stage in Ada, Ohio at Ohio Northern University. Next Sunday they can be enjoyed at the Franciscan Center in Sylvania, Ohio. Another group performs Saturday in Annapolis, Maryland at the Ramshead. Capitol Steps has about 30 members, enough for four different companies to perform at once. Political luminaries ranging from President Bush to Sen. Robert Torricelli and issues from Enron to airport security are covered in parodies and song. Their material is always changing, depending upon the news of the day.



SAY GOODNIGHT GRACIE a one man show starring Frank Gorshin, is currently staging its New York premiere.

In this production George Burns is stuck between this world and the next, unable to join his wife Gracie in heaven, until he completes his perfect track record of never missing a curtain call. The audience spends a comically touching evening with Burns as he takes the stage for one last hurrah and looks back on his tenacious days in Vaudeville, his unlikely marriage to Gracie Allen and his fabulous solo career as a comedian, singer, dancer and actor.

Gorshin, best known for his role as Batman's nemesis, The Riddler, in the original Batman television series, portrays the famous cigar aficionado and legendary showman

The unique, one-man show incorporates the uncanny performance of Gorshin with a state-of-the-art multi-media presentation in which director John Tillinger and designer Howard Werner weave into the production rare recordings of Burns and Allen classic radio programs, timeless movie and television clips and family photos.

In his convincing portrayal Gorshin uses only a thin wig, a cigar and round-rimmed glasses to portray Burns.

Tony and Emmy Award winning writer Rupert Holmes (Mystery of Edwin Drood, Remember Wenn) created this portrait of Burns and Allen, one of America's most beloved and unforgettable partnerships.

He took it to Gorshin, who was the first performer to "break through" as a headliner in Las Vegas' main showrooms with an act that emphasized impressions.(See Broadway To Vegas column of March 25, 2001)

In 1970 Gorshin made his Broadway debut, as the star of Jimmy, based on the life of New York's Mayor James J Walker. Gorshin's personal notices were raves.



Frank Gorshin and Maureen McGovern in Guys & Dolls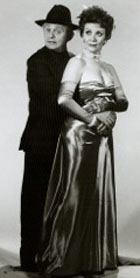 He also starred in touring companies of What Makes Sammy Run?, Promises, Promises, Peter Pan, Prisoner of Second Street, Death Trap, Doubles, Ah Wilderness, On The 20th Century, and Breaking Legs

In 1999 he returned to Las Vegas for a Desert Inn engagement, a Nederlander run of Guys & Dolls, which starred Maureen McGovern as Adelaide, Jack Jones as Sky Masterson, Frank Gorshin as Nathan Detroit, Kim Crosby as Sarah Brown, and Kimberly Smail as Mimi. He replaced George Hearn in Whodunit; and appeared in Gilbert & Sullivan's Princess Ida at Symphony Space. A tour in Neil Simon's The Sunshine Boys with Dick Van Patten followed.



Say Goodnight Gracie production photo by Carol Rosegg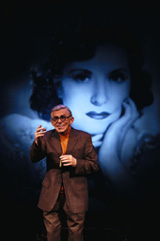 Then along came Say Goodnight, Gracie. Without hesitation Gorshin jumped into the script, wanting to prove that "I could do a one-man show."

Gorshin, who never met Burns, recorded the entire play and then listened to it over and over again, rehearsing for three weeks for the world premiere in Broward Center for the Performing Arts in Florida.

His performance earned him the 2000 Carbonell Award as best actor in a road show and the production received the Carbonell Award for Best New Play of 2000.

Following the Broward run the show traveled to the Coconut Grove Playhouse and to Cleveland - the town where the George and Gracie were married on January 7, 1926 at Cleveland City Hall and spent their wedding night at the Statler Hotel.

Say Goodnight Gracie features scenery by John Lee Beatty, lighting designs by Howard Werner and multimedia design by Howard Werner and Peter Negrini.

Produced by William Franzblau, Jay Harris, Larry Spellman, Louise Westergaard, Elsa Haft, Judy Resnick, and Libby Mages, Say Goodnight Gracie began preview performances September 17 and officially opened October 10 at the Helen Hayes Theatre, NYC.

HARLEM DUET will open the 15th season of the Blue Heron Theatre with the New York premiere of Award-winning Canadian playwright Djanet Sears' rhapsodic blues tragedy. The production will be directed by Sears and begins performances at the Blue Heron Theatre in New York City on November 9.

SPIDERMAN LIVE spins down October 15-20 in Philadelphia at the Tweeter Center.

THE GENERAL FROM AMERICA written and directed by Tony award winning playwright Richard Nelson. The production stars Corin Redgrave as the infamous Revolutionary War traitor Benedict Arnold. Nicholas Kepros is featured as Sir Henry Clinton with Kate Kearney-Patch as Hannah Arnold, Jon DeVries as George Washington and Jesse Pennington as Alexander Hamilton. Completing the cast are Sean Cullen as Joseph Reed/Robinson, Alice Cannon as Mrs. Henry Clinton, Thomas M. Hammond as Stephen Kemble/Van Wart, Paul Anthony McGrane as John Andre, Thomas Sadoski as Timothy Matlock/Pauling and Yvonne Woods as Peggy.

Tony nominated Redgrave plays Benedict Arnold in this historical drama about the circumstances surrounding the General's decision to defect to the British during the American Revolution. Within the timely themes of heroism and patriotism, The General From America explores the life of this country's most notorious traitor.

The General From America is designed by: Douglas Stein (scenic design), Susan Hilferty (costume design), James F. Ingalls (lighting design) and Scott Lehrer (sound design). Performances at Alley Theatre in Houston, Texas where it opened October 11 playing there through Nov. 9. The General From America will transfer to Off-Broadway's Theatre for a New Audience for a run Nov. 16-Dec. 22 at the Lucille Lortel Theatre.

DANCE OF THE VAMPIRES starring Michael Crawford, Rene Auberjonois, Max von Essen, Ron Orbach and Mandy Gonzalez directed by John Rando. Choreographer: John Carrafa. A musical based on the 1967 Roman Polanski film The Fearless Vampire Killers, with book and lyrics by Michael Kunze and music by Jim Steinman. ( See Broadway To Vegas column of July 7, 2002 ).

Begins previews October 14 at the Minskoff Theatre NYC. Officially opens November 21.

SHOWTUNE by Jerry Herman, a new revue of songs by the award-winning composer of Hello, Dolly!, Mame, La Cage aux Folles, Mack and Mabel and Dear World. Conceived by Paul Gilger with musical direction by James Followell. The musical revue stars Tony-winner Donna McKechnie and Martin Vidnovic, with Paul Harman, Tom Korbee, Russell Arden Koplin and Sandy Binion directed and choreography by Joey McKneely, who received Tony nominations for his work in Smokey Joe's Cafe and The Life. This revue may be backed on "only" a piano, but it's a piano played by seven-time MAC award winner Bobby Peaco, tickling the ivories to over 40 Herman tunes. Jerry Herman's Showtune will begin previews on Oct. 12 and will run through Oct. 27 at the Helen Hayes Theatre in Nyack. Named after the acclaimed actress the Helen Hayes Performing Arts Center is Nyack's Equity playhouse running a full season of plays, musical events and children's shows.

A GRAND NIGHT FOR SINGING Music by Richard Rodgers, Lyrics by Oscar Hammerstein II, Conceived by Walter Bobbie opened the 1994 Broadway season with flair and distinction, garnering wildly enthusiastic reviews as well as a Tony nomination for Best Musical.

The Jerry Herman Ring Theatre production will be presented in the Clarke Recital Hall as a part of UM's prestigious Festival Miami. This delightful revue features creative, often hilarious new renditions of such Rodgers and Hammerstein favorites as, We Kiss in the Shadows, Some Enchanted Evening, Hello, Young Lovers, and over two dozen more. Performances October 17-27 in the Jerry Herman Ring Theatre at the University of Miami.




WHO'S WHERE


LEE GREENWOOD performs Thursday in Indianapolis, Maryland at the Ramshead. On Saturday he is center stage in Benton, Kentucky at the Kentucky Opry.

MAYNARD FERGUSON & THE BIG BOP NOUVEOU BAND performing Monday in South Portland, Maine at the South Portland High School. On Tuesday the gang is at Bangor, Maine's High School. Friday the music can be enjoyed at the 1776 Restaurant in Rehoboth Beach, Delaware. They close out the week, Saturday, in Ashtabula, Ohio at the Edgewood Sr. High School.

JOHN McDERMOTT performs Monday in Beverly, Mass. at the North Shore Music Theatre. On Tuesday he's on stage at the Playhouse Theatre in Fredericton, NB. On Wednesday the performance is at the Sussex High School in Suxxex, NB. On Thursday John is center stage at the Imperial Theatre in Saint John NB and he closes out the week, Saturday, at the Jubilee Theatre in Summerside, PE.

PAUL McCARTNEY in the spotlight Monday in Raleigh, North Carolina at the Entertainment & Sports Arena. On Wednesday he'll be singing the hits at the Savvs Center in St Louis. Thursday finds Sir Paul on stage at the Schottenstein Center in Columbus, Ohio and he closes out the week, Saturday, at the New Orleans Arena in New Orleans.

RUSH perform Thursday at the Ice Palace in Tampa, Florida. On Friday the performance takes place in West Palm Beach, Florida at the Coral Sky Amphitheatre.

THREE MO TENORS in the spotlight this evening in Henderson, Kentucky at the Fine Arts Center. On Tuesday the talented gents are in Augusta, Georgia at the Bell Auditorium Civic Center. Friday the show moves to Atlanta, Georgia for two nighter at the Woodruff Arts Center.

WYONNA in the spotlight Friday in Springfield, Mass at the Symphony Hall. On Saturday she's on stage in Stamford, Conn at the Palace Theatre.

THE FIFTH DIMENSION doing a two nighter Friday and Saturday at the Entertainment Center in Rama, Ohio.

MICHAEL FEINSTEIN performs Saturday in Schenectady, New York at Proctor's Theatre.

TONY BENNETT opens a four night engagement Thursday at Caesars Atlantic City.

DEE DEE BRIDGEWATER on stage Friday at the Kennedy Center in Washington, D.C.

THE ROLLING STONES on stage Monday in Cleveland at the Gund Arena. On Wednesday the rockers transfer to the Air Canada Centre in Toronto. On Friday they are still in Toronto but this performance takes place at the Toronto Skydome.

THE OAK RIDGE BOYS on stage tonight at the Newberry Opera House in Newberry, South Carolina. On Wednesday and then again on Saturday they perform at the Grand Palace in Branson, MO.

TOM JONES brings his swivel hips to the MGM Grand in Las Vegas October 17-30.

MAUREEN McGOVERN appears at the Opening Ceremony of Week Two Huntsman World Senior Games at the Tuacahn Amphitheatre, City of Ivans, Utah.

DICKIE BETTS and Great Southern perform tonight in San Diego, California at Humphrey's. On Friday the show is in Live Oak, Florida at the Magnolia Festival.

JOHN ST PEETERS Australian singer who has enjoyed No. 1 hits in Australia and New Zealand, made his Las Vegas debut in a showcase at the Stardust Hotel last Friday.


PIFFLE AND PROFUNDITIES


SIEGFRIED & ROY AUDITIONS for new cast members for their spectacular take place Sunday, October 23 at The Mirage in Las Vegas. Male and female dancers are invited and must bring flat shoes, should not wear black leg wear and should have a strong dance background. Females must be 5' 5" or taller and audition noon until 2 p.m. Male dancers 5' 10" or taller audition from 2 to 3 p.m. and auditions for acrobats are slated from 3 to 4 p.m.


FINAL OVATION


KEENE CURTIS born February 15, 1923 in Salt Lake City, won a Tony Award in 1971 for the Broadway musical The Rothschilds, and appeared in more than 90 film and television productions, died Sunday morning, October 13, at age 79 in the Heritage Place retirement center in Bountiful, Utah of complications due to Alzheimer's disease.

During the 1950s Curtis was a stage manager for Martha Graham's Dance Company. He began acting with the Association of Producing Artists. His colleagues during this period included Helen Hayes, Uta Hagen, Katharine Cornell, Noel Coward, Henry Fonda, and Tyrone Power. His first musical was The Rothschilds. Other stage works included the national tours of La Cage Aux Folles, in which he co-starred with Peter Marshall, and an extensive tour of Annie, in which he drew rave reviews for his role as Daddy Warbucks.

Services are Saturday, October 19, in Bountiful, Utah.













Next Column: October 20, 2002
Copyright: October 13, 2002. All Rights Reserved. Reviews, Interviews, Commentary, Photographs or Graphics from any Broadway To Vegas (TM) columns may not be published, broadcast, rewritten, utilized as leads, or used in any manner without permission, compensation and/or credit.
Link to Main Page
---
Laura Deni



U.S. Postal Address: Post Office Box 60538, Las Vegas, NV 89160
CLICK HERE FOR COMMENT SECTION