! >
Broadway To Vegas
  
  REVIEWS INTERVIEWS COMMENTARY NEWS

| | |
| --- | --- |
| | |
THEATRES RENOVATE TO OFFER CUSTOMERS BETTER ENTERTAINMENT - -THE YOGI BERRA MUSEUM - - ALPINE VALLEY MUSIC THEATRE FOR SALE - - TONY BENETT AND LADY GAGA - - THE 14th ANNNUAL DANCE & FASHION SYMPOSIUM - - SEX, DEATH AND REBIRTH - - CELEBRITY CON MEN GET PRISON TIME - - LAUREN BACALL ESTATE AUCTION - - DONATE . . . Scroll Down




Copyright: October 12, 2014
By: Laura Deni
CLICK HERE FOR COMMENT SECTION


THEATRES RENOVATE TO OFFER CUSTOMERS BETTER ENTERTAINMENT - VENUES HIGHER PROFITS


Across the country theatres large and small are upgrading and renovating all in hopes of bringing more revenue into their communities via performing arts.

The nonprofit Auburn Placer Performing Arts Center near Sacramento will reopen their renovated venue on October 16, not only improving and enlarging the performance space, but restoring it to its old glamour.

The storied structured originally opened December 26, 1930 and has been remodeled several times, each time hiding what turned out to be architectural treasures.

Tear Down the Wall, Bring Up the Arts was the theme for the project's campaign which involved removing the right side wall in the existing theater to increase the seating capacity of the auditorium from 130 seats to 335. Not just any old seats, but red velvet Irwin Seating Co. reclining seats which were part of Grauman's Chinese Theatre. The Auburn got lucky and managed to purchase the last 350 seats from Grauman's.

Other new enhancements include reopening and upgrading the original vaudeville proscenium and stage and upgrading the current ticket booth. The area below the stage was re-established and upgraded, providing a green room for performers and for storage.

"Upon completion, we will be able to provide an expanded and improved facility that will serve our community far better than our current theater does" said Paul Ogden, President of APPAC. "This will allow us to attract entertainers who require a larger venue and to provide more variety to our audiences."

Boosters brag that the PAC has "easy accessibility for out of town patrons from Highway 49 and Interstate 80. The PAC creates jobs and builds business prosperity by attracting 20,000 people annually."

"There's a lot of economic development aspects to having this business here," said Board president Paul Ogden, who was Auburn's city manager from 1996 until his retirement in 2003.

The first event at the restored State Theatre will be the documentary film Fed Up on October 16. Bay Area band Blame Sally will perform the following night. Then, there will be an afternoon grand reopening celebration on October 19, with an appearance by touring magician Alex Ramon.



Exterior of the Ordway. Photo Credit: Concept drawings courtesy of HGA Architects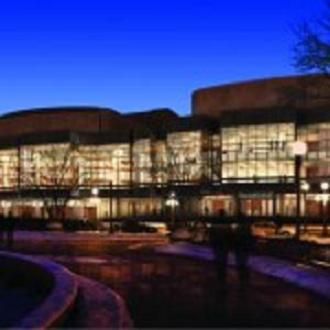 The Ordway in Saint Paul, Minnesota opens their new $42 million Concert Hall in a 22-day Opening Nights Celebration March 1-22, 2015.

In December 2012 investment bankers offered $11.5 million in St. Paul-issued revenue bonds in an effort to back the $39.8 million renovation and expansion of the Ordway Center for the Performing Arts. Within a short time efforts to raise $75 million for the project had $51.75 million raised from public, corporate and private sources, including a $3 million commitment from the city of St. Paul and $16 million in bonding funds from the state.

By September 2014 the Arts Partnership had raised $81 million. The capital campaign has a final goal of $83 million. Of that, $32 million is for an endowment, $42 million is for construction and $9 million is for transition costs.

Ordway officials are estimating the renovation will increase attendance by 130,000 a year and will have an additional economic impact of $6.1 million.

The Arts Partnership is four organizations - Minnesota Opera, The Ordway Center for the Performing Arts, The Schubert Club and The Saint Paul Chamber Orchestra. It's considered a unique collaboration in that - none of its four organizations dominate. Rather, leadership of the Arts Partnership rotates among the four and "the needs of the community are placed above the needs of any one particular organization. The result is that a beloved landmark - the Ordway - will bring even greater value to the community," according to the Arts Partnership.

Among those making the performance dream a reality are Greg Hedin, project manager for McGough Construction; architect Benjamin Thompson & Associates of Cambridge, MA whose founder, the late Ben C. Thompson, built the Ordway Music Theatre in 1984 and Auerbach + Associates, Theatre Consultant, San Francisco.

With a project size of 150,000 square feet, the involved project involves construction of a theatre combining the Main Hall and the small McKnight Theatre, two large rehearsal halls and lobbies on each floor.

Plans were unveiled at a news conference in December 2011. The 1,100-seat hall will replace the under-used McKnight Theatre, which has been the home of theatrical productions such as Grey Gardens. The hall will feature a design in which the audience surrounds the orchestra. 117 seats circle behind the stage area, a space that may double as a choir loft. A distance of just 87 feet separates the hall's farthest-back seat from the front of the stage. Both audience and orchestra are wrapped in honey-colored wood that includes 15-miles of mahogany-stained, waved, oak dowels that extends from the back of the hall over the audience.

Think acoustics

In June, 2013 ground was broken. Lead architect Tim Carl issued a statement in which he stated that "Minneapolis-based HGA Architects' design calls for a seamless integration with the existing building and expansive windows that capture views of historic buildings such as the Cathedral of Saint Paul.

"The $75 million concert hall promises a physical and acoustical intimacy that will provide a visceral and direct connection between the audience and the artists on stage, continued Carl. "Warm materials will articulate and shape a beautiful hall with an acoustic environment that will envelop the listener with warmth and resonance."

Acoustician Paul Scarbrough of Akustiks makes the determination on how and where to place and rotate each 200 pound contoured shaped wall panel, to create the desired reverb within the hall.

Because the panels are in different shapes there is enough flexibility to permit amplified shows.

Beginning of December the hall will be "tuned by adjusting reflectors above the stage, to get the best sound out in the hall and for the musicians to best hear each other as they play."



Tony award winner Bernadette Peters will salute the opening in a performance on March 21, 2015. Photo: Laura Deni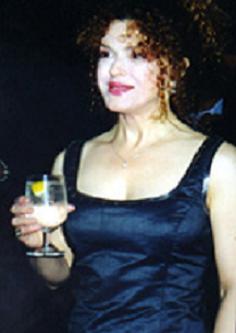 In addition to Carl, Andrew Luft, the Ordway's production director is the construction project manager; Greg Hedin, project manager for McGough Construction; and Rebecca Krull Kraling of HGA.

The official ribbon-cutting and community open house is slated for March 1.

The concert hall will be christened by a diverse range of music, including Mozart for the Young at Heart (March 4), the St. Paul Chamber Orchestra (March 5-6), South African singer Vusi Mahlasela and Grammy nominated trumpeter, flugelhornist, composer and singer Hugh Masekela (March 7), Finnish violinist Pekka Kuusisto (March 8), Grammy-winning Latin rockers La Santa Cecilia (March 12), vocal ensemble Cantus (March 15), indie singer-songwriter Haley Bonar (March 18) and the Grammy-winning Sounds of Blackness (March 19).

Concurrent events in the 1,900-seat music hall will include the premiere of Minnesota Opera's The Manchurian Candidate (March 7-15) and a concert by Tony award winner Bernadette Peters (March 22).

The new venue also will have a sprung dance floor, which absorbs shocks, giving it a softer feel, since the sections are supported by foam backing or rubber feet. The first to see if such a floor, as promised, aids in a better performance will be Ananya Dance Theatre on March 11.

The programming "sends a signal that this is about community and growth," said Arts Partnership planning manager Donna Saul Millen. "We're looking to the Twin Cities as we, together, build a great, diverse future."



Lily Tomlin will bring her stable of characters to the Dell Webb Center for the Performing Arts.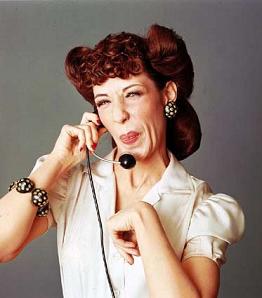 The Dell E. Webb Center for the Performing Arts in Wickenburg, Arizona is putting the finishing touches on an expansion and remodeling of its 600-seat theater.

The project began last April and enlarged the building by an additional 4,100 square feet. The existing lobby has been expanded with a higher ceiling, new lighting and audio/visual capabilities.

Other features incorporated into the new square footage are a separate catering service area, ticket office, designated volunteer room and new storage space.

A 16-foot glass wall with three doors will welcome the public into the space. There is also a 1,000-square-foot covered, wrap-around veranda for protection from the elements.

"Our goal with the expanded lobby project is to better serve the needs of our patrons and the Wickenburg community by creating a versatile space that can be used as a gathering place prior to performances, an additional performance venue, lecture hall and rehearsal room," stated Cathy Weiss, executive director of the Webb Center, in gratefully accepting the generous grant from the John K. and Lynne D. Boyer Family Foundation which made the renovation possible.

The entire project will be completed by the first week of November before the Webb Center begins its 2014-2015 season. The 6,000 ft lobby expansion is large enough to host a seated dinner for 120 or a reception for up to 400 people.

The theatre's season will open on Saturday, November 15, with the graceful Jessica Lang Dance company. Other highlights of the season include the California Guitar Trio and Montreal Guitar Trio blending their virtuoso talents in one performance; four stars from the original cast of Broadway's Jersey Boys in The Midtown Men; comedienne Lily Tomlin taking audiences on a sidesplitting trip with more than a dozen of her timeless characters; Kathy Mattea returning with a new show to kick off Gold Rush Days in February; and Grammy Award-winning trumpet player Chris Botti and his nine piece band.

The Avalon Theatre Foundation in Grand Junction, Colorado was behind renovations for the Avalon Theatre on the premise that "improvements would significantly improve economic and cultural benefits for the community."

According to local economic development leaders, the lack of cultural opportunities has been "a consistent factor working against the area's ability to attract new businesses and young professionals. A fully renovated Avalon Theatre helps correct this deficit and enhances the region's appeal to potential outside investors."

The Avalon Theatre, owned by the citizens of Grand Junction and operated by the City, is a public/private partnership which "significantly increases the value of this capital asset to its citizens. The fully renovated theater will give the community a beautiful, one-of-a-kind civic auditorium. The historic roots of this grand building further draw together the generations and render an asset that all can claim with pride."

Situated halfway between Denver and Salt Lake City on the Interstate 70 corridor, and with excellent air service to Las Vegas, the Avalon Theatre is touted as being "well positioned to capture high-caliber performances, speakers, and events."

Their feasibility study determined that: "More patrons means more spent with local businesses. In addition to their ticket purchase, patrons of the Avalon Theatre currently spend an average of $23 per attendance with local businesses for food, lodging, and shopping. Expanded capacity is projected to increase attendance by 54%, resulting in annual indirect income to local businesses of $1 to $2 million."

The theater will boast new, comfortable seating as well as additional capacity with 160 VIP Tables, 537 VIP seating with general seating for 1056.

The stage will nearly double in size to 24'x48', accommodating much larger performances that command higher ticket price and back stage will improve the venue's ability to draw more prestigious acts and host more complex performances. There will be seating for 1954 plus handicapped and bleacher seating for 200.

The rooftop will be transformed to a space capable of hosting a variety of events. "A beautiful and exciting space, it is an integral part of the economic model. At full build-out, concessions and catered services will enhance the desirability of this space for local and regional rental."

The renovation "blending the historic Avalon Theatre with a modern addition creates a wonderful mix of warmth and sophistication that honors our historic roots while stating our aspirations for the future. The beautiful glass exterior of the addition will expose a staircase that seems to float in midair. From it, the valley reveals its spectacular views of the Colorado National Monument and the Book Cliffs."



A December 10, 2013 fire at the BAT was arson. Photo: BAT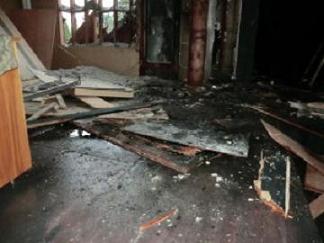 Helmed by Artistic Director Eric Dickman, the Burien Actors Theatre (BAT) is located in the state of Washington where "exciting live theater has been a tradition in Burien since 1955. Incorporated in 1980, Burien Actors Theatre has been a leading producer of quality live theater serving residents of the Seattle and south Puget Sound areas."

Last December BAT had their own drama. On December 10, 2013 an arsonist set the performance space on fire.

Dave Nelson of the Skyway Fire Department says someone set fire to the corner of the building, then fled. Firefighters responded to the three-alarm blaze shortly before 6:30 a.m.

That it was arson "is not as important as the fact that no one was hurt," posted Eric at the time of the blaze.

"BAT has been overwhelmed with good wishes and offers to help, from patrons and the greater theater community. How wonderful that is cannot be put into words. BAT-fans are unbelievable. In this dark time BAT-fans are a bright ray of hope."

By April 2014 BAT began coming back, including a much needed bigger stage.

"Burien Little Theatre has taken a number of steps to reduce their carbon footprint including using used and pre-owned items for props and set dressing whenever possible. Thank goodness for second-hand stores which BLT not only buys from, but donates to. For many items thrift stores are BLT's storage space.

"As an astute season ticket holder will have noticed, many BLT flats and platforms are reused from show to show. Some may only appear once a season others are on stage almost every performance, nevertheless they are all kept and maintained for as long as possible. When it comes to sets BLT is forever looking for ways to be green. In fact, a number of sets have been made entirely from recycled cardboard, that was again recycled at the end of the production.

"Burien Little Theatre puts as many of its resources as possible into creating Better Live Theatre! It also strives to keep ticket prices affordable."

Fortunately, no BAT resources were needed to pay police fines. It seems there was some concern when Out of Sterno opened this month. As Eric explained to BLT fans:

"At the opening of Out of Sterno BAT had a searchlight. It was . . . well . . . bright.

"Before opening night, BAT called the Port to make sure there would be no problem with using the light to announce the opening of BAT's 35th season. The airport is just about 4 miles away. BAT was thinking of using a searchlight at every opening this season.

"Last season at Noises Off, which BAT presented at the old Staples storefront just two blocks south, BAT had a searchlight. No problem.

"This time, back home, about two hours into the searchlight doing its best to invite people to the opening of a very funny fable of our time, four police cars show up. (It must have been a slow night in Burien.) Officer Friendly comes into BAT's office and tells me pilots are complaining about BAT's searchlight. He politely, in that way police officers do, asked me to turn off the searchlight, which I did.

"A little while later the Captain shows up (more proof it was a slow night in Burien) and gives me a name of the supervisor of air traffic control, and asks me to call him.

"Of course, the phone number was not correct. A few web searches and phone calls later I get to talk to Mr. Vale.

"It turns out that at this time the planes are landing from another direction. Hence, the call to the police. It looks like things are well on their way to being worked out, and BAT should have searchlights for the each opening night this season. But for a while there, things looked dark.

"Everyone throughout this process was very nice and although apparently causing a small problem, we all agree that searchlights at opening are cool."





Broadway To Vegas is supported through advertising and donations. Priority consideration is given to interview suggestions, news, press releases, etc from paid supporters. However, no paid supporters control, alter, edit, or in any way manipulate the content of this site. Your donation is appreciated. We accept PAYPAL. Thank you for your interest.





ART AND ABOUT


THE YOGI BERRA MUSEUM

Yogi Berra in 1056.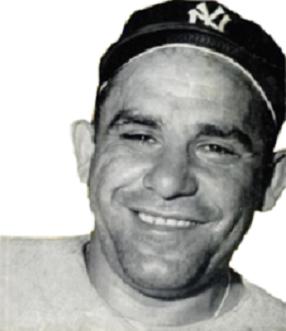 at Montclair State University, in Little Falls, New Jersey suffered a break-in last Wednesday resulting in the loss of priceless memorabilia including several of Berra's World Series rings and two MVP plaques. Police are offering a $5,000 reward for information leading to the arrest.

The museum, which opened in 1998, highlights dozens of items from 13-time World Series catcher Yogi Berra and his long career with the New York Yankees, as well as his personal life. It also includes other items of baseball lore, including broken bats used by fellow Hall of Famers such as Willie Mays, Stan Musial, Gil Hodges, Duke Sider and Ralph Kiner.

As a player, coach, or manager, Berra appeared in 21 World Series, winning 13 of them. He was elected to the Baseball Hall of Fame in 1972.

Before the theft, the artifacts included the mitt with which Yogi caught the only perfect game in World Series history, several autographed and "game-used" items, and nine of Yogi's 10 championship rings. Berra only wears the 1953 ring, in commemoration of the Yankees' record 5th consecutive World Championship. Other items in the museum are old baseball cards, two of Berra's MVP awards (both stolen), a jacket he wore before throwing out the first pitch of the 2009 World Series, and love letters he wrote to his late wife Carmen Berra just before they were married.

Current exhibits include The Luckiest Man which honors Lou Gehrig on the 75th anniversary of his legendary "Luckiest Man on the Face of the Earth" speech, given just two years before he succumbed to ALS, now commonly known as Lou Gehrig's disease. Gehrig, also known as the "Iron Horse" in his heyday, was a part of the Yankees Murderer's Row and held the record for most consecutive games played until Cal Ripken Jr. graciously broke that record. A Yankee legend, a baseball dynamo, and a genuinely humble human being, Lou Gehrig had been given a bad break, but he had an awful lot to live for.

The building is owned by Floyd Hall Enterprises, which leases space to the operators of the museum.

For decades Berra and his wife, Carmen, lived in Montclair. Carmen Berra died on March 7, 2014 due to complications from a recent stroke. They had been married for over 65 years. In April, the Highland Avenue home they shared for more than 40 years was put up for sale.

THE LATE LAUREN BACALL'S

Living room of Lauren Bacall's apartment in The Dakota. Photo: Bonhams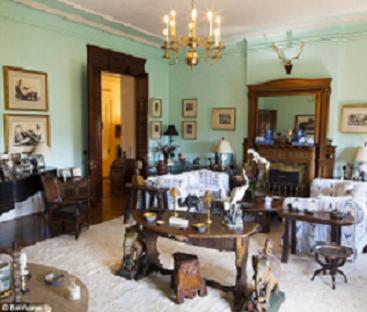 great taste in artwork, jewelry and furniture collections will go under the hammer. 700-piece collection includes works by Henry Moore, Hockney, Picasso, Miro, Calder, as well as tribal art and jewelry. The Bacall Collection, estimated at $3m, will be sold at Bonhams, New York in March 2015.

Two-time Tony Award winner Lauren Bacall died in August 12, 2014 in New York City at age 89.

Highlighting the Bacall collection are eight sculptures by Henry Moore, Britain's greatest 20th century sculptor, two of which will be sold in November's Impressionist and Modern sale at Bonhams, New York.

Speaking on behalf of her family, Leslie Bogart said, "We felt and continue to feel that Bonhams is professional and inviting yet not intimidating. Perfect for us."

Many of the lots graced the Los Angeles residence which Bacall shared with her first husband, Humphrey Bogart; her former country home in Amagansett, New York; and her final residence in New York's famed The Dakota, overlooking Central Park.

It is that apartment in The Dakota which displays Bacall's collection of African art, an interest that developed while Humphrey Bogart was filming The African Queen. (1951) with Katharine Hepburn. Bogart's performance in the classic film won him an Oscar in 1952.

Included in the March estate auction are contemporary prints, modern and contemporary art, English and French 18th and 19th Century furniture, English Majolica, tribal works of art, jewelry, couture, and Louis Vuitton and Goyard luggage.

Jon King, Bonhams' Vice President and Director of Business Development, notes: "Bonhams is extremely honored to represent the estate of Lauren Bacall at auction. Ms. Bacall has been not only an international treasure to the public at large, but also a longtime friend to Bonhams over the years. We are looking forward to providing the public with a rare glimpse into Ms. Bacall's formidable collecting sense and intuitive style."


IN THE COURTS


MARK HOTTON 48, a former stockbroker and prolific conman who swindled Ben Sprecher, producer of the 2012 Broadway bound Rebecca: the Musical out of $65,000 in fees and commissions, with promise of fictitious donors - on October 10, 2014 was sentenced to 34 months in federal prison.

The producers of Rebecca were forced to suddenly postpone the show's November 2012 opening throwing over 100 people out of work. In addition to the prison term, U.S. District Judge John Koeltl in Manhattan ordered Hotton to pay $68,000 in restitution, as well as forfeit $500,000 in fines.

Sprecher attended the sentencing and said he hopes the musical can open in fall 2015. The show is based on the 1938 thriller novel Rebecca by English author Daphne du Maurier.

In a statement, U.S. Attorney Preet Bharara said: "Mark Hotton scripted not one, but two intricate and multifaceted schemes to bilk his victims out of hundreds of thousands of dollars."

CHARLES HUGGINS 68, the ex-husband of R&B singer Melba Moore was convicted of running a multimillion dollar investment scam on October 10, 2014. He faces up to 40 years in prison when he is sentenced in January.

Prosecutors charged that between 2008 and 2011, Huggins conned dozens of investors into believing he was using their money to mine gold and diamonds from Sierra Leone and Liberia - while in reality, he was using the vast majority of the cash to fund his own lavish lifestyle.

Some of the money went to fund his own record company and he gave investors' cash to his relatives.

Huggins and Moore had a contentious divorce in the early 1990s, where she accused him of ruining her financially.








SPREADING THE WORD


PATRICK MODIANO the French novelist, has won the 2014 Nobel Prize in literature. He beat a competitive field that included Kenyan writer Ngugi wa Thiong'o, Japanese author Haruki Murakami, Belarusian investigative journalist and author Svetlana Alexievich, and Syrian poet Adonis. No American has won the literature prize since Toni Morrison in 1993.

THE 14th ANNNUAL DANCE & FASHION SYMPOSIUM will explore how dance costume has inspired fashion, and how fashion designers have increasingly been creating dance costumes. Topics include Rei Kawakubo's collaboration with Merce Cunningham and Rick Owens' fashion shows featuring steppers.

There will be approximately sixteen speakers, including all nine contributors to the companion book to the concurrent MFIT exhibition Dance & Fashion which explores the relationship between two great embodied art forms: dance and fashion. Dance has utilized a wide variety of costumes, including contemporary fashions, to identify different characters, but there are also certain iconic styles that represent dance more abstractly.

Invited speakers to the two-day Dance & Fashion symposium include Marc Happel, costume director of the New York City Ballet, designer Narciso Rodriguez, dancer Wendy Whelan, and artist and photographer Ann Ray.

Admission to the symposium is free. October 23-24 at FIT in New York City.

SEX, DEATH AND REBIRTH in ancient Egypt. Illustrated lecture with Ava Forte Vitali, Metropolitan Museum of Art takes place Saturday, October 18th as part of the Death and The Occult in the Ancient World Series at the Morbid Anatomy Museum in Brooklyn.

From ithyphallic gods, crocodile dung birth control, mythological necrophilia, and even porn-y doodles, the Egyptians had a complicated, but fascinating relationship with their own sexuality.

"Compared to other ancient civilizations of the Mediterranean, however, they could almost be considered prudish in their visual representation of sex and gender. This talk will discuss some of the ideological reasons behind this, given the Egyptian's complex world view, and their close association of sex with death and the afterworld, while giving you a glimpse at the lesser known erotica that we do have."

Ava Forte Vitali completed her Master's Degree in Art History and Archaeology, with a specialization in the Egyptian and Classical World, at the Institute of Fine Arts, New York University. Her research interests include the interaction of the physical and spirit world in Ancient Egypt, archaeology of the household, and Ancient Egyptian domestic and ancestor cults, on which her Master's focused. She has excavated at sites in Egypt and Turkey, and is a Collections Manager for Greek and Roman Art at the Metropolitan Museum of art. She is currently writing a contribution on the Arts and Archaeology of Ancient Egypt, for an upcoming text book on the introduction to Art History.

HUGH JACKMAN AND IAN RICKSON Academy Award®-nominated, Golden Globe and Tony Award-winning actor Hugh Jackman and acclaimed director Ian Rickson talk with New York Times reporter Sarah Lyall about their collaboration in bringing prize-winning playwright Jez Butterworth's The River to Broadway. October 21, 2014 at The New School's 12th Street Auditorium, in New York City.

STING AND JOE MANTELLO hear 16-time Grammy Award®-winning singer-songwriter Sting and two-time Tony Award-winning director Joe Mantello talk with New York Times chief pop music critic Jon Pareles about the story, songs and production of their new Broadway musical, The Last Ship. A conversation with music. October 20, 2014 at the Times Center in New York City.

TONY BENETT AND LADY GAGA will ring in 2015 at the Cosmopolitan Resort in Las Vegas on New Year's Eve. The two will perform selections from their newly released CD Cheek to Cheek, which range from Duke Ellington's It Don't Mean A Thing (If It Ain't That Swing) to Irving Berlin's Let's Face the Music And Dance. Tickets went on sale last Friday, October 10, 2014.


OTHER PEOPLE'S MONEY


ALPINE VALLEY MUSIC THEATRE the longstanding outdoor concert venue in East Troy, Wisconsin, is up for sale. The 198-acre property, which seats 37,000, is listed at $8.4 million. The venue is leased to Live Nation Entertainment, Inc.

Until 1993, Alpine Valley was the largest theater in the United States, according to an Alpine Valley website run by fans.

Alpine Valley has hosted such performers as the Grateful Dead, the Rolling Stones, Pearl Jam and Coldplay but has seen a dwindling number of performers over the years.

This summer only three acts were booked and one pulled out. This summer, only three shows were booked, all for August. Under the Influence of Music Tour featuring hip-hop artists Wiz Khalifa, Young Jeezy and more all-star artists canceled its August 9 performance. The reason given was "unforeseen circumstances with production," according to the Live Nation. website. Remaining are the annual Jimmy Buffett concert August 23 and KISS and Def Leppard on August 15.

BARRIE M. OSBORNE the Academy Award winning producer of The Lord of the Rings has indicated his intention to produce the film Talk is Cheap by Jim Jarrett, who has spent the last seventeen years starring in the one-man show, Vincent, penned by Leonard Nimoy. The production has been seen by over a quarter million people. Jarrett made the movie announcement posting: "The script is all about the power of one person to make a difference on this planet. Talk is Cheap is a story focused on a father and a daughter, and how one teenage girl's vow of silence and the subsequent viral revolution it ignites gives momentous voice to a generation demanding change. The film punctuates the subject of Climate Change and the responsibilities and shortcomings of layers of generations."

Directors of Photography are John Watkin and Eamon Harrington who founded Planet Grande Pictures in 1993, specializing in documentary and non-fiction programming. Since then, they have produced over 150 projects for television, winning 7 Emmy Awards and numerous other industry honors along the way.

Funded by a Kickstarter campaign, which kicks off on October 16, Melissa Thompson Esaia serves as Co-Producer for Talk Is Cheap.



HENRY VIII by William Shakespeare. Directed by Paul Mullins who is in his twenty-third season with The Shakespeare Theatre in New Jersey.

The rarely-produced history play has not appeared on The Shakespeare Theatre stage in more than 30 years.

Shakespeare depicts the notorious monarch as a charismatic, young man, obsessed with producing an heir to carry on his legacy. The first two of Henry's six wives take center stage as the political machinations of the court and church swirl about them. Believed to have been first produced around 1610, Henry VIII was Shakespeare's "most contemporary" history play; the monarchy's break with the Roman Catholic Church and Reformation were events still very fresh in the audience's mind. Henry VIII, one of the Bard's final plays, marks both a departure from his late romances and an almost-nostalgic return to the courtly pageant plays of his youth. A 1613 production at the Globe Theatre diligently replicated the pomp and circumstance of court masques and included live canon fire which, tragically and infamously, ignited the theater's thatched roof and burned down the Globe.

In the title role is company member David Foubert. Philip Goodwin plays the enigmatic Cardinal Wolsey. Jessica Wortham plays King Henry's first wife, Katherine of Aragon. Thomas Cranmer is played by Clark Scott Carmichael. Thomas Michael Hammond plays the Duke of Buckingham. The Earl of Surrey is played by Eric Hoffmann. Matthew Simpson plays Thomas Cromwell and Cardinal Campeius. Matt Sullivan plays the Duke of Norfolk. Michael Earley plays Lord Chamberlain and Damien Baldet plays the Duke of Suffolk. Blythe Coons, Joseph Hamel, Alexander Korman, Katie Wieland, and Elisabeth Willis round out the cast.

Creating the world of Henry VIII is scenic designer Charlie Calvert, costume designer Hugh Hanson, sound designer Steven L. Beckel, and lighting designer Michael Giannitti. Gerry McIntryre will stage the choreography. Kathy Snyder serves as production stage manager.

Previews begin October 15, 2014 with opening night slated for October 18 at The Shakespeare Theatre of New Jersey in Madison, NJ.

DON GIOVANNI by Wolfgang Amadeus Mozart.

Conducted by Gary Wedow. The stage director is Chris Alexander.

Long story short:

Mozart's bad boy misbehaves, then gets punished.

Is he a man or a myth? Don Giovanni is based on Don Juan Tenorio, a character who some believe was a real seventeenth-century Spanish nobleman and others say never existed. Either way, the wealthy and unemployed Don Juan spent every waking second in pursuit of women. The world's greatest lover first appeared as a fictional character in a Spanish play printed in 1630.

Mozart's opera offers a glimpse into the final 24 hours of this notorious bad boy's seductive, sinful life. In our production featuring thirteen singers, Don Giovanni navigates several romantic encounters, fights one of his ladies' fathers in a duel, and ultimately faces the consequences of leading an unrepentant life.

Starring Nicholas Cavallier as Don Giovanni. Donna Anna played by Erin Wall, Donna Elvira by Elizabeth Caballero while Don Ottavio is played by Lawrence Brownlee. Erik Anstine is cast as Leporello. Zerlina is played by Cecelia Hall. Jordan Bisch is the Commendatore while Masetto is played by Evan Boyer.

Set Designer: Roger Dahlstrom - Costume Designer: Marie-Theresa Cramer - Lighting Designer: Duane Schuler - Hair and Makeup Designer: Joyce Degenfelder - English Captions by Jonathan Dean. Sets and Costumes by Seattle Opera.

Presented by Seattle Opera at McCaw Hall in Seattle for seven performances October 18 through November 1.

FREUD'S LAST SESSION by Mark St. Germain.

Directed by David Ellenstein.

Near the end of his life, Sigmund Freud invites a final visitor, the writer C. S. Lewis, who will soon gain wide fame for his new book, The Lion, the Witch and the Wardrobe. Not only are their views highly divergent – Freud is a committed atheist; Lewis, once an atheist, is now a committed Anglican – the two are a study in contrasts. Freud is irascible and adamantly opinionated; Lewis is sunny, warm and unflappable. The two men engage in a far-ranging, lively, witty debate touching on love, religion, politics and the meaning of life.

Starring Michael Santo and Bruce Turk.

The design staff includes Marty Burnett (Scenic Design), Matt Novotny (Lighting Design), Alina Bokovikova (Costume Design), and Melanie Chen (Sound Design), Benjamin Cole (Props Design). Cindy Rumley stage manages.

The San Diego premiere at North Coast Rep begins performances Wednesday, October 15. Opening Night on Saturday, October 18 includes a post-show reception. There will be a special talkback on Friday, October 24, with the cast and artistic director. The production plays through November 9, 2014.

A OR B? written by Ken Levine.

Directed by Andrew Barnicle.

Starring Jason Dechert and Jules Willcox.

In corporate New York City, Abby Morgan (Jules Willcox) interviews with Ben Steele (Jason Dechert) for a high-profile marketing job. Sparks fly between them, but will they pursue love or profession? Is it possible to do both? This romantic comedy carries two stories in one, turning romance on its head as we see Abby and Ben travel down two parallel lives, pitting destiny vs. choice, love vs. career, ambition vs. passion and man vs. woman.

A World Premiere Comedy presented by the Falcon Theatre in Burbank, CA begins October 15 with performances through November 16, 2014.

THE ROYALE by Marco Ramirez.

Directed by Rachel Chavkin.

Jay "The Sport" Jackson dreams of being the undisputed heavyweight champion of the world. But it's 1905, and in the segregated world of boxing, his chances are as good as knocked out. When a crooked boxing promoter hatches a plan for "the fight of the century," The Sport just might land a place in the ring with the reigning white heavyweight champion. Loosely based on real events, Marco Ramirez's wildly theatrical new play brings to explosive life the sights and sounds of the early 20th century boxing circuit, and the ultimate fight for a place in history.

Starring Montego Glover (Nina), John Lavelle (Max), Okieriete Onaodowan (Fish), Robert Christopher Riley (Jay), Ray Anthony Thomas (Wynton).

The Creative Team includes: Nicholas Vaughan (Scenic Design), Denitsa Bliznakova (Costume Design), Austin R. Smith (Lighting Design), Matt Hubbs (Sound Design), Caparelliotis Casting (Casting), Annette Yé (Stage Manager).

Performances through November 2, 2014 at the Sheryl and Harvey White Theatre Conrad Prebys Theatre Center in San Diego, CA.


WHO'S WHERE


MILEY CYRUS continues her tour with stops in Australia. On Wednesday, October 15, she's at the Brisbane Entertainment Centre in Boondall, Australia. Friday finds her at the Allphones Arena in Sydney.

MICHAEL FEINSTEIN SINGS SINATRA conducted by Jack Everly. October 16-18 at the National Arts Centre in Ottawa, Canada.

STRAIGHT NO CHASER performs Tuesday, October 14, at the Rabobank Theater in Bakersfield, Ca. On Wednesday they open a two night gig at the Pioneer Center in Reno, NV. Friday's show is at the Velma V. Morrison Center in Boise, ID. Next Sunday, October 19, the show is at the Paramount Theatre in Denver.

LADY GAGA stars at the NIA in Birmingham UK on Wednesday, October 15. Friday's show is at the 3 Arena in Dublin, Ireland. Next Sunday, October 19, she performs at the SSE Hydro in Glasgow, Scotland.

LEE ANN WOMACK performs Friday, October 17, at the Scottsdale Center for the Performing Arts in Scottsdale, AZ.

EAGLES perform Tuesday, October 14, at the Toyota Center in Houston. On Wednesday they are on stage at the AT&T Center in San Antonio, Texas.

GARTH BROOKS AND TRISHA YEARWOOD open a three nighter Thursday, October15 at the Memorial Arena in Jacksonville, Florida.


FINAL OVATION


MARIAN SELDES a Tony Award winner famed for a record-breaking four-year run of performances in Deathtrap, died at her home in New York City on October 6, 2014. She had been ill for some time and was 86.

With a career that spanned 60 years, she made her stage debut in 1947 aged 17 in a production of Medea. In 1974 she appeared in more than 900 performances of Peter Shaffer's Equus, and won a Tony Award in 1967 for her performance in A Delicate Balance. She appeared in a string of Edward Albee plays staged Off Broadway, starting in 1994 with Three Tall Women, followed by The Play About the Baby in 2001 and Counting the Ways in 2003.

In 2010, Seldes was awarded an honorary Tony for her lifetime's work.

The actress garnered a total of five Tony Award nominations. She was also inducted into the Theatre Hall of Fame in 1995, but missed the ceremony because she was on tour.

Her last major Broadway production was opposite Dame Angela Lansbury in Deuce, playing a pair of former tennis pros.

in a 1954 Broadway staging of Jean Giraudoux's "Ondine," with Audrey Hepburn and Broadway, in Tennessee Williams's revised version of "The Milk Train Doesn't Stop Here Anymore she created the role of Blanche opposite Tallulah Bankhead as Flora Goforth.

Her numerous credits include the title role in Isadora Duncan Sleeps With the Russian Navy in 1977, Painting Churches (1983) and that same year played Queen Margaret alongside Kevin Kline in a Joseph Papp production of Richard III in Central Park.

In the 1990s she appeared in Chekhov's Ivanov at Lincoln Center and in the Broadway revival of Jean Anouilh's Ring Round the Moon.

From 1969 to 1991 she was on the faculty of the Theater Center at the Juilliard School, where her students included Robin Williams, Patti LuPone, William Hurt and Kevin Kline.

Later she served as an adjunct professor at Fordham University.

Tony and Academy Award winner and House of Cards star Kevin Spacey even wrote a tribute to her for the NY Post.

The Broadway community mourns the loss of Marian Seldes, a Tony Awardâ-winning actress, five-time nominee, and the recipient of a Special Tony Award for Lifetime Achievement in the Theatre by dimming the lights of Broadway marquees of Broadway in her memory on Wednesday, October 8th, at exactly 7:45pm for one minute.

"Marian Seldes's name is synonymous with theatre. Her persona on the Broadway stage was as real as her genuine grace and kindness off stage," said Charlotte St. Martin, Executive Director of The Broadway League. "Her lovely elegance and iconic talent will be deeply missed by her family, friends and fans."

Her first marriage, to Julian Claman, a television producer, which produced one daughter and ended in divorce. In 1990 she married the writer and director Garson Kanin. He died in 1999.

Ms. Seldes is survived by her daughter Katharine Claman Andres (Clay); grandsons Timo, Guthrie and Wells Andres; her bother Timothy Seldes (Susan); nephew Gilbert Seldes; niece Elizabeth Seldes Annacone (Paul); and grandnephew Emmett Carnahan.

In accordance with her wishes, there will not be a funeral or memorial service. Donations may be made to the Marian Seldes Drama Scholarship at The Juilliard School.

NATI CANO the founder of Los Camperos de Nati Cano, died in his home in Fillmore, California on Friday, October 3, 2014. He cause of death was colon cancer.. He was 81.

Neil Portnow President/CEO of The Recording Academy issued the following statement: "Grammy winner Nati Cano was a remarkable musician and legendary figure in mariachi music. A highly accomplished artist with a career that spanned more than seven decades, Cano was devoted to sharing traditional mariachi music to widespread audiences and was fiercely dedicated to the preservation of the genre. He learned to play the vihuela, a small five-stringed guitar, at the age of 6 and by the time he was 8, he was playing professionally in cantinas with family members. In 1961, Cano became the leader of the Los Angeles-based group Mariachi los Camperos, who would go on to play top concert venues around the world and are widely considered one of the top mariachi ensembles in the country. He also lectured on ethnomusicology at UCLA, sharing his passion and love for his music and culture and ensuring its legacy. We have lost a uniquely gifted member of our creative community, and our sympathies go out to his family, his friends, and all who have been moved by his extraordinary and heartfelt talent."

He is survived by his wife, Andrea, and daughter Alejandra and Natalie, all of Fillmore.

GEOFFREY HOLDER the Tony Award winning dancer, choreographer, actor, composer, designer, painter and famous white-suited pitchman for 7Up died October 5, 2014 in Manhattan from complications of pneumonia. He was 84.

Geoffrey Lamont Holder was born into a middle-class family on Aug. 1, 1930, in Port of Spain, Trinidad and Tobago.

In 1952, the choreographer Agnes de Mille saw Holder dance on Saint Thomas. She invited him to New York; he would teach at the Katherine Dunham School of Dance for two years. He was a principal dancer with the Metropolitan Opera Ballet in New York from 1955 to 1956. In 1955, Holder married dancer Carmen De Lavallade, whom he met when both were in the cast of House of Flowers, a musical by Harold Arlan (music and lyrics) and Truman Capote (lyrics and book) They were the subject of a 2004 film, Carmen & Geoffrey.

In 1957 played the hapless servant Lucky in an all-black Broadway revival of Samuel Beckett's Waiting for Godot, directed by Herbert Berghof. The show, just seven months after the play's original Broadway production, closed after only six performances because of a union dispute, but the role, which features a signature 700-word monologue, earned . Holder's rave reviews.

That same year, he choreographed, and danced in, a revival of the George and Ira Gershwin musical Rosalie in Central Park.

In 1975 Holder won two Tony Awards for direction and costume design of The Wiz, the all-black musical version of The Wizard of Oz Holder was the first black man to be nominated in either category. The show ran for 1672 performances over a four-year period; it was revived in 1984.

He earned another Tony nomination for best costume design for the 1978 Broadway musical Timbuktu!, an all-black show based on the musical "Kismet. He also directed and choreographed Timbuktu!

As a choreographer, Holder created dance pieces for many companies, including the Alvin Ailey American Dance Theater, for which he provided choreography, music and costumes for Prodigal Prince (1967), and the Dance Theatre of Harlem, for which he provided choreography, music and costumes for Dougla (1974) and designed costumes for Firebird (1982).Holder's 1957 piece Bele is also part of the Dance Theater of Harlem repertory.

In the 1982 film version of the musical, Annie Holder played the role of Punjab. He was also the voice of Ray in Bear in the Big Blue House and provided narration for Tim Burton's version of Roald Dahl's Cgarlie and the Chocolate Factory.. He reprised his role as the 7 Up Spokesman in the 2011 season finale ofThe Celebrity Apprentice, where he appeared as himself in a commercial for 7 Up Retro for Marlee Matlin's team.

Holder was also a prolific painter, ardent art collector, book author and music composer. As a painter, he won a Guggenheim Fellowship. A book of his photography, Adam, was published by Viking in 1986.

He is survived by de Lavallade and their son, Léo.

SARAH DANIELLE GOLDBERG who played Sarah Glass Camden on 7th Heaven died in her sleep at the family home in Wisconsin on September 27, 2014. She had suffered from a heart condition and was only 40 years old.

7th Heaven was the longest running show ever produced by Aaron Spelling. It originally ran from August 26, 1996 to May 13, 2007. Goldberg's character was a medical student and the daughter of a rabbi (Richard Lewis) who falls in love and eventually marries Matt Camden (Barry Watson), the son of Protestant minister the Rev. Eric Camden (Stephen Collins) and his wife Annie (Catherine Hicks). Their inter-religious relationship was a popular story line for fans from 2002 to 2006.

Barry Watson tweeted: "#RIP Sarah. I will always miss you. Love ya! B."

Sarah Danielle Goldberg attended the Latin School of Chicago before going to Amherst College, where she received a bachelor's degree in microbiology. She lived in Santa Monica, Calif.

She is survived by her parents Judy and Bill Goldberg, and a brother, Bradley and his wife Michelle, a niece and nephew and her two dogs, Daisy and Bucket.















Next Column: October 19, 2014
Copyright: October 12, 2014 All Rights Reserved. Reviews, Interviews, Commentary, Photographs or Graphics from any Broadway To Vegas (TM) columns may not be published, broadcast, rewritten, utilized as leads, or used in any manner without permission, compensation and/or credit.
Link to Main Page
---
Laura Deni



For the snail mail address, please E-mail your request.
CLICK HERE FOR COMMENT SECTION