! >
Broadway To Vegas
  
 SHOW REVIEWS CELEBRITY INTERVIEWS GOSSIP NEWS

| | |
| --- | --- |
| | |
WEST VIRGINIA PUBLIC THEATRE - - DIRTY DANCING CD - - THE STATE MUSEUMS OF BERLIN AND THE LEGACY OF JAMES SIMON - - LINCOLN CENTER'S LCT3 PROGRAM PRESENTS CLAY - - LEGALLY BLONDE CLOSES - - POLITICAL IDOL - - KELSEY GRAMMER HAS FINANCIAL SMARTS - - LAS VEGAS AUTO AUCTION FEATURES KENNEDY/MONROE ROMANCE CAR - - DONATE . . . Scroll Down


Copyright: October 12, 2008
By: Laura Deni

CLICK HERE FOR COMMENT SECTION
WE NEED YOUR HELP....


BROADWAY TO VEGAS, which has been in existence over 10 years, is not affiliated with any blog. A copyright clause is at the bottom of every Broadway To Vegas column. Recently, it has been brought to our attention that there is a Las Vegas based blog with an extraordinarily similar title. If you have provided that (or any) blog with: information, invitations, purchased anything through any link on that blog or transferred money, goods or services to anyone connected with that blog THINKING YOU WERE DOING BUSINESS WITH BROADWAY TO VEGAS - we want to hear from you. The more detail the better. Thank you.
WEST VIRGINIA PUBLIC THEATRE: THE SUCCESS THAT SHOULD HAVE BEEN A FAILURE
Morgantown, West Virginia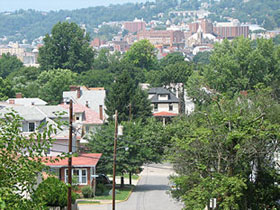 Twenty- five years ago, Ron Iannone was challenged by the idea that a Broadway quality musical theatre could educate, entertain, produce jobs and attract tourists dollars into the Monongahela Valley.

Monongalia Valley????

That's Morgantown, located along the Pennsylvania border in the north central part of West Virginia. Within a 500-mile radius of Morgantown is one-half of the population of the United States and one-third of the population of Canada. Morgantown is one day's drive from 6 of the 8 largest U.S. metropolitan areas, 20 metro areas with populations of 1 million or more, and 22 of the nation's top 35 industrial markets. It is also where actor Don Knotts was born and raised.

Oh.



Ron Iannone
Iannone's dream materialized into a quality professional theatre, West Virginia Public Theatre.

A quarter-century ago nobody thought he could do it. "And, they still don't" he quipped when he spoke with Broadway To Vegas about the theatre which brings an estimated $3,500,000 annually into the region. In its twenty-fifth year history, WVPT has played to more than 800,000 people.

"It's been amazing and exciting to get the support over the years. It started off as a dream to just have a small, professional theater in West Virginia," who was raised in upstate New York. Schooled at Rochester University and the University of Syracuse where he picked up his Doctorate in Education, Iannone has always had an interest in the stage.

"I always wanted to be in theater. I was involved in music. I was in a dance band - a Glen Miller/Stan Kenton type band. From that, I became very interested in musical theater and I used to spend a lot of time at movies. My dad, who owned a barber shop, had a billboard on the side of his shop advertising movies at the local theater. If he wasn't using the passes with my mother, I would go. My parents didn't believe in studying theater, because that wouldn't get you any kind of a job. I went into math, chemistry and philosophy. I got my undergraduate degree in those areas and then my Masters was in math education and my doctorate at Syracuse was in education and research. But, I always had the need to do theater."

Iannone arrived at West Virginia University, which is the largest institution of higher education in the State, as a Professor of Education. It wasn't long before he located the theater department.

There he found a program called The Map of New World Players. "It really taught you how to write, direct and act. I would audit those classes. I started writing plays."

"In 1981 I interned a whole summer at the Pittsburgh Civic Light Opera. In 1985 I decided to start a small theater, because I remember my mother talking about a tent theater - the Lyric Theater - where all of these Broadway stars would come. It was where we lived in Skaneateles, New York," he recalled about the community located about 20 miles southwest of Syracuse and takes its name from the native term for the adjacent lake.



The Playboy spread of Judy Norton-Taylor, who played the eldest Walton girl, Mary Ellen, caused protests when she appeared West Virginia Public.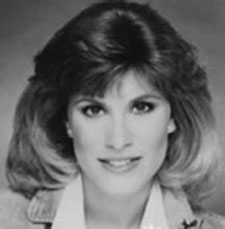 "That's how it began. In 1985 Our tent was in a parking lot of the Sheridan Lake View Resorts Conference Center. I brought in Carol Lawrence, Dean Jones and Judy Norton-Taylor, who played Mary-Ellen, the oldest daughter on The Waltons. The week she arrived somebody said - 'You'd better hurry to the gift shop and pick up a Playboy,'" he said referring to the August 1985 issue.

"She had a management company who had convinced her to appear in Playboy because that would help change her image."

"Well....we had some protests from local churches at that time," he recalled about the actress who, along with her husband Randy Apostle, runs a chain of Canadian dinner theatres called Celebrations and Jubilations. She is currently appearing in a play in Los Angeles.

"That first year was a very difficult year," Iannone remembered. "Then the next year we brought in the soap opera stars Bill and Susan Seaforth Hayes. They had just appeared on the front cover of Time.

Susan Seaforth Hayes and Bill Hayes were the reigning king and queen of the soap opera empire during their tenure on Days of Our Lives.

Susan portrayed Julie Olson Williams from 1968 to 1984 and again from 1990 to 1993. 1994 and 1996. She returned to the show with her real-life husband, Bill, who also played her husband on the show. Her character's love interest and marriage with Bill's character, Doug Williams, is believed to have been the first on an American daytime serial.



Bill Hayes from mega soap star to Ph.D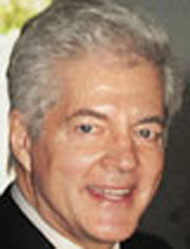 "We have been friends ever since," said Iannone about the actors who are the honorary co-chairmen of the Public's Building on a Dream campaign, which launched a $7 million private sector drive. The object is to open West Virginia Public Theatre's 2010 summer season in its new home in the Wharf District. This new facility will allow more programming possibilities. The design concept uses a permanent stage along with corporate boxes and built-in digital sound and light systems, but creates flexibility in theater size by the use of state-of-the-art moveable walls and seating.

"Bill got his Doctorate here at WVU," Iannone related. "He got it in education. I was his adviser. He was outstanding. He always a had a dream of getting his educational doctorate. I think his mother always wanted him to finish his education. He wanted to look at genealogy. He wrote his dissertation on how to use that in schools. He's presented his paper at different conferences"

His thoughts again returned to West Virginia Public. "The early years are no different than now. We are always on the brink of maybe not surviving - or maybe surviving - and that is how it is in the non-profit world."

"We have to deal with the economy and that is year-to-year. We don't depend on season subscribers. I've never been big on that. We depend upon the quality of the show, individuals passing positive words on to their friends and family."

"Now, is that dangerous? You bet your life!"

"We make sure whatever shows we do are at the top level. Today people don't really want to make a commitment of six shows for a season's subscription. They want to pick and select what they are interested in. That may be two shows, or three shows, or maybe one show."

"We're noticing a change in our audiences, and I've worked very hard for that," he stressed. "Many of them are gray haired, like me. We are trying to attract the 40's and younger with families. Last year we noticed an increase in a diverse audience with doing Dream Girls. We also did Urban Cowboy and that attracted a different audience."

"About five years ago I instituted a plan to have musical theater audiences appreciate drama. There are great playwrights from this country. So, every year we do a serious, straight play, as we call it."

"We don't draw as many people from the musical theater audience, but once they come out, they enjoy it. First time they saw a play, maybe it was Our Town in High School. Now they are seeing a play done by professionals. They say - this is really what art is about - they are getting something from the show. This year I am directing Doubt."

The daughter of Iannone, Mary Beth Sickles, has spent the last five years as Managing Director. Knowing how to manage time is one of her strong points.



Evita staged at West Virginia Public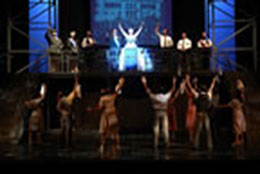 "It's really crazy. We have quality productions. It's amazing how we can throw it together in a week. That's the total rehearsal time. And, I'm talking big shows. Last year we did The Producers," she explained.

"We have quality production, Evita and Miss Saigon, which is a huge show. Ninety-five percent of the time we build the props and costumes. We are well organized. There is a lot of thought process that goes into organizing the schedule. You have a big show, then you have a smaller show, then you have a big show. It's a timing thing."

"We did rent the costumes for Cats but we built Beauty and the Beast. We built all of it," she reiterated. "We had a partner in Charleston, West Virginia that was going to do the show a few months after us, so they partnered with us - put the money in - and we hired people to build it."

"Beauty and the Beast was an exception, because we started to build that show about three weeks before our actual season began. We did have lead time with that one. We had one team working on building that show and then another team building another show," said Sickles, the mother of two, whose husband is a saw mill manager.

"We built Hello Dolly! which is a pretty big show. That was stressful. But, we did it."

"After some of our design people build the costumes, we may let them, for a certain price, take them and they can rent them out through their own rental department. We don't want to become a rental house. We do not have the staff, time or money."

Many of the actors come from outside the immediate area which means housing, a roof over their heads which West Virginia Public provides.

"We have a great place called The Ridge," continued Iannone. "In fact, it is sort of country club like. Swimming pools, computers, workout rooms. As you know, universities had to upgrade their housing in order to attract students, especially for grad students. We use one of their housing areas. We have not had a complaint. I wouldn't mind living there. That is how nice it is."

The charter of WVPT requires that school children be invited - at reduced prices or, when possible, free of charge - to witness live professional theatre. In most cases, these performances are the first such experiences for the youngsters. Thousands of young students have been bused to see shows every year for the past dozen years. This is obviously a boon to West Virginia, Ohio, Pennsylvania, Maryland, and other contiguous states.

"We've always been very committed to the educational side," he emphasized. For the last 15 years we offer a holiday show. This year it's Wizard of Oz. We send out educational packets to help teachers get students really interested in the story. We have close to 10,000 students that come yearly, who would probably never get to see a professional theater production. So, it is a thrill. Many of them are from rural areas, and they just don't get a chance."

"I remember last year at Peter Pan - after it was over, one kid walked out and said: 'That was best TV show I ever saw!' That is how some of these kids are. They've never seen a live production - only television.''


THE MUSIC GOES ROUND AND ROUND


DIRTY DANCING - THE CLASSIC STORY ON STAGE the original cast recording is in U.S. stores from the Masterworks Broadway label. The release coincides with the launch of the Broadway-aimed national touring production, which reunites the London creative team.

From the roar of the crowd to the drum downbeat, this Dirty Dancing CD is an attention getter, fueled with songs that first became hits decades ago - This Magic Moment kicks of a CD that's sure to - not only please the listener - but be one of the strongest promotional campaigns to ever precede an American tour. Before the CD ends there is an urge to see the show.

To enjoy the CD all you have to do is listen; to understand it, you need to know the background.

First a film which admittedly was low budget and originated as an excuse to show off some dancing, it became a mega hit starring Patrick Swayze and Jennifer Grey.

On vacation in New York's Catskill Mountains with her older sister and parents, Frances "Baby" Houseman shows little interest in the resort activities, and instead discovers her own entertainment when she stumbles upon the staff quarters when an all-night dance party is in full swing. Mesmerized by the sensual dance moves and the pounding rhythms, Baby can't wait to be a part of the scene, especially when she catches sight of Johnny Castle, the resort's dance instructor. Baby's life is about to change forever as she is thrown in at the deep end as Johnny's leading lady both on-stage and off with breathtaking consequences.

Enter the stage version which was re-imagined for that medium by the original screenwriter Eleanor Bergstein. The production has taken on a life of its own currently has productions running in London (UK), Utrecht (The Netherlands) and Toronto (Canada).

Dirty Dancing - The Classic Story On Stage was first performed at the Theatre Royal, Sydney, Australia on November 18, 2004. The show had a sell-out season of 18 months throughout Australia and New Zealand.

A new production opened at the Theater Neue Flora in Hamburg, Germany in March 2006 where it broke European advance sales records. Running for over two years in Hamburg, the show played to over 1 million people. The show is slated to opens in Berlin in April 2009.

The production opened in London on October 24, 2006 at the Aldwych Theater. The musical set a West End Theatre advanced sales record. In an unprecedented move, the theatre had to add additional seats into the auditorium to accommodate the demand for tickets. Over 1 million people and counting have now seen the London production.

When the show went on sale in April 2007 at the Royal Alexandra Theatre in Toronto it achieved the highest daily sales in the history of the Royal Alexandra Theatre. It continues to delight Canadian audiences.

On March 9, 2008, a new production of Dirty Dancing - The Classic Story On Stage opened at the Beatrix Theater in The Netherlands to fantastic reviews. The Utrecht production is performed in Dutch with the hit songs sung in English.

The pre-Broadway production has a cast of 40 exceptionally talented performers including 10 in the band, who perform 55 songs, in over 100 scene changes.

That all becomes important when discussing the CD, which features considerably more than 10 musicians and incorporates talent from both the London and Australian productions. There are 16 tracks.

The CD includes the voice of Josef Brown, who reprises his role as Johnny Castle in the American stage production. Other cast members are from the London and Australian productions.

The 10 musicians are: Chris Newton, Simon Helley, Jonathan Atkinson, Phil Mulford, Dave Holmres, Shan Chana, Malcolm Melling, Patrick Hartley, Dave Bishop and Maryin Williams.

The UK String players featured are: Julian Leaper, Laura Melhuish, Michael Keelan, Nina Foster, Roger Garland, Richard George, Ann Morfee, Rosie Campton, Bob Smissen, Rebecca Low, Bozidar Vukotic, Dave Bucknall.

The musicians from Australia featured are: Mark Taylor, Peter Di Losa, Jimmy Roach, Adrian Cunningham, Ben Gurton, David Armstrong, Steve Marin, Peter Firth, and Michael Mensini.

Other musicians on board are: Dave Bishop and Conrad Helfrich.

The dialogue is clear, crisp and easily understood, which isn't always the case on original cast albums.

Dirty Dancing - The Classic Story On Stage CD is high voltage, infectious, with a rhythm that picks up and doesn't let down. The instruments are extremely well balanced - pleasantly loud. Makes you want to get up and samba, rumba, or at least move. Next to a chocolate bar, the best after noon pick-up and without the calories.

Do You Love Me is the high watt type of song that, when performed in a venue, gets the girls standing up and screaming. In you own home - set your own rules.

That "doing the mash potato" tune artfully segues into This Land Is Made For You and Me/We Shall Overcome - a universally known folk song - which takes the story line into the era of Kennedy, Martin Luther King and the Peace Corp.

The Castle Hotel Mambo Showroom scene is reflected in De Todo Un Poco. That is followed by the beautiful Dawn Interlude with lovely flute work. She's Like The Wind is a glorious instrumental. The only problem is that no credit is given to any musician - only the word written as (Instrumental).

This CD is a cross generational pleaser with enough high energy to grab the under 20 crowd while the orchestrations, musicianship and well balanced sound will keep the older folk listening. Since the film with Patrick Swayze and Jennifer Grey was released in 1987, this stage mount has the potential of reviving memories of those who first saw the flick, while creating some new memories for their children. The CD closes with (I've Had) The Time of My Life, may be an apt description of what the CD listener experiences.

The track listing for the original cast recording of Dirty Dancing – The Classic Story On Stage includes:

1. This Magic Moment
2. Merengue
3. Johnny's Mambo
4. Do You Love Me?
5. This Land Is Your Land / We Shall Overcome
6. De Todo Un Poco
7. Dawn Interlude
8. Besame Mucho
9. If You Were The Only Girl In The World
10. Lisa's Hula
11. Yes!
12. In The Still Of The Night
13. Someone Like You
14. She's Like The Wind (Instrumental)
15. Kellerman's Anthem
16. (I've Had) The Time Of My Life

Recorded at Angel Recording Studio and Olympic Studio in London. Mixed at Angel Recording Studio. UK Musici and Contractor: Andy Barnwell Musical Co-ordination Services, Ltd. The CD was produced by Conrad Helfrich.


ART AND ABOUT


THE STATE MUSEUMS OF BERLIN AND THE LEGACY OF JAMES SIMON

Andrea Mantegna, The Virgin with the Sleeping Child, 1465/70. Gemäldegalerie, Berlin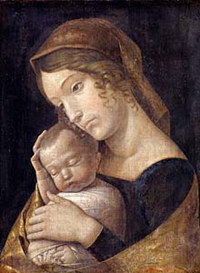 This exhibition honors the cultural legacy of James Simon, perhaps the most important patron Berlin has ever known. Over 100 works, borrowed from nine separate museums, spanning from the 3rd millennium BC to the 18th century AD, grace the special exhibition galleries at the Legion of Honor in San Francisco from October 18, 2008, to January 18, 2009.

Highlights include the Egyptian, New Kingdom bust Queen Tiy, a lion relief that once lined the Processional Way in ancient Babylon, Andrea Mantegna's The Virgin with the Sleeping Child, and a 19th-century woodblock print by the great Ukiyo-e master Utagawa Kuniyoshi titled The Priest Nichiren in the Snow on Sado Island.

James Simon (1851–1932), a German Jew, was a patron of the arts, connoisseur, collector and philanthropist best known for his sponsorship of excavations in Egypt, the Near East, and Central Asia that brought great riches from the ancient world to Berlin including the bust of Nefertiti and the Ishtar Gate of Babylon and its Processional Way. Dedicating his life to public welfare, Simon displayed a remarkable social commitment and created an extraordinary cultural legacy. His gift of thousands of items to the State Museums of Berlin identified him as one of Berlin's most important patrons and elevated Berlin to the ranks of museum capitals such as London, Paris, and Vienna. His support of archaeological excavations, including the Amarna and Mesopotamia expeditions, helped to preserve some of the most rare and important objects from antiquity.

"When one realizes the extent of James Simon's gifts and his foresight in saving the art of the past, it is hard to believe this is all the result of one individual," says Renee Dreyfus, curator-in-charge of ancient art and interpretation for the Fine Arts Museums of San Francisco. The State Museums of Berlin and the Legacy of James Simon fills six galleries in the special exhibition galleries at the Legion of Honor with a varied collection of treasures from the Renaissance, ancient cultures and the Silk Road. The works are paired with a masterpiece by his uncle, Luca della Robbia.

On exhibit from October 18, 2008-January 18, 2009 this effort is organized by the Fine Arts Museums of San Francisco in partnership with the State Museums of Berlin.



Broadway To Vegas is supported through advertising and donations. Priority consideration is given to interview suggestions, news, press releases etc from paid supporters. However, no paid supporters control, alter, edit, or in any way manipulate the content of this site. Your donation is appreciated. We accept PAYPAL. Thank you for your interest.


LAS VEGAS CAR AUCTION FEATURES CELEBRITY VEHICLES
John F. Kennedy was rumored to have had an affair with Marilyn Monroe in the backseat of this car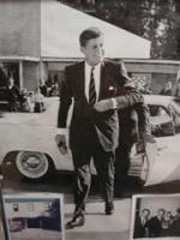 More than 500 vehicles will be up for auction Oct 15-18 at a Barrett-Jackson auction at Mandalay Bay Resort in Las Vegas.

Among the vehicles to be gaveled down are;

One of President John F. Kennedy's personal vehicles - a 1962 Sultana white, turquoise interior, Lincoln Continental 4-door sedan. The auction promo states: "Used by President Kennedy and his wife Jackie when they visited the Kennedy Compound of Palm Beach, FL. They used it when she went shopping on Worth Avenue in Palm Beach.. After President Kennedy was assassinated in November, 1963 the car was purchased from the Secret Service by Mr. A.K. Roart (JFK's chef), who later donated the auto to the Hutchinson Museum in Stuart, Florida. The auto remained in the museum until rumors each year grew rampant that JFK and Marilyn Monroe had an affair in the back seat of the car."

A black-on-black convertible that was stolen and recovered in 2002. Owned by Nicholas Cage at the time of the theft. Ironically enough, it was stolen at the time of Cage's movie Gone in 60 Seconds.

Country superstar Toby Keith's personal 1934 Ford suicide door cabriolet. with only 6,267 miles.

A 1984 silver and bronze Eagle motorcoach billed as "George W. Bush Campaign HQ." used in the New Hampshire political scene for the last 13 years. Used by George W. bush as his NH campaign headquarters in 1999. and campaign for President Bush in 2004. Most recently used as the mobile NH headquarters for Rudy Giuliani. Dan Rather, Chris Matthews, Sean Hannity and Carl Cameron have conducted interviews in the bus.


OTHER PEOPLE'S MONEY


KELSEY GRAMMER telling Fox News that he pulled out of the stock market last July. Noted as having financial smarts, the actor said he "foresaw" the decline, met with his advisors, who didn't agree with him. The smiling Grammer heeded his own council and reported he is "waiting to see as to when to get back in."




GET WELL SOON TO ...

WENDY RICHARD who rose to fame in 1977 after being cast as shop assistant Miss Shirley Brahms in Are You Being Served? - the BBC series, currently shown on many American PBS stations. She is best known for playing the downtrodden Pauline Fowler for 21 years in EastEnders, and was awarded the MBE for services to television in 2000.

Having survived two bouts with breast cancer, the actress has learned there is a cancerous growth on her right kidney which has spread to her bones. She is quoted by the British press as blaming the treatment she received for breast cancer as causing more harm than good. "'The drugs I was given to help have had an adverse effect. 'If anything they did more damage than good so my health has really deteriorated."

She plans to wed John Burns, her partner of 12 years, before she begins chemotherapy tomorrow, October 13. After successful completion of that treatment the couple plans to visit the United States.

CURTAIN DOWN

LEGALLY BLONDE the Broadway musical adaptation of the hit 2001 Reese Witherspoon comedic movie, closes next Sunday, October 19. The Broadway musical will have played 30 previews and 595 performances at the Palace Theater.



POLITICAL IDOL
Joe DiSalle as Joe Biden, Enga Davis as Michelle Obama, Frank Harts as Barack Obama, Robert Yarnall as John McCain, Lara Buck as Sarah Palin Photo credit: Olson Rohdes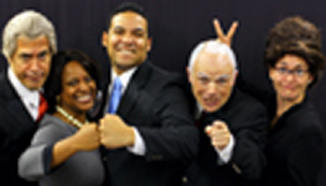 based on the parodies of Marc Emory. Armed with irreverence, wit, and spot-on impressions of Barack Obama, Sarah Palin, Nancy Pelosi, John McCain and George W., a quintet of seasoned entertainers turn familiar songs into show-stopping political parodies.

Watch Barack Obama and John McCain square off over the economy and foreign policy, while running mates Joe Biden and Sarah Palin spare over their qualifications to be V.P. nominees. At the end of the show, the YOU, the audience will vote for the next Political Idol.

In this latest version of its constantly updated show, Political Idol expands its cast to five, as veteran actor Enga Davis returns to the stage to reprise some of the show's most successful characters, including Tina Turner, Al Sharpton, Condoleezza Rice and Oprah Winfrey. Broadway performer Frank Harts (A Raisin in the Sun) returns in his signature roles of Barack Obama, Charlie Rangle, Maya Angelou. Others returning to the production include; Lara Buck (Sarah Palin, Hillary Clinton, Cindy McCain, Laura Bush, Nancy Pelosi), Joe DiSalle (Arnold Schwarzenegger, Mitt Romney, Joe Biden, Al Gore and Dick Cheney), and Robert Yarnall (John McCain, Rudy Giuliani, Bill Clinton, George Bush, John Edwards).

The show features almost two dozen lyrically altered songs, including new hits All That Sass to the tune of All That Jazz, sung by Sarah Palin - Voting For Our Future to the tune of Rolling On The River, sung by Tina Turner - and favorites Change Is Cool to the tune of Chain of Fools, sung by Michelle Obama - Welfare Queen - to the tune of Dancin' Queen, sung by Sarah Palin and John McCain - Hand On The Gavel (Hand In My Pocket sung by Nancy Pelosi, and Rove! - to the tune of Madonna's Vogue, sung by the Bush administration.

Directed by Julie Blanciak, the company features Lara Buck, Enga Davis, Joseph DiSalle, Frank Harts and Robert Yarnall. Chris Berg will serve as musical director and Kat Martin will design the costumes.

The show carries the disclaimed: "Comments & opinions expressed herein do not reflect those of any animal, vegetable or mineral, living or dead."

Opens at Off-Broadway's Triad Theatre on Tuesday, October 14 for a three week run.

THE RIVALRY Written by Norman Corwin. Directed by Oscar winner Eric Simonson.

Starring Paul Giamatti and David Strathairn as Abraham Lincoln and Stephen Douglas, rivals for the U.S. Senate - one a rising Illinois legislator and abolitionist candidate of the newly formed Republican party, the other the Democratic incumbent and champion of states' rights.

A rare and timely revival of Corwin's Broadway play, taken from the transcripts of the famous Lincoln-Douglas debates that tackled the day's most passionate issue - slavery.

"With The Rivalry, Norman Corwin demonstrates once again his instinct for things timeless and quintessentially American," says Simonson. "The themes of this play resonate beyond its setting, 1858, and the time it was written, 1958. Race, states' rights versus federal interests, and the very nature of our political culture are all played out in exciting, dramatic and contemporary ways. It's a play that speaks to our national identity."

Although Douglas was re-elected Senator from Illinois, the debates brought Lincoln into the national consciousness and helped send him on to the presidency.

Parallels in Corwin's 1958 script to the current contest between Obama and McCain are striking.

"What is so heartbreakingly different from today's political scene is how principled they both were, putting the nation before their own hopes," notes LATW Producing Artistic Director Susan Loewenberg.

A live big screen viewing of the third Obama-McCain debate, followed by analysis by an historian of presidential debates, will be offered prior to the Wednesday evening performance. The first event in LATW's new Wednesday Dinner Salon Series (separate admission price) takes place on Wednesday, October 15.

The Rivalry opened in Vancouver, Canada in 1958 with Raymond Massey and Martin Gabel, then toured the Eastern U.S. before opening on Broadway on February 12, 1959 (Lincoln's birthday) with Gabel and Richard Boone.

Performances October 15-19 at the Skirball Cultural Center in Los Angeles. All performances are recorded to air on LATW's nationally-syndicated radio theater series, The Play's The Thing, which broadcasts weekly on public and satellite radio.

BARE SOUNDZ Under the direction of tap-dancing virtuoso Savion Glover, Bare Soundz is a heart-stopping showcase of - dance to sound and sound to dance. Using tap as song, Glover merges acoustic vibrations in a music mosaic of jazz, Caribbean and other contemporary musical genres. He is joined by tap dancers Marshall Davis Jr., Maurice Chestnut and special guest Lori Ann Hunter for this exuberant a cappella celebration of rhythm; revealing tap as an acoustical percussion instrument par excellence.

October 18-19 at the Christopher Newport University's Ferguson Center for the Arts in Newport News, Virginia.

ELEKTRA

Janice Baird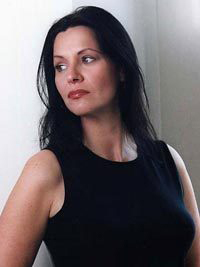 by Richard Strauss. Sophocles' ancient tragedy is pushed to monumental extremes in this elemental drama pulsing with heated currents of Strauss' most voluptuous music. This great work depicts Agamemnon's daughter's manic obsession with avenging his murder, unfolding as one huge crescendo from brooding resolve to bloody climax. The magnificent score, an enormous stream of orchestral sound, features unearthly effects and lush harmonies throughout, including the outstanding Recognition Scene. Relentless, absorbing and hugely effective.

Starring American opera soprano Janice Baird. In March, she made headlines with a dramatic U.S. debut at the Metropolitan Opera when she went on for an ailing Deborah Voight midway through a performance of Tristan und Isolde. Baird is making her Seattle Opera debut in the title role - a ball of fire who never leaves the stage. Jayne Casselman who is also making her Seattle Opera debut will perform the role on October 19, 26, and November 1. Chrysothemis: performed by Irmgard Vilsmaier and Carolyn Betty Klytämnestra: portrayed by Rosalind Plowright and Luretta Bybee. Aegisth is performed by Richard Margison and Thomas Harper. The cast includes; Alfred Walker, Byron Ellis, Simeon Esper, Peter Lindskoog, Mary McLaughlin, Cynthia Jansen, Sarah Mattox, Melissa Parks, Emily Clubb, Eleanor Stallcop-Horrox, Dana Johnson and Kimberly Giodano.

Conducted by Lawrence Renes. The stage director is Chris Alexander. Set design by Wolfram Skalicki. Costumes by Melanie Burgess. Lighting Design by Marcus Doshi. English Captions by Jonathan Dean. Sets by Seattle Opera (originally created for Canadian Opera Company) Costumes by the Seattle Opera Costume Shop.

In German with English Captions. Seattle Opera October 18-November 1, 2008.

CLAY Written and performed by Sax, the coming-of-age tale that draws from Shakespeare's Henry IV and Falstaff. Eric Rosen directs

This show follows Clifford, a suburban boy who escapes his fractured family and finds a mentor in Sir John, a master of the spoken word. Clifford becomes hip-hop star Clay, but he discovers that he can't escape his past.

The U.S. premiere of Clay was produced in 2006 by About Face Theatre and Lookingglass Theatre Company, Chicago, Illinois. This production just wrapped up at the Kansas City Rep. Usually when a show ends at the Rep, the set is struck, the actors go home, and everyone can relax, briefly. However, the evening that the Rep's hit one-man hip-hop musical Clay ended, the staff and guest artists were busily packing the show up for its next destination - Lincoln Center's off-Broadway Duke Theatre in New York. Clay is the first play presented as a part of Lincoln Center's LCT3 program, which is dedicated to "producing the work of emerging playwrights, directors and designers."

Designing the production are Meghan Raham (sets), Emily Rebholz (costumes), Jason Lyons (lighting) and Josh Horvath (sound and orchestrations).

Officially opens on October 15 and continue through November 8, 2008.

THE DISAPPEARANCE based on the short story by award-winning Mexican-born writer Ilan Stavans, presents the harrowing, based-in-fact story of Maarten Soetendrop, a Jewish actor who may have staged his own kidnapping to awaken his community to a resurgence of anti-Semitism.

Through an evocative, dream-like melding of puppetry, live music, and video projections, Double Edge Theatre addresses urgent questions of guilt and conscience in an atmosphere of mystery and discovery.

A Q&A with Stavans and members of the theater company follows the performance.

October 16-17 at the Skirball Cultural Center in Los Angeles, CA.

SATURN RETURNS by Noah Haidle.

The planet Saturn's orbital return to its position at the moment of a person's birth happens every thirty years. In Saturn Returns Haidle uses this phenomenon to take a look at one man - Gustin (to be played at the three different stages of his life by Robert Eli, John McMartin and James Rebhorn) - during these pivotal moments as he confronts the three women in his life - all to be played by Rosie Benton.

Nicholas Martin, Artistic Director of the Williamstown Theatre Festival, returns to Lincoln Center Theater to direct this production. The cast includes: Rosie Benton, Robert Eli, John McMartin and James Rebhorn.

Sets by Ralph Funicello. Costumes by Robert Morgan. Lighting By Peter Kaczorowski. Original Music and Sound by Mark Bennett.

October 16, 2008-January 4, 2009 at the Newhouse Theatre, NYC.

CRAWL, FADE TO WHITE

Matthew roi Berger and Black-Eyed Susan. Photo by Carol Rosegg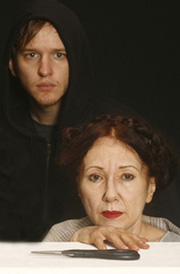 by Sheila Callaghan, directed by Paul Willis.

Business is at an all time low for Louise in her profession as a "consultant." So in order to keep her daughter April in school, she must sell an expensive family heirloom lamp at the neighbors' yard sale. April sneaks home to steal the lamp, but she is too late — it has been intercepted by the quiet and bizarre couple next door. April is soon taken in by this odd pair, and from within their home she unlocks a haunting secret. This sets off a firestorm of revelations, confessions, and vengeance that rattle this sleepy suburban block, ultimately forcing April to ask her mother the forbidden question: "What's in your briefcase, Louise?"

The six-member cast is (alphabetically): Matthew roi Berger (Nolan), Shawtane Monroe Bowen (Niko), Carla Harting (Louise), Jocelyn Kuritsky (April), Matthew Lewis (Dan), and Black-Eyed Susan (Fran).

The production stage manager is Pamela Salling. Set design by Anna Kiraly; lighting design by Ben Kato; costume design by Jessica Pabst; and sound design by Eric Shim.

13P (Thirteen Playwrights, Inc.), the OBIE Award-winning theater company, is made up of 13 playwrights, in association with Minetta Street Productions. ,The members of 13P are: Sheila Callaghan, Erin Courtney, Madeleine George, Rob Handel, Ann Marie Healy, Julia Jarcho, Young Jean Lee, Winter Miller, Sarah Ruhl, Katherine Ryan, Lucy Thurber, Anne Washburn, and Gary Winter. Performances through November 1 at the Ideal Glass Gallery in NYC.




WHO'S WHERE


BEETHOVEN'S MAJESTY Join the Stamford Symphony Orchestra as they celebrate Beethoven's Majesty. Obsession. Drama. Desperation. And that's just the overture. Music Director Eckart Preu will lead the Orchestra in Schubert's Great Symphony as well as Beethoven's Coriolan Overture and his Emperor Concerto. Famed pianist Vladimir Feltsman is the soloist for the Emperor, which has been called the ultimate piano masterpiece. Behind the Baton, the Symphony's popular pre-concert lecture series, takes place one hour before each program when Maestro Preu will share the secrets and stories behind the music. October 18 and 19 at Stamford Center for the Arts in Stamford, CT.

ALICIA KEYS on stage Monday, October 13, at the NTC in Bratislava, Slavakia. Her tour then stops at the T-Mobile Arena in Prague, Czechslovakia on Tuesday, October 14. On Wednesday the show is at Torwar in Warsaw, Poland. Saturday she is in the spotlight at O2 World in Berlin.

DIANE KRALL performs Tuesday, October 14, at the International Convention Center in Taipei, Taiwan.

BIG BAD VOODOO DADDY takes part in the Clearwater Jazz Holiday in Clearwater, FL on Saturday, October 18.

MADONNA performs Wednesday, October 15, at the TD Banknorth Garden in Boston. On Saturday she beings a two nighter at the Air Canada Centre in Toronto.

TUNA TURNER brings her high octane performance to the Staples Center in Los Angeles on Monday, October 13. On Tuesday she'll energize the Honda Center in Anaheim, CA. On Thursday she returns to the Staples Center. Next Sunday, October 19, she opens a two night stand at the HP Pavilion in San Jose, CA.

CHRIS BOTTI hitting the right notes Friday , October 17, at the House of Blues in Atlantic City.

KD LANG on stage Tuesday, October 14, at the Krannert Center in Urbana, IL. On Friday she can be enjoyed at the Chicago Theatre in Chicago. Next Sunday, October 19, she stars at The O'Shaughnessy in Saint Paul, MN.

BOB NEWHART who started out an as account might be able to laugh about the economy. He'll be telling funny stories Tuesday, October 14, at Casino Arizona in Scottsdale.

Next Column: October 19, 2008
Copyright: October 12, 2008. All Rights Reserved. Reviews, Interviews, Commentary, Photographs or Graphics from any Broadway To Vegas (TM) columns may not be published, broadcast, rewritten, utilized as leads, or used in any manner without permission, compensation and/or credit.
Link to Main Page
---
Laura Deni



U.S. Postal Address: Post Office Box 60538, Las Vegas, NV 89160
CLICK HERE FOR COMMENT SECTION