! >
Broadway To Vegas
  
 SHOW REVIEWS CELEBRITY  INTERVIEWS GOSSIP NEWS

| | |
| --- | --- |
| | |
SPINNING THE SIEGFRIED AND ROY TRAGEDY - - DALLAS MUSUEM CELEBRATES 100 YEARS - - AN APOLOGY FROM GEORGE BERNARD SHAW - - COSTUME SALE - - SEVENTH HEAVEN CD - - WARRICK DUNN GALA - - THE BLACK DAHLIA - - MEAT PACKING STAR - - DONATE . . . Scroll Down


DOCTOR'S ORDERS - DOG HELPS ROY RECOVER
Siegfried & Roy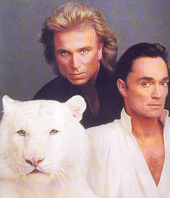 Illusionist Roy Horn, who was attacked by a white tiger during a performance of the Siegfried & Roy show at the Mirage hotel last week, remains in critical condition at University Medical Center in Las Vegas. The good news is he is improving - thanks to his beloved pet dog.

Asked if he wanted to see his pet animal Roy, who communicates through blinking and hand squeezing, indicated that he did. The pet was brought to him and Roy immediately perked up. Officials say, under doctor's orders, the dog is now officially part of Roy's medical team.

Much air time and ink has been given to contrived speculations as to why Montecore attacked Roy. The specific trigger may never be known.

The basic answer is - because he's a wild animal, that's why.



Roy with White Lion Pride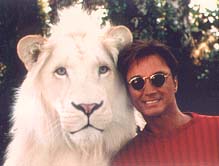 Since the horrific event last week, instead of Siegfried and Roy pulling tricks with trained animals, the wild beasts being taught to jump through hoops are the press. The fifth estate, in an attempt to cover a legitimate news story, find themselves in a morass of smoke and mirrors.

Anybody who experiences a traumatic event, especially if anesthetic or pain killers are involved, will experience two phases; an emotional maudlin one where they are vulnerable to manipulation and a second phase of thinking they can do too much, which also permits them to be manipulated.

Likewise, the family or extended family of the victim also goes through some serious roller coaster rides.

Many times the social status or financial situation of the family or extended family is effected by the injured person. The ancillary folks have their own overwhelming emotional events including; seeing events out of perspective; desiring the facts to support their need not to feel guilty; concerned about their own future; a need to protect someone or something; looking for people to blame; thinking up excuses; unfiltered verbalization of random thoughts in an effort to come to terms with the situation.

This vulnerability of the family and extended family can then be exploited by others - many of whom call themselves friends.

The tragedy of Roy being attacked by a tiger has now turned into a three-ring circus.

The hyperbole oozing from the lips of people who know better will not help Roy recover. The colorful lies will not benefit the business. Rather, the mixed message spin amounts to a loose cannon taking direct aim on the industry that Siegfried & Roy established in Las Vegas.



Steve Wynn. Photo By: Laura Deni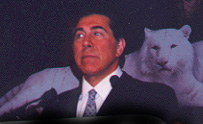 In what may be the only ridiculous statement to ever be uttered from Steve Wynn's mouth, the hotel mogul told veteran Las Vegas newsman Gary Waddell on television station KLAS-TV, that Montecore was set off by the oversized hair-do on a front-row spectator.

According to Wynn, Montecore dropped to all fours, not because the command to lie down is in the act, but because the big kitty wanted to check out the big hair. The up close view Montecore wanted of the bouffant, set off the events that left one-half of Siegfried & Roy in critical condition.

"(Montecore) did a 90-degree turn and faced sideways toward the woman with the big hairdo," said Wynn, who not only wasn't at the show but wasn't even in Nevada. He based his verbiage upon his statements that a tape of that particular show exists.

"For whatever reason, Montecore was fascinated and distracted by the guest sitting ringside."

Steve Wynn's long-standing, serious vision problems, including a time when he used a guide dog, have been extensively reported by the press.

Wynn not only claims to have seen the tape, but gives a report in vivid detail including asserting that "the tiger leaned over and put his face four inches from the woman's face."

Four inches.

The emotionally involved Wynn needs to restrain his color commentary and stick to what he does best - successfully run a business - and stay out of the publicity spin of this tragic event.

A women with a bouffant hairdo, sitting in the front row, reached her hand out to pet the beast which was close enough for her to touch??? Reach your hand out.

That's the distance of close enough to touch. Four inches is even closer.

Wynn and Siegfried & Roy manager Bernie Yuman insist a tape of that tragic performance exists. Officials of the Mirage confirm there is a tape saying it is in safe keeping and that government officials with jurisdiction will be permitted to view it.

If there is such a tape it was shot with a stationary video camera in the back of the room. One camera angle and no close up shots. The person who usually runs the camera told Las Vegas NBC-TV affiliate KVBC that no tape was in the camera.

Yuman, in an updated visit with CNN's Larry King on his Friday night program, evaded King's direct questions regarding Wynn's statements - opting to call Wynn a friend and a member of the Siegfried & Roy family.

It is also Yuman's deliberately vague answers that helped pull a veil of suspicion over what should be a simple situation. After the accident occurred Yuman was asked if Roy could speak. Yuman - who has never been known for an effervescent personality - paused, stayed expressionless and then finally answered - he communicates.



Roy with one of Siegfried & Roy's numerous awards for magic and illusion. Photo By: Laura Deni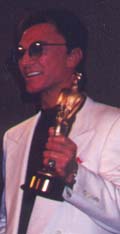 Answer a direct question with a direct answer. Examples: No, he cannot speak because he is on a ventilator. No, he can't speak because he has a tube down his throat. He is communicating by ....

Announcing that Roy's condition is being viewed second by second, minute by minute sends a message that questions need to be repeated every minute, because there might be a change.

When people who are in the know don't give direct answers the door is left open for those who don't know whereof they speak to chatter.

In full disclosure, this past week Broadway To Vegas has been interviewed about Siegfried & Roy and Las Vegas by The New York Times, CNN, MSNBC and A&E.

The Mirage is part of a publicly traded conglomerate. When the accident occurred there was speculation that a stock drop would occur the following Monday. The change was miniscule.

However, the stock will take a hit if investors learn that customers are deliberately put in harm's way. Siegfried & Roy is not the only show at the MGM-Mirage properties. A fear that other accidents could result in multi-million dollars lawsuits isn't considered a good marketing tool to attract stockholders. The only ones who benefit from that kind of fear are those who intend to short a stock.

If customers entering Las Vegas showrooms are being carelessly, deliberately seated in harm's way, then hard nosed liability insurance carriers have blanched.

If people are in danger then authorities need make haste with the speed of a tiger and close down all shows with wild animals - not permitting any of them to re-open until barriers are constructed and proper distance is placed between the animal and the customer. Warning signs of do not attempt to pet, feed, climb over the rail need to be posted.

Just as amusement park rides have notices that a person must be of a certain height to get on board, are those loose lips speaking suggesting that patrons wanting to see a magic show be screened for hair styles? How about colors? Food? Perfume?

What about magic shows that use birds? Birds fly, you know, and can peck your eye out in a second. Gosh, maybe all customers should sign a liability waiver. A new job opportunity for lawyers - writing and enforcing the Peck, Scratch and Bite clause.

Nor is Roy sitting up in a chair or listed in anything other than critical condition. A fellow magician got in front of a camera and proclaimed that he had visited Roy, who was sitting in the chair. That prompted both the hospital and the hotel to call press conferences and issue releases saying that wasn't true.



Siegfried. Photo by: Laura Deni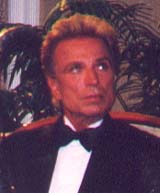 Roy is lucky to be alive and his long term prognosis is unknown. Saying it is now 99 percent certain that Roy will recover means Roy is now expected not to die. A week ago his death was considered imminent.

Montecore was not attempting to "protect" Roy. Objective animal experts immediately shot down Siegfried's emotionally fueled statements to that effect.

According to the official reports and statements from emergency rescue personnel, at first co-workers rushed in and attempted to beat the tiger off of Roy. That failed. The tiger refused to release it's grip on Roy's neck. A carpenter grabbed a fire-extinguisher and shot it at Montecore who then - and only then - released the profusely bleeding illusionist.

Instantly reacting, in the way they had been trained to respond to an event of this type, the backstage animal handlers are the ones who saved Roy's life - keeping him alive until emergency medical personnel arrived.

All of the parties involved need to be permitted to come to terms with the life altering consequences of this horrific event. For friends, entertainers and employees to emotionally spew forth incorrect information is - unintentionally or not - exploiting the situation, amounting to nothing more than destroying their own.


THE MUSIC GOES ROUND AND ROUND


SEVENTH HEAVEN original Broadway cast recording for the first time on CD has been released by Decca Broadway. This obscure musical is a charming, delightful listen - a lovely gift for those who appreicate Broadway musicals.

Written by legendary 22-time Academy Award nominee Victor Young, this score represents his only Broadway musical.

Music by Victor Young; Lyrics by Stella Unger; Book by Victor Wolfson and Stella Unger; Based on the play by Austin Strong

The Broadway production opened: May 26, 1955 at the then ANTA Playhouse - now the Virginia Theatre - in NYC closing July 2 after a 44 performance run.

Seventh Heaven is the 1955 musical adaptation of the classic silent film by the same name, starring Janet Gaynor and Charles Farrell.

It's a tender, romantic story about an unlikely pair of star-crossed lovers in Paris whose romance blooms on the eve of the first World War.

Chico is a savvy street cleaner who falls in love with the enchanting Diane, a glamorous nightclub entertainer - and how she remains faithful to her street cleaner love even after he is blinded in the war. Ricardo Montalban played Chico; Gloria DeHaven played Diane.

The show was most notable for its remarkable young, cast, which included, in addition to Ricardo Montalban and Gloria DeHaven, 22 year-old Chita Rivera in her first featured role and 33 year-old Beatrice Arthur.

Two of the selections may strike a familiar note with music lovers. The exquisite White and Gold Ballet, a solely instrumental track, moody and evocative of classic 1950s film noir, shows off the talents of Victor Young as a composer. It also sounds a lot like a slow version of Thank Heaven for Little Girls from the 1958 movie Gigi.

This re-mastered recording includes two bonus tracks; a rare recording of Blessings, a ballad which makes one think of May You Always, a 1958 McGuire Sisters recording that made it to #11 on the charts. Unfortunately, Blessings was cut from Seventh Heaven during its out of town try-out. The second bonus tract is a pop rendition of Where Is That Someone For Me sung by Gloria DeHaven accompanied by Victor Young and his orchestra.

Opening Night Production Credits:



Gloria De Haven and Ricardo Montalban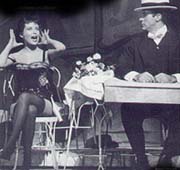 Produced by Gant Gaither and William Bacher. Musical Director: Max Meth; Music orchestrated by David Terry; Choral director: Crane Calder. Directed by John C. Wilson; Choreographed by Peter Gennaro; Uncredited show doctoring by Jerome Robbins. Scenic Design by Marcel Vertés; Costume Design by Marcel Vertés; Lighting Design by Feder. Stage Manager: Earl J. Brisgal and Ernestine Perrie. Casting: David Graham.

Opening Night Cast:

Beatrice Arthur, Lee Becker, Malcolm Lee Beggs, David Collyer, Philip Cook, Gloria DeHaven, Bonnie Evans, Patricia Hammerlee, Gwen Harmon, Ferdi Hoffman, Kurt Kasznar, Scott Merrill, Ricardo Montalban, Gerrianne Raphael, Chita Rivera, Jeanne Schlegel, Betty Jane Seagle and Helena Seroy.

Songs:

1. C'est la vie
2. Where is that someone for me?
3. Camille, Collette, Fifi
4. A man with a dream
5. Remarkable fellow
6. If it's a dream
7. Happy little crook
8. Sun at my window, love at my door
9. Miss You" kiss, A "
10 Love, love, love
11. Love sneaks up on you



Broadway To Vegas is supported through advertising and donations. Priority consideration is given to interview suggestions, news, press releases, etc from paid supporters. However, no paid supporters control, alter, edit, or in any way manipulate the content of this site. Your donation is appreciated. We accept PAYPAL. Thank you for your interest.


ART AND ABOUT


PASSION FOR ART: 100 TREASURES 100 YEARS Celebrating the 100th anniversary of the Dallas Museum of Art with a party consists of an exhibition of 100 of the greatest treasures spanning 5,000 years of human creativity and including paintings, sculpture and objects from around the world.

This compelling exhibition is organized with the collaboration of the Museum's entire curatorial staff and coordinated by Project Director Dorothy Kosinski, Senior Curator of Painting and Sculpture and The Barbara Thomas Lemmon Curator of European Art.

100 Treasures permits the visitor to encounter themes that explore ideas, forms, and functions that cut across time and cultures: Landscapes, Geometry, Body, Mask, At Home, Machine, Luxury, Music and Dance, Mortality, Cosmos, and Transcendence.

The unique installation of the exhibition was conceived by Robert Anderson, a highly regarded Canadian designer whose installations for the Montreal Museum of Fine Arts have drawn international praise. Anderson's design directly relates to each of the eleven themes in the exhibition. Each section derives its own aesthetic character through the careful use of forms, color, and graphic components. The open space of the 14,000-square-foot J. E. R. Chilton Galleries is dramatically reconfigured to allow the visitor to glimpse ahead, through, and backwards from one section to another and form connections between objects and various thematic associations.

Among the one hundred objects on view in the exhibition are include; Chris Burden's All the Submarines of the United States of America, the mysterious electronic installation Counter Ground by Tatsuo Miyajima, and Vincent van Gogh's Sheaves of Wheat. The final room of the exhibition features recent centennial gifts and acquisitions that have never before been on view in the Museum.

Special performances in the exhibition bring the Museum's treasures to life through music, dance, readings, and more. Today, October 12, the presentations include Study for the "Spanish Dancer" Daniel de Cordoba Bailes Espanoles Siesta Flamenco and Shiva, The Divine Dancer Bindu Shankar of Vrindavan Academy.On Saturday, October 18 the performance is T. S. Eliot, Giacometti, and the Broken World followed on Sunday, October 19 by Dr. Theresa Towner, Professor of Literature, University of Texas at Dallas. On October 25-26 it's Electronic Music and Art with Gavin DeCuir and M of Mission Giant.

Passion for Art: 100 Treasures for 100 Years opens October 12–March 14.


SPREADING THE WORD


FREE THINKING DESIGN Betsey Johnson, Vivienne Tam, Cynthia Rowley and Kate Spade / Michael McKenzie, moderator.

What goes through a designer's mind when the rules don't really exist, the stakes are high and the market is global? Join author Michael McKenzie with a cast of some of America's foremost image-makers as they show and tell the inside story of how they create multimillion dollar image-driven campaigns.

October 16th at the 92nd Street Y in NYC.

SAY THE WORD Hollywood writers and comedians step out from behind the scenes to read pieces written for their own voices. Hosted by Un-Cabaret's Beth Lapides. Featured writers are John Riggi (The Larry Sanders Show), Scott Carter (Politically Incorrect), Kevin Nealon (Saturday Night Live), Alan Zweibel (It's Garry Shandling's Show), and others. For ages 21 and up. Friday, October 17, at the Skirball Center in Los Angeles.

THEATER TALK returns for its tenth year on television, Friday, October 17th. Devoted to the New York stage, the weekly show, features in-depth interviews with outstanding theatre artists, as well as prominent New York drama critics, reporters, historians, producers and other experts discussing theater news and issues.

Once again, it will be hosted by Michael Riedel, theater columnist of the New York Post and Susan Haskins, Theater Talk's executive producer.

The independently produced series premiered in January 1993 on Manhattan public access cable, where it was called Inside Broadway. In the fall of 1996, it was picked up by Thirteen, New York's PBS affiliate, and has been part of the station's late-night lineup ever since.

EVERYTHING OLD IS NEW AGAIN hosted by David Kenney will have an in-studio visit by Billy Porter prior to his October 16th performances as part of Lincoln Center's American Songbook Series. Everything Old Is New Again is heard Sunday, October 12 9-11 PM (ET) over WBAI 99.5 FM.


SWEET CHARITY


WARRICK DUNN FOUNDATION

Warrick Dunn
Star Atlanta Falcon Warrick Dunn will host his first annual Simply Red fundraiser for his charity, The Warrick Dunn Foundation, which sponsors Home for the Holidays.

Simply Red will be a star-studded event featuring the Alliance Theatre's production of Crowns. The evening will be hosted by Warrick Dunn along with co-chairs Ambassador Andrew Young, Judge Glenda Hatchett, and renowned Sports Agent Leigh Steinberg.

Guests will mingle with celebrities like Falcon Michael Vick, Atlanta Brave Gary Sheffield, actress Vivica A. Fox, singers Usher and TLC's Rozanda 'Chilli' Thomas.

Home for the Holidays assists single mothers in owning their first home by providing the down payment on a house and then filling the house with everything a first-time homeowner would need, from furniture, to food, to pots and pans.

This program came about after Warrick's mother, who raised six children by herself while serving in the Baton Rouge police department, was killed in the line of duty.

To date, the program has helped 136 women and children in Atlanta, Baton Rouge, and Tampa Bay.

The Simply Red gala is centered on the Alliance Theatre's production of the play Crowns, which will debut in Atlanta after the party. Crowns is a joyous, sparkling celebration with gospel and hip-hop music, storytelling attitude, about African-American women and their flamboyant, colorful hats they wear on Sunday morning. Crowns shows that when you match the right woman with the right hat, it can be Sunday morning all week long.

Also, because the play is about colorful and flamboyant hats, the Foundation is asking all invited celebrities to wear or create a favorite hat that expresses their personality. The hat, in turn, will be donated to the Foundation and auctioned off to generate funds for the Foundation.

Tuesday, October 14.


OTHER PEOPLE'S MONEY


ACTOR'S THEATRE OF LOUISVILLE ANNUAL COSTUME SALE open to the public, the costume sale includes costumes from various productions hand made in Actors' costume shop. Everyday attire to vintage clothing available - and a remnant bin for those designers at heart looking to build their masterpiece. October 18 at the Victor Jory Theatre lobby, Louisville, Kentucky.



THE BLACK DAHLIA adapted and directed by Mike Alfreds, from the novel by James Ellroy, starring Mike Dooly and a 14-member cast featuring Frank Deal, Matt Hoverman, Christina Rouner, Anne Torsiglieri, Sara Surrey and Mark Zeisler.

From the author of L.A. Confidential comes a hardboiled noir crime saga that takes its audiences on a sprawling tour through the streets of Los Angeles, from the Hollywood Hills to the city's gritty underbelly. Inspired by the infamous real-life, never-solved murder of Elizabeth Short, The Black Dahlia charts the efforts of boxer-turned-cop Bucky Bleichert as he tries to find and catch a sadistic killer - without losing his own soul. No one is truly innocent in the City of Angels, however, and nothing is what it seems. For Bleichert it's a twisting, romantic, and turbulent path.

Contains strong language and nudity. The American premiere of the noir crime story runs October 17 to November 8 Yale Repertory Theatre performed at the University Theatre.

MISERY adaptation of the Stephen King classic novel. Book by Stephen King. Adapted by Simon Moore. It features a popular, romantic fiction novelist who, after an auto accident, is held captive by his number one fan, who just happens to be deranged, and she'll do anything to get her way! Thus, begins his descent into pain, humiliation and degradation, where he must rely strictly on his strength and determination to survive. Some violence and strong language. October 17 - November 9. Omaha Community Playhouse.

THE PRODUCERS the national tour of the Mel Brooks' hit opens October 14 at the Ford Center/Oriental Theatre in Chicago.

DAME EDNA October 14-19 at the Fox Theatre in Atlanta, GA.

THE FULL MONTY Broadway's smash hit musical will make its Las Vegas debut for eight performances at the Aladdin Theatre, October 15 - 19. The musical received ten 2001 Tony Nominations.

MRS. WARREN'S PROFESSION a comedy by George Bernard Shaw comedy, will be staged October 20-Nov 22 at Theatre Three in Dallas Texas.

Jack Adler directs Elizabeth Rothan, Shanna Riddle, Bruce Elliott, Ashley Wood, Lynn Mathis and Gerrett Shenck.

Mrs. Warren's Profession written in 1884 was performed for the first time in the theatre of the New Lyric Club, London, on January 5-6 1902, with Madge McIntosh as Vivie, Julius Knight as Praed, Fanny Brough as Mrs. Warren, Charles Goodhart as Crofts, Harley Granville-Barker as Frank, and Cosmo Stuart as the Reverend Samuel Gardner. Upon its debut the English became outraged by the provocative nature of this play prompting George Bernard Shaw to pen an apology. CLICK HERE TO READ SHAW'S APOLOGY




| | | |
| --- | --- | --- |
| | | |
WHO'S WHERE


REGIS PHILBIN AND SUSAN LUCCI perform in concert with 22 piece orchestra at Symphony Hall, Boston on October 19.

KAREN AKERS Grandel Theatre Cabaret October 14–19 in St Louis, MO.

HUEY LEWIS AND THE NEWS "The Heart of Rock 'n' Roll" comes to the heart of Fort Worth, Texas. Oct 14 at the Bass Performance Hall.

BARBARA COOK AND MARILYN HORNE Oct. 18 at the Zoellner Arts Center at Lehigh University in Bethlehem, PA.

TONY DANZA opens a five night engagement at the Mohegan Sun Casino in Uncasville, CT on Wednesday.

LEE GREENWOOD performs Saturday at Mahoney State Park in Ashland, Nebraska.

RAVI SHANKAR AND ANOUSHKA SHANKAR perform Indian classical music on the TITAS series at McFarlin Auditorium in Dallas on October 18.

STEVE & EYDIE performing October 14 in Pittsburgh, PA at Heinz Hall. The talented and delightful duo can be enjoyed October 16 at the Civic Center in Peoria, Illinois and on October 18 at the Palace Theatre in Cleveland, Ohio.

ABBEY LINCOLN one of the last great jazz singers, as well as one of the music's most gifted songwriters, Abbey Lincoln blends the rootsy qualities of a folk singer with a jazz-inspired sensibility akin to Billie Holiday and has recently enjoyed a tremendous creative blossoming as a songwriter and poet. October 16-19 at The Blue Note in NYC.

BRANFORD MARSALIS on stage Wednesday, October 15, in Detroit, Michigan at the Detroit Orchestra Hall.

SHAOLIN WARRIORS the unlikely combination of monks and martial arts equals one impressive show. These descendants of Buddhist monks, who began kung fu nearly 1,500 years ago in feudal China, contort their body in the most amazing ways and use more than 20 weapons, including the axe, spear, and black tiger hammer. Their skill comes from rigorous training, of course, but also daily meditation. Oct 13 at the Bass Performance Hall in Fort Worth, Texas.

AN EVENING WITH THEODORE BIKEL A special gala evening with the performer, showcasing the many talents of this artist, who has enriched audiences for over 60 years in theater, movies, TV, and radio.of music, theater and reminiscences. The Emmy award winner starred on Broadway in the original cast of The Sound of Music, and has performed the role of Tevye in the touring company of Fiddler On The Roof in over 2,000 performances. As one of the cofounders of the Newport Folk Festival, Bikel's long arts activism includes helping to establish the National Council on the Arts and later the National Endowment for the Arts. Theodore Bikel Oct. 15 at the Aetna Theater at the Wadsworth Atheneum Museum of Art in Hartford, CT.


PIFFLE AND PROFUNDITIES


MARG HELGENBERGER the Emmy award winning actress spends a lot of time in Las Vegas shooting scenes for the CBS hit CSI: Crime Scene Investigation, in which she plays investigator Catherine Willows. While she may be viewing gruesome crime scenes for the camera, it sure beats plunging knives into beef carcasses, which is what she did before becoming famous. Helgenberger worked as a meatpacker in her home town of North Bend, Nebraska. To get through the day she would daydream she was starring on Broadway.
















Next Column: October 19, 2003
Copyright: October 12, 2003. All Rights Reserved. Reviews, Interviews, Commentary, Photographs or Graphics from any Broadway To Vegas (TM) columns may not be published, broadcast, rewritten, utilized as leads, or used in any manner without permission, compensation and/or credit.
Link to Main Page
---
Laura Deni


CLICK HERE FOR COMMENT SECTION