! >
Broadway To Vegas
  
 SHOW REVIEWS CELEBRITY INTERVIEWS GOSSIP NEWS

| | |
| --- | --- |
| | |
TRIBECA THEATER FESTIVAL - - ED BEGLEY, JR JOINS JACK & BOBBY - - WESTPORT COUNTRY PLAYHOUSE BENEFIT - - GOODNIGHT GRACIE STARRING JAMIE FARR - -JOKING AROUND WITH POLITICIANS - - FRIARS ROAST DONALD TRUMP - - ONE NIGHT WITH ROD STEWART - - THE FOREIGNERS STARS MATTHEW BRODERICK - - DONATE . . . Scroll Down


HUMOR FROM THE WARM-UP ACT
Paul Winchell and Jerry Mahoney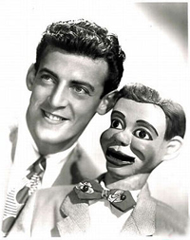 I'm not so sure that I will miss Johnny Carson, but Johnny Carson will miss me. -- Vice President Dan Quayle reported in the Houston Chronicle on May 22, 1992.

The Vice President of the United States. It's a warm up act position that provides fall-back-on material for comedians.

Politicians are performers, each in their own way.

There is even an uncanny resemblance between Paul Winchell and Jerry Mahoney and John Kerry and John Edwards. That's not bad. Mahoney, a descendant of Spermatophyta, was an intelligent, articulate partner. Mahoney has also managed to have a successful career in Washington, D.C. Since January, 1980 he has resided in a permanent collection at the Smithsonian Institute.

The Paul Winchell-Jerry Mahoney Show was a popular fixture on NBC television from 1950 through 1956. Carol Burnett made her first television appearance as a stable character in the show. Burnett would later record an ode to the Secretary of State titled I'm In Love With John Foster Dullas.

Winchell and Mahoney were somewhat involved in politics. On August 12, 1951 at Akron Ohio, Paul and Jerry beat Ronald Reagan in the celebrity race at the Soap Box Derby. It's the only race that President Reagan ever lost.

It was also Paul Winchell helped invent the first artificial heart, for which he was awarded the first United States Patent.

Artificial heart - something most politicians are accused of possessing.

Then there is Dick Cheney, who has a device to jump start and maintain his ticker. He began his career as an off stage assistant. According to Time;

"When Richard Bruce Cheney was a student at Natrona County High School in Casper, Wyo., he was a solid football player, senior-class president and an above-average student. But he wasn't the star. That distinction belonged to Lynne Vincent, Cheney's girlfriend and future wife. A straight-A scholar, Lynne was elected Mustang Queen, the equivalent of most popular girl. She was also a state-champion baton twirler, a big deal in 1950s Wyoming. To begin her routine, Lynne would set both ends of a baton on fire and throw it in the air while her boyfriend stood inconspicuously off to the side holding a coffee can filled with water. When Lynne was finished with her pyrotechnic act, she would pass her flaming baton to Cheney, who, while the audience applauded and Lynne curtsied, would quietly douse the fires by sticking each end of the baton in the coffee can."

Fourteen presidents served as vice presidents: J. Adams, Jefferson, Van Buren, Tyler, Fillmore, A. Johnson, Arthur, T. Roosevelt, Coolidge, Truman, Nixon, L. Johnson, Ford, and George H.W. Bush.

Divisive political issues are amazing similar today as to what they were hundred of years ago.



Aaron Burr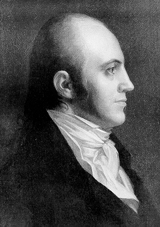 Those who could afford it, including the top officials, traveled abroad for medical treatments not permitted in the United States. Sexual preferences, same sex marriages and living together arrangements plagued elections. Rights of minorities were in the headlines. So were financial business dealings.

Aaron Burr is remembered not so much for his tenure as the third Vice President under Thomas Jefferson as for his duel with Alexander Hamilton and his trial and acquittal on charges of treason. In his trial Burr called Jefferson as a defense witness and the President refused to testify, citing for the first time in U.S. history the doctrine of executive privilege. Burr was acquitted. After a number of years in Europe, he eventually returned to the U.S. In the same year 1782, Burr, married Theodosia Bartow Prevost, the widow of a British army officer. Burr and his first wife were married for twelve years, when she passed away.

In 1833, he married again, this time to an ex-prostitute who was also the widow of Stephen Jumel and reportedly the richest woman in America. When she realized her fortune was dwindling from her husband's land speculation, they separated after only four months. During the month of their first anniversary, she sued for divorce which was granted the day he died: September 14, 1836 which would have been his 80th birthday. The grounds for the divorce were adultery - his.

William Rufus de Vane King, an alcoholic with tuberculosis, traveled to Cuba following his vice president election in 1852 for medical treatment. Unable to travel to Washington to be sworn in, he took the oath in Cuba, propped up by his aides. Within a month it was obvious that he was dying, so he returned to his Alabama plantation where he died after only six weeks as V.P. King, who was rumored to have had sex with male slaves on his plantation, favored outlandish styles in dress, including flowing scarves and powdered wigs Andrew Jackson, the archetypal macho man of the day, referred to King as "Miss Nancy".

While in Congress, King became an inseparable friend of James Buchanan, who was one day to become president. Rumors about relations beyond friendship between the two became rampant after they moved in together and shared a home for many years.



William King
Neither King nor Buchanan ever married; the latter had one serious heterosexual relationship and became engaged, but his fiancée committed suicide shortly before they were to wed and her family would not permit Buchanan to attend the funeral. Speculation has attributed the woman's suicide to the discovery of Buchanan's homosexuality. At one point Buchanan placed on deposit sealed papers which he said would explain the true reason for the breakup of the engagement. But after his death the executor of his will found a note in Buchanan's handwriting instructing him to burn the papers unopened, which was done.

Richard M. Johnson, V.P. under Martin Van Buren, not only took three slaves as wives over the years, and had sexual relations with several others of his slave women, but he also shocked the decent folk by treating his two daughters from his first common-law marriage as his own children rather than slaves. He gave both daughters large grants of land when they each married white men.

During his four years in office, Johnson broke seventeen tie votes, a record exceeded by only one of his vice-presidential successors.

When not presiding over the Senate, Johnson could regularly be found in Kentucky, operating the profitable hotel/tavern he owned there.

Johnson's erratic behavior - believing his slave mistress had been unfaithful, he sold her and married her sister - combined with his chronic financial problems added to President Martin Van Buren's political difficulties and contributed to the defeat of their ticket in the election of 1840.


ART MIRRORS LIFE
Political issues confusing you? Your brain whirling from all the hot air spin? Maybe what you need is some entertainment.

Have a problem with the separation of church and state and a woman's right to choose, including one of the most horrific decisions that would ever have to be faced - late term abortion? Watch the Warner Home Video; DVD of The Cardinal. Released in 1963, the film was directed by Otto Preminger. Written by Henry Morton Robinson and Robert Dozier.

The powerful movie starred Tom Tryon, Carol Lynley, Dorothy Gish, Maggie McNamara, Bill Hayes, Cameron Prud'Homme, Cecil Kellaway, Loring Smith, John Saxon, James Hickman, Berenice Gahm, John Huston, Jose Duvall, Peter MacLean, and Robert Morse.

For a goodly number of educated, hard working people it isn't a question of trying to live like you want to - it's a question of attempting to survive. Think every college graduate grabs their diploma with one hand and a six figure job contract with the other? Go see the Tony Award winning musical Ave Q.

Hard working stiff who never made it to college? You and a lot of other people. Nickel and Dimed - read the book, see the play.

Stem cell research got you in a quandary? Less than 1% of the American population has the resources to pay for the type of high end care that President Reagan received - the type of care that everyone would want and deserves.



Christopher Reeve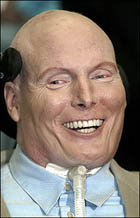 For most with debilitating conditions, they become a drain on both their family and society. They finally die after being first humiliated by the disease and then by the society that professes to protect and respect them.

Watch the Superman movies with Christopher Reeve and Family Ties in which Michael J. Fox played a politically conservative teenager.

In real life he's matured into a man who, instead of reading for sitcom parts, is dramatically pleading before Congress.

Want to know what the office of the President is all about, watch the amazing television series West Wing, see the movies All The President's Men, Dave, and The American President.

The final presidential debate - on domestic issues - takes place Wednesday. In many areas early voting begins this Saturday, October 16. Election day is November 2. Inform yourself and then vote.

UPDATED October 11: Christopher Reeve, 52, died October 10. He had fallen into a coma on Saturday. Reeve recently developed a pressure wound, a common complication for people living with paralysis.The wound became infected and Reeve went into cardiac arrest. The actor was paralyzed from the shoulders down after a he broke his neck in a riding accident in May 1995. He was thrown from his horse during an equestrian competition in Culpeper, Virginia. The accident turned him into a worldwide advocate for stem cell research.


TRIBECA THEATER FESTIVAL


Broadway may be the dream destination for actors and playwrights alike, but many of the most innovative works for the stage, not to mention the most celebrated actors, started downtown - Manhattan below 14th street.

The Tribeca Theater Festival, founded by Robert De Niro, Jane Rosenthal and Craig Hatkoff, in association with Drama Dept., and presented by American Express, runs Tuesday, October 19 - Sunday, October 31. The two-week Festival celebrates theater by supporting new voices and new work while furthering the organizers' mission for the economic and cultural revitalization of Lower Manhattan. Highlights of the Festival will include the presentation of The Downtown Plays, Stage On Screen programs, and theater panel discussions and play readings.

Nine plays, two hours. The flagship event of the inaugural Tribeca Theater Festival brings together New York's best playwrights, stage actors, and celebrity theatergoers for the an evening that's all about downtown. Written by Douglas Carter Beane, David Henry Hwang, Neil LaBute, Warren Leight, Kenneth Lonergan, Frank Pugliese, Paul Rudnick and Wendy Wasserstein. Tony Award-winning director John Rando will helm the production.

Ten actors will play various roles in the nine plays. The cast includes: Joel de la Fuente, Ross Gibby, Josh Hamilton, Jackie Hoffman, Peter Jacobson, Chris Messina, J. Smith-Cameron, Marilyn Torres, Maria Tucci, and Julie White.

Tribeca Cinemas will be the home for the first annual Stage on Screen screening series. The initial year of the series will focus on films that highlight the process and craft of making theater and classic plays adapted for the screen.

It was, after all, the theatrical actor - skilled in speaking - that saved Hollywood when silent films were replaced by the talking picture. During the 30's musicals were popular and dramatic actors who could neither carry a tune nor dance, were pushed into musical roles. Even Joan Crawford was required to stand by a piano and warble a song before busting loose in a tap dance.

Cary Grant, who did his own singing in Susie was surprisingly good.

Jimmy Stewart wasn't. Cast in the movie Born To Dance, movie moguls felt the popularity of Cole Porter's You'd Be So Easy To Love would more than compensate for Stewart's lack of singing ability.

When Clark Gable, backed by a line of chorus girls, sang and danced his way through Putting On The Ritz in the flick Idiot's Delight, he was corny but cute. However, his fans frankly did give a damn about their idol's image and were outraged at Gable being forced to wear a straw hat, carry a cane and hoof it around on stage.

Films being unspooled include; Waiting For Guffman, directed by Christopher Guest featuring special guest Bob Balaban; A Streetcar Named Desire, directed by Elia Kazan; All about Eve, directed by Joseph L. Mankiewicz, featuring special guests Charles Busch and Celeste Holm; Broadway: The Golden Age, By The Legends Who Were There, directed: by Rick McKay Featuring Rick McKay and other special guests.

A series of panel discussions on theater-related topics will take place during the Theater Festival. Panels will bring together playwrights, actors, designers, agents, critics and other theater professionals to discuss the state of contemporary theater throughout the country and around the world.

A spirited discussion is expected with The Downtown Plays contributor and writer of the upcoming Fat Pig on the art and craft of writing and directing plays and films.

The Lights Are Bright - Off Broadway is October 29th. Indie has a new name. It's called Off-Broadway. With shorter runs, originality and room to experiment Off-Broadway theatre is home to actors, directors and writers who crave the diversity of both theater and film.

Lit By Lightning; Tennessee Williams Today, takes place October 22. Director Michael Kahn, Ben Gazzara, Wendy Wasserstein, and others discuss the lasting influence of Tennessee Williams on the screen, stage, and printed page.

Tribeca Talks; Neil Labute is slated for October 25.


THE SHUBERT ORGANIZATION ANNOUNCES THE RENAMING OF TWO BROADWAY THEATRES


The Board of Directors of the Shubert Organization, Inc. announced today the renaming of two Broadway theatres. The Plymouth Theatre will become the Gerald Schoenfeld Theatre. The Royale Theatre will become the Bernard B. Jacobs Theatre. The Board took this action at a September 30 meeting to recognize the outstanding contributions to the company, the theatre community and the City of New York made by Schoenfeld and Jacobs.

Gerald Schoenfeld has been the Chairman of the Shubert Organization since 1972. Bernard B. Jacobs was President of the Shubert Organization from 1972 until his death in 1996. Current Shubert President Philip J. Smith will lead a dedication ceremony at an event in Shubert Alley in Spring 2005.

Board member John Kluge stated: "Jerry and Bernie came at a crucial moment in the history of the Shubert Organization. Not only did they reinvent the organization from a business standpoint, they also set a standard of excellence for the industry. They played leading roles in the renaissance of Times Square. Most significantly, they have used the resources of the company to nurture the artistic community of the theatre, contributing greatly to the vitality of Broadway."

Board member Michael I. Sovern added: "Throughout their years of inspired leadership -- of both the Shubert Organization and the Shubert Foundation -- these two gentlemen shaped and strengthened theatre in America. Their vision has enabled 'the fabulous invalid' and theatre companies all across our country to continue to offer live performances to millions of people. They deserve to have their names in lights."

The Shubert Organization has been at the forefront of the American Theatre since the start of the 20th century.

The Plymouth Theatre, to be renamed the Gerald Schoenfeld Theatre, was built in 1917. Its history includes such plays as What Price Glory? Pride and Prejudice, Abe Lincoln in Illinois, The Caine Mutiny, The Odd Couple, The Life and Adventures of Nicholas Nickleby, and Equus, featuring such players as John Barrymore, Laurette Taylor, Tallulah Bankhead, Mary Martin, Yul Brynner, Richard Burton, Henry Fonda and Claudette Colbert.

The Royale Theatre, to be renamed the Bernard B. Jacobs Theatre, was built in 1927. It's history includes such plays as Diamond Lil, The Magnificent Yankee, The Corn is Green, The Glass Menagerie, The Front Page, DuBarry Was a Lady and The Entertainer featuring such players as Mae West, Bert Lahr, Bette Davis, Ethel Merman, James Dean, Julie Andrews, John Gielgud and Laurence Olivier.

The Board members of the Shubert Organization are John Kluge, Gerald Schoenfeld, Lee J. Seidler, Philip J. Smith, Michael I. Sovern, Stuart Subotnick and Irving M. Wall.



DON RICKLES who stars October 14-17 at the Stardust Hotel, in Las Vegas, will e presented with the Entertainer of the Year Award by the Las Vegas Convention and Visitors Authority. Past recipients of the award include George Carlin and Rita Rudner. Rickles will receive the award during his opening night performance. The award is part of the annual Las Vegas Comedy Festival, which begins Wednesday evening with a media party at the Golden Nugget nd continues through Saturday..

During the Comedy Festival producer Bernie Brillstein will receive the Steve Allen Pioneer of Comedy Award. Producer George Schlatter will receive the Uncle Miltie Pioneer of TV Award, named in honor of the late Milton Berle. Ed McMahon will be presented with the Bob Hope Humanitarian Lifetime of Service Award. Although he is too ill to attend the ceremony, Sid Caesar will receive the first Caesar Award, so named in his honor.


WHO IS?


If he could be anything other than what he is, he'd be a musician.

He started college on a football scholarship and once worked as bouncer. He also played a yellow M&M in a candy commercial. He enjoys cooking and has a great hash brown potato recipe. He also likes fried pickle chips.

Answer at bottom.



Broadway To Vegas is supported through advertising and donations. Priority consideration is given to interview suggestions, news, press releases, etc from paid supporters. However, no paid supporters control, alter, edit, or in any way manipulate the content of this site. Your donation is appreciated. We accept PAYPAL. Thank you for your interest.


SPREADING THE WORD


THE HAPPIEST CORPSE I'VE EVER SEEN The Last Twenty-Five Years of the Broadway Musical by Ethan Mordden who is the author of several books on the Broadway musical, including One More Kiss: The Broadway Musical in the 1970's. Having lived in New York during the Golden Age of the Broadway musical he is a walking, breathing reference work on the subject.

According to Mordden, on the closing night of the hit musical 42nd St., the era and art form of the Broadway musical ended. Big orchestras, real voices, recognizable books and intelligent lyrics went out the window in favor of cats, helicopters, yodeling Frenchman, and the roof of the Paris Opera. From the long-running Cats to Miss Saigon, Phantom, and Les Miserables to gems like The Producers, he is unsparing in his look at the remains of the day.

Not content to just spank the shows' creators, Mordden takes on the critics too, splaying their bodies across the Great White Way like Sweeney Todd giving a close shave.

Now, in The Happiest Corpse I've Ever Seen: The Last Twenty-Five Years of the Broadway Musical which is released by Palgrave Macmillan on Oct 15, Mordden will discuss the aftermath of those golden days in this gimlet-eyed look at the last gasp of the medium.

October 14 at The Makor in New York City.

NEW YORK FRIARS CLUB roasts Donald "Your Friar'd!" Trump at the Hilton Hotel in Manhattan. Regis Philbin hosts. 1,700 tickets have already been sold making it the biggest roast in 25 years. Friday, October 15.

AN EVENING WITH CAROL CHANNING a woman who has been in show business for about 60 years. Her appearance at the intimate Pantages Theatre is a conversation about those years. They were among the best in musical theater. October 16 at the Pantages Theatre in Minneapolis.

BILL MOYERS INTERVIEWED BY PONCHITTA PIERCE In 1986 Bill Moyers established Public Affairs Television, which has produced more than 200 hours of programming, including the weekly program NOW with Bill Moyers. A recipient of more than 30 Emmys, he was elected a Fellow of the American Academy of Arts and Sciences. He talks with Ponchitta Pierce, a journalist with extensive experience as a television host and producer, whose latest interviews appear in the book My Soul Looks Back in Wonder: Voices of the Civil Rights Experience. This event will be held Tuesday, October 12 at the Kaye Playhouse at Hunter College, Manhattan.

EVERYTHING OLD IS NEW AGAIN hosted by David Kenney will feature an in studio interview with Cy Coleman. Sunday, October 10th Sunday 9-11 PM (ET-USA) over WBAI 99.5 FM.

TROLLING FOR GHOSTS it isn't yet Halloween but that isn't stopping the Learning Annex in Manhattan from ghost hunting. On Saturday, October 16 you can take a walking tour of the eerie, infamous and macabre of Greenwich Village history. Visit the sinister cemetery at St. Mark's Church and be captivated by the chilling lore behind such legendary landmarks as: Edgar Alan Poe's home, The "hanging elm," a 19th century public execution site, The Old Village burial ground, and several more ghostly sites.

And then, if you dare, enter the inner sanctum of The Merchants House Museum - haunted hotspot and New York's only Victorian family home preserved intact. Participants will hear tales of its ghostly history while enjoying light refreshment.

VOICES OF THE ARTS MARILYN HORNE The John F. Kennedy Center for the Performing Arts is inaugurating a new series of one-on-one conversations hosted by the Center's President, Michael Kaiser, and featuring artists who have reached pinnacles of achievement throughout their distinguished careers.

In the premiere of this new series, Kennedy Center President Michael Kaiser hosts a one-on-one discussion with opera star and Kennedy Center Honoree Marilyn Horne, exploring the choices she has made in her career, her techniques and training, and her contributions to the arts. Without question one of the great artists of our century, Marilyn Horne, who has been called the greatest singer in the world, has conquered virtually every major opera house in every role of her repertoire, bringing to all of them a vibrant sensitivity, beauty, and sheer magnetism.

This series has been created to provide an opportunity to learn directly from the artists their thoughts about their careers, the entertainment business, the arts in American society, and other pertinent topics.

October 18 at the Terrace Theater, Kennedy Center for the Performing Arts in Washington, D.C.


SWEET CHARITY


WESTPORT COUNTRY PLAYHOUSE CAMPAIGN FOR A NEW ERA

Benefit committee co-chairs with Paul Newman and Joanne Woodward: (l-r) Bob Wright, Suzanne Wright, Joanne Woodward, Laurie Lister, Judd Burstein, Paul Newman. Photo by Kathleen O'Rourke.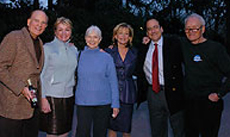 with special guests Butch Cassidy & the Sundance Kid's Paul Newman & Robert Redford, Harry Connick, Jr. and his orchestra, NBC's Brian Williams, and more. Thursday, October 14, at the Hyatt Regency Greenwich in Greenwich, Connecticut. Co-Chairs are Suzanne & Bob Wright, Laurie Lister & Judd Burstein while Eve & Harvey Weinstein serve as Corporate Chairs.

Directed by Joanne Woodward, the mission of the Westport Country Playhouse is to produce the finest professional summer theatre, to serve as a year-round center for superb performing and cultural arts, and to enrich a diverse community of artists, audiences and students.

Since its founding in 1931 by producer Lawrence Langner and his wife, Armina Marshall, the Playhouse has greatly influenced the landscape of American theatre. Many of its 700-plus productions have found their way to the Broadway stage following their premiere at the Playhouse including its very first production in 1931 of The Streets of New York as well as 2002's Our Town featuring Paul Newman.

ONE NIGHT WITH ROD STEWART will play a special gala concert in aid of the youth charity The Prince's Trust on Wednesday, October 13.

Rod will be accompanied by the BBC 60-piece concert orchestra, his own band plus backing singers. This special concert will be produced and recorded as part of the acclaimed One Night With series and will be transmitted on BBC One later in the year.

This is Rod's first concert in the UK for over two years and his only UK date this year.

The event will raise vital funds for youth charity, The Prince's Trust, which exists to help young people to overcome their barriers and get their lives working. Through practical support including training, mentoring and financial assistance, it helps 14-30 year olds to realize their potential and transform their lives. The Trust focuses its efforts on young people who have struggled at school, have been in care, are long-term unemployed or have been in trouble with the law. Since the charity was founded by Prince Charles in 1976, it has helped nearly half a million young people.

BALLET GALA CELEBRATES PEACE ACCORD Prince Charles joined Madame Bernadette Chirac for a special ballet gala in Paris to celebrate 100 years of the Entente Cordiale, an accord signed on April 8th 1904 by Foreign Secretary Lord Lansdowne and the French Ambassador Paul Cambon. The purpose was to settle colonial differences which had divided Great Britain and France.

His Royal Highness and the wife of the French President Jacques Chirac attended a unique collaborative performance by the Royal Ballet, of which The Prince is Patron, and the l'Opera National de Paris.

On what was believed to be the first time the two leading companies had collaborated, ballet dancers from England and France performed together at the grand Opera Garnier in the heart of France's capital city.

The Opera Garnier was built for Napoleon III in the 19th century and has a tiny underground collection of water beneath it - which was the fictional hiding place of the Phantom of the Opera in Leroux's famous play.

After the show, The Prince met the cast backstage, including British ballet star Darcy Bussell. Royal Ballet dancer Jonathan Cope, who performed in an excerpt from Cinderella, also chatted with The Prince after the show.

He said: "I was surprised. He actually has a good technical knowledge. He seemed to know a lot about the program."

THE NEW JERSEY LESBIAN AND GAY COALITION HONOR 2004 AWARDS DINNER recognizes and celebrates the achievements of individuals working with the gay/lesbian/bisexual/transgendered/intersexed communities in New Jersey.

Richard Skipper as Carol Channing will be hosting the evening.

At the Somerset Mariott Hotel on October 16.

HOOTIE AND THE BLOWFISH LEAD SINGER DARIUS RUCKER plays host to an evening of Frank Sinatra classics performed with his big band in a special performance benefits the Carson Scholars Fund, honoring the work of world-renowned Johns Hopkins pediatric neurosurgeon Dr. Ben Carson.

The Carson Scholars Fund was founded in 1994 by Dr. Carson and his wife, Candy. This non-profit organization was created for a number of reasons: to help children stay competitive with Third-World countries in science, math, and technology, as well as balance academic achievement with the high esteem our society gives to sports and entertainment. The benefit takes place at the Lyric Opera House in Baltimore, Maryland on Saturday, October 16.

A NEW CABARET with a performance by Las Vegas resident Celine Dion to benefit New York-Presbyterian Hospital/Weill Cornell Medical Center. The Event Co-Chairs are Charlotte Ford, Lisa and Richard Perry, Stacy and Zev Rosenwaks, M.D. A reception precedes the Dion performance which is followed by dinner and dancing with DJ Tom Finn. October 14 at Pier 60, Chelsea Piers in NYC. Individual tickets were priced at: $1,000-$10,000. With over 900 purchasing tickets, the event is sold out.



WHOOPI the 20th anniversary production of her eponymous Broadway show which launched her extraordinary career in October of 1984, opens a one-week engagement in Philadelphia at the Merriam Theatre beginning October 13.

Whoopi Goldberg will return to Broadway in Whoopi at the Lyceum Theatre, with performances beginning Saturday evening November 6. The official opening night is Wednesday, November 17, running through January 30, 2005.

Whoopi is presented by Mike Nichols, Tom Leonardis, Hal Luftig, Leonard Soloway and Steven M. Levy. Since her auspicious 1984 debut on Broadway, Whoopi Goldberg has achieved success in every facet of the entertainment world. Her work has brought her an Academy Award, for Ghost (1991), two Golden Globe Awards, for The Color Purple (1985) and Ghost (1991), an Emmy Award as host of AMC's Beyond Tara: The Extraordinary Life of Hattie McDaniel (2002) and a Tony Award as Producer of Thoroughly Modern Millie (2002).

THE BAY AT NICE an American Premiere of this play by David Hare. Directed by Michael Wilson. Featuring Oscar-winner Estelle Parsons.

Russia's famed Hermitage museum is bequeathed a mysterious painting believed to be the work of Matisse. Unable to authenticate the pedigree of the artwork, the curator calls in Valentina Nrovka, a harsh woman who studied with the French master during her youth.

While at the museum, Valentina's daughter Sophia makes a surprise revelation. The discussion that ensues pits freedom against duty, French bohemia against Communist control, and a mother's strong will against a daughter's desire to assert herself.

October 14 – November 14 at Hartford Stages in Hartford, Conn.

PETER PAN staring Cathy Rigby in her farewell performance as the boy who refuses to grow up takes flight in the 100th Anniversary of the immortal classic.

This timeless musical masterpiece is complete with evil Captain Hook, a crafty crocodile and the enchantment of Never Never Land, will touch, inspire, dazzle and charm every generation.

This is the first stop on the pre-Broadway national tour. Opening night, Tuesday, October 12 at the Civic Theatre in San Diego, CA. Performances through October 17.

THE FOREIGNER by Larry Shue starring Matthew Broderick and Frances Sternhagen. Directed by Scott Schwatz.

Acclaimed film and stage star Matthew Broderick returns to the New York stage to star as the title character, Charlie Baker, in Larry Shue's comedy The Foreigner after recently completing a heralded and record-breaking return engagement in Mel Brook's Tony Award winning The Producers, for which he received his third Tony nomination. Broderick received Tony Awards for his performances in How To Succeed in Business Without Really Trying! and Neil Simon's Brighton Beach Memoirs. Broderick will star in the much anticipated film version of Mel Brook's The Producers opposite Nathan Lane and Nicole Kidman in 2005.

The Foreigner also features Frances Sternhagen who has been nominated seven times for a Tony Award, she has received it twice, for The Good Doctor and The Heiress.

The Foreigner tells the uproariously farcical tale of a lovable but socially inept Brit who escapes his stressful life by booking a holiday in backwoods U.S.A. He desperately tries to avoid the local yokels by posing as a foreigner who doesn't understand a word of English. But the plan hilariously backfires when he becomes the perfect person with whom all share their deepest secrets and schemes.

Performances at The Laura Pels Theatre in NYC begin October 16.

9 PARTS OF DESIRE written and performed by newcomer Heather Raffo. A portrait of the extraordinary - and ordinary - lives of a whole cross-section of Iraqi women, this solo work lifts the veil on exactly what it means to be a woman in the age-old war zone that is Iraq.

An unbelievably timely meditation on the oppression of women in a country overshadowed by war, 9 Parts of Desire was selected last season by The Times as First Choice/One of the Best Plays in London, and by The Independent as one of the Five Best Plays in December 2003. Directed by Joanna Settle, 9 Parts of Desire is a play that has been called one that simply cannot be missed.

Set design by Antje Ellerman, costume design by Mattie Ullrich, lighting design by Peter West, and original music and sound by Obadiah Eaves.

Presented by New York City's Manhattan Ensemble Theater. The official opening took place Saturday, October 9.

FORBIDDEN CHRISTMAS OR THE DOCTOR AND THE PATIENT written and directed by Rezo Gabriadze, starring Mikhail Baryshnikov, Jon DeVries, Luis Perez, Pilar Witherspoon and Yvonne Woods.

Internationally acclaimed writer, director, and visual artist Rezo Gabriadze's newest original play makes its Connecticut debut at The Bushnell. Forbidden Christmas or The Doctor and the Patient, set in a remote Soviet Georgian town during the early 50s, tells the story of a doctor and a patient and the perilous and emotional journey they undertake one stormy Christmas Eve.

Part absurdist-drama, part fantasy-allegory, the play addresses loss, madness, self discovery, and love with poignancy and humor. Produced by Baryshnikov Dance Foundation and David Eden Productions, Ltd. October 13-17 at the Belding Theater in Hartford, Conn.

A VERY MERRY UNAUTHORIZED CHILDREN'S SCIENTOLOGY PAGEANT the boldly audacious, Obie Award-winning musical, with book, music and lyrics by Kyle Jarrow from a concept by Alex Timbers, is set to open October 15 at The Powerhouse Theatre in Santa Monica, CA.

Ten elementary and middle-school children, ages 8-to-13, have been cast to play the likes of L. Ron Hubbard, Tom Cruise, John Travolta, and Kirstie Alley.

The blithely iconoclastic Pageant explains and dissects the actual teachings of the Church of Scientology, using children to tell - and sing - the story of Supreme Leader L. Ron Hubbard's meteoric rise from struggling science fiction writer to head of a new-age, multimillion dollar, religious empire.

SAY GOODNIGHT, GRACIE starring comic actor Jamie Farr of M*A*S*H fame as George Burns.

This Tony-nominated show is a touching tribute to a legendary couple. We discover George in limbo between this life and the next, unable to join his beloved wife and partner Gracie Allen until he gives the Command Performance of his lifetime – for God!

As George looks back upon his youth, the day he met Gracie, their rise to the pinnacles of vaudeville, movies, radio and television, and his career after she was gone, his story becomes a personal guided tour through an American century of entertainment history.

October 14 - 16 in the Juanita K. Hammons Hall for the Performing Arts at Southwest Missouri State University.

THE FULL MONTY takes to the stage October 15-16 at State Theatre in New Brunswick, NY.

DREAM Conceived by Jack Wrangler. Lyrics by Johnny Mercer.

Florida Rep's long awaited Johnny Mercer musical takes audiences on a journey from Savannah to Hollywood and back again. This 1997 Broadway musical originally starring legendary chanteuse Margaret Whiting, gets a first-class reworking for the regional theatre circuit, right here at Florida Rep. With Whiting's blessing, and under her husband Jack Wrangler's direction, Southwest Florida audiences won't want to miss this Tony Award winning Johnny Mercer tribute, featuring such classics as Moon River, That Old Black Magic, Come Rain or Come Shine, and many, many, more. A National Regional Theatre Premiere.

October 15 – November 7 at Florida Rep in Fort Myers, Florida.

VOICES IN THE DARK This mystery thriller by John Pielmeier, author of the play and film Agnes of God, concerns Lil, a successful radio talk-show psychologist, who is facing both personal and professional crises. A weekend escape to her husband's secluded Adirondacks cabin is in order, but a series of ominous phone calls, beginning on her radio show, threatens her idyllic getaway. Soon, Lil faces her greatest challenge ever – staying alive.

October 15 - November 6 at Center Stage Carpenter Square Theatre in Oklahoma City.

HURLYBURLY by David Rabe. This stunning comic drama of life in the Hollywood hills in the mid 1980s is a powerfully written and dazzling chronicle of post-Vietnam War American life as pieced together from the shattered beliefs of these fascinating and disturbing characters.

The play is publicized as promising to "horrify and at the same time intrigue. It is a glittering entertainment, full of wit and blistering humor."

October 13-24 at The Brooks Theatre in Cleveland, Ohio.

RECKLESS which co-stars Mary-Louise Parker and Rosie Perez, director Mark Brokaw, is scheduled to open at the Biltmore in NYC on Oct. 14. Parker plays a woman on the run from a murderous husband

42nd STREET welcomes Blair Rose to the cast as Dorothy Brock. She begins performances at the Ford Center on August 10, two days after Shirley Jones departs. Patrick Cassidy will continue to star as Julian Marsh. Other performers include; Nadine Isenegger as Peggy Sawyer, Patti Mariano as Maggie Jones, Frank Root as Bert Barry, David Elder as Billy Lawlor, Chris Clay as Andy Lee, Alana Salvatore as Anytime Annie, Richard Pruitt as Abner Dillon, Michael Dantuono as Pat Denning, Steve Luker as Mac and Greg Beck as Oscar, the on-stage pianist.

OVER THE TAVERNDEAR MAUDIE a play in correspondence about pimples, peer pressure, parents and friendship, written by Michele Willens, will have its New York City premiere at The Triad.

Dear Maudie follows four years in the lives of two New York City schoolgirls through their letters and e-mails, touching on everything from their crushes on Brad Pitt to their feelings about 9/11.

Author Michele Willens is the writer who coined the term "tween". This effort was inspired by Willens' own friendship with a girl named Maudie that ended when a clique split them apart. They did not talk until 30 years later when Willens wrote a Good Housekeeping article about her high school reunion where she hoped to see Maudie again. Maudie read the piece, got in touch, and the two have reunited. Willens' own teenage daughter has kept the play contemporary.

Under the direction of Jamibeth Margolis the cast of nine will be headed by Lily Corvo and Deondra Lyonne. Dear Maudie is recommended for ages 10 - 16. It runs one hour. NYC premiere at The Triad, Sundays OCT. 17, 24, & 31.

FALSTAFF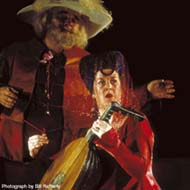 by Verdi. Text by Boiti from Shakespeare. At the center of this most ebullient of ensemble operas stands the inimitable Falstaff – the very essence of conviviality. Whilst you may well be familiar with Shakespeare's tale of the merry wives of Windsor and their scheme to expose their suitor, you'll find that the character of Sir John Falstaff – the original fat knight – takes on an even more vital dimension in Verdi's final opera. With its score of mercurial invention, overflowing with vivacious wit and revelry, Falstaff overwhelms you with its life-enhancing insights into the human condition.

Sir John Falstaff is played by Alan Opie. Ford by Ashley Holland. Alice Ford by Susannah Glanville. Mistress Quickly portrayed by Rebecca de Pont Davies. Nannetta performed by Gillian Keith. Fenton Colin Lee Alasdair Elliott plays Bardolph. Meg Page is performed by Jean Rigby. Pistol plated by Graeme Danby. Andrew Rees is Dr. Caius.

Conductor; Mark Wigglesworth Martin Fitzpatrick. Original Director, Matthew Warchus; Revival directed by Ian Rutherford Designer is Laura Hopkins. Lighting Design by Peter Mumford. Lighting revived by Jenny Cane. Choreographer is Jonathan Lunn. Illusions by Paul Kieve. English Translation by Amanda Holden.

Presented by the England National Opera. Sign language interpreted performance: November 4. Performances October 15, 21, 23, 28, 30, and November 4, 11, and 19 at the London Coliseum in London, England..


| | | |
| --- | --- | --- |
| | | |
WHO'S WHERE


ED BEGLEY, JR appears on the new WB hit television series Jack & Bobby. He brings his dry wit and insightful performance, in a re-occurring guest star role, as the Reverend Belknap, the father of a young girl that Jack is dating.

GLORIA ESTEFAN AND BARRY MANILOW entertains Thursday, October 14 at the Mellon Arena in Pittsburgh. On Saturday the performance is at the Nationwide Arena in Columbia, Ohio.

BIG BAD VOODOO DADDY at Harrah's Casino- St. Louis in Maryland Heights, MO on Thursday, October 14.

CY COLEMAN has taken his tremendous talent to Feinstein's at the Regency in Manhattan for performances through October 23.

JERRY SEINFELD telling funny stories October 16 at the Northrup Auditorium in Minneapolis.

HEART Ann and Nancy Wilson's tour behind Hearts' newest release Jupiter's Darling. Heart's first studio album in 10 years. State Theatre in Minneapolis on August 14.

TONY BENNETT in a two nighter Thursday, October 14-15 at Roy Thompson Hall in Toronto. On Saturday he can be enjoyed at the Fox Theatre in St. Louis, MO.

PAT BENATAR performs Oct. 17 at Buffalo Bill's in Primm, Nev.

DOLLY PARTON brings her delightful personality and talent to the Bi-Lo Center in Greenville, SC for a show Thursday, October 14. On Friday she is center stage at the Fox Theatre in Atlanta and on Saturday she begins a two night stand at Grand Casino in Biloxi, Mississippi.

LEROY TROY AND THE TENNESSEE MAFIA JUG BAND will light up the stage of the Cumberland Country Playhouse October 16. Considered one of the Top 5 Banjo Pickers in the World Trop made a name for himself by focusing on the old-time clawhammer style of playing the banjo made famous Uncle Dave Macon. and Grandpa Jones of Grand Ole Opry fame. The Tennessee Mafia Jug Band is actually made up of excellent Nashville studio musicians - Mike Armistead, Lester Armistead, Matthew Combs, Dave Ferguson, and Troy Boswell - who enjoy throwing in the sound of homemade instruments when it suits them among the easy professional sound of their regular instruments. October 16 at the Cumberland Country Playhouse in Crossville, TN:

MICHAEL CERVERIS Singer/songwriter and recent Tony Award winner for his role in Stephen Sondheim's Assassins, Cerveris' career straddles the disparate worlds of theatre and indie rock. He takes a detour from Broadway performance to focus on material from his solo debut album, Dog Eared, which features his versatile hook-filled songwriting, and collaborations with members of Sleater-Kinney, Laura Cantrell and the Posies' Ken Stringfellow, among others. Cerveris originated the title role in the Broadway hit Tommy and in the late 90s, starred in the smash cult hit Hedwig and the Angry Inch in London, New York and Los Angeles. Wednesday, October 13 at the Makor in NYC.

ELTON JOHN returns to Caesars Palace in Las Vegas for a Oct. 12-31 engagement.

AIR SUPPLY The originals - Graham Russell and Russell Hitchcock - perform their hits October 17 at the Newberry Opera House in Newberry, S.C.

JUAN GABRIEL performs Saturday, October 16, at the Arena at Gwinnett Center in Duluth, GA. Next Sunday he's in the spotlight at the America Airlines Center in Dallas, Texas.

REBECCA SPENCER will debut with the New Haven Symphony in a pops concert is entitled Invasion of the British Musical. Rebecca will be featured in nine songs ranging from Purcell to Coward, Gilbert and Sullivan to Porter, and Britten to Lloyd Weber. The evening is conducted by Gerald Steichen. October 15th and 17th at the Schubert Theatre in New Haven.

GLEN YARBROUGH AND THE KINGSTON TRIO bringing back the coffee house sounds Oct 15 at the Casablanca in Mesquite, NV.

ANDREA BOCELLI brings his talent to Mandalay Bay Events Center in Las Vegas on October 13.


FINAL OVATION

WALLY HARPER noted Broadway pianist, arranger, composer who became a household name as musical director for Barbara Cook, passed away October 8 in Manhattan. The New England Conservatory and Juilliard graduate was 62.

HILDY PARKS actress and producer, 78, died at the Actors' Fund Home in New Jersey. For 20 years the Emmy award winning writer co-produced the Tony Awards with her husband Alex Cohen. The private memorial was held October 10.


PIFFLE AND PROFUNDITIES


WHO IS? John Goodman.
















Next Column: October 17, 2004
Copyright: October 10, 2004. All Rights Reserved. Reviews, Interviews, Commentary, Photographs or Graphics from any Broadway To Vegas (TM) columns may not be published, broadcast, rewritten, utilized as leads, or used in any manner without permission, compensation and/or credit.
Link to Main Page
---
Laura Deni


CLICK HERE FOR COMMENT SECTION