! >
Broadway To Vegas
 
 SHOW REVIEWS     CELEBRITY INTERVIEWS     GOSSIP     NEWS 
| | |
| --- | --- |
| | |
Copyright: October 10, 1999
By: Laura Deni
CLICK HERE FOR COMMENT SECTION

MARILYN MONROE; PEACH FUZZ & BUTTONS


MARILYN MONROE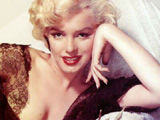 She was a screen goddess who was a victim of spousal abuse. She had a beard and stuffed her bra so her nipples would stick out.

Those fascinating facts and many others are divulged by Gene London, the New York based curator and Monroe historian, employed by Mikimoto Jewelers to take the Monroe collection on a worldwide tour.

He traveled to Las Vegas with the exhibit for a three-day display at the Venetian Hotel.

"She always wore a bra to bed because she didn't want her breasts to sag. She was obsessed with Jean Harlow. When she learned that Jean put ice on her breasts to make them stand up, Marilyn tried that, but the only thing that happened was that her breasts turned blue. So, Marilyn took to placing marbles in her bras or she'd take three buttons - making sure that they matched her (nipple) size - and sew the buttons together and place those inside her dress."



GENE LONDON over his left shoulder is the outfit from Bus Stop. Photo By: Laura Deni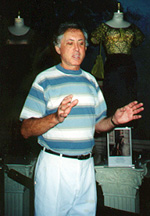 "It became ironic but the day she married Joe DiMaggio she told him that if she should die first she wanted him to put roses on her grave every week the way Clark Gable did for Harlow. That's why DiMaggio started doing that."

"She had the heaviest peach fuzz beard of any actress in Hollywood," disclosed Londen showing a rare pictures of the hairy chinned Monroe. "They wanted to remove the facial hair, but Marilyn absolutely refused. She said that when the light hit the fuzz it caused her face to have a soft glow, so they didn't have to photograph her though special lenses, lace, or Vaseline the way they did with so many stars."



THE RED DRESS from Gentleman Prefer Blondes Jane Russell was upset that she would wear the same outfit as Monroe and have to stand next to the blonde actress who had a better figure. Photo By: Laura Deni

He pointed to an outfit worn by Marilyn in Bus Stop, the 1956 picture which was her most ethereal, heart-stopping role.

If Marilyn copied Harlow others wanted to copy her. "Everyone wanted to wear Marilyn's costumes. Susan Hayward wore that Bus Stop outfit in I Want To Live and Madonna donned it for her video."

"Marilyn only wore classic clothes," stressed London. "You could take any dress she ever wore and today put it in any of the expensive shops in this mall and it would look right in style. Her clothes were timeless. They were also well made. The hems were even weighted so that they would hang in a way to show off her figure."



TIMELESS CREATION Photo By: Laura Deni

"The reason she didn't wear panties is because of the way the clothes were cut. I knew Joan Crawford very well and she never wore panties, either. None of the stars did. They couldn't. The clothes were cut on a bias and were tight. They couldn't hide the panty line, so the women had to be naked from the waist down."

It was a dress in which she actually wore not one pair of panties - but two - that resulted in her being beaten black and blue. The dress was the famous white pleated number from The Seven Year Itch.

"When she did the famous scene in The Seven Year Itch where the dress was blowing up - that scene was shot at midnight on the streets of New York," explained London. "Some lucky guy with a hose had the job of making her dress go up. Marilyn was married to Joe DiMaggio who couldn't stand the thought of Marilyn doing any sexy scenes."

"They were staying at the Waldorf Astoria and Marilyn made Joe promise that he'd stay in the hotel room and not come watch the scene being shot. When they began to shoot the scene and her dress billowed up, because of the lighting, you could see through Marilyn's panties and see her ring of fire. Well, they couldn't have that."



CAUSED A BEATING Photo By: Laura Deni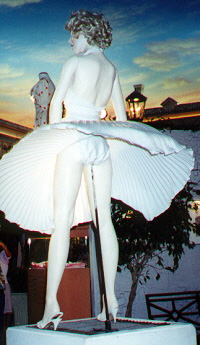 "So they got a secretary and asked to borrow her panties," continued the historian. They took off Marilyn's panties, had Marilyn put on the secretary's panties and then her own panties that went with the dress over those. You could still see through the fabric and see Marilyn's ring of fire."

"The crowd was enjoying every minute of it and every time the dress blew up the crowd would yell - Higher, higher!"

"Walter Winchell was on the set and he ran to the hotel and got DiMaggio and insisted that DiMaggio come to the set. Four blocks away DiMaggio could hear the crowd yelling - Higher, higher!"

"When he got there and saw the scene his jaw dropped and he turned to stone. He went back to the hotel room and waited for Marilyn. When she came into the room she said - You should have been there to see the crowd!"

"DiMaggio coldly replied - I was."

"And then he beat her up. She was black and blue all over. From behind closed doors people said they could hear her screaming."

Nobody came to help.

The marriage ended.



WEDDING PEARLS Photo By: Laura Deni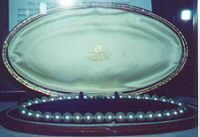 The marriage had begun with a honeymoon to Japan where Japanese cultured pearl magnate Mikimoto gave DiMaggio a AAA grade, 44 silver-white pearl necklace to give to his bride. It was the only expensive piece of jewelry she ever owned. She gave the necklace to her acting coach and friend Lee Strassberg. His daughter, Susan, inherited the pearls. Mikimoto bought back the pearls from the Strassberg estate.

"Even though Marilyn and DiMaggio divorced they stayed friends and lovers," related London. "She said he was the best lover she ever had and she continued to get in bed with him right up until her death."

A by invitation only preview of Marilyn's wardrobe, to be auctioned by Christie's, will take place Oct. 25 in New York City. Christie's International chairman Lord Hindlip will host the private viewing.


PRESLEY AUCTION


The auction of pack-rat Elvis Presley's castoffs looked like a cross between the fabulous ABC Carpet and Home Store in NYC and a junkyard.



ELVIS PRESLEY the guy never threw anything away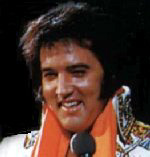 The event, which began last Friday and ended today, drew people from around the world to high end bid on 2,000 items, apparently enabling them to perpetuate a memory built on fantasy.

The auction was divided into three section. On Friday the items associated with Presley's youthful skinny period went on the block. On Saturday the memorabilia came from his karate chop, top of the charts era and today the glitz, gems and garbage reflect his too many bacon sandwiches and too many pills period.

While Presley's long time road manager Joe Esposito did attend, most bidders had never met their idol. Many were Elvis impersonators.

His 6th grade report card sold at $6,000 and his draft card had a winning bid of $22,500. Presley's billiard balls went for $7,500, his old football helmet $10,000, power of attorney papers $4,250.

A television set receipt fetched $650. Somebody coughed up $16,000 for The King of Roll's Are You Lonesome Tonight? gold record. Presley's white 1956 Lincoln Continental was gaveled down at $250,000 and a Texaco credit card went for $11,000. An old screen door had a winning bid of $14,000.

Some people just have too much money. Even more have bad taste.

At least the majority of the proceeds are earmarked for a good cause. It is planned that a facility will be built in Memphis to offer temporary housing and career training for homeless families.


WONDERFUL TOWN


Lucie Arnaz, daughter of the late Lucille Ball and Desi Arnaz, has undertaken the daunting effort of trying to launch a Broadway bound revival of Wonderful Town.

Currently in California, the production spends three weekends in the San Gabriel Civic Auditorium, and then transfers to the Alex Theatre in Glendale, for another weekend. Broadway producers as well as Betty Comden have been in or are expected to check out this production in hopes of getting the backing to transfer it to Broadway.

The delightful musical has a book by Joseph Fields and Jerome Chodorov with music by Leonard Bernstein, lyrics by Betty Comden and Adolph Green. In 1940 Fields and Chodorov adapted autobiographical stories that Ruth McKenney had written in the 30s, which were published in The New Yorker. That was turned into a successful Broadway comedy My Sister Eileen, which starred Shirley Booth.

The plot centered around Ruth and Eileen Sherwood, two sisters from Ohio who move to New York. The play was made into a film, also called My Sister Eileen, starring Rosalind Russell and Janet Blair.



CAST ALBUM FROM FILM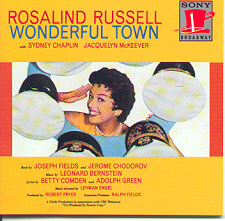 LUCIE ARNAZ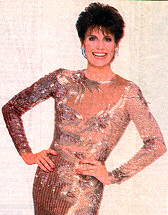 In the 1980's In 1979 Arnaz made her Broadway debut in the Neil Simon show They're Playing Our Song, for which she won several awards. She also appeared with Tommy Tune in My One and Only, and did the national tour of Who's Life Is It Anyway? and Social Security, the latter with her husband, Laurence Luckinbill. She returned to Broadway replacing Mercedes Ruehl in Lost In Yonkers, also a Simon creation.

A close friend of Simon, her first child was named after the prolific playwright.

Lucie developed a nightclub act which she performed at Caesars Palace at Lake Tahoe and the Hilton Hotel in Las Vegas.

This revival of Wonderful Town co-stars Cliff Bemis opposite Arnaz and Kate Dawson plays Eileen. Don Amendolia directs. The production features standards It's Love, A Quiet Girl, the funny What A Waste and Pass The Football which proves nothing has changed in the college athletic departments since the song was written.


A TOAST TO LENA HORNE
LENA HORNE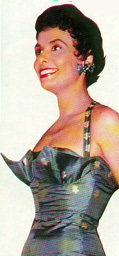 Gregory Peck, Barbara Sinatra, Cicely Tyson and Lauren Bacall will toast Lena Horne at Avery Fisher Hall on Oct. 18 in a benefit for the Citizens Committee for New York City.

The gala also launches the first annual Lena Horne Youth Leadership Program, in which 10 New Yorkers will receive $10,000 scholarships for their community service.

After establishing herself as one of the most exciting nightclub singers of all time, the sultry Horne, born in Brooklyn, became the first black actress signed to a Hollywood studio contract.

However, for years she was relegated to small musical appearances that were cut for showing in the South; an exception was her part in the all-black 1943 film Cabin in the Sky.

Her friendship with Paul Robeson got the singer blacklisted. After a 20-year absence she returned to the screen in a dramatic role in the 1969 movie Death of a Gunfighter.



Broadway To Vegas is supported through advertising and donations. Priority consideration is given to interview suggestions, news, press releases, etc from paid supporters. However, no paid supporters control, alter, edit, or in any way manipulate the content of this site. Your donation is appreciated. We accept PAYPAL. Thank you for your interest.


SUSAN LUCCI SINGS AGAIN

When Susan Lucci takes the stage replacing Bernadette Peters in Annie Get Your Gun it won't be the first time the lady has warbled a tune - although it has been a while. Ten years ago Susan did a concert version of One Touch of Venus. She hasn't sung a note since.



SUSAN LUCCI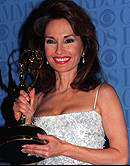 Encouraged by her friend Rosie O'Donnell who even gave her a karaoke machine - which Lucci deposed of by giving to charity - the soap siren made a New Year's resolution to get back into singing.

Bolstered by John McVee, who serves as Lucci's rehearsal pianist and has the day job of O'Donnell's musical director and side kick, Lucci is learning to overcome her vocal reticence.

Her fans don't care if she can't carry a tune in a bucket. The minute McVee broke the news on the O'Donnell talk show that it was Lucci who would substitute for Peters while the talented lady took a well-deserved vacation, box office lines lit up from customers eager to buy tickets in what is traditionally a slow period.

Lucci admits that singing isn't "doing what comes naturally" for her and that she's "so scared." Lucci's turn on board begins Dec. 23- Jan 16.


TALENT SEARCH PROMOTES BROADWAY

Kids Night On Broadway, returning to New York and 20 cities across the country, will be preceded by a talent search and Kids Fan Fare.

The unique project affords tens of thousands of children ages 6-18 the magic of live theatre with free tickets to Broadway shows and touring company productions, when accompanied by an adult purchasing a full priced ticket.

The next major star may be discovered during the Rising Stars Live Broadway Talent Contest, Oct. 17, which kicks off the first day of ticket sales to Kids Night On Broadway.

The talent event will take place at the Broadway Ticket Center located at the Times Square Visitors Center between 8:30 a.m. - 5.p.m.

Entrants must be between 8-18, bring a photo and sheet music to a song. Be prepared to sing 16 bars of that song.

The judges will be celebrities and prominent children's talent agents. While the first prize winner will receive Broadway show tickets, signed posters, CD's and more, the organizers stress that the talent agents are on the look-out to sign new talent.

Kids Night on Broadway was first created in 1996 by the League of American Theatres and Producers, Inc. and the Theatre Development Fund. The project was designed to introduce young people to the magic of live theatre and make it accessible to a new generation of theatergoers. Since its introduction 150,000 young people have attended productions in New York and across the country.

In addition to New York, cities participating include: Atlanta, Baltimore, Chicago, Columbus, Denver, Des Moines, Hartford, Indianapolis. Little Rock, Los Angeles, Louisville, Pittsburgh, San Francisco, San Diego, Seattle, St. Louis, Tampa, and Wilmington.

Participating Broadway Shows include: Annie Get Your Gun, Cats, Chicago, Epic Proportions, Footloose, It Ain't Nothin' But The Blues, Jekyll & Hyde, Kat and the Kings, Kiss Me, Kate, Less Miserables, Miss Saigon, The Phantom of the Opera, Rent, Saturday Night Fever, The Scarlet Pimpernel, Scent of the Roses, and Swing.

The road shows participating include; Cats, The Civil War, Footloose, Les Miserables, Peter Pan, The Sound of Music, and Titanic.


JAZZING AROUND

The music of Charlie Parker kicks off the eighth season of The Carnegie Hall Jazz Band on Oct. 14. Led by music director/trumpeter Jon Faddis the season will feature a four-concert series produced by George Wein. As in past seasons, the concerts will feature new arrangements.

Music of Thelonious Monk: A New Perspective takes place Nov. 4 followed by Artie Shaw and Woody Herman: A New Look on Jan. 20. On March 16 Louis Armstrong: One Hundred Years will be celebrated.

The Carnegie Hall Jazz Band is comprised of: Howard Alden, Randy Brecker, Todd Coolman, Jerry Dodgion, Robin Eubanks, Earl Gardner, Slide Hampton, Geoff Keezer, Ryan Kisor, Ralph Lalama, Dick Oatts, Douglas Purviance, Jerome Richardson, John Riley, Renee Rosness, Gary Smulyan, Lew Soloff, Terrell Stafford, Bryon Stripling, Steve Turre, Kenny Washington, Peter Washington, Scott Wendholt, Frank Wess, and Dennis Wilson, among others.

Guest artists have included James Carter, Doc Cheatham, Nneena Freelon, Dave Grusin, Roy Hargrove, Diana Krall, David Liebman, Kevin Mahogany, Wynton Marsalis, James Moody, Thelonious Monk, Jr., Joshua Redman, Clark Terry, and Cassandra Wilson.


OTHER PEOPLE'S MONEY

ALBERTO VITAR an investor and philanthropist, has pledged a total of $5 million to Carnegie Hall in a multi-year commitment that will provide $1.5 million to underwrite performances by the Vienna Philharmonic Orchestra over the next five years at Carnegie Hall.



FAITH FORD AND CRYSTAL BERNARD star in Beth Henley's 1981 Pulizer Prize-winning comedy, Crimes of the Heart at Burbank, CA's new Falcon Theatre, Oct 15 to November 28. Garry Marshall directs.

HELLO DOLLY! a Mainstage L.L.C. production, will be performed at the Brooklyn center for the Performing Arts at Brooklyn College on Sunday, October 17, as part of the Emigrant Savings Bank's Swingin' Sundays series at BCBC. Winner of 10 Tony Awards with book by Michael Stewart and music and lyrics by Jerry Herman, Hello Dolly! is one of Broadway's longest running musicals, running from 1964 until 1970.

JOLSON October 13-19 at the Music Hall, Kansas City.

CENTURY OF SONG It's Berlin, Coward and Webber - 100 years of musicals - October 15-17 Jones Hall, Houston, TX.

DEFENDING THE CAVEMAN Bob Becker's Broadway smash comedy about man & woman October 12-24, Pantages Theatre, Los Angeles.

RENT written by Jonathan Larson and directed by Michael Grief, the story was inspired by Puccini's La Boeme. It's a bittersweet musical celebrating a community of artists as they struggle with soaring hopes and tough realities in today's world. October 12-24 at Chrysler Hall, Scope Plaza, Norfolk, VA and October 27-November 7 Hilton Hotel, Las Vegas.

SHORT PERFORMANCE WORKS by controversial Australian writer/artist David Paul Jobling, who is Australia's only "high profile" Gay playwright whose work includes children's plays as well as community theatre projects with HIV+ people. He was scolded for his production of Beckett's Waiting for Godot with a mixed female/male cast, applauded for his production of David Williamson's Don's Party, where Jobling made some of the main characters bisexual - will blessings from Williamson. His Short Performance Works is a collection of pieces written over the last decade.


WHO'S WHERE

SUSAN ANTON

SUSAN ANTON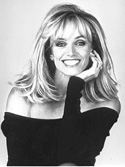 who was too tall to be a Rockette is just the right size to star in The Great Radio City Spectacular now in its fourth successful year at the Flamingo Hilton, Las Vegas.

The statuesque entertainer who lives in Las Vegas, debuted with the show in 1995, has returned for an indefinite run as the hostess who ties together all aspects of the dazzling production show.

Anton toured with The Great Radio City Spectacular starring the famed Rockettes, before the show landed at the Flamingo Hilton. Also in the extravaganza are featured performers Nino Frediani and Tim Kole.

MANHATTAN TRANSFER Oct 16 at the Palace Theatre, Louisville, KY.

JULIE WILSON at the Algonquin NYC through Saturday.

CHICK COREA & ORIGIN at the Blue Note NYC Oct. 12-17.

THIS AND THAT

ROMA DOWNEY who can't sing has recorded an album. The actress with the lovely Irish accented speaking voice, has cut Healing Angel, in which she speaks over a collection of inspiration songs about children, weddings, death and religion. Many of the musical sections are based on ancient Irish prayers and blessings.

MEADOWLARK LEMON the Harlem Globetrotters basketball great turned evangelist will preach at two Protestant services at Nellis AFB, Las Vegas on Oct. 30.




Mention BROADWAY TO VEGAS for Special Consideration
Call (800) 942-9027









Next Column: October 17, 1999
Copyright: October 10, 2004. All Rights Reserved. Reviews, Interviews, Commentary, Photographs or Graphics from any Broadway To Vegas (TM) columns may not be published, broadcast, rewritten, utilized as leads, or used in any manner without permission, compensation and/or credit.
Link to Main Page
---
Laura Deni


CLICK HERE FOR COMMENT SECTION