! >
Broadway To Vegas
  
 SHOW REVIEWS CELEBRITY INTERVIEWS GOSSIP NEWS

| | |
| --- | --- |
| | |
ELVIS MUSEUM CLOSES - - McGOVERN LIBRARY OPENS WITH FOLK STARS AMD MOVIE PREMIER - - PUBERTY CAUSES STAR TO LEAVE SHOW - - GOODMAN THEATRE STAGES OPENING SEASON BENEFIT - - RICHARD THOMAS AND GEORGE WENDT IN 12 ANGRY MEN - - CHICAGO ANNIVERSARY CELEBRATES WITH CD/DVD - - BARBRA STREISAND KICKS OFF TOUR - - EVE BEST AND KEVIN SPACEY IN A MOON FOR THE MISBEGOTTEN - - DONATE . . . Scroll Down


Copyright: October 1, 2006
By: Laura Deni

CLICK HERE FOR COMMENT SECTION
ANGER AND DISAPPOINTMENT SURROUND THEATRE MUSEUM CLOSING
Covent Garden's Theatre Museum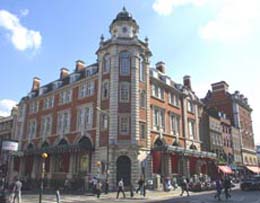 After 80 years of operation the Victoria & Albert Museum in London will close their theatre museum.

Britain's only national museum for the performing arts, Covent Garden's Theatre Museum, twice experienced the Heritage Lottery Fund refusing to back refurbishment plans. Trustees of the Victoria and Albert Museum, which administers the Theatre Museum, said they were left with little choice but to close it, despite pleas from figures such as Judi Dench and Vanessa Redgrave.

Tony Hall, chief executive of the Royal Opera House, said: "Though there has been a huge amount of moral support for the Theatre Museum, money for the most part has not been forthcoming."

Vanessa Redgrave called on David Lammy, the Arts minister, to halt the V&A's closure plan. "It's unacceptable that the V&A has unilaterally decided to close the Theatre Museum," she said. People in the performing professions would be willing to raise funds to add to the "paltry" sums already available and there should be discussions on a partnership, she added.

Mark Jones, the director of the V&A, said: "We remain committed to safeguarding and displaying these collections which celebrate Britain's unique theatrical heritage in costume and stage design."

The V&A is proposing to rehouse the theatrical collection, with a new gallery at its main museum site in South Kensington.


THE ELVIS BUILDING HAS LEFT


All of the Elvis memorabilia has left the building. ( See Broadway To Vegas column of February 27, 2000 ) The Elvis-A-Rama Museum in Las Vegas closes October 1. Elvis Presley Enterprises, Inc., a subsidary of CKX, acquired the assets of the Elvis-A-Rama museum, located off the strip in Las Vegas, including the trademark to the name Elvis-A-Rama, the related website and a substantial portion of the memorabilia currently on display at the Sin City establishment.

The existing museum will be permanently closed and the Elvis-A-Rama name retired as part of CKX's overall plan to bring a world class Elvis-themed attraction to the Las Vegas strip. The remaining merchandise is to be shipped to Hawaii where another Elvis themed museum may be opened.

As part of the purchase, the Company granted to Davidson the right to open a licensed Elvis-themed museum in Hawaii, a location often associated with Presley. In addition to receipt of the licensing fee, the Company retains the right to acquire a significant equity interest in the Hawaiian operations.

Hawaii served as the location for three of Presley's films and perhaps most famously, was home to the 1973 concert Elvis, Aloha from Hawaii, which was broadcast worldwide and ultimately viewed by more than 1.5 billion people around the world.


ATTENTION SANTA CLAUS - THE CHICAGO 10TH ANNIVERSARY CD/DVD BOX SET TO BE RELEASED THIS WEEK


A gala performance of Chicago will take place Tuesday, November 14, at the Ambassador Theatre, marking the show's anniversary in New York. The gala will celebrate the John Kander-Fred Ebb-Bob Fosse musical's record-breaking run on Broadway and will help raise awareness and funds for Safe Horizon, the nation's leading victim assistance organization.

In celebration of Broadway's longest running revival, a special CD/DVD box set will be released by Masterworks Broadway on October 3. While you don't need to wait for Christmas to make somebody's eyes shine with this gift, the boxed set does make a perfect holiday offering.

This incredible three disc edition not only includes the complete Broadway cast recording - original revival cast but also a disc of Chicago classics performed by internationally celebrated stars. Among them: Anna Montanaro; Lynda Carter; Brooke Shields; Melanie Griffith; Bianca Marroquin; Liza Minnelli; and Ute Lemper.



Paige Davis. Photo by Len Prince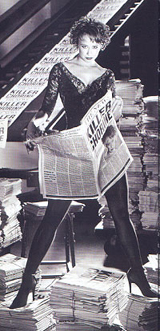 The disc also has two songs cut from the original score for Chicago - Looping the Loop and Ten Percent - a song cut from the original 1975 production).

The magnificent DVD also spotlights interviews with Bebe Neuwirth, Ann Reinking, Walter Bobbie, John Kander, Rob Fisher, and Fran & Barry Weissler and The Story of Ten Percent. There is also footage from international productions in Holland, Italy, Brazil, Germany, Mexico & Russia.

Companion to the discs is as awesome 68-page book featuring the provocative, erotic, dramatic images from the groundbreaking Chicago advertising campaign, along with newly written essays by John Kander, Walter Bobbie, Ann Reinking, Rob Fisher and Barry Weissler.

This book isn't your ordinary CD info and doesn't deserved to be hidden away, boxed up with the discs. Although it is soft covered, display it with your other coffee table books.

Currently Broadway's longest-running musical revival, the show opened November 14, 1996 at the Richard Rodgers Theatre and is now playing at the Ambassador Theatre. The revival is the recipient of six Tony Awards including Best Revival of a Musical and its cast album is the winner of the Grammy Award for Best Musical Show Album.

Chicago has played 48 states plus the District of Columbia in the United States.



Michael C. Hall and Amy Spanger. Photo by Miranda Penn Turin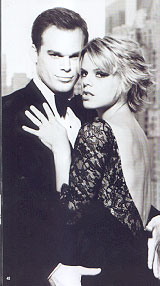 Worldwide the production has grossed over $850,000,000 with the cash register still clinking.

Since the show's opening in 1996, starring Ann Reinking (Roxie Hart), Bebe Neuwirth (Velma Kelly), James Naughton, Joel Grey, Marcia Lewis, many dynamic stars of Broadway and beyond have lit up the Chicago stage in past 10 years. Notables such as Melanie Griffith, Brooke Shields, Patrick Swayze, Taye Didds, Michael C. Hall, Paige Davis, Marilu Henner, Rita Wilson, Tom Wopat, Charlotte D'Ambroise, John O'Hurley, Obba Babatundé, Brent Barrett, PJ Bejamin, Gregoryr Harrison, Sharon Lawrence, Caroline O'Connor and many, many others have shined in Chicago.

Currently starring in the role of Billy Flynn is Usher.

Directed by Walter Bobbie and choreographed in the style of Bob Fosse by Ann Reinking, the show features original music by John Kander, lyrics by Fred Ebb, book by Fred Ebb & Bob Fosse and the original orchestrations by Ralph Burns. One of Broadway's most popular smash-hit musicals, Chicago is an electrifying tale of greed, murder and show biz, with songs such as All That Jazz which has been sung and spoken over 325,000 times in nine different languages and Razzle Dazzle, which has become an anthem for the legal profession.

The band includes;

Seymour Red Press, Kenneth Hitchcock, Richard Centaloza, John Frosk, Darryl Shaw, Dave Bargeron, Bruce Bonvissuto, Leslie Stifelmam, Jeffrey Saver, Jay Berlinger, Ronald Raffio, Marilyn Reynolds, and Ron Zito.

CD ONE TRACK LIST

Overture – The Band
All That Jazz – Bebe Neuwirth & Company
Funny Honey – Ann Reinking with Joel Grey & Michael Kubala


Charlotte d'Amboise Photo by Max Vandukul
Cell Block Tango – Bebe Reinking & Girls
When Your Good To Mama – Marcia Lewis
All I Care About – James Naughton & Girls
A Little Bit Of Good – D. Sabella
We Both Reached For The Gun – James Naughton, Ann Reinking, D. Sabella & Company
Roxie – Ann Reinking & Company
I Can't Do It Alone – Bebe Neuwirth
I Can't Do It Alone (Reprise) – Bebe Neuwirth
My Own Best Friend – Ann Reinking & Bebe Neuwirth
Entr' Acte – The Band
I Know A Girl – Bebe Neuwirth
Me and My Baby – Ann Reinking & Boys
Mister Cellophane – Joel Grey
When Velma Takes The Stand – Bebe Neuwirth & Boys
Razzle Dazzle – James Naughton & Company
Class – Bebe Neuwirth & Marcia Lewis
Nowadays – Ann Reinking & Bebe Neuwirth
Hot Honey Rag – The Band
Finale – Company

CD 2 TRACK LIST



Solange Sandy. Photo by Richie Fahey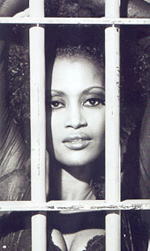 Looping the Loop – Fred Ebb & John Kander (demo, cut from original 1975 production) Sung by Fred Ebb and John Kander with Kander playing the piano.
All That Jazz – Anna Montanaro (sung in German)
When Your Good To Mama – Lynda Carter
All I Care About – John O'Hurley
Roxie – Brooke Shields
Ten Percent – Fred Ebb & John Kander (demo, cut from original 1975 production)
Me And My Baby – Melanie Griffith
Razzle Dazzle – Jerry Orbach
Funny Honey/Me and My Baby/Nowadays – Bianca Marroquin (sung in Spanish) My Own Best Friend – Liza Minnelli
All That Jazz – Ute Lemper
Nowadays – Gwen Verdon & Chita Rivera



Broadway To Vegas is supported through advertising and donations. Priority consideration is given to interview suggestions, news, press releases, etc from paid supporters. However, no paid supporters control, alter, edit, or in any way manipulate the content of this site. Your donation is appreciated. We accept PAYPAL. Thank you for your interest.


ART AND ABOUT


SET IN STONE: THE FACE OF MEDIEVAL SCULPTURE which just opened at the Metropolitan Museum of Art, is am exquisite presentation of more than 80 medieval sculpted heads, half from the collection of The Metropolitan Museum of Art and half selected loans from American and European collections.

Because historical events tore these objects from their original settings, they became not only objects that could be collected, but items whose lost histories curators and scholars would hope to recover. The exhibition considers several artistic and historic themes, including: the destruction of statues as an act of iconoclasm, the evolving notions of the "portrait," the use of science in the search for provenance, and more. Created from materials as diverse as marble, limestone, polychromed wood, and silver gilt, the carved heads date from the third century A.D. through the early 1500s and represent French, German, Italian, Spanish, Byzantine, English, and other medieval sculptural traditions.

The exhibition draws together science, connoisseurship, archaeology, and history to examine these stunning works from different points of reference.

The works in Set in Stone are arranged thematically, beginning with sculptural heads that were intentionally removed from the bodies of sculpture during periods of iconoclasm. During the French Revolution, for example, monumental figures on the façade of Notre-Dame were systematically destroyed or beheaded by government edict. Just as the king was subjected to the guillotine, the sculptures—seen as symbols of authority—were destroyed in parallel acts of vengeance. An outstanding example is the regal 13th-century limestone Head of a King of Judah, originally from Notre-Dame in Paris (Musée National du Moyen Âge, Thermes et Hôtel de Cluny).

Another section of the exhibition groups together stone heads representing figures from the Bible. Most of the figures in this section once adorned churches and cathedrals, and their identities—or original locations—have been established on the basis of historical records such as engravings. A particularly moving work is the extremely realistic late-15th-century limestone Head of Christ (The Metropolitan Museum of Art), whose limestone crown of thorns was carved with small holes that once held actual thorns.

Ornamental heads were frequently used along the margins of church architecture and furniture for decorative—and sometimes even humorous—reasons. One example is the delicately carved bearded male head on the 14th-century oak misericord—which is the ledge on the underside of a hinged seat that provided support to a standing worshiper—from Wells Cathedral (Cooper-Hewitt, National Design Museum, Smithsonian Institution).



Bust of Marie de France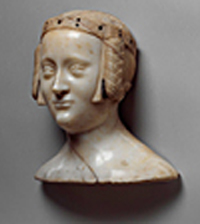 The faces on many medieval heads are often extremely generalized, but some depicted actual people. This exhibition includes portrait heads from the third century through the early 16th century, demonstrating the changes in stone portraiture that occurred over time. The tender image of the young princess Marie de France carved in marble that dates to 1381 (The Metropolitan Museum of Art) is a particular highlight. Her elegantly coiffed head was once adorned with real jewels.

Other themes included in the exhibition are Gothic Italy: Reflections of Antiquity and Objects of Devotion: Invoking Power.

Many sculpted heads have been separated from their original contexts for so long that researchers cannot determine with accuracy where the works were made. Scientists are now able to use Neutron Activation Analysis (NAA) to document the chemical composition of stone from more than 2,100 sculptures, churches, and quarries.



Head of an Angel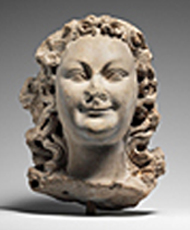 This new methodology—whose application to sculpture was pioneered by the Metropolitan Museum in the 1970s—identifies the geological "fingerprint" of the stone, allowing scientists to match a fragment to its likely place of origin. By means of this methodology, it was recently determined that a mid-13th-century Angel Head, which has been in the collection of the Metropolitan Museum since 1990, probably came either from the cathedral of Notre-Dame or another 13th-century Parisian church that used the same quarry.

Installed thematically in the circular Lehman Wing, and accompanied by a catalogue Set in Stone, is organized by Charles Little, with the assistance of Wendy Stein.

On display until February 29 at the Metropolitan Museum in New York City.

LEONARDO: BEHIND THE PICTURE is a study seminar which aims to "get behind the picture" and into the mind of Leonardo da Vinci. Pre-eminent art historians and scientists will explore different aspects of Leonardo's work; his use of colour, his drawing technique, his fascination with the human heart, and one of the most iconic images he left us with, The Last Supper.

October 7 at the Victoria and Albert Museum in London.


McGOVERN LIBRARY DEDICATION HAS FOLK STAR POWER AND MOVIE PREMIER
Peter, Paul and Mary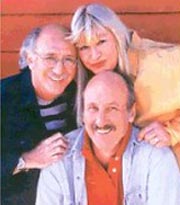 Legendary 60s folk musicians Peter, Paul and Mary will kick off the dedication of the George and Eleanor McGovern Library in Mitchell, South Dakota with a concert at the World's Only Corn Palace on Thursday, Oct. 5. George and Eleanor McGovern will join them on stage to reminisce about their earlier days.

The following day former President Bill Clinton will attend the dedication of the George and Eleanor McGovern Library at Dakota Wesleyan University.

The $8.3 million library will house a legacy exhibit featuring McGovern's story as the son of a small-town Methodist minister who became a 22-year U.S. Congressman and the only South Dakotan to be selected as a national party nominee for president.

Clinton and McGovern have enjoyed a friendship spanning more than 30 years, dating back to Clinton's work on McGovern's campaign for the Democratic Party presidential nomination.

In 1998, during his second term as president, Clinton appointed McGovern ambassador to the United Nations Food and Agriculture Organization in Rome. In 2000, Clinton presented the Presidential Medal of Freedom to McGovern.

At Friday night's invitation only banquet Bob Dole will receive the first McGovern Award for Leadership and Public Service.

In addition to the formal dedication on Oct. 7, the weekend's activities include the South Dakota premier of the film, One Bright Shining Moment: The Forgotten Summer of George McGovern, highlighting McGovern's 1972 presidential campaign. Producer Stephen Vittoria and George McGovern will be on hand to walk the red carpet and introduce the film.

In addition to the state-of-the-art library facilities and special collections, the library will house classrooms, offices, a coffeehouse, the campus bookstore, and the McGovern Center for Leadership and Public Service. South Dakota artist Jon Crane will create the official painting of the McGovern Library.

McGovern was born in Avon, South Dakota, on July 19, 1922, the son of a Wesleyan Methodist minister. The family moved to Mitchell, South Dakota, in 1928, and George graduated from Mitchell High School in 1940. He was an outstanding student, and his proficiency in debate won him a scholarship at Dakota Wesleyan University in Mitchell, where he enrolled in the fall of 1940. There he met fellow student Eleanor Stegeberg of Woonsocket, South Dakota. George and Eleanor were married on October 31, 1943, and their five children were all born in Mitchell.


SWEET CHARITY


ROBERT FALLS; 20th ANNIVERSARY SEASON OPENING BENEFIT on Friday, October 6, at The Four Seasons Hotel in Chicago, the Goodman Theatre kicks off the 2006/2007 season with a special event to honor Robert Falls' 20th anniversary as artistic director. Under Falls' leadership, the Goodman has become "the best regional theater in the U.S." (Time magazine, 2003) as well as the recipient of the 1992 Special Tony Award for outstanding regional theatre. During his tenure, Falls has directed such landmark productions as the revival of Arthur Miller's Death of a Salesman, starring Brian Dennehy, for which he won a Tony Award for best director.


GET WELL SOON TO....


RUSSELL WATSON 39, opera singer, fell ill while recording an album in Los Angeles and was diagnosed with a pituitary adenoma, brain tumor. He returned home to London where he underwent a 5-hour operation at St George's Hospital. Doctors indicated the 3-inch tumor was pressing on Watson's optical nerve and would "almost certainly" have destroyed his eyesight. Expected to make a full recovery, Watson is slated to begin a UK tour in November.



12 ANGRY MEN

Richard Thomas and George Wendt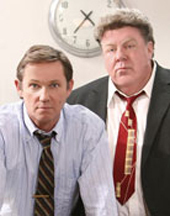 starring Richard Thomas and George Wendt.

Written by Reginald Rose. Directed by Scott Ellis.

Twelve jurors. Twelve walks of life. And only two ways to rule: guilty or not guilty. A young boy awaits sentencing for the manslaughter of his father. But what seems like an open-and-shut murder case becomes a twisted puzzle of prejudice and intrigue when a dozen men are corralled in a room to deliberate their verdict. As evidence is weighed and preconceptions are exposed, the entire jury is forced to look beyond the show of the courtroom to unearth the shocking truth. Faced with playing the hangmen, the twelve jurors must first face themselves.

Emmy winner Richard Thomas (TV's The Waltons, The Shakespeare Theatre Company's Richard II) and six-time Emmy nominee George Wendt (TV's Cheers) star in this gripping revival.

Oct 3 - 22 at the Eisenhower Theater, Kennedy Center in Washington, D.C.

BIRTH AND AFTER BIRTH by Tina Howe. Directed by Christian Parker. Starring Peter Benson, Jeff Binder, Kate Blumberg, Jordan Gelber and Maggie Kiley.

This is a comic tale that explores the joys and terrors of birth and parenthood. Sandy and Bill have been up all night preparing a birthday party for Nicky, their rambunctious four year-old son. Desperate to impress, Sandy and Bill frantically ready the house for their party guests, Jeffrey and Mia, childless anthropologists who study primitive children in far flung places. The party spins out of control as each couple tries to convince the other of their social and personal superiority.

Sets by Takeshi Kata. Lighting by Joshua Bradford. Costumes by Bobby Tiley. Sound by Obadiah Eaves.

In previews, the show officially opens on October 3 at the Atlantic Theatre in Manhattan.

MUCH ADO ABOUT NOTHING By William Shakespeare. Directed by Scott Schwartz. One of Shakespeare's freshest comedies, Much Ado About Nothing is a lively showdown between the sexes. Beatrice, independent and forthright, and Benedick, a self-confessed "woman-hater," pass the time constantly goading and scorning each other. When they are thrown together to defend a friend's honor, their true feelings begin to emerge.

The Alley Company, Hubbard Stage October 6 - November 5, in Houston, Texas.

DVORAK IN AMERICA by Janet Barnet and Alice Lunsford.

A world premiere about composer Antonin Dvorak finding music and love in America.

Dvorak In America takes place in 1893, Antonin Dvorak, well known Czechoslovakian composer, is invited to teach at the New York Conservatory. Along with his family, he spends one summer in Spillville, Iowa, hoping to find inspiration to write a new composition. The idyllic summer is disrupted by an unexpected visitor. When Anna Dvorak's sister, Josephine, a beautiful actress arrives in Spillville, lives are turned upside down. Young love, mature love and illicit love are all part of the summer in A New World. Dvorak In America is based on melodies of Antonin Dvorak.

David Galligan directs a cast of six including Fred Oachs as Dvorak, Sterling Beaumon as Tonik, Dina Bennett as Anna, Lara Janine as Otilie, Kelly Lester as Josephine and Drew Messinger-Michaels as Kovarik.

The creative team includes: musical direction by Wayne Moore, choreography by Lee Martino, scenic design by Tony Pereslette, costuming by Thomas Marquez lighting by Michael Zinman, and props by Lori Pereslstte.

Opens October 5 at the Whitefire Theatre in Sherman Oaks, CA.

FOREVER PLAID returns to the Drury Lane in Oakbrook, IL October 5, followed by an official press opening October 12, and run through December 17.The musical revue will be directed by Paul Pement.

One of the most popular and successful musicals today, this delightful, goofy revue centers on four young, male singers killed in a car crash in the 1950s on the way to perform their first big concert. Miraculously they are brought back to make their dreams come true.

TOM AND VIV by Michael Hastings. Lindsay Posner returns to the Almeida to direct : Anna Carteret, Laura Elphinstone, Will Keen, Frances O'Connor, Robert Portal and Benjamin Whitrow

Set in Oxford in 1915, an awkward American graduate Tom meets wildly exquisite Viv. Bewitched by her personality and class, enticed by his remarkable character, together they embark on a whirlwind romance. As Tom begins to find literary success, Viv's once-endearing volatility becomes harder to ignore. Their hasty marriage becomes a unique and extraordinary love story.

Tom and Viv tells of the relationship between poet TS Eliot and his first wife Vivienne Haigh-Wood who suffered from severe mental health problems that blighted the marriage, eventually leading to the couple's separation and finally to Elliot having her imprisoned in an asylum until her death.

Michael Hastings' brilliantly researched controversial fictional account Tom and Viv was first performed at the Royal Court in 1984 and 10 years later was made into a film starring Willem Dafoe and Miranda Richardson.

Set Design by Giles Cadle. Lighting by Neil Austin. Score and Sound Design by Adam Cork.

On stage at The Almeida Theatre in London.

ASCENSION by Edmund De Santis. It is directed by Marc Geller and stars Stephen Hope, Lucy McMichael and Brandon Ruckdashel. The set design is by Aaron Mastin ,costumes by Dennis Ballard and lighting by Fran DenDanto III.

Ascension is about an ambitious Catholic priest struggle to hold together the fabric of the world he has created to keep his desires at bay. He is confronted by the schizophrenic wife of a butcher, who accuses him of sexually abusing her son eight years earlier. Then drawn into a web of evil and deceit comes a visit by the angelic young man, himself; and now their worlds unfolds with a volcano of desire that is close to exploding.

Previews begin October 6th. Opening Wednesday, October 11th at The Lion Theatre in NYC.

A MOON FOR THE MISBEGOTTEN

Eve Best and Kevin Spacey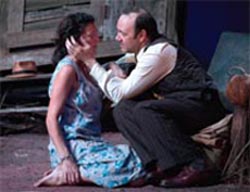 by Eugene O'Neill. Howard Davies directs a cast which features Eva Best, Billy Carter, Colm Meaney, Eugene O'Hare and Kevin Spacey.

Josie (Best), a towering woman with a quick tongue and a ruined reputation lives in a dilapidated Connecticut farmhouse with her conniving father, Phil Hogan (Meaney). Together they're a formidable force as they scrape together a livelihood. But Josie's softer side is exposed through her love of Jim Tyrone (Spacey), Hogan's landlord and drinking buddy - a third-rate actor whose dreams of stardom were washed away by alcohol.

Designed by Bob Crowley. Costumes by Lynette Mauro. Lighting by Paule Constable. Music by Dominic Muldowney. Sound by Christopher Shutt.

Opened to rave reviews at The Old Vic in London. Performances through December 23.


| | | |
| --- | --- | --- |
| | | |
WHO'S WHERE


BARBRA STREISAND kicks off her tour Wednesday, October 4, at the Wachovia Center in Philadelphia, PA. On Friday she'll entertain the SRO crowd at the Schottenstein Center in Columbus, OH.

STACEY KENT with Love and the Lyric October 3-15 at Feinsteins at the Regency in NYC.

ROY HAYNES QUARTET Jazz percussionist Roy Haynes has made rhythmic waves by performing with such greats as Louis Armstrong and Sarah Vaughan. He shares a double bill with Paquito D'Rivera on the clarinet/saxophone and the United Nation Orchestra, founded by Dizzy Gillespie to celebrate music as the world's universal language. Friday, Presented by the Washington Performing Arts Society, October 6 at The Lincoln Theatre in Washington, D.C.

MARIAH CAREY performs Monday, October 2 at the Oakland Arena in Oakland, CA. On Wednesday she's on the spotlight at The Sports Arena in San Diego. Friday finds her at the Staples Center in Los Angeles.

THE WHO perform in Canada this week. On Tuesday, October 3 they are at the MTS Centre in Winnipeg. Thursday the show is at Pengrowth Saddledome in Calgary and on Friday they are in the spotlight at Rexall Place in Edmonton.

CHRIS BOTTI has a busy week in Canada. On Monday he's on stage at the Francis Winspear Centre for Music in Edmonton. On Tuesday he's in the spotlight at Knox United Church in Calgary. Wednesday the show is at the Burton Cummings Theater for the Performing Arts in Winnipeg. Thursday the place to be in the Centrepointe Theatre in Ottawa and on Friday he can be enjoyed at the Music Hall Theatre in Toronto.

DIXIE CHICKS have a two night stand Friday October 6 and Saturday, October 7 at the Arena Entertainment Center in Brisbane, Australia.

BRUCE HORNSBY entertains Monday, October 2 at the Guthrie Theatre in Minneapolis. On Wednesday he's on stage at he Meyer Theatre in Green Bay, Wisconsin. Friday finds him at the Performing Arts Center in Cedarbuyg, Wisconsin. On Saturday he can be enjoyed at Pick-Staiger Concert Hall in Evanston, IL. Next Sunday the show is at the Kentucky Center for the Arts in Louisville, KY.

EMMYLOU HARRISBIG BAD VOODOO DADDY on stage Thursday, October 5 at the Raue Center for the Arts in Crystal Lake, IL. On Friday they'll be swinging at the House of Blues in Chicago. Saturday finds them at the University of Wisconsin in Whitewater.


PIFFLE AND PROFUNDITIES


LIAM MOWER 14, the original Billy Elliot, took his final curtain call on September 30 and left the London stage production of the musical because his voice is starting to crack as he enters puberty.

Mower was one of three pre-teens to have been simultaneously cast in the lead role after several thousand auditioned before the show opened at the Victoria Palace Theatre in May last year.

James Lomas and George Maguire have already departed having also succumbed to growing up.

Billy Elliot the Musical, the stage version of the 2000 film, is directed by the film's director Stephen Daldry with the music composed by Sir Elton John. It is expected to have its Broadway debut at the Imperial Theatre in summer 2008. The show has won four Laurence Olivier Awards and Mower became the youngest to win best actor when the award was given to the trio of "Billys".
















Next Column: October 8, 2006
Copyright: October 1, 2006. All Rights Reserved. Reviews, Interviews, Commentary, Photographs or Graphics from any Broadway To Vegas (TM) columns may not be published, broadcast, rewritten, utilized as leads, or used in any manner without permission, compensation and/or credit.
Link to Main Page
---
Laura Deni


CLICK HERE FOR COMMENT SECTION