! >
Broadway To Vegas
  SHOW REVIEWS     CELEBRITY INTERVIEWS     GOSSIP     NEWS 
A NEW WRINKLE ON NEW WRINKLES

"Anything with wheels or testicles can only mean trouble."

"It's line from Men Are From Mars, Women Are from Venus which is having its world premiere in Las Vegas at the Flamingo Hotel
There are a lot of funny, pity, sensitive, and humorous lines in the play - written by Rita Abrams. Some are from the book by John Gray upon which the musical is based; most are reworked from a previously humorous look at midlife by Abrams New Wrinkles.

Fortunately the standout number from that long running San Francisco hit Good Ol' Daze, in which a middle-aged dad tells a zoned-out, nose-ringed teenager how tough life was before remote controls, power windows, microwaves and touch-tone phones has been transported intact into this how.
That number was the San Francisco highpoint and darn near stopped the Vegas show, too.

Calling Men Are From Mars a "new" production based on the best-selling book may sell tickets, but what this really is a reworded New Wrinkles and there isn't anything wrong with that. That production had a hefty sales advance and ran for four years, raking in numerous awards.

That particular show was billed as "the new midlife musical revue," New Wrinkles a copious collection of 31 songs - which got pared down - interspersed with comic sketches scattered throughout, all of which were created by the trio Rita Abrams, Morris Bobrow and Gerald Nachman.

In New Wrinkles there were three couples guiding the audience through some of the trials and tribulations of middle age from a baby boomer perspective.The staging was low budget.There were originally a couple of dragging parts that were cut. The cast was strong. The directing and choreography were excellent.

In Las Vegas there are four couples guiding the audience through some of the trials and tribulations of life from a best-selling book perspective. The staging is low budget.There are a couple of draggy parts that need to be cut. It's a strong cast; Jennifer Mrozik, Kevin Sherrell, Rick Pessagno, Wendy Talley, Erick Walck, Jenny Giocomo, Gerry Burkhardt and Alena Robertson. The directing and choreography is excellent - David H. Bell, the Associate Artistic Director of Atlanta's Alliance Theatre, handles that chore.

In the San Francisco show Abrams had two collaborators. In the Vegas show she is billed as both the composer and lyricist - not at easy task for anyone.

Abrams is also an individual who didn't just fall off a turnip truck. In fact, she may be razor sharp shrewd.

We don't for a second question the two time Emmy Award winner's ability to pen a line.

It's the music that has us in a quandary.

Abrams shines when it comes to writing new lyrics to existing tunes

Blame It on El Nino with Dr. Elmo who did the song Grandma Got Run Over by a Reindeer, with new lyrics by Abrams and Stan Sinberg, was set to the tune of Blame It on the Bossa Nova.

Unless we need to get thee to an audiologist, it seems that with the exception of one song, every melody in the production Men Are From Mars has more than a passing resemblance to a song from a Broadway musical. From Grease to the closing number which sounds a lot like the Jekyll and Hyde showstopper This Is The Moment.

For lovers of Broadway musicals this production poses some interesting questions

The musical note resemblance was so strong that full attention was diverted away from Men Are From Mars. A mental guessing game takes place as to which Broadway show did this tune originate. The notes are so similar to so many Broadway shows that I actually leaned over to the stranger sitting next to me and whispered in his ear. "Do you know what Broadway show is that melody is from?"

Without hesitation the stranger, who turned out to be a Treasure Island Hotel executive, answered "Grease."

The rest of the show was then spent in a "contest" to see who could match which song with what Broadway show.

Having only seen this production once, I didn't sit there and count musical bars of each song segment that sounds like a cousin of a Great White Way ditty.
There is a process which some composers call "writing sideways." You take something that has already been composed and then twist it.

We really wanted to ask Ms Abrams how she compiled the music for this production, since she is singularly billed as both lyricist and composer. We wanted to ask her about the notes that sound so much like notes in Broadway shows and what appears to be a compilation of music - whether she struck any deal with numerous Broadway composers to utilize their music. We left a detailed message to that effect on her representative's voice mail. As of deadline time nobody had returned our call.


BARBRA'S BYE BYE

Celebrities, dignitaries and a lot of regular New Yorkers came to Madison Square Garden to see the final performance of the legendary Barbra Streisand.



BARBRA STREISAND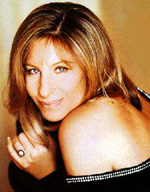 It took 25 semi trailers to transport all of the equipment to The Garden. The equipment was loaded in over a 3-day period.

Ms. Streisand's concerts are the only events for which the arena floor of Madison Square Garden is carpeted.

Ms. Streisand's dressing room featured white carpeting, white drapes and was furnished with antiques brought in at her request

The top ticket price, $2500, is the highest price ever charged for an event at Madison Square Garden.

Those with the top tickets arrived early and dined on salmon and filet mignon at a sit down dinner and reception before the show that took over the entire third floor of The Garden. They sat in the best seats and were served champagne at intermission.

She sang 29 songs in just under two hours. She opened with: Something's Coming and The Way We Were. She then began a journey through her career that started at the Bon Soir: Cry Me A River and When A Bee Lies Sleeping. She moved to the Funny Girl era with a medley of songs including I'm The Greatest Star, Second Hand Rose, and topped it off with Don't Rain On My Parade. She continued with her favorite Broadway and movie tunes: Something Wonderful, Being Alive, Alfie and Evergreen. The first act ended big with a tribute to her father and a love letter he had written over 60 years ago. The audience was teary after Papa Can You Hear Me? and A Piece of Sky.

Act two was a montage of her favorite songs inspired by her son and her husband: I've Got a Crush On You featured a high tech duet with Frank Sinatra, I've Dreamed Of You and Happy Days Are Here Again. Going high tech with duet is nothing new for Streisand. In a Las Vegas performance she once did a high tech duet with Marlon Brando from Guys and Dolls The Madison Square Garden evening ended with an introduction of the 95 person choir, 60 person orchestra, actors and amazing young singer, Lauren Frost. There wasn't a dry eye in the house when she bid farewell to her career as a live performer - maybe - with her signature song, People.

The stars showed up during her two nights on the East Coast. Among those giving the diva her due: Tony Bennett, Madeleine Albright, Chevy Chase, Sarah Jessica Parker, Marvin Hamlisch, Regis Philbin, Billy Crystal, Martha Stewart, Lauren Bacall, Barbara Walters, Glenn Close, Jesse Jackson, Donna Karan, Amy Grant, Angie Harmon, Drew Barrymore, Penny Marshall and Mike Myers' mother-in-law, the model for Linda Richman who probably was completely "verklempt!"

Wearing only two outfits throughout the performance, Ms. Streisand donned dresses of her own design. The first, a sparkling topaz sleeveless turtleneck and pants and the second, a black sequined floor-length off-the-shoulder gown slit up the side. Designers Donna Karan and Diane von Furstenburg, who were in the audience, were impressed.

It was like Buttah.

SWEET CHARITY


TIGER JAM III takes place in Las Vegas at the Mandalay Events Center on Oct. 7th. The event is the baby of golf ace Tiger Woods benefiting his Tiger Woods Foundation. Performances by Christina Aguillera, Leann Rimes, and Seal.

KAREN ZIEMBA AND TONY RANDALL co-host the Next Step Gala at the Sylvia & Danny Kaye Playhouse benefiting Career Transitions for Dancers. October 16.

HUMANS ON PARADE The Chicago Cow festival which grazed its way into New York City this year, culminating last week in a Fiberglass bovines auction - brought in some big bucks for charity and spawned a human equivalent.

At least 100 6-foot-tall, hand-painted human sculptures are to be displayed in Omaha, NE, Council Bluffs, Iowa and the surrounding area. The Public Art Exposure Project, featuring the gender-neutral or J. Doe fiberglass sculptures, is scheduled to run from May through September 2001. The Douglas County Board gave the project its blessing saying it hopes the sculptures will have a positive impact on the community and attract tourists.

The number of sculptures displayed would depend on the number of sponsors. It would cost $2,500 for someone to sponsor a J. Doe sculpture, a cost that includes $1,000 to pay the artist and $550 to construct the sculpture. Production of the fiberglass sculptures is expected to start in November

The artists can leave the figures gender neutral or change them to resemble a man or woman, boy or girl. At the end of the project, the figures that are not sold would be auctioned off.

Chairperson of the event is Eddith Buis, who is an adjunct art professor at Metropolitan Community College and owner of 13th Street Gallery. "We felt if we made a human figure, there would be more content and meaning to the piece."

Taking its cue from the Cow Parades the human figures would be mounted on heavy bases to deter theft.

The Omaha Public Art Commission would select artists to paint or otherwise alter the forms. Interested artists must submit a design concept and six slides depicting their past work to the art commission by November 15.



Broadway To Vegas is supported through advertising and donations. Priority consideration is given to interview suggestions, news, press releases, etc from paid supporters. However, no paid supporters control, alter, edit, or in any way manipulate the content of this site. Your donation is appreciated. We accept PAYPAL. Thank you for your interest.



THE MYSTERY OF EDWIN DROOD

BETTY BUCKLEY as Edwin Drood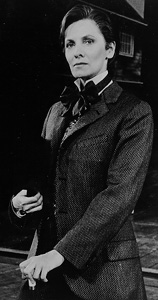 by Rupert Holmes; directed by Larry Carpenter; a Pioneer Theatre Company production in the Roy W. and Elizabeth E. Simmons Pioneer Memorial Theatre, U. of Utah campus Salt Lake, continues through October 7 For its season opener, PTC has turned the Lees Main Stage into an ornate Victorian theater for this play-within-a-play.

This Victorian entertainment, described as "a musicale with dramatic interludes," is based on Charles Dickens' unfinished novel. Since Dickens died when the novel was only half-done, Rupert Holmes' adaptation - including penning the music - leaves it up to the audience to vote on the final turn of events. Originally presented as a New York Shakespeare Festival production by Joe Papp, the show premiered at the Delacorte Theater in Central Park on August 21, 1985. The show won five Tony Awards and at one time starred Betty Buckley as Edwin Drood.

Strong rumors persist that a production of The Mystery of Edwin Drood is headed for Las Vegas.

THE BEST MAN first real hit of the new Broadway season. By Gore Vidal, starring Charles Durning, Spalding Gray, Michael Learned, Chris Noth, Christine Ebersole, Elizabeth Ashley, Mark Blum, Jonathan Hadary, Ed Dixon, Jordan Lage, Michael Rudko and Walter Cronkite. Don't miss seeing this one. Virginia Theatre, NYC.

THE MAN WHO CAME TO DINNER is in for a limited run. Don't miss this one, either. Stars Nathan Lane and Jean Smart. Roundabout in NYC.

THE FULL MONTY a musical based on the film of the same name about six steel workers who bare it all in order to raise money for a friend in need. Book by Terrence McNally with music and lyrics by David Yazbek.

OCTOBERFEST 2000 the 20th annual month long celebration of comedy, drama, music, poetry and storytelling on the Ensemble Studio Theatre's two New York City stages running from today through Nov. 5th. Some of the playwrights included in this year's OctoberFest will be: Yvonne Adrian, Leslie Ayvazian, Edward Allan Baker, Stephanie Berry, Leslie Caputo, Horton Foote, Arthur Giron, Kathryn Grant, J. Holtham, Shirley Lauro, Romulus Linney, Julie McKee, Eileen Myers, Rita Nachtman, Joyce Carol Oates, Books Pierce, Keith Reddin, Jamie Richards, Shel Silverstein, J.S. Staniloff, Judy Tate, Cherie Vogelstein, Michael Louis, Wells, Richard Willett, Tennessee Williams, and Youngblood.

LEND ME A TENOR at the Palm Springs Stage Company has announced its upcoming dinner theater production of the fast-paced comedy, Lend Me A Tenor, by Ken Ludwig. The play, directed by Jim R. Warner, premieres November 16 and will run through December 23 in Farrell House at the famous Racquet Club of Palm Springs.

Tenor, is the first major production of the new nonprofit Palm Springs Stage Company. The historic Racquet Club, located in Palm Springs, was opened by Charlie Farrell and Ralph Bellamy in 1934 and became the in place for countless Hollywood stars wanting total privacy when they visited Palm Springs. Movie greats who frequented the Racquet Club included Barbara Stanwyck, Robert Taylor, Desi Arnaz and Lucille Ball, Bob Hope, Gene Autry, Clark Gable, Cary Grant, Lana Turner, Bette Davis, Humphrey Bogart, Spencer Tracy and Marilyn Monroe, to name just a few.


WHO'S WHERE


GLADYS KNIGHT

GLADYS KNIGHT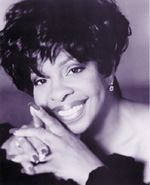 doesn't stay in one place long. The Las Vegas resident can be found Oct 5th center stage at the Charleston Performing Art Center in Charleston, SC.

The following night she's in the spotlight in Winston-Salem, NC at Winston-Salem State University.

On Saturday she turns up in Chicago, IL at the Arie Crown Theater and on Sunday she appears in Mobile, AL at the Mobile Bayfest.

SARAH BRIGHTMAN October 4 in Miami, FL at the AA Arena /Nat. Car Rental Arena. The following night she performs in Tampa, FL at the Ice Palace.On October 6 the talent takes center stage in Atlanta, GA at the Civic Center Then on October 8 she's in New Orleans, LA at the Saenger Theatre.

BETTY BUCKLEY October 6 & 7 Scottsdale Center for the Arts Theatre in Scottsdale, AZ.

PATTI LUPONE October 7 n Coulda, Woulda, Shoulda with the Alabama Symphony Orchestra in Birmingham, Alabama.

BERNADETTE PETERS October 6 at the Eisenhower Hall Theatre in West Point, NY. The next night Bernadette is at the McCarter Theatre in Princeton, NJ.

DEBBIE REYNOLDS Orleans Hotel, Las Vegas October 5-8.

ALICE COOPER Pittsburgh, PA at the A.J. Palumbo Center on October 4.

SHIRLEY CAESAR performs in Savannah, GA at the Johnny Mercer Theatre on October 10.

DOOBIE BROTHERS headline the Chastain Park Amphitheatre in Atlanta, GA on October 6.

DIXIE CHICKS are keeping busy. On October 6th they're in Moline, IL at the Mark Of The Quad Cities The following night October 7 they do it again in Ames, IA at the Hilton Coliseum then it's down the road apiece for a performance next Sunday, October 8, in Lincoln, NE in the Bob Devaney Sports Center.

THE OAK RIDGE BOYS show up in Branson, MO on October 3 at the Grand Palace.

JOAN BAEZ has a busy week ahead of her. On October 2nd its concert time in Great Falls, MT at the Civic Center Theatre. It's Tuesday it must be Bozeman, MT where she'll be entertaining at the Brick Breeden Fieldhouse. On Thursday it's on stage at the Lied Center in Lincoln, NE. On Friday she'll reprise the act in the Sheldon Concert Hall in St. Louis, MO. Saturday it's center stage in Fish Creek, WI at the Door Community Auditorium.

LARRY GATLIN performs October 7th in Midwest City, OK in the Rose State Performing Arts Theatre.

PAM TILLIS is casino hopping. On October 6th she can be found in Lac duFlambeau, WI at the Lake Of Torches Casino. She'll cash out her chips and head over to the Shooting Star Casino in Mahnomen, MN on October 7th.

MAYNARD FERGUSON & BIG BOP NOUVEAU tunes the cats up on October 3 in Marshalltown, IA at the Marshalltown High School the it's transferring credits because on October 5 he can located in Sioux Falls, SD at the Lincoln High School. On Friday the guys show up in City Of Industry, CA at the Crown Plaza Hotel.

JOEL GREY AND RITA MORENO Proctor's Theatre, Schenectady, N.Y. Saturday, October 7 Price Range: $49.50 to $55.50.

TOM WOPAT hitting the road for a tour of Annie Get Your Gun, has a new CD called The Still of the Night, on Angel Records, to be released. On October 24. It's produced by the Russ Titelman. John Pizzarelli is on guitar, and Tony Bennett's daughter, Antonia, joins Tom for Baby, It's Cold Outside.

SAVION GLOVER IN FOOT NOTES - THE CONCERT Shubert Theatre, Chicago. Continuing the theater's "Broadway in Chicago" series, this theatrical dance experience celebrates the talent of 26-year-old tap phenomenon Savion Glover, who shares the stage with a high-powered band and four generations of tappers. The Chicago engagement of this tribute to hoofers everywhere kicks off an eight-week national tour. In Chicago through October 15.


THIS AND THAT

SIEGFRIED AND ROY are holding auditions. If you'd like to be a part of the show you're invited to audition on Saturday, October 14, on stage in the Siegfried & Roy Theatre at the Mirage. Female dancers - minimum height 5 feet, 5 inches- auditions will be from noon to 2 p.m.; male dancers - minimum height 5 feet, 10 inches - from 2 to 3 p.m., and acrobats from 3 to 5 p.m. Bring a resume and picture and arrive at the theatre 30 minutes prior to each call time.

WHOOPI GOLDBERG whooped it up in Las Vegas. She hit a $10,000 jackpot at the Venetian hotel. The star who is in town filming the movie Rat Race had invested about $300 when she got lucky.



Mention BROADWAY TO VEGAS for Special Consideration
Call (800) 942-9027









Next Column: October 8, 2000
Copyright: October 1, 2000. All Rights Reserved. Reviews, Interviews, Commentary, Photographs or Graphics from any Broadway To Vegas (TM) columns may not be published, broadcast, rewritten, utilized as leads, or used in any manner without permission, compensation and/or credit.
Link to Main Page
---
Laura Deni


CLICK HERE FOR COMMENT SECTION