! >
Broadway To Vegas
  
 SHOW REVIEWS CELEBRITY INTERVIEWS GOSSIP NEWS

| | |
| --- | --- |
| | |
CHRISTINE EBERSOLE SHINES IN GREY GARDENS - - MEET JOHN DOE - - DRESS LIKE ELVIS TO WIN THEATRE TICKETS - - THE WOMAN WHO FROZE TO DEATH - - CHICAGO CELEBRATES A DECADE ON BROADWAY - - WILLIAMSTOWN THEATRE FESTIVAL SALUTES SIR TOM STOPPARD - - THE LADY OF BURMA AT OLD VIC THEATRE - - KYLIE MINOGUE RESUMES TOUR - - DONATE . . . Scroll Down


Copyright: November 5, 2006
By: Laura Deni

CLICK HERE FOR COMMENT SECTION
CHRISTINE EBERSOLE SHINES IN GREY GARDENS


The name Jacqueline Kennedy Onassis has a magical aura to it and in the spotlight are relatives - an aunt and a cousin. It's that relationship that magnetized people to watch a documentary about two demented women - debutant daughter Little Edie Bouvier Beale and her mother Big Edie - who lived in squalor in a 28-room dilapidate mansion - Grey Gardens - with cats, raccoons and opossums. Had they been related to nobody in particular their story wouldn't have garnered more than a small, back page paragraph even on a slow news day.

Considering their lineage they made headlines.

On Oct. 22, 1971, inspectors from the Suffolk County Health Department raided the house and discovered that it violated every known building regulation. In the dining room, they found a five-foot mountain of empty cans; in the upstairs bedrooms, they saw human waste.

The story became a national scandal. Health Department officials said they would evict the women unless the house was cleaned. Jacqueline Kennedy Onassis came to the rescue, paying for a cleanup that included 40 gallons of germicide.



Little Edie in front of Grey Gardens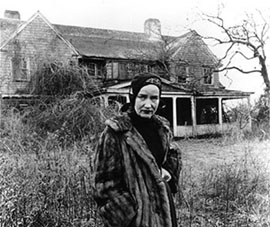 The following year, Lee Radziwill, sister of Jacqueline Onassis, introduced David and Albert Maysles to her relatives as part of a project she had proposed to film the early years of her and her sister's lives. Though that idea was abandoned, the filmmakers returned to the Beales to suggest a film about them. They were persuaded to permit hand held cameras to film them inside Grey Gardens. The documentary crew reportedly wore flea collars around their ankles while filming. Big and Little Edie agreed to the video crew because they were promised film profits - profits which were not forthcoming.

The legendary 1975 documentary Grey Gardens, by David Maysles, Albert Maysles, Ellen Hovde, Muffie Meyer & Susan Froemke has now risen to cult status. In viewing the movie it's impossible to turn away, although there are times the viewer might feel they are window peeking and violating personal sanctity.

An off-Broadway hit, the show by the same name, transferred to The Great White Way, officially opening November 2.

With most of the off-Broadway cast intact, the emotionally moving production is proof that there are magnificent parts written for women over the age of 40.

Seen in previews, Christine Ebersole has the role of a lifetime and also double duty. In act one she assumes the role of Little Edie's vivacious, controlling, attention driven mother, Edith Bouvier Beale. In Act II Ebersole takes on the part of late-middle-aged Little Edie, while Mary Louise Wilson plays the decrepit Big Edie.

In the 1940s Little Edie Bouvier Beale was a ravishing debutante. She claimed her suitors included J. Paul Getty, Howard Hughes and a Rockefeller brother. She was nicknamed Body Beautiful Beale after her bathing suit came undone during mid-dive at East Hampton's posh Maidstone Club. Proof seems to exist that Joe Kennedy, Jr. had prposed marriage.



Christine Ebersole in Grey Gardens. Photo by Joan Marcus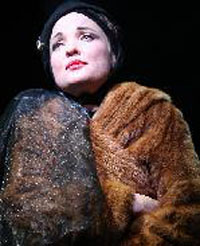 Little Edie was born in Manhattan on Nov. 7, 1917. She was the eldest of the 10 grandchildren of John Vernou Bouvier Jr., who spent summers at the family estate in East Hampton, Lasata.

Other grandchildren included Jacqueline Bouvier and John H. Davis, author of Bouviers: Portrait of an American Family (Farrar, Straus, 1969). He wrote that Edie was the family beauty, "surpassing even the dark charm of Jacqueline."

Little Edie lived a gilded life as a youth. In 1936, The New York Times reported on her debut at the Pierre Hotel, at which she wore a gown of white net appliquéd in silver and a wreath of gardenias in her hair.

Starting at 17, she began a successful career as a model. She felt that she was on the verge of a big break into films in 1952, when she was 35. She said she had offers from MGM and Paramount, and that her dance career was set to take off.

Whether on the verge of success or not, she was called home to Grey Gardens by her controlling mother, who said she was ill and needed her.

Act I invokes literary license with both conversations and how Edie's romance with Joe Kennedy, Jr. ended. Like life in general, some things go on too long. Editing real people is far more difficult that clipping fiction. That first act is an important set up for Act Two which remains faithful to the documentary.

Also remaining faithful to the documentary are the William Ivey Long costumes.



Mary Louis Wilson in Grey Gardens. Photo by Joan Marcus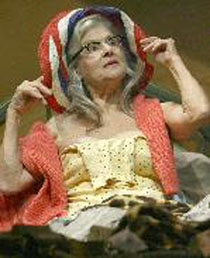 A must see show for those who are fascinated by all things Kennedy; those interested in sociology and or mental health issues and anyone who wants to see Ebersole's tour de force performance.

Erin Davie's portrayal of the post-debutante Edie gives notice that she has a great future. Veteran performer Mary Louise Wilson as Big Edie is excellent and the chemistry between Ebersole and Wilson is dynamite.

The entire cast is astounding. Matt Cavenaugh (Joseph Patrick Kennedy Jr./Jerry), Kelsey Fowler (Lee Bouvier), Sarah Hyland (Jacqueline Bouvier), Michael Potts (Brooks Sr./Brooks Jr.), Bob Stillman (George Gould Strong) and John McMartin (J. V. Bouvier/Norman Vincent Peale).

Nobody hopes to end up like the Beale women. This is a significant piece of history. The importance of diet, exercise, social interaction and the effects of alcohol. The brain can be a ticking time-bomb. Little Edie had slipped the boundaries of reality, if ever she was actually firm footed in them. The emotional turmoil of the long standing mother-daughter love-hate, co-dependency relationship surely had an impact.

The elder Edith Beale died in 1977. Her daughter then attempted a Manhattan cabaret career at age 60, which was akin to watching a train wreck. Unsuccessful, she sold Grey Gardens in 1979 and moved to Florida living off her small savings. She was discovered dead in her apartment on January 14, 2002 after a concerned fan could not reach her on the phone. She had been dead about five days from a presumed heart attack at age 84. Another report indicated the heart attack was triggered after falling off a wobbly chest of drawers.

If you haven't seen the original documentary, you've missed a rare opportunity to view proof that beauty, wealth and all that implies won't guarantee a golden life. There is a also a new Maysles Brothers companion movie, The Beales of Grey Gardens - featuring previously-unseen outtakes from the original documentary - several upcoming books, including a collection of Edie's original poetry. There is also a film in the pre production stage, which will star Drew Barrymore and Jessica Lange.

Grey Gardens with a book by Doug Wright, based on 1975 documentary Grey Gardens by David Maysles, Albert Maysles, Eillen Hodve, Muffie Meyer & Susan Froemke. Music by Scott Frankel. Lyrics by Michael Korie. Directed by Michael Greif. Musical Staging by Jeff Calhoun. Lighting Design: Peter Kaczorowski. Sound Design: Brian Ronan. Set Design: Allen Moyer. Projections: Wendall K. Harrington. Hair & Wig Design: Paul Huntley. Orchestrations: Bruce Coughlin. Music Director/Conductor: Lawrence Yurman.

As long as Christine Ebersole is the star, this production will remain at the Walter Kerr Theater in New York City.



Broadway To Vegas is supported through advertising and donations. Priority consideration is given to interview suggestions, news, press releases, etc from paid supporters. However, no paid supporters control, alter, edit, or in any way manipulate the content of this site. Your donation is appreciated. We accept PAYPAL. Thank you for your interest.


SPREADING THE WORD


ROBERT TOWNE SCREENS LA GRANDE ILLUSION Oscar-winner Robert Towne is best known for writing Chinatown, as well as Shampoo and the first two Mission Impossible films. Towne will screen and discuss Jean Renoir's war masterpiece La Grande Illusion. (1937, 114 min. In French with English subtitles.) A Q&A session precedes the screening. Presented as part of the series Cinema's Legacy, in which today's movie makers discuss firsthand great films and filmmakers who have influenced their careers. Tuesday, November 14, at the Skirball Center in Los Angeles.


OTHER PEOPLE'S MONEY


NOVEMBER 17th IS '60'S NIGHT

Ensemble photo of the Hairspray production at the North Shore Music Theatre by Paul Lyden.
at the North Shore Music Theatre in Beverly, MA. Breakout the Beehive, Bouffant and Brill Cream at Hairspray. All ticket holders for the Friday, November 17th performance who deck out in 60's duds will receive a special prize and be eligible to win a 2007 musical theater season subscription to NSMT.

Before the show and during intermission, NSMT judges will be on the lookout for all the Guys and Gidgets who raided their closets or consignment shops for the best 60's looks.

Finalists will be brought on stage immediately after the performance to have their picture taken with the cast of Hairspray and one lucky winner will receive a 2007 musical theater season subscription.


SWEET CHARITY


WILLIAMSTOWN THEATRE FESTIVAL SALUTES SIR TOM STOPPARD

Blythe Danner, Faith Prince and Bebe Neuwirth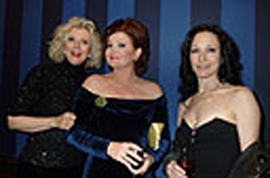 celebrated stage and film writer, at a Gala to benefit the Festival on Monday, November 13, at the Puck Building in New York City. On Broadway, Sir Tom won the Tony Award for Best Play on three occasions, for The Real Thing, Travesties and Rosencranz and Guildenstern Are Dead. In film, he received the Academy Award for the screenplay of Shakespeare in Love. His trilogy, The Coast of Utopia began performances at the Vivian Beaumont Theatre on Broadway in October after a triumphant run in London.

The Williamstown Theatre Festival has produced many of Sir Tom's works and Roger Rees, Artistic Director of the Williamstown Theatre Festival, created the role of Henry in the West End premiere of Stoppard's The Real Thing and the role of Kerner in the West End premiere of his Hapgood.

The November 13 Gala includes a reception with the Gala's many distinguished guests and performers, dinner, musical entertainment, silent auction and the tribute to Sir Tom. Joanne Woodward is Honorary Chair of the Gala. Honorary Co-Chairs of the Gala are: Marge Champion, Connie Cincotta, Blythe Danner, Dana Ivey, Bebe Neuwirth, Gwyneth Paltrow, Ann Reinking, Jean Kennedy Smith and Kathleen Turner.

Musical performers at the Gala include the following. Catherine Brunell, Kate Burton, Matt Cavenaugh, Nikki Renée Daniels, Malcolm Gets and Faith Prince. In addition to Mr. Rees, the tribute to Sir Tom will include Bill Irwin, the Tony-award winning actor who has also appeared at Williamstown.

The Williamstown Theatre Festival received the 2002 Tony Award for Outstanding Regional Theatre. The Festival presents classic and new work in the '62 Center for Theatre and Dance on the Williams College campus in Williamstown, Massachusetts. Next year's season will be the Festival's 53rd.

CHICAGO celebrates a decade on Broadway - the longest-running musical revival ever! Producers Barry and Fran Weissler are planning a party. A glittering roster of alumni who have razzle-dazzled them over the past 10 years will attend the 10th-anniversary performance on Nov. 14. They include; Melanie Griffith, Brooke Shields, Wayne Brady, Patrick Swayze, Marilu Henner, Huey Lewis, Gregory Harrison, Alan Thick, Ann Reinking, Bebe Neuwirth, James Naughton, Joel Grey and Marcia Lewis.

The gala at the Ambassador Theater, will benefit Safe Horizon, which rebuilds shattered lives.

AMAS MUSICAL THEATRE will celebrate its 38th year with a Gala evening on November 13th featuring a special Blast from the Past performance of Broadway Soul, a star-studded concert of song and dance in tribute to America's great jazz composers. Conceived, arranged and directed by Chapman Roberts, Broadway Soul salutes the music and lyrics of Alberta Hunter, Louis Jordan, Billy Strayhorn, Fats Waller, Cab Calloway, Duke Ellington and many others. Amas' November 13th Gala will also honor Maurice Hines and Verizon with The Rosie Award - named for Amas Founder Rosetta LeNoire. Donna Trinkoff, Producing Artistic Director of Amas Musical Theatre, said "We honor Maurice for his sustained lifetime achievement and incredible career as a dancer, actor, choreographer, director and producer. He has always shared our mission of diversity, inclusiveness and excellence. And we honor Verizon for its continuing leadership in support of diversity in the workforce, strengthening community organizations, and championing literacy in America."

Musical direction for Broadway Soul is by Will Barrow, with choreography by Leslie Dockery. It features a cast that includes Freda Payne, B.J. Crosby, Faruma and Floyd Williams, Bertilla Baker, Jean Cheek, Patricia Iacobazzo, Yolanda Graves, Patrick Jude, Mary Louise, Sandra-Reaves Phillips, Raun Ruffin, Steve Ruggieri, Glen Turner and others.

The November 13th Amas benefit at New World Stages, will be followed by a buffet dinner at Puttanesca.

Amas' Honorary Benefit Committee is chaired by Phylicia Rashad with Judith Ann Abrams, Stephanie Abrams, Pat Addiss, Billie Allen, Joel and Rhela Aragona, Joe Benincasa, Ruby Dee, Carmen de Lavallade, Dasha Epstein, Tara Fishman, Micki Grant, Neville Grusd, Geoffrey Holder, Danny and Gail Holgate, Jeffrey Kent, Woody King Jr., Willette Klausner, Jeffrey Larson, Charles Mirotznik, Esq., Denise Morgan, Jack and Barbara LeNoire, Hon. Charles Rangel, Robert Schatz, Esq., Hon. Charles Schumer, Comp. William Thompson, Jr. and Leslie Uggams.

For 38 years, Amas - you love in Latin - has engraved its unique trademark in the world of musical theatre, producing groundbreaking work embracing different cultural perspectives while reaching out to underserved audiences.

The Amas Benefit is an annual event held to raise funds in support of Amas Musical Theatre's ongoing theatre and arts education programs.

THE LADY OF BURMA On Sunday November 12, this powerful new play about Aung San Suu Kyi, Nobel Peace Prize winner and Burma's pro-democracy leader, will show exclusively at the Old Vic Theatre, London. This is the first time that her story will have been brought to the London stage.

Organized by the Burma Campaign UK (BCUK), The Lady of Burma is a one-woman play starring Liana Gould and written and directed by Richard Shannon. Maureen Lipman will host the evening and contributors include Juliet Stevenson, Sinead Cusack, John Pilger, Glenys Kinnock MEP, Richard Wilson and Prunella Scales.

Aung San Suu Kyi, the eponymous lady is leader of the National League for Democracy (NLD) in Burma, which won a landslide election victory in 1990, but has never been allowed to govern. Suu Kyi was in Burma to nurse her critically ill mother in 1988. When she arrived in Rangoon, Burma was in political upheaval. Burmese people took to the streets in protest against military rule and demanded democratic reform. "I could not as my father's daughter remain indifferent to all that was going on", she said during a speech in 1988.

The daughter of Burma's independence hero General Aung San, and inspired by the non – violent campaigns of US civil rights leader Martin Luther King and India's Mahatma Gandhi, Suu Kyi organized rallies and traveled around the country, calling for peaceful democratic reform and free elections. The protests and rallies were brutally suppressed by the army and Aung San Suu Kyi herself was placed under house arrest.

Since then, as the courageous leader of a campaign against one of the world's most brutal dictatorships, she has spent almost eleven years under house arrest. She isn't allowed to see her two sons, grandchildren, family, friends or colleagues as all visitors are banned. Her phone line is cut and her mail is intercepted. In 1999 Suu Kyi's husband, Michael Aris died of cancer - the Burmese authorities refusing her a visit from him prior to his death. They have two children, Alexander and Kim. Many of her supporters have been jailed or killed, notably in the Depayin massacre of May 2003, when up to a hundred were beaten to death by the Burmese militia. The military junta's policies have led to more than 600,000 deaths and up to one million people displaced.

Suu Kyi has called for people around the world to join the struggle for freedom in Burma. In addition to the Nobel Peace Prize, she has won the Sakharov Prize from the European Parliament and the United States Presidential Medal of Freedom.

Aung San Suu Kyi was held under house arrest from 1989-1995, and again from 2000-2002. She was again arrested in May 2003 after the Depayin massacre. She is currently under house arrest in Rangoon. Aung San Suu Kyi's message is a simple one – that only by "fighting fear can you truly be free" – a message Burma's military fears and aims to silence.

Burma is ruled by one of the most brutal and corrupt regimes in the world responsible for: the widespread use of forced labor. Over 1 million people have been forced from their homes since 1988. There are currently at least 1100 political prisoners in Burma, many of whom are routinely tortured, and as many as 70,000 child soldiers – more than any other country in the world. Rape is used as a weapon of war against ethnic women and children.

Nearly half the government budget is spent on the military and one in ten children die before their fifth birthday.

The Lady of Burma is supported by Arts Council England through Grants for the Arts. The Burma Campaign UK is part of a global movement to promote democracy and restoration of human rights in Burma.


IT'S BEGINNING TO LOOK A LOT LIKE......


The Old Globe, San Diego's cultural landmark, is hosting a free holiday tree lighting on Sunday, November 12. - which just happens to coincide with the theatre's production of Dr. Seuss' How The Grinch Stole Christmas.

This fun family event will feature a special performance by cast members.

The festivities include: free holiday beverages, appearances by Old Globe Executive Director Lou Spisto and Mrs. Dr. Seuss' herself Audrey Geisel who will be pulling the Seuss-switch to light the tree! A Special appearance by The Grinch! and STAR 94.1 radio personality HILARY, who will be on site playing holiday tunes and handing out cookies, coffee and free popcorn.

Dr. Seuss' How The Grinch Stole Christmas! has a Book and lyrics by Timothy Mason. Music by Mel Marvin. Directed by Jack O'Brien. Come take part in the fun as the Globe is transformed into snow-covered Who-ville right down to the last can of Who-hash.



THE UNSCRUPULOUS MURDERER HASSE KARLSSON REVEALS THE GRUESOME TRUTH ABOUT THE WOMAN WHO FROZE TO DEATH ON A RAILWAY BRIDGE By multi award-winning Swedish crime writer Henning Mankell. Translated by May-Brit Akerholt.

What forces could drive a child to do the unthinkable?

On a dark, frozen night in the Swedish countryside, Hasse Karlsson is rushing home to visit his estranged mother before she dies. When the bus he is traveling in breaks down, Hasse's mind drifts back to the winter of his 13th year, when new-found friend Swallow, drew the susceptible boy into a series of dangerous games. He remembers the terrible night the woman came to a chilling end on top of the railway bridge. How did a simple game go so wrong? How much did his mother really know of his actions? And why, half a lifetime later, can he still not find peace?

A gothic fable unearthing questions that resonate across cultures and time.

Sarah Goodes directs a cast which includes: Andrew Crabbe, Jan Langford-Penny, David Terry, Kate Worsley and Emily Weare.

Set designer Genevieve Dugard. Animation/ Graphic design Gabriel Clark. Initial costume concept Tobhiya Stone Feller. Costume designer Magdalena Prezeziecka. Lighting designer Sean Pardy. Composer Chris Abrahams. Sound designer John Blake.

Author Henning Mankell is a multi award-winning master of suspense, whose books have been translated into 19 languages. His detective novels, based around the flawed detective Kurt Wallander, dominate best-seller lists around the world. Mankell is married to Eva Bergman (daughter of legendary film-maker Ingmar) and divides his time between Sweden, and Mozambique where he runs the Teatro Avenida and is passionately involved in the fight against AIDS.

Presented by the Splinter Theatre Co. and Darlinghurst Theatre Company. Currently in previews. Opens Saturday, November 11, with a gala night event featuring drinks and canapes with the cast and crew. Darlinghurst Theatre Company in Potts Point, Australia.

MEET JOHN DOE Music by Andrew Gerle Lyrics by Eddie Sugarman. Book by Andrew Gerle and Eddie Sugarman. Additional story by Matt August. Directed by Michael Baron. Choreographed by Karma Kamp.

Extra! Extra! John Doe Threatens to Jump Off Brooklyn Bridge!

A Depression-era reporter pumps new life into a dying newspaper with a hoax that ignites a national frenzy to save "John Doe."

Scrambling to keep the stunt going, she recruits a washed up ballplayer to play the part. How far will she go to keep up the scam of the century? Romance, intrigue and plenty of songs to fall in love with. November 9 - December 3 at The Norma Terris Theatre, Chester, Conn.

TRYST By Karoline Leach. Directed by Joe Brancato.

Adult content, sexual situations. Recommended for mature audiences. In British playwright Karoline Leach's subtle, provocative play, handsome con-man George Love enters into a questionable relationship with Adelaide, a lonely milliner in Edwardian London. A smooth-talking gigolo, Love's plot to swindle Adelaide out of her money is slickly underway when he encounters a few surprises. A tantalizing glimpse behind the doors of Edwardian England.

The Alley Theatre Neuhaus Stage November 10 - December 10, Houston, Texas.

DRUMS IN THE NIGHT by Bertolt Brecht, newly translated by Finegan Kruckemeyer, directed by Jon Kellam.

The war is over. Berlin is in chaos and Anna must finally accept that her lover Kragler, missing in action for four years, will never return. But then one night, as the moon hangs red in the sky, he appears like a ghost to discover her pregnant and engaged to another man. In the boozy battle of wills that follows, she banishes him to the darkness, where he is swept up in the street riots consuming the city. Drums in the Night is a musically exuberant and darkly comic parable that says much about a world at war with terror.

"As we enter our twenty-fifth season, we are proud to continue The Actors' Gang tradition of rule-breaking, thought-provoking, engaging theater," comments artistic director Tim Robbins, who co-founded the company in 1982 with a group of fellow "renegade" theater artists.

November 11, 2006-January 27, 2007 at The Actors' Gang located in the Ivy Substation in Culver City.

THE LIGHTNING PLAY world premiere by Charlotte Jones.

"That's how it'll be one day. The doorbell will go and she'll be home. Just like that."

Set at Halloween in North London a young, professional couple - Max Villiers a celebrity ghost writer and his wife Harriet, a talented shopper - come home after a long day, ready to collapse on the sofa in front of the TV. As Max connects his first plasma TV, the evening is hijacked by interference from the past. There are trick or treaters at the door and strangers on the brand new rug.

This shocking and darkly humorous play from the writer of Humble Boy whose other works include the book of The Woman in White in the West End and The Dark at the Donmar Warehouse.

Anna Mackmin directs a cast which includes in alphabetical order: Adie Allen (Jacklyn Pettit), Christina Cole (Tabby Morris), Eleanor David (Harriet Villiers), Lloyd Hutchinson (Eddie Fox), Simon Kassianides (Burak), Matthew Marsh (Max Villiers), Katherine Parkinson (Imogen Cumberbatch) and Orlando Seale (Marcus Cumberbatch).

Set Designer is Lez Brotherston. Lighting by Tim Mitchell. Sound by Paul Groothuis. Cinematography and Projection Designer is Jon Driscoll.

At the Almeida Theatre in London opening Thursday, November 9, with performances through Saturday, January 6, 2007.

BALLET FOLKLORICO MEXICANO OLLIMPAXQUI Culturally significant and artistically renowned, comes to Playhouse on the Green in Bridgeport, CT on Friday, November 10. The family event is presented by ARTSport as part of a Fall Family Series. Co-presenter is National Theatre for Arts and Education.

Featuring gorgeous costumes and all the color and festivity of Mexican tradition, this is a culturally enlightening night of song and dance.

In the language of the Aztecs called Nahuati, the word "ollimpaxqui" means "joyful movement." A enjoyable vista, the ballet showcases traditions evolved over hundreds of years from American, European, Indian and Asian inspiration.

Playhouse on the Green, formerly the Polka Dot Playhouse, is a 228-seat theatre conveniently located on McLevy Green in downtown Bridgeport. Often compared to an "intimate" Broadway setting, the theatre has marble walls, gold-leaf trim, and brass light fixtures. Bridgeport, CT.

ROCK 'N ' ROLL Tom Stoppard's newest play, spans the years from 1968 - 1990 from the double perspective of Prague, where a rock'n'roll band comes to symbolize resistance to the Communist regime - and of Cambridge, where the verities of love and death are shaping the lives of three generations in the family of a Marxist philosopher.

Directed by Trevor Nunn. The Cast The full cast (in alphabetical order) is: Nicole Ansari, Louise Bangay, David Calder, Anthony Calf, Martin Chamberlain, Miranda Colchester, Sinead Cusack, Alice Eve, Edward Hogg, Rufus Sewell and Peter Sullivan.

Currently on stage at The Duke of Yorks Theatre in London.

STONES IN HIS POCKETS by Marie Jones. A comedy in which two actors play 15 roles in a story about a Hollywood film being shot in a small village in County Kerry. The production has returned to London's West End.

Directed by Ian McElhinney. Starring Simon Delaney and Hugh Lee. At the Duchess Theater, London.

MARTHA, JOSIE AND THE CHINESE ELVIS

Photo of Tony Nam by Stan Barouh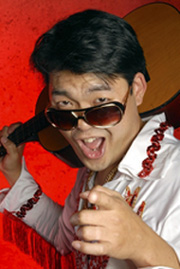 by Charlotte Jones. Directed by John Vreeke.

An eccentric and hilarious collection of Bolton, England misfits. Josie, a dominatrix who feels ready to hang it all up, is dreading her 40th birthday - so her favorite client Lionel throws a party with a special musical guest! But the real surprise comes when a ghost from the past barges in, propelling this outrageous mix of edgy comedy, heart-throbbing humanity, and sheer ridiculousness.

Featuring Woolly company members Kimberly Gilbert & Sarah Marshall with Tiffany Fillmore, Beth Hylton, David Bryan Jackson & Tony Nam.

American Premiere November 6 - December 10 Woolly Mammoth Theatre in Washington, D.C.

Elvis Saturday at Woolly: Come dressed like Elvis for the Sat. Nov. 11th 8pm show and pay only $15. Best costume wins free theatre tickets!


| | | |
| --- | --- | --- |
| | | |
WHO'S WHERE


KYLIE MINOGUE the pop princess who was forced to abandon a tour last year after being diagnosed with breast cancer has returned to Sydney, Australia ahead of her return to the stage on Nov. 11. Minogue, 38 underwent surgery in Melbourne in May 2005, followed by chemotherapy in Paris, where her boyfriend, the French actor Olivier Martinez, has a home. She called him "the most honorable man I have ever met." She described her chemotherapy treatment for breast cancer like surviving a nuclear explosion. Her Showgirl tour opens in Sydney on November 11.

VINCE GILL performs Wednesday, November 8 at the Arts Center in Mesa, AZ. On Saturday he's on stage at the California Center for the Arts in Escondido, CA.

STEVE TYRELL brings his pop standards show ,This Time of the Year, to the Cafe Carlyle in New York City Nov. 14 through Dec. 31.

THE WHO shake up the HP Pavilion in San Jose, CA on Wednesday, November 8.

BILLY JOEL down under with a show Tuesday, November 7 at Burswood Dome and a two night stand beginning Friday, November 10 at Rod Laver Arena in Melbourne.

DIXIE CHICKS perform Monday, November 6 at Pengrowth Saddledome in Calgary, Canada. On Wednesday they are in the spotlight at General Motors Place in Vancouver. Thursday finds them at Rose Garden Arena in Portland, Oregon. Saturday the show is at the Racoma Dome in Tacoma, Washington.

BOB DYLAN the real thing, not the Broadway musical which is being panned by everybody - sings Tuesday November 7 at Air Canada Centre in Toronto. Wednesday finds him at the Bell Centre in Montreal. On Thursday he's in the spotlight at the Cumberland County Civic Center in Portland, Maine. On Saturday he starts a two night gig at the Agganis Arena in Boston.

RANDY NEWMAN brings his show to the John Van Duzer Theatre in Arcata, Ca. on Friday, November 10. On November 11 he is at the Jewish Community Center in San Francisco.

BRUCE HORNSBY on stage Thursday, November 9 at the Keswick Theatre in Glenside, PA. On Friday he makes music at the Concert Hall @ N.Y.S.E.C. in New York City.

BARBRA STREISAND on election night will be starring at the United Center in Chicago.

EDGAR WINTER performs at The Cannery Casino in Las Vegas on Saturday, November 11.

NICK LACHEY on stage November 10-11 at the Luxor Hotel in Las Vegas.

RAY ROMANO telling funny stories November 11-12 at the Mirage Hotel in Las Vegas.
















Next Column: November 12, 2006
Copyright: November 5, 2006. All Rights Reserved. Reviews, Interviews, Commentary, Photographs or Graphics from any Broadway To Vegas (TM) columns may not be published, broadcast, rewritten, utilized as leads, or used in any manner without permission, compensation and/or credit.
Link to Main Page
---
Laura Deni


CLICK HERE FOR COMMENT SECTION