! >
Broadway To Vegas
  
  REVIEWS INTERVIEWS COMMENTARY NEWS

| | |
| --- | --- |
| | |
SANDY STOLE THE SHOW ON BROADWAY - -HOW TO SAVE FLOOD DAMAGED WORKS OF ART - - CASINO ASSOCIATION OF NEW JERSEY - - DEAD ACCOUNTS - - CHARLIE AND THE CHOCOLATE FACTORY AND BELGIUM CHOCOLATE - - ST. MALACHY'S – THE ACTORS CHAPEL - - JASPER JOHNS SEEING WITH THE MIND'S EYE - - CITY CENTER 20th ANNIVERSARY OF ENCORES! GALA BENEFIT - - DONATE . . . Scroll Down


Copyright: November 4, 2012
By: Laura Deni
CLICK HERE FOR COMMENT SECTION

BIGGEST FLOP ON BROADWAY THIS SEASON - SANDY


The historic Commodore Criterion Building at 25th Street (purchased last June by the Spanish kitchen and tile company Porcelanosa as their US Headquarters) and adjoining street vendor/Madison Square Park area, normally bustling with people - thanks to Hurricane Sandy - the area spent four days dark, deserted and damp. Photo: Laura Deni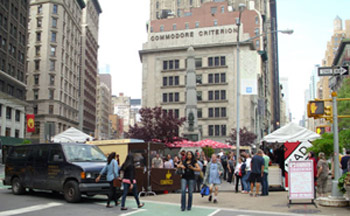 Sandy, more powerful to Broadway than John Simon, Michael Riedel, Ben Brantley, Elizabeth Vincentelli and Clive Barnes all rolled into one. Not the adorable Sandy in Annie, but the junk yard dog variety known as Sandy the Hurricane which not only shuttered Broadway and off-Broadway shows, but (gasp!) closed down 250 Starbucks stores from Virginia to Maine.

True to 'the show must go on theory' the baristas at the Times Square Starbucks did stay open, enabling residents to get the caffeine fix necessary to tolerate the bad performance Sandy delivered.

While New Yorkers were optimistically singing The Sun Will Come Out Tomorrow Broadway experienced a hard knock life of being shuttered for three days, finally staging a limited curtain up on Wednesday.

Charlotte St. Martin, Executive Director of The Broadway League, stated, "The show must go on, and Broadway shows are doing just that. . . . All Broadway shows are playing as scheduled. We are aware that some of our fans are still unable to get to the theatre, and our thoughts are with them. For cooped-up New Yorkers and out-of-town visitors who are staying in hotels and can't get home, now is a great time to see a show!"

When the lights came back on Friday night it was immediately announced that Off-Broadway would re-open as their power returned, with most productions offering substantial ticket discounts through November 11.

"Off-Broadway theaters in Lower Manhattan have long demonstrated their survival skills, as evidenced after 9-11 and once again, they are bouncing back," said George Forbes, Executive Director of the Lucille Lortel Foundation. "We hope everyone will take advantage of this generous offer, and support the theaters that continue to be dramatically impacted by circumstances far beyond their control."

Getting to the theatre is a major problem for those associated with or attending the productions - although transportation has increased crawl speed and the Department of Defense is trucking in gasoline.

Everyone suffered.

The dark Tuesday sustained the most financial impact, since all shows normally have Tuesday performances.

Some marginal shows will not survive Sandy's criticism. Others will take time to recover.

The mean tricks of Sandy caused many Halloween events to be cancelled or postponed. No treat there.



Bette Midler and Debbie Harry at the 2012 Hulaween Ball. Photo by: Joseph Marzullo; Photos: Wenn
The marvelous Bette Midler was unfairly criticized for not canceling her 17th annual The Hulaween Ball held to raise funds for her charity Bette Midler's New York Restoration Project which creates green space in New York.

Midler truly is a humanitarian, not one who tags humanitarian to their name for their own benefit.

Midler's charity will be vital for revitalizing New York City's underserved parks and community gardens after Sandy.

This year's elaborate costumed bash, which had a "En Francaise" theme, was a year in the planning. Staged at The Waldorf Astoria hotel, Douglas Little designed the party's dramatic decor.

The star-studded crowd of nearly 1,000 costumed guests saw Midler in a zombie Coco Chanel costume.

Explaining her costume to the crowd, Bette said: "I am a corpse of Coco Chanel because I knew there would be more Napoleons here tonight than there are Elvises in Las Vegas."

Blonde star Debbie Harry came as a Moulin Rouge dancer. Other guests were

Debra Messing attended the French themed charity costume ball in a Marie Antoinette inspired costume. Photo by: Joseph Marzullo; Photos: Wenn
Debra Messing dressed in a Marie Antoinette inspired costume, while Michael Kors, who judged the costume contest, and his husband Lance LePere arrived as matching stereotypical French men including sunglasses, beards, berets on their heads, a baguettes tucked under one arm and a cigarette dangling from the mouth. Dita von Teese kept her costume dignified - a tuxedo accented by Ben-Amun earrings.

Winners of the costume contest received a wheel of brie.

Master of ceremonies was Judy Gold. An auction with Sotheby's Hugh Hildesley executing the gavel work, and guests enjoyed a dinner created by celebrity chef Jean-Georges Vongerichten.

2012's Hulaween honored Amy Goldman Fowler and Cary Fowler with the annual Wind Beneath My Wings Leadership Award.

Several guests received a Sandy knock-out punch. Guest of honor Al Gore was left stranded in Tennessee. while Catherine Zeta-Jones and Michael Douglas were trapped in Bermuda.

The tireless Midler is a fan of Twitter and spent the evening keeping those who couldn't traverse the wind and rain up to date on the evening's activities.

Referring to Gore she posted: "'Ok, the man we invited to address us te #globalwarmingisreal could not make it because of GLOBALWARMING!! So sad, Al Gore..see you soon xox,"

After the event Bette wrote that the evening had brought in $1.8 million.



Mayor Michael Bloomberg was in a tough spot and finally cancelled the 26.2 mile New York Marathon.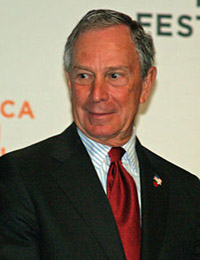 Trapped in a hard spot, Mayor Michael Bloomberg wisely cancelled the 40th anniversary of the world famous New York Marathon, telling 40,000 caught-of-guard runners to kick off their shoes.

"While holding the race would not require diverting resources from the recovery effort, it is clear that it has become the source of controversy and division," read a joint statement from the mayor and the New York Road Runners.

"The marathon has always brought our city together and inspired us with stories of courage and determination," said the statement, issued barely 36 hours before the race's start. "We would not want a cloud to hang over the race or its participants, and so we have decided to cancel it."

The marathon would have stepped off today, November 4, in Staten Island, where 19 people died – including two found dead on Friday. Then they would have hot footed it through five boroughs where at least 40 people have perished thanks to Sandy.

Now, get those portable lights, generators, boxes of apples, bottled water and pasta out of Central Park and transferred to the desperate people on Staten Island.

New York will eventually return to normal, because that's the way New Yorkers are.

Those who deserve the standing ovation are the first responders plus the good citizens who are tirelessly climbing steps to care for the needs of seniors who can't navigate so well, and, that makes-you-proud-crowd that successfully evacuated 300 patients - including critically ill newborns - from NYU'S Langone Medical Center, to Mount Sinai and New York Cornell hospitals after a back-up generator failed. The newborns were transferred to New York-Presbyterian's neonatal medical unit.

"Every baby or adult patient was accompanied by a nurse. That nurse would remain with the patient," said NYU spokeswoman Lorinda Klein.

Seriously ill babies were still hooked up to oxygen masks and intravenous lines while they were being moved, with nurses manually pumping oxygen bags. Thanks to that kind of care, those babies will live to tell stories that are the stuff of books and plays.





Broadway To Vegas is supported through advertising and donations. Priority consideration is given to interview suggestions, news, press releases, etc from paid supporters. However, no paid supporters control, alter, edit, or in any way manipulate the content of this site. Your donation is appreciated. We accept PAYPAL. Thank you for your interest.



ART AND ABOUT


JASPER JOHNS SEEING WITH THE MIND'S EYE

Jasper Johns, Highway, 1959; private collection; © Jasper Johns/Licensed by VAGA, New York, NY.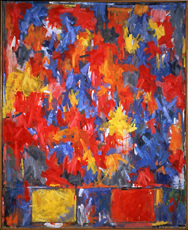 For nearly 60 years, Jasper Johns has found new ways to explore, as he once put it, "how we see and why we see the way we do."

This major exhibition is the artist's first Bay Area museum survey in 35 years.

The exhibition represents the full range of his career, from his tremendously influential renderings of numbers, flags, and other symbols in the 1950s and 1960s to vibrant recent work.

It both reveals the scope of Johns's achievement and reflects the particular interest in his art in the Bay Area.

Brought together for the first time are works from SFMOMA and other local public and private collections as well as several key works lent by the artist himself.

With some 90 paintings, sculptures, drawings, and prints, this is a rich overview of Johns's art — an invitation to look closely, and look again.

November 3, 2012 - February 3, 2013 at San Francisco MOMA.

HARRY POTTER: THE EXHIBITION continues in New York's Times Square.

Step inside the famous wizard's enchanting world and experience firsthand the magic of Hogwarts this holiday season.

After a widely successful international tour, Harry Potter: The Exhibition has returned to The Big Apple billed as: "better than ever, now enhanced with never-before-seen props and costumes from the epic series finale!"

Opened November 3, 2012 and continues through April 7, 2013.

THE MUSEUM OF MODERN ART AND MoMA PS1 in New York City have sprung into action by attempting to help on several levels.

According to Director Glenn D. Lowry, a MoMA curator and the director of MoMAPS1 put out a call for volunteers from the arts community and together they filled a bus with donated supplies and headed to one of the many areas in need of help on Saturday, November 3rd.

Tomorrow, Sunday, November 4, at 12:00 p.m., The Museum of Modern Art's conservation staff and speakers from the American Institute for Conservation Collections Emergency Response Team (AIC-CERT) will conduct a series of workshops to help the many artists and galleries whose works were affected by Hurricane Sandy.

They will provide suggestions and answer questions on how to safely handle damaged paintings, drawings, books, sculptures, and other artistic and cultural materials.

"MoMA has also issued Immediate Response for Collection, a document offering step-by-step guidelines for dealing with artworks damaged by flooding, and we will continue to lend knowledge and support to those caring for collections affected by the storm," according to Lowry's release.


SWEET CHARITY


A RED CARPET GALA PERFORMANCE

Queen Elizabeth II and Prince Philip, Duke of Edinburgh attend a gala performance of Our Extraordinary World at The Royal Opera House on October 30, 2012 in London, England. (Photo by Danny Martindale/Getty Images)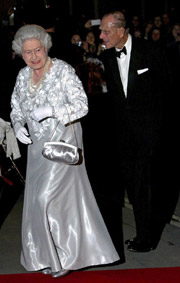 of Our Extraordinary World at the Royal Opera House in London on October 30 had in attendance Queen Elizabeth and Prince Philip.

Elizabeth wore a silvery gown designed by Angela Kelly. The bodice and sleeves were appliquéd with pearly white flowers.

The Queen sported white opera gloves, a three-stranded pearl necklace, a pair of ruby earrings, two diamond bracelets, silver pumps, and a bejeweled satin evening bag. Her best accessory was the tuxedo clad Prince Philip.

They were greeted at their arrival by chief executive Lord Hall, chairman Simon Robey, Director of Opera Kasper Holten and the Royal Ballet Director Kevin O'Hare.

Her Majesty was then presented with a bouquet of roses by nine-year-old Rashema Brissett, who is on the Chance to Dance program, which helps primary-school aged children by giving them classical ballet training at weekly classes.

Afterwards Elizabeth and Philip met the cast members.

The event was a fund raising gala for the Royal Opera House Foundation, created by Kasper Holten, Director of The Royal Opera, and Kevin O'Hare, Director of The Royal Ballet.

In an unparalleled evening of opera, ballet and music, Our Extraordinary World featured maestros Daniel Oren, Barry Wordsworth and Renanto Balasdonna with the Orchestra of the Royal Opera House. The Royal Ballet, including world renowned Principal Dancers and a full corps de ballet, performed world premieres from choreographers Alastair Marriott, Wayne McGregor and Liam Scarlett, a UK premiere from John Neumeier and works by Christopher Wheeldon, Frederick Ashton and Kenneth MacMillan.

Highlights from The Royal Opera included the Royal Opera Chorus performing the stirring Freudig begrüssen from Tannhäuser, Roberto Alagna singing a wonderful aria from Le Cid, Angela Gheorghiu singing Habanera from Carmen and Bryn Terfel in the powerful Te Deum from Tosca. British soprano Elisabeth Meister as Santuzza performed an extract from Cavalleria rusticana.

ST. MALACHY'S – THE ACTORS CHAPEL will present a star–studded musical extravaganza with The Voices United Choral Festival on Monday, November 12 at New York City's Beacon Theatre.

Linda Eder will join over 600 performers under the direction of conductor Eric Knapp with the evening being hosted by author Raymond Arroyo and featuring special performances by Broadway's Ryan Silverman.

Voices United will benefit the outreach ministries of The Actor's Chapel, as well as charities such as Covenant House New York.

Voices United was founded by St. Malachy's - The Actors' Chapel in the heart of the Broadway Community. This festival joins voices from New York City, North America, and abroad in a program of benevolence and goodwill to people of many faiths and cultures. This year's unique concert experience will feature young metropolitan-area musicians singing in a festival chorus along with a top-rate orchestra and conga ensemble. The program will include Hope for Resolution by Caldwell Ivory, as well as other moving performances. The evening will feature performers from many tri-state area choirs, including The Choir at St. Malachy's, Connecticut Choral Society, and New Jersey Choral Society.

The evening will also celebrate two dedicated leaders, Fr. Benedict J. Groeschel CFR, recipient of The Father George Moore Award – Religious Leader Award, and David Higgs, who will receive The Paul Creston Award.

CITY CENTER 20th ANNIVERSARY OF ENCORES! GALA BENEFIT takes place November 12.

Directed by Marc Bruni the evening will star Raul Esparza and Kelli O'Hara and will feature performers who have starred in the Tony Award winning Encores! productions over the past two decades, including: Sarah Uriate Berry, Walter Bobbie, Victoria Clark, Tyne Daly, Rob Fisher, Debbie Gravitte, Jared Grimes, Judy Kaye, Rebecca Luker, Rob McClure, Bebe Neuwirth, Megan Sikora and Daniel J. Watts. The artists will be accompanied by the Encores! Orchestra under the musical direction of Rob Berman.

The benefit will help fund New York City Center's artistic and education programs. The gala, honoring Stephanie and Fred Shuman, with the 2012 Fiorello H. LaGuardia Award, will begin with cocktails at City Center followed by the show and a post-performance dinner in The Grand Ballroom of The Plaza Hotel.

Gala co-chairs are Patricia and Jesse Lovejoy, Stacey and Eric Mindich, and Robin and Fred Seegal.

THE 2012 TRU LOVE BENEFIT: MAKING THE IMPOSSIBLE POSSIBLE! Theater Resources Unlimited (TRU), now celebrating its 21st year as a not-for-profit service organization, will recognize one of their own by presenting the 2012 TRU Spirit of Theater Award to Van Dean in recognition of his remarkable rise from first-time producer in the TRU Voices reading series in 2005 - Saint Heaven - to a current Tony Award winner Porgy & Bess and prolific Broadway producer and creator of The Broadway Consortium, a new investment model that has helped bring Bonnie & Clyde, Chinglish, revivals of Evita and The Best Man and more to the Broadway stage.

TRU will present their annual TRU Humanitarian Award to Broadway director-choreographer Jerry Mitchell - Hairspray, Catch Me If You Can, Legally Blonde and the upcoming Cyndi Lauper musical Kinky Boots - for his selfless work and passionate, generous spirit as the creator of Broadway Bares, raising money for Broadway Cares/Equity Fights AIDS.

This year's TRU Entrepreneur Award will be given to Edith O'Hara in celebration of the 40th anniversary of the 13th Street Repertory Company, and which for four decades has provided a valuable first home for so many people who move to New York to pursue theater.

Hosted by the comedy twins The Stone Brothers, the event features a star-studded Broadway cast headed by Andrea McArdle, as well as an array of talent that has appeared - or is appearing - in Dean and Mitchell productions: Laura Osnes will sing a song from Dean-produced Bonnie & Clyde as well as the upcoming first ever Broadway production of Rodger and Hammerstein's classic Cinderella; Kerry Butler will be featured in her star turn solo from Catch Me If You Can, which Dean produced and Mitchell choreographed; Celina Carvajal will be singing a song with composer Paul Scott Goodman from his musical Rooms: A Rock Romance, Dean's first off-Broadway venture before forming The Broadway Consortium; Tanesha Ross and Darren Ritchie will sing a duet from Saint Heaven, Dean's very first musical production which he found through the TRU Voices New Musicals Reading Series; Lauren Zakrin and D.B. Bonds, associate director of incoming Kinky Boots will be joining the cast recreating their roles of Elle and Emmett in Legally Blonde, which Mitchell directed and choreographed, and young Isabela Moner will be previewing a song from Dean-produced Evita.

The Honorary Benefit Committee include writers Nell Benjamin and Laurence O'Keefe; producer Corey Brunish; Kristin Caskey, president of Fox Theatricals; producer/investor Will Dombrowski; producer Sue Frost of Junkyard Dog Productions; writer Heather Hach; playwright Israel Horovitz; producer-presenter Mike Isaacson, former vice president of Fox Theatricals, current executive producer of the Muny in St. Louis; producer Hal Luftig; Sandra Nordgren, producing artistic director of 13th Street Repertory Company; 3-time Tony Award winning director Jack O'Brien; writers Marc Shaiman & Scott Wittman; producer Brisa Trinchero; producer Cheryl Wiesenfeld; and writer Frank Wildhorn.

The proceeds from this event directly benefit the programs of Theater Resources Unlimited, a not-for-profit service organization that educates people in the business of the arts, with a focus on producers, emerging theater companies and self-producing artists. Programs include monthly panels, workshops, a Producer Development and Mentorship Program, a new plays and new musicals reading series.

Sunday, November 11, 2012 beginning at noon at Lucky Cheng's in New York City.

HURRICANE SANDY: COMING TOGETHER

Jon Bon Jovi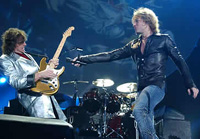 benefit concert, hosted by Matt Lauder and Jimmy Fallon, was telecast last Friday from NBC facilities in Rockefeller Center in New York City.

The musical benefit starred Bruce Springsteen, Jon Bon Jovi, Billy Joel, Jon Stewart, Tina Fey, Whoopi Goldberg, Christina Aguilera, Mary J. Blige, Steven Tyler and others.

Other networks are also stepping up.

ABC parent Walt Disney Co. said it would donate $2 million to the American Red Cross and various ABC shows will promote a Day of Giving on Monday.

Monies raised will go to the American Red Cross to benefit victims of Hurricane Sandy.

STATE THEATRE OF NEW JERSEY AND CHRIS ISAAK will join forces to benefit victims of Hurricane Sandy on Monday, November 5, 2012.

A portion of the proceeds from the concert ($5 per ticket) will be contributed to the American Red Cross to directly benefit victims of Hurricane Sandy.

Monday, November 5, at the State Theatre in New Brunswick, NJ.

ACTORS' FUND STATEMENT Joseph P. Benincasa, president and CEO of The Actors Fund, issued a Hurricane Sandy statement October 31.

In part, the statement reads:

"Even though our website and NY Office number continue to be periodically affected by outages caused by Hurricane Sandy, we are open for business and our staff are here to help during this very difficult time in the Tri-State region.

We've been receiving messages from people in need of emergency financial assistance, last-minute work, access to medical care and others who just want to help our community by making donations to assist those hurt most by the storm.

Whether your home or apartment was damaged in the storm and you don't know who to contact for help, or you are without work or between gigs and have no steady income, or you are without medical insurance and in need of medical care, or you simply are at risk with no friends or family to go to for emergency financial help, the entertainment and performing arts community can continue to reach out to us for assistance. That's why The Actors Fund exists.

During the time our website and NY phones are down, you'll find our contact numbers and more information on relief organizations and how to get help on our Blog or simply call us at 917-281-5936.

ANDERSON COOPER LIVE the daytime talker hosted by Anderson Cooper, obtained generous corporate donations for victims of Hurricane Sandy. Crocs Cares - Crocs' philanthropic platform - donated $75K worth of shoes and over $100K worth of supplies, including food, bottled water, cleaning supplies, Tupperware, trash bags, coolers, and baby items to people in affected areas including Seaside Heights, NJ, which was one of the hardest hit by the storm. The items will be delivered by Feed the Children.

Kellogg is donating two semi trucks full of its cereal and snacks with a retail value of $100K to Feeding America to help with relief and recovery efforts in New York. A portion of that donation is going to community centers in Breezy Point. This contribution is in addition to the $500K cash and food donation the company previously announced to support the entire region impacted by Hurricane Sandy.

Starkist is donating over $89K worth of packaged and canned tuna to the affected Broad Channel area in Queens, NY, which will be delivered by Feeding America. ConAgra Foods has teamed up with Anderson Live and is sending 3 trucks of food valued at more than $100K to the Feeding America food banks that serve the Howard Beach NYC area and neighboring affected areas.


GETTING THE SPA TREATMENT FOLLOWED BY A HAIRY TOED HOBBIT
Prince Charles (left) and the Duchess of Cornwall (center) meet Australian pop singer Kylie Minogue (right) at St James's Palace reception. Photo: Getty.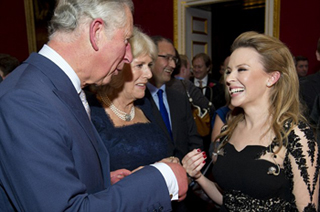 After dining on salmon and goat cheese canapes and drinking a sprightly New Zealand sauvignon blanc from crystal glasses, Camilla, the Duchess of Cornwall and the wife of Prince Charles checked into Dr. Issac Mathai's Soukya Holistic Health Centre in Whitefield Bangalore, India.

Along with a party of ten including her daughter Laura Lopes, the royal arrived for a week-long holistic healing session in preparation for the official royal tour of Australia.

During the first part of October Camilla was forced to cancel a number of engagements after developing a severe middle ear infection and sinusitis and she wanted to be in perfect health for her first trip Down Under.

The healthy lifestyle party arrived at the Bengaluru International Airport and were immediately whisked off to the Holistic Health Centre where they stayed until November 2.

Prince Charles and Camilla began a tour of Papua New Guinea, Australia and New Zealand on November 3 with traditional sing-sings and Maori nose-rubbing welcomes.

On November 5 Camilla, who is making her first trip to Australia, and Prince Charles touch down at Longreach, and during their six-day tour will also visit Melbourne, Adelaide, Hobart, Sydney and Canberra, before spending another six days in New Zealand.



Outside view of the 30-acre Soukya Centre. Photo: SOUKYA.

During their health and wellness stay Camilla underwent several ayurveda and naturopathy procedures like yoga, mud therapy and hydro-therapy and was on a South Indian vegetarian organic diet, officials disclosed.

She was bedded down in the 30-acre organic farm's 2,500 sq ft Presidential Suite which has three bedrooms and a fruit garden as well as an open air shower and its own lotus pond.

To prepare for the visit, a Scotland Yard team came to Bangalore the week before to verify security preparations.

This is nothing new or out of the ordinary as Dr Mathai has been a health adviser for the British royal family for the past two years.

Soukya is a global model for holistic and integrated medicine where guests and patients from over 70 countries come for treatment.

The Centre provide different Systems of Medicine such as Ayurveda, Homeopathy, Naturopathy and a wide range of Complementary Therapies such as Yoga, Acupuncture, Reflexology, Acupressure, etc in a single facility. SOUKYA Foundation runs 6 free and 2 charity homeopathic clinics that offer free treatment to those who cannot afford the treatment.



Outside view of Soukya Yoga Centre. Photo: SOUKYA.

The royals' association with integrated medicine and Bangalore began after Prince Charles, as founder of the Royal College of Integrated Medicine, London, met Dr Mathai and encouraged him to include Soukya. The collaboration included clinical training to European and Western doctors in ayurveda and homoeopathy and traditional forms of medicine to integrate them in the procedures.

A devotee of healthy living, Prince Charles has long been on a special diet. When he attends a function the chef is provided with a list of what the heir will and won't eat, including a list of special salts and sauces he will consent to consume.

The Duchess came to Whitefield in September 2010 for rejuvenation when Prince Charles was in India to inaugurate the Commonwealth Games.



Prince Charles's wife HRH Camilla, The Duchess of Cornwall, at the end of her (2110) stay in SOUKYA. Photo: SOUKYA.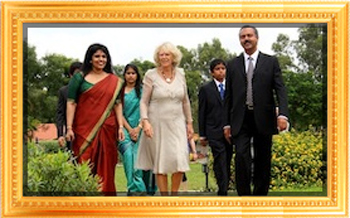 The Soukya website uses Camilla's picture in their advertisements. The facility is also endorsed by Dr. Deepak Chopra.

SOUKYA is derived from the Sanskrit word 'Soukhyam' which means well being and a harmonious state of the mind, body and spirit. Also, in South India, people greet one another with 'Soukhyama' (Tamil) or 'Soukhyamano' (Malayalam) which means 'Are you well?'

It has also been published that Camilla has treated Prince William's wife Kate to London day spa visits, where the two had a grand old time.

To launch a royal tour of Australia, New Zealand and Papua New Guinea beginning November 5, a going away party for 200 took place at St. James Palace on October 24 where Prince Charles and Camilla were entertained by Kylie Minogue who looked at the Charles and his wife and asked: "Are you ready to swing your hips?"

Apparently, they were.

Prince Charles and wife Camilla duly moved to the music of her pop song Locomotion, although poor Prince Charles was described in one printed report as looking "like a washing machine stuck in a slow spin cycle."

Reviews for Camilla were better: "The Duchess of Cornwall, in a matching royal blue dress, was more in the swing of things, jiggling her hips, hands and strings of pearls in time with the music."

Definitely with the beat was Barry Humphries (Dame Edna) who led a spirited dance on the red carpet.

Also present were entertainer Rolf Harris, soprano Dame Kiri Te Kanawa and a British-based Maori group who performed a rousing warrior dance.



Martin Freeman as Bilbo Baggins in the first installment of the trilogy. Photo: MGM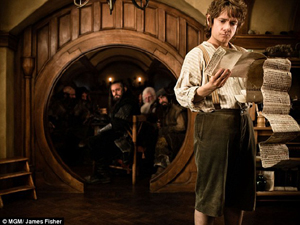 The film sees the return of Sir Ian McKellen as Gandalf in the upcoming release. Photo: MGM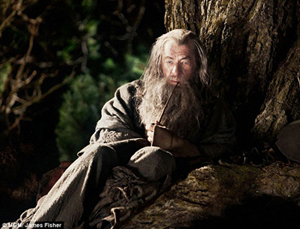 Anxious to return to kangaroo land as well as New Zealand and Papua New Guinea, Prince Charles will celebrate his 64th birthday in New Zealand on November 14. The birthday boy will get a longtime wish fulfilled - he'll visit the studios where director Peter Jackson is putting the finishing touches to An Unexpected Journey, part of his films based on Tolkien's fantasy books, The Hobbit trilogy.

"The Prince is a great fan of children's literature and Tolkien is one of the great icons of children's literature," said a royal source. "He and the Duchess have seen Peter Jackson's Lord of the Rings films and the Prince has said he is very much looking forward to seeing Bilbo Baggins's foot."

In Tolkien's story Bilbo Baggins, the hobbit of the book's title, has particularly hairy feet because hobbits walk barefooted.

The Academy Award winning Weta Workshop is a multi-award winning conceptual design and physical manufacturing facility servicing the world's entertainment and creative industries.

While there Charles will be shown make-up props worn by actors including star Martin Freeman, who plays Bilbo Baggins - the lead role in The Hobbit. A royal aide said that in the Weta workshop, based in the New Zealand capital Wellington, Charles would 'come face to face with rather extraordinary, rather terrifyingly in some cases, life-like prosthetics including the feet and hands of the Baggins family."

The film receives its world premiere next month in New Zealand and the Prince will get a sneak preview of the movie.

The New Zealand trip, from November 10-16, will also see the royal couple meet popular children's author Lynley Dodd, writer of the Hairy Maclary stories about the adventures of a hairy dog.

During the Australian leg of the tour the Prince and the Duchess will attend a reception at the Sydney Opera House.


BRUSSELICIOUS CHOCOLATE


It's called the bean which has "positively revolutionized the taste of Brussels."

The exotic chocolate bean.

For the first time - it's Chocolate Week in Belgium.

For 10 days, many top Belgian chocolatiers invite you to unravel the mystery of the cocoa bean, with tours of their workshops, tasting sessions, lectures and many other activities organized just for Brussels Chocolate Week - November 19-25. During this celebration you can also attend a new gourmet event, the Belgian Chocolate Fair which started November 1.

A special tasting route has been put together, enabling people on search of a chocolate high to visit some of the city's best-known chocolate firms.

A Chocolate Pass and an accompanying walking plan is available. When picked up before the chocolate hunt, the program helps the chocolate fiend to stroll along at your own pace, in the full knowledge that there is an opportunity to indulge your taste buds on almost every street corner… which is of course the delicious goal of this walk.

Restaurateurs around Brussels have signed up to the 'chocolate' theme by offering an all-chocolate dish. This creative challenge will bring together spices and flavors that are sure to delight gourmets who know the importance of indulging in the luxury of chocolate.

Joailliers-chocolatiers (chocolate jewelery artists) mushrooming and unleashing their creativity by blending spices and aromas, whilst adding elegance and design.

Guided tours of workshops, tasting sessions, conferences and a whole raft of activities that are certain to make the most blasé of chocolate fans melt with delight.

Chocol @ts is an exhibition on display through February 24, 2013 at the Abbaye de Stavelot which emphasizes that chocolate's "pride of place".

Verviers, the former Wool Capital of the World, and more widely within its surrounding borough, of which Stavelot is a component. Between 1890 and 1964, Verviers, the Walloon pioneer of the chocolate industry, numbered forty chocolate-making firms and they alone had registered over three hundred chocolate brands.

The exhibition is presented in three parts.

The first, entitled Chocolate of yesteryear, retraces the history of cocoa and chocolate and the history of many of the region's firms.

Many collector's items (chromolithographs, packaging, moulds, etc.) enhance the exhibition circuit.

The second section, Chocolate today, draws up an inventory of the status of chocolate at the present time. In Verviers, in fact, many master confectioners and chocolate-makers continue to keep the chocolate trade alive and contribute to its new found acclaim.

The third and last part of the exhibition is devoted to Chocolate tomorrow and wonders about the chocolate of the future, where chocolate is heading, its development, its innovations and new ways of working.

Charlie and the Chocolate Factory the world premiere of the $15 million stage adaptation by Sam Mendes of Roald Dahl's Charlie And The Chocolate Factory will start previewing at the Theatre Royal Drury Lane in London on May 18, 2013.

The official first night is slated for sometime in June.

The Olivier and Tony award winning Douglas Hodge will star as Willy Wonka.

The production will sport toffee-apple trees, lickable wallpaper, hot ice cream for cold days, and cows that produce chocolate-flavored milk.

Charlie And The Chocolate Factory will feature new songs by Marc Shaiman and Scott Wittman, with a book by David Greig.

Peter Darling will provide the choreography.

Set designer Mark Thompson will bring to life Wonka's fantasy factory with its river of chocolate.


SPREADING THE WORD


L.A. THEATRE WORKS celebrates the 200th Anniversary of Pride and Prejudice with Christina Calvit's acclaimed stage adaptation of Jane Austen's beloved novel, returning from the first leg of a 25-venue national tour for five performances, November 15-18, at UCLA's James Bridges Theater. There, the production will be recorded in front of a live audience for later broadcast on public radio and SiriusXM Satellite before heading back out on the road.

In this L.A. Theatre Works presentation recording the actors perform in front of microphones radio-style, but they are fully costumed and rehearsed with no scripts in hand.

A sparkling comedy of manners, Pride and Prejudice was first published in 1813. In the town of Meryton, reputation and marriage can secure or destroy a young woman's happiness. Faced with the loss of land and income, Elizabeth Bennet's mother is desperate to secure husbands for her daughters at any cost. When Lizzy is introduced to Mr. Darcy at a local ball, tempers flare as her independent spirit clashes with his unfortunate propensity for arrogance. Can the headstrong rivals overcome their own pride and prejudices to repair the romantic entanglements which surround them and find lasting love?

Brian Kite directs a distinguished cast that includes Jane Carr as Mrs. Bennet and Nicholas Hormann as her husband. Also in the cast are Diane Adair, Chloe Dworkin, Julia McIlvaine, Cerris Morgan-Moyer, Darren Richardson, Jill Renner and Nick Toren.

SEVEN DEADLY SINS is a series in which celebrated figures from across the arts world present their favorite sin on the silver screen, followed by a Q&A. The line-up includes Vivienne Westwood, Andrea Arnold, Nick Broomfield, Kazuo Ishiguro, Mike Leigh, Michael Nyman, Zbignew Preisner, Sam Taylor-Johnson, Richard Ayoade, Jake and Dinos Chapman.

On November 4-5 it's - Sloth.

On November 4 acclaimed documentary filmmaker Nick Broomfield will screen Teshigahra's landmark in Japanese cinema and a seriously sinister example of Sloth.

A young man is trapped by local villagers into living with a mysterious and fragile woman in a house located beneath the sand. She spends her days scooping out the sand that threatens to swallow her home, while her prisoner assists her and contemplates his fate.

Nick Broomfield will then join on stage for a Q&A after the film.

On November 5, actor-turned-director Richard Ayoade screen The Graduate (clearly a huge influence on his debut film, Submarine) as his sinful screen treasure, and joins in conversation after the film to discuss his choice for the sinful topic of - Sloth.

After leaving college, Benjamin Braddock (Dustin Hoffman) falls into an adulterous relationship with Mrs Robinson (Anne Bancroft). His affair is complicated further when he falls in love with Mrs Robinson's daughter, Elaine (Katharine Ross).

Both events are at The Barbican in London.


OTHER PEOPLE'S MONEY


CASINO ASSOCIATION OF NEW JERSEY an industry trade group, estimates the Atlantic City casinos are collectively losing about $5 million each day in gambling revenue due to the Sandy caused shutdown.

Wall Street analyst Andrew Zarnett, of Deutsche Bank, warned of dire financial consequences. "While a hurricane isn't an ideal situation for anybody, this is especially bad for Atlantic City, which has been struggling with the negative impact from competition and additional supply in the Northeast," Zarnett wrote in a note to investors.

Unlike the Boardwalk and other areas of the city pummeled by flooding, the casinos emerged largely unscathed by the storm, suffering only minimal damage.

Most of the casinos have re-opened. Needed now - customers.



THE HEIRESS a revival of the Tony Award winner period drama, inspired by the 1880 Henry James novel Washington Square, written in 1947 by Ruth and Augustus Goetz. Directed by Tony Award-nominated playwright and director Moisés Kaufman.

Set in 1850 New York City, the timeless New York story of society, status and the true cost of love.

The Heiress is the story of Catherine Sloper, the shy and sheltered daughter of a prominent New Yorker. Caught between the demands of an emotionally distant father and the attentions of a passionate young suitor, Catherine must navigate the terrain of love and regret, desire and duty, a chance for happiness and the burden of fortune…as only an heiress can.

Oscar nominee Jessica Chastain plays Catherine Sloper, with Downton Abbey star Dan Stevens as a handsome suitor, Morris Townsend.

Oscar nominee and Emmy Award winner David Strathairn plays Catherine's widower father, Dr. Austin Sloper, with two-time Tony Award winner Judith Ivey the romantic Aunt Lavinia Penniman.

His cast also includes Molly Camp as Marian Almond, Kieran Campion as Arthur Townsend, Virginia Kull as Maria, Dee Nelson as Mrs. Montgomery and Caitlin O'Connell as Aunt Elizabeth Almond.

Brought to life by the design team that includes two-time Tony Award winner Derek McLane (sets), two-time Academy Award® winner Albert Wolsky (costumes), Tony Award nominee David Lander (lighting), Tony Award nominee Leon Rothenberg (sound design) and original music by Peter Golub.

The Heiress officially opened November 1 at the Walter Kerr Theatre, NYC.

DEAD ACCOUNTS a dark comedy by Theresa Rebeck. Directed by Tony Award winner Jack O'Brien.

Starring Kaite Holmes as Lorna and Norbert Leo Butz as her brother and prodigal son Jack. Tony Award nominee Jayne Houdyshell is cast as their mother, with Judy Geer in her Broadway debut as the wife of Butz's character. Josh Hamilton plays a childhood friend.

According to the production: "Jack's unexpected return throws his family into a frenzy, and his sister Lorna needs answers. Is he coming home or running away? Where is his wife everyone hates? And how did he get all that money? Theresa Rebeck's new comedy tackles the timely issues of corporate greed, small town values, and whether or not your family will always welcome you back… with no questions asked."

The design team includes Tony nominee David Rockwell (scenic design), five-time Tony winner Catherine Zuber (costume design), David Weiner (lighting design) and Mark Bennett (sound design, original music).

Originally slated to begin previews November 3, because of Hurricane Sandy, that date was pushed back to November 5 at the Music Box Theatre, NYC. The production officially opens November 29. The play had its world premiere last winter at the Cincinnati Playhouse in the Park.

CHICAGO welcomes country singer-actor Billy Ray Cyrus to the role of Billy Flynn in the long running revival at the Ambassador Theatre. Cyrus will be making his Broadway debut in performances November 5-December 23.

BEN VEREEN the Tony Award winning star brings his talents to the Smith Center in Las Vegas on November 10 in his Steppin' Out with Ben Vereen evening of song and story telling. David Loeb serves as musical director.


WHO'S WHERE




MICHAEL FEINSTEIN Called "The Ambassador of the Great American Songbook," multi-platinum-selling, five-time Grammy-nominated entertainer Michael Feinstein is one of the premier interpreters of popular songs and standards. Returning to the intimate Virginia G. Piper Theater, he performs classic Jazz Age songs by the Gershwins. Two shows on Saturday, November 10 at the Scottsdale Center for the Performing Arts in Scottsdale, Arizona.

PATTY ASCHER the Brazilian singer will be traveling all the way from Sao Paulo to share her samba and bossa nova-infused jazz sound with a November 10 performance at the Pagoda Loune at the Fairmont Hotel in San Francisco.

BARBRA STREISAND, CHRIS BOTTI take to the HP Pavilion stage in San Jose, CA on Monday, November 5. On Friday they open a split booking at the Hollywood Bowl with the second show set for Sunday, November 11. Botti has a singular two night stand Saturday November 3 and, Sunday, November 4 at the Zeiterion PAC in New Bedford, MA.

LEONARD COHEN on stage Monday, November 5, at the Nokia Theatre in Los Angeles. On Wednesday he's in the spotlight at the HP Pavilion in San Jose, CA. Friday finds him at the Key Arena in Seattle, WA.

JUSTIN BIEBER will have his fans screaming Monday, November 5, at the Verizon Center in Washington, DC. On Friday he performs at the IZOD Center in East Rutherford, NJ. Saturday the show is at the TD Garden in Boston.

LADY GAGA struts her stuff Tuesday, November 6, at the Estadio El Campin in Bogota, Colombia. On Friday the show is at the Parque Dos Atletas in Rio De Janeiro, Brazil. Sunday, November 11, the tour stops at the Morumbi Stadium in Sao Paulo, Brazil.

SEAL sings Tuesday, November 6, at the Hammersmith Apollo in London. On Thursday the show is at the Zenith in Toulouse, France. Friday's show is at the Amphitheatre in Lon, France. Next Sunday, November 11, he can be enjoyed at the Zenith Arena in Lille, France.

SAM HARRIS the Tony nominated performer takes to the Cabaret Jazz Room stage at the Smith Center in Las Vegas for three shows November 9-10.

DR. JOHN AND THE BLIND BOYS OF ALABAMA performs November 11 at the State Theatre in New Brunswick, NJ.


FINAL OVATION


ALAN KIRSCHENBAUM an American television producer and writer. He was the co-creator of the long-running sitcom Yes, Dear, and a producer/writer on current shows Raising Hope and Friend Me to be launched later this year, committed suicide on October 26, 2012. He was 51.

He was the son of Jewish-American stand-up comedian Freddie Roman who is currently the Dean of the New York Friars' Club.

In addition to his father, survivors include his mother, Ethel; wife, Vicki,; daughter, Molly; and sister, Judi.

TERRY CALLIER the Chicago-born soul and jazz singer-songwriter and guitarist, who collaborated with Massive Attack and Beth Orton, has October 28, 2012 in Chicago. He was 67.

Callier, who began his career at 17 when he signed to Chess records, recorded his final album in 2009.

He also worked on Orton's Mercury prize nominated album, Central Reservations.

His funeral will took place on November 3 in Chicago and a memorial is planned for London. The date is yet to be announced.

LETITIA BALDRIGE White House social secretary to Jacqueline Kennedy died October 29, 2012. She was 86.

She was known as the "Doyenne of Decorum", and wrote a newspaper column, ran her own PR firm, and, updated Amy Vanderbilt's Complete Book of Etiquette.

She is survived by her husband Robert Hollensteiner, a real estate developer; their daughter, Clare Smyth; their son, Malcolm Baldrige Hollensteiner; and seven grandchildren.








Next Column: November 11, 2012
Copyright: November 4, 2012. All Rights Reserved. Reviews, Interviews, Commentary, Photographs or Graphics from any Broadway To Vegas (TM) columns may not be published, broadcast, rewritten, utilized as leads, or used in any manner without permission, compensation and/or credit.
Link to Main Page
---
Laura Deni



For the snail mail address, please E-mail your request.
CLICK HERE FOR COMMENT SECTION