! >
Broadway To Vegas
  
  REVIEWS INTERVIEWS COMMENTARY NEWS

| | |
| --- | --- |
| | |
THE LAST SHIP, CATS AND PETER PAN - - HONEYMOON IN VEGAS - - SUNNY AFTERNOON TRANSFERS TO WEST END - - HARD ROCK HOTEL & CASINO LAKE TAHOE TO RE-OPEN - - PRINCE WILLIAM AND DUCHESS KATE TO ATTEND BENEFIT AT MET - - UNSEEN ARTHUR MILLER PLAY TO DEBUT - - GAME MASTERS - - FAKING IT: ORIGINS, COPIES, AND COUNTERFEITS - - DONATE . . . Scroll Down







Copyright: November 30, 2014
By: Laura Deni
CLICK HERE FOR COMMENT SECTION


WHETHER ON STAGE OR ON TV BROADWAY IS A WINNER
Rachel Tucker and Michael Esper in The Last Ship. Photo: Joan Marcus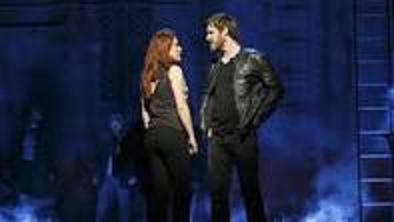 There is something special about a live performance. No 'take two' - or 'take 41'. It's live, with everyone expected to perform to perfection at every show. Seeing the performers in person, even if you are watching the shoe from the worst seat in a place, is a special treat. Nothing beats live theater.

However, there are times when a stage production can - or would - come across better on television.

The Last Ship is the new musical with music and lyrics by 16-time Grammy Award-winner Sting. The book is by Tony Award-winner John Logan and Pulitzer Prize-winner Brian Yorkey.

Sting is a genius of a musician and a composer. The score to The Last Ship is excellent. He's a musical craftsman with lyrics that are soulful, moving and haunting with regret.

Musical direction, orchestrations and arrangements by Emmy Award-winning and multi Grammy-nominated producer Rob Mathes. The music coordinator is Dean Sharenow, while Dan Lipton is the associate music director.

Ably directed by Tony winner Joe Mantello.Choreography by Tony nominee Steven Hoggett deftly brings Sting's musical meanings to life even by merely the stomp of a dancer's foot.

Based upon his own childhood, the musical isn't self indulgence.

The Last Ship, according to producers, "is set in the English seaside town of Wallsend, a close-knit community where life has always revolved around the local shipyard and the hardworking men construct magnificent vessels with tremendous pride. But Gideon Fletcher dreams of a different future. He sets out to travel the world, leaving his life and his love behind. When Gideon returns home many years later, he finds the shipyard's future in grave danger and his childhood sweetheart engaged to someone else. This love triangle ignites just as the men and women of Wallsend take their future into their own hands and build a towering representation of the shared dream that defines their existence. And in the end Gideon comes to understand that he had indeed left behind more than he could have ever imagined.

"The Last Ship is inspired by the Wallsend community where Sting was born and raised, and people's homes were often houses that existed in the shadows of the massive vessels in the shipyards. The Last Ship also reflects real-life incidents, including a recent project in Poland for which a priest commandeered supplies and financial support so a group of laymen could not only have work, but also reclaim their pride and dignity by assembling a ship meant to sail the world."

It may seem a little odd to print the official description in a review, but that description is a clearer storyline than the production.

It can be difficult for an audience to constantly transition from present to past. Perhaps this show would have been better served as a television movie or a PBS mini series. The musical basically takes place in a bar and in the shipyard.

Even though the direction is excellent, Christopher Akerlind's lighting design utilizing the stark, moody color palate blues/blacks/grays gives impact, and David Zinn's imposing, rivited metallic set brings the shipyard to life, the storyline could have been better presented with the other dimensions that a television production can offer.

The cast is excellent.

Michael Esper is the brooding Gideon, an anti-hero determined to break away from his working class background. To do so he ignores his dying father, who had been disabled in a shipyard accident, to sail away - also turning his back on his sweetheart Meg, played to high voltage perfection by Rachel Tucker. While Gideon does return, it's not for 15 years. His father is dead and Meg - who delivers a spunky If You Ever See Me Talking to a Sailor - is engaged to Arthur Millburn, a shipbuilder turned proper company man played by Aaron Lazar, and the shipyard is about to close, turned into a scrap-metal facility Arthur Millburn's company man job is to convince the shipyard workers to accept low paying jobs in the scrap metal trade.

Fred Applegate is top notch as Father O'Brien, an understanding priest who isn't afraid to let his opinion be known. He also appears to enjoys drinking as much as prayer.

Esper does a heartfelt performance singing All This Time, while other standout numbers are The Last Ship and Island of Souls.

Although the rumors sniff that the ship is sinking; in a valiant attempt to keep the boat afloat, Sting will appear in the show from December 9 to January 10, 2015. He'll play the part of the shipyard's seasoned foreman Gideon Fletcher.

The Last Ship marks Sting's return to Broadway after making his acting debut in the 1989 revival of Threepenny Opera. I saw Sting when he appeared on Broadway in Threepenny Opera. He gave it his best shot. However, the production had two intermissions. During the first break patrons walked out and didn't come back. During the second intermission even more people disappeared, leaving a smattering of patrons who politely applauded. Sting is a musical performer - a great one. No idea if his acting skills have improved, but he has to be given enormous credit for putting his all into saving his show.

Michael Esper (Gideon Fletcher), Rachel Tucker (Meg Dawson), Jimmy Nail (Jackie White), Aaron Lazar (Arthur Milburn), Sally Ann Triplett (Peggy White), Collin Kelly-Sordelet (young Gideon/Tom Dawson), Dawn Cantwell (young Meg), Jamie Jackson (Joe Fletcher) and Fred Applegate (Father O'Brien).

The ensemble includes Eric Anderson, Ethan Applegate, Craig Bennett, Dawn Cantwell, Jeremy Davis, Bradley Dean, Alyssa DiPalma, Colby Foytik, David Michael Garry, Timothy Gulan, Shawna M. Hamic, Rich Hebert, Leah Hocking, Todd A. Horman, Sarah Hunt, Jamie Jackson, Sean Jenness, Drew McVety, Johnny Newcomb, Matthew Stocke, Cullen R. Titmas and Jeremy Woodard.



Elaine Paige as Grizabella in the 1998 Cats video.
See it while you can at The Neil Simon Theatre in New York City.

I saw Cats on Broadway when it was in it's eighth of nine lives. The musical composed by Andrew Lloyd Webber, based on Old Possum's Book of Practical Cats by T. S. Eliot, and produced by Cameron Mackintosh was becoming the butt of jokes. Last week I viewed it twice on PBS Great Performances where it had its 1998 world television premiere.

I never saw Elaine Paige in the show, but watching Elaine Paige perform as cat Grizabella was mesmerizing. That woman can not only sing with heart but convey emotions with an expression. Aspiring actors would do well to study her

Produced under the personal supervision of Lloyd Webber, the production - winner of Best Musical in both Broadway's Tony Awards and London's Olivier Awards - was restaged for video and recorded with a specially augmented 76-piece orchestra. It was filmed at London's Adelphi Theatre in August 1997, and headlines original London star Elaine Paige as Grizabella the Glamour Cat, the late Sir John Mills as Gus the Theatre Cat, and original Broadway star Ken Page as Old Deuteronomy.

For the one person who may not know the story, the musical tells the tale of a tribe of cats called the Jellicles and the night they make what is known as "the Jellicle choice" and decide which cat will ascend to the Heaviside Layer and come back to a new life.

The songs of the musical comprise Eliot's verse set to music by the composer, the principal exception being the most famous song from the musical, Memory, for which the lyrics were written by Trevor Nunn after an Eliot poem entitled Rhapsody on a Windy Night. Also, a brief song entitled The Moments of Happiness was taken from a passage in Eliot's Four Quarters.

Allison Williams as Peter Pan. Photo: NBC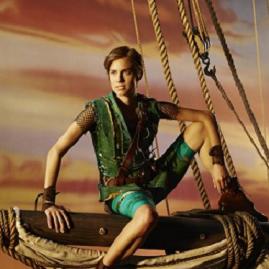 The talented 'cats' are skilled dancers who can also sing. The show is completely told through music with virtually no spoken dialogue in between the songs. Dance is also a key element in the musical especially during the 10-minute Jellicle Ball dance sequence. The amazing set, consisting of an oversized junk yard, remains the same throughout the show without any scene changes.

The costumes, make-up, wigs, sets and lighting design are more spectacular viewed on television than they were watching the live production - where the only view you had was from where your seat was located.

However, watching Cats on television made me want to see another live production.

A new production (with some rewritten songs) of Cats – with original director Sir Trevor Nunn, choreographer Gillian Lynne, and designer John Napier again heading the creative team - is set to open a 12-week run at the London Palladium in December.

Upcoming Thursday on NBC, don't miss Peter Pan Live! broadcasting from Bethpage's Grumman Studios in Long Island. With the Las Vegas based Flying By Foy handling the human rigging, the production stars Allison Williams as Peter, along with Christopher Walken as Captain Hook, Kelli O'Hara as Mrs. Darling, Christian Borle as her husband, George (as well as Mr. Smee), Jake Lucas is John Darling, John Allyn is Michael Darling with Taylor Louderman as Wendy. Minnie Driver is the narrator and the adult Wendy Darling.

Nana is played by Bowdie who has the privilege of bringing the character of Nana to life as a real dog. Bowdie's current owners are renowned theatrical animal trainers William and Dorothy Berloni. Together, the Berlonis have helped prep and train Bowdie for the role of Nana, which is historically played by an actor in a dog suit. Bowdie can also be seen in the musical Because of Winn Dixie, opening at the Delaware Theater Company in April of 2015. Bowdie was born in February, 2013 in Utah.

There are a few subtle changes to the Moose Charlap-Carolyn Leigh classic. Ugg-a-Wugg which was termed racist has walked the plank, replaced by new lyrics penned by lyricist Amanda Green and renamed True Blood Brothers.

NBC expects a viewing audience of millions, including Allison's proud parents Brian and Jane Williams - who required their daughter to graduate from college before pursuing an acting career. Mother Jane has a weekly radio show on Bloomberg radio called Bloomberg Edu, which addresses education issues in the United States. Brian is the anchor and managing editor of NBC Nightly News.






Broadway To Vegas is supported through advertising and donations. Priority consideration is given to interview suggestions, news, press releases, etc from paid supporters. However, no paid supporters control, alter, edit, or in any way manipulate the content of this site. Your donation is appreciated. We accept PAYPAL. Thank you for your interest.




ART AND ABOUT


GAME MASTERS featuring over 100 playable games, showcases the work of more than 30 leading videogame designers including Warren Spector, Tim Schafer and Blizzard's Rob Pardo and Chris Metzen.

The exhibition explores the development of videogames through interviews with game designers, rare original artwork and interactives, as well as looking forward to how independently produced games are leading the way in design aesthetics and game play.

The exhibition commences with Arcade Heroes, which focuses on the seminal arcade games of the late 1970s and early 1980s and spotlights pioneering designers such as Shigeru Miyamoto (Donkey Kong), Tomohiro Nishikado (Space Invaders), Ed Logg (Asteroids), and Toru Iwatani (Pac-Man), all of which you can play in the old school Game Masters arcade.

The nature of gaming changed as it moved from the arcade to the home computer, console and handheld devices. Key designers whose work embodies these 'game-changing' transitions include Yuji Naka and the Sonic Team (Sonic the Hedgehog), Nintendo (Super Mario Bros), Blizzard Entertainment (World of Warcraft), Peter Molyneux (Dungeonkeeper) and Paulina Bozek (SingStar). Want to join in? You can play all these games and more, as well as making a song and dance with Sing Star and Dance Central.

World of Warcraft, The Sims, created by Will Wright, and the Lego film-franchise tie-ins, such as Star Wars and Harry Potter, are among the famous names featured, while the key role played by smaller independent designers in game design and development is also explored, including Halfbrick (Fruit Ninja), Markus Persson (Minecraft), Rovio (Angry Birds) and many others.

The National Museum of Scotland is the first European venue for the exhibition which was created by the Australian Centre for the Moving Image, Melbourne, supported by the Victorian Government.

Game Masters will be on display December 5, 2014 - April 20, 2015 at the National Museum of Scotland in Edinburgh.

FAKING IT: ORIGINS, COPIES, AND COUNTERFEITS explore various levels of authenticity in fashion using approximately 100 objects from the museum's permanent collection.

Authenticity and copyright protection against knock offs are two of the most debated topics in fashion today. Faking It: Originals, Copies, and Counterfeits investigates the history of both authorized and unauthorized copying, as well as the various factors that have led to grey areas in authenticity.

The exhibition opens with two identical suits from 1966 - an original by Gabrielle "Coco" Chanel and a licensed copy - alongside a video featuring side-by-side comparisons of the suits. Faking It then continues chronologically, beginning with a 1903 purple velvet evening dress by Charles Frederick Worth accompanied by a detail photo of his signed label, which authenticated his creations. However, the demand for his brand created a market for copyists.

Couturiers such as Madeleine Vionnet implemented various initiatives to stop knock offs of her designs, such as marking her label with her thumbprint in order to authenticate each creation. Unfortunately, this did not entirely discourage copying, as can be seen in an unauthorized reproduction of her "Little Horses" dress from 1924. Likewise, in an effort to battle unauthorized copying during the 1930s, the Fashion Originators' Guild of America registered fashion designers' work. An example of a black fringe evening dress with the registered label and sketch is included in Faking It.

From its inception, the Chambre Syndicale de la Haute Couture struggled with maintaining the exclusivity of haute couture, while promoting it through press coverage and licensed copies. When the couture industry began to re-stabilize after World War II, the struggle intensified. The high demand for Christian Dior's famed 1947 collection led to many unauthorized copies of his silhouette. Faking It uses a Nettie Rosenstein dress from that same year to illustrate such copying.

Chanel once said, "Fashion should slip out of your hands. The very idea of protecting the seasonal arts is childish. One should not bother to protect that which dies the minute it is born." Chanel's tweed suits were so recognizable; she saw copies of her designs as a form of publicity. A selection of six Chanel originals and copies from the 1960s to the 1980s will be featured. The 1990s ushered in the era of logo mania and the mass production of counterfeit goods. A special display case in Faking It places authentic designer bags next to their corresponding counterfeits. Examples will include bags from Louis Vuitton, Gucci, Chanel, and the CFDA x eBay anti-counterfeit campaign, "You Can't Fake Fashion," along with shoes by Christian Louboutin. A video will showcase detailed photos that illustrate how to spot a counterfeit.

Opens December 2, 2014 in the Fashion & Textile History Gallery in New York City. On display through April 25, 2015.



SWEET CHARITY


PRINCE WILLIAM AND DUCHESS KATE will be guests of honor at a fundraising banquet in honor of the 600th anniversary of St Andrews University in Scotland. The gala dinner will be held Tuesday, December 9, at New York's Metropolitan Museum of Art in Manhattan.

The historical learning institution holds a place in the hearts of The Duke and Duchess of Cambridge. The couple went to school there and met in 2002, when they both enrolled for the same art course.

Guests are required to purchase a table for 10 at a cost of about $110,000 for which two VIP tickets to the event are included offering a possibility of meeting the royal couple. Approximately 450 are expected to attend the event organized by Stanislas de Quercize, chief executive of Cartier.

In addition to a gala dinner there will be an auction of items which include a literary tour of Edinburgh with Ian Rankin and an overnight stay at Highclere Castle, where Downton Abbey is filmed.


HOLIDAY
TOURS WITH A PRESIDENTIAL TWIST

President Calvin Coolidge hasn't really been remembered as a holly-jolly type of guy. "I think the American people want a solemn ass as a President," he once told Ethel Barrymore. When asked why he continued to attend so many Washington society dinner parties, he replied, "Got to eat somewhere."

Even the man of few words, known as Silent Cal celebrated Christmas. On December 6, visit President Calvin Coolidge State Historic Site in Plymouth, Vermont and see where he ate growing up.

Plymouth Notch, Vermont, is the July 4, 1872 birthplace and boyhood home of Calvin Coolidge, 30th President of the United States.

On August 2, 1923, President Harding died suddenly while on a speaking tour of the western United States. Vice-President Coolidge was in Vermont visiting his family home, which had neither electricity nor a telephone, when he received word by messenger of Harding's death.

The village is virtually unchanged since the early 20th century. The homes of Calvin Coolidge's family and neighbors, the community church, cheese factory, one-room schoolhouse, and general store have been carefully preserved and many of the buildings have their original furnishings. On this day, enjoy the traditions of the season. Visit the Coolidge birthplace, decorated as it would have been in 1872, the year the future president was born. Winter exhibits at the Aldrich House, Plymouth Cheese Factory, and 1924 Summer White House office. This event features old-time music, craft demonstrations, sleigh rides, lunch at the Wilder House Restaurant, special cancellation at the historic Plymouth post office and children's holiday activities.

A Victorian Christmas Hildene: The Lincoln Family home in Manchester, Vermont December 1-31, 2014 (closed December 24-25) is an opportunity to see a Victorian Christmas as Robert and Mary Lincoln celebrated it when they stayed at Hildene through the holiday season in 1909.

Hildene was normally the summer home of Robert Todd Lincoln, the eldest son of President Abraham Lincoln and Mary Todd Lincoln.

His father was born in a log cabin and called from the humblest rank in life to preside over our nation during the most momentous period of its history. One generation later, Robert Todd Lincoln, the only child of Abraham and Mary Todd Lincoln to survive to adulthood, became Chairman of the Pullman Company, the largest manufacturing corporation at the turn of the 20th century. He built his Georgian Revival mansion in 1905 in the scenic village of Manchester. It became home to only Lincoln descendants until 1975, longer than any other Lincoln residence. It is called "the Great American Story."

There is a self-guided tour of Robert and Mary Lincoln's home; you can listen to the 1,000-pipe Aeolian organ and visit the Hoyt Formal Garden. You'll also want to visit the Cutting and Kitchen Gardens, the Observatory, Pullman car Sunbeam, and the exhibits.


HAILSTORM IN BRISBANE ROCKS ENTERTAINMENT


The freak super hailstorm which hit Brisbane on Thanksgiving knocked the entertainment scene into a tailspin.

The mega storm that hit Queensland's south-east area left tens of thousands without power and created a clean-up bill estimated to exceed $100 million. Thankfully no fatalities have been reported.

The Zoo which is Brisbane's longest standing live music venue/nightclub, caters to the more independent end of the musical spectrum. In any week you could see anything from beats, hip hop, jazz, rock, and pop to acoustic, folk, dub and reggae at The Zoo. They posted that "the storm caused four broken windows but no other significant damage was reported." Later they posted the show was going on - "Hellova storm! Our doors are open, come celebrate/commiserate/tradestormstories with Boss Moxi and friends!"

Brisbane Entertainment Centre management also took to Twitter to state: "Katy Perry will still be performing tonight at the Brisbane Entertainment Centre with her act now commencing at 9:00pm."

Plunging ahead, they then posted that "Neil Diamond will embark on the highly anticipated Australian leg of his 2015 world tour stopping at the Brisbane."

Live Nation and Oxtix were in more of a recovery mode.

The Brisbane headquarters of Australian ticketing giant Oztix sustained major damage and a Broods gig slated for the Hi-Fi cancelled due to a power outage.

"A short time ago, Brisbane was hit by a massive hailstorm. Oztix HQ has suffered significant damage to the office and equipment," reads a statement released by the ticket provider."

"Thankfully no one was injured, but the clean-up process ahead of us will be quite a task. The office is currently without mains power." All windows on the southern side were smashed by hail up to the size of a cricket ball.

Maintaining a show-must-go-on attitude Oztix stressed: "Rest assured our Ticketing System has not been affected in any way, thus all events are still online and selling. We do request your patience at this time whilst we work through the clean-up and get things back on track."

They posted a video on their Facebook page showing wind and hail ripping through the place as workers could do nothing - except stare in amazement.

Meanwhile, Broods' promoter, Live Nation, released a statement in which they write that the Hi-Fi suffered a major power outage due to the storm and owners were not able to confirm if power could be restored in time to go ahead with the gig, forcing them to cancel.


SPREADING THE WORD


LIGHTING UP ROCKEFELLER PLAZA will be an 85-foot Norway Spruce, chopped down in Hemlock Township, PA and trekked 150-miles to Manhattan.

The 13-ton, 90 year old tree will be decorated with more than 45,000 LED lights and a 9 1/2-foot-wide Swarovski star. The tree will be illuminated for the first time on December 3 in a ceremony that's been traditional since 1933. It will remain on display until 8 p.m. January 7, 2015.

Afterward, the tree will return to Pennsylvania and its wood used to build homes for Habitat for Humanity.

JERRY HALL who is billed as "leggy blonde model, UK celebrity adoptee and erstwhile girlfriend of Mick Jagger," stars as the wicked stepmother in the British panto version of Snow White and the Seven Dwarfs

This production at the Richmond theatre Friday, December 5, 2014 through Sunday, January 11, 2015 marks Hall's first panto. She's no stranger to the stage having starred in The Graduate, Love Letters and High Society.

THE MAID'S TRAGEDY by Beaumont & Fletcher. Can what you don't know hurt you after all? Jacobean cross-dressing and bedroom badinage are in full force, as tragi-comedy becomes revenge play. Directed by Deborah Wolfson with Tom Hewitt, Jennifer Ikeda, Jeanine Serralles, and more. Part of Red Bull Theatre's OBIE Award-Winning Revelation Readings series. December 1, 2014 at the Lucille Lortel Theatre in NYC.

HOLLY FOLLY WEEKEND takes place December 5-7, 2014 in Provincetown, Massachusetts. "Enjoy the season in Cape Cod's liveliest town – a favorite with gay and lesbian travelers. Partake in the Snow Ball, the Holly Folly Inn Stroll, Holly Folly Sing-A-Longs and Holiday Drag Bingo. Lots of fun in a beautiful seaside location with many shops and restaurants."

THE HOOK, AN ARTHUR MILLER PLAY about corruption in New York's docks in the 1950s will have its world premiere at Northampton's Royal and Derngate Theatre in June 2015. It will then transfer to Everyman Theatre in July.

Miller originally wrote The Hook as a film. It wasn't made but Miller used its backbone for A View From the Bridge. Adapted for the stage by Ron Hutchinson, The Hook tells the story of Marty Ferrara, a longshoreman who challenges the gangsters and corrupt officials who control Brooklyn's waterfront.

The play, a co-production with Liverpool's Everyman, coincides with the centenary of Miller's birth.

VIBRAHARPIST TOMMY VIG AND HIS WIFE MIA KIM of the famed Kim Sisters, report from Hungary that last night, November 29, 2014, they had a swinging time performing at the Budapest Jazz Club.

Joining Vig and Kim in the jazz fest were clarinetist Joe Fritz, baritone saxophonist Zana Zoltan, Pat Matyas on trombone, Jeszesnsky Gyorgy on dob and Csuhaj-Barna Tibor on contra-bass harpsichord.


OTHER PEOPLE'S MONEY


CBS AFFILIATE KLAS-TV IN LAS VEGAS has been sold to Nexstar Broadcasting Group from Landmark Media Enterprises for $145 million plus working capital. The purchase will expand the company's reach to 110 stations, serving 58 markets in 23 states. That's 18 percent of all U.S. households.

Nexstar said it intends to finance the station acquisition with cash generated from operations and borrowings under its senior credit facilities and/or additional capital markets activities. The transaction is subject to FCC approval and other customary approvals, and is expected to close in the first half of 2015.

"Finally," Nexstar Broadcasting Group President-CEO Perry A. Sook said in a statement, "with the post-closing implementation of Nexstar's strong local news programming, KLAS will be well-positioned to capitalize on political spending in 2016 including the presidential election and the Nevada U.S. Senate race."

Wells Fargo Senior Analyst Marci Ryvicker liked the news: "The station represents Nexstar's entry into the Las Vegas market, and should help the company benefit not only from the Nevada U.S. Senate Race, but also from big presidential spend as Nevada is expected to be a swing state again in 2016."

Many of the on air personalities are award winning and popular. No word as to whether the local format or personnel will change.

HARD ROCK HOTEL & CASINO LAKE TAHOE will reopen January 28, 2015 - Just in time for Super Bowl week-end. Formerly the Horizon Casino the venue has undergone $60 million in renovations.

continues to move ahead with its $60 million renovation and redesign with an anticipated VIP grand opening on Wednesday, January 28, 2015, "It's all hands on deck to ensure we have as much of the resort casino rock 'n' roll ready for our guests on January 28th as possible," said Don Marrandino, chief operations officer for Hard Rock Hotel & Casino Lake Tahoe. "The excitement and support we've received from our friends and fans on the west coast, and throughout the country, has been extraordinary. We're excited to deliver the first Hard Rock Hotel & Casino experience to Tahoe's South Shore."

With music at its core, rooted in popular culture, the new Hard Rock Hotel & Casino Lake Tahoe promises to be "true to the brand's mission to combine the authenticity of the Lake Tahoe region with strong music appreciation to deliver a one-of-a-kind guest experience."

The property will feature "539 rooms and suites rooted in rock 'n' roll art and memorabilia, including unparalleled views from tower rooms of Lake Tahoe or Heavenly Valley, four new restaurants, several bars, a 25,000 square foot casino and a variety of live indoor and outdoor entertainment."



HONEYMOON IN VEGAS the new musical based on the 1992 film of the same name, with a book by Andrew Bergman and a score by three-time Tony Award winner Jason Robert Brown.

Directed by Gay Griffin.

Choreography by Denis Jones.

The cast features Emmy and Golden Globe Award nominee Tony Danza, Tony nominee Rob McClure and Brynn O'Malley.br>
The musical "tells the story of Jack Singer (Rob McClure), a regular guy with an extraordinary fear of marriage, who finally gets up the nerve to ask his girlfriend Betsy (Brynn O'Malley) to marry him. But when they head to Las Vegas to get hitched, smooth talking gambler Tommy Korman (Tony Danza), looking for a second chance at love, falls head over heels for Betsy. What happens next is anybody's bet!"

The musical, which received rave reviews when it was mounted last year at New Jersey's Paper Mill Playhouse, is currently in previews at the Brooks Atkinson Theatre in NYC. The three leads also starred in the Paper Mill production.

EL GATO CON BOTAS (PUSS IN BOOTS) Music by Xavier Montsalvatge. Neal Goren / Geoff MacDonald, conductors; Moisés Kaufman, stage director.

The cat in the spats is back, when Gotham Chamber Opera revives El gato con botas (Puss in Boots), Xavier Montsalvatge's take on the classic story of a mangy feline with magical talents. Can Puss win the princess's hand for his master? Can he outwit the evil ogre? Don't miss the amazing Bunraku puppetry that turns a fairy tale into an evening of "tuneful," "magical," "exquisite," and eye-opening opera.

Featuring puppetry from London's Blind Summit Theater.

Starring Ginger Costa-Jackson/Karin Mushegain, Andrea Carroll, Craig Verm, Kevin Burdette, and Stefanos Koroneos.

Andromache Chalfant, set designer; Clint Ramos, costume designer; David Lander, lighting designer; and Sean Curran, choreographer.

A co-production with El Museo del Barrio and Works & Process at the Guggenheim. December 6 - 14 at El Museo del Barrio, NYC.

STRIKING 12 is the music group GrooveLily's holiday musical, based in part on Hans Christian Andersen's The Little Match Girl. Written with Rachel Sheinkin.

This minimalist musical concert-with-a-story has quickly becoming a holiday classic. Combining pop-rock, musical comedy and an old-fashioned uplift with a 21st century sensibility, Striking 12 weaves Andersen's 1845 classic fable The Little Match Girl with a modern-day New Year's Eve twist and is a holiday treat suitable for audiences of all ages.

Striking 12 tells the story of a grumpy, overworked New Yorker whose resolve to spend New Year's Eve alone in his apartment crumbles when an unexpected visitor brings some much-needed cheer.

December 3 – 28, 2014 at the Laguna Playhouse in Laguna, CA.

SUNNY AFTERNOON with Music and Lyrics by Ray Davies, a new Book by Joe Penhall. Original Story by Ray Davies.

Direction by Edward Hall.

Sunny Afternoon depicts the rise to stardom of The Kinks. Set against the back-drop of a Britain caught mid-swing between the conservative 50s and riotous 60s; this production explores the euphoric highs and agonizing lows of one of Britain's most iconic bands and the irresistible music that influenced generations.

Starring John Dagleish as iconic figure Ray Davies.

Designer: Miriam Buether - Musical Director: Elliot Ware - Lighting: Rick Fisher- Sound by Matt McKenzie - Choreographer is Adam Cooper - Casting by Suzanne Crowley and Gilly Poole. Development casting by Sam Jones.

Following a sold-out run at Hampstead theatre, the critically acclaimed production of Sunny Afternoon has transferred to the West End's Harold Pinter Theatre, London.

GHOSTS OF CHRISTMAS PAST TROLLEY RIDES
The main costumed storyteller is Frank Smith.

The repertoire includes ld Applejoy's Ghost, by Frank Stockton, The Twelfth Guest and The Christmas Masquerade both based on Mary Wilkins Freeman's tales, adapted for storytelling by Gayle Stahlhuth. Two of them will be told on one ride.

The spirited" thirty-minute rides run several nights a week through January 3, 2015.

.


WHO'S WHERE




AUDRA McDONALD brings her Tony Award winning talent to the Walt Disney Concert Hall in Los Angeles for a show on December 2, 2014. On Wednesday she's in the spotlight at the Cohan Center at Cal Poly Arts in San Luis Obispo, CA. Friday finds her at the Green Music Center in Rohert Park, CA. Saturday's show is at Zellerbach Hall in Berkeley, CA.

ELTON JOHN brings his tour today, Sunday, November 30, 2014 to the Stuttgart, Germany Hanns Martin Schleyer Halle in Stuttgart, Germany. On Wednesday he's on stage at the Hallenstadion in Zurich, Switzerland Hallenstadion. Thursday finds him in Assago, Italy at the Mediolanum Forum. On Saturday he's in Barcelona, Spain at the Palau Sant Jordi

SHANIA TWAIN returns to Caesars Palace in Las Vegas on December 6 for her final six shows of her two-year residency.

SOMETHING MERRY THIS WAY COMES the Shakespeare Theatre of New Jersey's specially crafted antidote to the holiday glitz and commercialism - a cornucopia of sparkling and inspiring holiday tales, songs, and poems read by members of the Theatre's company of actors - returns this season on Monday, December 15th, at the F.M. Kirby Shakespeare Theatre, in Madison, NJ.

FLEETWOOD MAC performs Tuesday, December 2, 2014 at the Viejas Arena in San Diego, CA. Wednesday's gig is at the Oracle Arena in Oakland, CA.

BRYAN FERRY brings his show to Bielefeld, Germany for a Tuesday, December 2nd show at the Stadthalle Bielefeld. On Wednesday the performance is in Frankfurt, Germany at the Alte Oper Frankfurt. Thursday's gig is in Zurich, Switzerland at the Kongresshaus Zurich and on Saturday they're on stage in Stuttgart, Germany at the Porsche Arena.

THE WHO on their 50th Anniversary Tour performs in England this week with a December 2 show at Leeds First Direct Arena in Leeds. Friday's show is at Capital FM Arena in Nottingham and Friday's stop is at Birmingham.

THE SMASHING PUMPKINS bring their tour to Koko in London on Friday, December 5. Saturday's show is at Le Trabendo in Paris.















Next Column: December 7, 2014
Copyright: November 30, 2014 All Rights Reserved. Reviews, Interviews, Commentary, Photographs or Graphics from any Broadway To Vegas (TM) columns may not be published, broadcast, rewritten, utilized as leads, or used in any manner without permission, compensation and/or credit.
Link to Main Page
---
Laura Deni



For the snail mail address, please E-mail your request.
CLICK HERE FOR COMMENT SECTION