! >
Broadway To Vegas
  
 SHOW REVIEWS CELEBRITY INTERVIEWS GOSSIP NEWS

| | |
| --- | --- |
| | |
THE TRUMPET OF THE SWAN BY MARSHA NORMAN AND JASON ROBERT BROWN STARS KATHY BATES - - TCHAIKOWSKY'S SKULL CO-STARS WITH DAVID TENNANT IN HAMLET - - PRINCESS GRACE'S FABERGE EGG - - BROADWAY GOES GREEN - - BILLY JOEL IN AUSTRALIA - - EVENING STANDARD AWARDS HONOR KEVIN SPACEY - - LIZA'S AT THE PALACE - - VIOLENCE CAUSES LIVE EARTH CONCERT TO BE CANCELLED - - DONATE . . . Scroll Down


TCHAIKOWSKY'S SKULL CO-STARS WITH DAVID TENNANT IN HAMLET
David Tennant in a scene from Hamlet holding the actual skull of Tchaikowsky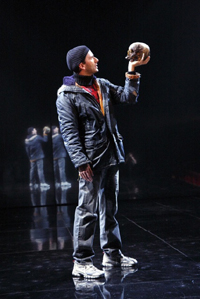 It's not too often that a theatre doesn't capitalize on a sure fire ticket selling gimmick - such as the skull being held by David Tennant as Hamlet was not only a real one, but the skull of André Tchaikowsky, a famed composer and pianist who died in 1982.

London' Royal Shakespeare Company, which staged the production, didn't make the announcement until after the production closed on November 15.

On November 22 Vicki Reid, reporting for the London Telegraph, wrote: There is one intriguing story about the production that among all the mayhem has managed to remain untold. During the run, the company has played each performance with an extra member. On the first day of rehearsals the cast was introduced to a real skull - that of André Tchaikowsky."

After more than 25 years in the wings, André's wish to appear in Shakespeare's play Hamlet as the skull of Yorick was realized at last.



André Tchaikowsky in 1959 (age 24) Photo: Sabine Weiss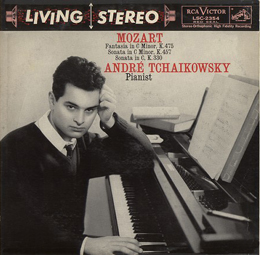 Director Gregory Doran had told the cast that he would use André's skull throughout the production. He hoped it might bring the cast closer to the text.

"This play has to touch something in us - we have to face our own mortality, and Hamlet has to face that. It was sort of a little shock tactic, though, of course, to some extent that wears off and it's just André, in his box."

Doran didn't want the story to get out before Hamlet closed. "I thought it would topple the play and it would be all about David acting with a real skull."

Tennant was delighted to be fulfilling Tchaikovsky's wishes. "When I heard he had done this, I thought, that's brilliant, that's what I'm going to do, but apparently you can't any more, the law's been changed," he said referring to the updated Human Tissue Act of 2004 which regulates donations of body parts.

There was also an upstaging issue. Disclosing that Tennant was actually knocking about Tchaikowsky's skull would have blurred the massive hype around Doctor Who star Tennant appearing as Hamlet.

However it's not too late to see the encore performance.

The deceased composer/pianist's website has a moving banner with a News Flash sign proclaiming: "André's Skull on stage in Hamlet starting Dec. 3, 2008, London."

That refers to the RSC production - David Tennant and skull - transferring to The Novello Theatre in London, from December 3, 2008 - January 10, 2009.

Like most wanna-be actors, the road to a co-star slot in Shakespeare's Hamlet took the famed composer/pianist over two decades.

It wasn't so much a case of practice, practice, practice as it was the skull needed to air out.

Tchaikowsky's website refers to the book The Other Tchaikowsky - A Biographical Sketch of André Tchaikowsky, which describes what is known about the André's donation of his skull to be used in Shakespeare theatrical productions of Hamlet.

After André's death in June, 1980, at the age of 46, Terry and Eve Harrison went to André's home to advise his neighbors of the unhappy news. They found a will, written on October 10, 1979. It seemed a standard document, except for the end of Clause 13:

13. I HEREBY REQUEST that my body or any part thereof may be used for therapeutic purposes including corneal grafting and organ transplantation or for the purposes of medical education or research in accordance with the provisions of the Human Tissue Act 1961 and in due course the institution receiving it shall have my body cremated with the exception of my skull, which shall be offered by the institution receiving my body to the Royal Shakespeare Company for use in theatrical performance.

The bequest of André's skull to the Royal Shakespeare Company was a surprise, but Terry and Eve were determined that André's last wishes be honored. Terry telephoned playwright Christopher Hampton (Les Liaisons Dangereuses). Hampton lived in Oxford and they had become friendly when André decided to undertake an opera based on Hampton's play, Total Eclipse. Hampton called a friend at the RSC, joint artistic director Terry Hands.

Terry Hands: "I was informed of the bequest immediately after André's death and asked Christopher Hampton how seriously felt was the request. It did seem serious. André was passionate about Shakespeare and had attended many performances at the RSC. We were honored and we accepted. It was agreed that when next we played Hamlet, it would be used."

"The funeral directors at Reeves and Pain who were handling the cremation refused to remove André's head, and further, they believed such a bequest was illegal. Terry contacted his legal advisors who in turn contacted the British Home Office. The Home Office decided the bequest was not illegal and the RSC could accept the gift. Reeves and Pain asked that the head be removed by a medical staff member at the hospital before they picked up the body. This was done. At virtually the last minute, Reeves and Pain was able to obtain André's remains from the hospital, sans cranium, in time to prepare his ashes for the memorial service on July 2. The head was turned over to a museum for processing."

Ten days later, the dog which resided in the RSC property department, was tail-wagging delighted when the cardboard parcel containing the freshly processed, golden-toothed skull of André Tchaikowsky arrived. If the pooch was pleased with something human to sniff, William Lockwood, RSC prop department head, was more apprehensive.

For the next two years (1982-1984) the skull was kept on the roof of an RSC building to be 'aired'.

The skull briefly left its shelf for a photo-session with Roger Rees for the poster of Daniels's 1984 production, but was immediately sent back to rest, a fibreglass cast of his cranium taking his place in the theatre.

André Tchaikowsky's first genuine chance to star as Yorick came only in 1989, when Mark Rylance started to rehearse the title role of Hamlet in Daniels's production. A rehearsal note dated February 13, 1989 records: "Mark Rylance has asked whether it would be possible to use the real skull that was donated to the RSC as Yorick's skull?" The property department complied, and Tchaikowsky appears to have spent one month in the rehearsal room preparing the role of Yorick.

On March 23, 1989, however, the first indication of trouble is casually mentioned in a rehearsal note: "we will be using the real skull for Yorick but will need a standby in case of accident." What accident? Although Tchaikovsky must have been aware that playing Yorick would entail being "knocked about the mazard with a sexton's spade" (5.1.85-6), Rylance's desire to grant Tchaikowsky's wish seems thus to have been paradoxically checked by a simultaneous desire to honor the dead. Eventually, squeamishness about the rough handling of real human remains seems to have triumphed. Claire van Kampen, the production's musical director and later Mark Rylance's wife, remembers that:

"As a company, we all felt most privileged to be able to work the gravedigger scene with a real skull... However, collectively as a group we agreed that as the real power of theatre lies in the complicity of illusion between actor and audience, it would be inappropriate to use a real skull during the performances, in the same way that we would not be using real blood, etc. It is possible that some of us felt a certain primitive taboo about the skull, although the gravedigger, as I recall, was all for it!"

On April 7, 1989, a last rehearsal note records: "We are no longer using the real skull as Yorick but would like to use a cast of it (complete with teeth)." In 1984, the Royal Shakespeare Company did produce Hamlet. Actor Roger Rees (Hamlet) remembers the situation: "The skull was used as part of the Hamlet poster for the 1984 production in Stratford and the 1985 production in London. I had to pose for this poster, two hours a day, for three days running. In my hands, I hold a skull, and that's André's skull. The artist was Phillip Core and he remarked that it must be a real skull because it still had bits of gristle around the ear ports, and various places. So indirectly, André's skull was used for Hamlet."

Finally, in 2008, Tchaikowsky's request is fulfilled - although he did have to actually die to get the part. Center stage - co-starring with David Tennant in Hamlet - Tchaikovsky's skull.

"This same skull, sir, was Yorick's skull, the King's jester."
"Alas, poor Yorick. I knew him, Horatio: a fellow of infinite jest." - Hamlet

The RSC Hamlet production moves from Stratford-upon-Avon to the Novello Theatre, London, on December 3, 2008



Broadway To Vegas is supported through advertising and donations. Priority consideration is given to interview suggestions, news, press releases, etc from paid supporters. However, no paid supporters control, alter, edit, or in any way manipulate the content of this site. Your donation is appreciated. We accept PAYPAL. Thank you for your interest.


ART AND ABOUT


PRINCESS GRACE'S FABERGE EGG is the highlight of the Cleveland Museum of Art exhibition Artistic Luxury, Faberge, Tiffany, Lalique - the first comparative study of three of the greatest jewelry and luxury goods designers at the turn of the 20th century:

Organized by Stephen Harrison, the museum's curator of decorative arts, the exhibition includes nearly 300 objects by Louis Comfort Tiffany, Rene Lalique and Peter Carl Faberge, three designers who dominated the carriage trade a century ago.

Their worlds collided in a rivalry of creative exuberance. The competition found its stage at the 1900 World's Fair in Paris. Each of the artists was linked by a common purpose: to provide the most luxurious and artistic creations to their clientele. The most elaborate of their designs for the Paris World's Fair have been reunited for the first time in a gallery recreating the ambience of this opulent exhibition.

Artistic Luxury offers a glimpse-through the stunning creations of these three great artists-into the world of the rich and famous during the years leading up to the First World War. Each designer was known for his own characteristic style and achievement, and the exhibition devotes a separate gallery to each jeweler, recreating the ambiance of the Paris world's fair.

A Faberge egg that was once a treasured possession of Princess Grace of Monaco is one of the star attractions.

The Imperial Blue Serpent Egg, never before loaned to a museum exhibition is spangled with diamonds and garlanded with gold. Prince Rainier III of Monaco received the egg as a gift in 1974 from Greek shipping magnate Stavros Niarchos. The former Hollywood star Grace Kelly is said to have been so fond of the egg that she kept it on her desk in the royal palace. After the 1982 death of Princess Grace in an auto crash , Prince Rainier closed her apartment in the palace, leaving the egg where his wife had kept it.

The egg was one of a series commissioned by Czar Alexander III of Russia as annual Easter gifts to his wife, Maria Feodorovna. Created by the House of Faberge in 1886-87, it was presented to the czarina in 1887. It stands roughly 10 inches tall and takes the form of a clock standing on a three-sided base trimmed in gold.

The egg has a belt of white enamel on which Roman numerals are made of diamonds. The enamel band rotates when the clock is wound with a gold knob.

A snake made of gold and diamonds wraps around the egg, and points to the passing numbers with its tongue to indicate the time.

After the Russian revolution, the Soviet government sold the egg to a Paris-based Australian firm in 1927. After passing through other hands, it was purchased in 1974 by Niarchos.

Harrison indicated it was Prince Albert II who agreed to permit the egg to be included in the museum display.

On display at The Cleveland Museum of Art through January 18, 2009.





THE EVENING STANDARD THEATRE AWARDS were announced Nov. 24 during a ceremony at the Royal Opera House in London.

The Evening Standard Theatre Awards, established in 1955, are presented annually for outstanding achievements in London Theatre Sponsored by the Evening Standard newspaper, the awards are nominated and voted for by a panel of critics - this year comprised by the Standard's Nicholas de Jongh, Charles Spencer of the Daily Telegraph, Benedict Nightingale of The Times, Susannah Clapp of The Observer and Georgina Brown of the Mail on Sunday.

The nominations and winner are:

BEST PLAY
Black Watch - by Gregory Burke (National Theatre of Scotland at Barbican)
Now Or Later - by Christopher Shinn (Royal Court)
The Pitmen Painters - by Lee Hall (Live Theatre and National Theatre co-production) WINNER

BEST ACTOR
Kenneth Branagh - Ivanov (Donmar West End at Wyndham's)
David Calder - King Lear (Shakespeare's Globe)
Chiwetel Ejiofor - Othello (Donmar Warehouse) WINNER

BEST ACTRESS
Lesley Sharp - Harper Regan (National's Cottesloe)
Margaret Tyzack - The Chalk Garden (Donmar Warehouse)WINNER TIE
Penelope Wilton - The Chalk Garden (Donmar Warehouse)WINNER TIE

THE NED SHERRIN AWARD FOR BEST MUSICAL
La Cage Aux Folles - Menier Chocolate Factory and Playhouse
Marguerite - Theatre Royal Haymarket
Street Scene - The Opera Group, Young Vic and Watford Palace Theatre co-production WINNER

THE SYDNEY EDWARDS AWARD FOR BEST DIRECTOR
Michael Boyd - The History Cycle (Royal Shakespeare Company at the Roundhouse)
Michael Grandage - Othello/The Chalk Garden/Ivanov (Donmar West End at Wyndham's and Donmar Warehouse)
John Tiffany - Black Watch (National Theatre of Scotland at Barbican)

BEST DESIGN
Miriam Buether - In The Red And Brown Water (Young Vic)
Rob Howell - The Norman Conquests (Old Vic)
Neil Murray - Brief Encounter (Kneehigh at Cinema Haymarket Theatre) WINNER

THE MILTON SHULMAN AWARD FOR OUTSTANDING NEWCOMER
Felicity Jones - The Chalk Garden (Donmar Warehouse)
Lex Shrapnel - Henry IV Part I (Royal Shakespeare Company at The Roundhouse)
Ella Smith - Fat Pig (Trafalgar Studios and Comedy Theatre) WINNER

THE CHARLES WINTOUR AWARD FOR MOST PROMISING PLAYWRIGHT
Bola Agbaje - Gone Too Far (Royal Court)
Anupama Chandrasekhar - Free Outgoing (Royal Court)

Tarell Alvin McCraney - In The Red And Brown Water/The Brothers Size (Young Vic) WINNER

Double Oscar-winner Kevin Spacey, who took charge of the Old Vic in 2003, was honored for his work revitalizing the theatre. Spacey also serves as the new Cameron Mackintosh Visiting Professor of Contemporary Theatre at Oxford.


BROADWAY GOES GREEN


Monster from the Broadway musical Young Frankenstein, Nickey from Avenue Q and Wicked's Elphaba all want less.

As in fewer carbon footprints - a measure of greenhouse gases produced by human activity.

On Nov. 25 they joined NYC Mayor Michael Bloomberg at the Eugene O'Neill Theater to help launch the Broadway Goes Green initiative which includes an array of plans - from using energy-saving bulbs and recycle stage sets to washing costumes in cold water.

Marquees in New York City's Broadway theater district will go "green" this year as part of a plan to save energy and the environment. That may sound petty, but it's a big deal.

Already, 10 Broadway theaters have changed 10,000 exterior and interior bulbs to more energy efficient compact fluorescent bulbs as part of the initiative organized by the mayor, the Broadway League and the National Resources Defense Council.

Broadway shows are a major attraction for visitors to New York City and shows sold 12.27 million tickets in the 2007-2008 season, contributing $5.1 billion to the city's economy and supporting 44,000 local jobs, according to the mayor's office.

Ten theaters already have replaced some 10,000 bulbs with more energy-efficient ones. And within the next 12 months, all of Broadway's theaters will have made the switch.

"By this time next year, the lights on Broadway will burn just as bright, but the energy bills and our city's carbon output will be lower," Bloomberg said. "This commitment will raise the level of awareness for everyone involved in these shows including the audiences and that's going to have an impact that reverberates far beyond the Big Apple."

Under the plan, theaters will strive to use environmentally friendly materials in scenery; recycle and reuse props; and wash costumes in cold water and use rechargeable batteries in sound equipment when possible.

Patrons also will be asked to do their part. Theaters will give out cards with tips on steps they can take at home to help save the environment.

The initiative is part of the mayor's PlanNYC goal to reduce the city's carbon footprint 30 percent by 2030.


SPREADING THE WORD


CHICAGO'S TALKBACK TUESDAYS is a new monthly series offering a post-show discussion and audience Q&A session with members of the Broadway company of the record-breaking hit musical.

On Tuesday, December 9, 2008, a post-show conversation will take place with five-time Tony Award-winning producer Barry Weissler at the Ambassador Theatre in Manhattan.

Among the many new theatre projects Weissler is developing are two new musicals: The Band Wagon, based on the classic MGM film and Clueless, an adaptation of the hit 1995 Paramount movie. This talkback will be moderated by Drew Hodges, CEO and Creative Director of the Broadway advertising agency SpotCo.


SWEET CHARITY


LIVE EARTH CONCERT CANCELLED originally scheduled to takes place December 7 in Mumbai, India with Bon Jovi and Pink Floyd's Roger Waters among the stars set to headline. Other stars performing would have included Bollywood's Aishwarya Rai Bachchan and the Black Eyed Peas' Will.I.Am. The event's founder, former US Vice President Al Gore, was slated to speak about climate issues.

Money raised from this year's concert was earmarked for Climate Project India to help fund their educational programs and renewable energy projects. Money was also going to TERI's Light a Billion Lives campaign which provides solar lighting to rural homes without electricity.

The concert was to have been broadcast worldwide.

Then the horrific violence of last week, which has prompted the concert to be cancelled.

The official release reads:

"Everyone involved with Live Earth India, from our U.S.- and India-based staff, artists and crew to our India-based broadcast, production, non-profit and marketing communications partners, is stunned and saddened by the tragic events of the past few days in our host city Mumbai. We always felt very welcomed and safe as we spent more time on the ground in Mumbai to finalize plans for Live Earth India, scheduled for December 7."

"Due to circumstances far beyond our control, we are saddened to announce that Live Earth India has been cancelled. We will continue to work for solutions to the climate crisis for the good of the people of India and around the world. But for now, our thoughts and our prayers are with the victims of this terrible attack, with the bereaved, with the people of Mumbai and with everyone in India."

THE ELTON JOHN AIDS FOUNDATION reports that on Tuesday, November 11, 2008, the Foundation's 7th annual An Enduring Vision benefit raised nearly $2.1 million for EJAF's grant-making programs supporting innovative HIV prevention programs, efforts to eliminate stigma and discrimination associated with HIV/AIDS, and direct care and support services for people living with HIV/AIDS across the nation and around the world.

The evening was hosted by Emmy Award-winning journalist Anderson Cooper. As a part of the program, EJAF presented Enduring Vision awards to several steadfast supporters and volunteer leaders of the Elton John AIDS Foundation - Johnny and Edwina Barbis, Bill and Tani Austin, and Tim Allen. During a very successful live auction conducted by Jamie Niven of Sotheby's, a photograph by the late Herb Ritts, a founding EJAF Board member, sold for $65,000. This photograph was generously donated to EJAF by the Herb Ritts Foundation. The program continued with outstanding performances by special musical guest, the legendary Gladys Knight and her band. Together, Ms. Knight and Sir Elton closed the evening with a soulful duet of That's What Friends Are For.

KATHY MATTEA played Santa's helper on November 22 when got on board the Santa Train's 66th trip through Kentucky, Virginia and Tennessee. The West Virginia native distributed part of 15 tons of toys and gifts on the 11-car Santa Train which traveled 110 miles and made 14 stops in the rural areas. The train began at Pikeville, Ky and ended at Kingsport, Tenn.



THE TRUMPET OF THE SWAN: A NOVEL SYMPHONY Based on the book by E.B. White. Adapted for the stage by Pulitzer Prize and Tony Award winner Marsha Norman. Music by Tony winner Jason Robert Brown. Directed by Gary Griffin.

With Academy Award winner Kathy Bates, Zayd Dohrn, Edward Gero, Lauren Kennedy, Peggity Price, Richard Thomas, Christopher Venditti, and Fred Willard.

Though Louis is a trumpeter swan, he can't communicate like the rest of his family because he was born without a voice. To overcome this obstacle, he learns to play a real brass trumpet he got from his father. Through the friendship of a young boy, Sam, and a determination to pay back his father's debt on the trumpet, Louis overcomes adversity to attain freedom, fame, fortune, and love.

In this uniquely entertaining, world-premiere theatrical adaptation of the famous book, actors come together with an on-stage orchestra, conducted by Jason Robert Brown, and a trumpet soloist to tell E.B. White's classic story. The Trumpet of the Swan: A Novel Symphony. December 4-6 at the Eisenhower Theatre, Kennedy Center in Washington, DC.

THE PINK DRESS the popular puppet-theater performance with music based on creator Leslie Kitashima-Gray's mother's experience in a Japanese American Internment Camp during World War II.

This heartwarming family show, which features 3-foot tall bunraku-style puppets as well as a wide variety of other types of puppetry.

Faced with wearing the drab green required for the camp junior high graduation, Tsuki decides to wear her sister's pink dress to prove that she is not an "ant," but a human being. This story about individuality in the face of racism is intended for a family audience.

Two Los Angeles public performances presented by Triumvirate Pi Theatre. First at the Japanese American National Museum on December 6, then at Centenary United Methodist Church on December 7, to commemorate Pearl Harbor Remembrance Day.

AMAHL AND THE NIGHT VISITORS AND HOLIDAY CONCERT by Gian Carlo Menotti. Presented by the Nashville Opera.

Thrill to this touching one-act presented with an Operatic Holiday Concert for the whole family. Little Amahl, a poor shepherd boy, has his life forever changed after a chance encounter with Three Kings who are following a star to the manger in Bethlehem. This emotional telling of the journey of the Magi is guaranteed to bring smiles...as well as a few tears.

Tuesday, December 9, 2008 at the James K. Polk Theater, TPAC in Nashville.

LIZA'S AT THE PALACE the new show starring Liza Minnelli. Directed and choreographed by Ron Lewis, the evening will feature an incomparable Minnelli songfest including many of her personal favorites and signature hits, followed by a dance-filled tribute to the groundbreaking late-1940s nightclub act of Minnelli's godmother, Kay Thompson.

Along with a twelve-man orchestra led by conductor/drummer Michael Berkowitz and pianist/musical supervisor Billy Stritch, Liza's At The Palace will be highlighted with many of Liza's showstoppers such as Cabaret; Maybe This Time and New York New York - all written especially for her by the legendary Broadway song writing partnership of John Kander and Fred Ebb.

For the first time onstage, Liza will pay an affectionate salute to her godmother, the late Kay Thompson who was a legendary performer co-starring in Funny Face with Audrey Hepburn and Fred Astaire, author of Eloise at the Plaza as well a gifted vocal arranger and Music Director/vocal coach at MGM Studios who worked with stars such as Judy Garland, Frank Sinatra and Lena Horne. Supported by a quartet of dynamic singer/dancers, Liza will perform musical hits - with the original vocal arrangements - from Thompson's act including such numbers as I Love a Violin; Clap Yo' Hands; Jubilee Time and Hello Hello - set to brand-new staging and choreography by Mr. Lewis. Accompanying her onstage will be Johnny Rodgers, Cortés Alexander, Jim Caruso and Tiger Martina.

The concert performance will be scripted by Liza and Tony Award-winner David Zippel. Scenery by Ray Klausen, costumes by Halston, lighting by Matt Berman and sound by Matt Kraus.(

December 3-28 at Broadway's Palace Theatre, NYC.

As an aside - since we are approaching the gift giving time of year - 32 years ago this week Liza Minnelli gifted her long-time friend Fred Ebb with a new automobile on the eve of her Riviera Hotel opening in Las Vegas. Unbeknownst to him, a well orchestrated deception was in play to surprise the lyricist, who penned the words for Cabaret and produced the act that Minnelli introduced in Las Vegas.

When Ebb arrived at the Riviera Hotel on Wednesday December 1, 1976 - parked in front of the hotel was a dazzling new Pacer. On February 28, 1975 AMC had introduced the Pacer, the first wide, small car. Designed to appear futuristic, the shape was highly rounded with a huge glass area, and was very unusual for its time. Ebb had fallen in love with the car at first glance.

"Wow," he exclaimed. "That's just the kind of car I've been looking at in Beverly Hills."

Whereupon, Liza informed him it was his.

The surprise gift took the cooperation of Riviera Hotel's publicity guru Tony Zoppi and the local car dealership to carry off Liza's well-laid plans.

BELOVED CLARA and ODYSSEY OF LOVE

Rosalind Ayres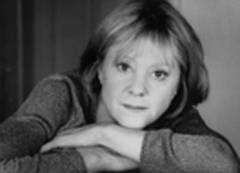 compiled by Lucy Parham from the letters of Robert & Clara Schumann, Johannes Brahms, and Franz Liszt.

Two uniquely beautiful performance pieces will be given their U.S. premieres by L.A. Theatre Works. Music for Beloved Clara and Odyssey of Love will be performed live by multiple award-winning pianist Parham, while extracts from the composers' letters and diaries will be read by celebrated British actors Rosalind Ayres and Martin Jarvis. The live performances, directed by Mr. Jarvis, will be recorded in front of a live audience December 3 through 7 at the Skirball Cultural Center in Los Angeles for broadcast on LATW's nationally syndicated, weekly radio theater series, The Play's The Thing.



Martin Jarvis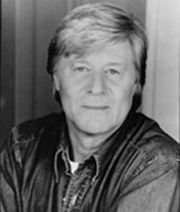 The story of the intense relationships between Robert Schumann, his wife Clara Schumann and Johannes Brahms has always fascinated music lovers. Beloved Clara (Thursday, December 4 and Saturday, December 6 brings their history to vivid life through their music and excerpts from their passionate writings. It chronicles the sometimes troubled marriage of Clara and Robert; the arrival in their household of the dynamic, 21-year-old Brahms; Robert's decline into mental illness; and the deepening, intriguing bond between Clara and Brahms Beloved Clara premiered at London's Wigmore Hall Masters Series in 2002.

Throughout his life, Franz Liszt burned the candle at both ends. Drawn largely from his prolific and colorful letters and interspersed with some of his most ecstatic and expressive piano music, Odyssey of Love (Wednesday, December 3; Friday, December 5; and Sunday, December 7) depicts Liszt's tempestuous relations with two fascinating women: the aristocratic freethinking rebel (and mother of his children) Marie d'Agoult, and the cigar-smoking intellectual Princess Carolyne von Sayn Wittgenstein. A child prodigy who became the greatest keyboard virtuoso of his time, Liszt was also a prolific composer whose output ranged from hundreds of piano pieces to symphonies, tone poems, songs and oratorios. An indefatigable traveler and a friend and supporter of Berlioz, Schumann, Chopin and Wagner, Liszt's life was crammed full of incident and romance, and he was drawn to women like a moth to a flame. Odyssey of Love premiered at Wigmore Hall in February 2008 as part of the London Pianoforte Series.

RUBICON FAMILY CHRISTMAS a world premiere conceived and directed by Brian McDonald. Musical Direction by Steven Cahill. Featuring Joan Almedilla, Teri Bibb, Kevin Earley and Manough.

The halls are decked with holly. The stockings are hung by the chimney (with care, of course) and the presents are under the tree. A gloriously entertaining evening of song, dance and story. This magical musical collection of your favorite carols and holiday hits to dazzle and inspire. December 4-28, 2008 at the Rubincon Theatre in Ventura, CA.

IT'S A WONDERFUL LIFE

left to right - Collin Maier, Jered McLenigan, Rachel Brennan, Tom McCarthy, Jennifer Page, Pete Pryor,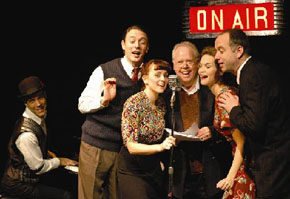 a live radio play with music. Frank Capra's beloved classic comes to stage as a live 1940's radio broadcast.

A great film becomes a life affirming theatrical experience. Versatile performers and directors create the sounds of Bedford Falls to tell the tale of George Bailey, an "Everyman" who is out of money and out of hope. At his lowest moment a guardian angel comes to show him the world in a whole new light.

The story is broadcast to the studio audience with humor and heart, old-time commercials, live sound effects and an on-stage band.

Directed by Barry McNabb, Musical Director Collin Maier, Featuring Tom Mccarthy, Pete Pryor, Rachel Brennan, Jered McLenigan, Jennifer Page, and Colin Maier.

December 4 - 21, 2008 at the Prince Music Theater in Philadelphia.




WHO'S WHERE


HOLIDAYS AND HITS, AN EVENING WITH AL JARREAU Five-time Grammy Award-winner Al Jarreau makes his State Theatre debut immediately after his newest album Christmas hits stores nationwide. Jarreau will perform cherished holiday tunes and as well as his mega-hits including So Good; Never Givin' Up; We're In This Love Together; Boogie Down and After All. Sunday, December 7 at the State Theatre, New Brunswick, NJ.

EILEEN FULTON who got her start on Broadway and became a household name portraying Liza on As The World Turns, brings her singing talents to The Metropolitan Room in New York City for shows on Friday, December 5th and 12th.

BILLY JOEL on tour Down Under brings his show to The Rod Laver Arena in Melbourne on Monday, December 1. On Thursday he opens a two night stand at the Brisbane Entertainment Centre in Boondall.

CELINE DION on stage Tuesday, December 2, at the Staples Center in Los Angeles. On Wednesday she takes place in the Grammy Nominations Concert Live at the Nokia Theatre in LA. On Saturday she is in the spotlight at Jobing.com Arena in Glendale, AZ.

RYAN ADAMS WITH OASIS perform Wednesday, December 3 at the Oracle Arena in Oakland, CA. On Thursday the show is at the Staples Center in Los Angeles. Saturday finds them in Las Vegas at the Pearl concert Theater.

BIG BAD VOODOO DADDY in stage Friday, December 5, at the Henderson Fine Arts Center in Farmington, NM. On Saturday they can be enjoyed at the Touhill Performing Arts Center in Saint Louis, MO.

SARAH BRIGHTMAN continues her tour with a stop on Tuesday, December 2, at Quicken Loans Arena in Cleveland. Wednesday she performs at The Palace of Auburn Hills in Auburn Hills, MI. Thursday finds her at the Allstate Arena in Rosemont, IL. On Saturday she can be enjoyed at the MTS Centre in Winnipeg, MB. Next Sunday, December 7, she headlines the Brandt Centre in Regina, SK.

MICHAEL FEINSTEIN brings his Sinatra Holiday Project with New York's Finest Swinging 17 piece Band led by John Oddo featuring Bucky Pizzarelli on guitar, Jim Saporito on drums, and David Finck on bass. Special Guest Antonia Bennett - yes, she is Tony's daughter. Feinstein's at Lowe's Regency in NYC December 2- December 30.

BLIND BOYS OF ALABAMA bring their Go Tell It On the Mountain show to the Farthing Auditorium - Appalachian State University in Boon, North Carolina on Saturday, December 6.


WE NEED YOUR HELP....


BROADWAY TO VEGAS, which has been in existence over 10 years, is not affiliated with any blog. A copyright clause is at the bottom of every Broadway To Vegas column. Recently, it has been brought to our attention that there is a Las Vegas based blog with an extraordinarily similar title. If you have provided that (or any) blog with: information, invitations, purchased anything through any link on that blog or transferred money, goods or services to anyone connected with that blog THINKING YOU WERE DOING BUSINESS WITH BROADWAY TO VEGAS - we want to hear from you. The more detail the better. Thank you. Next Column: December 7, 2008
Copyright: November 30, 2008. All Rights Reserved. Reviews, Interviews, Commentary, Photographs or Graphics from any Broadway To Vegas (TM) columns may not be published, broadcast, rewritten, utilized as leads, or used in any manner without permission, compensation and/or credit.
Link to Main Page
---
Laura Deni



U.S. Postal Address: Post Office Box 60538, Las Vegas, NV 89160
CLICK HERE FOR COMMENT SECTION