! >
Broadway To Vegas
  SHOW REVIEWS     CELEBRITY INTERVIEWS     GOSSIP     NEWS 
| | |
| --- | --- |
| | |
Copyright: November 30, 1998
By: Laura Deni
CLICK HERE FOR COMMENT SECTION

WHERE IS TOMMY TUNE? EVERYWHERE


Tommy Tune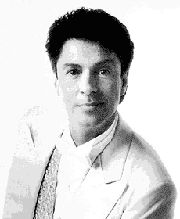 The gifted Tommy Tune arrived in Las Vegas a month ago to rehearse for his starring role in EFX, replacing David Cassidy in the mega technical production at the MGM Grand Hotel. The arrival of the talented Tune has been the talk of the town and this website (see column of Oct. 19)

Tune's arrival in Vegas fueled some over-reactionaries to jump to the conclusion that Tune was going to fizzle out on Sandy Duncan and try to worm out of co-starring with her in Two For The Show.

Shame! Shame! Not so.

The song and dance confection Two For The Show starring Tune and Duncan opens tomorrow, December 1, at the 5th Avenue Theatre in Seattle with performances through Dec. 20th.

Tune and the delightful Duncan lead a full company of singers and dancers in this exclusive musical special. This perfect holiday treat also features the talents of the Manhattan Rhythm Kings, Don Correla and Guy Stroman.

Duncan and Tune have been friends for years. Over a decade ago they teamed up with the intent of turning the old television series Topper into a musical where they would play the ghosts. It never materialized.

What did developed for Sandy was an interesting career with some delightful highs and devastating lows. Duncan spent more than two decades enjoying success on Broadway in musicals including Peter Pan and Tune's My One and Only.

She made her television sitcom debut in 1971 in Funny Face, but developed a brain tumor that not only ended the successful series, but cost Sandy her eye.



TOMMY TUNE flanked by SIEGFRIED & ROY It hasn't been all work for Tune. He recently stopped backstage to visit with Siegfried and Roy after seeing their show at the Mirage Hotel.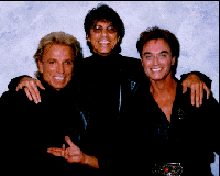 That was an event which could have emotionally destroyed some people. Not Sandy. The plucky lady persevered.

She returned to the small screen the following season in The Sandy Duncan Show, which fell victim to poor ratings. Then she replaced Valerie Harper in the television series Valerie when Harper was out after a contract dispute.

It was an interesting balancing act for Duncan who managed to walk the professional picket fence. Although the ratings improved, the show, which went through two name changes, didn't make it.

The Broadway hoofer-turned sitcom star has come full circle. Co-starring with her old pal Tommy Tune, the terrific twosome is a holiday delight in Two For The Show.

Following Two For The Show the tireless Tune then returns to Las Vegas where he'll continue preparing for EFX.

Tommy Tune officially opens in EFX on January 12.


CHICAGO BENEFITS FROM GERMAN STAR
Ute Lemper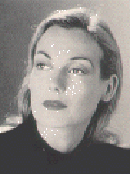 Uta Lemper, the sexy German star who received rave reviews for her performance in England, has replaced Bebe Neuwirth in Chicago. Lemper wasted no time is putting her stamp on the role of the hardened murderess. The gorgeous blonde, who has been compared to Garbo, is establishing a powerful German American relationship. The siren has given notice that she is not only up for the part, but a box office plus for the production.

Brent Barrett now stars as Billy Flynn. James Naughton took home a Tony for his portrayal of the flamboyant lawyer. To Barrett's credit he has put his own edge on the mouthpiece role. Karen Ziemba nails her role as Roxy. Marcia Lewis remains as the original cast member. Her role as prison matron Mama Morton is show stopping.

If you saw and loved Chicago with Neuwirth, Naughton and Lewis - go see the show again. You'll be thrilled with Lemper, Ziemba, Barrett and Lewis.

This revival celebrated it's second anniversary on November 15. Director Walter Bobbie, choreographer Ann Reinking, writers John Kander and Fred Ebb deserve to be proud.

The wears well production currently has two national touring companies, a London West End production and shows in Australia and Vienna. Productions are about to open in Germany, Tokyo, Sweden and Holland.


LINDA EDER OUT OF CIVIL WAR




Linda Eder, who won rave reviews for her starring role in Broadway's Jekyll & Hyde, received a standing ovation for just walking on stage when she recently performed at Pepperdine University, Malibu, California.



Linda Eder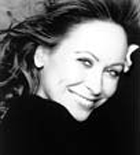 Harvey Geller, former editor of Cash Box Magazine and former staff member of Billboard and Daily Variety magazines is president of Clarinet Music Publishing. He attended Linda's show and lost himself in superlatives.

Geller reported that Eder not only received a standing ovation for just walking on stage, but was rewarded with six additional standing ovations during her SRO performance.

Geller assured me that there was nothing the matter with the room and people didn't think they were in an aerobics class - Linda delivered a dynamite performance that warranted the audience behaving as though they were at a rock concert.

The beauty who made her Broadway debut when she created the role of Lucy in Jekyll & Hyde included numbers from that show as well as selections from her CD It's Time. Married to composer Frank Wildhorn - Jekyll & Hyde, The Scarlet Pimpernel - the talented singer departed Jekyll & Hyde for her husband's newest effort Civil War.

Wildhorn was present at the concert. Geller reported that Eder has left Civil War because Wildhorn decided the production wasn't right for her. Wildhorn is composing another show specifically to showcase his wife's talents.



Broadway To Vegas is supported through advertising and donations. Priority consideration is given to interview suggestions, news, press releases, etc from paid supporters. However, no paid supporters control, alter, edit, or in any way manipulate the content of this site. Your donation is appreciated. We accept PAYPAL. Thank you for your interest.


AN ACCIDENTAL CHRISTMAS


If you haven't yet heard Rudiana an outrageous spoof of Rudolph The Red Nose Reindeer - you will. American Express is using the ditty on their promotional CD American Express Holiday 98 to be distributed in shopping malls during this holiday season.



Pictured with Santa Claus members of The Accidentals are; Emily Bindiger, Bill Mitchell, Dennis Deal, Todd Johnson, Jim Vincent, Marcia Pelletiere, Rosie Vallese.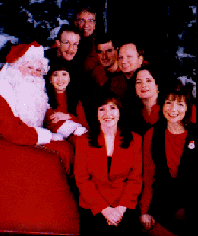 The song is sung by The Accidentals who in l997 received both MAC and Back Stage Bistro Awards as Best Vocal Group.

The soundtracks of two major motion pictures to be released in December Enemy of the State starring Will Smith and Disney's I'll Be Home For Christmas also includes Christmas carols sung by The Accidentals.

They have recorded their unusual arrangements of Christmas carols on their second CD An Accidental Christmas, which includes Rudiana. The CD on Sharp/Flat Records is set for an early December release.

The Accidentals will perform at The Bottom Line NYC on December 7 singing An Acappella Christmas as part of the benefit, Bandless Aid for World Hunger Year.On Friday, Dec. 18 they will be featured in The Downtown Messiah. The new rendition of Handel's masterpiece will have musical direction by Richard Barone and choral director by Margaret Dorn, leader of The Accidentals. The group will also perform their own Christmas show at The Bitter End on Dec. 16.

For information on Bandless Aid For World Huner call (212) 228-7880. For information on The Downtown Messiah call (212) 228-6300.


YARD SALE INSPIRATION
Tom Andersen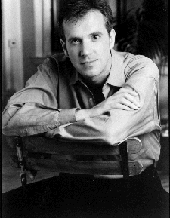 Tom Andersen, a two-time MAC Award-winning vocalist is appearing at Eight-Eight's NYC through Dec. 18. As a vocalist Andersen has been compared to Johnny Mathis. As a songwriter, he has been signed to a contract by WarnerChappell Music Publishers.

His poignant AIDS ballad Yard Sale was named the 1998 Song of the Year by the Manhattan Association of Cabarets & Clubs (MAC).

I spoke with the charming performer about his career and the future of cabaret.

"Cabaret has open arms for performers. I do think there is an expansion of cabaret. Contrary to the news that Rainbow and Stars is closing, I really think cabaret is healthy and thriving," said Andersen who is appearing at Eighty-Eights, a club which has just opened its first franchise in Florida.


Tony Bennett and Tom Andersen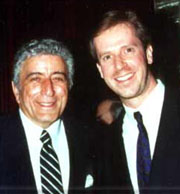 "There are a lot of different opportunities for performers. I know I'm doing their eighty-thirty spot, " he continued referring to his Friday night shows. "There is also a six- o-clock show and there will be something after me. Each club probably has three acts in a night."

Anderson agreed that the cabaret stage can be a venue where a performer can learn and build. "You may not get the greatest slot - it night be Tuesday at 11 o'clock, but for somebody who is looking for an opportunity, it's here."

"Each gig is different," he continued. "In some of the clubs they'll take a couple of bucks out of the cover and you get everything else. You pay for the act, publicity, everything else.

"Then there are the clubs like Tavern on the Green or Maxim's. When I played Tavern on the Green there was a salary for the show and they took care of all the advertising. I had a salary and out of my salary I paid the band," said Tom who works with anywhere from one to four players - - pianist Ian Herman, bass, drummer and guitarist Marty Laster, a classical trained violin player who knocks out a mean blue grass.

"To me most people have a misconception about cabaret," Andersen continued. "It's a room, not a type of music," he explained referring to a size that is usually considered to be 100 seats or less. "There are all sorts of different stuff going on in cabaret - silly pop songs, new material, standards, drag queens. It's one of the great things of the cabaret world - there is anything and everything.

"You'll get someone like a Julie Gold - she wrote From a Distance. She hit the mainstream. She's got a Grammy on her mantle and she's putting out this new music in cabaret.

"The music doesn't have to be Porter, Gershwin or Berlin. I love that stuff, but the great thing about cabaret is that anything goes," he reiterated.



Tom with Ann Hampton Callaway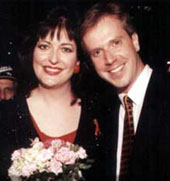 Anderson got his start while in high school. His first real paying job was as a performer at the Great American Theme Park, outside of Chicago. "I worked with Ann Hampton Callaway's sister Liz (see column of November 23, 1998). It was a very elaborate show with a live, 20 piece orchestra. There were 18 kids on stage with this wonderful orchestra and great vocal arrangements. I thought I was on Broadway! It was a lot of work. We did three or four shows a day. But, when you're 16 or 17 years old you can do that."

For a singer to have longevity, the vocal equipment needs care.

"Sleep is the big deal," stressed Andersen. "I studied voice and I think I know what I'm doing. I try to be smart about arrangements. If you're doing a run, which I did when I was doing two shows a night at Tavern of the Green for six nights - that's a lot of singing. You have to learn pacing. You pace the material. You don't want to put out a whole evening of just wham bam songs. You've got to pick and choose," he emphasized referring to soft ballads and belt em out songs."

Andersen's inspiration for writing the poignant Yard Sale stemmed from the years the Chicago native spent living in San Francisco. "I certainly saw, through the 80s, the toll AIDS took on that city. I had a next door neighbor that I didn't know very well. He was having a yard sale. I knew what was happening. He was very ill. He was basically cleaning out his life. It just really struck a cord with me. That experience of seeing his yard sale was in me for a long time. The song really wrote itself. The song just came out."

Recently Andersen returned to San Francisco for a cabaret concert. "It was produced by Diane Dragone, who owns the Star Classic Record Store. She is a big fan of cabaret. Some of the cabaret artists have CDs but don't have a huge company behind them. She'll take their product into her store and sell it. She does a really good job."

"She's produced a few concerts and it wouldn't surprise me if she eventually branched out and produced some more cabaret shows." Andersen's program includes new originals, classic and contemporary favorites, ranging from Jule Styne to Julie Gold. Plus, Anderson sings Storybook his signature showstopper from The Scarlet Pimpernel.

Andersen performs Fridays through December 18 at Eighty Eight's, marking his return to the club that gave him his start in 1992 and launched his debut CD, Far Away Places. Musical director Ian Herman, who has played for Jane Oliver and Donna McKechnie, accompanies Andersen.


WANNA BE IN A MOVIE?


Siegfried & Roy are looking for a few good bodies to help them film an IMAX 3D movie based on their lives. The motion picture will be seen on a screen ten times the size of a regular motion picture theater screen.

We at Broadway To Vegas aren't sure if that means wrinkles and zits will appear ten times their normal size.

If that thought hasn't scared you off, grab the pancake make-up and head to Las Vegas. An audience is required for selected days of filming, with each person receiving a special gift from the magicians. Of course, admission is free. No, you're not getting paid as a movie extra.

Audiences are needed December 9, 10, 11, 14, 16, 17, and 18 with seating on a first-come-first served basis. For information call toll free 1-888/326-9885 or check Siegfried & Roy's official web site at www.sarmoti.com.


SWEET CHARITY


DINNER WITH ANNETTE BENING Tonight, November 30 The World AIDS Eve Benefit at the New Conservatory Theatre Center, San Francisco was limited to 75 guests who paid $150 to $250 per ticket to dine with the delightful actress.

PAUL ROBESON CELEBRATED Tonight, November 30th, NYC, a celebration of Paul Robeson at Carnegie Hall, benefiting the Paul Robeson Foundation. Expected at the event are; F. Murray Abraham, Muhammad Ali, Harry Belafonte, Ruby Dee and Ossie Davis, Danny Glover, Pete Seeger and Alfre Woodard.



THE OMAHA COMMUNITY PLAYHOUSE which is billed as the largest community theatre in the nation, features A Tuna Christmas through December 6. A Tuna Christmas is set in the third smallest town in Texas. Radio station OKKK reports on various Yuletide activities. It's a hoot.

VANCOUVER CANADA PLAYHOUSE presents the 20th anniversary tour of the John Gray musical Billy Bishop Goes To War starring Gray and Eric Peterson. The production runs to December 12

THE CAPILANO PERFORMING ARTS THEATRE presents The Visit. It's Freidrich Durrenmatt's black comedy which asks - what would you do for a million dollars? Directed by Katrina Dunn. Show runs to November 28.

THE INVISIBLE HAND an evening of 15 monologues by writer-director Tom Gilroy begins tomorrow, Tuesday, December 1 at Machine Full, NYC. Gilroy, co-founder and artistic director of Machine Full, also authored the screenplay Spring Forward currently shooting with Liev Shreiber, Ned Beatty and Campbell Scott. The Invisible Hand features a cast of 15 who use cultural rationales to their decisions regarding who to work for, befriend, bore, represent, sue, fight or sleep with. Performances are through December 20.


WHO'S WHERE


STEVE ALLEN Steve Allen does a one nighter, December 30, at Harveys Casino-Hotel in Council Bluffs, Iowa.

SHANIA TWAIN makes her Las Vegas concert debut January 2 at the MGM Grand Gardens Arena.

SUSAN TEDESCHI the 28-year-old blues singer who has been on tour with Buddy Guy/Jonny Land, B.B. King and Dr. John performs a special free show December 11 at the Blues Bouquet in Boise, Idaho. After Janis Joplin's former band, Big Brother and The Holding Company saw Susan perform they announced that Susan Tedeschi was Joplin reincarnated. Her CD Just Won't Burn has been picked up for distribution by Mercury Records.

DAVIS SPADE star of Just Shoot Me returns to the Hard Rock Hotel, Las Vegas for a standup gig November 28

BATTLE OF THE SEXES ON ICE III will be presented Dec. 19 at the MGM Grand Hotel, Las Vegas. The event features three male and three female figure skaters competing against one another. Scott Hamilton slated as master of ceremonies with Katarina Witt as mistress of ceremonies. Male skaters scheduled to perform include: Todd Eldredge, Brian Orser and Michael Weiss. Female competitors include; Nancy Kerrigan, Caryn Kadavy and Rosalynn Sumners. All participants are subject to change. The program will be broadcast on a tape-delayed basis by CBS Sports January 17.

SPEAKING OF ICE SKATING the Bank of American Centre in Boise, Idaho was the setting for the Masters of Figure Skating competition. Olympic silver medallist and two-time U.S.and World Champion Michelle Kwan took first place in the competition.

THE MONTE CARLO HOTEL Las Vegas has signed comedian Louie Anderson. He'll take the stage in shows December 18, 19 and 22 through 25. Anderson along with Matt O'Callaghan are co-creators of the animated Fox series Life With Louie. In its first season Life With Louie received The Humanitas Prize and the Genesis Award. Anderson, whose writing and voice-over talents are featured in the series, received an Emmy for Outstanding Performance in an Animated Series for the show's second season.

REPORTS ARE that the Cleo Laine and John Dankworth Jazz Quintet performance at The Music Hall in Portsmouth, N.H. was nothing short of sensational.


THIS AND THAT


THE 1998 BILLBOARD AWARDS will be broadcast live from the MGM-Grand Hotel, Las Vegas on Fox Dec. 7 Scheduled to appear are; Backstreet Boys, Lauryn Hill, Hole, Natalie Imbruglia, Shania Twain, Monica, Dru Hill, Hanson, K-Ci & Jojo, Master P, Brian McKnight and N Sync.

MICKEY ROONEY either doesn't know how to slow down or he's found it takes a full time job to keep the alimony payments up to date. Currently wed to wife number eight, the 78 year old performer recently returned from Australia where he filmed the just released new flick, Babe: Pig In The City Then he stopped off in Alexandra, Virginia for the opening of a theater multiplex that bears Rooney's name. Florida was the next stop where Mickey and his eighth wife, Jan Chamberlain, did a 10 night stage show. Rooney then packed his bags and went to Philadelphia to play a starring role in the touring musical The Wizard of Oz.

SILVER DOLLAR CITY in Branson, Mo. has received the amusement industry's coveted Applause Award, which is presented once every two years. The award is, in the amusement industry, on par with the Academy Award. Silver Dollar City was cited for the five world class festivals it holds each year, it's live entertainment, food, turn-of-the-century-style crafts colony of blacksmiths, wood carvers, and glass blowers. Under expansion, a BuzzSaw Falls ride is being construction.

Next column: December 7, 1998
Copyright: November 30, 1998. All Rights Reserved Reviews, Interviews, Commentary, Photographs or Graphics from any Broadway To Vegas (TM) columns may not be published, broadcast, rewritten, utilized as leads, or used in any manner without permission, compensation and/or credit.
Link to Main Page
---
Laura Deni


CLICK HERE FOR COMMENT SECTION