! >
Broadway To Vegas
  
  REVIEWS INTERVIEWS COMMENTARY NEWS

| | |
| --- | --- |
| | |
ANOTHER LAS VEGAS CIRQUE PERFORMER FALLS DURING SHOW - - PANDORA'S UNFORGETTABLE HOLIDAY MOMENTS ON ICE - - SHORTAGE OF TELEVISION TECHS HARMS INDUSTRY - - THE EMPIRE STATE BUILDING TAKES LIGHTING AND MUSIC INTO A HIGHER LEVEL - - EWAN McGREGOR TO MAKE BROADWAY DEBUT - - HOLLYWOOD COSTUMES - - MEXICAN DAY OF THE DEAD FESTIVALS - - LOVE! VALOUR! COMPASSION! NUDE CONTROVERSY - - DONATE . . . Scroll Down




Copyright: November 3, 2013
By: Laura Deni
CLICK HERE FOR COMMENT SECTION


LIGHT UP THE SKY WITH CHOREOGRAPHED MUSIC
Marc Brickman at his Star Wars type controls. Photo: ESRT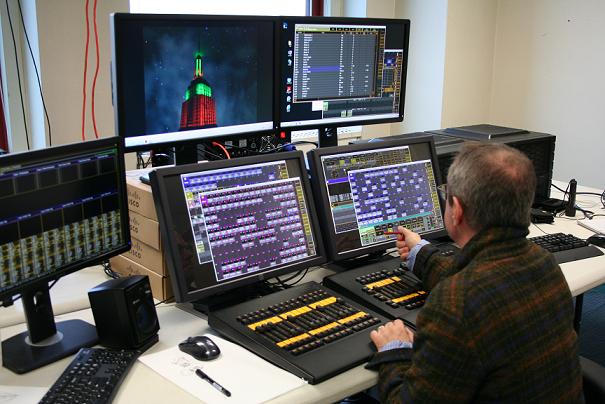 People are familiar with music choreographed to dancing waters - think Bellagio Hotel in Las Vegas; or the music that accompanies those fabulous Grucci fireworks spectaculars.

Taking entertainment into the stratosphere is the Empire State Building. That's the building made famous in the King Kong movie, which has been turned into a musical, with music by Marius de Vries, lyrics by Michael Mitnick and Craig Lucas, currently mounted in Australia with a reach aiming for Broadway. Romantics fell in love with the 1,454 foot building through the movies An Affair To Remember, and Sleepless in Seattle.

For years the building has been lit up to signify special occasions.

Thanks to advances in lighting technology the Empire State Building is now shining it's light into the far reaches of the atmosphere.

As a special surprise and gift to New York City and the world, Empire State Realty Trust, Inc. installed for the first time lights to the Empire State Building's antenna - the highest structure on the building. These custom LED (light emitting diode) lights can be seen for miles in every direction.

Last Thursday - Halloween night - the antenna LEDs were unveiled for the first-time ever, and will become part of the Empire State Building's light shows and iconic tower lightings, further enhancing and redefining the New York City skyline.

ESRT and Clear Channel Media and Entertainment gave New York City a Halloween-themed LED light show choreographed by the Emmy Award nominated, internationally-acclaimed lighting designer Marc Brickman who recently teamed up with Steve Van Zandt to co-direct and co-produce the Broadway production Once Upon a Dream featuring The Rascals. Solid state laser system designed by Brickman that depicted Dark Side of the Moon album art, was used on Roger Waters' latest tour.

Last Thursday's Halloween-inspired soundtrack was aired on Clear Channel's radio stations Z100 (100.3 FM) and KTU (103.5 FM).

The Halloweenish tunes for the light show were This Is Halloween, Ghostbusters, Monster Mash, Halloween, and Somebody's Watching Me.

The addition of the new antenna LED lights offer more than 200 feet of new lighting capabilities to extend and amplify the entire tower from choreographed light shows to daily lightings with the same effects and 16 million colors as the other tiers of the tower.

The Empire State Building isn't the only building to light up the sky. At 42.3 billion candelas, the Luxor Hotel's Sky Beam in Las Vegas is the strongest beam of light in the world. Before a computer turns on the Sky Beam each night strobe lights flash for 30 second to warn pilots. That Sky Beam was constructed with 39 xenon lamps, 7,000 watts each. Each light about the size of a washing machine and are "'extremely volatile" and can explode if jarred or bumped," according to a report in National Geographic.

The new LED Empire State Building antenna lights are a light year into a newer generation.

While the Luxor beam into the sky caused some consteration from airline pilots, the new light on the existing Empire State Building antenna is welcomed. The LED lights don't shoot up into the sky, rather they light up an existing structure - the antenna.

The antenna light up is the final stage in the Empire State Building's new bright side.

Last July Brickman made history using the Empire State Building as his canvas. The Empire State Building unveiled its new lighting system from Philips Color Kinetics, replacing an older system that required colored gels to be placed on top of static lamps to light up the building. The new system permits the colors to be programmed remotely and changed at the stroke of a key. They also glow up to eight times brighter than the old lights. That 4th of July Show with a program designed by Brickman, had selections picked by Usher, set to the music of Alicia Keys.

The past week's unveiling of lights on the antenna takes lighting into a farther realm.

Light On!







Broadway To Vegas is supported through advertising and donations. Priority consideration is given to interview suggestions, news, press releases, etc from paid supporters. However, no paid supporters control, alter, edit, or in any way manipulate the content of this site. Your donation is appreciated. We accept PAYPAL. Thank you for your interest.





ART AND ABOUT


HOLLYWOOD COSTUME EXHIBIT

Superman ©Warner Bros/DC Comics/The Kobal Collection. Costume Design: John Bloomfield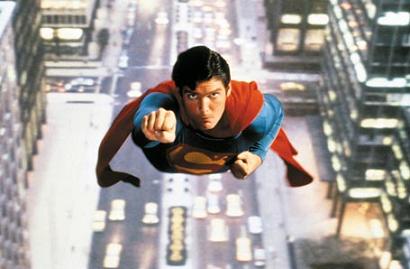 brings together more than 100 of the most iconic movie costumes from across a century of film-making.

A rare opportunity to see the clothes worn by unforgettable characters from films such as The Wizard of Oz, The Birds, My Fair Lady, Superman, Titanic, Harry Potter and the Half Blood Prince, and The Dark Knight Rises.

The exhibition includes cinema costumes from private and archival collections in California. Most have never been publicly displayed or seen beyond the secure walls of the studio archives.

The exhibition explores in detail how the design and use of costume has been central to the creation of some of the most iconic characters in popular culture and is a key component in what is arguably the greatest art form of the 20th century: cinema.

In addition to premiering Hollywood Costume in the United States, VMFA is the only East Coast venue for the exhibition.

Hollywood Costume is organized by the Victoria and Albert Museum, London.

November 9, 2013 – February 17, 2014 at Virginia Museum of Fine Arts in Richmond, VA.

THE 100 MOST POWERFUL IN THE WORLD OF ART is an eagerly anticipated list annually published by Artview magazine. The Top Ten on their list of 2013 Power are:

Coming in as #1 is the sister of the Emir of Qatar, Mayassa Bint Hamad Al Thani who has $1 billion a year to spend on art as head of the Qatar Museums Authority, which runs several museum and galleries including the Museum of Islamic Art. The $1 billion figure a year to spend on art is 30 times more than New York's Museum of Modern Art.

The QMA bought French post-Impressionist Paul Cezanne's masterpiece The Card Players for $250 million last year, making it the most expensive painting sold to date.

Hot on her heels, in the Number 2 spot, is German-born art dealer David Zwirner, who established international galleries with a roster of the biggest selling artists and an impressive new exhibition building in New York.

Others in the Top 10 are;

Swiss dealer Iwan Wirth who established international galleries with five venues in Zurich, London and New York, and his new projects include a UK arts and education complex in London.

Larry Gagosian established gallerist with 13 venues worldwide, putting on museum quality exhibitions;

Hans Ulrich Obrist & Julia Peyton-Jones who are the directors of the Serpentine Galleries, with Hans Ulrich Obrist also the initiator of numerous international art projects and exhibitions;

Nicholas Serota, Director of the Tate Museum in London;

Beatrix Ruf, director Kunstalle Zurich and board member of numerous organizations including the Ringier collection Vienna's MOMOK;

Glenn D. Lowry, director Museum of Modern Art (MoMA), New York;

Ai Weiwei, artist and social activist, prominent in reconnecting art with issues of social and cultural value

Massimiliano Gioni artistic director of the 2013 Venice Biennael, director of the Trussardi Foundation and associate director of New York's New Museum.


SWEET CHARITY


AN ALL STAR READING OF THE EXONERATED featuring Beau Bridges, Helen Hunt, William H. Macy, Wendie Malick, James Avery, Jamie Hector and Brent Spiner will take place November 9, 2013 at Topanga's Mountain Mermaid to benefit Will Geer's Theatricum Botanicum's repertory productions and education programs.

Written by Jessica Blank and Erik Jensen and directed by Ellen Geer, the production weaves together true stories of individuals who were sentenced to death but subsequently found innocent. The Exonerated is at once an indictment of social inequity, a celebration of human dignity and a testament to our evolving aspirations towards a more enlightened society.

November 9, 2013 at Mountain Mermaid in Topanga, CA.


CENSORSHIP VIA HEARSAY
Church gossips.

Love! Valour! Compassion! a Tony Award winning play by Terrance McNally is about eight gay men who confront their lives, loves and friendships over three successive weekends at a farmhouse in Duchess County, New York owned by a Broadway choreographer and his blind partner. Topics addressed include AIDS, infidelity, love, and friendship.

Having seen the play on Broadway, the production was tasteful, well done and poignant.

The show does contain some male nudity. However, the way Joe Mantello directed the Broadway production, you don't have some guy wildly flapping around on stage. The lighting, use of towels and positions of other people on stage, makes the show a work of art.

Church going people who haven't seen the production, which was mounted by the Actor's Theater Grand Rapids Community College in Michigan, have stirred up a hornet's nest - as gossip and hearsay are wont to do.

Officials have admitted that some of their members are not happy with the Actor's Theater - an independent community theater group housed at GRCC's Spectrum Theater - and are threatening to pull funding because of the male nudity. Those complaining admit they have never seen the play. Divulging how they obtained their information, it appears that somebody told somebody at church, and the gossip snowballed.

The production ran September 19-28, but the gossip escalated with a complaint lodged to the board on October 22, 2013. Since the production has closed, there isn't an opportunity for funding officials to see it for themselves.

Bert Bleke, who was elected to the Board of Trustees of Grand Rapids Community College in May 2011, in speaking for The Grand Rapids Community College Trustee Board, which funds the theater told wzzm13: "They (several members of the Board) were unhappy with the play that took place - have they even seen it - no they have not seen the play." Bleke added, "There are several board members that feel we should not be supporting Actor's Theater with this sort of material."

In the most recent budget year, GRCC's contribution to the Actors Theater was $19,000.

Director Jolene Frankey was puzzled how someone can judge a play they haven't seen. Frankey told wzzm13, "This show is about so much more than a fleeting moment of a naked man on a stage." She stands by the theater's decision to not censor the play


IS DOWNTON ABBEY THREATENED BY A SHORTAGE OF TELEVISION TECHNICIANS?
Downton Abbey has become a world wide hit.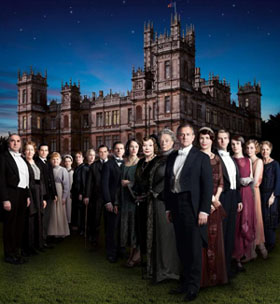 Britain is considered a world leader in television production - second only to America in exporting programs.

In a speech before the Royal Television Society, Prince Charles, who is their patron, emphasized that there is a critical shortage of skilled television technicians. He has launched a campaign to attempt to get more people interested in training for a career in the technician side of television and instituted an annual master class program.

"I can't tell you how pleased I am to join you as Patron of the Royal Television Society," Charles told the gathering. "I just must stress that I am not an expert in anyway, just an interested observer of the whole industry. And I have to confess at the start that this television craft skills master class is really all my fault – so if we can just get that out of the way to start with," he quipped in reference to news outlets complaining that Prince Charles meddles.

"But anyway there we are," he continued. "But it has all stemmed from meeting a whole series of professionals over the years who have been involved in the making of various T.V. documentaries of one kind or another with which I have been associated. Observing their extraordinary technical skill and ingenuity made me realize just how much accumulated experience and training goes into producing the quality of production that has made British television rightly famous across the World.

"Since I first became Patron of the Royal Television Society in November 1997, we have all seen enormous changes in television. Back then, there were no catch-up services, no HD, no red button and Channel 5 had only just been launched. And yet despite a background of unrelenting technological change, our television industry here in the UK has remained in good health. Indeed, last year alone, it generated around ($27.12 billion) £17.5 billion - about one per cent of GDP.

"Now I am pleased to say that in an increasingly complex and competitive world, traditional broadcasters are generally holding their own, while pay-to-view television has recently enjoyed a high increase in revenues with new entrants such as Netflix, YouTube and BT Vision all making their mark. And there's more good news. The UK is second only to America in the number of programs we export, with such runaway international hits as Dr Who – and we visited the studios in Cardiff in the Summer, which was very jolly and I was reintroduced to the Daleks which I loved when I was very, very young - Top Gear, Downton Abbey and of course, my darling wife's very own favorite – Strictly Come Dancing!

"But it isn't just the commercial success of our television of which we should be rightly proud. We have also traditionally been known for the quality of our television output - from high end drama such as Broadchurch to extraordinary wildlife programs such as Sir David Attenborough's Africa.

"None of these amazing programs would have been possible, of course, without the immense talent of British writers, producers, directors and on-screen talent.

"But there is also a hidden army of unsung heroes behind the cameras who are an equally important part of this success. Without the talent and sheer dedication of sound engineers, editors and directors of photography, to name but a few, these great programs, which give pleasure to millions, would never make it onto our screens or, if they were broadcast, have the impact which they undoubtedly do.



Doctor Who depicts the adventures of a Time Lord - a time-travelling humanoid alien known as the Doctor.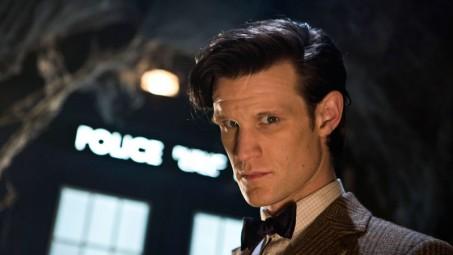 "This is where, unfortunately, Ladies and Gentlemen, the good news ends. A recent consultation with heads of production by the industry body Creative Skillset has highlighted significant skills shortages across all forms of production. In essence, there are too few designers, mixers, editors, costume supervisors, camera and boom operators and digital imaging technicians."

"Well I'm afraid the future looks even worse," he warned. "With the increasing trend for cross-over in the workforce between high-end television and feature film production, the demand for craft and technical skills is likely to rise significantly. So if we don't plan to meet these future demands now, we will be ill-serving our television industry and minimizing the employment opportunities for thousands of people."

He told the gathering that he had first become aware of the serious problem "while I was filming a Diamond Jubilee Tribute with the acclaimed film director, John Bridcut - who somehow has managed to squeeze this event into his packed diary - with whom I have worked on a number of films and who, I am delighted to say, has joined us here today. So during various breaks in recording, which we were occasionally allowed, I was talking to John, together with his cameraman Jonathan Partridge and sound engineer Paul Paragon, and started to become aware of the skills shortage in the television industry.

"One particular issue we discussed was the alarming trend in factual programs to dispense with the services of a dedicated sound recordist, often due to pressure on budgets. The trouble is that people often think television is only about pictures. But, of course, even the most wonderful images cannot be sustained for long without accompanying sound - preferably recorded to the same high standards. The 'talkies' began 86 years ago this month, with the release of the film The Jazz Singer in October 1927, and the technology of sound recording has been evolving ever since. So I can hope this expertise will never be taken for granted, or allowed to wither away, simply because of cost-cutting.

"Now I have particular experience of this because when I was making a documentary about the composer, Sir Hubert Parry with John, I had the great pleasure of attending an orchestral rehearsal of his Fifth Symphony in Manchester, and - here's the point - our hard-worked sound recordist, Paul Paragon, managed – on his own – to record not only the orchestra - testing enough I would have thought in itself - but comments from the conductor while he was rehearsing, plus a whispered conversation between myself and a music professor as we listened at the back of the studio. The amazing thing was that when the recording of the orchestra in rehearsal was laid beside the final broadcast performance in the Royal Albert Hall, there was no detectable difference in sound quality. Now that's real professionalism, which I think we lose at our peril. It is, perhaps, interesting to note that Paul went on to win the award for Sound Recordist of the Year.

"Some people by now have probably learnt that it is dangerous to tell me about a problem unless they want me to do something about it! Therefore I was delighted that Theresa Wise, Chief Executive of the RTS, was open to the idea of providing an opportunity to highlight the craft skills shortage and offer some training and even more thrilled both by the response to the master class - with hundreds of students wishing to apply, thank God as it would have been very embarrassing if there weren't very many wishing to apply! - and by the extraordinary calibre of speakers who have been willing to participate in the master class.

"Over the course of the next few hours, you will be lucky enough to hear from BBC Trustee David Liddiment, BBC Director of Television Danny Cohen, the chief executive of FreemantleMedia, Cecile Frot-Coutaz, Sophie Turner-Laing, Managing Director of Content for BskyB, technicians from the X Factor and The Voice, an editor of Panorama, a cinematographer for high end drama and a wildlife film-maker. It really is wonderful that they are all here and I, for one, could not be more grateful to them.

"I am also delighted to be able to announce today, as Patron, that the Royal Television Society is extending its educational remit with the launch of twenty new bursaries available to students studying television production and related digital media at accredited British universities. These bursaries are targeted at students in less affluent circumstances and are aimed at widening participation in our media and related industries."

The 20 new ($1,600) £1,000-a-year scholarships are funded by the Royal Television Society.

Prince Charles emphasized his point by quoting the late Sir David Frost. "It was the David Frost who once said 'Television is an invention that permits you to be entertained in your living room by people you wouldn't have in your home.'

"It was a jolly good joke like many of David's jokes, but I think the point David was making is that television is an incredibly powerful medium which, at the touch of a button, can engage all of us in the widest possible range of information and experience.

"With this power, however, comes responsibility and so I do hope that everyone involved in television, in whatever way, can do all that they can to continue to commission and make the very highest quality television programs here in the United Kingdom. I hope then, that today's craft skills master class - which I am assured will become an annual event – will play some small part in helping to achieve that."

At the conference BBC Trustee David Liddiment and Sky's managing director of content Sophie Turner Laing, echoed Prince Charles, admitting that cost-cutting and multi-tasking would result in poor program quality.

Danny Cohen, the BBC's director of television, admitted to the audience that viewers regularly carped about the quality of sound. He admitted: "Actually, we have had some complaints this week from people saying 'We really like this drama but we can't hear it properly. The actors are mumbling.'"
FESTIVALS WITH GROWTH POTENTIAL ARE IMPORTANT: EXAGGERATING THE COUNT CAN BACKFIRE


The traditional Mexican holiday of El Dia de los Muertos - Day of the Dead - is important to the Mexican culture. From San Francisco to Australia festivals are held in communities large and small. Non-Mexicans are encouraged to attend and learn about the culture.

Day of the Dead festivals have become a growth industry, with a lucrative potential. Disney even tried to trademark Day of the Dead earlier this year before the attempt met with notable public opposition.

Announcing that 7,000 people are going to attend a two evening convention would be a significant statement from a Las Vegas Strip Hotel. When a neighborhood community center declares to the state's largest newspaper than 7,000 are expected, and to car pool because of limited parking - that becomes even more attention getting and got mine.

An article published in the Las Vegas Review Journal's View section written by Sandy Lopez, states: "Erika Borges, cultural specialist at the Winchester Cultural Center, expects more than 7,000 people to attend, which would make this festival one of the largest events at the center. . . .Admission is free. Organizers note that parking is limited, and carpooling is encouraged."

According to the Winchester website: "Life in Death: Day of the Dead, a two-day festival featuring displays, an art exhibit, performances, craft sales and food vendors at Winchester Cultural Center and Park. The event will explore cultural traditions relating to the Mexican holiday of El Dia de los Muertos, or Day of the Dead. Admission to the festival is free."

The website stated: "The festival will feature "ofrendas," or altars built by families and other groups in memory of deceased relatives or other beloved individuals. The ofrendas are elaborate works of art, detailed and sometimes large in size and will be displayed outdoors in Winchester Park. Ofrendas will be judged in three categories including most traditional, most creative and best theme, and an award will be given in each category.

"Performances in the park each day will feature Mexican dance troupes and readings of "calaveras," or "skulls," which are satirical poems written to commemorate people who are still alive. The poems treat the menace of death with good-natured humor and offer a chance to poke fun at prominent celebrity and political figures. Judges will award calaveras winners prizes. "Authentic Mexican crafts will be offered for sale and a variety of food vendors will be on site, and free samples of special Day of the Dead bread made only once a year will be given out to festival attendees. Demonstrations of traditional embroidery, as well as children's activities and workshops on basket making and sugar and clay skull decoration, are offered free of charge."

The event took place from 5-9 p.m. on November 1-2. The weather both days was perfect.

Note: don't say 7,000 when that isn't going to be even close to the accurate attendance.

Between 5-6 p.m. on Friday, November 1, I counted less than 40 people in attendance.

There were many booths offering items for sale. I didn't see anybody make a purchase. There were also numerous food booths where I did witness one person buy some food.

Senator Harry Reid sent a Spanish speaking member of his staff who welcomed everyone in Spanish. There was musical entertainment by what appeared to be high school age students.

Perhaps five large displays commemorated the dead. Three that I noticed were from high schools which paid loving tribute to students from their school that had died.

The displays were touching and appropriate with photos of the departed along with candles and flowers.

Since each display was relatively the same, it seemed almost in poor taste to judge one school honoring students who had died, against another high school honoring their deceased students.

There was a booth honoring the military, with one booth standing out as extraordinary - a well thought out and executed artistic creation paying tribute to those who lose their lives through natural disasters. The booth was decorated to look like a living room hit by a natural disaster, such as a tornado or an earthquake. Artful, inventive, a truly creative work worthy to be exhibited in an art gallery or museum.

If they expected 7,000 to attend during the two day event, which spanned a total of 8 hours, then that would mean a total turnover of 875 per hour. That would also have meant that the adjoining streets would have been filled with cars in front of houses for blocks in three directions. The parking lot had several empty spots and no cars were parked on the streets. A thousand people wouldn't be permitted inside and you couldn't cram 1,000 people in the outdoor area if you tried.

A pass by on Saturday at 6 p.m. saw that the parking lot was full, with cars parked in front of the Community Center. However, no cars extended into the residential area.

The official description of Winchester Community Centers says: "The gallery hosts ongoing exhibitions to highlight the talents of local artists while Clark County's only indoor theater (274 seats) is home to an assortment of music, dance and theatrical performances."

Winchester Center advertises its patio for rent as: "The 83' X 25' Patio at Winchester Cultural Center seats 72 people and functions as an outdoor bistro with 18 tables and a stage. It is perfect for weddings, small acoustic concerts or poetry readings or luncheons."

The indoor art gallery is 26.8 feet by 20.8 feet with a rounded wall measuring 41.8 feet.

I never did see anybody giving away free samples of Day of the Dead Bread. I did receive a free sample at a local grocery store and bought a loaf. The bread looks and tastes like a cross between a brioche and monkey bread. It's a sweetened soft bread shaped like a bun. Unlike the Mardi Gras King Bread, there is no frosting and no trinket inside. Day of the Dead Bread comes in two varieties - plain top or sugared.


THE FABULOUS PALM SPRINGS FOLLIES OPENS FINAL SEASON


After being seen by over 3 million people, The Fabulous Palm Springs Follies has opened its 23rd and final edition, appropriately titled The Last Hurrah!

Starring Las Vegan Susan Anton, the show is noted for their talented showgirls (and boys) who all happen to be "of a certain age."

Broadway To Vegas offers one last salute to the talented cast who are making their final bows. They are:

Greta Albritton traveled the Nevada circuit from 1971 through 1989, appearing in shows in Las Vegas, Reno and Lake Tahoe. She worked for such legendary producers as Don Arden, Frederic Apcar and Harold Minsky, and in 1975, traveled to the Philippines with the Folies Bergere. The most challenging experience of her career was learning Ron Lewis's choreography. During a single day while she was performing in the lounge of the Flamingo Las Vegas, Frankie Valli and The Four Seasons, Fats Domino, and Kenny Rogers and The First Edition all appeared on the same bill.



Greta and Wayne Albritton. Photo: Laura Deni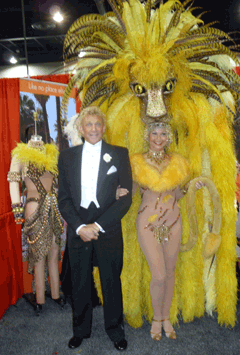 Wayne Albritton discovered dancing when he got a severe case of measles at 6 and the doctor recommended it to regain his strength. He made his Broadway debut in Carnival. After a year on Broadway he danced for a year on The Andy Williams Show. He then was hired to dance on a weekly international variety TV show, Studio Uno, in Rome, Italy for a year.

Next, Wayne migrated to Las Vegas to become a Moro Landis dancer at the Sahara Hotel and the principal singer and dancer for Ann-Margret's 1966 Las Vegas debut. He recalled that they used actual Triumph motorcycles in the act, but no one ever told Wayne how heavy they were. One night, his motorcycle fell on top of him in the middle of a show and he couldn't lift it off. "How embarrassing!" he remembers. He also was lead singer for 13 years in four Don Arden shows, including the Lido de Paris at the Stardust Hotel and Hallelujah Hollywood! at the MGM.

Judy Bell a 20 year veteran of the Follies had her own musical comedy revue, The Judy Bell Show, which was featured at the MGM-Grand, the Flamingo, Sahara and Frontier hotels in Las Vegas, as well as Harrah's in Lake Tahoe and Reno and the MGM-Grand in Reno. She was also voted Best Las Vegas Female Performer four times.

The veteran songstress has played the lead in stage productions of Annie Get Your Gun, The Unsinkable Molly Brown and Lily Langtry at Disneyland. She was also voted Best Las Vegas Female Performer four times.

Hank Brunjes began his Broadway career in the 1953 revival of Pal Joey. He then originated the role of Riff in the original production of Leonard Bernstein's West Side Story. Also in that cast were Martin Charnin, who wound go on to write Annie, Chita Rivera and Carol Lawrence. Decades later Lawrence was a Follies guest star.

Following West Side Story Brunjes appeared on Broadway in Mame, The Rothchilds, Chicago, Working, and Sugar Babies, the later stint lasting seven years, including national tours.

While in The Rothchilds Brunjes and the cast started smelling smoke and someone in the theater yelled "Fire!" Fortunately, the show's star, Hal Linden immediately came on stage to halt the stampede, explaining to the audience that a street vendor was roasting chestnuts outside the lobby door.

Leila Burgess serves as the Company Dance Manager and Creative Consultant, thus contributing to all Follies production numbers and wardrobe design, and manages the entire cast. This marks her 22nd Follies season. After attending New York's High School of Performing Arts, Leila danced professionally in New York's famed Latin Quarter, and made special appearances on television's Colgate Comedy Hour and Naked City. After marriage she became the managing director of Latin Quarter Showgirls West and produced three Latin Quarter revivals from 1989 to 1992, the proceeds of which went to abused and missing children's charities.

She also established the Newport Beach Parks and Recreation Department children's dance program where she taught and choreographed for 12 years.

Richard Byron has appeared in national companies of Evita and The Unsinkable Molly Brown, with Debbie Reynolds. A few of his regional productions include Pal Joey, with Dixie Carter and Elaine Stritch; The Wizard of Oz, with Cathy Rigby; New Moon, with Ann Blythe and the West Coast premiere of Drood.

Richard is the most proud of having founded and spent eight years as Managing Artistic Director of Austin Musical Theatre, a professional theatre company and performing arts academy in Austin, Texas.

Randy Doney appeared on Broadway in Camelot, Kean, Anya and La Cage Aux Folles. His feature films extended to Mame, Pennies from Heaven and Blazing Saddles. On television, he was with The Carol Burnett Show for 11 years; performed in numerous high profile specials, starting with Bob Hope, the Academy and Emmy award shows; and played a tap-dancing psychiatrist on Frasier.

Over the years, Randy has danced with Gene Kelly, Mitzi Gaynor, Cyd Charisse, Shirley MacLaine, Gwen Verdon and Chita Rivera. He serves on the Board of Directors of the Professional Dancers Society.



Stephanie Eley Photo: Follies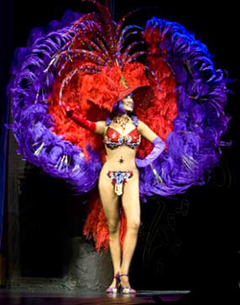 Stephanie Eley a former Las Vegan joined the Folies Bergere at the Tropicana Hotel, and later opened at the Sahara for Frank Sinatra, Jr., Flip Wilson and Rich Little.

Next, she toured the U.S., South America and Great Britain, and appeared on television in commercials and specials like the Emmy Award-winning Baryshnikov on Broadway. Om Broadway she was in original cast of Dreamgirls and My One and Only, including understudying Twiggy in the lead role for the latter. She also appeared in the Broadway and touring productions of A Chorus Line. She's trained and/or worked with such dance legends as Michael Kidd, Michael Bennett, Ron Lewis, Martha Graham and Tommy Tune.

For the 11 years prior to joining the Follies, she was executive director for PACT (Partnering Artists, Children, Teachers), a cultural and arts education organization with the New York City Department of Education.

From 2009–2010, Stephanie taught English in Banos, Ecuador, integrating all art disciplines--theater, dance, music and visual arts--into the core curriculum.

Dick France's distinguished career that began in 1946 with the Chicago Ballet and in 1948 with the touring company of Annie Get Your Gun, starring Mary Martin. He went on to roles on Broadway in Seventeen, Wish You Here, By the Beautiful Sea (with Shirley Booth), The Girls Against the Boys (with Dick Van Dyke) and Pal Joey. He also performed for President Lyndon Johnson in Oklahoma! at the White House. On TV, Dick made numerous appearances on The Ed Sullivan Show.

Taking his talents abroad, he restaged Wish You Were Here in London, played the lead in Pal Joey and appeared in Noel Coward's Night of 100 Stars. Back on Broadway, he was Steve Lawrence's standby in What Makes Sammy Run and filled in the title role some 30 times.

Karrie France landed her first professional job in Los Angeles where she appeared as a spotlight dancer on American Bandstand. Returning to Tucson where she was raised, she became a print ad model for Capezio Dancewear. At Old Tucson Movie Studios Karrie choreographed for the motion picture Desert Bloom, with Jon Voight and Ellen Barkin, as well as serving as the actors' private dance coach. That led to her choreographing dance segments for the television series, The Young Riders, with Anthony Zerbe.

Jill Gordon started on stage in the Moro Landis chorus line, touring Lake Tahoe, Las Vegas, San Francisco and Los Angeles. Jill gravitated to television and danced on Dick Clark's Where the Action Is for two years, then spent a full season on The Carol Burnett Show. In 1976, she began a 12-year professional relationship with Mac Davis, traveling the world, dancing and singing. She also appeared in his numerous television specials.

From 1988 to 1991, she was a collaborating producer of the '50s revue entitled Bop. During this time she also toured with Frankie Avalon and Annette Funicello in a nostalgic show reminiscent of the Beach Party movies. She continued working with Avalon until 1996.

Eddie James was a principal dancer at the Flamingo, Dunes and Frontier Hotels in Las Vegas. He also choreographed for Juliet Prowse and Sammy Davis, Jr.

Larry Kern started his career as a film actor. He played a husband in the original Stepford Wives, plus was a Los Angeles dancer who worked with Jane Powell and Yvonne DeCarlo.



Suzanne Vitale and Randy Doney. Photo: Follies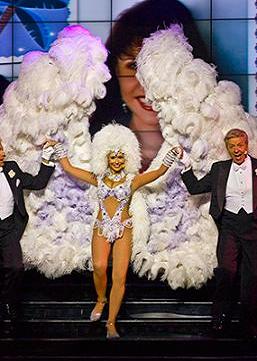 Joni Naber joined the Follies eight years ago. She also shared the live stage as a dancer and singer with such luminaries as Louis Armstrong, Gordon MacRae, Eddie Fisher and Bobby Darin.

Joni toured the U.S. with the Roxyettes, a rival troupe to the Rockettes, and traveled the world for five years with the USO as a precision line dancer. She relishes "the applause of our servicemen and servicewomen." Being on the road with the USO was always rewarding, but often frightening. She says, "The situations we female dancers found ourselves in were experiences we never wrote home to Mom and Dad about. Needless to say, we learned how to defend ourselves - ferociously!"

In clarifying her comment, Greg Purdy Sr. Communications Manager for the Follies told Broadway To Vegas: "Actually, any of our girls who toured in the USO talk more about life on the road as young women in general and the dangers of often being near the front lines, rather than the USO facilities themselves. Now-deceased Follies Girl Maxine Asbury, who landed on Utah Beach one month after D-Day, was even assigned the rank of Captain in case of capture!"

Robert Neil's appeared in 42nd Street with the Long Beach Civic Light Opera and was a dance captain of the legendary Las Vegas revue, Boylesque, when the show went on tour. Robert danced in the television mini-series Till We Meet Again with Courtney Cox and Bruce Boxleitner, in the film Mirrors, and in fundraiser gala performances with such celebrities as Bob Hope, Tommy Tune, Christopher Reeve, Elaine Stritch, Debbie Reynolds, and Patti LuPone.

Terri Olsen started as a singer-dancer at Marriott's Great America Amusement Park in Santa Clara, doing six shows a day, six days a week for two years. Harris, and she's appeared on such diverse shows as Jimmy Kimmel Live!, General Hospital, Ally McBeal and Without A Trace.

After touring with Seven Brides for Seven Brothers she appeared on Broadway in Joseph and the Amazing Technicolor Dreamcoat, then Into the Light with Dean Jones, Starlight Express, and Jerry's Girls with Chita Rivera.

Jane Owens did two tours of No, No, Nanette across the U.S. and Canada. She created her own seven-person review, Fabulous Fosse, which toured throughout South Florida.

Some of her fondest show business memories are from her two USO Tours, which she called "very rewarding." When the USO show was in Germany, Jane remembers the US servicemen were very rowdy in the German clubs. She says, "Some nights, we even had to stop performing. Interestingly, Ike and Tina Turner were in the USO show right behind ours."

Jill Owens a former June Taylor Dancer on The Jackie Gleason Show, she appeared on Broadway in No, No, Nanette (with Ruby Keeler), Pippin (with Ben Vereen) and Tip Toes. She was cast in the role of "Misty Knight" on the TV show, Blansky's Beauties, with Nancy Walker, and had parts in Happy Days and Laverne and Shirley.

Jill has performed as a Bob Fosse Dancer and a Radio City Rockette. Her film credits include Pennies from Heaven, Ritzville and Young Doctors in Love.

While performing a Las Vegas-style number for Blansky's Beauties, Jill's rhinestone earrings and bracelets got hooked in the feathers of the dancer next to her, who just pulled her along. She recalls other girls getting their headdresses caught in drapes and being yanked off stage.

A career highlight was touring in a three-girl act entitled The Taylor Maids, under the direction of noted choreographer June Taylor. At one point the act included all three Owens sisters. Her sister is Follies Dance Captain Jill Owens.

Steve Owsley earned his Equity Card in 1981 while doing summer stock. His first Broadway role was in Grind with Ben Vereen, which was followed by Raggedy Ann. He also appeared Off-Broadway in Red Hot and Blue and in national tours of Camelot with Richard Harris and Chicago.

Steve served as Artistic Director of Los Angeles's Attic Theatre where he produced 24 plays and directed A Christmas Memory and Whose Life Is It Anyway? starring Charlene Tilton. Most recently, he directed Tilton and Lorenzo Lamas in Love Letters.

As a dialogue coach for Carsey-Werner, Witt-Thomas-Harris, Touchstone, and NBC Productions, Steve has coached numerous A-List actors, including Melanie Griffith, Patrick Swayzee, Christine Baranski, Charles Durning, Joan Collins, Robert Stack, and Betty White.

In addition to doing choreography for television and film, he has appeared in shows such as Medium, Saturday Night Live, The Carol Burnett Show, Ally McBeal, Cybill and The Love Boat.

Steve is an original member of the Lincoln Center Theater Directors Lab-West, and as a director/choreographer, has staged numerous productions across the country, including Guys and Dolls with Tom Wopat, Rocky Horror Show, Anything Goes and The Boys in the Band.

Suzanne Vitale, toured with national companies of Li'l Abner and My Fair Lady, eventually traveling with the latter to Canada and Russia. Her 1960 My Fair Lady tour through Russia was the first American theatrical troupe to visit that country since the start of the Cold War. They were there for three months as part of President Eisenhower's Exchange Program. Edward Mulhare, who later became known to television audiences as Captain Gregg in the series The Ghost and Mrs. Muir, played the role of Professor Higgins.

She appeared at the Paper Mill Playhouse in Oklahoma! and Silk Stockings. In Miami Beach, she danced at Lou Walters' nightclub, Café de Paris, which was a sister club to his famed Latin Quarter in New York.

Suzanne also appeared in more than 20 musicals and operettas at major stock theaters in the Midwest, including appearances at the Cleveland Musicarnival and the Muny Opera of St. Louis in South Pacific, Show Boat, Most Happy Fella, Bells Are Ringing and Naughty Marietta.







SPREADING THE WORD


DINNER by Moira Buffini. Part of the OBIE Award winning Revelation Readings Series.

David Esbajornson directs Mercedes Ruehl, J. Smith-Cameron, Daniel Gerroll, Laura Campbell, Brian Hutchinson, and David Pittu.

The dinner party as revenge - served up in a delicious dark contemporary British comedy. Special After-Dinner dessert & wine pairing at Noir - a unique event with the cast and special guests.

Described as: "An artist, a scientist and a sexpot are coming to dinner. Paige, hostess extraordinaire, is celebrating the publication of her husband's bestseller. The arrival of Mike, marooned in the foggy lane after crashing his van, provides an unexpected addition to the evening's entertainment. A silent waiter, sourced from an obscure website, completes the picture. Primordial Soup is first on the menu - let the dinner from hell begin. A wonderful comedy chiller, with blood on the carpet before bedtime."

Presented by the Red Bull Theater Company on Monday, November 4 at the Theatre at Saint Peters in New York City.

LEE KOONCE has been named Executive Director of Ballet Hispanico, which has been called "the nation's preeminent Latino dance institution," it was announced by Kate Lear, Chair of the Ballet Hispanico Board of Directors.

Koonce has spent the past seven years as Executive Director of New York City's Third Street Music School Settlement, the nation's oldest community music school. Prior to that, he held similar positions at the Sherwood Conservatory of Music in Chicago and senior positions with the Chicago Symphony Orchestra and Accenture/Anderson Consulting.

An accomplished pianist, Mr. Koonce received a Bachelor's of Music degree in Piano Performance from the Oberlin Conservatory of Music, a BA in Spanish Literature from Oberlin College and a Master's of Music in Piano Performance and Literature from the Eastman School of Music.

He succeeds Helene Blieberg, who has been serving as Interim Executive Director during this transition. He begins in January 2014.

EWAN McGREGOR will make his Broadway debut in a revival of Sir Tom Stoppard's 1982 play The Real Thing.

The Trainspotting star will play Henry, a playwright whose marriage comes under strain after he embarks on an affair.

Directed by Sam Gold, the Roundabout Theatre Company's production will run from October 2, 2014 to January 4, 2015.

JOAN RIVERS has a new addition to her family. His name is Teegan, and he's a Japanese Chin rescue dog found wandering on a road near Tahoe.


OTHER PEOPLE'S MONEY


MGM GRAND AND CIRQUE DU SOLEIL CITED BY OSHA for safety violations in the death of Sarah Guillot-Guyard, 32, who was a Ka aerialist in the production at the MGMG-Grand in Las Vegas. She fell 94 feet after a safety rope holding her failed during a performance on June 29, 2013.

MGM Grand was cited for three violations because of the deficiencies in Cirque du Soleil's safety standards. It is facing $7,000 in fines.

Cirque du Soleil received citations for six safety violations including improper training in the use of equipment, improper assessment of hazards, improper record keeping and removal of Guillot-Guyard's 38-foot-long wire before investigators arrived. The citations call for a fine of $25,235.

OSHA also ruled that Guillot-Guyard was partially to blame for "rapid ascent," which caused the wire rope to become exposed from its sheave/pulley. The wire was then able to scrape against a shear point resulting it being severed.

Nevada Occupational Safety and Health Administration conducted the investigation.

MGM-Grand and Cirque plan to appeal the ruling.

The accident was Cirque's first onstage fatality in the company's 29-year history.

In related news, a performer in the Cirque show Zarkana at the Aria Hotel in Las Vegas fell Friday during a performance in the Wheel of Death segment.

The show was halted and the performer was taken to UMC hospital. The man suffered non fatal injuries, is listed in stable condition and is expected to be released in the next few days.



PANDORA'S UNFORGETTABLE HOLIDAY MOMENTS ON ICE

Chip Davis founder of Mannheim Steamroller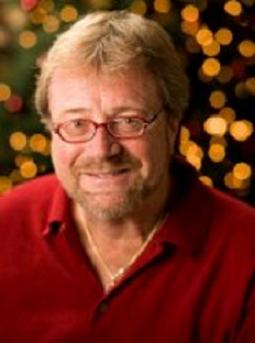 starring multi-platinum musical guest Mannheim Steamroller who, with more than 40 million albums sold worldwide, are the largest-selling Christmas music artists of all time. They will perform live for the entire show, and will be joined for several songs by Grammy-winning artist Martina McBride, a four-time Country Music Association Female Vocalist of the Year.

Hosted by 1992 Olympic Gold Medalist Kristi Yamaguchi and three-time U.S. champion Michael Weiss, the star-studded cast features Olympic figure skating champion Brian Boitano, World and U.S champion Kimmie Meissner, 1996 World Champion Todd Eldredge, and Olympic Champion Ilia Kulik.

Also scheduled to perform in the holiday show are:
· U.S. champion Ryan Bradley
· Two-time World professional pairs champions Elena Leonova and Andrei Khvalko
· Olympians and seven-time British national ice dancing champions Sinead and John Kerr

Presented by Disson Sports & Entertainment, the show will take place on Saturday, November 9, 2013 at the Jacksonville Veterans Memorial Arena in Jacksonville, Fla. The show will be broadcast nationally on NBC Sunday, December 1, 2013 - the Sunday of Thanksgiving weekend. Following the initial telecast, there will be two rebroadcasts of the show on AXS TV.

Disson Skating annually produces nationally televised figure skating spectaculars, all featuring celebrity guest artists on NBC. Disson Skating's shows continue to capture large television audiences with every event and Disson Skating has earned the reputation as the leading producers of televised ice skating spectaculars in the United States.

In the past Kisses on Ice starring Katarina Witt was taped in Las Vegas at the Mandalay Bay Resort with Uta Lemper as musical guest.

AFTER MIDNIGHT a new production of Cotton Club Parade, conceived by Jack Viertel.

Directed and choreographed by Warren Carlyle, with musical direction by Wynton Marsalis and musical supervision by Daryl Waters.

Described as "This evocative new musical will take the sexy, smoky glamour of the original Jazz Age and catapult it into a whole new era of heart-pounding, mind-blowing entertainment for modern Broadway audiences. Refracted through a contemporary lens, After Midnight will celebrate Duke Ellington's years at the Cotton Club using his original arrangements and performed by a world-class big band of 17 musicians hand-picked by living jazz legend, Wynton Marsalis.

The wildly eclectic opening night cast of After Midnight includes Grammy Award-winning Special Guest Star vocalist Fantasia, Dulé Hill, Tony Award-winner Adriane Lenox, Julius "Iglide" Chisolm, Virgil J. Gadson, Karine Plantadit, Dormeshia Sumbry-Edwards, Jared Grimes, Everett Bradley, Cedric Neal, T. Oliver Reid, Monroe Kent III, Carmen Ruby Floyd, Rosena M. Hill Jackson, Bryonha Marie Parham, Marija Abney, Phillip Attmore, Christopher Broughton, Taeler Elyse Cyrus, C.K. Edwards, Danielle Herbert, Bahiyah Hibah, David Jennings, Erin N. Moore, Justin Prescott, Desmond Richardson, Allysa Shorte, Monique Smith and Daniel J. Watts.

The Jazz at Lincoln Center All-Stars includes Mark Gross, Godwin Louis, Dan Block, Andy Farber and Kurt Bacher on woodwinds; Gregory Gisbert, Bruce Harris, Alfonso Horne and James Zollar on trumpets; Wayne Goodman, Art Baron and James Burton III on trombones; Adam Birnbaum on piano; James Chirillo on guitar; Jennifer Vincent on bass and Alvester Garnett on drums.

In its heyday, the Cotton Club featured a cavalcade of guest stars each week, known then as Celebrity Nights. After Midnight will reintroduce this exciting tradition by presenting stars of today in limited engagement appearances throughout the musical's run. Grammy Award-winning recording artist Fantasia begins the tradition, followed by Grammy Award-winners k.d. lang (2/11/14 – 3/9/14) and Toni Braxton & Kenny "Babyface" Edmonds (3/18/14 – 3/30/14).

The design team includes prolific design couple Isabel Toledo (costumes) and Ruben Toledo, Tony Award-winners John Lee Beatty (set design) and Howell Binkley (lighting design) and Peter Hylenski (sound).

After Midnight at Broadway's Brooks Atkinson Theatre officially opens on Sunday, November 3, 2013.

DOMESTICATED a new play by Bruce Norris.

Directed by Anna D. Shapiro. The cast features Vanessa Aspillaga, Mia Barron, Robin De Jesus, Jeff Goldblum, Lizbeth Mackay, Emily Meade, Laurie Metcalf, Mary Beth Peil, Karen Pittman, Aleque Reid and Misha Seo.

Bruce Norris' new play, commissioned by Lincoln Center Theater, is about politics and gender involving a husband and wife (played by Jeff Goldblum and Laurie Metcalf) whose marriage is upended when they become embroiled in a scandal.

Sets by Todd Rosenthal, costumes by Jennifer von Mayrhauser, lighting by James F. Ingalls and sound design by John Gromada.

The play opens on November 4th at the Mitzi E. Newhouse Theater, NYC.

MIDDLEMEN by David Jenkins, directed by Marc Geller.

Starring David Friedlander and Duncan Rogers.

"Amid the drone of industrial air conditioning and the buzz of fluorescent lights Stan and Michael toil away in their desolate sixty-floor office tower. One by one, their co-workers have disappeared, but neither seems to care about anything - except that no one bought milk for the break-room and one of them may have been responsible for the collapse of Bolivia.

Set design by Jessica Parks. Lighting design by Jill Nagle. Sound design by Merek Royce Press. Costume design by Patricia E. Doherty. Properties by Jessica Parks. Technical director, Michael "Rusty" Carroll. Stage manager, Jennifer Tardibuono.

The show will run November 7 - December 8, 2013 at NJ Rep located on the Jersey Shore in Long Branch, NJ.

POTTED POTTER The Unauthorized Harry Experience - A Parody by Dan and Jeff. That would be two-time Olivier Award-nominated actors Daniel Clarkson and Jefferson Turner.

They have takes on the ultimate challenge of "condensing all seven Harry Potter books (and a real life game of Quidditch) into seventy hilarious minutes. Even if you don't know the difference between a horcrux and a Hufflepuff, Potted Potter will make you roar with laughter. Perfect for ages six to Dumbledore (who is very old indeed)."

The national tour of Potted Potter - The Unauthorized Harry Experience will be flying into San Diego November 6th-10th, 2013 at The Balboa Theatre.

VINCENT a one man play written by Leonard Nimoy.

Starring Jim Jarrett who has toured with Vincent for over seventeen years.

Jarrett portrays portrays both Vincent van Gogh and van Gogh's brother Theo. Vincent is based on Vincent's letters to Theo.

The drama begins a few short days after the death of Vincent Van Gogh, as rumors of his death are flying around Paris. As many dismiss the artist as a penniless madman, a frequenter of prostitutes, and a soon to be forgotten artist of trifling quality who took his own life in a moment of insanity, his brother Theo tells his own version of the story in an attempt to set the record straight.

Friday & Saturday, November 8 & 9, 15 & 16, and 22 & 23 followed by a post-show Q&A, at The Meisner Technique Studio in San Francisco.

THE COMMONS OF PENSACOLA by Amanda Peet.

Directed by Manhattan Theatre Club's award-winning artistic director Lynne Meadow.

Starring Emmy and Tony award winner Blythe Danner, Zoe Levin, Ali Marsh, Emmy and Golden Globe Award winner Sarah Jessica Parker, Michael Stahl-David, and Nilaja Sun.

Judith (Blythe Danner) has been divested of her assets and forced to leave her luxurious New York life after her husband's Wall Street scam became headline news. When her daughter Becca (Sarah Jessica Parker) and Becca's filmmaker boyfriend (Michael Stahl-David) pay Judith a visit to the one bedroom condo Judith now occupies in Pensacola, Florida, everyone's motives are called into question. How will past and present circumstances inform how this family moves into the future?

The production is billed as "an incisive and funny new play about trying to love your family even when you hate what they've done."

This new play marks the reunion of Danner and Parker who previously starred together in MTC's 1995 hit production Sylvia by A.R. Gurney.

The creative team includes Santo Loquasto (scenic design), Tom Broecker (costume design), Jason Lyons (lighting design), Jill BC Du Boff (sound design), and Thomas Schall (fight director).

In previews at the MTC at New York City Center – Stage I, in preparation for a Thursday, November 21 opening.


WHO'S WHERE




KENNY ROGERS who has just been inducted into the Country Music Hall of Fame at its museum in Nashville, has spent decades headlining in Las Vegas. After a residency at Las Vegas' Gold Nugget Casino, Rogers released his self-titled debut album in 1976. On Monday, November 4, he performs at the NYCB Theatre at Westbury NY. Next Sunday, November 10, he's at the Oak Ridge Boys Theatre in Branson, MO.

SARAH BRIGHTMAN performs in Mexico this week. On Tuesday she's on stage at the Expo in Tampico. Thursday's performance is at the Arena in Monterrey and on Saturday she stars at the Complejo Cultural Siglo 21 in Puebla.

JIM BRICKMAN brings his tour to the Tuacahn Amphiteatre in Ivins, UT on November 7. On Friday he stars at the Pioneer Center in Reno. Saturday's show is at the Center for the Arts in Edmonds, WA.

STRAIGHT NO CHASER performs Tuesday, November 5, at the Reynolds Performance Hall in Conway, AR. ON Thursday their tour stops at the Ryman in Nashville. Friday they are on stage at the Schuster PAC in Dayton, OH. Saturday's gig is at Braden Auditorium in Normal, IL. Next Sunday, November 10, they are in the spotlight at the Center for the Performing Arts in Louisville, KY.

HARRY CONNICK, JR singing songs Tuesday, November 5, at Ruth Eckerd Hall in Clearwater, FL. Wednesday' performance in at the Philharmonic Center for the Arts in Naples, FL. The talented songwriter/performer then travels to Texas for a show Saturday at Jones Hall in Houston and next Sunday, November 10, at Bass Concert Hall in Austin.

JAMES GALWAY and the Irish Chamber Orchestra perform at the State Theatre in New Bruswick, NJ today, November 3. On Monday he conducts a master class at the EKU Center for the Arts in Richmond, Ky where Galway and the Irish Chamber Orchester will perform on Tuesday. Wednesday's performance will be at the Palladium in Carmel, Indiana. The following day Galway will conduct a Master Class. Friday's show is slated for the Krannert Center for the Performing Arts in Urbane-Champaig, IL. On Saturday the performance will be at the Piper Theatre in Scottsdale, AR.


FINAL OVATION


LOU REED Grammy Award winning rock pioneer and Velvet Underground guitarist, vocalist, and principal songwriter died October 27, 2013 in Long Island, New York. He was 71. Last April he underwent a liver transplant in Cleveland.

In 1980, Reed married British designer Sylvia Morales. They were divorced more than a decade later. Since the late 1990s, Reed has been romantically linked to the musician, multi-media and performance artist Laurie Anderson and the two have collaborated on a number of recordings together.

Neil Portnow President/CEO of The Recording Academy issued the following statement: "Grammy winner Lou Reed was an exceptionally gifted singer, songwriter, and musician who has had a profound impact on rock music and our culture. Both his work with the Velvet Underground and his solo efforts are legendary, introducing avant-garde rock to the mainstream. His uniquely stripped down style of guitar playing and poetic lyrics have had a massive influence across many rock genres, including punk and alternative. We have lost a true visionary and creative leader, and his groundbreaking work will forever hold its rightful place in music history. Our thoughts and condolences go out to his family, fans and those he inspired."













Next Column: November 10, 2013
Copyright: November 3, 2013. All Rights Reserved. Reviews, Interviews, Commentary, Photographs or Graphics from any Broadway To Vegas (TM) columns may not be published, broadcast, rewritten, utilized as leads, or used in any manner without permission, compensation and/or credit.
Link to Main Page
---
Laura Deni



For the snail mail address, please E-mail your request.
CLICK HERE FOR COMMENT SECTION