! >
Broadway To Vegas
  SHOW REVIEWS     CELEBRITY	INTERVIEWS     GOSSIP     NEWS 
| | |
| --- | --- |
| | |
Copyright: November 28, 1999
By: Laura Deni
CLICK HERE FOR COMMENT SECTION

CAUSTIC WIT PAVED WAY
He was ahead of his time. Fred Allen, the acerbic cutting edge comedian, laid the road bed for today's top comedians. Possessing a face "made for radio," during radio's glory days, Allen was the most caustic commentators of the scene and radio's top echelon were his pet peeve.


FRED ALLEN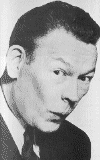 Mr. Allen, Mr. Allen by Arnold Peyser, is a new play about the legendary comedian. Currently at the Wilshire Theater in Los Angeles, the production stars Jack Riley as the comic genius.

Allen invented an entirely new form of radio comedy which consisted of lampooning current events, making fun of his sponsors, and presenting skits that featured a cast of recurring characters. Along the way he carried on an on-air feud with Jack Benny

Pithy comments that people assume magically materialized were Allen creations:

- Most of us spend the first six days of each week sowing wild oats; then we go to church on Sunday and pray for a crop failure.

- A conference is a gathering of important people who singly can do nothing, but together can decide that nothing can be done.

- A celebrity is a person who works hard all his life to become well known, then wears dark glasses to avoid being recognized.

- Hollywood is a place where people from Iowa mistake each other for stars.

- He dreamed he was eating shredded wheat and woke up to find the mattress half gone.

Born John F. Sullivan in Cambridge, Mass, he started out in vaudeville after teaching himself to juggle after reading a book on the subject. A successful engagement at the Palace Theater in 1919 led to Broadway shows, including The Passing Show of 1922, and The Greenwich Village Follies.

In 1932 Allen transferred to radio, taking with him a lady he had met while appearing on Broadway. The lass had a most unusual name, Portland Hoffa, and an even more unusual voice.



FRED ALLEN AND PORTLAND HOFFA celebrating Thanksgiving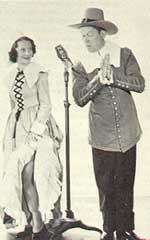 When he discovered that her voice came through the microphone "like two slate pencils mating," he gave her nitwit lines to match the image conjured up by her voice. He also married her.

Allen had several radio programs between 1932 and 1949. "You can trust your car to the man who wears the star" was the motto of the Texaco Star Theater in which Allen starred. The show originated on CBS, but traveled to NBC in 1933, back to CBS in 1944, and returned to NBC in 1945.

The show changed its name several times, to reflect the sponsor's product. The Linit Bath Club Revue was sponsored by Linit Bath Oil; the Salad Bowl Revue was sponsored by Hellman's Mayonnaise, the Sal Hepatica Review by - Sal Hapatica.



FRED ALLEN AND JACK BENNY staged an on air feud. They starred together in the 1940 movie Love Thy Neighbor.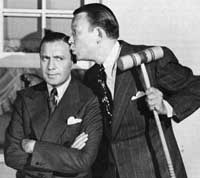 Allen used his dry, witty commentary to constantly fight with higher-ups and sponsors.

"A radio executive," Allen would tell the audience, "is a pseudo-busy guy who comes into his office at nine and finds a molehill on his desk. He has until 5 p.m. to make it into a mountain. An accomplished man will often have his mountain finished before lunch"

Allen had the top writers but his ad-libs were better than what they penned. Once he interviewed a college girl who talked about George Washington Carver discovering a way to make ink out of a peanut, glue out of a peanut, and milk from a peanut. Fred ad-libbed: "Milk from a peanut? He must have had a very low stool!"

His segment of Allen's Alley popularized a group of characters he regularly interviewed as a door to door opinion pollster. The segment became so popular that fans personified the characters inundating the characters with fan mail.

There was the garrulous Irishman Ajax Cassidy, and taciturn New Englander Titus Moody. The Average American Joe was played by John Brown, demagogic boisterous Southern Senator Beuregard Claghorn was announcer Kenny Delmar, pompous poet Falstaff Openshaw was Allan Reed, and Jewish Mama Mrs. Nussbaum was created by Minerva Pious.

The advent of television and Allen's constant battles with the sponsors eventually drove him off the air. His humor was ahead of his time, too sophisticated for the 1940's. But it paved the way for the success of satirist Stan Freberg, in the 1950s. Mort Saul in the 1960's, Johnny Carson, David Letterman and Saturday Night Live. Allen died on St. Patrick's Day in 1956.


THE CIVIL WAR STAGES NEW BATTLES
LARRY GATLIN as he appeared on Broadway as Will Rogers in The Will Rogers Follies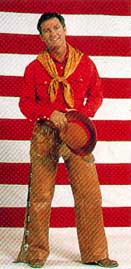 A newly conceived staging of Frank Wildhorn's The Civil War - The Broadway Musical will march on a national tour. In an unusual booking arrangement Grammy award winning singer Larry Gatlin and stage star John Schneider will share the starring role.

The national tour will have its world premiere at Cincinnati's Aronoff Center on January 18. The tour will then play engagements in Indianapolis (Gatlin), Baltimore (Schneider), Chicago (Gatlin), Providence (Gatlin), Cleveland (Gatlin), Wilmington, DE. (Gatlin), Nashville (Gatlin), Pittsburgh (Schneider), Louisville (Schneider), Columbus (Schneider), Hershey, PA (Schneider), Hartford, CT. (Schneider), Tempe (Gatlin), Costa Mesa (Gatlin) and Denver (Gatlin).

The Civil War, written by Frank Wildhorn, Gregory Boys and Jack Murphy, was inspired by the passion and turmoil of the men and women who defined a nation.



JOHN SCHNEIDER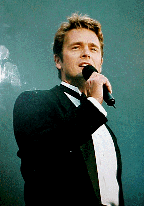 The Civil War was first staged at the Alley Theatre in 1997. It played on Broadway in the spring of 1999 - laughed at by the critics while lauded by paying customers. The Tony nominating committee honored the show with three nominations.

Gatlin has starred on Broadway and in the national touring production of The Will Rogers Follies, and has a string of #1 hit songs.

Schneider, best known as Bo Duke on The Dukes of Hazzard, also has theatre and music credits. Most recently, Schneider starred in the CBS movie of the Week Michael Landon, the Father I Knew. He received critical acclaim for his performance as "Baron" in the Tony Award-winning musical Grand Hotel. He has recorded eleven solo albums, including four singles that went to #1.

The Civil War has been reconceived by the authors cutting the cast to 15 for the national touring production, which will be directed by Stephen Rayne.


TAP DOG DOES CATS

Christmas Cats is a rewritten version of Cats the Andrew Lloyd Webber musical which is the longest running musical in London and New York theater. This reinvention adds musical to fill out a holiday theme, with an all-cat cast, except for one Tap Dog, and a few dancing mice.

Jeremy Fullam, a member of the Las Vegas Tap Dogs, performs two solo selections that include dancing on garbage cans. A master tap dance teacher, Fullam joined Tap Dogs in 1997 after two years with the Joffrey Ballet before heading to Las Vegas.

The new story twist has the Jellicle party, held once a year, becoming not a reincarnation as in the Weber play, but a prelude to a Christmas ballet that will be performed for the entire Jellicle cat kingdom. Hopeful cats gather to impress Santa Claws - patterned after the character of Rum Tum Tugger - who will choose only two for starring roles, as for a chance to wear the coveted "red sleeves."

Christmas Cats includes several of the Broadway Cats favorites including; Memory, Mr. Mistoffelees, Old Gumble Cat, Skimbaleshaks the Railroad Cat, and Jellicle Songs for Jellicle Cats.

Additional music is by the Brian Setzer Orchestra, Louis Armstrong, Ricky Martin, Peter Tchaikovsky and other. Conceived, written and directed by Judy Goetz. Staged by the Goetz School of Dance, Bismark, N.D.


SWEET CHARITY

STAR WARS BENEFIT CHARITIES

STAR WARS EPISODE I: The Phantom Menace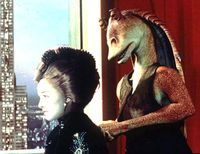 Anakin Skywalker has turned the Force on the side of charity this holiday season.

For one week, beginning Friday December 3 through December 9, Star Wars Episode I: The Phantom Menace is being re-released to selected theaters nationwide.

All proceeds from ticket sales during that week will go to designated charities.

The special release is being sponsored nationally by 20th Century Fox Films and Lucas films.

GARY SPRINGER is a hard working theatrical press agent, following in the footsteps of his father, John. Everything was boffo for Gary and his wife, Nancy. They sent their adored 14-year-old son, Nick, to summer camp - the way millions of parents do.

Instead of receiving home made craft projects, they received devastating news. Their son had contracted Meningococcenia, a bacterial disease.That means it could have been you or your child.



TONY AND HEATHER RANDALL parents of two small children, signed letter detailing the catastrophe. Photo By: Laura Deni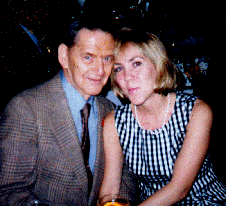 In a heart breaking letter signed by Springer friends, including Tony Randall, the missive explained that this vile, and fast moving bacteria attacks the circulatory and vascular systems as well as the internal organs. Among the insidious attacks on the body is a condition called DIC, where the blood basically flows freely throughout the body, as well as the mouth, nose, etc. clotting uncontrollably. The result was that within a few days darling Nick had to have both his legs amputated. A week later he had to endure both hands being amputated. Gary and Nancy can handle anything. They know the most important parts of any human are the heart and brain and the entire family has a loving heart and a head on straight. Needless to say Nick will need enormous medical assistance, prosthetics, as well as psychological help to deal with this tremendous blow.

Among the theatrical organizations making contributions included; Fine Line's Mark Ordesky gave a screening of the studio's Tumbleweeds at the Scarsdale Fine Arts Theater, with star Jay Sanders in attendance and. The Outer Critics Circle sent the Springer family a check for $1,000 to help with Nick's expenses.

Anyone who wishes to contribute may send a donation to: Nick Springer Fund at Holy Name of Mary P.O. Box 861 Croton-on-Hudson, New York 10520 Tax ID # 13-1740302

TOM BROKAW and his wife, Meredith, will be honored Tuesday at the Pierre Hotel NYC by the Children's Health Fund. On hand for the honors will be Jane Pauley and her husband, Garry Trudeau, David Dinkins, Gordon Parks, Paul Simon, and Gloria Vanderbilt.

TEDDCARES is Ruby Rimes' annual charity that collects teddy bears and distributes them to hospitalized "kids of all ages." MAC Award winners Tom Andersen, Mary Foster Conklin and the legendary Julie Wilson perform. Judy's Chelsea, Dec. 3 Admission is $20 and a teddy bear.



Broadway To Vegas is supported through advertising and donations. Priority consideration is given to interview suggestions, news, press releases, etc from paid supporters. However, no paid supporters control, alter, edit, or in any way manipulate the content of this site. Your donation is appreciated. We accept PAYPAL. Thank you for your interest.



VAMPIRE DREAMS

CARRIE WILSHUSEN plays a therapist who does not want her client MARK J. NICHOLS to read her files in the New York premiere of VAMPIRE DREAMS. Photo By: Damian Sandone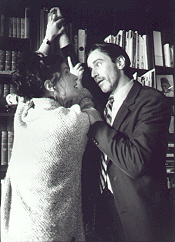 is a new play by science fiction novelist Suzy McKee.

Set in New York City, the play concerns Edward Weyland, a 2000 year old predator, posing as a professor, who is forced into therapy to keep his job.

His therapist's discovery of his life as a contemporary, existential vampire leads to comic and compassionate encounters filled with suspense.

Vampire Dreams premiered at San Francisco's Magic Theatre in 1990 and makes its NYC premier December 1-18 at Altered Stages.

Under the direction of Matthew von Waaden, the cast is: Mark Nichols, Kate Lunsford, Damien Midkiff, and Carrie Wilshusen.

The composer/sound designer is Will Pitts. Designers are: Jerome Martin, sets; Alexandra Bredenko, costumes; and Matt Dacey's lighting.


IT AIN'T NOTHING BUT THE BLUES at the Geffen Playhouse LA extended through January 2.

THE DINNER PARTY a new play by Neil Simon has its world premiere at the Mark Tabor Forum, Los Angeles officially opening Thursday with performances through January 14.

The production has already undergone a change in the dinner place cards. Rita Wilson, wife of Tom Hanks, was cast but dropped out after appearing in the first preview performance last Sunday, because of "a mutual agreement based on creative differences." She is being replaced by her understudy Anette Michelle Sanders. The Dinner Party reunited Wilson with Henry Winkler. Her first substantial acting role was in Happy Days, the 1970's sitcom which shot Winkler into superstardom.

In addition to Winkler and now Sanders The Dinner Party also stars; Frances Conroy, Veanne Cox, Edward Herrmann, and John Ritter. Directed by John Rando.

ALWAYS: CELEBRATING 100 YEARS OF AMERICAN SONG features Patti LuPone, Judy Kugn, Howard McGillin, Alton White, Mary Cleere Haran and Susanah McCorkle. Lincoln Center's American Songbook series. Dec. 3-4, Alice Tully Hall NYC.

THE NOEL COWARD CENTENNIAL GALA at Carnegie Hall features an all star cast. December 1

LORD OF THE DANCE December 3 at the Independence Arena, Charlotte, N.C.

BASH has opened in Los Angeles at the Canon Theater. Neil Labute directs Ron Eldard, Calista Flockhart and Paul Rudd. Through Dec. 19.

IVANOV stars Debra Winger. American Repertory Theatre, Cambridge, MA. Opened last Friday, November 26.

A CHRISTMAS CAROL a world premiere musical of Steve Allen's adaptation of Dickens' classic, starring Harold Gould as Scrooge opened last Wednesday at Theatre West, Los Angeles. Allen plays narrator Charles Dickens at most performances with celebrity guest artists filling in.


WHO'S WHERE

MARILYN VOLPE

MARILYN VOLPE in New Year's Eve 1949 Photo By: Michael Ian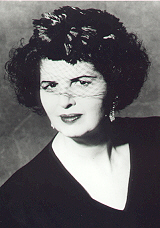 will perform her new show New Year's Eve 1949, a toast to the decade of the 40s in song, at Arci's Place, NYC opening December 3 through December 19.

Volpe is the recipient of a Back Stage Award as Outstanding Vocalist. Her successful cabaret show, You Fascinate Me So - Marilyn Volpe sings Cy Coleman, - was recorded live at Tavern on the Green.

With New Year's Eve 1949 the song stylist goes back exactly 50 years as New York City celebrated the end of the glorious 40s - a decade that saw the beginning and end of a World War, Big Bands; the first Tony Awards; and the first LP.

While the rest of the world is jumping into the new millennium, Volpe relives the last night of the end of the decade that brought us some of the richest music in the history of the American Popular Songbook.

Included will be songs by: Irving Berlin, Rogers and Hammerstein, Frank Loesser, Noel Coward, Leonard Bernstein, Johnny Mercer, Comden and Green, and Johnny Burke.

LIZA MINNELLI 24 shows only, sings songs from her father Vincente Minnelli's films. Performances begin December 1, Palace Theatre, NYC.

RAQUEL BITTON sings Edith Piaf. December 11 Wilshire Theatre, Los Angeles then heads to New York for a Carnegie Hall engagement January 15.

GEORGE SHEARING'S 80th starring The George Shearing Quintet, Nancy Wilson, Dave Brubeck, Tito Puente, Billy Taylor, Regina Carter, Grady Tate and the John Pizzarelli Trio. Carnegie Hall November 30. Produced by Pat Phillips and Ettore Stratta.

MICHAEL FEINSTEIN performs December 2. In the Weill Recital Hall of Carnegie Hall. The first half of the program will feature Feinstein, joined by contemporary tunesmiths Tom Andersen, Linda Robbins, Dale Gonyea and Marcy Heisler and Zina Goldrich, each doing their own songs. In the second half, they will all pay tribute to Oscar-winning lyricist Mack Gordon - You'll Never Know, At Last, and Chattanooga Choo Choo.

THE JOHN PIZZARELLI TRIO with special guest Bucky Pizzarelli, December 5 Broward Center, FL

DAVE BRUBECK QUARTET Troy Savings Bank Music Hall December 3, Troy, NY. On December 5 Brubeck appears in concert with his La Fiesta de la Posada - a Christmas Cantata for choir, soloists, and mariachi band. Jere T. Farrah, guest organist with Brubeck at the piano. First Presbyterian Church, NYC. Free admission.

EARL WILD has been one of the most celebrated pianists for the past seven decades. At the age of three he was discovered to be a child prodigy. He performed on the first radio station in the United States, KDKA in Pittsburgh, and was the first artist to perform a piano recital on television. Now 84, he continues to make several recordings a year. In 1997, he won a Grammy Award for his album devoted entirely to virtuoso piano transcriptions entitled Earl Wild - The Romantic Master. Wild performs December 3 at the University of Nevada Performing Arts Center, Las Vegas.

PAUL ANKA tapes a television special on Monday, November 29 at the Mirage Hotel, Las Vegas.

MARILU HENNER returns to Las Vegas reprising her role of Roxie Hart in Chicago at Mandalay Bay. December 21-January 2.

KAREN MASON received only raves for her stint at Arci's Place, NYC. John McDaniel, Rosie O'Donnell's paisano, caught the show and couldn't wait to talk it up. Also in to enjoy the songbird have been Robert Cuccioli, David Zippel, Gerald Alessandrini, David Campbell, and cabaret performers Jaymie Meyer and Charles Cermele. She returns to Davenport's Cabaret in her hometown of Chicago from December 1-4, then returns for another Arci's Place gig.

KENNY ROGERS December 9 Syracuse, NY.


THIS AND THAT

THE PRINCE OF EGYPT

THE CHARIOT RACE from The Prince of Egypt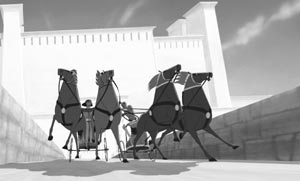 a stirring interpretation of the biblical story of Moses and the Exodus of the Hebrews from Egypt, was a pioneering work of animation produced by Dream Works SKO in 1998.

The project took more than three and one-half years to complete and involved the expertise of 380 artists, technicians and managers. Every effort was made to achieve historical accuracy in the portrayal of events, people and places. Drawings, paintings and still from The Making of the Animated Film The Prince of Egypt will be on display in the Ruby Gallery at the Skirball Cultural Center, Los Angeles December 5-January 30.

On view will be examples of story board drawings, paintings created to develop the visual style of the film, layout and background drawings, animation drawings of the individual characters in the film, and stills from the completed film. Admission to the Ruby Gallery is free to the public.

PATTI LABELLE is planning to do another Broadway show, so she's moving to the Big Apple. LaBelle and her husband, L. Armstead Edwards have put their West Los Angeles condo - includes a pool, gym and wine room - on the market for $1.4 million. LaBelle wants to live closer to The Great White Way.

TEARY EYED REUNION for original cast members of Kiss Me Kate who were invited to attend the Broadway revival at the Martin Beck Theater. Among those wonderful talents applauding the new revival were; Ingrid Edwards, Herb Fields, Janet Gaylord, Lois Harwin, Patricia Morison who was the original Kate and Ethel Watt.

SUSAN LUCCI who fills in for Bernadette Peters December 23-January 16, playing Annie Oakley in the Tony Award winning Best Musical Revival of Irving Berlin's Annie Get Your Gun, can be seen guesting on Barbara Walters' Special November 30. Lucci is on Walters' list of The 10 Most Fascinating People of 1999. Lucci has been on All My Children for more than half her life. As Erica Kane she has married nine times, and had the first abortion on daytime television. After being nominated 19 times for an Emmy - becoming famous for not winning, Lucci finally took home the statuette for portraying Kane. Others on Walters' list are: Ricky Martin, Gov. Jesse Ventura, Sumner Redstone, King Abdullah, Joe Torre, Jonathan Lee Iverson, and Monica Lewinsky.

AT THE DOWNBEAT OF THE TAPE the New York City Ballet performed the Nutcracker. For the first time in 23 years the orchestra went on strike. Members of the American Federation of Musicians Local 802 called the ballet company Scrooge and picked up picket signs instead of their instruments. At issue are management demands for more stringent orchestra attendance.

WILLIAM SHAKESPEARE married Anne Hathaway on November 28, 1582.

INTERNATIONAL TAMALE FESTIVAL December 4-5. Once a quaint Indio, Calif. valley diversion, the annual Tamale Festival now draws more than 100,000 people to the downtown area known as Old Town Indio. A tamale themed parade kicks off a four-hour competition overseen by a panel of celebrity judges. More than 100 tamale vendors and more than 150 other vendors sell tamales, and other traditional Hispanic foods, date shakes and a variety of tamale inspired crafts and artwork. Indio, Calif. December 4-5.




Mention BROADWAY TO VEGAS for Special Consideration
Call (800) 942-9027









Next Column: December 5, 1999
Copyright: November 28, 1999 All Rights Reserved. Reviews, Interviews, Commentary, Photographs or Graphics from any Broadway To Vegas (TM) columns may not be published, broadcast, rewritten, utilized as leads, or used in any manner without permission, compensation and/or credit.
Link to Main Page
---
Laura Deni


CLICK HERE FOR COMMENT SECTION