! >
Broadway To Vegas
  
  REVIEWS  INTERVIEWS COMMENTARY NEWS

| | |
| --- | --- |
| | |
MICHAEL JACKSON SHOW OPENS IN LAS VEGAS - - VIVA ELVIS SHOW ASKED TO LEAVE THE BUILDING - - MICHAEL JACKSON FAN FARE STOPS ONLY IN LAS VEGAS - - PRINCE WILLIAM AND KATE TO ATTEND GARY BARLOW SHOW - - BABES IN ARMS CD REVIEW - - ACCORDION WRESTLING - - NOEL AND GERTIE - - DOUBT BECOMES AN OPERA - - DONATE . . . Scroll Down



MICHAEL JACKSON IN - ELVIS PRESLEY OUT


Viva Elvis is no longer going to be in the building - so to speak - while the welcoming mat is being laid out for Michael Jackson: The Immortal World Tour.

An internal Cirque du Soleil memo by Daniel Lemarre, President & CEO, sent to the "artists, technical crew and staff," of Viva Elvis on the afternoon of Thanksgiving eve informed them that their MGM landlord had posted their eviction notice due to poor ticket sales.

That confidential internal memo spread faster than a communicable disease.

"As attendance levels have not been meeting expectations, we have asked our partners at Cirque du Soleil to replace the show," an MGM company statement said. "We will work closely with Cirque as we explore future entertainment options."

The Lamarre memo opined: "All of us are saddened we may have to bring 'Viva Elvis' to the end of its journey. We have been notified by our partners at CityCenter of their likely intention to ask Cirque to replace the show at the end of 2012."

That's a very polite way to telling the cast and crew that they are being kicked to the curb.

A year's notice was given to acknowledge and accommodate the complicated, extensive planning and rehearsal period that is necessary for any permanent Cirque production.



Jukebox scene from Viva Elvis. Production photo-Cirque du Soleil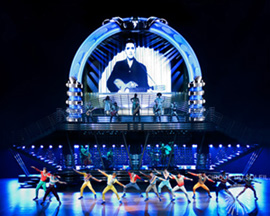 "However, we respect the decision of our partner as ticket sales have not met expectations," continued his memo. "We will now take the appropriate time to focus on redeploying as many of the shows employees as possible. . . Like you, I am proud of our work on this show and understand that this is simply a business decision."

Viva Elvis has played 900 performances at the Aria resort at CityCenter, to nearly 1 million people - many of them die hard Presley fans who would sit through anything with his name attached to it.

This marks the first time that the storied Canadian company, has been told to fold a show since opening Mystere at Treasure Island in 1993.

Viva Elvis knew they had problems when they announced substantial revamping would take place which would alter the focus from a Presley bio presentation to showcase the Cirque acrobatics. That included the addition of the Banguine acrobatic act from the Cirque show Zed which is being force to close in Japan, the result of economic fallout from the devastating tsunami and earthquake this year.

Instead of a prolonged 90-day shut down to re-vamp the production, only the normal vacation period from February 4-11 will take place. The prolonged shut down has been changed to a permanent one.

Viva Elvis is produced in partnership with CKX Inc., owners of the Presley estate who exercised more creative control than Cirque, which may have been part of the problem.

While Elvis has been told to leave the building a welcome mat of substantial proportions is being laid out for all things Michael Jackson.

The first week of December in Las Vegas used to be a slow time of the year. Then Sin City roped in the money with the National Finals Rodeo.

This year the dominate force is the opening of the traveling Cirque du Soleil show Michael Jackson: The Immortal World Tour based on the music of Jackson plus a Michael Jackson fan fest.

The well-heeled hyperventilating fan can bring their heartbreaking adoration to the Fan Fest December 3-14 which overlaps the December 3-27 production show, both taking place at Mandalay Bay Resort in Las Vegas.

The official theatrical production by Cirque du Soleil, which uses the music and vision of the late pop star along with Cirque du Soleil's signature acrobatic performance style, has two versions. The arena show - which is very similar to a rock concert - began its tour October 2, 2011, in Montreal. After its North American run for about two years, it will continue on to Europe and the rest of the world.

A resident version, which will be more theatrical in nature, will open in early 2013 at Mandalay Bay. In addition to the resident show at the Mandalay Bay, Cirque du Soleil will also be opening up a Michael Jackson-inspired lounge as well as the required memorabilia gift shop.

Billed as: "A riveting fusion of visuals, dance, music and fantasy that immerses audiences in Michael's creative world and literally turns his signature moves upside down, Michael Jackson The Immortal World Tour unfolds Michael Jackson's artistry before the eyes of the audience. Aimed at lifelong fans as well as those experiencing Michael's creative genius for the first time, the show captures the essence, soul and inspiration of the King of Pop, celebrating a legacy that continues to transcend generations."

"The Immortal World Tour takes place in a fantastical realm where we discover Michael's inspirational Giving Tree - the wellspring of his creativity. The secrets of Michael's inner world are unlocked - his love of music and dance, fairy tale and magic, and the fragile beauty of nature."



An official photo from the current Michael Jackson Immortal Tour. Photo: Cirque du Soleil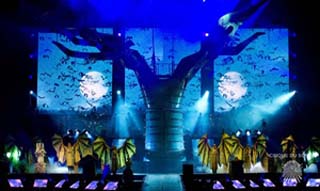 The show's costume designer Zaldy Goco said the following in regards to his inspiration for the collection of 252 costumes: "My approach has been to draw upon and respect Michael's iconic style while creating something new and fresh. I placed subtle references throughout the costumes in the show."

According to he show's official press kit: The color palette chosen for the show is rich, lively, and ornate such as through the usage of gold and crystals. The design team explored such technologies as 3D printing and LED lighting for the many different colored pieces.

Highlights of the costumes range from 3D printing techniques to pyrotechnics being built into the designs.

Gangster types have 3D-printed surreal guns that shoot pyrotechniques when the triggers are pulled. The shoulder pads are also 3D-printed.

The straps duo costumes are covered in Swarovski crystals, and were inspired by Michael's corseted wrist in the Black and White video.

The bat costumes are created using ultra lightweight paper used for shipping parcels.

The soldiers' costumes are primarily made of mytex on a polyester frame with padding.

All the costumes in the Human Nature act are equipped with over 275 LED lights.

The costumes for the welders was inspired by the red, zipper-clad jacket in Beat It.

The touring version plays Mandalay Bay December 3-27, 2011.

The first-ever Estate-authorized Michael Jackson Fan Fest (we're guessing not the last) will give fans an up-close look at Michael Jackson memorabilia, items from Neverland Ranch, a behind the scenes look at the creation of Michael Jackson The Immortal World Tour with Q&A sessions with members of the creative team.

Jackie Jackson will appear with brothers Marlon and Tito at a Q&A session during Fan Fest on December 4.

Fan Fest also promises "an enlightening Q&A with Joseph Vogel," author of Man in the Music: The Creative Work and Life of Michael Jackson, on December 9 and 10.

Each session of Michael Jackson Fan Fest will last for four hours and cost $35.

Ticketholders will be invited to peek inside the interior of the 1999 Rolls-Royce Seraph limousine Michael designed himself with 24-karat gold embellishments, then check out the 10-foot-tall statue created for the HIStory tour. Get the feel of Michael's music videos by wandering through the spaceship set used in Scream, sit in the actual throne from the Egyptian-themed set of Remember the Time, then stand before the hostile tank from the live concert performance of Earth Song.



Michael Jackson's jackets and glove collection will be on display at Fan Fest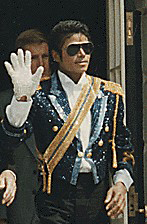 A wide variety of items will be on display from both Michael Jackson's career and Neverland Ranch. Featured memorabilia will include costumes, the Fantasy glove collection from the 1980s, award statues, tickets, the famed rocket plane from the Leave Me Alone video and a castle displayed in the living room of Neverland.

In case there is confusion about how items could now be displayed which had been gaveled down at auction, like most artists, Jackson kept backup duplicates in case of damage or loss.

The Michael Jackson Fan Fest will only be in Las Vegas and will not travel to any other tour stop.

"We are thrilled to offer Michael's fans an opportunity to experience his life and career up close through the Fan Fest while they also enjoy Cirque du Soleil's spectacular tribute to his creativity as an artist in Michael Jackson The Immortal World Tour," said the Executors of the Michael Jackson Estate, John Branca and John McClain.

"Michael Jackson Fan Fest will add an unparalleled addition to Michael Jackson The Immortal World Tour's extended three-week run at Mandalay Bay Resort & Casino," said Lamarre, the one-and-the-same author of the Presley memo who might worry about the onset of writer's cramp. "Fan Fest gives fans the opportunity to experience Michael Jackson as a man, iconic performer and immortalized legend," penned Lamarre.

Also on the Michael Jackson radar - Dr. Conrad Murray, who was convicted of involuntary manslaughter in Jackson's death in 2009, will be sentenced Tuesday, November 29. Prosecutors have urged the judge to sentence Murray to four years in prison.



Broadway To Vegas is supported through advertising and donations. Priority consideration is given to interview suggestions, news, press releases, etc from paid supporters. However, no paid supporters control, alter, edit, or in any way manipulate the content of this site. Your donation is appreciated. We accept PAYPAL.

ART AND ABOUT


SANTA'S ELVES have opened their work shop at the Santa Claus Museum in Santa Claus, Indiana.

Beginning Thanksgiving weekend and running through December 19, children and their families can write and send their letters to Santa.

Since 1914, children have had the joy of receiving letters from Santa Claus for free.

Inside, children can take a seat at an antique school desk and draft their wish list to the jolly 'ol elf. Families will also be able to experience a portion of the Santa Claus Museum's collection showcasing the history of the town, area attractions and even see what children of yesteryear might have found beneath their Christmas trees. Visitors can also take a short walking path up to the newly restored Historic Santa Statue, dedicated to the children of the world.

The Mission of Santa's Elves and Santa Claus Museum is to preserve, interpret, and exhibit the cultural and natural history of the town of Santa Claus, IN and to perpetuate the tradition of Santa's Elves, Inc answering letters to Santa.

The Santa Claus Museum is an accredited Museum which provides: Historical information, Educational opportunities and Hands-on experiences.


THE MUSIC GOES ROUND AND ROUND


BABES IN ARMS by Richard Rodgers and Lorenz Hart. Starring Mary Martin and Jack Cassidy.

Masterworks Broadway has re-released the 1951 Studio Cast Recording, the first authorized release since the LP, using the original mono master.

Producer Goddard Lieberson and musical director Lehman Engel enlisted a Broadway star you could take to the bank - Mary Martin. The Columbia Records album, also starring Jack Cassidy and Mardi Baynee.

Mounted for $55,000, Babes in Arms opened at the Shubert on April 14, 1937 running there for half a year before transferring to the Majestic where it held forth for another two months.

According to Tom Briggs, Director of The R&H Theatre Library - the success had more to do with the failure of every other show.

"In spite of rave opening-night reviews, the ticket agencies showed little interest in Babes In Arms, maybe because of the verdict rendered by Variety's out-of-town correspondent: "No nudity, no show girls, no plush or gold plate may mean no sale," a put-down not dissimilar to one that would be pinned to the first Rodgers and Hammerstein show some years later. During April and May, receipts were just about the break-even mark, sometimes below it."

"In June, Wilman (producer Dwight Deere Wilman) cut fifty cents off the top ticket, but sales continued to slide. Then all at once, as if by divine intervention, every competing show on Broadway folded. On July 17, Babes in Arms became the only musical on Broadway. The following week's takings jumped 50 percent; after that, the show never looked back."

"Rodgers and Hart's Babes In Arms has never been quite what everyone thinks it is. It was the hit of the season when it opened in 1937, running nearly 300 performances, but essentially vanished thereafter. Little thought was given to the preservation of musicals in the 30's; a show either hit or missed and it was on to the next one. Between 1934 and 1940, three years to either side of Babes In Arms, Rodgers and Hart wrote nine Broadway musicals and four film scores, so there wasn't much time for looking back."

Fortunately with the Masterworks Broadway release of this CD the listener can 'look back.'

According to the original liner notes "In the cast, which was chosen for its talent and its youth rather than for its fame, were such comparative unknowns as Mitzi Green and Wynn Murray (each of whom has recently celebrated her sixteenth birthday), Alfred Drake, Roy Heatherton and Robert Roundsville."

From the very first bars of the overture the listener knows they are going to experience something good. Vibrant, upbeat. Unusual for an overture, two numbers - Where Or When and The Lady Is a Tramp - are played in full while the other songs are delivered in the usual few bars presentation.



Original Broadway production logo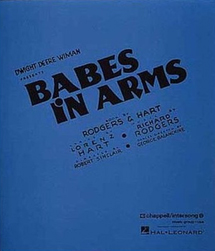 This is the show which launched a record breaking number of standards including Where or When and My Funny Valentine which became mega hit, soul searching singles. In Babes In Arms Mary Martin sings Where or When with a more upbeat ballad delivery while My Funny Valentine is the only number on this CD which does have a predominately low register vocal arrangement and Martin shows she knows how to capture the meaning. Leaving no doubt about Martin's versatility, the very next selection - Johnny, One Note - a vibrant, high octane song - is led by Martin, the chorus and a hot clarinet.

The rousing title song sung by Jack Cassidy is a war cry anthem which sets the plot: A group of teenagers, whose parents are out of work vaudevillians, stage a revue to keep from being sent to work on a farm. Unfortunately, the show is a flop. Later, when a transatlantic French flyer lands nearby, they are able to attract enough publicity to put on a successful show and build their own youth center for the group of kids intending to put on a show.

I Wish I Were in Love Again, is revved up by Cassidy and Mardi Bayne. The clever Way Out West with horse clops and yippie ki-yays, has to do with pining for West End Avenue in New York City - "where seldom is heard an intelligent word."

The Lady Is a Tramp upon which Frank Sinatra would later place a stamp of sass, is sung by Mary Martin with more of a campy attitude.

You Are So Fair delivered by Jack Cassidy with what must have been a straight face. Musically, it sounds like it's going to be a romantic love song. It is, of sorts. It's about a man wanting a woman who isn't that interested in him and his reactions to being rebuffed. It witty with refrains, such as:

"I'd pay your fare
To Niagara Falls and back too,
But you never will react to
This love affair.
You are the crepes suzette
I should get
On my bill of fare"

changing to . . .

You are so fair
But you know you' re no Apollo
And to say you're hard to swallow
Is only fair.
I'd pay your fare
All around the world and back too,
For I'd like to give the sack to
This love affair.
You are the Camembert
I can't bear
On my bill of fare,
So if you love me not,
Flower pot,
See if I care.
See how you'll fare
If you keep on playing Rover.
When I come to think it over,
You're only fair.

An easy to listen to CD with some of the best and brightest Broadway hit songs - and they came from this one show. A CD must have for every fan of Broadway, songbook standards or just wonderful Rodgers and Hart songs.

Studio Cast Recording, Babes in Arms (Columbia LP ML 4488, 1951 recorded March 20-21. 27 and April 2-3,1951 in New York City. Reissued Masterworks Broadway, 2011. Orchestrations by Ted Royal, Carol Huxley and Ben Ledlow. Vocal arrangements by Johnny Lesko.

Overture
Where or When
Babes in Arms
I Wish I Were in Love Again
Way out West
My Funny Valentine
Johnny One Note
Imagine
All at Once
The Lady Is a Tramp
You Are So Fair
Finale


SWEET CHARITY


THE FOUNDATION OF PRINCE WILLIAM AND PRINCE HARRY

Gary Barlow, who has a fan in Prince William's wife, Kate, will perform before the royal couple as well as Prince Charles and Camilla.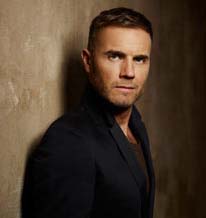 will benefit from two concerts by Gary Barlow at London's Royal Albert Hall on December 5-6.

This will mark the first joint engagement for the Duke and Duchess of Cambridge with the Prince of Wales and the Duchess of Cornwall. The foursome will attend the second night.

It is reported that Kate is a big fan of the Take That singer-songwriter.

The concerts will raise money to help young people affected by the riots in August.

Barlow, a recently appointed X Factor head judge comes to the Royal Albert Hall for his first UK solo shows in over 11 years. He'll perform songs from his incredible music career spanning over 20 years.

Acclaimed singer/songwriter sisters The Pierces will be Gary's special guests on both nights.

The Royal party will meet Barlow and other performers, including The Pierces, before and after the concert, as well as greeting some of the young people who have already benefited from the charities' work.

Gary has long been a supporter of the work undertaken by youth charity The Prince's Trust. "It's really important to me that disadvantaged young people get the support they need, especially at the moment. The Prince's Trust along with The Foundation of Prince William and Prince Harry are both doing great work with young people and I liked the idea of recognizing the work of the whole family. I hope the money raised through these concerts will make a real difference to young lives."

Monies raised from the two concerts will go to The Prince's Trust and The Foundation of Prince William and Prince Harry. The money raised for The Prince's Trust will support the charity's UK City Riots Appeal, helping disadvantaged young people from riot-torn areas to rebuild their lives and communities. The Foundation of Prince William and Prince Harry will also use the funds raised to support disadvantaged young people, which is one of the Foundation's three core project areas. In particular, it will use the funds to support innovative projects dedicated to providing young people with the tools and aspiration to fulfill their potential.

All four members of the Royal family visited riot-hit areas earlier this year to see for themselves the destruction caused by arsonists and looters.



Prince Harry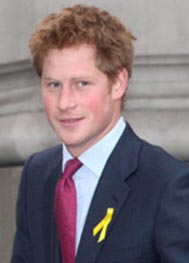 Prince Harry, who also visited businesses affected by the riots, is not expected to make it to the concert, as it clashes with the end of his Apache helicopter training in the US.

While training in America, Prince Harry - aka Capt. Wales - has been making the most of his limited free time to visit both Las Vegas and Los Angeles.

While in Las Vegas he took in the same Cirque show that his cousin Princess Beatrice saw a few weeks ago, the water based O at the Bellagio. Some outlets reported that Harry, the third in the line to the throne, said he picked O because he was told it was the best Cirque show in Las Vegas. While O is a totally entertaining production, the next time the personable redhead come to Sin City, he might want to catch Beatles: Love which is about that British group The Beatles.

During his vacation in Los Angeles, the Apache pilot and his military buddies toured Universal studios, a spot his older brother and sister-in-law visited during their official visit to Los Angeles. Prince Harry took a spin on several of the rides including: The Simpsons ride, followed by Jaws Lake, Jurassic Park: The Ride and Revenge of the Mummy.

He also took a trek through the King Kong 360 3-D and the War of the Worlds.

He played some of the theme park's carnival games, showing off his expert eye-hand coordination by winning a giant Curious George stuffed toy. He gave the now prized possession to a child who happened to be nearby.

ARTrageous: AN EVENING OF BROADWAY A Benefit Gala Starring Marvin Hamlisch, Linda Eder and J. Mark McVey.

ARTrageous will begin with a silent auction, passed hors d'oeuvres, champagne, wine and outdoor entertainment on the north patio. Guests also will enjoy the exhibitions on view at Scottsdale Museum of Contemporary Art. A gourmet plated dinner will be served in the Dayton Fowler Grafman Atrium, followed by the performance in the Virginia G. Piper Theater. After the show, guests will top off the evening at a dessert reception in the new SMoCA Lounge.

Proceeds benefit the performances, exhibitions and arts education and outreach programs presented by Scottsdale Center for the Performing Arts and Scottsdale Museum of Contemporary Art. Saturday, December 3, 2011, Scottsdale, AZ.


BROADWAY CAST ALBUMS INCLUDED IN GRAMMY HALL OF FAME


Continuing the tradition of preserving and celebrating great recordings, The Recording Academy has announced the newest additions to its legendary Grammy Hall Of Fame collection, which include two Broadway cast albums - Cole Porter's Anything Goes, and the Original Broadway Cast recording of St. Louis Woman.

Representing a great variety of tracks and albums, the 2012 Grammy Hall of Fame inductees range from Bruce Springsteen's Born In The U.S.A. album to civil rights activist Dr. Martin Luther King Jr.'s I Have A Dream speech from his historic 1963 address at the March on Washington. Also on the highly regarded list are the Rolling Stones' album Exile On Main St., Gloria Gaynor's I Will Survive, Grandmaster Flash & The Furious Five's single The Message, Bill Cosby's comedy album I Started Out As A Child, and Tina Turner's What's Love Got To Do With It.

Others inductees include the entire Anthology Of American Folk Music, Gene Autry, Crosby, Stills, Nash & Young, Doris Day, the Serge Koussevitzky-conducted Boston Symphony Orchestra, Los Panchos, Santana, Paul Simon, LeRoy Carr, Furry Lewis, Freddy Fender, Bukka White, Lester Flatt and Earl Scruggs, Sergio Mendes & Brasil '66, Big Bill Broonzy, and Mahalia Jackson.

Highlighting diversity and musical excellence, the collection acknowledges both singles and album recordings of all genres at least 25 years old that exhibit qualitative or historical significance.

Through a tradition established nearly 40 years ago, recordings are reviewed annually by a special member committee comprising of eminent and knowledgeable professionals from all branches of the recording arts, with final approval by The Recording Academy's National Board of Trustees.

With 25 new titles, the list currently totals 906 and is displayed at the Grammy Museum.

"The Recording Academy is dedicated to celebrating a wide variety of great music and sound through the decades," said Neil Portnow, President/CEO of The Recording Academy.

"We are especially honored to welcome this year's selection of some of the most influential recordings of the last century. Marked by both cultural and historical significance, these works truly have influenced and inspired audiences for generations, and we are thrilled to induct them into our growing catalog of outstanding recordings."

Established in 1957, The Recording Academy is an organization of musicians, producers, engineers and recording professionals that is dedicated to improving the cultural condition and quality of life for music and its makers.


ACCORDION WRESTLING - DID LAWRENCE WELK KNOW ABOUT THIS?


Getting slammed to the strains of an accordion.

It's been described as "not really falling into any traditional artistic genre. Accordion Wrestling is at once a sincere and serious tribute to Finland's most successful Olympic sport; and a hilarious theatre performance to boot."

It's coming to Lincoln Center next August after June performances in London.

Once upon a time people purchased tickets to wrestling matches depending upon who was going to play the accordion.

Seriously.

During the 1920s, live music became an important part of every wrestling tournament in Finland.

Sometimes even a singer performed at the matches.

The name of the performing accordion player was star billed as a draw for the match. However, the tradition died away as the years passed, and music stopped playing at wrestling tournaments during the 70s.



Accordion Wrestling is a dramatized and visualized concert. Photo by Jussi Virkkumaa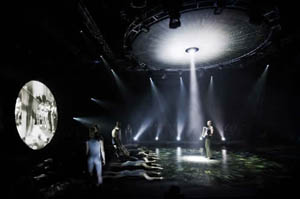 Bring on the squeeze box.

Finnish accordion adventurer Kimmo Pohjonen - also known as a One Man Wrestling Orchestra - has constructed Accordion Wrestling - the result of years of planning by the 47-year-old who has over two decades of experience in improvisation, rock, folk, avant-garde and classical music.

In addition to numerous dance and theatre music productions, he has appeared on more than 75 music albums.

Accordion Wrestling is a dramatized and visualized concert which enables Pohjonen to bring the old tradition into the modern world through accordion music, modern technology and his new composition.

The vigorously flowing music is partly pre-composed and partly improvised based on the living dramaturgy of the wrestling match.

The music leads the stage action, create events and build up the atmosphere.

The performers include the Kimmo Pohjonen One Man Wrestling Orchestra and the Helsinki Nelson group - actual wrestlers who perform in the production with the cooperation of the Finnish Wrestling Federation.

The performance is directed by choreographer Ari Numminen, with visual design by Mikki Kunttu and sound design by Heikki Iso-Ahola. Accordion Wrestling is physical combat that draws strength from the most flamboyant, physical and dramatic aspects of wrestling.



Accordion Wrestling is physical combat that draws strength from the most flamboyant, physical and dramatic aspects of wrestling. Photo by Jussi Virkkumaa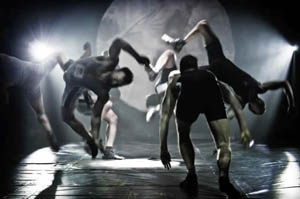 An important component to the performance is a documentary-style narration, dancing, acrobatic athletics and orders barked out on an accordion.

The accordion conveys Pohjonen's emotions as he assumes different roles - like that of an outspoken wrestling referee or a supportive coach.

The massive live show features film, live music and choreographed wrestling presented on a stage with a specially designed amplified mat, circular back screen and lighting rig.

The performance makes use of the latest lighting and sound technology, working in surround sound to add to the dramatic effect.

The instruments include an acoustic and an electronic accordion.

An important part of the soundscape are sounds made by the wrestlers.


SPREADING THE WORD


YORK THEATRE COMPANY'S DEVELOPMENTAL READING SERIES presents two readings this week. Wicked Moon with music by Varick Bacon, lyrics by Powers McElhone, book by Richard Aellen. This reading is directed by Pamela Hunt with music direction by David John Madore.

Meet Arlene Lewis, owner of the Wicked Moon cabaret. Her niece is engaged to marry the wrong man, her best friend would rather talk like a man than trust one, and now the landlord wants to turn the Moon into a sex shop. Add to that a charming Musical Director and a strong-arm man with unusual affinities and the stage is set for a tumultuous weekend in which Arlene must confront her past to discover if she has the courage to take a second chance on love.

A romantic comedy for anyone who has taken a chance on love and lived to tell about it. Thursday, December 1, 2011.

Unexpected Joy presented in association with Jim Kierstead. Book and Lyrics by Bill Russell. Music by Janet Hood. Featuring: Baby Jane Dexter, Emma Hunton, Capathia Jenkins and AnnMarie Milazzo. The reading is directed by Sheryl Kaller with music direction by Fred Lassen.

Unexpected Joy is a new musical about four women – all of them singers, but of various experience and success: Joy, a baby-boomer, her daughter Rachel, Rachel's daughter Tamara, and Lou, the woman Joy is intending to marry. But Joy hasn't told Rachel about her wedding plans and has good reason to be apprehensive. Rachel is married to a successful televangelist and performs regularly on his TV show. And Lou is a self-described lesbian terrorist. 'When the family comes together for a concert honoring Rachel's father (her mother never married him), the sparks and music fly. Friday, December 2, 2011.

The York Theatre Company is the only theater in New York City - and one of very few in the world - dedicated to developing and fully producing new musicals and preserving neglected, notable shows from the past. Each year, York's Developmental Reading Series presents between 30 to 40 readings and workshops of new musicals by emerging and established authors. York's past Mainstage productions of Yank!, Souvenir and The Musical of Musicals (The Musical!) were first developed in the Developmental Reading Series, where the Tony Award-winning Broadway hit Avenue Q also made its first appearances.

The readings take place at York Theatre Company at Saint Peter's in New York City.

AN EVENING WITH ROBERT REDFORD AND T BONE BURNETT will kick off Sundance London, a four-day music and film festival running April 26-29, 2012 at The O2 in London.

Moderated by novelist, music aficionado, and Sundance alum, Nick Hornby, the opening event will feature Redford and Oscar-winning film composer, Burnett, in dialogue about the role of music in cinematic storytelling, with clips showcasing the two artists' favorite music moments from film. The evening will culminate with a surprise musical performance.

Thirty percent of the net proceeds from Sundance London go to support the nonprofit Sundance Institute.

TRACY LETTS AND AMY MADIGAN head the cast when L.A. Theatre Works records Sam Shepard's darkly comic family drama, Buried Child.

Directed by Peter Levin, the reading also stars John Getz, Robert Parsons, Jeff Perry and Madeline Zima.

Probing deep into the disintegration of the American Dream, Buried Child became an instant classic and was the recipient of the first Pulitzer Prize for Drama in 1979. When Vince brings his girlfriend Shelly home to meet his family, it's a curious homecoming for the son nobody seems to remember. Violence is never far from the surface as his unexpected return uncovers a deep, dark secret that triggers catastrophe.

December 8-11 at the James Bridges Theater UCLA School of Theater, Film and Television in Los Angeles.

All performances will be recorded to air on L.A. Theatre Works' syndicated radio theater series, which broadcasts weekly on public radio stations nationwide.

MY WEEK WITH MARILYN the movie based on the memoirs of Colin Clark, who spent a week with Marilyn Monroe in 1957, is being floated into a Broadway bound rumor. Movie producer Harvey Weinstein dropping comments that he'd like Katy Perry in the star slot. The movie version stars Michelle Williams as the screen legend.

SWINE a post-apocalyptic war story about a rebel faction on the brink of destroying themselves from within; the 45-minute trilogy focuses on the perspectives of three main characters, one film for each. Swine: The Complete Trilogy, premieres on December 3, 2011, at 11:59 pm at the Laemmle Playhouse 7 in Old Town Pasadena, CA. "The exclusive midnight screening will be preceded by a private "wrap party" at the swanky, new Settebello Pizzeria Napoletana across the street," stated the press release, which happens to mention a pizza place which only has three locations in the world. In addition to the new one in Pasadena, the others are located in Salt Lake City and Henderson, NV.

The Swine movie project is produced by brothers Ryan and Koren Young who own and operate Arcay Studios, a production and post production facility which recently provided audio and video post production services, as well as DVD menu design and authoring for Dance Fu, an action-packed comedy written by Kel Mitchell, directed by Cedric the Entertainer. and starring Kel Mitchell, Tommy Davidson, Ty Hodges and Affion Crockett.


OTHER PEOPLE'S MONEY


SARASOTA'S FLORIDA STUDIO THEATRE announced a multi-year capital improvement campaign to renovate the 6,000 square foot Gompertz Theatre and construct an 18,000 square foot addition with two new theatre spaces including a new Cabaret Theatre, seating 130 people on two levels, a new Lab Theatre, seating 100 people and a new Actors' Loft featuring new dressing rooms, restrooms, green room, and additional facilities.

The $5.6 million dollar campaign is the largest capital program in the 37-year old theatre's history and will double the number of renovated stages on the theatre's campus located in Sarasota's historic downtown. Designed by Potvin Architects in collaboration with C. Alan Architect PA and Contractors, Florida Studio Theatre will break ground in January 2012 on the new complex.






CARRIE FISHER, BETTE BOURNE, JOSEPH SEELIG AND HELEN LANNAGHAN

Carrie Fisher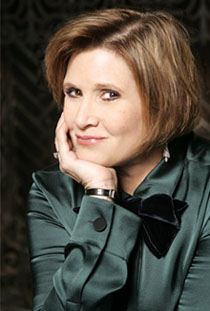 will be recipients of 2011 Honorary Fellowships at London's Central School of Speech & Drama (Central). They will join the President, Michael Grandage, CBE, Principal Gavin Henderson, CBE, the Vice-Chancellor of the University of London Professor Geoffrey Crossick, governors, senior team and academic staff of the school for a ceremony on Monday, December 12, at London's Royal Festival Hall.

Each year Central seeks to honor people from across the performing arts by awarding a small number of Fellowships.

At the graduation ceremony the recipients will be introduced by a friend, colleague or family member. The ceremony will include music by Stephen Montague Called intrada 1631, composed in Principal Gavin Henderson's honor, and has previously been commercially recorded by the BBC Symphony Orchestra.

Carrie Fisher, a former student of London's School of Speech and Drama where she studied in the early 1970s but never graduated, will be awarded an Honorary Fellowship alongside fellow recipients Bette Bourne, born Peter Bourne, an actor, drag queen and equal rights activist and Joseph Seelig and Helen Lannaghan, co-directors of the annual London International Festival of Mime that Seelig founded to celebrate and showcase contemporary visual theatre.

Fisher will be introduced by her mother Debbie Reynolds. Bette will be proposed by writer and broadcaster Mark Ravenhill, with whom he is currently collaborating. Joseph Seelig and Helen Lannaghan will be introduced by William Burdett-Coutts.

Previous Fellowship recipients include Jo Brand, Declan Donnellan, Michael Grandage, Jude Kelly, Catherine Tate and Dame Helen Mirren. Central School of Speech & Drama, which is part of the University of London, offers undergraduate, postgraduate and research degrees in acting, music theatre, physical visual theatre, applied theatre, movement, voice, stage management, puppetry, scenography, sound design, theatre design, drama therapy and drama and media studies teacher training, as well as MPhil/PhD research degrees.

FREUD'S LAST SESSION the hit play by Mark St. Germain, celebrated its 500th New York performance Saturday, November 26th at New World Stages.


ON THE MEND . . . .


GRETA ALBRITTON 63-year-old cast member of The Fabulous Palm Springs Follies, who recently fell on stage during a number and broke her arm.



Camouflaging a cast. Photo: The Fabulous Palm Springs Follies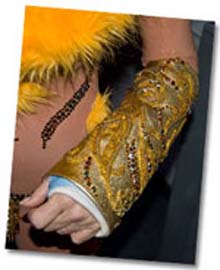 Now returned to the popular production, Greta was amazed that the wardrobe department did such a fantastic job in camouflaging her fiberglass cast.

Greta Albritton grew up in Steubenville, Ohio spending the summers of her teenage years in New York studying at The National Academy of Ballet. She also studied dance pantomime at Carnegie Hall with the renowned Eugene Hari.

She attended college at The Boston Conservatory of Music and earned her Bachelor of Fine Arts in Dance.

After graduation, the bright lights beckoned and she traveled the Nevada circuit from 1971 through 1989, appearing in shows in Las Vegas, Reno and Lake Tahoe. During a single day while she was performing in the lounge of the Flamingo Las Vegas, Frankie Valli and The Four Seasons, Fats Domino, and Kenny Rogers and The First Edition all appeared on the same bill.

She worked for such legendary producers as Don Arden, Ron Lewis and Harold Minsky, and in 1975, traveled to the Philippines with the Folies Bergere.

In 1988, she married fellow Las Vegas dancer Wayne Albritton, and in 2000, they headed west to Palm Springs, when he was cast in The Fabulous Palm Springs Follies.

The Fabulous Palm Springs Follies, with John Davidson in the star slot through New Year's Eve, can be enjoyed in Palm Springs, CA.

STOCKARD CHANNING the Tony Award-winning actress who is defying all odds by returning to her starring role in Other Desert Cities Friday, November 25, after undergoing arthroscopic knee surgery on November 21.

The procedure was necessary to correct an old injury which flared up. The plucky performer has not only returned to the production, but her part calls for the talented trooper to walk around in high heels.

Other Desert Cities has extended its limited Broadway run into an open-ended engagement at the Booth Theatre in NYC.



NOEL AND GERTIE constructed by drama critic and broadcaster Sheridan Morley. Words & Music by Noël Coward. Directed by Will Stutts who also stars as Noël Coward. Susan Wilder stars as Gertrude Lawrence. Owen Robbins is musical director.

Noël Coward was a talented actor, playwright and composer who delighted audiences with Private Lives and Blithe Spirit. She was a celebrated actress who triumphed on stage in Lady in the Dark and The King and I.

Together, Noël Coward and Gertrude Lawrence formed a remarkable team. Their friendship became part of show business history.

On the evening of September 6, 1952, Noël Coward spent the day at the races. Having bet on a race in northern England, he bought a paper to see if he had won. When he turned to the back page, he was "stupefied to read GERTRUDE LAWRENCE DEAD. It was cancer, and she was only 54." Noël and Gertie picks up at that moment, when Gertie, Noël's dear friend, co-star and colleague, pops into his brain. Is it her ghost? Can he conjure her back, if only for a moment?

The production features mischief, wit, backstage stories and song, including Someday I'll Find You, Mrs. Worthington, and Mad Dogs and Englishmen.

The creative team includes scenic designer Andrew Thompson, costume designer Mark Marian, lighting designer Chris Hallenbeck, sound designer Cory Neale and stage manager Angela Cucco.

Morley penned the piece after completing biographies of Coward in 1969 and Lawrence in 1981. It was developed from the intimate stories shared in these biographies. The production was first performed in 1983 at the King's Head in London. It then transferred to the West End where it ran for nine years. The 1998 New York production starred James Warwick as Noël and Twiggy as Gertie.

The entertaining production is frequently staged, having had a run this past Sept-Oct at the Quality Hill Playhouse in Kansas City and another production took place during the same time frame at the Cockpit Theatre in London.

Officially opens December 1 with performances through December 31 at Philadelphia's Walnut Street Theatre's Studio on 3.

The Walnut is one of only a few remaining "hemp houses" in the country. This means that the venue continues to operate the original grid, rope, pulley and sandbag system that was in use two centuries ago.

DR. SEUSS' HOW THE GRINCH STOLE CHRISTMAS! Book and Lyrics by Timothy Mason. Music by Mel Marvin. Additional Lyrics by Theodor S. Geisel. Additional Music by Albert Hague. Original Production Conceived and Directed by Jack O'Brien. Directed by James Vásquez. Original Choreography by John DeLuca. Musical Direction by Ron Colvard. Additional Choreography by Bob Richard Choreography Restaged by James Vásquez.

San Diego's favorite holiday tradition, back for its 14th incredible year, is a wonderful, whimsical production that will once again jump right off the pages of the classic Dr. Seuss book and onto the Old Globe's stage.

Starring Steve Blanchard (The Grinch), Logan Lipton (Young Max), Steve Gunderson (Old Max), Remy Margaret Corbin and Caitlin McAuliffe (Cindy-Lou Who), Geno Carr (Papa Who), Kelsey Venter (Mama Who), Phil Johnson (Grandpa Who), Amanda Naughton (Grandma Who), Annie Buckley and Madison Pyle (Annie Who), Gabriela Leibowitz and Natasha Partnoy (Betty-Lou Who), Luke Babbitt and Dylan Nalbandian (Boo Who), Aaron Acosta and Jonas McMullen (Danny Who) with Liam James Brandt, Jacob Caltrider, Nancy Snow Carr, Nikki Castillo, Kevin Davison, Danielle Dawson, Julia Dawson, Madi Rae DiPietro, Randall Dodge, A.J. Foggiano, Meredith Inglesby, Kyle J. Jackson, Dylan Mulvaney, Carly Nykanen, Emma Rasse and Blue Schroeder (Ensemble).

Creative Team: John Lee Beatty (Scenic Design), Robert Morgan (Costume Design), Pat Collins (Lighting Design), Paul Peterson (Sound Design), Anita Ruth (Orchestrator), Joshua Rosenblum (Vocal Arrangements and Incidental Music), David Krane (Dance Music Arranger) and Leila Knox (Stage Manager).

Performances through December 31 at the Old Globe Theatre Conrad Prebys Theatre Center in San Diego, CA.

PENNSYLVANIA BALLET making their National Arts Centre debut, performing the beloved and timeless production of George Balanchine's The Nutcracker.

Staged to Tchaikovsky's memorable score The Nutcracker ballet tells the endearing tale of young Marie, who is given a Nutcracker doll as a Christmas gift by her Godfather Drosselmeier. Later that evening, Marie dreams that the Nutcracker must defend her against the Mouse King. The Nutcracker then changes into a handsome Prince, who takes Marie on a fabulous journey. After passing through a snowstorm, they come to the Kingdom of Sweets, where the Sugarplum Fairy honors the pair with a Grand Divertissement.

December 1-4 at the National Arts Centre in Ottawa, Canada.

DOUBT: A PARABLE THE OPERA

John Patrick Shanley at the film premiere.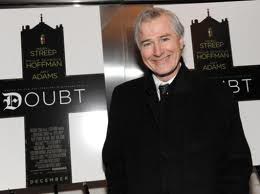 one of the best plays ever written by John Patrick Shanley has been turned into an opera. Composer Douglas J. Cuomo teamed with award-winning playwright Shanley to create an opera commissioned by Minnesota Opera, as officially announced last October.

The commission is part of Minnesota Opera's New Works Initiative, a landmark program designed to invigorate the operatic repertoire with an infusion of contemporary works.

The opera will premiere in 2013 as part of the company's 50th anniversary season.

Doubt received a two performance public workshop as part of Opera Fusion: New Works, a collaboration with Cincinnati Opera and the University of Cincinnati College-Conservatory of Music.

On November 12 a free workshop took place at the University of Cincinnati College-Conservatory of Music and on November 13 the workshop was held at Northern Kentucky University followed by a reception with the composer and librettist.

Opera Fusion: New Works was created to offer composer/librettist teams the opportunity to workshop new American operas during a ten-day residency; Doubt is the first opera to be awarded a workshop through the program. Workshops are a key component of the commissioning process of Minnesota Opera's NewWorks Initiative, and the company is planning additional workshops for Doubt in March, June and November 2012.

"We're excited that Doubt's earliest drafts will receive the valuable feedback that Cincinnati's Opera Fusion: NewWorks workshop will provide," said Minnesota Opera Artistic Director Dale Johnson. "The workshop process illuminates what works well dramatically and musically, and what aspects of the piece will require more attention. Most of the premieres recently staged in this country have not had that advantage, but at Minnesota Opera we feel it's critically important to allow the composer and librettist to test their ideas before the work reaches the stage."

Shanley also adapted and directed his 90-minute stage play for a 2008 film, which starred Meryl Streep, Philip Seymour Hoffman, Amy Adams and Viola Davis. It received Academy Award nominations for Best Picture and Best Screenplay. The play premiered Off-Broadway in 2004 at the Manhattan Theatre Club and later transferred to Broadway's Walter Kerr Theatre where it enjoyed a 525-performance run. The original cast featured Cherry Jones, Brian F. O'Byrne, Heather Goldenhersh and Adriane Lenox. It won Tony Awards for Best Play, Best Director (Doug Hughes), Best Actress (Jones) and Best Featured Actress (Lenox).

Doubt: A Parable, The Opera is set at a Catholic school in the Bronx, circa 1964. The charismatic and progressive Father Flynn is trying to loosen the stranglehold of St. Nicholas Church School's strict customs, which are fiercely guarded by its iron-fisted principal, Sister Aloysius Beauvier. The school has just accepted its first black student, Donald Miller. When the innocent Sister James shares with Sister Aloysius her suspicion that Father Flynn may be molesting Donald, Sister Aloysius embarks on a personal crusade to find the truth and ruin the priest. With no proof besides her moral certainty, Sister Aloysius engages in a battle of wills with Father Flynn that threatens to tear the community apart.


WHO'S WHERE


MICHAEL FEINSTEIN WITH SPECIAL GUEST TONY DANZA for five shows only - one on December 1 and two shows on December 2-3 at Feinstein's at Lowe's Regency in New York City. Danza is filling in for Barbara Cook who is taking off a few days so she may attend the Kennedy Center Honors where she is one of the honorees. Cook will then return to the elite cabaret where her gig runs through December 30. Celebrating Barbara Cook's Kennedy Center Honor, Feinstein has rolled back prices to the opening performance in 1999.

GARTH BROOKS performs December 2-3 at Wynn Las Vegas.

THE BLIND BOYS OF ALABAMA CHRISTMAS SHOW takes place December 3 as part of the 39th Noel Night in Detroit, MI.

A LUXEMBOURG CHRISTMAS takes place December 1-2 at the embassy in Washington, DC. Villeroy & Boch are decorating the elegant embassy, hosted by H.E. Jean-Paul Senniger and his wife. Presented by the Embassy Series, the evening includes classical, popular and Christmas music with chamber music groups, pianists, singers, carolers and lots of great surprises. Quattro Corde String Quartet, Edvinas Minkstimas, piano; Jerome Barry, baritone; soprano Grace Kim, young singer Noah Donahue, The Thomas Circle Singers; the 18th Street Singers are some of the performers. Champagne, wine, hors-d'œuvres, hot & cold buffet prepared by the Embassy 5 star chef and of course - great music.

HARLEM GOSPEL CHOIR travels the world as the ambassadors for African American culture. Sharing their joy and faith through music, they have performed for Nelson Mandela and Pope John Paul II and have shared the stage with Bono, Sinead O'Connor, Lyle Lovett, The Chieftans, Diana Ross and many others. In 2008 the Choir performed for 60,000 people at Yankee Stadium for Pope Benedict XVI. You can hear them on December 3 at the State Theatre in Ithaca, NY and December 4 as part of the Gospel Brunch at the B.B. King Blues Club in NYC.




FINAL OVATION


JOHN NEVILLE the respected British-born actor and director who was artistic director of Canada's Stratford Shakespeare Festival 1985-89, died from Alzheimer's at Wellesley Central Place in Toronto on November 19, 2011. He was 86.

The English film and theatre actor moved to Canada in 1972 devoting his later career to the Canadian theatre, taking up the post of artistic director at the Citadel Theatre in Edmonton Alberta. He took over the Stratford Festival in 1986, then financially troubled, and remained artistic director for three seasons, during which time he turned its finances around.

Neville was a West End idol of the 1950s. A leading member of London's Old Vic Company, he played many classical leading roles, including Romeo in Shakespeare's Romeo and Juliet, which he repeated on American television for the anthology series Producer's Showcase, and an acclaimed Richard in Richard II. He also alternated with Richard Burton the parts of Othello and Iago in Othello.

His West End credits included The School for Scandal, Once More with Feeling and Irma La Douce. He created the title role in the stage play Alfie.

He was artistic director of the Nottingham Playhouse before he moved to Canada.

Neville made his Broadway debut with the Old Vic playing four productions in rep: the title role in Richard II, Romeo in Romeo and Juliet, Macduff in Macbeth and Thersites in Troilus and Cressida. He later appeared on Broadway in the Old Vic double bill of Twelfth Night (as Aguecheek) and Hamlet (as Hamlet) in late 1958, plus the Kennedy Center staging in 1982 of Sherlock Holmes, Ghosts and Saint Joan for the National Actors Theatre in 1993.

Neville, who received the Order of the British Empire in the 1960s, starred in the motion picture The Adventures of Baron Munchausen, and he played The Well-Manicured-Man in TV's The X-Files.

He is survived by his wife Caroline Hopper and their six children. A private funeral was held.






Next Column: December 4, 2011
Copyright: November 27, 2011. All Rights Reserved. Reviews, Interviews, Commentary, Photographs or Graphics from any Broadway To Vegas (TM) columns may not be published, broadcast, rewritten, utilized as leads, or used in any manner without permission, compensation and/or credit.
Link to Main Page
---
Laura Deni



For the snail mail address, please E-mail your request.
CLICK HERE FOR COMMENT SECTION