! >
Broadway To Vegas
  
 SHOW REVIEWS CELEBRITY INTERVIEWS GOSSIP NEWS

| | |
| --- | --- |
| | |
FLORIDA STAGE CELEBRATES 20TH ANNIVERSARY SEASON - - TRU VOICES FEATURES FRIENDS LIKE THESE - - JUDI DENCH AND SIMON CALLOW IN NEW MUSICAL - - CORAM BOY - - SUZAN-LORI PARKS FESTIVAL - - WAGNER'S RING CYCLE - - THE HAVEL FESTIVAL - - BETTY COMDEN DIES - - DONATE . . . Scroll Down


Copyright: November 26, 2006
By: Laura Deni

CLICK HERE FOR COMMENT SECTION
FLORIDA SETS THE STAGE
"If it all stopped tomorrow I do have so much to be thankful for," said Louis Tyrrell, the founder of Florida Stage, currently celebrating it's 20th Anniversary Season. Tyrrell is looking forward to what the next decade brings to a theatre which produces only contemporary, new works by both established and emerging playwrights.

Founded as the Learning Stage in 1985 by the award-winning actor/ director, Tyrrell spoke with Broadway To Vegas early yesterday before beginning a 10 a.m. rehearsal for Hatchman, which opens Friday, December 8, at Florida Stage in Palm Beach County, Florida.

Did people think he was losing his mind when he announced 20 years ago that he was going to form his own theatre?

"I would have lost my mind if I didn't," he responded.

"As a young actor you determine the type of work you feel most passionate about and you also realize the lack of control you have over your life and your own career," You are always hoping that somebody will give you a job doing a play that you feel strongly about. While I've always had an eclectic taste in the theater I really felt passionately about new works. There weren't a lot of companies doing new work back then," he explained.



Lou Tyrrell
"I grew up in New York City on 72nd between Park Avenue and Lexington. Back in the 50's and 60's there was even a genteel quality about the city, which has continued only busier. It was a great neighborhood," he said of the still sought after location. "My father was in real estate in the city. He grew up in New York, too while Mom was from Pawtucket, Rhode Island. They met at Brown University and came back to New York and had four boys from 1948-55. We all spent at least out first 18 years there and then have gone in various directions. The folks were always very supportive of my interest in the theater. They had that interest themselves and had met through the Drama Club at Brown."

"My doing plays in high school led to an apprenticeship at the Woodstock Playhouse in Woodstock, NY. After my first summer Edgar Rosenbloom asked me back and gave me my Equity card. I went back the third summer as an actor. In the meantime I went off to college at Antioch College in Ohio. After two years there I realized that conservatory training was going to be needed if I wanted to make a career at this. So I went over to England for three years," said Tyrrell who spent two years at The Guild Hall.

"My third year there was studying with Jacque Lecoq in Paris," Tyrrell related about the famous Jacque Lecoq International Theatre School which was founded in 1956. There Lecoq teaches the control of gesture and movement through melodrama, human comedy, tragedy, buffoons and clown.

"Physical theater was something I was interested in," he added. "I loved physical forms - stylistic innovations."

"When I came back to the states I was lucky enough to work constantly, but really felt that ultimately - if I wanted to do the work that I wanted to do in the theatre - I had to found a company."

"I started with the Education Outreach Program. I was always interested in the impact of theater upon young people. While I was working as an actor, the artistic director at the Hippodrome in Gainesville, Florida knew that I had experience working with and creating theater for young people. He asked me if I would start a theater education program for young people, so that they could become a State Theatre. At that time Florida had a state theater program. If you wanted to be considered you had to have an education outreach," Tyrrell elaborated.



Hippodrome State Theater in Gainesville, Florida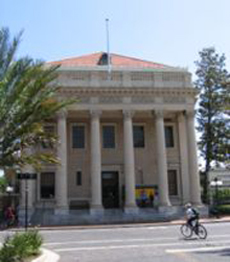 "They didn't have the money to do it, but they said - We have good offices and would you do it?'"

Tyrrell agreed with some stipulations.

"I set up a series a classes - a school if you will - where I would teach anything from mime to improv and scene study - creative dramatics for teachers to use in the classroom. It did very well. That is how I paid myself for doing the program for them and I acted on their main stage and was paid for that. Of course, that was in my younger days when I didn't mind working 20 hours a day," said the guy who after turning 50, cut back to about 16 hours a day.

"By creating that program I learned how to write grants and attract corporate support and contributions from individuals - which are all the building blocks for starting a theatre."

"We opened a brand new theater in Gainesville. We reclaimed a 100-year-old building and opened with The Elephant Man and I played that role for them," he related.

"A direction in Boca Raton came and saw the production and wanted me to do the John Merrick role for him. This was the summer of '81. I was in my 30's, I was no longer a young, young actor. So, I came to Boca Raton and what I found was a county the size of Rhode Island with a centralized school system, with a population that was diverse and part of it affluent - retired here from New York."

That acting role became a theatrical developmental break through.

"North Central Florida is very rural and the counties are very small," Tyrrell explained. "In Gainesville I would have to call each school to organize and arrange to bring the program to each school in the panhandle. It was a big administration job. Down here, I realized that with one meeting with the district center I could arrange to go to a hundred elementary schools and just focus on the program development, rather than program administration."

"I also realized that if I got the educational program off the ground that would give me a foundation to begin a mainstage theater."

That's what he did.



Florida Stage a 250-seat, three-quarter thrust auditorium venue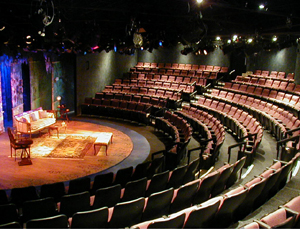 "It was the right time and the right place. When I announced the first season I sent out a blind brochure to a list of people from the Arts Council. 400 of them subscribed to my little theater opening with a play called On The Verge by Eric Overmeyer and two other unknown plays. They came and they told their friends. The second year we went from 400 to 1600 subscribers, which became 2300 and then over 4,000 in the 5th year. Florida Stage was born," he said about the intimate, 250-seat, three-quarter thrust auditorium which took the name Florida Stage in 1997.

"It is such fun now, because our educational program is reaching tens of thousands of kids every year whose lives I think theater changes. We have a Bridge Program from academic to the real work where kids, who have studied theatre in college, come and work production; acting, directing and administration.

"At this point in my life, to be able to see young people as excited and passionate about the theater as I was, is thrilling."

As a theatre which specializes in only new works there is a real possibility of every yo-yo who thinks they can string a sentence together to send out a manuscript. Unsolicited scripts can take the fun out of producing.

"If you are available to it, everybody will send you the play that they have written and it is no different here. So you have to develop a system that filters the plays in a way that you can realistically consider them. We are a medium size theater, just under a $4 million budget. My staff can considered between 300-500 scripts a year. I read between 200-300 of them. That's a lot of scripts. I don't get a change to read a lot of literature any more."

Physical fitness gets the credit for keeping Tyrrell current.

"Books on tape are great! When I go to the gym I'm listening to John Adams, which I would never have the time to read. But, at the gym that's an hour that I can listen while exercising."

"We do have a fairly concise system for review and selection," he said returning his thoughts back to the script screening process. "The unfortunate thing is that while we are here for the playwright, you end up making them unhappy with you when you say - We would love to read your play, please have your agent submit it."

"We have the fire wall fairly well in place," he matter-of-factly stated.

"There are ways around that," he then conceded. "If one of my board members says a friend of mine has written a play will you look at it, of course I will. You try to give feed back and be as encouraging as you can. Or, if a colleague sends plays from graduate students in playwriting programs. We've produced several plays out of the Julliard program - and we know the folks," said Tyrrell who serves on the Juilliard Council.

My Dad, before me, was on their board, but I am not in a financial position to do that. I am a colleague in the field and I can help them from that perspective. I do what I can to support them - introducing the extraordinary Juilliard program to other people who are in a financial position to help. From an artistic perspective, I can provide an outlet for their young actors and playwrights. So, it is my very great privilege to be able to support them in those small ways."

"The problem with unsolicited scripts is the investment of time - not just to read a play but to respond to it - is extraordinary. So out of survival and respect for the process we try to figure out the lines to draw and still be as gracious as you can be."

Tyrrell didn't start Florida Stage to get rich.

"We are a non profit organization and I have always embraced that art form." He stressed that producing new plays "is not about ownership. The playwright owns the material. There is a standard set up by the Dramatics Guild that you get a percentage of the playwright's royalties for 5-6 years - whatever the boiler plate standard is that they have established. You know that if it is the writer and their representatives that established it - that is it fair. We follow those guidelines."

"The important thing about a theater is its relationship to the community. It is the same atmosphere that you create in your home that you want to have in your theater."



Colin McPhillamy and Beth McIntosh in Hatchetman. Photo by Sigvision Photography, Inc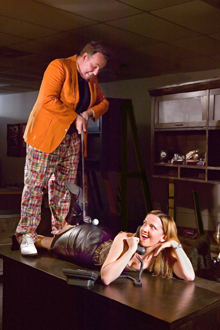 Currently in rehearsal is Hatchetman which is about golf not an ax murder. The production features; Todd Allen Durkin, Beth McIntosh, Susan Bennett, Shane Jacobsen, Colin McPhillamy and Lisa Morgan.

"Everybody, of course, is trying to respond to the terrible things that are going on in the world around us today. Our mission is to do thought provoking, issue oriented plays. We have responded by holding up that mirror to our society - to ourselves. But, sometimes you just need to laugh."

"David Wilse's play, Hatchetman is not about an issue or a provoking thought. It's about inspiring laugher and fun. It is also about a style of theater which is perhaps the hardest of all - a farce. It is so fragile and so specific," he said of the fine line between farce and stupidity. "A funny moment is hard to try to recreate - again and again. I thought I would take that stylistic challenge this time. This is not an issue play, but a play that will hopefully inspire fun and laughter, " he repeated.

As a Florida venue he has to contend with hurricanes which can shut you down and wipe you out faster than a mean spirited critic. "We are wrestling with that," he acknowledged. "Hurricanes have shut us down. Last year, October 23. Insurance is prohibitive now because of the cost of the premiums. It's give me $25,000 and I will not cover you. We just cross our fingers."

"Acts of God can happen to anyone and at any time. We focus on the blessings and we have a pot full of them. Hopefully the first 20 will lead to the next 20."

When Tyrrell isn't trying to get an actor to hit his mark, he's at home trying for the same result with dogs.

Tyrrell and his wife, Kathleen Holmes, are proud puppy raisers for New Horizons Service Dogs.

"They are mobility assistance dogs for people in wheel chairs," he explained. "We met a woman who runs an organization called New Horizons Service Dogs who is a quadriplegic herself. She started a business to provide dogs for people in Florida who were on a three to five year waiting list with the national organizations, because these dogs are in such demand."

"Basically, it is a multi tiered program that began with the effective breeding of dogs who would be appropriate for this kind of assistance and that would be mostly Labrador or Golden Retrievers. While we all drop keys, if you drop keys and are in a wheelchair, or you need a phone book, it can be dangerous to try to pick up something, turn over your wheel chair, and then be really in a bind," he elaborated about the dogs who act as arms and legs for their human partner.

"The program requires puppy raisers and that would be us. People who would take a dog into their homes for typically up to two years. We teach them the basic skills - how to walk, stay."

"Kathleen is really the dog whispered in the family," he confessed and theorized, "I am perhaps trainable."

"We take dogs to New York on airplanes, take them on the Staten Island ferry, so they get used to planes, trains, ferries and the bustling life of New York as well as down here with us in Lake Worth, Florida. Our puppies are well socialized both with other animals as well as people. We train them not to be bothered by sparrows and pigeons in Central Park, or to chase squirrels. If they went off and chased something that could be very dangerous for their human partner."



Assistance dog throwing a can into the trash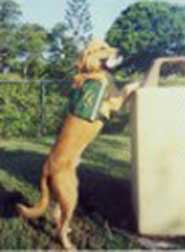 "We just get such satisfaction with this," he emphasized. "It just gives us such joy to be able to hand a trained dog off to the advanced training of the program which often involves kids who are - for whatever and never good reasons - unable to live at home. There is an organization called Children's Village in Tarrytown, N.Y, that have these kids who, as a part of their program, are given the responsibility of taking in a dog; grooming it, living with it. These kids haven't had much success with other people in their lives. So, when the dogs respond unconditionally to their love and they got to train a dog and then hand it off to somebody who needs help, they began to understand not only the importance of what they accomplished, but what they can mean in other people's lives."

"Then the dogs come back to Florida for a year of intensive advanced training and then placed with their human partners," he said of the dog training program which takes about three years before the dog is ready to be placed with a human who needs a helping paw.

Florida Stage, located in Manalapan, Florida's Plaza del Mar nestled between the Atlantic Ocean and the Intracostal Waterway, just across the street from the Ritz-Carlton Hotel has world premiered over 15 plays, including works by renowned playwrights William Mastrosimone (Benedict Arnold), Peter Sagal (What to Say), Nilo Cruz (A Bicycle Country) and Lee Blessing (Black Sheep).

The Children's Village in Tarrytown, New York provides safety and care to society's most vulnerable children since 1981. Today, they serve more than 700 children in residential programs.

New Horizons Service Dogs is a non-profit organization that partners trained dogs with the disabled, mostly in the area of wheelchair and mobility assistance.


NOTHING LIKE THE SUN - THE SONNET PROJECT


Almost a year ago the Royal Shakespeare Company announced a new project curated by Gavin Bryars featuring Shakespeare's sonnets set to music by contemporary musicians.

That major new work by composer Bryars co commissioned by the Royal Shakespeare Company and Ipera North, will feature arrangements by musicians including Mercury Prize Winner, Antony Hegarty and former 10,000 Maniacs front woman, Natalie Merchant.

Inspired by Shakespeare's sonnets, Nothing Like The Sun: The Sonnet Project is a unique two-part performance which will have its world premiere as part of the RSC's ongoing Complete Works Festival, which was launched in April 2006 as the biggest festival in the history of the RSC. This unique, year-long celebration of Shakespeare's complete works is the first time that all 37 plays, the sonnets and the long poems have been presented at the same event. The Complete Works Festival runs to April 2007 in Stratford-upon-Avon, the town where Shakespeare was born and died.

Opening at The Courtyard Theatre in February 2007, the first part of the Nothing Like The Sun performance features compositions by Hegarty and Merchant, alongside those of Romanian violinist Alexander Balanescu, Elizabeth Fraser from 80s cult band The Cocteau Twins, and Irish singer/songwriter Gavin Friday.

Bringing together a unique set of musicians, Bryars has invited each guest artist to set their chosen sonnet to music. The arrangements will then be performed on February 24 and 25, 2007 by singers tenor John Potter and soprano Anna Maria Friman and an eight piece chamber orchestra from Opera North directed by James Holmes.

Part of the RSC's ongoing Complete Works Festival, the opening half of Bryars' Nothing Like The Sun; The Sonnet Project will reflect the distinctive style of the five guest composers and straddle pop, contemporary and classical musical genres.

The second half sees the premiere of Bryars' major new work - a 40 minute through composed piece based around seven of Shakespeare's sonnets. Nothing Like The Sun will be performed by the same ensemble using a mixture of music, song and speech and a specially commissioned film by film-maker Pippa Nissen bringing music, voice and image together in a new way.

Bryars, born in Yorkshire, was first of all a jazz bassist and pioneer of free improvisation with Derek Bailey and Tony Oxley. He subsequently worked in the USA with John Cage and in Britain alongside Cornelius Cardew. He has written extensively for the stage, including three full-length operas and dance works for, among others, Merce Cunningham, Edouard Lock and William Forsythe.


SO MANY PLAYS SO LITTLE TIME


In November 2002, the Pulitzer Prize-winning playwright Suzan-Lori Parks began an experiment and a personal commitment - to write a play a day for a year. On November 13, 2002 she began a cycle of 365 brilliant, inventive, and brief pieces, each a titled, complete play, ranging in length from three lines to three pages, several minutes in length. A week's plays all in one sitting will amount to 25-45 minutes - or as much as an hour, depending on how they're performed and directed.

Funny, edgy, absurd, and serious in equal measure, many are stand-alone plays; others are part of play-chains woven throughout the cycle. Thematically, the cycle explores - and even expands - the wide range of political and cultural themes found in her full-length work. From the disintegration of the nuclear family to the African-American experience to the mythology of the American Dream, her body of work forms a powerful critique of how Americans talk and think about themselves as individuals, and as a nation.

If a famous person died, she might write a little play about them; then our country went to war, and Parks wrote some plays about that. She referred to the experience as "Kind of like walking a pilgrimage on my knees."

Parks was the first black woman to win a Pulitzer Prize for drama—for her 2001 play, Topdog / Underdog. She is also a recipient of a MacArthur Foundation "genius grant".

Last September, she taught a master class in drama at Northeastern Illinois University, in Chicago.

Now more than 600 theater groups across the United States are staging her 365 Days/365 Plays. Produced by Bonnie Metzgar, associate artistic director of Denver's Curious Theatre Company, the kickoff performances were recently held at the New York Public Theater. Through November 12, 2007, performing artists, producers and presenters from a variety of disciplines will collaborate to present the World Premiere of 365 Days/365 Plays as part of a national festival that is also being produced simultaneously in more than 30 cities including; Atlanta, Austin, Los Angeles, Denver, Seattle, San Francisco, Washington D.C., Chicago, Minneapolis New York, and other cities throughout the United States in what marks the largest theater collaboration in history.

Participants range from major professional companies such as Chicago's Goodman Theatre to community groups and individual artists.



Broadway To Vegas is supported through advertising and donations. Priority consideration is given to interview suggestions, news, press releases, etc from paid supporters. However, no paid supporters control, alter, edit, or in any way manipulate the content of this site. Your donation is appreciated. We accept PAYPAL. Thank you for your interest.


SPREADING THE WORD


TOMORROW WITH AN AUDIENCE TALK BACK

Václav Havel. Photo by Alan Pajer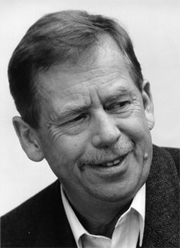 Václav Havel's only history play, Tomorrow recounts the events of 1918 Czechoslovakia, when, after 300 years under the Habsburg empire, the state finally broke free and established its own democratic republic. In retelling that story, Havel was hoping to (and did) foreshadow a more modern Czechoslovakian revolution. The play was first performed as part of a 70th anniversary celebration of October 28, 1918, Czechoslovak Independence Day. As Havel's name could not legally be attached to the production, all the writers involved in the celebration chose to be anonymous. Although it was rumored Havel was involved, most attendees incorrectly guessed which piece he had penned.

The English language premiere. Presented as a staged reading. Translated by Barbara Day. Directed by Hilary Adams. Produced by World Productions.

Presented by Theater @ Makor, Monday, November 27 in New York City.

This is part of the Havel Festival. In honor of Václav Havel's 70th birthday and his concurrent residency at Columbia University, Untitled Theater Company #61 is presenting the Havel Festival, featuring the first-ever presentation of Havel's complete works. The event concludes December 5.

FRIENDS LIKE THESE with music by John McMahon, lyrics by Jay Jeffries, and with book by Jeffries and McMahon has won the first annual Howard L. Blau Award for a promising new work of musical theater.

Friends Like These is the story of four sassy New York women - a young celebrity newswoman, a sensuous and free-spirited soap opera star, a wisecracking author, and an eccentric socialite - who prove that while men come and go, friends like these are forever.

Friends Like These will be showcased on December 4, at the TRU VOICES 7th Annual TRU Musicals Reading Series, sponsored by Bob Ost, at The Players Theater, in New York City.

Kelly Briggs will direct the reading which will feature Trisha Rapier, Raissa Katona Bennett, Casey Clark, Jana Robbins, and Eadie Scott.

Previous recipients of TRU VOICES Musicals Reading Series include The Great American Trailer Park Musical, written by Betsy Kelso and David Nehls, which is planning a national tour right now; Nor'mal by Yvonna Adrian, Tom Kochan and Cheryl Stern, which played an off-Broadway limited run starring Tony nominee Barbara Walsh; and Saint Heaven by Marty Casella and Keith Gordon, which moved from last year's TRU series into a production at the Stamford Center for the Performing Arts starring former pop star Deborah Gibson and Tony winner Chuck Cooper.

TRU (Theater Resources Unlimited), the organization sponsoring the Howard Blau Award and the 7th Annual Musicals Reading Series, was organized in March 1992 by Bob Ost, TRU's current president and a national award-winning playwright, composer and lyrist. TRU's goal is to promote a spirit of cooperation and support within the general theater community by providing information and a variety of entertainment-related services and resources that strengthen the capacity of producers, artists and theater professionals.


SWEET CHARITY


GRINCH FAMILY EXPERIENCE a delightful family gala created to help raise money for the Old Globe Theatre's education and outreach programs, while offering an exciting day of hands-on theatre activities for children and families. The celebration takes place on Sunday, December 3, in the Globe's rehearsal halls in Balboa Park, Calif. The event includes a special buffet lunch, followed by a puppet show and a delightful performance by the children in the Grinch, as well as "Grinchy" crafting activities where children can make fun holiday items. Patrons attend a performance of Dr. Seuss' How the Grinch Stole Christmas! in the Old Globe Theatre. VIP ticket holders receive several perks including a photo with the Grinch.



WAGNER'S RING CYCLE the exclusive UK premiere of the Kirov Opera, Mariinsky Theatre production of Richard Wagner's Ring Cycle. Das Rheingold will be performed on November 30, followed on December 1 by Die Walküre. On December 2 the production of Siegfried will be staged and on December 3 the curtain will rise for Götterdämmerung.

All performances, will be conducted by Valery Gergiev, the artistic and general director of the Maryinsky - still known abroad under its former name, the Kirov.

All shows are sold out. In four hours, fans snapped up all 1,650 tickets for the four-day, 19-hour event. Ticket prices ranged from $139 for standing room to $1,309 for superseats and Champagne receptions with the cast at the Wales Millennium Center in Cardiff.

The Kirov Opera of the Mariinsky Theatre's production of the Ring Cycle is the first Russian Ring since the 1913 Mariinsky production. With concept by Valery Gergiev and production set design by George Tsypin, the star cast is drawn entirely from ranks of singers at the Kirov Opera.

This production premiered at Stars of the White Nights Festival in 2003 on the occasion of the 300th anniversary of the founding of St. Petersburg. It has been performed in Tokyo and Baden Baden, and is scheduled for performances in Beijing, Orange County and at the Metropolitan Opera in NY as part of the 2007 Lincoln Centre Festival.

November 30-December 3 at the Wales Millenium Center in Cardiff, Wales.

CHARLES PHOENIX'S RETRO HOLIDAY SLIDE SHOW is a live comedy performance created with vintage slides found at thrift shops and flea markets. With his abundant joy, sharp wit and gleeful commentary, Phoenix supercharges the classic living room slide show into a hysterical/historical celebration of mid-century American holiday culture. Experience how we decorated, dressed, dined, drank and smoked during the holidays in the 1940s, 50s, 60s & 70s. Celebrate New Year's Day with the most bizarre rose floats ever; Easter mixing cocktails in a motel bathroom; and 4th of July fireworks at Disneyland. Dress up for Halloween and carve a jack-o-lantern with a suburban dad, then live the tragic life of a Thanksgiving turkey. Attend a Christmas bondage party, learn how to make a toilet paper Christmas tree, visit Southern California's most odd-ball theme park, Santa's Village, see who got the best toys on Christmas morning, and much, much more. In volor. Beginning November 29 at the Egyptian Theater/American Cinematheque in Hollywood.

BACK HOME AGAIN a John Denver Holiday Concert, created by Tony Award-nominees Randal Myler and Dan Wheetman. The production is directed by Myler with musical direction by Wheetman, who was a member of John Denver's band for eight years.

This is a down-home country concert, a festive, fun-filled revue presented in the style of John Denver's popular Christmas specials. The cast is led by Wheetman, and also includes Broadway favorite Jim Newman and Nashville songbird Gail Bliss. Songs include traditional and modern Christmas carols, as well as popular Denver hits such as Thank God I'm a Country Boy, Grandma's Feather Bed, Matthew and Back Home Again.

Back Home Again previews Thursday, November 30 and Friday, December 1. The opening gala is Saturday, December 2 with performances continuing Wednesdays thru Sundays through December 24 at Rubicon Theatre, in Ventura, CA.

MERRY WIVES THE MUSICAL

Simon Callow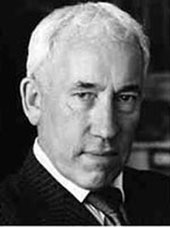 Written by William Shakespeare. Composed by Paul Englishby. Lyrics by Ranjit Bolt. Directed by Gregory Doran.

A new musical version of The Merry Wives of Windsor starring Simon Callow who will be making his Royal Shakespeare Company acting debut in the role of Falstaff. He replaces Desmond Barrit who, owing to a foot injury, had to withdraw from the cast.

Co-starring is Judi Dench as Mistress Quickly.

Also Starring: Haydn Gwynne as Mistress Page. Alistair McGowan as Frank Ford. Alexandra Gilbreath as Mistress Ford. Scarlett Strallen as Anne Page.

Set design by Stephen Brimson-Lewis. Lighting Design by Tim Mitchell. Movement by Michael Ashcroft.

The production begins previews in the Royal Shakespeare Theatre, Stratford-upon-Avon on December 2, and runs until February 10, 2007.

CORAM BOY Adapted by Helen Edmundson from Jamila Gavin's Whitbread Award-winning children's novel, this epic adventure of danger and excitement has a cast of 40 singing from Handel's Messiah.

A tale of two orphans at the Coram Hospital for Deserted Children: Toby, saved from an African slave ship and Aaron, the abandoned son of the heir to a great estate. Set in the dark heart of 18th-century England, this epic of fathers and sons is filled with danger and excitement. November 29 to February 24 at the National Theatre in London.

DON JUAN IN SOHO Patrick Marber relocates Moliere's farcical, tragic, anarchic 17th century original to 21st century London. Rhys Ifans plays the infamous amoral hedonist in Michael Grandage's much anticipated production.

November 30 – February 10, 2007 at the Donmar Warehouse in London.

THE FABULOUS PALM SPRINGS FOLLIES currently in its 16th season. This year's theme, Gotta Dance!, has guest star Gogi Grant appearing through December 31. Palm Springs, CA.

THE TRIAL OF EBENEZER SCROOGE by Mark Brown. Directed by Edward Keith Baker.

Picking up where A Christmas Carol leaves off, we find that Ebenezer Scrooge, one year after his "miraculous" Christmas, has brought charges against the late Jacob Marley and the three Ghosts of Christmas for "attempted murder kidnapping, breaking and entering, trespassing, stalking, slander, theft, pain and suffering, and the intentional infliction of emotional distress."

How will the Spirits defend their actions? And what has brought Scrooge to file his outrageous complaint in the first place?

Performances through December 10 at the Bristol Riverside Theatre in Bristol, PA.

A DUBLIN CAROL by Conor McPherson. In Dublin, on Christmas Eve, a bitter man seizes the chance to make things right. The author of The Weir blends memory and myth, pain and hope in this intimate gem of a play. The promise of redemption, in storytelling that casts an irresistible spell.

Starring William Petersen of TV's C.S.I.: Crime Scene Investigation

"I'm so thrilled to have William Petersen working here alongside Trinity's world class acting company in my first season," said Curt Columbus, artistic director. "I'm particularly delighted that Rhode Island audiences will be the first to welcome Billy back to the stage for the first time since he began C.S.I. six years ago."

December 1 - January 7 in the Dowling Theater, Trinity Repertory Company, Providence, RI.


| | | |
| --- | --- | --- |
| | | |
WHO'S WHERE


UPTOWN EXPRESS rings in the season with terrific pops standards in new arrangements, holiday tunes, special guests, and even some audience sing-along. On Wednesday, November 29th New York Broadway and cabaret great Karen Mason will once again join the boys as their special guest. And on Thursday, November 30th, Carol Channing, as created by the incomparable Richard Skipper, will make an appearance. Karen and Carol (Richard) will not only sing along with the Uptown boys - Aldrin Arche, Chris Caswell, Mark Danis, John DePalma, Jace Garfield, Alex Goro, Bruston Kade Manuel and Kristopher Monroe - but each will perform a 20 minute set of their own material. With staging by Mark Martino, musical director James Followell at the piano, and Mary Rodriguez on drums. Wednesday/Thursday, November 29/30, at the Laurie Beechman Theater at the West Bank Cafe, NYC.

SIR WILLARD WHITE the acclaimed, Jamaican bass-baritone returns to the South Bank Centre as part of the Song on the South Bank series in a program including songs by Schumann, Schubert, Ives and Copland. Sunday, December 3 at Queen Elizabeth Hall in London.

JIM BRICKMAN performs Monday, November 27 at the Pikes Peak Center in Colorado Springs, CO. On Tuesday he can be enjoyed at the Performing Arts Center in Topeka, Kansas. Wednesday finds him at the Rose State Performing Arts Theatre in Midwest City, Oklahoma. ON Friday the show is at the Hippodrome Theatre in Waco, Texas. Saturday finds him on stage at the Juanita K. Hammons Hall in Springfield, MO.

OAK RIDGE BOYS center stage Monday, November 27 at the Gallagher-Bluedorn Performing Arts Center in Cedar Falls, Iowa. Their next Iowa stop is Tuesday at the Civic Center of Greater Des Moines. That is followed by a Wednesday show at the Paramount Theatre in Cedar Rapids. On Thursday the performance is at the Potter Center in Jackson, MI. ON Friday they are at the Palace Theatre in Greensburg, PA. Saturday they are in the spotlight at the Central Auditorium in Findlay, Ohio.

TONY BENNETT the ageless wonder stars at the McCallum Theatre in Palm Desert, CA on Thursday, November 30. On Saturday, December 2, he can be enjoyed at the St. George Theatre in Staten Island, NY.

MICHAEL FEINSTEIN performs a two night stand at Trump Plaza in Atlantic City beginning Friday, December 1.

PERCY HUGHES AND ELLINGTON ECHOES is an eight-piece band that performs powerful versions of Duke Ellington big band classics. They take to the stage of The Old Log Theater on Monday Night, November 27 in EXCELSIOR, MN.

JERRY GREENBERG will debut Parody Tonight on Monday, November 27 at Danny's, in The Big Apple. The lighthearted musical satire lampoons an array of people and events ranging from Hillary Clinton, Mel Gibson and Paris Hilton to Iraq, North Korea and Same-Sex Marriage. Performances through November 30.

KEITH LOCKHART AND THE BOSTON POPS Music of Christmas past, from Handel's Hallelujah Chorus to Leroy Anderson's Sleigh Ride, are a delight. Joining the festivities are soprano sensation Indra Thomas and the yuletide voices of the Furman University Singers, and quite possibly an appearance from jolly old St. Nick. DAR Constitution Hall in Washington, D.C. on Thursday November 30.


FINAL OVATION


BETTY COMDEN 89, one half of the illustrious writing duo of Comden and Green, passed away Thursday, November 23, at New York Presbyterian Hospital in Manhattan.

She was preceded in death by her professional collaborator of 60 years, Adolf Green, who died in 2002.

Together they penned On the Town, Wonderful Town, Peter Pan and Bells Are Ringing. Their numerous Hollywood credits included Good News, The Barkley's of Broadway and they adapted On the Town for the screen. They also wrote the screenplay for The Band Wagon, for which they received an Academy Award nomination.

In 1991 Comden and Green were both awarded the Kennedy Center Honors. Their Tony Awards include; 1953 Wonderful Town winning Best Musical Tony, 1968 Hallelujah, Baby! earning Tonys for Best Musical and Best Composer and Lyricist, 1970 Applause receiving the Tony for Best Musical, 1978 On the Twentieth Century bringing home Tonys for Best Original Score and Best Book of a Musical and 1991 The Will Rogers Follies winning the Tony for Best Original Score.

Comden married designer/businessman Steven Kyle in 1942. Their married lasted until his death in 1979, and she never remarried. They had two children, a daughter, Susanna, and a son, Alan. Comden wrote a book which discussed his drug addiction through which he contracted AIDS and died of complications of his addiction in 1990. She is survived by her daughter, Susanna Kyle, of Manhattan.
















Next Column: December 3, 2006
Copyright: November 26, 2006. All Rights Reserved. Reviews, Interviews, Commentary, Photographs or Graphics from any Broadway To Vegas (TM) columns may not be published, broadcast, rewritten, utilized as leads, or used in any manner without permission, compensation and/or credit.
Link to Main Page
---
Laura Deni


CLICK HERE FOR COMMENT SECTION