! >
Broadway To Vegas
  
 SHOW REVIEWS CELEBRITY INTERVIEWS GOSSIP NEWS

| | |
| --- | --- |
| | |
PIER PAOLO PASOLINI EXHIBITION - - AN EVENING WITH KYRA SEDGWICK - - LOS ANGELES AND NEW YORK CHRISTMAS TREE LIGHTING CEREMONIES - - LAS VEGAS PRODUCERS TO CLOSE - - WORLD AIDS DAY CONCERT - -MUSICAL CHICAGO CELEBRATES 10 YEARS - - WILLIAMSTOWN THEATRE FESTIVAL'S NEW YORK CITY GALA - - BROADWAY STRIKE SETTLED - - DONATE . . . Scroll Down


FASCINATING MURDER - MULTI-DIMENSIONAL PIER PAOLO PASOLINI EXHIBITION
Pier Paolo Pasolini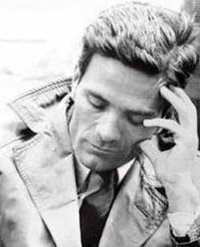 Murders are intriguing. The gruesome, untimely demise of Italian poet, intellectual, film director and writer Pier Paolo Pasolini at the age of 53 transformed an already controversial and extraordinary Italian artist into an iconic figure of the Twentieth Century.

Pasolini was born in Bologna, Italy, in 1922, the son of am Italian army officer, Carlo Alberto, who had become famous for saving Mussolini's life, and an elementary school teacher, Susanna Colussi. Addicted to gambling, Pasolini's father was arrested for gambling debts, and his mother moved to her family's house in the Friuli region of Italy.

Pier Paolo Pasolini studied literature and art history under the renowned historian Roberto Longhi at the University of Bologna and was drafted into the army during World War II, during which Communist partisans executed his younger brother Guido. Following the war, he settled in Casarsa and worked as a teacher and, despite the nature of his brother's death, became a leading member of the area's Communist party.

Allegations of homosexual activity with students resulted in his expulsion from the party and his move to the Roman borgate in 1949. Almost immediately, Pasolini became entranced by the seedy lifestyle of the borgate, resulting in several volumes of poetry and two novels.

Pier Paolo Pasolini and his mother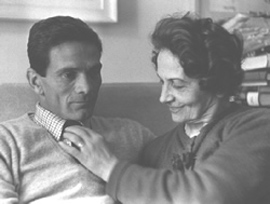 His richly detailed, highly graphic depiction of the Roman underworld soon brought writing offers from some of Italy's leading filmmakers, including Mauro Bolognini, Luciano Emmer and Federico Fellini, and eventually moved Pasolini into the director's chair himself.

The artist's scandalous end was seen by many as a reflection of a life in the fringes of Italian society and at the front of the nation's cultural debate.

Pasolini was brutally murdered by being run over several times with his own car, dying on November 2, 1975 on the beach at Ostia near Rome, in a location typical of his novels. Giuseppi Pelsoi, a seventeen-year-old hustler, was arrested and confessed to murdering Pasolini. However, on May 7, 2005, he retracted his confession, which he said was made under the threat of violence to his family, and claimed that three strangers with southern Italian accents had committed the murder, insulting Pasolini as a "filthy communist."

Following Pelosi's retraction, the investigation into Pasolini's death was reopened. Contradictions in the declarations of Pelosi, a strange intervention by Italian secret services during the investigations, and some lack of coherence in related documents during the different parts of the judicial procedures brought some of Pasolini's friends (particularly actress Laura Betti, a close friend) to suspect that it had been a contract killing. The inefficiency of the investigations were exposed by his friend, Oriana Fallaci, writing in Europeo magazine that clues suggest that it was unlikely that Pelosi killed Pasolini alone.

Other evidence, uncovered in 2005, points to Pasolini having been murdered by an extortionist. Testimony by Pasolini's friend, Sergio Citti, indicates that some of the rolls of film from Salò had been stolen, and that Pasolini had been going to meet with the thieves after a visit to Stockholm on November 2, 1975.

Others reports suggest that Pasolini not only knew he was going to die, but in fact wanted to be killed and staged his death. Proponents of this theory include Pasolini's lifelong friend, painter and writer Giuseppe Zigaina. Zigaina claims that "Pasolini himself was the 'organizer' of his own death, which, conceived as a form of expression, was intended to give meaning to his entire oeuvre."

Pasolini was buried in Casarsa, in his beloved Friuli. In the grave, he wears the jersey of the Italian Showmen national team, a charity soccer team he founded, with others.

Beginning on November 26, and continuing through December 4, a tribute to Pasolini, entitled, Pier Paolo Pasolini – Poet of Ashes, will be presented at venues in New York City.

The Italian Cultural Institute, Fondazione Aida and the Film Society of Lincoln Center present this one-of-a kind exhibition of the many facets of Pasolini's work, including cinema, theater, poetry and music at locations that include The Italian Cultural Institute, the Film Society's Walter Reade Theater and Frieda and Roy Furman Gallery, Joe's Pub at The Public Theater, La MaMa Experimental Theatre Club, and Casa Italiana Zerilli Marimò.

The series has its official opening on November 27 at the Italian Cultural Institute in the presence of dignitaries and Italian and American personalities, and will feature a screening of the documentary, Pasolini's Voice. It concludes on December 4 with a concert - reading at the Walter Reade Theater.



A scene from Salò in which the libertines reduce their captives to the status of dogs subject to Pavlovian conditioning. A persistent theme of Salò is the degradation of the human body.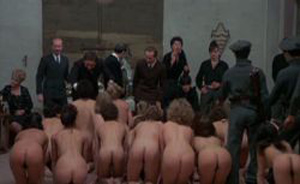 "For years New York has admired this intellectual, who was so different from the "official" intellectuals. Now, New York can get to know him better, through readings, meetings, conferences, and screenings, as his work is an archipelago as vast as his spirit," announced Claudio Angelini, Director of the Italian Cultural Institute. It was a full decade ago, in 1997, that Pasolini's work was last exhibited in the United States. His most notorious film, Salò: 120 Days of Sodom, will be screened twice during the exhibition - on December 2 and December 3 at the Film Society's Walter Reade Theater.

"Pasolini is that rare cutting edge artist whose work over the years has only gained in relevance and importance. Thirty years after his death, he's still very much our contemporary," explained Richard Peña, Program Director for the Film Society at Lincoln Center.

The Film Society's presentation, Heretical Epiphanies: The Cinematic Pilgrimages of Pier Paolo Pasolini, forms the focal point of this cultural event and represents the artist as a filmmaker, his most familiar role to U.S. audiences. The Film Society will screen 11 of Pasolini's features and shorts and two recent documentaries on his work during the exhibition. Many of Pasolini's most acclaimed films will be featured, including Accattone, Mamma Roma, The Gospel According to St. Matthew, The Hawks and the Sparrows, Teorema, Pigpen, and the previously banned Salò: 120 Days of Sodom, released just two weeks after Pasolini's untimely murder.

Pier Paolo Pasolini – Poet of Ashes also features Readings and Lectures: Pasolini's Poetry and Literature by Pasolini's cousin, Graziella Chiarcossi, and Vincenzo Cerami on November 26 at the Italian Cultural Institute. Cerami, who received an Oscar nomination for his story/screenplay of Life's Beautiful, was a student and later a collaborator with Pasolini. The Exhibition, Pier Paolo Pasolini: the Body's Truth, is from November 27 to December 15 at the Italian Cultural Institute, presents Angelo Novi's photos and images taken on the sets of Pasolini's films.

A major showing of previously un-exhibited promotional material, entitled, Pier Paolo Pasolini's Cinema Affiches, will run to December 2, at the Frieda and Roy Furman Gallery. The exhibit comprises film posters and affiches, which were prepared by painters and artisans who had to complete their works even before filming was completed.



Aisha Cerami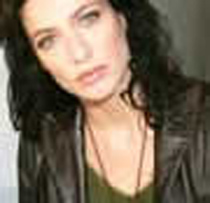 Facets of the tribute also include the music concert, The Songs of Pier Paolo Pasolini – Le Canzoni di Pasolini, which takes place at the Public Theater - Joe's Pub on November 27. The concert features the performances of Aisha Cerami, voice; Nuccio Siano, voice and guitar; Andrea Colocci, double bass; Roberto Marino, piano; and Salvatore Zambataro, accordion and clarinet.

The theatrical performance Trash, directed by Andrea Mancini and Lorenzo Bassotto and inspired by Pasolini, will be performed at the La MaMa Experimental Theatre Club, November 29, 30 and December 1, with featured performances by Lorenzo Bassotto and Rhonda Moore.

The closing night of the series will be the United States premiere of Accattone in Jazz – A Homage to Pier Paolo Pasolini, at the Walter Reade Theater on Tuesday, December 4. This musical performance is produced by Kairos Italy Theater in collaboration with the City of Rome Department of Culture and features two of Italy's most renowned jazz musicians - Roberto Gatto on drums and Danilo Rea on piano - with one of Italy's leading actors, Valerio Mastrandrea, reciting passages from the director's script for Accattone (1960). The tribute culminates with a round table discussion, The Last Questions of Pasolini – Le Ultime Domande di Pasolini, held at New York University's Casa Italiana Zerilli Marimò on November 29. The event, which is realized with Fondazione Musica per Roma and Fondazione Cinema per Roma, features the musical artist Patti Smith. This is followed by two Master classes with Vincenzo Cerami – The Tale of Reality – II racconto della realtà at Yale University on November 30 and at Cuny Graduate Center on December 3.

This rare tribute is commemorated with the launch of a new book in English, entitled, Pier Paolo Pasolini Poet of Ashes, that is co-published by Titivillus Mostre Editoria (San Miniato – Pisa) and City Lights Books of Lawrence Ferlinghetti (San Francisco). It is curated by Andrea Mancini, Professor of iconography of the Theater at the University of Siena; Roberto Chiesi, Curator of Fondo Pier Paolo Pasolini; and Graziella Chiarcossi.



Broadway To Vegas is supported through advertising and donations. Priority consideration is given to interview suggestions, news, press releases, etc from paid supporters. However, no paid supporters control, alter, edit, or in any way manipulate the content of this site. Your donation is appreciated. We accept PAYPAL. Thank you for your interest.


IT'S BEGINNING TO LOOK A LOT LIKE...


LOS ANGELES OFFICIAL TREE LIGHTING CEREMONY takes place Monday, November 26. Supervisor Mike Antonovich and the Music Center host Los Angeles County's official tree lighting ceremony on the Music Center Plaza. The lighting of the 50-foot tree kicks off the holiday season. In addition to the lighting of the tree the event will feature entertainment and free hot chocolate for attendees.

ROCKEFELLER TREE LIGHTING CEREMONY is scheduled for Wednesday, November 28. Hosted by Al Roker, this year's tree lighting extravaganza will feature Las Vegas performers Celine Dion and Barry Manilow, Josh Groban, Taylor Swift, Ashley Tisdale and Carrie Underwood performing current hits and holiday classics from Rockefeller Center. The whole star-studded spectacle will be broadcast live on NBC. The tree will be lit through January 8, 2008. The plaza heading towards the tree is occupied by the traditional horn-blowing angels in a Christmas tradition which began in 1933.


SPREADING THE WORD


AN EVENING WITH KYRA SEDGWICK AND THE CLOSER Deputy Police Chief Brenda Johnson - superbly played by Emmy nominee/Golden Globe winner Kyra Sedgwick - is part Blanche DuBois as neurotic inquisitor, part Jane Tennison on a sugar high. Join Sedgwick for a screening of an episode of the TNT series, followed by a Q&A discussion about her performance as one of TV's most intriguing characters.

Wednesday, December 5, at The Paley Center for Media in New York City.

PROJECT RUNWAY now in its fourth season, Bravo's Emmy Award–nominated series has turned an unlikely premise—up-and-coming designers creating garments on the fly in a series of outré challenges—into one of the most popular and critically acclaimed reality series on television. Buoyed by the icy charm of supermodel host Heidi Klum and the avuncular guidance of style guru Tim Gunn, Project Runway is the rare reality competition that focuses more on creativity and skill than audience-baiting "personalities"...and that's always in good taste. The Project Runway creative team will discuss the production of the show and its impact on popular culture.

In Person: Heidi Klum, Host/Executive Producer, Dan Cutforth and Jane Lipsitz, Executive Producers Additional panelists to be announced. Tuesday, December 4, at The Paley Center for Media in Los Angeles.


SWEET CHARITY


WILLIAMSTOWN THEATRE FESTIVAL'S NEW YORK CITY GALA will be held on Monday, December 3, at the Puck Building in New York City. This festive event will include a tribute to Kate Burton, 3-time Tony-nominated and 2-time Emmy-nominated actress with extensive credits on Broadway, regional theatre, London and television. During Williamstown's 2007 season, she starred in the triumphant run of The Corn Is Green, her 22nd Festival production. She is also a member of the Festival's Board of Trustees.

The WTF Gala Benefit will include a reception, dinner and auction, as well as performances by among others, Lynn Redgrave, Nathan Lane, Jane Kaczmarek, Debra Monk and more. This is a spectacular event that helps support the Festival's long tradition of excellence, the introduction of new work, and training programs for the next generation of theatre artists.

WORLD AIDS DAY CONCERT starring Barbara Cook whose silvery soprano, purity of tone, and warm presence have delighted audiences around the world for more than 50 years. Considered "Broadway's favorite ingenue" during the heyday of the Broadway musical, Miss Cook then launched a second career as a concert and cabaret artist soaring from one professional peak to another.

Joining Barbara on stage will be a host of West End stars including: Ruthie Henshall, Maureen Lipman, Elaine Paige, Nicholas Parsons, Sian Philips, Philip Quast, Sally Anne Triplett and members of the London Gay Men's Chorus.

London Coliseum on December 2.

CELEBRATE CHICAGO'S TENTH ANNIVERSARY with the stars of Chicago who have appeared on stage over the past 10 years, including original cast members Ute Lemper, Ruthie Henshall and Henry Goodman, along with Brenda Edwards, Jennifer Ellison, Duncan James, Kelly Osbourne, Frances Ruffelle, Denise Van Outen and many more.

Honorary Patrons Elizabeth Hurley, Mr. and Mrs. Julian Kitchener-Fellowes and Andrew Lloyd Webber, with the support of the producers of Chicago the Musical, Fran and Barry Weissler.

A black tie reception will follow the performance. Proceeds going to support Breast Cancer Haven and the Breast Health Institute.

Wednesday, December 5, Cambridge Theatre in London.


OTHER PEOPLE'S MONEY


BROADWAY STRIKE UPDATE On November 28 it was announced that a tentative agreement had been reach between League of American Theatres and Producers and Local One of IATSE ending the Broadway strike. All shows set to begin on Thursday, Nov. 29. The union has ten days to approve the tentative agreement. The City of New York estimated its loss at $2 million per each day of the strike.

THE STRIKE GOES ON BUT TALKS RESUME Broadway producers and stagehands are set to talk again with a new round of negotiations scheduled for Sunday, November 25, in an effort to end the stagehands' strike that's now in its third week.

New York state Supreme Court judge Wednesday afternoon granted an injunction filed by the producers of Dr. Seuss' How the Grinch Stole Christmas! that permitted the production to reopen despite the stagehands strike.

"The interests of the public are overwhelming. For the sake of our city, I'm granting an injunction," state Supreme Court Justice Helen Freedman said Wednesday after a lengthy hearing. "I think one Grinch in town in enough."

Children who are part of the cast filled the front row of the courtroom and screamed with joy as she announced her ruling. The show's young actors then began to sing and dance in front of the courthouse steps.

"I am happy to announce we got our miracle on 44th Street," said James Sanna, the show's producer regarding the $6 million production at the St. James Theater which is located on 44th Street.

The producers went to court on Tuesday to force the theater to re-open, saying they had a separate agreement with Local One – the stagehands union – and should not be affected by the larger Broadway strike. They also said any prolonged stoppage would be fatal for the holiday-themed show. Local One agreed to return to work on the production, but the theater would not open its doors. The Jujamcyn Theater chain - which owns the St James Theater where The Grinch is playing - did not want to open the theaters doors until the strike was over.

After the judge's decision both sides agreed to return to work for an 11 a.m. show last Friday.

"We have a contract. Unlike any other show that is locked out or struck, we have a contract, so we have a different situation than any other show," Sanna said. The main sticking points between theater owners and stagehands include the number of stagehands required to work on "load-in days" – set-up days when a show moves into a theater – as well as the list of givebacks the union is looking for.

On Tuesday producers of nine Broadway shows filed a lawsuit against members of Local One of the International Alliance of Theatrical Stage Employees and its president James Claffey Jr. in Manhattan federal court seeking to recover damages for lost revenues.

The League of American Theaters and Producers has said the strike that has darkened some 25 productions since November 10 is costing a total of about $17 million for every day it lasts.

The producers in the lawsuit are the money behind Wicked, Hairspray, The Drowsy Chaperone, Rent, The Lion King, Grease, Legally Blonde, Cyrano De Bergerac and The Little Mermaid.

The lawsuit states that to date their nine shows have lost $35 million in gross revenues from ticket sales, concessions, merchandise and other related items.

The producers have an approximate $20 million strike emergency fund, which was accumulated by taking a couple cents out of each ticket sold over the last several years. The money is to help struck shows struggling with the costs of a shutdown.

The union, too, has its own fund - benefits of more than $4.1 million for its members as well as another $1 million allotted for members of other unions affected by the walkout.

Disney's The Little Mermaid wasn't scheduled to officially open its Broadway run until December 6th and invitation had been sent to the press. However, because the show was shut down after only a week of previews Disney announced previews will resume and a new opening night will be announced after the strike is settled.



BOB'S HOLIDAY OFFICE PARTY Every year, insurance agent Bob Finhead's whacked-out friends and clients stop by his small-town Iowa office for their annual holiday bash. The town mayor, the sheriff, the triplet farmer sisters, the stoner, the town floozy and the pastor's wife have already RSVPed for this year's event. But Bob has dreams of a bigger life and wants to escape their narrow-minded thinking. Will he be able to fulfill his dream of becoming a professional inventor and move to the big city, or will he come to realize how much he is the heart and soul of the town? Will any of this matter once the party starts, the bickering and fighting begins, and the drinks hit the floor?

Written by Joe Keyes and Rob Elk. Directed by Justin Tanner. Starring Craig Anton, Maria Bamford, Tom Carey, Kyle Colerider-Krugh, Frank Coniff, Melissa Denton, Rob Elk, Mark Fite, Maile Flanagan, Joe Keyes, Linda Miller, Ann Randolph and Danny Schmitz.

Bob's Holiday Office Party originated as an improv sketch twelve years ago and has since developed into a seasonal tradition with a loyal cult following.

Performances take place Thursday through Sunday November 29 through December 22. at The Lounge Theatre in Hollywood.

HARVEST by David Wright Crawford. Judson Jones & Benard Cummings will direct the new play.

Harvest centers around a west Texas cotton farmer. Spanning 45 years - late 1960's; early 80's and present - the farmer battles to keep his farm and his family while struggling against inevitable change. In the spirit of Anton Chekhov, with the surroundings of Horton Foote, this timely account of what could be the last generation of an American family farm. An inspirational, epic tale that asks the question, "How would you choose to live your life" and "At the end of your life…where do you want to die?"

The cast includes Morgan Baker, Kathleen Huber, Judson Jones, Christa Kimlicko Jones, Richard Mawe, Doug Sheppard, Kymberlie Stansell, Jeremy Stuart, and Shorey Walker.

The Set Design is Terry Gipson/Gipson Design; Costumes by Ben Taylor Ridgeway; Lighting Design by Jessica M. Burgess; Sound Design & original music by Scott O'Brien. Casting Director is Laura Maxwell-Scott, C.S.A; and the technical director is Amber Estes.

Previews begin on November 30 and the opening will be Tuesday, December 4. Off-Broadway at The Beckett Theatre, NYC.

THE DIG: DEATH, GENESIS AND THE DOUBLE HELIZ a workshop production of a new play from solo performance artist Stacie Chaiken.

An American archaeologist goes digging in the Middle East. Sure she's onto something big, she winds up stumbling onto something a whole lot bigger. November 30 through December 16 at The Co-Op at Pacific Resident Theatre in Venice, CA.

THE PUPPETMASTER OF LODZ by Gilles Segal, translated by Sara O'Connor, and directed by Bruce Levitt. The show will feature 22 puppets - including two life-size ones - designed by New York puppet artist Ralph Lee, the Artistic Director of the Mettawee River Theatre Company, which for 25 years has given outdoor performances of original theater pieces in rural communities in upstate New York and New England..

Set in Berlin in 1950, The Puppetmaster of Lodz is both a mystery story and a portrait of a noble man. Samuel Finkelbaum (Robert Zukerman) is a master puppeteer who has locked himself in an attic apartment and has remained there ever since his escape from a concentration camp. He is patiently awaiting the end of World War II, and nothing his landlady tells him will convince him that it's safe to come out. Inside this retreat, he creates a fantasy world with his puppets-and so unfolds an unforgettable tale of love and creativity.

Robert Zukerman as Samuel Finkelbaum will head the cast. Joining him will be Daniel Damiano (as Weissman and others), Suzanne Toren (as the Concierge), and Herbert Rubens (as Schwartzkoff).

The set design will be by Roman Tatarowicz, the costume design by Elizabeth Flauto, the lighting design by Paul Bartlett, and sound design by Chuck Hatcher. The stage manager will be Sarah Ford.

Presented by Blue Heron Theatre, The Puppetmaster of Lodz will begin performances at The ArcLight in Manhattan on Friday, November 30 and will officially open on Monday, December 3. Performances will run through December 23.

SWEET 15 (Quinceañera). by Rick Nahers. Directed by Sam Woodhouse. This show is packed with music, laughter and enough taffeta dresses to last you until Cinco De Mayo.

Set in National City, Sweet 15 follows the story of a father named Eduardo, as he returns home from Mexico after a 10-year absence that began when his daughter Sonora turned 15. He promises to re-unite his estranged family under one condition – that they allow him to throw a Quinceañera for Sonora, who is now 25 years old. The audience becomes a part of the show, as it pits father against daughter, wife and mother-in-law in an outlandish, interactive comedy.

Stars Rick Nahers as Eduardo, Nina Brissey as Sonora with Alma Martinez, Fernando Vega, Yvonne Delarosa, Carlo D'Amore and Jose Yenque.

Officially opens on Wednesday, November 28 and will continue through December 16 at the Lyceum Theatre, San Diego, CA.

THE LITTLE MERMAID which began previews November 3, and was scheduled to officially open at the Lunt-Fontanne Theatre on December 6 has been postponed due to the ongoing stagehands strike. A new opening date has yet to be announced.

THE PRODUCERS currently playing at the Paris Hotel in Las Vegas will close on February 9, 2008. The 90-minute Vegas version stars Tony Danza as Max Bialystock.

OTHELLO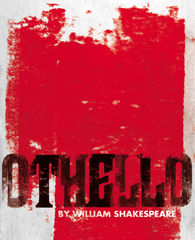 by William Shakespeare. Michael Grandage directs the cast which includes; Edward Bennett, Chiwetel Ejiofor, Michelle Fairley, Michael Hadley, Tom Hiddleston, Michael Jenn, Martina Laird, James Laurenson, Ewan McGregor, David Mara, Kelly Reilly and Alastair Sims.

Defying society in order to pursue her heart, Desdemona marries Othello, a Moorish General, and follows him to Cyprus where he must repel the threat of Turkish invasion. Iago, a junior officer tormented by his lack of promotion, sets out to destroy their love and manipulate Othello to serve his own ends.

Designed by Christopher Oram. Lighting Design by Paule Constable. Composer and Sound Designer is Adam Cork.

The entire run was sold out before it opens. Performances November 30 - February 23 at the Donmar Warehouse in London.


| | | |
| --- | --- | --- |
| | | |
WHO'S WHERE


HOLIDAY SING-A-LONG The Wolf Trap Holiday Sing-A-Long is an annual musical celebration of the season with Christmas carols and Hanukkah songs performed by the United States Marine Band and vocal groups from the metropolitan Washington area.

The audience is invited to bring candles which they may light during the last verse of Silent Night, the final song of the program, and exit the Filene Center in a candlelight procession. There is also a 'Jing-A-Long' during the singing of Jingle Bells, so bring a bell along with your candle and remember to dress warmly.

Admission is free and no tickets are required. Wolf Trap will be participating in Toys for Tots by collecting new, unwrapped toys at the 2007 Holiday Sing-A-Long. Toys will be accepted at the entrance; donations are strictly voluntary and not a requirement.

Sunday, December 2 at the Filene Center in Vienna, Virginia.

KIROV ORCHESTRA Valery Gergiev, Artistic Director and Conductor. With a celebrated history as one of the oldest musical institutions in Russia, the Kirov has become internationally acknowledged as one of the world's great orchestras. Founded in the 18th century during the reign of Peter the Great, the Kirov is housed in St. Petersburg's famed Mariinsky Theatre. This fall, under the direction of music director Valery Gergiev, the orchestra offers an unforgettable experience with two Stravinsky masterpieces. Performance Thursday, November 29 at the State Theatre in New Brunswick, NJ.

ANDRE REIU and the Johann Strauss Orchestra perform December 1 at the Oracle Arena in Oakland. Next Sunday, December 2, the show is at the Arco Arena in Sacramento, CA

BRUCE SPRINGSTEEN AND THE E STREET BAND are across the pond. Tonight, Sunday, November 25, they are performing at the Palacio de Deportes in Madrid. Tomorrow. Monday, November 26, the show is at the Bilbao Exhibition Centre in Bilbar, Spain. Wednesday finds the group on stage at the Datch Forum in Assago, Italy. On Friday the show is at the Gelredome in Arnhem, Netherlands and next Sunday, December 2, they will be delighting crowds at the SAP Arena in Mannheim, Germany.

NEIL YOUNG open a three night gig Monday, November 26, at Massey Hall in Toronto, Ontario. That three nighter is Monday, Tuesday and Thursday. On Friday, the show moves to Shea's Performing Arts Center in Buffalo.

DAVID BENOIT WITH CHARLIE BROWN AND FRIENDS CHRISTMAS at the Del E. Webb Center for the Performing Arts in Wickenburg, AZ. On Saturday, the show is at the Juanita J. Hammons Hall in Springfield, MO.

QUEEN LATIFAH entertains Tuesday, November 27, at the Craterian Ginger Rogers Theater in Medford, OR. On Wednesday she's on stage at the Pantages Theater in Tacoma, WA.

BIG BAD VOODOO DADDY gets the place swinging Friday, November 30, at Southern Illinois University in Edwardsville, IL. On Saturday they are at the Bloomington Center for the Performing Arts in Bloomington, IL. Next Sunday, December 2, they are in the spotlight at Indiana University in Indiana, PA.

PRESERVATION HALL JAZZ BAND entertains Saturday, December 1, at the Barre Opera House in Barre, VT.

JAY AND THE AMERICANS on stage Saturday, December 1, at Feather Fall Casino in Oroville, CA.

THE KINGSTON TRIO singing their hits Saturday, December 1, at Eichelberger Performing Arts Center in Hanover, PA. Next Sunday they perform at the Sellersville Theater 1894 in Sellersville, PA.




PIFFLE AND PROFUNDITIES


NAKED MAN WANTS A NEWSPAPER Travelodge employees are being trained on how to deal with naked sleepwalkers after an increase in the number of guests found wandering around in the night with no clothes on.

A study by Travelodge found a seven-fold increase in sleepwalking customers in the past year, to more than 400 cases — almost all of them men. Many sleepwalked naked into the reception area asking for a newspaper. Suggestions to the staff include keeping a supply of towels in the reception are to help preserve a guest's dignity.

Next Column: December 2, 2007
Copyright: November 25, 2007. All Rights Reserved. Reviews, Interviews, Commentary, Photographs or Graphics from any Broadway To Vegas (TM) columns may not be published, broadcast, rewritten, utilized as leads, or used in any manner without permission, compensation and/or credit.
Link to Main Page
---
Laura Deni


CLICK HERE FOR COMMENT SECTION