! >
Broadway To Vegas
  SHOW REVIEWS     CELEBRITY INTERVIEWS     GOSSIP     NEWS 
| | |
| --- | --- |
| | |
Copyright: November 25, 2001
By: Laura Deni
CLICK HERE FOR COMMENT SECTION

CUE CHRISTMAS There are at least nine variations on Charles Dickens' classic, A Christmas Carol. Whether you prefer yours without song and dance, orchestrated to the roof tops, staged as a ballet, penned with a campy edge or regionalized - there is a production for you.

A Christmas Carol by Alan Menken and Lynn Ahrens has become a delightful tradition in New York City's Madison Square Garden.

Susan Stroman began the project as choreographer working with her late husband, Mike Ockrent, as director. Now in its eighth year, Tim Curry will play Scrooge in the production which opens November 27.


PATRICK STEWART as SCROOGE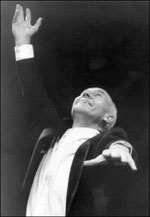 Patrick Stewart is a one-man show in his version of A Christmas Carol. The versatile actor will play Scrooge, Fezziwig, Tiny Tim, the Three Ghosts and every other Yuletide Dickensian character in this productions slated for both Los Angeles and New York.

Stewart reprises his solo tour-de-force performance of Dickens' classic on Dec. 15 and 16 at the Harriet and Charles Luckman Fine Arts Complex in Los Angeles. Using just a few props and a wealth of virtuosity and dramatic nuance, Stewart conjures up the full world of the beloved Dickens classic, returning the story to its source: Dickens' own beautifully chosen words. The previous West Coast engagements played to sold out houses and unanimous critical acclaim.

Stewart then returns to Broadway, his fourth time bringing the show to The Great White Way. The actor first mounted it in New York in 1991, and returned in 1992, 1994, and later staged it in Los Angeles and London. Among his awards for this one-man show: Drama Desk Award for Best Solo Performance (1992) and Lawrence Olivier Award for Best Entertainment for Solo Performance (1994). He was also nominated for an Olivier for Best Actor in 1994.

The production will play the Marquis Theatre for eight performances only, Dec. 24-30.

All the proceeds will go to charity, with the Dec. 28 show's monies going to the September 11th Campaign of The Actors' Fund of America, and the box office of each of the other seven performances divided between two organizations, the Coalition for the Homeless and Food for Survival, Inc.

Hal Landon, Jr. has Scrooge down pat. He's played the part for 22 years and once again is in the misery role for the South Coast Repertory Theatre company's production in Costa Mesa, CA.

John-David Keller directs the show, adapted from the classic Charles Dickens' Christmas tale by Jerry Patch. The show opened last night and runs through Dec. 14.

The Royal New Zealand Ballet company presents A Christmas Carol as a ballet. Choreographer Russell Kerr, composer Philip Norman and costume and set designer Kristian Fredrikson have joined forces to bring this festive Charles Dickens tale to life.

Using classical dance, drama and humor the three spirits of Christmas Past, Christmas Present and Christmas Future to tell the tale of Scrooge's transformation.

The Royal New Zealand Ballet will deck the halls with boughs of holly on its 10-city tour which lasts through December 13. Regional orchestras will accompany the production in Wellington, Christchurch, Auckland and Dunedin.

The Royal New Zealand Ballet was formed in 1953 by Danish Royal Ballet Principal Dancer Poul Gnatt. The Company's early days of touring embodied the New Zealand pioneering spirit. Performing night in night out, Company members unloaded and repacked the set, rigged the lights and ironed the costumes, with local community members providing accommodation.

The spirit of those days survives, and the support of the New Zealand public remains. The Royal New Zealand Ballet is seen as an intrinsic part of the country's national heritage, and has the largest following of all New Zealand performing arts companies.

The Sanders Family Christmas is the sequel to Smoke on the Mountain.Written by Connie Ray, conceived by Alan Baily with musical arrangements by John Foley and Gary Fagin, the Sanders Family is reunited at Mt. Pleasant Baptist Church for what might be their last holiday get-together for a while. It's December, 1941, days after Pearl Harbor. Will Dennis go to war? Will Denise witness again? Will Uncle Stanley go Hollywood? Will June find true love with Pastor Ogelthrope? Featuring many members of the original cast, join the Sanders Family in a tribute to America's greatest generation. It's a heart-warming jim-dandy musical.

The Los Angeles premiere takes place November 30 - December 16, at the La Mirada Theatre.

A Missouri Premiere can be found at the Arrow Rock Lyceum Theater in Arrow Rock. The Lyceum is also Missouri's oldest professional regional theatre.

A Sanders Family Christmas is at the Ryman in Nashville, Tennessee. The Cumberland County Playhouse will have shows from November 29 to December 23. The production in Memphis, Tennessee is currently running at The Circuit Playhouse through Dec. 23.

If you prefer your Christmas with camp try Christmas with the Crawfords Joan is back - white gloves and all. Come enjoy a warm, friendly holiday season with Joan Crawford and her darling kids. Okay, she's a bitch and she's abusive to her children, but it's Christmas and she's trying to revive her career - in front of the American public.

The comedy takes place during a holiday broadcast led by actress Joan Crawford and gossip goddess Hedda Hopper in the former's home.

It's Christmas Eve, 1944. Joan Crawford and her children, Christina and Christopher, are preparing for the now legendary live radio broadcast from their home in glamorous Los Angeles neighborhood of Brentwood. Joan, once the queen of MGM, has recently been "released from her contract." With her friend Hedda Hopper as her host, and her terrified children in tow, she plans to make the holiday broadcast her stepping stone back into the limelight. Joan has big plans for a new career at Warner Brothers, even if there is the humiliation of having to take a screen test for Mildred Pierce. Joan is happy and hopeful as she makes sure everything is clean and ready for the broadcast and the arrival of her special guest Jack Warner. From the very beginning, however, when Joan discovers a spot on the floor, things go wrong. As Hopper attempts to interview Crawford there is an onslaught of Hollywood icons, including the Andrews Sisters, Kate Hepburn, Judy Garland, Gloria Swanson, Mae West, Carmen Miranda and Ethel Merman, who have mistakenly arrived at Joan's home while on their way next door to Gary Cooper's party.

In case who are wondering - who in the world was Hedda Hopper? She was one of the most feared and respected people in Hollywood. The fact that she left school after 8th grade didn't keep Hedda Hopper (whose real name was Elda Furry) from a career as a journalist, but she was noted for the atrocious grammar that often showed up in her columns. She began her career as a chorus girl on Broadway, where she met and married DeWolf Hopper, a stage matinee idol who was famous for reciting Casey at the Bat. She starred in 120 films over the ensuing 23 years, but is best remembered for her Hollywood gossip, peddled initially through her radio show, then in a gossip column, then later in documentaries in the 1940s entitled Hedda Hopper's Hollywood.

Known for her gossipy comments - such as - At one time I thought he wanted to be an actor. He had certain qualifications, including no money and a total lack of responsibility - and celebrity interviews, Hedda Hopper starred on her own radio program beginning November 6, 1928 on CBS as a 15 minute, three times a week show. The sponsor was Sunkist Fruits.

In her day, Hedda was one of the most powerful people in Holly wood. One bad word from her and you didn't work, so one had to lick her boots if you wanted an acting job in old Hollywood. Politically, she made the John Birch Society look progressive and counted such figures as Barry Goldwater, Joe McCarthy, Howard Hughes, Ronald Reagan, J. Edgar Hoover, and William Randolf Hearst as close personal friends. Hedda would never get on an airplane unless Howard Hughes had the craft personally inspected. Volume I of her FBI file was two inches thick.

Put Hedda in the same room with Joan Crawford at Christmas time and the prospects are interesting.

Richard Winchester, Mark Sargent and Wayne Buidens created the script for Christmas with the Crawfords Donna Drake directs and choreographs with musical direction by Joe Collins.

Legendary drag performer Joey Arias stars as Crawford for the second year in a row. He calls the show "a 21st Century Christmas Carol. Joan Crawford and family are the nuclear family for a new generation."

Also in the cast are Connie Champagne, Trauma Flintstone, Max Grenyo, Chris March, Matthew Martin, Mark Sargent, Jason Scott, Linda Bulgo, and Brant Kaiwi.

Christmas with the Crawfords was first produced in San Francisco in 1992, and was revived every year there for six years. It had its New York premiere, in this production, last fall at the Grove Street Playhouse. Currently at The Chelsea Playhouse, NYC through Jan. 5.

Christmas with the Crawfords also opened November 23 at Theatre Noir in Portland, Oregon with performances through December 22.



Broadway To Vegas is supported through advertising and donations. Priority consideration is given to interview suggestions, news, press releases, etc from paid supporters. However, no paid supporters control, alter, edit, or in any way manipulate the content of this site. Your donation is appreciated. We accept PAYPAL. Thank you for your interest.


ELVIS PRESLEY'S BLUE CHRISTMAS

Graceland may have laid off 15 percent of its work force due to a drastic drop in tourism and a gray economy, which they anticipate to be long term, but as of Friday night the place was aglow.

Philanthropist Jennings Osborne and his wife, Mitzi, threw a red switch across the street from Elvis Presley's Whitehaven mansion illuminating more than 2 million lights covering Graceland and its grounds.

It all started with Elvis. He loved Christmas and all of the decorations that go with it. Outside on the front lawn Elvis first had a large Santa, sleigh and reindeer with the message "Merry Christmas to All, Elvis" suspended above it. In the mid-sixties, Elvis switched to a life-size Nativity scene, along with lighted aluminum trees along the front of the house, and the winding driveway outlined in hundreds of blue lights, a set-up he used each year for the rest of his life.

Also in the 1960's, Elvis started switching out the blue draperies in the front rooms of the house to a holiday shade of red. Today, the Graceland staff authentically continues Elvis' Christmas decorating traditions each year - including both versions of his front lawn displays.

Enter the born with nothing Jennings Osborne, whose own bootstrap pulling enabled him to live out the American dream. Among other thing, such as a really good bar-b-que, Jennings loves Christmas lights.

Almost to the extreme, at least that's the way some of his Arkansas neighbors felt about it.



LISA MARIE PRESLEY between MITZI with JENNINGS OSBORNE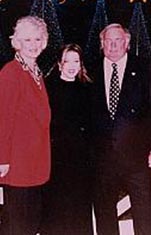 The Osbornes sparked nationwide attention in 1993 when the Arkansas Supreme Court ordered them to shut down their enormous Christmas light display at their Little Rock home. At that time, their estate was adorned with an estimated 3 million lights and could be seen from the air as far as 80 miles away. Sightseers numbering in the thousands flocked to the scene, drawing ire from neighbors and sparking the State Supreme Court decision. Jennings, who was determined to plead his case to the Supreme Court, finally lost his battle when Justice Clarence Thomas ruled the case was not unique enough to be heard.

While the famed Christmas house no longer lights up the sky during the holiday season, the Osbornes continue to make their mark in other ways. In addition to sponsoring Christmas-light displays in 32 cities in Arkansas and Disney World, Osborne has lit up Graceland.

An American flag and an eagle with wings that move have been added to Graceland's annual display of Christmas lights.

Osborne donated the 100,000 lights used to create the 24-by-60-foot flag complete with an eagle on top.

He also donated the lights for the other decorations in the plaza and in the mansion's back pasture.

That includes 120-foot-tall, solid blue Christmas tree in the plaza which is topped by a 12-foot tall dancing Elvis.

The lights will remain in place through observances of what would have been Elvis's 67th birthday on Jan. 8.


FOOD FIGHT

ENJOY THOSE CRANBERRIES Long before the Pilgrims arrived in 1620 Native Americans mixed deer meat and mashed cranberries to make pemmican -- a convenience food that kept for long periods of time. They also believed that cranberries had medicinal value, and were used as an ingredient in poultices to draw poison from arrow wounds. The Delaware Indians in New Jersey used the cranberry as a symbol of peace.

If you strung all the cranberries produced in North America last year, they would stretch from Boston to Los Angeles more than 565 times.

During World War II, American troops required about one million pounds of dehydrated cranberries a year.

Americans have enjoyed a nationwide cranberry glut which is about to end as a result of federal production limits and large government purchases of dried cranberries. There are 440 cranberries in one pound, 4,400 cranberries in one gallon of juice and 44,000 cranberries in a 100-pound barrel. Whether dried or liquid, prices are going up.

Prices to growers were as high as $80 per 100-pound barrel in 1996, but dropped to $20 by 1999. The 2000 cranberry harvest began with a surplus of 4.6 million barrels, about 80 percent of the annual harvest. Large cranberry growers operate under a U.S. Department of Agriculture federal marketing order for cranberries. Those growers agreed to limit their harvest. In exchange the USDA provided grower subsidies of $5 a barrel, up to 16,000 barrels a grower. What that all means is be grateful for the price you are paying this year for cranberries, because next year the consumer won't be so thankful.

PETA that group that defends animals by many times physically harming human beings or destroying their possessions, got into a holiday mood by shipping tofu jerky samples to the 5,000-member crew of the Norfolk-based aircraft carrier USS Theodore Roosevelt, deployed in the war against terrorism.

CALORIE COUNT the average person consumed 4,000 calories on Thanksgiving.

That's twice as many as consumed in a normal day.

The U.S. Government Nutritionists estimates that Americans sucked in 1.25 Trillion calories on Thanksgiving.

And, Christmas is just around the corner.


OTHER PEOPLE'S MONEY

THE GUTHRIE THEATER in Minneapolis has hired Susan Baird Trapnell, executive director of the Seattle Arts Commission and former managing director of A Contemporary Theatre in Seattle, to be its new managing director.

Trapnell will become the first female managing director in the theater's 38-year history. She replaces David Hawkanson, who resigned in July. Trapnell assumes her post on Feb. 1.

The Guthrie has an annual budget of $15 million. The theater is planning a new $100 million riverfront facility with three stages. The enlarged space would allow the Guthrie to accommodate more contemporary plays and more collaborations.

PORTLAND STAGE COMPANY the city's largest theater company, has been awarded $1.35 million by the Fred Meyer Memorial Trust. It's the largest grant in the theater's 14-year history. The money will be distributed over three years, beginning with a $350,000 outright gift in the current fiscal year.

The company is required to raise an additional $5.65 million in the next three years. If it does so, does the Meyer trust will contribute $600,000 in 2002-03 and $400,000 in 2003-04.

The Children's Theatre of Rochester, Minnesota has honored Lea Thompson. Rochester-born Thompson recently starred as Sally Bowles in an eight-month tour of Cabaret.

LEA THOMPSON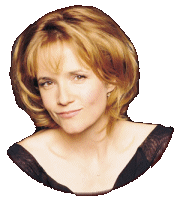 For four years she starred as the title cartoonist in the NBC-TV series Caroline in the City and played Michael J. Fox's mother in the three Back to the Future movies. She grew up wanting to be a dancer. As a 10-year-old pupil of Loyce Houlton at the Minnesota Dance Theatre, she wasn't getting any good dance parts. Then Children's Theatre founder John Clark Donahue sought to cast her as a little girl in Madeline the Gypsy. That year she also played a mouse in The Nutcracker, directed by Houlton.

"There was a fun rivalry between MDT and CTC at that time," Thompson told her Minnesota fans. "Mrs. Houlton didn't want to loan me out, but she owed them money for some scenic design. That's why she let me do it."

Thompson, 40, was honored by the place that inspired her dreams. At its annual ball the Children's Theatre launched a scholarship in her name for 8-to 18-year-old students. "I've managed to maintain a really versatile career -- doing theater, film, TV, drama and comedy," she said. "I directly attribute that versatility to training I got at the Children's Theatre and the Minnesota Dance Theatre."



CHICAGO welcome the tan one - that would be George Hamilton to the Broadway cast.
Hamilton is playing crooning lawyer Billy Flynn. Hamilton's three-month engagement marks his Broadway debut after years of film, Television, and even the Las Vegas stage. The always impeccably dressed Hamilton once starred in Vegas in what has been determined to be one of the worst shows to have ever played Sin City. That was decades ago and the delightful, suave Hamilton is a good fit for the part of lawyer Billy Flynn, who manages to get killers acquitted using his charm, bribes and good looks. He event mouths off in song delivering All I Care About Is Love and Razzle Dazzle.

Chicago, the hit revival of the 1975 Bob Fosse-John Kander-Fred Ebb musical continues its fifth year on Broadway and is the longest-running revival in Broadway history.

INTO THE WOODS starring Tony award winner Leslie Uggams as the witch opens December 5 at the Arena Theatre in Houston as part of their Theater Under The Stars production. The Tony-winning score is by Stephen Sondheim and Tony-winning book was penned by James Lapine. The production is directed is Glenn Casale. Into the Woods combines several familiar fairy tales with unexpected results, revealing the complex realities that sometimes lie beyond the "happy ending."

FIDDLER ON THE ROOF starring Theodore Bikel as Tevye through Dec. 23 at the Fisher Theatre, Detroit.

AND THEN THERE'S BEA starring the Tony and Emmy-winning Bea Arthur continues the cross country tour of her one woman show - plus accompanist, friend and on stage foil - Billy Goldenberg. They are suppose to bring the show to New York for a six week run in the Spring. In the meantime, the 75-year old Arthur appears on stage barefoot, because during one performance she walked into the pit rather than into the wings and broke her foot, which now sports a half-cast on the ankle. While many folks have recently developed a fear of flying, Arthur is claiming this demanding cross country tour has resulted in her overcoming her fear of being in that big silver bird.

DRIVING MISS DAISY

MICHAEL LANDON and KAREN GRASSLE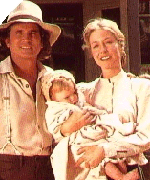 stars Karen Grassle - the actress who played Caroline Ingalls opposite Michael Landon and Melissa Gilbert in the television series Little House on the Prairie that ran from 1974 to 1982.

Grassle has returned to her first love, the theater. The California born Grassle studied classical theater at London Academy of Music and Dramatic Art in England. Her first American professional acting job was the company ingenue for Front Street Theatre in Memphis. She then moved to New York, where she made her Broadway debut opposite George Grizzard in Lanford Wilson's The Gingham Doll.

Driving Miss Daisy, directed by David Grapes, is an Actors' Equity-affiliated professional production by Tennessee Repertory Theatre. Opens Thursday at the Tennessee Performing Arts Center's Polk Theater, Nashville. Performances through Dec. 9


WHO'S WHERE

B.B. KING tonight wraps up a three day gig at the Stardust Hotel in Las Vegas.

King, 76-years-old, kicks off his holiday season shows with a cut from his new Christmas album A Christmas Celebration of Hope, the profits from which are donated to the City of Hope.

The 76-year-old has been on a cross country tour than can have him performing in five different cities during a seven day week, averaging 275 concerts per year King says he doesn't let age, or terrorists slow him down.

He remembers when the Japanese bombed Pearl Harbor. He joined the Army in 1943, when he was 18. He wanted to help win the war. But there was an issue - King's black skin.

"We were a segregated society at that time. Even the German prisoners of war who picked cotton near us picked from 9:00 a.m. to 4:00 p.m. We picked from sun-up to sun-down."

Music was King's ticket out of that lifestyle. At the age of 21, he headed to Memphis. His father, while not real encouraging, understood his son wanted more. "I needed more," King says now. "Today, a lot of young men and women are good at sports. They've found today they can get wealthy that way. I thought the same thing about music. I wanted to help my dad buy a house. I wanted new clothes. I wanted a car. I had seen those things and I wanted them."

King is on stage with his beloved guitar, Lucille. Terrorism has changed a lot of things, including Lucille's case. Following the attacks of September 11 King had to have a special travel case made for Lucille. He sought the extra protection for the instrument that has almost become a part of him. "We're all being more careful, we have to be," he says. "We were traveling by bus on Sept. 11 and the plane that went down in Pennsylvania crashed about 30 miles from us."

Constantly on the road since the terrorists attacks King has noticed some changes. "People are more together these days. I think there are fewer people around now who hurt others just to prove a point. We're learning to understand people more and understand more about them."

King performs November 28 in the Civic Arts Plaza in Thousand Oaks, CA. On November 29 he can be enjoyed at the Sun Theatre in Anaheim, CA and on November 30 he and Lucille will be center stage at the Pechanga Entertainment Center in Temecula, CA

BETTY BUCKLEY WITH THE UTAH SYMPHONY in a special Christmas program at Abravanel Hall in Salt Lake City on Dec. 6.

NEIL DIAMOND performs tonight in Dallas, Texas at the American Airlines Center. On Tuesday the singer/songwriter is in Phoenix, Arizona at the America West Arena. Thursday the place to be is San Diego, California at the Cox Arena. Neil closes out the week on Friday with a show in Bakersfield, California in the Centennial Garden.

JOHNNY MATHIS November 30 and December 1 in Palm Desert California at the McCallum Theatre.

MANDY PATINKIN performs Saturday in Hartford, CT at Bushnell Memorial Hall.

DENYCE GRAVES November 27 takes center stage in Carmel, California in a solo recital for the Carmel Music Society. On December 1 she is in Kennesaw, Georgia for a solo performance at Keenesaw State University.

PAUL ANKA December 1-8 at the Mirage Hotel in Las Vegas.

THE MORMON TABERNACLE CHOIR WITH ANGELA LANSBURY in the annual Christmas concert Conference Center in Salt Lake City on Dec. 7. Lansbury will be featured as a narrator with the choir, which will sing under the direction of Craig Jessop, Mack Wilberg and Barlow Bradford.

THE GLEN CAMPBELL CHRISTMAS SHOW Wednesday November 28, at the Lied Center for Performing Arts, Lincoln, Nebraska.

SNOOP DOGG on stage at the Convention Center in Sioux City, Iowa on December 3.

THE BOSTON POPS FAMILY CHRISTMAS TOUR December 1 in Denver, Co. December 3 in Rosemont, IL. December 4 it's a performance in Bryce Jordan Center at Pennsylvania State University. On December 5 in Albany, NY at the Pepsi Arena. December 7 the city is Springfield, MA and on December 8 there will be both a matinee and evening performance in Durham, NH.


HOOD a native of Iran, real name Quaim-Maquam, majored in Computer Science at the University of Pennsylvania, and did postgraduate studies at MIT and Harvard. During the day he's an investment banker. At night he's a stand up comic. He brings the act to Dangerfield's in NYC Dec. 3-9.

MORT SAHL opens tonight Nov. 25 at Joe's Pub. NYC. Being there to introduce him to the audience will be Sahl's biggest fan, Woody Allen. Sahl, the first humorist on the cover of Time magazine. For two decades he was a Las Vegas headliner. The insightful humorist will play five shows through Nov. 28.

BRITNEY SPEARS WITH O-TOWN makes her for her second appearance as a headliner at the Bradley Center in Milwaukee,Wisconsin on Nov. 27. One dollar from each ticket sold for the tour will be donated to the children of firefighters and police killed in the Sept. 11 terrorist attacks

PRINCE CHARLES canceled a planned trip to the Royal Shakespeare Company in Stratford-upon-Avon because of an eye injury he sustained after he got sawdust in his left eye while cutting a branch off a tree. He was treated at Cirencester Hospital and released to return to his Highgrove estate in western England.

BRUCE SPRINGSTEEN The Boss will play at the Ashbury Park Convention ll for five nights - Dec. 3, 4, 6, 7, 8. Joining Springsteen will be the Max Weinberg 7 & Friends.

ELTON JOHN AND BILLY JOEL are back on the road in their Face To Face 2002 again. The dates include January 13 in Washington, D.C. at the MCI Center. On January 22 the duo will be in Boston at the Fleet Center. February 4 will find them in Hartford, CT at the Civic Center and on February 13 they perform in Philadelphia at the First Union. In the meantime Joel has been answering questions about his latest album Fantasies and Delusions while John is finishing up his tour. On December 8 he is in Las Vegas at the MGM Grand.


PIFFLE AND PROFUNDITIES

NAVY LT. SHANE OSBORN 27, the guy controls of the U.S. reconnaissance plane that made a successful emergency landing in China last April, after a collision with a Chinese fighter jet, is experiencing the life of a celebrity. Yesterday he was in Bellevue, Nebraska's Wal-Mart Supercenter signing copies of his new book Born to Fly, which detail the collision and the detention of Osborn and his crew for 11 days. Suddenly customers had other requests. In addition to autographing 600 copies of his tomb he obliged by putting his John Hancock on: paper and plastic airplanes, posters of vintage military aircraft, school assignment books, pictures from air shows, ball caps and - a brassiere. A 70-year old man brought in the garment saying s it belonged to his sister who wanted it autographed.

Osborn was in Nebraska to spend Thanksgiving with his mother and other relatives in Norfolk before he and his crew of 23 leave early this week for the Middle East to support the U.S.-led war in Afghanistan against terrorism.











Next Column: December 4, 2001
Copyright: November 25, 2001. All Rights Reserved. Reviews, Interviews, Commentary, Photographs or Graphics from any Broadway To Vegas (TM) columns may not be published, broadcast, rewritten, utilized as leads, or used in any manner without permission, compensation and/or credit.
Link to Main Page
---
Laura Deni



U.S. Postal Address: Post Office Box 60538, Las Vegas, NV 89160
CLICK HERE FOR COMMENT SECTION