! >
Broadway To Vegas
  
  REVIEWS INTERVIEWS COMMENTARY NEWS

| | |
| --- | --- |
| | |
SPIDER-MAN WANTS LAS VEGAS - - FORMER LAS VEGAS MUSICIAN HONORED IN HUNGARY - - PRESIDENT JOHN F. KENNEDY A NATION REMEMBERS EXHIBIT - - THE SOUND OF MUSIC IN MANY FORMS - - YULE-RIKA AT THE AMERICAN MUSEUM - - PRINCE PHILIP OPENS THE SAM WANAMAKER PLAYHOUSE - - THE 59th EVENING STANDARD THEATRE AWARDS - - MICHAEL CERVERIS & LOOSE CATTLE NORTH OF HOUSTON CD REVIEW - - DONATE . . . Scroll Down




Copyright: November 24, 2013
By: Laura Deni
CLICK HERE FOR COMMENT SECTION


SOUND OF MUSIC AS TV SPECIAL, CD SOUNDTRACK AND STUDENT EDITION


December seems to be the month for The Sound of Music. The eagerly anticipated life broadcast aires on NBC December 5.

On December 3 Sony Masterworks will release the companion soundtrack to NBC's live broadcast of The Sound of Music, based on the classic stage musical. The three-hour live production, stars six-time Grammy Award winner Carrie Underwood as Maria von Trapp.

The cast also includes Audra McDonald, who has won five Tony Awards and two Grammys, as Mother Abbess; Stephen Moyer, who will play Capt. Georg von Trapp; Tony Award winner Christian Borle, who will portray von Trapp family friend Max Detweiler; Tony winner Laura Benanti cast as Elsa Schrader, the captain's onetime fiancée and Emmy winner Michael Park as Baron Elberfeld.

Cast as the von Trapp children are Ariane Rinehart (Liesl), Michael Nigro (Fredrich), Ella Watts-Gorman (Louisa), Joe West (Kurt), Sophia Caruso (Brigitta), Grace Rundhaug (Marta) and Peyton Ella as young Gretl.

Now comes word that R&H Theatricals, a division of Rodgers & Hammerstein, has released a student version of The Sound of Music. This new theatrical property is part of R&H's Getting to Know Collection.

The hour-long musical was adapted for young performers by iTheatrics under the supervision of its founder and CEO, Timothy Allen McDonald. iTheatrics is collaborating with Rodgers & Hammerstein to completely re-imagine the entire Getting to Know Collection. Getting to Know… The Sound Of Music will be the first title to feature the new materials.

Generally, when musical is made student friendly, that means cutting out most of the violence, swear words and heavy love scenes. For instnace, to convert Les Miserables into a student version could only be described as a horrendous undertaking. However, The Sound of Music has never had objectionable content. What has been re-imagined, cut or restructed is the question Broadway To Vegas asked.

"The Getting to Know edition of The Sound of Music has been edited to be a 60 minute show and the score has been adjusted to better fit within the register of students' singing voices," responded Allison Van Etten of Ravenscroft PR for iTheatrics.

"The Getting to Know edition is also designed to give any educator or community member the tools necessary to stage a production with students. For example, the Production Guide guides educators through planning and staging a musical, the vocal recording helps students learn their parts, the Choreography and Staging DVD takes directors step-by-step through the process of creating and staging musical numbers, and there is also a CD of accompaniment music," she added.

"The Sound of Music is the world's most enduringly popular musical. Its familiar story of the von Trapp family and the woman who starts as their governess has proven to be far more than a simple tale. As with any good story, there is an underlying truth: that we each have a life we were born to live, and it is our task to find that life. And, of course, for The Sound of Music Rodgers & Hammerstein wrote some of the best songs of all time. The fact that in collaboration with iTheatrics we can now bring a student version of The Sound of Music to the school market is reason for celebration," declared Rodgers & Hammerstein president Ted Chapin.

"To be able to re-imagine and adapt The Sound of Music for young people to perform was at first a really daunting task. But once we rolled up our sleeves and started workshopping the show with our kids we quickly found a way to bring the show to life in the most imaginative way that will also be achievable in school and afterschool programs everywhere" added iTheatrics founder and CEO, Timothy Allen McDonald.





Broadway To Vegas is supported through advertising and donations. Priority consideration is given to interview suggestions, news, press releases, etc from paid supporters. However, no paid supporters control, alter, edit, or in any way manipulate the content of this site. Your donation is appreciated. We accept PAYPAL. Thank you for your interest.





ART AND ABOUT


A NATION REMEMBERS

Card from Mrs. Kennedy which I received, post marked January 15, 1964. Priceless in sentimental value, though probably not worth a lot monetarily. Annoying that two theft attempts were made in Las Vegas. Told the so soon after the funeral postal date, and the authenticated handwriting is perhaps why. Protectively stored, there is also something slightly different about the back of my envelope, than those bearing a later postmark. Photo: Laura Deni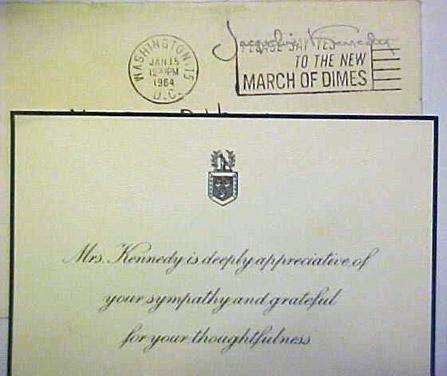 A display of artifacts from the state funeral of President Kennedy on display through February 23, 2014 at the John F. Kennedy Library and Museum in Boston.

Opening on November 22, the JFK Library presents a selection of artifacts from the President's State Funeral. Artifacts include the American flag that draped the President's coffin, the saddle, sword, and boots from Black Jack, the rider less horse, and notes handwritten by Mrs. Kennedy as she planned the funeral.

Because of some work I was doing for one of the United Nations' agencies, I was one of the people who received an engraved note card from Mrs. Kennedy, postmarked 12:30 p.m. January 15. 1964. What surprised me was that the ivory colored stationary, banded in black, was hand addressed in black ink by Mrs. Kennedy, not a secretary. The authenticated handwriting was made during the short period when Mrs. Kennedy addressed some of the cards herself, before turning the task over to a large committee. That the cards were mailed so soon after the funeral was also an attention to social detail, for which she was famous.

John Fitzgerald Kennedy, thirty-fifth President of the United States, was assassinated on November 22, 1963, in Dallas, Texas.

On Sunday, November 24, 1963

1:08 p.m.—Caisson bearing the President's coffin departs the White House in a procession to the U.S. Capitol, where the President will lie in state.
1:48 p.m.—In the Capitol Rotunda, the President's casket is placed on the catafalque constructed to hold President Abraham Lincoln's casket in 1865.

Monday, November 25, 1963

9:00 a.m. -Doors to the Capitol Rotunda close to the public; some 250,000 people have viewed the President's casket.
10:59 a.m.—Caisson leaves Capitol Hill.
11:40 a.m.—After pausing for several minutes at the White House, the caisson proceeds to St. Matthew's Cathedral, with Jacqueline Kennedy, members of the Kennedy family and dignitaries from around the world following the procession on foot.
12:14 p.m.—President's coffin enters St. Matthew's Cathedral.
1:30 p.m.—Funeral procession departs for Arlington National Cemetery.
2:54 p.m.—Aircraft flyover at Arlington National Cemetery shortly after the procession arrives.
3:07 p.m.—Taps is played.
3:13 p.m.—Flag-folding ceremony
3:15 p.m.—Jacqueline Kennedy lights the eternal flame.
* Times are approximate

The exhibit includes the saddle, blanket, saber and boots reversed in the stirrups, carried in the funeral procession, by a magnificent black gelding, who followed the caisson bearing the President's coffin. The rider less horse is one of the highest military honors bestowed upon the fallen.



Also among the artifacts on display is the Green Beret placed on President Kennedy's grave by Command Sergeant Major Francis Ruddy who removed this beret from his head and placed it at the President's gravesite in the late afternoon of Monday, November 25. "He gave us the beret, and we thought it fitting to give one back to him." Photo: Kennedy Library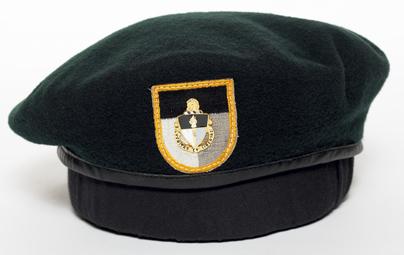 The horse, named Black Jack, was from the Army's oldest active infantry unit, the 3rd U.S. Infantry Regiment, known as The Old Guard. After the funeral, Mrs. Kennedy, an avid horsewoman, expressed an interest in Black Jack. Within hours, the horse's saddle and blanket, and the boots and saber were delivered to her at the White House. They remain part of the Kennedy Library's permanent collection and are displayed here for the first time.

Flag that draped the coffin of President Kennedy, November 23—25, 1963 Arriving at Andrews Air Force Base from Dallas on Friday evening, November 22, President Kennedy's body was taken to Bethesda Naval Hospital, where an autopsy was performed and the body was prepared for burial. In the early morning hours of Saturday, November 23, moments before the President's casket left the hospital for the White House, a team of casket bearers unfolded this flag and draped it over the coffin. There it remained until the afternoon of Monday, November 25, when the casket team stood over the President's grave and folded the flag in one of the day's final ceremonial tributes. The flag was handed to the Superintendent of Arlington National Cemetery, Jack Metzler, who then presented it to Mrs. Kennedy.

Also among the artifacts on display is the Green Beret placed on President Kennedy's grave by Command Sergeant Major Francis Ruddy, November 25, 1963 Recognizing the need for the United States to conduct unconventional warfare, President Kennedy had championed the role of the U.S. Army Special Forces. He embraced the Green Beret, worn by the Special Forces troops, calling it "a symbol of excellence, a badge of courage, [and] a mark of distinction in the fight for freedom."

YULE-REKA! Celebrating Christmas at the American Museum in England.

Every Christmas the American Museum is transformed for the festive season and this year it is celebrating ingenious inventions throughout history.

From November 28 to December 22, 2013, each Period Room is dedicated to a different innovation: from the crazy swim fins invented by Benjamin Franklin in 1717 to the swivel chair designed by Thomas Jefferson, who reputedly drafted the Declaration of Independence while sitting in his creation.

Professor Crank is having trouble with his time machine and pieces are dropping off wherever he lands. Visitors, particularly the younger ones, are encouraged to look out for the cogs and levers that have fallen in the Period Rooms.

The magnificent 17-foot Christmas tree that fills the Central Hall is adorned with handcrafted decorations and these individual ornaments offer inspiration to visitors each year.

Special Events include a Friday, December 6th concert. An American Christmas is a special late-night opening when you can enjoy the Museum's decorations after hours, an especially magical time at the Museum. Enjoy some seasonal refreshments in the Orangery café before immersing yourself in the Christmas spirit. Sounding It Out, the lively and renowned West Country choir, is joined by the internationally-acclaimed American singer Michael Harper for an American musical journey ranging from Gospel through Appalachian carols, and from Shape Note to classical Christmas music. Audience participation is guaranteed.

The Christmas Craft Fair is December13-15 where local craftspeople will be selling their highly original handmade gifts, is another ideal opportunity to finish your Christmas shopping.

The December 22 Holiday Homecoming is when visitors can meet Father Christmas and create your own beautiful paper decorations to take home.

November 28 to December 22, 2013 at The American Museum in Bath, England.


SWEET CHARITY


WALKING WITH THE WOUNDED
All 12 injured service personnel from Britain, America, Canada and Australia have overcome life-changing injuries and undertaken challenging training programs to prepare themselves for the conditions they will face in Antarctica.

Each seven-person team has a high profile participant. The UK Team Glenfiddich includes Capt. Harry Wales, who is an uncle to a baby named George. Team Soldier On from the Commonwealth includes actor Dominic West who plays McNulty in The Wire. US Team Noom Coach boasts True Blood star Alexander Skarsgard. Each team also has a mentor and a polar guide.

Walking With The Wounded was founded by Ed Parker and Simon Daglish in 2010.

Members of the teams include:

TEAM USA

Therese Frentz, Mark Wise, Margaux Mange, Ivan Castro who is blind and the first blind graduate of the Maneuver Captain's Career Course at Fort Benning, Georgia, Team Guide Inge Solheim, Ed Parker, Team Mentor who is one of the founders of Walking With The Wounded and honorary team member actor Alexander Skarsgard.

TEAM UK

Duncan Slater, who lost both his legs following after an IED (improvised explosive device) blew up in his vehicle in Afghanistan, Ibrar Ali, MC, Kate Philp, Amputee Guy Disney, Conrad Dickinson Team Guide, Richard Eyre Team Mentor, and Prince Harry.

TEAM COMMONWEALTH (AUSTRALIA)

Heath Jamieson, Seamus Donaghue who has spent the last two years in rehabilitation, Alexandre Beaudin D'Anjou, Chris Downey, Team Guide Eric Philips, Team Guide Simon Daglish (Dags) who is a co-founder of Walking With The Wounded and honorary team member Dominic West.

The purpose is "to show the world the extraordinary courage and determination of the men and women who have been wounded while serving our countries, and to remind us all of the help and support we owe them."

Walking With The Wounded raises money to help physically and mentally injured service personnel to retrain for a civilian career if their injuries prevent them returning to military duties.

All of the participants underwent extensive training, from cold weather training in Iceland in March, to team training through the summer, and a final session of snow preparation in October.

Braving temperatures of -31 Fahrenheit, the 200 mile race is expected to take 21 days. Each day the teams will spend 12 hours skiing, with 10-minute rest breaks every two hours. Putting up and taking down their campsite will take two hours at each end of the day, leaving little time for sleep during the constant daylight of the Antarctic summer. The winning team is expected to arrive at the South Pole by December 17, 2013. As far as Broadway To Vegas is concerned, everyone in this race is a winner.

HUAWEI WINTER CONCERT Headlining the evening will be the award-winning, international singing star, Alfie Boe. He is joined by Laura Wright, the London Philharmonic Orchestra and the Tiffin Boys' Choir, for this very special concert, benefiting The Prince's Trust.

Unlike many charity concerts, where the net becomes a donation, Huawei Technologies (UK) Co. Ltd will pay all proceeds from this prestigious event to The Prince's Trust.

Held in the magnificent Royal Festival Hall in London on Monday, December 2, 2013.


THE MUSIC GOES ROUND AND ROUND


MICHAEL CERVERIS & LOOSE CATTLE NORTH OF HOUSTON like a stampede Tony Award winner Michael Cerveris and Loose Cattle stormed into 54 Below in New York City for their North of Houston show, delivering a roster of acoustic, country/blue grass tunes captured by Broadway Records.

This is one of those infectious boot scootin' sets perfect for line dancing. It's music, no idle chatter or musings. The songs are introduced and then the musicians get on with it. The longest intro is for Longfellows and Shortcomings.

The group of friends who aptly brand themselves Loose Cattle succeed at being down home cute regarding their background.

"They were a couple at the time. And it was hard times. And because therapy was damned expensive, they thought if they spent more time singing in the living room, there'd be less time for fighting. "The idea was pretty simple: squeeze a bunch of friends together in a living room and play through some country tunes. The name was conceived at a gig with their friend Laura Cantrell downstairs at Hill Country Barbecue under a sign warning of Loose Livestock (they never could quite remember it right) and they became Loose Cattle. Southern by birth or by inclination, they gathered some like-minded friends, made some new ones, convinced them all to lower their prodigious musical skills to their commonest level."

Making the sound of steel guitar, mandolin, fiddle and harmonica blend are: Cerveris who was raised in West Virginia, along with Jersey-born co-vocalist Kimberly Kaye (former trumpet strumpet with WARP tour punk/ska vets New Direxion), Gabriel Caplan (guitarist for Naomi Shelton' Gospel Queens), Jon Graboff (pedal steel multi-instrumentalist for Ryan Adams, Shooter Jennings, Laura Cantrell and many others), Alex Harvey (the mandolin star of those Geico ads), Justin Smith (the giant fiddler of The Defibulators), Lorenzo Wolff (bass and sousaphone player for The Lisps), and Eddy Zweiback (percussionist and founding member of Losers Lounge) are the unruly herd who "lowered their prodigious musical skills" to produce this toe-tapping, infectious CD.

The first thing that comes across is that everyone on the CD seems to be having a good time. It's ramped up and infectious. Even if country music isn't your thing, it's difficult not to enjoy this CD.

Cerveris and Kaye offer a powerful mash-up of Dolly Parton's Joleen and Cee Lo and Brunoi Mars' F---You. Kaye delivers a heart wrenching Jolene, longing for a love who dumped her for someone with greater wealth; Cerveris answers with F---You a swear it like it is anthem from a lover done wrong. The CD cover does caution that it is explicit.

The opening number is Cerveris on John Michael Cooley's Get Downtown, followed by Cerveris and Kaye in a get-even ditty, Buddy and Julie Miller's Gasoline and Matches.

One of the songs was even inspired by the clutter in Cerveris' apartment. His friend, Paul Sanchez, saw the place and wrote Lost In New Amsterdam.

The Cerveris penned Evangeline, perhaps inspired by the Canadian musical of the same name with book, lyrics and music by Ted Dykstra which was inspired by the Henry Wadsworth Longfellow's epic 1847 poem about separated lovers. The mellow Cerveris and Kaye take promises to leave the light on.

It was raining outside when I listened to Get Down River, the mess of the Philippines still on everyone's mind, giving the lyrics a deeper meaning.

The only selection that isn't totally twang-it-country, is the closer, Pinball Wizard, although it does have a country arrangement. Including the song is a tribute to Cerveris making his Broadway debut inThe Who's Tommy 1993 as "18-20 year old Tommy/Narrator". For that effort, Cerveris received a Tony Award nomination as Best Featured Actor in a Musical.

Michael Cerveris & Loose Cattle North of Houston is a must have for every country bar, hangout, line dancing, hoedown - or just a living room full of laid back, beer drinking friends.

The playlist on the CD booklet isn't quite in the order of the CD. Selections 16 and 17 are transposed. Run That By Me One More Time is before, not after, the Band intros.

Recorded November 2 & 3, 2012 and January 4 & 18, 2013.

Mixed by Mark Bingham at Play Studios, New Orleans. Mastered by Paul Marinaro at Piety Studios, New Orleans.

Attraftive, rustic style country CD cover booklet. CD Design by Brad Egnor. Photos by Jacob Blickenstaff. Painting "Bull a dor" by Larry Toro.

Cerveris and Loose Cattle will also play Joe's Pub on Wednesday, November
SPIDER-MAN'S TANGLED WEB HEADED TO LAS VEGAS


The beleaguered, fraught with injuries musical Spider-Man Turn Off the Dark closes on Broadway January 4, 2014.

The musical broke several records - such as costing the most to produce and losing more money than any show in Broadway history. Insiders post loss figures of $60 million and upwards. According to the New York Times, several investors said that they have not been paid back anything during the three-year run of Spider-Man on Broadway and plan to write off their investments.

The intention is to re-spin the show in Las Vegas - where it should have been mounted in the first place.

While investors who need tax write-offs are needed, the Vegas location does offer a long term possibility of a re-coup, if not a profit.

Lead Producer Michael Cohl promised that Spider-Man would be "more exciting and better" in Vegas. "We'll work on improving everything," Cohl said. "It could be anything. It's a blank piece of paper. We know it's Spider-Man. We know it's Vegas. We know it's essentially what's playing here. But it could change in any number of ways. We'll have to wait and see.''

A move to Vegas isn't as simple as renting a U-haul. Sin City isn't the only location currently being spun out for speculation. European locations are also on the map, with finger pointing towards Germany.

In other words, Spidey needs a home.








HUNGARIAN GALA HONORS FORMER LAS VEGAN
Tommy Vig. Photo by Zsolt Petho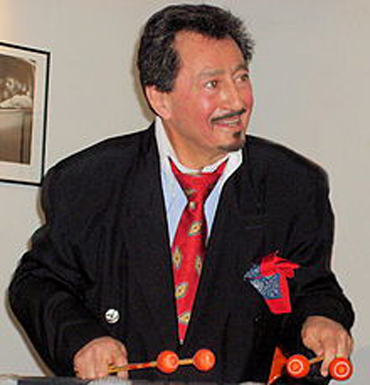 A major event entitled Hungary is a Nation of Sports and Culture (Tommy Vig 75!) takes place December 1 at the Danube Palace in Budapest.

Vig, who was a Las Vegas main stay, is married to Mia Kim of the world famous Kim Sisters. That trio of talented beauties came to the Las Vegas from South Korea in 1959 and quickly became the darlings of the continent, performing on The Ed Sullivan Show more than 22 times.

Vig, a Hungarian-born music prodigy and jazz percussionist, settled in Las Vegas in 1961, where he performed with Frank Sinatra, Sammy Davis, Jr., Tony Curtis, Woody Allen, Judy Garland, and Tony Bennett. He was the percussionist on many of Rod Stewart's albums.

He met Mia when he and The Kim Sisters were both peforming in the same Las Vegas hotel 'back to back' on a rotating stage. They wed in March 1967.

Featured in the December 1 musical extravaganza will be compositions Vig created.

"I composed 8 original works for the 2012 London Olympics' Hungarian gold medalists, and with the help of the local Ministry of Culture, we will have a huge concert, also celebrating my 75th birthday," Vig told Broadway To Vegas. "Mia will sing two songs, one in broken Hungarian. However, since the Korean Ambassador will also be there, she might surprise everyone and sing a short Korean folk song, Arirang, too."

Vig is considered Hungary's most famous jazz musician.

The event will be introduced by Dr. Istvan Simicsko, Hungarian Minister of Sports.

The important gala will premiere Vig's Olympic compositions, played by the Budapest Jazz Orchestra and guest artists.

This isn't Vig's first foray into the musical world of the Olympics. In 1970, Vig moved to Los Angeles where he worked in Warner Brothers, Fox, Universal, CBS, Columbia, ABC, Disney, Goldwyn, MGM, and Paramount Studios. He participated in about 1500 studio sessions in Hollywood, including two Academy Awards, and produced, directed and conducted the official 1984 Olympic Jazz Festival for the Los Angeles Olympic Organizing Committee (LAOOC).

Formed in October 1998, The Budapest Jazz Orchestra is considered a rarity - an orchestra composed exclusively of jazz musicians

One of their primary goals is to perform a diversity of music, while showing how jazz music has evolved over the decades, and introducing the audiences to "all the artists who were milestones in this music."

Members of the Budapest Jazz Orcheatra are:

Saxophones: Gábor Kollmann, Árpád Dennert, Akos Csejtey, Zana Zoltán, George Varga.

Trumpets: David Csizmadia, Balazs Pece, Aron Koos-Hutás, Laszlo Szénási.

Trombones: Ferenc Schreck, Gabor Skerlecz, Frolov Akos, Viktor Nagy Daniel.

Rhythm Section: Attila Juhasz, Stephen Gyárfás, Sandor Sarkany, Attila Juhasz.

Vig's musical compositions dedicatated to the Olympic Gold Medalists include:
Fence! to champion Áron Szilágyi
Done! to swimmer Dániel Gyurta
Unstoppable! to to swimmer Éva Risztov
Throw That Hammer! to Krisztián Pars.
Row! to the Dombi-Kökény kayak duet.
Golden Girl! to kayak champion Danuta Kozák
Magyar Power! to gymnast Krisztián Berki
Winning Girls! to kayak foursome Krisztiana, Katalin, Danuta, and Gabriella.


PRINCE PHILIP OPENS THE SAM WANAMAKER PLAYHOUSE
July 1935: Prince Philip of Greece in Scotland dressed for the Gordonstoun School's production of Macbeth. Photo: Royal Archives.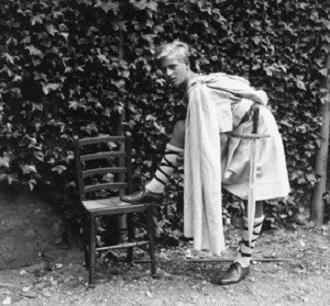 Prince Philip, who once had a role in Macbeth, was at Shakespeare's Globe in London last Tuesday to officially open the venue's new inside auditorium, the Sam Wanamaker Playhouse.

He unveiled an oak plaque and lit the last of 100 beeswax candles that will illuminate the Jacobean playhouse which hosts its first production January 9, 2014.

What might sound like a fire hazard isn't expect to set off any alarms. Working closely with the fire authorities in London, Shakespeare's Globe has made a concerted effort to ensure that all early modern plays performed there will be lit by candles. Using the expertise on the Globe's Architecture Research Group, specifically Professor Martin White, Shakespeare's Globe conducted experiments with candles, Jacobean plays, costume and cosmetics to assess the effects of this unique lighting condition upon the plays in performance. Beeswax burns longer and creates a warm, pleasant and dazzling glow through which audiences will view the five-act plays.

At the event Prince Philip chatted with member of team behind the design of the new roofed theatre that will permit Shakespeare's Globe to mount productions year round. The auditorium and layout of the new playhouse are based on the extraordinary Worcester College Drawings, penned by John Webb, a protégé of Inigo Jones, in the mid-seventeenth century.

This space will present a decorative aesthetic like no other theatre in London and perhaps the world. Researched to the finest detail, the theatre is painted and decorated in the Jacobean fashion, using a color palette available in the 1600s which are shades of green, blue and carnation, applied decoration, carvings and gilding.

The Duke of Edinburgh spoke of how he thought the building's founder, after whom the new space is named, would feel: "Sam would have been pleased - I think it's well worth remembering how much he put into this whole idea and drove it forward. He was prevented from achieving anything for something like 10 years, but he stuck at it and would be immensely proud of this theatre. Sam would have told you that he was mortally embarrassed that the theatre is named after him, but secretly I think he would have been quite pleased!"

Wanamaker's Olivier Award-winning actress daughter Zoe also attended. She commented: "I am so proud to see the realization of my father's original vision. Not only is it unique, it is the only Jacobean theatre in London. We can at last take The Globe indoors and I look forward with excitement to the opening season in 2014."

The first production will star Gemma Arterton in Webster's The Duchess Of Malfi. The famous tragedy will be followed by The Knight Of The Burning Pestle, L'Ormindo and The Malcontent.

The following day Prince Philip and his wife Queen Elizabeth celebrated their 66th wedding anniversary. They married November 20, 1947 in Westminster Abbey in London. Since that day Prince Philip has walked paces behind his wife without every losing his own foothold.



92-year-old poet Dennis Wilson chats with Prince Philip. Prince Philip in joking with Wilson said: "I hear that you have been discovered." Mr Wilson replied: "Yes it has only taken me 70 years to find a publisher." Photo: © Press Association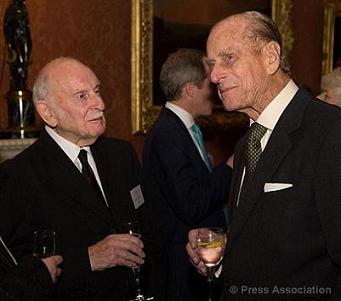 The evening before their 66th wedding anniversary The Queen and Duke of Edinburgh hosted the first Reception for Contemporary British Poetry. The purpose of the event was to highlight the impact that poetry has on the public. The Buckingham Palace event was attended by four poet laureates who were among the 300 guests who represented all forms of the art.

Poet Laureate Carol Ann Duffy, who coordinated the evening with Palace officials, Belfast Laureate Sinead Morrissey, Welsh Laureate Gillian Clarke, Scotland's Elizabeth Lochhead, John Agard who won the Queen's Gold Medal for Poetry, all performed readings.

The royal couple, seated next to their daughter Princess Anne, laughed along with the rest of the audience as Agard recited his poem - called Alternative Anthem - which was his tribute to the British love of tea. "Put the kettle on. It is the British answer to Armageddon," he said.

Stage and screen actors Joanna Lumley and Timothy West spoke with the Queen. Other guests having a delightful time included singer Cerys Matthews, Culture secretary Maria Miller and minister Ed Vaizey, Dylan Thomas's granddaughter Hannah Ellis, Children's Laureate Malorie Blackman, broadcaster Roger McGough who presents Radio 4 's Poetry Please, the world's longest-running radio show about poetry, and dialect poet Ian McMillan.

Also seen enjoying the event were Jamaican poet James Berry who mixes English with Jamaican Creole, New Zealand's Fleur Adcock, and Pakistan's Monima Mela.

Paula Meehan, who was recently named as the Ireland Professor of Poetry, a role founded by Seamus Heaney, also enjoyed a drink and chat.

Henry Birtles, dubbed the Racing Poet for his poems about the Sport of Kings, attended as did war poets including former soldier in the Coldstream Guards Captain John Jeffcock, and 92 year-old Dennis Wilson who took part in the D Day landings, and was inspired to write about what he saw on the frontline, were also presented to the Queen.

Prince Philip in joking with Wilson said: "I hear that you have been discovered."

Mr Wilson replied: "Yes it has only taken me 70 years to find a publisher."


SPREADING THE WORD


BARRY EDELSTEIN IN CONVERSATION WITH JACK O'BRIEN on Monday, December 2, at the old Globe in San Diego.

This special discussion between Old Globe Artistic Director Barry Edelstein and Old Globe Artistic Director Emeritus and three-time Tony Award winner Jack O'Brien will explore the history of The Old Globe and O'Brien's new memoir about his early years in theater, Jack Be Nimble: The Accidental Education of an Unintentional Director.

After the presentation, O'Brien will also sign copies of the book, released this summer by Farrar, Straus and Giroux, which will be available for purchase at the theater.

MARK CUDDY has been appointed to the newly-created position of Playhouse Producer and Chief Executive of the Cape Cod Center for the Arts, which is the oldest professional Summer Theatre in America.

For the past eighteen years, he has been the Artistic Director and co-CEO of Geva Theatre Center in Rochester, New York - the largest producing theatre in New York State outside of Manhattan. Cuddy will remain with Geva as he begins his tenure with the Playhouse, since ther season calendars complement each other. Cuddy also serves on the Board of Directors of Theatre Communications Group (TCG), the national service organization of the professional non-profit American Theatre with over 500 member theaters.


OTHER PEOPLE'S MONEY


TONY HSIEH one of the best things (person) to ever happen to Las Vegas is the CEO of Las Vegas based Zappos.

In response to Kayne West's criticism of his company, Hsieh opened a new product division - toilets. The $100,000 model even ships free. An exclusive - you won't find it in your Neiman-Marcus Christmas catalogue.



THE LATIN GRAMMY AWARDS took place at the Mandalay Bay Events Center in Las Vegas. In attendance was the new Miss Universe, Venezuelan Gabriela Isler. Hosted by Lucero, presenters included Carlos Santana, Don Francisco, Charo, Ricky Martin, Banda Los Recoditos, Tito "El Bambino," Mala Rodríguez, and Aleks Syntek.

Colombian singer Carlos Vives, 52, picked up three awards, including song of the year, best tropical song and album. Marc Antony walked away with Record of the Year for Vivir Mi Vida. (To Live My Life).

Draco Rosa took home Album of the Year award. Pitbull won the award for Best Urban Performance.

Sergio George was named Producer of the Year. Miguel Bosé was named person of the year for his musical contribution and charity work.

Gaby Moreno, a Guatemalan songwriter influenced by the blues, was named best new artist. Spanish singer Alejandro Sanz won his 16th Latin Grammy when his La Música No Se Toca was named Best Contemporary Pop Vocal Album; Natalia LaFourcade, whose Mujer Divina: Homenaje a Agustín Lara featured material by Lara, a cherished Mexican songwriter who died in 1970 - was named best alternative album,

THE 59th EVENING STANDARD THEATRE AWARDS were presented Sunday night, November 17, 2013.

Homeland star Damian Lewis hosted the awards at London's Savoy Hotel. In attendance were Sir David Attenborough, actor Hugh Grant, London's Mayor Boris Johnson and wife Marina Wheeler, Jude Law, Duran Duran's Simon Le Bon, Helen McCrory and husband Damian Lewis, Hayley Atwell and Evening Standard proprietor Evgeny Lebedev, Tom Hiddleston, Dan Stevens, Grayson Perry, Sir Richard Eyre ,Billie Piper and Hayley Atwell, supermodel Lara Stone, Deputy Prime Minister Nick Clegg, Dame Edna Everage, and singer Tori Amos, composer of The Light Princess's score,

During the event director Stephen Daldry confirmed that he was "in negotiations" to bring The Audience starring Helen Mirren as Queen Elizabeth to New York.

In accepting her winning accolaid, Mirren took the high road: "The audience, they loved it, but they were loving the Queen, not me," she said.

Winners:

BEST ACTOR (Joint)
Rory Kinnear Othello, National (Olivier)
Adrian Lester Othello, National (Olivier)

NATASHA RICHARDSON AWARD FOR BEST ACTRESS
Helen Mirren The Audience, Gielgud

BEST PLAY
Chimerica Lucy Kirkwood, Almeida & Harold Pinter

NED SHERRIN AWARD FOR BEST MUSICAL
Merrily We Roll Along Menier Chocolate Factory & Harold Pinter

BEST DIRECTOR
Richard Eyre Ghosts, Almeida

BEST DESIGN
Bob Crowley People, National (Lyttelton) & The Audience, Gielgud & Once, Phoenix

CHARLES WINTOUR AWARD FOR MOST PROMISING PLAYWRIGHT
Rachel De-lahay Routes, Royal Court

MILTON SHULMAN AWARD FOR OUTSTANDING NEWCOMER
Seth Numrich Sweet Bird of Youth, Old Vic

BEST MUSICAL PERFORMANCE
Rosalie Craig The Light Princess, National (Lyttelton)

EMERGING TALENT AWARD IN PARTNERSHIP WITH BURBERRY
Cush Jumbo Josephine and I, Bush

AWARD FOR COMEDY
David Walliams For his performance as Bottom in A Midsummer Night's Dream

BEYOND THEATRE AWARD
BBC Proms 2013

EDITOR'S AWARD
Kevin Spacey For his contribution to British theatre

LEBEDEV SPECIAL AWARD
Lord Lloyd-Webber For his contribution to musical theatre

LONDON EVENING STANDARD THEATRE ICON AWARD
Dame Maggie Smith For her contribution to the world stage



USHERS: THE FRONT OF THE HOUSE Music by Yiannis Koutsakos. Lyrics by Yiannis Koutsakos and James Oban.
,br> Book by James Rottger.

Directed by Max Reynolds.

"We follow the journey of five of the "stagiest" people in theatre, the Front of House staff, who all work at a commercial theatre company in London's glittering West End.

Showing the hilarious and extraordinary things they hear as ice cream sellers and with a preview performance of a new Jukebox musical imminent, a three year workplace romance on the rocks, an untrained newbie on her first shift and an amorous manager under pressure to cut costs, what could possibly go wrong?!"

Starring Ralph Bogard, Cloe Brooks, Abigail Carter-Simpson, Will Jennings, Ross McNeill, and Liam Rodd-Mills.

Russell Smith is the chorographer. Musical Director Michael Riley.

The world premiere of a brand new British musical takes place December 3-31, 2013.

The Hope Theatre in London.

THE STEWARD OF CHRISTENDOM by Sebastian Barry.

Directed by Steven Robman.

With Brian Dennehy, Carmela Corbett, Mary-Pat Green, Kalen Harriman, James Lancaster, Grant Palmer, Dylan Saunders, Daniel Weinstein, and Abby Wilde.

In the wake of Ireland's bloody struggle for independence, Thomas Dunne is a casualty of a vanished order. A Roman Catholic and former Dublin police officer still loyal to the crown, he is displaced and alone, save for visits by loved ones from his past in a parade of bittersweet reminiscences.

Explained as; "This profound and poignant story is made unforgettable by an extraordinary performance from one of our greatest living actors. Two-time Tony Award winner Brian Dennehy renders a hauntingly tender portrayal of a loving father and devoted soldier at the end of his life: raging with delusions of grandeur one moment, humbled and begging for comfort in the next.

The Steward of Christendom illuminates with remarkable grace and compassion an important character in Ireland's past left out of the history books: a devout and principled man and his spiritual quest for consolation and redemption when everything he loves is taken away."

Set Design by Kevin Depinet. Costume Design by Leah Piehl. Lighting Design by Robert Wierzel. Sound Design by Cricket S. Myers. Projections by Jason H. Thompson.

November 26, 2913 - January 5, 2014 at the Mark Taper Forum in Los Angeles.

HAMLET AND SAINT JOAN the first by William Shakespeare, and the latter by George Bernard Shaw, both directed by Eric Tucker.

Played in repertory and with four actors, Hamlet and Saint Joan are boldly theatrical, stripped down, immersive productions of classic plays by one of America's most innovative downtown theatre companies.

The cast features Edmund Lewis, Tom O'Keefe, Andrus Nichols and Eric Tucker.

About Hamlet: In this quintessential Shakespearean drama, Hamlet's halting pursuit of revenge for his father's death unfolds in a series of highly charged confrontations that climax in tragedy.

About Saint Joan: Based on the life and trial of Joan of Arc. Fascinated by the story of Joan of Arc (canonized in 1920), George Bernard Shaw presents a realistic portrayal of Joan: proud, intolerant, naïve, foolhardy, always brave-a rebel who challenged the conventions and values of her day.

The design team includes John McDermott (Set Design), Les Dickert (Lighting Design) and Trampas Thompson (Fight Choreographer).

Bedlam's critically acclaimed productions of Hamlet and Saint Joan played in repertory at the Access Theatre in NYC from February 7th – April 7th and at the Olney Center in Montgomery County, Maryland from September 4 – October 20, 2013. Currently at off-Broadway's Lynn Redgrave Theater, NYC.

THE COMMONS OF PENSACOLA written by Amanda Peet. Directed by Lynne Meadow.

Starring Tony Award winner Blythe Danner, Golden Globe Award winner Sarah Jessica Parker, Zoe Levin, Ali Marsh, Michael Stahl-David and Nilaja Sun.

"Judith (Blythe Danner) has been divested of her assets and forced to leave her luxurious New York life after her husband's Wall Street scam became headline news," according to the official description. "When her daughter Becca (Sarah Jessica Parker) and Becca's filmmaker boyfriend (Michael Stahl-David) pay Judith a visit to the one bedroom condo Judith now occupies in Pensacola, Florida, everyone's motives are called into question. How will past and present circumstances inform how this family moves into the future?"

The creative team includes Santo Loguasto (scenic design), Tom Broecker (costume design), Jason Lyons (lighting design), Jill BC Du Boff (sound design) and Thomas Schall (fight director).

Officially opened November 21 at New York City Center – Stage I The production continues through January 26, 2014.

MACBETH by William Shakespeare. Directed by Tony winner Jack O'Brien. Starring Ethan Hawke in the title role opposite Anne-Marie Duff as Lady Macbeth.

Also featured are Tony Award winner Richard Easton as Duncan, Bianca Amato as Lady Macduff, Tony nominee Brian d'Arcy James as Banquo, Jonny Orsini as Malcolm, Tony nominee Daniel Sunjata as Macduff, with Tony nominee Malcolm Gets, Tony winner John Glover and Byron Jennings as the three Witches.

On his Twitter page Brian d'Arcy James posts a Spoiler Alert: that he "gets gruesomely murdered in #ShakespearesMacbeth @ the LC Theater. Double spoiler: I'm OK!!!"

Completing the cast are Shirine Babb as Macbeth Attendant, John Patrick Doherty as Cathness, Austin Durant as Murderer/Siward, Francesca Faridany as Hecate, Stephanie Fieger as Harpier, Ben Horner as Murderer, Ruy Iskandar as Donalbain, Aaron Krohn as Ross, Jeremiah Maestas as Seyton, Christopher McHale as Old Man/Doctor, Sam Poon as Macduff's Son, Triney Sandoval as Menteith, Nathan Stark as Fleance, Patrick Vaill as Graymalkin, Tyler Lansing Weaks as Young Siward and Derek Wilson as Lennox.

Macbeth has set design by Scott Pask, costumes by Catherine Zuber, lighting by Japhy Weideman, original music and sound design by Mark Bennett, projections by Jeff Sugg and fight direction by Steve Rankin.

The Lincoln Center Theater Broadway revival of Macbeth officially opened November 21 at the Vivian Beaumont Theater in New York City.

BEAUTIFUL: THE CAROLE KING MUSICAL based on King's life and music.

Book by Academy Award nominee Douglas McGrath. Directed by Marc Bruni. Choreography by Josh Prince. Musical direction by Jason Howland.

Starring Tony Award nominee Jessie Mueller as the Grammy Award-winning musician.

Appearing as her Brill Building collaborators are Jake Epstein as Gerry Goffin, Anika Larsen as Cynthia Weil and Jarrod Spector as Barry Mann. The musical's score comprises songs King penned with Goffin, Mann and Weil.

Principal casting also includes Jeb Brown as producer/publisher Don Kirshner and Liz Larsen as King's mother, Genie Klein.

The ensemble features Ashley Blancher, E. Clayton Cornelious, Joshua Davis, Alysha Deslorieux, Kevin Duda, Carly Hughes, Sara King, Rebecca LaChance, Douglas Lyons, Chris Peluso, Gabrielle Reid, Arbender Robinson, Rashidra Scott, Sara Shepard and Melvin Tunstall.

The new musical is described as: "Long before she was Carole King, chart-topping music legend, she was Carol Klein, Brooklyn girl with passion and chutzpah. She fought her way into the record business as a teenager and, by the time she reached her twenties, had the husband of her dreams and a flourishing career writing hits for the biggest acts in rock 'n' roll. But it wasn't until her personal life began to crack that she finally managed to find her true voice. Beautiful tells the inspiring true story of King's remarkable rise to stardom, from being part of a hit songwriting team with her husband Gerry Goffin, to her relationship with fellow writers and best friends Cynthia Weil and Barry Mann, to becoming one of the most successful solo acts in popular music history. Along the way, she made more than beautiful music, she wrote the soundtrack to a generation."

The creative team includes Derek McLane (set design), Alejo Vietti (costume design), Peter Kaczorowski (lighting design), Brian Ronan (sound design), Charles G. LaPointe (wig and hair design), Steve Sidwell (orchestrations and music arrangements), Jason Howland (music supervision) and John Miller (music coordination).

Beautiful had its world premiere earlier this fall at San Francisco's Curran Theatre. It began previews on November 21 at the Stephen Sondheim Theatre in New York City with the official opening slated for January 12, 2014.

CHÉRI conceived, directed and choreographed by Martha Clarke.

Inspired by the classic 1920 novella by controversial French author Colette, Cheri is Martha Clarke's newest interdisciplinary work, an exciting fusion of theatre, live music, and dance featuring American Ballet Theatre principal dancer Herman Cornejo, prima ballerina assoluta Alessandra Ferri, Academy & Golden Globe Award nominee and Obie Award winner Amy Irving, pianist Sarah Rothenberg, and text by Tina Howe.

This tragic story of forbidden love between a young man and an older woman in Belle Époque Paris is billed as "a timeless, powerful exploration of sensuality, love, and our preoccupations with youth and age."

The creative team includes David Zinn (Scenic & Costume Design), Christopher Akerlind (Lighting Design), Arthur Solari and Samuel Crawford (Sound Design) and Sarah Rothenberg (Music Supervision). Terri K. Kohler is the Production Stage Manager. Casting by Telsey + Company. Piano by Steinway & Sons.

Presented by Signature Theatre Company, playing through Sunday, December 29, 2013 in The Irene Diamond Stage at The Pershing Square Signature Center in New York City.

DR. SEUSS' HOW THE GRINCH STOLE CHRISTMAS! Book and Lyrics by Timothy Mason. Music by Mel Marvin. Additional Lyrics by Theodor S. Geisel. Additional Music by Albert Hague.

Original Production Conceived and Directed by Jack O'Brien. Directed by James Vásquez.

Original Choreography by John DeLuca. Musical Direction by Elan McMahan. Additional Choreography by Bob Richard. Choreography Restaged by James Vásquez.

San Diego's favorite holiday tradition, back for its 16th incredible year, is a wonderful, whimsical production that will once again jump right off the pages of the classic Dr. Seuss book and onto the Old Globe's stage.

Starring: Steve Blanchard (The Grinch), Jeffrey Schecter (Young Max), Steve Gunderson (Old Max), Taylor Coleman and Gabriella Dimmick (Cindy-Lou Who), Geno Carr (Papa Who), Bets Malone (Mama Who), Kürt Norby (Grandpa Who), Eileen Bowman (Grandma Who), Isabelle Simone Pizzurro and Kaitlyn O'Leary (Annie Who), Caitlin McAuliffe and Remy Margaret Corbin (Betty-Lou Who), Brandon Saldivar and Imahni King-Murillo (Boo Who) and Luke Babbitt and Dylan Nalbandian (Danny Who) with Jacob Caltrider, Megan Carmitchel, Nancy Snow Carr, David Coffey, Kevin Davison, Sophia Dimmick, Randall Dodge, Krysten Hafso-Koppman, Brooke Henderson, Katelyn Katz, Hourie Klijian, Gabi Leibowitz, Nathan Riley, Kendall Skye, Isabella Walther-Meade and Elliot Weaver (Ensemble).

John Lee Beatty (Scenic Design), Robert Morgan (Costume Design), Pat Collins (Lighting Design), Paul Peterson (Sound Design), Anita Ruth (Orchestrator), Joshua Rosenblum (Vocal Arrangements and Incidental Music), David Krane (Dance Music Arranger), Caparelliotis Casting (Casting) and Leila Knox (Stage Manager).

Officially opened November 21, 2013 at the Donald and Darlene Shiley Stage Old Globe Theatre Conrad Prebys Theatre Center in San Diego, CA. Performances through December 28, 2013.


WHO'S WHERE


TRANS SIBERIAN ORCHESTRA on Tuesday, November 26, brings their holiday tour to the PAC in Duluth, GA. On Wednesday the performance is at the Sleep Train Arena in Sacramento, CA. On Friday the performances are at the Citizens Business Bank Arena in Ontario, CA and the BB&T Center in Sunrise, FL. On Saturday they can be enjoyed at the Amway Center in Orlando, Florida and at the Orleans Arena in Las Vegas. Next Sunday, December 1, the groups are on stage at the Tampa Bay Times-Forum in Tampa, FL and at the Jobing.com Arena in Glendale, AZ.

BILLY STRITCH the Grammy winning composer, famed musical director and performer brings his talents to the Arts Garage in Delray Beach, Florida on November 29, 2013. He'll be accompanied by Paul Shewchuk on bass, and Goetz Kujack on drums.

STRAIGHT NO CHASER performs Friday, November 29, at the DeVos Performance Hall in Grand Rapids, MI.

BONNIE RAITT brings her distinctive voice to the Grand Opera House in Wilmington, DE on Tuesday, November 26. On Wednesday she can be enjoyed at the War Memorial Auditorium in Greensboro, NC. Friday finds her at the Florida Theatre in Jacksonville, FL.

BRYAN ADAMS on stage Monday, November 25, at the UPAC Broadway Theatre in Kingston, NY. On Tuesday he  performs at the Isaac Stern Auditorium at Carnegie Hall in NYC.

MICHAEL BUBLE stars at the Valley View Casino Center in San Diego on Tuesday, November 26. On Friday he'll be delighting his fans at the Staples Center in Los Angeles. Saturday finds him at the Oracle Arena in Oakland, CA.

KENNY ROGERS making people thankful that they came to see him perform on Thanksgiving at Centre in the Square in Kitchener, ON. On Friday the show is at the Kirby Center for the Performing Arts in Wilkes-Barre, PA. On Saturday he's in the spotlight at Resorts in Atlantic City.

JUSTIN TIMBERLAKE on stage Tuesday, November 26, at the Staples Center in Los Angeles. Wednesday he's in the spotlight at the Honda Center in Anaheim, CA. On Friday he opens a two night gig at the MGM Grand in Las Vegas.




FINAL OVATION


DIANE DISNEY MILLER Diane Disney Miller, the only surviving child of Walt and Lillian Disney, died Tuesday, November 19, 2013, at her home in Napa Valley, CA from complications of a fall there in September. She was 79.

Diane Marie Disney was born December 18, 1933, in Los Angeles. The next day, The Times declared: "Mickey Mouse has a daughter."

She was the driving force behind the completion of the Walt Disney Concert Hall in Los Angeles. In September she chaired a gala commemorating the building's 10th anniversary.

In 2009, she co-founded the nonprofit Walt Disney Family Museum in San Francisco that is primarily devoted to telling her father's story.

In addition to her husband, former Walt Disney Studio President Ron Miller, she is survived by sons Christopher, Walter, Ronald and Patrick; daughters Joanna and Tamara Miller and Jennifer Miller-Goff; 13 grandchildren and one great-granddaughter. Her sister, Sharon Disney Lund, died in 1993.













Next Column: December 1, 2013
Copyright: November 24, 2013. All Rights Reserved. Reviews, Interviews, Commentary, Photographs or Graphics from any Broadway To Vegas (TM) columns may not be published, broadcast, rewritten, utilized as leads, or used in any manner without permission, compensation and/or credit.
Link to Main Page
---
Laura Deni



For the snail mail address, please E-mail your request.
CLICK HERE FOR COMMENT SECTION