! >
Broadway To Vegas
  
  REVIEWS INTERVIEWS COMMENTARY NEWS

| | |
| --- | --- |
| | |
COLE PORTER IN HOLLYWOOD: THE JOHN WILSON ORCHESTRA CD REVIEW - - DINNER THEATRES SERVE UP ENTERTAINMENT - - KISS AND CRY - - BILL COSBY PROBLEMS ESCALATE - - ILL CHER CANCELS TOUR DATES - - PRINCE HARRY WINS AT POLO AND GOES SHOPPING - - AN ART SCHOOL BECOMES ROYAL - - FABERGE REVEALED - - DONATE . . . Scroll Down







Copyright: November 23, 2014
By: Laura Deni
CLICK HERE FOR COMMENT SECTION


DINNER THEATRES SERVE UP ENTERTAINMENT
Michelle Barber stars as Dolly Levi in Hello Dolly! at the Chanhassen Dinner Theatre. Photo: Heidi Bohnenkamp/Chanhassen Dinner Theatre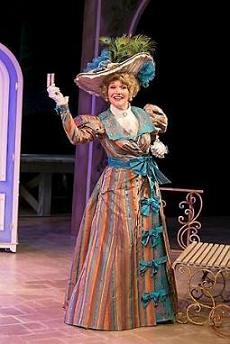 Dinner Theatres fall into three categories: those offering musical productions, murder mysteries, and those specializing in comedy. The crowd that supports dinner theatre isn't generally the same milieu that attends monthly meetings of the Kafta or Ibsen fan club.

Dinner Theatres are a place to come with your family and friends to enjoy a good meal and performance and then leave the theatre in a happy frame of mind.

Two with the longest track record and success story are the Chanhassen Dinner Theatres and the Prather Entertainment Group.

Chanhassen Dinner Theatres in Chanhassen, MN is one of the most successful in America. It is also the largest privately owned restaurant in Minnesota and the largest dinner theatre complex in America. There is an entertainment complex with several dinner theatres, along with banquet and meeting facilities. Founded in 1968, the Chanhassen rode the wave of a dinner theater fad in the 1970s when name stars played at theatres around the country. Then when other dinner theatres went the way of the garbage, Chanhassen flourished.

Its cast is comprised of Actors' Equity Association members.

Kris Howland Public Relations Director for the Chanhassen was swamped with three important projects, but never-the-less took time to answer some questions for Broadway to Vegas.

As one of only a handful of equity dinner theatres still operating in America, the shows are top quality. As the largest privately owned restaurant in Minnesota and the largest dinner theatre complex in America. Your venue is one of the oldest and most successful in this country. What is the secret to Chanhassen's success?

"Our actors being members of Actors' Equity based in New York. Our actors are the same ones you would see on Broadway," answered Howland. "In the early years of dinner theatre, most were operating under a "star system," where they would bring in one star and filling up the cast with non-professionals. They were putting their money into the one star and the production values were sacrificed to accommodate the star.

"We have never operated under that system, rather all of our actors are professional and the money goes into the production - quality sets, costumes, lighting sound - everything produced in-house by our own designers and professional staff in our on-site shops.

Our actors must audition for each production. So we do not have a set company who perform in all shows over and over again. Auditions are posted in the newspaper. We do not bring in "stars" with big names to appear in our productions. Such a system often drains a production – with a majority of money going to the star and the smaller remaining budget being divided into much smaller parcels for the remaining actors and production expenses. Our method ensures that every piece of the production will be of high quality," she stressed.

"Our actors come from all parts of the country to appear at Chanhassen and our reputation is known across the county. Actors love performing here because if they are cast, they can be guaranteed employment for up to seven or eight months at a time since that is how long some of our shows can run. Since these roles are highly sought after, the audition process is highly competitive. On occasion, our resident artistic director may have an actor in mind for a specific role and may invite that person to audition.

"In addition, we don't take short cuts on anything. We use live musicians in our orchestra. It's done well. Our audiences expect nothing less of us - they trust us to deliver a quality product.

For instance, for the current production of Hello Dolly! music director and keyboardist Andrew Cooke is joined by associate conductor/keyboards: Richard Long. Woodwinds: Stan Scott and William Olson. Trumpet/Flugelhorn: Bob Hallgrimson. Guitars: Kristian Anderson. Bass: David Berg. Drums: Steve Grisdale, and on percussion is Matthew Barber.



Waiters kicked up their heels for Dolly. Photo:Heidi Bohnenkamp/Chanhassen Dinner Theatre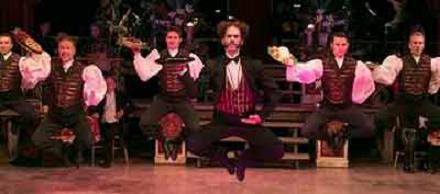 "All of the owners of Chanhassen Dinner Theatres since it began bought into this philosophy and while all of these things cost more to provide, they make the product one of great value and you we are careful not to mess around with what works!"

"We try very hard not to repeat the classics more than once every 20 years or so," Howland emphasized.

Over the years Chanhassen has expanded and changed hands. "Our new management group, which bought the theatre in 2010 are awesome," stressed Howland. "They are a small group of employees and local investors who are dedicated to this theatre. This makes working here really special because everyone is invested in the product. Chanhassen Dinner Theatres has excellent working relationships with the professional licensing houses in New York and is often offered first rights to produce the newer theatre works as they become available to the Regional market. Our quality reputation and long runs make Chanhassen one of those theatres that can be counted on to produce quality and provide solid financial benefits. We will produce a regional production of Mary Poppins in February. We try to do one Broadway classic each year, and one newer work as we build audiences."

When it comes to dinner theatres, food is the co-star much the same was as dinner shows in Las Vegas decades ago featured numerous selections including Prime Rib, Yorkshire Pudding and Cherries Jubilee. More time was spent reading the menu than the show program.

Along the same rule of thumb, that if a standup comedian can handle a room full of drunks they can handle anything, if a musical theatre performer can handle a dinner show crowd, they can handle any audience. Chanhassen takes eating seriously.

"Our founders adopted a strong philosophy in the very beginning that we would be dedicated to: Providing a high quality food product: Most dinner theatres' food operations are buffet style. Our founders wanted a "Chanhassen Experience" to be one where guests would be waited on with personalize table service - no buffet. High quality wine lists, cocktails, appetizers and desserts are all part of the dining experience along with a wide assortment of entree selections and upgrades. Also, we have a firm policy of not serving food or beverage items during a performance, we feel this cheapens the experience and is extremely distracting to performers and guests. Many dinner theatres do offer service during the performance," Howland stated.

Total seating capacity is 571 and there is a Director's Room, with a capacity of 32, located on upper lever overlooking the Main Dinner Theatre. Large scale musicals are presented in this space for a total seating possibility of 603.

The tables are fixed and seat four and six while the booths seat four only. Parties of two share at tables of four and six with others, while booths are only sold to parties of four.

What opportunities does appearing in a Chanhassen production offer performers or crew?

"Many of our actors have appeared on Broadway and they come here or come back here because the Twin Cities has so many more opportunities for employment than New York. We have more professional theatres here than any other US city behind New York. On the flip side, we have had young actors start here and move onto success in New York and beyond. Actors do love being cast in Chanhassen productions because they run 6 months and this enables them to have steady work and be able to have a normal life - they can buy a house, establish roots in a neighborhood or community and not have to travel from city to city to find work."

Minnesota has a plethora of respected production stages. What draws customers to your shows?

"Our consistent high quality of food and theatre productions make Chanhassen an easy choice for people who know our reputation. Another integral key to our success is the theatre itself, which is renowned as being a great place to celebrate a special occasion. Our building was built in 1968, its unique structure and traditional ambiance adds to the distinct charm of Chanhassen Dinner Theatres. People have made years and years of memories here!"

"Chanhassen Dinner Theatres as a corporation has between 250-300 employees depending upon the season. A majority of the employees are directly associated with the food service portion of our operation as you would expect. We have a large variety of employees ranging from a maintenance/hospitality staff to keep our building facilities in tip-top condition to a laundry staff responsible for washing and ironing all the table linens to an accounting staff to manage the money and a sales staff to sell group and individual tickets. We have a marketing staff to promote and advertise the theatre as well as the most obvious actors and artistic staff to put the shows together."

Their staff equals many Broadway productions. For Hello Dolly! the costumer is Rich Hamson. Jeanne Schwartz serves as Costume Shop Technician: The Drapers are: Sarah Bahr, Susan Fick, Rich Hamson, Carol Lane, Barbara Portinga, Jeanne Schwartz and Peter Vandervort. First Hands: Matti Ernst, Dwight Larson, Carol Petty and Milly Oudhoff. Stitchers: Jennifer Haggerman, Seri Johnson, and Amanda Levens. Costume Craftsperson/Dyer: Nanci Aeilts. Costume Interns are: Samatha Davis, Lily Lee, Hayley Ryan, and Paradis Vandeputte. In charge of wardrobe is Dena Rice. The wig assistant is Jillian Christenson.

"One third of our business is comprised of groups of 15 or more," Howland disclosed. "Our group list is an enviable one – and one that many like businesses would love to get their hands on. It's one thing that we would never sell because it's taken years for us to build. The majority of our advertising is directed at our primary ticket buyers: Women aged 35-54!"

"This is the group who makes the ultimate decision to place a reservation at Chanhassen. While the woman makes the decision to attend, our audience is comprised of all age groups from young children to the elderly. A Chanhassen Dinner Theatres experience is one that is highly appealing to just about everyone.

"We select our plays based strictly upon what we feel will be most marketable or appealing to the largest number of people," Howland reiterated. "So you won't see a theatre like Chanhassen Dinner Theatres doing anything highly controversial or experimental in nature. Because we are considered a "for profit" theatre (as opposed to a not-for-profit) we rely solely on our ticket sales to sustain our business. We are not eligible to receive state or government funding, grants or receive contributions. Therefore, our product must appeal to the masses. So you will likely always see us producing the plays we feel will be welcomed by large numbers of people.

"Big Broadway-style musicals and comedies and smaller musical comedies are our primary products and are highly popular with our particular segment of the audience," Howland added. "The Minneapolis-St. Paul area of Minnesota has the third largest number of theatres per capita in the United States behind only New York and Chicago. So our area is rich with theatre entertainment. Each theatre has its own audience and mission, and we have a varied assortment of for-profit and not-for-profit stages."

It's also a family oriented - which sometimes even means the cast. Currently on the boards is Hello Dolly! - 50 years since it opened on Broadway and 22 years since it was last performed at CDT. With Andrew Cooke conducting, the Jerry Herman score will be sung through February 21, 2015.

Directed by Michael Brindisi, his wife Michelle Barber stars as Dolly. Two decades ago she appeared as Irene Molloy a role now played by their daughter 25-year-old Cat Brindisi. Don't think nepotism, they passed the audition same as everyone else. Joining the family are Keith Rice as Horace Vandergelder and Tyler Michaels, as Cornelius.

General Manager is Solveug Theus and Logan Jambik serves as the technical director.

Choreography by Tamara Kangas Erickson, Set Designer Nayna Ramey; Lighting Designer Sue Ellen Berger; Sound Designer Russ Haynes; Production Stage Manager Susan Magnuson.

As to what's good and what's bad about working in the world of dinner theatre, Howland responded:

"From my perspective the greatest challenge has to do with bringing more and new audience members into the theatre. If we could grow our audience by say 10-20% it wouldn't always be a struggle to make our theatre profitable. While we are considered a "for-profit" operation, we often make a little money, just break even or sometimes even lose money.

"The formula for success is not easy to manage," Howland emphasized. "Selecting the right plays for the right time of year – knowing what specific time to open and close them and how to set the correct prices and discounts – all of these are crucial pieces. That's why it's such a touchy business, because there are no perfect answers and often you are involved in a highly speculative situation where you are making decisions for months and years down the road.

"A show could be selling very well for five months and you have it set to run for seven," she explained in a statement to Broadway To Vegas. "A sudden downturn in attendance happens and you can lose all the money you'd made in just a few short weeks. Perhaps in that scenario, you didn't lose any money overall, but you just broke even. And that can be highly discouraging. You realize that even for one of the most highly successful dinner theatres in the nation, the business as a whole is very precarious.

"On the flipside, the very best part of this business is providing a product that brings much happiness to so many people. And in a world that can often be dark and cold, it's wonderful to be part of something that brings light and joy."



Jake Delaney and Katherine Walker Hill star in It's a Wonderful Life at the Dutch Apple Dinner Theatre. Photo: Dutch Apple.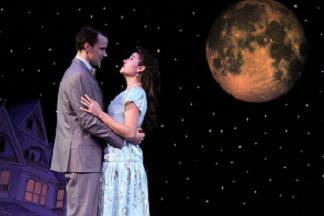 The Prather Entertainment Group is a Florida based company consisting of two professional year-round dinner theatres and a national tour company.

The Prather family, Tom, Deborah and Will, has produced quality theatre for more than 48 years. Will Prather is the executive producer and owner of the largest operator of dinner theatres in the United States. They began with the Dutch Apple Dinner Theatre in Lancaster, Pennsylvania, now in its 27th year, which provides top quality productions, award-winning food. The theatre seats 380 and is located in the heart of the Amish Country in southeastern Pennsylvania. It features a simple yet sophisticated charm you won't find in many theatres.

Owners Tom and Debbie Prather were married six months after meeting on a TV show in Harrisburg where she interviewed him about an opening of a show. The original design for the theatre was done on a napkin at Denny's. The first show that opened at the Dutch Apple was A Chorus Line. The first Executive Chef played ragtime piano for entertainment before the show began each night.

The classic 1956 Christmas movie directed by Frank Capra, It's A Wonderful Life, has been brought to vibrant color in a magical musical adaptation by Sheldon Harnick at the Dutch Apple Dinner Theatre. The production kicked off the holiday season and will run until December 23rd.

The lead role of George Bailey is portrayed by Jake Delaney. The role of Mary Hatch Bailey, George's wife, is played by Katherine Walker Hill. George's guardian angel, Clarence Oddbody, is played by Connor McAndrews. Henry Potter, the miserly slumlord, is portrayed by Kirk Lawrence. Michael Weaver takes on the role of George's Uncle Billy.

"This production is directed by the talented Paul Bernier. Paul is the Artistic Producer for the Off Broadway Palm and the Broadway Palm's Children Theatre, another Prather Entertainment Group property in Fort Myers, Florida. Lauren Sobon, the Dutch Apple's Artistic Producer, will be choreographing," Casey Ellison of Dutch Apple told Broadway To Vegas.

"We have a five-piece band led by our new Musical Director, JP Meyer," she continued. "The musicians are Conductor/Keyboards: JP Meyer - Reeds: Brandon Hollinger - Trumpet: Robert Lemon - Trombone: Rick Staherski/Clay Sattazahn - Drums/Percussion: Brandon T. Miller

"Prather Entertainment Group's National Costume Designer, John White, designed the costumes for this show," Ellison added.

The venue welcomes the press but has limited seats for the 4th estaters, with press invitations requesting that a review run within a week after seeking the show.

Broadway Palm Dinner Theatre in Fort Myers, Florida, is now celebrating its 21st season. The theatre entertains over 150,000 guests annually. The facility has expanded a number of times and now includes an additional 100-seat "black-box" theatre called The Off Broadway Palm Theatre, and two banquet facilities - Café Cabaret and The Art Café. The theatre seats 448 and can be found on Florida's sunny west coast between Tampa and Miami.

A Christmas Carol opened November 20 with performances through December 27, 2014. Based on Charles Dickens' story, A Christmas Carol is a musical version of the classic Christmas tale.

Off Broadway Palm is staging The Great American Trailer Park Christmas Musical through December 27, 2014.

All dinner theatre menus are now accommodating a variety of needs. Many have gluten free offerings. The Broadway Palm Dinner Theatre has No-Sugar-Added Pecan Ice Cream and a variety of toppings with Sugar-free Chocolate Ice Cream Available Upon Request. Dessert Buffet includes Sugar-free Cheesecake and Assorted Cakes and Pies.

A reader might assume that all has been sunny and bright for the Prather group. A misconception. The dinner theatre business isn't all blissful consumption.

The 450 seat Palms Theatre in Mesa, Arizona was the newest member of The Prather Entertainment Group. The theatre opened in October 2001 and was sold in May 2012.

Although Prather had researched the area before stepping into Arizona market, it was a mis-step.

The Prathers sunk $3 million into the facility, and then became an ancillary victim of 9/11 having staged its soft opening two months earlier. They rebounded, experiencing four years of catching lightening in a bottle. Annual attendance reached 190,000. Gross revenues came in just under $7M. Annual subscriptions soared past 9,300 - double the number of subscribers in Fort Myers at the time.

Then the tide turned.

All the the Prather theatres were "challenged. "All of our theaters saw declines in revenue of about 20 percent," Prather was quoted as saying in an article by Chris Silk in Naples Daily News.

The Arizona venue took the hardest hit. "Basically generating just one-fifth of the revenue it had a few years earlier - yet salary, labor and other costs hadn't gone down," according to the Silk piece.

Finger pointing can reach in as many directions as the fingers on one hand can count: no branding, not entrenched in the community, inconsistent marketing, more competition, too much discounting.

Prather sold the Mesa, Ariz., dinner theatre to Salt Lake City businessman MikeTodd for an undisclosed price.

Today the Dutch Apple and the Palms Theatre are thriving. The Prather Family of Theatres operates under one basic philosophy: "give our guests great entertainment at a great value." By following this simple rule, Dutch Apple and the Broadway Palm Dinner Theatre have earned a reputation as their area's most entertaining destinations!






Broadway To Vegas is supported through advertising and donations. Priority consideration is given to interview suggestions, news, press releases, etc from paid supporters. However, no paid supporters control, alter, edit, or in any way manipulate the content of this site. Your donation is appreciated. We accept PAYPAL. Thank you for your interest.




ART AND ABOUT


FABERGE REVEALED

Imperial Peter the Great Easter Egg, 1903. Photo: VMFA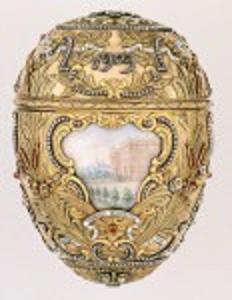 Thanks to the generosity of Lillian Thomas Pratt and other donors, the Virginia Museum of Fine Arts owns one of the finest Fabergé collections in existence. The Russian jeweler Karl Fabergé crafted objects for the Russian imperial family in the late 19th and early 20th centuries, including specially commissioned Easter eggs. VMFA's collection, the largest public collection of Fabergé outside of Russia, includes five of the thirteen Russian imperial Easter eggs that are in the United States.

In parallel with the redesign of the permanent galleries, the museum has organized a major exhibition presenting the entire collection, accompanied by a comprehensive catalogue incorporating the latest scholarship and research. Fabergé Revealed - the title of both exhibition and catalogue - dazzled VMFA visitors during the summer of 2011, and is now traveling while the permanent galleries are renovated.

Fabergé Revealed, a major exhibition presenting the entire collection, 235 pieces, accompanied by a comprehensive catalogue and the latest scholarship and research began its tour in October 2012 at the Detroit Institute of Arts and has now reached Las Vegas. The Fabergé exhibit is at the Bellagio's Gallery of Fine Art in Las Vegas through May 25, 2015. The exhibit then travels to Oklahoma City Museum of Art June 20- September 27, 2015 and closes with an exhibit April 16 - July 16, 2015 at the The Palace Museum, Beijing.

AN ART SCHOOL BECOMES ROYAL a drawing school founded by Prince Charles has been renamed the Royal Drawing School after being granted the title by The Queen.

It becomes the first arts education institution to be permitted use of the prestigious title "royal" since the Royal Ballet School nearly 60 years ago in 1956.

The school is following in the footsteps of the Royal Academy, which took its name in 1768, the Royal College of Music in 1882, the Royal College of Art in 1896, and the Royal Academy of Dramatic Art in 1920.

The Prince, who is an avid watercolor painter, set up The Prince's Drawing School 14 years ago with artist Catherine Goodman. It now teaches more than 1,000 students each week in its studios around London.

The Prince of Wales, who visited its main campus in Shoreditch, East London, to make the announcement, said: "It is my firm belief that drawing is one of the most direct ways of engaging with the world and, like music and dance, needs to be taught and practiced throughout an artist's life.

"I am determined that the Royal Drawing School will continue to grow as an educational resource open to all, regardless of background or circumstance."

Goodman, artistic director of the school, said it was unique within Europe.

"'I feel very proud that we have come this far since we began in 2000, because I'm more and more persuaded of the need for a drawing school as a permanent part of the UK's educational resources," she said.

"There isn't another one in Europe, and we are being sought out by students from all over the world."



SWEET CHARITY


BAND AID 30 was recorded on Saturday, November 15, 2014, in the same studio where the original was recorded in 1984 - Sarm studios in west London.

The recording which is a rewritten, Do They Know It's Christmas? which comes 30 years after the original Band Aid.

The recording will raise money for the fight against Ebola. The UK government has agreed to waive VAT on the single.

Stars participating included: One Direction to Elbow Stars including One Direction, Emeli Sande, Rita Ora, Ed Sheeran, Ellie Goulding, Sam Smith, Chris Martin, Elbow, Seal, Jessie Ware, Fuse ODG, Sinead O'Connor, Angelique Kidjo, Olly Murs, Paloma Faith, Queen drummer Roger Taylor, Clean Bandit, Foals, and Bono who was also on the original.

Bob Geldorf who organized the original also shepherded this version.

PRINCE HARRY saddled up last Thursday, November 20, 2014, playing in the 5th Sentebale Polo Cup at the Ghantoot Racing & Polo Club in Abu Dhabi.

This annual event raises money and awareness of Sentebale's (means forget me not) work in providing healthcare and education to vulnerable children in Lesotho in southern Africa, many whom are victims of extreme poverty and Lesotho's HIV/AIDs epidemic.

Last year's Sentebale Polo Cup took place in Greenwich, Connecticut where Sentebale's co- founder, Prince Harry had a victorious win against Sentebale Ambassador and St Regis Connoisseur, Nacho Figueras, captain of the St Regis team.

This year Prince Harry played for the Sentebale Huntsman team which included Abdulla Ben Desmal, Malcolm Borwick and Saeed Bin Drai against Figueras' St Regis team.

Harry's team won 5-4 over the St. Regis team. The Sentebale Polo Cup trophy by jeweler and silversmith Garrard and Damas was presented to the winning team English actress and former model Sienna Guillory, and a salver given to the Most Valuable Player - Prince Harry.

The real winner, though, was Sentebale with the match bringing in over $1m for the charity.

Guests were treated to an early evening reception followed by the main game.

Among the celebrities attending the event were His Grace Torquhil Ian Campbell, the 13th Duke of Argyll, former Downtown Abbey actor Dan Stevens, English actress and former model Sienna Guillory, Sir Jackie Stewart, Lina and Bassam Samman, former Miss Australia Jessica Kahawaty and former Spice Girl Geri Halliwell, recently engaged to Formula 1 Red Bull boss Christian Horner, who is in the country for the Grand Prix. Harry is privately spendingthe week-end in Abu Dhabi to watch the Formula 1 Grand Prix at the Yas Marina Circuit.

He's also managed to do a bit of shopping. He was spotted making some purchases including a soft cuddly $7 toy camel for - we're guessing - his nephew, George.

When he was looking around another store in Alauddin City, he picked up an oil lamp and in typical Aladdin-genie style - rubbed it. Bystanders smiled and wondered what he wished for.


THE MUSIC GOES ROUND AND ROUND


COLE PORTER IN HOLLYWOOD: THE JOHN WILSON ORCHESTRA featuring hit songs and music from Kiss Me Kate, High Society, Can-Can and Silk Stockings has been released by Warner Classics.

Holidays are around the corner. For a perfect stocking suffer, or an option as a dinner party hostess gift, put a bow on this CD.

To commemorate the 50th anniversary of Cole Porter's death, the John Wilson Orchestra recorded Cole Porter in Hollywood, the new album dedicated to one of the major composers of the Great American Songbook.

The year 2014 also marks the orchestra's 20th anniversary. With its symphonic forces, nine-piece percussion section, full jazz big band and guest singers direct from Broadway, John Wilson's ensemble embodies the glitzy golden age of Hollywood orchestras.

"When I chose the repertoire I wanted it to be a mixture of hits that everyone knows – Begin The Beguine, My Heart Belongs To Daddy, Easy To Love – and also I wanted to cover a wide period of time; hits from the 1930s right up to the end of Cole Porter's career in the late 1950s," explains conductor John Wilson.

Recorded in their original 1948 orchestrations at London's famed Abbey Road studios, the 15 songs on Cole Porter in Hollywood feature world premieres of newly-reconstructed orchestrations from the original movie soundtracks, nearly all of which had been lost. The album is a glorious return to the resplendent sound that cushioned and encouraged Frank Sinatra, Judy Garland and Bing Crosby in films such as Can-Can, The Pirate and High Society.

The John Wilson Orchestra is composed of a hand-picked ensemble of leading instrumentalists from Europe's finest orchestras, these virtuoso players come together to create an unparalleled combination of symphonic forces and big band jazz embodying the golden age of Hollywood orchestras. The musicians are joined by guest singers Anna-Jane Casey, Kim Criswell, Matthew Ford, Sarah Fox and Richard Morrison with additional vocalists supplied by Maida Vale Singers - Katie Birtill, Mary Carewe, Yona Dunsford, Emma Louise Kershaw and Lance Ellington.

The CD wastes no time getting into Stereophonic Sound from Silk Stockings with an expansivem toe-tapping, zippy rendition delivered by Matthew Ford, widely regarded as one of the finest big band singers in the UK, and noted musical theatre performer Anna-Jane Casey, who has won the TMA (Theatrical Management Association) Award for Best Performance in a Musical. On September 13, 2014 she wrapped up starring in the London edition of the revue Forbidden Broadway at the Menier Chocolate Factory.

Begin The Beguine isn't your Tony Martin rendition. It's a 30s - early 40s jazz/bee-bop sound from Katie Birtili, Mary Carewe, Yona Dunsford and Emma Louise Kershaw. with excellent clarinet work .

Love of My Life is a soft romantic selection from The Pirate. It features sweeping violins and a vocal interpretation that begs for love, as sung by Kim Criswell, an international musical theater performer who was born in Virginia and grew up in Chattanooga, Tennessee. She made her Broadway debut in The First in 1981. She won the Helen Hayes Award in 1989 for her 1988 performance in Side By Side By Sondheim at the Olney Theatre in Washington.

The This Moment On from Kiss Me Kate, is a rouser sung by Anna-Jane Casey, Matthew Ford and Lance Ellington backed by a dramatically playful orchestration.

Always True To You Darling begins soulful leading in with lines from Why Can't you Behave and then gets spunky showing off the clear voice of Anna-Jane Casey.

Selection Number 6 Wunderbar from Kis Me Kate is performed by Sarah Fox and Richard Morrison. Fox is one of England's leading sopranos She has performed abroad with many of the world's leading orchestras including the San Francisco Symphony, the Chamber Orchestra of Europe, the Berlin Philharmonic and the Minnesota Orchestra.

Scottish lad baritone Morrison, the son of celebrated baritone Peter Morrison, has delivered the bulk of his Opera work over the past 10 years in Germany.

The sections from High Society sparkle. You get the feeling that the musicians were enjoying every note of their playing, while Anna-Jane Casey and Matthew Ford put the gusto in Who Wants to be a Millionaire?

Matthew Ford delivers a hold-me-close dance offering on Easy to Love, from the flick of the same name. While neither movie version starred Fred Astaire and Ginger Rogers, you can almost see them dancing. Backed by a tinkling piano and soft strings, Ford also has a particularly heart touching rendition of It's All Right With Me, from Can-Can.

Kim Criswell shows off her extensive vocal talents on Josephine from Silk Stockings, backed by a swinging orchestra with a hot horn section. With the Wilson orchestra utilizing an exuberant arrangement, Criswell has a sassy streak in My Heart Belongs to Daddy from Let's Make Love.

There isn't a weak selection on this CD. While Satchmo set the gold standard for performing Now You Has Jazz from High Society don't think for an eighth-note that the song ends with him. Give a listen to the closing number of this CD.

Orchestra:

Violins: Andrew Haveron leader, David Alberman, Adi Brett, Francesca Barritt, Shlomy Dobrinsky, Clae Duckworth, Anna Harpham, Andrew Harvey, Cerys Jones, Jenny King, Mihkel Kerem, Katerina Mitchell, Joanne Quigley, Steven Wilkie, Warren Zielinski.

Violas: Vicci Wardman principal, Nicholas Bootiman, Rebecca Chambers, Malcolm Johnson, Hannah Stribjos. Cellos: Jonathan Aasgaard principal. Pierce Doumenge, Richard Harwood, Nicholas Trygstad, Louisa Tuck.

Double Bass: Tim Gibbs, Tom Goodman, Lawrence Ungless. Flutes: Cormac Henry, Christopher Coreen, Stewart Mcllwham, Sharon Williams. Oboe/Cor Anglais: John Anderson.

The original musical arrangers are: Andrew Previn, Edward Powell, Conrad Salinger, Lennie Hayton, Lloyd "Skip" Martin, Nelson Riddle, Earl Hagen, Reconstruction arrangers are: John Wilson, Andrew Cottee, and Paul Campbell.

Recorded May 27-28, 2014 no 2 Studio Abbey Road, London and May 30, 2014 at Angel Studios in London. Recorded, edited and mixed by Jonathan Allen. Assistant engineers: Gordon Davidson and Jamie Ashton. Senior production manager: Kerry Hill. Produced by Tom Croxon




SPREADING THE WORD


BILL COSBY

Cosby, a production assistant, and Ginna Marston of Partnership for Drug-Free Kids review the script for a 1990 public service spot at Cosby's studio in Astoria, Queens. Photo: Wikipedia.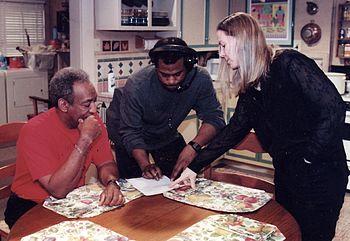 amid more accusations that he drugged and sexually assaulted women, has had his November 28, 2014 appearance at the Treasure Island in Las Vegas canceled "by mutual consent."

One of his latest rape accusers is Therese Serignese, now 57 and a nurse in Boca Raton, Florida who says Cosby drugged and then raped her in Las Vegas in 1976.

Also being axed is his Valentine's Day show in Reno, Nevada. Also scrubbed is a show at the Choctaw Casino Resort in Oklahoma. With an indication that this isn't going to go away, Diamond Desert Casino in Tucson, Arizona canceled Cosby's February 15, 2015 show and The Florence Civic Center in South Carolina said the show, with the thought provoking title of Bill Cosby - Far From Finished, scheduled for February 20 has been indefinitely postponed. The Broadway Center in Tacoma, Washington canceled Cosby's April 2015 appearance. The Champaign Theater in Illinois scuttled two appearances by Cosby, also booked for April.

THE SOUND OF EVOLUTION part of Hony Kong Repertory Theatre's New Writing Series.

The Chan family has been leading a humdrum existence until a young real estate agent comes into their lives, touching a nerve in the family. All of a sudden, everyone is preoccupied with "improving" themselves. What is progress? Sticking to our principles? Leading a revolution? Switching channels? Or shopping? Before an answer can be found, everyone loses his senses. Written by Poe Wong and directed by Weigo Lee, The Sound of Evolution will be performed from November 29 to December 12, 2014 at Hong Kong Rep in Hong Kong.

DIRECTOR HARVEY TAVEL who originated the Theater of the Ridiculous with his brother, the playwright Ronald Tavel, will be remembered when Theater for the New City in New York City will present Two by Tavel, a double-header of Kitchenette and Life of Juanita Castro, directed by Norman Glick, November 28 to December 14.

Casts include Ruby Lynn Reyner and Agosto Machado, two vets of the movement. These two plays launched a whole new theatrical genre.

These two ridiculous pieces, originally drafted as scenarios for Andy Warhol's Film Factory, found their way to the stage in 1965 when Warhol suggested that Ronald Tavel try them out as theater. The director Ronald chose was his younger brother, Harvey.

This brilliant idea led to the birth of a genre to be named Theater of the Ridiculous, whose one-sentence manifesto, penned by Ronald Tavel, declared "We have passed beyond the Absurd, our position is totally Ridiculous!"

With cross-gender casting and drag queens as actors as two of its signature elements, Theater of the Ridiculous is now seen as the progenitor of glam rock and the Rocky Horror cult.

Writing as Andy Warhol's scenarist, Ronald Tavel penned 22 odd scenarios for Warhol. Ronald died of a heart attack in 2009, the year his brother and Norman Glick were married at Harvy Fierstein's house in Connecticut (the state allowed gay marriage at the time). Harvey Tavel died on September 25, 2013, leaving Norman Glick as conservator of the legacy of les freres Tavel.


GET WELL SOON TO . . . .


U2 SINGER BONO 54, who required five hours of surgery after he swerved his bicycle while riding in central park to avoid hitting another rider and crashed into what doctors called a "high energy" accident.

After the Sunday, November 16, 2014 accident, the frontman was rushed to New York-Presbyterian/Weill Cornell Medical Center's Emergency Department, where he underwent multiple X-rays and CAT scans, followed by five hours of surgery, orthopedic trauma surgeon Dr. Dean Lorich said in a statement, which was first reported in Rolling Stone.

"He was taken to the operating room for a five-hour surgery Sunday evening where the elbow was washed out and debrided, a nerve trapped in the break was moved and the bone was repaired with three metal plates and 18 screws," Lorich stated. The singer broke his shoulder in three places and shattered his left humerus, or upper arm, in six places, Lorich said. The humerus break was also a compound break, which left the bone poking through the skin. The singer also broke a bone in the orbit of his left eye.

On Monday Bono again underwent surgery to fix a break in his left pinky.

Lorich said the singer would require "intensive and progressive therapy, however a fully recovery is expected."

CHER has canceled the remaining dates in her Dressed To Kill Tour. In a statement the singer said that she needs time to help her recover from a viral infection that first hit her in September.

She had previously been forced to reschedule a number of gigs in September and October due to the viral infection, which affects her kidney function. She was briefly hospitalized before being released with a monitor to check her heart function, according to Closer Weekly.



KISS AND CRY Original idea by choreographer Michèle Anne De Mey and filmmaker Jaco Van Dormaelf.

Collective creation:Michèle Anne De Mey, Gregory Grosjean, Thomas Gunzig, Julien Lambert, Sylvie Olivé, Nicolas Olivier and Jaco Van Dormael.

Written by: Thomas Gunzig.

Michèle Anne De Mey and Jaco Van Dormael reveal what is large in what is small with Kiss & Cry, "a polymorphous show for dance, cinema and little fingers. The stage is a veritable film set complete with cameras, miniature landscapes, Lilliputian figurines and gaming tables. An impressive and fertile bric-à-brac that, manipulated with care by a group of artists, is not only a movie filmed live and projected on a big screen, but also a making of." A place for kisses and tears is a reference to the area where Olympic figure skaters and their coaches wait until the scores are announced by the members of the jury, Kiss & Cry is a seismic zone that is a jumble of particles of hope as well as the nuclei of ephemeral anxiety, euphoria and bitter disappointment. The entertaining concept imagined by the artists filters the essence of these seismic tremors, revealing their mechanisms.

The point of departure is a woman on a train platform and the question: Where do they go, the people who have disappeared from our lives, from our memory? A locomotive on the tracks, attached to train cars of the past, then chugs into life.

The woman remembers a boy whose hand she touched for a few seconds on a crowded train, an initial flutter of love, after which she is left with only the memory of that hand. Hands visually portray these main characters, small dancing fingers that, onstage and on screen, depict evanescent landscapes and choreograph the various forms of absence.

Kiss & Cry is described as "a delightful combination of rigour and inventiveness, of disarming simplicity and technological conjuring tricks. A fascinating look at a tiny universe created by Belgian artists renowned for their poignant eloquence." November 26-29 at the National Arts Centre in Ottawa, Ontario.

A CHRISTMAS MEMORY! based on the short story by Truman Capote. Book by Duane Poole, music by Larry Grossman, lyrics by Carol Hall.

Directed by Charlotte Moore.

Featuring Samuel Cohen as Sebon, Nancy Hess as Jennie, Taylor Richardson as Nelle, Ashley Robinson as Adult Buddy, Silvano Spagnuolo as Young Buddy, Virginia Ann Woodruff as Anna Stabler, and Tony Award-Winner Alice Ripley as Sook.

A Christmas Memory is an elegant, heart-warming, musical celebration of a traditional Southern Christmas. Set in Alabama in 1933, Memory tells the story of young Buddy, who is being raised by three eccentric cousins, and their last, precious Christmas together at home. As Buddy and his cousin Sook gather ingredients for their World-Famous Christmas Fruitcake (with one to be delivered to the Roosevelts in the White House!), we are drawn back into a sweet world of innocence... of a warmth and emotion that has all but disappeared.

Musical direction by Aaron Gandy. Choreography by Barry McNabb. Orchestrations by Steve Orich.

Presented by The Irish Rep with performances November 25, 2014-January 4, 2015 at the DR2 Theatre in NYC.

BROOMSTICK written by John Biguenet.

Directed by Stephen Sachs.

Starring Jenny O'Hara.

Set in Appalachia and written entirely in verse, the West Coast premiere of John Biguenet's charming and mesmerizing solo play stars Jenny O'Hara as a wacky, bizarre old woman living in an odd little shack deep in the woods… who just may happen to be a witch. A funny, poignant and "spell" binding tale of the magic of the human heart.

This production has been extended through December 14, 2014 at the The Fountain Theatre in Los Angeles, CA.

CHRISTMAS IN WISCONSIN composed of two stories The Great Tree and Human written by Zona Gales, adapted by East Lynne Theater Company Artistic Director Gayle Stahlhuth, who also directs and stars as Calliopr Marsh.

Lee O'Connor is the Stage Manager.

"I wish't I knew someone to have a Christmas tree with," says Calliope Marsh to Mrs. Sykes in the small town of Friendship Village. At first, even Calliope doesn't know what she means by what she just said, but then her ideas take shape in the form of how to get the big tree in the center of town lit with electric lights for Christmas Eve.

"During another Christmas, folks in a post office figure out how to get a seven-year-old boy to his mother who's in a hospital in a neighboring town."

Calliope Marsh is the storyteller of both tales, The Great Tree and Human in Zona Gales' Neighborhood Stories, first published in 1912, with its last publication date of 1914, shortly after the start of World War I.

"There are some of Gale's works out there. I'm finding that quite a few plays and literature from around 1914-1918 got sort of lost," Stahlhuth told Broadway To Vegas, reasoning: "I think this has a lot to do with WWI and the flu epidemic."

The University of Michigan houses the Zona Gales' archives. where Gale's archives are kept.

Zona Gale (1874-1938) was born in the small town of Portage, Wisconsin, and earned a Masters Degree at the University of Wisconsin before spending six years as a journalist in Milwaukee and New York. In 1903, she paid a visit to Portage, discovering that the material she needed for her writing was all there - in Portage.

A year later, she moved back to her hometown to focus her work on fiction. In 1908, Gale received national attention for her book of short stories, titled Friendship Village. Although the town's name was fictional, the basis for the stories came from Portage.

She received a Pulitzer Prize in 1922 for the Broadway play Miss Lulu Bett that she had adapted from her novel.

Christmas in Wisconsin: Tales by Zona Gale November 28-December 13, 2014 in Cape May, NJ.

DR. SEUSS' HOW THE GRINCH STOLE CHRISTMAS! Book and Lyrics by Timothy Mason. Music by Mel Marvin. Additional Lyrics by Theodor S. Geisel. Additional Music by Albert Hague. Original Production Conceived and Directed by Jack O'Brien.

Directed by James Vásquez.

Original Choreography by John DeLuca. Musical Direction by Elan McMahan. Additional Choreography by Bob Richard. Choreography Restaged by James Vásquez.

San Diego's favorite holiday tradition, back for its 17th incredible year, is a wonderful, whimsical production that will once again jump right off the pages of the classic Dr. Seuss book and onto the Old Globe's stage.

The cast: Burke Moses (The Grinch), Jeffrey Schecter (Young Max), Steve Gunderson (Old Max), Taylor Coleman & Gabriella Dimmick (Cindy-Lou Who), Robert J. Townsend (Papa Who), Bets Malone (Mama Who), Geno Carr (Grandpa Who), Nancy Snow Carr (Grandma Who), Katelyn Katz & Alexis Rae Tenney (Annie Who), Brooke Henderson & Mikaela Celeste Villalpando (Betty-Lou Who), Noah Baird & Elliot Weaver (Boo Who), Jordi Bertran & Imahni King-Murillo (Danny Who); Luke Babbitt, Josh Bradford, Nathan Conlan, Sophia Dimmick, Savannah Rae Farmer, David Kirk Grant, Kyrsten Hafso-Koppman, Jacob Haren, Jolie Hoang-Rappaport, Hourie Klijian, Cady Mariano, Dylan Nalbandian, Nathan Andrew Riley, Lexy Sakrekoff, Jill Townsend, and Kelsey Venter (Ensemble) and James Vásquez (Swing).

Creative Team: John Lee Beatty (Scenic Design), Robert Morgan (Costume Design), Pat Collins (Lighting Design), Paul Peterson (Sound Design), Anita Ruth (Orchestrator), Joshua Rosenblum (Vocal Arrangements and Incidental Music), David Krane (Dance Music Arranger), Caparelliotis Casting (Casting) and Leila Knox (Stage Manager).

Performances through December 27, 2014 on the Donald and Darlene Shiley Stage of the Old Globe Theatre Conrad Prebys Theatre Center in San Diego, CA.




WHO'S WHERE


JUSTIN TIMBERLAND performs Monday, November 24, at the Forum in Englewood, CA. On Wednesday he's in the spotlight at the Honda Center in Anaheim. Friday finds him at the MGM Grand in Las Vegas.

STRAIGHT NO CHASER bring their show to the Count Basie Theatre in Red Bank, NJ on Friday, November 28. Saturday's performance is at the Mohegan Sun Arena in Uncasville, CT. Next Sunday, November 30, they entertain at the Palace Theatre in Albany, NY.

FLEETWOOD MAC entertain Monday, November 24, at the Sleep Train Arena in Sacramento, CA. Tuesday's show is a the SAP Center in San Jose, CA. Friday finds them opening a two nighter at t The Forum in Inglewood,CA.

MELISSA ETHERIDGE the Grammy award winner brings her powerful lyrics and incomparable voice, indelible melodies and blazing guitar to The Amp Friday, November 28 in Pompano Beach, Florida.

THE WHO entertains next Sunday, November 30, at the SECC in Glasgow, Scotland.

ELTON JOHN performs in Germany this week with a show Monday, November 24, at the TUI Arena in Hanover. Thursday performance is at the Olympiahalle in Munich. Saturday finds him at the Arena in Nuremberg and next Sunday, November 30, at the Hanna Martin Schleyed Halle in Stuttgart.


FINAL OVATION


MIKE NICHOLS award winning German-born American television, stage and film director, writer, producer and comedian, died suddenly of cardiac arrest in New York City on Wednesday, November 19, 2014. He was 83.

An EGOT, Nichols was one of only 12 stars to win all four major US entertainment awards - an Emmy, Grammy, Oscar and Tony.

He won Emmy Awards for r his direction of Wit (2001) and Angels in America (2003).

His other honors included the Lincoln Center Gala Tribute in 1999, the National Medal of Arts in 2001, the Kennedy Center Honors in 2003 and the AFI Life Achievement Award in 2010.

Nichols had been working on an HBO film adaptation of Master Class - the Terrence McNally play about opera star Maria Callas - starring Meryl Streep in the lead role. The film was to reunite the director with Streep, having previously worked together on 1983's Silkwood and on stage in a 2001 production of The Seagull.

Nichols began his career in the late 1950s as part of a comedy duo with Elaine May. The pair released three best-selling records, one of which won the Grammy for best comedy album in 1962.

He made his Broadway debut with Neil Simon's Barefoot In The Park, starring Robert Redford, earning Nichols his first of nine Tony awards in 1964. The following year he picked up Tonys for productions of Simon's The Odd Couple and Luv.

Overall, Nichols has won nine Tony Awards: six for Best Director of either a play or a musical, one for Best Play and two for Best Musical.

His 23 Broadway credits include directing The Apple Tree, starring Second City alumna, Barbara Harris; a revival of Lillian Hellman's The Little Foxes in 1967, which ran for 100 performances. He then directed Neil Simon's plaza Suite in 1968, earning him another Tony Award for Best Director.

He directed Neil Simon's The Prisoner of Second Avenue In 1971 earning him another Tony. In 1973 Nichols directed a revival of Anton Chekhov's Uncle Vanya on Broadway starring George C. Scott and with a new translation written by himself and Albert Todd. Iin 1976 he directed David Rabe's Streamers and Trevor Griffith's Comedians.

In 1977 Nichols produced the original Broadway production of the hugely successful musical Annie with Nichols winning the Tony Award for Best Musical. Later in 1977, Nichols directed D.L. Coburn's The Gin Game, which won a Tony Award for Best Actress for Jessica Tandy.

He won another Tony Award in 1984 for directing Tom Stoppard's The Real Thing. In 2012, Nichols won the Best Direction of a Play Tony Award for Arthur Miller's Death of a Salesman.

He won his first Oscar for directing The Graduate, featuring Dustin Hoffman in his breakout role.

Neil Portnow President/CEO of The Recording Academy issued the following statement: "Grammy winner Mike Nichols was one of the world's most celebrated directors who achieved great success in both film and theater. In addition to being a Grammy Award winner, Nichols also received multiple Emmy, Oscar and Tony Awards, making him one of the most decorated figures in the entertainment industry. A highly accomplished visionary with a career that spanned more than six decades, Nichols was also a gifted producer and comedian. Nichols' knack for impeccable comedic timing paired with unmatched passion for his craft earned him a stellar reputation as countless high-profile stars longed to work with him. We have lost a brilliant member of our creative community, and our sympathies go out to his family, his friends, and all who have benefited from and have been moved by his extraordinary talent."

He is survived by his fourth wife ABC news anchor Diane Sawyer whom he wed in 1988, children Daisy Nichols by second wife Margo Callas and Max Nichols and Jenny Nichols by third wife Annabel Davis-Gofff, and four grandchildren Saskia Jensen, Harley Nichols, Juliet Nichols and Gus Hooyman. He is also survived by a brother, Bob Nichols.

CHARLES CHAMPLIN who served from 1967-1991 as the Los Angeles Times arts editor, film critic and columnist died from complications of Alzheimer's disease on Sunday, November 16, 2014, at his Los Angeles home. He was 88.

As a movie critic, Champlin estimated that he saw 250 movies a year and reviewed half of them.

In honor of his film coverage and criticism, Champlin received a star on the Hollywood Walk of Fame in 2007.

In 1992 Champlin received an honorary Life Member Award from the Directors Guild of America.

He is survived by his wife of 66 years, Margaret (Peggy) Derby Champlin, son Charles Jr. of Santa Barbara; daughters Katherine Laundrie of Vista, Calif., Judith Desmond of San Anselmo, Calif., Susan Champlin of New York City and Nancy Cecconi of Eagle Rock; son John of Valencia; half sister Nancy Kreis of Camillus, N.Y.; 13 grandchildren and six great-grandchildren.















Next Column: November 30, 2014
Copyright: November 23, 2014 All Rights Reserved. Reviews, Interviews, Commentary, Photographs or Graphics from any Broadway To Vegas (TM) columns may not be published, broadcast, rewritten, utilized as leads, or used in any manner without permission, compensation and/or credit.
Link to Main Page
---
Laura Deni



For the snail mail address, please E-mail your request.
CLICK HERE FOR COMMENT SECTION