! >
Broadway To Vegas
  
  REVIEWS  INTERVIEWS COMMENTARY NEWS

| | |
| --- | --- |
| | |
L.A. THEATRE WORKS BRINGS POLITICALLY SENSITIVE DOCUDRAMAS TO CHINA - - LITERAL INTERPRETATION OF THE BIBLE IS DANGEROUS - - FOLLIES IN CONCERT CD - - TRASH BECOMES A GLOBAL WINTER WONDERLAND - - NEA AWARDS $22.5M - - MERYL STREEP TAKES PART IN FIRST US CHINA ARTS FORUM - - CATWALK TO COVER: A FRONT ROW SEAT - - UNICORN THEATRE LAUNCHES AWARD - - DONATE . . . Scroll Down



MERYL STREEP TAKES PART IN FIRST US-CHINA FORUM ON THE ARTS
Meryl Streep and Jim Broadbent as Margaret and Denis Thatcher in the movie The Iron Lady.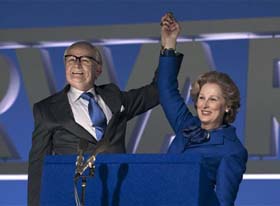 Yo-Yo Ma, Amy Tan and Meryl Streep were just a few of the notables who took part in the first US China Forum on the Arts and Culture held November 16 – 19, 2011 in Beijing, China.

Yo-Yo Ma and Amy Tan participated in the first panel discussion with Yo-Yo Ma stressing the importance of imagination and creativity.

Last Friday Yo-Yo Ma appeared as part of Artists For A Musical Dialogue. Among those on stage were Meryl Streep, Chen Leiji, Wu Tong, Du Cong, Damian Woetzel, Liu Lin, Brooklyn Rider, Charles "Lil Buck" Riley, and students from the China Central Conservatory.

Others participating in various events included filmmaker Joel Coen, American chef, restaurateur, activist, and author Alice Waters, American documentary maker David Fanning and author Michael Pollan.

Coen was a member of a film director's panel and admitted that he was quite baffled when he first received a request to permit the Chinese to remake Blood Simple, a 1984 neo-noir crime film which was the directorial debut of Joel Coen and the first major film of cinematographer Barry Sonnenfeld. After Coen viewed the 2009 Zhang Yimou comedy, translated to A Simple Noodle Story or A Woman, a Gun and a Noodle Shop? he concluded: "I loved it," because "it was the single weirdest viewing experience."

In talking generally about the American film industry he observed, "The American film industry is quite broad, with different facets to it, which allows myself and my brother to make the kind of movies we make."

He confessed that while the opening of Fargo has credits claiming it is a true story, Coen divulged this was just a ploy to placate the audience. "None of what happened in the movie is true," he laughed.

Chinese movies are funded and content controlled by the government.

"Chinese artists carry a heavy burden," he said. "They cannot do everything they want to do."

Streep took part in a Friday afternoon panel discussion on film and performing held at the National Center for the Performing Arts and Culture.

"Acting uses a universal language," said the 16-time Academy Award nominee and winner of two Oscars. "It is a form of deep communication, where the connection is immediate."

Also on the panel were Liu Ye whom Streep praised for effectively expressing "tenderness and terror" in the film Dark Matter, in which Liu plays a Chinese student whose failure to adapt to the US environment turns murderous, while Streep is his well-meaning mentor.

Dark Matter was the first feature film by opera director Chen Shi-zheng and starred Liu Ye, Aidan Quinn and Meryl Streep. It won the Alfred P. Sloan Prize at the 2007 Sundance Film Festival.

Streep, a Tony Award nominee, also stressed the importance of live theater.

"Playing on stage is good because you can change for each night."

Liu also related that theatre is important to him because "the audience can breathe with you and see you sweat."

For Streep's latest role as Margaret Thatcher in The Iron Lady, she told the audience that she had read up on background materials and made a point to study both Margaret Thatcher's supporters and detractors.

"History is written by people with opinions," she says, "and you'll have to leave judgment to the analyst who watches the movie."

Presented by The Aspen Institute Arts Program, the Forum is launching a series of cultural exchanges which seek to strengthen mutual understanding between Americans and Chinese.

"We see this is a vital opportunity for the Aspen Institute to bring the Great Conversation to China through cultural exchange," stated the Aspen Institute.

"Moreover, it reaffirms the role of the arts at the Aspen Institute. Under the leadership of Damian Woetzel, the Arts Program will present art as ideas and as catalysts for action in civil society, as well as present great artists and art as the creative and brilliant forces they are in their own right. More programs with this vision are being developed and we are already in the preliminary stages of planning a return Forum with Chinese cultural representatives coming to Aspen, DC and/or New York in the next year. We hope this inaugural convocation in Beijing will be a bridge to other forms of cultural, intellectual, and policy exchanges between the Aspen Institute and China more generally."

This event was co-hosted by the Aspen Institute in partnership with the Asia Society's Center on US-China Relations and was by invitation only.



Broadway To Vegas is supported through advertising and donations. Priority consideration is given to interview suggestions, news, press releases, etc from paid supporters. However, no paid supporters control, alter, edit, or in any way manipulate the content of this site. Your donation is appreciated. We accept PAYPAL. Thank you for your interest.



ART AND ABOUT


CATWALK TO COVER: A FRONT ROW SEAT

Catwalk To Cover: A Front Row Seat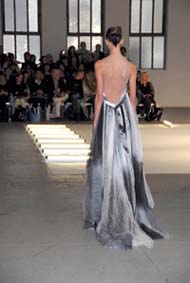 For many people the catwalk show is something exclusive, seemingly created for a few fashionistas that get to sit in the front row.

A few outfits will appear in magazines - originals that the ordinary person will never be able to afford.

But there is much more to it than that and this new exhibition at the Fashion and Textile Museum will put the whole process from catwalk to cover under the microscope.

Through a series of candid photographs from top catwalk photographers and with exclusive back stage access covering all the different elements that make up the catwalk shows:

Backstage, Front Row, Catwalk and Street Style - the viewer will get an insight into the often chaotic world that makes up the apparently glamorous fashion shows we see on TV and in magazines.

Visitors will get a look at some of the more unusual catwalk moments captured by the photographers working at shows: from some of the most well-known in the business including Karl Largerfeld, Vivienne Westwood, Alexander McQueen and Marc Jacobs.

Opened November 18 and on exhibition through February 25, 2011 at the Fashion and Textile Museum in London.


THE MUSIC GOES ROUND AND ROUND


FOLLIES IN CONCERT composed by Stephen Sondheim, the magnificent score performed by the New York Philharmonic led by Paul Gemignani.

Few shows in the history of the musical theatre have attained the cult status enjoyed by Follies.

Coinciding with the acclaimed new Broadway production of Stephen Sondheim and James Goldman's Follies is a new two-CD eco-friendly softpack of Follies in Concert, released by Masterworks Broadway.

Recorded live at Avery Fisher Hall in New York City on September 6-7, 1985, Follies in Concert also includes Stephen Sondheim's score to the film Stavisky.

Listening to this 2-disc CD will make you wish you'd been at the Avery Fisher Hall event. If you've already seen Follies you'll long to see it again. And, for those who have never attended a performance - go buy a ticket - and this Masterworks Broadway release.

The story concerns a reunion in a crumbling Broadway theatre, scheduled for demolition, of the past performers of the "Weismann's Follies," a musical revue (based on the Ziegfeld Follies), that played in that theatre between the World Wars. It focuses on two couples, Buddy and Sally Durant Plummer and Benjamin and Phyllis Rogers Stone, who are attending the reunion. Sally and Phyllis were showgirls in the Follies. Both couples are deeply unhappy with their marriages. Buddy, a traveling salesman, is having an affair with a girl on the road; Sally is still as much in love with Ben as she was years ago; and Ben is so self-absorbed that Phyllis feels emotionally abandoned. Several of the former showgirls perform their old numbers, sometimes accompanied by the ghosts of their former selves.

The star-studded concert production featured a hand picked cast singing Sondheim's ambitious, fascinating and enduring score. It includes Barbara Cook, George Hearn, Mandy Patinkin, Lee Remick, Betty Comden, Adolph Green, Liliane Montevecchi, Elaine Stritch, Phyllis Newman, Carol Burnett, Liz Callaway, Daisy Prince, Jim Walton, Howard McGillin among others ~ including a young Ted Sperling in the chorus.

The raucous Buddy's Blues, delivered by Mandy Patinkin, is rewarded with thunderous applause. Betty Comden and Adolph Green perform Rain on the Roof. The powerful Losing My Mind sung by Barbara Cook, in which the audience is so quiet than you can hear a pin drop or a tear fall, is climaxed by show stopping applause which is interrupted only by the next selection, The Story of Lucy and Jessie. Carol Burnett's rendition of I'm Still Here stops the show as does Elaine Stritch singing Broadway Baby.

Recording a live performance is a difficult project with the editing as the make or break component.



Barbara Cook, Liz Callaway Lee Remick, and Daisy Prince. Photo: Masterworks Broadway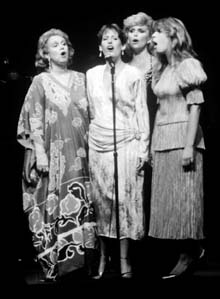 Prolific record producer Thomas Z. Shephard, winner of twelve Grammy Awards, is best known for his recordings of Broadway musicals, including the original cast recordings of many of the Sondheim musicals, helmed this effort which won the 1986 Best Musical Cast Show Album Grammy.

He took a hands on approach and didn't leave anything up happenstance.

More than one recording was made including taping the dress rehearsal sans audience - thus no noise or applause from the audience.

Since the performance utilizes actors speaking to explain various plot points, applause is heard after the "follies" number but not after plot songs.

As a bonus, this two-CD set includes 45 minutes of instrumental music Sondheim composed for the 1974 French film Stavisky, including two melodies that had been cut from the original production of Follies.

Serge Stavisky (1888–1934) was the Bernie Madoff of his day. He worked as a café singer, as a nightclub manager, as a worker in a soup factory, and as the operator of a gambling den. In the 1930s he managed municipal pawnshops in Bayonne, France moving in financial circles, preying on the confidence and trust of others. He sold worthless bonds on the surety of what he called the emeralds of the late Empress of Germany - which later turned out to be glass. Stavisky maintained his façade with his connections to various people in important positions. If some newspaper tried to investigate his affairs, he bought them off, sometimes with large advertisement contracts, sometimes by buying the paper.

Stavisky is a 1974 French film drama based on the life of the financier and embezzler and the circumstances leading to his mysterious death in 1934. This gave rise to a political scandal known as the Stavisky Affair, which led to fatal riots in Paris, the resignation of two prime ministers and a change of government. The film was directed by Alain Resnais and featured Jean-Paul Belmondo as Stavisky and Anny Duperey as his beautiful wife, Arlette. Sondheim wrote the film's musical score.

The gorgeous instrumental portion of this 2-disc CD is the type of music that can be replayed all day long. Coupled with the incredible Follies, it's a two dose musical delight.

Follies Cast:

Dimitri Weismann: André Gregory
Roscoe: Arthur Rubin
Sally Durant Plummer: Barbara Cook
Benjamin Stone: George Hearn
Young Buddy: Jim Walton
Young Ben: Howard McGillin
Buddy Plummer: Mandy Patinkin
Phyllis Rogers Stone: Lee Remick
Young Sally: Liz Callaway
Young Phyllis: Daisy Prince
Emily Whitman: Betty Comden
Theodore Whitman: Adolph Green
Solange Lafitte: Liliane Montevecchi
Hattie Walker: Elaine Stritch
Stella Deems: Phyllis Newman
Carlotta Campion: Carol Burnett
Heidi Schiller: Licia Albanese
Young Heidi: Erie Mills
Chorus: Ronn Carroll, Susan Cella, Robert Hendersen, Frank Kopyc, Marti Morris, Ted Sperling, Susan Terry, Sandra Wheeler.


SWEET CHARITY


THE CAROL CHANNING FOUNDATION FOR THE ARTS will benefit from a November 28 celebration at the Triad in New York City. Richard Skipper Celebrates Jerry Herman is the launch of a new monthly series, each of which will have a different theme.

A Benefit for Carol Channing's Foundation for the Arts will feature Anna Bergman, Diane J. Findlay, Peggy Herman, Sue Matsuki, Miles Phillips, Jana Robbins, Richard Skipper, Tony award nominated Lee Roy Reams, Walter Willison, Bob Mattern, John Patrick Schutz and Sarah Rice.

The Carol Channing Foundation for the Arts was established in 2005 to emphasize the importance of arts education to the general public, provide music instruments for underfunded public schools and scholarships for California State University students.

JERSEY BOYS CONCERT to benefit Broadway Cares/Equity Fights AIDS and the local Washington, DC charity Food & Friends takes place November 28 at the D.C. Improv. Cast members from the national tour perform in the concert titled Rock Like A Man. They'll sing hits from the 50s and 60s.

ROCK GALA 2011 Rock royalty will once again collaborate with music's brightest young stars at the Royal Albert Hall to raise funds for The Prince's Trust.

BBC Radio 1 presenter Edith Bowman and comedian and presenter Patrick Kielty will host the evening of entertainment.

Confirmed to join them are rock legend Pete Townshend, YolanDa Brown, Kenney Jones, Mark King, Julian Lennon, Cerys Matthews, comedian and musician Tim Minchin, Charlie Siem and Midge Ure.

Also appearing on the bill are soul songstress Joss Stone, eighties legend Boy George, BRIT award-nominees The Feeling and singer-songwriters Chris de Burgh and Alison Moyet.

Wednesday, November 23, at Royal Albert Hall, London.

A CHRISTMAS CAROL by Charles Dickens, adapted by Michael Wilson and directed by Michael Baron, is an annual tradition at the Ford's Theatre in Washington, DC with performance through December 31, 2011.

Each year, the cast of A Christmas Carol partners with a local charity. This year, the cast will be raising funds on behalf of Miriam's Kitchen, a local non-profit serving the area's homeless men and women. Donations will be collected at performances during the curtain call.


TRASH TRANSFORMED INTO A GLOBAL WINTER WONDERLAND
The Dragon Boat peacefully cruises along as he carries archetypal Chinese buildings on his back. His skin is made of CD's and illuminated from the inside. Dragons traditionally symbolize power, strength, and good luck. Photo Credit: Courtesy of International Culture Exchange Group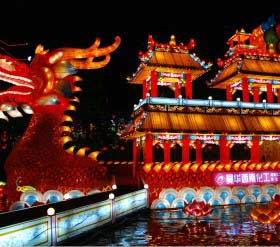 Taj Mahal - one of the most recognizable structures in the world and considered one of the greatest architectural achievements. Built by Mughal emperor Shah Jahan in memory of his third wife, it is now a symbol of eternal love. This Taj Mahal is built from recycled trash. Photo: Courtesy of International Culture Exchange Group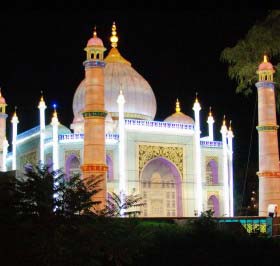 Beverage cans, bottle caps, CDs, recycled batteries, porcelain dishes, metal flatware, 20-miles of silk and 15 tons of steel shipped from China to the U.S. in 23, 40-foot cargo containers, which made it through customs.

It took four-dozen Chinese engineers and artists over a month to transform the trash into a jaw dropping nine-acre Global Winter Wonderland on display November 25 through January 2, at Great American's Parking Lot in Santa Clara, CA.

The spectacle features the first-ever Chinese Lantern Festival in the Bay Area.

This historic United States' debut holiday event allows guests to experience traditional celebrations from around the world, including hand painted lighted replicas of 40 beautiful iconic illuminated structures, some nearly 50-feet tall and 100-feet long, many replicating some of the world's most iconic landmarks, holiday themes and traditions.

Those landmarks include the Taj Mahal, the Eiffel Tower, Chichen Itza, a 59-foot high Temple of Heaven and a 99-foot wide Golden Gate Bridge.

From an amazing rain forest to the stunning dragon boat, from iconic landmarks in the Global Village to the Holliday Village and the Mini-Chinatown.

Each of our 40 lanterns will be surrounded by hundreds of smaller lanterns including fun characters, plants, animals, birds, and fish.

The eco-friendly lanterns were designed by the same team of engineers who built lanterns for the 2008 Paralympics in Beijing.

The Festival will also feature a dinosaur maze, carnival games, international cuisine, arts and crafts, and live entertainment created by the International Culture Exchange Group (ICEG).



The Eiffel Tower: Reaching nearly 50 feet tall, watch figurines move in a circle. On New Year's night, love will be in the air as patrons gather and count down the seconds to a finale of kisses right under the Eiffel tower. Photo: Courtesy of International Culture Exchange Group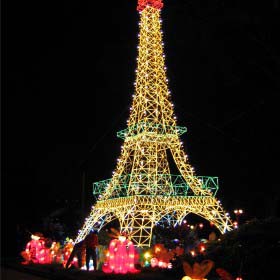 Japan's cherry blossoms are the stars of this beautiful display. The multi-colored LED light display is a tribute to the Hanami, the cherry blossom festivals that are held all over Japan each spring. Photo: Courtesy of International Culture Exchange Group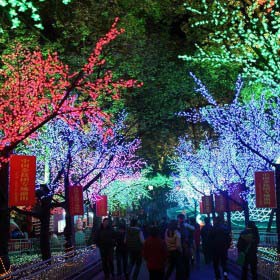 "I wanted to bring the best of the world to families right here in the Bay Area," said Lulu Huang, President of International Culture Exchange Group. "When people learn about each other's cultures, and more importantly are invited to share in those cultures, real international understanding takes place."

Education through entertainment is an important part of the Global Winter Wonderland experience. Visitors will learn about holiday traditions of various cultures and how these celebrations differ as well as how they are similar.

The event has also partnered with local ethnic organizations.

Sunday, December 18th has been set aside as Hispanic Foundation of Silicon Valley day. A portion of the ticket receipts for that date will be donated to that foundation.

The centerpiece of the Global Winter Wonderland is a 33-foot tall Christmas Tree Lantern. The tree and all the lanterns will be lit in a special ceremony on opening day, Friday, November 25, the day after Thanksgiving.

Organizers expect over 300,000 visitors to attend Global Winter Wonderland during the inaugural event.

Similar displays staged in Canada, Australia, Germany and Malaysia have drawn over 700,000 patrons.


L.A. THEATRE WORKS BRINGS POLITICALLY SENSITIVE DOCUDRAMAS TO CHINA


Turkey Day is approaching and for a group of actors there will be no overeating, no watching the Macy's parade and no football.

Instead, the members of L.A. Theatre Works will be presenting Geoffrey Cowan and Leroy Aarons' riveting historical drama, Top Secret: The Battle for the Pentagon Papers, in China for two weeks of performances, November 22 through December 4. This is the first time LA Theatre Works has traveled abroad.

Multiple award-winning director Stephen Sachs and a cast of stage, screen and television veterans including Henry Clarke, JD Cullum, James Gleason, Nicholas Hormann, Amy Pietz, Russell Soder, Josh Stamberg, Peter Van Norden, Steve Vinovich and Tom Virtue are on their way to China to participate in this historic and important event.

This tour isn't the typical showcasing of a musical, seasonal production, opera or dance. Rather, it's a breakthrough event offering a production of a serious topic which will be dissected and discussed.

In conjunction with scheduled performances in Shanghai, Guangzhou, and Beijing, L.A. Theatre Works, accompanied by author and former Voice of America Director Geoffrey Cowan, will offer workshops, and lead panel discussions with participation from China's leading law and journalism schools, as well as with the general public.

A discussion of this type is significant given that in China the media is controlled by the state.

The number of journalists currently in prison has risen to its highest level since 1996, according to the 2010 annual report, released by the Committee To Protect Journalists (CPJ).

China and Iran are the biggest jailers of journalists with 34 imprisoned in each country. Ten more journalists are now in prison in China compared with the figure in 2009.

"The increase in the number of journalists jailed around the world is a shocking development," says CPJ executive director Joel Simon on the organization's website.

"It is fuelled largely by a small handful of countries that systematically jail journalists - countries that are at war with information itself."

Exhibiting a 180 degree turn in press control is permitting the presentation of Top Secret: The Battle for the Pentagon Papers, which was originally produced by LA Theatre Works, and made its off-Broadway debut February 24 - March 28, 2010, at New York Theatre Workshop. The production was accompanied by post-show panel discussions sponsored by USC Annenberg's Center on Communication Leadership & Policy.



L.A. Theatre Works' staging of Top Secret: The Battle for the Pentagon Papers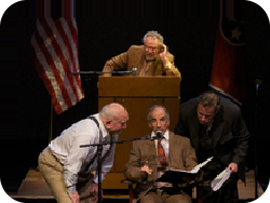 Performances in China will be fully staged. Actors will perform in English with supertitles, and a full text will be available for download at the play's website.

L.A. Theatre Works' China Tour is produced and managed by Ping Pong Productions, whose mission is to promote cultural diplomacy through the performing arts.

Top Secret: The Battle for The Pentagon Papers is an inside look at The Washington Post's decision to publish a study labeled "top secret" that documented the history of the U.S. involvement in Vietnam. The subsequent trial tested the parameters of American democracy, pitting the public's right to know against the government's need for secrecy. The epic legal battle between the government and the press went to the nation's highest court - arguably the most important Supreme Court case ever on freedom of the press.

In 1966, United States Secretary of Defense Robert McNamara commissioned a study on the history of U.S. involvement in the Vietnam War. The document, which came to be known as The Pentagon Papers, contained more than two million words, including some that would prove politically embarrassing about Administration efforts to manipulate military information and the media.

Only seven copies of the Papers existed: five resided in the Pentagon; Secretary McNamara had one; and one was at The RAND Corporation in Santa Monica, California. In 1971, Daniel Ellsberg, who worked at RAND, copied the Papers and gave four thousand of the seven thousand pages to Neil Sheehan at the New York Times, which printed the first three installments of the story before the government won a restraining order.

Eager to get a piece of this remarkable story, The Washington Post, not covered by the initial injunction against The Times, obtained a copy of The Papers and had one day to read the documents and make a decision about publishing more of the sensitive material.

Top Secret: The Battle For The Pentagon Papers is based on a wide range of sources including interviews with participants and documents obtained through the Freedom of Information Act.

It follows the debate played out at Washington Post editor Ben Bradlee's home as his staff sorts through the documents and tries to decide if publishing The Papers will violate national security - and as the lawyers and publisher decide if publishing will risk criminal action and possibly huge financial consequences.

The play includes their momentous decision and the legal wrangling that followed. The government's relationship to the media and the citizenry's right to information are critically explored against the canvas of the Vietnam War and the secretive Nixon White House.



Alison M. Friedman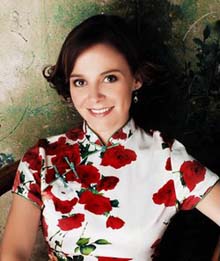 Unknown to the press and other government officials at the time, President Richard Nixon and his national security advisor, Henry Kissinger, were terrified that publication of secret documents would disrupt their plans for a visit to China. The plans for this visit were kept so confidential that even the Secretary of State and the Secretary of Defense had been kept in the dark.

For three decades, L.A. Theatre Works has been the leading radio theater company in the United States, committed to using innovative technologies to preserve and promote significant works of dramatic literature and bringing live theater into the homes of millions.

Heard in over 100 markets nationwide and internationally on BBC World Service, ABC (Australia), Radio New Zealand, Radio Eireann, and the CBC (Canada,) LATW's plays are collected by over 9,000 libraries in both digital and conventional formats and are used by over 3,000 middle and high schools across the country.

Ping Pong Productions was founded by Alison M. Friedman in 2009, building on nearly a decade experience working in the performing arts in China.

Friedman graduated Phi Beta Kappa / magna cum laude from Brown University, where she studied Chinese literature/literary translation. She was a 2009-2010 Arts Management Fellow at the John F. Kennedy Center for the Performing Arts in Washington, DC and a 2011 ISPA Fellow.

Friedman was International Director of the Beijing Modern Dance Company before she was hired by Oscar-winning composer Tan Dun to be General Manager of his company Parnassus Productions, Inc. She has worked as consultant for the US Embassy in China, Columbia University, the Alvin Ailey American Dance Theater.

Heather Wigmore is based in New York and researches development strategies and funding opportunities for PPP and its projects. She also serves as a U.S. representative and contact.

Ping Pong Productions develops cultural exchange projects and facilitates creative collaborations among Chinese and international performing artists, scholars and audiences.


WITH THANKSGIVING APPROACHING THE ARCHBISHOP OF CANTERBURY ROWAN WILLIAMS GETS IT RIGHT
Prince Charles shaking hands with the Archbishop of Canterbury at the 400th Anniversary of the King James Bible. Photo: Press Association for Clarence House service.
Last Wednesday the Archbishop of Canterbury Rowan Williams conducted a service at Westminster Abbey celebrating the 400th Anniversary of the King James Bible, considered the most influential book ever printed in the English language. The service was attended by Queen Elizabeth, Prince Philip and Prince Charles who recorded a passage for the YouTube Bible. The prince read from John 14: 1-14. The reading was recorded in the Chapel Royal at St James's Palace.

During a reception at Clarence House, Prince Charles said that he was amused to read comments about his "soothing voice," according to The Telegraph.

"I was asked recently to record a part of the King James Bible for YouTube, which I read, rather rashly, in the Chapel Royal," the prince told guests at the reception, who included members of the King James Bible Trust and actors Timothy West and Prunella Scales. "What amused me so much were the comments that came in afterwards that I read on Twitter and Facebook. One of them said: 'If the prince ever gets tired of princing, he would be a fabulous narrator. What a soothing voice.'"

"His favorite comment, he said, was one which read, 'Well done, Your Highness. You would be an excellent voice actor.'"

Wednesday's service came after lectures, educational programs and theater performances around the world marked the anniversary. ( See Broadway To Vegas column of August 21, 2011 )

To his credit Archbishop Williams cautioned the congregation that the translators would have been "baffled and embarrassed" by the idea of a perfect - or literal - translation but had sought instead to convey the "almost unbearable weight of divine intelligence and love" into the English language.

The translation from Hebrew and Greek was done by 47 translators in six committees working in London, Oxford and Cambridge.

Putting into practice literal interpretations of The Good Book have resulted in perhaps more evil than good. The down side - wars are waged, countries and people destroyed, a few Judean/Christian groups cultivate bigotry and the brainwashed zealot persona. Parishioners live a lifestyle that touts that it's not just permissible but a duty to destroy anyone they feel doesn't practice a literal version of their particular faith - whether it be laid down in a hat, a dream, or by some fool who doesn't understand that with any translation comes the strong possibility for misunderstanding. (Go see the Broadway show Chinglish.)

Also, who wrote what you are reading and what were their motives, writing skills, and mental condition? Fact, sincerity, knowledge, revenge, one-upmanship, a zealot, a hidden agenda? How many times has what you're reading been translated and what was the vernacular of the day?

The Archbishop of Canterbury has it right - the purpose of translating what is known as the King James version of the Bible was an "almost unbearable weight of divine intelligence and love," not a rule book on how to manipulate, put-down, deceive, harm, con and destroy.

Thanksgiving is approaching, which remembers the First Thanksgiving - commemorating not so much a good harvest as the pilgrims being grateful for having survived in order to continue their persecution.

The Puritans came to American seeking "religious freedom," to punish those who didn't interpret the Bible in an extremely strict, literal manner, something their British counterparts opposed.

According to Puritanism in New England by David Cody, Associate Professor of English, Hartwick College:

"Their isolation in the New World, their introversion, the harshness and dangers of their new existence, their sense that they were a new Chosen People of God destined to found a New Jerusalem - a New City of God in the midst of the wilderness - insured that American Puritanism would remain more severe (and, frequently, more intellectually subtle and rigorous) than that which they had left behind. The American Puritan tended to interpret the Bible, which had supreme literary value because it was the perfect word of God, even more literally than did his British counterparts. Though many of the original American Puritans -- many of whom were both preachers and authors -- had attended English Universities, they tended to form religious oligarchies and sought to establish a purified church -- which meant the frequently harsh imposition of religious uniformity upon an unwilling populace."

"It was to escape Puritan religious persecution that Roger Williams, a minister from Salem, established his colony in Rhode Island in 1636. The overt remnants of Puritanism did not die out in New England until well into the nineteenth century, and it echoes in American society today. In coming to the New World in the first place, Puritans altered the course of history, for better or for worse."

According to a report published by the University of North Carolina at Pembrook:

"Many religious groups (such as the Quakers and Puritans) formed the first 13 colonies on the basis of their religious beliefs. . . . there was actually some amount of persecution happening in the colonies. One example of this persecution would be with the Puritans. The Puritans wanted everyone to worship in the Puritan way. In order to ensure that Puritanism dominated the colonies, nonconformists were fined, banished, whipped, and even imprisoned for not conforming to the way of the Puritans."

"The Anglicans were already established in most of the colonies and were even part of the group of people that were "persecuted" by the Puritans."

The Colonial Williamsburg Foundation reports: "Every Virginia minister was required to read the "Articles, Lawes and Orders" to his congregation every Sunday, and, among other things, parishioners were reminded that failure to attend church twice each day was punishable in the first instance by the loss of a day's food. A second offense was punishable by a whipping and a third by six months of rowing in the colony's galleys. Which underlines the notion of the law as an arm of religious orthodoxy."

"Most village squares boasted, along with a church, a whipping post as well as stocks and other engines of correction. Larger municipalities often had whipping posts at convenient spots in the city, and sometimes a cart substituted for the post so that the evildoer could be dragged from location to location, tied to the "cart's-arse," for the education and edification—and entertainment—of the populace."

Water boarding was a common practice in colonial days - only they used a chair and the victim was usually a woman. Many victims died.



A seventeenth-century English ducking stool, in the Colonial Williamsburg collections, would be swung out at the end of beams over a river or pond. Used mainly on women, some of the dunked died - CWF Collection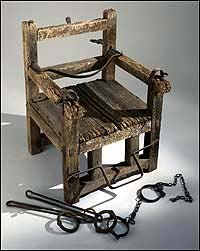 "Most self-respecting settlements also had a ducking stool, a seat set at the end of two beams twelve or fifteen feet long that could be swung out from the bank of a pond or river. This engine of punishment was especially assigned (for) women," posted CWF.

"In the absence of a proper ducking stool, authorities in some climes, as in Northampton County, Virginia, ordered the offender 'dragged at a boat's Starn in ye River from ye shoare and thence unto the shoare again.'"

"In New England Jesuits and Quakers were particularly feared and were banished, with orders never to return. The penalties for coming back were ears cut off, tongues bored through with a hot iron, and whipping until the blood ran."

Today, the devices and tactics may have gotten more subversive and sophisticated, but there are many religious groups which practice a holier than thou approach.

Whether you call them misguided, brainwashed or evil, there are many individuals today who live a lifestyle in which they believe that they can do or say anything to harm another under the religious philosophy of - If God didn't want me to destroy you, why hasn't He stopped me?

It's not just those who literally interpret the King James Bible, but members of any faith which has a 'rule book' by any name enforced by believers who feel they have divine permission to persecute anyone who doesn't adhere to their way as the only way.

Colonial Williamsburg is America's largest outdoor museum where visitors can enjoy scores of original buildings, hundreds of homes, shops, and public buildings which are reconstructed over 301 acres - most on their original foundations. Rare animal breeds, trades, and gardens add layers of authenticity to the re-created town.

Historic Jamestowne is located less than 10 miles away from Colonial Williamsburg's Historic Area. Historic Jamestowne is the site of the first permanent English settlement in North America. You can dance with an 18th-century instructor, walk with curators and gardeners, take part in a witch trial, or march with the Fifes and Drums

There are also delicious, elegant, costumed feasts and wonderful places to stay.


UNICORN THEATRE LAUNCHES AWARD FOR ASPIRING YOUNG DIRECTORS AND STAGEHANDS
Ibrahim Shote, Camilla the Duchess of Cornwall and actress Joanna David. Photo: Press Association for Clarence House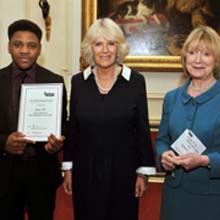 On November 16 Camilla,The Duchess of Cornwall joined British actresses Joanna David, Emilia Fox and Juliet Stevenson to honor a young future star of the theatre.

The Duchess launched the Joanna David Award and announced 19-year-old Ibrahim Shote, from south London, as its first winner.

The award aims to support aspiring young directors and stagehands and Shote, who intends to become a theatre director, will work with a professional mentor on a Unicorn production for ten weeks beginning in May

Camilla is a long-standing supporter of the Unicorn and became its patron in 2005. In that capacity, Her Royal Highness hosted a reception for Unicorn supporters, staff and actors at Clarence House.

Shote recently graduated from Lewisham College, south east London, with a National Diploma in Performing Arts. He has already worked on projects at the Young Vic, National Theatre Studio and Southwark Playhouse.

Shote was chosen by a panel of judges consisting of Unicorn Artistic Director, Purni Morell, Production Manager, Phil Clarke and Director of the Young Company, Nadia Fall.

During The Duchess's visit, she paid tribute to the Unicorn Theatre and board member, actress Joanna David for whom the award is named. David is a 40-year veteran of British theatre, film and television. She has maintained a close involvement with the Unicorn over the past 20 years and also serves as vice-president of the Theatrical Guild.[

Actress Emilia Fox is her daughter.

The Duchess said: "The Unicorn is the best children's theatre in the country, probably in the world. I can only say to people who have children, take them along."

The wife of Prince Charles said that she took her grandchildren to see the Unicorn's production of Mole in the Hole last Christmas and that this year they would be attending Ring a Ding Ding.

The Unicorn produces productions specifically for young audiences and the theatre also has a youth theatre and youth board.

The Joanna David Award will be an annual event, with a young artist who has proven their dedication to theatre chosen as the winner every autumn.


A ROYAL ROOMING HOUSE


In times of economic downturn many homeowners rent out a spare room.

That includes Queen Elizabeth.

Her Majesty has personally approved the renting out of rooms in St James's Palace during the 2012 Olympics.

Private companies with long-standing ties to the royal family will be permitted an opportunity to rent the rooms, called state apartments, during the games, which begin July 27 and last until August 12.

The price? Up to $47,000 a day.

The rental rooms are intended to be used as hospitality/party suites where corporate clients can party like a prince, rather than sleeping quarters.

A Buckingham Palace spokesperson said: "All the monies raised will be able to supplement the Sovereign Grant and will be spent on the upkeep of the royal residences."

Location, location, location.

The palace is in a prime spot for a number of the Olympic events including beach volleyball, which will be held in nearby Horse Guards Parade, and the marathon, which will start and finish in The Mall.

The For Rent sign was hung via royal officials contacting appropriate firms they thought might be interested.

If you intend to rummage through your attic hoping to find a royal warrant somewhere - don't bother. All of the available rental dates were snapped up faster than you can curtsy. Only the detailed paper work part is left to complete.

The palace is home to Princess Anne and her niece Princess Beatrice. Clarence House, the home of Prince Charles and Camilla, is also within its grounds.

Rooms and apartments in the palace include the Throne Room, Tapestry Room, and the Queen Anne Room.

St James's Palace is the official residence of the monarch, although no king or queen has lived there since 1837.


SPREADING THE WORD


STUDIO 54 a fixture at the MGM-Grand in Las Vegas for the last 14 years will shutter on Sunday, January 8, 2012.

SOMETIMES THE SHOW DOESN'T GO ON such as the November 17 press preview of Seminar when the show's star Alan Rickman was unable perform because of an acute respiratory infection - the first time Rickman had to cancel a performance in his entire career. Normally, an understudy would have gone on, but because it was a press preview the show stayed dark.


OTHER PEOPLE'S MONEY


HUGH JACKMAN BACK ON BROADWAY in its opening week on The Great White Way, hit sales of $1,247,650, setting a house record for the Broadhurst.

THE JULIA MILES THEATRE in NYC - which is not ADA compliant and expensive to operate - has been sold by The Women's Project. They will relocate to the Cherry Lane Theatre beginning with the 2012-13 season. The Cherry Lane was renovated in 2006.

NEA AWARDS $22.5 MILLION in the form of 863 grants to organizations and writers across the country, National Endowment for the Arts Chairman Rocco Landesman announced on Friday, November 18.

The awards encompass 15 artistic disciplines and fields, and support projects in 47 states, the District of Columbia, and Puerto Rico.

823 of the total are for projects at not-for-profit organizations; the remaining 40 awards are for individual writers who will receive $25,000 creative writing fellowships totaling $1 million.

According to the NEA, 1,686 eligible Art Works applications were received.






THE MAN WHO CAME TO DINNER by Moss Hart & George S. Kaufman. Directed by Dan Wackerman.

This marks the first NYC revival of the classic comedy in over a decade.

Starring Jim Brochu as Sheridan Whiteside. The 28-member cast will also feature Tony Award winner Cady Huffman (as Lorraine Sheldon), Joseph R. Sicari (Banjo), Amy Landon (Maggie Cutler), Ira Denmark (Mr. Stanley), Scott Evans (Richard Stanley), Thursday Farrar (Sarah), Kevin Fugaro (Sandy), Jenna Gavigan (June Stanley), Kristin Griffith (Harriet Stanley), Susan Jeffries (Mrs. Ernest W. Stanley), Kristine Nevins (Miss Preen), John Seidman (Professor Metz), Carolyn Seiff (Mrs. McCutcheon), Jay Stratton (Bert Jefferson), Tony Triano (Dr. Bradley), Reggie Whitehead (John), and John Windsor-Cunningham (Beverly Carlton).

The Man Who Came to Dinner opened at the Music Box Theatre on October 16, 1939 and ran for 739 performances. In the hilarious comedy satire, celebrated critic and radio personality Sheridan Whiteside slips on an icy doorstep while on a December lecture tour. Confined for several weeks of recovery at the Midwestern home of the utterly conventional Mr. and Mrs. Stanley, he proceeds to turn the family's life inside out with his incessant demands, long-distance phone calls and parade of eccentric celebrity guests. As Whiteside's secretary Maggie says, "He would see his mother burned at the stake if that was the only way he could light his cigarette!"

Presented by The Peccadillo Theatre Company, performances begin November 25 at with the Opening on December 4 at Theatre at St. Clement's, NYC.

WHITE CHRISTMAS music and lyrics of the legendary Irving Berlin, a book by David Ives and Paul Blake. Directed by Marc Bruni with choreography by Randy Skinner and musical direction by Steven Freeman.

Starring James Clow (Bob Wallace), Tony Yazbeck (Phil Davis), Jill Paice (Betty Haynes), Meredith Patterson (Judy Haynes), Edward James Hyland (General Waverly) and Lorna Luft (Martha Watson) with Peter Reardon (Ralph Sheldrake), Anthony Reimer (Mike Nulty), Cliff Bemis (Ezekiel) and Andie Mechanic (Susan Waverly).

The company also includes Jacob ben Widmar, Laurie DiFilippo, Beth Glover, Luke Hawkins, Leeds Hill, Drew Humphrey, Bryan Thomas Hunt, Samantha Kelleher, Megan Kelley, Kristie Kerwin, Matthew J. Kilgore, Drew King, Pilar Millhollen, Beth Johnson Nicely, Kristyn Pope, Sara Michelle Reardon, Kelly Skidmore, Lauren Elaine Taylor and Anna Aimee White.

Based on the beloved Bing Crosby and Danny Kaye film, this merry musical tells the tale of two famous song-and-dance men who stage a show in a scenic, snow-topped Vermont inn — and end up finding love with two singing sisters under the mistletoe. With laughter, crazy plot turns, Broadway-size production numbers and the unforgettable Irving Berlin's White Christmas is a brightly wrapped holiday gift.

Set design by Anna Louizos, costumes by Carrie Robbins, lighting design by Ken Billington, hair and wig design by Mark Adam Rampmeyer and sound design by Randy Hansen. The production stage manager is Peter Wolf.

Officially opens on November 20 a run through December 24 at The Paper Mill Playhouse in Milburn, New Jersey.

THE RIOTS by Gillian Slovo from spoken evidence. Directed by Nicolas Kent.

For the past three months the Tricycle Theatre in London has interviewed a broad spectrum of people caught up in the August riots - from rioters and victims; to police, lawyers, politicians, teachers and community leaders.

"Using their words, The Riots will analyze what happened, why it happened and what we can do towards making a better future."

"The Government has so far refused a Public Inquiry into the riots that shook our cities this Summer, so the Tricycle is mounting its own," states the prestigious venue.

"From tweets by taxi drivers, to moment-by-moment accounts by riot police, it will build a real-time picture of the riots as they unfolded. And then, from interviews with politicians, police, teachers, lawyers, community leaders, as well as victims and on-lookers, The Riots will analyze what happened, why it happened, and what we should do towards making a better future for ourselves and our city."

"Astonishing stories and equally astonishing conclusions told by the many voices that have been stirred up by the riots."

"The Tricycle has a long and distinguished record for its verbatim theatre productions. Nicolas Kent and Gillian Slovo were part of the team responsible for Guantanamo – Honor Bound to Defend Freedom which transferred from the Tricycle to the West End and New York."

Post-show talkback sessions take place every Monday, Wednesday and Friday - discussions with guest speakers after the performance. "The audience will have the opportunity to give their opinions on the August riots and what they think should be done going forward."

Through December 10 at The Tricycle Theatre in London.

I WISH YOU LOVE by Dominic Taylor. Directed by Lou Bellamy.

Featuring Kevin D. West, Eric Berryman, Michael Tezla and Dennis Spears in his Ivey Award winning role as Nat "King" Cole.

Features 20 Nat "King" Cole songs including Mona Lisa, Get Your Kicks on Route 66, and Walking My Baby Back Home.

Performances through December 4 at the Penumbra Theatre Company in Saint Paul, MN.

STICK FLY by Lydia R. Diamond. Directed by Kenny Leon. Original music by Alicia Keys.

It was a relaxing weekend on Martha's Vineyard ... until the baggage got unpacked. Meet the LeVays. When two adult sons independently choose to introduce their girlfriends to the parents on the same weekend, sibling rivalries flare, opinions clash, class distinctions divide and family secrets unravel.

Stick Fly stars Dulé Hill as Spoon (Kent) LeVay, Mekhi Phifer as Flip (Harold) LeVay, Tracie Thoms as Taylor, Tony Award-winner Ruben Santiago-Hudson as Joe Levay, Rosie Benton as Kimber and Condola Rashad as Cheryl.

In addition to Alicia Keys composing original music for the production, the creative team includes David Gallo (Scenic Design), Reggie Ray (Costume Design), Beverly Emmons (Lighting Design) and Peter Fitzgerald / Sound Associates (Sound Design).

This limited engagement began previews November 18 in preparation for a December 8 opening. at the Cort Theatre in NYC.

SHANGHAI LIL'S with book and lyrics by Lilah Kan, music by Louis Stewart, directed by Tisa Chang.

Pan Asian Repertory Theatre in New York City launches their 35th season with a new production of Shanghai Lil's. Tisa Chang who directed and created the dances in 1997 has re-envisioned a new production to introduce Chinese musical history of the 40's for a new generation of audiences. Pan Asian Rep commissioned Shanghai Lil's , which features choreography by Susan Ancheta, who portrayed the dancing lead in the 1997 premiere.

Shanghai Lil's is set in a 1940's San Francisco nightclub. In a world where the American musical embodies the optimism of boy-meets-girl romance and the American Dream, a cast of Asian American performers "charm their audience with song, dance and comedy in spite of the looming specter of WWII and internment."

The musical features Jaygee Macapugay and Broadway veteran Christine Toy Johnson with Leanne Cabrera, Whitney Kam Lee, Rebecca Lee Lerman, Timothy Ng, and Lisa Villamaria.

Musical direction is by Sarah Brett England; set design by Gian Marco Lo Forte; costume design by Kate Mincer; and lighting design by Jiyoun Chang.

The production runs through November 27th at the West End Theatre, NYC.

SISTER ACT at the Broadway Theatre has welcomed Carolee Carmello into the cast as Mother Superior. Carmello is a two-time Tony Award nominee.


WHO'S WHERE




STING on stage Tuesday, November 22, at the Comerica Theatre in Phoenix. On Friday he can be enjoyed at Caesars Palace in Las Vegas. On Saturday he's at the other end of the Silver State with a show at the Events Center in Reno.

MANNHEIM STEAMROLLER with two touring groups brings their distinctive sound to the Pikes Peak Center in Colorado Springs, Co and the Overture Center for the Arts in Madison, WI today, November 20. On Monday the shows are at the U.S. Cellular Coliseum in Bloomington, IL and the Casper Events center in Casper, WY. On Tuesday the tours stops at the Cheyenne Civic Center in Cheyenne, WY and the Four Rivers Center in Paducah, KY. On Friday they can be enjoyed at the Pantages Theatre in Los Angeles and the Civic Center in Roanoke, VA. On Saturday the groups will be performing at the Thomas & Mack Center in Las Vegas and the Landmark Theatre in Richmond, VA.

DAVID FOSTER AND FRIENDS Chaka Khan, Philip Bailey of Earth Wind & Fire, Paul Anka and Charice perform November 25 at Mandalay Bay in Las Vegas.

CHRIS BOTTI blowing his own horn Wednesday, November 23, at the Bunka Koryu Kaikan in Hiroshima, Japan. The next Japanese stop is on Thursday at the ACROS Symphony Hall in Fukuoka. On Friday the show is at The Symphony Hall in Osaka.

KRIS KRISTOFFERSON appears at The Orleans Hotel in Las Vegas on November 25-26.

STEVIE NICKS is Down Under with shows Wednesday, November 23, at the Adelaide Entertainment Centre in Hindmarsh. On Saturday the show is at the Athletics Stadium in Mt. Claremont, Australia.

THE CAPITOL STEPS put the 'mock' in democracy. D.C.'s sharp political comedians return to Scottsdale for their annual Thanksgiving weekend visit. With election season in full swing and the whiff of fresh scandal in the air, there is never a shortage of material for the Steps' wickedly irreverent songs and skits. November 25-26 at the Scottsdale Center for the Performing Arts in Scottsdale, AZ.

K. D. LANG on stage at the Brisbane Riverstage in Brisbane, Australia on Tuesday, November 22.






Next Column: November 27, 2011
Copyright: November 20, 2011. All Rights Reserved. Reviews, Interviews, Commentary, Photographs or Graphics from any Broadway To Vegas (TM) columns may not be published, broadcast, rewritten, utilized as leads, or used in any manner without permission, compensation and/or credit.
Link to Main Page
---
Laura Deni



For the snail mail address, please E-mail your request.
CLICK HERE FOR COMMENT SECTION