Broadway To Vegas
  
 SHOW REVIEWS CELEBRITY INTERVIEWS GOSSIP NEWS

| | |
| --- | --- |
| | |
A BETTE DAVIS CHRISTMAS - - THE SCIENCE OF ALIENS - - MUSICIAN'S STRIKE OVER - - ROCKEFELLER TREE TOPPED OFF - - SACRED SILVER AND STAINED GLASS GALLERY - - A TUNA CHRISTMAS TOUR - - HOW THE GRINCH STOLE CHRISTMAS - - BANK CONSORTIUM HELPS NORTH SHORE MUSIC THEATER - - DONATE . . . Scroll Down


Copyright: November 20, 2005
By: Laura Deni

CLICK HERE FOR COMMENT SECTION
A VERY BETTE CHRISTMAS
Elizabeth Fuller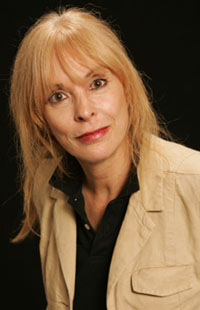 "I have been uncompromising, peppery, intractable, monomaniacal, tactless, volatile, and oftentimes disagreeable... I suppose I'm larger than life." Bette Davis.

"Today everyone is a star - they're all billed as 'starring' or 'also starring'. In my day, we earned that recognition." Bette Davis.

On May 28th 1985, star-struck Elizabeth Fuller's childhood dream came true when Bette Davis, known as the First Lady of the Silver Screen, came to dinner at her Connecticut cottage and stayed. Four weeks later, as a hotel strike in New York City dragged on, Bette was still there, and running the Fuller household with an iron fist. The events of those four weeks became the basis for Fuller's book and show, Me & Jezebel, which has played Off-Broadway, in Sydney, and recently opened in Prague.

A Very Bette Christmas is a new holiday play with music by Elizabeth Fuller, starring Tommy Femia as Bette Davis.

Before speaking with Broadway To Vegas about A Bette Davis Christmas, the author was taking advantage of pre-holiday sales - buying lime green, queen size flannel sheets at Penny's and make-up at Macy's.

In addition to sheets and make-up the playwright also owns a mink coat, ball gown and wrist watch which belonged to Bette Davis.



Bette Davis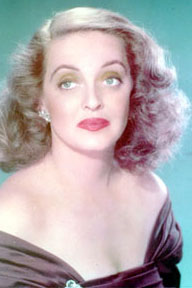 "Bette Davis came to my house by accident for dinner," recalled Fuller. "I had invited her best friend, Robin Brown, and Bette came in tow. Bette had been staying with Robin. Out of the blue Bette called and said "Darling, there is a New York hotel strike and Robin has been suddenly called to an emergency in Maine. Can I stay with you for a night or possibly two?"

"So, in she moves - for 32 days - which first was a book then became a Broadway play," she said referring to Me & Jezebel, "The play opened in Prague two weeks ago," she continued about the production which is performed in the Czechoslovakian language.

As to whether she had approved the translations Elizabeth responded, "Oh, please, I'm still working on English."

"I have a London agent. I have the posters and everything looks fine. It's in rep so it could go on for many months."

"And, it was just translated into Italian and French. It ran in Australia and we got rave reviews but the producers got in a fight."

Getting royalty checks can also seem alike a fist fight.

"The theaters, for the writers, is like one step below being a Carney act. You don't get your money!" exclaimed the author of 10 books including When You See the Emu in the Sky (translated into eight languages); Nannies: How I Went Through Eighteen Nannies Before I Found Perfection in a Former Marine Sergeant Named Margaret, and Everyone is Psychic.

"Bette Davis stayed for 32 days in my home," Fuller reiterated. "She wrote me a letter that I have framed and she wrote three pieces of poetry that she hid throughout the house, which I also have framed."

"Bette and Robin were contemporaries, explained Elizabeth about Bette and their mutual friend. "They met as young girls on the beach in Maine and remained life long friends. They both started out in the theater together. When Bette died she had a feud going on with a daughter and she left Robin her most personal possessions - which was a beautiful Piaget pearl and sapphire bracelet watch. Bette wore it in a lot of her photographs. And she left her the mink coat and a satin ball gown. When Robin passed away six years ago, she left it to me."

Davis's personal life was as dramatic as her acting. She was married four times. She had a daughter, B.D., with her third husband, William Grant Sherry. She adopted two children, Margot and Michael, while married to her fourth husband, Gary Merrill.

"I have the mink coat in storage," continued Elizabeth. "It's very ratty because Bette wore it. I have the watch in a safe deposit box."

"I have put them on display at different theaters but I have to be assured that everything would be safe. They are priceless possessions."

So are Fuller's memories of Bette Davis.

"Bette was totally amazing," continued Elizabeth. "I kept saying when is she just going to kick off her shoes and be real. My late husband, John said - Liz, she's never acted a role in her life!'"

"We had the most amazing experiences, "repeated Elizabeth. "I had a four-year-old son at that time. I remember the first day she was here she wanted to go get something and I had to pick my son up from pre-school. I had promised him that I would take him to McDonalds. He gets in the back seat and starts kicking her seat and saying he wants to go to McDonalds."

"Finally she goes - 'For Christ sake, take the kid to McDonalds!'"



Paul Newman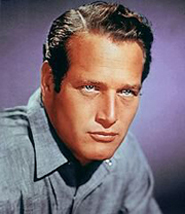 "When we are at McDonald's, of course, she is recognized. People were coming over to McDonald's asking for her autograph. I asked her if she wanted me to get rid of them. She goes, "What for?" I said 'I guess being famous must have its drawbacks.' And she looked at me and goes, "Being a Goddamn nobody has it's drawbacks!"

"Paul Newman lives in Westport and she really hated him because he wouldn't sign autographs. She didn't like it. She said he was somebody who should pay with autographs, because his fans pay at the box office."

"He would always say, 'Bette, we should get together for dinner one night.' She said to me, 'Imagine me having a spaghetti dinner, with Paul Newman. Having a salad drenched in his crappy, creamy Ranch,'" said Bette referring to his delicious Newman's Own dressings, whose profits go to charity.

"She was just hostile towards the poor guy," Elizabeth emphasized. "He was always gracious to her. But, she was annoyed because he wouldn't sign autographs. And, that is his reputation around town. Nobody will go up to him. But with Bette, anybody could go up to her," said Elizabeth about the star who was nominated for an amazing 10 Best Actress Oscars. She won the Best Actress Oscar twice, for Dangerous in 1935 and Jezebel in 1938. In 1977, Bette was the first woman to receive the American Film Institute's Lifetime Achievement Award.

"When I was a little girl growing up in Cleveland my grandmother and I used to sit at her linoleum table and write Bette Davis fan letters," divulged Elizabeth. "My grandmother would take me all over Cleveland to see Bette Davis movies. Who knew that one day Bette Davis would be in my house answering my phone."

"I remember one time my son's pediatrician had called. Bette met me at the door and said - "Elizabeth, Christopher's pediatrician called and said tomorrow make the appointment at two. And, then they called right back and said, 'Oh, make it at 2:30. And, I said, Make up your Goddamn mind!'"

"She said what we would all love to say," observed Elizabeth.

"Of course the nurse in the pediatrician's office had no clue she was talking to Bette Davis."

"This play A Very Bette Christmas is faction (a play on the words fact and fiction), I think," quipped the playwright who also created the board game Fleece the Flock (1989), which poked fun at TV evangelists and was featured in Playboy. "A Very Bette Christmas is a fantasy and it's crazy fun."



Tommy Femia as Bette Davis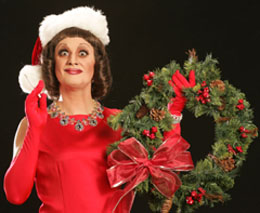 "She was very gracious with her fans. She loved them," Elizabeth stressed. "This is what Tommy Femia portrays so well," said Elizabeth about the 5-time Manhattan Association of Cabarets & Clubs (MAC) Award-winner for Outstanding Impersonation. "I was able to sit with him and tell him about her flip floppy personality. If a director - or whomever she was working with - wasn't any good, slow on the take - she could just chew him up. But, she admired strong personalities, because she was one and she didn't suffer fools. And, she had a soft side, too."

The production is directed by Mark S. Graham who has served on the Board of the Westport Playhouse and as general managed at Lucille Lortel¹s White Barn Theater. "He knew all of Bette's nuances so we were both able to fill Tommy in on the real Bette Davis. And, he is brilliant."

"The show takes place in 1966 as a run through at NBC for a real show that evening. There's a snowstorm and the Elf and Bette are the only two that made it. The Elf is a Russian who defected from a circus, so he stands in for Liberace, Brenda Lee, Bing Crosby, Joan Crawford," she said referring to Daniel John Kelly, a seasoned actor who just wrapped up a production of The Cherry Orchard at Yale Rep. He joins in the outrageous festivities onstage as an Elf and sidekick to Miss Davis. Peter Morris plays the part of the Director of the television special.

"Hats, wigs and costumes are by Jon Jordan and makeup by Mark Manalansan. He created the Bette Davis face," Fuller proudly reported. "Those are the same guys that did Hairspray, so we have wigs and costumes that are phenomenal. Liberace's wig and coat are funny."

Jon Jordan and Mark Manalansan are respectively the hair & makeup supervisor and makeup artist at Broadway¹s Hairspray.

Currently in previews, A Very Bette Christmas officially opens December 1 with performances through January 8 at Don't Tell Mama in New York City.


LAST CHANCE EXHIBITION:HITCHHIKERS GUIDE TO THE GALAXY
Timed to coincide with the new Hitchhikers movie, the Science Museum in London and the makers of the new film have designed this special exhibition to investigate the science behind the cult classic. Divided into ten distinctive zones the exhibition immerses visitors in Douglas Adams's fantastical world through re-created sets and over 200 props and costumes.

First appearing on BBC Radio, this Science Fiction comedy from the pen of the late Adams, spawned five books, a TV series, a computer game, towels and as of this year a movie. The flick stars Martin Freeman, Mos Def, Sam Rockwell, Zooey Deschanel, Stephen Fry, Alan Rickman, Bill Nighy and Bill Bailey.

Visitors to the exhibition will follow lead character Arthur Dent's voyage through the universe, exploring much-loved scenes including the Heart of Gold and the Planet Factory Showroom as well as new creations such as Humma Kavula's planet Viltvodle. In addition, the science behind the Hitchhiker's phenomenon is explained in text panels throughout your journey.

Included are real life Vogon toilet paper, a Deep Thought toolkit and an entire zone dedicated to the legendary Marvin the paranoid android.

Participate in a journey through the real science of alien life and into the furthest reaches of your imagination. You can get up-close and personal with some classic science fiction films and props, then come face-to-face with the weird creatures that inhabit Earth, before exploring far-flung planets and stars.

Enter the Alien Worlds of leading scientists and meet the aliens they have imagined in a unique hands-on environment.

Frightened but intrigued by aliens? Why's that? Are they a new threat from another world or have we simply given our oldest and darkest fears and desires a make-over?

Come and meet the science fiction classics, from bodysnatchers and bogeymen to the biggest baddies on the screen. But be careful...they bite! See a full-size model of the killer queen from Alien/ Watch film clips showing scary moments from movies such as Predator, Alien and Invasion of the Body Snatchers.

Find out how some aliens resemble the dragons and demons of popular mythology. Alien-looking creatures are living right here on Earth – you just have to know where to find them. The museum has searched the deepest oceans and the furthest corners of the Earth to find the strangest forms of life on our planet. Find out what science can tell us about the worlds that lie beyond the stars.

See how cats, bats, fishes and birds evolved from the same ancestor.

Explore other solar systems in the search for alien life Find out how life can survive – and even thrive – in the deadliest environments.

Are aliens trying to talk to us? Are we about to receive the most important call in human history? Check out Alien Communication, a chill space for those who fancy a chat with extraterrestrials – or simply with like-minded individuals.

And before you leave, compose your own personal message to an alien.


ART AND ABOUT


SACRED SILVER AND STAINED GLASS GALLERY

St George and the Dragon, stained glass, C. Edwin, 1840. Museum no. C.315-1976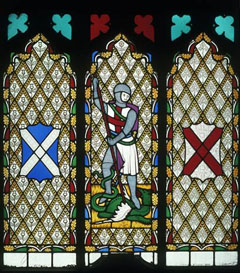 opens November 24 at the Victoria and Albert Museum in London.

Some of the finest examples of ecclesiastical metalwork in the country will be on display, from richly decorated medieval reliquaries to simple non-conformist communion vessels. The beautiful stained glass dates from 12th century to the present day and will present a fascinating survey of the subject.

This is the first time a gallery at the V&A has been dedicated to scared silver and stained glass. The gallery will have a feeling of a cathedral nave with both natural light and a sophisticated system illuminating the objects sympathetically.

A week-end of family and community events are planned to celebrate the opening of this gallery. Those include Sacred Silver & Stained Glass Weekend Film Series, Stained glass demonstrations, and on November 26-27 Windows on the Medieval World. Using examples provided by the many sacred objects and exhibits in the Sacred Silver and Stained Glass Gallery, Mark Griffin relates the mysteries and miracles that provided the priests, preachers and performers of the middle ages with such a lively and varied repertoire in the days when the church was the only mass media available.

Stories on Jewish Festivals takes place November 27. Through the varied and animated use of his voice, facial expressions, movement and audience participation, David Bash will tell stories on Jewish festivals related to Jewish objects in the Sacred Silver and Stained glass Gallery.


IT'S BEGINNING TO LOOK A LOT LIKE
Thirty thousand lights - that's five miles of wire - and a 9 1/2 foot Swarovski crystal star top off this year's tree at Rockefeller Center.

It's a Norway spruce, which stands 71 feet and weighs over 9 tons.

Festivities begin last Wednesday when the tree was topped off with its lavish 550-pound star which is made up of 25,000 crystals.

The official tree lighting takes place November 30.



Broadway To Vegas is supported through advertising and donations. Priority consideration is given to interview suggestions, news, press releases, etc from paid supporters. However, no paid supporters control, alter, edit, or in any way manipulate the content of this site. Your donation is appreciated. We accept PAYPAL. Thank you for your interest.


SPREADING THE WORD
FRANK McCOURT: TEACHERMAN winner of the 1997 Pulitzer Prize and the National Book Critics Circle Award for his bestselling memoir, Angela's Ashes will read from his new book, Teacher Man, chronicling how he developed his creative voice in the classroom and learned to tell heartwarming, humorous stories to keep his students engaged. Books available for purchase. A book signing follows the program. Tuesday, November 29 at the Skirball Center in Los Angeles.


OTHER PEOPLE'S MONEY


BANK CONSORTIUM PROVIDES INTERIM FINANCING TO NORTH SHORE MUSIC THEATRE On July 14, 2005 a devastating fire destroyed Beverly-based North Shore Music Theatre's (NSMT) theater interior, including the stage, lighting and sound equipment, orchestra pit and all 1800 seats, and caused a substantial loss of revenue due to cancelled musicals, children's shows and concerts. In response to this unexpected financial crisis, seven area banks have banded together in support of the region's second largest not-for-profit performing arts organizations.

Danversbank President Kevin Bottomley initiated discussions with Citizens Bank, NSMT's banker since 2001, as well as with Beverly Cooperative Bank, Beverly National Bank, Eastern Bank, North Shore Bank, and Salem Five to provide the $1.325 million interim financing. All seven banks are participating, with Citizens Bank taking on close to 50% of the financing effort.

Robert Smyth, chairman, president and CEO of Citizens Bank of Massachusetts, recognizes the important message this vote of support demonstrates to the community. "Citizens Bank is proud to work with our local banking partners to help keep the future of musical theater alive on the North Shore. It is a tribute to our industry and to the significant role North Shore Music Theatre plays as one of the region's most important cultural institutions."

"North Shore Music Theatre is extremely grateful for the support of Citizens and the local banking community for their willingness to reach out to us at a time when it was apparent that no other short-term sources of liquidity were immediately available," remarked Jon Kimbell, NSMT's Artistic Director and Executive Producer. "This outpouring of concern and support from our local bankers demonstrates a level of confidence that everyone affiliated with the Theatre recognizes and appreciates."

According to Bottomley, the financing is an important medium-term bridge to help keep the Theatre in operation, however it by no means completely makes up for the Theatre's cash shortfall and lost revenue due to the fire. Bottomley, who is also the Chairman of North Shore Music Theatre's Board of Trustees, stressed that, "In the future it is imperative that financial support come from individuals and institutions in the form of contributions, not loans."

In response to the financial challenges caused by the fire, North Shore Music Theatre's Board of Trustees has also created the Encore Fund. The Fund's goal is to secure $7 million in gifts and pledges by the end of the year.

HIT THE DOWNBEAT Last Friday musicians returned to work at Radio City Music Hall meaning those long legged Rockettes are now high kicking it to real rather than canned music.

The local chapter of the American Federation of Musicians reached an agreement Thursday with the owners of Radio City, ending a contentious 15-day strike.

The settlement means that the 35-member orchestra will stay in their pit for the rest of the season.

The two sides were encouraged to get together help of Frank Macchiarola, a negotiator brought in to assist by New York City Mayor Michael Bloomberg.



HOW THE GRINCH STOLE CHRISTMAS

Shawn Moriah Sullivan and David Brannen. Photo by Craig Schwartz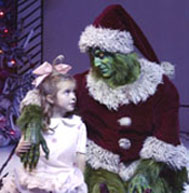 Book and Lyrics by Timothy Mason. Music by Mel Marvin. Directed by Jack O'Brien.

America's favorite holiday fable, back for its eighth incredible year, is a wonderful, whimsical production that will once again jump right off the pages of the classic Dr. Seuss book and onto San Diego's Old Globe stage.

Launched in 1998, How the Grinch Stole Christmas! has become a San Diego tradition," said Globe Executive Director Louis G. Spisto. "We thank Audrey Geisel (a.k.a. 'Mrs. Dr. Seuss') for her generous gift to the Globe and to the San Diego community of this timeless holiday classic."

The Seussabration tickets are part of a greater initiative by the Globe to provide 4,000 free tickets to How the Grinch Stole Christmas! for underserved San Diego children, in order to share the magic of this wonderful holiday story with those who may not otherwise be able to attend. The tickets are distributed to several Title One San Diego Schools throughout the run of the show.

The cast includes; Eileen Bowman, Leo Daignault, Adam Faison, Melinda Gilb, Steve Gunderson, Corey Hable, Mackenzie Holmes, Caroline Hyatt, Ari Krasner, Ken Land, Ari Lerner, Anita Deshea Lewis, Rusty Ross, Anna Strickland, Timyra-Joi, James Vasquez, Janelle Wen, Alex Apostolidis, Ryan Drummond, Danielle Forsgren, Ron Christopher Jones, Warren G. Nolan, Jessa Watson, Maddie Shea Baldwin, Halle Hoffman, Katheryne Penny, Austin Potts, Hannah Prater, Julianna Rose, Keilani Joy Spahn, Celia Tedde, Charlotte Wen and Nathan Wetter.

Choreography by John DeLuca. Scenic Design by John Lee Beatty. Costume Design by Robert Morgan.Lighting Design by Pat Collins. Sound Design by Paul Peterson. Musical Direction by Phil Reno. Associate Director is Brendon Fox. Associate Musical Direction/Conductor is Lisa LeMay. Stage Manager is Leila Knox. Assistant Stage Manager is Tracy Skoczelas.

Opened November 19 with performances through December 31. Old Globe Theater in San Diego, CA.

AN O. HENRY CHRISTMAS by Peter Ekstrom Two beautifully sentimental tales of sacrifice and love by O. Henry, The Gift of the Magi and The Last Leaf, are set to music to make a Holiday offering that is gentle and strong, sad and joyous, and completely right for the season, reminding audiences that love is the greatest gift of all. November 25 - December 24. Alabama Shakespeare Festival in Montgomery, AL.

EDWARD SCISSORHANDS a world premiere. Matthew Bourne and New Adventures are back with their latest creation: a magical new adaptation of the classic Tim Burton motion picture Edward Scissorhands.

A Christmas treat for all the family, this touching and witty gothic fairytale tells the story of a boy created by an eccentric inventor who dies leaving him alone and unfinished. Left with only scissors for hands, Edward must find his place in a strange new suburban world where the well meaning community struggle to see past his strange appearance to the innocence and gentleness within.

Matthew Bourne is a five time Olivier award winner, the creator of the world's longest running ballet production and is the only British director to have won the Tony Award for Best Director and Best Choreographer of a Musical - 1999 for Swan Lake.

November 22 - February 5. Sadler's Wells in London.

TUESDAYS WITH MORRIE starring Harold Gould. Based on Mitch Albom's inspirational novel that was on The New York Times Bestseller List for more than four years, Tuesdays With Morrie is Mitch Albom's autobiographical story of a career-obsessed journalist and his former college professor, Morrie Schwartz. Sixteen years after graduation, Mitch catches Morrie's appearance on a television news program and learns his old professor is dying of an incurable disease. Mitch is reunited with Morrie, and what starts as a simple visit turns into a weekly pilgrimage and a last class in the meaning of life.

At the Hippodrome Theatre at the France-Merrick Performing Arts Center in Baltimore, Maryland through November 27.

THE COMEDY OF ERRORS by William Shakespeare directed by Douglas C. Wager.

One of Shakespeare's earliest plays, The Comedy of Errors is a farce of mistaken identities, taking place in the course of one whirlwind day. The play involves two sets of twins, separated at birth: the Antipholi and the Dromios. When Antipholus and Dromio of Syracuse arrive in the city of Ephesus, everyone seems to know them. Women shower Antipholus with affection, while men shower him with money and jewels. Meanwhile, Antipholus and Dromio of Ephesus find themselves shunned by their acquaintances and accused of acts they did not commit. Ripe with slapstick humor and fantastic coincidences, The Comedy of Errors is also the story of a family divided and displaced but then joyously reunited.

The production stars David Sabin, Ralph Cosham, Gregory Wooddell, Paul Whitthorne, Daniel Breaker, LeRoy McClain, Bill Hamlin, Walker Jones, Floyd King, Ted Feldman, Don Mayo, Tana Hicken, Chandler Vinton, Marni Penning, Sandra L. Murphy, Victoire Charles, Dacyl Acevedo, Jordan Coughtry, Blake Ellis, Stephen Graybill, Katie Mazzola, Nicholas Urda and Ryan Young.

Set and Costume Design by Zack Brown. Lighting Designer is Allen Lee Hughes. Composer Fabian Obispo. Sound Designer Martin Desjardins. Illusions and Pyrotechnics by David M. Glenn, MD. Voice and text Coach Ellen O'Brien. Fight Choreographer Brad Waller. Choreographer Karma Camp. Resident Assistant Director Stephen Fried. Literary Associate Akiva Fox. Stage Manager M. William Shiner. Asst. Stage Manager Brandon Prendergast. Casting Directors Stuart Howard, Amy Schecter and Paul Hardt.

Presented by The Shakespeare Theatre Company through January 7 at The Lansburgh Theatre in Washington, D.C.

A CHRISTMAS CAROL adapted by Gregory A. Falls. Directed by Kurt Beattie.

Join the Cratchits and Fezziwigs as they help Ebenezer search out the true spirit of Christmas. 2005's alternating Scrooges are Sean A. Griffin and R. Hamilton Wright.

Set Designer - Shelley Henze Schermer. Costume Designer - Deb Trout. Lighting Designer - Michael Wellborn. Sound Designer - Eric Chappelle.

November 25 - December 24, in the Allen Theatre of the ACT in Seattle, Washington.

A TUNA CHRISTMAS the hilarious sequel to the hit comedy, Greater Tuna, starring the original cast, Joe Sears and Jaston Williams.

Come spend the holidays with all your old favorite citizens of Tuna, Texas and make some new friends while you're there. Master comedians Sears and Williams, along with some split-second costume changes, portray all 24 citizens of Texas' third smallest town, where the Lion's Club is too liberal and Patsy Cline never dies.

This time, it's 24 hours before Christmas and all comic hell is about to break loose as the delightfully eccentric characters attempt to cope with seasonal traumas such as a disaster prone little theatre production of A Christmas Carol, and a yard decorating contest that is being sabotaged by a mysterious Christmas phantom.

Directed by Ed Howard. Scenic Design by Loren Sherman. Costume Design by Linda Fisher. Lighting Design by Root Choyce. Sound Design by Ken Huncovsky. Stage Manager Robert Tolaro.

The season tour kicks off November 22 at the Warner Theater in Washington, D.C. then stops in Paducah, KY, Oklahoma City and Nashville before hitting Texas for performances in Galveston, San Antonio, Richardson and Austin. The tour closes January 8, 2006.

JOSEPH AND THE AMAZING TECHNICOLOR DREAMCOAT Music by Andrew Lloyd Webber. Lyrics by Tim Rice.

The Cumberland Playhouse's amazing Joseph is back for the holidays for the first time since 1999. One of their most popular plays in its 40-year history. Great songs, great singers, great spirit, grand production, and just about the most happiness that families can imagine having together. Joy to the World! Performances through December 17 at the Cumberland County Playhouse in Crossville, Tenn.

MIRACLE ON 34TH STREET Music by Doug Smith, Book and Lyrics by Vern Stefanic.

A favorite holiday tale by Valentine Davies, made famous by the movie of the same name.

It's the story of the year as Kris Kringle goes on trial, Macy's becomes the friendly store to shop, two lost souls find each other and a little girl discovers her childhood through her belief that there really is a Santa Claus.

November 25 to December 30 at the Barter Theatre, The State Theatre of Virginia in Abingdon, VA.

NEWSREVUE has been awarded the Guiness World Record for the longest theatrical run of a comedy show. For over 25 years a ever-changing cast of two guys, two girls and a team of writers having been serving up a steady diet of sketches and songs based on absolutely anything in the current news headlines. NewsRevue originated as an afterthought with two writers from a London university revue group, Mike Hodd and Jack Thorington. Over the years, the show has won the Fringe First Award and a Perrier nomination in Edinburgh, won rave reviews from the national press, recorded many TV and radio specials and helped begin the careers of Rory Bremner, Michelle Collins, Josie Lawrence & Bill Bailey.

The current production is directed by Damian Sandys. Musical Director Pete Smith. Technical Director Ross Mc Givern. Starring Gemma Arrowsmith, Robbie Scotcher, Will Kenning and Yasmin Kerr. At the Canal Café Theatre in London.

HILDA presented by the Laura Pels International Foundation. A new play from renowned French novelist Marie Ndiaye. English translation by Erika Rundle. Directed by Carey Perloff.

Hilda tells the haunting story of an upper-class woman's consuming obsession with the woman she hires to care for her children. With stark cinematic undertones, Hilda is a potent and provocative look at the seductiveness of control.

This is the first play by Ndiaye, a French novelist whose work has been hailed for its emotional intensity and unsettling psychological depth. Like her novels and short stories, Hilda explores the author's recurring themes – the seductive appeal of control, ways in which intimacy can mask brutality, and the potentially cruel nature of psychological and sexual relationships based on unequal power. Considered one of the most dynamic new voices in French literature, Ndiaye is one of only two women ever admitted to the Comédie-Française.

Hilda stars Ellen Karas, Michael Earle and Brandy Burre. With scenic design by Donald Eastman; lighting design by Nancy Schertler; and costumes by David F. Draper. Original music composed by David Lang.

Hilda was originally produced at Théâtre de l'Atelier, Paris in 2002. It was awarded the Grand Prix de la Critique 2001-2002. In 2003, in a translation commissioned by Laura Pels, Hilda was presented at the Public Theater in the New Works Now! festival of readings, directed by Jo Bonney. In January 2005, Hilda had its American premiere in a co-production with American Conservatory Theater directed by Carey Perloff at the Zeum Theater in San Francisco.

Performances through December 11 at the 59E59 Theaters in NYC.

THE SUZANNE FARRELL BALLET Newly appointed as the Kennedy Center Artistic Advisor for Ballet, renowned ballerina and George Balanchine protégée Suzanne Farrell returns with her acclaimed company for an all-Balanchine program. With her intimate knowledge of Balanchine's repertory, Farrell has chosen to open the program with the joyous La Source, featuring music by French composer Léo Delibes, and the beautiful Duo Concertant performed to music by Stravinsky.

Also on the program is a reconstruction of the pas de deux from Clarinade, with music by Morton Gould that was originally composed for Benny Goodman - Derivations for Clarinet and Jazz Band. This was the first work choreographed by Balanchine for New York City Ballet after the move from City Center to establish residency at the New York State Theater/Lincoln Center.

The program closes with one of Balanchine's most spectacular ballets, La Valse, set to Ravel's Valses nobles et sentimentales and La Valse. Inspired by a quote by Ravel--"we dance on the edge of a volcano" - the mood progresses from light and lyrical to whirling and sinister "like a merry-go-round gone wild."

November 22-27 in the Eisenhower Theater of the Kennedy Center in Washington D.C.


| | | |
| --- | --- | --- |
| | | |
WHO'S WHERE


THE PHILADELPHIA ORCHESTRA Christoph Eschenbach, music director. Colin Currie, percussion. The Philadelphia Orchestra performs Beethoven's heroic Third Symphony, which was dedicated to Napoleon until Beethoven learned he had betrayed his country by declaring himself Emperor. This classic work is complemented by a new Percussion Concerto, written by the evocative American composer Jennifer Higdon and performed by Colin Currie. Monday, November 28 at the Kennedy Center Concert Hall in Washington, D.C.

PAUL McCARTNEY in the spotlight Wednesday, November 23, at the Glendale Arena in Glendale, AZ. On Friday he starts a two night stand at the MGM Grand in Las Vegas.

BIG BAD VOODOO DADDY on stage Friday, November 25 at the California Center for the Arts in Escondido, CA.

COLDPLAY star Tuesday, November 22 at Palacio de los Deportes in Madrid, Spain. On Wednesday they are at Atlantic Pavilion in Lisbon, Portugal. On Friday they gang is at the Velodromo de Anoeta in San Sebastian, Spain.

THE ROLLING STONES perform Tuesday, November 22 at the Delta Center in Salt Lake City. On Thursday they can be enjoyed at the Pepsi Center in Denver. Next Sunday finds them at the Glendale Arena in Glendale, AZ.

PAUL McCARTNEY FOREIGNER on stage Friday, November 25 at River Rock Casino in Richmond, B.C. On Saturday they perform at Texas Station in Las Vegas.

BONNIE RAITT in the spotlight at The Wiltern in Los Angeles on November 21. On Tuesday she takes to the stage of the Orange County Performing Arts Center in Costa Mesa, CA.

BRIAN SETZER ORCHESTRA getting the beat going Monday, November 21, at the House of Blues in Cleveland. On Wednesday they are at the 9:30 Club in Washington, D.C. On Friday they start a two nighter at the House of Blues in Atlantic City.

WAYNE SHORTER on stage Tuesday, September 27, at Touhill Performing Arts Center in Saint Louis, MO. The following night the performance ships to Symphony Hall also in Saint Louis. ON Friday he's on stage at Spaulding Auditorium in Hanover, NH.

THE BEACH BOYS bring the surf songs to the Whitaker Center in Jarrisburg, PA on Friday, November 25.

BLIND BOYS OF ALABAMA on Friday, November, 25, will be in the spotlight at Blues Sur Seine in Mantes La Jolie, France.

ANNE MURRAY on stage November 25 at the Whittemore Center Arena in Durham, NH. On Saturday she can be enjoyed at the Bangor Auditorium and Civic Center in Bangor, Maine. Next Sunday she is in the spotlight at the Mohegan Sun Casino in Uncasville, CT.

CLAY AIKEN performs Monday, November 21 in Minneapolis, MN at the Northrop Auditorium. On Tuesday he's on stage at the Chicago Theatre in Chicago. Friday finds him in the spotlight at the Louisville Palace in Louisville, KY. On Saturday the show is at the Cincinnati Music Hall and next Sunday he performs at the Convocation Center in Youngstown, OH.

GWEN STANFANI entertains this evening, November 20 at General Motors Place in Vancouver, BC. On Monday she is at the Seattle Center. Wednesday the performance is at Memorial Coliseum in Portland, Oregon. ON Friday she's center stage at the Save Mart Center in Fresno, CA. On Saturday she begins an engagement at Arrowhead Pond in Anaheim, CA.

LENNY KRAVITS AND AEROSMITH continue on tour with a show Wednesday in Philadelphia at the Wachovia Center. Saturday finds them on stage at the Mellon Arena in Pittsburgh.

CARLY SIMON AND BEN TAYLOR entertain Tuesday, November 22 at Rose Hall @ Lincoln Center in NYC. Friday they open a two night stand at the Borgato Hotel in Atlantic City.

MICHAEL BUBLE in the City of Lights performing Monday, November 21 at the Palais De Congress in Paris. On Friday he's on stage at the Palasport in Padova, Italy and on Saturday the venue is the Palastampa in Turin, Italy.

SACRED MUSIC CHOIRS The concert will include psalms and lighter music performed by a Jewish choir and a Christian Choir including a few works performed jointly. The psalms in Hebrew will be sung by the Zemel Choir - the UK's leading mixed voice Jewish Choir- and the psalms in English/Latin will be sung by a specially formed chamber choir formed of current and ex-choral scholars from King's College London and the University of Oxford. Conducted by Benjamin Wolf. Sunday November 27 at the Raphael Gallery in the Victoria and Albert Museum in London.

MANNHEIM STEAMROLLER roll into the Kansas Coliseum at Valley Center, Kansas on Tuesday, November 22. On Saturday they'll bring their unique sound to the Xcel Energy Center in Saint Paul, MN.

BON JOVI in a one night stand Saturday, November 26 at the Mohegan Sun Casino in Uncasville, CT.

U2 open a two nighter Monday at Madison Square Garden. On Friday, November 15 they';; be entertaining the crowds at the Corel Centre in Ottawa, ON. On Saturday they perform at the Bell Centre in Montreal.

TRANS-SIBERIAN ORCHESTRA has one performance November 21 at the RBC Center in Raleigh, NC. On Tuesday the groups have a show at the Carolina Coliseum in Columbia, SC and a show at the Pepsi Center in Denver. On Wednesday they take to the stages of the Richmond Coliseum in Richmond, VA and the World Arena in Colorado Springs, CO. Friday the groups will perform at the E Center in West Valley City, Utah and at the Mohegan Sun Casino in Uncasville, CT. Saturday finds them at the Idaho Center in Nampa, ID and at the Trump Taj Mahal in Atlantic City. Next Sunday they bring their seasonal tour to the Giant Center in Hershey, PA and to the Spokane Arena in Spokane, WA.

THE EAGLES AND KELLY CLARKSON open a two night gig today, November 20 at Indian Wells Tennis Garden in Indian Wells, CA.


PIFFLE AND PROFUNDITIES


PUMPKIN PIE In 1621, at the first Thanksgiving celebrated by the Pilgrims in Plymouth, Massachusetts, to give thanks for their first successful harvest, they ate a pumpkin custard flavored with maple syrup and spices baked in pumpkin shells.

The beloved Thanksgiving pumpkin pie evolved from this treat with more than 50 million pumpkin pies baked and consumed each year The pumpkin is actually a fruit, a member of the Cucurbitaceae family of plants with trailing vines.

As reported in USA Today November 2004, "The biggest pumpkin pie on record weighed 418 pounds and was made by Windsor Farmers Market and Windsor High School Culinary Arts program in California.

Ingredients
Pumpkin 12.3 Gallons
Milk 8 Gallons
Hen Eggs 224
Ostrich Eggs 2
Sugar 56 Pounds
Flour 24 Pounds
Butter 8 Pounds
Vanilla 1 Cup
Spices 207 Teaspoons
Recorded as of October 2003. Sources: guinnessworldrecords and Libby's Pumpkin.
















Next Column: November 27, 2005
Copyright: November 20, 2005. All Rights Reserved. Reviews, Interviews, Commentary, Photographs or Graphics from any Broadway To Vegas (TM) columns may not be published, broadcast, rewritten, utilized as leads, or used in any manner without permission, compensation and/or credit.
Link to Main Page
---
Laura Deni


CLICK HERE FOR COMMENT SECTION