! >
Broadway To Vegas
 
  SHOW REVIEWS   CELEBRITY  INTERVIEWS GOSSIP NEWS

| | |
| --- | --- |
| | |
LORELEI A LUCIOUS CD - - THE LADY BEHIND SIEGFRIED & ROY - - MEET THE CREW - - FEDERICO FELLINI HONORED - - NEVER GONNA DANCE - - GONE WITH THE GIRDLE - - BROTHELS FOR LAS VEGAS - - ASHLEY JUDD IN CAT ON A HOT TIN ROOF - - DONATE . . . Scroll Down


Copyright: November 2, 2003
By: Laura Deni
CLICK HERE FOR COMMENT SECTION

WILL BROTHELS BECOME A LAS VEGAS TOURIST ATTRACTION?

Las Vegas Mayor Oscar Goodman is investigating the feasibility of re-opening a legal red-light district in downtown Las Vegas. Says it would be an economic boost. Nobody disputes that.

Prostitution is currently illegal in Clark County. Once upon a time the world's oldest profession had mattresses in Glitter Gulch.

From 1905 to 1942 prostitution was legal in downtown Las Vegas. In 1910, the census had eight women in Las Vegas listing their employment as prostitutes. It was definitely a growth industry. Historians list that from 1936 to 1941, brothels were the Number 2 tourist attraction, right behind gaming.

It was World War II and Nellis Air Force base that changed the job title from brothel employee to street walker. In 1941 the May Act prohibited prostitution within a "reasonable distance" of military bases. That law was used to pressure local officials to close the legal brothel block in 1942.

Looking towards regulating and turning a profit from the turning the trick trade, Nevada brothels were legalized in 1971. Today there are 28 licensed brothels operating in 10 of the Silver State's 17counties. The Nevada Health Division estimates 365,000 sex acts a year are performed in those pay for sex hotbeds. Geoff Arnold, president of the Nevada Brothel Association, states they generate tens of millions of dollars in profits.

Goodman calls bordellos his last option choice for raising revenue, but if other plans tank he likes the idea of offering something similar to the Red-light Amsterdam district for tourists visiting Vegas.

In Denver, a strip club party has resulted the Denver Metro Convention & Visitors Bureau chief, Eugene Dibeck, being placed on paid administrative leave. Authorities are awaiting the outcome of a city auditor review brought about after Denver's Channel 7 aired the story, complete with images of members of Dilbeck's administration hosting a two-hour event at the Diamond Cabaret, a Denver strip club. At question is whether the bureau used public money to buy alcohol.

Dilbeck is noted for orchestrating unusual events. In the past they have garnered praise.

In April, 2002 Dilbeck was in the news when his convention center groundbreaking made the Guinness Book of World Records. A total of 1,217 people turned out for the groundbreaking of the Phase II expansion of the Colorado Convention Center, setting a new Guinness World Record. The previous record of 800 people was set in 1999 at an Ace Hardware groundbreaking in Loxley, Alabama.

The event turned into a major celebration of the travel industry.

More than one hundred chefs from Denver restaurants turned out in their full whites and chef's hats, using ladles and soup spoons as groundbreaking tools. Area hotels sent regiments of uniformed bellmen and housekeeping staffs, while SuperShuttle had a battalion of 50 drivers, all in a uniform created for the event. Mascots from three of Denver's professional sports teams were on hand, as were colorful characters from the city's Western history. THE MYSTERIOUS LADY IN THE LIFE OF SIEGFRIED & ROY


Roy kissing one of his beloved animals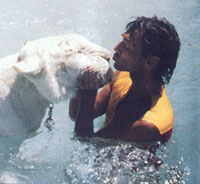 Roy Horn, the illusionist who was mauled by a tiger last October 3, during a performance at the Mirage hotel, pulled a hospital disappearing act.

A report aired on television that the performer, who remained in critical condition at University Medical Center in Las Vegas, knew when people were in his hospital room, but was unable to either focus his eyes or follow objects.

Almost immediately officials for Siegfried & Roy issued a statement announcing that Roy was no longer in the state of Nevada and had been transferred to a facility in Southern California.

Favorite spots for rehab speculation were voiced as UCLA, Cedar Sinai and the eye rolling Michael Jackson's Neverland Ranch where Jackson, who is a good friend of the illusionists, was purporting to have offered private quarters equipped with state of the art medical equipment and personnel.

Finally, the official word came as UCLA - a good choice, since it is considered one of the best stroke rehabilitation centers in the world.



Lynette Chappell. Photo By: Laura Deni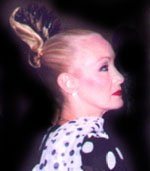 Siegfried, whose own stress level is beyond tolerable, was at Roy's bedside when his condition was upgraded to serious.

"Siegfried looked so drained, so much like a deer in the headlights," said a concerned former employee after watching Siegfried in a television interview. "He is so used to his life on such a stringent schedule, even their holidays were planned with precision. It's got to be a shock to him to have it all change so radically."

Throughout this month long horrible ordeal the unsung backbone has been ignored - Lynette Chappell - the mysterious leading lady in the life of Siegfried and Roy - both on and off stage.

For over thirty years she has been credited with keeping the guys grounded in reality. She is not only the "magician's assistant" but the person who manages their lives and along the way has served as a surrogate mother, sister and best friend.



Lynette Chappell in the Siegfried & Roy Beyond Belief Show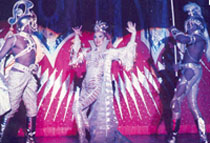 While she is billed as the show's "first lady" and on stage is in the spotlight, off stage she shuns publicity preferring to operate under the radar.

Born in Momgasa, Kenya and growing up as a dedicated ballet student, it's doubtful that Chappell ever dreamed that someday she would twice nightly float in mid air, be transformed from beautiful woman into a snarling tiger, or be sawed in half so many times that she'd gain entry into the Guinness Book of Records.

Off stage she had spent decades as the coordinator for Siegfried and Roy Enterprises, Inc. In itself that is a demanding, full time job, requiring long hours, a brain for business and polished, diplomatic skills necessary in handling a wide range of complex, day-to-day responsibilities for the famous illusionists.

CEO's everywhere could view Chappell as a role model. Most executives, after a long grueling day, can kick their shoes off at night. For Chappell, kicking her shoes off was so she could get into her glam costume as sorcerers' assistant.

While in her teens, Lynette won a scholarship to the Royal Ballet School in London. She later joined the celebrated Madame Bluebell, creator and manager of the most famous lines of showgirls and dancers in the world. At age 27, Lynette was off to Paris for training. A few weeks later she flew to Las Vegas with a Bluebell company, joining the America edition of Lido de Paris.



Gorgeous Lynette Chappell with a snake draped over her head in the Siegfried & Roy show at the Mirage Hotel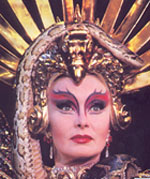 Appearing prominently in that show for almost five years, Lynette opened in the then brand new spectacle, Hallelujah, Hollywood which starred Siegfried and Roy.

One day the wizards ask her to assist in an illusion and little by little Chappell became an essential part of the magicians lives - both on and off stage. A bewitching beauty with some canny business instincts, she lives on the property and has been described as "the glue that holds them all together" and often referred to as "the quiet power behind the throne." She is the driving force behind everything that happens within the Siegfried & Roy organization. She has also been likened to a diamond - the toughest substance on earth with emphasis that "she endures." One of the first two people permitted to see Roy after the October tragedy, she has needed every ounce of endurance she can muster. The ordeal isn't yet over.


GONE WITH THE GIRDLE


When women got rid of that girdle a lot of pent up energy was let loose, while many feel what was thrown away was glamour.

Credit French designer Paul Poiret with the invention of the girdle in 1910, to be worn with the clothing he was designing. Compared to the fashions of the period 1830-1910, Poiret's revolutionary clothing designs placed much less emphasis on the waist and fit closer to the hips and derriere. Poiret's revolution became permanent in the 20th century. His invention of the girdle was a major reason why the corset, which had determined the shape of women's clothing for most of the previous five centuries, went out of fashion.

Poiret was born on April 20, 1879, in Paris. Between 1904 and his bankruptcy in 1924, he made the first 20th-century fortune in fashion and irrevocably changed the way women dress. He eventually died in a Paris charity hospital on April 28, 1944.

Drawn by his innate showmanship and love of theater - he designed costumes for the actresses Sarah Bernhardt and Réjane - Poiret treated fashion as an extravagant spectacle.

Girdles were worn by most women throughout the period 1920-70s. They were an important part of the fashion aesthetic of these decades. A woman needed to be smooth and sleek if she were to look her best in most of the clothing of this period.

Although girdles became the subject of jokes and the object of resentment they were a universally-worn garment, part of the allure of the far more glamorous 30's, 40's, 50's, and 60's.

The evolution of women's dress and adornment is celebrated in a new exhibition that opened last night at the Atlanta History Center.



Day dress, ca. 1860, probably from West Point, Georgia. Photo by Jonathan Hollada.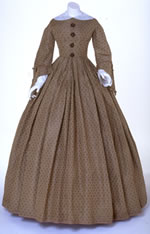 Expanding on the idea that fashion both reflects and defines the moment in which it was created, the Atlanta History Center has produced a new exhibition depicting the lifestyle and costume changes of women - specifically the Southern women of Atlanta.

The Center is hosting Gone with the Girdle: Freedom, Restraint and Power in Women's Dress, a 3,300 square-foot exhibition that examines the silhouettes and experiences women - clothing follows the timeline of any city's women - reflecting their dreams, challenges and successes - from the confining corsets of the 19th century to today's urban chic.

The exhibition features a range of clothing and accessories from vintage to contemporary, along with historic photographs and stories told in women's own words through letters, diaries and interviews.

Among special topics highlighted in the exhibition are the evolution of undergarments, rise of athletics, changing mourning rituals and timeless accessories including hats and shoes.

"The History Center's textile collection includes more than 10,000 artifacts. Highlighting a number of these garments and accessories - many of which are rare and extraordinary - is a tremendous opportunity for us to share our scholarship and collections," said Jim Bruns, executive director of the Atlanta History Center. "This exhibition, the result of a two-year research effort at the Atlanta History Center, explores the way women were frequently bound by custom and costume."

More than sixty ensembles are presented from five eras that redefined women's roles:



Evening dress, ca. 1925, likely from Paris. Photo by Jonathan Hollada.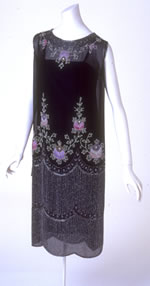 Women on Pedestals represents mid-19th century Atlanta as the city matured from its rough, merchant-town youth to reflect the patriarchy of the plantation system in the American South. An olive green silk brocade day dress highlighted in this section shows that, in 1860, up-to-the-minute fashion made its way to the frontier.

Women on Parade picks up around the turn of the century, when Atlanta women became more visible in public life. They initiated reform movements, campaigned for the vote and increasingly worked for wages. By the 1920s, many women embraced modernity with shorter dresses, bobbed hair and daring dances. A brown tweed bicycling suit with leather trim, circa 1895, reflects the freedom associated with the era's bicycling craze.

Women in Pants introduces visitors to the eras of the Depression and World War II, when the landscape of women's employment changed. After their wartime contributions, many women continued to work outside the home, but were typically relegated to the bottom rung of the economic ladder-unskilled jobs with low wages. However, not all women's roles were menial, as exhibited in an adventurous female pilot's flight suit and accessories, circa 1935.

Women in Politics witnesses the many challenges to earlier concepts of women's roles, rights and sexuality during the third quarter of 20th century. Many important individual and collective "firsts" for women occurred and women's changing status was reflected in clothing, laws, advertising, movies and television. Embroidered denim hip hugger jeans and a matching jacket from the early 1970s help bring this era to life.

Women Share Power finds us on the threshold of a new century we consider how far women have come in the quest for equality. An emblem of this section is a dark blue United Nations/U.S. Police Monitor uniform worn in Bosnia Herzegovina in 1998-1999.

"How individuals create their identities through dress continues to fascinate people around the world," says Susan Neill, Atlanta History Center curator of textiles and social history as well as the exhibition curator. "Each of us puts on a 'social skin,' and this exhibition helps us understand who Atlanta women were and are through some of their most intimate possessions—their clothing. These women were often fashion-forward, regardless of position, wealth and skin color. As you become acquainted with their stories and individual tastes you get a renewed appreciation for the opportunities available to women today, not only in fashion but generally."

Atlanta History Center in Atlanta, Georgia.


THE MUSIC GOES ROUND AND ROUND


LORELEI newly re-mastered for its CD debut by Decca Broadway, the Original Broadway Cast recording. Lorelei is the 1974 hit musical based on Gentlemen Prefer Blondes, the 1949 Broadway musical which ran for 740 performances and was adapted from, Anita Loos' widely popular novel of the same name. Lorelei boasts music by Jules Style and new sharp lyrics by Betty Comden and Adolph Green, and a book by Kenny Solms and Gail Parent.

It also stars that leggy blonde with popping eyes - Carol Channing - in this one of her two signatures roles - the other being Dolly Levi in Hello, Dolly!

Feeling down in the dumps? Put on this CD and hit replay. While nothing on the feel good meter can beat eating a pound of chocolate, this CD comes close and has no calories.

Lorelei, glittering like a diamond, was the newest adaptation of Loos' timeless tale of Lorelei Lee. This cast recording features Carol Channing, possessing a voice that ranges from a Kewpie doll squeal to a baritone growl, as the incomparable Lorelei Lee, the infamous blonde from Little Rock, Arkansas who charms her way into the hearts and wallets of everyone she comes in contact with - especially the gentlemen! With her best friend Dorothy Shaw at her side, Lorelei embarks on a transatlantic voyage that proves to be anything but smooth sailing.

Also heard on the album are beloved Broadway notables Dody Goodman, Lee Roy Reams and Tamara Long, among others.

Lorelei was originally issued twice in LP form, first featuring the road company and second, released a year later, with the Broadway company. Joseph Weiss, General Manager of Jule Styne Enterprises, wrote about that unusual situation in the CD's booklet.

"The decision to record the show at the start of the tour, combined with the constant reworking of the show, had unexpected results. The most peculiar of these is that the album's Overture opened with the Comden,Green and Styne song A Girl Like I, which was no longer in the show. And so much of the score had changed by the time of the New York opening that members of the company went into the studio for a second time and recorded four new tracks: Men, the restored It's Delight Down in Chile, a reprise of Looking Back/Diamond Are A Girl's Best Friend and, of course, a new Overture.

"A second LP was issued including these four tracks and deleting five others. Among the deleted tracks was It's High Time, which remained in the show throughout its Broadway engagement. This CD release include all of the tracks contained on both LPs, with the song in story order (or as close as possible, allowing for the changes to the book during the tour). The original 1973 Overture appears at the end of the recording."

A delightful CD which also includes four songs that were cut before the Broadway opening. The package includes never before seen photographs from the show's recording session as well as an image of the rare, original Broadway poster.

The music will put a smile on your face. If it sounds as though the tunes are a perfect fit for Channing that's probably because Styne, who was elected to the Songwriters Hall of Fame in 1972, the Theatre Hall of Fame in 1981, and awarded a Kennedy Center Honors in 1990, deliberately tailored Gentlemen Prefer Blondes for her, providing Channing with the song that would become her trademark, Diamonds Are a Girl's Best Friend.

Reissue produced by Brian Drutman. CD mastering by Mark Omann. Studio engineers: Stanley Tonkel and Chuck Irwin. Director of engineering; Val Valentin.

Even if you already own both versions of the LP this CD is a must have - offering not only the total history in a beautiful package, but ear pleasing remastering that makes this a CD one you'll listen to, not just have on a shelf for show.

WICKED which opened at the Gershwin Theatre to mixed reviews, although everyone loved Kristin Chenoweth and Idina Menzel, will offer up an original Decca Broadway cast recording slated to be in stores by mid-December.

Music and lyrics by Stephen Schwartz, book by Winnie Holzman. Directed by Joe Mantello, with musical staging by Wayne Cilento, sets by Eugene Lee, costumes by Susan Hilferty, lights by Kenneth Posner, music direction by Stephen Oremus.



Broadway To Vegas is supported through advertising and donations. Priority consideration is given to interview suggestions, news, press releases, etc from paid supporters. However, no paid supporters control, alter, edit, or in any way manipulate the content of this site. Your donation is appreciated. We accept PAYPAL. Thank you for your interest. Laura Deni P.O. Box 60538 Las Vegas, NV 89160


FEDERICO FELLINI HONORED
The 10th anniversary of the death of Italian director Fellini is being marked by a series of concerts and exhibitions in American and his native Italy.

The Oscar winner died on October 31, 1993 at the age of 73, after four distinguished decades as a director.

A tribute in Rome - called Romarcord after his movie Amarcord - is being promoted by fellow Oscar-winners Roberto Benigni and Giuseppe Tornatore. The exhibition features costumes, movie clips and other memorabilia is on display at the Vittoriano near Piazza Venezia. It will transfer to Paris in January.

There will also be an exhibition illustrating the world of Fellini's women - who are often seen as larger-than-life characters based on male fantasies - featuring the director's own drawings.

Long before Fellini became a great filmmaker, he was drawing caricatures of Hollywood stars, which he traded for free admission to the movie house in his hometown, Rimini, Italy. Then he made comic drawings accompanied by one-line jokes for popular publications.

Last Friday the Guggenheim Museum in Manhattan honored the 10th anniversary of Fellini's death with what is described as the first retrospective of his films seen in relationship to his rarely displayed drawings.

"Fellini!," continuing through Jan. 25, includes newly restored features, short films, interviews and commercials created by Fellini in the 1980's, as well as a new documentary featuring recently discovered scenes filmed for La Dolce Vita. The exhibition also offers Fellini's sketches of characters, costumes and other elements of his films, as well as his illustrated dream journals and erotic drawings.

Director Paul Mazursky was an admirer of the legendary Fellini even devoting more than a few pages in his memoir, Show Me the Magic, to reprinted letters he received from the great filmmaker. Mazursky was invited as the American representative for two events staged by the Fellini Foundation - last Friday's Guggenheim Exhibit in New York, and next week's tribute at Rimini (Italy), where Fellini was born - to celebrate the 10th anniversary of his death.

Piazza del Campidoglio will host a concert featuring soundtracks from Fellini's movies, organized by composer Nicola Piovani, who worked with the director in Ginger and Fred, L'Intervista (The Interview) and La Voce della Luna (The Voice of the Moon).

A conference in November will explore Fellini's brief time with the circus and its influence on his film-making.

Fellini won four best foreign film Oscars and was honored with a lifetime achievement Academy Award shortly before his death.

Such has been his influence on movie-making that the term Felliniesque has been adopted to describe unusual characters and visual extravagance.

Mazursky immediately said yes. "I'm going to go; it means a lot to me."

Explaining why, he added: "Look at that attitude toward filmmaking - honoring the guy on the 10th anniversary of his death. That's kind of profound."

"Here, they'd do it for Britney Spears, maybe, but not for a director!"


SPREADING THE WORD


FRAN LEBOWITZ is the author of Metropolitan Life, Social Studies, Mr. Chas and Lisa Sue Meet the Pandas and Progress. Called one of the funniest woman in America, Lebowitz will speak about the vanishing American ideal of "progress."

Tuesday, November 11th at the Kaufman Concert Hall in NYC.

THEATER FOR A DIFFERENCE The Miami, Florida based Coconut Grove Playhouse's Theatre for a Difference Program reaches over 80,000 children and teens annually. The unique partnership between the Playhouse, the Miami-Dade County Public Schools, contributing Miami-Dade County Police Departments, and other organizations makes this a rare collaboration. It is without precedent in the nation.

The Elementary School Tour, Adventures with Louie the Lizard, is designed for children in primary grades, (kindergarten through third grade) and presents original plays pertaining to the Scope and Sequencing/Social Studies component of Miami-Dade County Public Schools curriculum; i.e., Friends, Families, Neighborhoods and Community.

Each year a new play is commissioned and toured throughout Miami Dade County for three months, visiting elementary schools, recreation centers, and specialized programming venues. More than fifty performances are offered.

The In-School Touring Program for middle and high schools focuses each year on issues facing our teens, i.e. drug abuse, teen suicide, gun violence, domestic violence, teen pregnancy, AIDS and racism. The In-School Tour travels through Miami-Dade County presenting over one hundred performances during a four month period to middle and high school students, as well as in City and County park facilities and recreation centers.

MEET THE CREW get an insider's look of the Kennedy Center's Eisenhower Theater with the production team that brings the art to life night after night. Lead by Head Electrician, Mike Cassidy, and Head of Sound, J.P. Reali, you'll take a backstage tour of the set of the Stephen Sondheim musical Bounce, which is playing there through November 16, and find out how each production is prepared. Monday, November 10 at the Kennedy Center in Washington, D.C.

Broadway - The New Generation is a three part series where you can join Tony award-winning composers and lyricists of Hairspray, Thoroughly Modern Millie, and Urinetown as they share their experiences as their creative efforts turned into Broadway hits. In this unique three part series you'll have the chance to meet and ask questions of some of Broadway's most successful songwriters and hear singers perform the pieces from the hottest new musicals.

On November 12th it's Marc Shaiman & Scott Wittman of Hairspray fame. December 5 will feature Jeanine Tesori & Dick Scanlan of Thoroughly Modern Millie, and the series closes on March 20, 2004 with Mark Hollmann & Greg Kotis of Urinetown.


SWEET CHARITY


PALM SPRINGS DESERT MUSEUM GALA presents Joan Rivers starring in 135 Years in Show Business…and Still Here!" This first annual black-tie event at the Annenberg Theater celebrating the opening of the 2003-2004 season with Joan Rivers. She'll looks back on her career as a comedian, writer, director, best selling author, Broadway actress and savvy business woman, giving us an insider's look at the hilarious stories and larger-than-life personalities she has met along the way. $300 ticket includes pre-performance cocktail reception and a post performance supper catered by Le Vallauris. Sunday, November 9 at the Annenberg Theater, Palm Springs, CA.

$10 ALL YOU CAN EAT AND DRINK at the Applebee's Grand Opening VIP Party. On Monday, November 3rd from 5pm-9pm Applebee's will host a neighborhood Grill and Bar party at their newest Manhattan location in the heart of Broadway. The good news is that for $10, it is all you can eat and drink! The better news is that all of the $10 admission fee will go to benefit The Actors' Fund and Broadway Cares/Equity Fights AIDS.


OTHER PEOPLE'S MONEY


INTIMAN THEATRE in Seattle, Washington is experiencing a budget short fall. So, the company's entire staff will be required to take two-week unpaid furlough in December. The unpaid vacation is expected to save about $40,000 permitting the theatre to end its 2003 season - budgeted at $4.45 million - in the black. Last winter Intiman cut its $4.8 million budget down to $4.25 million, laid off three staffers and substituted two comparatively low-budget productions in the places of large-cast shows.

Intiman's final 2003 productions, 21 Dog Years: Doing Time @ Amazon.com and the holiday show Black Nativity will not be affected by the furloughs and will go on as planned.

According to Theatre Communications Groups figures, 54 percent of all U.S. non-profit theatres ended up in the red last year. The Intiman isn't the only Seattle theatre to feel money woes. Seattle Repertory Theatre is absorbing a $500,000 shortfall and ACT Theatre is teetering on the edge of bankruptcy.

CHERRY COUNTY PLAYHOUSE IN MICHIGAN CLOSES the sudden shuttering blamed on a poor economy. The announcement took many by surprise since the 2003-04 season had previously been announced - Hello, Dolly!, Always...Patsy Cline, Damn Yankees, Smokey Joe's Cafe and West Side Story.

The Cherry County Playhouse was founded in 1955 in Traverse City by radio actress Ruth Bailey and was one of Michigan's first professional theaters. It began in a red and white striped tent and showcased the talents of such Hollywood stars as Joe E. Brown, Zasu Pitts, Charley Ruggles, Pat O'Brien and Frances Farmer. The Playhouse marked it's second decade by moving indoors under the Dome at the Park Palace Hotel.

In 1976, Miss Bailey sold the theater to comedian Pat Paulsen and Neil Rosen, a successful Los Angeles television writer and producer. Under their leadership, The Playhouse brought such stars to stage as Efrem Zimbelist, Jr., Dick Van Patten, Arte Johnson, Florence Henderson, Burt Reynolds, Robert Morse and Rosemary Prinz. Many of the stars returned in subsequent years including Paulsen who appeared in over 25 productions.

Some of the stars who have appeared at the theater in Muskegon include Rita Moreno, Vicki Lawrence, John James, George Hearn, David Birney, Don Knotts, William Katt, Jamie Farr, Charlotte Rae, Diahann Carroll, Marion Ross and Ken Berry.

The Playhouse has been home to several world premieres including The Presidents, Another Summer (the musical of On Golden Pond), Lunch and Beautiful Dreamer: The World of Stephen Foster. While in Traverse City, The Playhouse was the first theater to produce Butterflies are Free which later went to Broadway.

Among Playhouse apprentices who continued on in the entertainment business are actress Meredith Baxter and director Peter Bogdonovich.



HENRY IV by William Shakespeare. Originally two parts, this work has been condensed into a single evening by dramaturg/adapter Dakin Matthews and is directed by Jack O'Brien. Speaking of his interest in directing "the Henrys" (as they are familiarly called), O'Brien has said, "They are, first and foremost, among the greatest works of the stage. Indeed, they are English historical plays; however, they contain so much drama, so many staggeringly vivid and important roles that, as sheer storytelling alone, they nearly outweigh every other comparable play imaginable."

The vast cast - 33 actors - of Henry IV is an outstanding ensemble of bold named individuals including; Richard Easton, Ethan Hawke, Michael Hayden, Kevin Kline, Audra McDonald, Dana Ivey, Byron Jennings, Jeff Weiss and adapter Matthews. Others in the production are; Tyrees Allen , Anastasia Barzee , Terry Beaver , Tom Bloom , Christine Marie Brown, Stevie Ray Dallimore, Stephen DeRosa, Genevieve Elam, Peter Jay Fernandez, Scott Ferrara, Albert Jones, Ty Jones, Aaron Krohn, David Manis, Dakin Matthews, Jed Orlemann, Lorenzo Pisoni, Steve Rankin, Lucas Caleb Rooney, Daniel Stewart Sherman, Corey Stoll, Baylen Thomas, Nance Williamson, C.J. Wilson and Richard Ziman.

Shakespeare's Henry IV is a story about nations - England and France - as much as it is a story about families - specifically, fathers and sons. Henry IV picks up at the end of Richard II; the English throne has been usurped from King Richard II by his cousin, Henry Bolingbroke, now King Henry IV (Richard Easton). The first of the play's two main plots concerns a rebellion that is being planned against King Henry by a discontented family of noblemen in the North, who are led by the young Harry Percy, known as Hotspur (Ethan Hawke).

The second of the play's plots surrounds the strained relationship between King Henry and his son, Prince Hal (Michael Hayden). Amidst his father's political unraveling, Prince Hal is found drinking in bars with lowlifes, highwaymen and other members of the London underworld, including Knight Jack Falstaff (Kevin Kline).

While Hal's behavior irritates his father and other members of the royal court, an increasing number of rebels conspire to overthrow the monarchy. These two plots intersect in compelling, dramatic and sometimes humorous ways in Henry IV, as we witness Prince Hal's transformation into King Henry V, one of the most powerful leaders in English history.

Adapter/Dramaturg: Dakin Matthews. Sets : Ralph Funicello. Costumes: Jess Goldstein. Lighting: Brian McDevitt. Currently in previews at the Vivian Beaumont Theatre at Lincoln Cennter. Officially opens November 20 running to January 11.

CAT ON A HOT TIN ROOF the Broadway revival of Tennessee Williams' famous 1955 play officially opens at the Music Box Theatre tonight, Sunday, Nov. 2. The production stars Ashley Judd as Maggie "The Cat," Jason Patric as Brick and Ned Beatty as Big Daddy. Tony winner Anthony Page directs the cast which also includes Margo Martindale, Michael Mastro and Amy Hohn.

DESIGN FOR LIVING written by Noël Coward. Directed by Michael Hackett. Starring Douglas Weston.

Three terminally stylish friends who share rivalrous affections attempt to uncoil their twisted love triangle in this sexy and scandalous gem. Written in 1932, the play was deemed extremely daring and even by today's standards is considered controversial in its frank and funny take on sex, love and commitment, proving to be one of Noël Coward's greatest successes.

Presented by L.A. Theatre Works at the Skirball Cultural Center in Los Angeles. November 5, 6, 7 and 9.

THE TALE OF THE ALLERGIST'S WIFE by Charles Busch is the opener for the non-profit Coconut Grove Playhouse in Miami November 4 - 30.

OLDEST LIVING CONFEDERATE WIDOW TELLS ALL a new play by Martin Tahse based on the best-selling novel by Allan Gurganus stars Ellen Burstyn, directed by Don Scardino.

Burstyn, the first woman in history to win both the Tony Award and the Academy Award in the same year (1975), for her work in Bernard Slade's Same Time, Next Year on Broadway and in Martin Scorsese's Alice Doesn't Live Here Anymore, stars as Lucy Marsden. She is a masterful storyteller, the kind who won't let go of your sleeve. A 99-year old widow with a caustic tongue, she is bound and determined to tell all - about her marriage at the age of 15 to a grizzled 50-year-old Civil War veteran, about her nine children, not to mention her parents, in-laws, friends and neighbors. Her freewheeling oral history, from the antebellum South to the present, is at once bawdy, raucous, comic and earth-shattering.

Previews began October 31 at the Burstyn returns to the Longacre Theater, where Burstyn made her Broadway debut in 1957 in Sam Locke's Fair Game starring Sam Levene. Officialy opening for Oldest Living Confederate Widow Tells Allis November 17.

ORANGE FLOWER WATER by Craig Wright is a play about marriage and infidelity. In the fictional small town of Pine City, Minnesota, two families are torn apart by love and betrayal. An extramarital affair draws them into a world of romantic uncertainty and disturbing moral ambiguity where people hurt each other and love keeps happening. This intense story gives us an up-close and personal look at two couples falling apart, falling together and moving on.

Directed by Rick Snyder the production features Darrell W. Cox, Molly Glynn, Whitney Sneed and Christian Stolte.

Scenic design - Robert G. Smith. Costume design - Alison Heryer. Lighting design - Andrew Meyers. Sound design - Michael Kraskin. Stage manager - Lara Maerz.

Orange Flower Water staged its premiere at the Jungle Theatre in Minneapolis. This outing marks the play's Midwest debut. At the Steppenwolf Merle Reskin Garage Theatre in Chicago through November 23.

NOCTURNE by Adam Rapp. Directed by Benjamin Mosse.

"Fifteen years ago, I killed my sister." So begins Adam Rapp's highly acclaimed play Nocturne, in which a thirty-two-year-old former piano prodigy recounts the tragic accident that tore his family apart. At once a devastating and elegant portrait of grief and a gripping dissection of the American Dream. Yale University Cabaret Theatre. November 7-9.

NEVER GONNA DANCE a new Broadway musical which has begun previews at the Broadhurst Theatre, features the music of Jerome Kern with a book by Jeffrey Hatcher, is based on the 1936 RKO motion picture Swing Time, with a story by Erwin Gelsey.Based on Swing Time, the most acclaimed of the Fred Astaire/Ginger Rogers films, Never Gonna Dance is the utterly charming story of a handsome hoofer who vows to give up dance for the woman he loves. But can his feet ignore the rhythm of the city? The musical features some of the most glorious songs ever written. Lyrics of Dorothy Fields, Ira Gershwin, Oscar Hammerstein II, Johnny Mercer, Otto Harbach and Jimmy McHugh combine with the Jerome Kern notes to create hits such as; I Won't Dance, A Fine Romance, Pick Yourself Up, The Way You Look Tonight, The Waltz in Swingtime, Bojangles of Harlem, Never Gonna Dance, I'm Old Fashioned, Dearly Beloved, Who and The Way You Look Tonight.

Never Gonna Dance stars Noah Racey, Nancy Lemenager, Karen Ziemba, Peter Gerety, Peter Bartlett, David Pittu, Deborah Leamy, Philip LeStrange, Ron Orbach, Eugene Fleming, and Deidre Goodwin.

Ensemble members include Timothy J. Alex, Julio Augustin, Roxane Barlow, Julie Connors, Sally Mae Dunn, Jennifer Frankel, Jason Gillman, Greg Graham, Ipsita Paul, T. Oliver Reid, Kirby Ward, and Tommar Wilson.

Directed by Michael Greif and Choreographed by Jerry Mitchell.

Robin Wagner scenic designer, William Ivey Long costume designer, Paul Gallo lighting designer, ACME Sound, Robert Billig music director, Harold Wheeler orchestrations, John Miller music coordinator, and Zane Mark music/dance arranger.

Officially opens at the Broadhurst Theatre on December 4.


| | | |
| --- | --- | --- |
| | | |
WHO'S WHERE


TONY DANZA closes out his Las Vegas engagement tonight. He performs Friday at the College of Staten Island in Staten Island, New York. Next Sunday the show is at the Morris A. Mechanic Theatre in Baltimore, MD.

LYLE LOVETT has a busy week. Tonight he is at the Ohio Theatre in Columbus, Ohio. On Tuesday he s in the spotlight at the Shubert Performing Arts Center in New Haven, CT. On Thursday he's singing at Carnegie Hall in NYC. Friday finds him at Foxwoods Casino in Mashantucket, CT and on Saturday the performance is at Merrill Auditorium in Portland, Maine.

BILL COSBY telling funny stories this evening at Grand Center in Grand Rapids, Michigan. Next Sunday, November 9, he'll be making the folks laugh at the Eastman Theatre in Rochester, New York.

TODD RUNDGREN at The Join in the Hard Rock Hotel in Las Vegas on Monday, November 11.

JASON ROBERT BROWN & LAUREN KENNEDY The Last Five Years concert performance. Saturday, November 8, at Cooper Union's Great Hall, NYC.

LOUDON WAINWRIGHT III entertaining Friday at Appel Farm in Elmer, NJ. On Saturday he can be found at Sellersville Theatre in Sellersville, PA.

SIMON AND GARFUNKEL WITH THE EVERLY BROTHERS on tour. A two night begins Tuesday at the HP Pavilion at San Jose, in San Jose, CA. On Thursday the show moves to the Oakland Arena in Oakland, CA. On Saturday they'll be singing their hits in Las Vegas at the MGM Grand Garden Arena.

BOB NEWHART brings his dry wit to the stage of the Living Arts Centre in Mississauga, ON on Saturday, November 8. Bob latest movie Elf will be released on November 7. In that flick Newhart plays Will Farrell's adopted elf father Papa Elf.

Newhart has also made a rare foray into drama, a reoccurring role on ER. The four-time Emmy award winner plays Ben Hollander, an architect suffering from macular degeneration - which leads to blindness. The first of three episodes aired on October 30th.

MELISSA ERRICO in an intimate evening of cabaret. Saturday, November 8 at The Barn at Wolf Trap. Vienna, Virginia.

MICHAEL FEINSTEIN AND JIMMY WEBB on tour make a stop in Seattle, Washington for a show November 2 at the Benroya Theatre. On November 5 they'll be on stage at the Dodge Theatre in Phoenix, Arizona. November 7 finds the duo at the Grand Opening for the Milwaukee Theater/The Milwaukee Symphony Orchestra. They close out the week on November 8 in Garden city, New York entertaining for a private benefit for the Mauer Foundation for Breast Cancer Education.
















Next Column: November 9, 2003
Copyright: November 2, 2003. All Rights Reserved. Reviews, Interviews, Commentary, Photographs or Graphics from any Broadway To Vegas (TM) columns may not be published, broadcast, rewritten, utilized as leads, or used in any manner without permission, compensation and/or credit.
Link to Main Page
---
Laura Deni


CLICK HERE FOR COMMENT SECTION