! >
Broadway To Vegas
  SHOW REVIEWS     CELEBRITY INTERVIEWS     GOSSIP     NEWS 
| | |
| --- | --- |
| | |
Copyright: November 2, 1998
By: Laura Deni
CLICK HERE FOR COMMENT SECTION

GARTH BROOKS' MOTHER RECOVERING


Colleen Brooks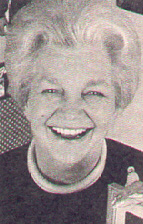 The mother of Garth Brooks, recovering from cancer surgery, was determined to see her son perform in Minneapolis.

To the delight of the audience attending the sold out Target Center performance, Garth's sister brought out their tiny, frail mother, who worn a Viking's jersey. The crowd of 18,000 went wild.

Garth told the crowd, "My mother's goal was to make the Minneapolis show."

Brooks was making his first performance in the Twin Cities.

He performed nine sold out concerts at the Target Center, selling out the first of them in nine minutes.



ELIZABETH TAYLOR FORCED TO PAY
Cicely Tyson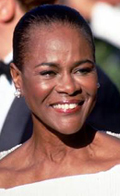 A U.S. Court of Appeals in New York has upheld a 1996 ruling in favor of actor Cicely Tyson.

The court ruled that Tyson is entitled to full pay for her appearance in a Broadway play produced by Elizabeth Taylor. The lawsuit centered around The Corn Is Green, which shuttered shortly after opening on Broadway in 1983.

Tyson was under contract to Taylor's production company to act in a stage and screen version of the classic.

After critics panned the play, Tyson was fired for taking a night off to attend a tribute to her then husband, the late jazz musician, Miles Davis. The play folded after less than two weeks.

Tyson sued, maintaining that she was entitled to the full $750,000 - per her contract, even though the show closed and a planned TV video of the Broadway show was scrapped.


ROWDY IN CAROLINA


People sure do get rowdy in North and South Carolina.



Motley Crue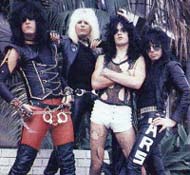 Motley Crue rockers Tommy Lee and Nikki Sixx assaulted a concert security guard and incited the crowd to attack others, guard John F. Allen alleges in a lawsuit filed last week in federal court in Greensboro, N.C.

Allen asserts that he was kicked and spit on by bass guitarist Sixx during a concert at Greensboro Coliseum on October 30, 1997. He contends that Sixx told the crowd to assault other guards, and that the crowd responded by throwing cups and rushing at the guards.



Ronnie Van Zant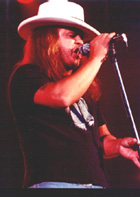 Our roving reporter Trudy Knight-Peek reports that a recent Lynyrd Skynyrd concert at the Bi-Lo Center in South Carolina was the scene of a little more audience participation than was anticipated. According to Knight-Peek a young man attending the concert "jumped from the rafters - from the upper bowl to the lower bowl" in an attempt to get up close and personal with the performers. Witnesses say the man jumped without warning which, according to Knight-Peek, "is quite a jump."

He was taken away by ambulance to the Greenville Memorial Hospital where he was treated and released.

The performance went on as if nothing major had happened.

Lynyrd Skynyrd started out as a high school trio that named themselves after their gym teacher, Leonard Skinner.

Gary Rossington is the only remaining member of the original trio.

In 1977 the band was devastated when lead singer Ronnie Van Zant died in an airplane crash en route to Baton Rouge.

The group was reborn when Ronnie's baby brother hopped on board.


AX MURDER MUSICAL


Lizzie Borden: The Musical! had it's world premiere last Saturday, which oddly enough was Halloween.

The story of one of the most infamous murders in American has previously been a source for creative inspiration. In the 1960s The Kingston Trio turned Lizzie Borden into a hit song.

Borden was born in 1860 and on June 6, 1893 went on trial in Massachusetts for the ax murder of her father and stepmother. Acquitted, Lizzie died in 1927.

This musical version of the murders is being produced by the American Stage Company, a theater in residence at Fairleigh Dickinson University. Alison Fraser plays Lizzie. The production runs through November 22.


TUNA REELED IN


Joe Sears and Jaston Williams, creators of the Tuna delights; Greater Tuna which won over both the critics and audience in l981, followed by A Tuna Christmas and the new Red, White and Tuna form a triple decker sandwich that closes the menu.

The partners stopped the adding machine after Greater Tuna performances in 1994 hit 2,500. They tallied their 1,000 performance of A Tuna Christmas in the fall of 1997. That doesn't take into account attendance at community and regional theaters.

Greater Tuna was a send-up of the Moral Majority; Tuna Christmas was a holiday show about relationships and the new Red, White and Tuna centers around preparations for a Tuna wedding. There is also competition among the town divas for the crown that caps a class reunion.

The creators indicate that the trilogy reels in the Tuna saga. Other things are in the offing.

In September a backers audition took place for Small Town Girl with Sears as one of the collaborators. Sears and Williams have also created the book for the operetta Ochelata's Wedding, about an Indian princess, bank robbers and Minnehaha in drag. A workshop for that was held last May at the University of Maryland.


NUNCRACKERS


The Nunsense Christmas musical, Nuncrackers is making its world premiere at the Fireside Theatre in Minneapolis. The show features Father Virgil and those four outrageous nuns with new songs including We Three Kings of Orient Are Us and Santa Ain't Comin' To Our House. The show continues through Jan 3rd with tickets priced from $28-$49.


SWEET CHARITY
AT THE NATIONAL ACTORS THEATRE tribute held at the Plaza Hotel the crowd, which included Harry Belafonte, saw Bill Cosby perform for over an hour and David Letterman offering his own Top 10 List on ways Randall will know he's been on Broadway too long.

Letterman also feigned surprise at Randall spending the evening at the benefit - saying he thought Randall would be home having sex.

During the charity auction Liz Newman got a bargain. Her $21,000 bid won the services of Tony Randal - as butler for a dinner.

STEVIE WONDER will be honored as the 1999 MusiCares Person of the Year at the Century Plaza Hotel, LA on Feb. 22, joining past recipients Tony Bennett and Bonnie Raitt.

THE 1988 NATIONAL MEDAL OF THE ARTS will be presented November 5th in a White House ceremony presided over by President and Mrs. Clinton. Receiving medals will be; actor Gregory Peck, musician Antoine "Fats" Domino, Chicago's Steppenwolf Theatre, visual artist Agnes Martin, architect Frank Gehry, dancer-choreographer Jacques d'Amboise, folk singer "Ramblin" Jack Elliott, arts advocate Barbara Handman, opera singer Roberta Peters, writer Philip Roth, actress-dancer Gwen Verdon, and the Sarah Lee Corp, which was recognized for arts patronage. Candidates are recommended by the National Council on the Arts with the final honorees selected by the president.


BROADWAY BOUND


Matthew Broderick is heading back to Broadway. Last seen on the Great White Way singing and dancing in How To Succeed In Business Without Really Trying, the youthful looking performer isn't about to get typecast. This time out he'll play a psychopathic killer in Night Must Fall.

Set to open in January, the production will be produced by Tony Randall's National Actors Theater.


POLITICALLY INCORRECT IN LAS VEGAS
Bill Maher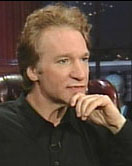 Bill Maher brings Politically Incorrect to Las Vegas during the all important Sweeps Week, Nov. 9-12.


In selecting Las Vegas over his usual Washington, D.C. spot, Maher explained that Las Vegas "was politically incorrect before we got a crack at it."


Jerry Lewis slated as the first guest.


SINGING SEX SYMBOLS
Antonio Banderas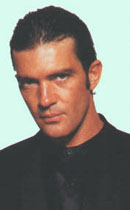 It's not enough that Antonio Banderas is a sex symbol. If he can't sing like Michael Crawford then he shouldn't get the part. At least that's the way a group of ardent Michael Crawford fans feel about casting a movie version of the Broadway smash Phantom of the Opera. Whether Crawford likes it or not he has a determined set of admirers who are campaigning for him to star in the movie version of Phantom. While Crawford originated the role on Broadway he has stated that his Phantom days are behind him.

Warner Bros. purchased the screen rights to Phantom in l991 and immediately announced that Crawford and Sarah Brightman would re-create their roles.



Michael Crawford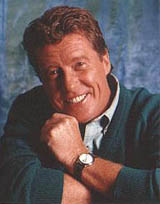 Time passed and the proposed film remained in the "proposed" category, while Brightman and Crawford moved on with their lives.

Recently, talk has circulated that the film is off the back burner with John Travolta and Antonio Banderas neck and neck for the part that requires wearing a mask and disfiguring makeup.

When rumors spread that Crawford not only didn't have a lock on the part but was locked out, his fans went ballistic.

Angie Coots of Leawood, Missouri is obsessed with convincing Warner Bros that Crawford is the man for the job. She's traveled the country, met with Crawford fans in Las Vegas and spearheaded a letter writing, E-mail and petition campaign.

She's researched production costs, including the dubbing expenses should Banderas be the studio choice. Coots maintains that Banderas is a sex symbol not a singer and would need someone to dub his vocals.

Crawford's Phantom recording is the best selling Broadway cast album of all time, topping 12 million albums.

So far Warner Brothers has tersely thanked Coots for her interest.



Broadway To Vegas is supported through advertising and donations. Priority consideration is given to interview suggestions, news, press releases, etc from paid supporters. However, no paid supporters control, alter, edit, or in any way manipulate the content of this site. Your donation is appreciated. We accept PAYPAL. Thank you for your interest.


PLEASING THE ROYAL NOSE
Prince Albert

Crown Prince Albert of Monaco helped Ashley Judd sample the new Grace de Monaco Parfum by Faberge, at the Princess Grace Foundation-USA Annual Awards Gala, last Thursday at the Waldorf in New York.

Sales of the perfume will benefit the foundation, which continues Princess Grace's commitment to helping young artists.

The annual awards gala has raised more than $1.5 million for grants to performers in theater, dance and film. Past winner include playwright Tony Kushner, American Ballet Theatre star Ethan Stiefel and filmmaker Alexandra Sichel.


TRIUMPHANT RETURN


Bryon Janis, the 70 year old celebrated pianist, whose magnificent career was sidetracked in 1973 by the devastating effects of arthritis in both hands, marked the 50th anniversary of his Carnegie Hall debut with a recital last Thursday.

Performing before a SRO audience, the inspiring Janis delivered a difficult program with works by Chopin, Prokofiev and Liszt.

Janis' courageous battle and triumphed over arthritis had been the source of encouragement for million who suffer from the ailment. Janis, named a national "Hero Overcoming Arthritis" by the Arthritis Foundation, was profiled by Barbara Walters on 20/20.

The slow road back to the keyboard began several years ago. Janis has also returned to recording, after an absence of 30 years, completing his second CD for EMI Classics, and is putting the finishing touches on the score for his Broadway-bound musical The Hunchback of Notre Dame.



GOOD NEWS the roaring 20s collegiate musical by DeSylva, Brown and Henderson opens Nov. 6 at the Chanhannen Theatres, Minneapolis.

TRUE ESPRESSO is percolating in the Twin Cities area.

The a highly caffeinated comedy by Bill Arnold, Michael Pearce Donnley and Bob Stromberg, directed by William Partian is at the Music Box Theatre.

Bob Becker's Defending The Caveman opens Nov. 10 at the Historic State Theatre.

The musical Oklahoma is set for a Dec 19-Jan 3 run at the Ordway Kiosk City Center with an ASL/ADA matinee performance slated to Jan 2.

Rent, which opens at the Ordway on Thursday Nov. 4th playing through Nov. 21 has their ASL/ADA performance on Nov. 14.

SWEENEY TODD the Demon Barner of Fleet Street will feature Kelsey Grammer, Dale Kristien, Melissa Manchester and David Gaines in the "Reprise! Broadway's Best in Concert" production, slated for March 12-14 at the Ahmanson Theatre in Los Angeles.

OF THEE I SING will have Gregory Harrison joining Maureen McGovern in the "Reprise!" show Nov. 11-22 at UCLA's Freud Playhouse.

BEAU BRIDGES signed to star as P. T. Barnum in a four hour A&E mini series set to air in 1999.

THE UNICORN THEATRE in Kansas City is breaking tradition by staging a David Hare play. Rarely produced in Kansas City, Skylight runs through Nov. 8th. The drama revolves around the complex relationship between Tom, whose wealth cannot ameliorate his loneliness after the death of his wife, and Kyra, his ex-lover who buries her emotional needs in a moral crusade. Mark Robbins directs Jim Birdsall, Kelly McAndrew and Michael Smith.

FREQUENT FLYER MILES are adding up for musical director Robert Rozario. He flies from Las Vegas to Florida for a Vic Damone one-nighter, then hops a plane for Tokyo to serve as musical director for an Ink Spots gig.

CHARLES AZNAVOUR the singer, songwriter and actor is performing his one-man show An Evening With Charles Aznavour, at the Marquis Theater, NY through November 15. He's written more than 1,000 songs performed by the likes of Frank Sinatra, Liza Minnelli and Ray Charles.

LESLIE UGGAMS AND GODFREY L. SIMMONS JR are a sensation in John Henry Redwood's The Old Settler at Primary Stages, N.Y.

TONI TENNILLE starring in Victor/Victoria opens tomorrow November 3 at the Saenger Theatre in New Orleans. Show plays through November 8.

CHOLLY ATKINS who won a Tony for his choreography of the Broadway musical Black and Blue, lives quietly in Las Vegas.

PHISH the Vermont based quartet that has taken over the mantle once carried by the Grateful Dead, sold out the Greek Theater in Los Angeles before coming to Las Vegas where their Hard Rock performances were SRO.


THIS AND THAT

THE EX MRS. MICHAEL DOUGLAS that's Diandre, and her live-in, Kenneth Slaughter, on Thursday throw open the doors of their Montecito, California estate to host a benefit for the Nuclear Age Peace Foundation in honor Jane Fonda and Ted Turner.

BILLBOARD holds a reunion this Saturday in Los Angeles. The dress is casual; no bowties. No one under 21, as the group has no insurance against corrupting the morals of minors. Laura Foti Cohen, Jim McCullaugh and Paul Grein are the hard working folk behind the reunion. All of the Billboard alumni are asked to contribute to defray the cost of food and drink -- or a little more if the Billboardite wants to help defray mailing costs and other incidental items - like Jim's daughter's college tuition. Gang, my check really is in the mail.

JAMES A. GARFIELD America's 20th president - the last to be born in a log cabin and the first to have his mother see him inaugurated - has had his home painstakingly restored to the period of 1880 -1904. Elected president in 1880, Garfield died from wounds inflicted by an assassin's bullet just 200 days after taking office. The James A. Garfield National Historical Site is about 25 miles east of Cleveland in Mentor, Ohio. Open year-round. For more information call (440) 255-8722.

ATTENTION ALL PATHOLOGICAL GAMBLERS - The Department of Psychiatry at the University of Minnesota wants you. Volunteers are invited to participate in a drug treatment study of pathological gambling disorders. If you have uncontrollable urges to gamble and would like to be a guinea pig call (612) 626-5725.

Next Column: November 9, 1998
Copyright: November 2, 1998. All Rights Reserved Reviews, Interviews, Commentary, Photographs or Graphics from any Broadway To Vegas (TM) columns may not be published, broadcast, rewritten, utilized as leads, or used in any manner without permission, compensation and/or credit.
Link to Main Page
---
Laura Deni


CLICK HERE FOR COMMENT SECTION