! >
Broadway To Vegas
  
 SHOW REVIEWS CELEBRITY INTERVIEWS GOSSIP NEWS

| | |
| --- | --- |
| | |
LIZA MINNELLI STAGES A PERFORMER'S GYPSY SHOW - - DAVID HARE HAS WORLD PREMIERE OF THE VERTICAL HOUR IN AMERICA - - COMIC RELIEF BENEFITS KATRINA VICTIMS - - ANDERSON COOPER GIVES HIS MOTHER GLORIA VANDERBILT A BURGA - - DOLLY PARTON TO TOUR EUROPE - - ROYAL PREMIER FOR CASINO ROYALE - - BARBRA STREISAND IS PREDICTABLE - - R&B LEGEND RUTH BROWN DIES - - DONATE . . . Scroll Down


Copyright: November 19, 2006
By: Laura Deni

CLICK HERE FOR COMMENT SECTION
COMIC RELIEF BENEFITS SERIOUS CAUSES
Robin Williams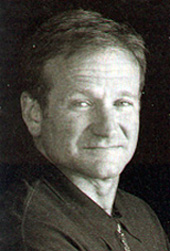 Robin Williams dried out in rehab and came to Las Vegas to co-host the 20th anniversary of Comic Relief. The event will help the victims of Katrina who are neither dried out nor have been helped by any type of 12 step program.

In joking about his own problems he, along with co-hosts Whoopi Goldberg and Billy Crystal, gave credence to the show's motto; Where There is Laughter - There's Hope.

The purpose of Comic Relief is to unite the comedy community behind some of society's most relevant causes and pressing needs. This year's concert, which took place last night at Caesars Palace, as the closing night event of The Comedy Festival, will help the rebirth of New Orleans by raising funds for families affected by Hurricane Katrina, helping them rebuild their homes, and tangibly addressing causes that kept victims from escaping.



Whoopi Goldberg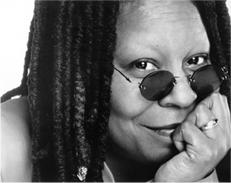 A grass roots effort, Comic Relief was started 20 years ago as the brainchild of writer, producer, and actor, Bob Zmuda, to raise funds to help those in need. Zmuda is best known for being the writer, producer, and faithful sidekick of famed comedian, Andy Kauffman.

In 1986, Zmuda's vision came to light. Hosted by the hard-hitting triplets of comedic genius: writier, performer and producer Billy Crystal, Tony, Emmy and Academy Award winner Whoopi Goldberg, and Academy Award winner Robin Williams, Comic Relief showcased 47 comics and brought in upwards of $2.5 million. And from that rookie year to raising more than $50 million to create programs tailored to help those in need - making Zmuda's dream not only a success, but a true movement. Comic Relief has become the honorary charity of the comedy community.



Billy Crystal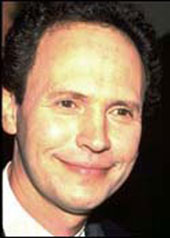 Last night's comedic evening was filled with appearances by today's hottest comedians, including Rosie O'Donnell, Bill Maher, Ray Romano, Ricardo Antonio Chavira and his Desperate Housewives co-stars James Denton and Doug Savant; Entourage cast members Kevin Connolly, Kevin Dillon, Jerry Ferrara, Adrian Grenier and Jeremy Piven.

Those on board included; Rita Rudner, Roseanne Barr, Rebecca Romijn, Steve Schrippa, Sarah Silverman, Mike Epps, Susie Essman, D.L. Hughley, Jimmy Kimmel and George Lopez.

Pre-taped pieces featured appearances by Howie Mandel, Jon Stewart and Stephen Colbert, and Triumph the Insult Comic Dog.

There were live segments from New Orleans, with Louie Anderson and Wayne Brady and a special showcase featuring the work of famed Crescent City filmmaker, Kenny Morrison.



Anderson Cooper gave his mother, Gloria Vanderbilt, a burga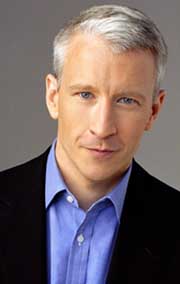 The best segment actually took place before the official telethon. CNN's Anderson Cooper flew in to host a three-way interview with Goldberg, Crystal and Williams. During that on target segment, which was both funny and political, Cooper divulged that he when returning from covering the war, he had brought his mother - the 82- year-young fashion designer Gloria Vanderbilt - a gift of a bright blue burga. She put the entire thing on and wore it around the neighborhood to better understand what the women are forced to endure in public.

Williams then discussed what the women wear under the burga.

The foursome also chatted about the FEMA trailers and the Cooper had priceless comments about attempting to interview New Orleans Mayor Ray Nagin.

If the decade ever arrives when Cooper decides to bid CNN adieu he can enjoy a second career as a stand-up.

Cooper has enough funny stories to rival Bill Cosby.


75 YEARS OF COLLECTING THEATRE


The New York Public Library for the Performing Arts is celebrating the 75th anniversary of the founding of its Billy Rose Theatre Division with Stars and Treasures: 75 Years of Collecting Theatre, a major exhibition showcasing rare and unique artifacts from the more than 9 million items in its collections.

Among the items on view, some of them being exhibited for the first time, are a bejeweled belt worn by Sarah Bernhardt as Cleopatra, costume jewelry worn by Edwin Booth in Hamlet, letters written by Sarah Siddons, Edmund Kean, Harry Houdini and heartbreaking letters from American playwright Tennessee Williams describing the burden of alcoholism and its effect upon his writing are included, as are letters to Gypsy Rose Lee from the real Mama Rose, who was one of the inspirations for the musical Gypsy.

There is also a color caricature by Al Hirschfeld portraying George Bernard Shaw as a horned devil and several drafts of Edward Albee's Whose Afraid of Virginia Woolf?.

The exhibition includes both drama and musical theatre, as well as such popular entertainments as circus, magic, wild west shows, and vaudeville.

Among the items on view for the first time are a 1769 handbill and ticket from the first Shakespeare Jubilee ever held - organized by David Garrick in Stratford upon Avon and now viewed by at least one critic as the "point at which Shakespeare stopped being regarded as an increasingly popular and admirable dramatist and became a god;" and a draft of House of Flowers annotated in Truman Capote's hand.

On display is the original costume designs by Cecil Beaton for My Fair Lady, and circus drawings by Toulouse-Lautrec. The cornerstone and its contents saved from the Ziegfeld Theatre when it was demolished are but a few of the treasures.

Personal treasures loaned for the exhibition by such actors as Jane Alexander, Harvey Fierstein, Patti LuPone, Donna Murphy, Audra McDonald, Roger Rees, and Ben Vereen are also featured. Actress Julie Harris has loaned a charming little box given to her on the opening night of I Am a Camera with notes from both John Van Druten and Christopher Isherwood. Angela Lansbury has loaned a Halston kimono embroidered with sentiments from the entire cast of her much esteemed revival production of Gypsy. The Billy Rose Theatre Division, which was established officially as a separate unit of The New York Public Library on September 1, 1931, is world renowned as the largest and most comprehensive archive in the theatrical arts. The division's holdings of more than 9 million items illuminate virtually every type of performance, from street corner to stage to studio, and include not only theatre, but also film, television, radio, and such popular entertainments as the circus, magic, puppetry, and carousels.

Stars and Treasures: 75 Years of Collecting Theatre will be on view in the Donald and Mary Oenslager Gallery at The New York Public Library for the Performing Arts in New York City from Tuesday, November 21, 2006 through Saturday, May 5, 2007. Admission is free.


DRESSING UP


The Royal Shakespeare Company in Stratford-Upon-Avon know their way around period costumes. The RSC Men's Costume Department can make a shirt from start to finish in four hours. But, a good pair of trousers might take twelve hours.

For the 2001 production of Alice in Wonderland, the Hats, Millinery and Jewelry Department alone made over 90 items of hats and accessories, including fans and jewelry.

The Snow Queen in The Lion, The Witch and The Wardrobe (2002) wore a hat with stripped ostrich quills. Each quill had to be hologrammed and painted.

The RSC Armory uses the local blacksmith to make battle shields in his forge. Abattoir aprons, made of fine steel mesh, are used by the RSC Armory to make chain mail for battle wear.

All RSC hats, boots and costumes make their way to the RSC Hire Wardrobe after the end of a production and are available to be rented by the public.

At the beginning of rehearsals all the actor's measurements are taken.

Then the Costume Supervisor and Designer work in collaboration with the Costume Department to decide on the best way to create the costumes. This may include the shoes, hats, armor, underwear, jewelry, buying the fabrics, booking the costume makers and setting up the costume fittings.

To create a particular period feel or a design with a particular color scheme, neutral fabrics often arrive direct from the factory to be treated by the Dyeing Department. Fifty percent of costumes are broken down in some way to look worn or to show general wear and tear. Common tools of the trade for the department include a cheese grater, sandpaper, Stanley knives, a blow-torch, emulsion-based paints and fabric paints.

The Armory and Boot Department make, recycle or adapt boots and shoes for a production. The Hats and Millinery team create a particular look using felts and straw, wire, buckram, plastics and veils. Hairdressing, wigs and make-up complete the final look. An actor often uses their own hair in a production, which creates difficulties, as the look required will differ in each production they appear in during the season. The Wigs' team may have to cut, curl, dye, or add extensions or hairpieces to the same actor.

Unless specialist make-up is required most actors apply their own make-up. The team creates blood effects for daggers, blood bags or smearing using glucose, sugar and fruit coloring. Black treacle is used to darken the blood. The team may even be required to make prosthetic parts of the body such as the nose in Cyrano de Bergerac.



Broadway To Vegas is supported through advertising and donations. Priority consideration is given to interview suggestions, news, press releases, etc from paid supporters. However, no paid supporters control, alter, edit, or in any way manipulate the content of this site. Your donation is appreciated. We accept PAYPAL. Thank you for your interest.


ROYAL WELCOME FOR CASINO ROYALE
Queen Elizabeth chats with Dame Judi Dench at the Royal Film Performance of Casino Royale on Nov 14. Photo Buckingham Place Press Office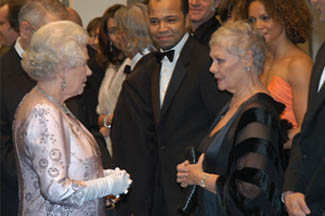 To the James Bond theme song, Daniel Craig, the newest Bond - and the first one who is a blond - walked the red carpet for the gala world premier at Leicester Square in London on November 14.

Craig, 38, is the sixth actor to play the super-spy after Sean Connery, George Lazenby, Roger Moore, Timothy Dalton and Pierce Brosnan.

Staged as a benefit for The Cinema and Television Benevolent Fund of which Queen Elizabeth is patron, Her Magesty attended as did her husand, Prince Philip. As an aside, Queen Elizabeth II and the Duke of Edinburgh are set to visit the United States in May 2007 to celebrate the 400th anniversary of the Jamestown Settlement.

To celebrate the 60th Anniversary of the CTBF's biggest fundraising event, the whole of Leicester Square was taken over for the World Premiere of Casino Royale – this year's chosen film.



The Queen meets the new James Bond, actor Daniel Craig. Photo Buckingham Place Press Office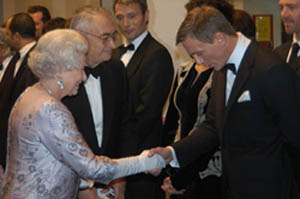 "We are turning Leicester Square into one vast multiplex cinema – taking over all three cinemas in the Square – The Odeon Leicester Square, The Odeon West End and the Empire. It is our biggest, most spectacular event so far," said Peter Hore, Chief Executive of CTBF.

All three theatres were connected by red carpet and CCTV footage of the stars arriving were shown in all screens prior to the film. Around 4,500 people sat down and watched the World Premiere of the latest Bond movie simultaneously.

Buckingham Palace also marked the Royal Film Performance's 60th Anniversary with a special themed Changing of the Guards on Thursday November 9th. A selection of classic Bond tunes was played by the Band of The Scots Guards.

The Dame Judi Dench, who plays M, the secret service head, has been busy this week. On Friday she turned on the Christmas lights in the Burlington Arcade, having arrived in a silver Austin Martin DB9 previously used in Bond flick Die Another Day.

At the Casino Royale premier, among those hobnobbing with the royals - in addition to Judi Dench - were; Daniel Craig and his fiancee Satsuki Mitchell, Italian Giancarlo Giannini, who stars as MI6 operative Mathis; Dame Shirley Bassey who has sung the title songs to three previous Bond films; Sir Elton John and his mate David Furnish; Eva Green who plays Vesper Lynd, one of three Bond girls in the film; cast member Danish actor Mads Mikkelsen; Sting, actress Trudie Styler and their son Giacomo; singers Rachel Stevens and Sarah Harding, entrepreneur Richard Branson, producers Barbara Broccoli and Michael G. Wilson, Michelle Yeoh, who starred in 1997's Tomorrow Never Dies, actress Caterina Murino, Sharon Osbourne, Jason Statham, Jerry Hall and Claudia Schiffer, American actor Jeffrey Wright and his wife British actress Carmen Ejogo, Jake Shears of Scissor Sisters, Jay Kay of Jamiroquai, The Sugababes Heidi Range, Amelle Berrabah and Keisha Buchanan - and Paris Hilton who isn't in the film but does attend most parties and Mohamed Al Fayed whose son, Dodi, was killed in the auto crash with Princess Diana. Harrods department store, owned by Al Fayed, decorated all 72 of its windows with a Casino Royale theme and is displaying an Aston Martin DBS car, as used in the movie.

In adhering to the old adage about never investing your own money, yet maintaining control, producers Barbara Broccoli and Michael Wilson pulled off the impossible. They had approval of every major cast member, line of dialogue and ads had to receive their okay.



Prince Phillip meets the cast and crew members from Casino Royal including bad guy Mads Mikkelsen, Bond girl Eva Green and Daniel Craig. Photo Buckingham Place Press Office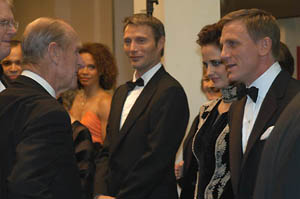 Coughing up the dough was Sony Pictures Entertainment which was obligated for 75% of the film's $150-million production cost, a $120-million worldwide marketing campaign and other related expenses. Sony must split profits with MGM, which financed 25% of the movie, and with the producers, who are guaranteed a huge chunk of the profit.

By the next morning both the producers and the production company were smiling.

Casino Royale raked in more at British box offices on its first day than any previous Bond film. The film took in about $3.2 million Thursday more than doubling the previous record holder, Die Another Day.

On the heels of big bucks at the box office, Chinese censors announced that Casino Royale will be permitted to be show in China - the first for a Bond film.

China usually only imports 20 foreign films a year and censors them carefully.

The movie will open in China on January 30. Casino Royale, based on the first of Ian Fleming's popular spy novels, opened in the US, Canada and Russia last Friday, November 17.

All funds raised from the World Premiere of Casino Royale will go to the CTBF, the unique trade charity of the film and television industries.


SWEET CHARITY


THE ORPHEUM THEATRE'S ANNIVERSARY GALA (CONCERT) to benefit the Orpheum Theatre in Memphis. Kallen Esperian, world-renowned Opera singer, is "stepping out" on Broadway as she performs a concert of musical theatre classics and movie themes with a fifty piece symphony orchestra. Saturday, November 25 at the Orpheum Theatre in Memphis.

ENGLISH NATIONAL OPERA BENEVOLENT FUND GALA CONCERT Performers include; Sir Colin Davis, Jane Glover and Edward Gardner have agreed to conduct Dame Felicity Lott, Sir Thomas Allen, Simon Keenlyside, Gerald Finley, Garry Magee, Diana Montague, Ann Murray, John Graham Hall (Chairman of the ENO Benevolent Fund) the Chorus and Orchestra of ENO all under the direction of Phyllida Lloyd.

In addition there is a post performance party with the stars. Sunday, November 26 at the London Coliseum in London, England.


SPREADING THE WORD


THEATER TALK'S 10TH ANNIVERSARY SPECIAL takes places Sunday, November 26 when legendary actress Elaine Stritch, humorist Paul Rudnick, Michael Musto of The Village Voice and Jeremy McCarter of New York Magazine join co-hosts Michael Riedel of The New York Post and series producer Susan Haskins to celebrate.

Riedel and Haskins will look back at highlights from interviews with some of their favorite guests including: playwright Edward Albee, actors Eileen Atkins and the late Alan Bates, composer/pop icon Boy George, critic Ben Brantley of The New York Times, actors Dick Cavett, Lea DeLaria and Brian Dennehy, Sweeney Todd director John Doyle, Wit playwright Margaret Edson, Tony Award winners Harvey Fierstein and Richard Griffiths, playwright David Hare, ventriloquist Jay Johnson, performance artist Sarah Jones, composer John Kander and the late lyricist/librettist Fred Ebb, writer/director Arthur Laurents, actor Frank Langella, producer Cameron Mackintosh, playwright Adam Rapp, the great actress Marian Seldes, British critic Mark Steyn and writer/performer Bruce Vilanch.

The program also pays tribute to the recently deceased press agent, Bob Fennell, with a scene from the 1997 Hegedus/Pennebaker documentary Moon Over Broadway in which Fennell, a beloved member of the theater community, figures prominently.

The show air on New York's THIRTEEN, on Sunday, November 26, and will repeat on CUNY TV: December 2-4.


OTHER PEOPLE'S MONEY


BARBRA STREISAND is predictable. Whether it be behind the camera or on stage, her crest stands for quality and perfection. As a director she has been underrated. As a performer she gets whatever the traffic will bear. In Las Vegas, her ticket prices always exceed other venues.

Her stellar show last night at the MGM Grand was packed. We don't begrudge her a dime.

Our objection is to loop in a high ticket price with a disclaimer saying that part of the money will go to charity, through her foundation, to solve various environmental and social issues. Most people have their own charities of choice. While Streisand is noted for her benevolence to worthwhile causes, any giving attached to her should be from her own pocket and not somehow by forced payment from another.



REGRETS ONLY

Siân Phillips, Diane Davis George Grizzard, Christine Baranski, David Rasche and Jackie Hoffman.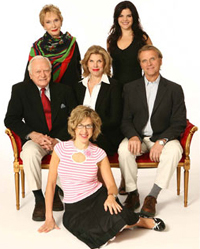 by Paul Rudnick. World premiere opens tonight, November 19, in a production produced by Manhattan Theatre Club at the City Center Stage I in New York City.

Christopher Ashley directs a cast which includes Tony Award winner Christine Baranski, Diane Davis, Tony Award winner George Grizzard, Jackie Hoffman, Tony Award nominee Siân Phillips and David Rasche.

From the pen of the inspired Paul Rudnick comes a delicious world premiere comedy of Manhattan manners, exploring the very latest topics in marriage and friendship. The setting: a Park Avenue penthouse. The players: a powerhouse attorney, his deliriously social wife and their closest friend, one of the world's most staggeringly successful fashion designers. Add a daughter's engagement, some major gowns, the President of the United States, and stir.

The design team includes Michael Yeargan (set), William Ivey Long (costume), Natasha Katz (lighting), John Gromada (sound).

THE VERIDICAL HOUR by David Hare. The title taken from a combat medicine term used to describe the moment immediately after a disaster when one can be of most help.

Directed by Sam Mendes.

takes place in a garden in Shropshire, where a young man named Philip Lucas (Andrew Scott) has brought his American girlfriend Nadia Blye (Julianne Moore), former war correspondent, now star professor of political studies at Yale to meet his father for the first time. A passionate advocate of humane intervention in countries from which she has reported, Nadia finds herself in the uncomfortable position of having supported what she still calls the 'liberation' of Iraq. Oliver Lucas (Bill Nighy) is a doctor who has retreated to this remote spot - for reasons, we later find, that still haunt his son - and to the cozy old-left idealism of his armchair.

Scenic Design by Scott Pask. Costume Design by Ann Roth. Lighting Design by Brian MacDevitt.

This is a world premiere, marking the first time in playwright David Hare's career that one of his plays will have a world premiere in the U.S.

In previews with an official opening slated for November 30 with performances scheduled through March 28, 2007 at the Music Box Theatre in New York City.

THE CHAIRS by Eugène Ionesco translated by Martin Crimp. Ionesco is considered the father of "theater of the absurd". First performed in Paris on April 22, 1952, With brilliant eccentricity, Eugene Ionesco's The Chairs combines a comic portrait of human folly with a magical experiment in theatrical possibilities.

Directed by Thea Sharrock. Designed by Jeremy Herbert. Choreography by Scarlett Mackmin. Sound by Gregory Clarke. Lighting by Oli Fenwick.

Cast includes Susan Brown and Nicholas Woodeson.

In the play, an elderly couple sets up chairs and greets invisible guests who have come to hear the Old Man's message to the world. The message is left in the hands of an Orator after the couple commits suicide, but he is deaf-mute and cannot relay it.

As the idea of a theater of the absurd—a literary form that explored the futility of human existence—evolved, The Chairs came to be seen as a seminal example of the genre.

By the time the play was revived in Paris in 1956, critics and audiences lauded Ionesco for his unique staging and profound sense of humor. Eugene Ionesco was born in Slatina, Romania in 1912. In 1938, at age 26, he settled permanently in Paris when he received a government grant to study in France. Mr. Ionesco was a fervent believer in human rights and a longtime foe of political tyranny. His work conveyed what he viewed as man's struggle to survive in a society that he said formed barriers between human beings. Many of his plays have become staples: The Lesson, The Bald Soprano, The Chairs, Rhinoceros. By 1970 Ionesco had been elected to the pantheon of tradition, the Academie Francaise. His death in 1994, at 84, was announced by France's Ministry of Culture rather than by his wife of 58 years, Rodica, or their daughter.

Opened November 16 with performances through December 16 at The Gate Theatre in London.

ROMEO AND JULIET Korea's premier theatre company, Mokhwa Repertory company arrives in London for the first time bringing with them their very own interpretation of Shakespeare's most famous tragedy. Gone are the rhyming couplets and velvet doublets and in its place is a musical and dance extravaganza. This highly stylized Romeo and Juliet paints the star struck lovers story with striking images, glorious martial art sequences, live music and impressive dance, ritual and gesture. The company live and train together 365 days a year. They're all also experts in martial arts, traditional Korean dance and operetta. The Barbican is hosting the company during this, their first stay in London. In Korean with English subtitles. Performances at the Barbican Centre in London. November 23-December 9.

A post show talk will take place on November 30 when Director Oh Tae-Suk participates in a conversation with Dr Ah-jeong Kim, Professor of Theatre at California State University.

WISHFUL DRINKING written by and starring Carrie Fisher in this one-woman show. Opened Wednesday and runs through Dec. 23 at the Geffen Playhouse in Los Angeles.

42ND STREET Book by Michael Stewart and Mark Bramble. Music and Lyrics by Harry Warren and Al Dubin. Based on the novel by Bradford Ropes.

Melanie Allen, Jennifer Renee Morris, Megan Nicole Arnoldy, Kerri Rose Jenkins and Mark Jacoby star in the production which boats;

276 extravagant costumes. 150 pairs of tap shoes. 62 happy tapping feet. 36 spectacular scene shifts. 32 singers and dancers. 11 fantastic musicians.

The dazzling family show is at The Walnut Street Theatre in Philadelphia through January 8, 2007.

The Walnut Street Theater is the oldest theater in America. It stands alone as the only theatre operating continuously as a theatre since it opened in 1809. Every noteworthy American actor of the 19th century and many from the 20th century (not to mention famous actors from other countries) appeared on stage at Walnut Street Theatre just as it stands today.


| | | |
| --- | --- | --- |
| | | |
WHO'S WHERE


LIZA MINNELLI Following her Nov. 23-25 engagement at the Las Vegas Luxor Theater, the Academy Award winner will reinstitute a Vegas tradition by performing a "Gypsy" show Nov. 26 at 1 AM. These after midnight performances were begun so that performers in other Las Vegas shows can have the opportunity to come check out and enjoy the shows of other performers. Complimentary tickets to Liza's Gypsy show are distributed by Luxor to Vegas entertainers and their crew.

In a statement Luxor president Felix Rappaport said, "There is no better performer to bring the Gypsy show back to Las Vegas than Liza. She helped originate the tradition and we expect an overwhelming response from local entertainers."

DOLLY PARTON will undertake an extended European Tour in the spring of 2007, for the first time since the 1970's. The tour kick-off is in Denmark on March 7th. Spanning 17 cities in 10 countries over just a four week period, the tour will include stops in Denmark, Norway, Sweden, Ireland, and England . The Smoky Mountain Songbird who has penned over 3,000 songs will take to the stage and perform her hits 9 To 5, Here You Come Again, Jolene, and of course the incomparable I Will Always Love You.

Currently Pardon is in Canada performing three consecutive shows at the Casino Rama casino in Orillia, Ontario on November 20th, 21st, and 22nd.

TONY BENNETT the ageless crooner tonight, Sunday, November 19, performs at the Mabee Center Arena in Tulsa, OK.

ART GARFUNKEL on stage Saturday, November 25 at HKCEC Hall in Hong Kong.

OAK RIDGE BOYS singing their hits Friday, November 24 at the Mayo Civic Center in Rochester, MN. On Saturday they are in the spotlight at the Washington Pavilion in Sioux Falls, SD. Sunday, November 26, finds them at the Orpheum Theatre in Sioux City, Iowa.

JIM BRICKMAN center stage Tuesday, November 21 at the Hilbert Circle Theatre in Indianapolis. Friday the show is at Chapman Music Hall in Tulsa. On Saturday he is at the Buell Theatre in Denver.

VINCE GILL performs Monday, November 20 at Abravanel Hall in Salt Lake City. On Tuesday he is at the Paramount Theatre in Denver.

CHRIS BOTTI making his horn sing tonight, Sunday, November 19, at the Strand-Capitol Theatre in York, PA. Friday the show will be at the Hyatt Regency in Incline Village, Nevada.

BRIAN SETZER ORCHESTRA AND THE CHERRY POPPIN' DADDIES on stage Thursday, November 30 at Richard's On Richards in Vancouver, BC.

CHRISTIAN WALLUMROD ENSEMBLE featuring some of the most exciting names in Norwegian jazz, performs their first Irish tour. Wallumrød's acoustic ensemble journey through Scandinavian folk, pre-Baroque harmony and post-Monk jazz influences to create a bewitching and haunting live experience. Sonic Arts Research Centre, Belfast, Ireland on Saturday, November 25.

THE KILLERS tickets to their three night gig sold out 20 minutes after going on sale. Brixton Their stint at Brixton is primarily to promote their new album, Sam's Town. At the Brixton Academy in London. Beginning performance Sunday, November 26.

THE LONDON SINFONIETTA gives a rare performance of two major works by German composer Helmut Lachenmann, renowned for his inventiveness in exploring the widest range of possible instrumental sounds. Monday, November 20 at The South Bank Centre in London.


FINAL OVATION


RUTH BROWN who won a Tony award for her sensational performance in the 1989 Broadway revue Black and Blue, passed away Friday in a Henderson, Nevada hospital. She suffered from complications following a heart attack and stroke she suffered after surgery in October 2006. She was 78.

Her 1990 Fantasy album Blues On Broadway won a Grammy for best jazz vocal performance. She also created the character Motormouth Maybelle in the 1988 movie Hairspray.

Her R&B hits established Atlantic Records earning her the nickname Miss Rhythm. Her biggest smashes occurred in the 1950's. Brown charted 24 singles, only three of which failed to reach the R&B top 10.

She became an outspoken advocate for singers, bringing to the spotlight facts about the non-payment of royalties to R&B veterans and recording labels' onerous recoupment policies. ( See Broadway To Vegas column of April 2,2000 ) Brown was the catalyst that - in 1988 - lead Atlantic Records to decide to pay back royalties to 35 of its early acts and provide seed money for the creation of the Rhythm & Blues Foundation. Brown became one of the foundation's first Pioneer Awards honorees in 1989.

Brown was inducted into the Rock and Roll Hall of Fame in 1993.

Born January 30, 1928 in Portsmouth, VA she moved to Las Vegas from Southern California after the 1994 earthquake in which her son Earl Swanson had to pull her from the rubble of her home.

She is survived by two sons and two brothers.
















Next Column: November 26, 2006
Copyright: November 19, 2006. All Rights Reserved. Reviews, Interviews, Commentary, Photographs or Graphics from any Broadway To Vegas (TM) columns may not be published, broadcast, rewritten, utilized as leads, or used in any manner without permission, compensation and/or credit.
Link to Main Page
---
Laura Deni


CLICK HERE FOR COMMENT SECTION